Norwegian brand Norrøna is no stranger to harsh mountain environments, with a quality selection of top-end hardshells built for demanding missions. The Lofoten collection, named after the dramatic Lofoten Islands off Norway's northwestern coast, has been a staple in their lineup since 2004 and garnered a committed following of freeride and backcountry enthusiasts. We put the Gore-Tex Pro version of the jacket to the test in wet and rowdy conditions in British Columbia and can confidently say it's lived up to the hype. It's not the lightest or cheapest option, but the quality, waterproofing, and durability are second to none. Below are our experiences with the Lofoten. To see how it stacks up to the competition, see our article on the best ski jackets. 
 
---
Table of Contents
---

Performance
Weather Protection
Norrøna has a reputation for designing extremely tough and mountain-ready jackets, and their Lofoten Gore-Tex Pro ski jacket carries the torch. Much like the Trollveggen hardshell that I tested last year, the Lofoten's weather protection is top-notch. The 70-denier, 3-layer Gore-Tex Pro shell has withstood everything Mother Nature has thrown its way, including the typical wet snow we get along the West Coast, as well as strong winds, flurries, and a whole lot of early-season rain. Additionally, the Lofoten offers great all-around coverage with an asymmetric, longer back length of approximately 33.5 inches, which does an excellent job sealing out wind and snow. For comparison, two of my other favorite ski shells, the Arc'teryx Rush and Outdoor Research Hemispheres, are shorter by over 1 inch.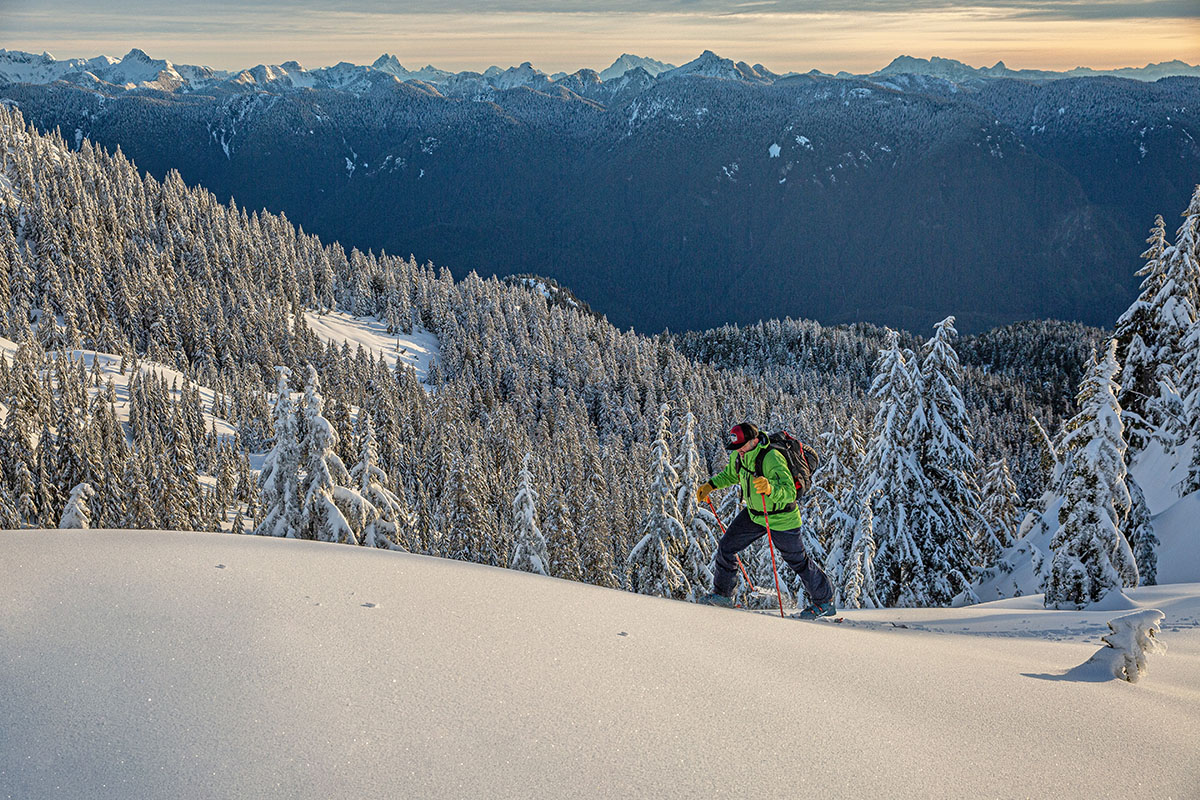 In addition to the burly construction and excellent coverage, the Lofoten boasts a nice array of protective features. First, the helmet-compatible hood and tall collar nicely shield my face from blowing wind and snow, leaving very little skin exposed. Importantly, unlike the Trollveggen, there's enough room in this area to comfortably shoulder check and look side to side, even with the hood cinched. Further, water-resistant zippers and sealed seams prevent moisture creeping in. Despite being caught in sideways gusts and sleet, I've remained comfortable and dry, and my keys and camera lenses haven't gotten wet when stowed in my pockets. I also love the asymmetric cuffs, which are longer at the back to help keep precipitation out of my gloves. Finally, the integrated hand gaiters are an excellent (and fairly uncommon) addition. Not only do they add a boost in warmth when transitioning or fiddling with gear (both of which take more dexterity than my ski gloves provide), but they also add another barrier in the event of a fall.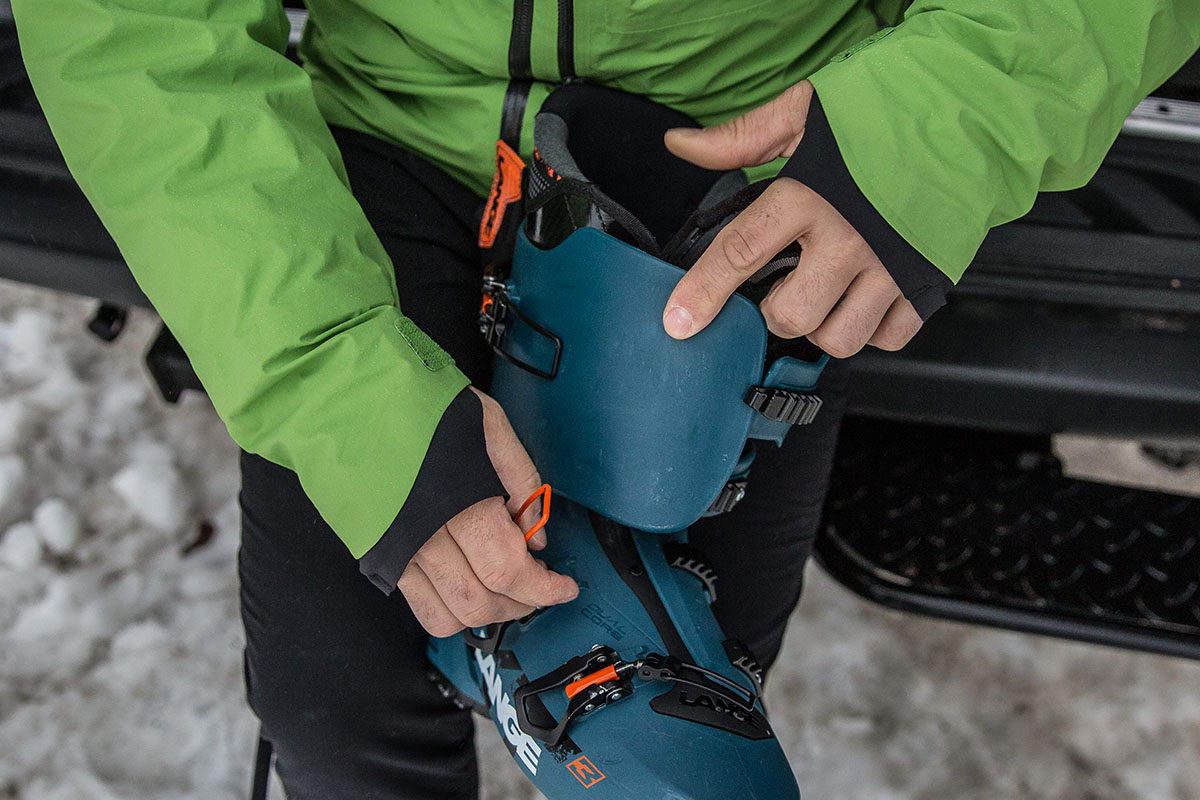 Breathability
I'll start off by admitting that I rarely wear my hardshell when exerting and reserve it solely for truly nasty weather conditions, while transitioning, and when skiing downhill. That said, if temperatures are low enough (typically under around 15 degrees Fahrenheit), I can comfortably wear the Lofoten while ascending. To help, Norrøna included very generously sized pit zips that measure around 20 inches, which are the largest I've found on any skis shell and competitive with the likes of OR's hem-to-bicep TorsoFlo vents on their Hemispheres jacket. Similar to the Trollveggen, the Lofoten also sports a secondary main zipper for additional airflow, which allows excess heat to escape through a mesh vent that runs about 15 inches alongside the left-hand Napoleon pocket. We've had a handful of bitterly cold and windy days here along the coast and interior of British Columbia, and I've been able to skin in the shell without overheating if I utilize both of these features.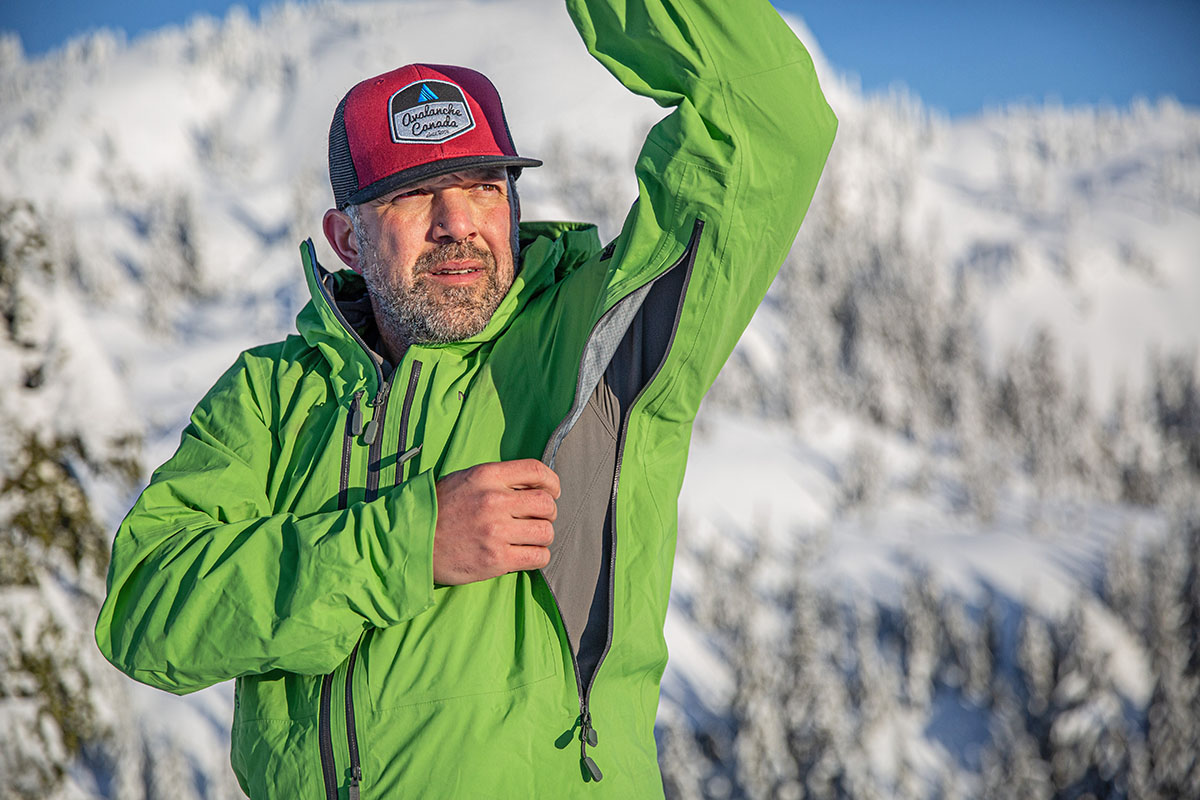 Build Quality and Durability
There are very few brands that can compete with Arc'teryx when it comes to build quality, but Norrøna gives them a run for their money. Like the Trollveggen, I've been very impressed by the Lofoten's top-end materials and hardwearing build, including a robust 70-denier (D) face fabric, Gore's top-end Pro membrane, and a full suite of premium features. This shell was designed specifically for the deep powder you'd find in the steep, snowy mountains of Norway, and there's no question that the Lofoten is up to the task.
I'm not easy on my gear, but despite months of exposure to harsh winter weather and being repeatedly stuffed in the bottom of my avalanche bag with crampons and other sharp equipment, the Lofoten is almost no worse for wear. Further, all zippers and seams are still intact, and the shell's outer fabric shows no stains or tears. Much like the Trollveggen, the Lofoten feels more rugged than its 70D designation suggests, and I have no concerns from a long-term durability standpoint.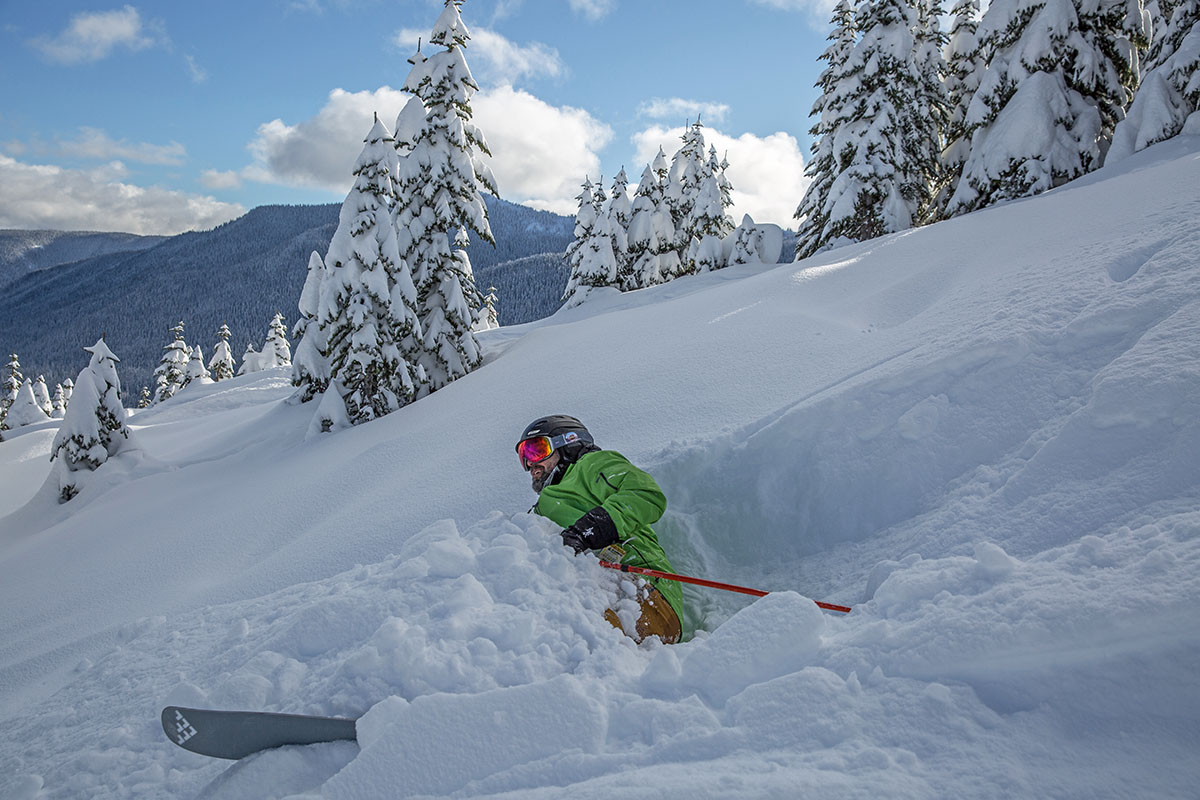 Weight and Packability
At 1 pound 9.8 ounces for my men's extra large (the listed weight is 1 lb. 8.6 oz.), the Lofoten Gore-Tex Pro Jacket is by no means a featherweight, but it's competitive when you account for the full feature set and burly construction. For comparison, our top-rated ski shell this year, Arc'teryx's Sabre AR, clocks in at a similar 1 pound 8.7 ounces, although you get the addition of a light flannel backer for increased comfort. OR's Hemispheres and Patagonia's PowSlayer are both a bit lighter at 1 pound 4.7 ounces and 1 pound 3.3 ounces respectively, but the OR uses less weather-worthy, 2-layer panels of Gore-Tex in some areas, while the Patagonia is a step down in durability with a thinner 40-denier construction.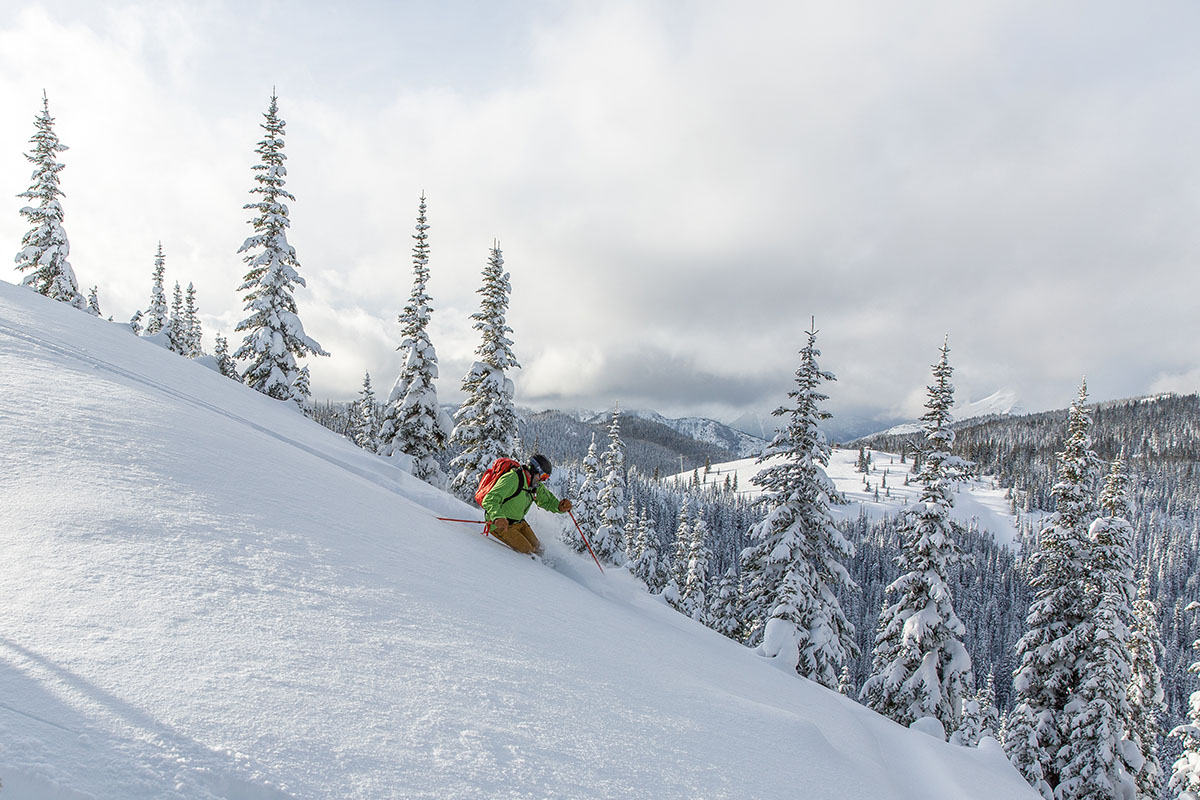 All in all, for backcountry skiing where safety is a concern, I appreciate the feeling of a robust shell and uncompromised coverage and protection, and the Lofoten Gore-Tex Pro fits that bill nicely. And if you're concerned about weight, it's easy to drop a few ounces by removing the powder skirt. Finally, and perhaps equally importantly, the shell packs down nicely into its own hood and can be compressed with the drawcord to the size of a large cantaloupe, which is quite impressive for such a burly design.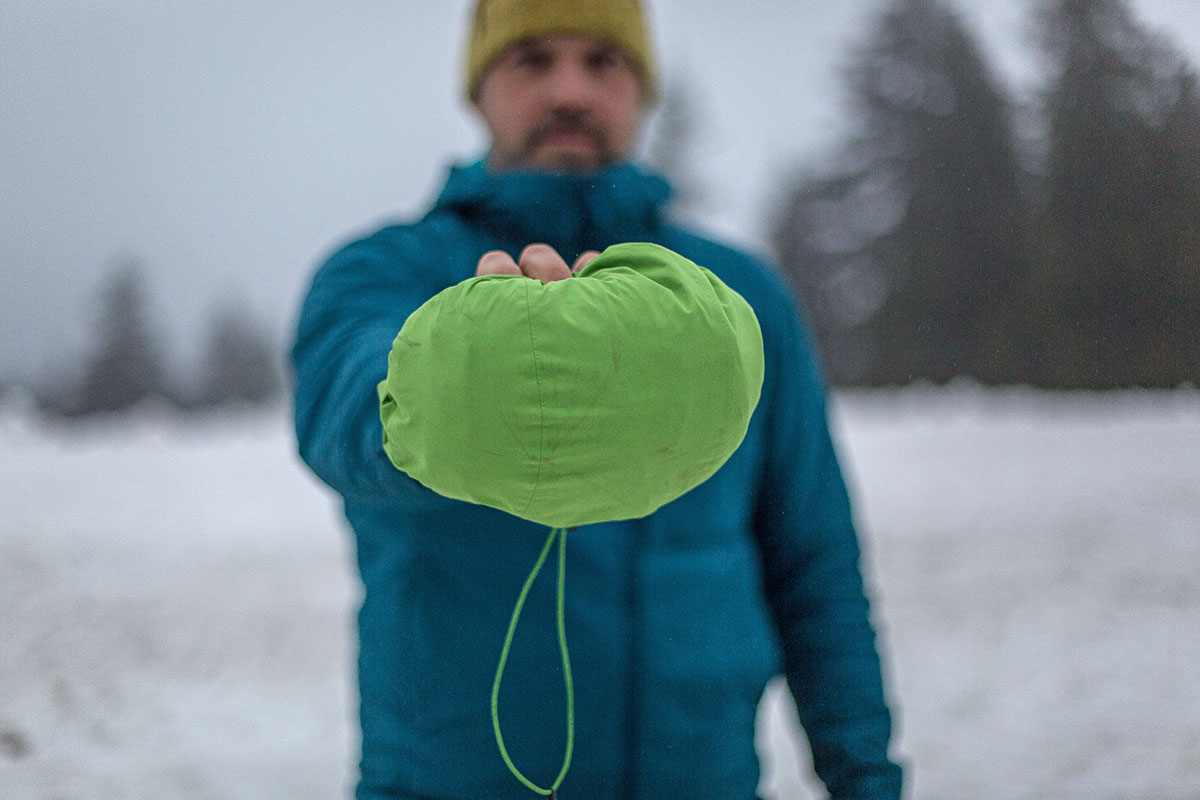 Key Features
Secondary Main Zipper
In my opinion, one of the most noteworthy features on the Lofoten is the secondary main zipper, which is essentially a 15-inch mesh vent on the left side of the jacket adjacent to the main zipper. The benefits are twofold: First, when unzipped, it promotes additional airflow while still keeping the elements out. Second, it can be opened entirely (the mesh is kept closed with Velcro) to allow access to a harness-secured avalanche beacon. This eliminates the need to unzip your shell, which can save crucial time in the event of a slide. And outside of a rescue scenario, it also allows easy access to the jacket's interior pockets, where I typically store items like skins, goggles, and even camera lenses. All in all, this is a very functional addition to the Lofoten and greatly improves both organization and breathability.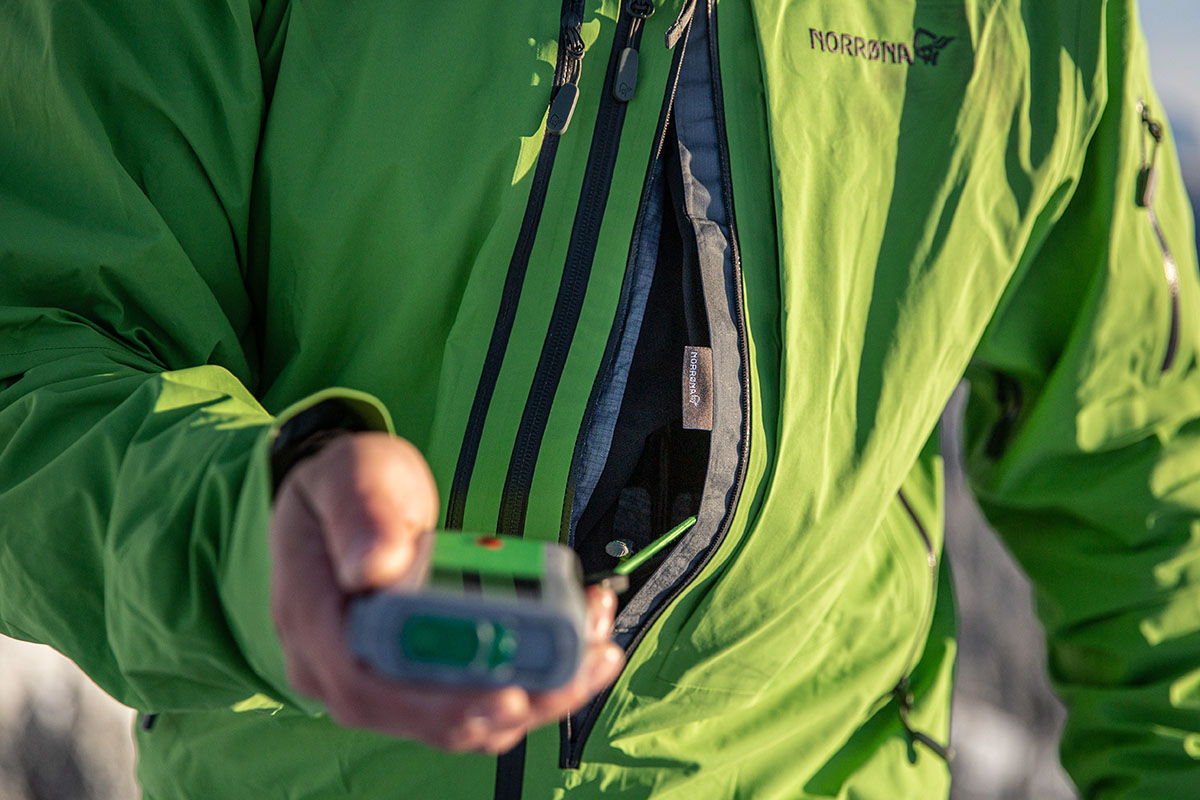 Hood
As I touched on above, the Lofoten comes equipped with an adjustable, helmet-compatible hood. For reference, I have been able to easily wear my large Smith Quantum and Vantage helmets without any restrictions to movement or mobility. Additionally, when cinched tight via the single drawcord at the back, the hood tightens at both the halo and aperture and leaves only my goggles and nose exposed, which has been especially helpful when stuck on a chairlift in bitter winds. Some might wish for more adjustability, but I like the simplicity of the single toggle that can be easily manipulated with gloves. Further, the brim is wired, which helps the hood retain its shape and keeps precipitation from dripping onto my face. And finally, the collar features a soft material at the chin that reduces chafing and minimizes the risk of my facial hair getting caught in the main zipper.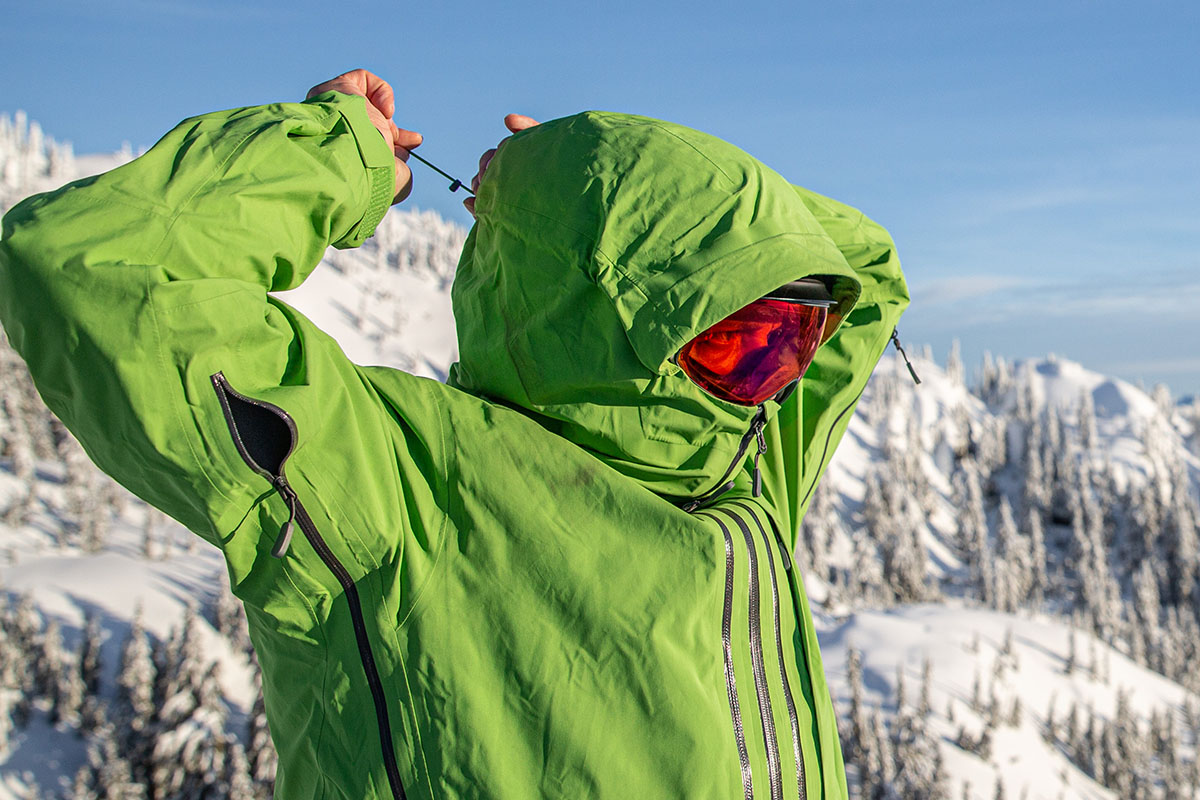 Storage: Pockets
As far as storage goes, the Lofoten is adequately appointed for stowing the essentials but is missing one key feature: hand pockets. To be fair, this isn't entirely uncommon among alpine-focused shells—Arc'teryx's Alpha SV, for instance, foregoes hand pockets and instead boasts dual chest pockets. But for many (myself included), the omission is a big one, and I do miss being able to warm my hands quickly and conveniently (stuffing them into the chest pockets just doesn't feel natural).
That said, the rest of the layout is entirely functional: you get two large, Napoleon-style chest pockets, one small internal mesh pocket, a generous interior dump pocket for stashing items like skins or goggles, and a small credit card/pass pocket on the left bicep. As I mentioned, the chest pockets are big enough to fit gloved hands, but I'm more inclined to use them for quick access to items like my Garmin inReach, radio, or camera lenses. As a bonus, the left one also includes a goggle wipe, which is very handy for on-the-go cleaning.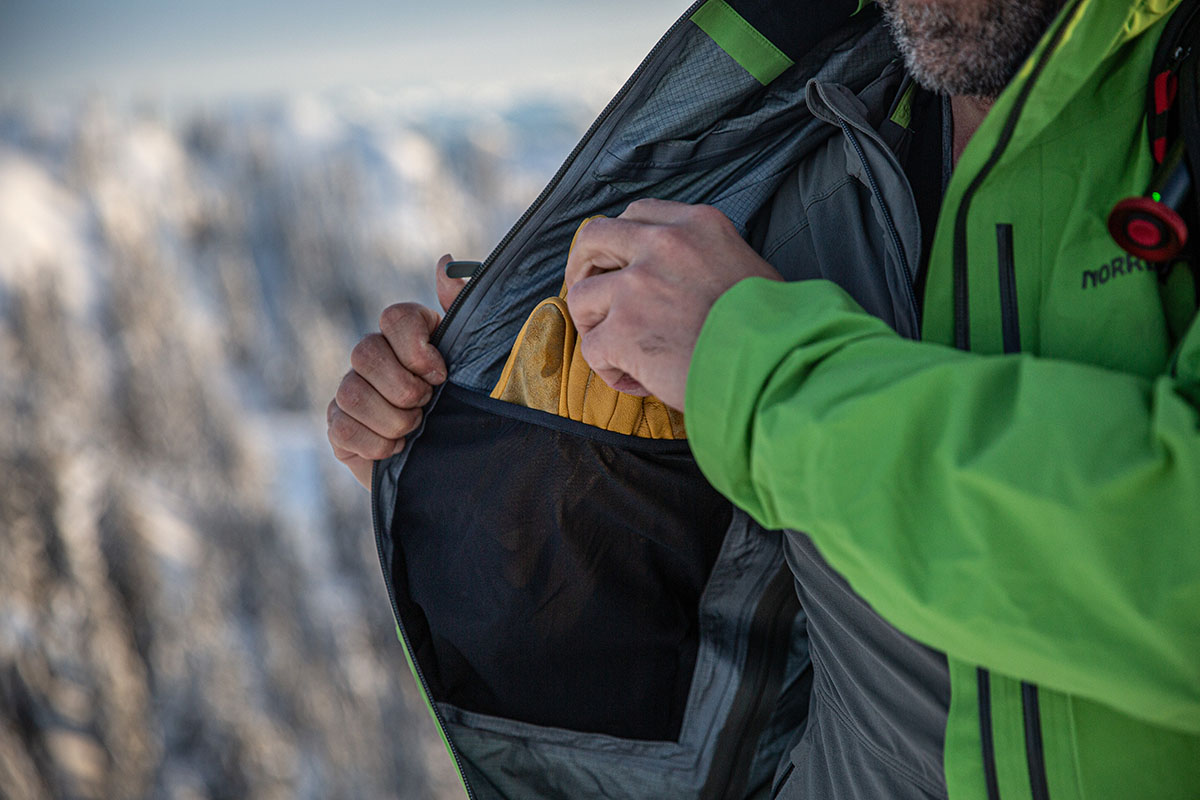 Powder Skirt
Like many ski-focused shells, the Norrøna Lofoten Gore-Tex Pro boasts a powder skirt for sealing out snow at the waist. As I mentioned previously, it can be zipped off to shave weight (I found it saves around 4 oz.), although it does provide tangible benefits in the event of a fall or on deep powder days. As far as attachment goes, a set of snaps at each side can connect to compatible Norrøna snow pants, and a rubber lining along the bottom keeps the skirt in place and prevents it from riding up. All in all, it's a well-executed design that never felt bulky or cumbersome on the slopes.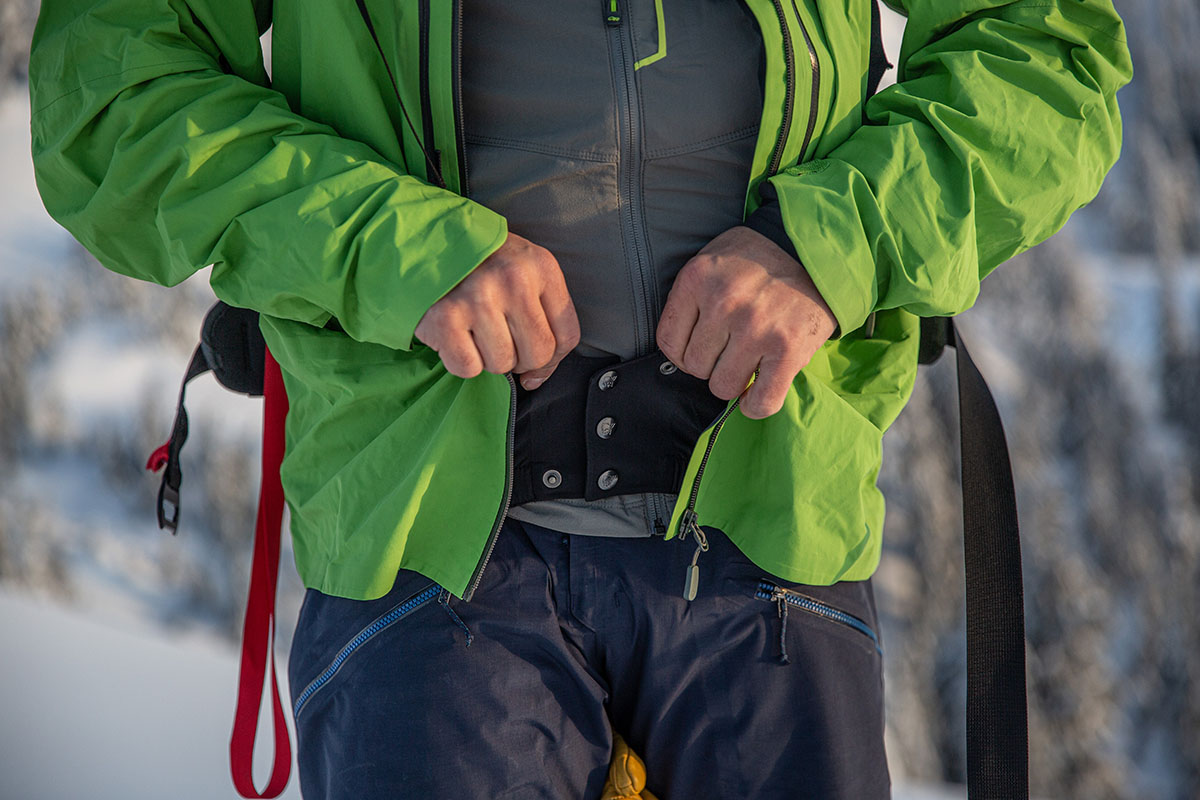 Fit, Sizing, and Comfort
I typically wear a men's size large, but I opted for an extra large in the Trollveggen last year, and the Lofoten was a similar story. In the end, I found it runs slightly more fitted than the Trollveggen (it's labeled as a "technical fit"), and I'm glad I sized up. Those with smaller frames can likely get away with their typical size, but if you have broad shoulders and a wider chest/torso like me, I recommend erring on the side of caution (for reference, I'm 6' and 225 lbs.). That said, with the fit dialed in, I was able to add ample layers underneath without the shell feeling overly big or bulky. Depending on weather and conditions, I rotate through midlayers including my Arc'teryx Cerium SL down jacket, Proton LT synthetic hoody, and Outdoor Research Ferrosi. Sheerly for testing purposes, I was also able to fit my Firebee AR Parka (the second-warmest down jacket in Arc'teryx's lineup) under the Lofoten, although that would be overkill in all but the most extreme cold.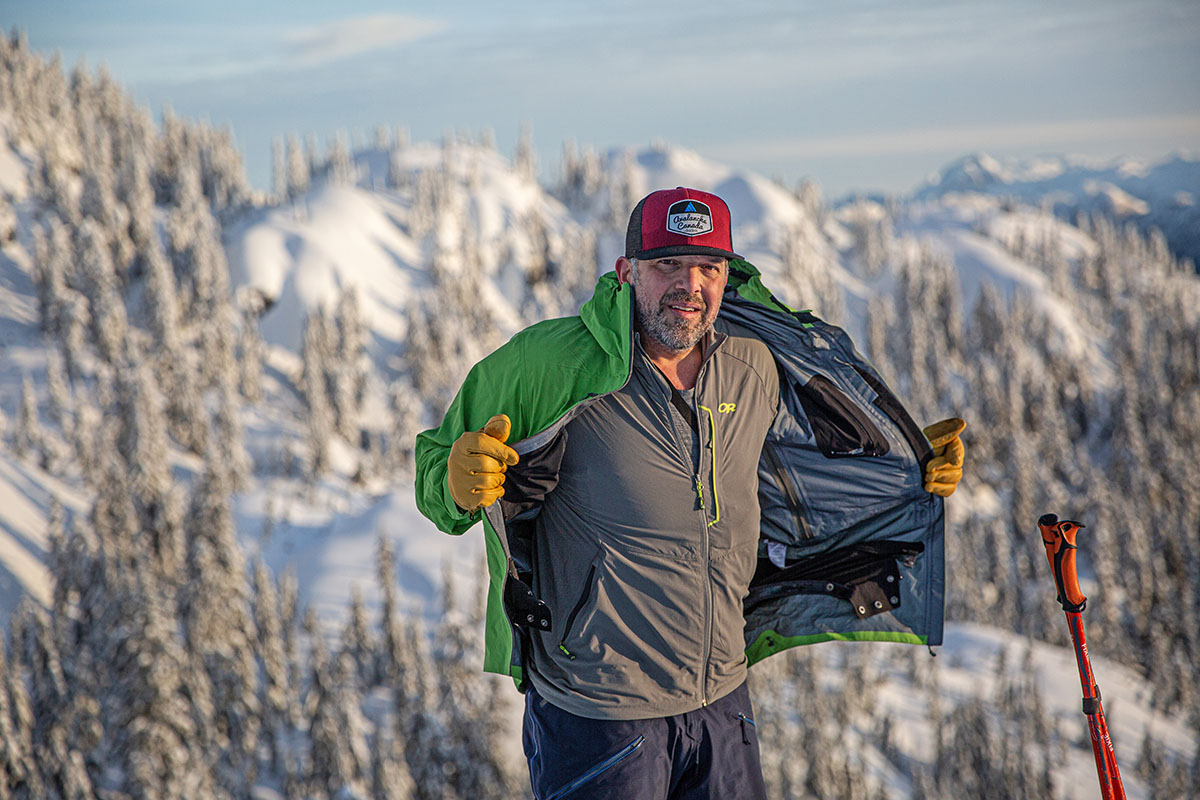 As far as mobility goes, the no-lift gusseted underarms and articulated elbows allow me to move freely during movement-dependent activities like transitioning and loading gear into my van. I should note that some of this freedom is likely a result of sizing up and having a little added space in the shell, but it's helpful nevertheless. Finally, as I touched on above, the longer hem (around 33.5 in. down the back) is great for coverage and warmth, especially when sitting on a cold chairlift. Nothing drives me quite as crazy as a shell bunching up above the hipbelt of my pack and allowing snow and wind to sneak in, and I appreciate that Norrøna put some thought into this design.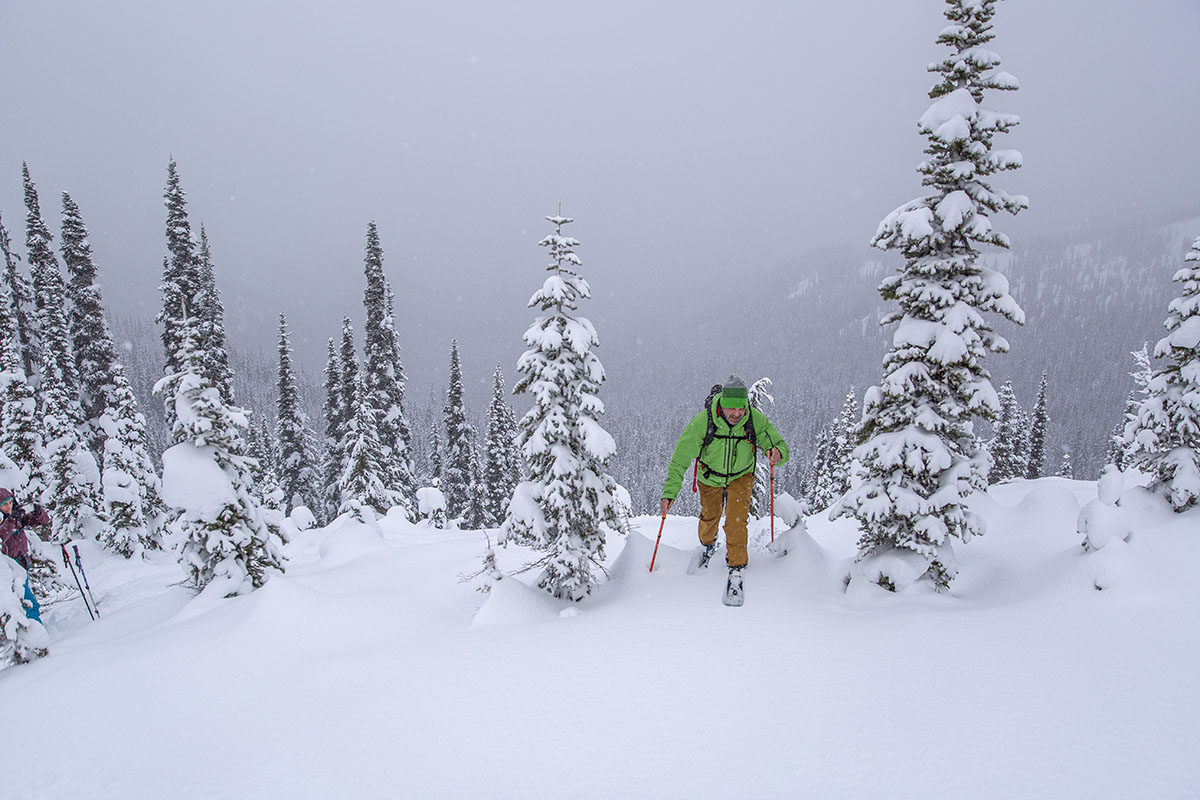 Sustainability
In 2021, many outdoor brands are making notable inroads in sustainability and eco-friendly practices, and Norrøna is no exception. In the case of the Lofoten, more than 50 percent of the materials used in the jacket are recycled, and the fabrics are also Oeko-Tex certified, which indicates that they underwent testing to ensure the chemicals used meet national and international regulations. Further, the jacket is bluesign-approved, meaning that no harmful substances were used during manufacturing. And lastly, we appreciate that Norrøna provides a list of factories on their website, which are inspected by independent third parties to ensure that all practices are in line with the brand's "Code of Conduct."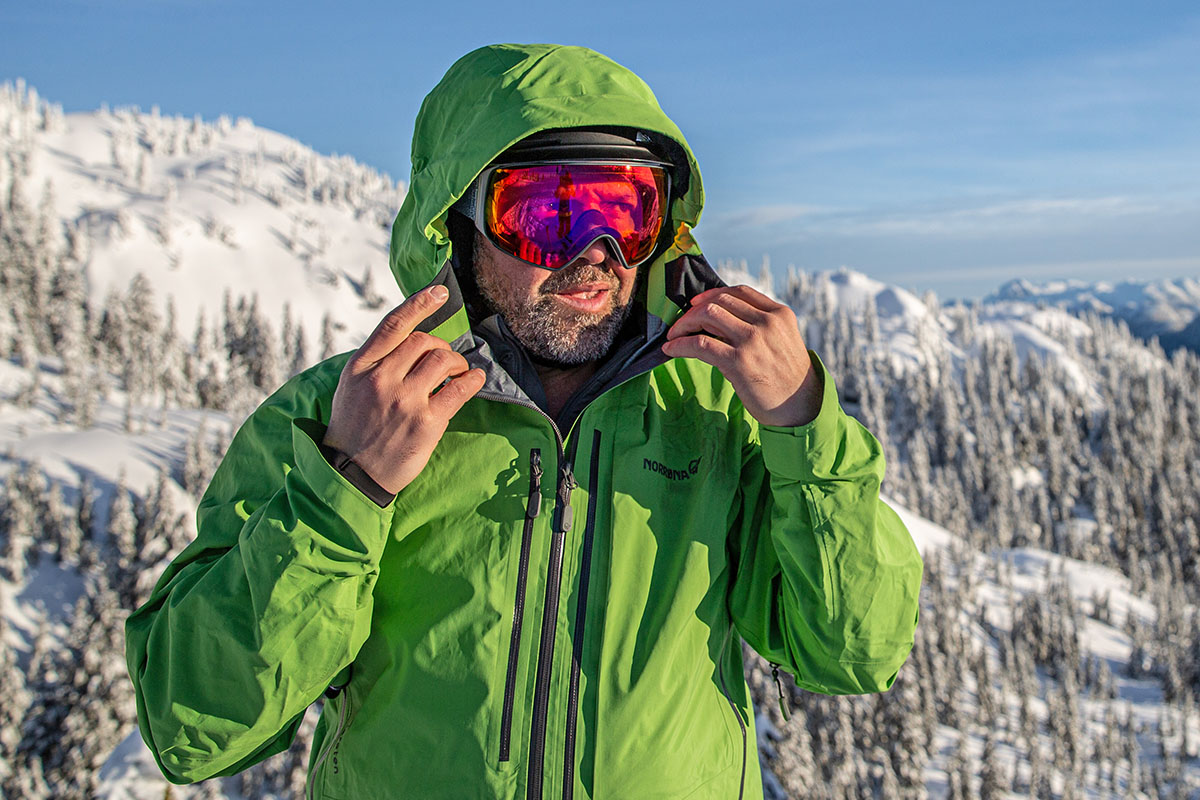 Other Versions of the Norrøna Lofoten
We put the men's Lofoten Gore-Tex Pro Jacket through its paces for this review, and Norrøna includes a number of other variations in the collection. On the men's side, options range from the $169 Lofoten Hiloflex200 Hood fleece midlayer to the $399 Primaloft80 Anorak, $499 Gore-Tex Insulated shell (which uses a downgraded, 2-layer construction), $549 uninsulated Gore-Tex Jacket, $799 Gore-Tex Pro Anorak, and top-end Gore-Tex Pro Plus Jacket for a whopping $899. In our opinion, the version tested here strikes the best balance of price and performance, but the pricier Anorak is longer and more relaxed, and the Pro Plus model has a beefier 70 x 160-denier construction. The women's lineup is nearly identical to the men's, although it lacks the premium Pro Plus option. In parsing out the differences, the women's models are lighter across the board (the women's Lofoten Gore-Tex Pro checks in at 1 lb. 5.4 oz.) and sold in different colorways, but feature sets and prices remain the same.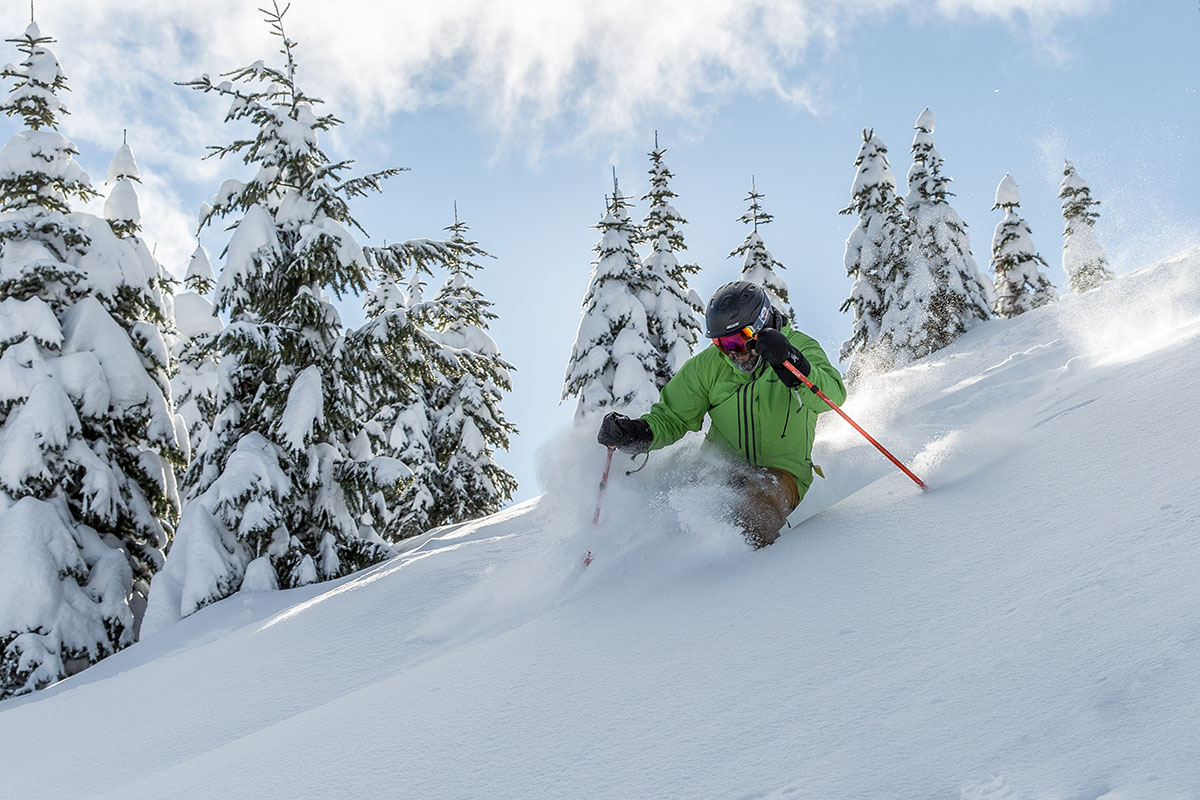 What We Like
Incredibly hardwearing and weather-worthy with a 70-denier, 3-layer Gore-Tex Pro build and nice array of protective features.
Secondary main zipper greatly improves breathability and makes accessing an avalanche beacon very easy and quick.
Helmet-compatible hood and tall collar provide excellent coverage without impacting mobility or side-to-side head movement.
Longer back length adds crucial protection.

What We Don't
No hand pockets, which detracts from overall convenience.
Expensive at $699.
Fairly heavy at 1 pound 8.6 ounces, although the durability and protection are hard to beat.


Comparison Table
The Competition
Norrøna's Lofoten is one of the most durable and weather-ready shells we've tested to date, but their Trollveggen Gore-Tex Pro offers similar performance for $50 less. Both jackets use top-end Gore-Tex Pro for waterproofing, boast burly, 70-denier constructions, and sport functional and unique features like the secondary main zipper, oversized pit zips, and longer, asymmetrical back lengths. In parsing out the differences, the Trollveggen is the less ski-specific design with no powder skirt or interior storage (it has four large exterior pockets), and it only saves you around 2 ounces. Finally, we found the neck area on the Trollveggen to be fairly restrictive with the hood up and jacket fully zipped, which impacted side-to-side movement. All in all, both are high-quality shells and fully capable for demanding backcountry use, but the Lofoten pulls ahead in a couple key areas.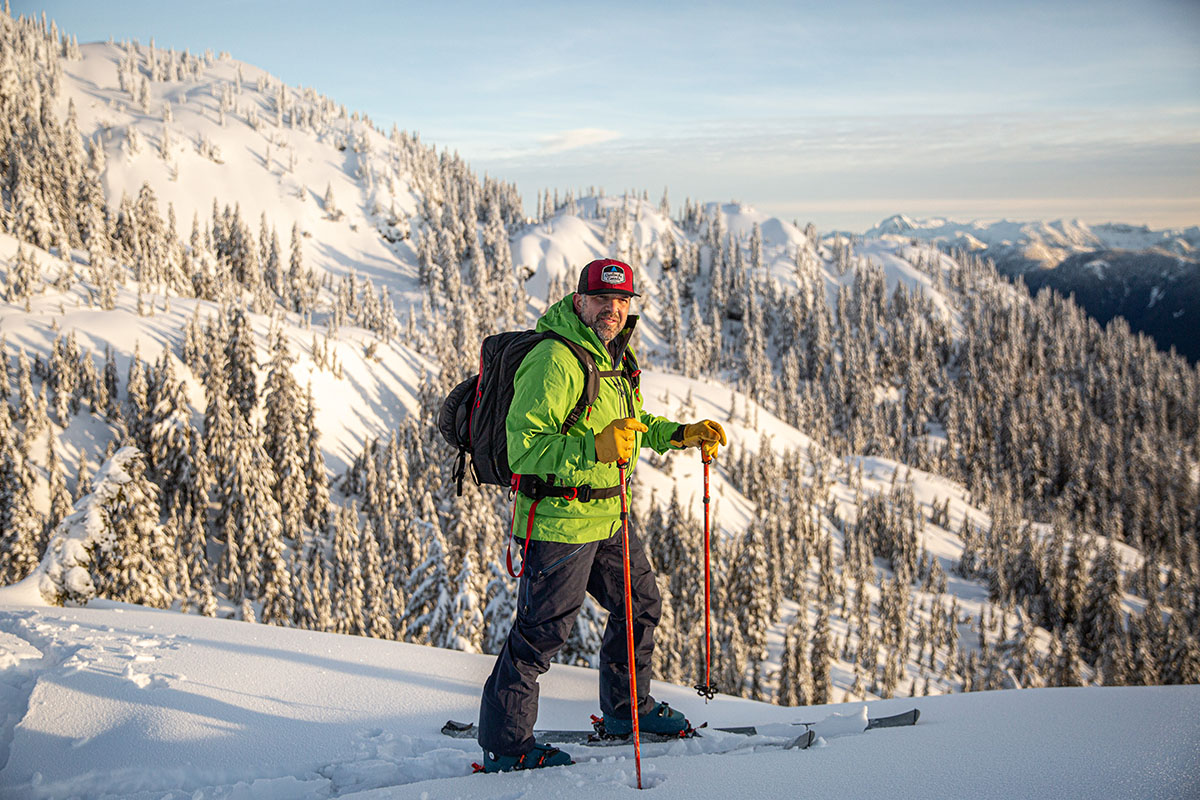 Our top-rated ski shell this year is Arc'teryx's Sabre AR, which hits a similar price point at $675. The Sabre uses a downgraded 3-layer Gore-Tex construction (no "Pro"), runs shorter down the back (with similar sizes, it's about a 2-inch difference), and has a more relaxed "regular" fit that can feel a little bulky on the skin track. That said, the rest of the design is incredibly well-executed: the Sabre checks in at a reasonable 1 pound 8.7 ounces, has a similarly durable 70-denier shell, includes hand pockets, and adds a soft flannel backer that makes it less crinkly and more comfortable than the Lofoten. In deciding between the two, a final choice will come down to priorities: the warmer and more well-rounded Sabre is the better pick for those who split their time between the resort and backcountry, but the Lofoten wins out for longer touring outings where breathability and protection are paramount. 
Another option from Arc'teryx is their Rush Jacket, which is a more technical alternative to the Sabre and more closely matches the Lofoten's intentions. Like the Norrøna, the Rush uses a 3-layer Gore-Tex Pro build but adds in Gore's new Most Rugged technology for added durability and also sports a beefier 80-denier construction with 100-denier reinforcements. You also get the convenience of dedicated hand pockets and a lighter 1-pound-4.8-ounce weight, although the Rush foregoes chest pockets and offers less back coverage by about 2 inches (note: our Rush is a size large). Finally, the Norrøna is the better breather with longer pit zips and the secondary zipper, and we appreciate the ability to detach the powder skirt (the Rush's can't be removed). In the end, both are quality ski shells from two highly revered brands, but the Lofoten strikes us as the more well-rounded option for $50 less (for more on the Rush, see our in-depth review).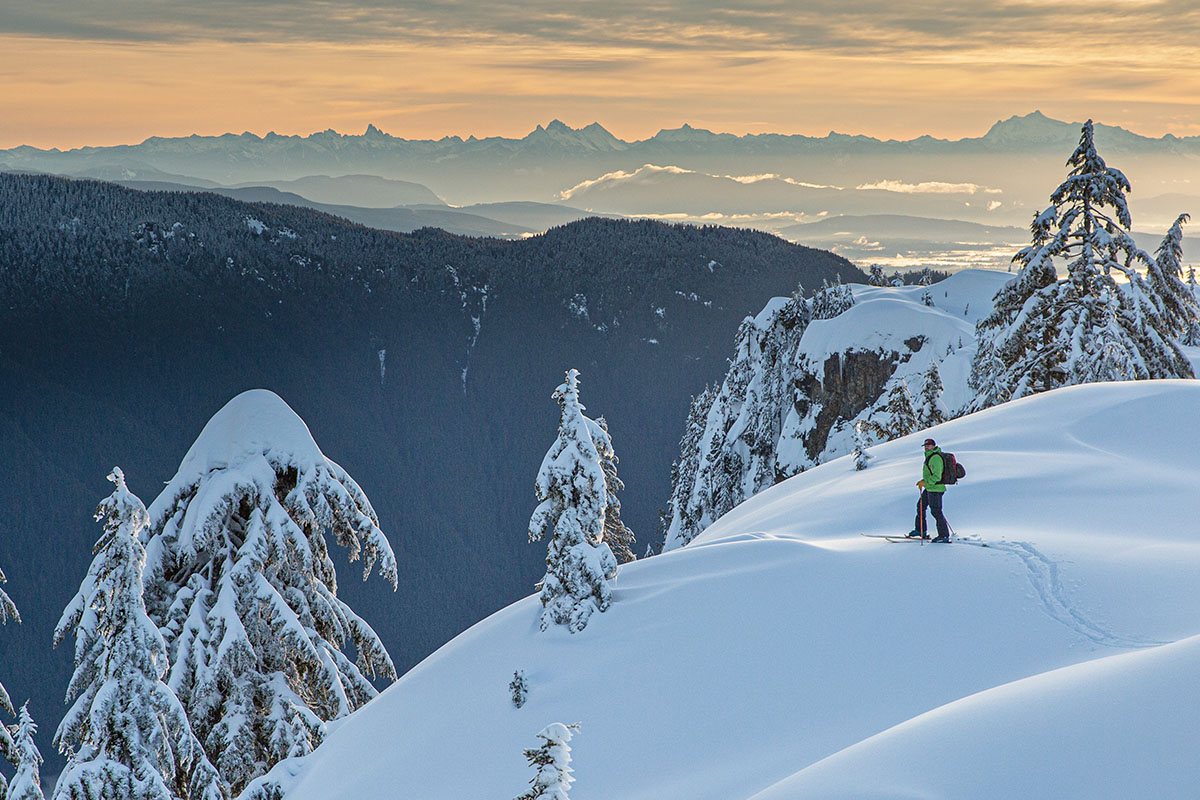 For $100 less than the Lofoten, Outdoor Research's Hemispheres is a standout in the backcountry. As we touched on above, the Hemispheres is one of the few shells that can compete with the Lofoten in terms of ventilation with OR's unique poncho-style system called TorsoFlo, although I still overheated on high-output days. And in a departure from the designs above, the Hemispheres uses a mix 3-layer Gore-Tex with C-Knit and 2-layer Gore-Tex with Stretch, which translates to a minor step down in all-out protection but considerable boosts in both comfort and mobility. And you do save around 4 ounces with the OR, although we had a couple of fit and finish issues including an overly restrictive hood and narrow shape at the shoulders and waist. All told, the Lofoten is the more high-quality design with better protection and coverage for truly inclement alpine conditions, but the Hemispheres is fully capable for most backcountry pursuits and will save you a bit of cash.
Finally, for the same price as the Lofoten, Patagonia's PowSlayer is another big-mountain-ready design that doesn't skimp on quality or features. We'll start with the positives: the PowSlayer offers great all-around performance at a lower, 1-pound-3.3-ounce weight, is highly protective with a 3-layer Gore-Tex Pro build, and has ample storage with eight total pockets (including both hand and chest pockets). That said, the 40-denier fabric is much thinner than the Lofoten's 70D build (although we haven't had any issues to date), and you also forego fun extras like the Norrøna's secondary zipper, integrated goggle wipe, cozy hand gaiters, and removable powder skirt (the PowSlayer's is fixed in place). Overall, both are excellent backcountry companions, but we give the nod to the Lofoten for its more hardwearing construction and thoughtfully designed feature set.
If you're thinking about buying gear that we've reviewed on Switchback Travel, you can help support us in the process. Just click on any of the seller links above, and if you make a purchase, we receive a small percentage of the transaction. The cost of the product is the same to you but this helps us continue to test and write about outdoor gear. Thanks and we appreciate your support!
Depending on the seller, most products ship free in the United States on orders of $50 or more. International shipping availability and rates vary by seller. The pricing information on this page is updated hourly but we are not responsible for inaccuracies.
Read More From Switchback Travel