Arc'teryx Rush Jacket
Price: $749
Weight: 1 lb. 6 oz. (men's large)
Waterproofing: 3L Gore-Tex Pro
What we like: Bombproof protection and full feature set in a light and packable design.
What we don't: Very pricey and we'd prefer even more venting options.
See the Men's Arc'teryx Rush Jacket
Vancouver-based Arc'teryx is a frontrunner in the technical ski shell market, and the Rush Jacket slots in as their fully featured yet light Gore-Tex Pro backcountry piece. Updated for winter 2021 with Gore's latest Most Rugged technology, we put the Rush to the test in the Pacific Northwest. The verdict: If you can stomach the steep price tag (typical of Arc'teryx), this shell is highly protective, comes nicely appointed with thoughtful and functional features, and is light and packable enough for extended tours. Below we outline our experiences with the Rush Jacket. To see how it stacks up to the competition, see our articles on the best ski jackets and best snowboard jackets.
 
---
Table of Contents
---

Performance
Weather Protection
As we've come to expect from Gore-Tex Pro-equipped ski shells, the Arc'teryx Rush Jacket provides unwavering protection against harsh winter weather. In addition to the top-end waterproof membrane, the latest version of the jacket utilizes Gore's new Most Rugged technology, which offers standout strength and abrasion resistance thanks to a substantial face fabric, reinforced membrane, and a sturdy interior backer. Arc'teryx also beefed-up high-exposure areas like the hood and shoulders with extremely burly 100-denier fabric (the body is 80D), and the shell is finished with the brand's typical high-quality seam taping and durable water repellent (DWR) coating. Added up, despite its reasonable weight the Rush has a fortress-like feel and has deftly withstood everything from wet, heavy snow typical of the Pacific Northwest to dry, bitterly cold wind and rain.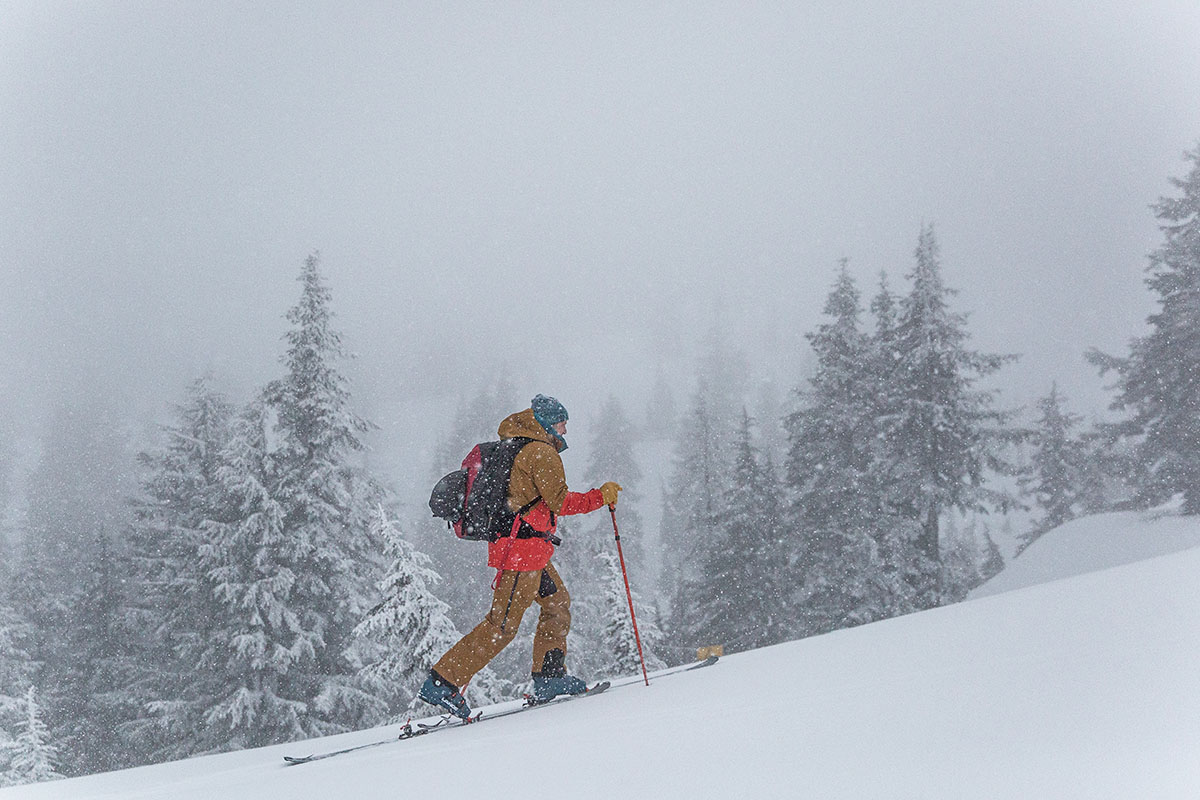 As far as features go, the Rush comes well-appointed for sealing out the elements. For starters, the helmet-compatible StormHood is nicely sized, highly adjustable, and boasts a generous brim that prevents moisture from dripping onto my face. When fully cinched, the aperture and tall collar leave only my nose and goggles exposed. Additionally, the Rush includes a powder skirt that can be attached to compatible Arc'teryx pants, although the elastic grip effectively keeps it in place no matter what I'm wearing on the bottom. I'm also a big fan of the Velcro cuff adjustments, which can be secured under my gauntlet-style Arc'teryx Alpha SV mitts or over my undercuff Black Diamond Dirt Bag gloves. Finally, the WaterTight zippers do an excellent job keeping my phone, maps, car keys, and camera lenses dry (despite only being labeled as water-resistant, I trust them enough to keep my essentials safe).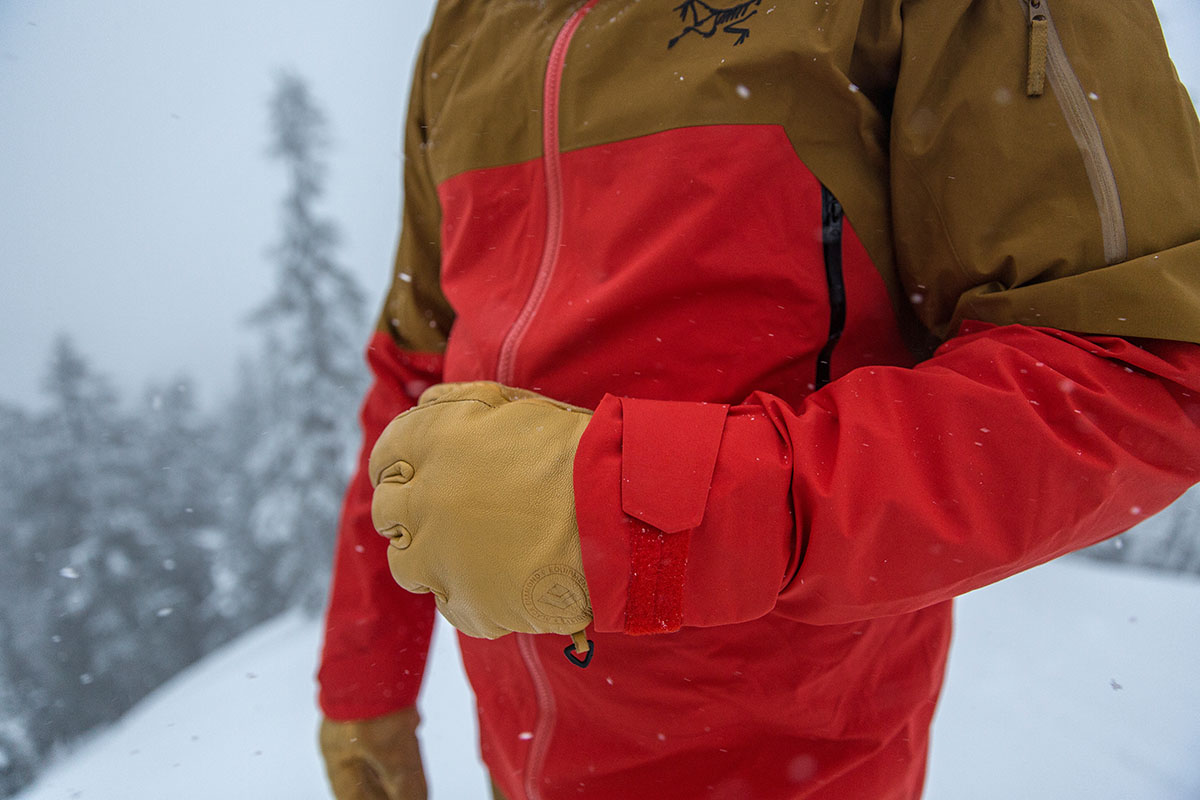 Breathability
As someone who runs particularly hot, I've found that most Gore-Tex shells run far too warm for me to wear while exerting, and the Rush is no different. Similar to most of my hardshell jackets, the Rush stays in my pack until it's time to transition or descend. I also wear it while skinning if the weather is harsh or the temperatures dip low enough (typically below 15 degrees Fahrenheit), but even then, it's only for short bouts of exertion. It's worth noting that the Rush does come equipped with pit zips for dumping excess heat, but they're fairly small (around 13 in.) compared to those on my Norrøna Lofoten and Trollveggen shells (which measure around 20 in.). All in all, I would categorize the Rush's breathability as average among Gore-Tex Pro competitors, but there are definitely better options if you run warm like I do, including the Norrøna shells and Outdoor Research's Hemispheres and Skyward II jackets.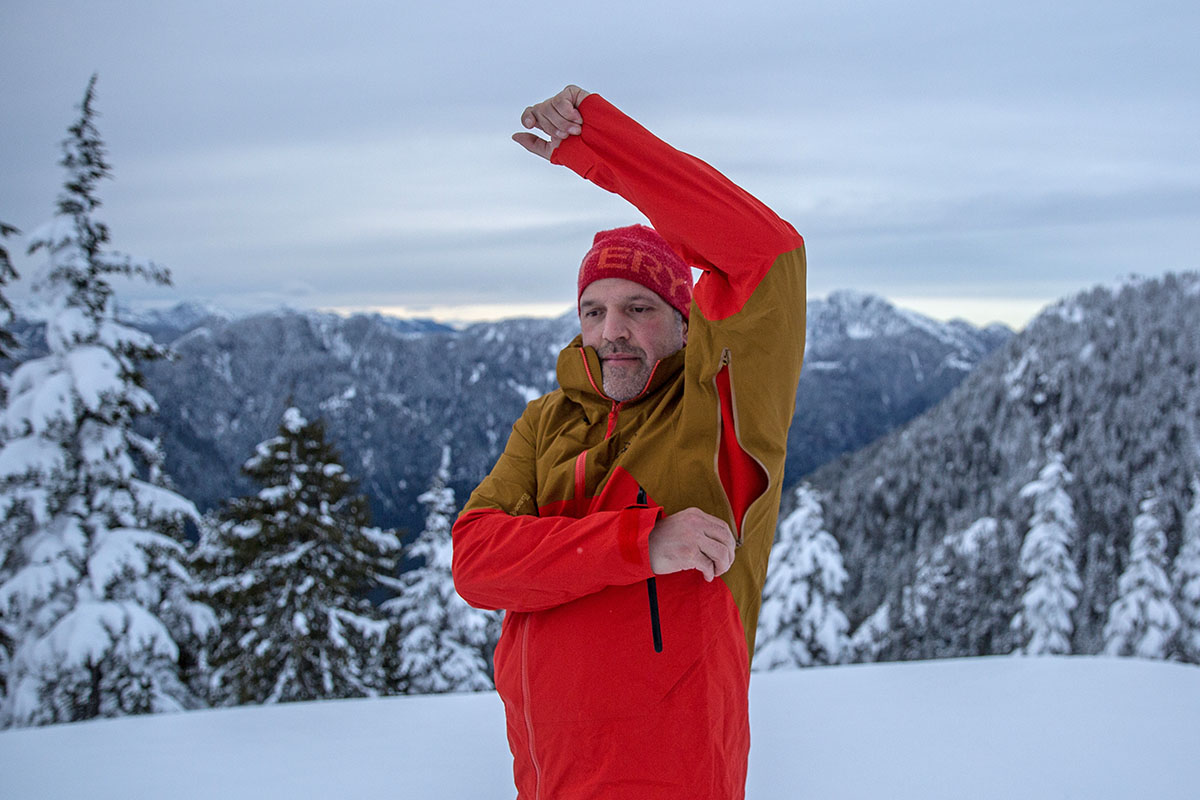 Build Quality and Durability
The Rush doesn't come cheap at $749, but its build quality is largely what you'd expect in this price range. The face fabric is a mix of 100- and 80-denier Gore-Tex Pro (the thicker material is used in high-wear areas like the shoulders and hood), which is incredibly robust and hardwearing. For reference, the shell has spent the majority of its time being shoved into and pulled out of my ski backpack, tossed haphazardly into the back of my van, and generally intertwined with sharp backcountry ski gear like crampons and my shovel, probe, and snow saw. After months of this abuse, coupled with regular exposure to harsh winter conditions, the Rush is almost no worse for wear: it's still completely water- and windproof with no signs of wetting out, all zippers and seams are intact, and the outer fabric has no tears, stains, or signs of fading.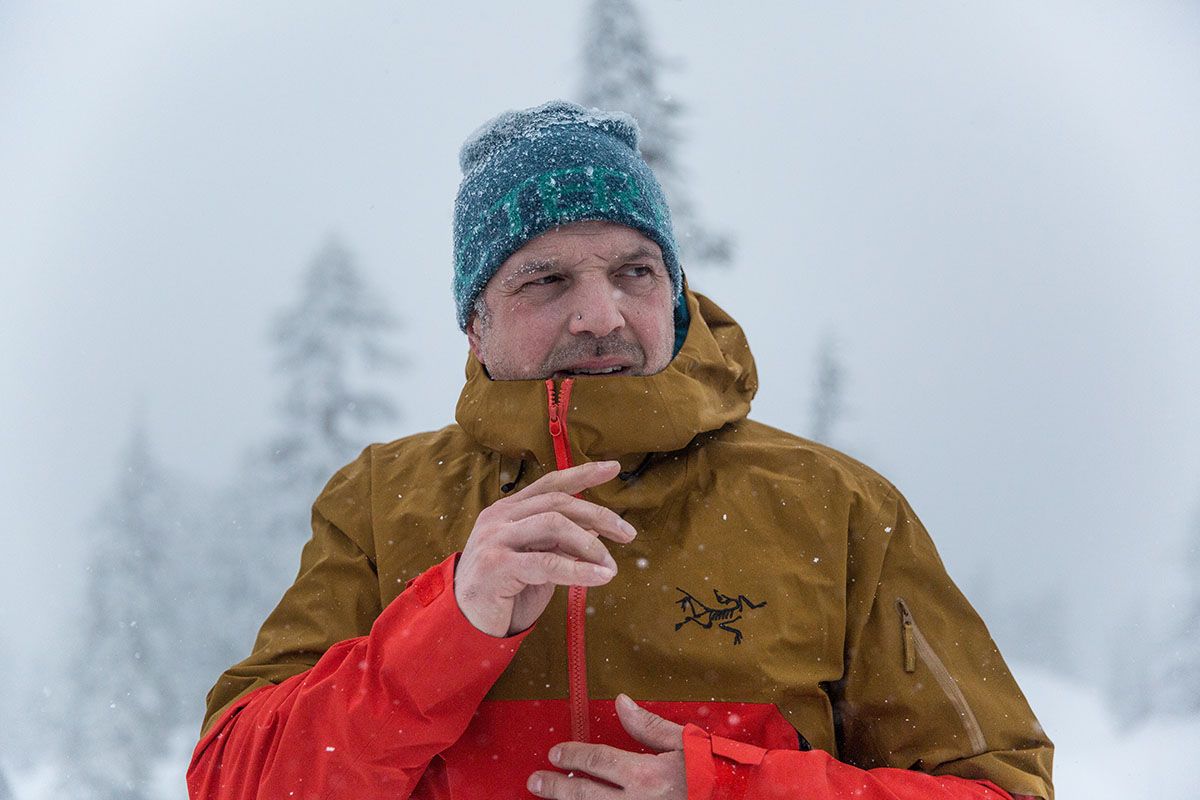 My only durability-related issue thus far has been with one of the hood drawcords. Specifically, the cord used to cinch the left side of the brim detached from the pull tab and retracted into its housing, which now prevents me from tightening that side. This was a bit of a disappointment given the Rush's steep price tag, but it's important to note that we've never experienced an issue like this with Arc'teryx gear before (and we've put a lot of their shells through the wringer). And on the bright side, I'm still able to get a snug and even all-around fit with the remaining drawcords, including one at the right side of the neck and the other at the back of the head.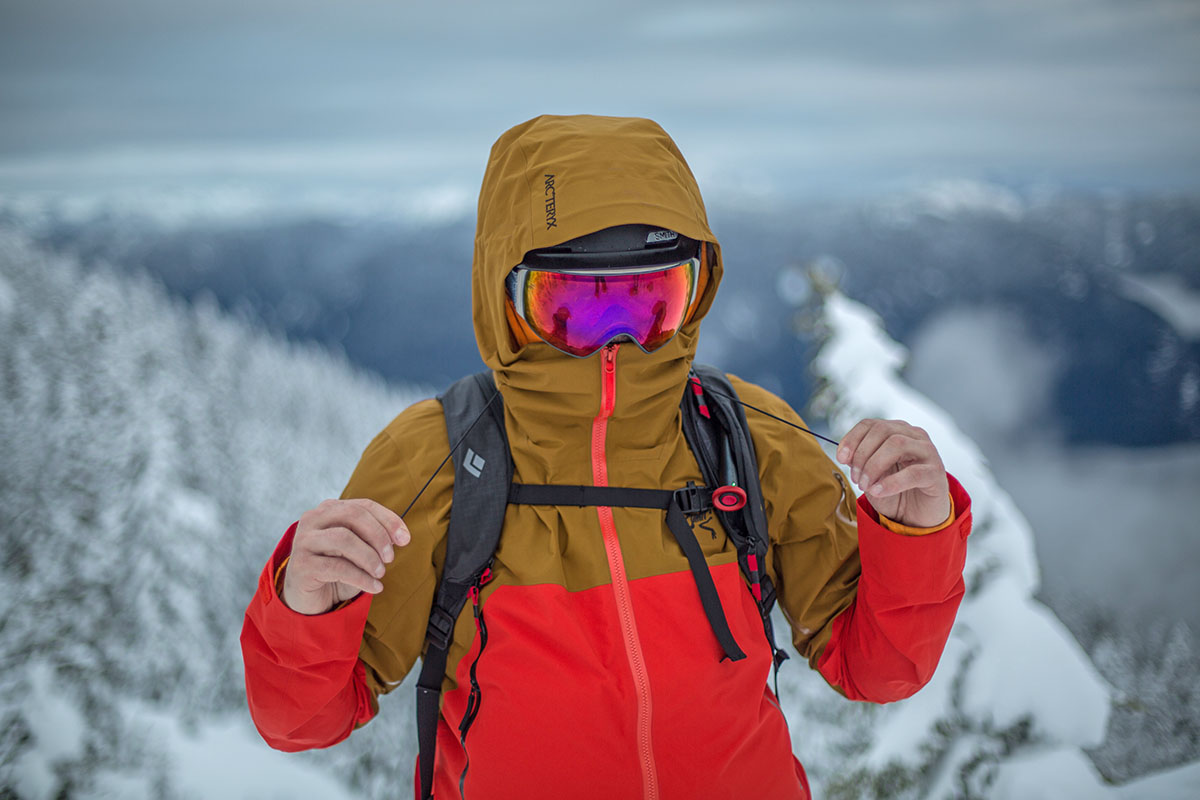 Weight and Packability
I ordered my usual men's size large in the Rush Jacket, which checked in at 1 pound 6 ounces on my scale (slightly higher than Arc'teryx's listed weight of 1 lb. 4.8 oz.). This makes it the lightest Gore-Tex Pro shell in Arc'teryx's collection that utilizes the Most Rugged tech, and puts it in a very competitive spot in the wider backcountry ski shell market. For comparison, Norrøna's premium Lofoten shell checks in heavier at 1 pound 8.6 ounces, Outdoor Research's Hemispheres is a bit lighter at 1 pound 4.7 ounces, and Patagonia's PowSlayer weighs 1 pound 3.3 ounces (the latter two make compromises in durability and features). You can go even lighter with Arc'teryx's own Alpha SV (1 lb. 2 oz.), but that shell is more alpine-focused and lacks a powder skirt and hand pockets. All in all, the Rush is very light considering its feature set and protection, and I have no concerns about bringing it along on multi-day tours.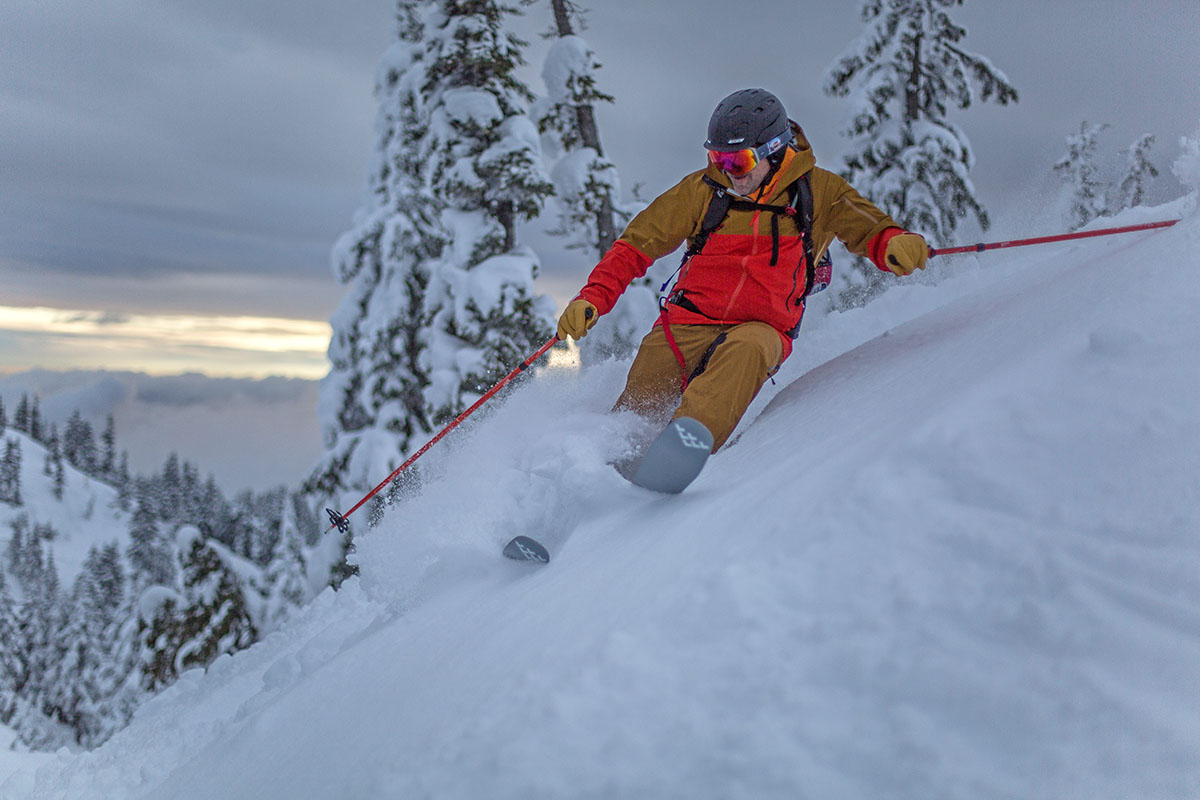 In terms of packability, the Arc'teryx Rush stuffs down impressively small into its own hood and can be compressed even further with the drawcords (although this is how I broke the pull tab mentioned above). In the end, it winds up being around the size of a 32-ounce Nalgene bottle, which is quite remarkable given the thick fabrics and generous storage. And when I'm in a hurry, I have no qualms about stuffing the shell into my pack rather than neatly folding it into the hood, which allows the jacket to fill the empty spaces around my gear.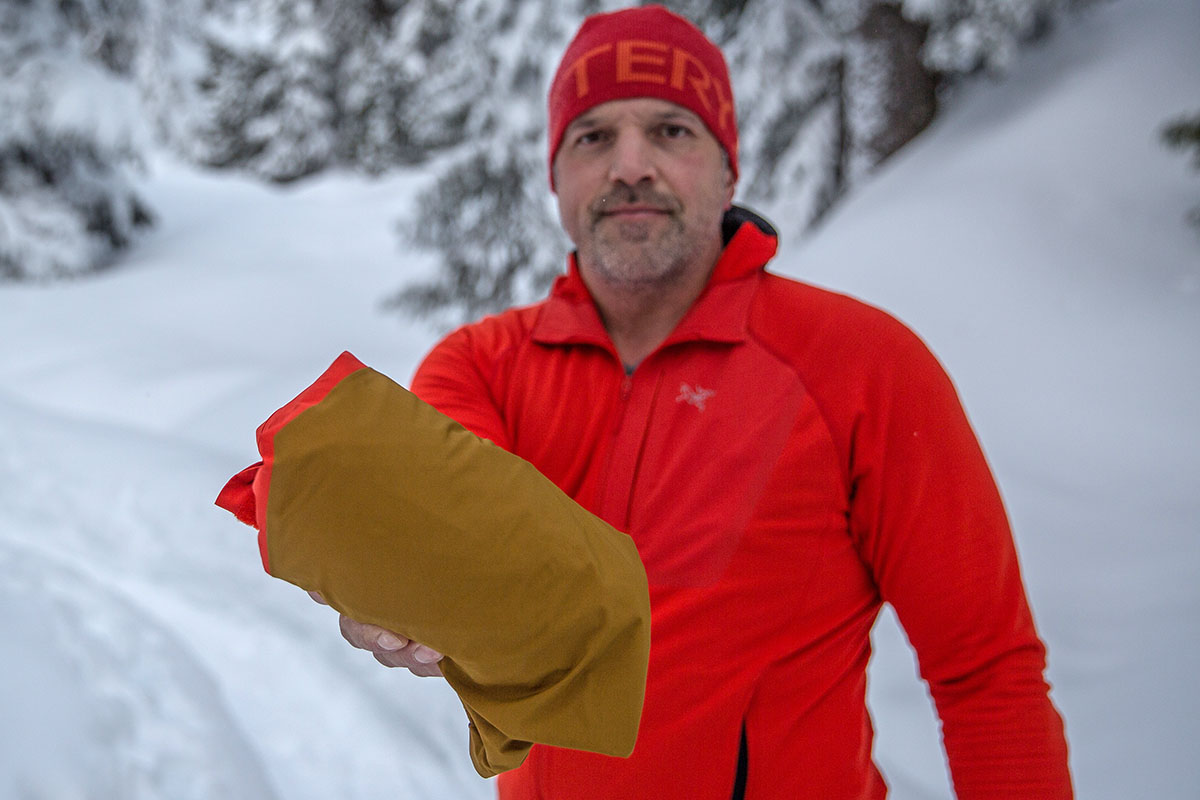 Key Features
StormHood
Put simply, I'm a huge fan of Arc'teryx' StormHood design. Overall, the Rush's hood is very accommodating and comfortably fits over my Smith Quantum and Vantage helmets without restricting side-to-side head movement, and there's plenty of room in the collar area to shoulder check or lean over to adjust boots or skins. In terms of adjustability, you get four drawcords to tweak the fit of the neck, aperture, and brim. I rarely use the lower neck adjuster, but the brim and aperture toggles come in handy when the weather takes a turn. When fully cinched, the opening leaves only my nose and goggles exposed to the elements, which is great for sealing out snow and wind. And all of the tabs are released simply by squeezing the drawcords, which is relatively easy to do but can be a little tricky with bulkier gloves on. Again, I did manage to break one of the drawcords when stuffing the jacket away, but I'm still able to dial in the fit of the hood effectively.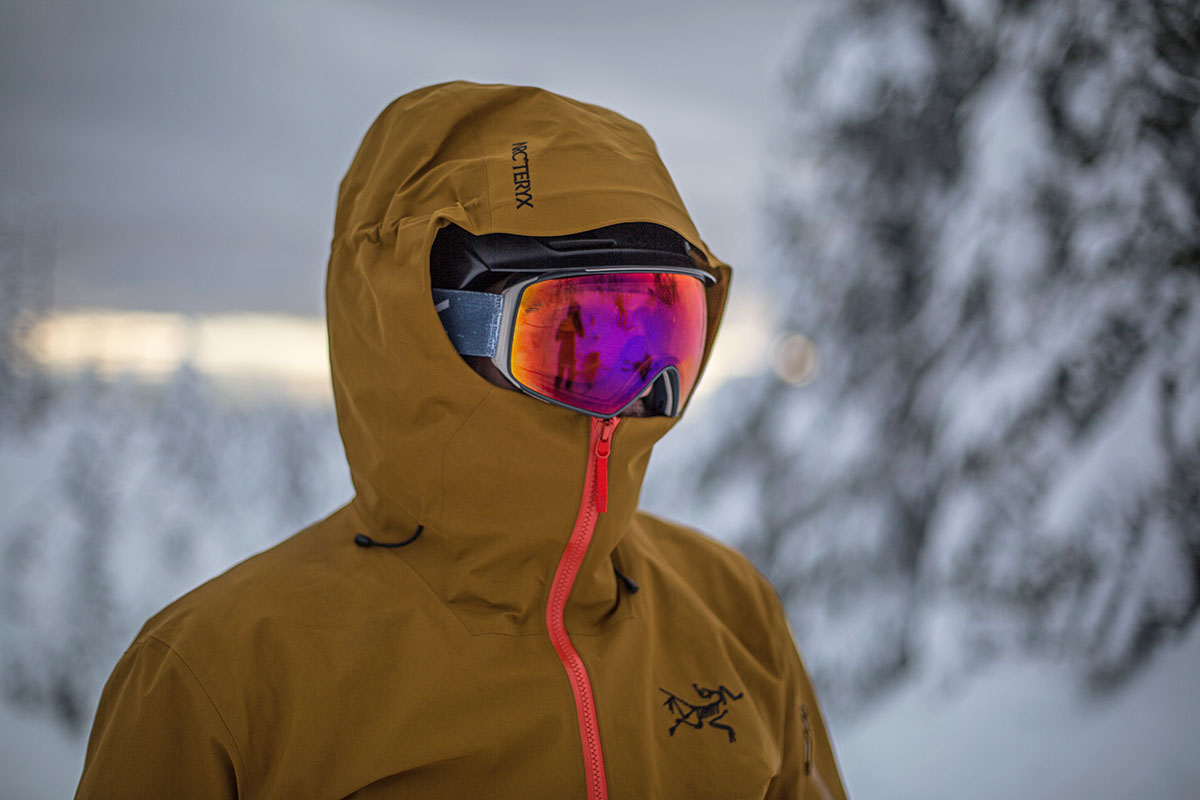 Storage: Pockets
The Arc'teryx Rush comes nicely appointed in the storage department with six very functional pockets. On the outside, two hand pockets are situated high enough on the waist to access while wearing a pack or harness, and they're large enough to warm gloved hands or even stow spare camera lenses in a pinch. They also feature Arc'teryx's innovative RS ("rain shield") zipper sliders, which forego the "hood" typically found at the top and contribute to the shell's sleek exterior. The outside of the jacket also boasts a small sleeve pocket on the left bicep, which is perfect for securely storing a credit card and license when lift skiing (or an RFID pass). On the inside, I love that Arc'teryx included two internal mesh dump pockets (most competitors only have one), which are handy for stashing goggles or climbing skins during yo-yo laps at my local powder stash. And finally, you get a small laminated internal pocket on the left side for valuables like a GPS device/radio, cell phone, or map.

Powder Skirt
Like most ski-specific jackets, the Rush comes with a powder skirt to seal out snow at the waist. The design is fairly simple with elastic to keep it in place and snap closures at the front (with two sets of snaps to accommodate various waist sizes), but I've found that it creates a nice, snug seal and effectively prevents snow from entering during a fall or in deep powder. And if you prefer to attach it, the powder skirt is compatible with Arc'teryx bibs and snow pants, although I haven't used this feature yet. It's worth noting that some competitors have detachable skirts (including Norrøna's Lofoten), which can help shed a few ounces. But all things considered, I'm pretty happy with the Rush's design.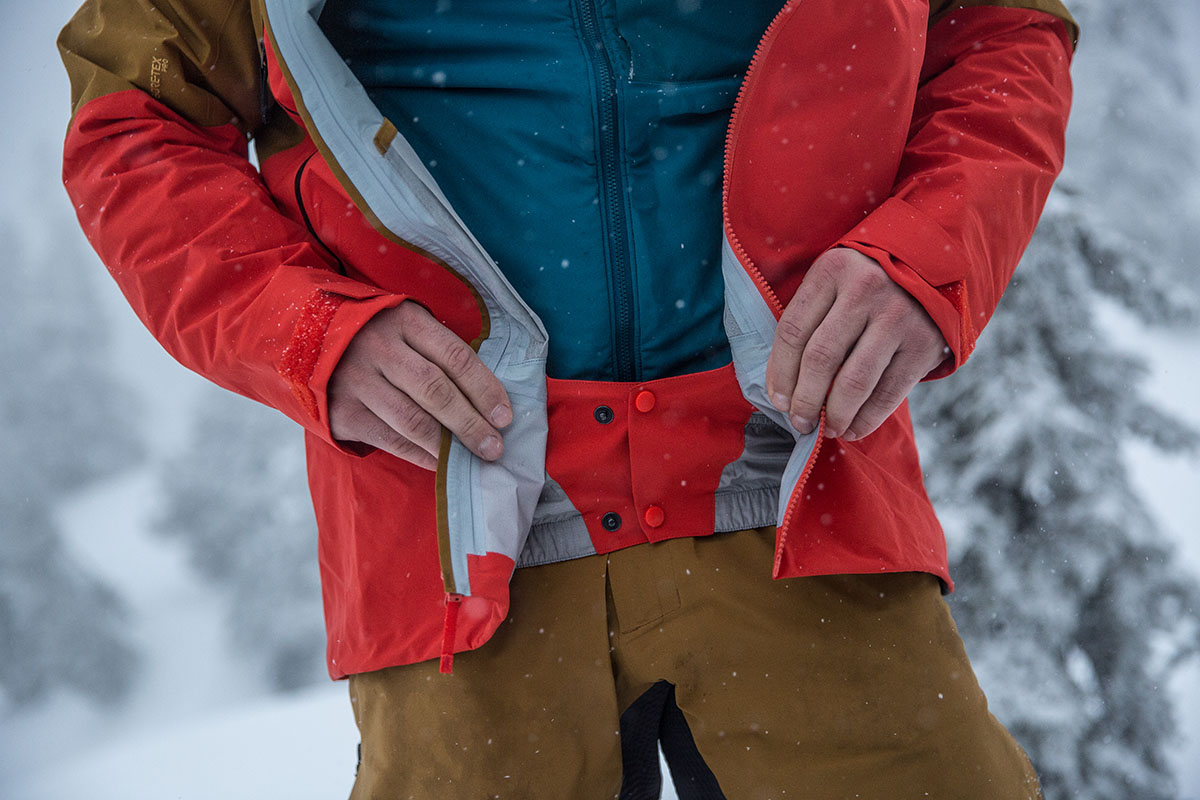 Fit, Sizing, and Comfort
I typically wear a men's large in Arc'teryx shells, and the Rush is no exception. I found that the jacket fit true to size with a "regular" cut that offers ample room for layering without feeling overly big or bulky. For reference, I typically wear the Rush over my Arc'teryx Proton LT synthetic or Cerium SL down jacket, both of which slide underneath nicely with no restriction to movement. Further, the no-lift gusseted underarms and articulated elbows allow for excellent mobility while transitioning or loading gear in and out of my van, and the hip-length cut (listed at 31.25 in.) is long enough to keep the shell from bunching up above my pack's hipbelt and prevent snow and drafts from creeping in below.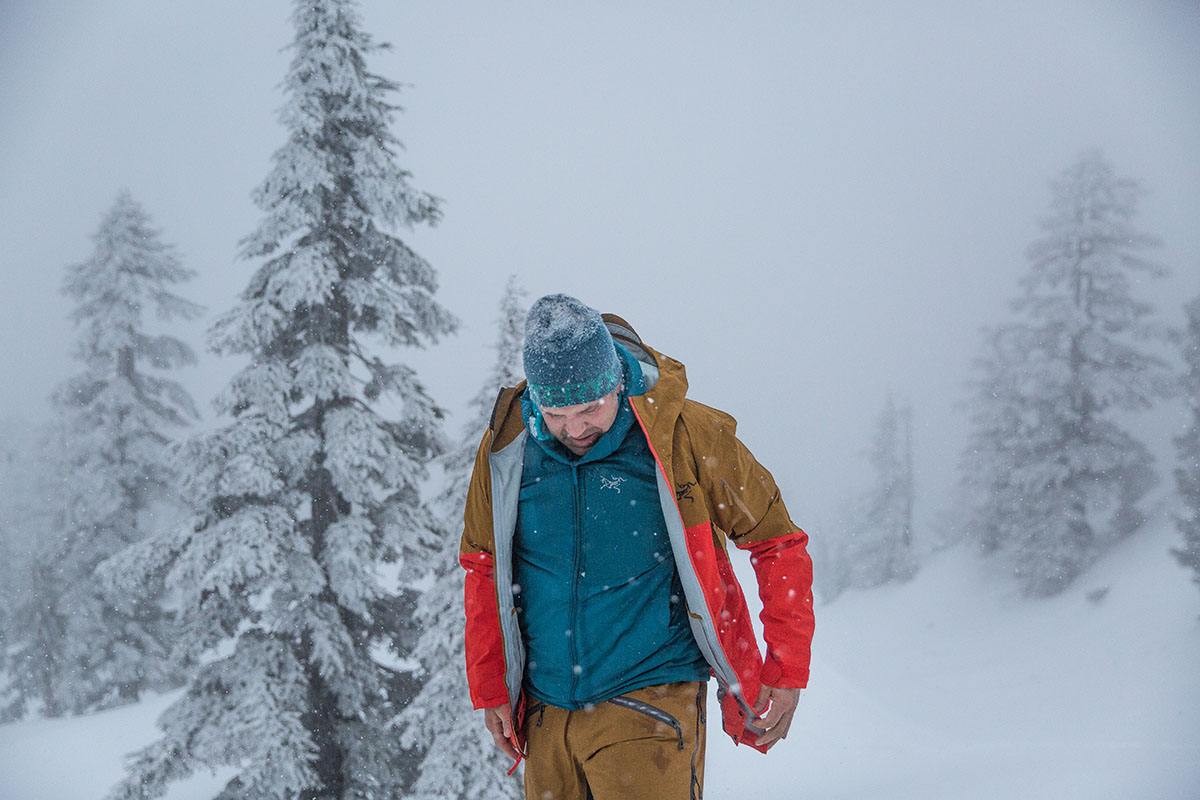 All that said, I do have a couple of minor nitpicks. First, Gore-Tex Pro isn't the most comfortable fabric, and especially when I work up a sweat (it tends to feel crinkly and clammy against bare skin). The interior of the shell does slide nicely over midlayers, but there are definitely more comfortable and supple designs available (including shells with Gore's C-Knit backer, like the Outdoor Research Hemispheres and Arc'teryx's own Sabre LT). Second, I wish Arc'teryx included a two-way main zipper on the Rush, as this would allow me to sit and bend over without the shell bunching/tightening around the waist. This feature is more commonly found on mountaineering-specific shells, but it's nevertheless one that I appreciate immensely.

Other Versions of the Arc'teryx Rush
We tested the standard Rush Jacket for this review, and Arc'teryx also makes it in an insulated version (called the "IS"), a limited-edition variation built with reclaimed materials, and pant options. The Rush IS uses a 70-denier, 2-layer Gore-Tex construction with Octa Loft insulation for a boost in warmth, weighs 1 pound 9.4 ounces, and costs $50 more at $799. In testing the Rush IS, we found it to be a nice alternative on particularly frigid tours and cold resort days, but the uninsulated version here is the more versatile option. The Rush Jacket ReBird has the same overall construction as the jacket we tested for this review but uses reclaimed materials in its construction. And to complete your kit, Arc'teryx also sells the Rush in two pant variations: the standard Rush hardshell pants ($549) and Rush FL softshell pants ($325). Unfortunately, Arc'teryx doesn't offer a women's version of the uninsulated Rush, but their Shashka IS is a close match to the Rush IS.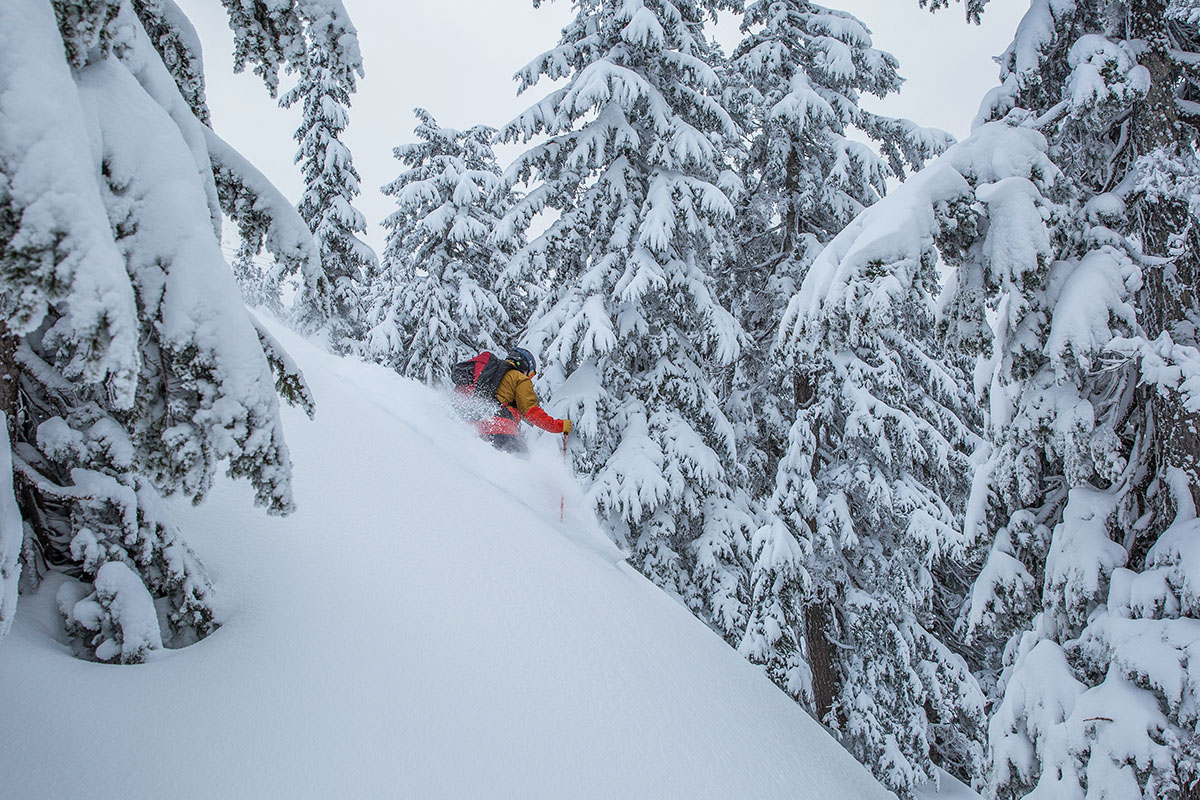 What We Like
With top-end Gore-Tex Pro waterproofing, burly fabrics, and a full suite of protective features, the Rush is essentially impervious to the elements.
Relatively light at 1 pound 4.8 ounces and decently packable, which is quite impressive considering the robust construction and full feature set.
Ample storage including two generous mesh dump pockets on the inside (most competitors only have one).
Fit provides ample room for layering underneath without feeling overly baggy or unshapely.

What We Don't
Like most Arc'teryx shells, the Rush is a considerable investment at $749.
Gore-Tex Pro construction is crinkly and doesn't breathe well (and I wish the pit zips were larger to help with airflow).
One of the hood drawcords detached from its pull tab during testing, which prevents me from being able to tighten the left side of the hood (although the remaining toggles get the job done).


Comparison Table
The Competition
Arc'teryx is known for their quality and hardwearing shells, so it comes as no surprise that many of the Rush's competitors come from in house. First is the Alpha SV, which is more of an alpine-focused shell but offers top-notch performance for demanding backcountry pursuits. In comparing the two, the Alpha SV uses a similarly robust and weatherproof 3-layer, 100-denier Gore-Tex Pro construction (also with Most Rugged technology), weighs a couple ounces less at 1 pound 2 ounces, and boasts the brand's helmet-compatible StormHood that we love. However, the Alpha lacks a powder skirt and foregoes hand pockets in favor of dual chest pockets, and it's also slightly shorter at the back. All in all, the Alpha is a nice option if you plan to add mountaineering to the mix, but the Rush is the more capable design for mixed backcountry and resort skiing.
Next up is Arc'teryx's venerable Sabre ski shell collection, including the AR ("all round") and LT ("lightweight"). Starting with the AR, you get a 3-layer Gore-Tex build and a soft flannel backer for added comfort (and a touch of insulation), which we found to be a great match for resort days and shorter tours but too warm and heavy for extended backcountry use. The LT, on the other hand, forgoes insulation and instead uses a 3-layer Gore-Tex with C-Knit construction, which is a slight step down in all-out protection from the Rush but noticeably softer, more comfortable, and more breathable. Weight goes up to 1 pound 7.3 ounces, but the Sabre LT has a longer cut (listed at 32.5 in.) and full feature set, including seven total pockets, a powder skirt, StormHood, and ample adjustability. All three are quality, well-built shells, and a final decision will come down to where you ski most often and how you prioritize weight, breathability, and comfort.
Norway-based Norrøna is another shell specialist to have on your radar, and their Lofoten Gore-Tex Pro impressed us with its excellent protection and durability. As its name suggests, the Lofoten uses a 3-layer Gore-Tex Pro build (70D) that deftly shrugged off snow, rain, sleet, and wind. We also love the thoughtful details on the Norrøna, including a secondary main zipper for added venting and easy access to an avalanche beacon, long pit zips, a detachable powder skirt, and a longer back length (we measured it at around 33.5 in. for our men's extra large). However, like the Alpha SV above, the Lofoten doesn't have hand pockets, and it's fairly heavy at 1 pound 8.6 ounces. But in the end, the Lofoten's boost in breathability and lower price tag ($699) give it the edge for us over the Rush (for more, see our Lofoten Gore-Tex Pro review).
For a considerable $150 less than the Rush, Outdoor Research makes a standout backcountry ski jacket in their Hemispheres shell. Rather than Gore-Tex Pro, the Hemispheres uses a slightly downgraded construction that includes a mix of 3-layer Gore-Tex with C-Knit and 2-layer Gore-Tex with Stretch. The net result is a minor step down in weather protection but significantly better mobility, comfort, and breathability. We also love the OR's unique TorsoFlo venting system, which allows the jacket to open from the hem all the way to the bicep to dump heat quickly. We did find the Hemispheres' hood to be restrictive with the jacket fully zipped, and overall fit isn't as accommodating as the Rush. But given the savings, we consider the OR the much better value and a fully capable backcountry shell.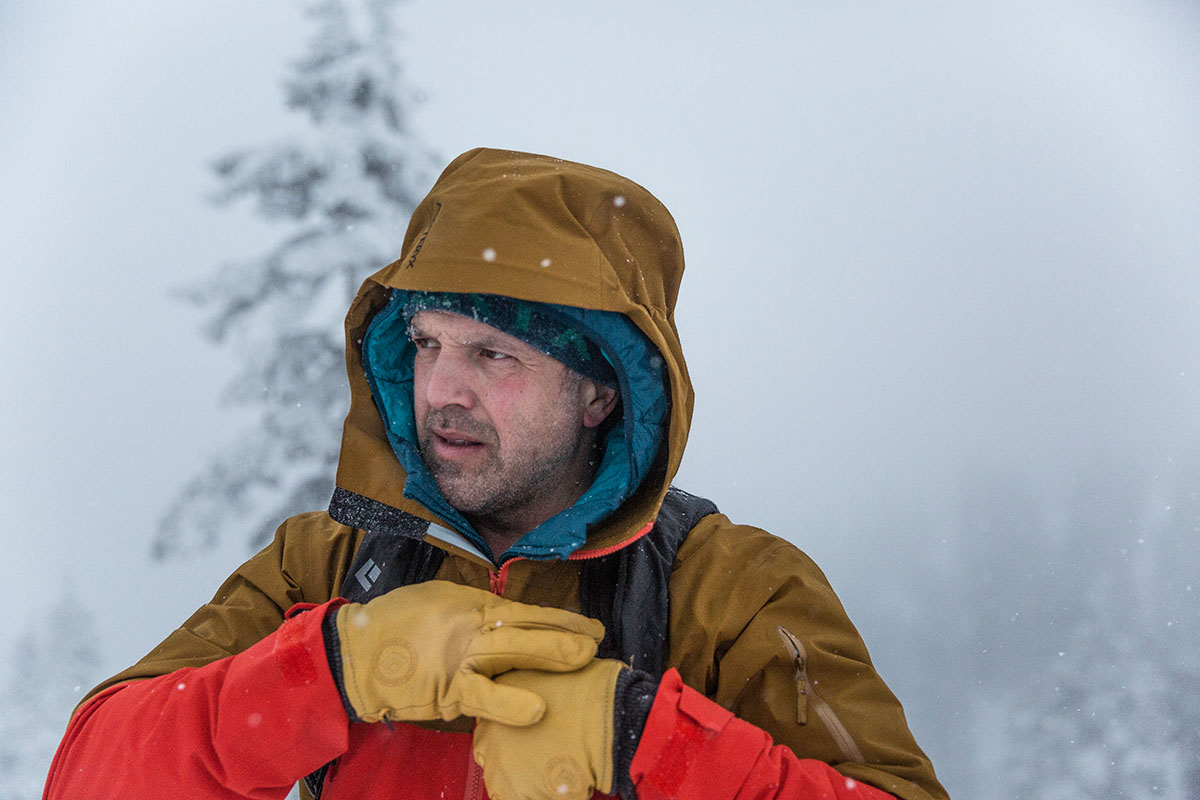 Last but not least is Patagonia's top-of-the-line PowSlayer. Like the Rush, the PowSlayer is well-equipped for harsh conditions with a 3-layer Gore-Tex Pro build and full suite of protective features, including a helmet-compatible hood, watertight zippers, an adjustable powder skirt, and ample storage. That said, the PowSlayer is considerably less hardwearing with a 40-denier fabric (the Rush is a mix of 80 and 100D), which isn't as confidence-inspiring around sharp equipment (although we haven't had any durability issues to date). All in all, the PowSlayer is highly protective and has an undeniably premium construction, but for $50 more and only a minor weight penalty, we think the Rush is the better-built backcountry shell.
If you're thinking about buying gear that we've reviewed on Switchback Travel, you can help support us in the process. Just click on any of the seller links above, and if you make a purchase, we receive a small percentage of the transaction. The cost of the product is the same to you but this helps us continue to test and write about outdoor gear. Thanks and we appreciate your support!
Depending on the seller, most products ship free in the United States on orders of $50 or more. International shipping availability and rates vary by seller. The pricing information on this page is updated hourly but we are not responsible for inaccuracies.
Read More From Switchback Travel