Arc'teryx is no stranger to hardshell jackets, and long has been a go-to option for protection from harsh weather. For the 2016-2017 season, they've updated their bomber Alpha SV with sturdier Gore-Tex, an innovative new zipper design, and reduced weight. Frigid winds and heavy snow have been pelting British Columbia's Coast Mountains early this winter, so I exposed this jacket to much more than our typical heavy and wet coastal sleet. The verdict: the Alpha SV is hands down the best hardshell I've ever worn. If you can swallow the high price tag, it's an ideal jacket for multi-day ski tours and expeditions where extreme weather is a concern. Below are my experiences with the Alpha SV's weather protection, breathability, durability, fit, and more. To see how the Alpha SV stacks up, check out our comparison table and article on the best hardshell jackets.
 
Performance
Weather Protection
The Arc'teryx Alpha SV was extremely impressive in its ability to protect me from frigid winds and unrelenting sleet and snow. The "SV" is short for "Severe" (as in "severe weather"), and the shell is designed to provide the most weather protection of any Arc'teryx jacket. The big news is the use of Gore's new N100p-X Gore-Tex Pro face fabric, which is thicker, more durable, and essentially the same weight as the 80-denier fabric used on the previous model (the new fabric is 100 denier, hence the name). The Alpha SV also has a coating of Nu water repellant on the exterior to bead up moisture, taped seams, watertight zippers, and sturdy Velcro straps on the cuffs. More, the helmet-compatible StormHood is one of the best and most modifiable hoods I've used to date (more on that below).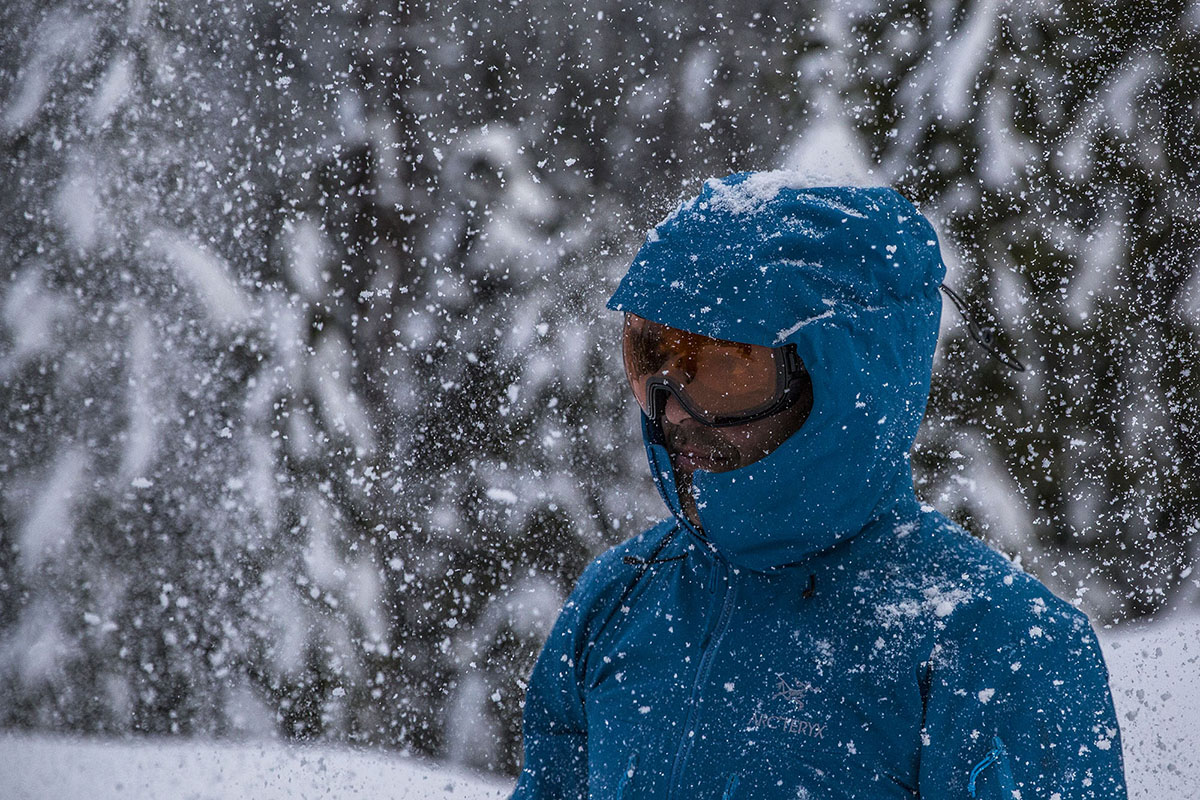 In use, the new shell material improves on the waterproofing, durability, and abrasion resistance of what was already a burly jacket. I have absolutely nothing negative to say about the level of protection the Alpha SV provides. I've managed to expose this hardshell to tough weather conditions throughout the early winter season and it has worked impeccably to date. Despite significant use, I've never had the fabrics wet out or show any sign of weakness. When exposed to heavy winds and sideways rains, I just keep thinking that I am "battening down the hatches" when I put it on.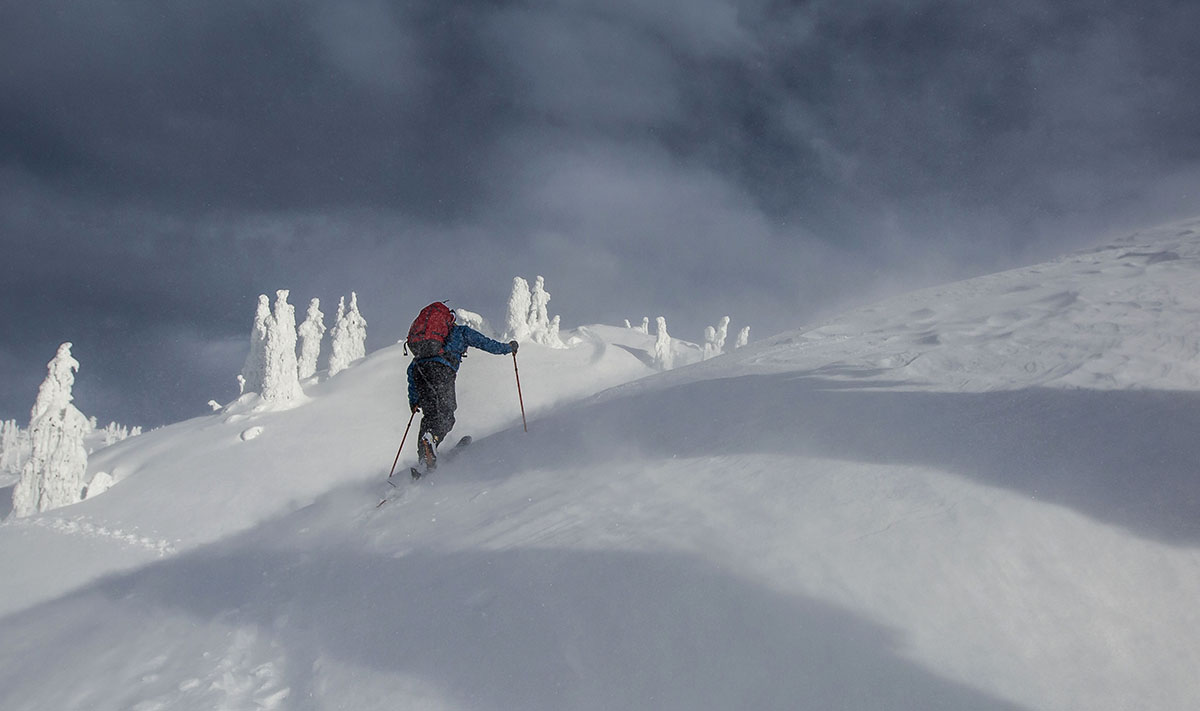 Breathability
This jacket, of course, is not designed to wear while jogging in balmy temperatures—anyone would turn into a sweaty mess. It's designed for severe weather, and the level of breathability provided by the Gore-Tex Pro is impressive given the sturdy 100-denier material. Having said that, I have found that in temperatures above freezing, I did sweat a fair bit during high-output activities. The pit zips are a lifesaver in such situations and work effectively, especially when also lowering the main zipper a bit for fresh air. For me, pit zips truly are a must and I've been disappointed in the past by shells designed for cardio activities that do not have them (including my recent test of the Patagonia Reconnaissance).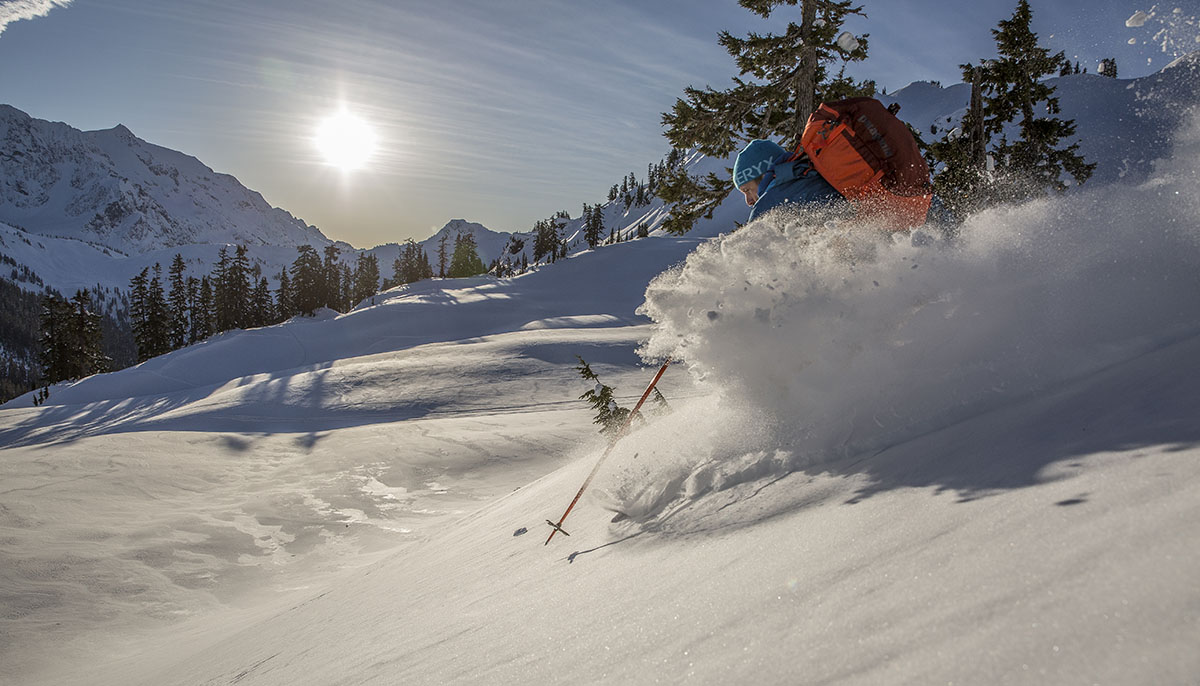 I tend to do most of my ski touring or alpine scrambling in a softshell or fleece to maintain some breathability, and typically keep my shell in my bag for the descent, transitions, camp set up, and for any time hideous weather appears. Because the temperatures this season have been a little cooler than normal—down to -20°C (-4°F)—I have been wearing the Alpha SV while touring and have remained comfortable and relatively dry. I never expect to remain completely dry (unlike my wife), but I take it as a win when my merino baselayer is only damp in a few places rather than soaked like a boxer trying to cut weight before a big bout.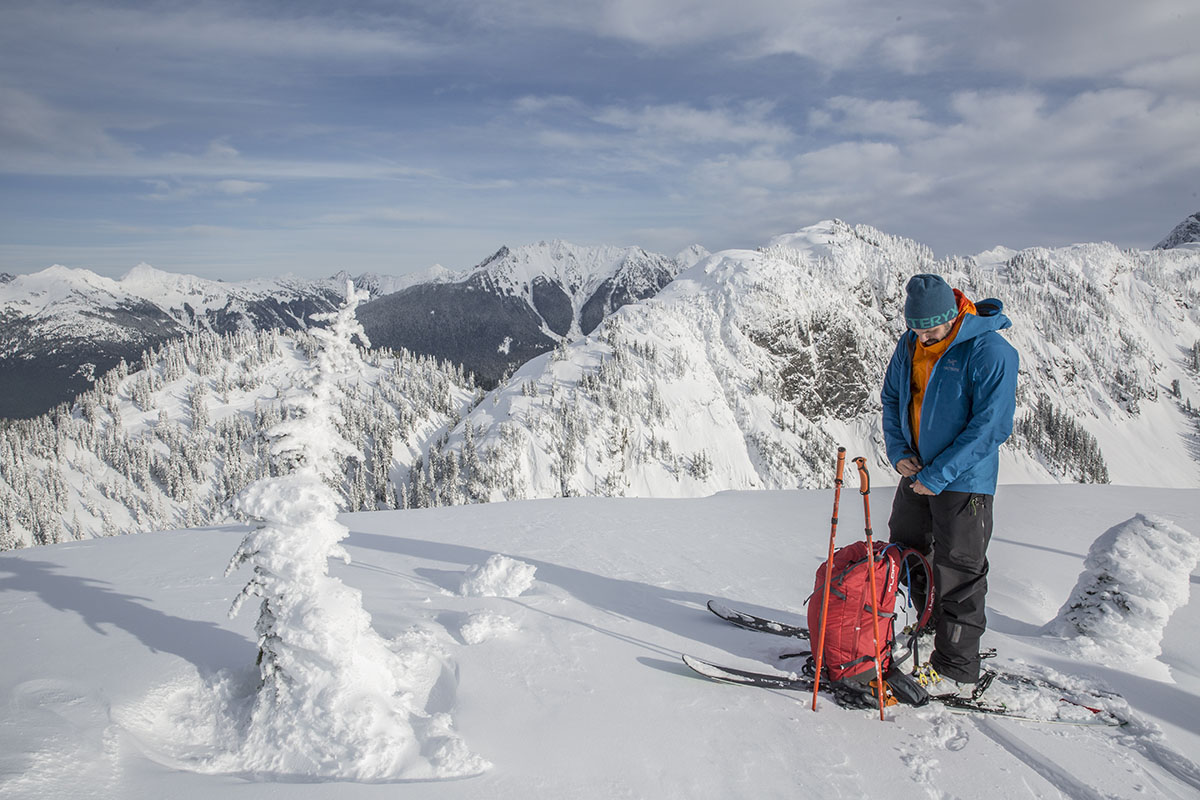 Build Quality and Durability
The N100p-X 3-layer Gore-Tex Pro is touted as being extremely durable and two times as abrasion resistant as the previous Alpha SV. This is a big claim, but thus far I would have to agree. The Arc'teryx Alpha SV is designed for multiple uses including skiing and mountaineering, but likely the most demanding use is winter alpine climbing. Although not tested to the extremes of ice climbing, this jacket has proven itself outing after outing nevertheless. It has been rubbed against granite on many occasions, used as a sheet while putting on tire chains, and constantly stuffed into a pack filled with items such as crampons, a shovel, and climbing protection. In other words, it has taken a beating yet remains in impeccable condition.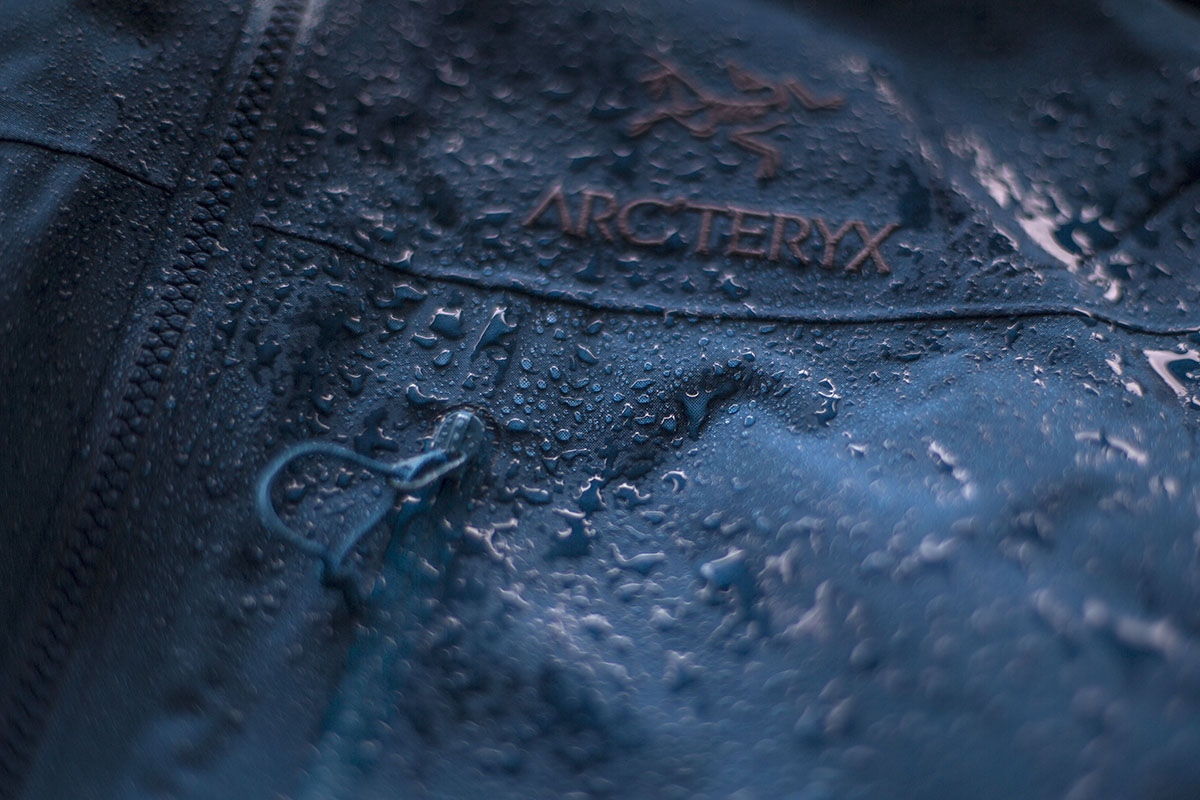 Weight and Packability
The Alpha SV is a burlier jacket than its predecessor, yet Arc'teryx designers managed to shed weight. My men's large weighs in at 18.4 ounces, which isn't ultralight by any means, but is an impressive feat for such a durable and high quality jacket. Though I carry it in my pack often, I would be lying if I said it was easily compressible. I tend to carry a large pack—even on day outings—so the pack size hasn't been an issue for me. But if weight and packability are top priorities, a lighter jacket like the Arc'teryx Beta AR may be a better option.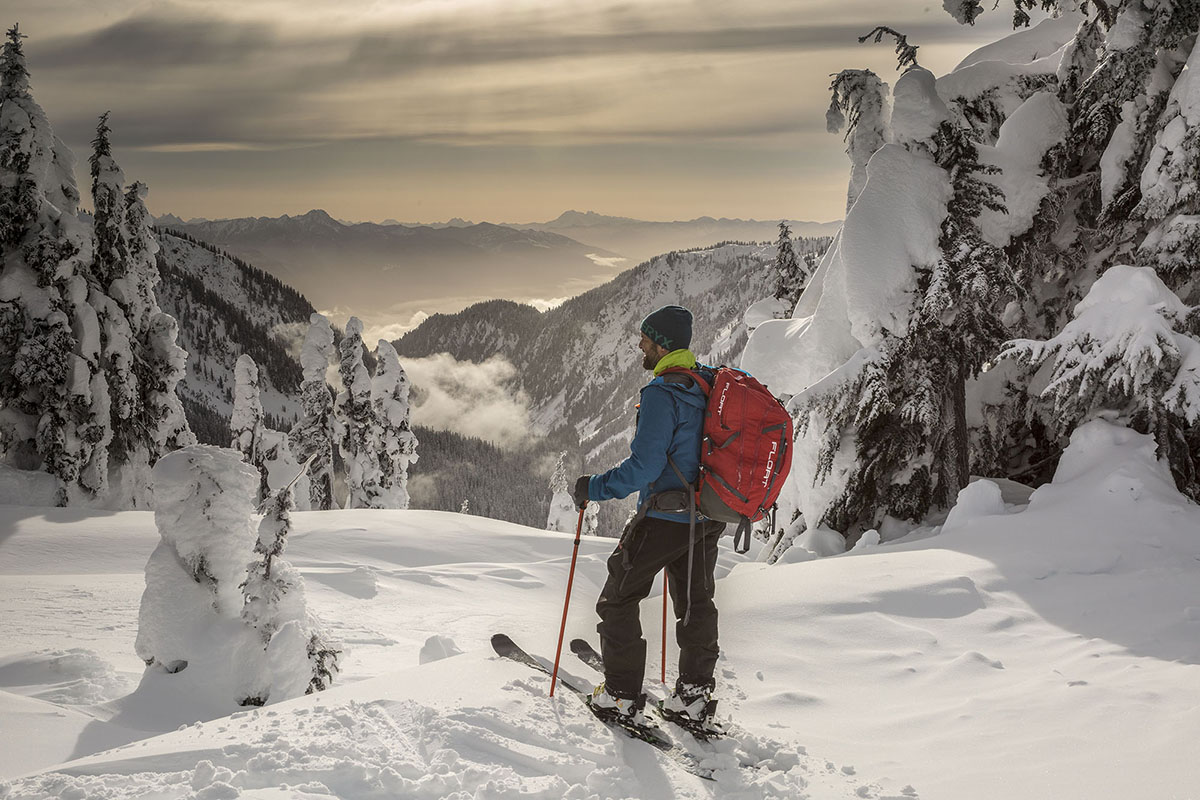 Key Design Features
StormHood
One of the shining features of this jacket is the hood. The helmet-compatible StormHood has a laminated brim that retains its shape and four Cohaesive adjusters on the sides and back that cinch the neck area, brim, and aperture of the hood. These adjusters all are easily manipulated when wearing gloves or even mittens—an important feature when dealing with freezing temperatures and cold hands. I found that I was able to customize the fit of the hood regardless of whether I was wearing a helmet with goggles or only a beanie, and could cinch down the hood without obstructing my line of sight.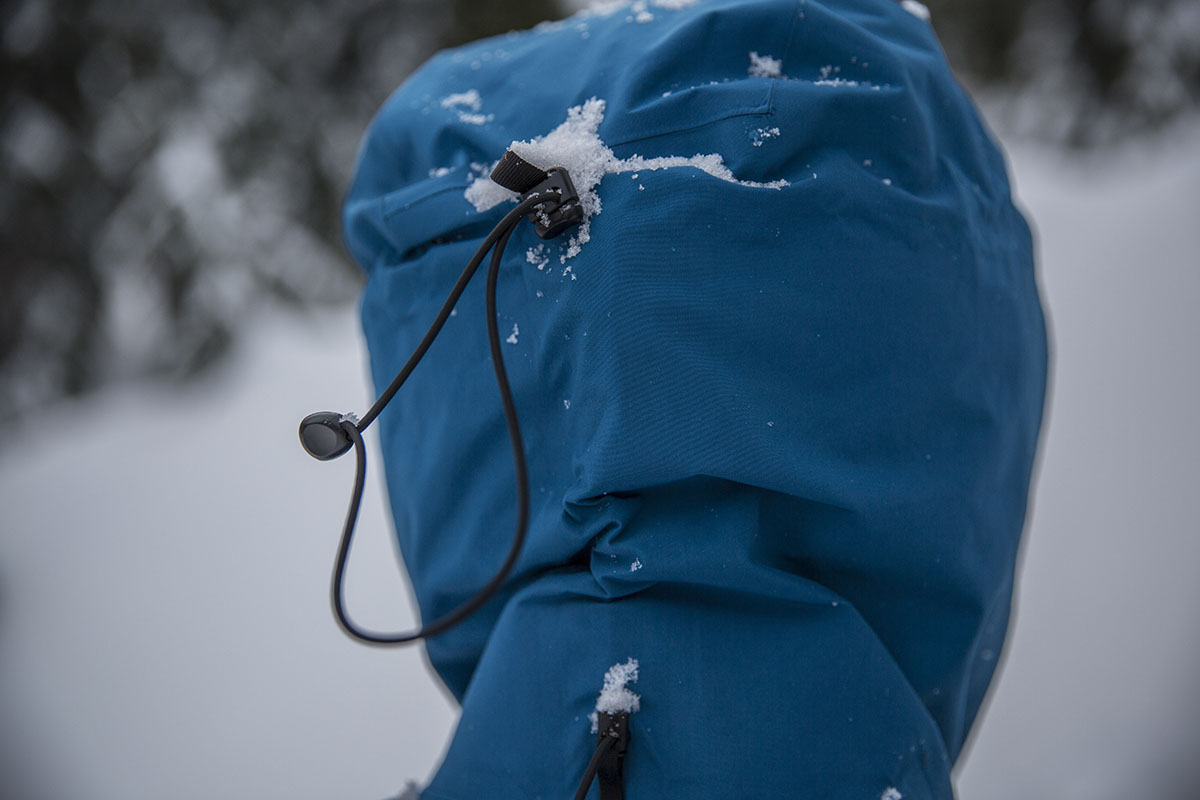 WaterTight Zippers
Among the updated features on the Alpha SV, Arc'teryx is particularly proud of their WaterTight zippers with RS sliders. At first glance, it's hard not to think that it looks like any other zipper, but there is a subtle and key difference. Zippers typically leave a very small gap at the top where they don't quite complete the seal, so manufacturers need to add a small hood or "garage" to stop water from entering. This adds weight with the extra material and stitching. The new WaterTight zipper eliminates the need for this "garage" by allowing the zipper to continue up to and seal at the very top.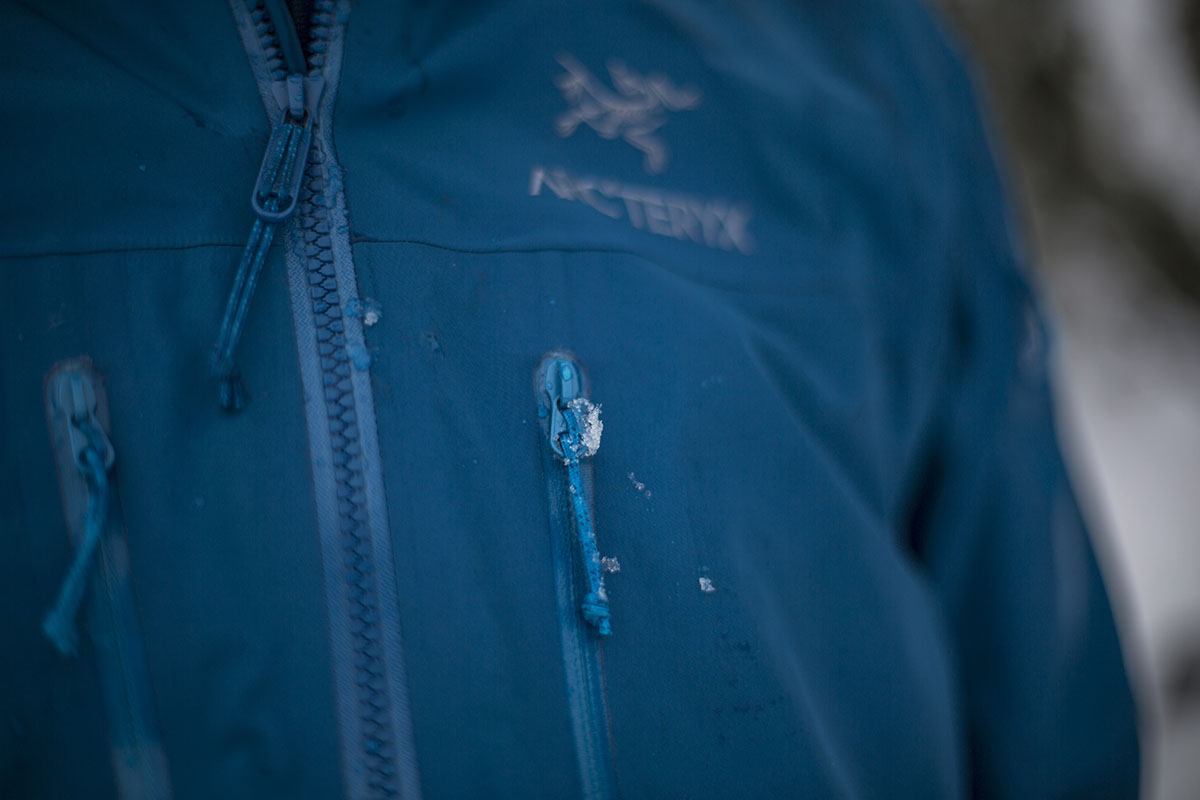 In use, the zipper design works seamlessly. Though Arc'teryx adds the disclaimer that their WaterTight zippers are highly water resistant and not waterproof, I have experienced no leakage through any of the zippers and have been comfortable leaving valued items such as my phone or a map in the pockets.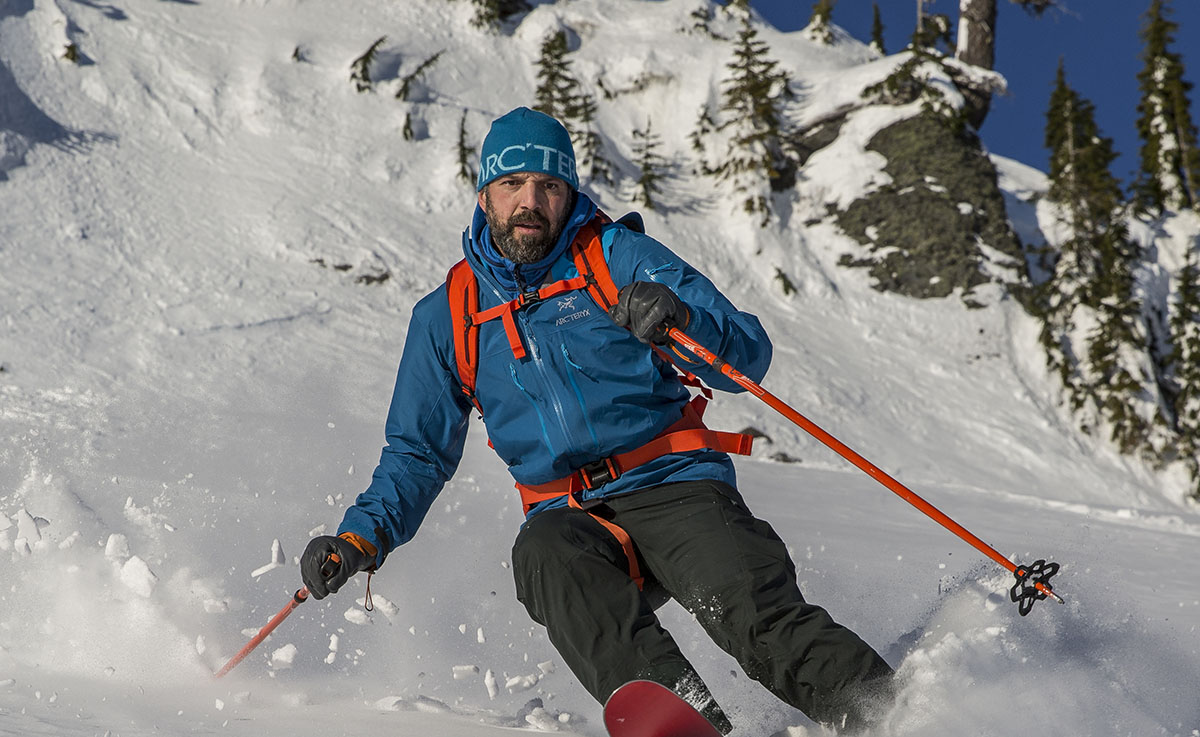 Storage
Two large chest pockets located just outside the main zipper offer plenty of storage and are set high enough to be accessible when wearing a pack or harness. A small but important design feature of the chest zippers is that they are angled so you can open them with the opposite hand. This keeps one's center of gravity balanced during activities like alpine climbing, and allows for easy entry when my hands feel like they're frostbitten. Inside the jacket are two more pockets: one large drop-in space that easily fits ski goggles and one small zippered pocket that I use for items like my phone or inReach Satellite Communicator.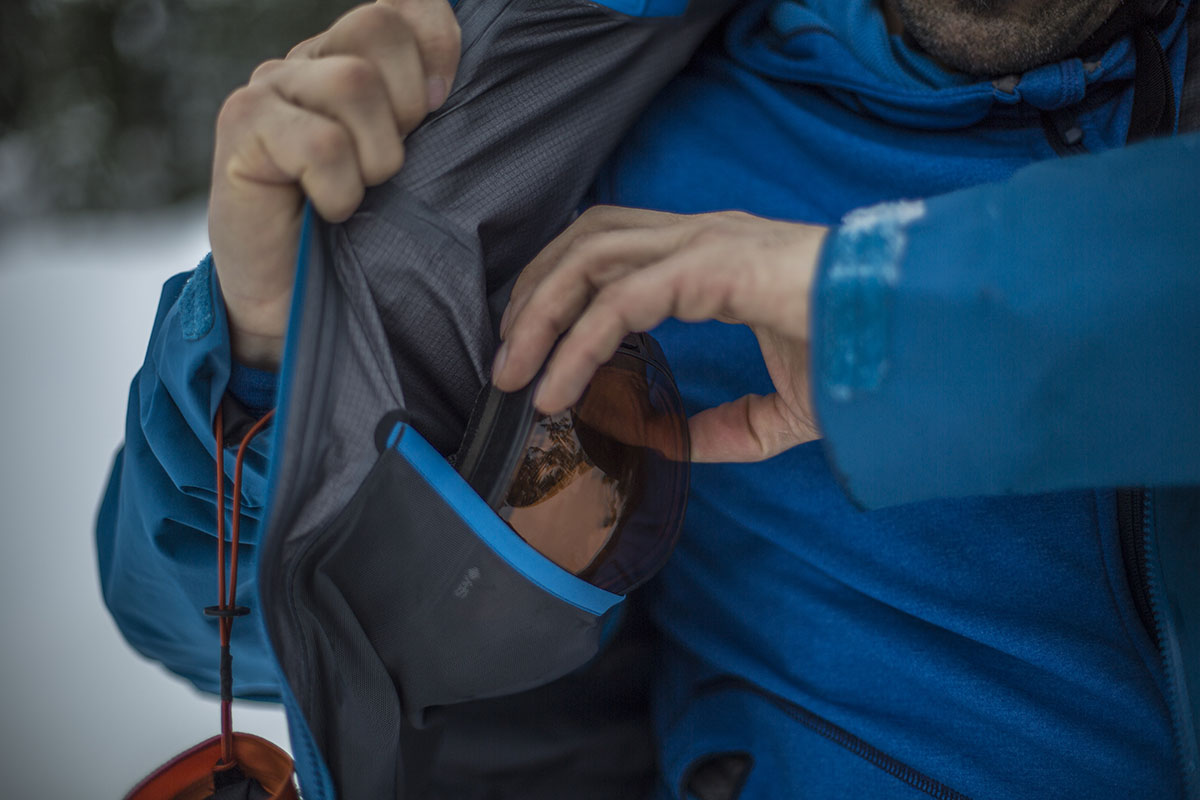 Fit and Sizing
As with almost all their apparel, Arc'teryx has found that magical balance between an athletic fit and enough room for layering. I typically wear a men's size large and found the Arc'teryx Alpha SV is true to size. The jacket is roomy enough for a warm midlayer (I wore the Arc'teryx Proton LT Hoody for most of this test) but fitted to avoid bunching up or flapping in the wind. This premium fit is one of the reasons I love Arc'teryx products.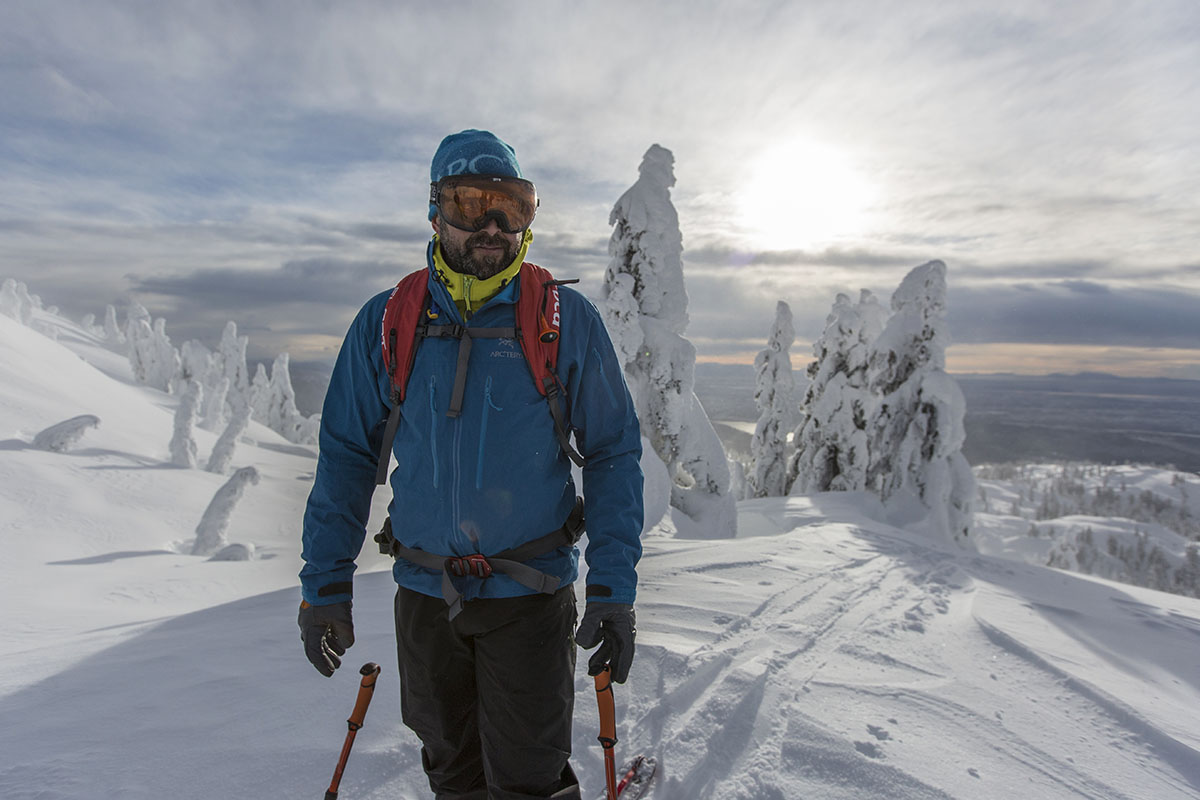 Comfort
With gusseted underarms and articulated patterning, the shell has unrestricted mobility. I noticed the ease of movement when doing simple things such as putting my goggles on and adjusting my hood, but really appreciated it while reaching to place an anchor in a tricky spot. I've had other shells that are tight in the armpit area even to the point of causing chafing, but this is not an issue with the Alpha SV. It may lack the stretchiness of a softshell, but overall comfort is excellent.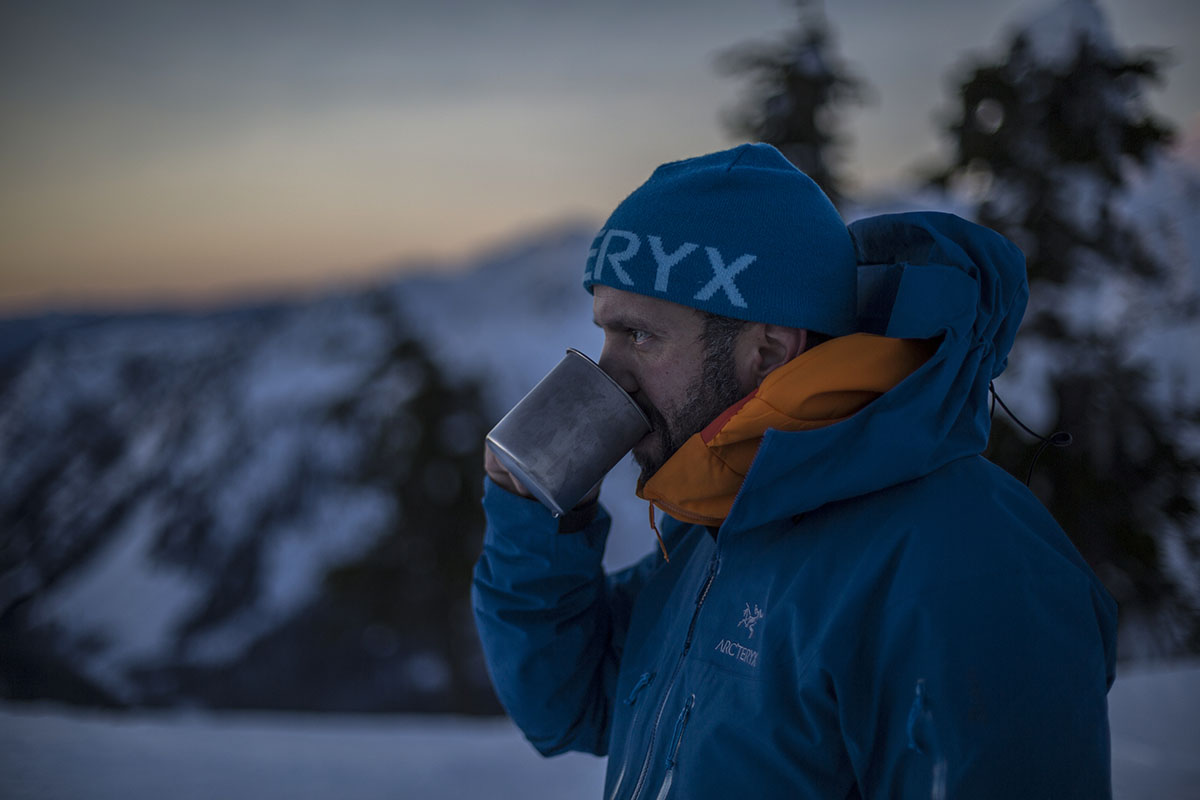 What We Like
Absolutely bombproof: wind, rain, and snow protection is second to none.
Excellent durability at a reasonable weight.
The StormHood is as good as it gets: it's easy to adjust and fits well with or without a helmet.
Large chest pockets and internal drop-in pocket are functional and can hold a lot of gear.

What We Don't
No hand pockets, but that is typical of alpine hardshells.
The price is high and realistically the jacket is overkill for a lot of uses. Having said that, if I'm in a remote area and there's a chance the weather could shift, this is the jacket I'd want in my pack.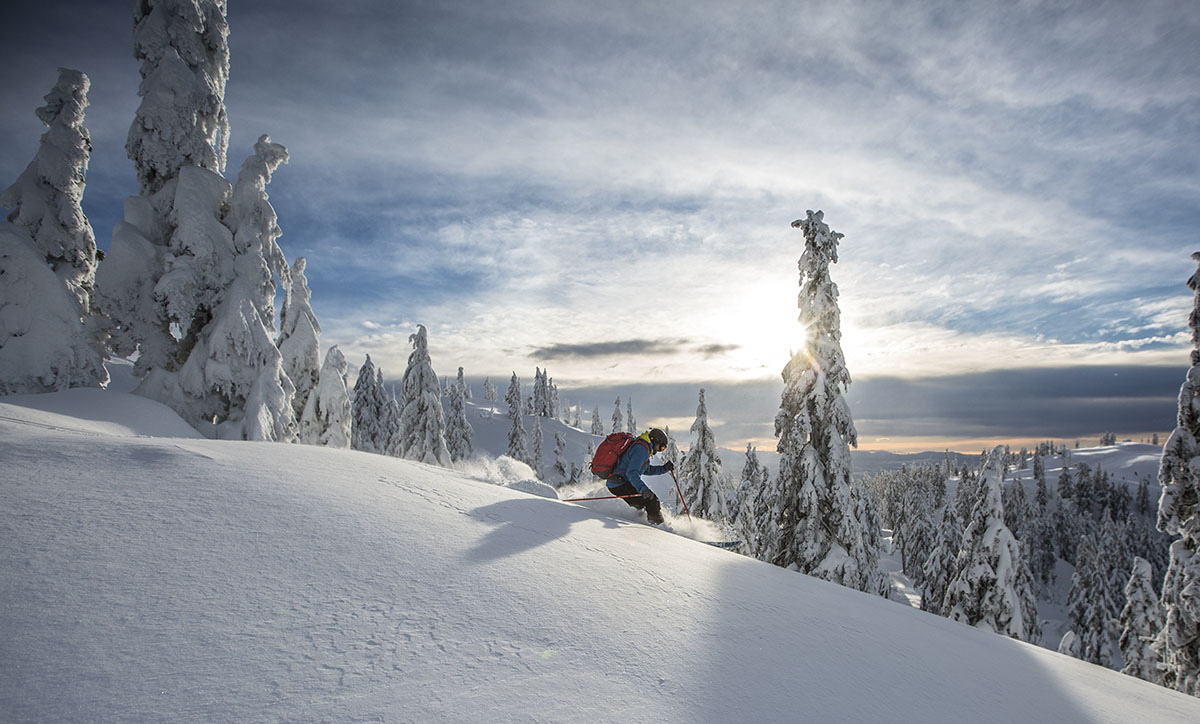 Comparison Table

The Competition
The Alpha SV is in the upper stratosphere of hardshell jackets and consequently doesn't have a lot of direct competition. Patagonia doesn't currently offer a dedicated hardshell made with Gore-Tex Pro (their PowSlayer jacket has skiing-specific features and a much less durable 40-denier fabric). Norway-based Norrøna makes a Gore-Tex Pro shell for alpine climbing, the Trollveggen, but this jacket uses a thinner 80-denier face fabric, weighs more (about 20.5 ounces), and lacks the premium fit and finish of the Alpha SV. Outdoor Research's Maximus is an interesting alternative with 70-denier Gore-Tex Pro and offsetting stretch panels for added mobility. But as with the rest of the competition, it's just hard to match the quality and balance of weight and durability of the Alpha SV.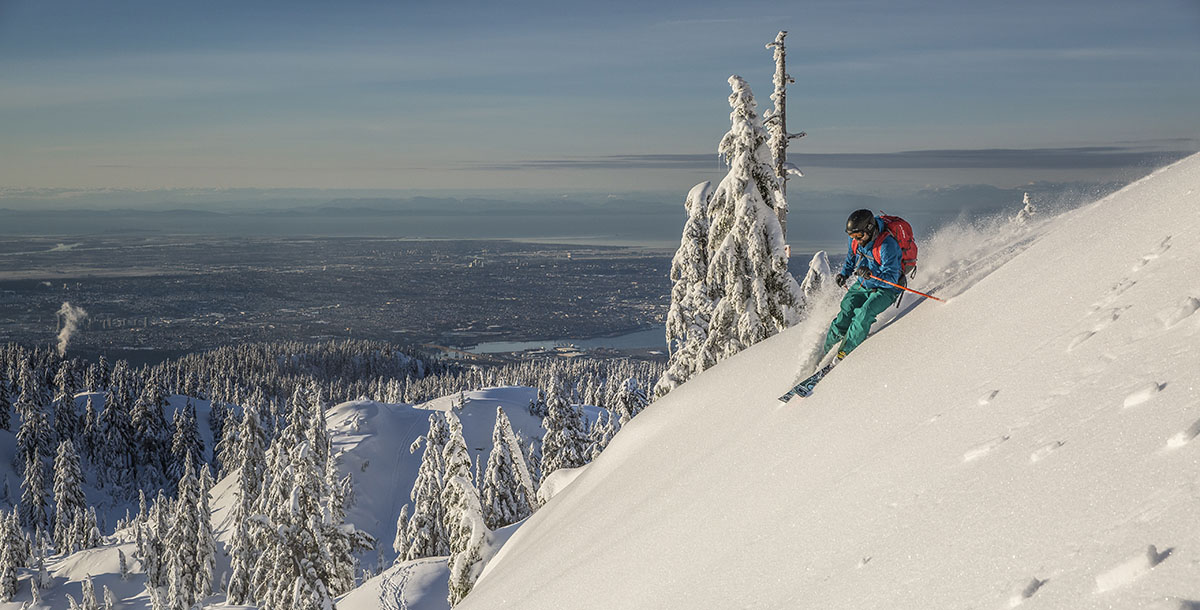 Arc'teryx is the clear leader for serious hardshells, so some of the toughest competition for the Alpha SV is in-house (it's important to note that Arc'teryx tailors each of their pieces for specific uses, so it's often not a matter of which jacket is better overall but which jacket is best for what you'll be doing). The Alpha SV sits at the top of their hardshell lineup in durability and weather protection, but if you don't need the most bomber setup, the Beta AR hits a nice middle ground. This stalwart shell is strong enough to handle some rough alpine treatment, but the offsetting 80 and 40-denier fabric is less of an impenetrable fortress than the 100-denier Alpha (for more information, see our in-depth Beta AR review). But for the best of the best in terms of protection, nothing currently on the market can dethrone the latest rendition of the Alpha SV.
If you're thinking about buying gear that we've reviewed on Switchback Travel, you can help support us in the process. Just click on any of the seller links above, and if you make a purchase, we receive a small percentage of the transaction. The cost of the product is the same to you but this helps us continue to test and write about outdoor gear. Thanks and we appreciate your support!
Depending on the seller, most products ship free in the United States on orders of $50 or more. International shipping availability and rates vary by seller. The pricing information on this page is updated hourly but we are not responsible for inaccuracies.
Learn More About Outdoor Gear