Arc'teryx Alpha AR Jacket
Price: $599
Weight: 12 oz. (women's)
Waterproofing: Gore-Tex Pro
What we like: Very light but still feels robust and nearly impervious to inclement weather.
What we don't: Expensive, no hand pockets, and on the thinner side for an alpine shell.
See the Women's Arc'teryx Alpha AR  See the Men's Arc'teryx Alpha AR
Arc'teryx makes some of our favorite technical shells on the market, with a wide range of designs that are purpose-built for just about any activity or conditions. From their alpine-focused collection, the latest Alpha AR (short for "all round") combines top-end waterproofing with a functional feature set for performance use. The targeted design is pricey at nearly $600 and forgoes hand pockets to keep weight low and maintain harness compatibility, but it was an excellent match for the harsh weather we experienced in Patagonia. Below I break down my experiences with the Alpha AR Jacket. To see how it stacks up to the competition, see our article on the best hardshell jackets.
 
---
Table of Contents
---

Performance
Weather Protection
We rarely have complaints with Arc'teryx shells when it comes to protection, and the Alpha AR Jacket is yet another impressively capable barrier against inclement weather. In this case, Arc'teryx opted for a mix of two Gore-Tex Pro varieties: their suppler and lighter Most Breathable Technology with Most Rugged reinforcements in high-wear areas. The net result is an excellent mix of protection, toughness, and breathability for demanding and abrasive outdoor objectives like hiking, backpacking, and skiing. For reference, the Alpha AR easily shrugged off Patagonia's notoriously violent winds during a backpacking trip to Lago Eléctrico and kept me dry and comfortable when the skies opened up on a subsequent outing in an adjacent valley.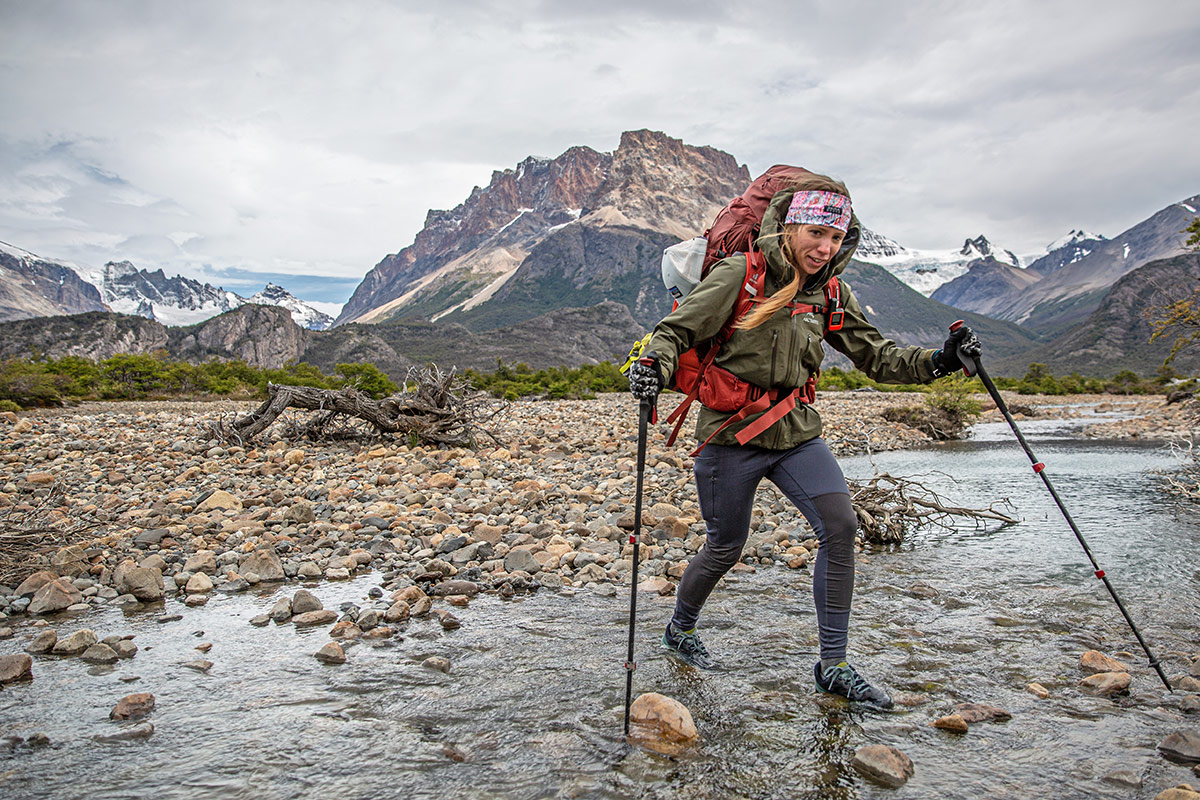 As we've come to expect from Arc'teryx, all of the other details are nicely executed for battening down the hatches. The external zippers are highly water-resistant (I fully trust them to keep my valuables dry), the hem and cuffs are adjustable to seal out the elements, the hood and tall collar are protective and leave very little skin exposed, and you get thoughtful touches like taped seams and a small wind flap behind the main zipper. Even in knock-you-over gusts and pelting rain in Patagonia, the Alpha AR held up admirably without letting any drafts or moisture inside.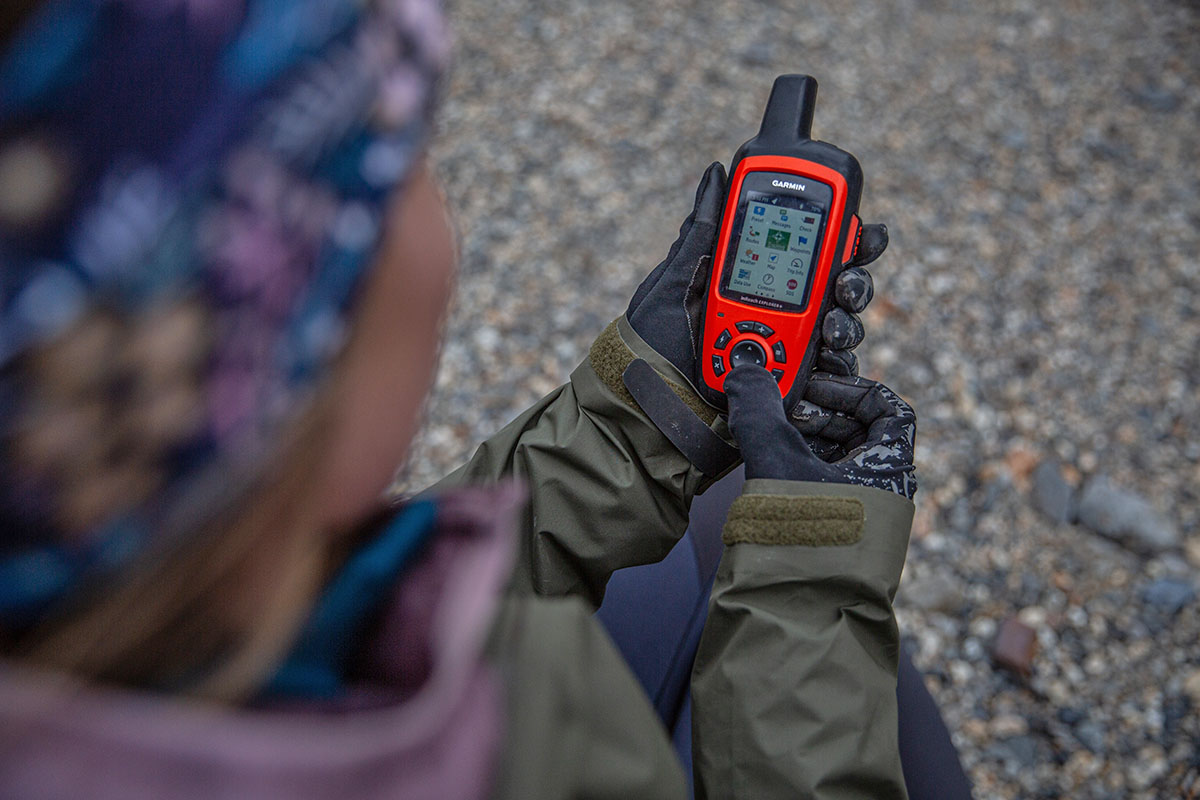 The only complaint I have is that the proprietary water-repellent coating (called "Nu") wetted out fairly quickly during a sustained rainstorm along the Huemul Circuit, which darkened the fabric and gave off the appearance of water soaking through. To be fair, my baselayers remained perfectly dry underneath, but there was a noticeable clamminess to the shell until I was able to let it dry overnight. But that experience did little to dampen my love for the Alpha: It's undeniably well equipped to handle harsh weather with a pretty impervious feel to match.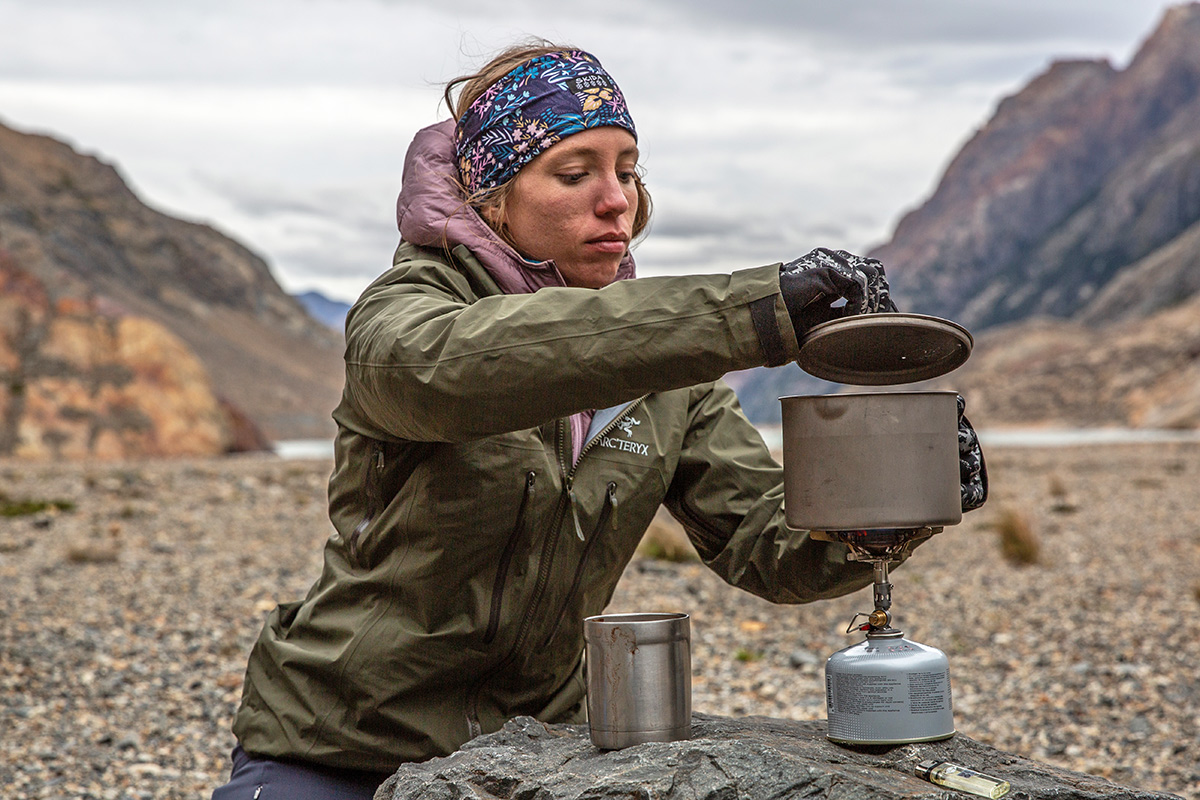 Breathability
With generous pit zips, a relatively thin shell, and the inclusion of Gore's Most Breathable Technology, the Arc'teryx Alpha AR was surprisingly comfortable even in the warm conditions we experienced in Patagonia. For reference, temperatures reached into the 70s Fahrenheit on our three-night backpacking trip, but I was able to wear the shell without sweating or overheating throughout most of the outing. I did have to remove it on steeper ascents and when the winds died down, but otherwise, opening up the large pit zips (and sometimes the main zipper) did the trick. It certainly wouldn't be my top choice for high-output use in the heat of summer, but for most activities in cool to moderate conditions (which you're likely to find year-round in the alpine), the Alpha AR is excellent.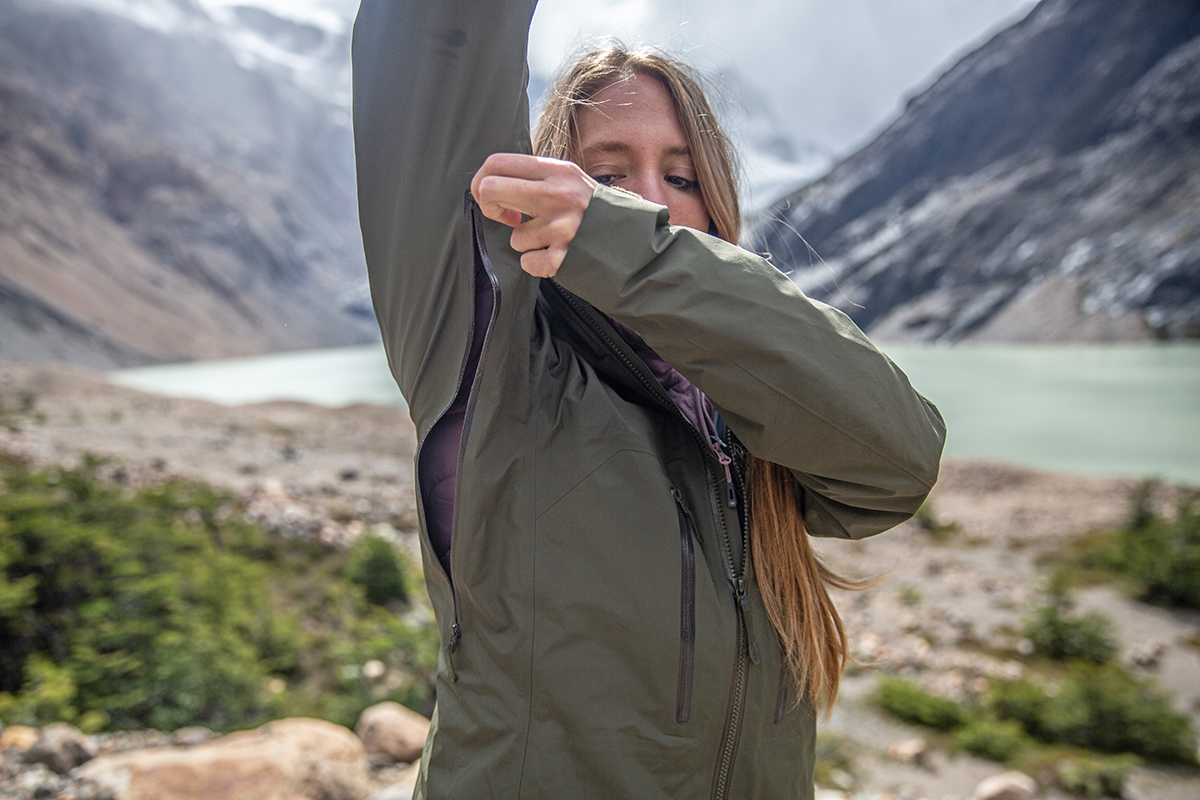 Build Quality and Durability
With a 40-denier (D) face fabric, the Alpha AR is on the thin side for an alpine shell, but the specs don't tell the whole story here. As I mentioned above, most of the shell utilizes Gore's Pro fabric with their Most Breathable Technology, but Arc'teryx also included Most Rugged reinforcements in high-wear areas. The net result is impressive durability that belies the thinner materials. Throughout testing, the Alpha has been subjected to multiple backpacking trips under the weight of a full pack and frequently being stuffed haphazardly into my pack, duffel bag, and van but emerged no worse for wear. There are no snags or tears along the exterior, all of the zippers are operating smoothly, and the jacket looks like new with no stains, discoloration, or fading. I'll update this review following additional testing, but I'm reasonably confident that the Alpha AR will hold up well over the long term.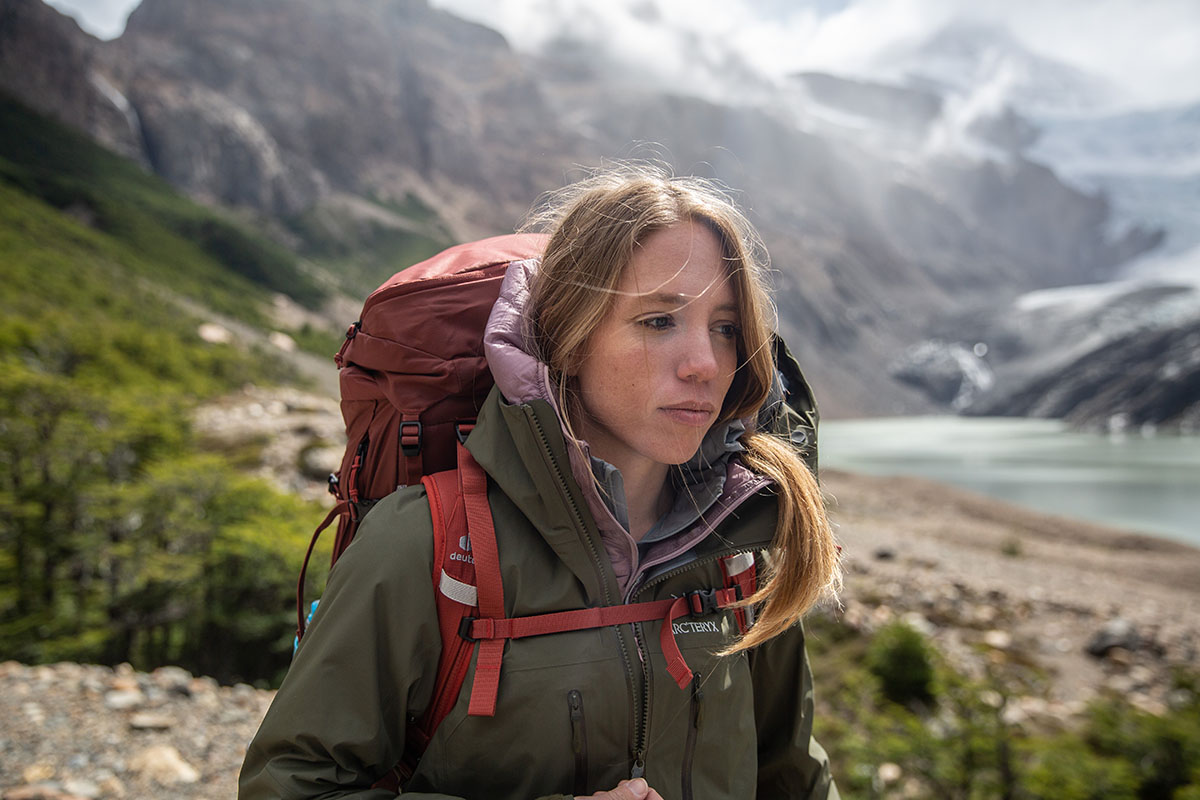 Weight and Packability
At 12 ounces for the women's model, the Alpha AR Jacket isn't the lightest alpine-ready hardshell on the market, but it hits a real sweet spot between weight and functionality. For comparison, it slots in between Arc'teryx's Alpha SL Anorak (6.3 oz.) and top-of-the-line Alpha SV (15.5 oz.) while undercutting other premium hardshells like Arc'teryx's Beta AR (14.5 oz.) and Patagonia's Pluma (12.9 oz.). Dedicated minimalists can go lighter with the aforementioned Alpha SL or Patagonia's Storm10 (7.4 oz.), but both of those jackets compromise considerably on features and durability. All told, I barely noticed the Alpha while backpacking in Patagonia, and it was easy to roll into its own hood for storage. When packed, it ends up being about the size of a cantaloupe, and pulling the hood toggle at the back compresses it down even further.

Comfort
Gore-Tex Pro is known to be pretty stiff and crinkly, and the Alpha AR follows suit with a relatively rigid and inflexible feel. While this adds to the fairly stalwart feel of the shell, it does detract from overall comfort. To be fair, Arc'teryx did incorporate a soft chin guard that feels smooth and supple when the collar is zipped up, and mobility is excellent whether I'm bending down or reaching overhead. But I wouldn't categorize the Alpha as particularly comfortable, and if that's a concern for you, I would advise opting for a shell that incorporates a soft backer, such as Patagonia's Pluma or Arc'teryx's own Zeta AR Jacket.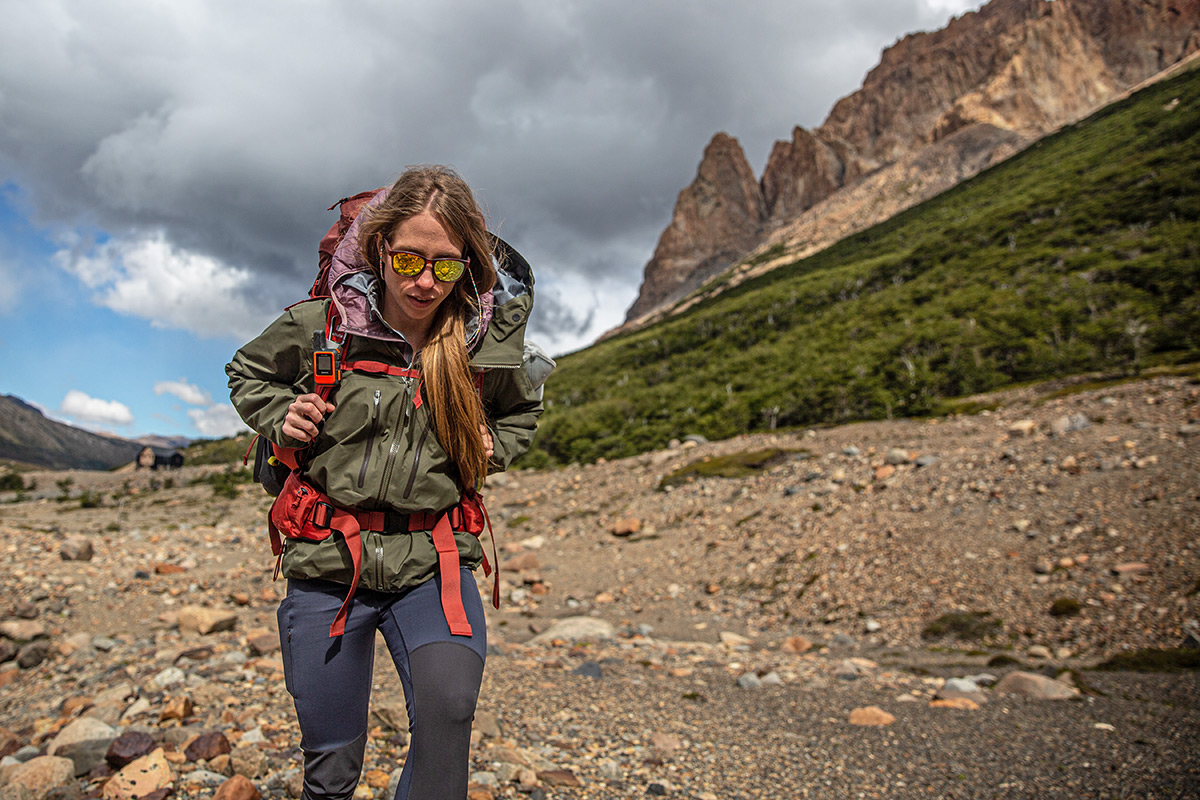 Key Design Features
StormHood
The design of a shell's hood may not seem all that critical, but we can tell you firsthand that Arc'teryx's StormHood design is far and away the most well executed on the market. All told, it's very easy to adjust with two toggles at the front and one at the back, offers full coverage without restricting movement or peripheral vision, and boasts a laminated brim that effectively deflects moisture from dripping onto your face. It's also helmet-compatible and easily slides over a low-profile climbing helmet or bulkier ski lid while still retaining enough structure to stay put over just a beanie or ballcap. With the jacket fully zipped, the collar covers up to my nose and leaves very little skin exposed to the elements. Finally, I appreciate that Arc'teryx included a RECCO reflector hidden in the brim, which is designed to help rescuers find you in the event of an avalanche or another backcountry emergency.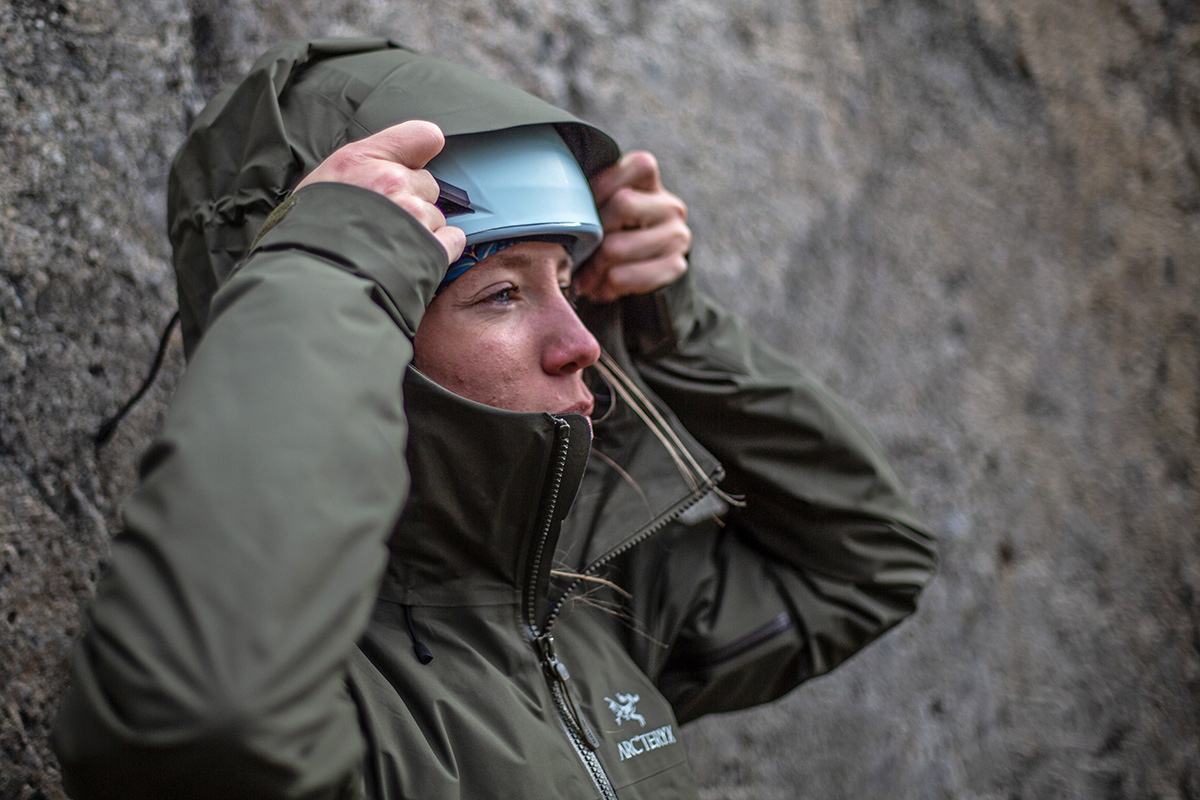 Storage: Pockets
To keep weight low and maintain harness compatibility, Arc'teryx left out hand pockets on the Alpha AR Jacket. This is a notable downside for daily use and made it hard to warm my hands while hiking (I had to revert to using the chest pockets by crossing my arms). But for activities like climbing and even backpacking, it's not too big of a deterrent since hand pockets are typically inaccessible under a harness or hipbelt. And in all fairness, storage is perfectly adequate with the two very large chest pockets and one internal zippered pocket that just barely fits my plus-sized iPhone 11. And a final note: All of the exterior zippers are highly water-resistant, and I frequently trust the chest pockets to keep my valuables dry with no issues to date.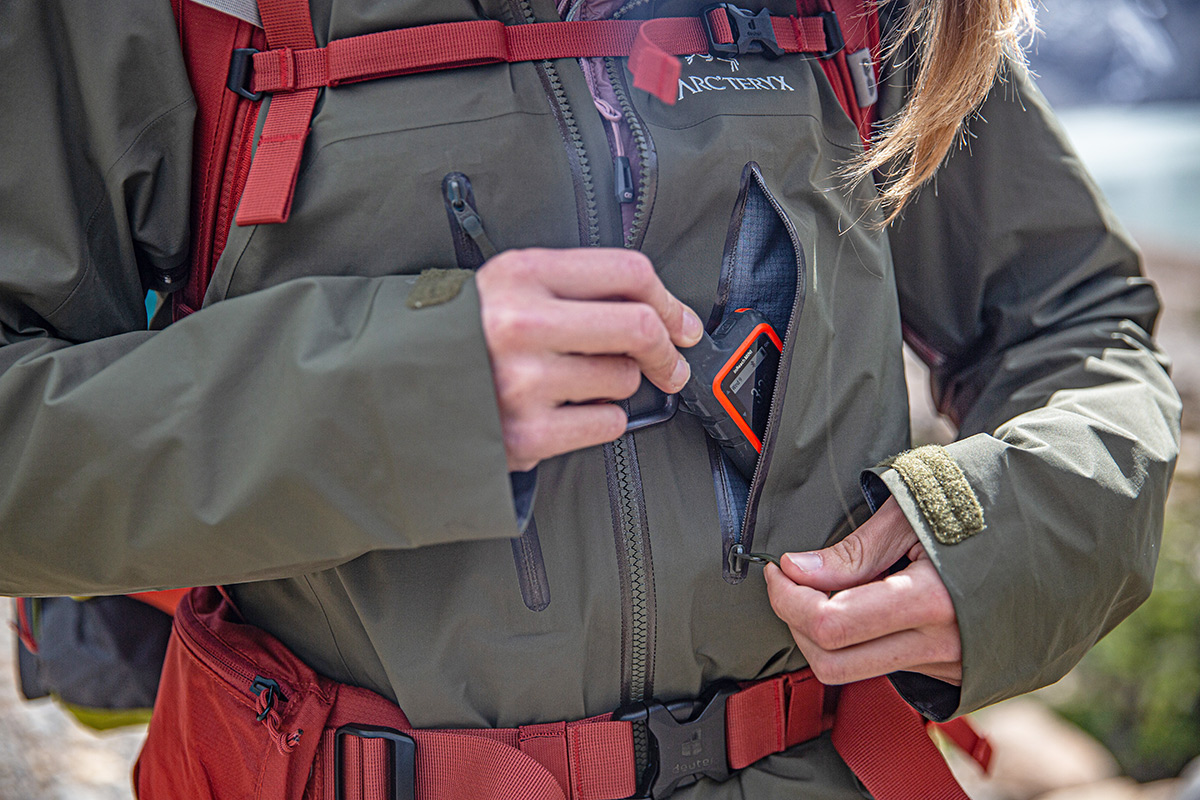 Fit and Sizing
In my standard women's size small, the Alpha AR fit just about perfectly with a flattering shape but plenty of room to comfortably layer underneath (it's dubbed a "regular" fit). For reference, I'm 5'6" and around 135 pounds and wore the shell over just a light baselayer while hiking in Patagonia, and it never felt overly big or baggy with a fairly athletic, streamlined cut. When the sun set and temperatures dropped, I was able to comfortably add another merino wool baselayer and my midweight Rab Cubit Stretch Down Hoody with very little restriction to movement. Lengthwise, the jacket falls a few inches below my waist (center back length is listed at 27.2 in.) with a slight drop hem for added coverage. Finally, you get dual hem adjusters for evenly dialing in fit and sealing out drafts.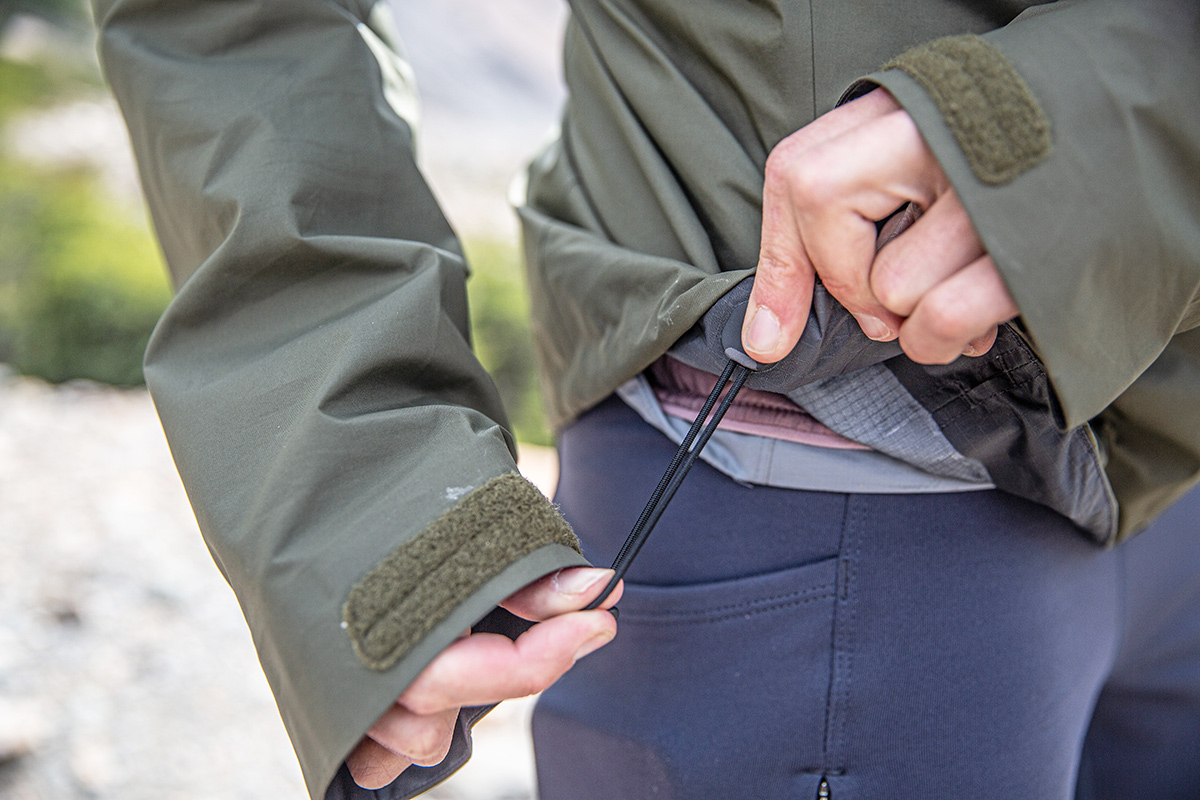 Men's Arc'teryx Alpha AR Jacket
I brought the women's Alpha AR to Patagonia for testing, and Arc'teryx makes a dedicated men's version for the same price. Stacked up against the women's model, the men's Alpha AR Jacket is a little longer at 31.25 inches down the back, slightly heavier at 15.2 ounces, and comes in different colorways. But all other features remain the same, including a Gore-Tex Pro construction (also 40D), regular fit, and an identical storage layout and assortment of protective details.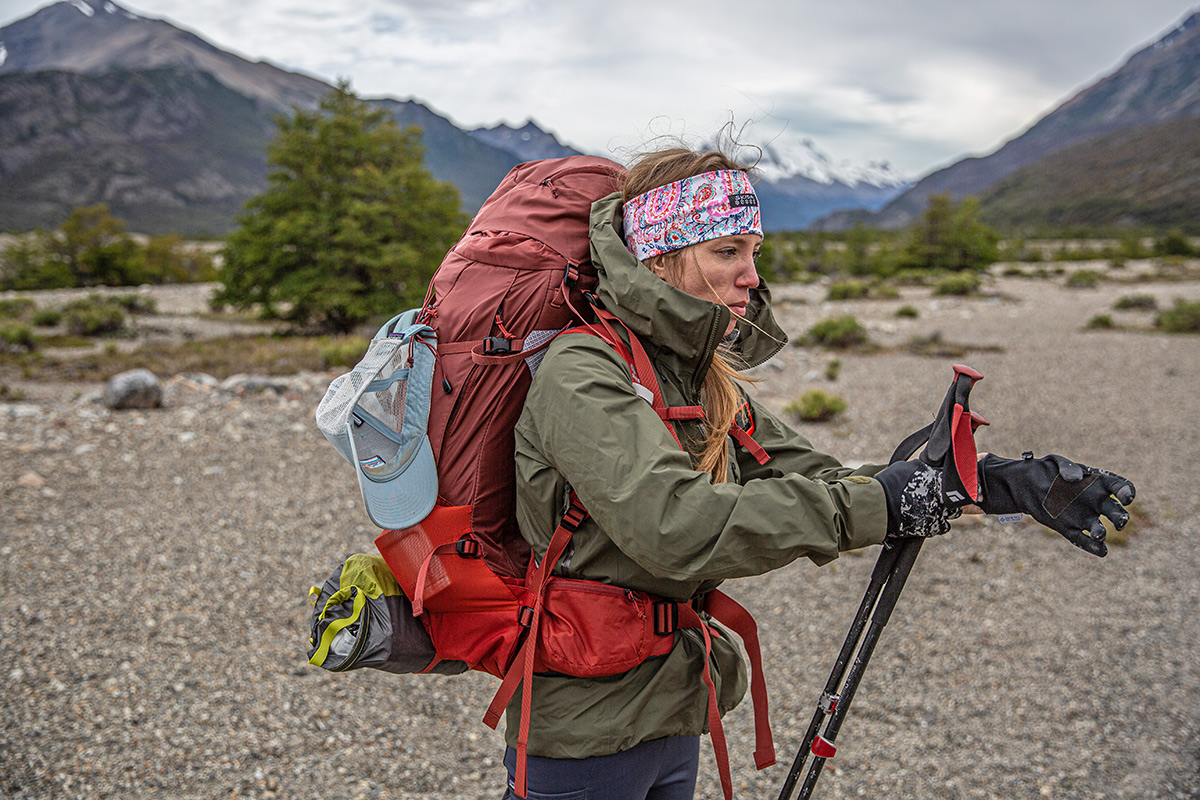 What We Like
Top-notch weather protection with premium waterproofing and a nice array of protective details that make it easy to batten down the hatches.
Pretty breathable for a Gore-Tex Pro design thanks to large pit zips, lightweight shell, and the inclusion of Gore's Most Breathable Technology.
Noticeably hardwearing and robust despite being on the thinner end for an alpine shell at 40D.
Fit is flattering and streamlined but still makes it easy to layer heavily underneath.

What We Don't
Like the rest of the Alpha lineup, the Alpha AR lacks hand pockets, and the chest pockets make it tough to warm cold hands.
Very pricey at nearly $600.
Arc'teryx's proprietary Nu water-repellent coating wetted out fairly quickly in sustained moisture and led to some clamminess, although my baselayers stayed dry underneath.
Gore-Tex Pro fabrics are a little stiff and crinkly.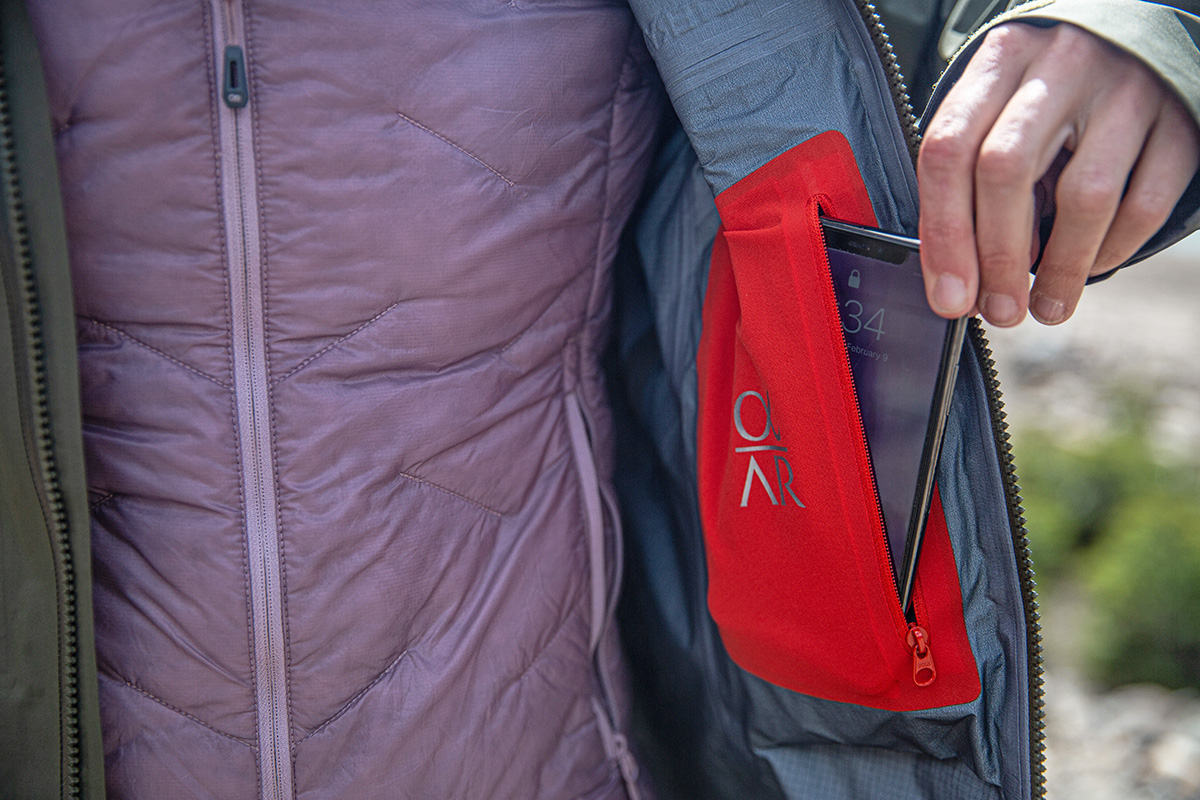 Comparison Table

The Competition
Arc'teryx's Alpha AR Jacket is a highly capable and protective hardshell jacket for alpine objectives and harsh conditions. One of the Alpha's closest competitors is Patagonia's Pluma Jacket, which offers a comparable mix of weight, features, and durability at a similar price point. Like the Alpha AR, the Pluma is light at 12.9 ounces, uses a 40D Gore-Tex Pro construction, and comes with a nice array of performance features including pit zips, a helmet-compatible hood, and water-resistant zippers. In parsing out the differences, the Patagonia is more comfortable against the skin with a soft micro-grid liner, has a more generous and functional storage layout (two hand pockets, one chest pocket, and one interior pocket), and costs $50 less. Given these advantages, we consider it the more well-rounded alpine shell.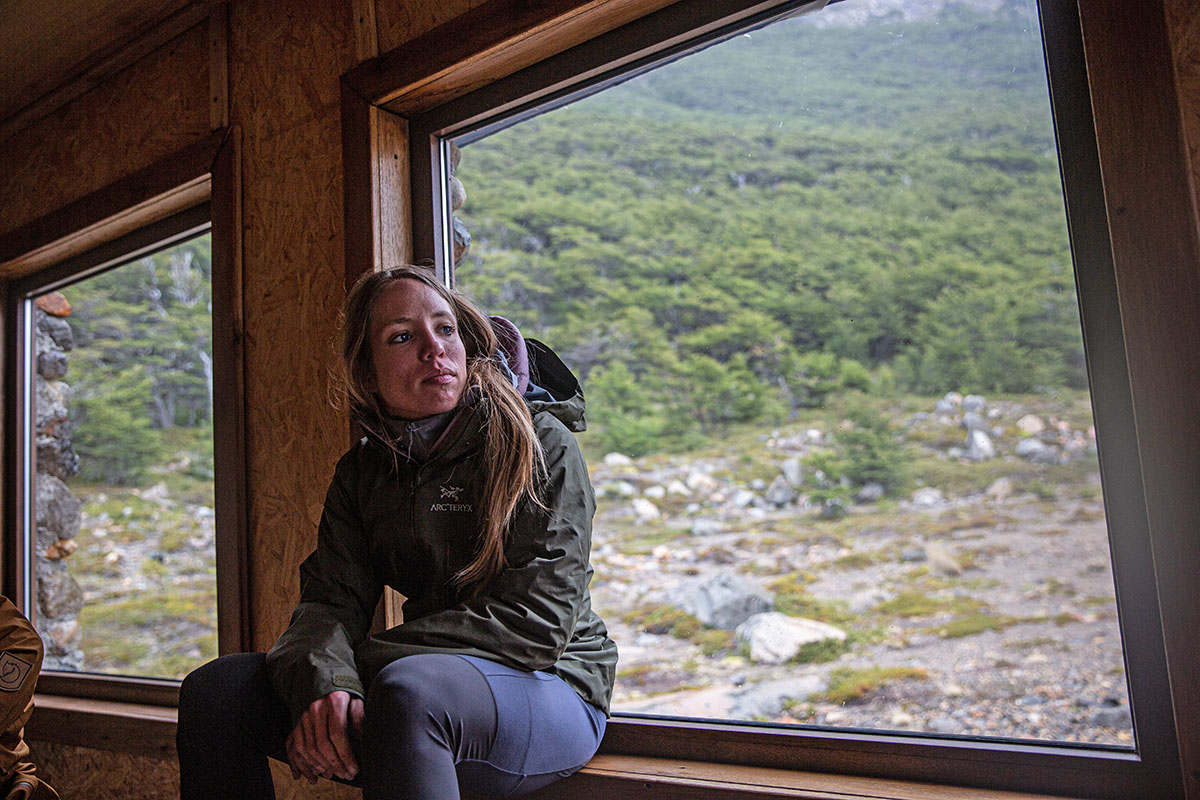 Arc'teryx offers several other in-house alternatives to the Alpha AR, and one standout is their Beta AR Jacket. For the same price as the Alpha AR, the Beta trades the Alpha's chest pockets for more convenient hand pockets (as well as one internal chest pocket) and swaps in their DropHood design, which is also helmet-compatible but leaves a small opening at the front where blowing snow could accumulate. The Beta is also a little heavier than the Alpha at 14.5 ounces, although you do get a boost in durability with panels of 80D Gore-Tex Pro in wear-prone areas (the rest is 40D). In the end, both are well-built and seriously capable shells, and a final decision will come down to your objectives: If you plan to spend a lot of time in a harness in the alpine, go with the Alpha; if you're a hiker or backpacker looking for a more versatile all-around design, the Beta wins out.
For a step up in protection, Arc'teryx's Alpha SV (short for "severe weather") is their top-end model and purpose-built for the roughest of alpine conditions. Its price jumps to a steep $799, but for dedicated mountain athletes who demand a lot out of their shell, the performance is hard to beat. Stacked up against the Alpha AR, the SV is noticeably thicker and more hardwearing with a 100D Gore-Tex Pro construction (it also uses their Most Rugged Technology). Storage is also more generous, including two exterior chest pockets, one internal chest pocket, one internal dump pocket, and one left bicep pocket (although again, you forgo hand pockets). Finally, like the AR, the Alpha SV is thoughtfully built with trustworthy zippers, sleek detailing, and the impressive attention to detail that Arc'teryx is known for. The extras do add a few ounces in weight, but there's no denying the top-notch protection, durability, and overall performance.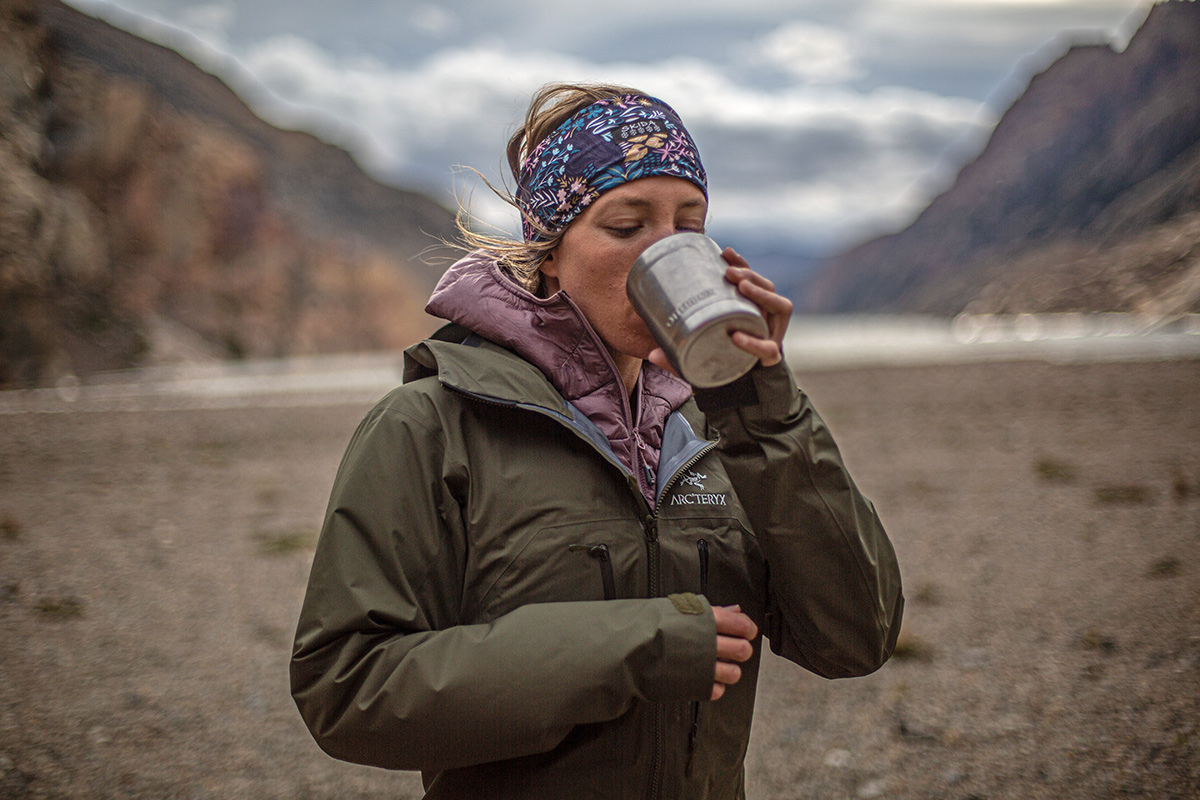 On the other end of the Alpha lineup is Arc'teryx's Alpha SL Anorak. In this case, the focus is on minimalism, but Arc'teryx managed to keep weight impressively low without compromising too much on protection or durability (two common concessions with UL pieces). For reference, the Alpha SL checks in at a scant 6.3 ounces but still packs in a 3-layer Gore-Tex build (no "Pro") and surprisingly durable face fabric, which is comprised of a tightly gridded material that fends off snags and tears very well. It will also save you a considerable $224 over the Alpha AR, although you'll make several concessions in terms of features: The Alpha SL is only sold in a half-zip anorak style, comes with a single adjustment at the hood and hem, and sports just one chest pocket. To be sure, it's a very competitive option for fast-and-light climbers or mountain runners who want great protection at a low weight, but the Alpha AR is the more approachable pick for most.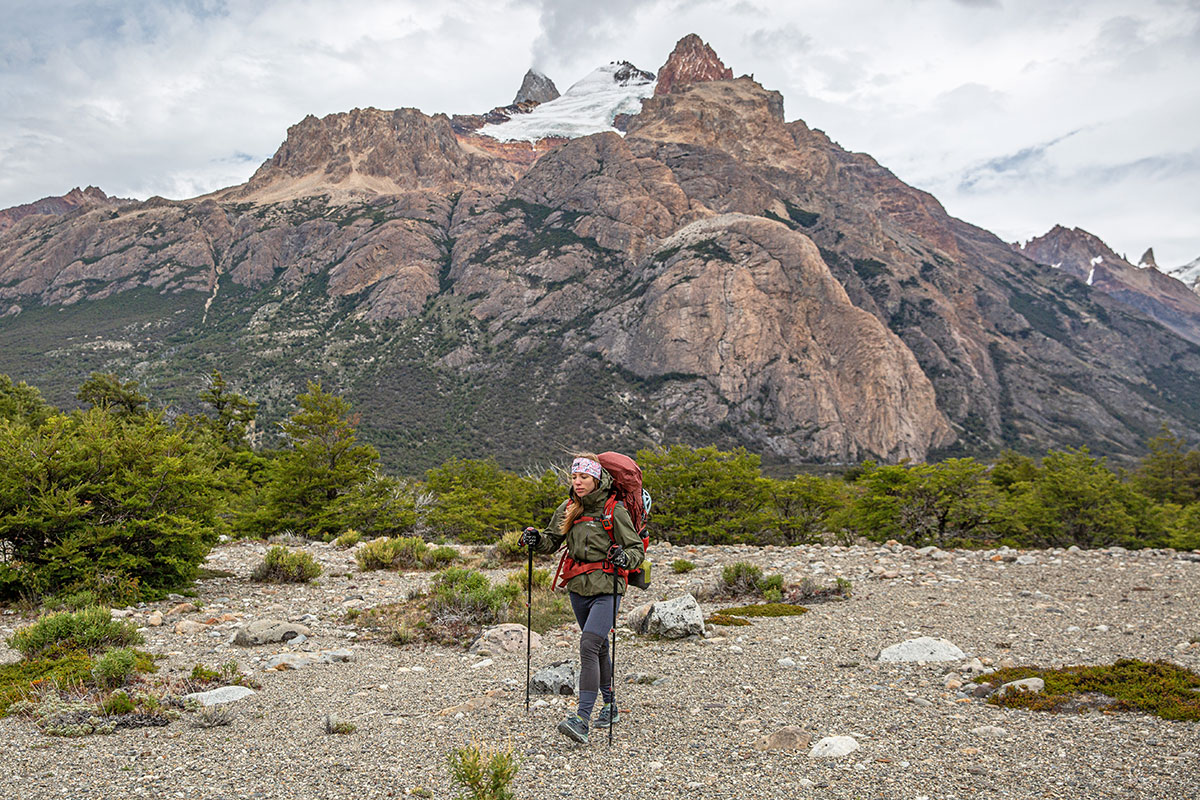 A final option to have on your radar is Rab's Muztag Gore-Tex Pro Jacket. Like Arc'teryx, Rab is a leader in technical alpine shells, and the Muztag stacks up pretty favorably to the Alpha AR. Like the Alpha, the Muztag utilizes Gore-Tex Pro with their Most Breathable Technology, but the construction is a little thinner at 30D in the body and 40D in high-wear areas. Other similarities include two chest pockets and no hand pockets, pit zips for dumping heat, water-resistant exterior zippers, and good adjustability at the hem, cuffs, and hood. That said, the Rab is heavier than the Alpha at 1 pound despite its thinner construction. You do get around 2 inches of additional coverage at a $100 savings over the Arc'teryx, but we give the edge to the Alpha for its more durable build at a lighter weight.
Editor's note: We usually provide a live price comparison table below our outdoor gear reviews, but the Alpha AR is currently only available directly through Arc'teryx.You can see the Alpha AR Jacket page here and support us in the process. Thanks!
Read More From Switchback Travel