For a company with a rich history in alpine exploring, Patagonia has a surprisingly modest hardshell collection. That said, their top-end Pluma is a formidable, lightweight offering: the jacket has excellent weatherproofing thanks to the premium Gore-Tex Pro construction, it's fully featured including pit zips and a cinchable hood and hem, and it weighs in at a very respectable 14.6 ounces. I put the Pluma to the test over a season of backcountry adventures in the Pacific Northwest and found that although it lacks in breathability and has other minor shortcomings, it's still a top-notch all-around hardshell. Below we break down the Pluma's performance. To see how it stacks up, see our article on the best hardshell jackets. 
 
---
Table of Contents
---

Performance
Weather Protection
With a 3-layer construction, Gore-Tex Pro membrane, and taped seams for added insurance, the Patagonia Pluma is a serious hardshell by design. As such, its weatherproofing is impressive: it kept me dry and comfortable all winter and spring, even on a couple of particularly cold and blustery days that dipped down to -5 degrees Fahrenheit (-20 Celsius). I primarily sported the Pluma while ski touring in the Coast Mountains of British Columbia, both on day trips and overnights. It performed admirably at keeping wind and precipitation out, even while skinning across exposed ridges and spindrift-ridden summits. I do have one considerable gripe, though: after only about three weeks of use, the DWR coating had begun to wear off in higher-use areas like the cuffs, shoulders, and back (more on that in the "Durability" section below).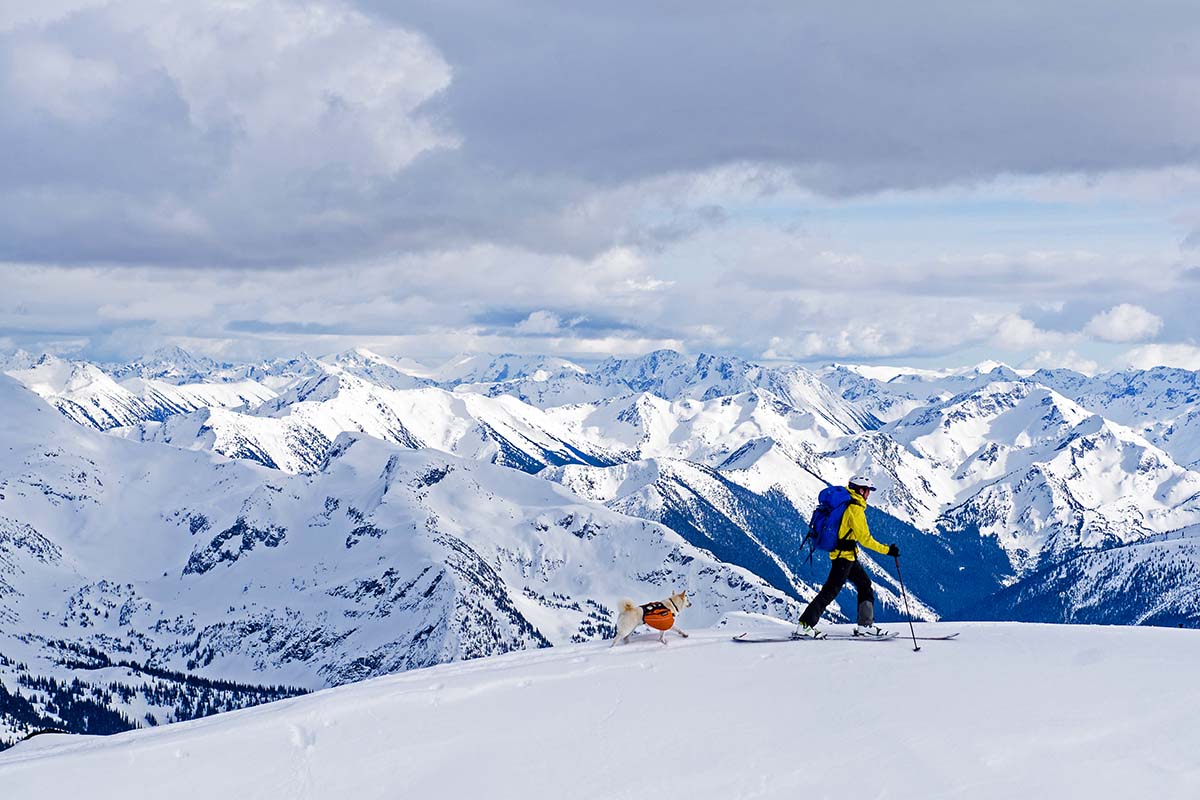 In terms of coverage, the hood's high collar went all the way up to my nose, and its three pull cords made it easy to cinch down tight when I needed protection from the elements. In cold and snowy conditions while ascending slowly or skiing down, I usually paired the Pluma with a light midlayer. For higher-output skinning, I was comfortable with only a baselayer underneath—a true testament to the Pluma's wind-blocking abilities. Specifically intended for alpine use, the Pluma doesn't come with a powder skirt found in many ski-specific hardshells, but the jacket was plenty long and I was happy to save the weight and bulk. Even in deep powder or while digging out snow shelters, the Pluma's cinchable hem kept snow from creeping its way up my torso.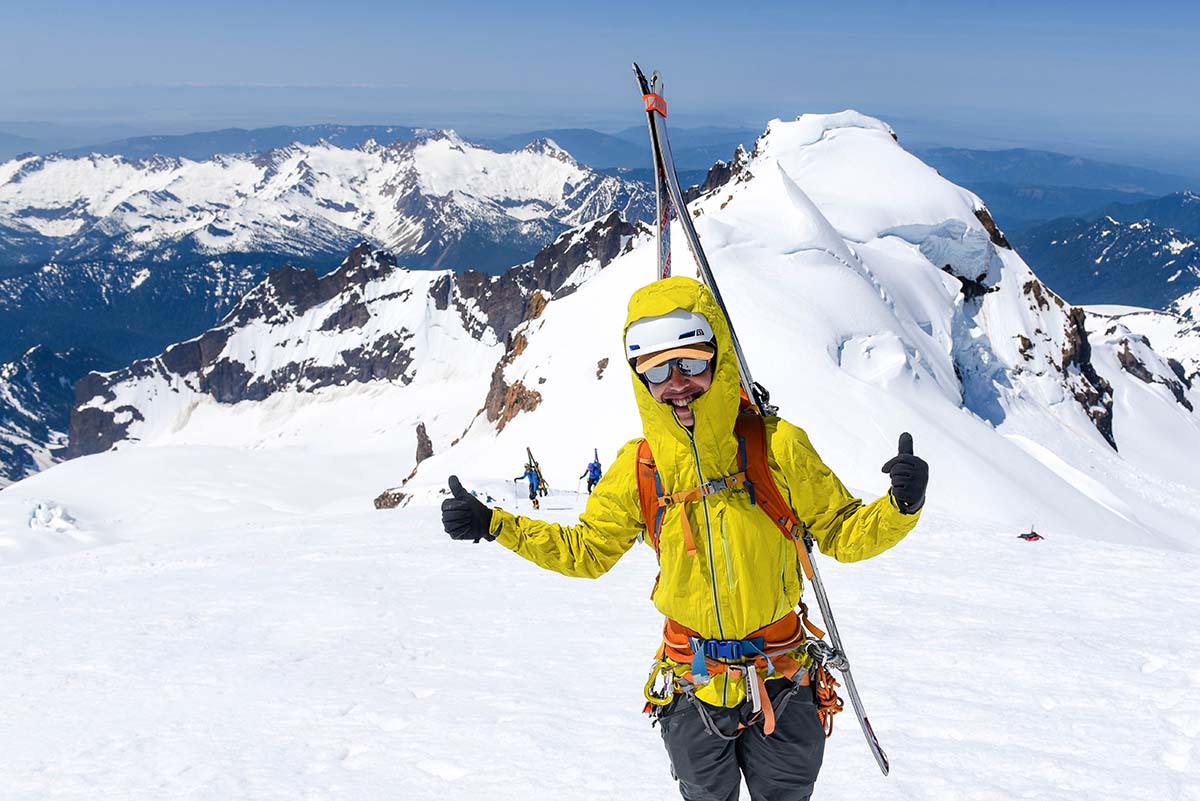 Breathability
The Gore-Tex Pro membrane works wonders at keeping moisture out, but it isn't the most breathable material (Gore-Tex Active, used in jackets like the REI Co-op Drypoint GTX, is superior in this field). Even given its Microgrid Backer Technology inside, the Pluma just wasn't a standout in this department. I consider it comparable to the Arc'teryx Beta AR, which I opted for on particularly harsh and cold days due to my tendency to run warm. The Pluma's two pit zips did allow me to dump heat quickly, but I got frustrated with them on more than one occasion (when pulling up on the stiff toggles, they tended to take the entire jacket with them, requiring a two-handed adjustment). I'd say the Pluma performed best on breezy days, even in above-zero temperatures. For example, on a trip up Mount Baker, the wind picked up at around 10,000 feet and allowed the Pluma to work its magic. But when the sun rose higher and the conditions calmed, I overheated in a hurry. I kept the jacket on for the summit transition but found myself sweating as I skied down in the sunbaked spring corn.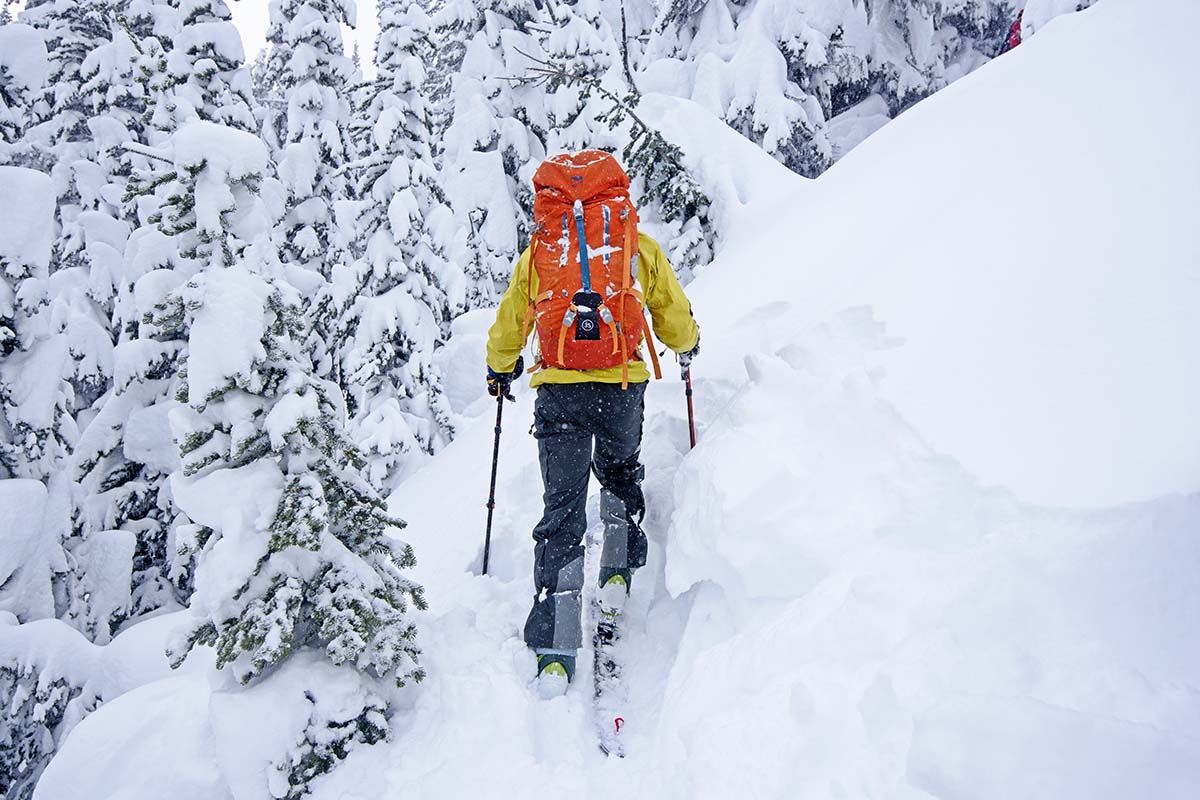 Build Quality and Durability
Despite its thin materials, I was impressed with the Pluma's ability to withstand my brutal (and often abrasive) winter testing. The Pluma's 40-denier shell and 15-denier interior woven backer have held up remarkably well with no signs of fraying, delamination, tears, or stitching issues. And despite being constantly subjected to a heavy pack, there are no signs of wear in any heavily stressed areas. Some other companies have chosen to reinforce their hardshells with higher-denier fabric in certain spots, like the Arc'teryx Beta AR's 80-denier Gore-Tex Pro that covers the hood and shoulders. But so far, so good with the Pluma. As mentioned above, the only issue I've had is with the compromised DWR finish, which gave out surprisingly early in high-use areas. I expected a bit more from a such a pricey hardshell, but there are ways to revive it (including washing and drying the jacket or applying a spray-on treatment like the Nikwax TX.Direct).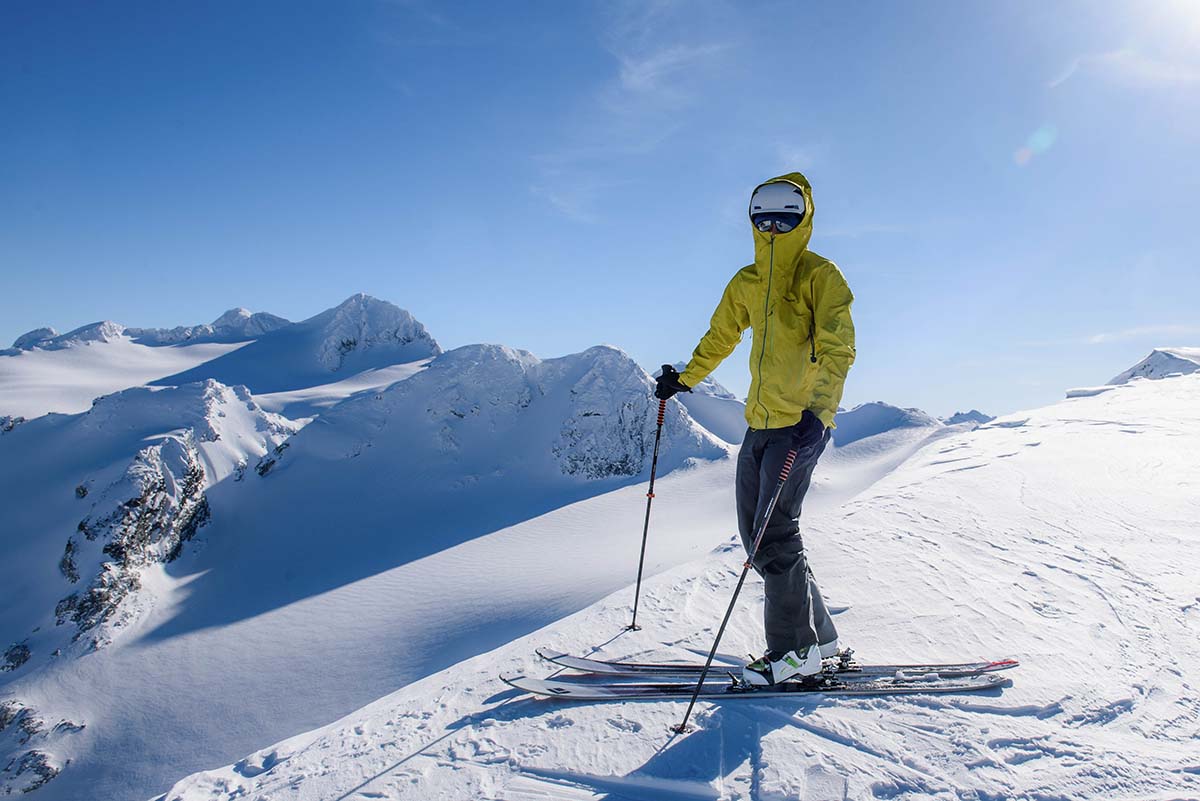 Weight and Packability
My medium-size Pluma comes in at 14.6 ounces, which is solidly mid-pack and very respectable for its feature set. For reference, it's lighter than comparable options like the Arc'teryx Beta AR and Black Diamond Sharp End (both 1 lb. even), which also use Gore-Tex Pro. You can shave some weight with Arc'teryx's trimmed-down Beta FL (12.7 oz.), but that shell sacrifices pit zips. All in all, it's clear that Patagonia didn't skimp on features to cut weight, which we appreciate. And although the Pluma doesn't stuff into one of its own pockets or come with a stuff sack, I was easily able to compress it into its hood to the size of a Nalgene.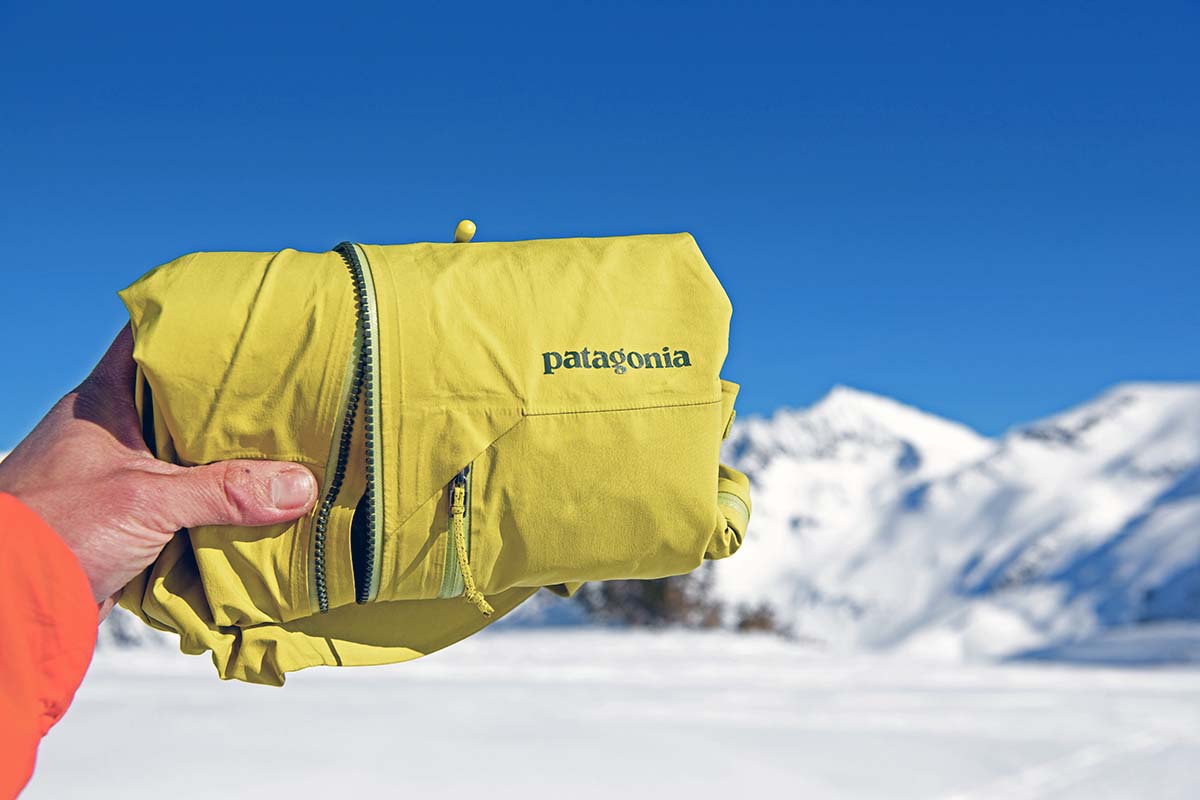 Key Features
Hood
The Pluma's hood fit snugly around my mountaineering helmet, but I found it was a bit too tight for comfort with a bulkier ski helmet. Notably, some other Gore-Tex Pro hardshells have the same issue, including the Black Diamond Sharp End. That said, while Arc'teryx hardshells (like the Beta AR, Beta SV, and Alpha SV) offer larger, ski-helmet-compatible hoods, the Pluma's was fine for alpine use. And as noted above, it can be adjusted in three places: one embedded cord lock sits at the back of the head, and two sit below the collar on the front of the jacket.

Storage (Pockets)
The Patagonia Pluma has just enough storage to stow vital gear and supplies without added space that would bulk up the jacket. Its two large and watertight hand-warmer pockets were super useful for stuffing maps and folded skins for fast transitions. But although they are intended to sit above a harness or waist belt, that unfortunately wasn't the case for me—my pack's hipbelt overlapped with the bottom of the pockets, limiting their usefulness. A small left chest pocket fits a couple of snacks perfectly, and the single interior pocket can stow small electronics easily.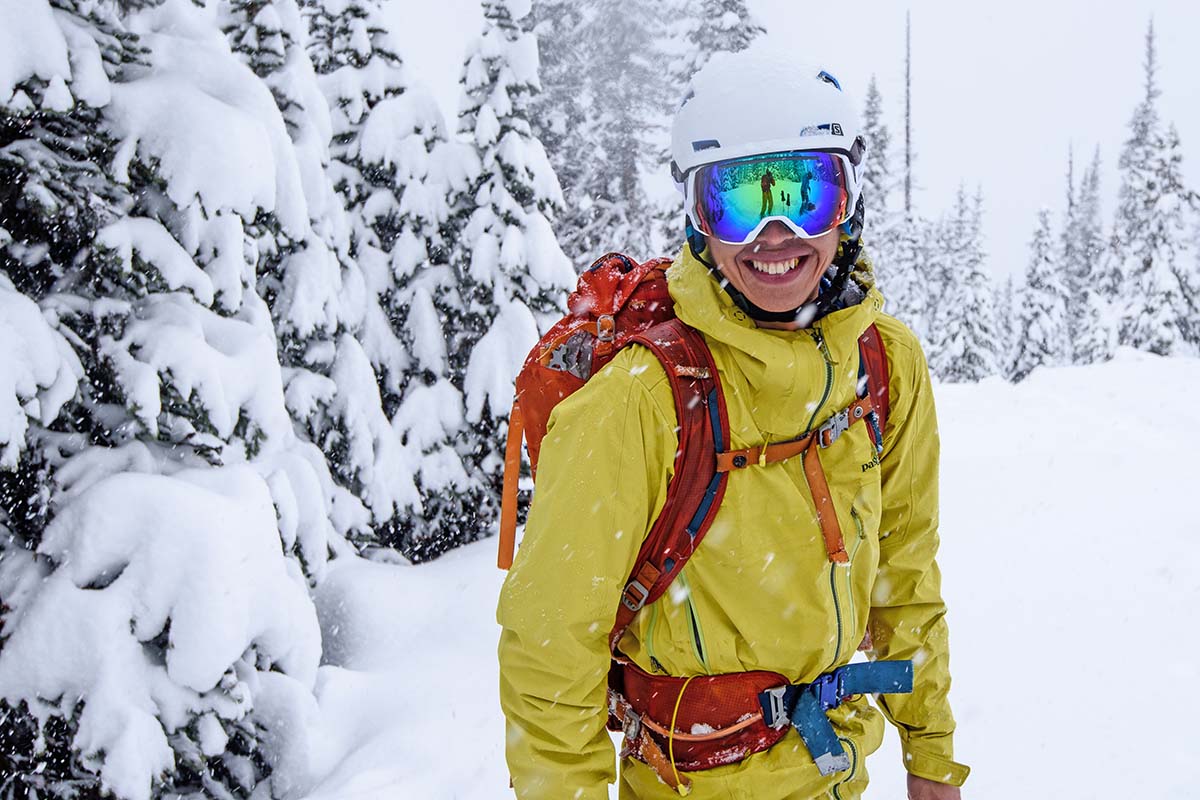 Adjustable Cuffs and Hem
Like many other hardshell jackets, the Pluma has added features to improve its waterproofing and windproofing. The hem's two adjustable cord-lock toggles extend into the hand pockets, keeping them out of the way, while the adjustable cuffs have inner polyurethane liners that keep sleeves in place and grip gloves quite impressively. These two features clearly were well-thought-out and added to the impressive weather resistance—crucial for sustained exposure in harsh conditions.

Fit and Sizing
Though billed as a "regular" fit, the Patagonia Pluma was tighter than expected. While I normally wear a small, I had to size up to ensure I could fit a midlayer underneath. The Pluma also was a bit long on me (I'm 5'9"), especially in the arms, which fell mid-palm. But the jacket never rode up, which definitely is the more important consideration with a weatherproof hardshell. Comfort-wise, the next-to-skin feel of the backer was welcome on days that I needed to wear only a short-sleeve baselayer underneath.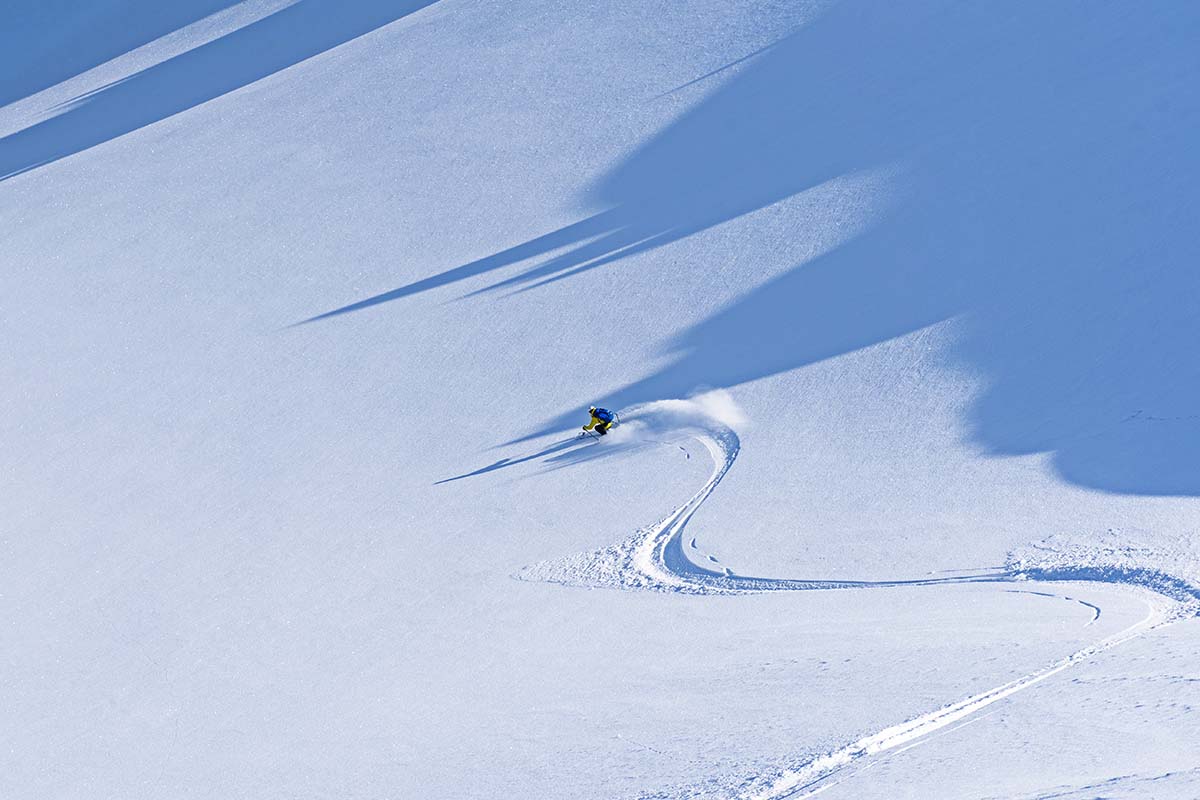 Sustainability
As we've come to expect from Patagonia, the Pluma includes a number of sustainability measures that boost the shell's all-around appeal. First, the jacket uses a 100-percent-recyled nylon face fabric. Second, the shell is bluesign-approved, meaning all materials used during production have been verified as safe for workers, consumers, and the environment. And finally, the Pluma is Fair Trade Certified sewn, meaning Patagonia invested extra money into making the jacket, which goes straight to workers to fund community initiatives like healthcare, childcare, and more. Patagonia hasn't yet switched to a PFC-free DWR with the Pluma, but we're impressed by and appreciate the measures they've taken thus far. 
 
Women's Version of the Patagonia Pluma
For this review, we put the men's version of the Pluma through the wringer. But Patagonia also makes a women's-specific model, which shares the same Gore-Tex Pro build and lightweight Microgrid Backer, feature set, and $549 MSRP. The women's Pluma has a lighter 12.9-ounce listed weight due to its smaller sizing, and at the time of publishing, is available in two colorways (compared to three for the men's variation).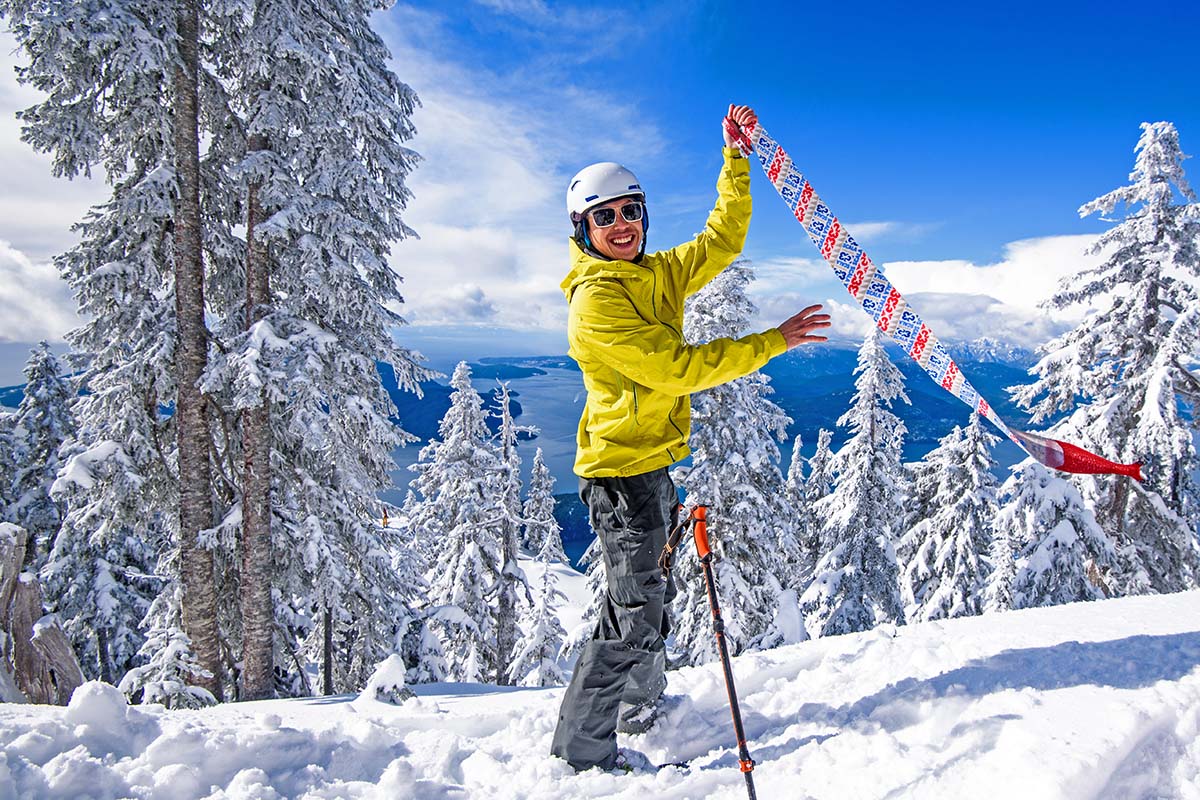 What We Like
Excellent wind and water protection, which kept me comfortable and dry during a range of winter and shoulder-season conditions.
Lightweight yet fully featured with pit zips and big pockets. 
Aside from the DWR issue, the jacket is extremely well-built and showed basically no signs of wear and tear after heavy use.
 
What We Don't
While Gore-Tex Pro build excels in weatherproofing, it's only average in terms of breathability, which caused me to run hot on warmer days. 
The DWR treatment started to break down in high-use areas after only a few weeks, which was surprising at this price point.
Unlike some Arc'teryx hardshells, the hood is quite tight over a ski helmet.
The pit zippers are stiff and proved difficult to operate with one hand. 


Comparison Table

The Competition
Patagonia's Pluma splits the difference between two hardshell jackets from Arc'teryx: their Beta AR and FL. The AR is an all-around workhorse that has been a go-to for years, with a 3-layer Gore-Tex Pro (recently updated with their "Most Rugged" technology), a competitive 1-pound weight, and a full suite of backcountry-ready features including a helmet-compatible hood, pit zips for venting, and ample adjustability. What set the Beta AR apart from the Pluma is its beefed-up panels of 80-denier nylon in high-use areas for protection from ski equipment and pack straps (the Pluma is 40D all around). The Beta is $50 pricier than the Pluma at $599, but we consider it the best hardshell currently on the market.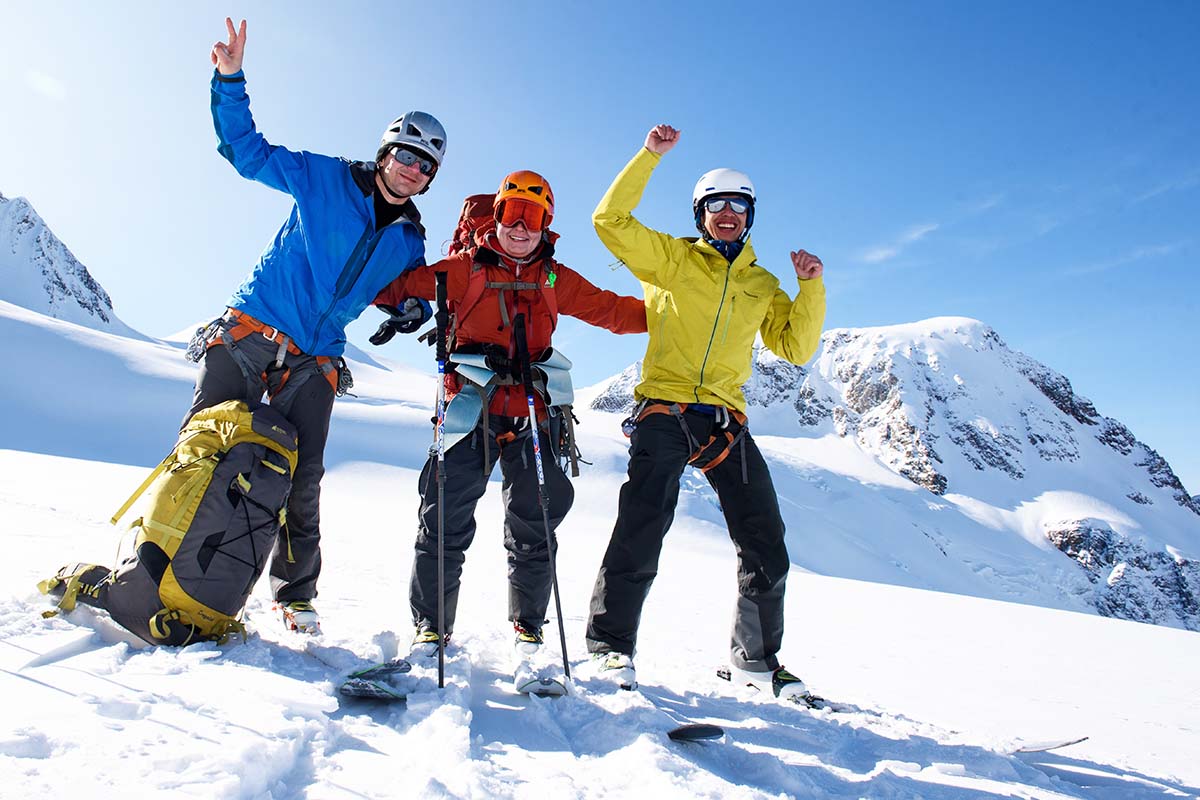 Next up is the Beta FL, which is a trimmed-down variation of the AR mentioned above. What do you sacrifice by going with the FL? For starters, it doesn't include pit zips, and it also foregoes the AR's burly 80-denier reinforcements (like the Pluma, it has a 40D build). However, weight drops to 12.7 ounces with the FL (around 2 oz. lighter than the Patagonia), and we found the hoods of both Arc'teryx jackets fit much more easily over a ski helmet. All things considered, both are top-notch and versatile hardshells that are at or near the top of the pack, and a final decision will likely come down to how you prioritize features versus weight. 
Within Patagonia's lineup, their Triolet is an intriguing alternative to the Pluma. The step down in price ($399) correlates to a slight step down in protection and breathability with a less bombproof, standard 3-layer Gore-Tex construction. But the rest of the build lines up well, including plenty of storage with five total pockets (one more than the Pluma), a similar layering-friendly regular fit, and pit zips for dumping heat quickly. And the Patagonia Triolet gets the clear edge in both durability and versatility with a 75-denier build, RECCO reflector, and a buttoned strap at the back for connecting to compatible ski pants. Given these additions, the Triolet strikes us as the better all-rounder (and the better value), but the Pluma is the lighter and more protective choice.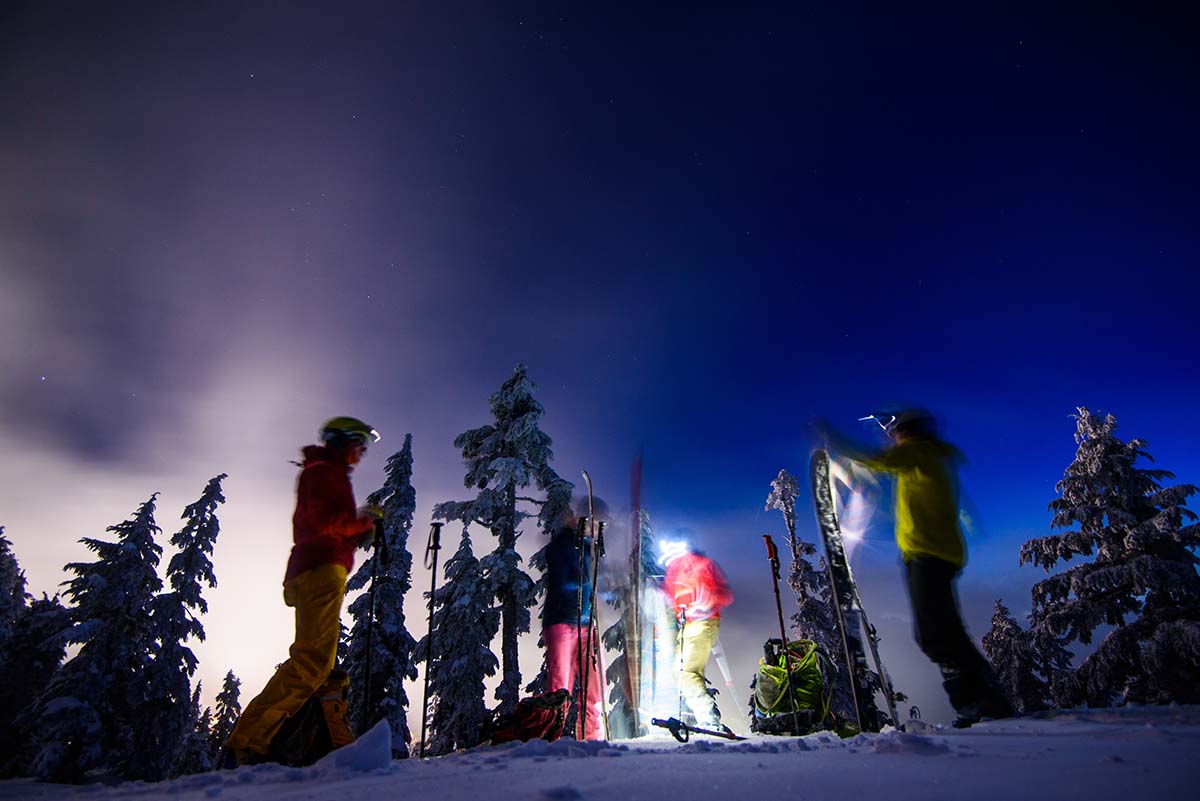 Black Diamond's Sharp End is another quality alpine shell to consider at the same price point as the Pluma. With the BD, you get a competitive 1-pound weight, 3-layer Gore-Tex Pro waterproofing, burly 70-denier face fabric, and a full feature set including pit zips, harness-compatible pockets, and functional storage. However, like the Pluma, the BD's hood is climbing helmet-compatible but hard to fit over a bulkier ski helmet, and it also only cinches at the back (the Pluma's hood can be adjusted in three places). In the end, it's a close call between two very capable alpine hardshells, but we give the slight nod to the BD for its more hardwearing construction.
Finally, for those looking for a more specialized, ski-specific jacket, Patagonia's own PowSlayer fits the bill. The PowSlayer uses a similar 3-layer, 40-denier Gore-Tex Pro build but adds notable features like a powder skirt, more pockets, a laminated visor for added visibility, and a RECCO reflector. That said, at $150 more and coming in at 1 pound 3.3 ounces, the added features are nice but not for everyone. Additionally, the Pluma's trimmer cut is much more comfortable on the uphill. In the end, the PowSlayer makes sense as a freeride touring and resort ski shell, but the Pluma is the more alpine-centric choice.
If you're thinking about buying gear that we've reviewed on Switchback Travel, you can help support us in the process. Just click on any of the seller links above, and if you make a purchase, we receive a small percentage of the transaction. The cost of the product is the same to you but this helps us continue to test and write about outdoor gear. Thanks and we appreciate your support!
Depending on the seller, most products ship free in the United States on orders of $50 or more. International shipping availability and rates vary by seller. The pricing information on this page is updated hourly but we are not responsible for inaccuracies.
Read More About Outdoor Gear