Arc'teryx Beta SV Jacket
Price: $675
Weight: 14.9 oz. (women's small)
Waterproofing: Gore-Tex Pro
What we like: Stalwart protection, exceptional build quality, and thoughtful feature set.
What we don't: Very expensive and Gore-Tex Pro fabric is pretty stiff and crinkly.
See the Women's Arc'teryx Beta SV  See the Men's Arc'teryx Beta SV
Arc'teryx makes some of our favorite hardshells on the market, and their SV offerings are purpose-built for the harshest of conditions. From their all-rounder Beta collection, the Beta SV slots in as the most protective option for fending off rough and rowdy weather typical of the alpine. We put the women's version of the jacket to the test in Patagonia and the Pacific Northwest, where it deftly fended off violent gusts and sideways rain and sleet. It's a sizable investment at $675, but the stalwart feel and functional feature set make it a seriously capable option for backcountry adventures in truly inclement weather. Below I outline my experiences with the Beta SV Jacket. To see how it stacks up to the competition, see our article on the best hardshell jackets.
 
---
Table of Contents
---
 
Performance
Weather Protection
Tailor-made for severe weather (hence the "SV'' designation), the Arc'teryx Beta SV Jacket feels essentially invulnerable to inclement conditions. We were hit with surprisingly bitter rains while exploring El Chaltén and sideways sleet while backcountry skiing on Vancouver Island, and the Beta SV valiantly fended off the cold moisture. For waterproofing, Arc'teryx opted for Gore's top-end 3-layer Pro membrane with their Most Rugged Technology. Combined with a thick 80-denier (D) shell, highly protective StormHood (outlined below), taped seams, and WaterTight zippers, the Beta SV is a stalwart in truly rough and rowdy conditions. And importantly, unlike Arc'teryx's alpine-focused Alpha collection, the Beta SV comes with two large hand pockets, which I really appreciated for keeping my hands cozy when the winds picked up.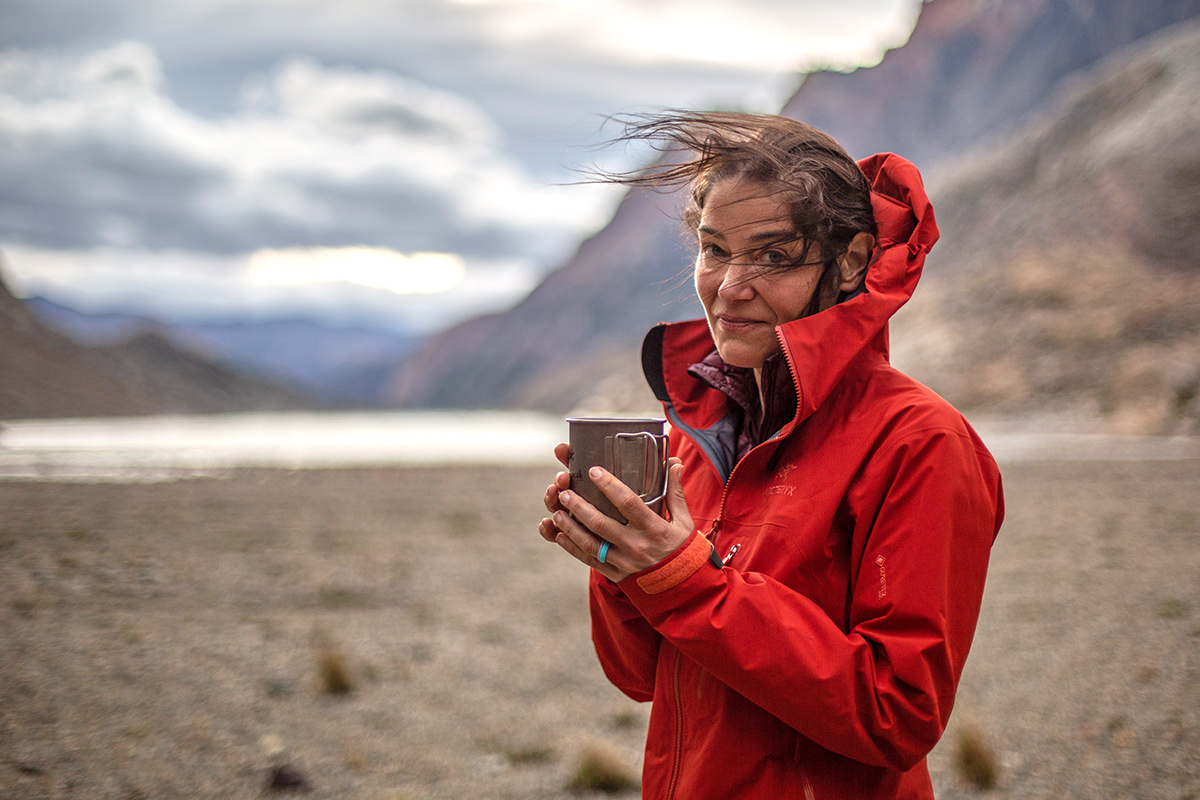 Patagonia is notorious for its violent gusts, and I kept the Beta SV within easy reach to quickly throw on whenever we crested a ridge or stopped for a snack break on the trail. The StormHood was easy to cinch tight to seal out wind and moisture, and the large visor did a nice job deflecting precipitation from my eyes and face. The hem is also adjustable with toggles at each side, and the cuffs are equipped with Velcro for preventing water and wind from entering at the wrists. Added up, the Beta SV lived up to its intentions: It's fully water- and windproof, very durable for rough alpine use, and nicely appointed for battening down the hatches in severe weather.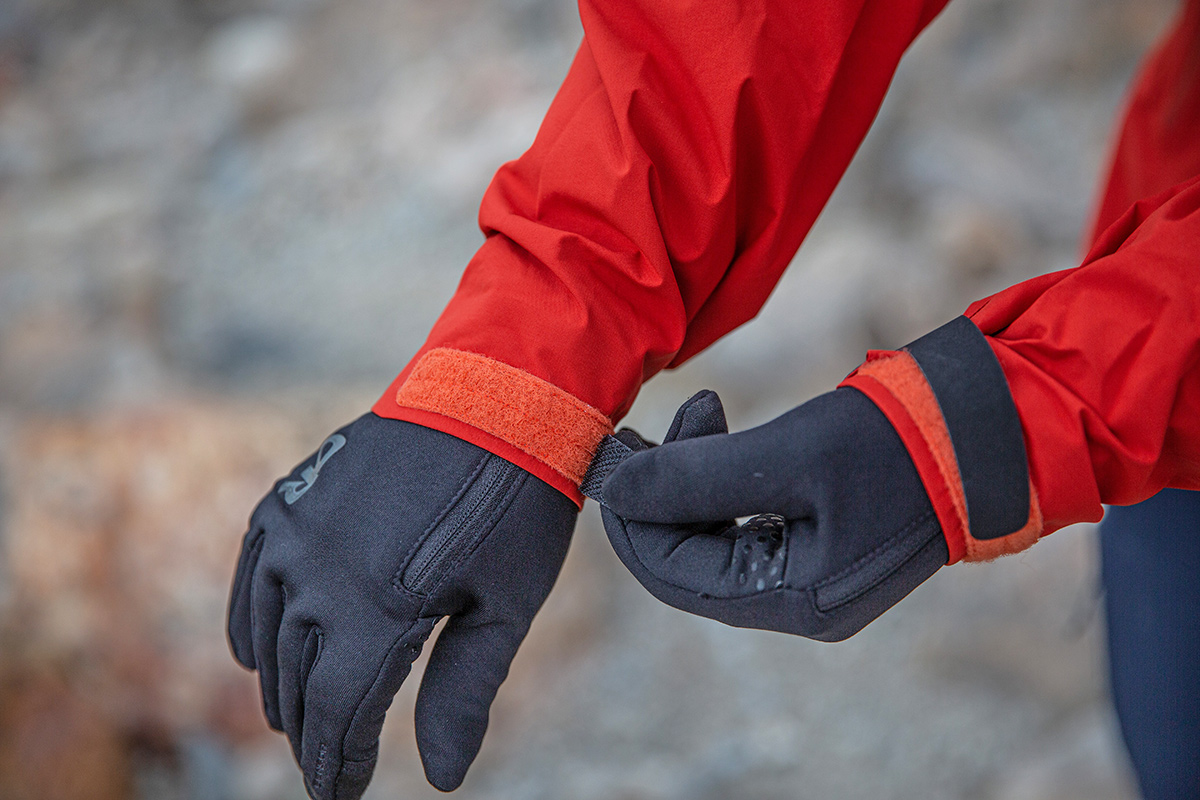 Breathability
Given its highly protective build, the Beta SV isn't the most breathable hardshell jacket on the market, but it did an adequate job of keeping me cool and comfortable while backpacking and skiing. For reference, I wore it frequently while hiking with a full pack in Patagonia and never grew overly hot or sweaty, even as temperatures rose into the 70s Fahrenheit. The same held true while ski touring on Vancouver Island, even on longer ascents. The generous pit zips were a huge help here and come with double zippers to customize the amount of airflow (they measure around 15 in. when opened fully). To be sure, the thick 80D shell does have its limitations, and the Beta SV certainly wouldn't be my first choice for higher-output activities like trail running. But for most backcountry uses, even in warmer weather, it's perfectly serviceable.

Build Quality and Durability
We rarely have complaints about Arc'teryx's build quality: Their hardshells in particular are exceptionally built, highly protective, and stand up well to rough use. The Beta SV Jacket is no exception. As I touched on above, the jacket has a robust, 80D shell with Gore's Most Rugged Technology, which is designed to boost tear resistance while retaining the impressive weather protection that Gore is known for. Despite putting the Beta SV Jacket through the wringer during testing, it's holding up incredibly well with virtually no signs of wear other than some minor (and purely cosmetic) dirt smudges on the face fabric. The zippers are operating smoothly, the seams look brand new, the DWR coating is still going strong, and the hood and hem toggles continue to grip and release as intended. Even after being brushed against abrasive rocks while scrambling and haphazardly crumpled into my pack frequently, the Beta SV is essentially no worse for wear, and I expect it to have a very long and healthy lifespan.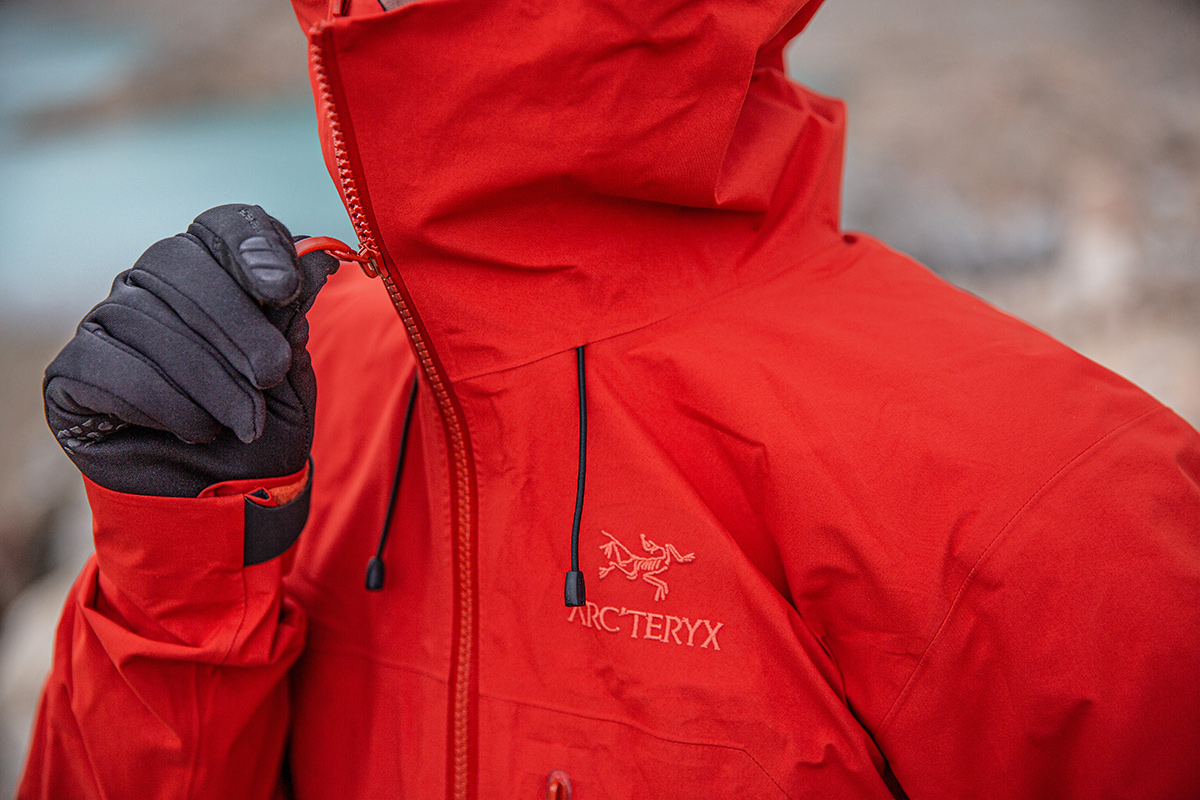 Weight and Packability
At 14.9 ounces for my women's small (the listed weight is 15.3 oz.), the Beta SV isn't particularly light or minimalist. That said, the weight is well-spent given the overall level of protection and generous feature set, and most backcountry adventurers will have little to complain about. For comparison, you can shave a few ounces with Arc'teryx's own Alpha AR Jacket (12 oz.), but again, that piece forgoes hand pockets and has more of a specialized feature set for alpine use. From within the larger Beta collection, the Beta AR (14.5 oz.), standard Beta Jacket (9.5 oz.), and Beta LT (12.3 oz.) also undercut the Beta SV, but none are as well-equipped for truly severe weather. In the end, the Beta SV was my go-to shell on day hikes and multi-day backpacking trips in Patagonia and never felt overly hefty or cumbersome on my body or in my pack, and I really appreciated the impervious feel when the weather turned.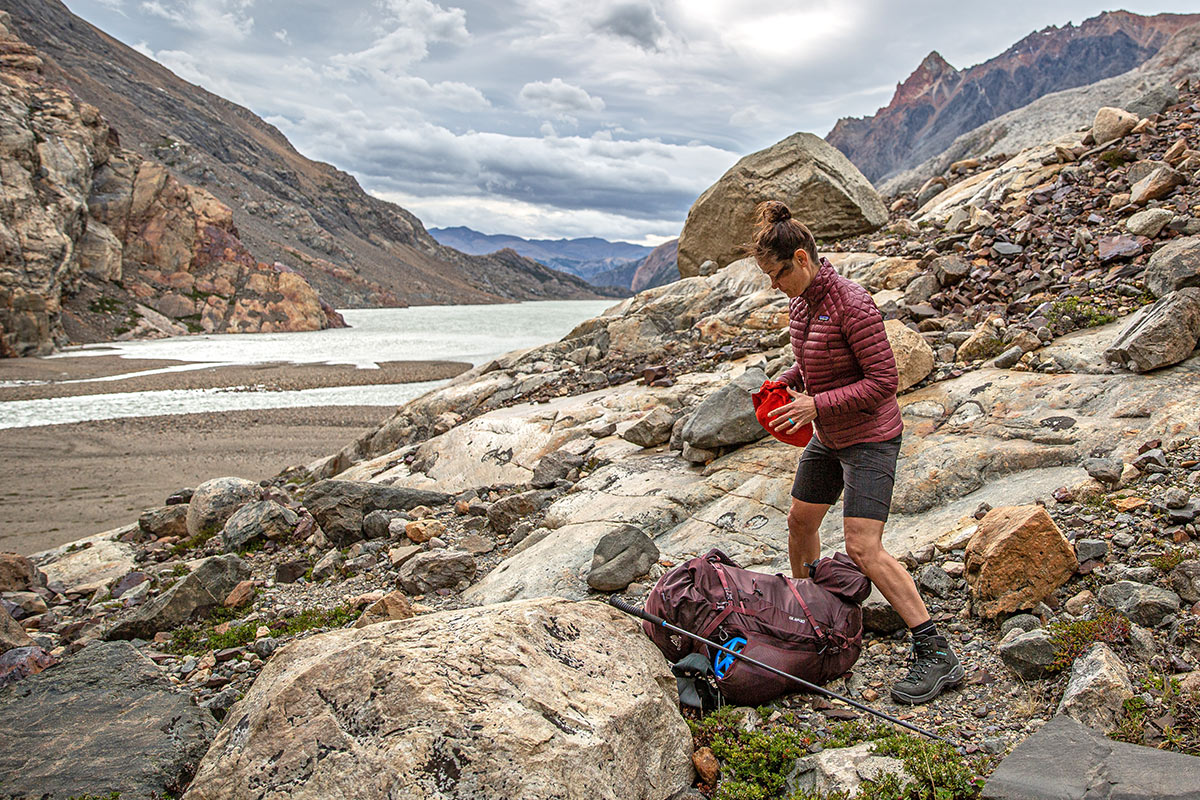 Key Design Features
StormHood
Arc'teryx's StormHood design has been a favorite of ours for years: It's highly protective, easily adjustable and helmet-compatible, and offers great all-around coverage. The hood on the Beta SV Jacket follows suit with three drawcords for dialing in fit, and I found it easy to snug over a beanie, ball cap, climbing helmet, and even my Smith Valence ski helmet. It stayed in place without impeding peripheral vision even in gale-force winds in Patagonia, and the laminated brim holds its shape and does a nice job deflecting rain, sleet, and snow from my eyes. There's also a RECCO reflector hidden here, which is a nice touch for ski use and allows rescuers to easily locate you in the event of an accident. The high collar is a final highlight with great all-around coverage even with the hood down, and a small patch of brushed microsuede to prevent rubbing at the chin. The only real downside is that the Gore-Tex Pro fabric is crinkly and fairly noisy, which made it a little difficult to converse with my coworkers when wearing the hood.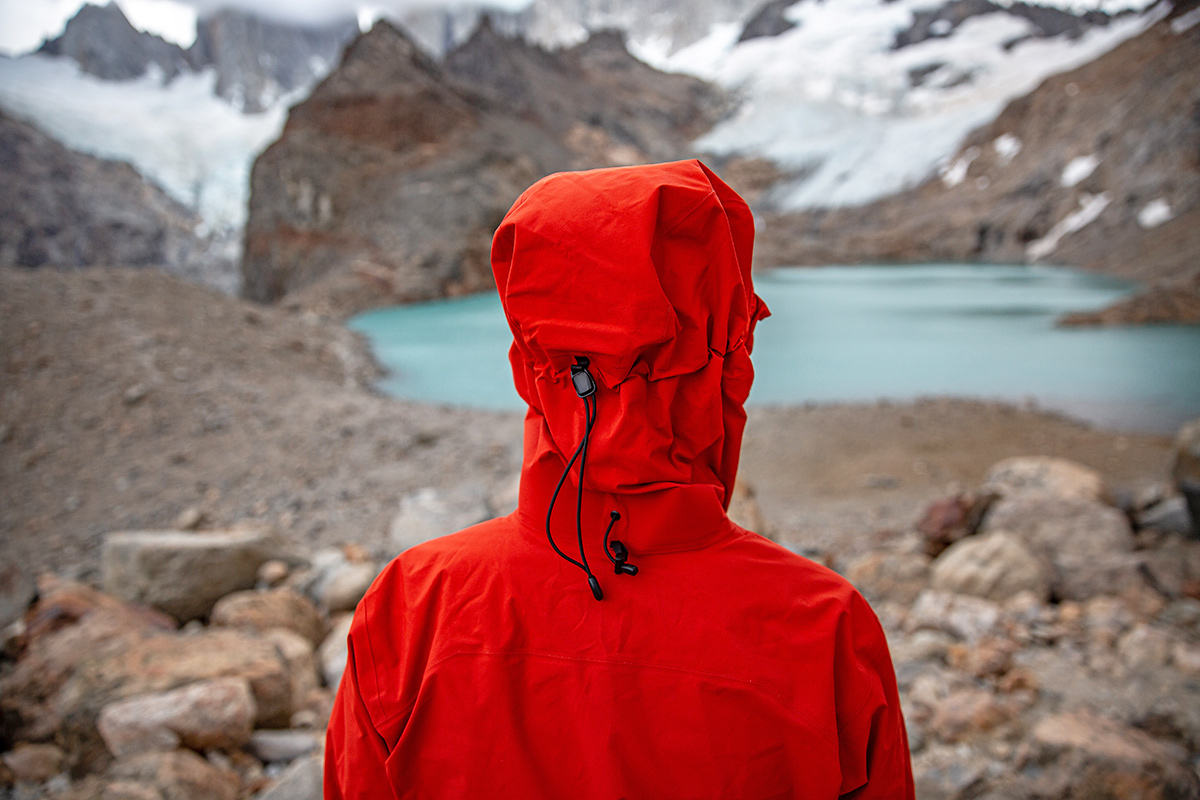 Storage: Pockets
As I mentioned above, the Beta SV Jacket isn't the lightest hardshell available, but one advantage is that the storage layout is very generous for stowing all the essentials. Unlike options in Arc'teryx's alpine-ready Alpha series, the Beta SV comes with large hand pockets for keeping your hands cozy in cold and windy weather. They're set high enough to access even when wearing a backpack or climbing harness, although I did have to pull the jacket up slightly to comfortably hike with my hands in the pockets. Along with the outer chest pocket, these also boast Arc'teryx's protective RS zipper sliders, which eliminate the need for a fabric "garage" at the top and contribute to the jacket's sleek and streamlined look and feel.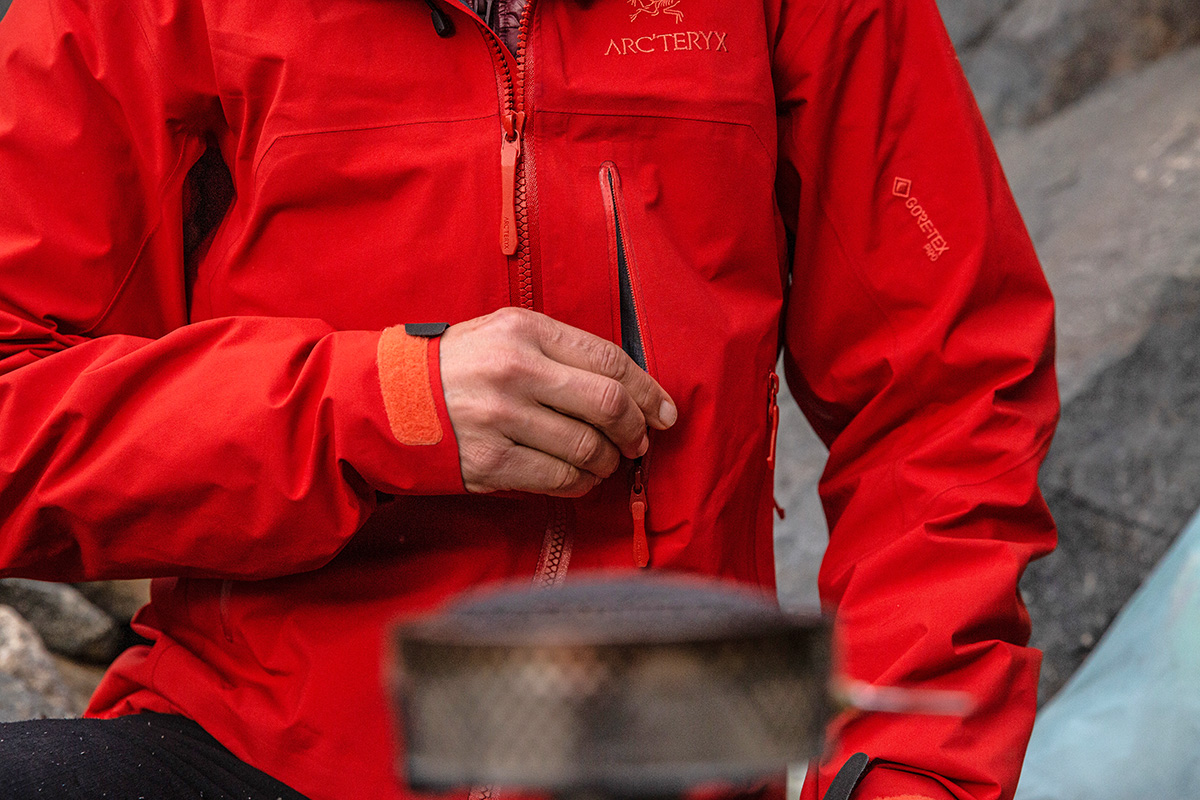 Other storage options include the aforementioned external chest pocket, an internal zippered pocket, and an additional dump pocket on the inside. The interior zippered pocket is stretchy and easily swallows a phone, keys, or wallet, while the dump pocket is great for quickly stashing items like a beanie and sunglasses or ski gloves and goggles. And importantly, all of the external pockets have WaterTight zippers that I fully trust to keep my valuables dry. Arc'teryx specifies that these are water-resistant rather than waterproof, but I've had no issues to date.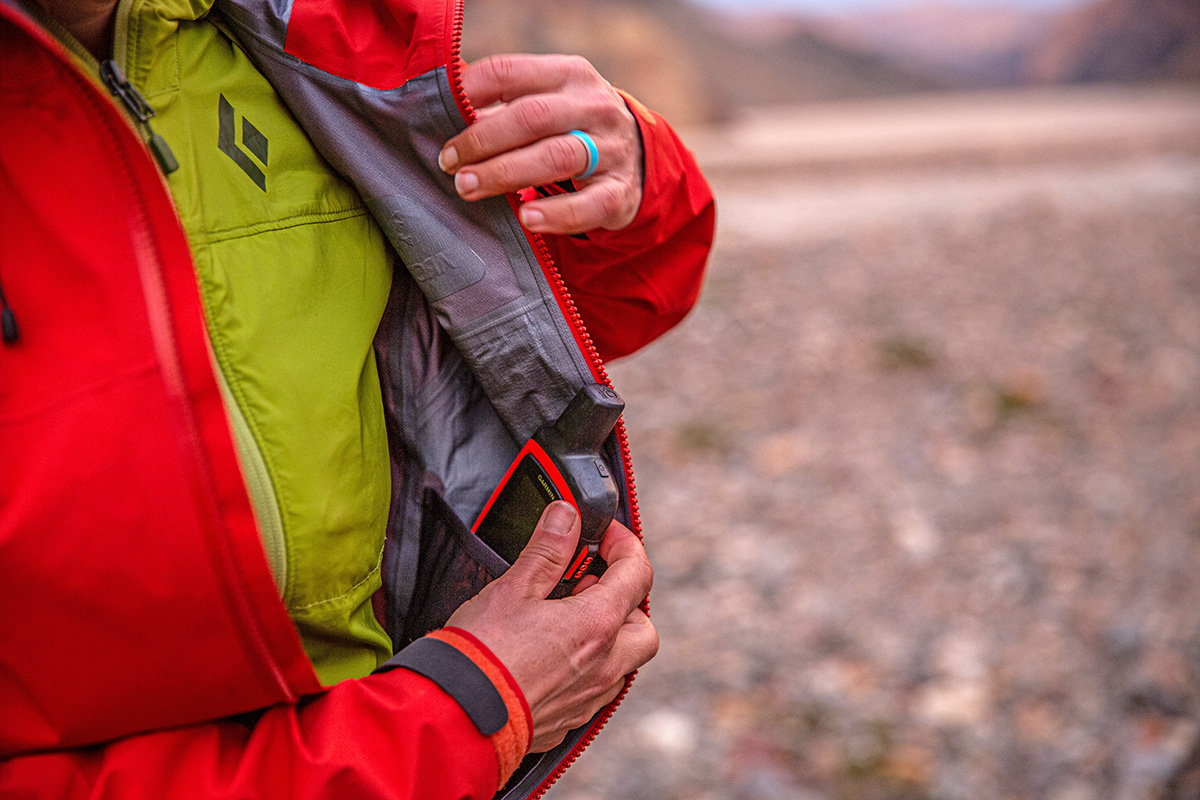 Fit and Sizing
The Arc'teryx Beta SV Jacket has a "regular" fit that allows for layering underneath while still remaining athletic and form-fitting enough for active use. In my standard women's size small, I found the fit to be just about perfect. For reference, I can easily add a heavyweight down jacket underneath without impacting mobility, and I've also been able to pair another layer overtop (my Arc'teryx Nuclei SV Insulated Parka) without any noticeable bunching. For maximizing range of motion, the Beta SV has articulated elbows and gusseted underarms that allow me to reach overhead or scramble along ridgelines without any restriction to movement. Finally, the 28.3-inch length is great at keeping my back protected, doesn't ride up under a pack, and provides a functional amount of coverage when sitting or bending down.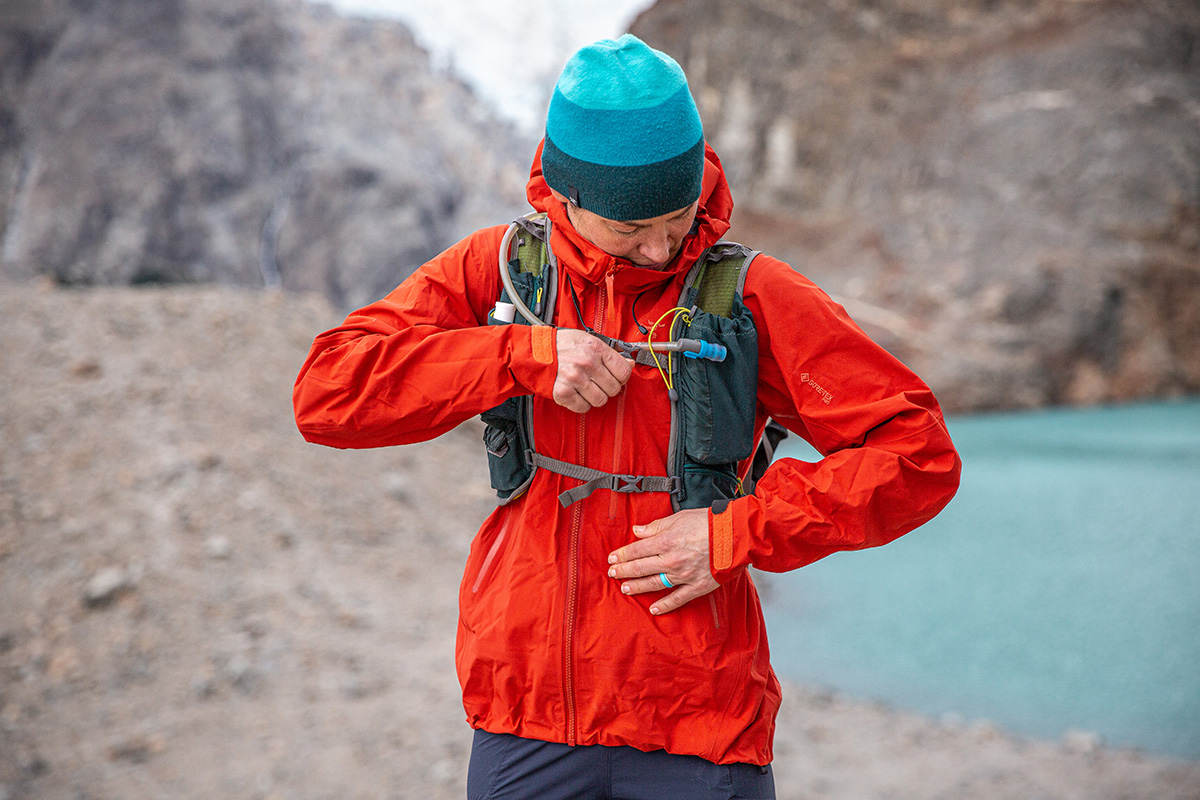 Men's Arc'teryx Beta SV Jacket
I tested the women's Beta SV Jacket for this review, and Arc'teryx also offers it in a men's version for the same price. Compared to the women's model, the men's Beta SV Jacket (which is fairly hard to track down at the time of publishing) has a higher listed weight of 1 pound 1.5 ounces, is a little longer at 31 inches down the back, and comes in different colorways, but the overall feature set and construction are otherwise identical. Like the women's version, the men's utilizes a 3-layer Gore-Tex Pro build with their Most Rugged Technology, has a robust and hardwearing 80D shell, and shares the same generous storage layout.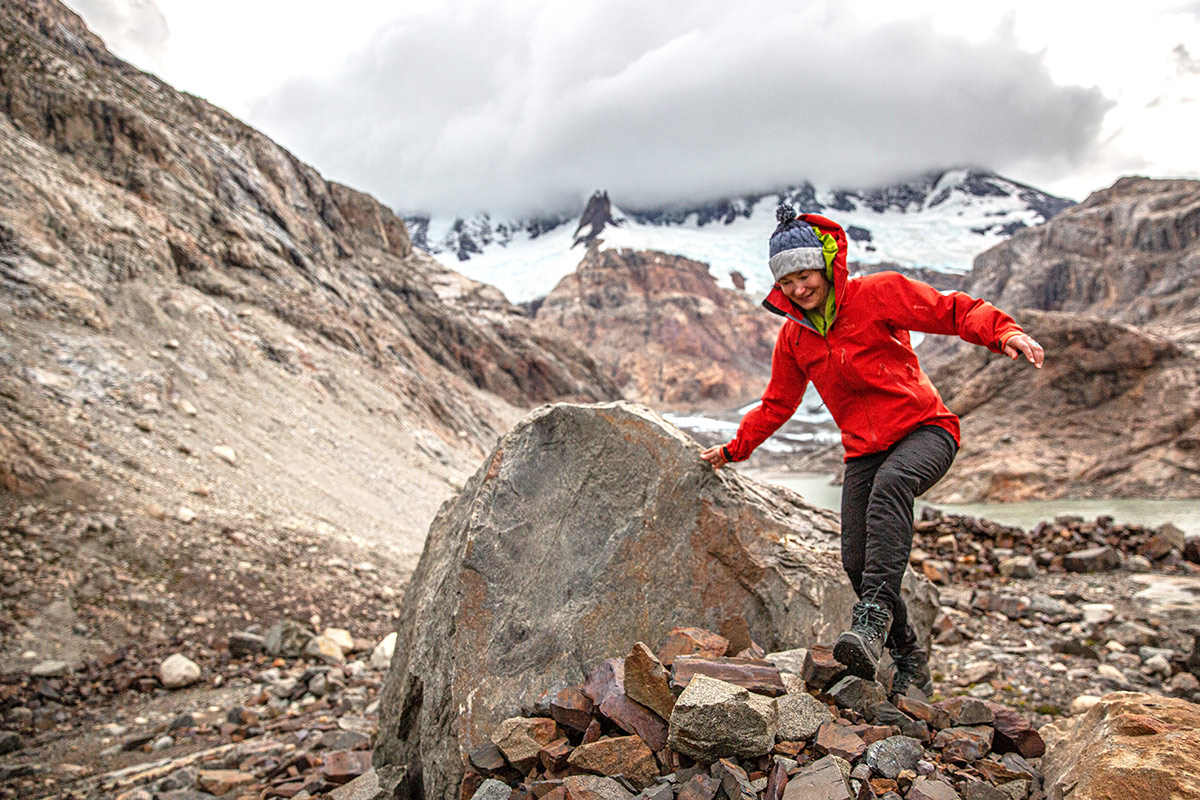 What We Like
3-layer Gore-Tex Pro build, thick shell, and functional features give the Beta SV a highly impermeable feel even in seriously harsh alpine conditions.
Build quality is top-notch, and the Beta has withstood very rough use with almost no wear to show for it.
Generous storage layout for stowing all the essentials with weather-ready details to seal out moisture.
Fit is streamlined and decently form-fitting with ample mobility for active use and plenty of room for laying underneath.

What We Don't
Arc'teryx shells don't come cheap, and the Beta SV is a particularly steep investment at $675.
Gore-Tex Pro fabric is relatively stiff and crinkly, and I had issues holding a conversation with the hood up.
Not a weight leader at 15.3 ounces (although it's reasonable for the level of protection and generous feature set).
Thick shell detracts from breathability, and the Beta SV wouldn't be my first choice for high-output activities in mild conditions.


Comparison Table
The Competition
Arc'teryx's Beta SV stands out in the hardshell jacket market as a seriously protective and capable option for truly harsh conditions. That said, it's a steep investment at $675, and those who don't need the top-end build can save with Arc'teryx's own Beta AR ("all round"). In parsing out the differences, the Beta AR costs $76 less and shaves off around an ounce of weight but is slightly less durable with a 40D shell with 80D reinforcements in high-wear areas. It also uses Arc'teryx's DropHood rather than StormHood design, which is similar in size and adjustability but leaves a small opening at the front between the collar and hood where blowing snow can build up. Storage is also a little less generous with two hand pockets and one internal chest pocket, and the Beta AR runs a little shorter at 27.2 inches down the back. That said, both are exceptionally built and highly protective, and the Beta AR's lower price point and well-rounded build make it our top-rated hardshell this season.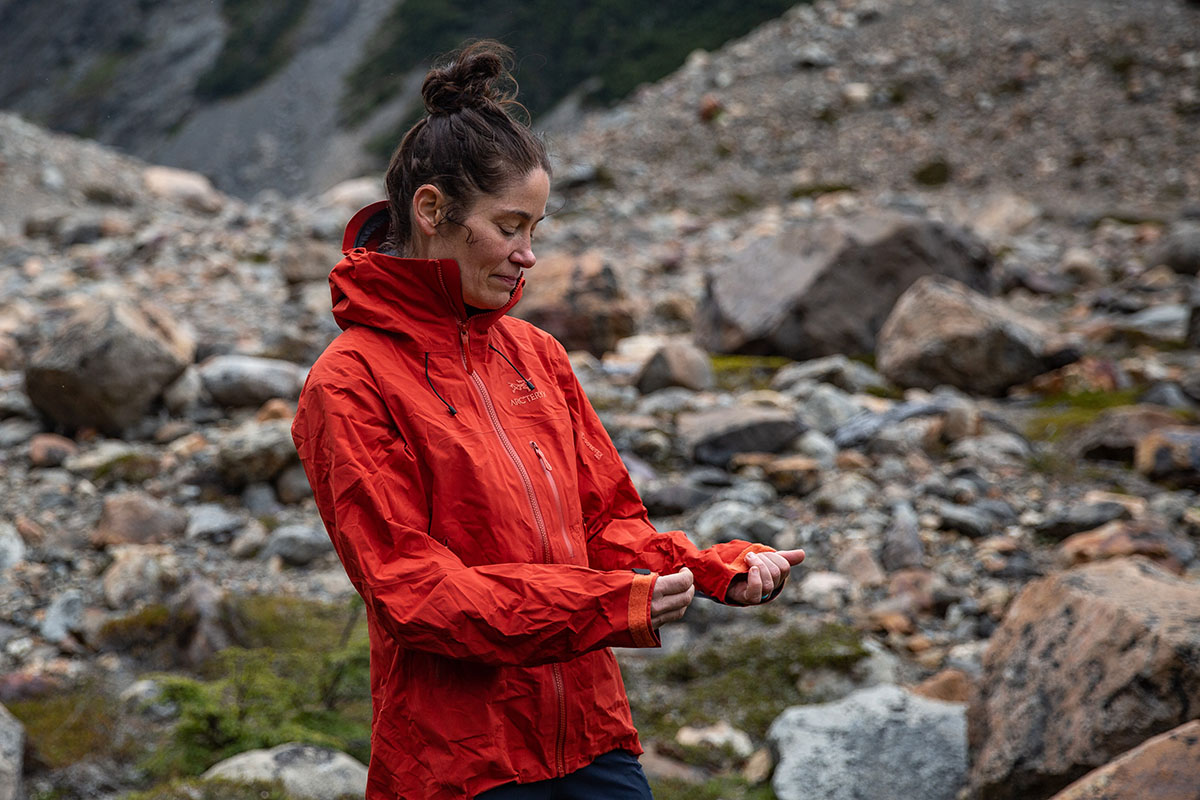 From within the same Beta collection, the Beta LT (short for "lightweight") Jacket is designed as a lighter but still fully serviceable option for inclement backcountry use. At 12.3 ounces and $400, it's around 3 ounces lighter and a considerable $175 cheaper than the Beta SV, but you do make some concessions in terms of protection and durability. Most notably, the LT forgoes the "Pro" membrane for a standard 3-layer Gore-Tex construction and uses a thinner 40D shell. In addition, the trimmer cut makes it harder to layer underneath, and the storage layout is more limited with just two hand pockets. In the end, the SV is better suited for performance use in harsh alpine weather, but the cheaper LT is still a high-quality alternative and will get the job done on most backcountry adventures.
We also brought Arc'teryx's Alpha AR Jacket to Patagonia, which is part of their climbing-focused Alpha series. As I covered above, the specialized build does forego hand pockets, which is a downside for more casual hiking and backpacking objectives, but it's very capable for demanding alpine pursuits. In terms of construction, the Alpha also uses a 3-layer Gore-Tex Pro build (40D with 80D reinforcements) for great all-around protection in inclement weather, shares the helmet-compatible StormHood with a laminated visor, and has a "regular" fit that's flattering, easy to layer underneath, and offers good mobility. The Alpha is also cheaper than the Beta SV at $599, although the lack of hand pockets will be a deal-breaker for many. That said, if your objectives include ice climbing or winter mountaineering, the Alpha AR is the more purpose-built option. For the ultimate in protection and durability, you can step up to the $799 Alpha SV, which is even thicker at 100D and comes with added storage (but no hand pockets).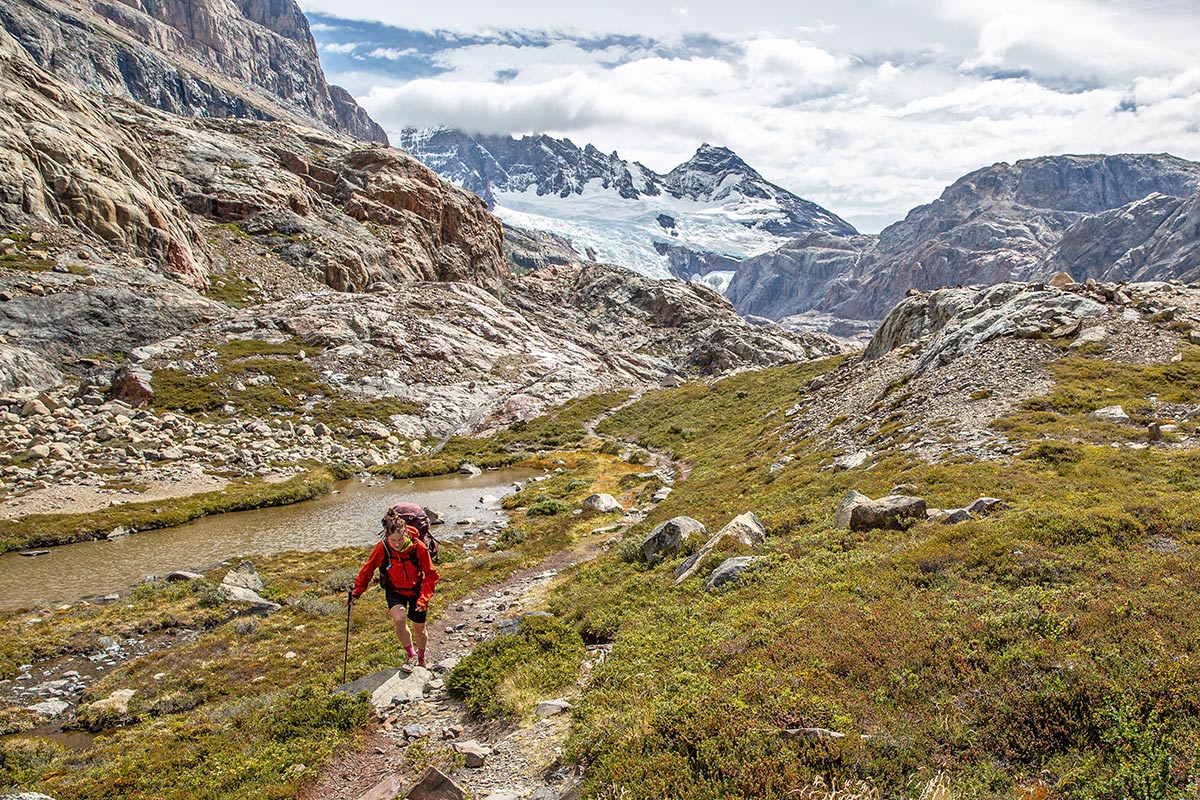 Not many brands can compete with Arc'teryx in terms of build quality or fit and finish, but Norway-based Norrøna is a notable exception. Their Trollveggen Gore-Tex Pro Light Jacket stacks up pretty competitively to the Beta SV: It weighs around the same at 14.9 ounces, has an adjustable and helmet-compatible storm hood, and is highly water- and windproof with a 3-layer Gore-Tex Pro construction. The Trollveggen also wins out in breathability with the addition of Gore's Most Breathable Technology, although it's a small step down in durability with a 40D shell and 70D reinforcements at the hood, shoulders, and elbows. Like the Alpha AR above, the Trollveggen also forgoes hand pockets, although the napoleon-style chest pockets are easier to access under a hipbelt or climbing harness. If the features work well for you, the Trollveggen is a similarly well-built and hardwearing alternative to the Beta SV for $76 less.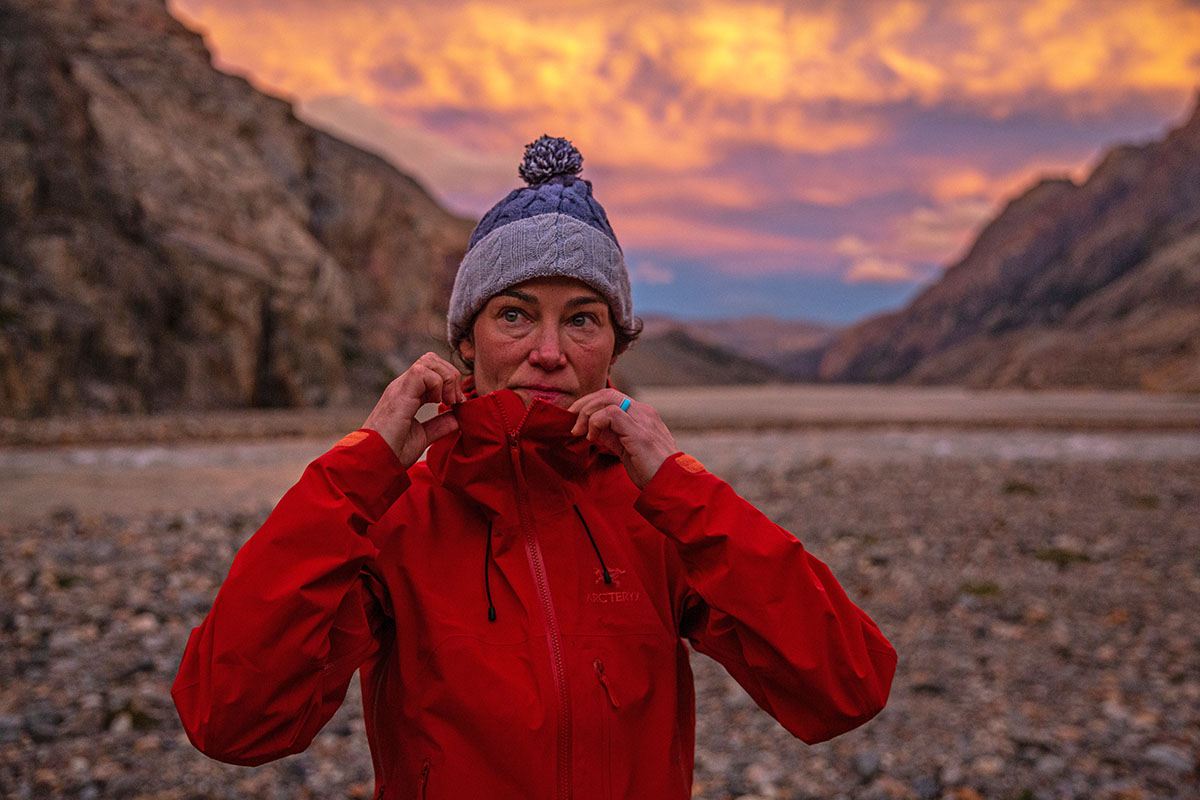 A final option to have on your radar is Patagonia's Pluma Jacket. As expected at this price point, you get a premium build including top-end Gore-Tex Pro waterproofing, a helmet-friendly hood, two-way pit zips for ventilation, and ample storage including two harness-compatible hand pockets, one external chest pocket, and one interior chest pocket. The Pluma's 40D shell is noticeably thinner than the Beta SV's thick 80D construction, but we love the addition of Gore's woven Microgrid Backer for maximizing comfort (it's much softer and suppler than the Beta SV). Further, we found it difficult to get the Pluma's hood over a bulky ski helmet, although it works well with a lower-profile climbing helmet. At $549 and 12.9 ounces, the Pluma is both cheaper and lighter than the Beta SV without many major performance compromises. If you don't mind the thinner shell and smaller hood, it's a well-rounded option and plenty of hardshell for most.
Editor's note: We usually provide a live price comparison table below our outdoor gear reviews, but the women's Beta SV is currently only available directly through Arc'teryx. You can see the Beta SV page here and support us in the process. Thanks!
Read More From Switchback Travel