Norway-based Norrøna is a technical specialist with a comprehensive selection of high-end mountain-ready apparel. Part of their premium Trollveggen series, the Trollveggen Superlight Down850 Jacket slots in as an ultralight option for backcountry use in the summer and shoulder seasons. I tested the women's version while hiking around Oregon's Smith Rock and during a 16-day trek in Nepal and was impressed by how much warmth Norrøna was able to pack into the sub-6-ounce build. You do make notable concessions in durability, features, and weather protection, but it's an undeniably well-built UL pick for weight- and space-conscious hikers and backpackers. Below we outline our experiences with the Trollveggen Superlight Down850 Jacket. To see how it stacks up to the competition, see our articles on the best down jackets and best women's down jackets.
 
---
Table of Contents
---

Performance
Warmth
True to its name, the Norrøna Trollveggen Superlight Down850 Jacket is focused on keeping weight to a minimum, but it offers impressive warmth for its minimalist build. For insulation, the jacket utilizes 2.1 ounces of premium and lofty 850-fill-power down, which felt very comparable in warmth to my Mountain Hardwear Ghost Whisperer/2 (2.5 oz. of 800-fill down). For reference, I found the Trollveggen's insulation to be ample for wearing over just a thin baselayer when exerting in temperatures down to around freezing. And with another light layer underneath, I was able to stay comfortable and cozy while sitting around the campfire at night in similar conditions. I even slept in the Trollveggen most nights during our trip to Nepal, which speaks to its nice overall warmth and comfort. It won't be confused for a true cold-weather piece, but it's an excellent choice for backcountry outings in the summer and shoulder seasons.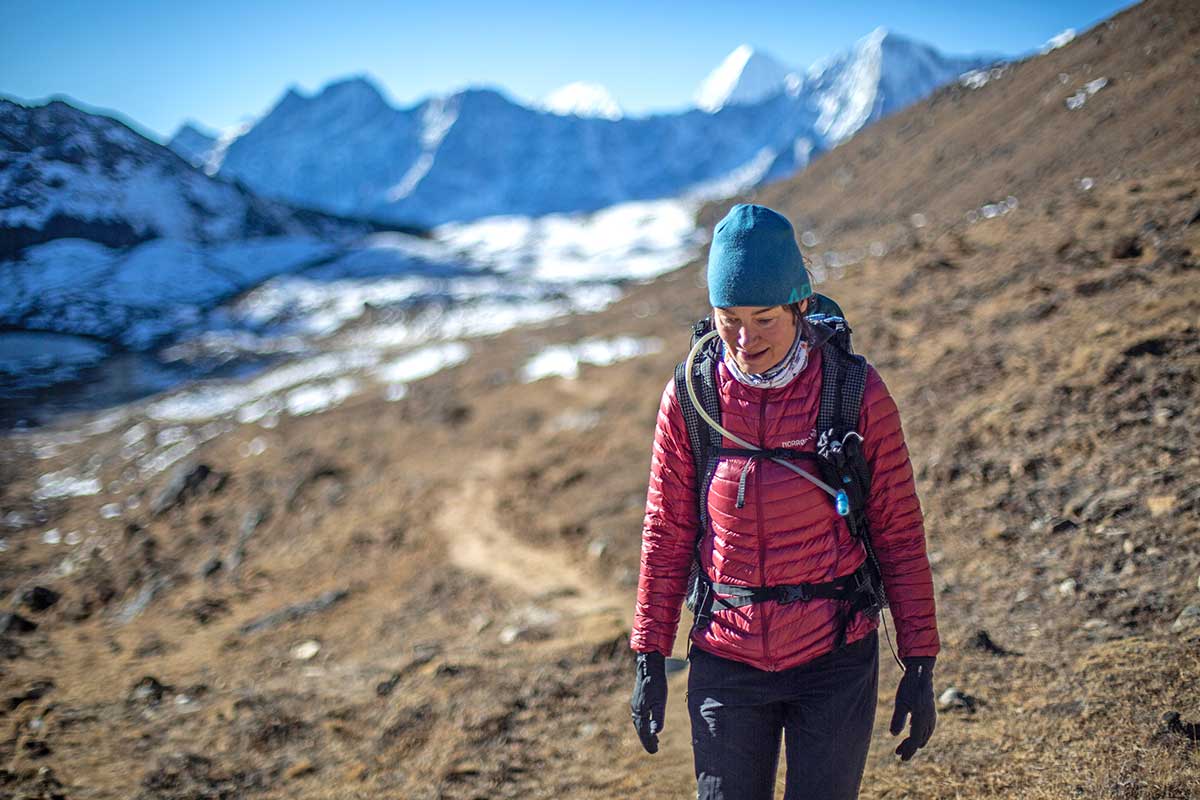 That said, the Norrøna Trollveggen Superlight Down850 is lacking one critical warmth-related feature: a hood. To be fair, I did find a viable solution by pairing the jacket with my Arc'teryx Rho LT Hoody and adding a neck gaiter to help seal out the cold around my neck and head. But it's a noteworthy omission, and I hope Norrøna adds a hood-equipped variation to the lineup in the future. The jacket also lacks hem and cuff adjustments, but that's fairly standard for an ultralight piece, and both fit snugly and are effective at trapping warmth.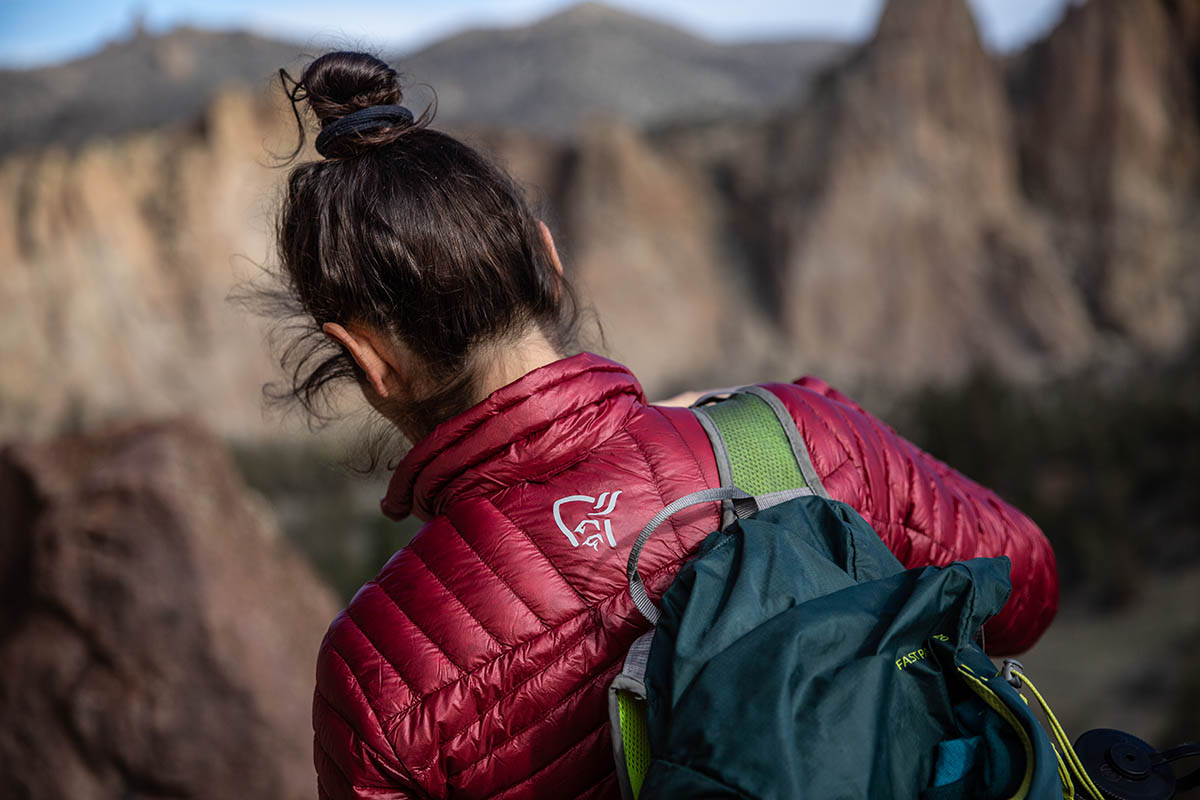 Weight and Packability
As I touched on above, the Trollveggen Superlight Down850's calling card is its ultralight build. In fact, at just 5.7 ounces for my women's small (just under its 5.8-oz. listed weight), it's one of the lightest down jackets on the market. For comparison, it slightly undercuts other leading UL options including Mountain Hardwear's iconic Ghost Whisperer/2 Jacket (6.9 oz.), although we prefer the added warmth and versatility of the hood-equipped variation (7.8 oz.). You can go lighter with a more specialized option like Montbell's 4.1-ounce Plasma 1000, but that jacket foregoes both a hood and hand pockets, which severely limits its all-around appeal.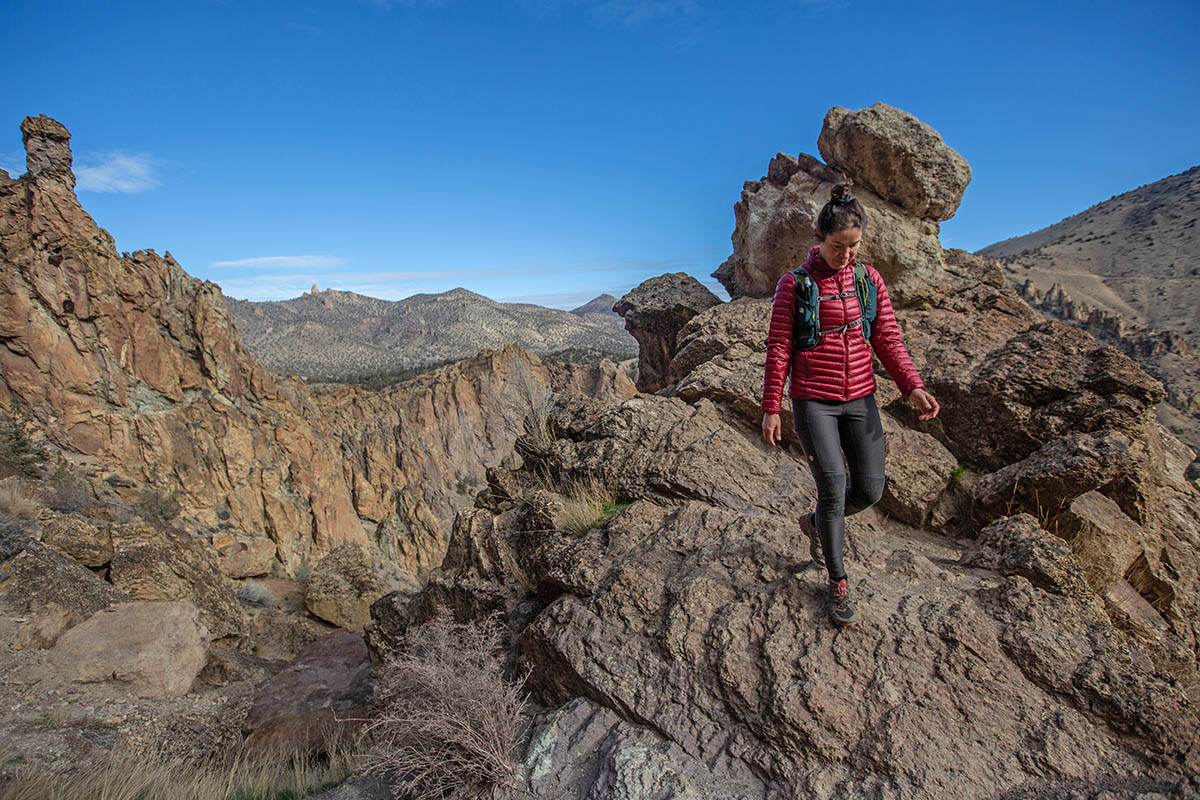 Weight and packability often go hand in hand, and the Trollveggen Superlight Down850 stuffs down impressively small for storing in a backpack or duffel. When fully compressed, it ends up being about the size of an orange, which is quite remarkable and makes it easy to bring along on nearly any backcountry adventure. My only complaint is that it's a pretty tight fit squeezing the jacket into its right hand pocket, and I have concerns about the thin fabric catching on the zipper. But there haven't been any issues to date, and as long as you're careful about packing, it shouldn't be a major deterrent.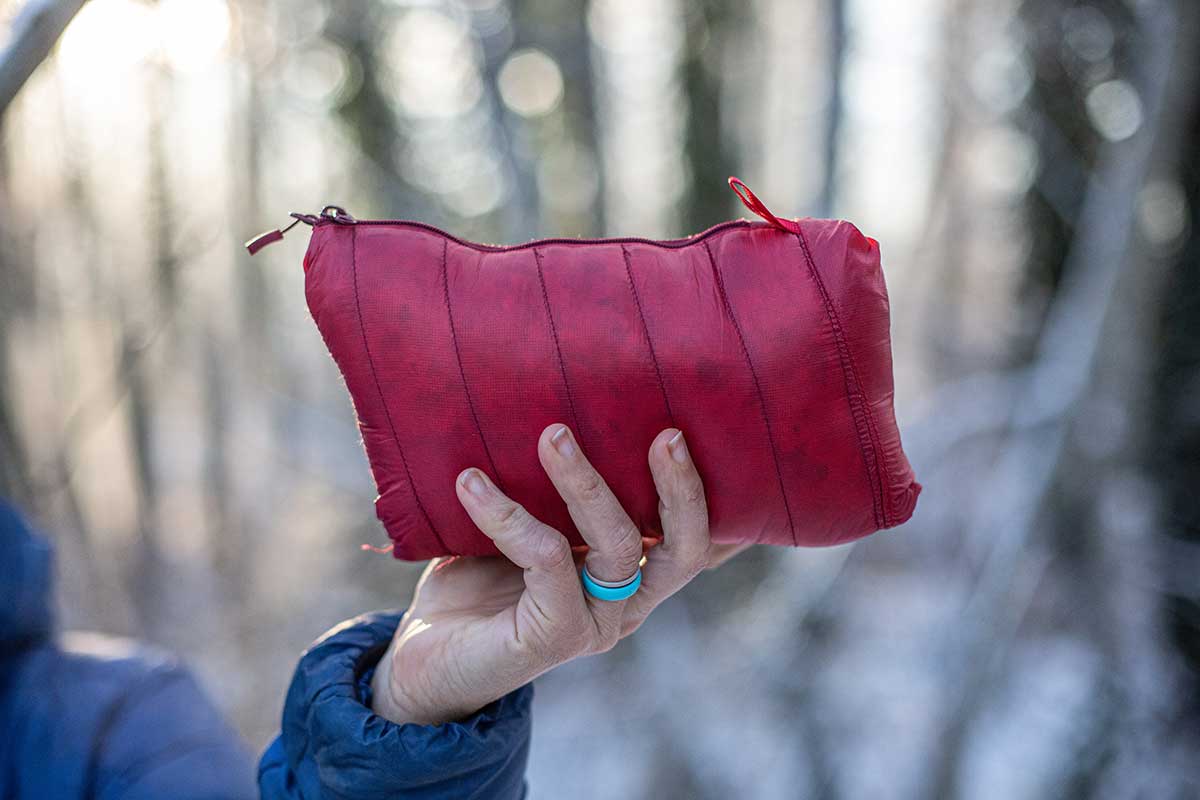 Weather Resistance
Down jackets typically aren't our first choice for inclement conditions, and the Trollveggen is one of the least protective options we've tested of late. To be fair, the jacket does block wind very well, but the thin face fabric tends to wet out quickly when exposed to precipitation. There is a durable water repellent (DWR) coating on the outside for fending off light rain, but the lack of other weatherproofing measures—like hydrophobic down or a water-resistant shell—severely limits the Trollveggen's wet-weather appeal. If rain is in the forecast, I'd highly recommend adding a waterproof hardshell or rain jacket overtop to protect the down from clumping up and losing its insulating abilities.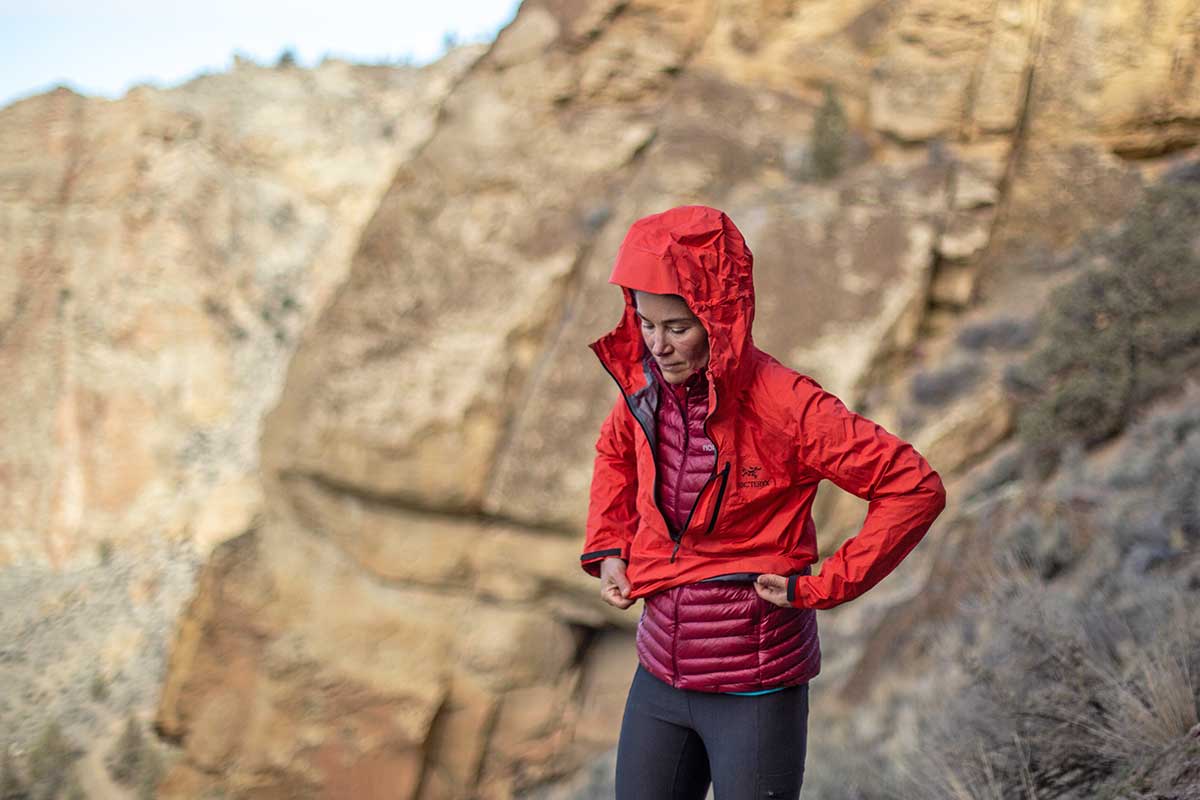 Key Features
The Norrøna Trollveggen Superlight Down850 is a decidedly minimalist piece and lacks many of the features we see in heavier competitors. As I covered above, the jacket is hoodless and lacks hem and cuff adjustments. Storage is also very basic with just two hand pockets, which might be limiting for those who like to have quick access to items like their phone, gloves, map, GPS device, and more. In my opinion, adding another pocket along the inside would be worth the small weight penalty.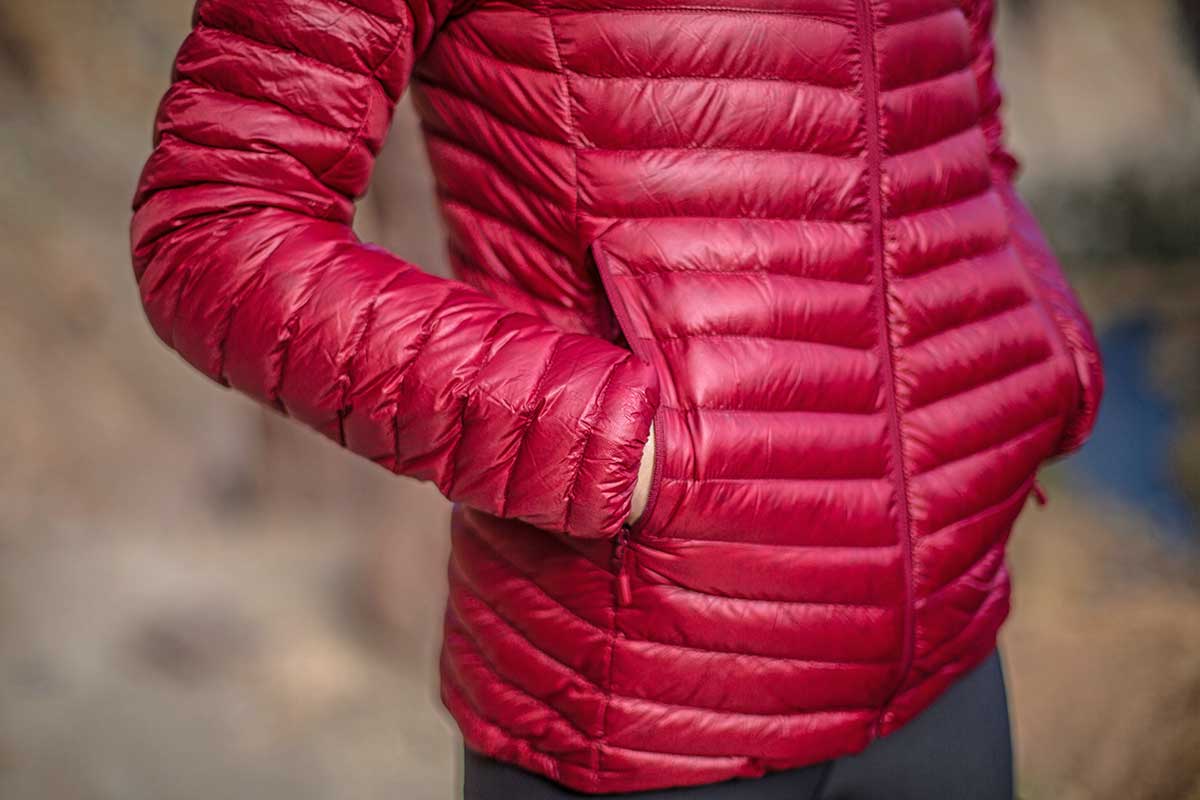 Build Quality and Durability
Ultralight pieces often sacrifice durability to shave weight, and the Trollveggen is no exception. To be fair, Norrøna is a leader in technical mountain apparel and well-known for their impressive attention to detail, but the jacket's 7-denier (D) shell is undeniably thin and fragile. As I mentioned, I'm always concerned about tearing the jacket when stuffing it into its pocket for storage, although that hasn't been a problem thus far. Further, I haven't had any feathers work their way through the outer shell, and all of the smaller details like the seams and threads are intact. All in all, the Trollveggen should hold up well provided you're careful about avoiding snags and tears, but it never hurts to bring along repair tape just in case.

Fit and Sizing
The Trollveggen Superlight Down850 boasts Norrøna's "technical" fit, which is the second-tightest designation in their collection (right behind their "slim" cut). In my standard women's size small, the Trollveggen was noticeably snugger and shorter than most of the other down jackets in my closet, and I often paired it with just a light merino wool t-shirt and long-sleeve baselayer. Given the streamlined fit, I was also able to add layers like my Arc'teryx Zeta AR hardshell or since-discontinued Cerium SV down jacket overtop without impacting mobility. If you plan to layer more heavily underneath, however, it may be worth sizing up (and it's always best to try on before you buy). And a final note: the jacket has an asymmetric cut that's slightly longer in the back, which is a nice touch for boosting coverage.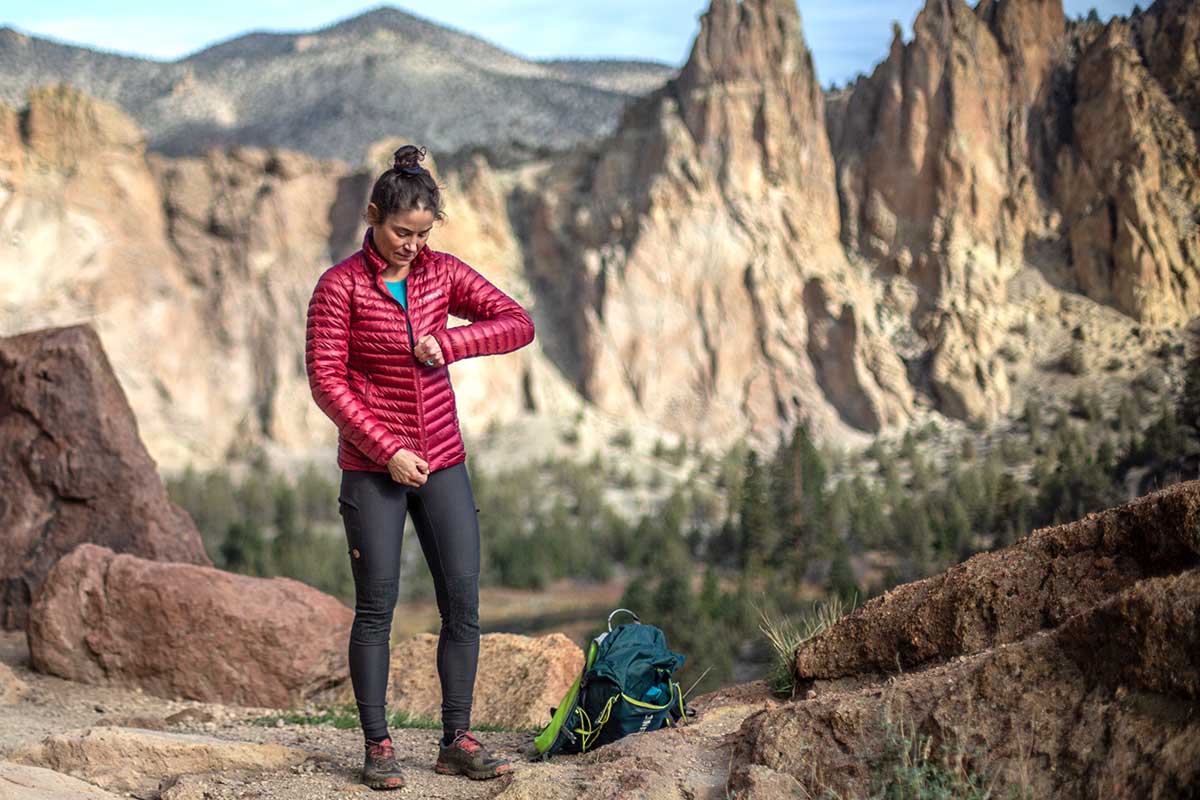 Sustainability
Like many leading outdoor brands, Norrøna has made a conscious effort over the past several years to incorporate more sustainable practices into their lineup. The Trollveggen Superlight Down850 is a shining example of their progress: more than 50 percent of the synthetic materials are recycled, and the jacket also sports a PFC-free DWR coating and bluesign-approved materials that have been deemed safe for the environment, workers, and consumers. Additionally, the down fill is certified to the Responsible Down Standard, indicating there was no force-feeding or live-plucking. Finally, we appreciate that Norrøna provides a factory list on their website for transparency, with third-party inspectors that regularly evaluate production practices. Added up, it's one of the most comprehensive sustainability efforts we've seen to date and only adds to the jacket's all-around appeal.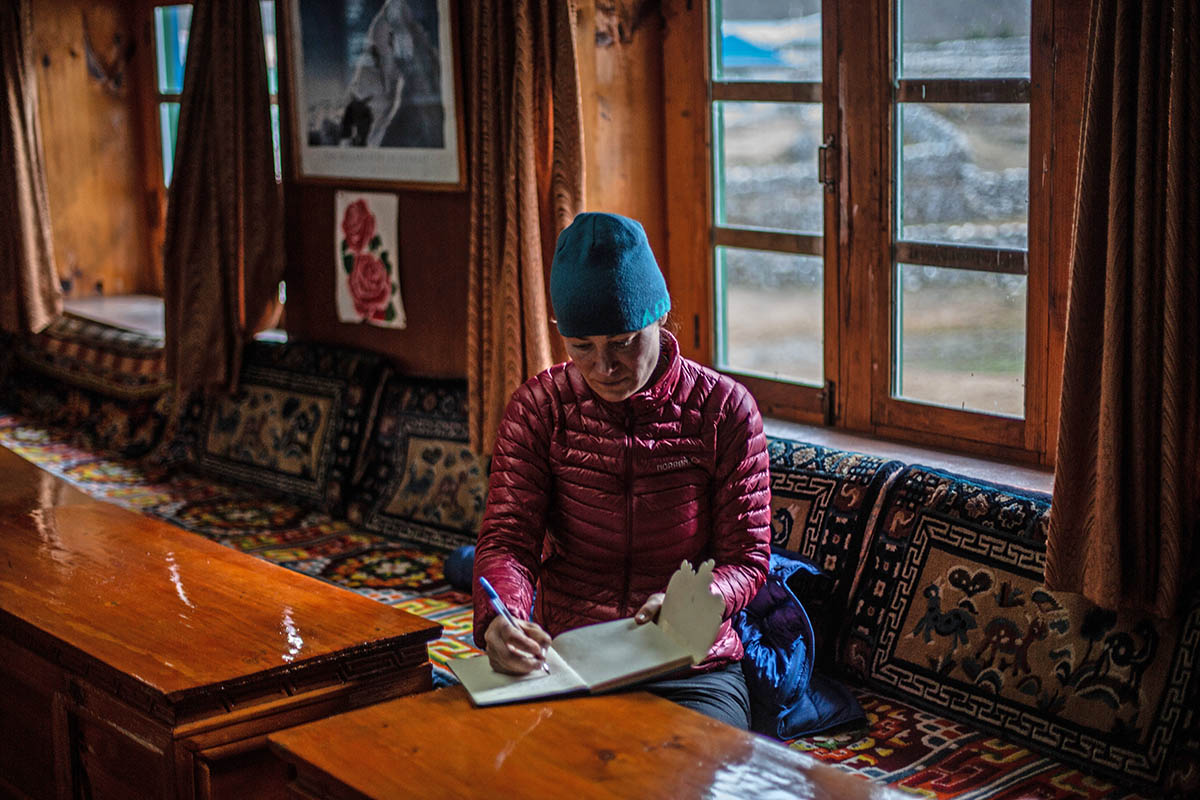 Men's Norrøna Trollveggen Superlight Down850 Jacket
We put the women's Trollveggen Superlight Down850 through its paces for this review, and Norrøna also offers the jacket in a dedicated men's version. In parsing out the differences, the men's Trollveggen Superlight Down850 Jacket contains a little more down (2.5 oz. of the same 850-fill variety), checks in at 7 ounces, and is offered in slightly different colorways. Otherwise, the two jackets share a nearly identical feature set and overall construction, including two hand pockets, non-adjustable hem and cuffs, and the same sustainability measures outlined above. And like the women's jacket, the men's also retails for $349.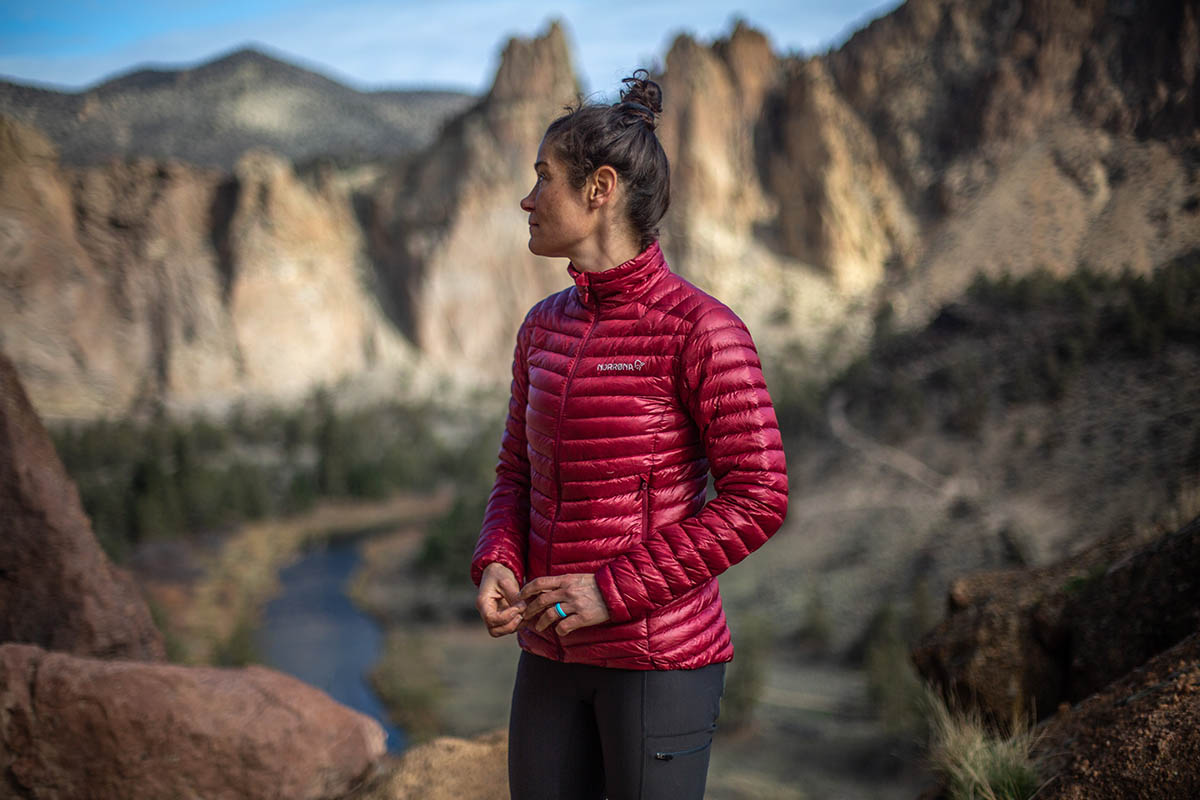 What We Like
Excellent warmth relative to its weight—a great option for backcountry adventures in the summer and shoulder season.
At 5.8 ounces, the Trollveggen is one of the lightest down jackets on the market and stuffs down exceptionally small for stowing in a pack.
Strong focus on sustainability, including the use of recycled and bluesign-approved fabrics, a PFC-free DWR finish, and RDS-certified down insulation.
 
What We Don't
Lack of hood is limiting for performance use, and there are no adjustments at the hem or cuffs for sealing out drafts.
The 7-denier shell is incredibly thin and will require added care to avoid snags and tears, especially when stuffing the jacket into its pocket.
Despite the DWR coating on the shell, the jacket wets out quickly when exposed to moisture.
Fairly pricey at $349 given the barebones storage and feature set.


Comparison Table

The Competition
The Norrøna Trollveggen Superlight Down850 Jacket is a remarkably light and minimalist piece and a great option for use in the summer and shoulder seasons. However, there's no shortage of competition in 2022, and Mountain Hardwear's Ghost Whisperer/2 remains the standard bearer in the ultralight down jacket category. Stacked up against the Trollveggen, the Mountain Hardwear is a little heavier at 7.8 ounces but includes critical features like a hood, hem adjustment, and hydrophobic down for added protection in wet weather. The Ghost Whisperer's shell is also a little thicker (10x10D), and the tight weave is more confidence-inspiring around sharp gear and branches. The Norrøna does win out in down quality (850-fill vs. 800-fill) and has a slightly more athletic cut, but warmth is very similar between the two. Tack on a $24 savings, and the Ghost Whisperer remains our top UL pick. If you want to go even lighter, Mountain Hardwear offers a hoodless version as well for a bit less.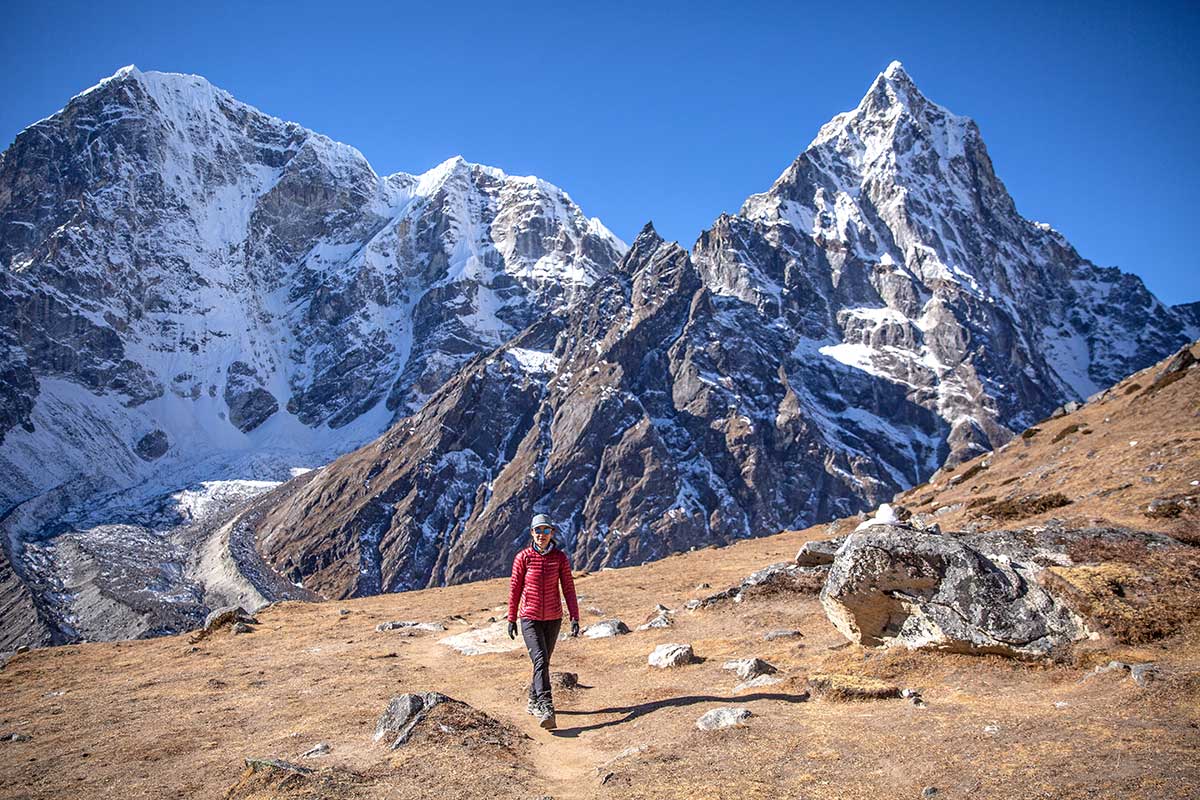 For a warmer and more versatile option, the Arc'teryx Cerium LT Hoody (short for "lightweight") is an iconic and well-loved piece. At $379 and 9.9 ounces, it's around $30 and 4 ounces heavier than the Trollveggen but the better match for colder conditions with 2.6 ounces of 850-fill down. In terms of features, the Cerium LT has strategically placed Coreloft insulation (80g and 100g) for added warmth, the shell is more durable at 10 denier, and you get an additional internal zippered pocket for securely stowing the essentials. In the end, the Cerium LT isn't an ultralight standout like the Trollveggen, but its sleek styling, versatile warmth, and well-executed technical slant make it our favorite performance option of the year. Like Mountain Hardwear, Arc'teryx also offers a non-hooded variation for $349 that shaves off around an ounce.
Like the Cerium LT, Feathered Friends' Eos is another warmer but impressively high-quality alternative to the Trollveggen. It's not a UL leader like the Norrøna at 10 ounces, but for the added weight, you get helpful additions like an adjustable hood, cinchable hem, and zippered chest pocket (in addition to two zippered hand pockets). The Eos also sports a weather-resistant Pertex Quantum shell, which is great for fending off light to moderate precipitation and gives the Eos the clear edge in protection. Finally, with 2.8 ounces of 900-fill down, the Eos offers a slight step up in warmth and has a noticeably loftier and thicker look and feel. Unless you're counting ounces, we think it's the more approachable and well-rounded option for most hikers and backpackers and worth the extra $40.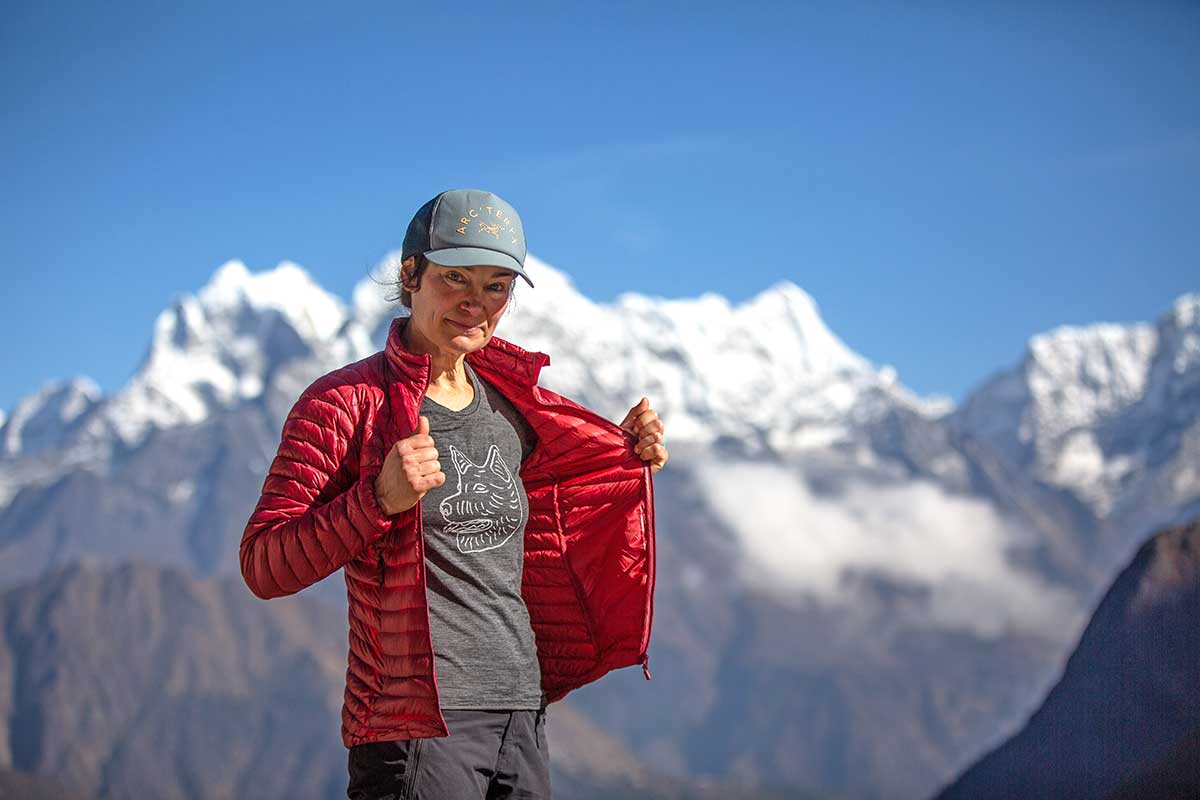 Last but not least is a fairly specialized alternative to the Trollveggen Superlight: Montbell's Plasma 1000 Down Jacket. Montbell is a leader in the ultralight category, and the Plasma follows suit with an all-in weight of just 4.1 ounces (1.7 oz. lighter than the Norrøna). As its name indicates, the Plasma is one of the few down jackets on the market to use ultra-premium 1,000-fill-power down, which is incredibly lofty and compressible. However, fill weight is low at just 1.3 ounces, which translates to a step down in warmth compared to the Trollveggen. To keep weight to a minimum, Montbell also opted for a very thin 7-denier shell fabric and similarly barebones feature set, including no hood, no adjustability at the hem or cuffs, and no hand pockets. For $20 more and only a slight weight penalty, the Trollveggen gets the clear edge in terms of all-around appeal.
If you're thinking about buying gear that we've reviewed on Switchback Travel, you can help support us in the process. Just click on any of the seller links above, and if you make a purchase, we receive a small percentage of the transaction. The cost of the product is the same to you but this helps us continue to test and write about outdoor gear. Thanks and we appreciate your support!
Depending on the seller, most products ship free in the United States on orders of $50 or more. International shipping availability and rates vary by seller. The pricing information on this page is updated hourly but we are not responsible for inaccuracies.
Read More From Switchback Travel