Norrøna Falketind Down750 Hood Jacket
Price: $299
Weight: 15.9 oz. (men's large)
Fill: 3.5 oz. of 750-fill down
What we like: A versatile midlayer that nicely balances warmth, protection, and durability.
What we don't: A little heavy for backcountry use, limited storage, and stitching inside one of the hand pockets failed during testing.
See the Men's Norrøna Falketind Down750  See the Women's Norrøna Falketind Down750
There's no shortage of quality down jackets on the market in 2022, but Norrøna's Falketind Down750 Hood jacket sets itself apart as a highly versatile option with a nice performance slant. With a mix of 750-fill down at the core and synthetic insulation in moisture-prone areas, the men's Falketind was a great match for my 16-day trek through Nepal's Everest region and back home in a cold and wet Canadian winter. It's a little on the heavy side for demanding backcountry missions and limited on storage, but it's a thoughtfully built, high-quality design that works well as a cold-weather midlayer or standalone piece in milder conditions. Below I break down my experiences with the Falketind Down750. To see how it stacks up to the competition, see our articles on the best down jackets and best midlayers.
 
---
Table of Contents
---

Performance
Warmth
With 3.5 ounces of quality 750-fill-power down and synthetic insulation in moisture-prone areas, the Norrøna Falketind Down750 Hood Jacket provided a near-ideal amount of warmth for cool shoulder-season outings and early-morning summit pushes. For reference, it was my go-to midlayer for our 16-day trek in Nepal, where we ascended to elevations of up to 18,000 feet and were constantly on the move. The down insulation concentrated at the torso kept my core perfectly warm and cozy without causing me to overheat while exerting, while the addition of synthetic fill at the shoulders, sides, neck, and lower arms provided a nice boost in wet-weather assurance when we encountered light rain and snow (more in "Weather Resistance" below). Even when we returned to Canada during a cold snap with temperatures reaching as low as 15 degrees Fahrenheit, I was able to stay comfortable while walking my dog and running errands without much layering underneath (the cinchable hood and hem helped to seal out cold).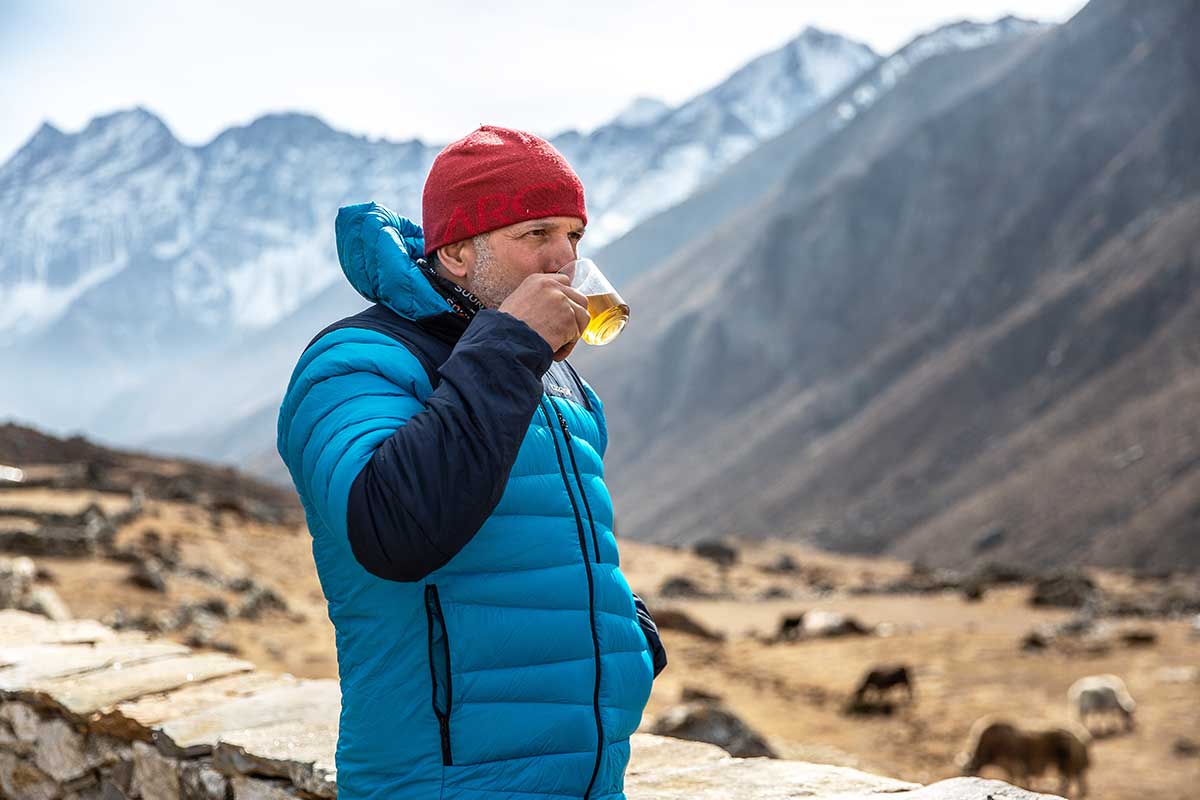 It's worth noting that I used to reach for my Mountain Hardwear Ghost Whisperer/2 Hoody (3 oz. of 800-fill down) on chilly winter mornings, but the Falketind provided a noticeable and much-needed boost in insulation and quickly filled a critical gap in my quiver. Given the level of warmth, I anticipate it will be a great midlayer for backcountry ski missions as well. That said, if you're looking for a down jacket to wear during the warmer summer months, I'd recommend stepping down to a less insulated option like the Ghost Whisperer or Norrøna's Trollveggen Superlight Down850 Jacket (2.5 oz. of 850-fill down).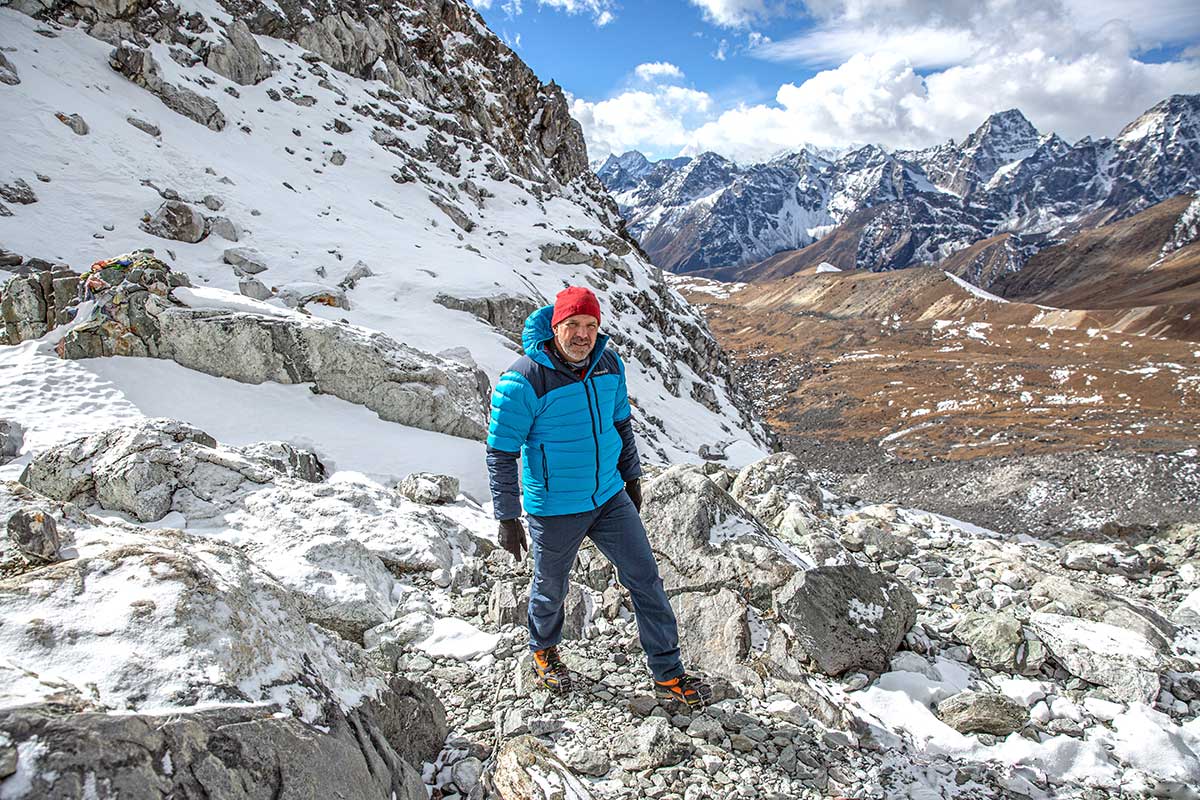 Weather Resistance
Down jackets typically prioritize warmth over all-out protection, but the Norrøna Falketind Down750 Hood Jacket does a nice job balancing the two. As I mentioned above, the jacket uses a mix of down fill around the core and synthetic insulation in moisture-prone areas like the sides, neck, and lower arms. Compared to down, synthetic offers a sizable boost in wet-weather assurance and maintains its loft and insulating abilities when wet (down tends to clump up). Combined with a quality durable water repellent (DWR) coating, reinforcements at the shoulders and elbows, and adjustable hood with a high collar, the Falketind has deftly fended off rain, light snow, and high winds during a variable winter in British Columbia. As with most down jackets, I recommend packing a waterproof hardshell or rain jacket if serious rain or snow is in the forecast, but the Falketind is great at guarding against light to moderate moisture.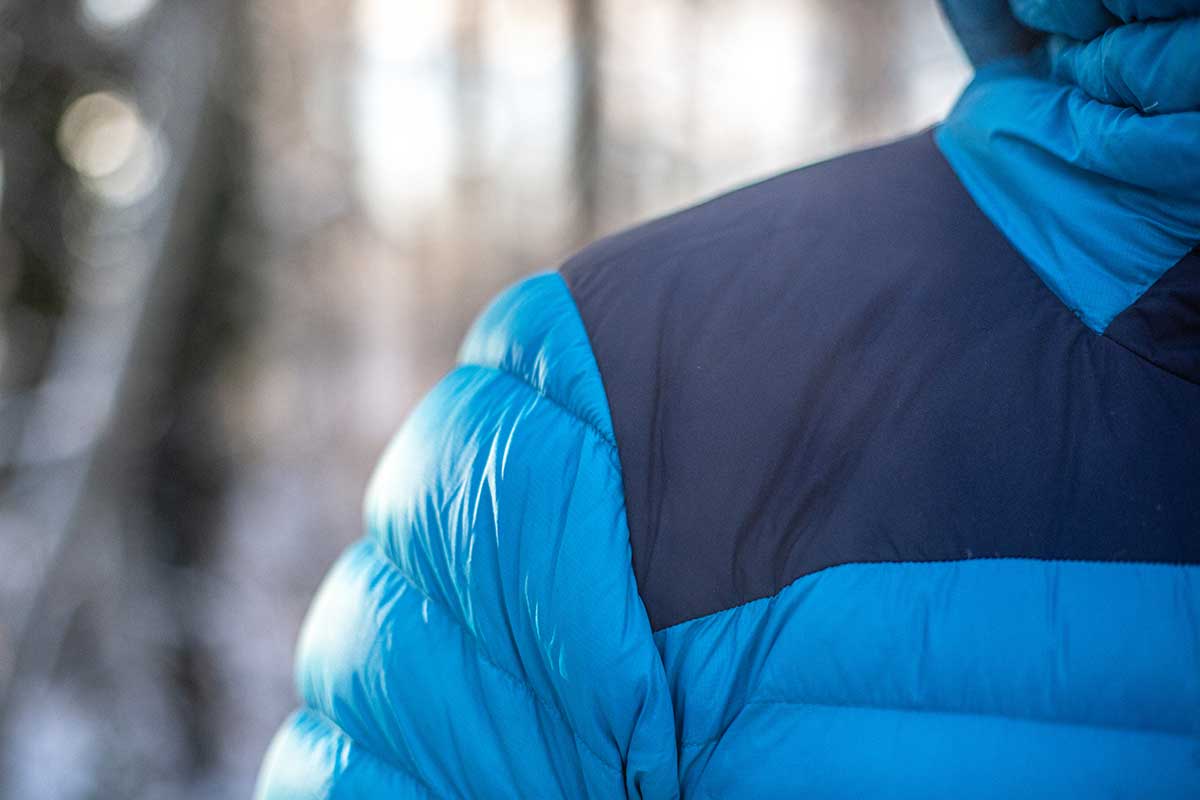 Weight and Packability
At 15.9 ounces for my men's large (listed weight is 15.6 oz.), the Falketind Down750 is on the heavier end of the lightweight down jacket market. For reference, Patagonia's Down Sweater Hoody is the standard bearer in this category and weighs a tad less at 15.1 ounces while offering similar warmth, although it's more of a casual piece and lacks the wet-weather assurance of synthetic fill in areas susceptible to moisture. Arc'teryx's Cerium LT Hoody (11 oz.) is another design with a mix of down and synthetic fill, but it's noticeably less durable and costs a considerable $80 more than the Norrøna. Alternatively, you can get more warmth at only a minor weight penalty with options like Rab's Microlight Alpine (1 lb. 0.5 oz.) or Arc'teryx's Thorium AR Hoody (1 lb. 1.4 oz.), the latter of which also uses both down and synthetic insulation. All told, the Falketind wouldn't be my first choice for long backcountry missions, but many will find the added durability and protection worth the small penalty.
In terms of packability, the Falketind Down750 Jacket stuffs into its right hand pocket, which sports a two-way zipper and carabiner loop for conveniently hanging from a harness. When packed down, the jacket measures around 11 x 4 inches, which is perfectly reasonable for throwing in my backpack or ski pack on day tours. That said, both hand pockets have a stitch that reduces the usable zipper length by around 1.5 inches and made it cumbersome to stuff the jacket down initially. After accidentally tearing a stitch when packing the jacket away, the right hand pocket became much easier to access, but I'm no longer able to stow the jacket properly and securely (I cover this issue in more depth below).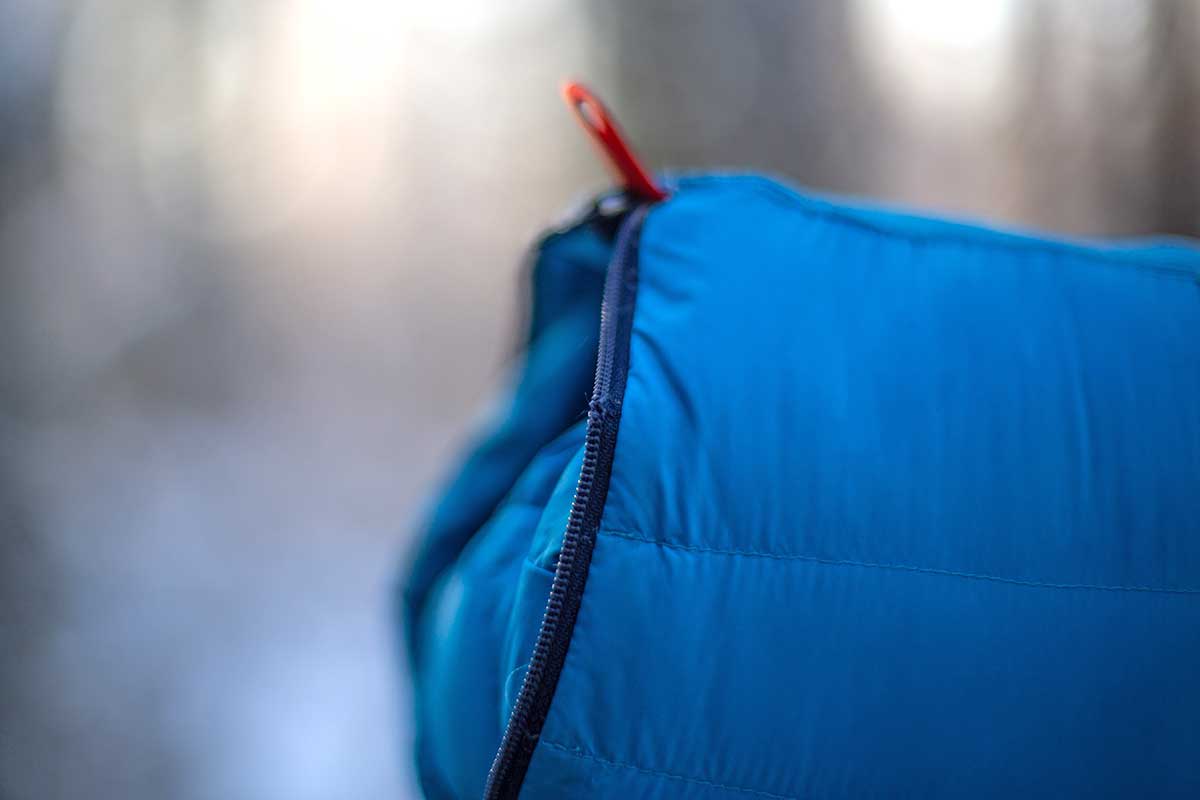 Construction and Durability
We've been consistently impressed by Norrøna's build quality, and the Falketind Down750 Jacket is another well-made and thoughtfully built design. In terms of shell thickness, the body of the jacket is a relatively standard but durable 20 denier (D), while the shoulders and elbows are reinforced with more robust 45D nylon panels. These are designed to help prevent premature wear from contact with backpack straps or when leaning on your elbows. And in practice, they've done an excellent job at resisting tears and snags. In fact, I caught my elbow on the end of a cheap piece of plywood and fully expected the jagged edge to tear my jacket, but it barely scraped the surface and left no noticeable sign of the encounter. And although a minor addition, I love the rubber zipper tabs on the jacket, which make them easy to manipulate with thick gloves or mittens.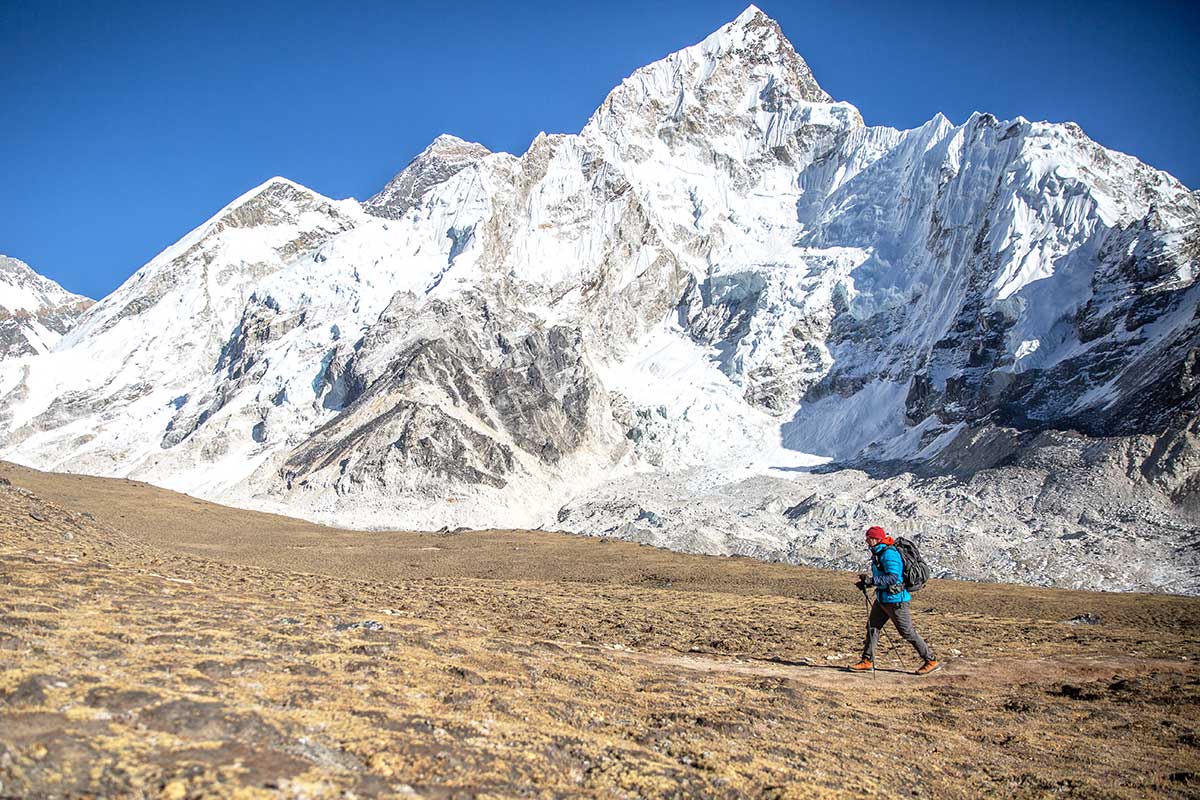 All that said, I did experience one minor durability issue with the stitching inside the right hand pocket during testing. This stitch initially prevented the pocket from opening all the way and made it a little cumbersome to stuff the Falketind down for storage. It subsequently tore, which made the pocket much easier to access but damaged the zipper. As a result, I'm no longer able to close the pocket fully or pack the jacket down properly. But in all fairness, this was likely an anomaly and doesn't feel indicative of the jacket's build quality as a whole. In fact, after several months of use, including 16 consecutive days of hiking with a fully loaded backpack, there are virtually no other signs of wear other than a few loose feathers that were easy to massage back inside the shell.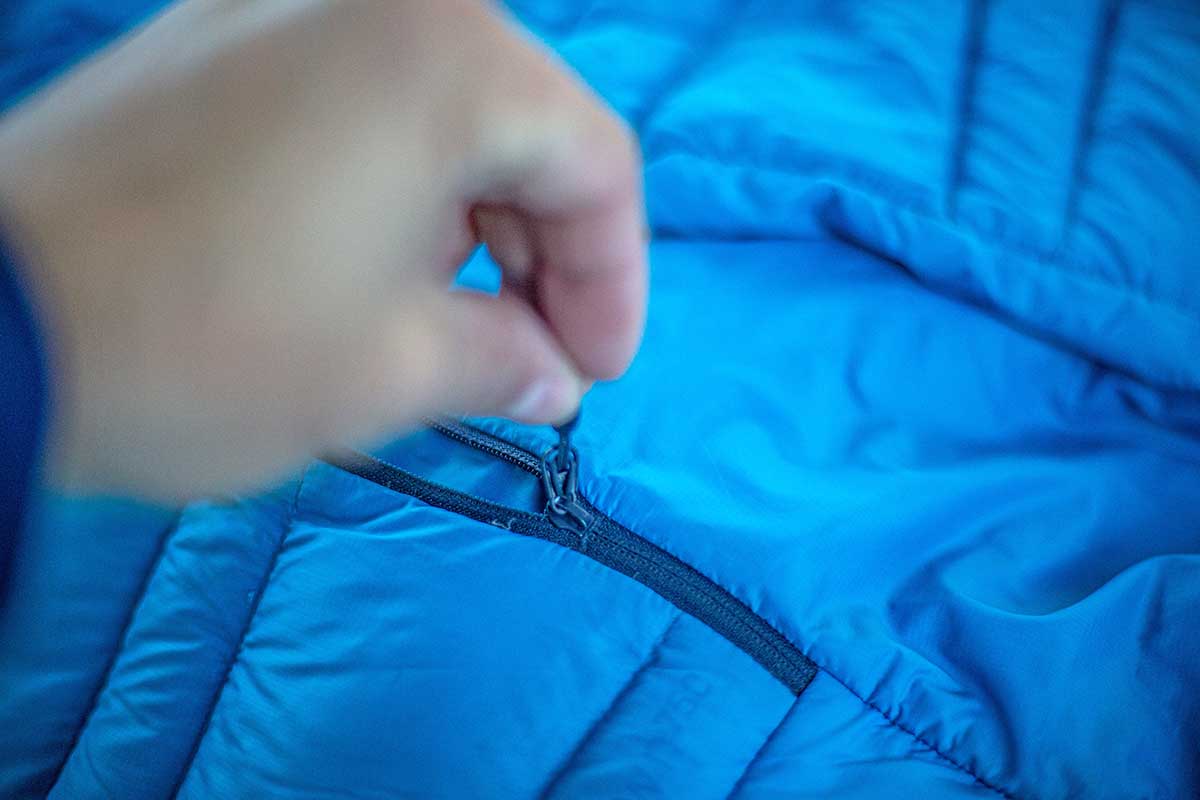 Features
Hood 
The Norrøna Falketind Down750 Jacket comes equipped with a well-executed storm hood that provides great all-around coverage. In terms of adjustability, the single drawcord at the back makes it easy to snug things down and, combined with the high collar, effectively shielded my face from high winds and snow flurries. I also love the soft brushed chin protector, which minimizes rubbing and prevents my facial hair from snagging when the jacket is fully zipped. My only complaint is that the hood felt a little snug and restrictive over my Smith Vantage and Quantum ski helmets, but it worked well over just a beanie or lower-profile climbing helmet.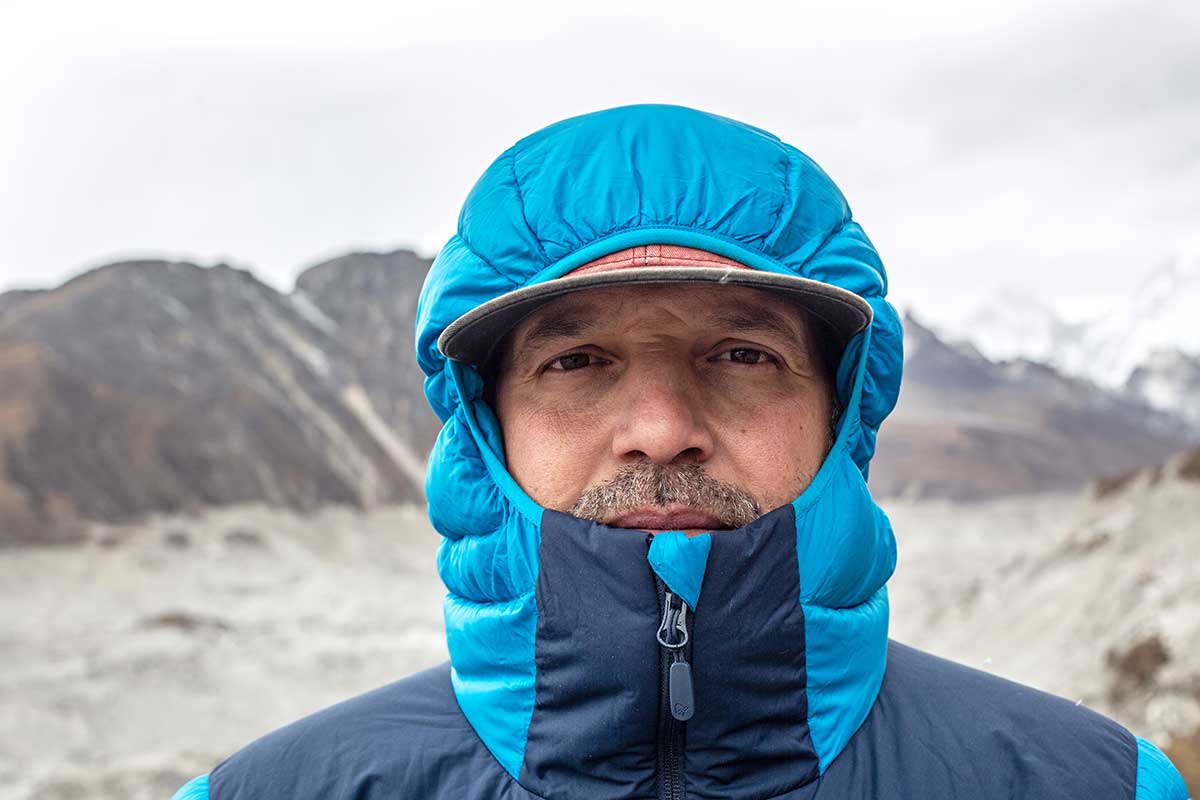 Storage: Pockets
The Falketind has a relatively standard storage layout, which includes two zippered hand pockets and one exterior zippered chest pocket. All are nicely sized for stowing the essentials like a phone, wallet, and keys, but I do wish Norrøna had included an interior pocket for more secure storage. In addition, the hand pockets fell at an awkward spot for me just below my pack's hipbelt, which rendered them inaccessible. Given the jacket's slight technical slant, I would prefer that these were positioned higher or lower for compatibility with a climbing harness or backpack.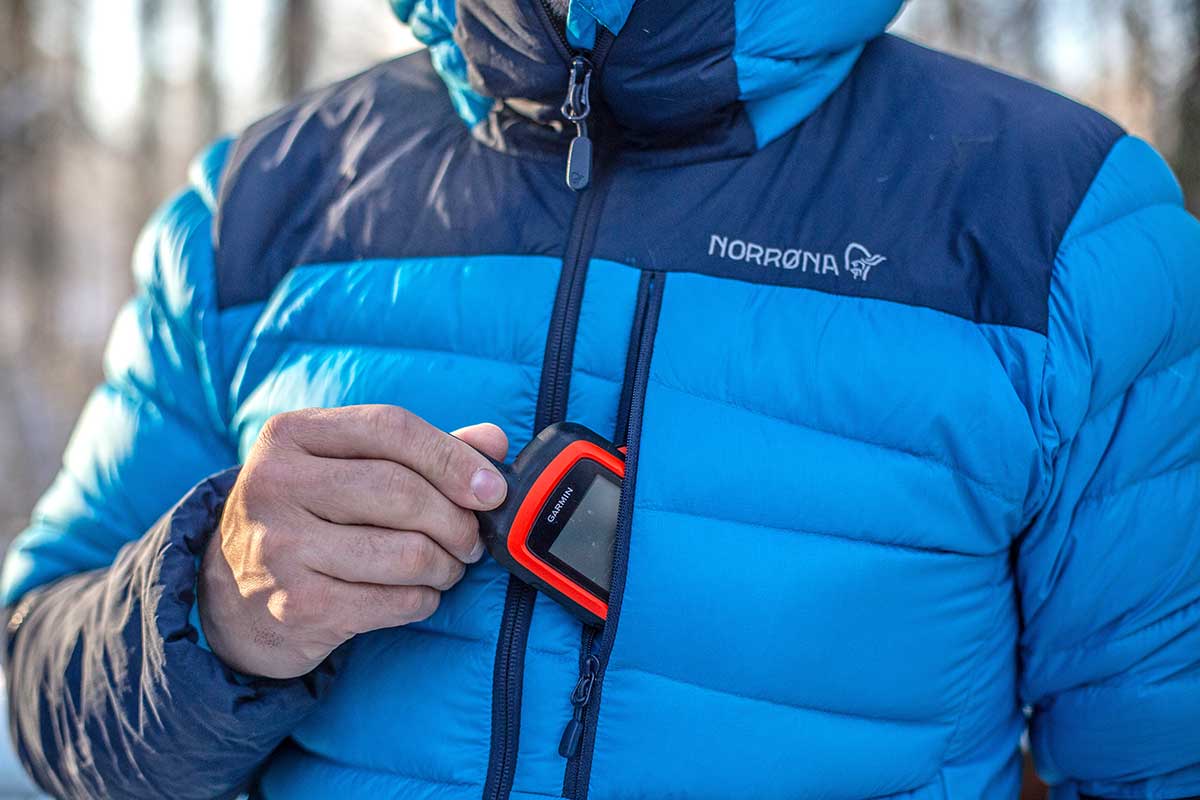 Fit and Sizing
In my standard men's size large, the Falketind Down750 Hood Jacket provided a near-perfect fit for me: It was roomy enough to layer comfortably underneath but not too bulky to pair under my Arc'teryx Alpha SV hardshell. For reference, I've tested a couple shells (the Lofoten and Trollveggen GTX Pro) that boast the brand's trimmer "technical" fit and found them to be fairly narrow and long, but the Falketind's "regular" cut was much more accommodating and allowed me to move around comfortably without restricting mobility. I still recommend trying on the jacket before buying if possible, but it strikes me as one that should work at your standard size.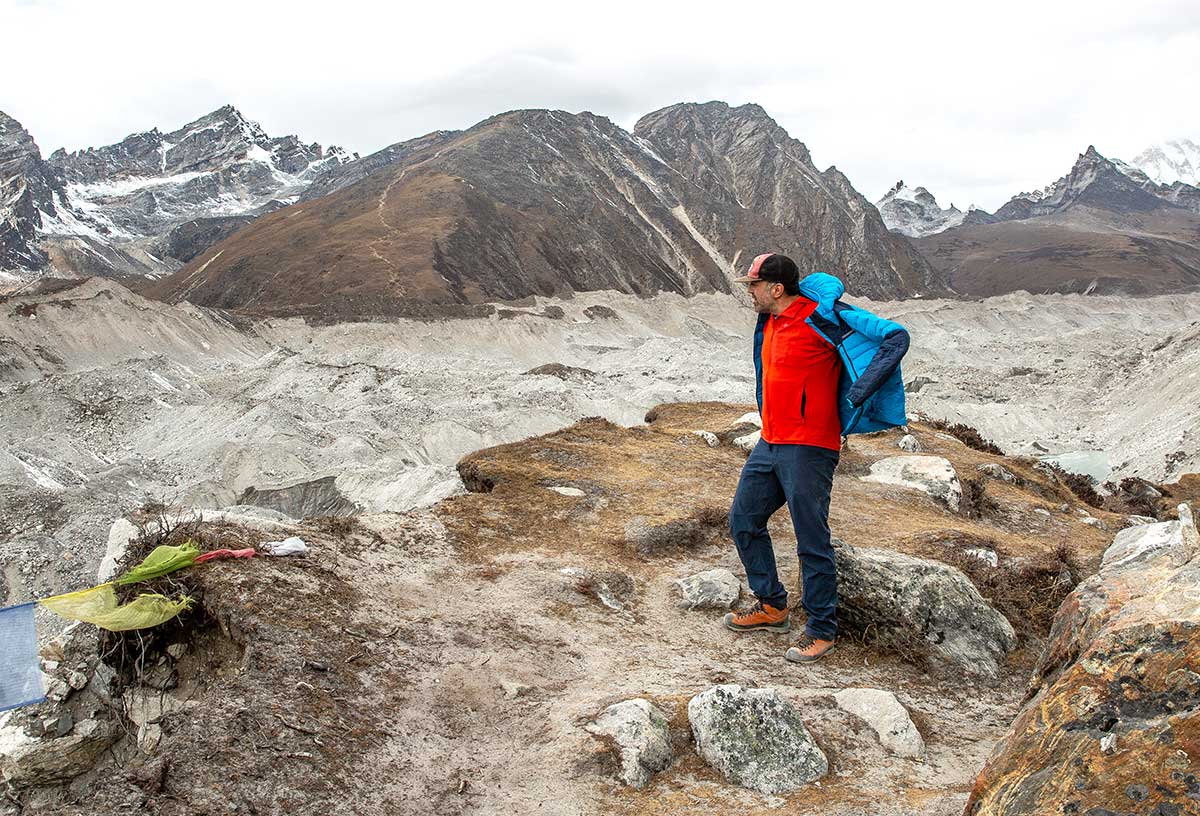 Sustainability
Norway-based Norrøna has been at the forefront of the sustainability push within the outdoor apparel market, and their Falketind Down750 Hood Jacket is a shining example. Highlights include bluesign-approved fabrics that have been deemed safe for the environment, workers, and consumers; a recycled shell and PFC-free DWR coating that foregoes harmful perfluorocarbons; and traceable, RDS-certified down insulation, which indicates there was no force-feeding or live-plucking. In addition, the Oeko-Tex certification ensures that all chemicals used during production meet international standards, and we appreciate that Norrøna provides a factory list on their website for transparency, with third-party inspectors that regularly evaluate production practices. Taken together, it's one of the most comprehensive sustainability efforts we've seen to date, and we commend Norrøna for their commitment to eco-friendly practices.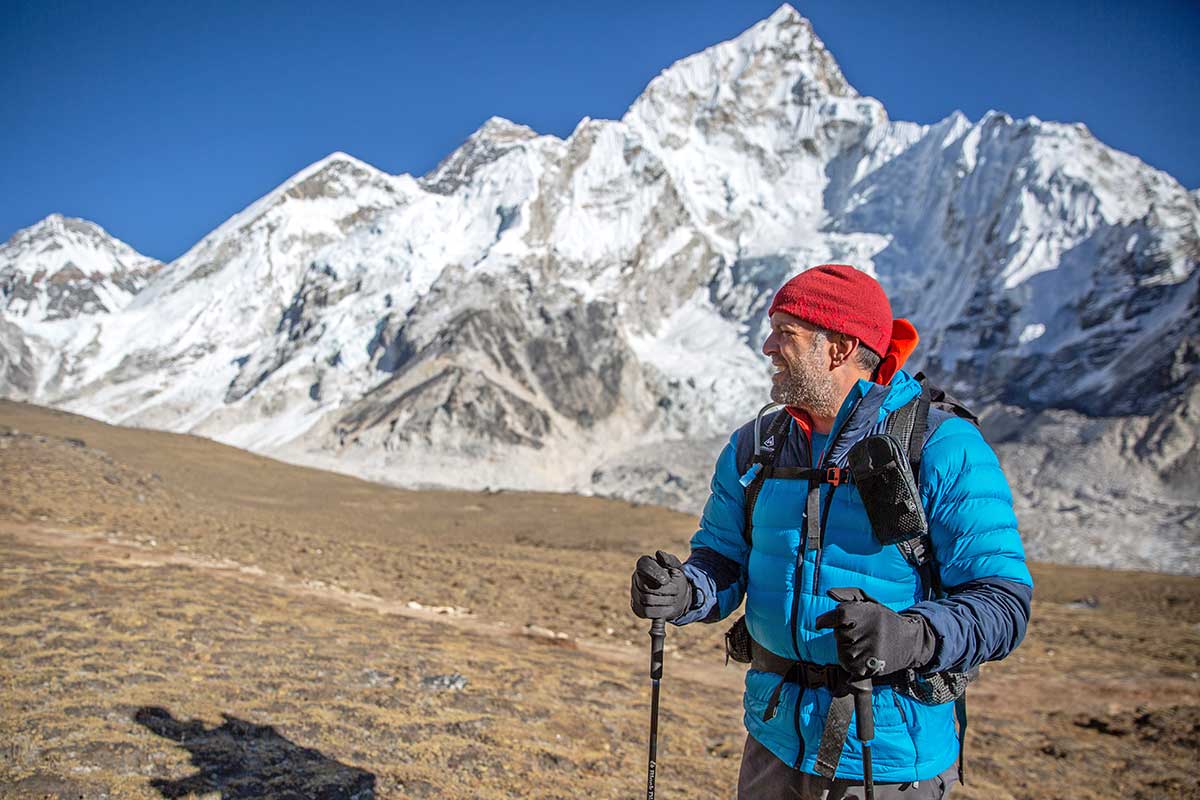 Other Versions of the Norrøna Falketind Down750
We put the men's Falketind Down750 Hood Jacket through its paces for this review, and there are a couple other options in the collection to choose from. On the men's side, these include a non-hooded variation that's lighter and cheaper at 12.9 ounces and $269, as well as a down vest that retails for $229 and includes many of the same features, including the functional mix of down and synthetic fill. The women's collection is similar, although the options are a bit lighter than their men's counterparts and come in different colorways. For reference, the women's Falketind Down750 Hood Jacket clocks in at 13.5 ounces and contains a little less down at 3.2 ounces, but the rest of the construction and feature set are nearly identical to the men's version we tested.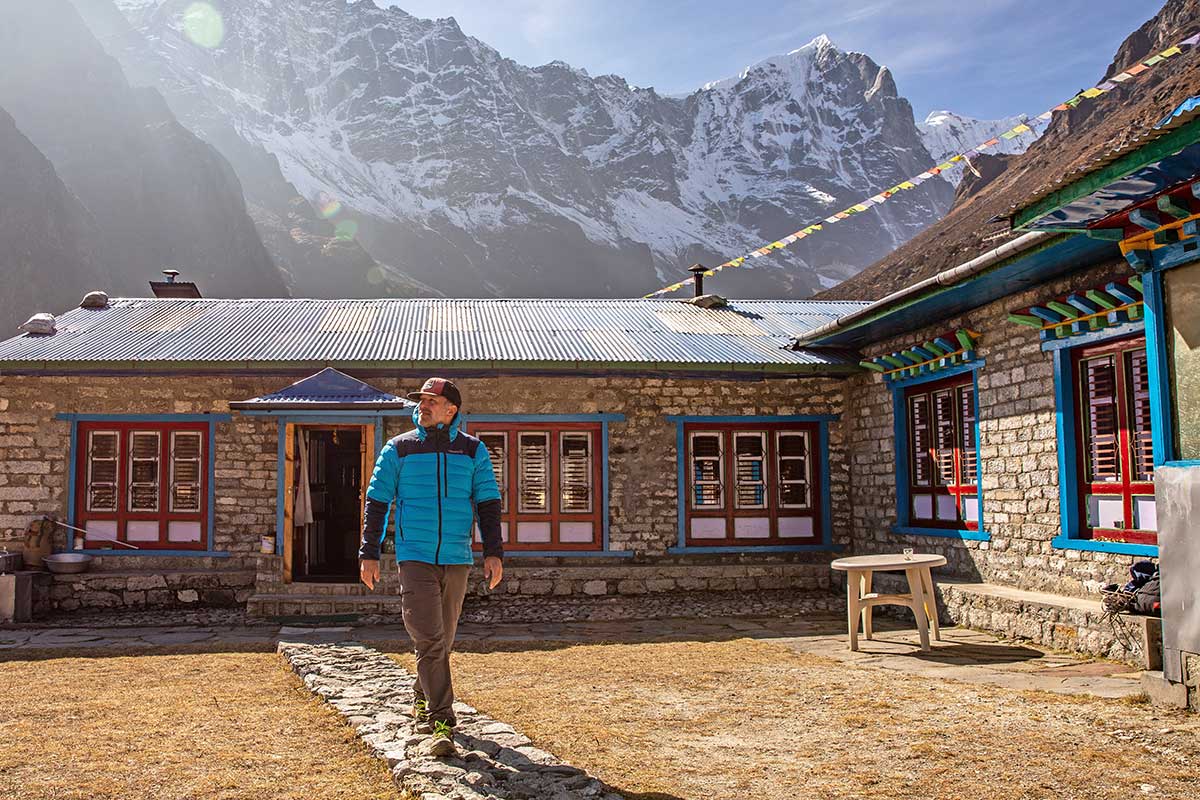 What We Like
Mix of down and synthetic insulation provides an effective balance of warmth and weather protection for use as a midlayer in cold weather or standalone piece in milder conditions.
Confidence-inspiring build quality with helpful reinforcements at the shoulders and elbows for encounters with rocks and sharp gear.
Along with the synthetic fill, the jacket's DWR coating, adjustable hood and hem, and thicker shell do a great job at fending off wind and light to moderate precipitation.
Highly versatile fit: The Falketind is very flattering but still allows for layering underneath without feeling overly bulky or impacting mobility.

What We Don't
Slightly heavier than the competition and not the best option for weight-conscious backcountry missions when space is at a premium.
I wish Norrøna had included an internal pocket and positioned the hand pockets a little higher to allow access while wearing a pack or harness.
A stitch inside one of the hand pockets failed during testing, which damaged the zipper and prevents the jacket from stuffing down properly.
Hood is somewhat restrictive over a ski helmet, but it was comfortable when paired with a beanie or lower-profile climbing helmet.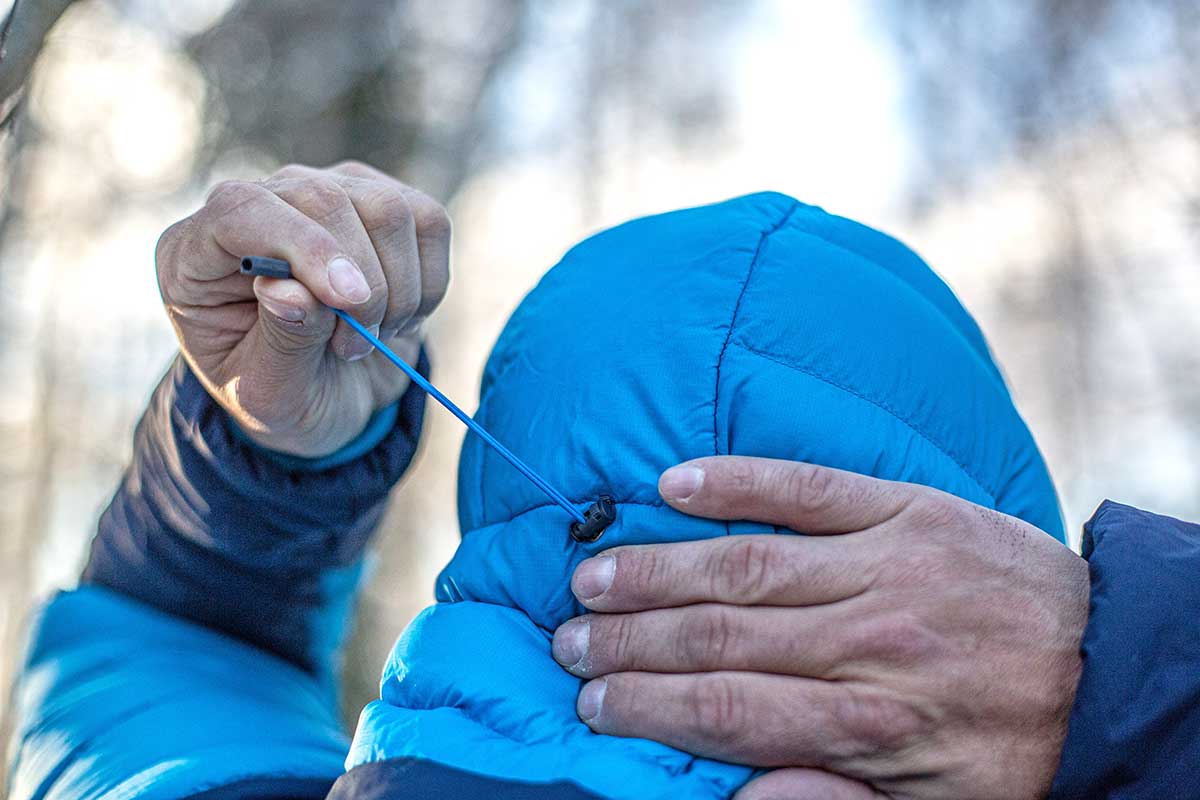 Comparison Table

The Competition
Norrøna's Falketind Down750 Hood Jacket stands out among the down jacket competition for its functional mix of warmth and weather protection, making it a great option for use as a midlayer in cold weather or standalone piece in milder conditions. That said, Arc'teryx was one of the first brands to utilize both down and syntenic fill, and their Cerium LT Hoody remains one of our top picks for serious backcountry adventures. Like the Falketind, the Cerium uses lofty down fill (3.6 oz. of 850-fill-power down) with Coreloft insulation in moisture-prone areas, offering a similar mix of warmth and wet-weather assurance. In parsing out the differences, the Cerium has a thinner 10-denier shell, lighter-weight build (11 oz.), and more athletic cut that limits what you can layer underneath. This makes it the preferred pick for technical and weight-conscious missions into the backcountry, but the Norrøna is the more well-rounded option for most hikers and backpackers with added durability and a more accommodating fit for $80 less.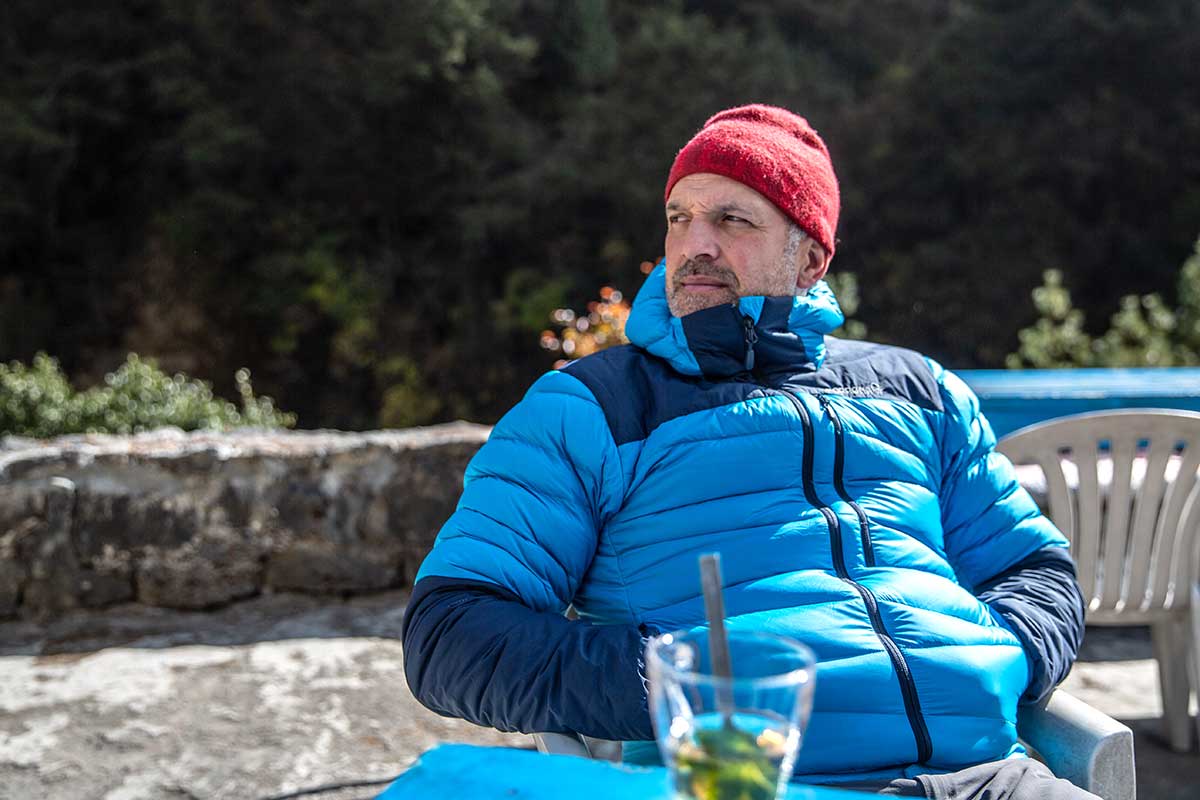 Seattle-based Feathered Friends is another leading down specialist, and their competitor to the Falketind Down750 is the Eos Down Jacket. Recently updated with an exterior chest pocket and adjustable hood, the Eos is a decidedly high-quality and thoughtfully built design. For insulation, Feathered Friends packed in 3.7 ounces of premium 900-fill down, which translates to similar warmth for less weight (10.8 oz.) and better packability than the Norrøna. The Eos doesn't incorporate synthetic fill and is less hardwearing overall (12 x 20D), but the Pertex Quantum shell is highly weather-resistant and does a nice job at guarding against light to moderate precipitation. The Eos will cost you $90 more than the Falketind, but for comparable warmth at a lower weight, we consider it the more competitive option for most.
Another option that nicely balances warmth and weather protection is Rab's Microlight Alpine Jacket. Starting with insulation, you get 5.4 ounces of 700-fill down, which translates to a slight step up in warmth compared to the Falketind. The Rab doesn't have any synthetic insulation, but the hydrophobic down, Pertex Quantum shell, DWR coating, YKK zippers, and adjustable hood with a wired brim do a great job at combatting light moisture, snow, and wind. That said, the Rab runs too warm for use in milder temperatures, has a noticeably slimmer fit, and is heavier than the Norrøna at just over a pound. For $19 more, the Falketind is the more versatile option with similar protection and better durability.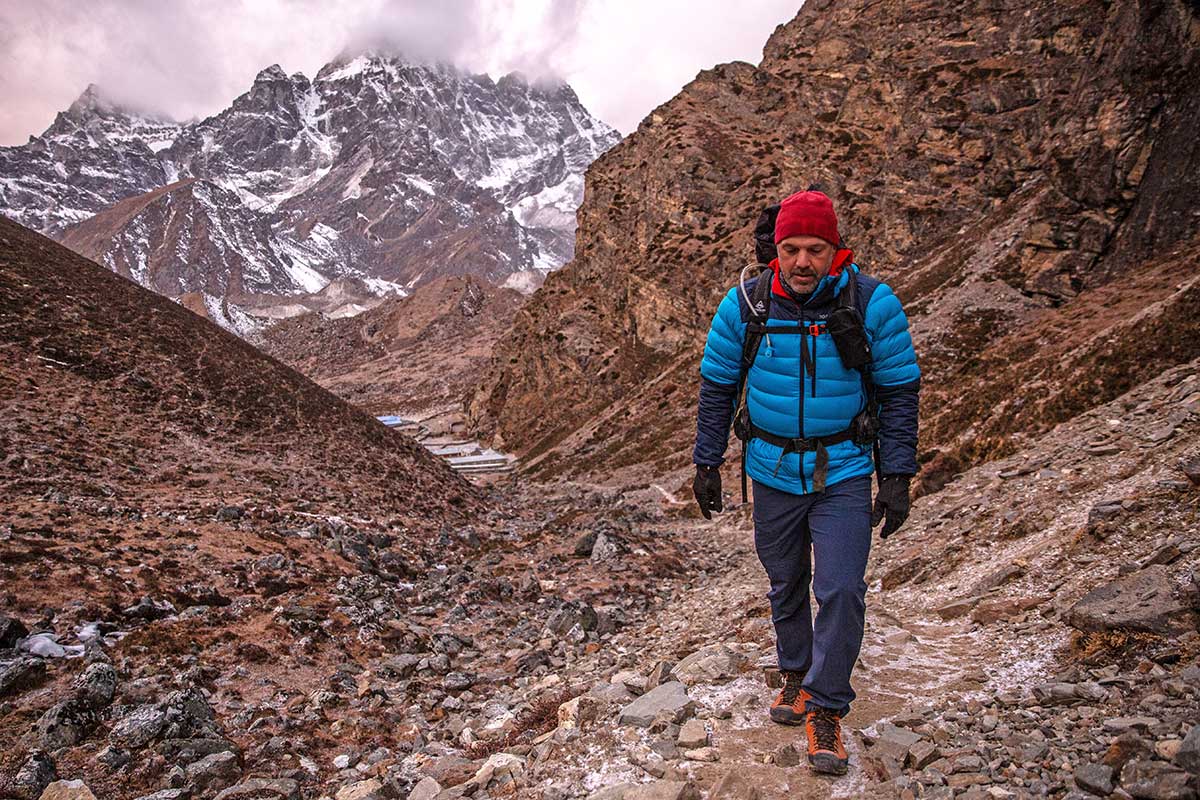 For those looking for a more casual and everyday-friendly down jacket, Patagonia's Down Sweater Hoody has been at the top of our rankings for years. Right off the bat, we'll note that the Patagonia lacks many of the technical features that you get with the Falketind, like a helmet-compatible hood and weatherproofing measures (the Patagonia features just a standard DWR finish). However, overall warmth is comparable with 3.4 ounces of 800-fill down, and the Patagonia has a more around-town friendly look with clean lines and sleek styling. Combined with a reasonable 15.1-ounce weight, 20 x 30-denier shell, and interior chest pocket, the Down Sweater is one of the most well-rounded down jackets on the market. But for backcountry explorers who value the added wet-weather assurance, the Norrøna is the more reliable pick.
If you're thinking about buying gear that we've reviewed on Switchback Travel, you can help support us in the process. Just click on any of the seller links above, and if you make a purchase, we receive a small percentage of the transaction. The cost of the product is the same to you but this helps us continue to test and write about outdoor gear. Thanks and we appreciate your support!
Depending on the seller, most products ship free in the United States on orders of $50 or more. International shipping availability and rates vary by seller. The pricing information on this page is updated hourly but we are not responsible for inaccuracies.
Read More From Switchback Travel