Patagonia Down Sweater Hoody
Price: $329
Weight: 14.9 oz. (men's medium)
Fill: 5.3 oz. of 800-fill down
What we like: Comfortable, looks great, and is warmer and more sustainably built than the prior version.
What we don't: Expensive and a little heavier than most backcountry-focused pieces.
See the Men's Down Sweater Hoody  See the Women's Down Sweater Hoody
Climbers, hikers, and outdoor adventurers of all types have enjoyed Patagonia's Down Sweater for years. It's a go-to piece that has defined a jacket category, and they've given it a significant revamp for fall 2022. Key changes include a new, more sustainable shell fabric, small boost in warmth, and some tweaks to the pocket layout. The result? It's our favorite Down Sweater yet: The jacket is extremely comfortable, has a versatile amount of warmth, fits great, and its good looks and feature set make it equally at home around town as it is in the backcountry. Below we break down the Down Sweater Hoody's performance. To see how it stacks up to the competition, check out our articles on the best down jackets and best midlayers.
 
---
Table of Contents
---

Performance
Warmth
Lightweight and comfortable warmth is what the Patagonia Down Sweater Hoody is all about. And with the most recent model, they've given it a substantial boost in insulation (Patagonia claims it's 29% warmer). Now packed with 5.3 ounces of high-quality, 800-fill-power down, the Down Sweater Hoody has proven to be an excellent match for fall backpacking and chilly days in town with temperatures hovering around freezing. For context, it's slightly warmer than other lightweight competitors including Arc'teryx's Cerium LT Hoody (3.6 oz. of 850-fill down + synthetic fill), Rab's Microlight Alpine Down Jacket (5.4 oz. of 700-fill down), and Fjallraven's Expedition Pack Down Hoodie (3.9 oz. of 700-fill down + synthetic fill).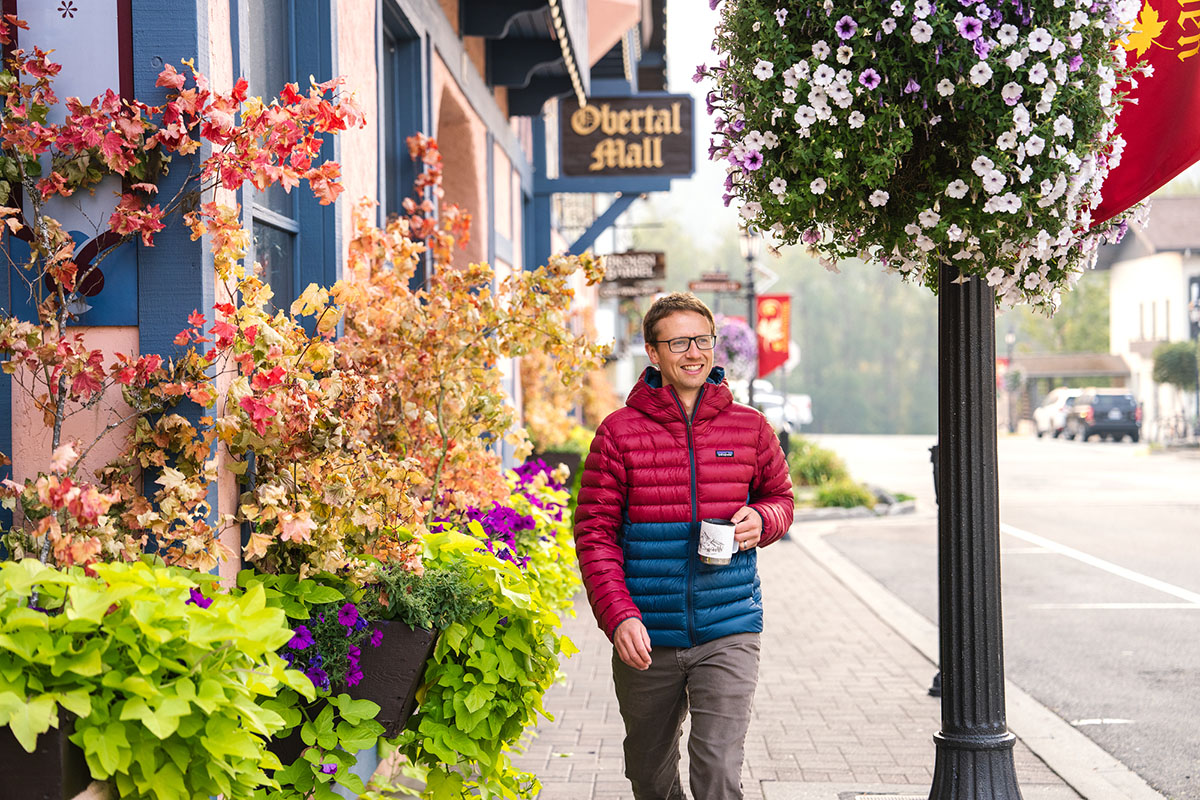 Worn as an outer layer, the Down Sweater's windproof fabric, relatively tall collar (it reaches my bottom lip), and snug hood did a great job keeping me comfortable around camp in temperatures as low as the mid 40s Fahrenheit. Throw it on under a hardshell jacket—the semi-trim fit makes it easy to layer—and it's near-perfect for cold-weather activities like resort skiing, provided you keep it protected from moisture (more on this below). If we're nitpicking, we'd prefer a tighter fit around the wrists to seal out the cold, although a pair of liner gloves easily fixed that issue. Added up, it's about as versatile as a down jacket gets for everything from everyday to performance use.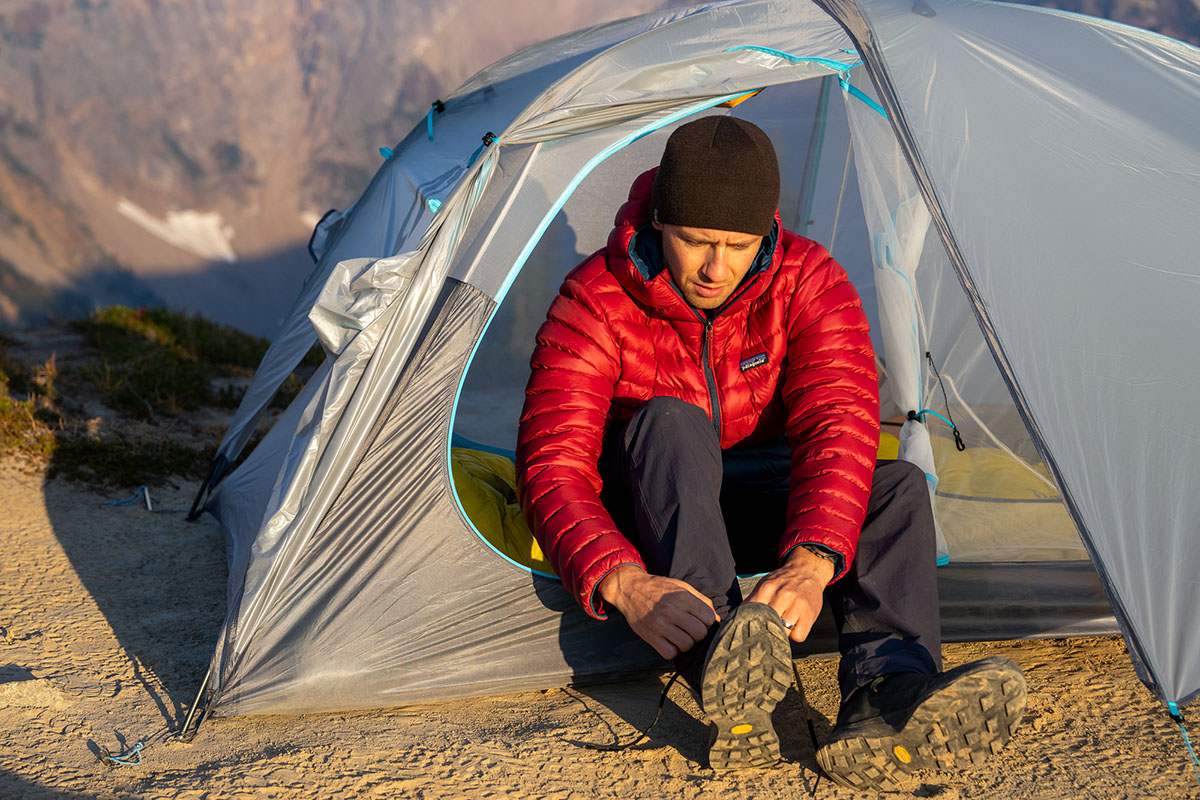 Weather Resistance
As expected for a down-insulated jacket, the Patagonia Down Sweater shouldn't be relied on for protection in wet conditions. In sustained precipitation, the non-waterproof shell and untreated down fill will wet out and begin to clump, losing its insulating power. Patagonia did include a DWR (durable water repellent) finish on the exterior for shedding light moisture, but that's only a short-term solution and won't hold up in inclement backcountry conditions. As such, we always throw on a hardshell jacket overtop in rain or snow, and if the forecast is looking particularly wet, we'll swap the Down Sweater out for a synthetic jacket like Patagonia's own Micro Puff Hoody (synthetic fill will continue insulating even when wet). Finally, while the nylon fabric does an admirable job keeping you isolated from light winds, the stitched baffling along the arms and body are weak points for letting in strong gusts. Again, a hardshell jacket (or even a lightweight windbreaker) is the better bet in blustery weather.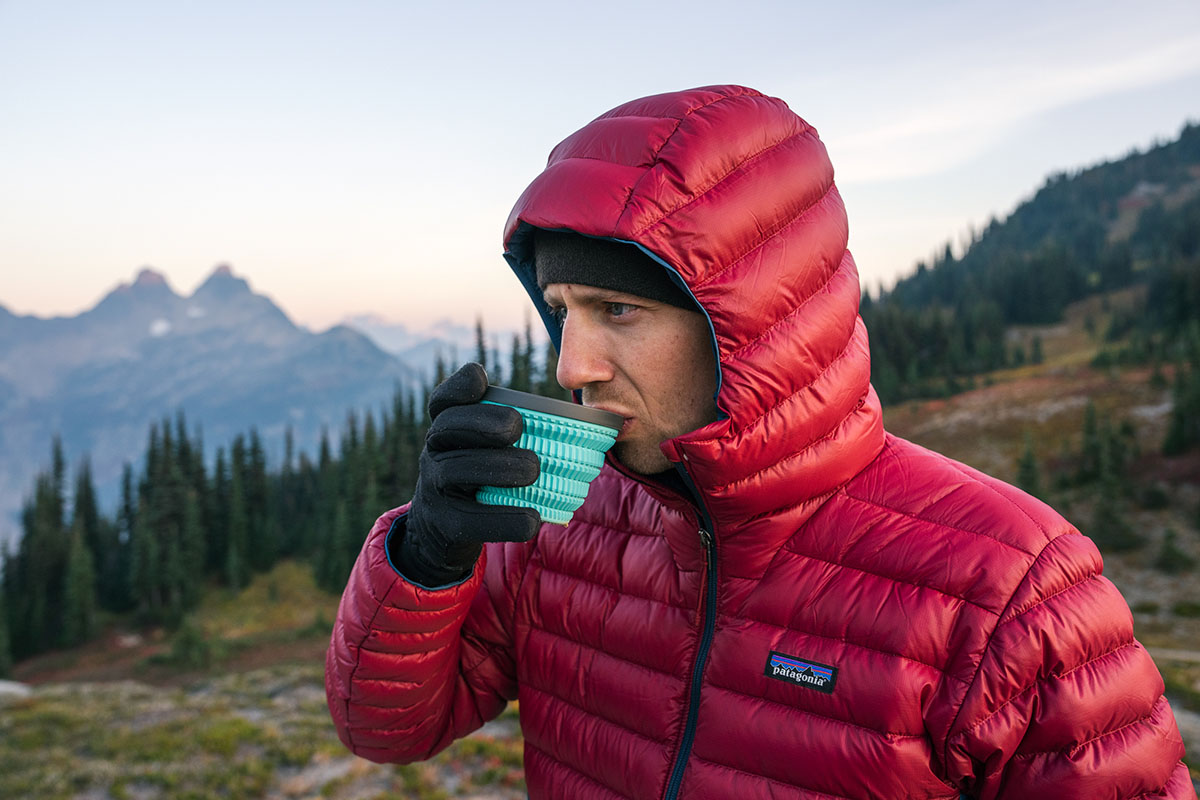 Weight and Packability
We've tested dozens of down jackets over the years, and while the Down Sweater Hoody isn't ultralight by any means, it's competitive for the level of warmth at 14.9 ounces for my men's medium (just over its 14.8-oz. listed weight). For comparison, the less-insulated REI Co-op 650 Down Hoodie 2.0 is 13 ounces, Rab's Microlight Alpine Down Jacket is heavier at 1 pound 0.5 ounces, and Cotopaxi's popular Fuego Hooded Down Jacket is similar to the Patagonia at 14 ounces. If you're looking to shave some weight on long backcountry missions, Arc'teryx Cerium LT Hoody weighs less at 11 ounces but falls short of the Down Sweater in durability and warmth.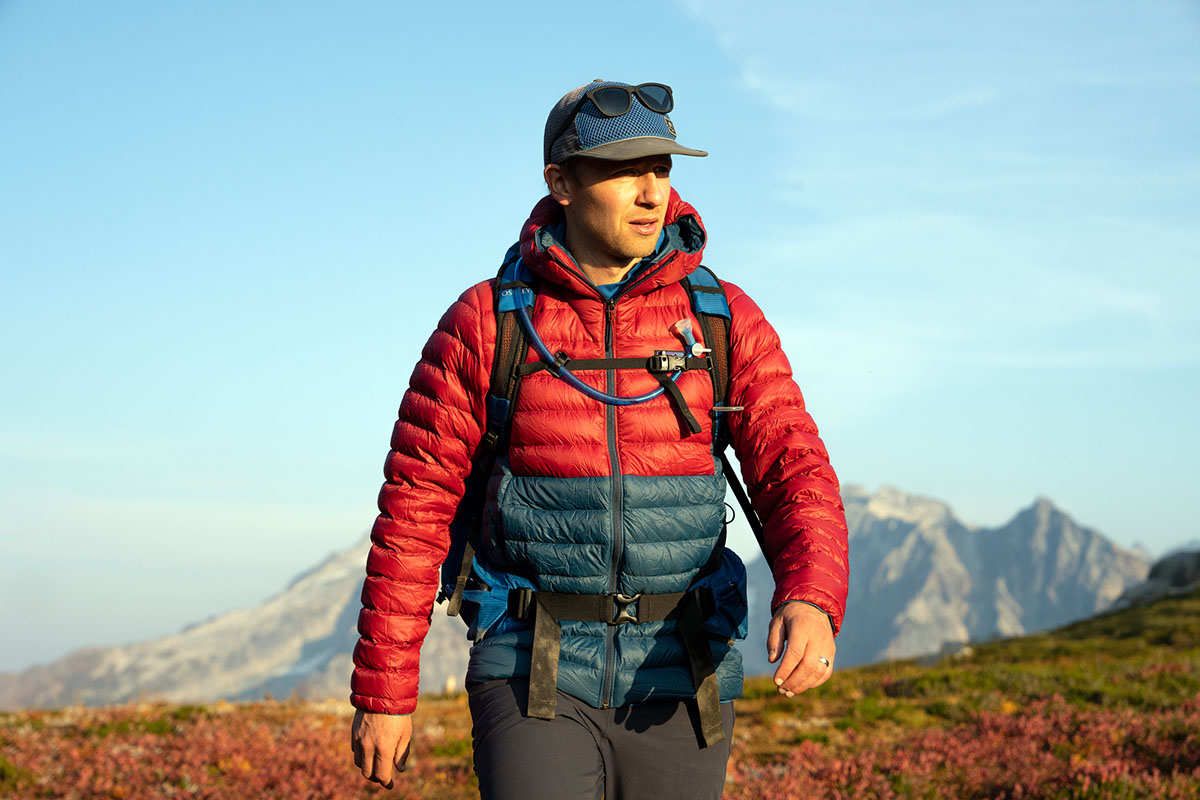 Patagonia keeps the packing process simple by utilizing the interior chest pocket that has a two-sided zipper. The thicker fabrics and inner liner do make the stuffed size a bit larger than hooded ultralight jackets, but it's still a plenty respectable size of approximately 10 x 6.5 x 4.5 inches (LxWxH). And unlike the women's version of the jacket, which was difficult to pack down without snagging on the zipper, we found it easy to compress the men's hoody into the stuff pocket. However, as with all down products, try not to store the Down Sweater stuffed for extended periods of time, as it will compromise the down's loft and longevity.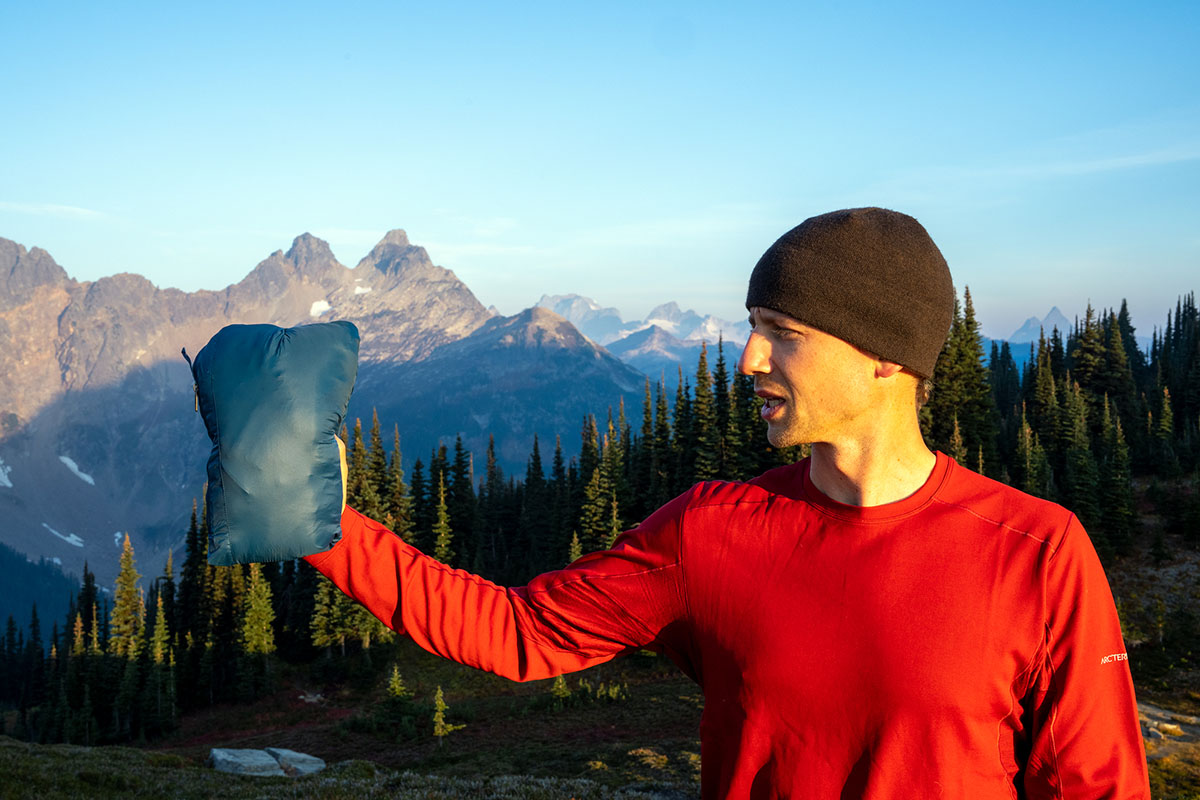 Construction and Durability
Fit and finish is a Patagonia hallmark. A down sweater that's likely to be worn on a daily basis—backcountry or not—should be warm and inviting. Soft-touch materials are a plus, and the construction needs to be reliable. These are the pillars that have made the Patagonia Down Sweater such a longtime favorite. And the good news for those concerned about the updated NetPlus fabric—which uses recycled fishing nets—is that both the shell and interior lining have a silky smooth, downright luxurious feel. It's the kind of design that makes you instantly cozy the moment you put it on. And the rest of build is equally up to snuff, with quality horizontal stitching on the sewn-through baffles, smooth-operating zippers, and very minimal down shedding despite heavy use (and we've always been able to massage the feathers back inside the jacket).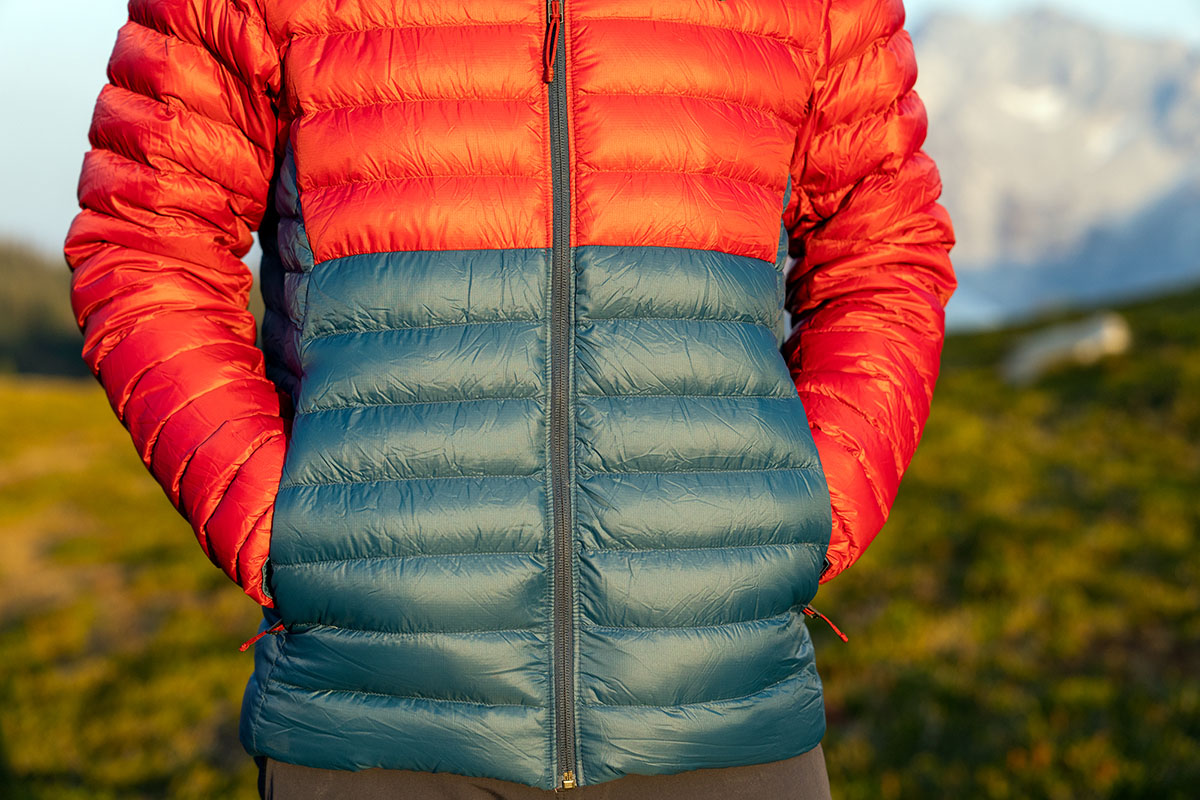 The weight of a thread is measured in denier (abbreviated with a "D" or "d"), and the lower the number, the lighter the weight at the compromise of durability. The outer shell of the Down Sweater has a 20D nylon fabric—within the down sweater category, that's on the thinner side. The jacket has a bit more of a delicate feel as a result, and it's wise to be conscious of the shell around sharp equipment or even fences and gates. However, compared to jackets made with ultralight 7D and 10D fabrics (like the minimalist Mountain Hardwear Ghost Whisperer/2), the Down Sweater is noticeably better-equipped for vigorous use, and we have yet to experience any durability issues (we'll update this review if any crop up).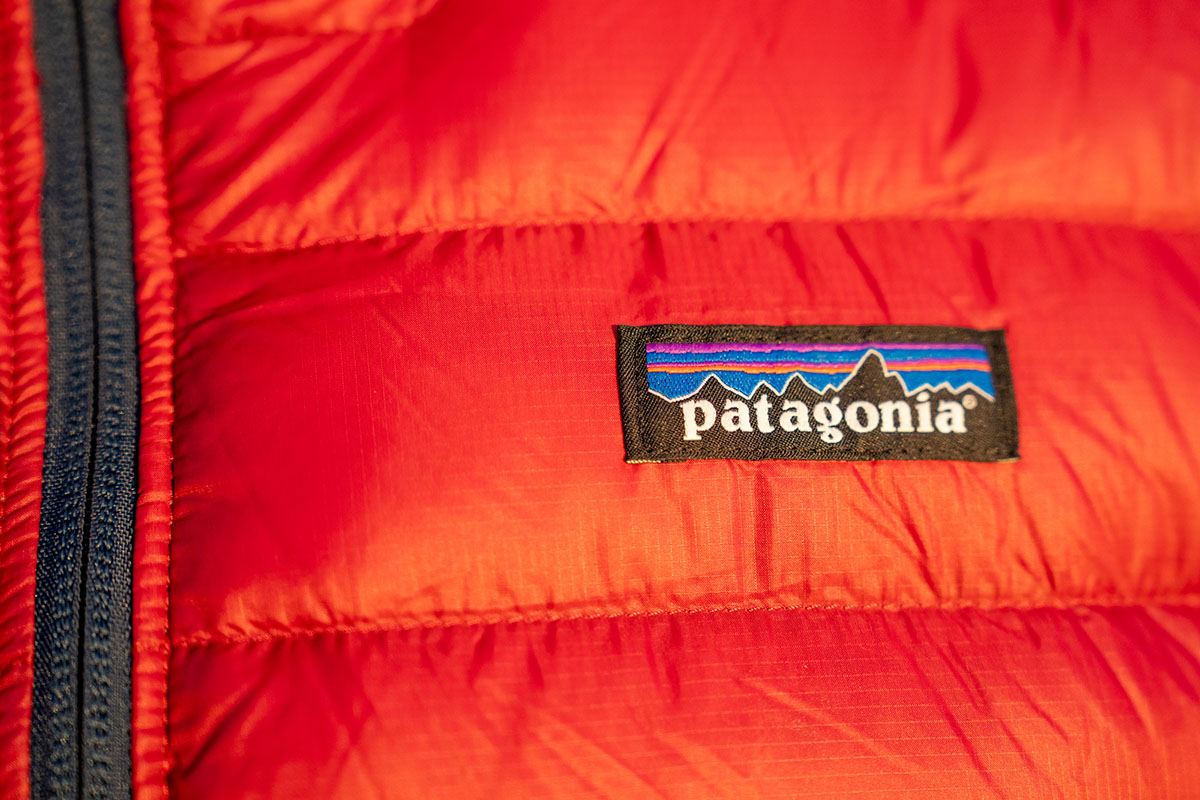 Key Features: Hood and Pockets
The non-hooded version of the Down Sweater gets the advantage as a midlayer or casual piece, but the hooded model is our preferred option for its improved warmth and use in the backcountry. In addition to being cozy and down-filled, the hood has a nice, small aperture that sits comfortably against your head. Zipped up, the tall collar means only the lower portion of your forehead, nose, cheeks, and upper lip are left unprotected, which translates to excellent cold-weather coverage. To cinch, a single pull at the back of the hood tightens the hood around the top of your head (just underneath the small bill at the front). And even in gusty weather, we found it held securely in place.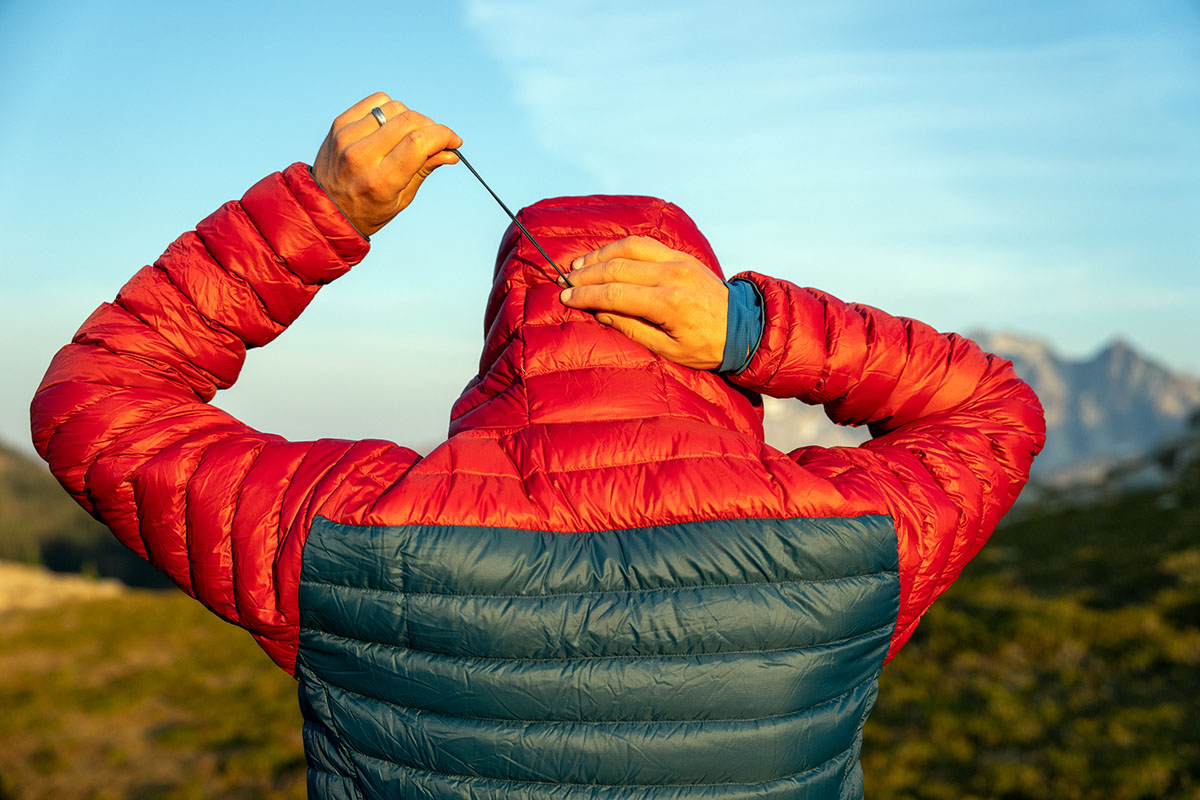 Rounding out the rest of the design, you get two averaged-sized hand pockets and a single zippered chest pocket along the interior that doubles as the jacket's stuff sack. These resemble the outgoing model and are perfectly functional for keeping your hands warm and small items secure (all pockets easily accommodate a phone). Finally, a new addition for the latest Down Sweater is two drop-in style pockets along the interior. The openings mirror the hand pockets in size, and they're ideally suited for storing gear like winter gloves or a beanie.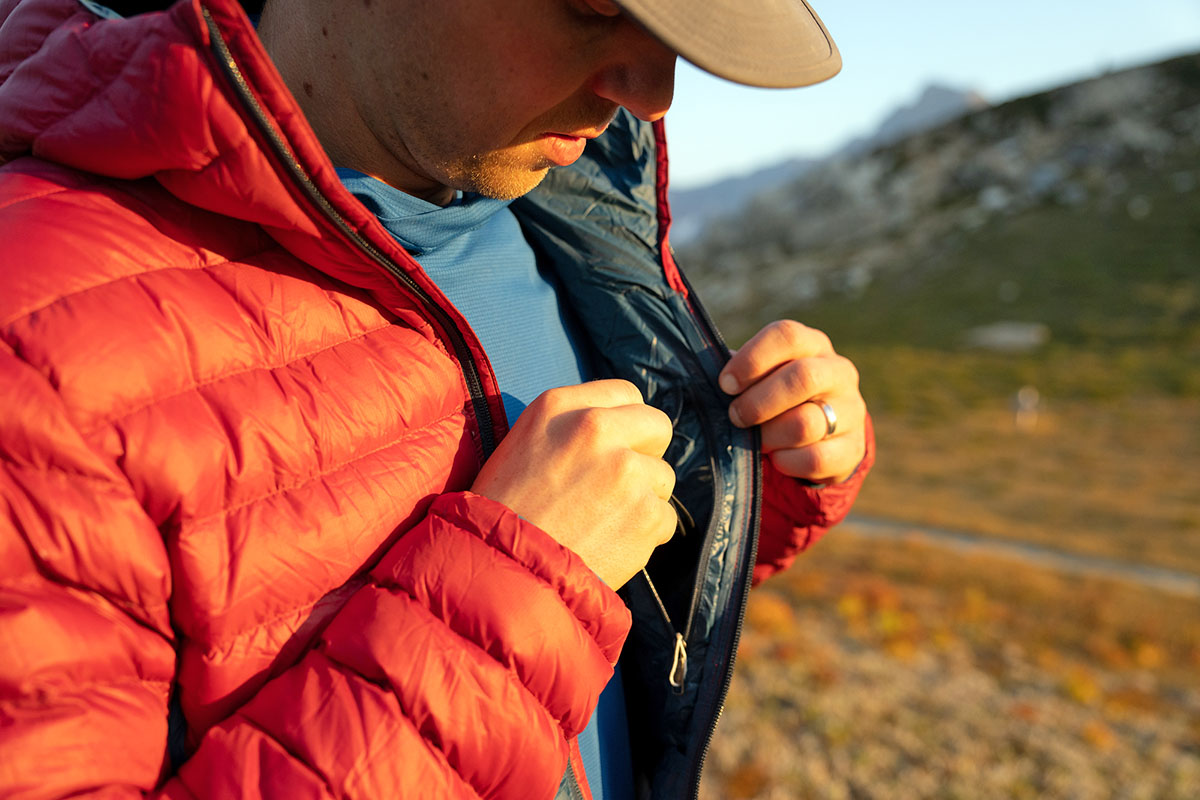 Fit and Sizing
Previous versions of the Down Sweater have had somewhat boxy fits, but Patagonia seems to have refined the cut with this latest version. In my standard men's medium (for reference, I'm 5'10" and 155 lbs.), the fit was spot-on for its intended use. All told, the jacket isn't bulky or loose and layers nicely under a shell while offering more room than Arc'teryx's Cerium LT Hoody, which has a very trim and athletic cut. This multifunctional fit makes the Down Sweater Hoody versatile for everything from snow sports to throwing on as an extra layer for cold-weather hiking. The non-hooded version also wears well over a dress shirt (or even a suit coat) in the city.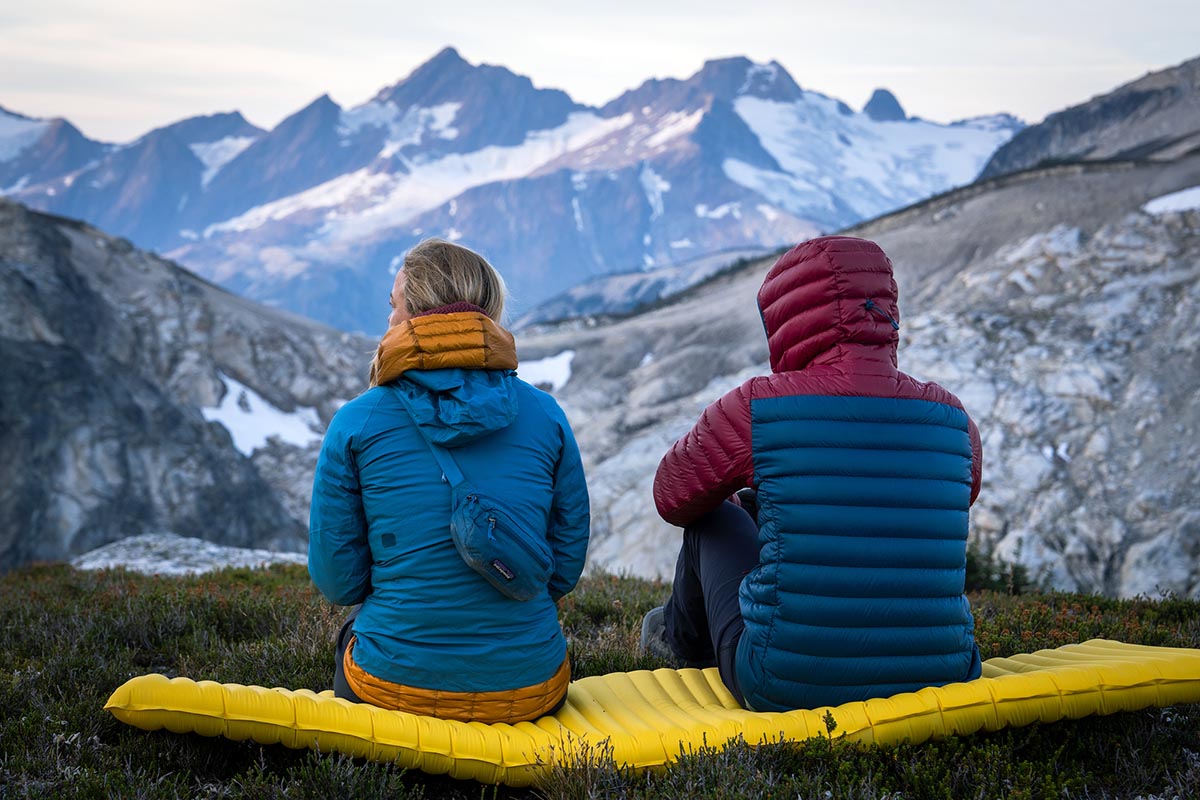 Length was equally great: The back measures 26.5 inches in my size medium—long enough to be worn on its own without riding up during activity, but not so lengthy that it pokes out underneath a hardshell or rain jacket. A single cinch that's accessed at the front right hem also makes it easy to tighten around the waist without pulling the jacket to the side. Finally, as I touched on above, the cuffs fit a bit loosely over small wrists, but they have a little stretch and are plenty comfortable and liner glove-friendly.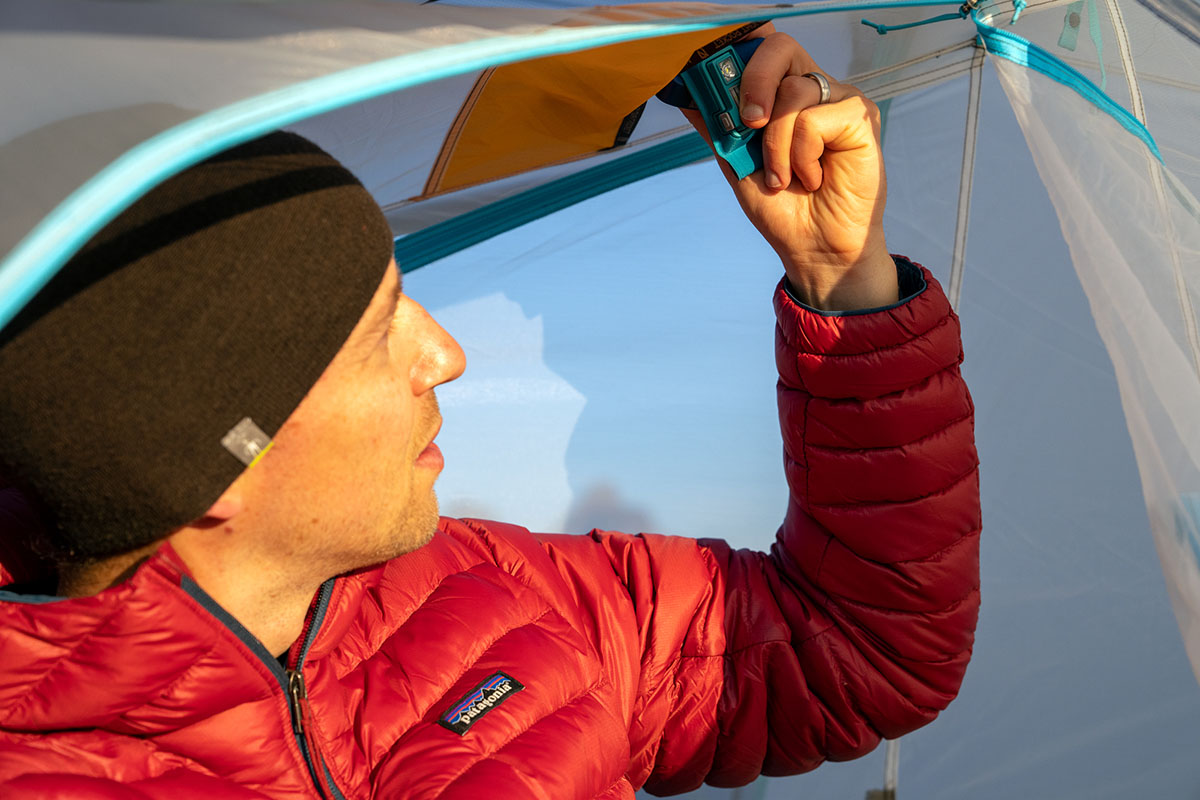 Sustainability
With a recent update to the collection, Patagonia's latest Down Sweater is more sustainability built than ever. The biggest news is the new NetPlus shell, which is made from recycled fishing nets but maintains the soft and comfortable feel of the past model's standard nylon fabric. The jacket is also certified to the Responsible Down Standard, which indicates that the down fill was sourced responsibly with no force-feeding or live-plucking. Finally, the DWR finish is PFC-free, meaning it was produced without the use of harmful perfluorocarbons. These practices are not industry-wide (although more brands are jumping on board), and we applaud Patagonia for taking a leading role here.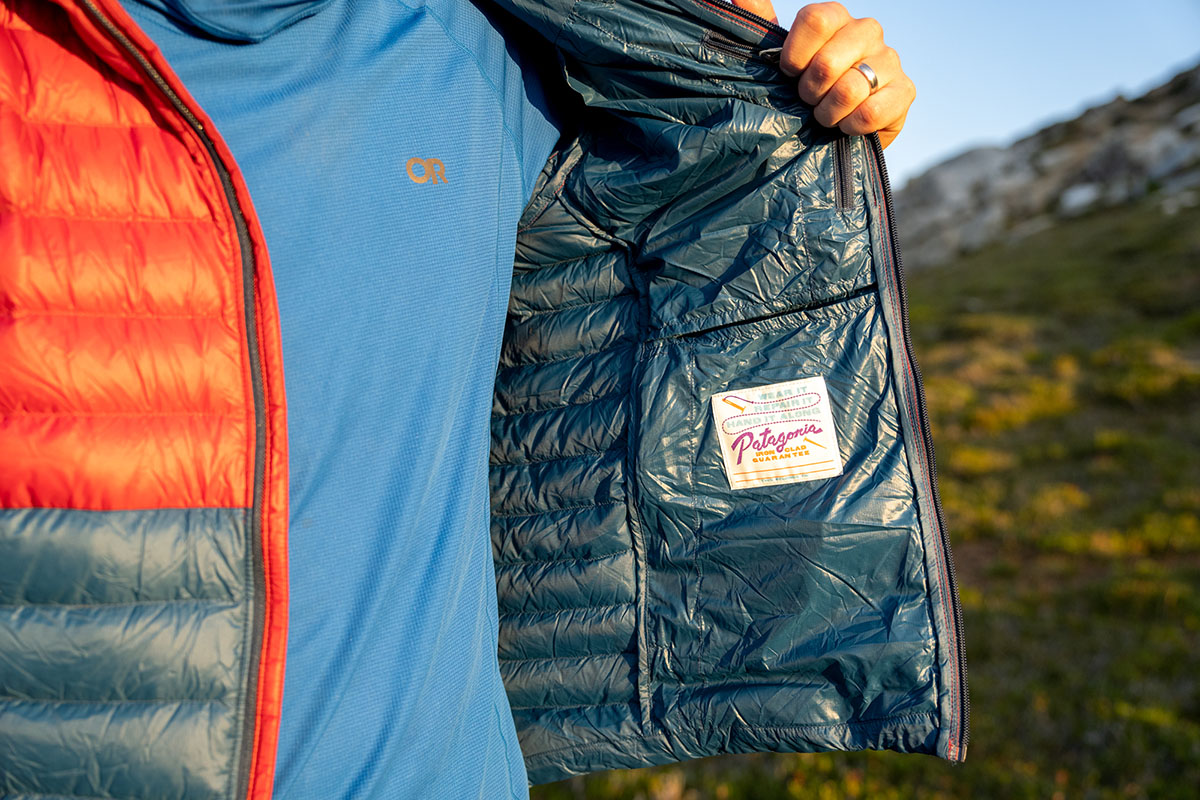 Other Versions of the Patagonia Down Sweater
We tested the men's Down Sweater Hoody for this review and prefer this style for standalone use (the hood adds a substantial boost in warmth). It's also sold in a non-hooded version for $50 less, which is the better match for casual use and as a midlayer for skiing (a puffy hood can get in the way), although this largely comes down to personal preference. Stacked up against the hooded model, the standard men's Down Sweater is slightly lighter at 13 ounces but has an otherwise identical feature set and overall construction. Both jackets are sold in women's versions for the same price (see our review of the women's Down Sweater Hoody here). Finally, given the jacket's popularity, there are kids' and baby Down Sweaters available, as well as a Down Sweater Vest for men and women ($229).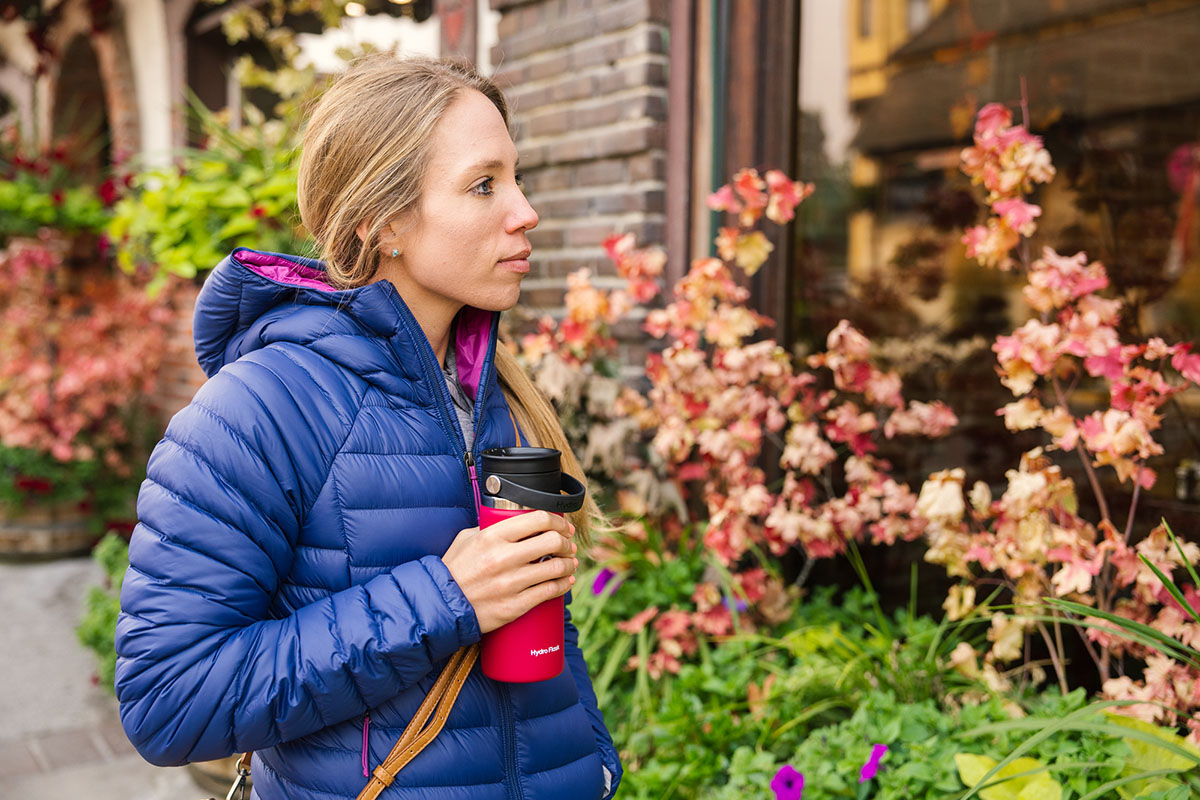 What We Like
One of the most competitive down sweaters on the market: It's comfortable, well built, and offers cozy warmth with a healthy dose of premium 800-fill down.
Reasonably light and packable for backpacking and climbing (although you can go much lighter with true backcountry-focused pieces).
Standout sustainability measures with no noticeable drawbacks.
Classic styling, versatile fit, and plenty of classy colorways to choose from.
 
What We Don't
Expensive for the level of warmth at $329.
Patagonia's synthetic Nano and Micro Puffs outperform it in terms of wet-weather protection.
Thin, 20D shell is susceptible to tears and snags around sharp objects and gear, although we haven't had any issues to date.
Elastic cuffs fit a little loosely over small wrists.
These jackets are very popular, so it's likely you won't be the only one sporting a Down Sweater.


Comparison Table

The Competition
Patagonia's Down Sweater is a legendary down jacket that looks good and performs well for a range of activities. But there's no shortage of competition, and Cotopaxi's Fuego Hooded Down Jacket has garnered serious popularity over the last couple years. On paper, the Fuego checks all the boxes we look for in a well-rounded down sweater, including the use of quality and lofty 800-fill down that's responsibly sourced and water-resistant, a reasonably low weight (14 oz.), and functional storage in the form of two interior stash pockets and two zippered hand pockets. And many people love the retro styling and multi-colored baffles, which add a fun pop of color. That said, in testing the Fuego, we were fairly unimpressed with the overall feel, including noticeably plasticky and slippery fabrics that belie the $275 price tag (for more, see our in-depth Fuego review). For around $50 more, the Down Sweater is noticeably softer and better-built, and we think the added investment is worth it for committed outdoor-goers.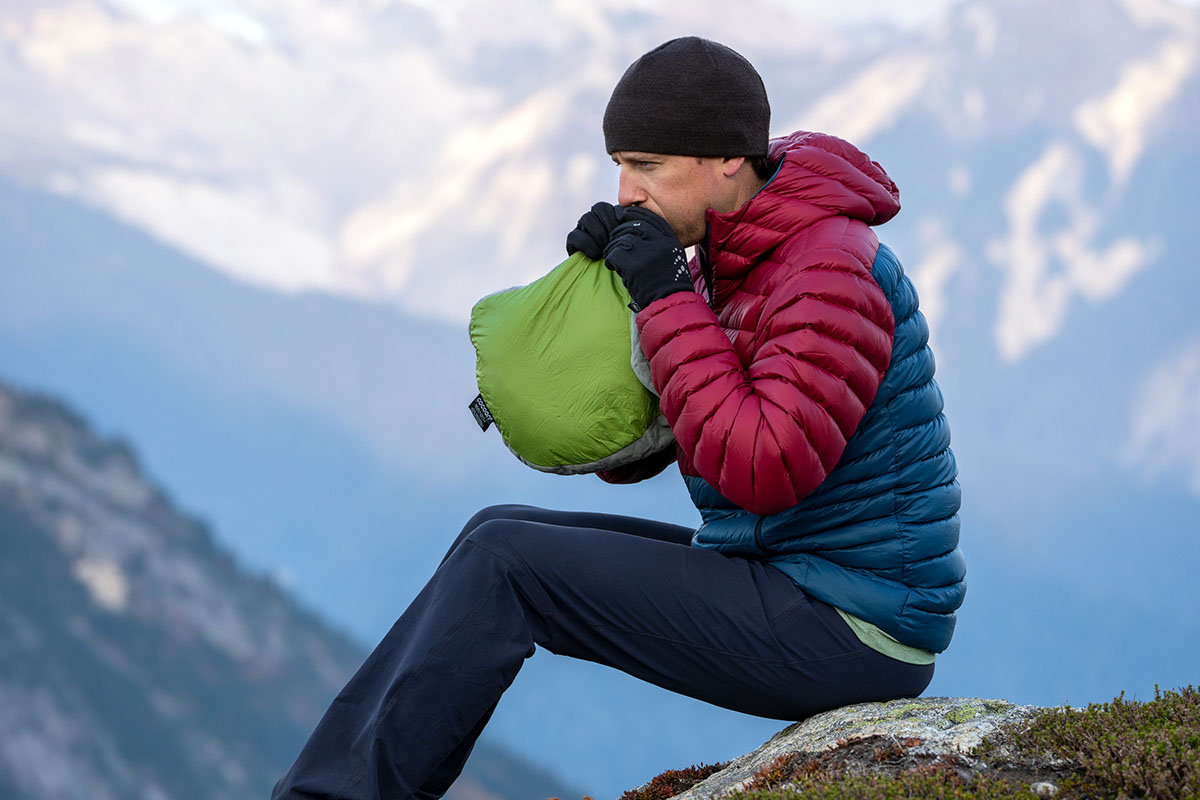 Moving onto a more performance-oriented piece, the Arc'teryx Cerium LT Hoody is one of our favorite down jackets on the market. It's lightweight at 11 ounces, and the use of Coreloft synthetic insulation in areas prone to getting wet adds a nice dose of assurance in inclement weather. The Cerium has a more delicate 10D shell and is a step down in warmth from the Down Sweater with 3.6 ounces of 850-fill down (compared to 5.3 oz. of 800-fill for the Patagonia), but it's not an overly discernible gap, and we can't argue with the look and feel of Arc'teryx products. That said, they do come at a price—$379 for this one, to be exact. If you need a down jacket for everyday wear and weekend skiing or hiking trips, the Down Sweater is an excellent choice. But for the highest levels of performance and design for the weight, the Cerium LT is tough to beat.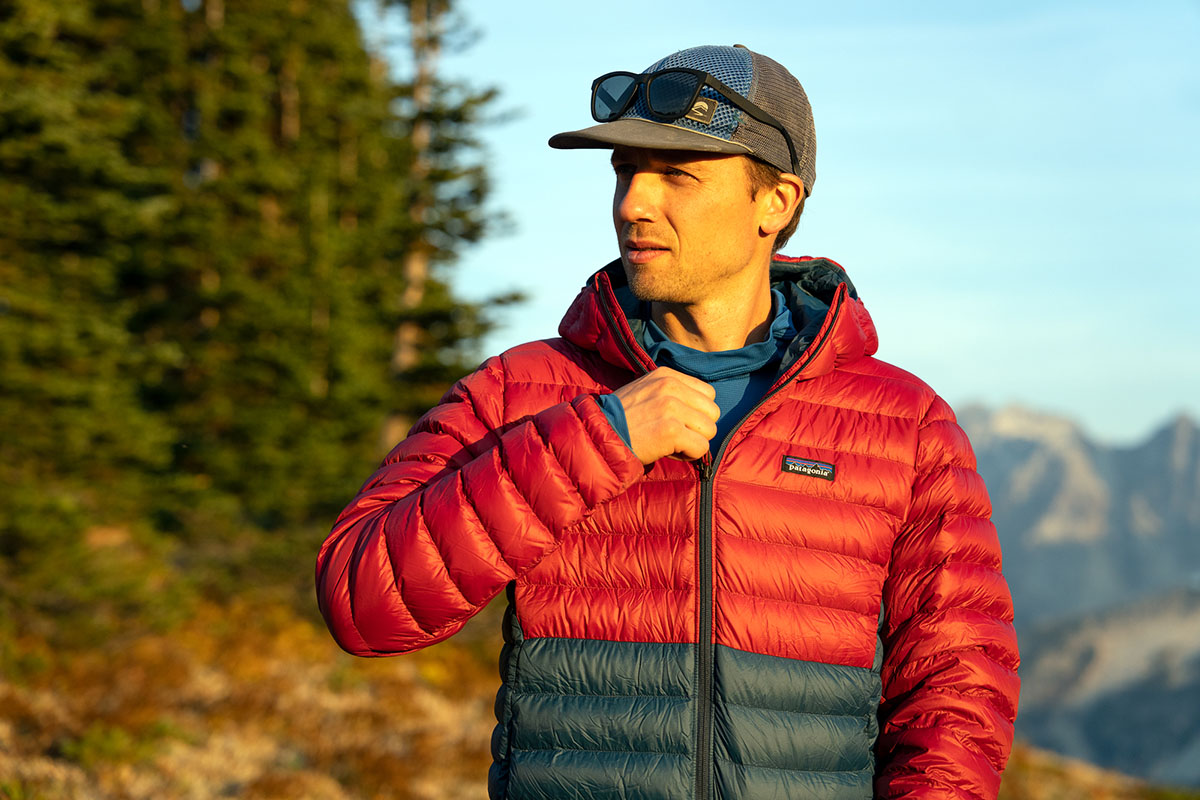 Next up is Rab's Microlight Alpine Down Jacket, which is another more performance-ready alternative to the Down Sweater Hoody. For around $50 less, the Rab is decently warm with 5.4 ounces of 700-fill down and gets the clear edge in wet-weather protection with helpful additions like water-resistant zippers on the pockets, a hardshell-like brim along the hood, a hydrophobic coating on the insulation, and a thicker (30D) Pertex Quantum shell that's highly water-resistant. That said, the Microlight is on the heavier end for backcountry use at 1 pound 0.5 ounces and less compressible due to the lower-quality down fill. And in truly inclement weather, it's still best to add a hardshell or rain jacket overtop. In the end, the Microlight is a good value considering the added protection, but the Down Sweater wins out in versatility with its roomier cut and more everyday-friendly styling.
Seattle-based Outdoor Research is another brand with a quality insulation lineup, and their Coldfront Down Hoodie is a solid competitor to the Down Sweater at a good price. Stacked up against the Down Sweater, the Coldfront offers comparable warmth with 5.3 ounces of down, although it's a lower-quality, 700-fill variety that's not as lofty for the weight or compressible. As a result, the OR is relatively hefty for performance use at 1 pound 4.7 ounces, although we appreciate the addition of synthetic insulation at the shoulders and cuffs, which adds a nice boost in protection in moisture-prone areas. At a full $100 cheaper than the Down Sweater and with a decidedly comfy and classy-looking build, we think the Coldfront is a great value for a midweight piece. But performance-wise, we give the nod to the lighter and more compressible Down Sweater.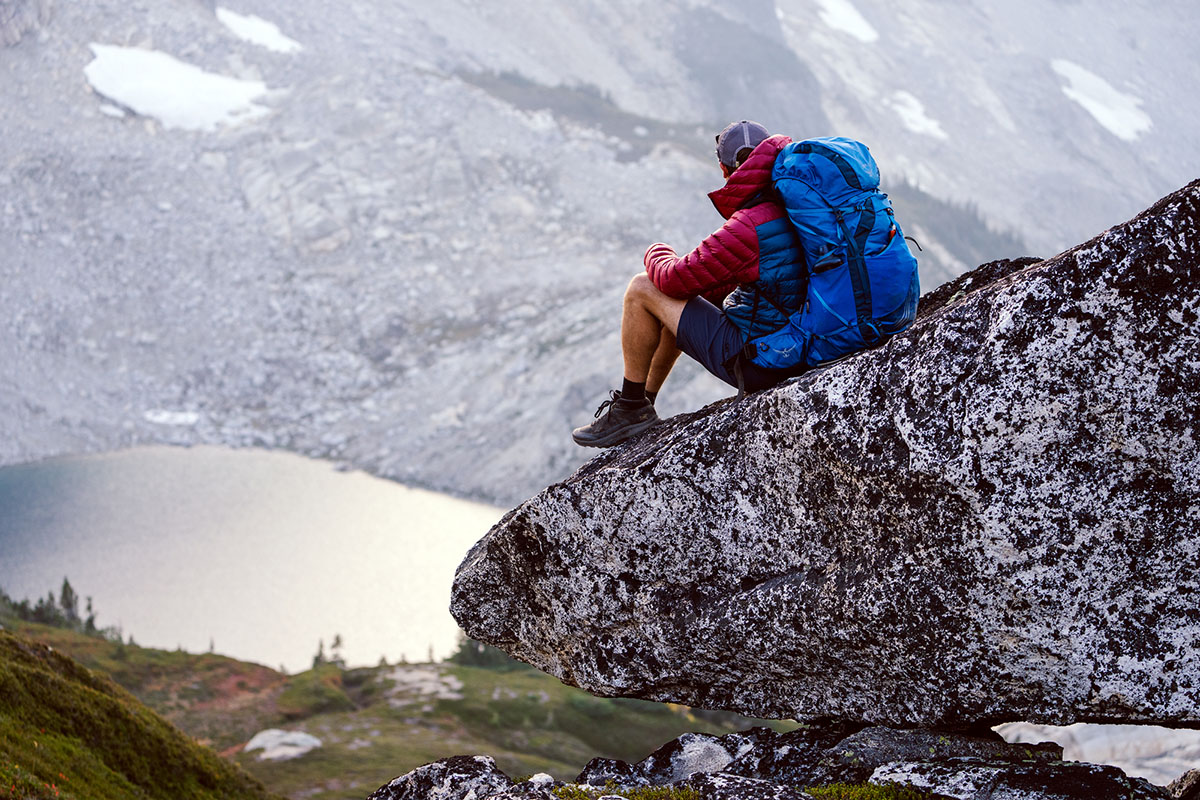 As we mentioned above, synthetic jackets get the clear edge in weather protection—unlike down, synthetic fill will continue to insulate when wet. If you live in a notoriously wet climate or plan to get out inclement weather, it's worth considering Patagonia's synthetic alternatives to the Down Sweater: their Micro Puff and Nano Puff hoodies. Right off the bat, we'll note that neither piece is as soft or warm as the Down Sweater, but they're lighter (10.5 oz. and 12.8 oz., respectively) and do a good job mimicking down's loft and compressibility. The Micro Puff won't save you any cash and has a noticeably thin 10D shell (it's not a great everyday piece), but the Nano Puff costs $50 less than the Down Sweater and is similarly durable at 20D. In the end, nothing beats the warmth-to-weight ratio and coziness of real down, but synthetics like the Micro and Nano Puff are viable alternatives with undeniable appeal in inclement conditions.
If you're thinking about buying gear that we've reviewed on Switchback Travel, you can help support us in the process. Just click on any of the seller links above, and if you make a purchase, we receive a small percentage of the transaction. The cost of the product is the same to you but this helps us continue to test and write about outdoor gear. Thanks and we appreciate your support!
Depending on the seller, most products ship free in the United States on orders of $50 or more. International shipping availability and rates vary by seller. The pricing information on this page is updated hourly but we are not responsible for inaccuracies.
Learn More About Outdoor Gear