Osprey Talon 22
Price: $130
Weight: 1 lb. 14.6 oz. (size S/M)
Capacities: 11, 22, 26, 33, 36, 44L
What we like: Lightweight, comfortable, great organization, and comes in two sizes.
What we don't: Limited support for bulky and heavy loads.
See the Osprey Talon 22  See the Women's Tempest 20
Osprey's Talon is the daypack we see on the trails more than any other. And there's good reason for its popularity: it's light, has a nice fit, is made in a wide range of sizes and bright colorways, and hits a desirable price point. In testing the Talon 22, we've found it to be a useful multi-sport option. It's not the most comfortable or feature-rich pack on the market, but the intelligent design satisfies the needs of most day hikers, bike commuters, and travelers. Below we break down our experiences with the Talon 22. To see how it stacks up, see our article on the best daypacks.
Editor's note: Osprey has updated their Talon series for 2021, and notable changes slight increases in weight and price, more available capacities, the use of PFC-free DWR and bluesign-approved fabrics, and a new AirScape backpanel design. We've noted these changes where applicable in the text below.
 
---
Table of Contents
---

Performance
Carrying Comfort
What makes the Osprey Talon 22 a top seller year after year is its balance of weight, comfort, and features. The pack is a big step up in terms of padding and support from an ultralight design like REI's Flash series. But its thin framesheet and minimalist cushioning on the shoulder straps and hipbelt prioritize weight and packability over all-out comfort. We've found the Talon to be an ideal match for typical day hikes and bike commutes: throw in a puffy, rain shell, food, and some water, and it conforms nicely to your back. But load it down with extra water or heavy gear, and it will droop and the thin padding on the hipbelt will start to feel less comfortable. In those instances, we like a heavier-duty option like Osprey's Stratos, which has a metal frame and more substantial foam for putting weight on your hips.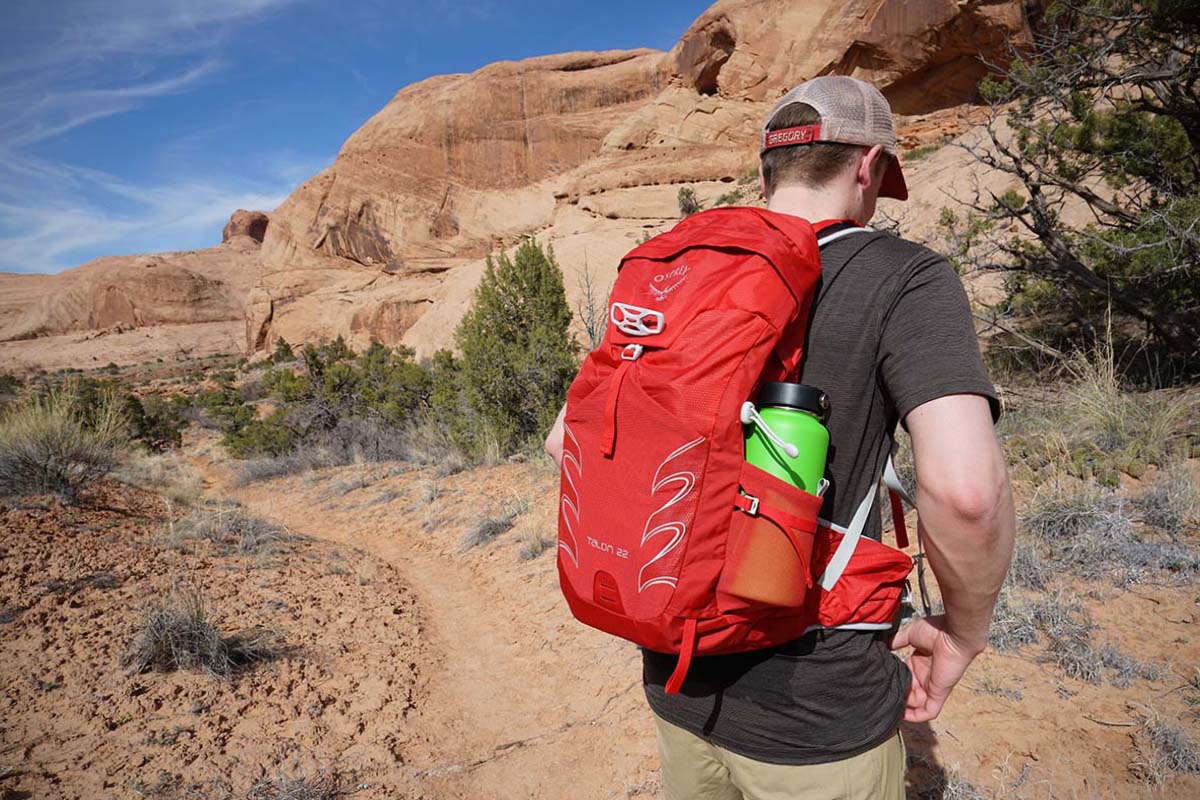 Weight
With a weight of 1 pound 14.6 ounces in the S/M size (our past-generation model checked in lighter at 1 lb. 12.6 oz.), the Talon is pretty average among similarly sized daypacks. For reference, it's considerably lighter than Osprey's other leading model, the Stratos 24 (2 lbs. 12 oz.), although it's missing that pack's metal frame. Closer competitors include the Gregory Miwok 24 (1 lb. 13.6 oz.), REI Trail 25 (2 lbs. even) and Deuter's Speed Lite 24 (1 lb. 12 oz.). And you certainly can go lighter at the same capacity with the packable REI Co-op Flash 22 (13 oz.), but you're compromising on storage, ventilation, and carrying comfort. We've used the Talon extensively and have never had an issue with its weight, not to mention it packs down nearly flat for throwing in a car or duffel bag.

Ventilation
Osprey is a leader in back ventilation design, and we think they've come up with a nice solution with the Talon. Its lightweight focus means forgoing the suspended panel that you get with the Stratos and larger backpacking-specific models, but the entire back and hipbelt are made with mesh and have just enough spacing to generate some airflow. It's worth noting that the design was updated recently with a new AirScape design, which is intended to boost flex and reduce waste (injection-molding requires fewer materials during production), but the overall intentions and execution remain largely the same. Even the shoulder straps have cutouts in the foam to help keep you as cool as possible. If back ventilation is a top priority, the Osprey's Stratos 24 is the better bet, but we think most people will be happy with the Talon's design.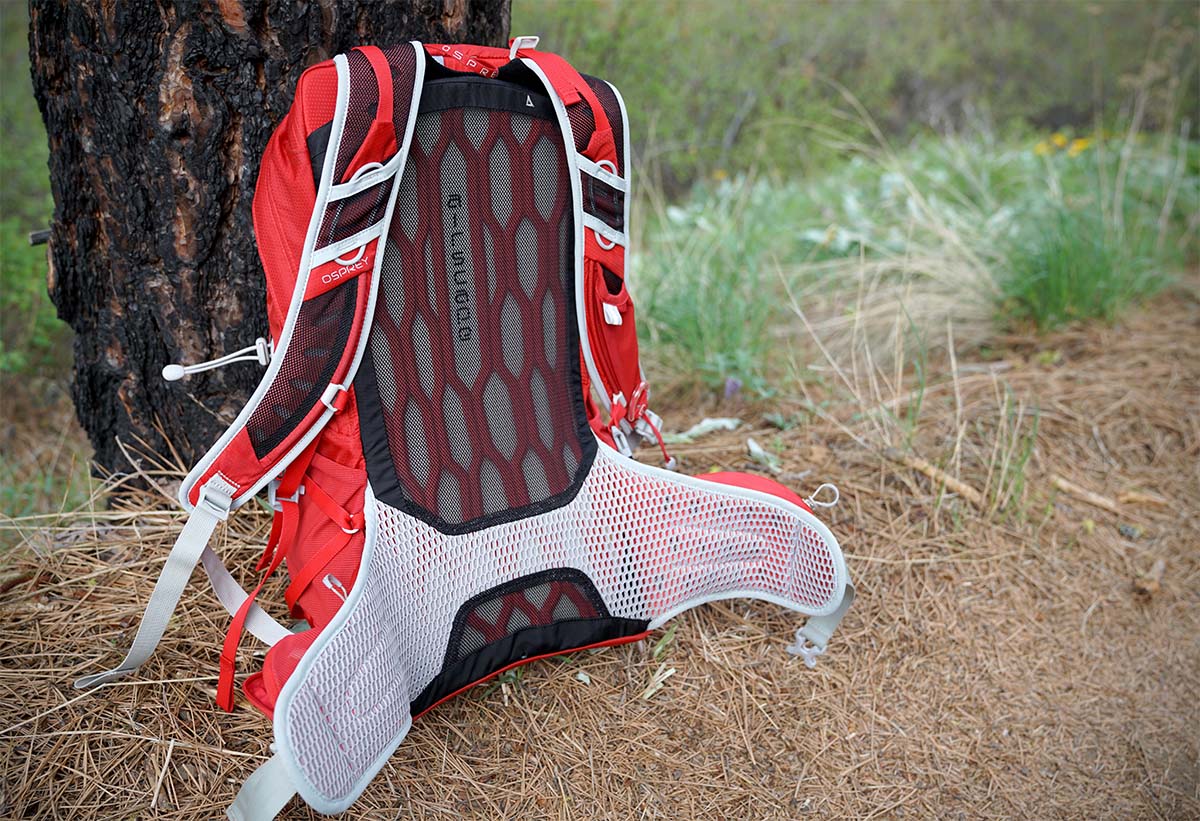 Pockets and Organization
The pocket layout of the Talon is fairly straightforward but gets the job done in divvying up your gear. You get a hydration sleeve that sits behind the backpanel, two stretchy side water bottle pockets, and two hipbelt pockets that are large enough to fit most modern phones and point-and-shoot cameras. Additionally, the pack has a zippered exterior pocket at the top, a very useful stretchy shove-it pocket along the front, and one small zippered mesh pocket with a key clip on the inside of the main compartment. A more feature-rich design will offer a few more storage options, but we've never felt the Talon is lacking in this regard.

Additional Features
Osprey built this pack with more than just hiking and travel in mind, and they've added in a few functional multi-sport features. As with their mountain biking packs, the Talon 22 includes their LidLock system, which allows you to secure a bike helmet against the pack body. Additionally, there are two horizontal slots at the bottom for a light. For summit bids, you get an ice axe loop and bungee to secure it. And those that use trekking poles on their day hikes will appreciate the attachment point for storing the poles on the left-hand shoulder strap. About the only item missing is a rain cover, but Osprey does sell their High Visibility model that fits the Talon 22 for $25 extra.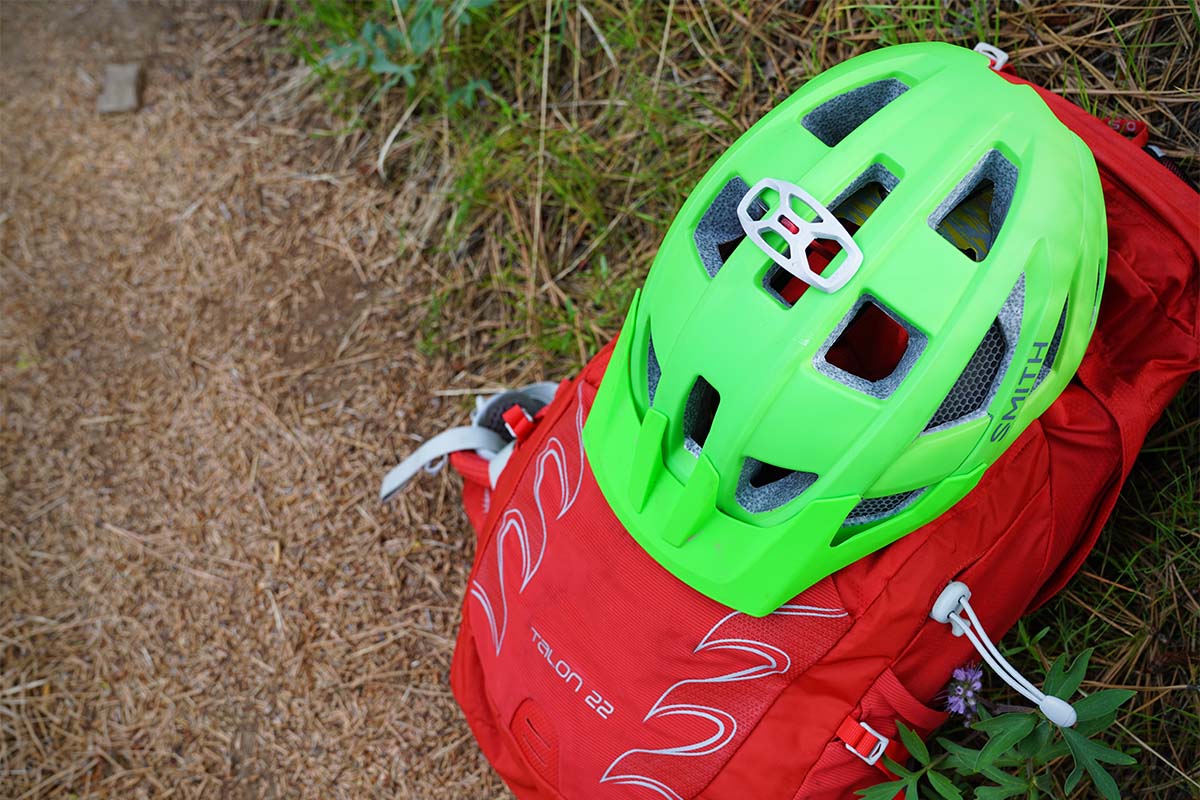 Build Quality and Durability
The Osprey Talon 22 is meant for moving fast and light, but it's also pretty durable overall. Osprey uses sturdy 420-denier nylon along the bottom of the pack, which helps a lot with puncture and tear resistance. And all of the buckles, zippers, cord, and plastic pieces are high quality and have worked flawlessly throughout our testing. Having said that, it's good to be aware of the areas that use lightweight mesh. The backpanel, water bottle pockets, large shove-it pocket along the front, and even the shoulder straps are covered with this thin and open material. But as long as you avoid squeezing between rocks and are conscious of where you throw it down—or you don't mind the occasional duct tape patch job—the Talon should have a pretty solid lifespan.


Fit and Sizing
The curved shape and flexible backpanel of the Osprey Talon 22 give it a very nice fit against your back. We also appreciate that it's available in two sizes for both the men's Talon and women's Tempest models. You can dial in the fit even more by moving the shoulder straps up and down via Velcro attachments near the top, as well as by tightening the load-lifter straps. All told, the Talon offers a customizable fit, which is especially impressive given its weight-focused build.

Sustainability
In the latest update to the Talon series, Osprey began incorporating a few key sustainability measures. These include the use of PFC-free DWR coatings on the Talon and women's Tempest packs (perfluorocarbons are known to be harmful to the environment), as well as utilizing recycled and bluesign-approved fabrics. All in all, we're excited to see the changes and appreciate Osprey's efforts to improve this popular line.

Other Capacities of the Osprey Talon
We tested the 22-liter version of the Talon, and Osprey offers the series in a wide range of capacities from a 6-liter lumbar pack all the way up to a 44-liter overnight bag. The 6-liter design has limited appeal—it's a little on the large side for running and is much too small to use as your only hiking bag. But for day trips and travel, we like the Talon 11, which has a very similar top-loading design and pocket layout. Stepping up to the 26, 33, 36, and 44-liter versions get you a top lid, and the largest-capacity bag includes a zippered access to the main compartment. Rounding out the collection, Osprey recently released the Talon Pro in 20- and 30-liter variations, which are nearly identical to the standard packs but trim a bit of weight. All capacities fit into a specific niche in the hiking and backpacking market, but we think the Talon 22 (and women's Tempest 20 outlined below) are the most versatile and have the widest appeal. 


Women's-Specific Osprey Tempest
As we mentioned above, the Talon is a men's or unisex pack, but Osprey makes the same design in a women's-specific model called the Tempest. Aside from a 2-liter difference in capacity, smaller available torso sizes, and unique colorways, the Tempest 20 essentially is an identical design to the Talon 22 tested here. Like the men's versions, the women's Tempest series is offered in a range of capacities and designs, including a 6-liter waist pack and 9, 24, 30, 34, and 40-liter packs that cost the same as their men's counterparts. And finally, lighter Pro models are available in 18- and 28-liter options.

What We Like
Hits a nice balance of comfort, features, and packability for lightweight adventures.
The Talon and Tempest are made in two sizes (unlike the Stratos), and it's easy to dial in the fit with the adjustable shoulder straps.
Multi-sport-ready with a helmet and light attachment, and an ice axe loop.

What We Don't
The pack doesn't have a rigid frame, so it can droop and become uncomfortable under a heavy load.
There's a lot of lightweight mesh along the exterior, which impacts durability.
For warm-weather hiking, ventilation falls short of Osprey's Stratos.

Comparison Table
| Daypack | Price | Weight | Capacities | Hipbelt | Frame | Pockets |
| --- | --- | --- | --- | --- | --- | --- |
| Osprey Talon 22 | $130 | 1 lb. 14.6 oz. | 11, 22, 26, 33, 36, 44L | Cushioned | Backpanel | 7 exterior |
| Deuter Speed Lite 24 | $105 | 1 lb. 12 oz. | 20, 24, 32L | Cushioned | U-frame | 6 exterior |
| Osprey Stratos 24 | $140 | 2 lb. 12 oz. | 24, 34, 36, 50L | Cushioned | Alloy frame | 5 exterior |
| Gregory Miwok 24 | $120 | 1 lb. 13.6 oz. | 12, 18, 24, 32, 42L | Cushioned | Backpanel | 8 exterior |
| REI Co-op Trail 25 | $80 | 2 lb. | 25, 40L | Webbing | HDPE frame | 5 exterior |
| Osprey Daylite Plus | $70 | 1 lb. 4.6 oz. | 13, 20L | Webbing | None | 5 exterior |

The Competition
As we mentioned above, the Talon is a very popular sight on the trails, but there's plenty of formidable competition in the daypack market. The Deuter Speed Lite 24 is one of the Talon's closest competitors, with a similar capacity, feature set, and overall design. In parsing out the differences, the Deuter is lighter at 1 pound 12 ounces, a notable $25 cheaper, and gives you 2 additional liters of storage, but is only available in one size, which can make it harder to dial in fit (we like that the Talon is sold in both small/medium and large/extra-large options). But if the Speed Lite fits you, it's a great alternative to the Talon for less money. 
On the other end of the spectrum from the Speed Lite is Osprey's Stratos 24. In many ways, this fully featured daypack is a shrunken-down version of a backpacking model. It includes a stiff metal frame, excellent back ventilation, soft cushioning on the hipbelt and shoulder straps, and tons of pockets and extras like a rain cover (for more information, see our in-depth Stratos review). But it also weighs considerably more than the Talon at 2 pounds 12 ounces, costs an additional $10, and won't stuff into a duffel bag or the trunk of your car as easily. Both are well-designed and very functional daypacks, but the choice should come down to your priorities on carrying comfort versus weight.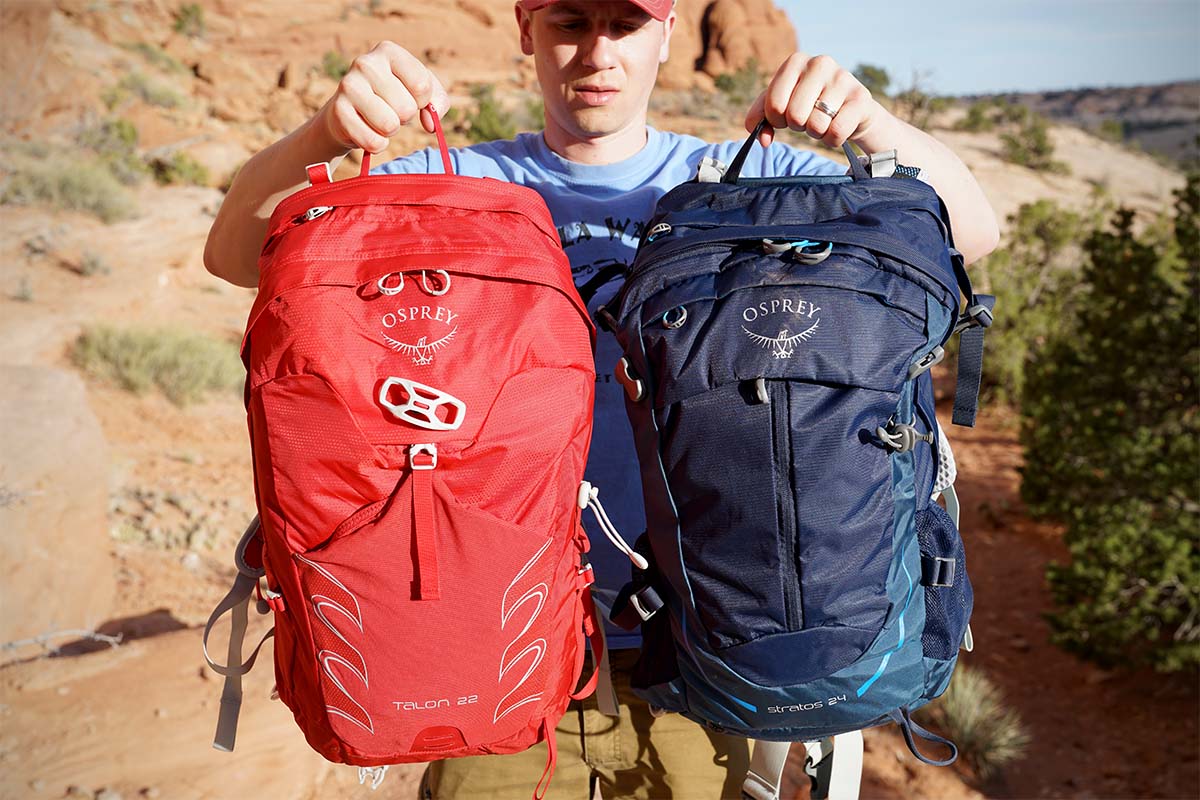 Gregory's Miwok 24 is another one of our favorite pack designs this year and is an intriguing alternative to the Talon. In this case, you get a bit of added capacity for less weight (the Miwok checks in at 1 lb. 13.6 oz.), along with a nicely padded and supportive build, ample storage with eight exterior pockets, and a competitive price ($10 cheaper than the Osprey). However, the Talon adds sport-specific features like the LidLock bike helmet attachment system, and it's easier to dial in fit with two available sizes (the Miwok is one-size-fits-all). These advantages push the Talon 22 to the top of our daypack rankings, but the Miwok isn't far behind.
For a capable budget alternative to the Talon, we really like what REI has come up with in their Trail 25 pack. For $80, you get a durable and well-cushioned build, great organization with five exterior pockets, key features like trekking pole attachments and an included rain cover, and a similar all-in weight of 2 pounds even. That said, you do make some sacrifices at this price point, including a simple webbing hipbelt, which is far less comfortable than even the Talon's minimally padded waist when loaded down with gear. In the end, it's hard to beat the value of the Trail 25, but the Talon 22 is the better performance option and the more comfortable daypack overall.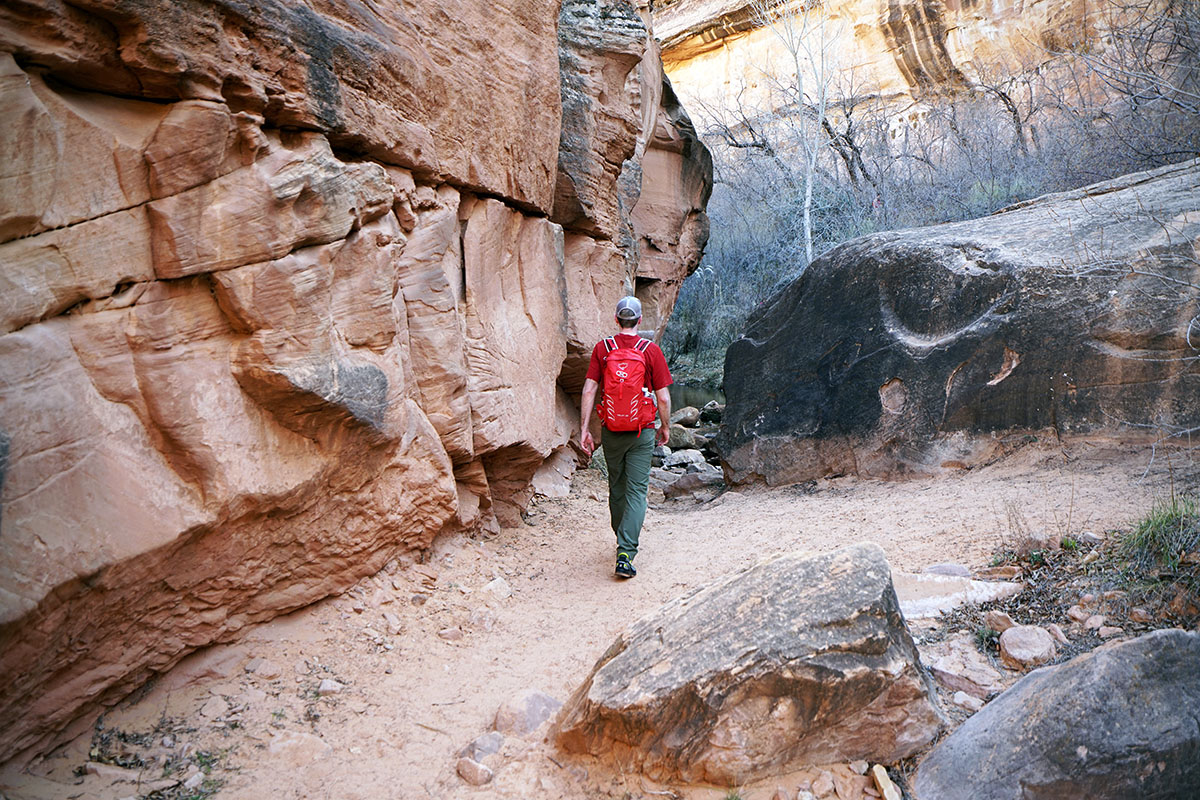 Last but not least, a final Osprey pack to consider is their budget-oriented Daylite Plus. Right off the bat, we'll note that the Daylite is a simpler design compared to the Talon with a lower 1-pound-4.6-ounce weight, smaller capacity (20L), and webbing hipbelt that falls short for covering longer distances or shuttling heavier loads. But the big draw is price: at just $70, the Daylite Plus undercuts the Talon by a considerable $60 (it's even $10 cheaper than the REI Trail above), which makes it a great value option for short to moderate day hikes and everyday use. 
If you're thinking about buying gear that we've reviewed on Switchback Travel, you can help support us in the process. Just click on any of the seller links above, and if you make a purchase, we receive a small percentage of the transaction. The cost of the product is the same to you but this helps us continue to test and write about outdoor gear. Thanks and we appreciate your support!
Depending on the seller, most products ship free in the United States on orders of $50 or more. International shipping availability and rates vary by seller. The pricing information on this page is updated hourly but we are not responsible for inaccuracies.
Learn More About Hiking Gear