If you're searching for the best way to transport bikes, hitch-mounted racks are the way to go. Securely attaching to the receiver hitch of your vehicle, they offer unmatched versatility and ease of use. There are a wide range of options to choose from, but hitch racks fall into two basic categories: platform models are the most expensive but offer excellent stability and convenience, while hanging racks maximize carrying capacity in a compact package. Below we break down our top picks for 2023, from high-end, exquisitely manufactured designs like 1Up's Heavy Duty Double to Kuat's budget-oriented and weight-conscious Beta. For more information, see our hitch rack comparison table and buying advice below the picks.
 
---
Our Team's Hitch Bike Rack Picks
---

Best Overall Hitch Bike Rack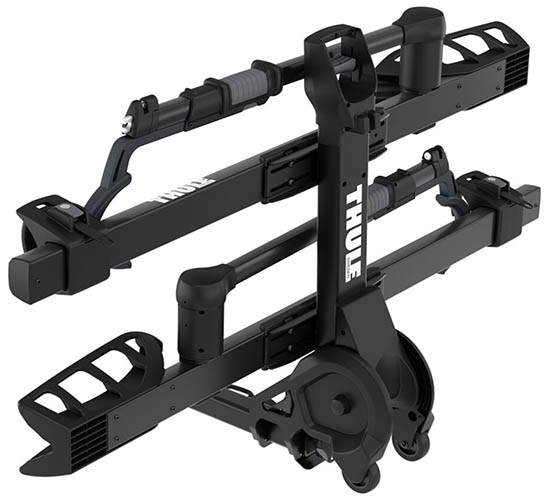 Type: Platform
Weight: 52 lb.
Number of bikes: 2 (4 with add-on)
Weight capacity per bike: 60 lb.
What we like: Loaded with features, well-built, and easy to use.
What we don't: Expensive and a bit heavy.
Our top pick for four years running, Thule's T2 Pro XTR puts it all together: build quality, a secure bike-carrying design, and a complete feature set. The T2 Pro's versatile carrying system accommodates everything from standard road and mountain bikes to fat bikes and even 20-inch kids' models (no adapters needed). Another highlight is its user-friendly tilt handle, which we think is best-in-class in terms of ease of use and provides quick access to the rear of your vehicle (an endlessly useful feature). And finally, the XTR includes a built-in set of wheels at the base for shuttling to and from a garage. At $800, the T2 Pro certainly isn't cheap, nor is it particularly light at over 50 pounds, but its sturdy, long-lasting design is ideal for committed riders.
Hitch racks is a competitive space, but the T2 Pro XTR's sheer number of features set it apart from the competitors below. Its expanding wedge attachment system makes for a wobble-free connection even off road, we've had zero issues with bike scuffing or damage after years of use, the 60-pound-per-bike weight capacity means you can haul nearly all styles (including many electric models), and you get ample clearance from your vehicle and between bikes. Plus, the optional 2-Bike Add-On (for another $550) doubles its capacity.And as mentioned above, all of the components on the Thule are extremely well made, which makes the investment worth it over time. One final note: Thule recently released the T2 Pro X ($650), which features a similar construction as the XTR but lacks the built-in wheels, has a lower max bike capacity (50 lb.), and requires an adapter for fat bikes... Read in-depth review
See the Thule T2 Pro XTR
A Close Second (For About $350 Less)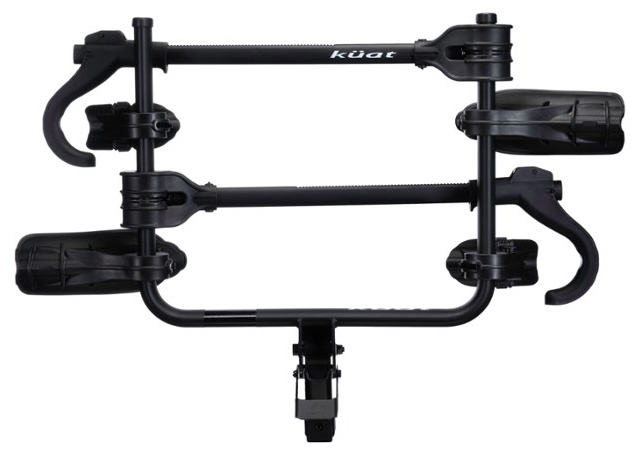 Type: Platform
Weight: 37 lb.
Number of bikes: 2 (3 w/add-on)
Weight capacity per bike: 60 lb.
What we like: Great price for a versatile platform-style rack.
What we don't: Design is less refined and feature-rich than premium alternatives
There's no getting around the fact that quality platform-style racks are expensive, but those looking to save should check out Kuat's Transfer v2. This design shares a number of basic features with the Thule T2 above, including an attachment system that avoids frame contact and a tilting function that allows for access to the back of your vehicle. The latest version of the Transfer also is adjustable enough to fit a wide range of bike types and wheel sizes (from 18-29 in.) and can even accommodate a fat bike with an accessory strap. Plus, a 1-Bike Add-On is available for a reasonable $159 to provide even more carrying abilities. Attractively priced at $449 and weighing a reasonable 37 pounds, there's a whole lot to like about the Transfer v2. 
What do you give up by saving with the Kuat? Compared to the Thule T2 and Kuat's own NV 2.0 below, the materials and level of refinement are a step down. We've found the arm that locks over the front tire is prone to sticking, and our rack has developed a fair amount of squeaking over time (granted, we keep it on our vehicle year-round). You also miss out on niceties like a padded strap to limit scuffs on the rear wheel, plus the simplistic design lacks a built-in lock to secure the rack to your hitch receiver. That said, the Transfer packs in a surprising number of features for the price, including a solid weight capacity (60 lb. per bike for the 2-in. receiver model) and cable locks. In the end, dedicated cyclists will be better off with the higher-end Thule, but if you're willing to make a few compromises, the Kuat offers a whole lot of bang for your buck... Read in-depth review
See the Kuat Transfer v2 2
Best Budget Hitch Rack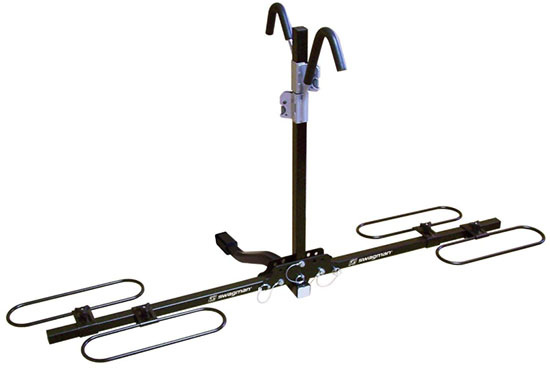 Type: Platform
Weight: 32 lb.
Number of bikes: 2
Weight capacity per bike: 35 lb.
What we like: An inexpensive yet surprisingly reliable way to carry two bikes.
What we don't: Not the most user-friendly design and the ratcheting arms scuff bike frames.
British Columbia-based Swagman lacks the brand recognition of Thule or Yakima, but their XC2 model is a smart choice for recreational riders on a budget. For a bargain-basement $97 (on Amazon at the time of publishing), the Swagman XC2 features a highly adjustable tray system, sturdy and decently secure ratcheting arms, and a threaded hitch pin that keeps rack movement to a minimum. Perhaps best of all, the low 32-pound weight is easy to remove and install, and the small footprint and folding design takes up minimal space when off your vehicle. This rack certainly doesn't have many of the bells and whistles of the more premium options above and below, but it will reliably transport your bikes on paved roads from point A to point B.
Given the low price point, there are bound to be shortcomings, and the Swagman XC2 has its fair share. The bike nearest the vehicle is quite challenging to load compared to other racks on this list, the release mechanism on the ratcheting arm is difficult to engage, and there are no locks included with your purchase. And after about 500 miles of use, which did include some miles of dusty gravel roads, the padded frame cradles managed to rub the paint completely off one of our bikes. If you're able to spend up, we recommend the more well-rounded and higher-quality $449 Kuat Transfer v2 2 above. One final note: Swagman also offers the XTC2 Tilt Rack ($142 on Amazon at time of publishing), which includes upgrades like a tilt function to access the back of your vehicle and rubber straps to secure the wheels.
See the Swagman XC2
Best 4-Bike Hanging Rack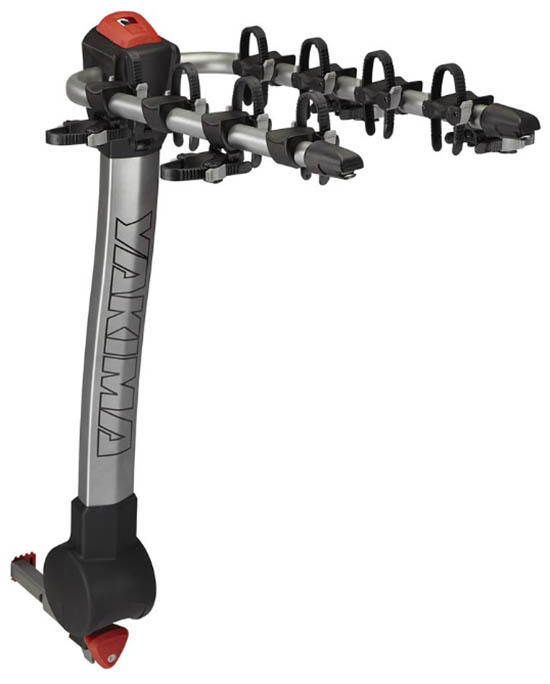 Type: Hanging
Weight: 35 lb.
Number of bikes: 4 (available in 2- and 5-bike versions)
Weight capacity per bike: 40 lb.
What we like: Proven, affordable way to haul 4 bikes.
What we don't: Bikes are very close together when loaded; needs an adapter to carry step-through bikes.
Overall, we prefer the platform style for its ease of loading and superior all-around stability, but high-capacity hanging models are the clear leaders in terms of value. Among the options on the market, Yakima's RidgeBack is a long-time favorite: it features a durable build, reasonable price, and anti-sway design that limits bike movement while on the road. Further, we think Yakima has the best cradle system, which includes ratchet-style straps to securely hold the bike's top tube to the rack. Priced at a reasonable $379 for the four-bike version, the RidgeBack offers double the capacity of the Thule T2 Pro above for hundreds less.
What's not to like with the hanging-style RidgeBack 4? An adapter is necessary to carry full-suspension mountain bikes, step-through bikes, or smaller kids' models, which adds a significant amount to the overall investment (top tube adapters are about $50 each). Moreover, there is very little space between the bikes when they're loaded, which can lead to rubbing and damage to the paint. Stepping up to the RidgeBack 5 gets you a little more wiggle room with four bikes loaded, and Thule's Apex XT 4 offers moderately more spacing between the cradles (but price jumps to $450). That said, it's hard to ignore the RidgeBack's track record of reliable performance and value, which makes it our top hanging hitch rack.
See the Yakima RidgeBack 4
Best Hitch Rack for Rear Cargo Access

Type: Platform
Weight: 63 lb.
Number of bikes: 2
Weight capacity per bike: 60 lb.
What we like: Built-in swing feature provides easy access to the rear of your vehicle.
What we don't: It's the heaviest two-bike rack on this list.
When the RockyMounts BackStage was released, the rack created quite a stir in the industry. It was one of the first platform racks to incorporate a side-swinging mechanism into the design (think of an arm that swings away from your vehicle to allow for total access to the rear of your car). And it's worth noting that this functionality still isn't available from big hitters like Yakima or Thule. Furthermore, the BackStage comes with many features you'd expect from a premium hitch rack: a cable lock (although not integrated), the ability to carry various types of bikes and wheel sizes, sturdy ratcheting arms, and quality materials and construction overall.
Adding the swing-away functionality to a hitch-mounted rack does come with compromises. The RockyMounts BackStage is 10 to 20 pounds heavier than most other platform-style racks, and therefore you will not want to remove it from your vehicle very often (or without help). Another quibble we have is that the lock is not integrated into the rack, which is a handy feature that we appreciate on the Thule T2 Pro above and Yakima StageTwo below. If, however, you're looking for the ultimate in rear cargo access, the BackStage should be at the top of your list.
See the RockyMounts BackStage
Best Hitch Rack for E-Bikes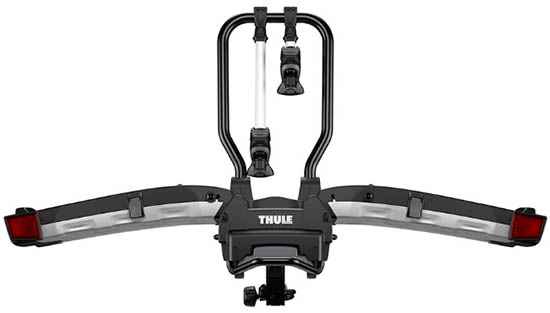 Type: Platform
Weight: 45 lb.
Number of bikes: 2
Weight capacity per bike: 65 lb.
What we like: Integrated ramps for loading and unloading e-bikes.
What we don't: Very expensive.
The hitch bike rack market is playing catch-up with the explosion of e-bikes on the roads and trails, and our current favorite heavy-hauler design is Thule's EasyFold XT 2. The big news here is the included ramps that allow you to push your bikes onto the platforms rather than having to lift them off the ground. The ramps are quick to deploy, do a nice job guiding the bikes up and down, and store on the rack while driving. Additionally, the EasyFold can accommodate bikes with fenders (common among urban e-bikes) and unique frame shapes thanks to the adjustable arms and ratcheting straps that secure the wheels. Finally, the Thule is among the simplest to store: The platform's sides fold upwards in half, and an integrated handle allows you to carry the rack short distances with one hand. With a load capacity of 130 pounds (between two bikes), the EasyFold checks all the necessary boxes for hauling a couple e-bikes.
What are the compromises with the EasyFold's design? To start, it's easily one of the most expensive ways to carry two bikes and therefore not a good value unless you need or want the ramps. We also don't love that the design doesn't tilt up—it only folds the ramps inwards—which means the rack sticks out behind your vehicle even when you're not carrying bikes. Yakima's StageTwo below addresses both of the aforementioned complaints, but its traditional telescoping front arm design doesn't work with bikes with fenders (and the StageTwo's ramp is a separate add-on for $89). As such, we'll break it down this way: We think the StageTwo is a great option for e-mountain bikes, but the EasyFold wins out as the more versatile design—and clearly the superior choice for hauling commuter or urban e-bikes.
See the Thule EasyFold XT 2
Best Vertical Hanging Bike Rack
Type: Vertical hanging
Weight: 104 lb.
Number of bikes: 6 (available in 5-bike version)
Weight capacity per bike: 45 lb.
What we like: The most secure and easiest way to carry six bikes.
What we don't: Very heavy and very expensive.
For group rides, shuttling, tour companies, or if you simply want to maximize your carrying capacity, 1Up's Recon Rack 6 is worth a serious look. This unique hitch-mounted rack takes a different approach to carrying bikes: its "baskets" hold the front wheel high while the rest of the bike hangs below. The standard baskets are able to carry 24- to 29-inch-wheeled bikes (including road and gravel models), and the rack can accommodate 20-inch kids' bikes and fat bikes with different attachments. The main advantage to the Recon's design is that you can carry up to six bikes at once, and the vertical hanging position keeps them relatively stable and close to the back of the vehicle.
What are the downsides of the Recon R6? The $1,400 price tag immediately limits its appeal to those that will truly utilize the large bike capacity. Further, the Recon's burly build is extremely heavy (the two boxes that ship to you exceed 100 pounds total), which makes it difficult to set up and remove. It also takes a fair amount of effort to get the bikes into a place (a downside of the tall design). But despite a growing number of competitors in this category—including Yakima's HangTight, Lolo Racks, and North Shore Racks' NSR—the 1Up's combination of build quality, ease of use, and compatibility with a wide range of bike styles makes it our favorite vertical hanging rack. A final vertical hanging rack to have on your radar is from Velocirax. Like 1Up, the design carries by the front wheel, but the loading process is made easier with hydraulic dampers that lower the rack to a convenient height.
See the 1Up Recon Rack 6
Best of the Rest

Type: Platform
Weight: 46 lb.
Number of bikes: 2 (4 with add-on)
Weight capacity per bike: 50 lb.
What we like: Premium all-metal build; ratcheting arms only make contact with your bike's tires.
What we don't: Hard-to-reach tilt lever and no bike locks included.
Wisconsin-based 1Up may not be a household name like Thule or Yakima, but the company has a dedicated following among hardcore cyclists. Without a doubt, their Heavy Duty Double's sleek aluminum build and attention to detail are a cut above the rest. Our editor described it as "a work of art much like a high-end bike," and there is a lot of truth to that statement. The design includes two independent folding arms that contact only the tires, leaving the rest of the bike completely untouched—a task that other racks struggle to accomplish. For riders who want a premium design and typically carry traditional road and mountain bikes, 1Up's Heavy Duty Double is a great choice.
Why isn't the 1Up ranked higher? In short, it can't match the sheer number of useful features included with the Thule T2 Pro above. First, you need to purchase separate adapters to carry fat bikes, and cable locks are not included with the rack (a hitch bar lock does comes with it). In addition, the tilt feature is all but unreachable with loaded bikes—the lever is hidden away under the rack. 1Up does offer a tilt lever extender, but that will cost you another $70, and it feels like something that could be remedied or included at the outset. All that said, it's hard to overlook the beauty and level of craftsmanship of the 1Up. It's worth noting that 1Up has recently expanded their line with the Equip-D rack, which addresses many of our complaints with the Heavy Duty, including an easier access tilt bar and compatibility with fat tires. That being said, the two-bike version is among the most expensive on the market at a hefty $805.
See the 1Up USA Heavy Duty Double

Type: Platform
Weight: 52 lb.
Number of bikes: 2 (4 with add-on)
Weight capacity per bike: 60 lb.
What we like: Sleek design and sturdy ratcheting arms.
What we don't: Pricier than the Thule T2 above without enough to show for it.
Kuat is a leader in the platform rack market, and their signature product is the NV 2.0. This premium design checks all the right boxes: its materials have a high-quality feel, the rack stays solidly in place even on bumpy forest service roads, and the adjustable wheel cradles make it easy to avoid bike-to-bike contact. In addition, Kuat included extras like integrated cable and receiver locks and a unique bike stand for quick repairs at the trailhead (note: this piece is not locked to the rest of the rack, so we often stored the stand inside our vehicle). Finally, we'd be remiss not to mention that the NV is easily one of the better-looking racks available, especially in the Gray Metallic colorway.
Like 1Up's Heavy Duty above, the Kuat goes head-to-head with our top-rated Thule T2 Pro XTR. Both the T2 and NV 2.0 are very user-friendly and have long-lasting builds, although we have found the Thule is a little more versatile. Kuat requires you to pick up adapters to haul fat bikes and 20- to 24-inch wheels (something the Thule can do out of the box), and the tilt mechanism on the T2 Pro is a bit easier to access. Tack on a considerable $49 difference in cost, and despite the NV's smooth styling and extras like the aforementioned repair stand, the T2 Pro gets the slight edge... Read in-depth review
See the Kuat NV 2.0 Rack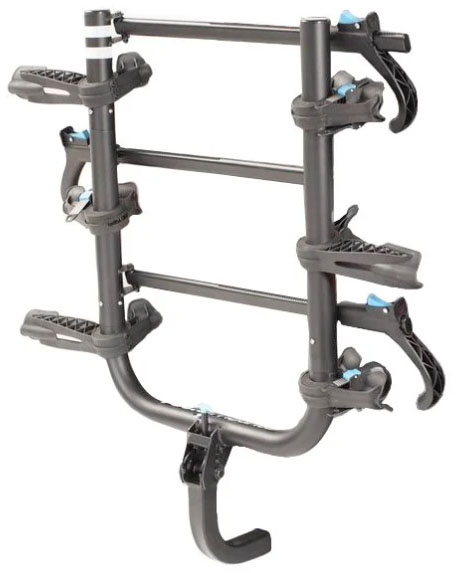 Type: Platform
Weight: 43 lb.
Number of bikes: 3 (available in a 2-bike version)
Weight capacity per bike: 40 lb.
What we like: Great price for a solid three-bike tray design.
What we don't: Low on features.
RockyMounts' WestSlope 3 combines a user-friendly tray design and generous three-bike capacity at a reasonable cost. Similar to the Kuat Transfer above, the rack is reasonably light, loads quickly and easily with ratcheting arms that secure over the front tire, and includes a tilt function to allow access your vehicle's rear hatch. To help with bike-to-bike interference, RockyMounts utilized a tiered design, which means each bike sits at a different height (the one closest to the vehicle is lowest and they step up higher as they move away). Along with sturdy materials and a very intuitive instruction manual (a rarity on the market), there's a lot to like with the mid-range WestSlope.
We think the WestSlope and Transfer hit a nice sweet spot in performance and value, but the RockyMounts' build is undeniably basic. Our biggest gripe is that no locks are included with the rack—at minimum, we'd want a hitch lock to secure the WestSlope to our vehicle's receiver (the Lock Kit costs an extra $35). In addition, the tilt lever is hidden away and essentially unreachable if you have bikes already loaded up (it's far easier to access without bikes). And finally, the RockyMounts is a little limited in bike compatibility, with a max weight of 40 pounds and tire width of 3 inches. But if these complaints aren't deal-breakers, the WestSlope is a desirable option for families and group rides.
See the RockyMounts WestSlope 3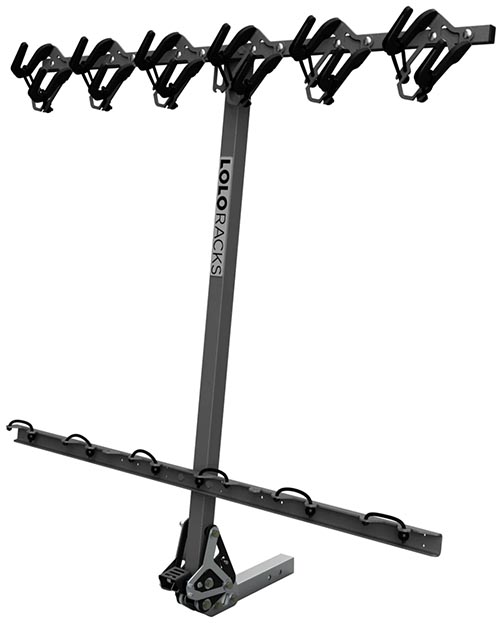 Type: Vertical hanging
Weight: 76 lb.
Number of bikes: 6 (available in 4-bike version)
Weight capacity per bike: 50 lb.
What we like: High-capacity design that's quick and easy to load and unload.
What we don't: A step down from the 1Up Recon above in sturdiness.
Joining 1Up's Recon above, Lolo Racks offers premium vertical hanging designs for hauling up to six bikes. From their lineup, the latest Foot Activated Tilt 6 Bike model stands out: the handlebar cradles allow you to haul anything from kids' bikes to drop-bar road and mountain designs, and the loading and unloading process is among the simplest out there. Additionally, as the name indicates, there's a lever at the base of the rack that allows you to lower it to access a pickup's bed or vehicle's rear hatch with bikes loaded (depending on the vehicle, you may or may not be able to drop the tailgate or open the hatch completely). 
How does the Lolo design compare with the 1Up Recon above? Both share some basic concepts—vertical loading, a tilt feature, and a max capacity of six bikes—but they differ in their carrying method. Whereas the Recon holds bikes by their front tire and includes a strap that needs to be secured both around the rear wheel and a pedal, the Lolo carries bikes at the top from the handlebars and rear wheel only (it snugs down with bungees). As a consequence, the Recon is more secure overall—and the better choice if you spend time driving off road—but the Lolo is a bit more user-friendly for day-to-day riding. Both are well built and highly functional, and a final decision will likely come down to priorities in carrying method and bike security.
See the Lolo Racks Foot Activated Tilt 6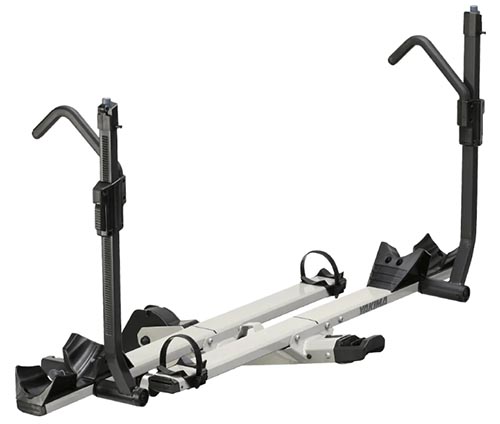 Type: Platform
Weight: 66 lb.
Number of bikes: 2 (4 with add-on)
Weight capacity per bike: 70 lb.
What we like: Burly and very well-built design that's e-mountain-bike-ready.
What we don't: Heavy to move and finicky setup process.
We've tested a lot of Yakima racks over the years, but it was clear from the first time we used the StageTwo that this design was a step above in terms of quality and innovation. On the surface, it's a fairly standard-looking platform rack, not unlike their long-standing HoldUp. But there are some serious upgrades here, including e-bike compatibility with a very high weight capacity (70 lb. per bike in the 2-in. version), an optional ramp add-on ($89), and noticeably high-quality parts throughout—even the locking knob for the hitch receiver is improved. Bike loading is easy with adjustable trays that can be offset to avoid bike-to-bike interference, and the tiered profile limits the risk of hitting the rack on steep driveways or backroads. If you prioritize a high weight capacity and long-lasting parts, the StageTwo deserves to be at or near the top of your list.
What's keeping the StageTwo from taking one of our top spots? Compared to the Thule T2 Pro XTR, the StageTwo is better with heavy bikes (the T2's max weight capacity per bike is 60 lb.) but can't match the Thule's out-of-the-box versatility with fat bikes, and the tilt lever isn't as easy to operate one-handed. The Yakima is also much heavier at 66 pounds and lacks the T2's convenient wheels for transport. Stacked up to our e-bike pick, the Thule EasyFold XT above, the Yakima's design doesn't accommodate bikes with front fenders, which many urban e-bikes feature. But its design avoids frame contact—unlike the EasyFold—which is a plus for limiting scuffs on a carbon or high-end frame. And finally, despite all the positives in the construction, the initial setup process requires some patience and precision to get all the trays lined up and secured in place. In the end, the StageTwo is not the best rack on the market, but it can make a solid case as the best-built Yakima rack yet.
See the Yakima StageTwo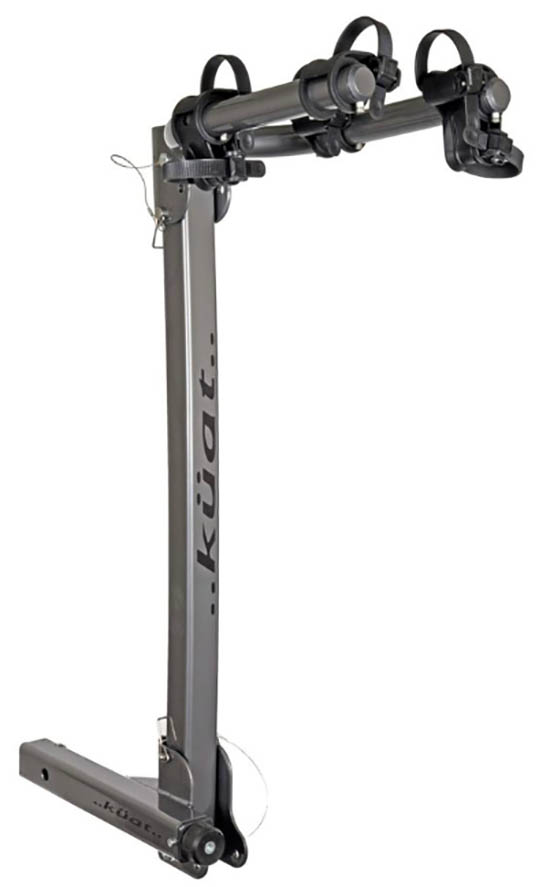 Type: Hanging
Weight: 14 lb.
Number of bikes: 2
Weight capacity per bike: 40 lb.
What we like: Smart mix of weight, strength, and features.
What we don't: Only offered in a two-bike capacity.
In stark contrast to the feature-rich and pricey Kuat NV 2.0 above is the brand's simple and budget-friendly Beta. The standout feature of this hanging rack is its weight, or lack thereof, with the 2-inch receiver version coming in at a scant 14 pounds. Equally impressive is that this ultralight rack is still rated to carry 80 pounds total (40 pounds per bike). And we're happy to see that the Beta hasn't skimped on too many features: the rack tilts for rear vehicle access, its arms fold down when not in use, and it has same wobble-free hitch attachment mechanism that's found on Kuat's premium offerings.
Our biggest complaint with the Beta is that Kuat doesn't offer a higher-capacity version. One of the main reasons to get a hanging-style rack is for occasional family outings, and a four- or five-bike model is often ideal for those trips. This limitation is what pushes the Beta down our list, but among two-bike hanging racks, we think the Beta has a best-in-class mix of weight, build quality, and functionality.
See the Kuat Beta 2.0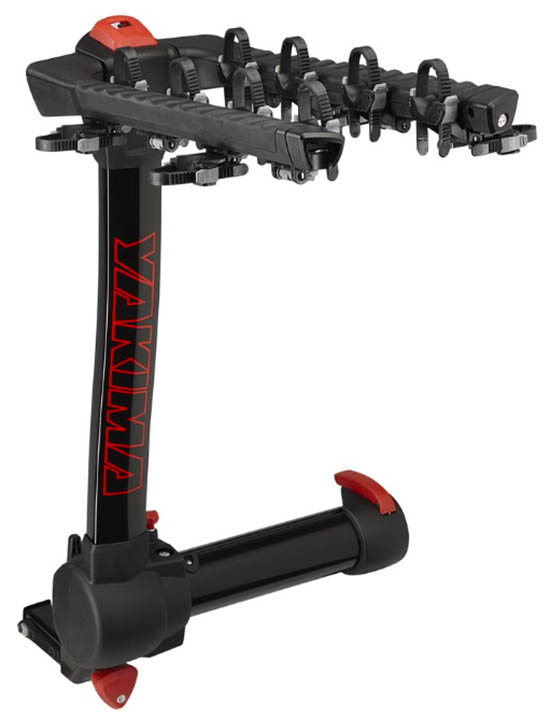 Type: Hanging
Weight: 56 lb.
Number of bikes: 4
Weight capacity per bike: 40 lb.
What we like: The convenience of a swing-away design.
What we don't: Heavy and pricey for a hanging rack.
Hanging-style racks are known for their simplicity and affordable price tags, but the feature-rich Yakima FullSwing 4 bucks that trend. Like the RockyMounts BackStage above, the rack's calling card is its swing-away feature that provides easy access to the vehicle. Further, you get included bike locks, a receiver lock, and its secure strap system is one of the best in the business. Don't expect the same easy loading or wobble-free experience as a platform-style rack, but the FullSwing 4 is a well-built design that should keep most people happy.
As with any hanging-style hitch rack, there's no avoiding the fact that the FullSwing 4 makes direct contact with your bike's frame. It does have padded arms, but those only help so much, and frame scuffs are inevitable. And as with the RidgeBack above, a top tube adapter is necessary if you'll be hauling bikes with irregularly shaped top tubes (which unfortunately is most full-suspension bikes nowadays). At $649, it's a big investment for a rack with so many compromises, but the FullSwing 4 does undercut the RockyMounts BackStage by over $100 and can carry two additional bikes.
See the Yakima FullSwing 4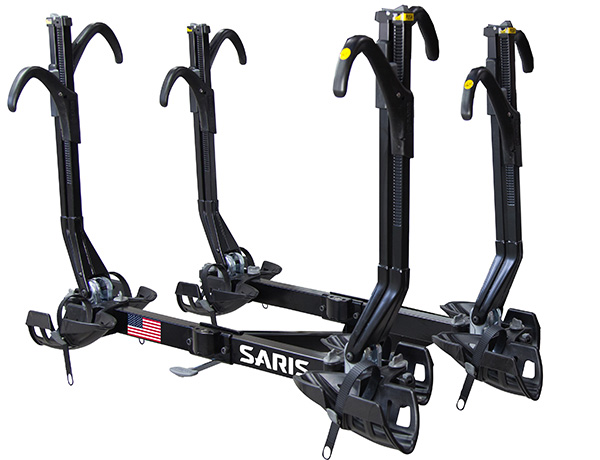 Type: Platform
Weight: 63 lb.
Number of bikes: 4 (available in a 2-bike version)
Weight capacity per bike: 60 lb. (inner); 35 lb. (outer)
What we like: Compact and lightweight for the capacity.
What we don't: Concerns with bike-to-bike clearance and has a tendency to wobble.
Saris may not be as popular as Yakima and Thule, but they've carved out a nice segment of the market with their competitive prices and creative designs. The SuperClamp EX 4 is one of their leading platform-style racks that differs from our top picks above with its ability to carry four bikes on a set of two platforms (rather than having only one bike on a platform). For each bike, arms secure over the tires (no concerns about frame contact), and wheel straps serve as backup for hauling heavier e-bikes, models with fenders, or if you have bikes with very different wheelbases. And what we like most about the SuperClamp is its minimalist and relatively lightweight build that takes up a surprisingly small amount of space behind your vehicle and is easy to store in your garage.
The main shortcoming of the design is it that the bikes are placed very close together and it can be a pain to limit side-to-side contact. Further, as we touched on above, there are limitations with the arm design if you'll be hauling bikes with different wheelbases (for example, a long-travel adult mountain bike and a kid's bike). Finally, the focus on trimming weight means the rack has more of a tendency to wobble on bumpy roads, although the bike attachment system is reliable in general. Despite the drawbacks, if you're looking for a compact four-bike setup, the Saris SuperClamp EX 4 is a fine choice.
See the Saris SuperClamp EX 4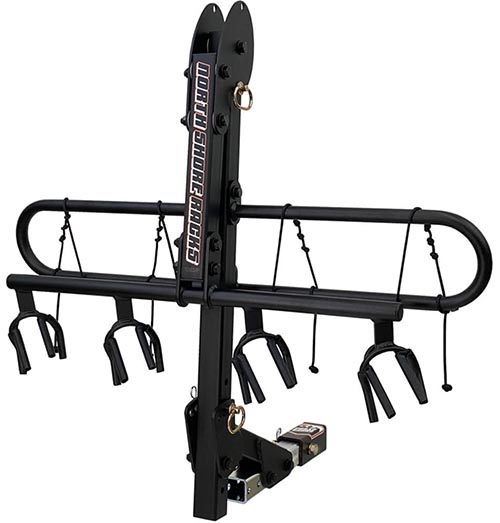 Type: Vertical hanging
Weight: 50 lb.
Number of bikes: 4 (available in 2- and 6-bike versions)
Weight capacity per bike: 60 lb.
What we like: A compact and easy way to transport a lot of mountain bikes; folds down when not in use.
What we don't: Less versatile than the 1Up Recon and Lolo racks above.
British Columbia-based North Shore Racks is known for being one of the first companies to offer high-capacity hanging models worthy of shuttle days and rough roads. Their ability to safely carry up to six mountain bikes—while still offering enough ground clearance for water bars—made them an instant favorite among downhill-oriented riders. We'll start with the positives: The NSR 4 is a proven product that securely holds bikes in place, the highly adjustable design ensures the rack will work with a wide variety of vehicle types, and it's one of the few models out there that minimally affects ground clearance by keeping the bikes close to the back of your car. Furthermore, it undercuts the similarly designed 1Up Recon Rack by a significant price margin and folds down when not in use.
What are the shortcomings of the NSR 4-Bike? First, the upper cradles that hold bikes in place are not compatible with road or cyclocross-style bikes, which greatly limits the rack's appeal. Second, the cradles make direct contact with your bike's fork crown, which can lead to significant scuffing and loss of paint over time (a hard thing to reconcile with a pricey bike). And finally, prior versions of the NSR had issues with corrosion, although the latest model (updated for 2023) has an upgraded finishing process. All told, the NSR is a budget-friendly option to throw on a shuttle rig—and hopefully it's now longer-lasting than before—but we think most riders will still be better off upgrading to the burlier and more well-rounded Recon above.
See the North Shore Racks NSR 4-Bike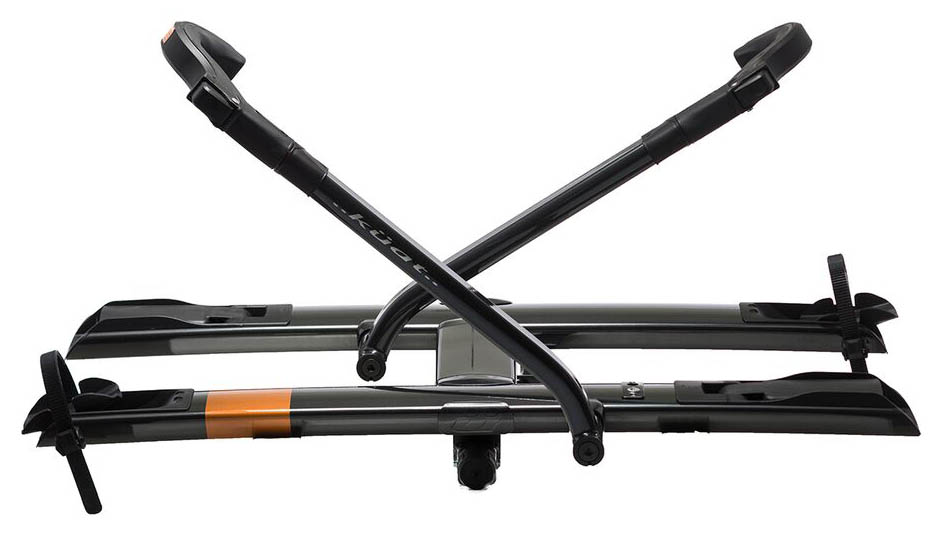 Type: Platform
Weight: 32 lb.
Number of bikes: 2
Weight capacity per bike: 40 lb.
What we like: Lighter than most other platform-style racks.
What we don't: Long-term durability concerns.
Kuat's Sherpa 2.0 is a lightweight alternative in the heavy platform rack world. At 32 pounds, it's a whopping 20 pounds less than the Kuat NV 2.0 above, which makes it a whole lot easier to install and remove from your vehicle. In terms of design, think of the Sherpa 2.0 as a pared-down version of Kuat's other racks, while still retaining a good number of the design features that make this brand so popular. As long as you're hauling regular road or mountain bikes (the rack maxes out at 40 pounds per bike and 3-inch-wide tires), the Sherpa 2.0 has a lot going for it.
In cutting weight, however, you lose out on the long-term durability found on other racks. In a two-year stretch, our Sherpa 2.0 had a series of issues: the tire ratcheting system failed, the sliding arm mechanism started to stick until it eventually slid out of the lower piece, and the spring in the pivot started to stick as well. Further, the rack rusted out quickly (this was in the rainy Pacific Northwest, however). The good news is that Kuat provided a replacement with their excellent warranty, but this experience leads us to think it's worth upgrading to the burlier NV 2.0 if you'll be leaving the rack on the back of your car most of the year.
See the Kuat Sherpa 2.0
Hitch Bike Rack Comparison Table
*Editor's Note: "Capacity" refers to weight capacity per bike.
Hitch Bike Rack Buying Advice

Types of Hitch Bike Racks
Platform Racks
Platform racks dominate this round-up, and in our opinion, are the best way to transport your bikes. Compared to hanging racks, platform designs are compatible with a much wider range of bike styles, sit lower to the ground for easier access, and are excellent in terms of stability. Most have two attachment points: a ratcheting arm that secures the front wheel, and a strap that holds the rear wheel in place. This straightforward and effective system makes it easy to rapidly load and unload your bike, and it minimizes any wobble or side-to-side movement while driving. In addition, these racks are the most gentle on bikes because they typically only come in contact with the tire or wheel (and not the painted frame).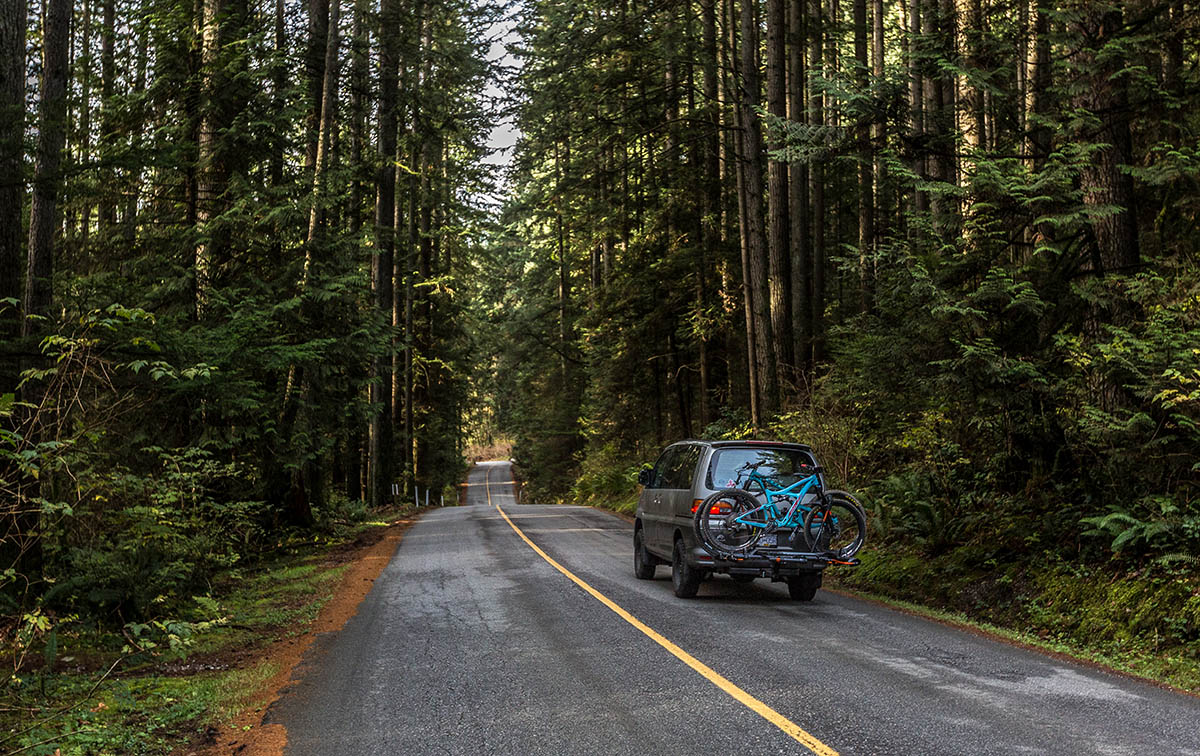 As with any product, there are bound to be compromises. Platform racks are big, bulky, and generally quite heavy. If you plan on removing your hitch rack with any regularity, you'll want to pay attention to weight, and many leading options tip the scales at 50 pounds or more. Platform-style hitch racks also are among the most expensive options on the market, with prices of leading designs like the Thule T2 Pro XTR and 1Up Heavy Duty Double clearing $600. That said, for serious riders, the added weight and cost are well worth the security and ease of use of this style.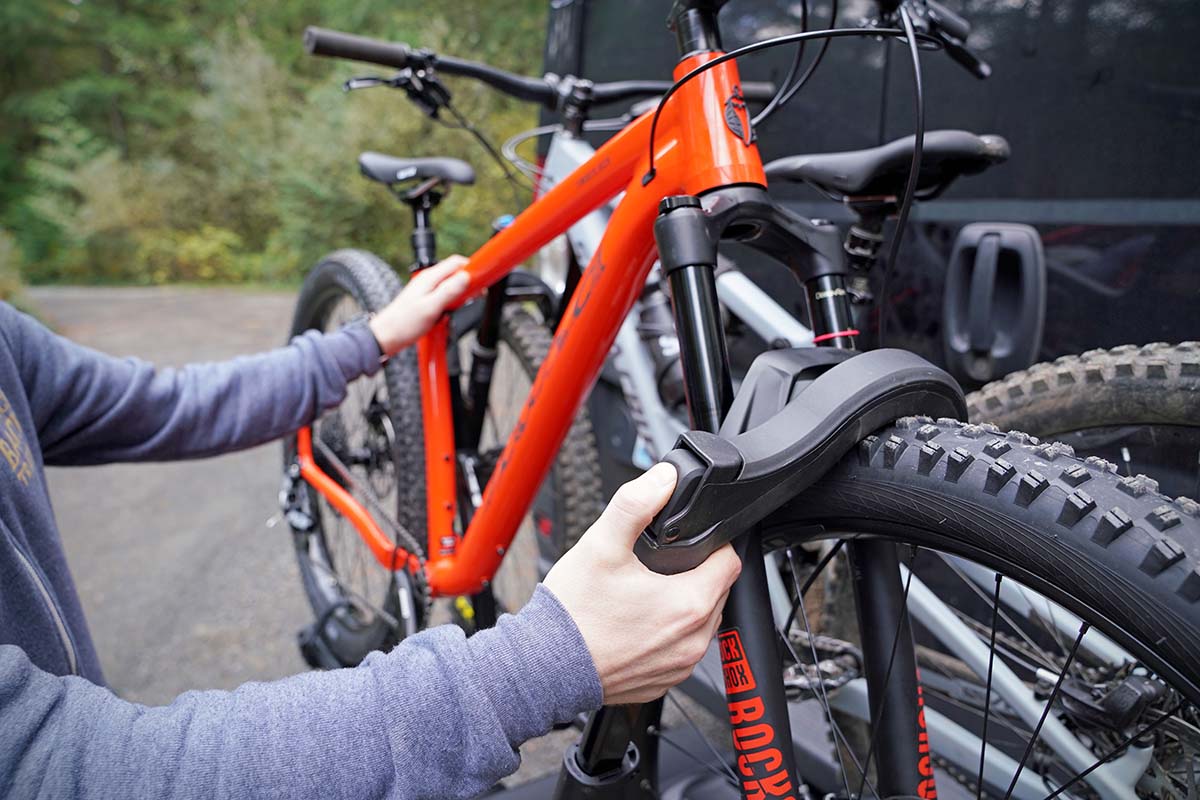 Hanging Racks
Hanging hitch racks are a popular way to transport road or lightweight bikes without the need to lift them overhead and onto the roof of your vehicle. While not necessarily inexpensive, a quality hanging rack like the Yakima RidgeBack 2 comes in at about half the price of a platform model with the same capacity. Hanging racks are much lighter and more compact, which is a plus for those that plan to remove the rack with some regularity. A great example is the Kuat Beta, which comes in at a scant 14 pounds and can be easily tucked away in the corner of your garage when not in use. 
A quick check of our list above will show that most of the hanging-style racks have ended up at or near the bottom of our rankings. The reason is simple: they're unable to accommodate irregularly-shaped bike frames—including many full-suspension mountain bikes, kids' bikes, and step-through bikes—without purchasing a top tube adapter. In addition, the bikes are closer together than on a platform rack and are more prone to swaying and coming into contact with one another while driving. And a final pitfall of the hanging rack is how it secures bikes to the rack: it holds them in place by rubber or plastic straps that wrap around the frame. Unfortunately, these straps often can lead to scuffing and scraping over time—for those that love their bikes, this is a deal breaker.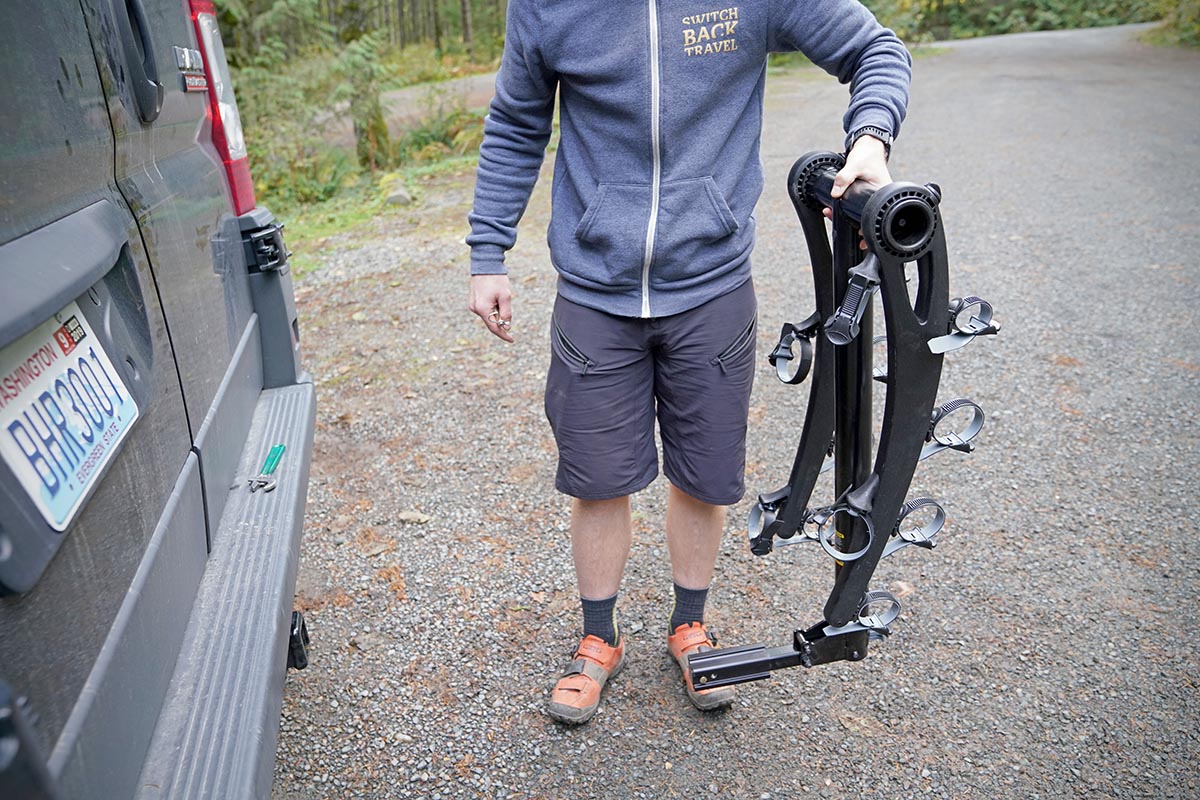 Vertical Hanging Racks
Our third category is one that's only recently gained serious popularity. In the past, vertical hanging racks were mostly found on the back of guide service vehicles and/or shuttle rigs, but their high-capacity setups have found a larger audience of late. The appeal is clear: By hanging the bikes from their handlebars vertically—and securing them below at the rear wheel—you're able to carry more bikes closer to your vehicle. And compared with traditional hanging models, you don't have to worry about issues with a bike's top tube.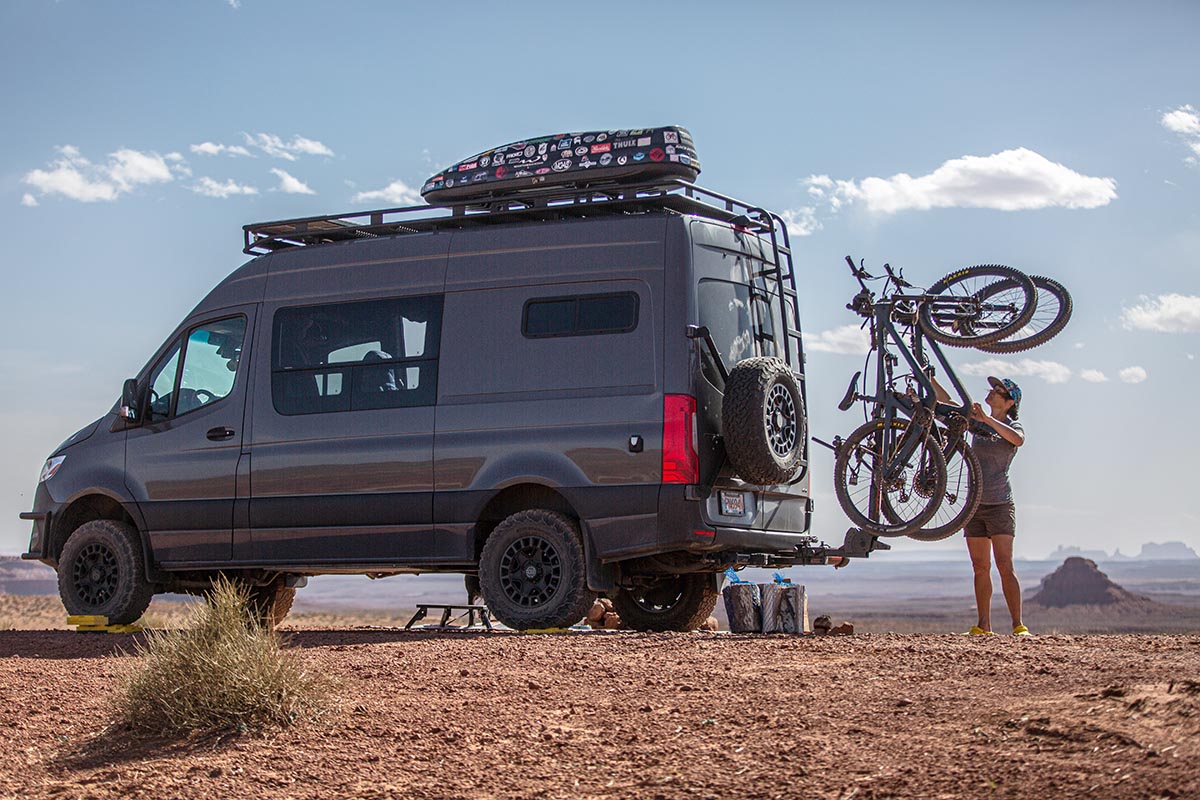 There are obvious downsides to the vertical hanging style, however. Most notably is price: At $750, the NSR above is one of the cheapest options out there (Recon Racks premium designs start at $1,200, while the Yakima HangTight 4 is $899). The vertical orientation also means you have to reach up to load them, and their tall profiles take up a lot of real estate on the back of your vehicle. Finally, weight is an issue, and you'll typically want two people for set up or removal. All that said, for those who will utilize their high carrying capacity, a vertical hanging rack can be a worthwhile investment.
 
Bike Capacity
In general, platform-style racks can carry anywhere from one to four bikes (if you invest in an extension), while hanging-style racks range from two to five total bikes. There are notable outliers, however, including the innovative 1Up Recon Rack 6, which can accommodate six bikes in a vertical hanging position. The majority of riders stick with the two-bike design, but families or those that anticipate carrying bikes for group rides should consider getting a higher-capacity hanging model or one of the platform add-ons to start.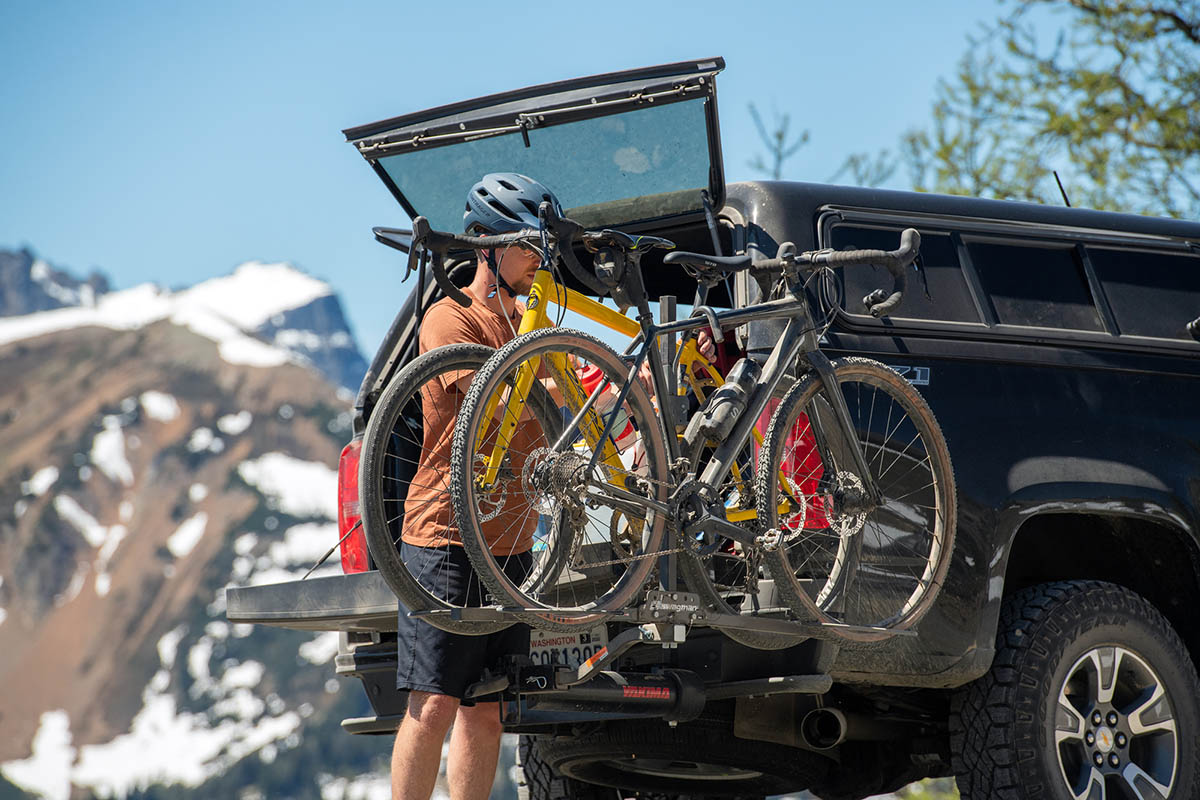 Platform Rack Add-Ons
Add-ons (also known as extensions) are a great way to increase the carrying capacity of your platform-style hitch rack. They typically double the rack's carrying capacity—from two to four bikes—and are available for many popular designs (including Thule's T2 Pro XT Add-On and Kuat's NV 2.0 Add-On). At $550 and $598 respectively, they're clearly a big investment, costing nearly as much as the main racks themselves. But the extensions are convenient to use, easy to install or remove, and come with the security of the platform design. It's worth noting that these add-ons are usually only compatible with the 2-inch receiver version of the racks due to the low maximum tongue weight of 1.25-inch receivers.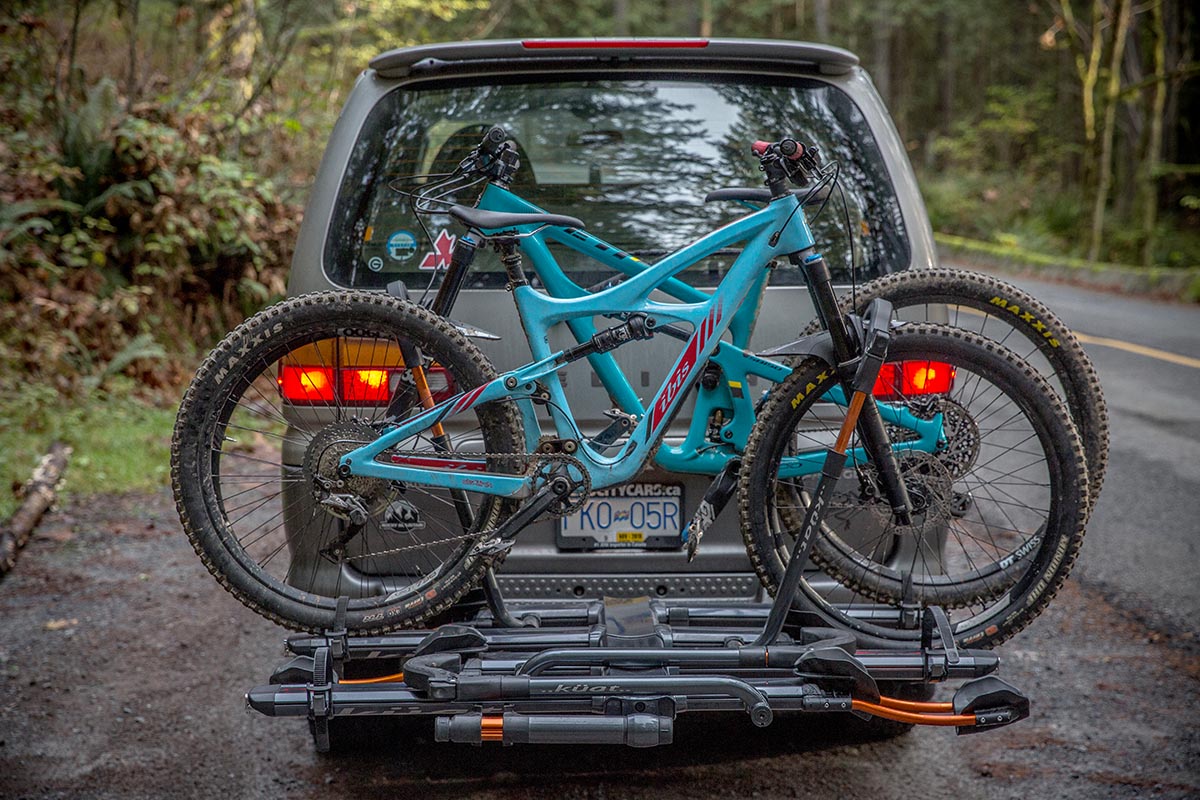 Bike Weight Capacity 
For those planning on hauling heavier downhill mountain bikes, e-bikes, fat bikes, or cruiser models, it's a good idea to verify the bike weight capacity of a given rack. The listings for each design will specify the maximum carrying capability per bike. And that amount can vary widely: burly platform racks have the highest ratings, including Thule's e-bike-ready EasyFold XT 2 that can haul up to 65-pound bikes. Light and affordable hanging racks like the Yakima RidgeBack 4 are on the lower end at 35 pounds per bike. For reference, most standard mountain bikes and road bikes are under 35 pounds, but e-bikes can easily exceed 50 pounds. If you're going to be close to the maximum weight or a little over, we recommend upgrading to a sturdier model—it's not worth the risk of breaking your rack while driving or voiding your warranty.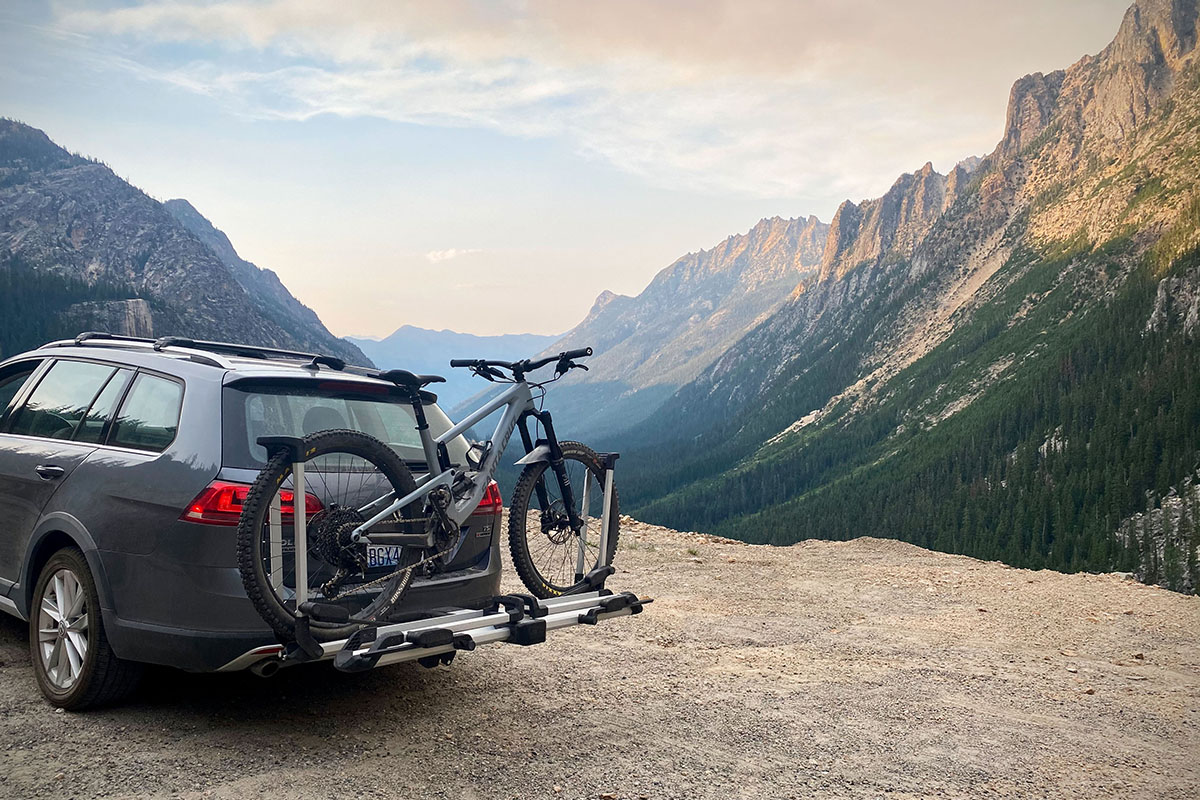 Tilting Feature 
If, like most cyclists, you plan to keep your rack on your vehicle for extended periods of time or just want to retain access to your rear cargo area, you'll want to get a hitch rack with a tilt feature. And with the exception of some truly cheap options, nearly all hitch-mounted bike racks have this functionality. As the name indicates, tilting racks can be leaned over by pulling a lever that moves the rack far enough down to allow you to open the rear hatch or tailgate of your vehicle. The tilting feature is available on both hanging and platform-style racks, although one key point of differentiation is that many platform models can tilt with the bikes loaded, while hanging racks require you to unload your bikes first. At the risk of sounding like a broken record, it's yet another reason we prefer the platform rack style.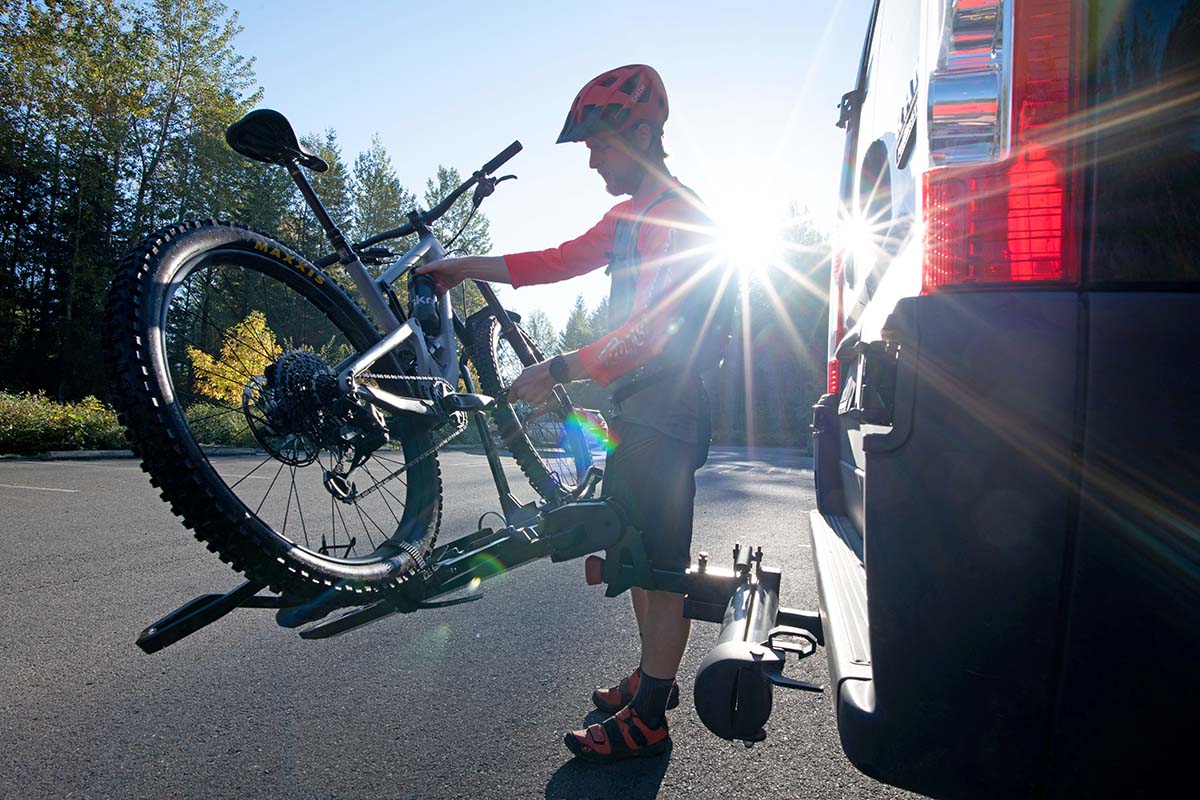 In reading our reviews of the products above, it's clear that we put a priority on the design and ease of use of a rack's tilting function. And while hanging racks often resemble one another in how they work—unload the bikes, fold the arms down, and then pull a lever to lower the rack—platform models can vary widely. Our favorite lever style on a platform rack is found on Thule's T2 Pro XTR, which has a large handle conveniently located at the end of the rack. It's simple to operate, and the rack feels almost weightless even with heavy bikes on the trays. Others, like the RockyMounts WestSlope 3, are almost unreachable when bikes are loaded, because the handle is tucked away too close to the receiver hitch. In the end, this feature can have a huge impact on overall convenience, and we call it out whenever possible in the write-ups above.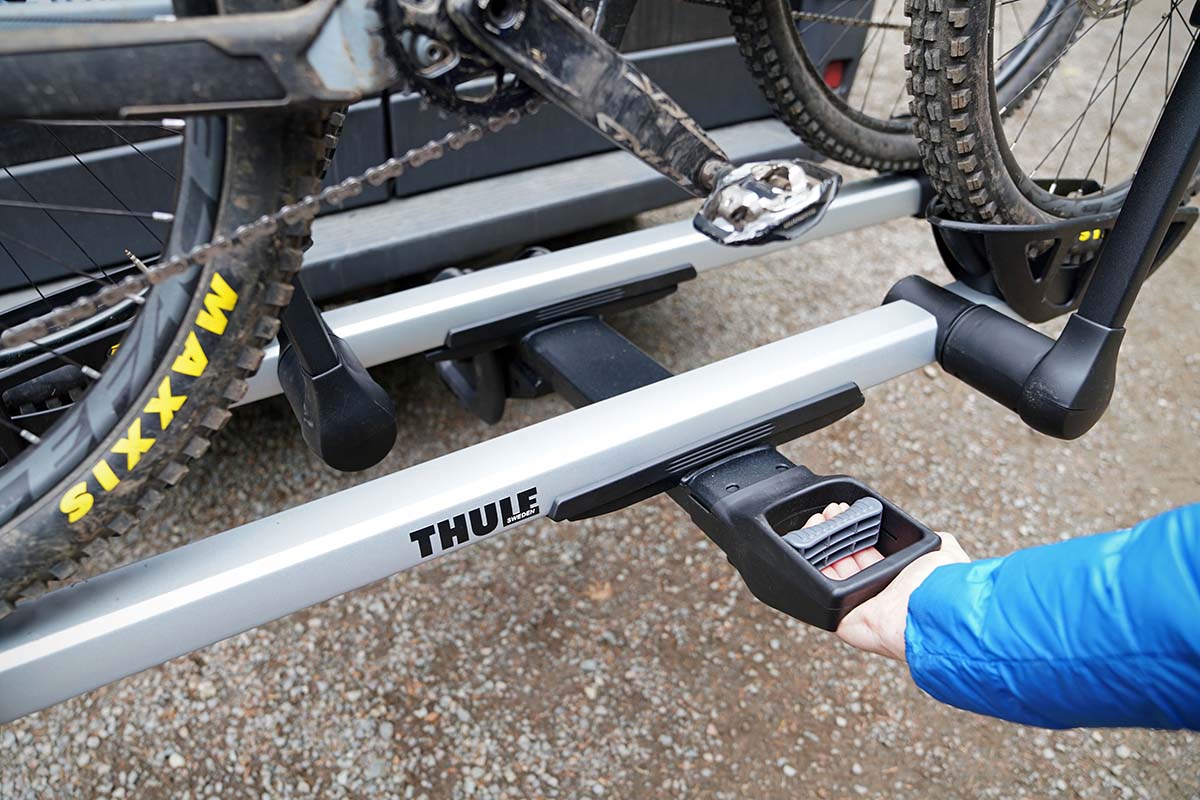 Swing-Away Racks
Tilting racks allow you to open the cargo door on most SUVs, hatchbacks, and trucks, but swing-away designs take access to the next level. In short, releasing a pin allows them to open like an arm, pivoting the entire rack to the side of the vehicle. This gives you uninterrupted access to the rear cargo area—all without having to unload your bikes. The extra design complexity and materials do add weight and cost—RockyMounts BackStage is 10 to 20 pounds heavier than a non-swing-away alternative—but are worth it for those that prioritize the feature. You'll mostly find swing-away racks in the hanging category, including Yakima's FullSwing 4 above, but the aforementioned RockyMounts BackStage platform rack is one notable exception.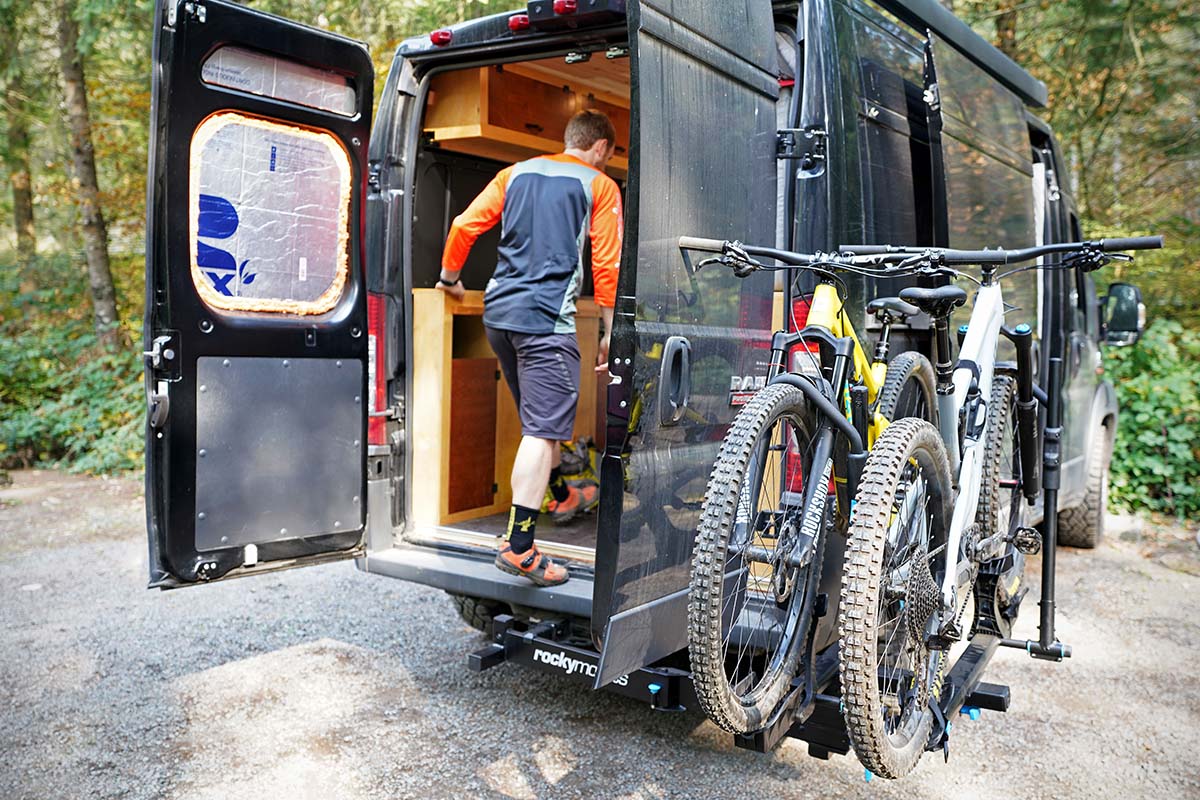 Wheel Size and Tire Width Compatibility
Wheel size and tire width aren't major considerations when choosing a hanging rack, but those that opt for the platform style will want to verify their bikes will fit in the included trays. The good news is that the majority of road and mountain bikers won't have a problem at all—every platform rack on our list can fit 26- to 29-inch wheels and 3-inch and under tires. It's when you get to the extreme ends of the spectrum with 12- to 24-inch kids' bikes or fat bikes with 4- to 5-inch tires that problems can crop up.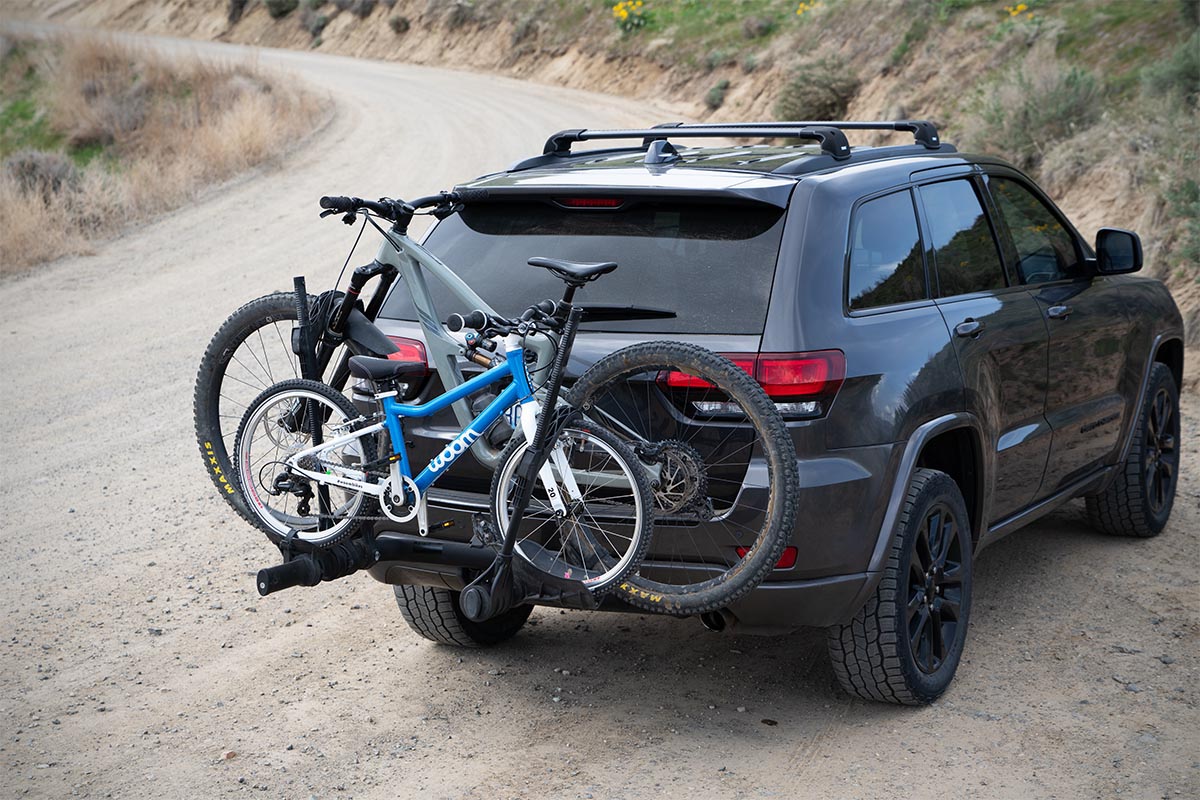 One of the reasons that the Thule T2 Pro XTR took the top spot on our list is its ability to fit so many bike styles straight out of the box. It's one of only a few that can both accommodate 20- to 29-inch wheels and tires up to 5 inches wide (the only incompatible size is a 27.5-inch fat bike). Others, like the Kuat NV 2.0, require two separate adapters to fit bikes with wheels between 20 to 24 inches and tires larger than 2.75 inches. For reference, purchasing both Kuat adapters isn't costly at around $20, but they are separate pieces that you'll need to store when not in use. As stated above, these wheel size and tire width issues won't be a problem for a lot of riders—it's often easier to store a small kids' bike inside the vehicle, for example—but it's a good thing to have in mind as you're narrowing your rack search.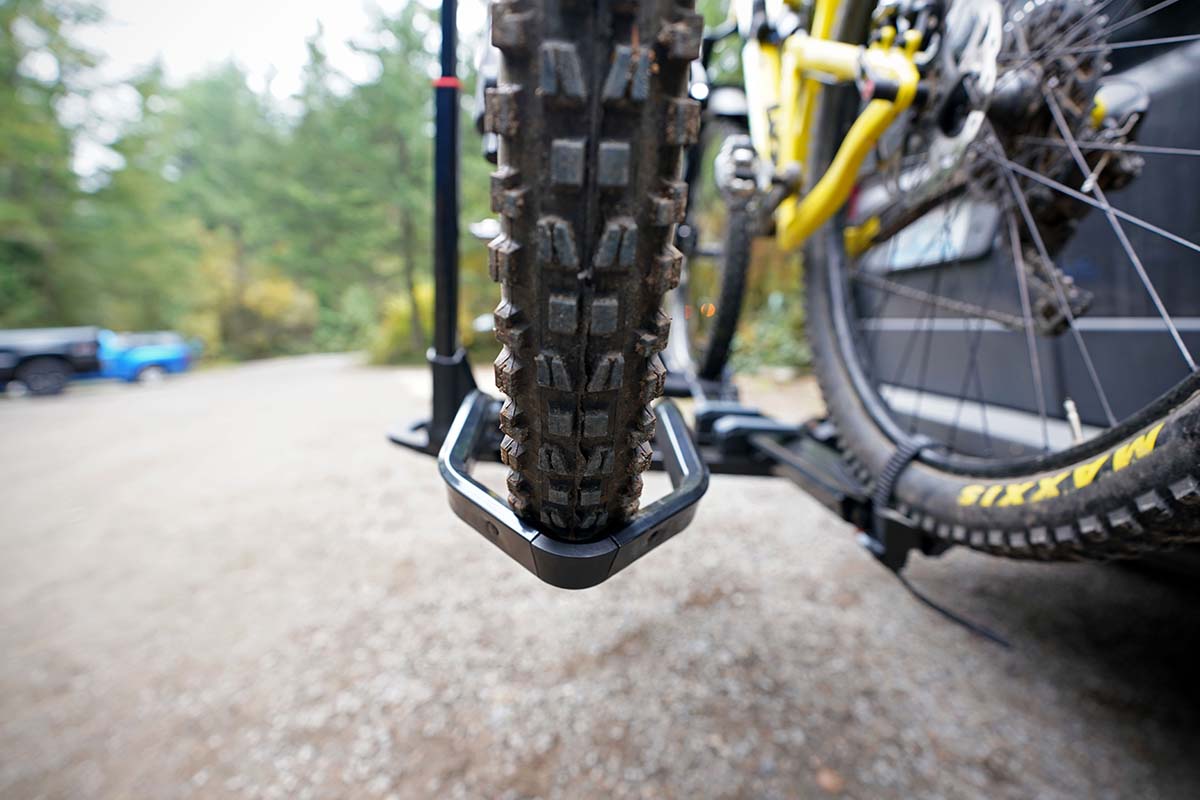 Bike Wheelbase Compatibility
Mountain bikes have been trending towards longer designs, which has impacted the length of their wheelbases. As such, on certain platform racks, there can be wheelbase compatibility issues. It won't impact most folks, but larger mountain bikers on big, modern downhill-oriented models will want to verify this piece of information. To check, you can look your bike up online and search for a geometry chart, as bike manufacturers almost always call out the wheelbase. Another easy way is to physically check the wheelbase of your bike by measuring the distance from the center of the front and rear axles. Once you have this number you can compare it against the max wheelbase spec for the rack you're interested in purchasing. There can be big differences—for example, the Kuat Sherpa 2.0's max wheelbase is a fairly short 47 inches, while the 1Up's Heavy Duty Double's max capacity is 54 inches.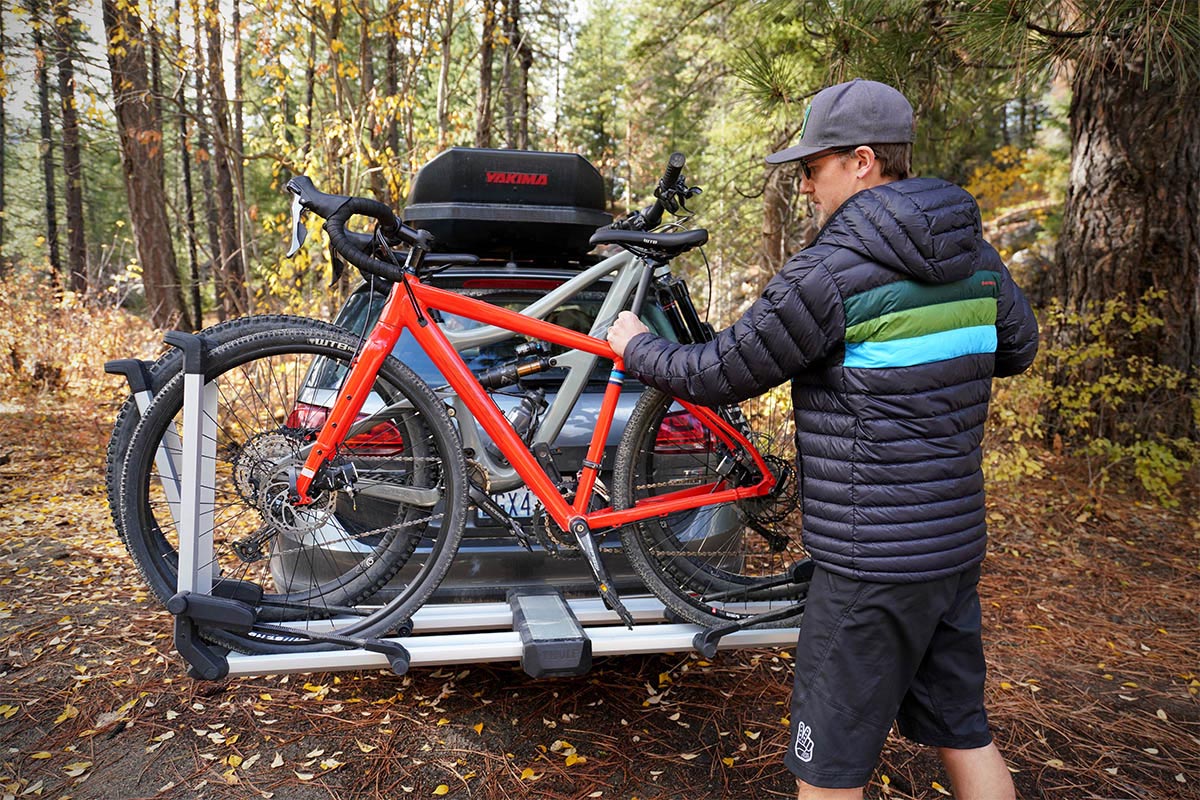 Bike Frame Compatibility
The final potential bike compatibility pitfall is related to the shape and style of your bike's frame. To start, platform racks like the Kuat NV 2.0, Thule T2, Yakima StageTwo, and 1Up are not impacted by this because they only come in contact with the bike's tires or wheels. If, however, you're considering a hanging rack, take a close look at the shape of the top tube of your bike's frame. If you have a traditional road bike or hardtail mountain bike, you're probably safe—the triangular frame with a fairly level top tube will fit great on a hanging rack. But step-through frames (common on cruiser bikes), full-suspension mountain bikes, and kids' bikes can be problematic.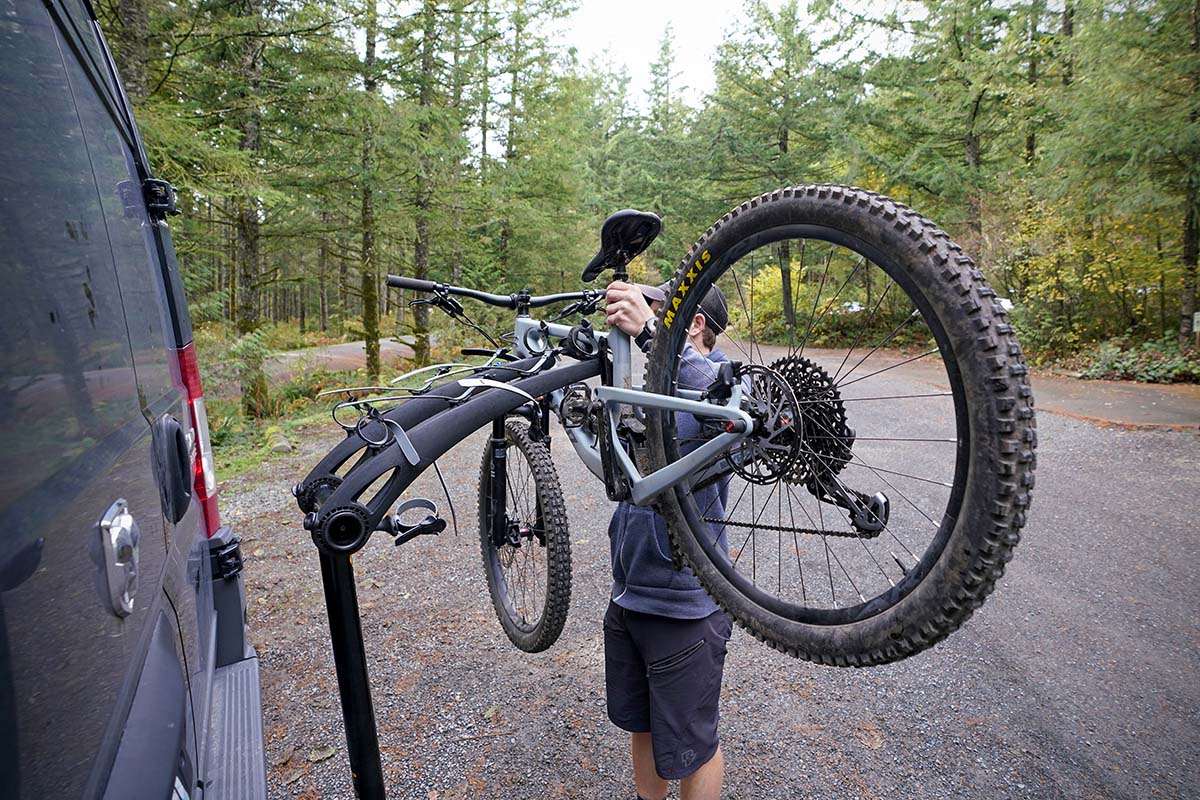 Top Tube Adapters
If your bike will not fit on your hanging rack due to a heavily angled or swooping top tube, purchasing a separate top tube adapter is your best bet. The design is fairly simple: clamps on either end attach to your seat post and bike stem, and the rounded piece in the middle lays on top of the rack's cradles. At $49 and $50 for the Yakima and Thule adapters, these are not cheap accessories and should be taken into account as you're choosing a rack style. Further, while they're fairly easy to use, putting them on and taking them off every time you go biking will inevitably become annoying.
 
Choosing a Hitch Rack for Carbon Fiber Bikes
Carbon fiber bikes are dream machines for many riders and come with premium price tags, so it's no surprise that a common question is how to transport them safely. To keep the material protected, the most important thing to do is select a style that doesn't allow for any frame contact. This means you'll want to avoid the standard hanging rack category, as models like the Yakima Ridgeback secure the bike with straps directly over the top tube. Among platform-style racks, it's best to choose one of two basic designs: a ratcheting arm that locks in over the front wheel and a strap through the rear wheel (featured on the Thule T2 Pro XTR, Kuat Transfer v2, Kuat NV 2.0, and others) or a dual-arm design like 1Up's Heavy Duty that tightens over the front and rear tires. The common denominator among these compatible racks is a high price tag, but it's well worth it to avoid any unnecessary damage to your carbon rig.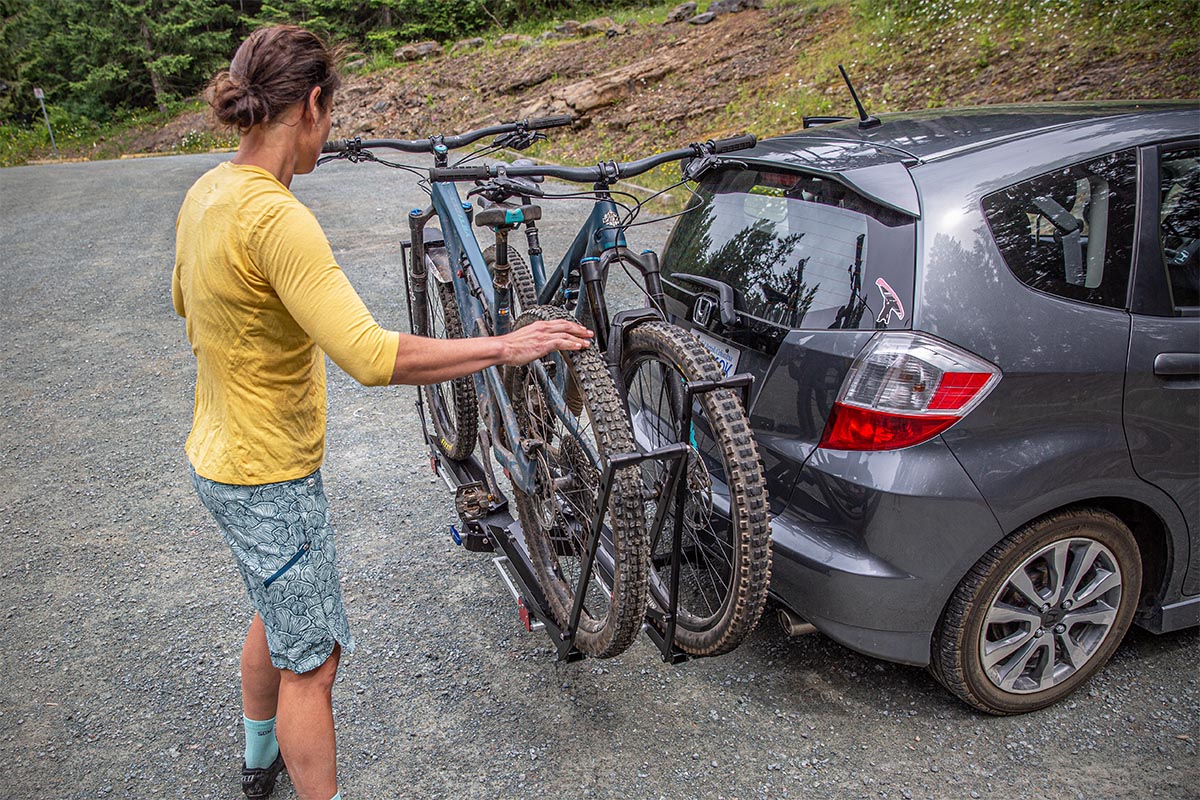 Vehicle Clearance
One of the more technical considerations of the hitch rack puzzle is the clearance between the rack, your bikes, and the vehicle. Failing to verify this can lead to myriad issues—examples include your van's rear doors can't open more than a couple inches because the rack sits too close, your bike's handlebars come into contact with the back of an SUV when bikes are loaded, or a pickup's tailgate cannot be lowered. Needless to say, it's worth the time to verify you have proper clearance.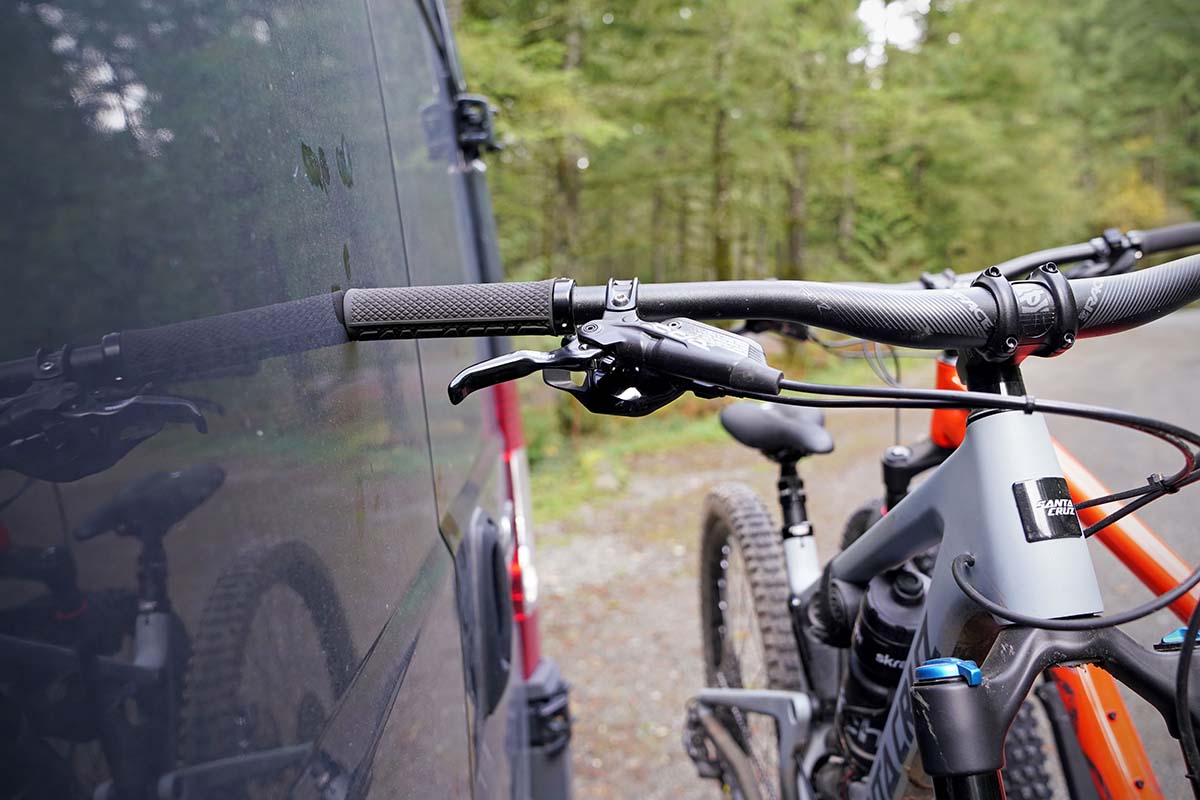 The easiest way to check clearance is to do an actual test fit, but that's often not an option. Another method is to contact the manufacturer directly, and we've had good luck in getting reliable recommendations as to whether or not the rack we're looking at will fit our vehicle. If neither of those options work, you'll need to do some digging. Manufacturers oftentimes have a technical drawing available of the rack in question, and you can use the measurements for assessing whether or not you'll run into any fitment issues. One listing to hone in on is the distance from center of the hitch pin to the first tray, as this shows how close the rack will be to the rear of the vehicle. As an example, here's a link to a technical drawing for Kuat's NV 2.0 hitch rack.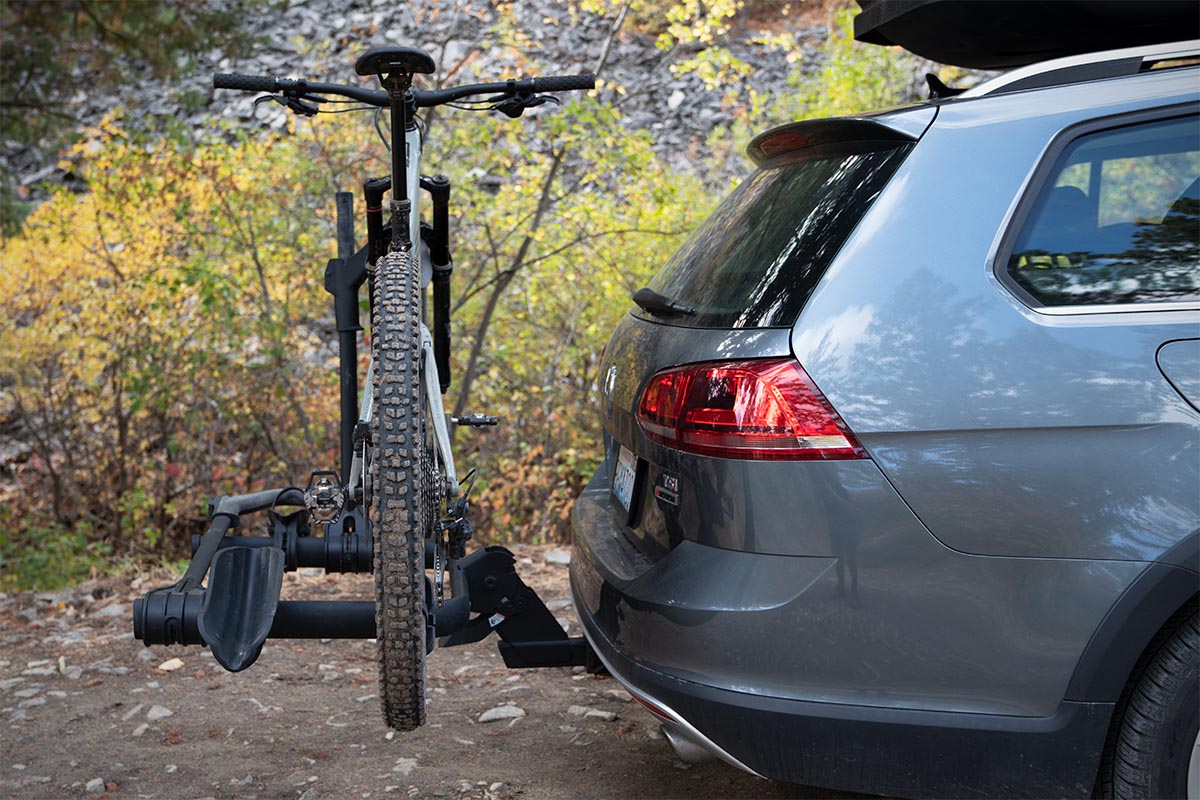 Material and Build Quality
The saying "you get what you pay for" rings very true in the hitch-mounted bike rack world. In short, if you plan to use your rack a lot or keep it on your vehicle even in the rainy seasons, it's well worth paying for a premium design. 1Up's Heavy Duty Double and Recon Rack 6 are among the most expensive racks in our round-up, and both feature high-quality, all-metal constructions that have excellent lifespans. On the other hand, racks like the $97 Swagman XC2 that use a lot of plastic or cheap, thin metal, will be prone to rusting out or breaking down over time. That said, just because a rack is made up of a lot of plastic doesn't necessarily mean that it's not durable. One design that does a great job of balancing metal construction and strategic use of tough plastic is our top-rated Thule T2 Pro XTR. Not surprisingly, the Thule comes with a steep $800 price tag.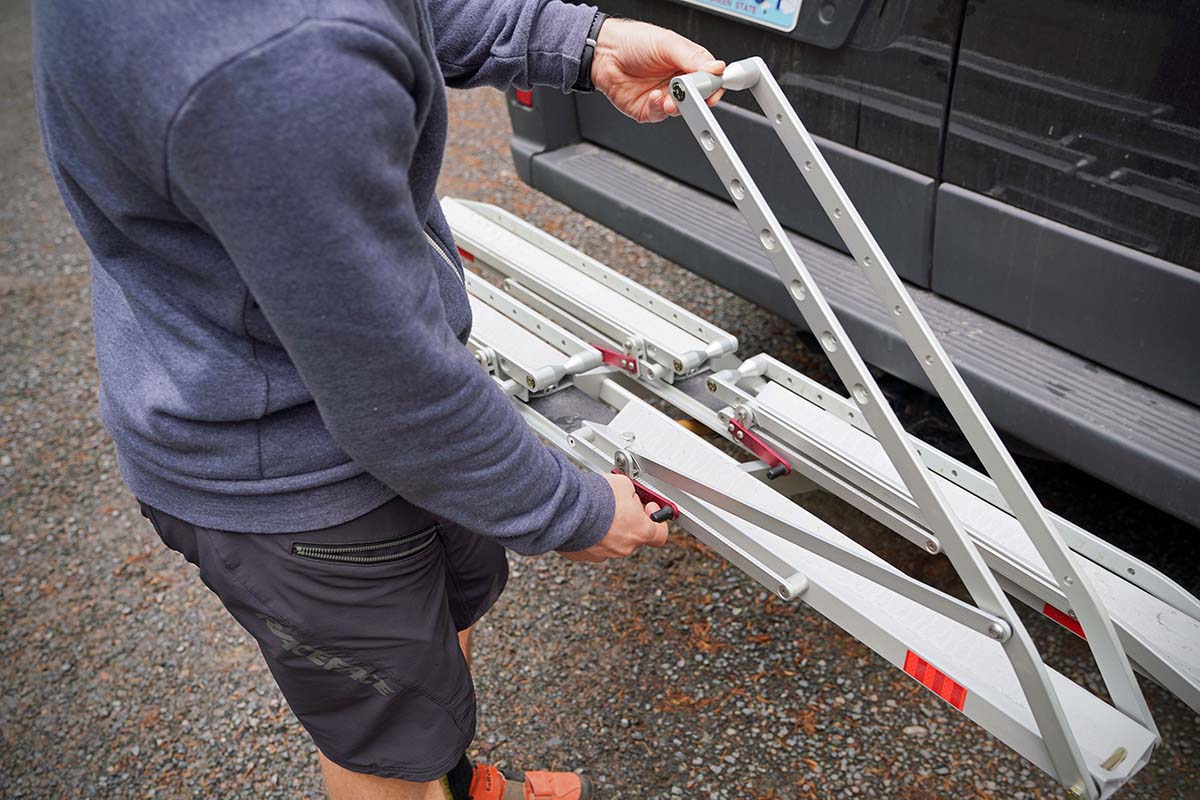 Weight
Hitch-mounted bike rack weights vary widely, from the 14-pound Kuat Beta to the burly 66-pound Yakima StageTwo. Our favorite platform-style models are in the 45 to 52-pound range, which can make installing and removing them a challenge. But we're willing to deal with the added weight because of the benefits of a sturdier construction that carries bikes more securely and lasts longer. In testing, we've found that weight-saving models like the Kuat Sherpa 2.0 have their fair share of compromises in carrying ability and longevity. That said, if you won't be using your rack all that often or will need to remove it by yourself with some regularity, a lightweight design like the Beta is a perfectly reasonable choice.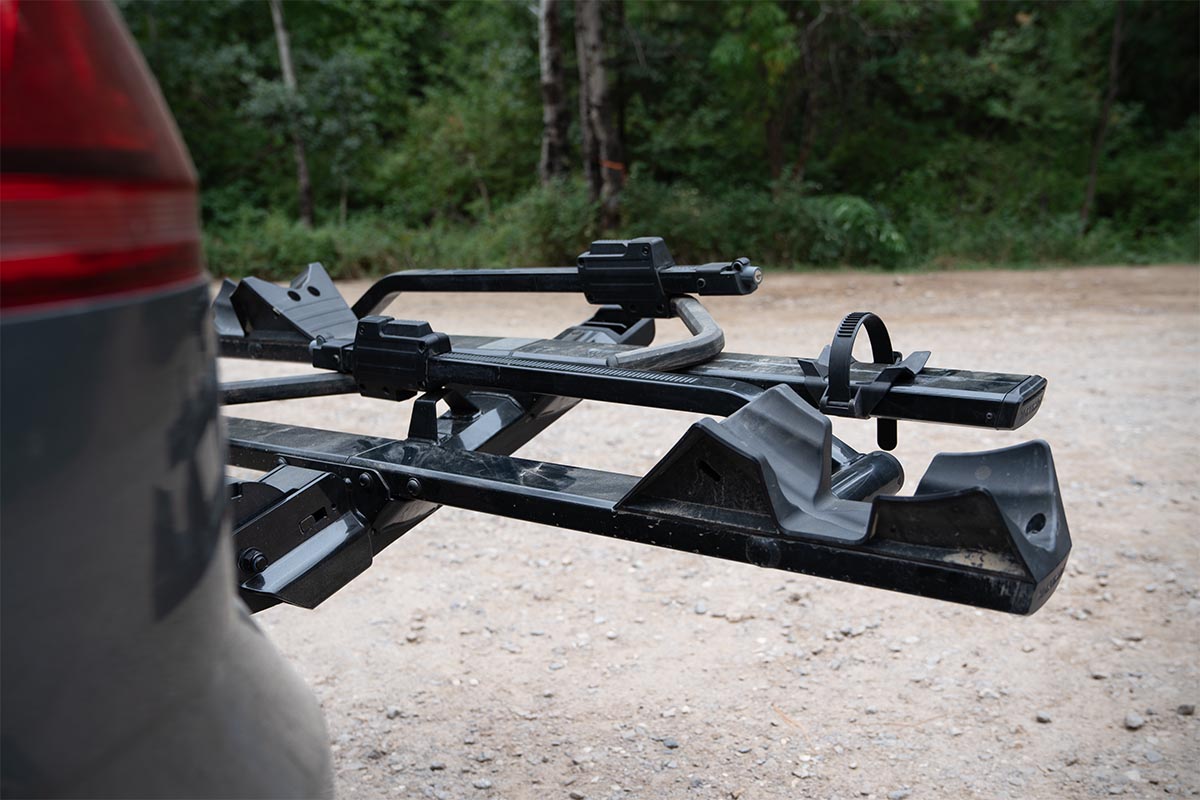 Receiver Hitch Size
There are two main receiver hitch sizes—1.25-inch and 2-inch—and it goes without saying that you should verify which one you have on your vehicle prior to purchasing a rack. As expected, 2-inch receivers can handle more weight, which is a consideration if you're planning on hauling a heavy platform rack with some 50+ pound e-bikes aboard. In addition, the two-bike add-ons that are offered on some platform racks are only compatible with a 2-inch receiver. But if you'll only be carrying standard mountain or road bikes, a 1.25-inch receiver will work great. And a final note: many hanging racks come with an adapter, so they can work with either hitch size.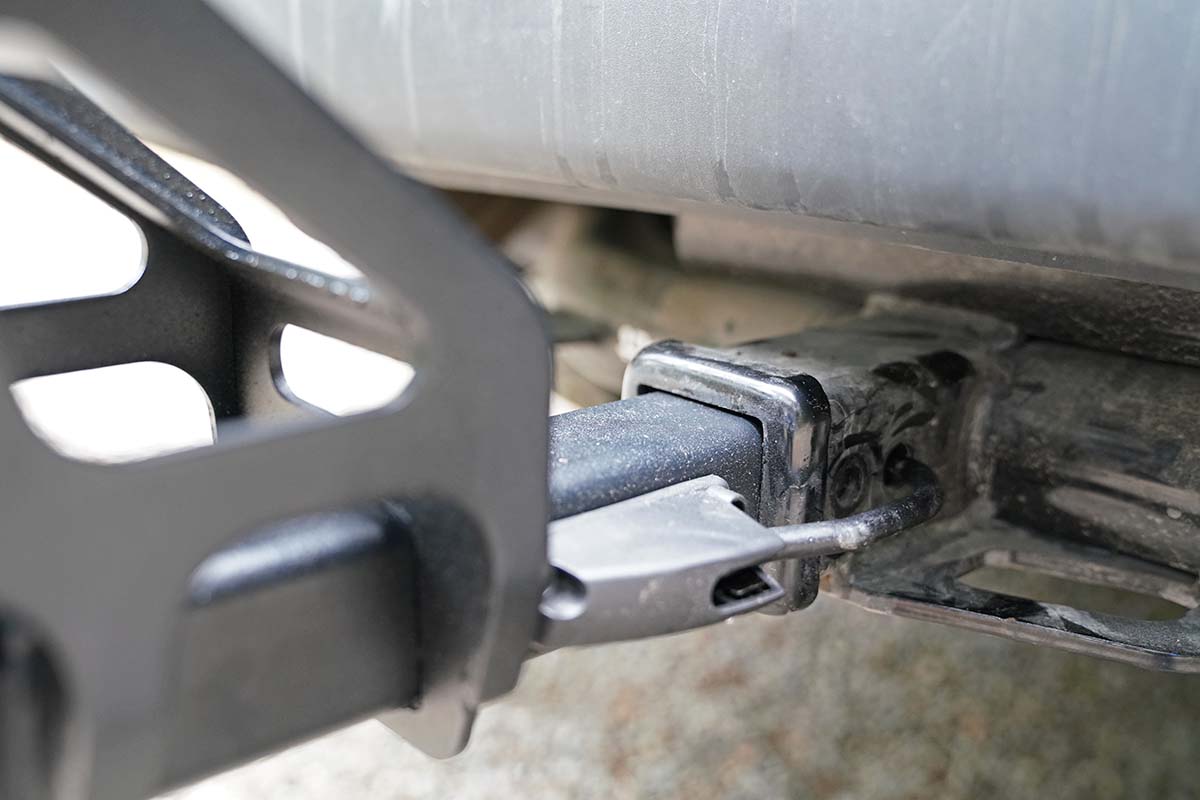 Additional Hitch Bike Rack Features
Bike Locks
Bike racks in general have very similar feature sets, and one common upgrade that you see on mid-range and premium designs are locks. Starting with bike locks, these flexible cables allow you to secure the bike's frame or wheel to the rack. While not a perfect deterrent—a solid set of bolt cutters will make quick work of them—they do provide a degree of security while parking your car (we like to back them up with a sturdier U-lock as well). Our favorite bike locks are those that are integrated into the rack, which makes it very convenient to quickly deploy them when needed. Racks that include a separate cable lock that you need to store in your vehicle are less appealing, and in those cases, we prefer to purchase our own metal U-lock.
Receiver Hitch
The second accessory lock is for the receiver hitch, which typically is found on the hitch pin or integrated into the bottom of the rack. The aim is to keep thieves from removing the entire rack from your car. Considering even a budget-friendly design is often $200 or more, this is a sensible addition. There aren't major differences between styles in terms of functionality, although we've found the integrated type is a little easier to use. It's worth noting that if the rack you're purchasing doesn't include a receiver lock, every manufacturer on our list above offers one as an accessory.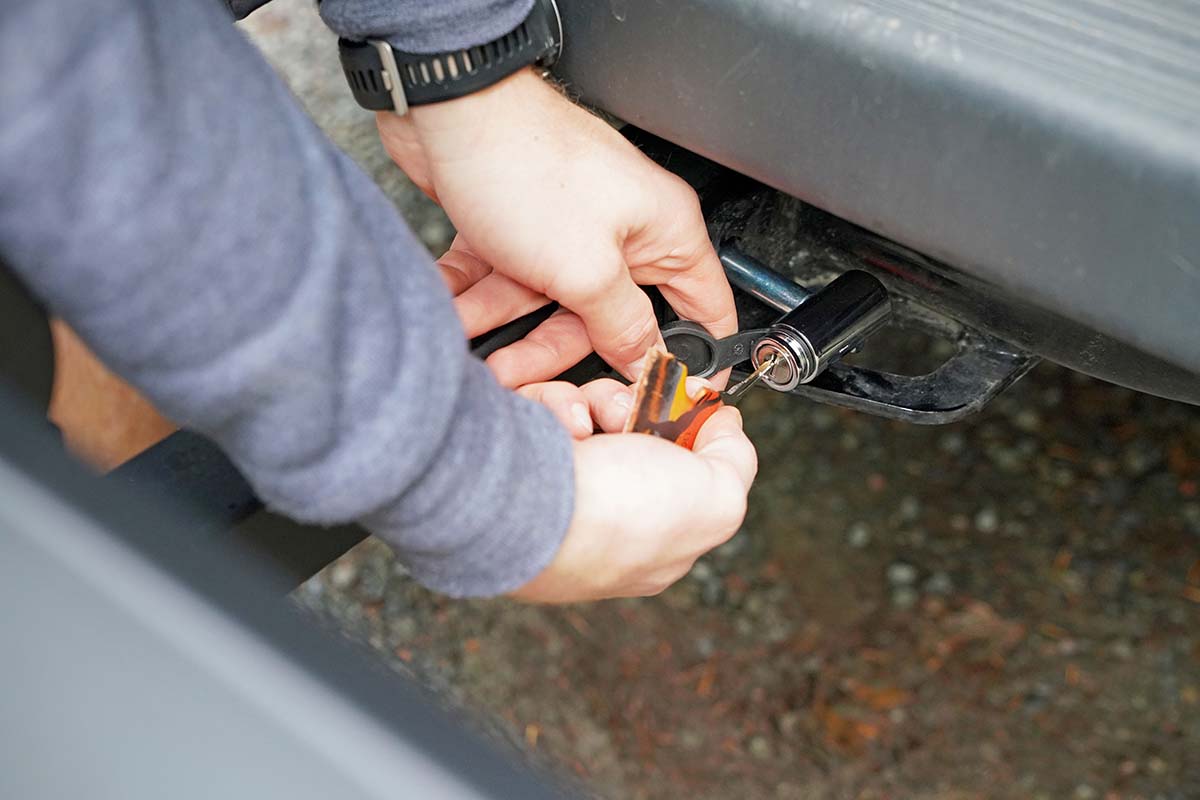 Ramps
E-bikes are a heavy breed, with many designs reaching or exceeding 50 pounds. To make life significantly easier for loading and unloading on a hitch rack, several brands offer a ramp that connects to the side of the bike tray. On some models, like the Thule EasyFold XT—our current favorite urban e-bike hauler—the ramp is included, while others require that you purchase a separate add-on (Yakima's StageTwo ramp is $89 and Thule's Epos ramp is $99). In general, these ramps are simple to use and easy to store (they fold up or can be broken down into smaller pieces). If you have any concerns about being able to lift your heavy bike onto a rack, getting a design with a ramp is an excellent solution.
 
Hitch Mount vs. Other Bike Rack Styles
We've made it clear throughout this piece that a hitch-mounted rack is our favorite design, and platform models in particular. Comparing common bike-carrying alternatives, there isn't a style that offers as much convenience, capacity, or compatibility with such a wide range of vehicles (provided you have a receiver hitch). Rooftop racks have a lower maximum capacity (usually two bikes), are more of a pain to load and unload, and can impact gas mileage or create a whistling sound on the highway. Trunk-mounted racks are cheaper but prone to causing paint damage on your vehicle if you don't take extra precautions. If you have a truck, the simple pickup pad is a nice, affordable option, but you do lose the security of a locking hitch and it can take some work to limit bike-to-bike contact. In the end, all have their merits, but no other bike rack type can match the versatility of a hitch mount.
Back to Our Top Hitch Bike Rack Picks Back to Our Hitch Bike Rack Comparison Table
Read More From Switchback Travel