Kuat NV 2.0
Price: $749
Number of bikes: 2 (4 with add-on)
Weight: 52 lbs.
What we like: Sleek looks, premium build quality, feature-rich, and easy to use.
What we don't: Expensive and not everyone will need all the extras. 
See the Kuat NV 2.0
Sitting atop Kuat's hitch rack collection is their top-end NV 2.0. With a premium build and price tag to match, this rack is feature-rich, designed to work with a wide variety of bike styles and sizes, and has proven to be durable and reliable even through extensive use in the wet and muddy Pacific Northwest. We tested the two-bike model, along with the two-bike add-on, and found that the quality, styling, and performance are hard to beat—if you can stomach the eye-watering cost. Below are our experiences with the Kuat NV 2.0. To see how it stacks up to the competition, see our article on the best hitch bike racks.
 
---
Table of Contents
---

Performance
I've owned a wide range of hitch racks over the years, but the Kuat NV 2.0 is one of the most stable, reliable, and well-built platform designs I've seen. The rack is fully featured with all the bells and whistles you'd expect from a premium option, including an intuitive and functional tilt lever, snug connection between receiver and rack, and the ability to carry a wide variety of bike styles and sizes. Additionally, build quality is top-notch: I've had no security issues to date, whether driving fast on highways or down bumpy backcountry roads, and Kuat used durable and hardwearing materials throughout. All in all, this rack is well-made, thoughtfully designed, and looks good to boot.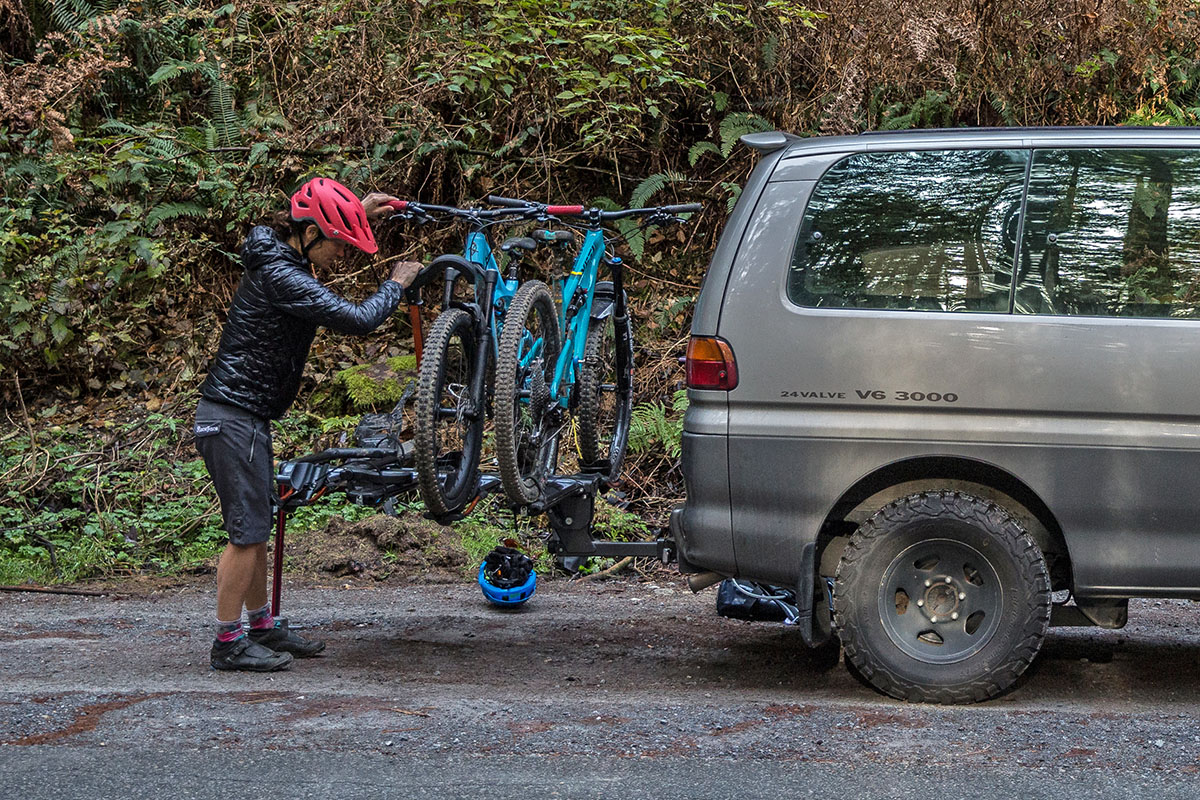 Set up and Ease of Use
The Kuat NV 2.0 is a cinch to assemble and attach to your vehicle. Out of the box, you'll need to install the front and rear tire trays by aligning and tightening the included bolts, attach the pivot lever, and secure the Trail Doc repair stand. To mount the rack to your vehicle, ensure the rack is in its stowed position, lift it to line up with your hitch, slide the hitch pin through the hitch and rack, and secure it on the opposite side with the included lock. To minimize sway and movement, twist the turn knob at the back of the rack to tighten the connection. The process only takes around 20 minutes from start to finish, and all of the necessary hardware and instructions are included. Plus, there are a number of helpful videos online detailing installation should you run into any snags. My only complaint is that the two-bike add-on is a bit of a pain to attach and requires precisely lining up and tightening two very long bolts, which can be time-consuming and tedious (it does get easier with practice, however).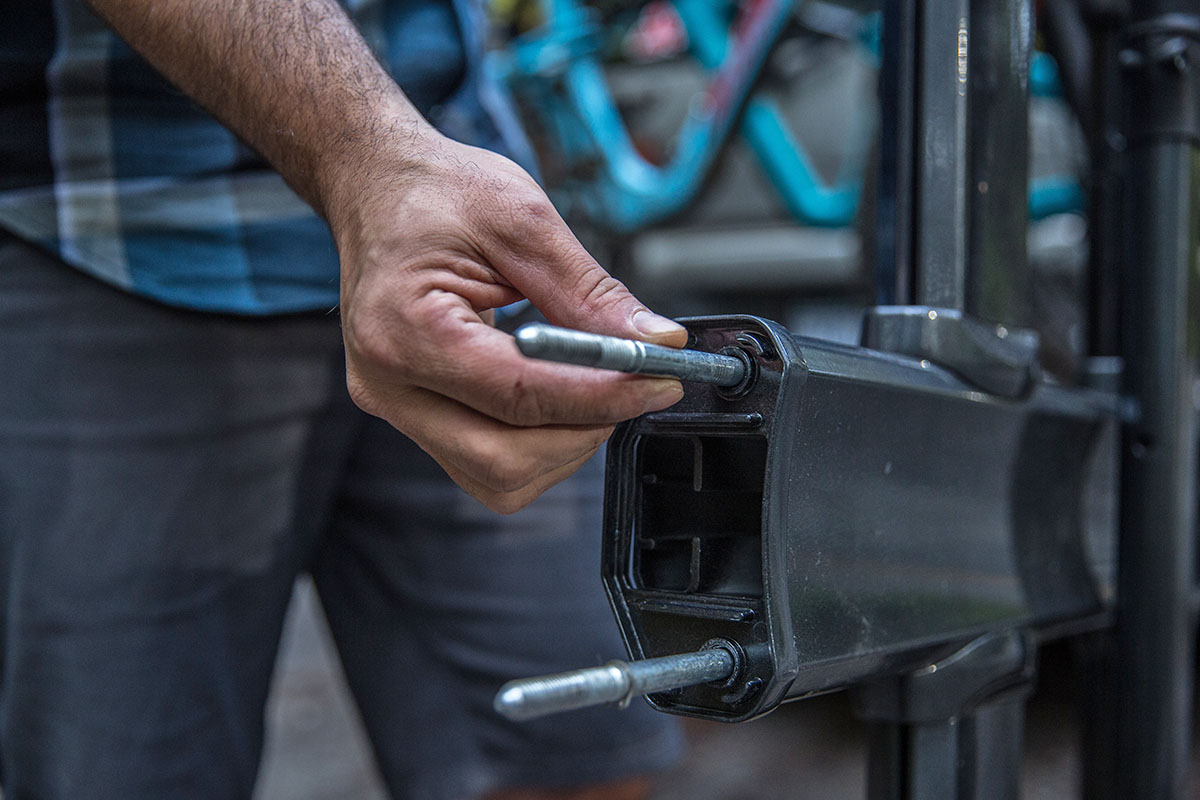 When it comes time to load bikes, the process is again pretty straightforward: lift your bike onto the rack with your front wheel in the cradle, swing the ratcheting arm over the front wheel, and snug it down over the tire (it clicks to lock in place). To secure the back tire, position the rear wheel strap directly below the rear axle, feed it through the buckle, and tighten. Overall, the system is incredibly user-friendly, and removal is as simple as reversing the steps. I have found that one of the ratcheting arms has started to stick over time and requires a good deal of pressure to release, but it's still entirely functional (it just takes a little extra effort).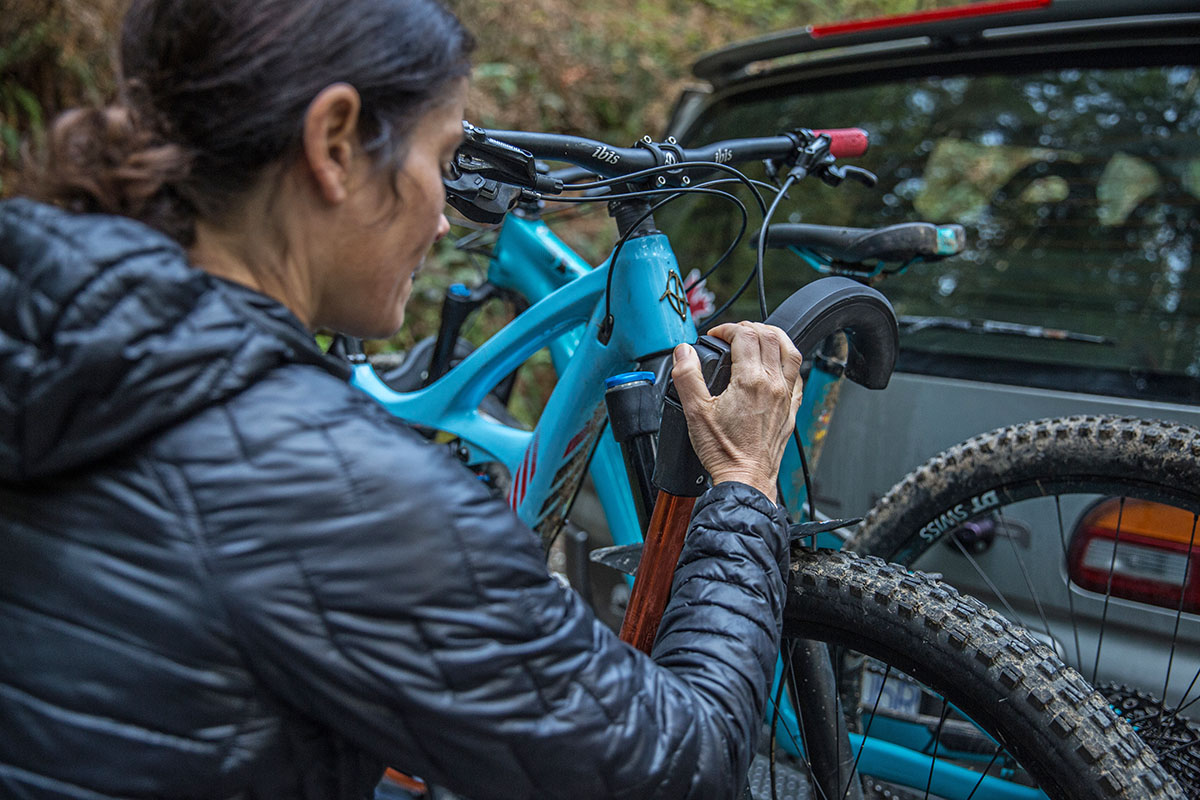 Bike Capacity and Wheel Sizes
As we touched on above, the Kuat NV 2.0 can capably shuttle a wide variety of bike designs. Like most platform-style hitch racks, the NV 2.0 can carry two bikes before add-ons, and we also purchased the additional two-bike extension ($539) for a total capacity of four bikes (there is also a one-bike version available for $339). As far as wheel sizes go, the NV 2.0 can accommodate regular road and mountain bikes with 20- to 29-inch wheels, although those with 20- to 24-inch bikes will need to purchase a separate wheel adapter. And Kuat also sells a dedicated Phat Bike Kit, which includes a strap extender for the rear tire strap and a secondary Velcro strap for the front to fit tires as large as 5 inches.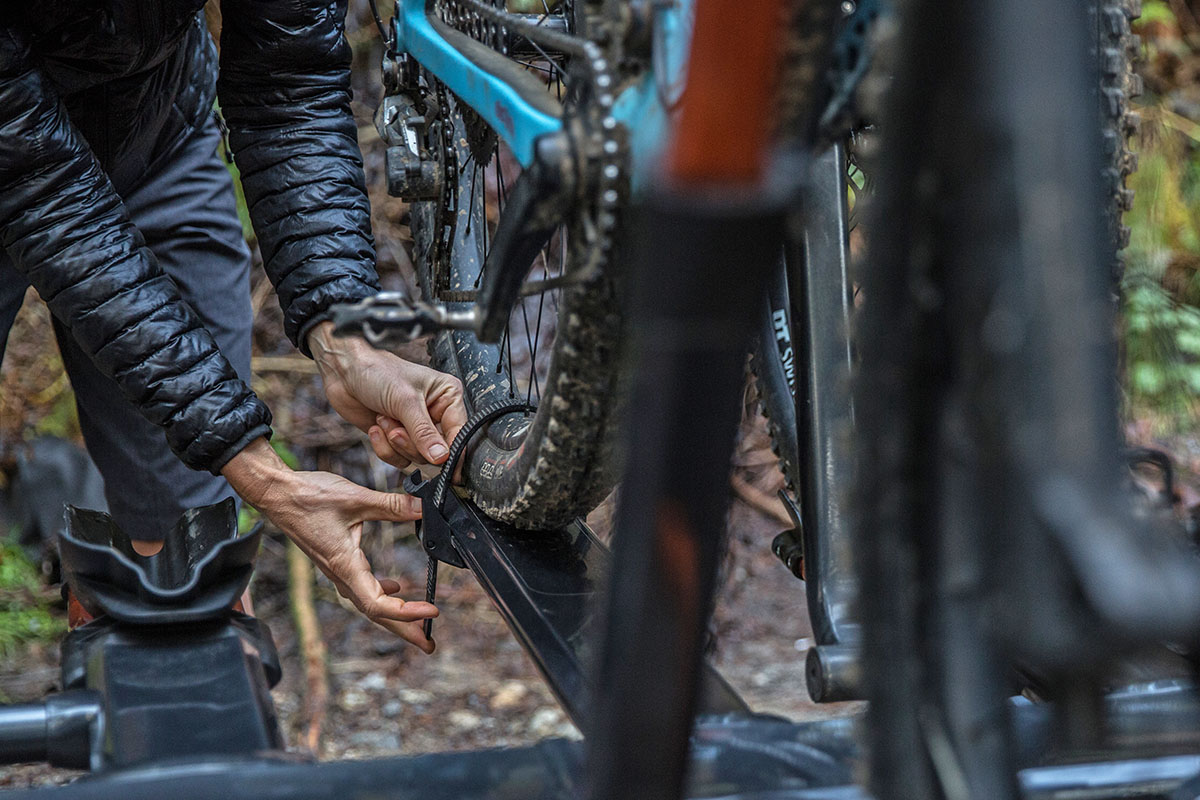 It's worth noting that Thule's similarly premium but $129-cheaper T2 Pro XT can handle 20- to 29-inch wheels and tires up to 5 inches without extra adapters, and we're a bit disappointed that Kuat's are sold separately. But they're pretty cheap at around $10 each, and we've carried everything from road rigs to gravel bikes, 27.5-inch mountain bikes, and even 29ers with wheelbases over 48 inches without issue. Considering the levels of security and durability you get, this feels like a fairly reasonable tradeoff.

Weight Capacity
Like much of its competition, the NV 2.0 is rated to handle two 60-pound bikes, and the two-bike add-on can support an additional 40 pounds per bike. For comparison, Thule's T2 Pro XT also has a max weight of 60 pounds per bike, 1Up USA's Equip-D Double can handle 50 pounds per bike, and Kuat's own Sherpa is rated for 40 pounds per bike. Those who frequently use e-bikes might want to consider an option like Thule's EasyFold XT2, which has a max weight capacity of 65 pounds per bike and features deployable ramps to make loading and unloading much easier. But for most mountain and road bikes, the NV 2.0 is perfectly serviceable (and for reference, we never maxed out the capacity).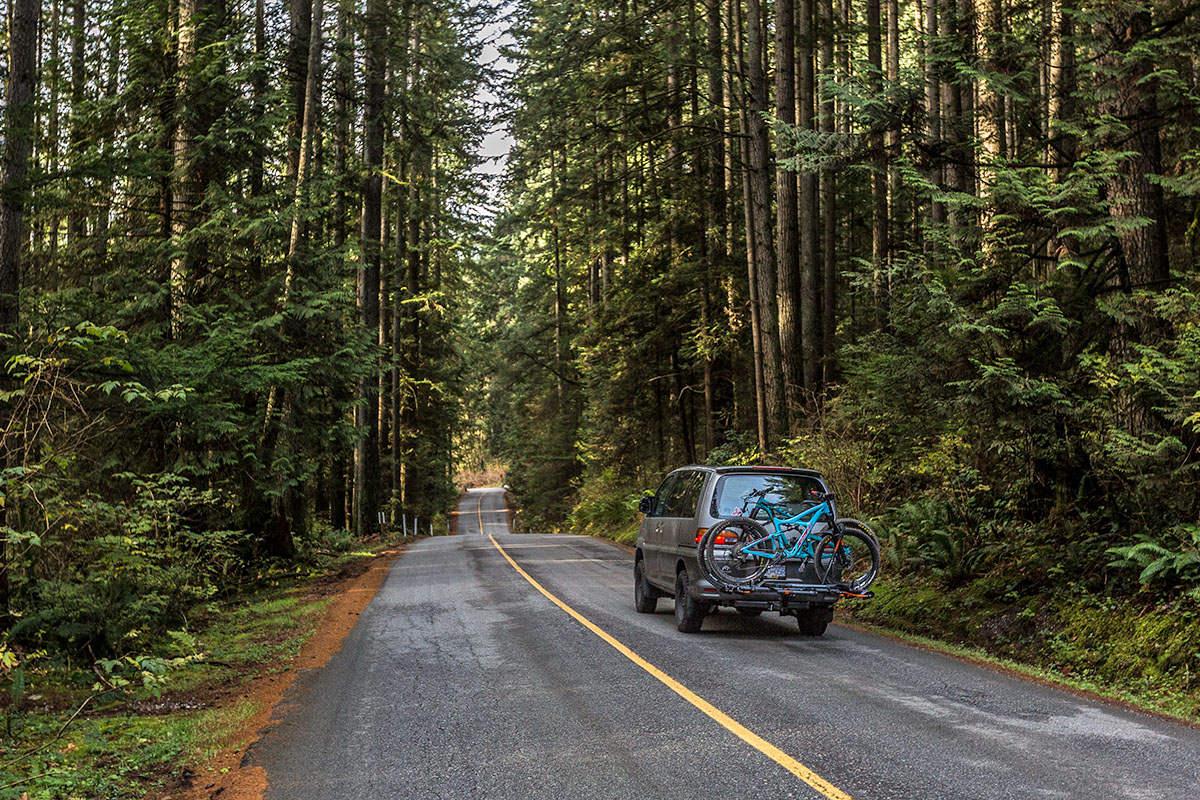 Weight
Checking in at 52 pounds, the Kuat NV 2.0 is right in line with most of its competition. For comparison, Thule's T2 Pro XT is identical at 52 pounds, while 1Up's Equip-D Double weighs slightly less at 48.5 pounds (for the 2-in. receiver version). You can go lighter with Kuat's trimmed-down, more affordable Sherpa 2.0 (32 lbs.), although we had some durability issues with that rack and ended up having to use Kuat's warranty to replace it (more in "The Competition" below). All in all, the NV 2.0 isn't a featherweight, but it's noticeably sturdy, feature-rich, and capable of hauling heavier bikes. If you need to take the rack off consistently or only plan to carry lighter models, the aforementioned Sherpa or Yakima's Dr.Tray (41 lbs.) are viable alternatives that will save you some cash. But we think the NV 2.0's weight is reasonable for what you get.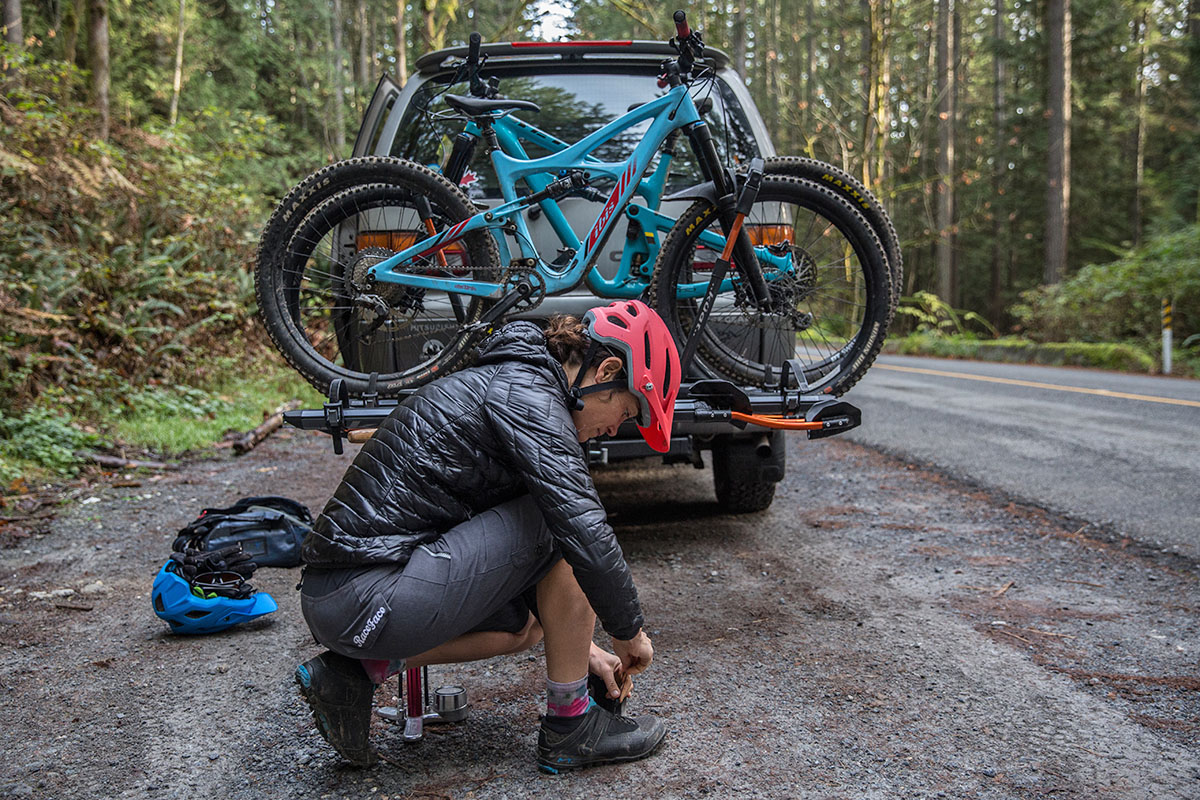 Build Quality and Durability
We had numerous issues with a first-generation Sherpa rack from Kuat, but we're happy to report that the NV 2.0 is a major step up in durability and all-around quality (and for reference, we had a very positive experience with Kuat's lifetime "No Worries Warranty"). The NV 2.0 uses premium materials throughout, including a mostly metal construction and a sleek, glossy metallic coating that gives the rack a classy finish. Throughout testing, we've experienced no problems to date other than the front ratcheting arm sticking a bit during release, which is quite impressive given the consistently wet and rainy conditions around our home in North Vancouver. All in all, the rack is noticeably sturdy and hardwearing, and I expect it to last for many more seasons without issue.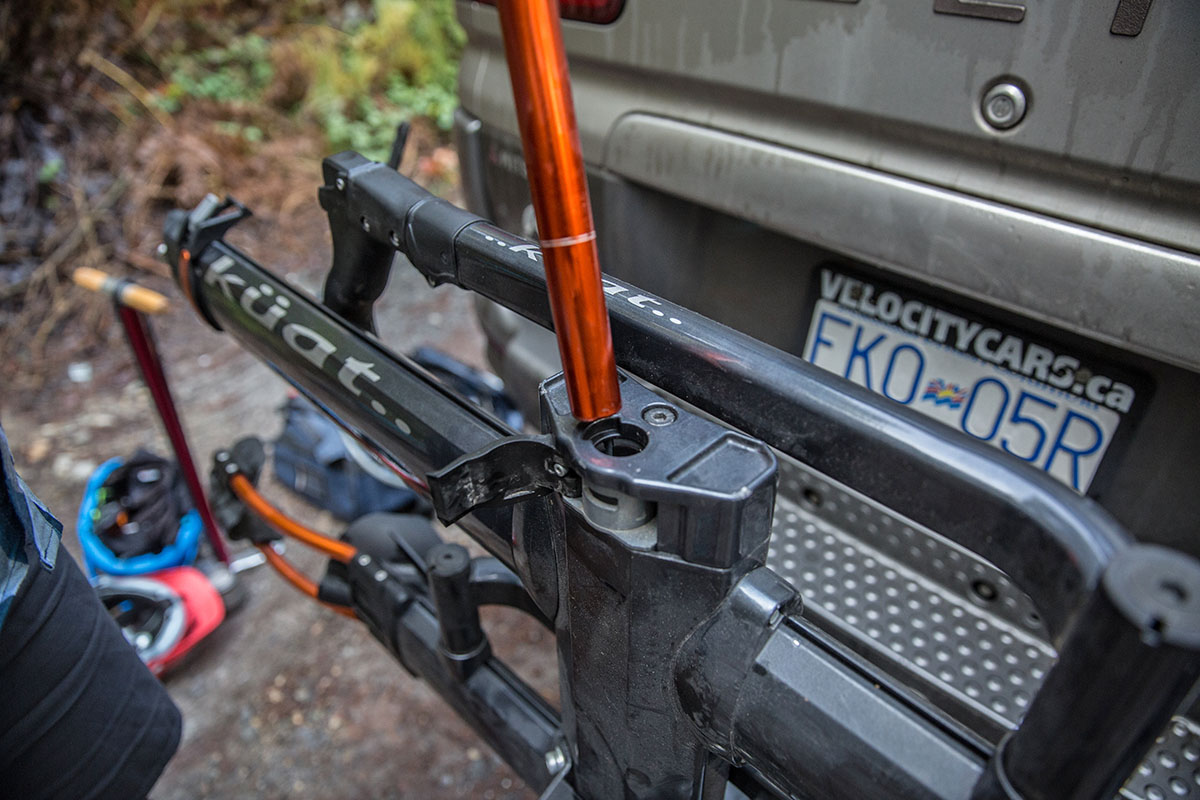 Key Features
Attachment System
The Kuat NV 2.0's bike attachment system is incredibly stable and simple to use. Bikes load easily onto the beam with an adjustable tire cradle at the front and a ratcheting strap at the back. The former can be lowered and raised to help minimize contact between bikes, and the latter can be moved back and forth on the tray to accommodating different wheelbases. To secure the bike, it's as simple as lowering the front ratcheting arm down and pushing it snugly against the tire. Then, feed the rear tire strap through the buckle and snug it down. Throughout our testing thus far, I've had no issues with swaying or unwanted movement, and I've experienced no clearance problems between the bar ends and my rear windows, even with extra-large enduro bikes with bar widths over 800 millimeters.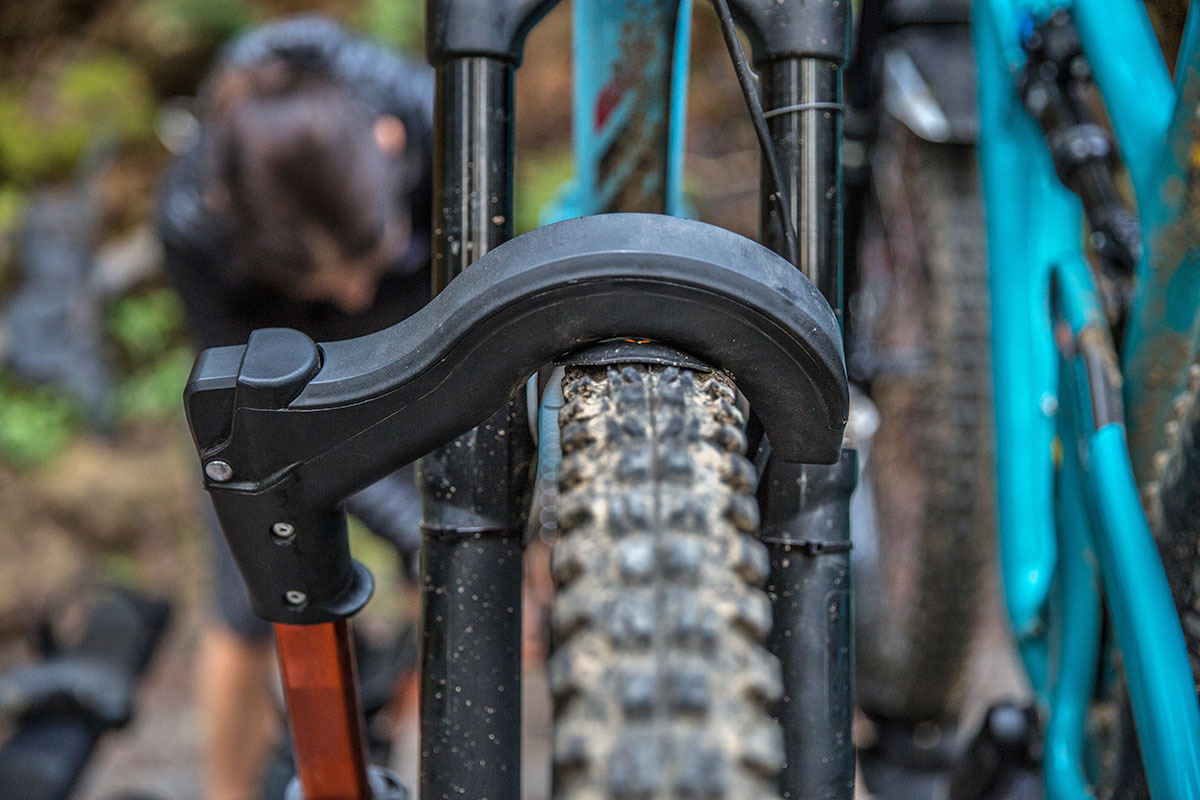 Tilt Lever
The NV 2.0's tilt lever was redesigned on the newest model and is quite user-friendly. The system is twofold: If your hands are full, simply tap the pivot with your foot to lower the rack. To raise or stow it, grab the lever above with your hand and pull up. I did find the lever a little hard to access and engage with the rack fully loaded (Thule's T2 Pro XT beats it here), but it's still entirely functional and less involved than much of the competition (and it's easily accessible with no bikes on board). In practice, I was able to lower the rack to gain access to the rear hatches on both my Subaru Crosstrek and Mitsubishi Delica van, and I've had no rack-to-car clearance issues.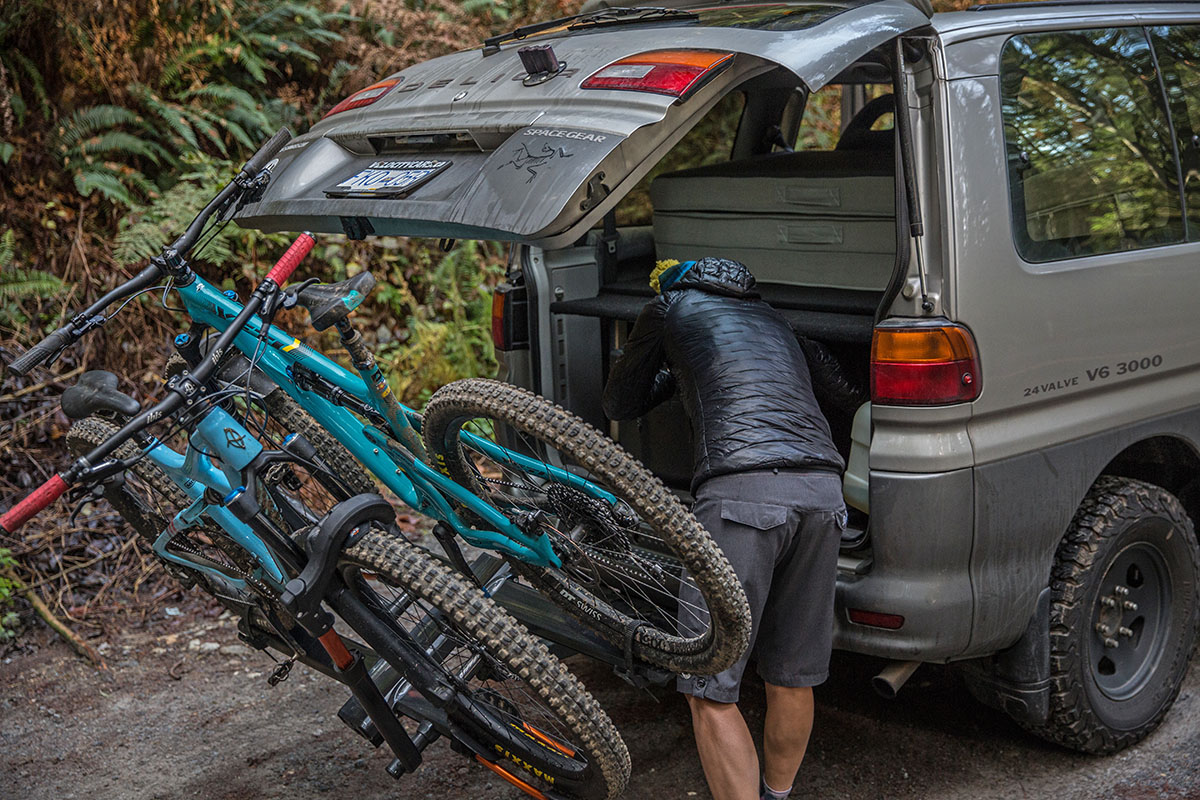 Locks
As we've come to expect from premium hitch racks, the NV 2.0 comes equipped with multiple locks, including a cable lock at the end of each tray and a locking hitch pin to secure the rack to your vehicle. The internal cable locks could be a bit longer to attach to multiple areas on the bike, but the length nevertheless is sufficient. I also found the locking mechanism to be a bit finicky at times, but the good news is that it doesn't require a key to lock—simply click it into place and then use the included key to unlock. And conveniently, the locking hitch pin shares the same key, which eliminates the hassle of having to keep track of and fiddle with multiple keys.

Trail Doc Bike Stand
The NV 2.0 also sports Kuat's Trail Doc work stand, which doesn't quite replace a proper bike repair stand but is entirely functional in a pinch. Overall, I found it to be quick and reliable for pre- and post-ride repairs, and it integrates pretty seamlessly with the rest of the design. My only notable complaint is that there's no way to secure it to the rack, meaning it can be easily stolen. To prevent this, I've reverted to stowing the Trail Doc in the trunk of my car when it's not in use. Finally, it's worth noting that Kuat also sells a support for the Trail Doc called the Tri-Doc ($89), which creates a more stable platform for at-home repairs and tune-ups.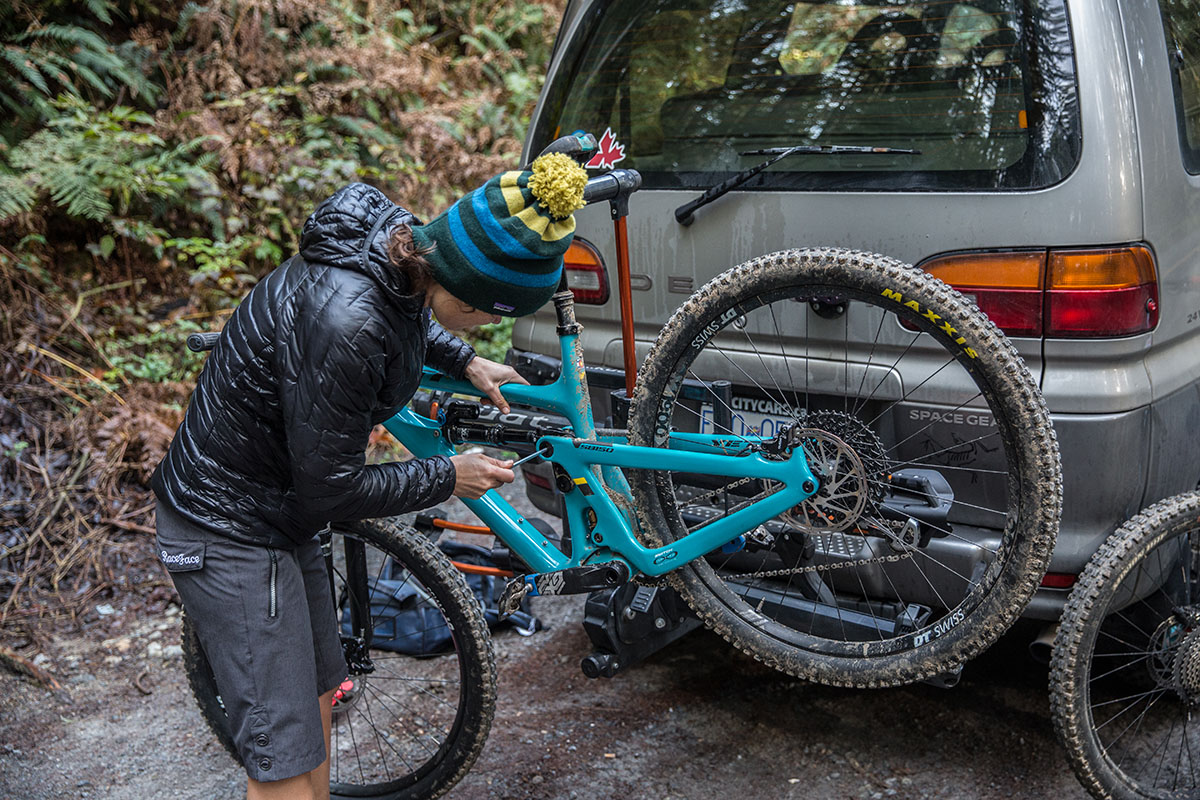 NV 2.0 Add-On
As we mentioned above, we bought the two-bike extension for the NV 2.0, which allowed us to shuttle four bikes at once. The add-on isn't cheap at $539, weighs a fairly hefty 36 pounds, and is bulky to store when not in use. Further, installation can be a bit of a hassle and requires lining up and screwing in two lengthy bolts into the body of the rack, which I found to be time-consuming and tedious. That said, the ability to increase capacity is really useful, and we've carried four long-travel mountain bikes at highway speeds and on backcountry roads without problems. The rack does bob a bit with the added weight, especially over bumps, but it has not bottomed out or led to any issues when loaded with around 120-130 pounds (the max weight capacity with four bikes is 200 lbs).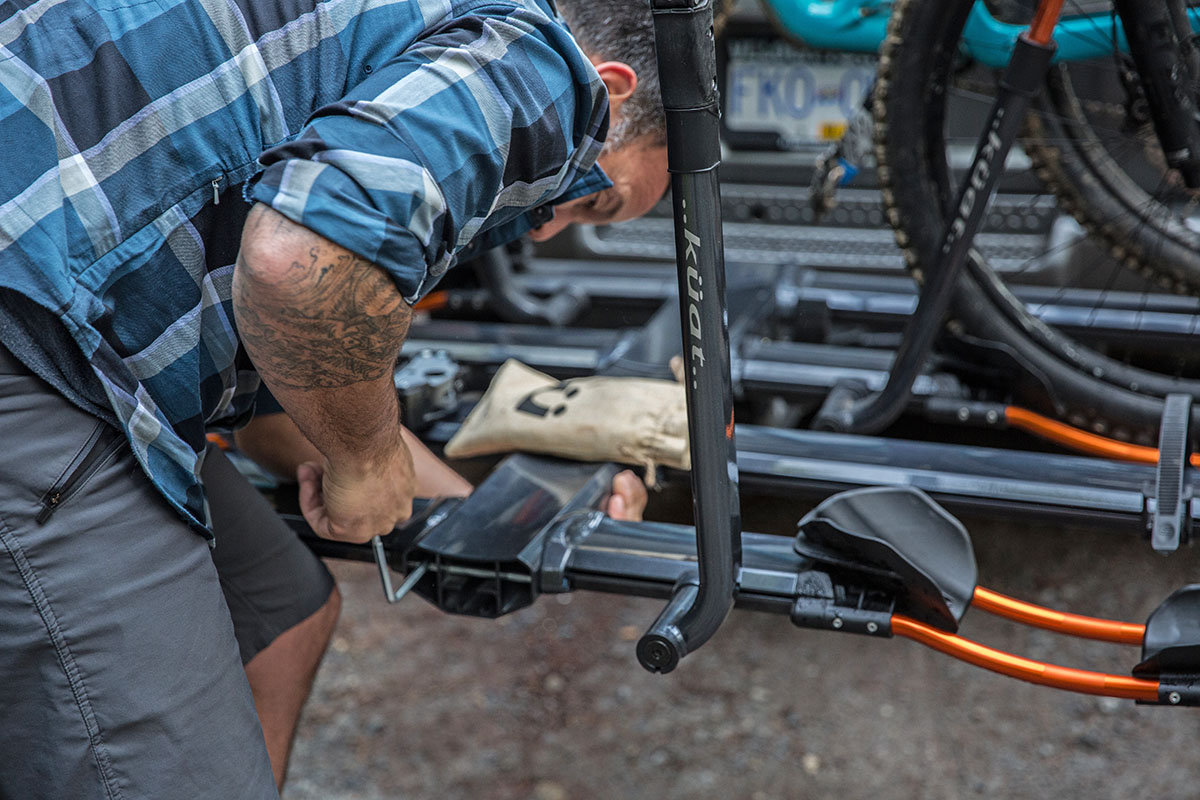 Another Version: Kuat's NV Base 2.0
We tested Kuat's top-end NV 2.0 for this review, and they also offer the slightly pared-down NV Base 2.0. The two racks share matching capacities, attachment mechanisms, and nearly identical feature sets. For $100 less, you do miss out on the high-end, glossy finish of the NV tested here (the Base has a matte powder coating), and you also forego the Trail Doc bike stand for on-the-go adjustments and repairs. If you don't mind those concessions, however, the NV Base 2.0 is a great way to save and offers very similar overall performance (for more information, read our in-depth NV Base 2.0 review here).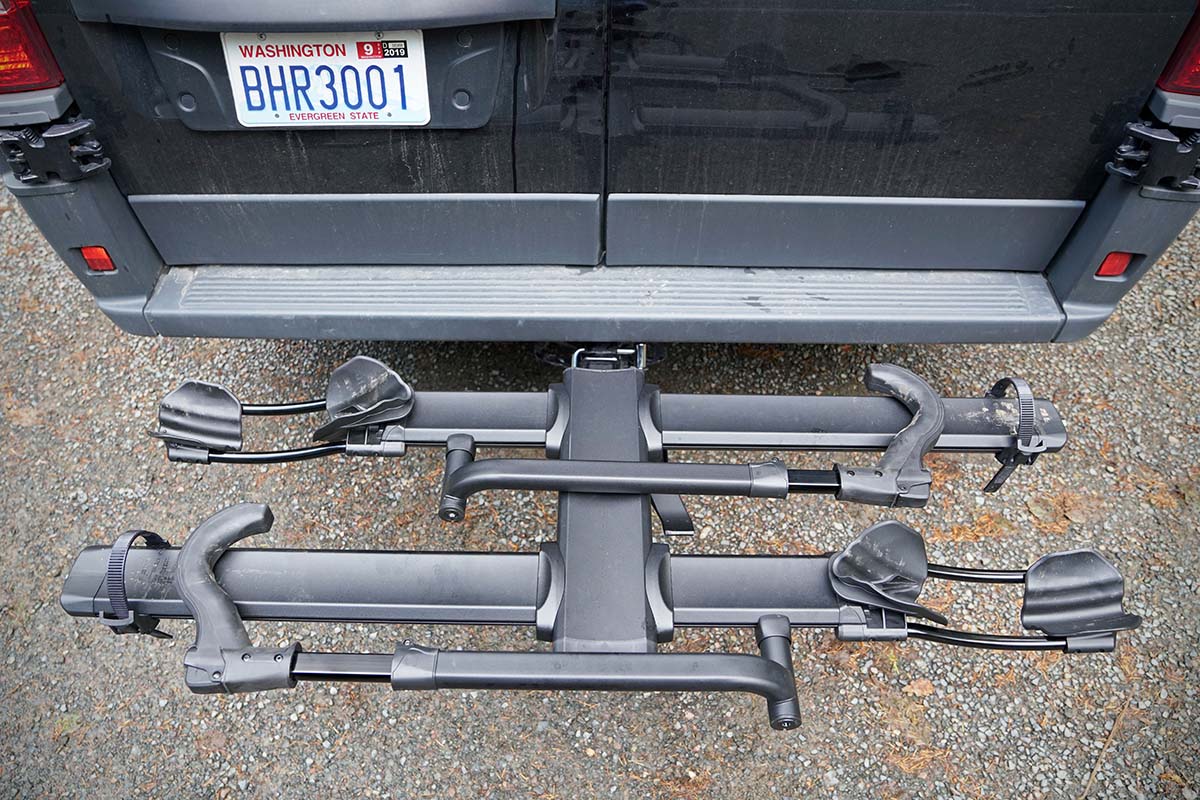 What We Like
Build quality is top-notch with a mostly metal construction, sleek finish, and all the features we look for in a premium rack.
Incredibly stable and reliable. We've put this rack through the wringer with no durability or clearance issues to report to date.
Very easy to load and unload bikes.
One of the best-looking racks on the market (we particularly like the "grey metallic" colorway).

What We Don't
Very pricey at $749 before any add-ons or extras (and not everyone needs all the features).
One of the ratcheting arms has started sticking and is now difficult to release, but this hasn't led to any problems with security.
The two-bike add-on can be fairly time-consuming to install, although all the hardware is included (and online installation videos help a lot).
Extras like the bike stand will be overkill for many. Plus, the Trail Doc doesn't lock to the rack, so we often stored it separately to prevent theft.


Comparison Table
*Editor's Note: "Capacity" refers to weight capacity per bike.

The Competition
Kuat's NV 2.0 is a standout in the platform hitch rack market for its hardwearing design, sleek looks, and full suite of premium features. One of the NV 2.0's closest competitors and our top-rated rack this year is Thule's top-end T2 Pro XT. The two share a lot in common: both racks check in at 52 pounds, are noticeably durable and well-built, and include all the features we look for in a high-quality rack, including easy-to-use tilt levers, sturdy ratcheting systems, and integrated locks. In parsing out the differences, the Kuat is sleeker and better-looking and includes the bike stand, but the Thule wins out in price ($620 before add-ons vs. $749 for the Kuat) and bike compatibility, and it's a little more user-friendly to install and operate. Given the savings you get with the Thule, we think it's the better value, but both racks are excellent all-around performers.
1Up USA is another formidable competitor, and their NV 2.0 equivalent is the Equip-D Double. Like the rest of 1Up's collection, the Equip-D has a premium all-metal construction that's noticeably hardwearing and long-lasting. Additionally, both of the Equip-D's arms secure over the tires and pose less risk of frame contact, and the 1Up is also versatile for hauling a wider variety of bike wheel sizes (16-29 in.) and tire widths (up to 4.5 in. without the fat bike add-on). In the end, a decision between the two will come down to preferences on features and looks: the Kuat includes the Trail Doc bike stand and integrated cable locks (the Equip-D has a single hitch bar lock), plus it's easily the best-looking rack out there, while the 1Up is a little faster to load and more utilitarian.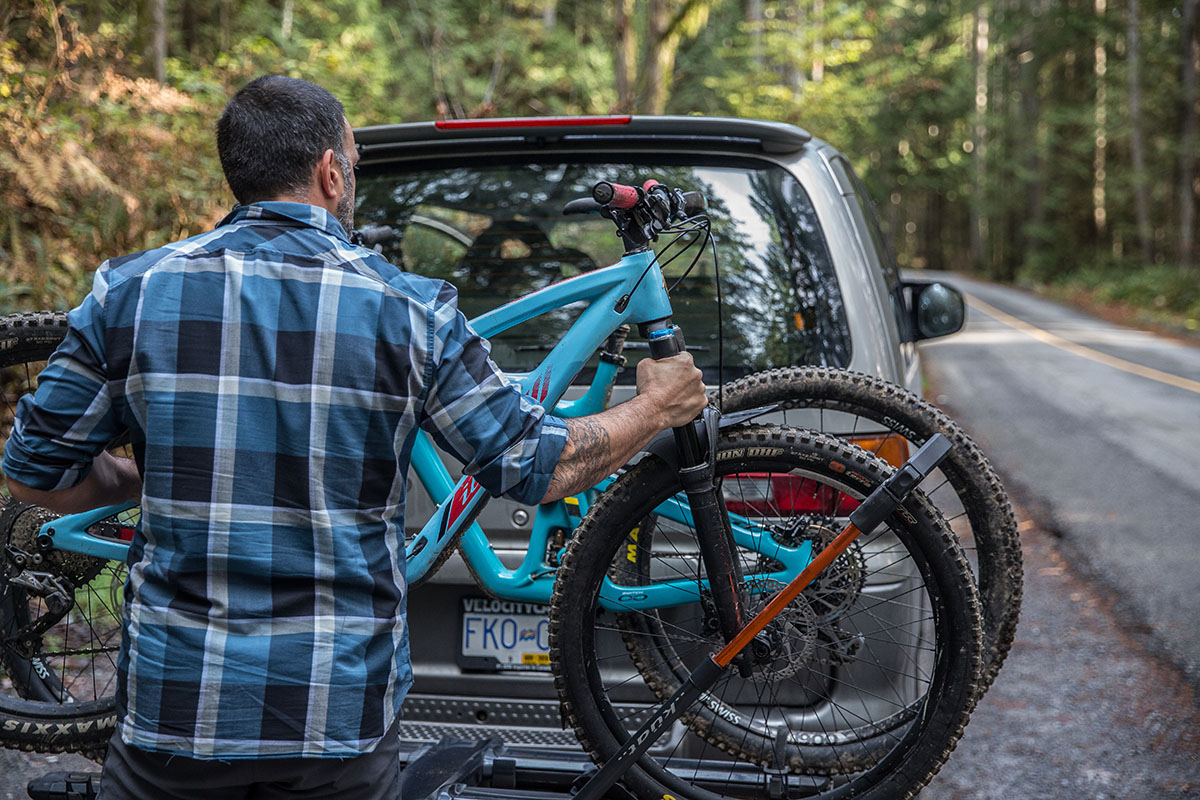 Before we picked up the NV 2.0, we were using Kuat's $200-cheaper Sherpa. As we touched on above, the Sherpa is significantly lighter at 32 pounds, but we had a number of durability issues. Over two years of use, the tire ratcheting system failed, the sliding arm mechanism started to stick until it eventually slid out of the lower portion, the spring in the pivot began to stick as well, and the rack rusted out quickly. You do save a good chunk of change with the Sherpa ($549), and Kuat did warranty the rack without issue. But given our experiences and the trimmed-down feature set, we think it's worth spending up for the more premium and well-built NV 2.0.
If you regularly carry more than two bikes, North Shore Racks' 4-Bike hanging carrier is an intriguing option. This rack is competitively priced at $600 (the NV 2.0 with the two-bike add on is over double that cost), highly adjustable, quick to load, and reasonably light at 50 pounds. However, the NSR rack lacks versatility. To be sure, it's great if you plan on running nothing but mountain bikes with crowned forks (bikes are mounted and secured by the fork crown), but it has a hand-built feel and isn't designed to accommodate gravel or road rigs. Again, the NSR has its appeal as a high-capacity option for dedicated mountain bikers, but it's far less of an all-rounder than the Kuat NV 2.0.
If you're thinking about buying gear that we've reviewed on Switchback Travel, you can help support us in the process. Just click on any of the seller links above, and if you make a purchase, we receive a small percentage of the transaction. The cost of the product is the same to you but this helps us continue to test and write about outdoor gear. Thanks and we appreciate your support!
Depending on the seller, most products ship free in the United States on orders of $50 or more. International shipping availability and rates vary by seller. The pricing information on this page is updated hourly but we are not responsible for inaccuracies.
Read More From Switchback Travel