Kuat NV Base 2.0 
Price: $749 
Number of bikes: 2 (4 with add-on) 
Weight: 52 lbs. 
What we like: Quality build, very little side-to-side bike movement, and easy-to-use tilt lever. 
What we don't: Ratcheting arm can be sticky when tightening over the front tire; pricey. 
See the Kuat NV Base 2.0
Founded just over a decade ago, Kuat is a relative newcomer to the world of bike racks, but they haven't wasted any time in creating functional, polished designs. Their NV Base 2.0 is a solid hitch-mounted rack that is comparable to class-leading options from Thule, Yakima, and 1Up. It's pricier than much of its direct competition, and the ratcheting arm can feel a bit sticky when tightening over the front tire, but many will appreciate the combination of simplicity, durability, and robust attachment system—all bundled up in a sleek and stylish package. Below we break down our experiences with the NV Base 2.0. To see how it stacks up to the competition, check out our article on the best hitch bike racks.
 
---
Table of Contents
---

Performance
Ever since I started spotting Kuat racks on vehicles at my local trailhead, I've wanted to give them a try. And from their range of models, the NV Base 2.0 stood out as a strong alternative to Thule's popular T2 Pro XTR, a rack that I consider to be the best all-around design currently available. Having used the Kuat extensively in the Pacific Northwest, I'm happy to report that from a bike carrying perspective, the Kuat is a worthy competitor. Its attachment system is sturdy and holds two bikes solidly in place, the rack is easy to set up and operate, and there's minimal swaying and movement while on the road. While the Kuat can't match the Thule's versatility in carrying a wide range of bike styles (more on this below), it's an excellent option for those hauling adult road, gravel, and standard mountain bikes.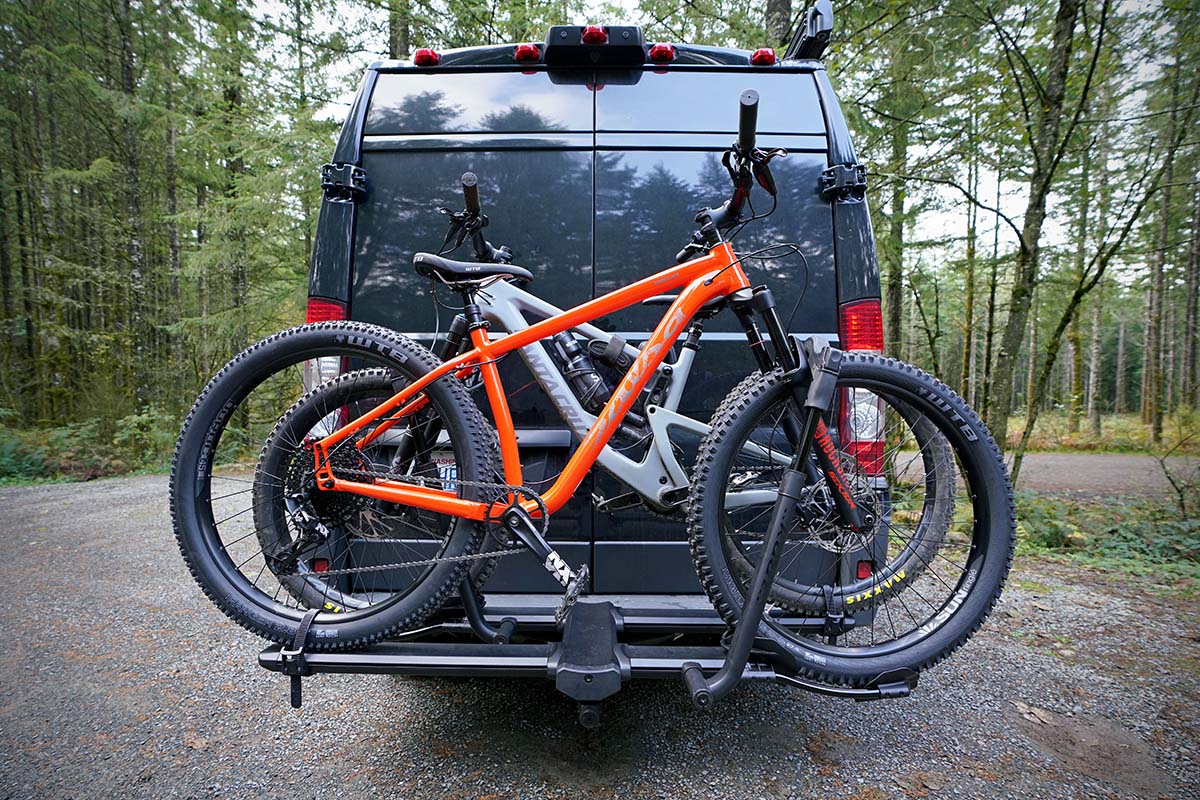 Set up and Ease of Use
As far as set up goes, the NV Base 2.0 is one of the easiest and quickest racks I've ever assembled. The process took about 20 minutes from start to finish, with most of that time spent lining up the bolts in their corresponding holes while simultaneously balancing the trays (it's much easier as a two-person job). All of the necessary hardware and instructions are included, and the only intricacy is matching the letters on the rack beam with those on the trays. They're clearly labeled but can be easily missed if you're in a hurry.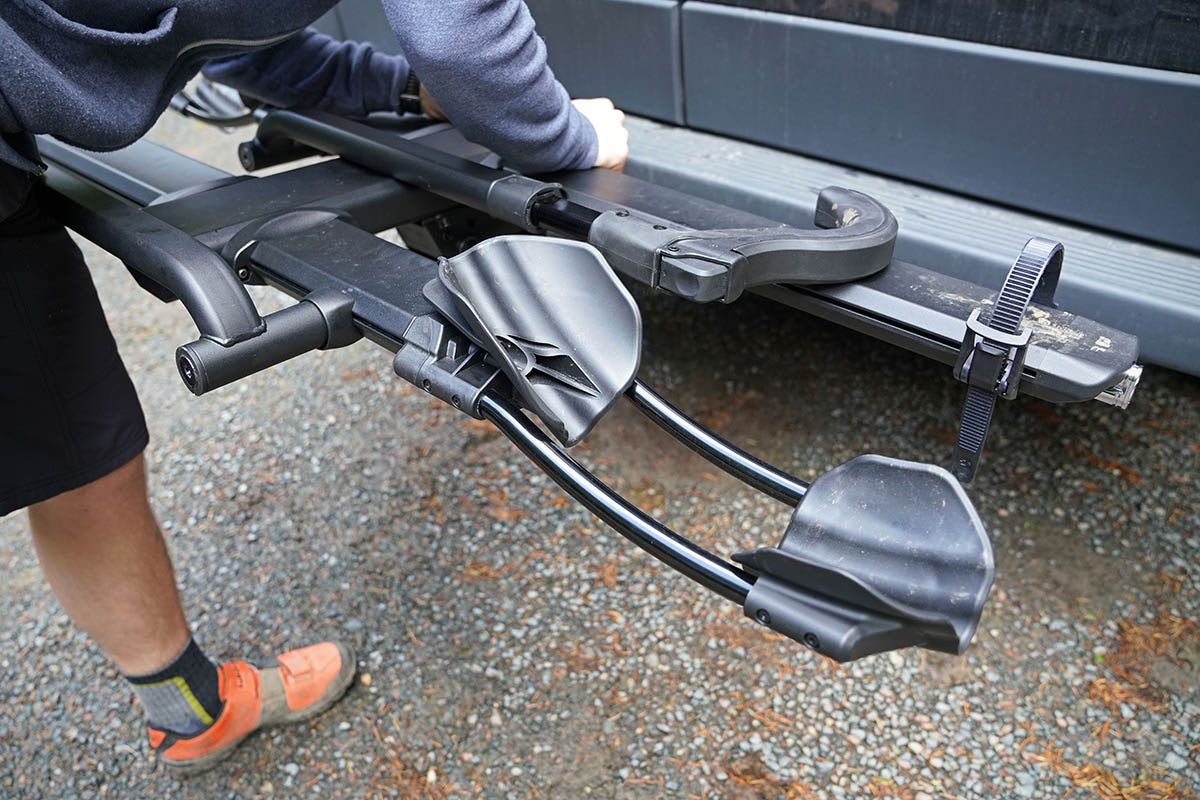 The NV Base 2.0 has a very simple design, so it's no surprise that it's extremely easy to use. Similar to most platform racks on the market, loading bikes is a straightforward process: lift the bike onto the rack, swing the ratcheting arm up and over the front wheel, and cinch it down over the tire. The upper part of the arm slides into the lower portion to secure, but I found that it can feel a little sticky when tightening over the front wheel. This didn't hinder the rack's performance, but it did require extra attention when I was loading bikes and wasn't quite as smooth as the ratcheting arm on Thule's T2 Pro XTR. That said, the NV Base 2.0's system felt much more robust than other similar models, like the Yakima Dr.Tray. Finally, the rear strap is equally simple and easy to adjust: simply loop it over the wheel and slide it through the buckle.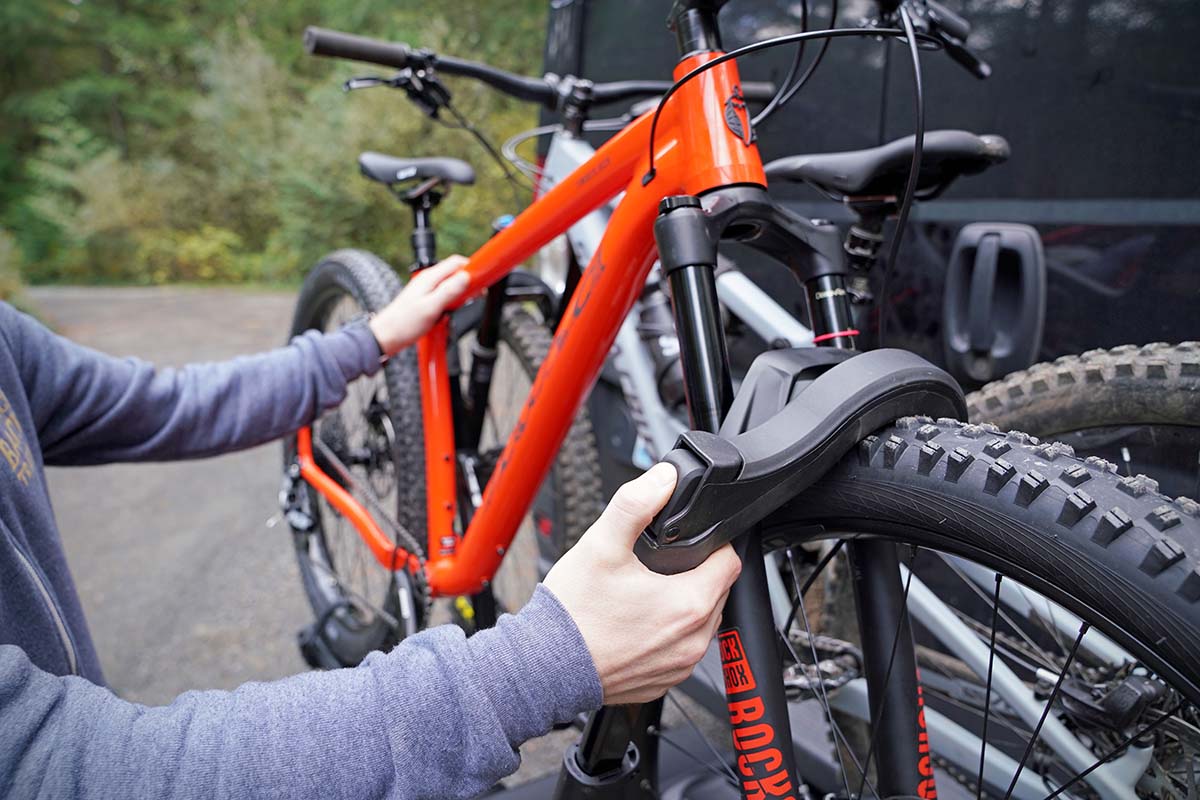 Bike Capacity and Wheel Sizes
Like most platform hitch racks, Kuat's NV Base 2.0 can carry two bikes.The larger 2-inch receiver version (the NV Base 2.0 is available for both 1.25- and 2-inch hitches) can be upgraded with an add-on to carry an additional two bikes, but it doesn't come cheap at $598 (the one-bike add-on costs $359). In terms of wheel sizes, the NV Base 2.0 can handle regular road and mountain bikes with 20- to 29-inch tires. However, tires 20 to 24 inches require a separate wheel adapter, while fat bikes need the Phat Bike Kit (sold separately for $15), which includes a strap extender for the rear tire and a Velcro strap for the front. For comparison, Thule's T2 Pro XTR—which comes in at $49 cheaper—is able to haul fat bikes, mountain bikes, road bikes, and kids' bikes (with at least 20-in. wheels) without any extra hardware. For a premium platform rack, we were expecting the same from Kuat.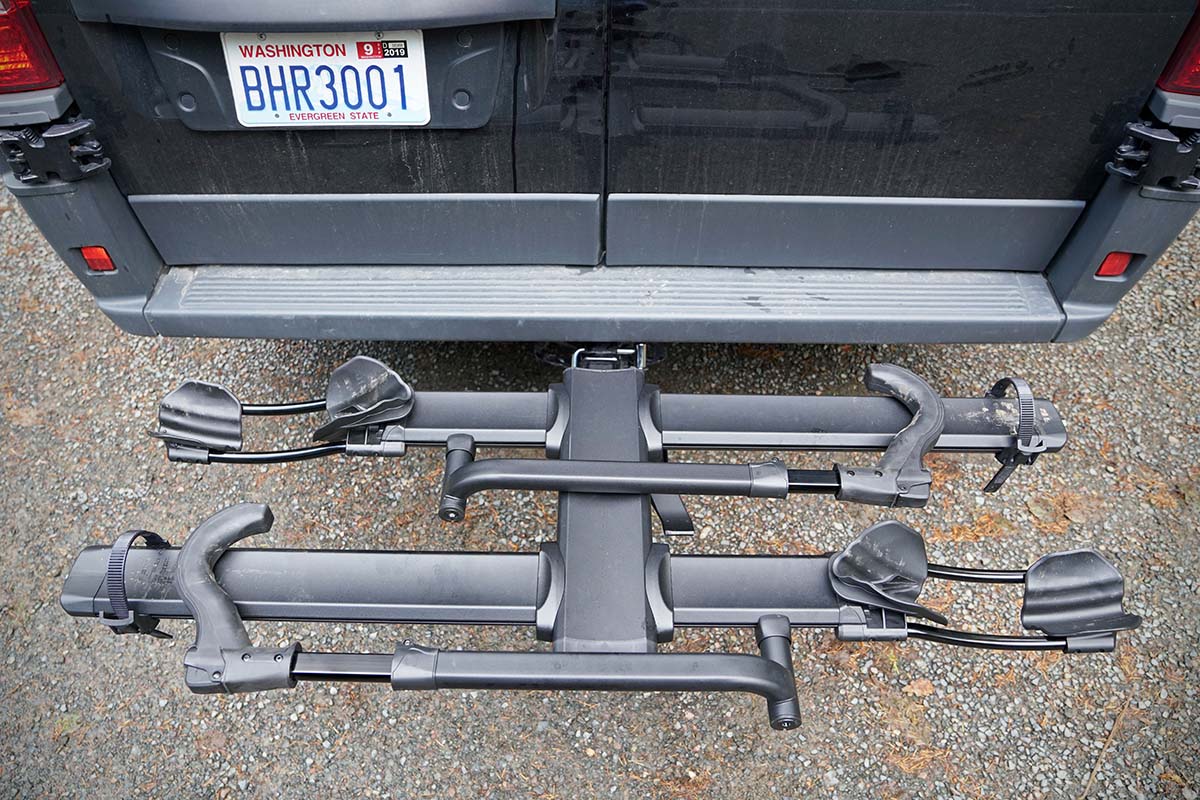 Weight Capacity
In terms of weight-carrying capacity, the NV Base 2.0 can transport two 60-pound bikes, which is right in line with most other platform-style hitch racks. While this might seem like a lot, electric bikes often toe the threshold, so it's important for e-bike users to check their weight beforehand. You should also consider the effort involved with lifting heavier bikes onto a platform rack like the NV Base 2.0, as it often takes more than one person to load and unload (comparably, a rack like the Thule EasyFold XT 2 includes deployable ramps).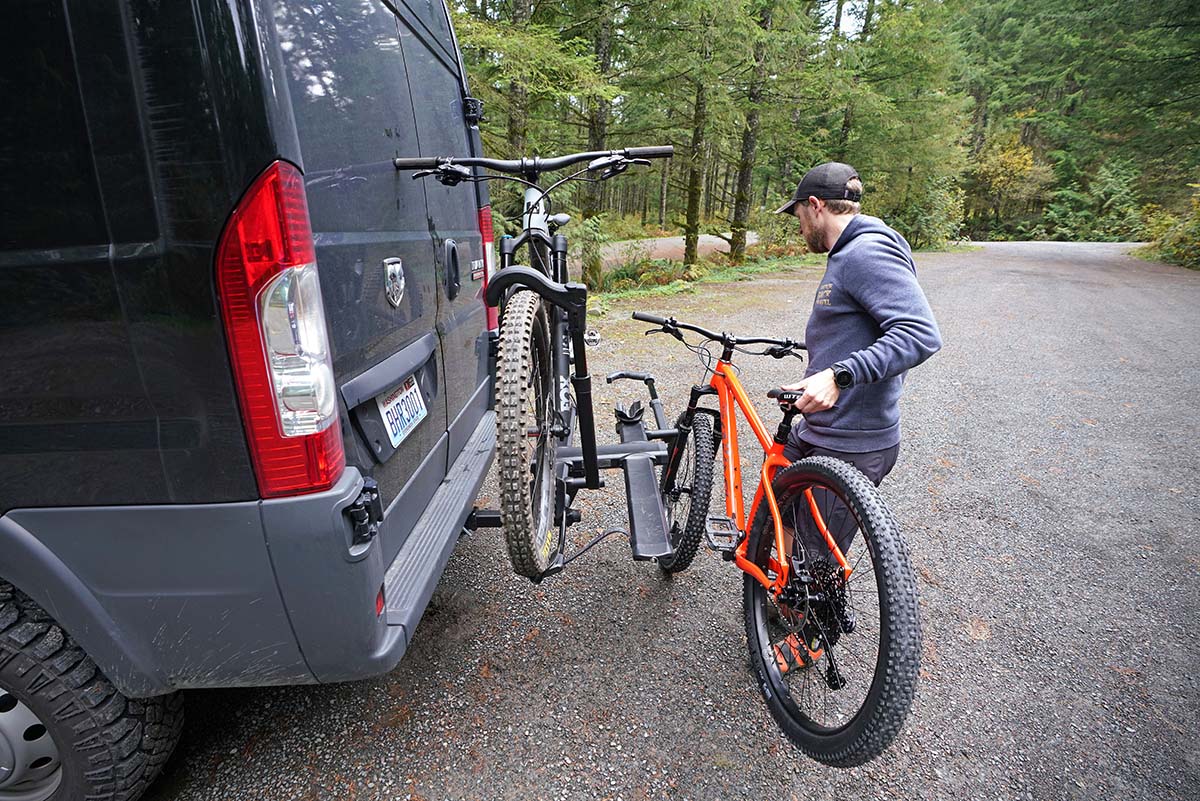 Build Quality and Durability
We've come to expect a certain degree of quality from high-end platform racks, and the NV Base 2.0 doesn't disappoint. But to be honest, I was initially wary of testing this rack. I've known a handful of fellow riders who have had serious durability issues with Kuat in the past. And although each problem has been remedied by their lifetime "No Worries Warranty," I was still concerned the NV Base 2.0 wouldn't stack up to its competitors. All that said, I came away impressed by the rack's sturdiness and high-quality build. It felt much more trustworthy than Yakima's Dr.Tray thanks to its mostly metal construction, and the rack's black powder coat finish is meant to withstand years of abuse. All in all, I have no issues to report and the rack has held up well so far.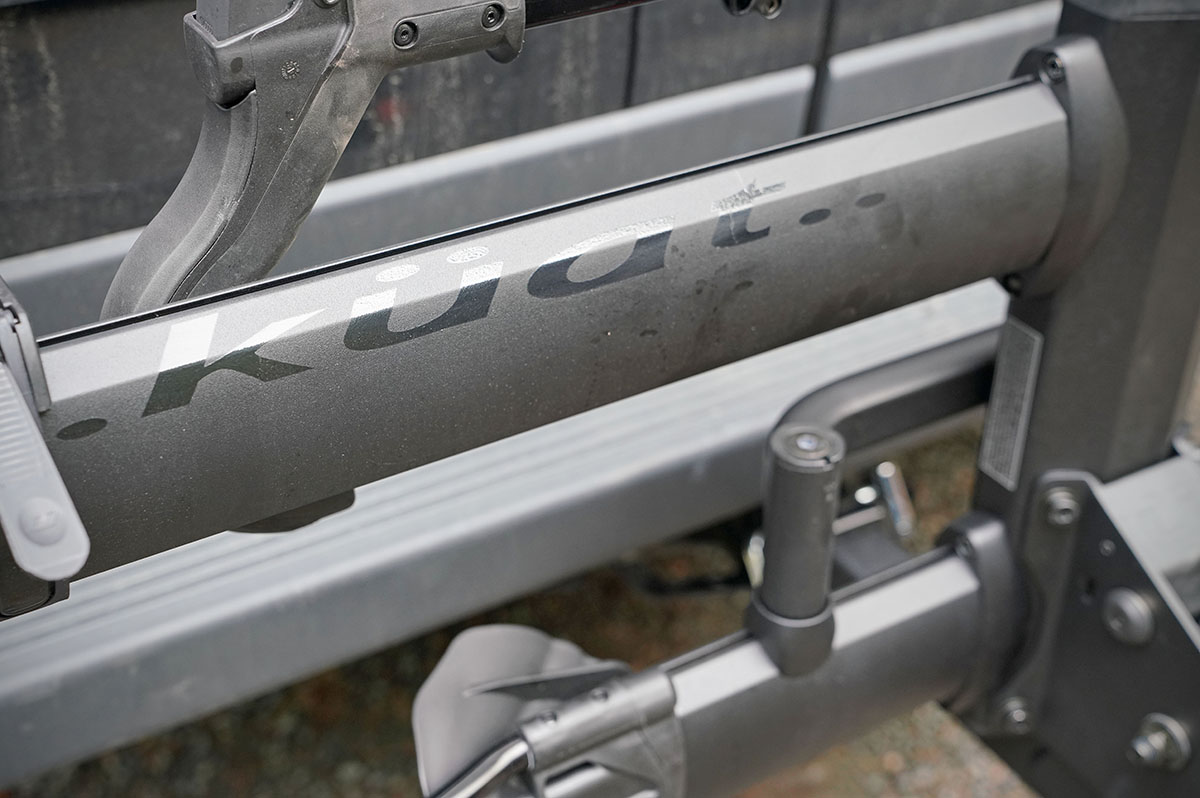 Weight
Almost without exception, platform-style hitch racks are heavy and bulky, so it's no surprise the NV Base 2.0 comes in at 52 pounds. However, considering alternatives like the T2 Pro XTR 2 (52 lbs.), 1Up USA Heavy Duty Double (46 lbs.), and Kuat's NV 2.0 (52 lbs.), the NV Base 2.0 is right in line with the competition. The only real standouts in this category are Yakima's Dr.Tray and Kuat's own Sherpa 2.0, which are impressively light at just 34 and 32 pounds respectively. Needless to say, it's best to leave the NV Base 2.0 on your car rather than taking it on and off between outings.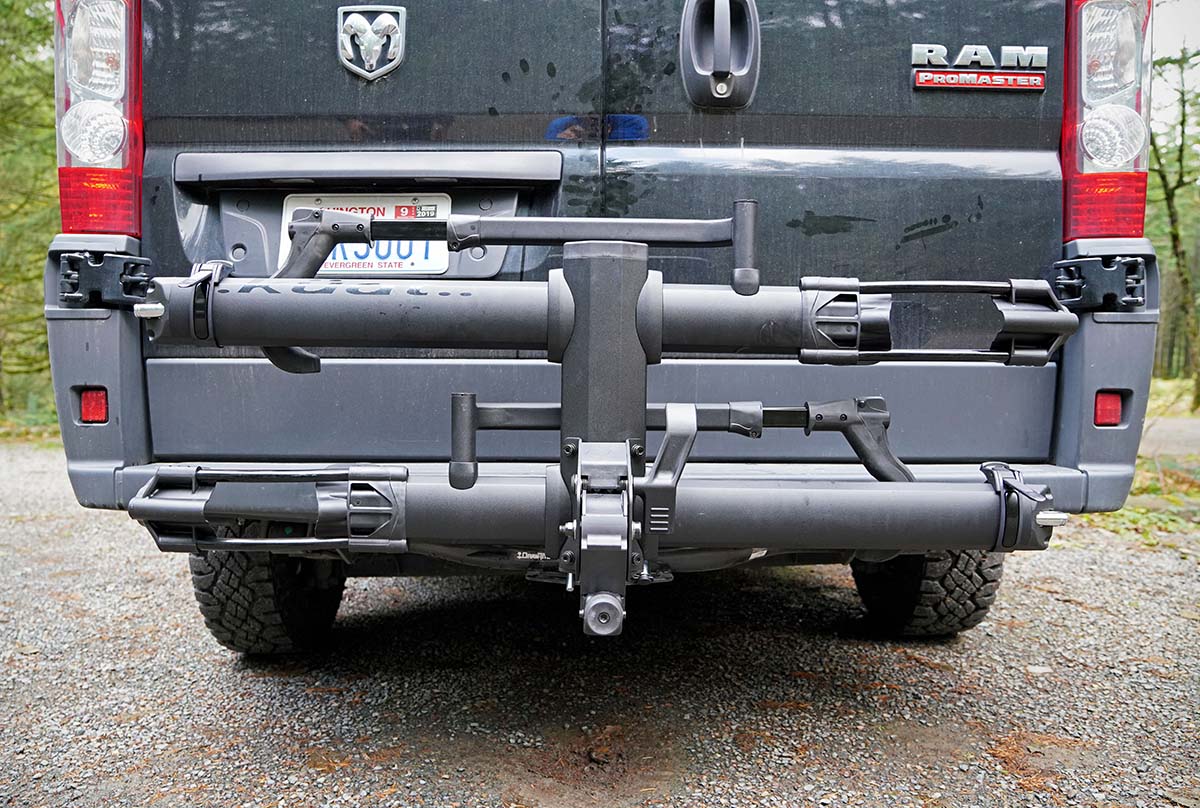 Key Features
Attachment System
We consider the attachment system on a bike rack one of the most critical features. It has to be extremely sturdy and limit side-to-side movement of the bikes while in motion, and I'm happy to report that the Kuat NV Base 2.0 passed these tests with flying colors. The rack's ratcheting arms confidently lowered and tightened snugly onto the front tires of all the bikes we tested (although, as mentioned above, they do require some precision to avoid sticking). Furthermore, the adjustable front tire cradle system can be lowered or raised to help eliminate contact between two bikes. Most other racks, like Yakima's Dr.Tray, achieve this by allowing you to slide the entire tray left or right. I haven't had a reason to adjust it yet—and I'm not sure I will—but it's a notable feature that may come in handy for some.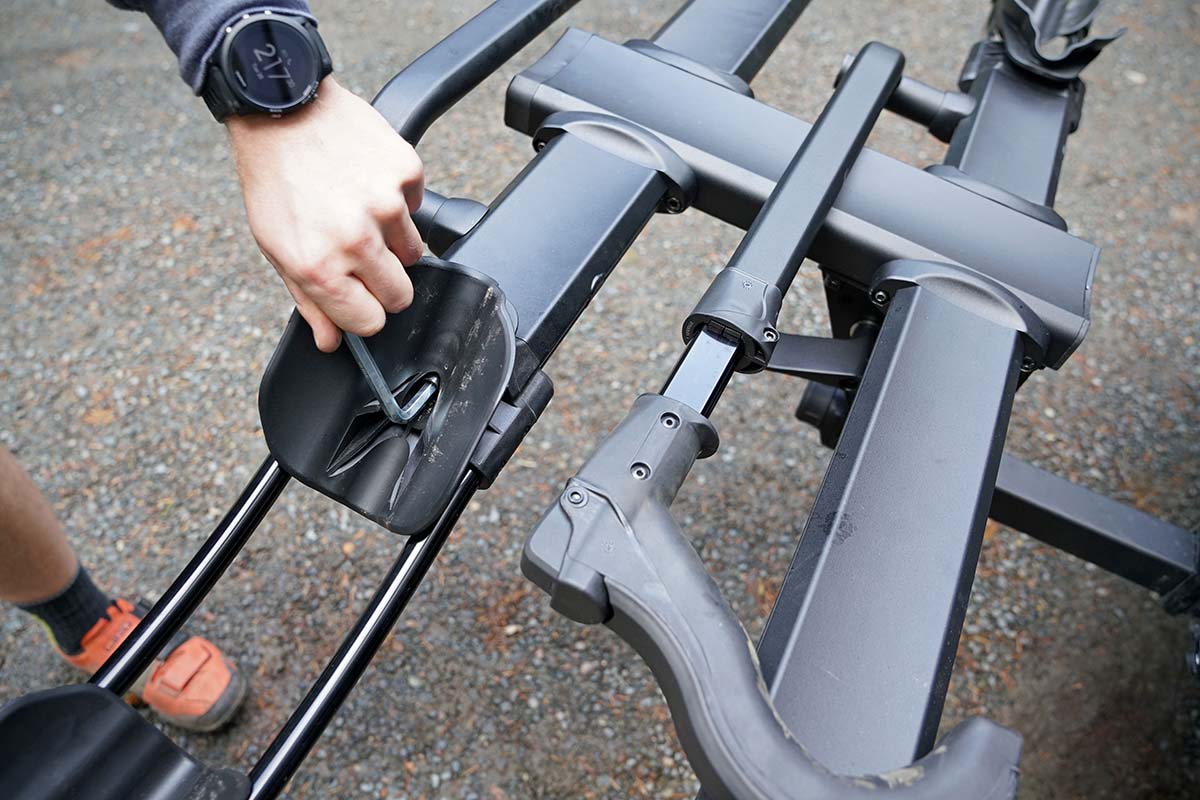 As for the rear wheel, I was able to sufficiently tighten the strap just by pulling on it without too much force. The strap also easily slides back and forth on the tray, which makes loading bikes with different length wheelbases a breeze. That said, I still prefer the rear strap on the Thule T2 Pro XTR—its deep notches and two stopping locations offer quick loading and unbeatable security.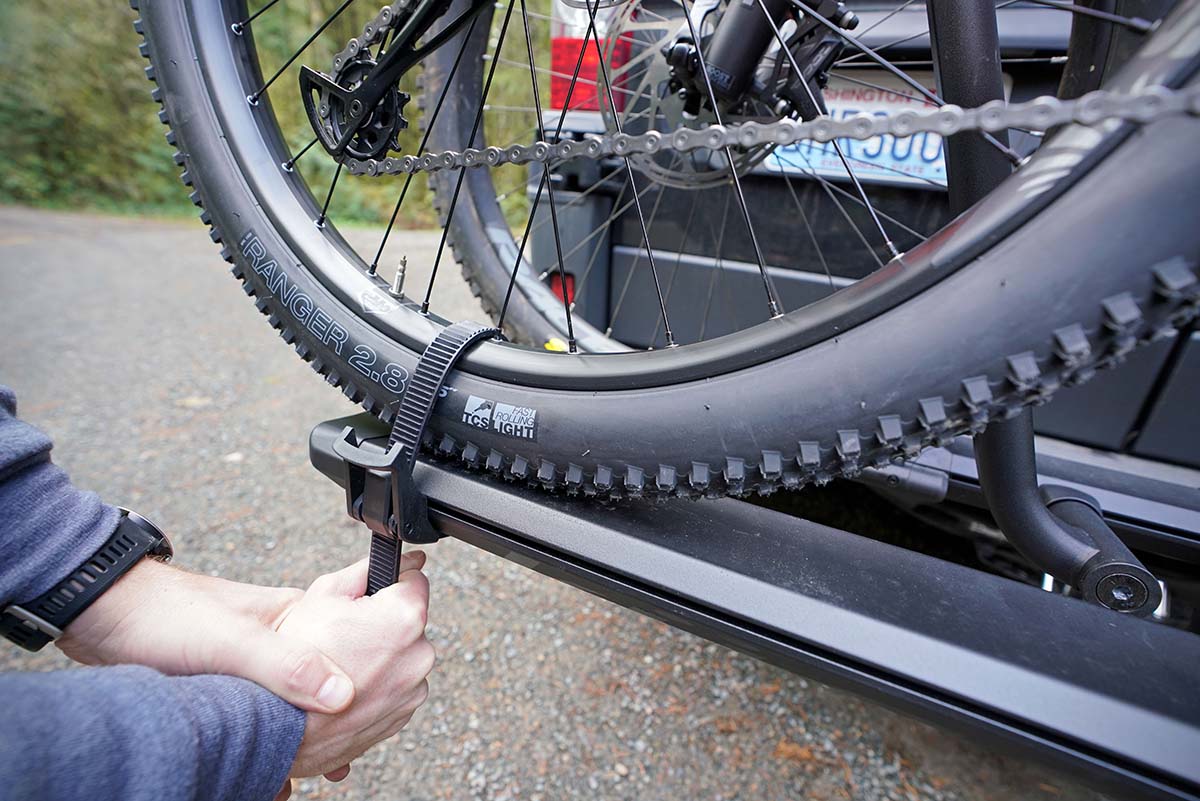 Tilt Lever
The NV Base 2.0's tilt lever is located mid-rack—that is, right in the middle of the mounted bikes—and yet is surprisingly easy to operate. When I first spotted the lever, I had flashbacks to my original Thule T2 Classic, which often required advanced yoga poses to adjust with bikes on board. But thankfully, the NV Base 2.0's system doesn't demand the same flexibility—it's easily within arm's reach with two bikes mounted and moves without much force. Its metal construction also inspires confidence and should be long-lasting. While I prefer Thule's HitchSwitch Lever on the T2 Pro XTR that's positioned away from the car and bikes, Kuat's system is nonetheless easy and quick.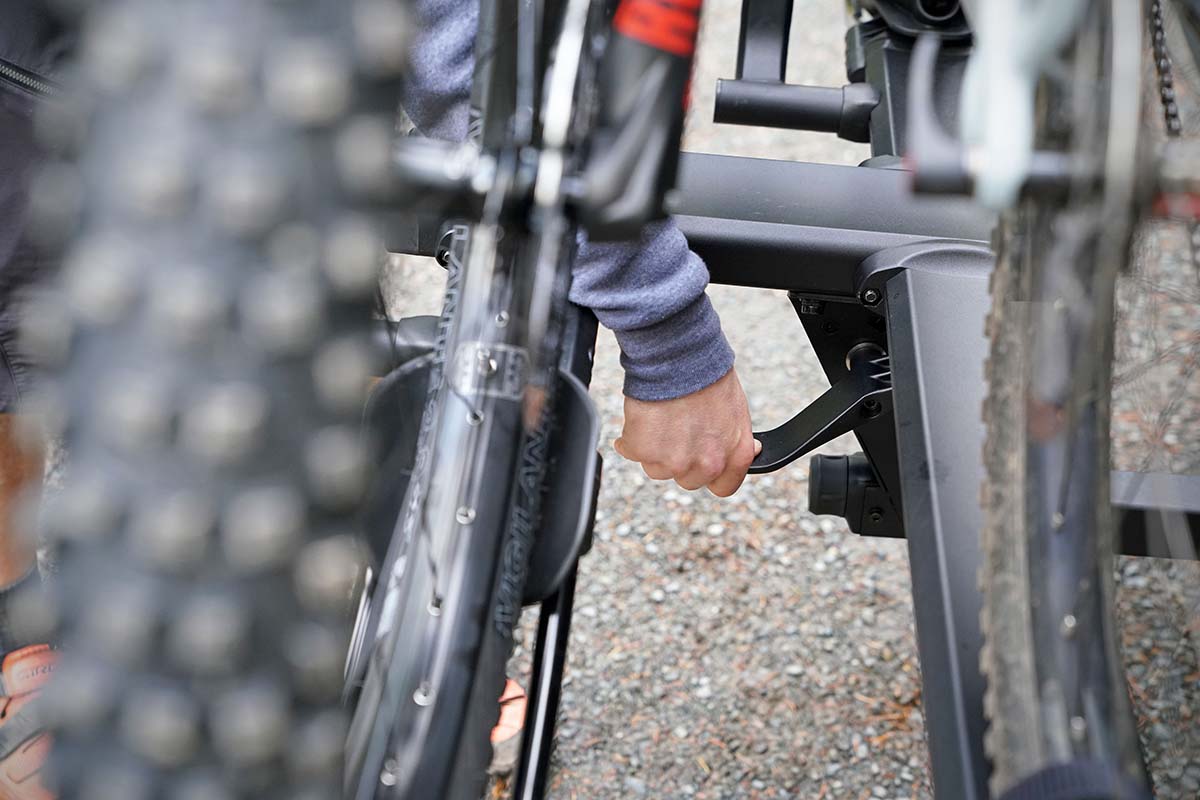 Locks
We appreciate when premium (and pricey) hitch racks include built-in locks for the bikes and rack itself to save us a few extra dollars. On the NV Base 2.0, you'll find a cable lock concealed at the end of each tray and a locking hitch pin to secure the rack to the vehicle. The cable locks—located at the rear of the bike, which proved very functional—feel thicker and noticeably more secure than those on most other racks we've tested. Even better, they don't require a key to lock—you simply click them into place and use the key only when unlocking. However, I do have one considerable gripe about the cable locks: they're more challenging to stow than almost any others I've used. I recently left the lock wrapped around my bike for a couple of hours, and when I tried to remove it, it struggled to straighten and proved extremely difficult to stuff back into the base of the rack. While not a major concern by any means, it could definitely be smoother.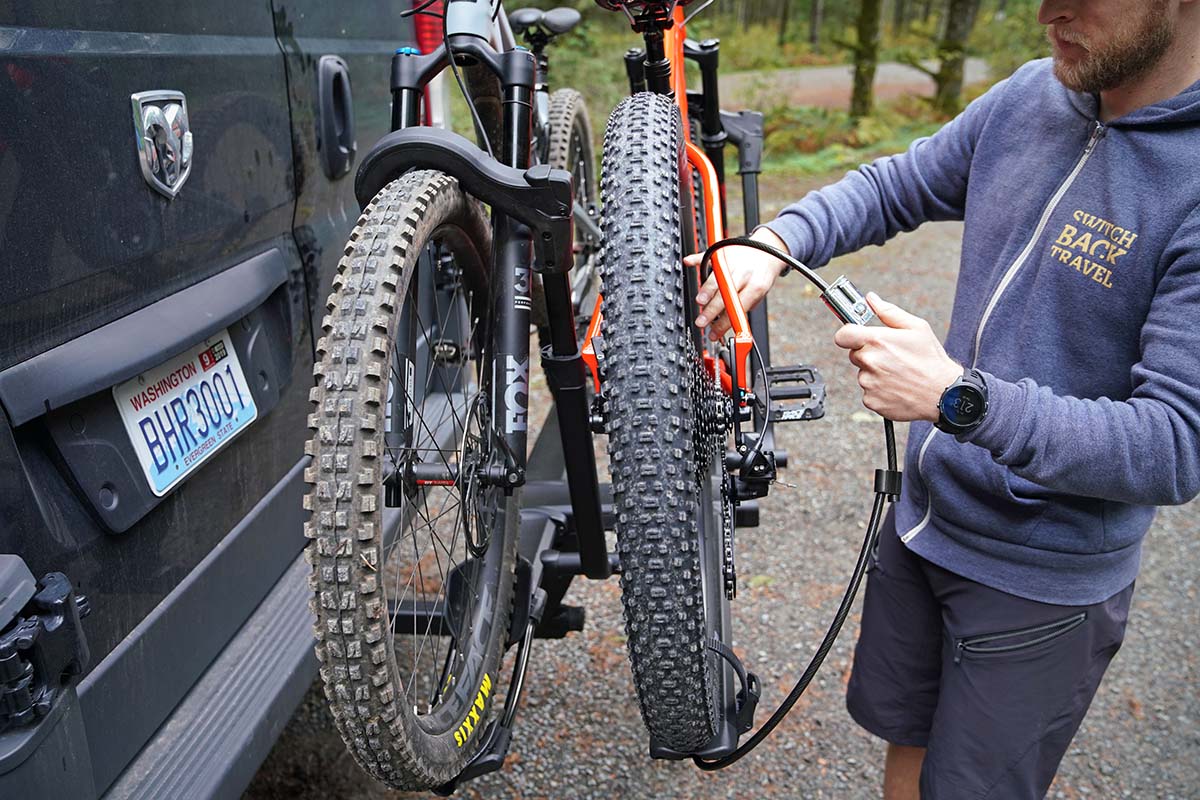 Although Kuat's NV Base 2.0 uses an expanding wedge for a wobble-free attachment to the vehicle, it forgoes an integrated lock. Instead, it features a locking hitch pin to secure the rack. This system works well enough, but I prefer when the lock is integrated into the rack itself—like on the Yakima Dr.Tray and Thule's T2 Pro XTR—which eliminates a step in the mounting and removal process.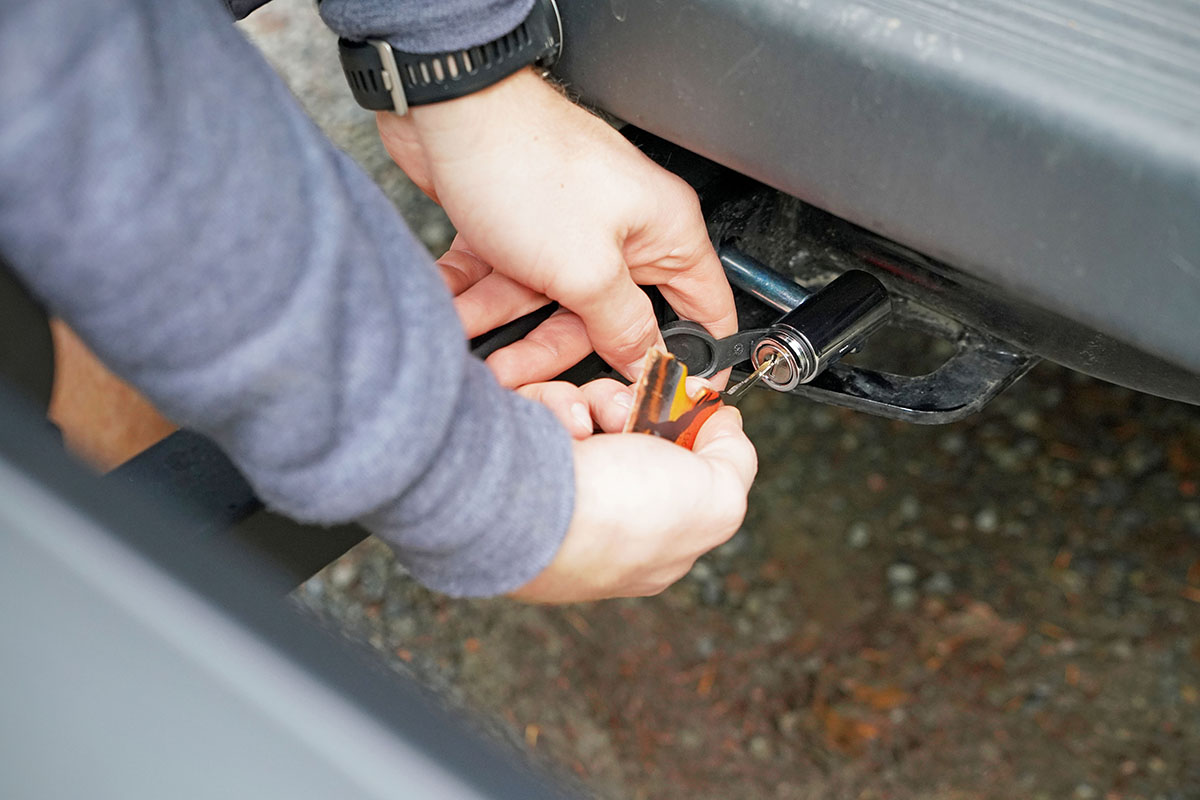 What We Like
The NV Base 2.0's sturdy ratcheting arms restrict side-to-side bike movement.
Tilt lever is easy to use when bikes are loaded.
Expanding receiver wedge prevents movement between the vehicle and rack.
Very sleek and modern design.

What We Don't
The rack's ratcheting arm can feel "sticky" at times and doesn't adjust as smoothly over the front tire as some other racks.
Around $50-$100 pricier than much of its direct competition at $749. 
Additional adapters and hardware required for fat bikes and bikes with 20-24-inch wheels.
Cable locks can be difficult to stow back in the rack after use.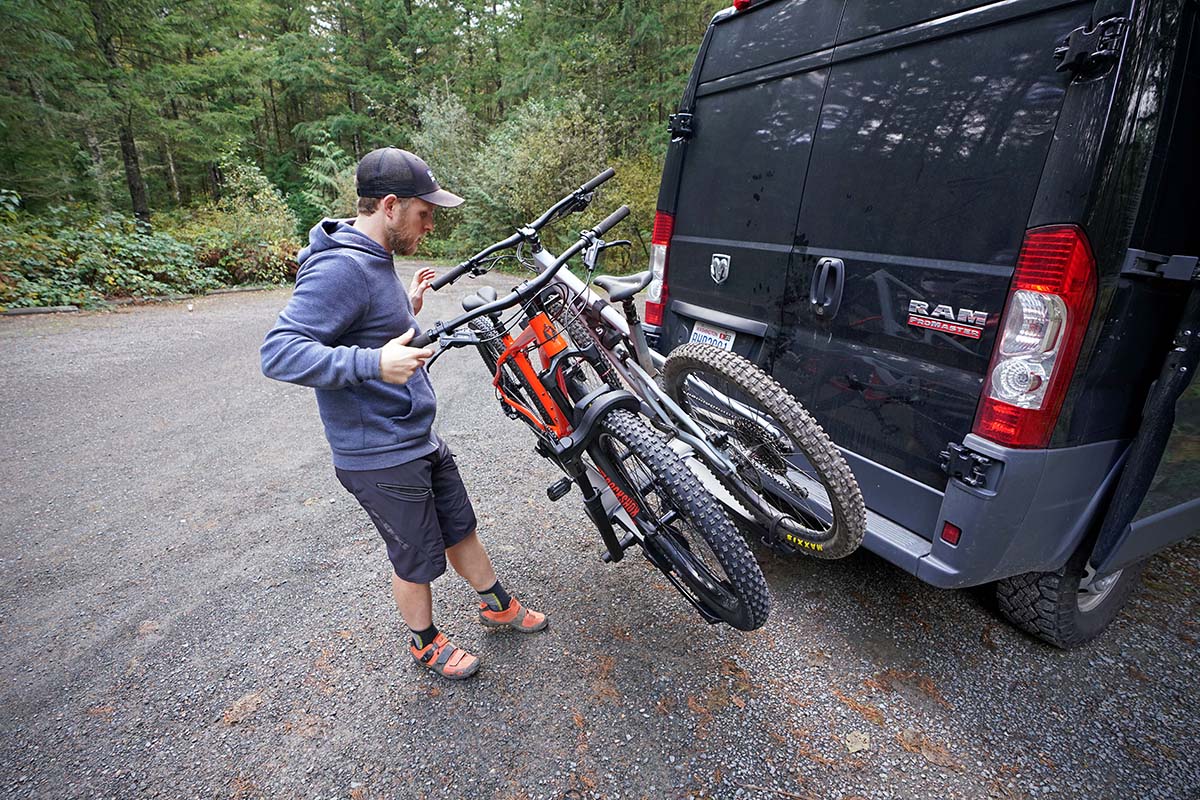 Comparison Table
| Rack | Price | Weight | Tire Width | Wheel Sizes | Capacity* | Locks |
| --- | --- | --- | --- | --- | --- | --- |
| | $749 | 52 lbs. | 3 in. max | 25-29 in. | 60 lbs.  | Yes |
| | $700 | 52 lbs. | 5 in. max | 20-29 in. | 60 lbs. | Yes |
| | $595-649 | 46 lbs. | 3.1 in. max | 16-29 in. | 50 lbs. | No |
| | $599 | 34 lbs. | 5 in. max | 26-29 in. | 40 lbs. | Yes |
| | $849 | 52 lbs. | 3 in. max | 25-29 in. | 60 lbs. | Yes |
| Kuat Sherpa 2.0 | $629 | 32 lbs. | 3 in. max | 25-29 in. | 40 lbs. | Yes |
*Editor's Note: "Capacity" refers to weight capacity per bike.

The Competition
Among fully featured platform hitch racks, Kuat has a solid offering on its hands with the NV Base 2.0. But it's a crowded field, and Thule's T2 Pro XTR 2 is currently the class leader. Three major features set the Thule apart from the Kuat: it's able to accommodate a wider range of wheel sizes and bike types without buying separate adapters, the tilt lever is more convenient, and the cable locks are easier to use and stow. We also appreciate the set of wheels at the base that make it easy to shuttle to and from a garage. In the end, the NV Base 2.0 is a viable choice if you only plan to carry adult road and mountain bikes, but the Thule's added versatility and features at a cheaper price (around $50) give it the clear edge for us.
Next up is 1Up USA's Heavy Duty Double. As its name suggests, this rack is built to last with a sleek aluminum construction and high attention to detail. We especially love the two separate folding arms that only come into contact with your bikes' tires, although the NV Base's adjustable front cradles can be lowered or raised to help mitigate potential issues. Like the Kuat, the Heavy Duty Double also requires purchasing separate adapters to shuttle fat bikes, and you only get a hitch bar lock (no cable locks) with the 1Up. The tilt lever is another point of weakness and unreachable with bikes loaded onto the rack. In the end, we appreciate the excellent craftsmanship and hardwearing design, but we give the overall nod to the Kuat for its more well-rounded and user-friendly design.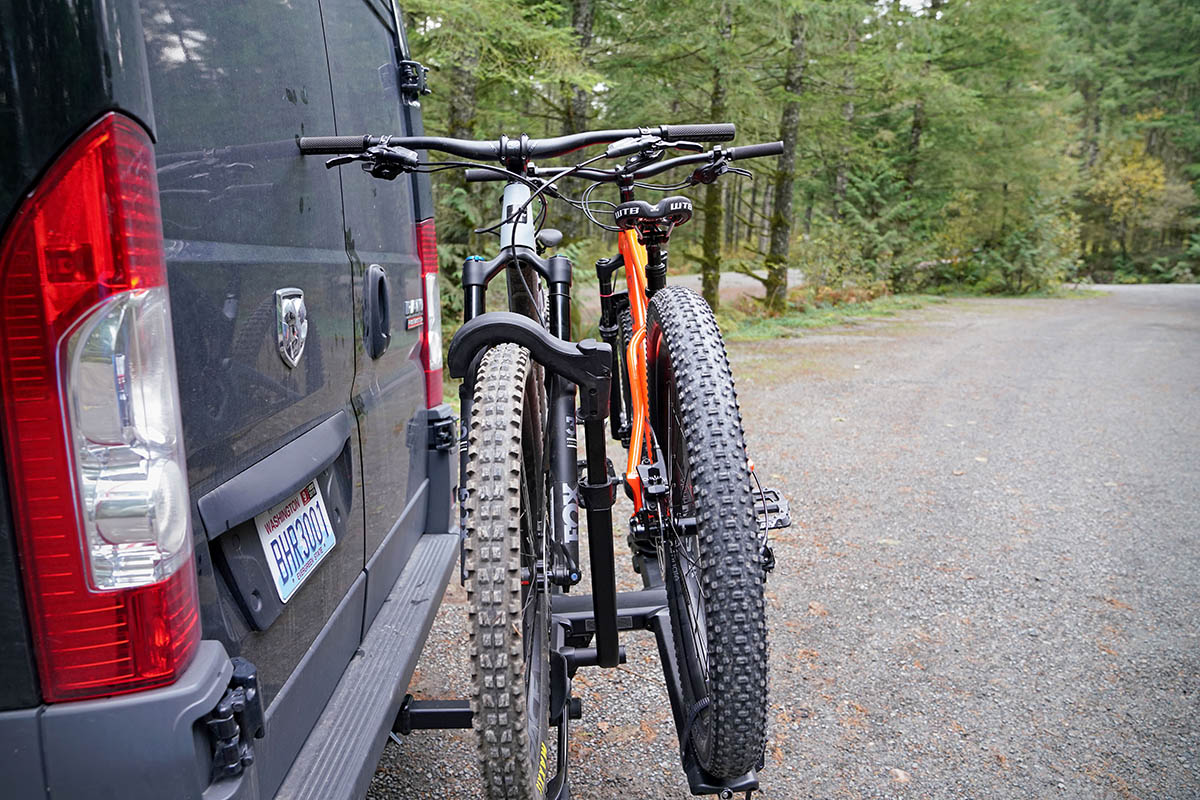 We've also tested Yakima's Dr.Tray, which comes in an impressively light 34-pound package. And while Yakima included a couple helpful features that the NV Base 2.0 lacks—like an integrated lock in the expanding wedge and more conveniently located tilt lever—we think the Kuat is the better overall rack. Why? While Yakima included all the features you'd expect in a premium rack, the major weight-shaving comes with a sacrifice in durability and side-to-side bike movement (there's a whole lot of shaking on a forest service road). If you prioritize low weight and plan on carrying lighter bikes (the Dr.Tray maxes out at 40 lbs. per bike), the Dr.Tray makes a lot of sense—and it doesn't hurt that it'll save you a considerable $150. But we think Kuat's NV Base 2.0 is a better choice for those who want a long-lasting rack. 
You can't get much more premium than Kuat's own NV 2.0—a step up from the Base model. But for an extra $100, there aren't too many discernible differences. Namely, the NV 2.0 has a metallic coating (the Base has a matte finish) and includes Kuat's Trail Doc: an integrated repair stand that allows you to work on a bike while it's on the rack. However, purchasing the Trail Doc separately will only run you a few bucks more at $109, which doesn't stand out as a sizable enough value for us. And realistically, it's far from a vital feature for a good portion of riders. 
Last but not least is another in-house option to consider: Kuat's Sherpa 2.0. Similar to the Dr.Tray above, the biggest draw with the Sherpa is weight: at 32 pounds, it's the lightest alternative here and incredibly easy to install and remove from your vehicle. As with the Yakima, however, the Sherpa can only handle two 40-pound bikes, and we've encountered a good number of durability issues throughout testing, including rusting, the tire ratcheting system failing, the sliding arm mechanism sticking and ultimately sliding out of the lower portion, and the spring in the pivot sticking as well. You do get the assurance of Kuat's excellent warranty (and we can attest to them standing behind their products), but the NV Base 2.0 strikes us as the better-built option and worth the added investment for committed riders.
If you're thinking about buying gear that we've reviewed on Switchback Travel, you can help support us in the process. Just click on any of the seller links above, and if you make a purchase, we receive a small percentage of the transaction. The cost of the product is the same to you but this helps us continue to test and write about outdoor gear. Thanks and we appreciate your support!
Depending on the seller, most products ship free in the United States on orders of $50 or more. International shipping availability and rates vary by seller. The pricing information on this page is updated hourly but we are not responsible for inaccuracies.
Read More From Switchback Travel