REI Co-op Flash 22
Price: $60
Weight: 14 oz.
Capacity: 22L (18L also available)
What we like: Great feature set, comfort, and ventilation for a low cost and weight. 
What we don't: Not very durable and only comes in one size.
See the REI Co-op Flash 22
When it comes to outdoor gear, we often find ourselves forced to make decisions between weight savings and functionality. Ultralight gear is great for moving quickly, but it usually comes with significant tradeoffs in terms of comfort, function, and durability. REI's Flash 22 daypack, however, stands out to us as an exception to this rule, pairing a competitively low weight and price with a highly practical design. Below we break down the details of the Flash 22. To see how it stacks up to the competition, see our article on the best daypacks.
Editor's note: REI recently updated the Flash 22 with a retooled construction, two buckles at the top lid, and added sustainability measures. At $60 and 14 ounces, it's also now $5 pricier and an ounce heavier than its predecessor. We're currently testing the new pack and will update this review shortly, but we've noted the important changes below in the meantime.
 
---
Table of Contents
---

Performance
Carrying Comfort
Featuring a lightly padded backpanel and shoulder straps in addition to a webbing hipbelt and sternum strap, the REI Co-op Flash 22 hits a nice balance of minimalism and carrying comfort. In comparison to the stripped-down Flash 18, you get a big step up in padding that adds significant load-bearing capabilities. On a day hike in Patagonia, I packed the Flash 22 with 2 liters of water, a book, bulky lunch, DSLR camera, rain jacket, and down jacket, and was impressed with the way it carried the load. Further, the ample backpanel padding (a foam framesheet and cushioned mesh panels) felt soft from start to finish and kept my back protected from sharp objects in my pack. I haven't found the Flash 18 to be particularly comfortable, but the Flash 22 offers a more workable compromise between simplicity and function.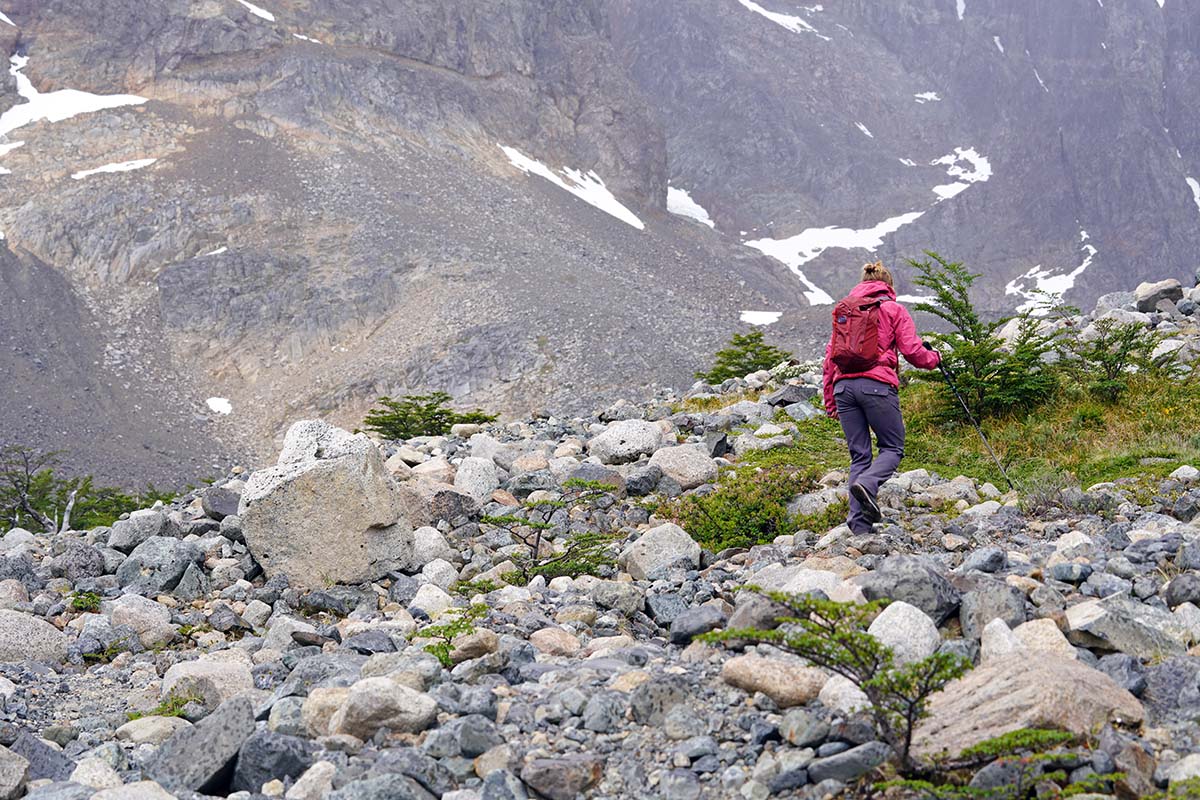 Carrying Capacity
With 22 liters of capacity, the Flash 22 is an ideal day hiking pack for lightweight loads. And the emphasis on "lightweight" is important: in fact, REI states a load range of 12 pounds. You can carry a lot for 12 pounds—food, water, and layers for a day on the trail; a laptop, books, and gym clothes; a harness, belay device, and climbing shoes—but you'll want to be careful not to max out such a minimalist pack. or comparison's sake, the 1-pound-2-ounce Gregory Nano 22 H2O features a slightly more robust backpanel and shoulder straps and has a stated load range of 20 pounds. In the end, you're likely to get more support from a heavier pack, but the Flash 22 is more than enough for most 22-liter loads.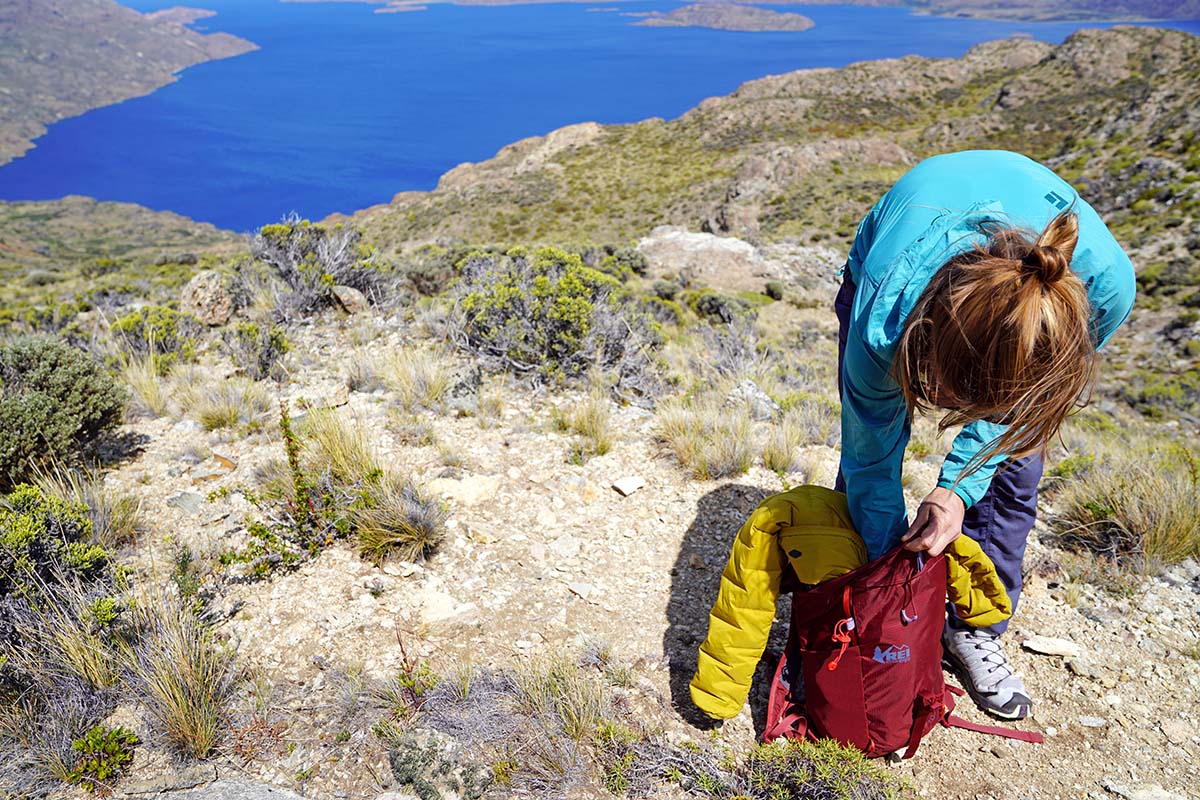 Weight and Packability
At 14 ounces for the latest version (1 oz. heavier than the model we tested), the Flash 22 fits squarely into the ultralight daypack category. In fact, you'd be hard-pressed to find a lighter pack that can still comfortably handle 22 liters of gear. The Marmot Kompressor Plus Pack comes close, with a 12.5-ounce build that fits 20 liters, but it lacks the padding (on both the shoulder straps and backpanel) of the Flash 22, meaning we probably wouldn't want to stuff it to the gills. Most other packs of similar capacity are significantly heavier, such as the Osprey Daylite Plus (1 lb. 4.6 oz.) and Talon 22 (1 lb. 14.6 oz.).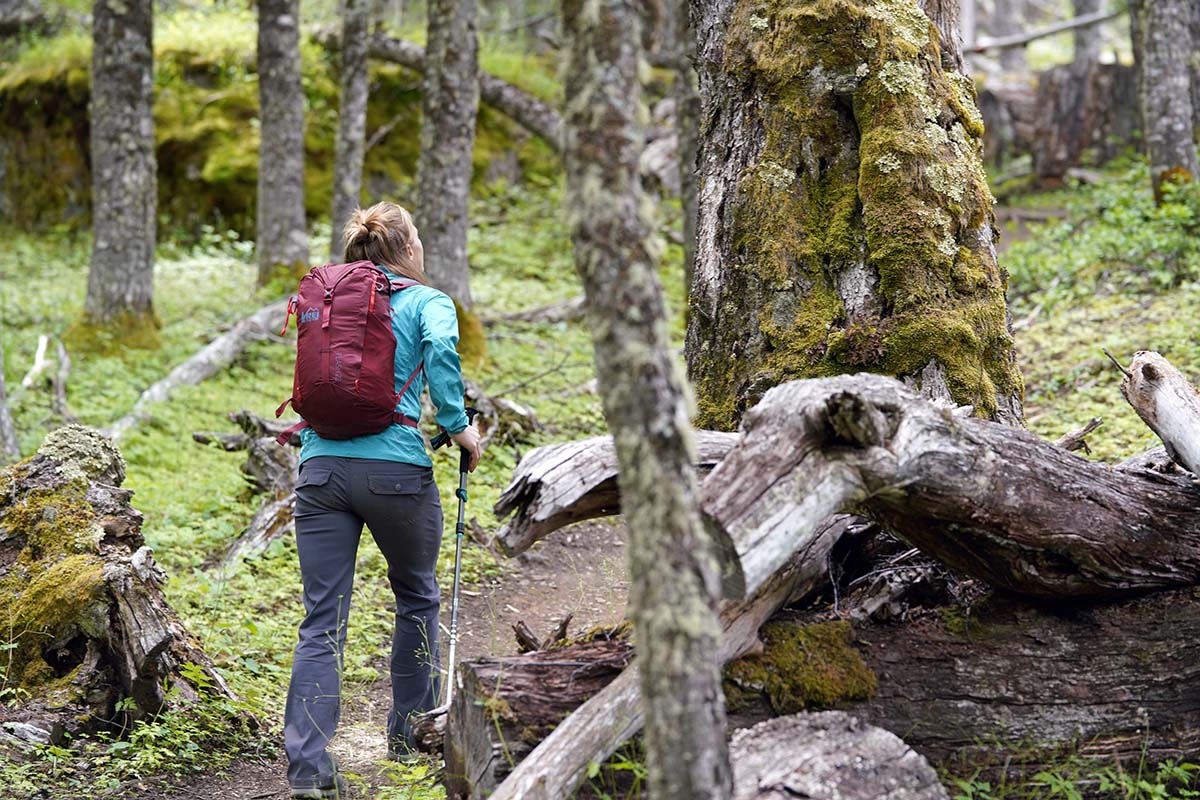 Packability is another area where the Flash 22 shines. Rolled up, the Flash is about the size of a 1-liter Nalgene bottle, and even smaller if you leave the foam framesheet at home. The Kompressor Pack is a bit more packable (it's even made to stuff into its top lid), but keep in mind it comes with a fair share of compromises in terms of comfort and ventilation. On the other hand, packs like the Nano and Talon mentioned above are significantly more rigid and bulky, but more adept at carrying a heavy load. While not everyone will need a lightweight and packable design, we think it's one of the true selling points of the Flash 22. This minimalist build allows you to throw the pack in for the ride (into your travel duffel, for example, or your backpacking pack), when you might be forced to leave bulkier models behind.

Ventilation
The Flash 22 features padded mesh on both the shoulder straps and across the backpanel for an extra dose of ventilation. Day hiking in Patagonia, I was impressed with how the pack kept air circulating, even on a hot and sunny day on the trail. Compared to the nylon backpanel of designs like the Flash 18 or Marmot Kompressor Plus, the difference is significant: not only does the airy mesh allow room for air to flow, but it also feels soft when wet, whereas nylon becomes clammy and slippery. Again, the Flash 22 stands out in its weight class as being fairly well-ventilated—you'll have to bump up to 1-pound-plus packs like the Osprey Daylite and Gregory Nano for similar amounts of breathability.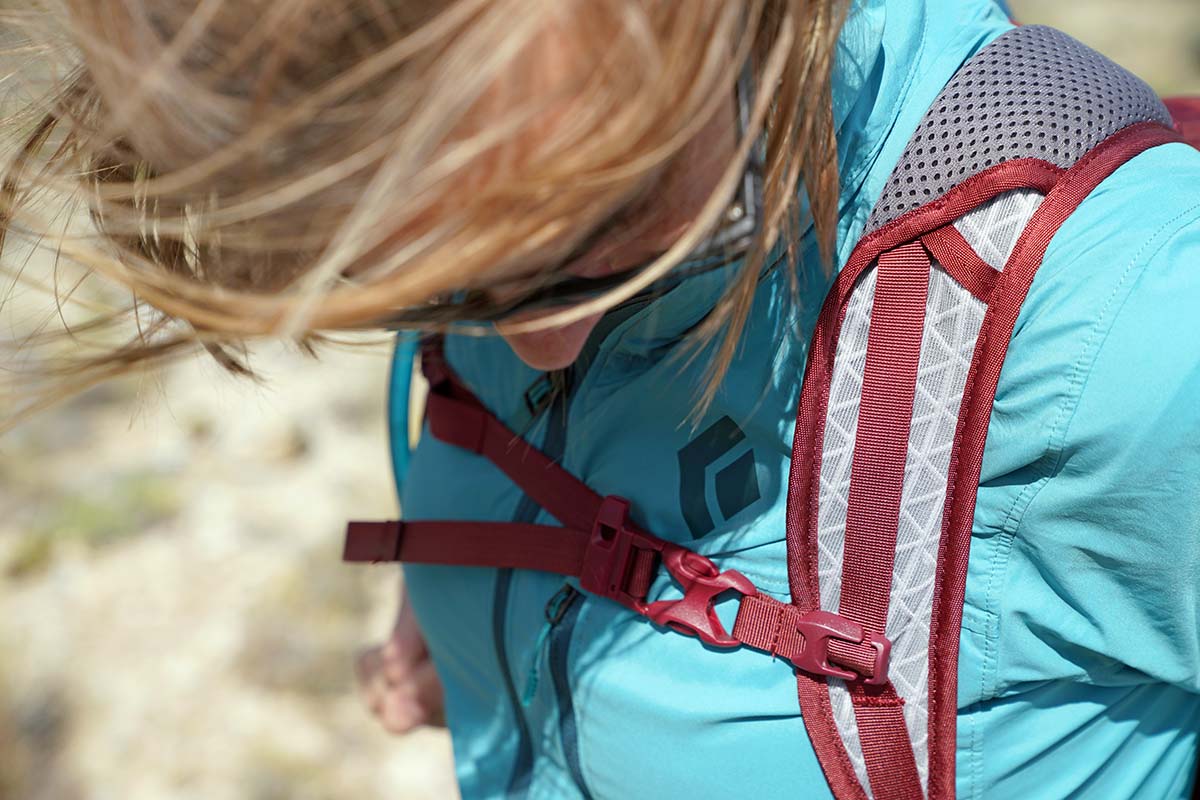 Water Resistance
Like most hiking and travel daypacks, the REI Co-op Flash 22 is not waterproof. Its ripstop nylon fabric (note: The latest version is 77% nylon and 23% polyester) has a DWR coating and is able to slough off a light rain or snow, but expect it to soak through during a sustained rain shower. All told, if you plan to venture out in inclement conditions, we recommend you place your valuables in plastic Ziplocs, trash bags, or a dry bag before putting them inside the Flash 22. Or if you prefer exterior protection, REI makes the Duck's Back Rain Cover, which cinches around the pack for waterproof protection and will run you an extra 3 ounces and $25 (XS size). 
 
Pockets and Organization
The REI Co-op Flash 22 has a good number of options for both internal and external storage, especially considering its very low weight. A cavernous main compartment cinches closed with a quick-pull drawcord (the latest model has two), and inside are a key clip and two deep pockets along the backpanel (they're a good size for smaller items like sunglasses or bars). Rounding out the interior is a hydration sleeve that fits a reservoir up to 3 liters in size and pairs with a reservoir loop, exit port, and hose sleeve (on either shoulder strap). On the outside are two zippered pockets—one small storage area on the lid perfect for valuables and a large zippered sleeve that extends for the entire length and width of the front panel. Finally, you get extra-deep dump pockets on either side that stretch to accommodate on-the-go items like a water bottle (a 32-ounce Nalgene fits great) or lightweight windbreaker.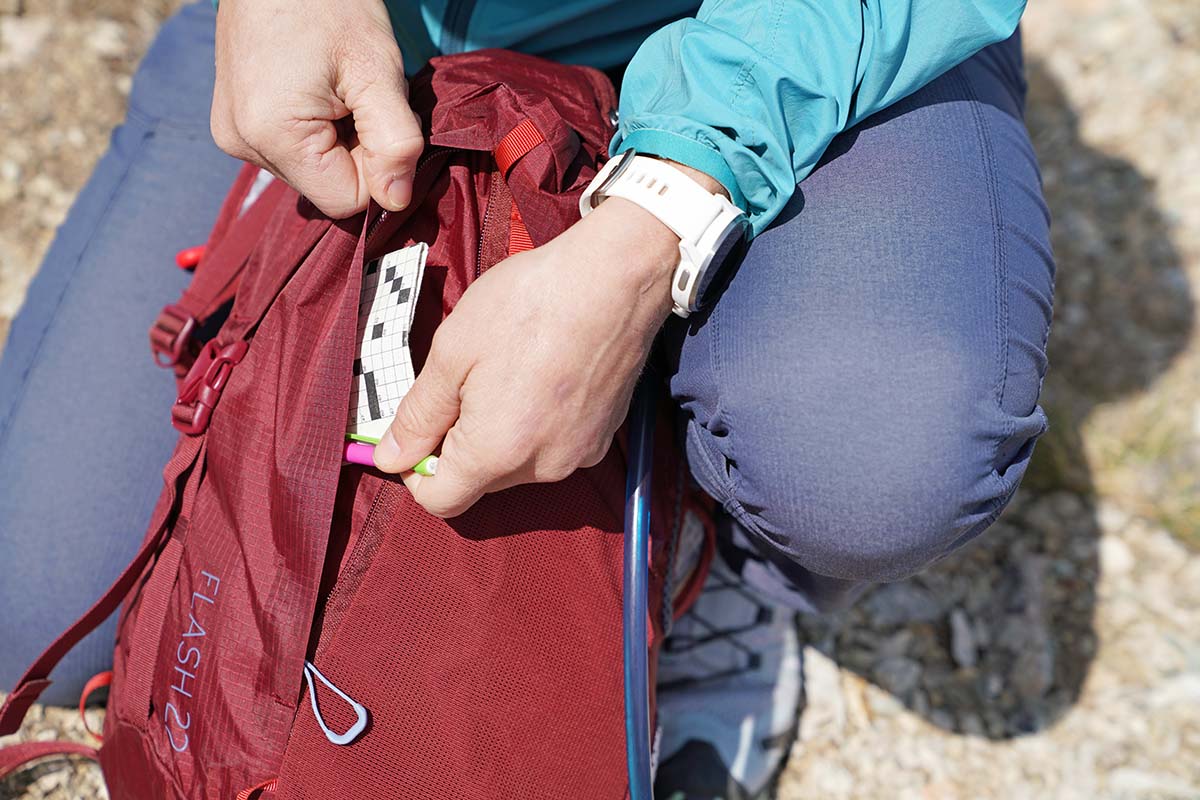 REI has also packed an impressive amount of external attachment points on the Flash 22, ranging from a stowable ice axe loop with top attachment (the top bungee is conspicuously missing on the Flash 18), to daisy chains on each side and lash points for compression straps at the top and bottom. All in all, it's a fairly impressive feature set for such a lightweight build, and we appreciate the additional organization you get from the top lid and side dump pockets (left off the Flash 18).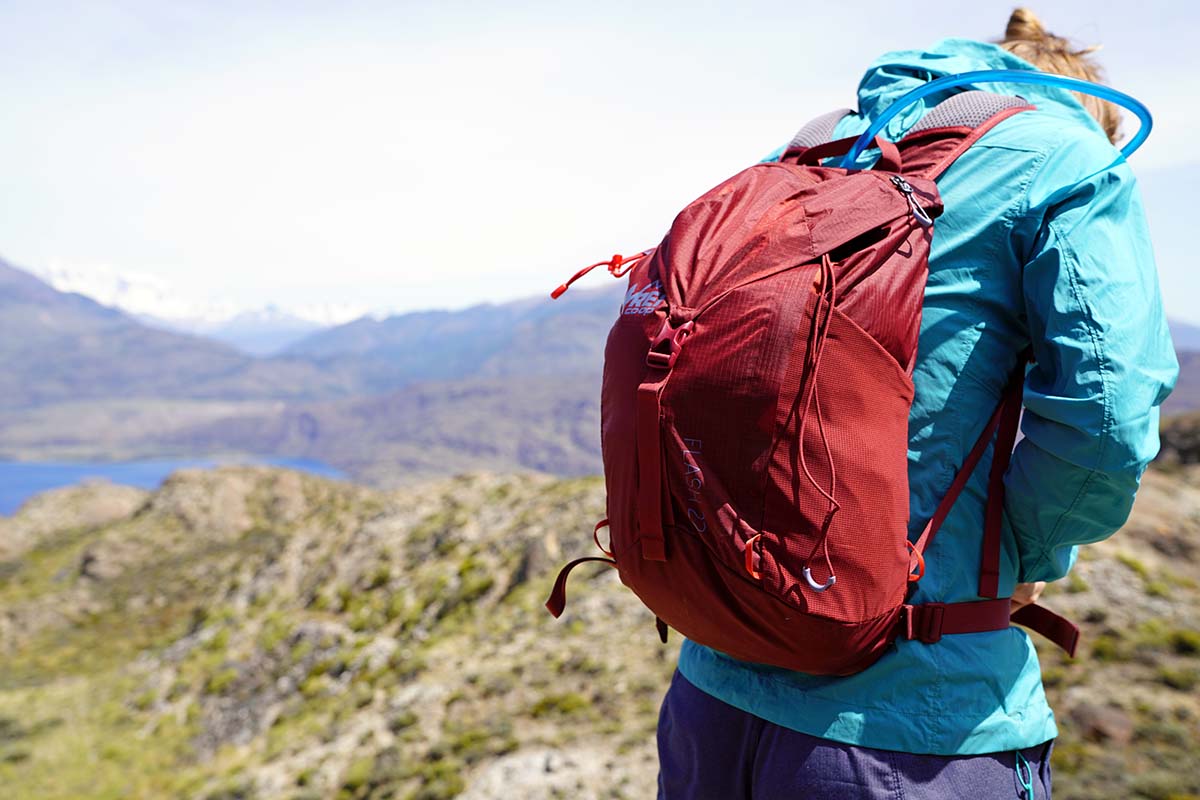 Build Quality and Durability
The Flash 22 is built with noticeably thin ripstop nylon throughout the body, with a more robust fabric in the base (Note: The newest model uses a mix of nylon and polyester). REI does not provide a fabric weight, but the Flash 22's nylon strikes us as being on par with the Marmot Kompressor Plus (100 and 210 denier) and much more lightweight than packs like the Deuter Speed Lite 20 and Osprey Talon 22. Although thin fabrics are more vulnerable to tears and abrasion, we've been impressed with how our Flash 22 has held up under a great deal of use (even including a few days of rock climbing).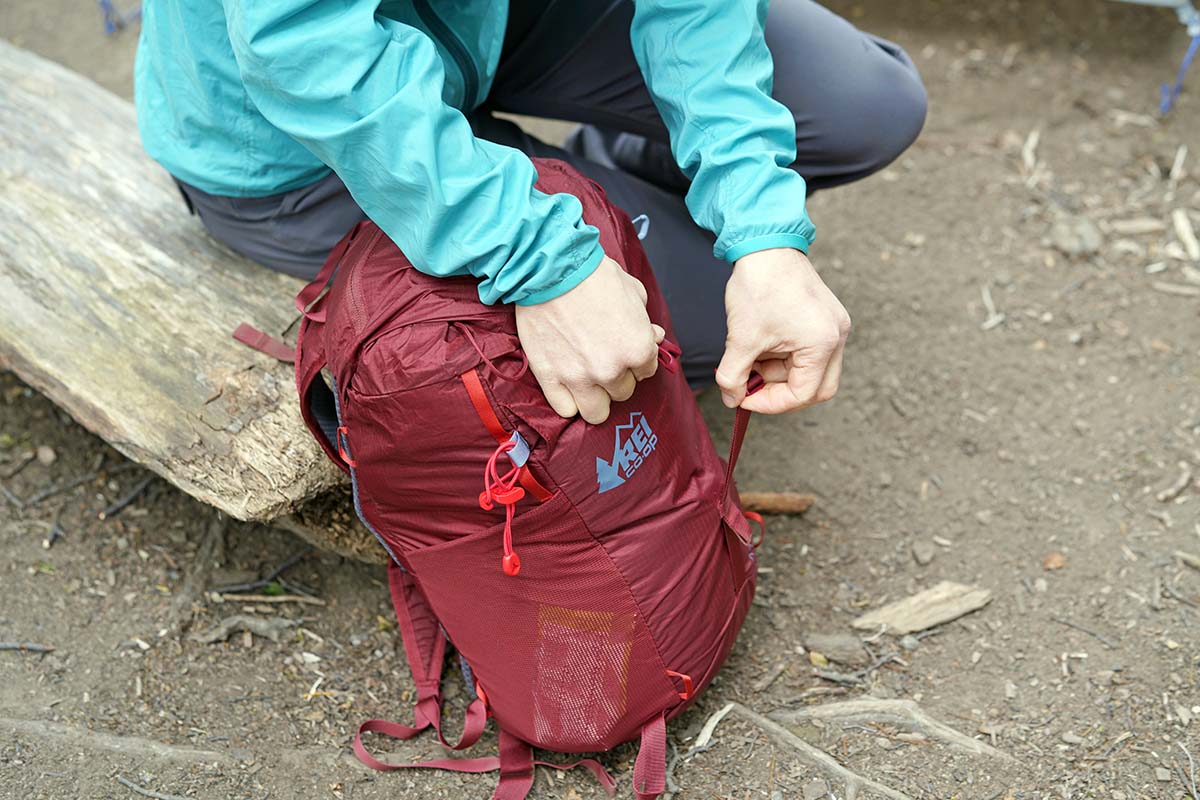 Thin material aside, the pack is well-built with a noticeable attention to detail, from the stowaway pockets for the ice axe attachment points to the sleek hydration tube sleeves on each shoulder strap. In addition, all of the buckles, cords, and zippers have worked flawlessly throughout our testing, and all signs point to the Flash 22 having a nice long life (which is significant, given its low $60 price tag). One final thing to note: when removing the foam backpanel on the 18-liter version of the Flash, we tore a chunk out of. Given the similarities between the two designs, it's a good idea to treat the panel with care if you plan to remove it to cut weight or for use as a sit pad.

Fit and Sizing
REI Co-op makes their Flash 22 pack in one size only, which fits torso lengths of 16 to 21 inches and a range of hip sizes from 26 to 42 inches. We've found the pack to be very accommodating of various body shapes, and have even swapped it between Switchback Travel staff members ranging from 5'5" to 6'1" tall. That said, the one-size-fits-all designation does have its limitations, particularly for those with body shapes and sizes on either end of the spectrum. Most ultralight daypacks come in just one size (including the Marmot Kompressor Plus and Osprey Daylite Plus), but bumping up to more featured designs will get you more options for fit. For example, the Osprey Talon 22 comes in two sizes (plus a dedicated women's version) and can accommodate torsos from 16 to 23 inches in length.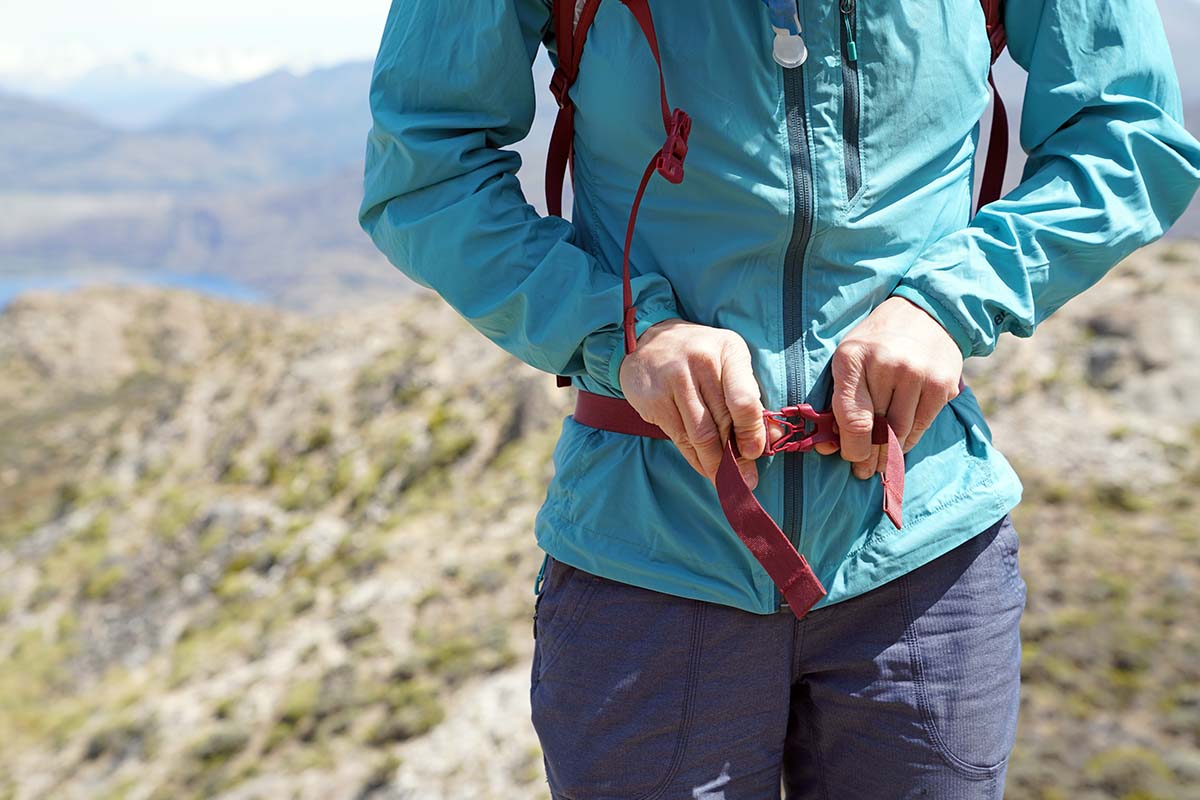 Other Versions of the REI Co-op Flash
We tested the 22-liter version of the Flash for this review, and it's also available in an 18-liter version, which weighs only 9.5 ounces and retails for $40. The Flash 18 drops a number of features from the 22's build in order to save weight and bulk, including the airy padding on both the backpanel and shoulder straps, side dump pockets, and the top lip and pocket. As a result, it's significantly less comfortable when loaded down and a poor ventilator. Like the 22, the 18 is one-size-fits-most, but its smaller overall shape seemed to work best with average to small statures. Last but not least, REI makes the Flash 55 for $199, which is an overnight pack that comes with a more robust suspension system and feature set.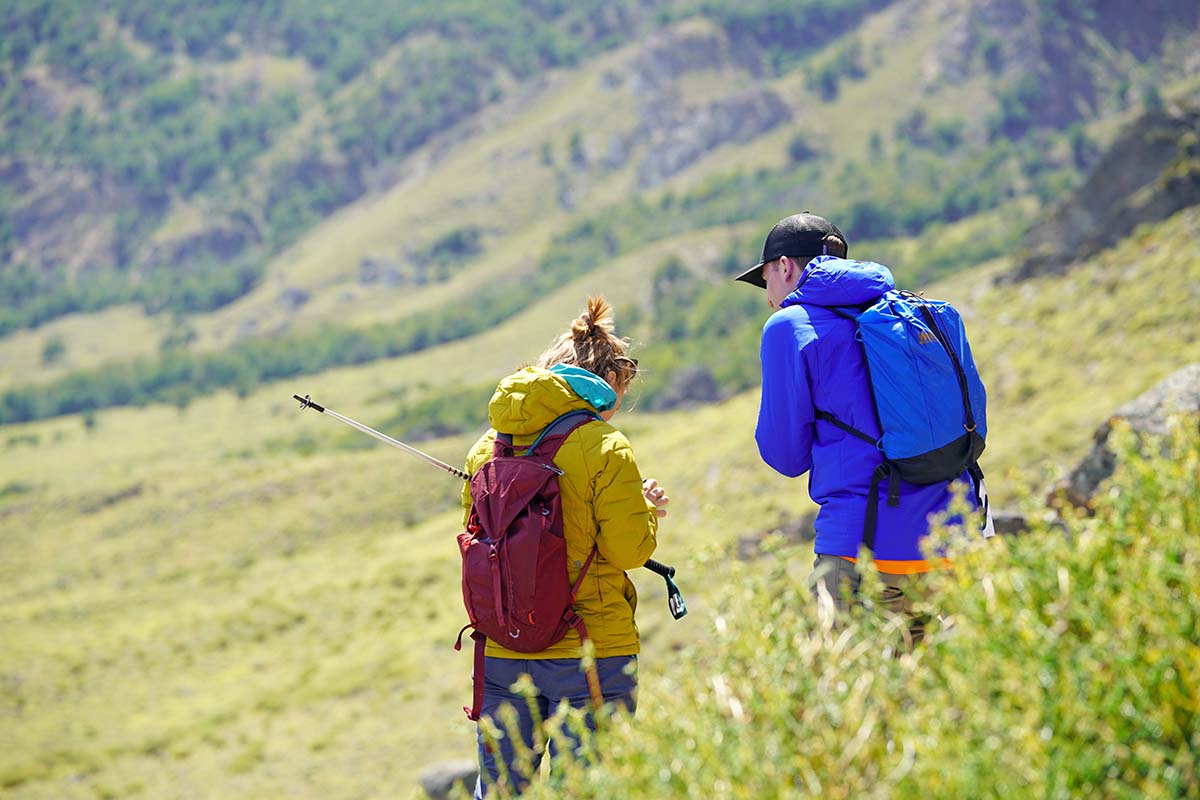 What We Like
The Flash 22 is well-built, thoughtfully designed, and price right at $55.
Padded mesh panels along the backpanel and on the shoulder straps add ventilation and comfort.
Great feature set, including two zippered pockets; hydration sleeve, hang loop, and port; ice axe attachment; and multiple external lash points.
At only 14 ounces and with a very packable build, the Flash 22 is easier to throw in your backpack or duffel than most daypacks of similar capacity.

What We Don't
With minimal padding, no metal frame, and a webbing hipbelt, the Flash 22 is not comfortable when overloaded.
Thin fabrics in the pack body requires care to avoid small rips and punctures.
Only comes in one size.


Comparison Table
| Daypack | Price | Weight | Capacities | Hipbelt | Frame | Pockets |
| --- | --- | --- | --- | --- | --- | --- |
| REI Co-op Flash 22 | $60 | 14 oz. | 18, 22L | Webbing | None | 3 exterior |
| Deuter Speed Lite 20 | $80 | 1 lb. 1.3 oz. | 12, 16, 20, 24, 32L | Webbing | U-frame | 4 exterior |
| Marmot Kompressor Plus | $69 | 12.5 oz. | 18, 20L | Webbing | None | 3 exterior |
| Gregory Nano 22 H2O | $90 | 1 lb. 2 oz. | 18, 22L | Webbing | None | 3 exterior |
| Osprey Daylite Plus | $70 | 1 lb. 4.6 oz. | 13, 20L | Webbing | None | 4 exterior |
| Osprey Talon 22 | $135 | 1 lb. 14.6 oz. | 11, 22, 26, 33, 36, 44L | Cushioned | Backpanel | 6 exterior |
| REI Co-op Trail 25 | $80 | 2 lb. | 25, 40L | Webbing | Framesheet | 5 exterior |

The Competition
The REI Co-op Flash 22 is an exceptional daypack that prioritizes a lightweight and packable build with only minor compromises, but the minimalism might be overkill for some. For more of an emphasis on comfort and durability, we love the 1-pound-1.3-ounce Deuter Speed Lite 20. The Speed Lite features more robust padding in the backpanel and shoulder straps and thicker fabrics throughout. Additionally, it comes with a great feature set, which tacks onto the Flash 22's design a zippered hydration/laptop sleeve, helmet attachment points (great for a bike or climbing helmet), and front organization pocket. At $80, the Speed Lite will cost you $20 more than the Flash 22, but the added functionality will be worth it for many.
Within the same class as the Flash 22, the Marmot Kompressor Plus is a similarly lightweight pack (12.5 oz.) that's even built to stuff into its own lid when not in use. The two designs are almost identical in terms of feature sets and fabrics, but with the Flash you get 2 extra liters of capacity for $9 less. Not only that, but the Flash 22 incorporates padded mesh along the backpanel and on the shoulder straps, while the Kompressor Plus is built with a simple nylon backpanel and thin mesh shoulder straps. This is a notable downgrade in terms of both comfort and ventilation, making the Flash 22 the no-brainer pick for us.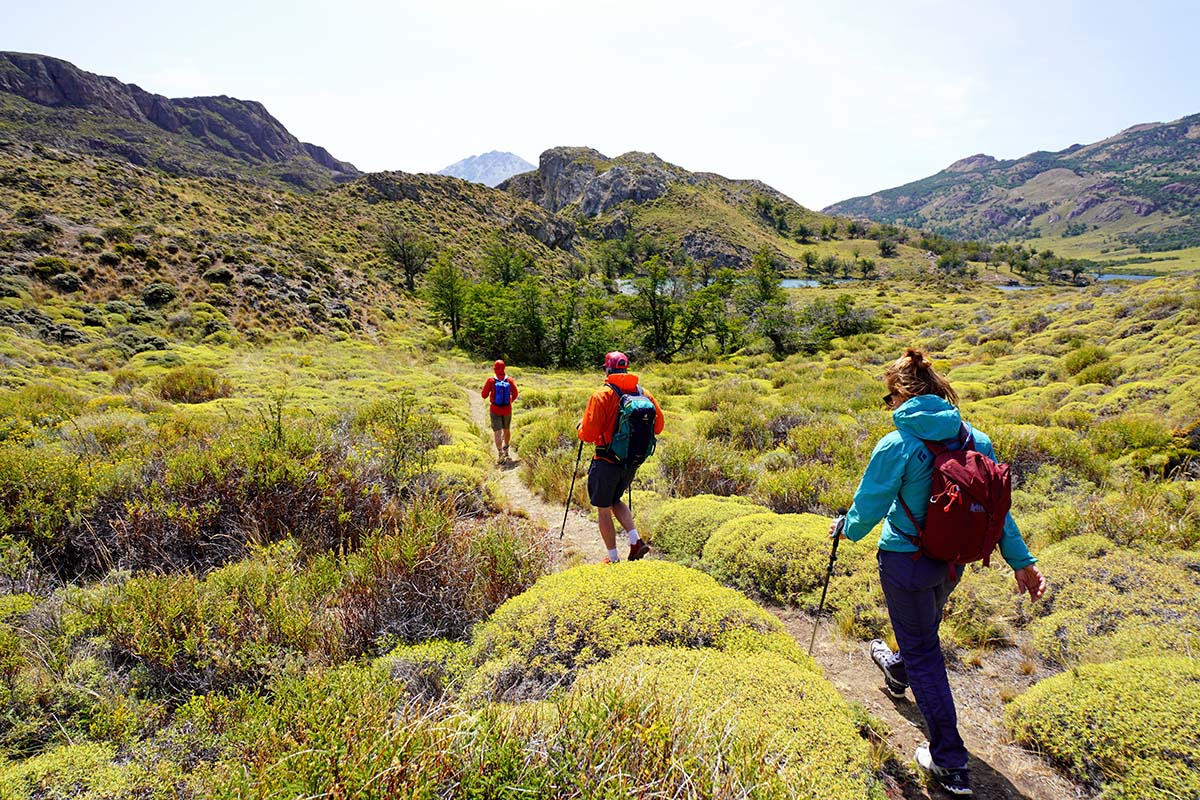 Gregory's Nano 22 H2O and Osprey's Daylite Plus (20L) both are very competitive options for a lightweight daypack with minimal tradeoffs. The Nano is a particularly great value at just $90 for the pack and included 3-liter water reservoir (which costs $43 on its own). You also get noticeable boosts in support and breathability from the die-cut foam backpanel, as well as more durable fabrics and compression straps along the front for snugging down your load. Whether or not the added features are worth the bumps in cost and heft (1 lb. 2 oz.) are up to you, but we appreciate the Nano's more well-appointed build.
Next up is Osprey's Daylite Plus, which again costs and weighs more than the Flash 22 but offers a number of advantages. Like the aforementioned Nano, the Daylite Plus uses more durable fabrics than the REI, has greater padding and ventilation on the suspension system, and boasts extras like a dedicated zip pocket for valuables and front dump pocket, which greatly improve organization. The Daylite is the heaviest of the grouping at 1 pound 4.6 ounces, although we like that it can be connected to many of Osprey's larger-capacity backpacking and travel bags. All in all, if you're on the lookout for comfort but don't want to spend up for the Deuter above, the Daylite is another solid option.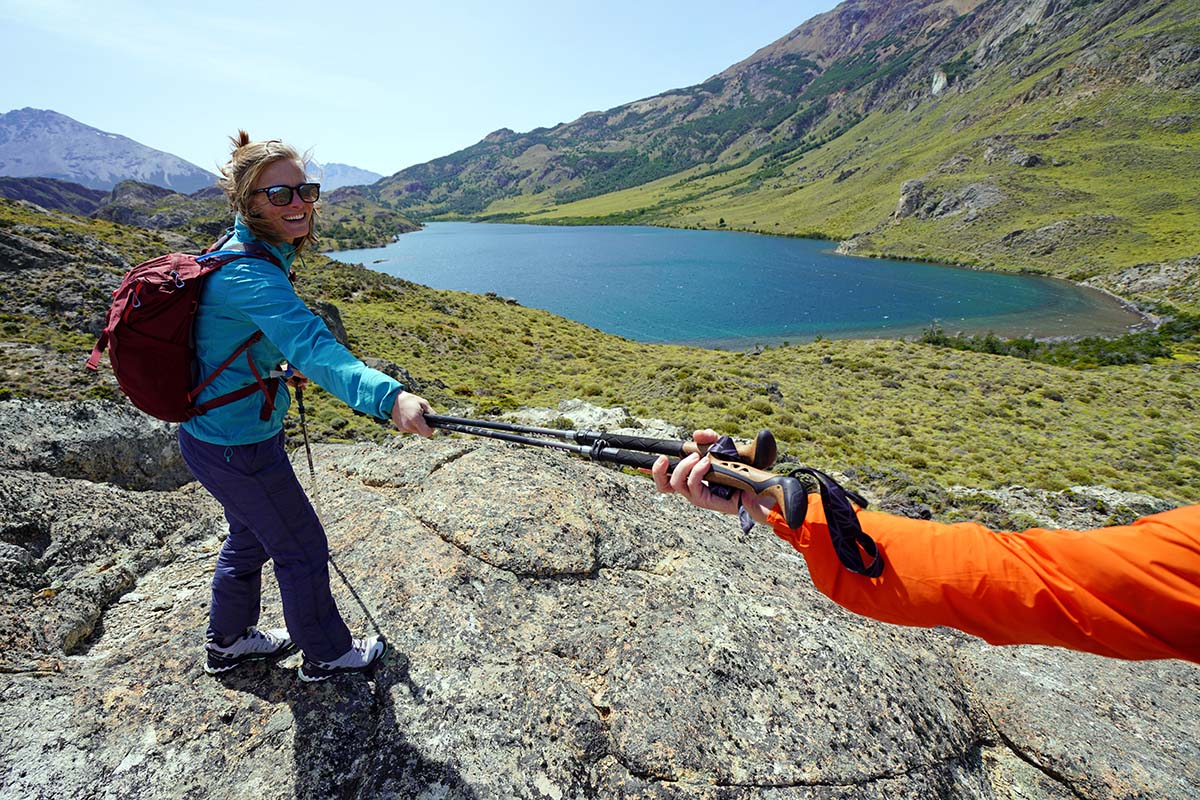 Those looking for greater comfort should check out the Osprey Talon 22 (or women's Tempest 20). At 1 pound 14.6 ounces and $135, the Talon is over twice the weight and price of the Flash 22 but comes with a big jump in features, comfort and load-carrying capabilities, durability, and more. You get a sturdier framesheet and a real hipbelt (as opposed to simple webbing), meaning that the Talon distributes weight much more effectively than the Flash, and it also ventilates better between the body and the pack. Further, a pocket on each hip and one on the left shoulder strap help keep you organized, as do integrated trekking pole and helmet carry systems. And importantly for some, the Talon comes in two sizes, making it easier to find a good fit. The Talon represents the tip of the iceberg in terms of feature-rich packs, but with extra weight and cost.  
Last but not least is REI Co-op's own Trail 25, which represents another solid value. For $20 more than the Flash 22, the Trail offers a slight boost in capacity, great organization with ample exterior pockets and daisy chains (as well as a generous U-shaped zipper to access the bottom of the main compartment), and extras like trekking pole attachment points and an included rain cover. It also has plusher cushioning around the shoulders and backpanel, although the waist belt still is a simple webbing design. You do pay for the added features in weight (the Trail 25 checks in at 2 lbs. even), but many day hikers will find the boosts in padding and all-around support worth it.
Editor's note: We usually provide a live price comparison table below our outdoor gear reviews, but the Flash 22 is sold exclusively by REI Co-op. You can see the Flash 22 page here and support us in the process. Thanks!
Learn More About Hiking Gear