Hyperlite Mountain Gear Daybreak
Price: $229
Weight: 1 lb. 4.3 oz.
Capacity: 17L
What we like: An ultralight and weather-ready pack with great carrying comfort and durability.
What we don't: Expensive, lacking in breathability, and only offered in one size.
See the Hyperlite Mountain Gear Daybreak
Maine-based Hyperlite Mountain Gear is well known among ultralight enthusiasts for their premium packs and tents made with Dyneema—a naturally water-resistant material that's incredibly strong for its weight. Their Daybreak Ultralight Daypack is case in point: The pack is undeniably light at just 1 pound 4.3 ounces but impressively tough and weather-ready. I recently took the Daybreak along on acclimatation hikes in Peru's Cordillera Blanca and on a subsequent 10-day supported trek through the Cordillera Huayhuash, where it was quick to win me over with its load-carrying capabilities and functional organization layout. It's certainly pricey and lacking in ventilation, but the balance of comfort, features, and weight is hard to beat. Below I break down my experiences with the Hyperlite Daybreak. To see how it stacks up to the competition, check out our article on the best daypacks for hiking. 
 
---
Table of Contents
---

Performance
Carrying Comfort
The Hyperlite Mountain Gear Daybreak Ultralight Daypack is an unapologetically streamlined and minimalist design, which I expected would come with some serious comfort-related concessions. But thankfully, my concerns were largely unfounded: While lightly padded, the wide (1.5-in.) hipbelt is surprisingly supportive, and the shoulder straps have a little less cushioning with 3/8-inch foam but are similarly wide for evenly distributing the load. The latter did feel a little abrasive against bare skin when paired with a singlet, but I had no complaints when wearing t-shirts for the rest of the trip. The backpanel is also on the thinner end with 1/4-inch foam and did feel a little underpadded when I stuffed rigid and bulky items (like a camera) close to my back, but this was easily rectified with some strategic packing (e.g., positioning my hydration reservoir closest to my back).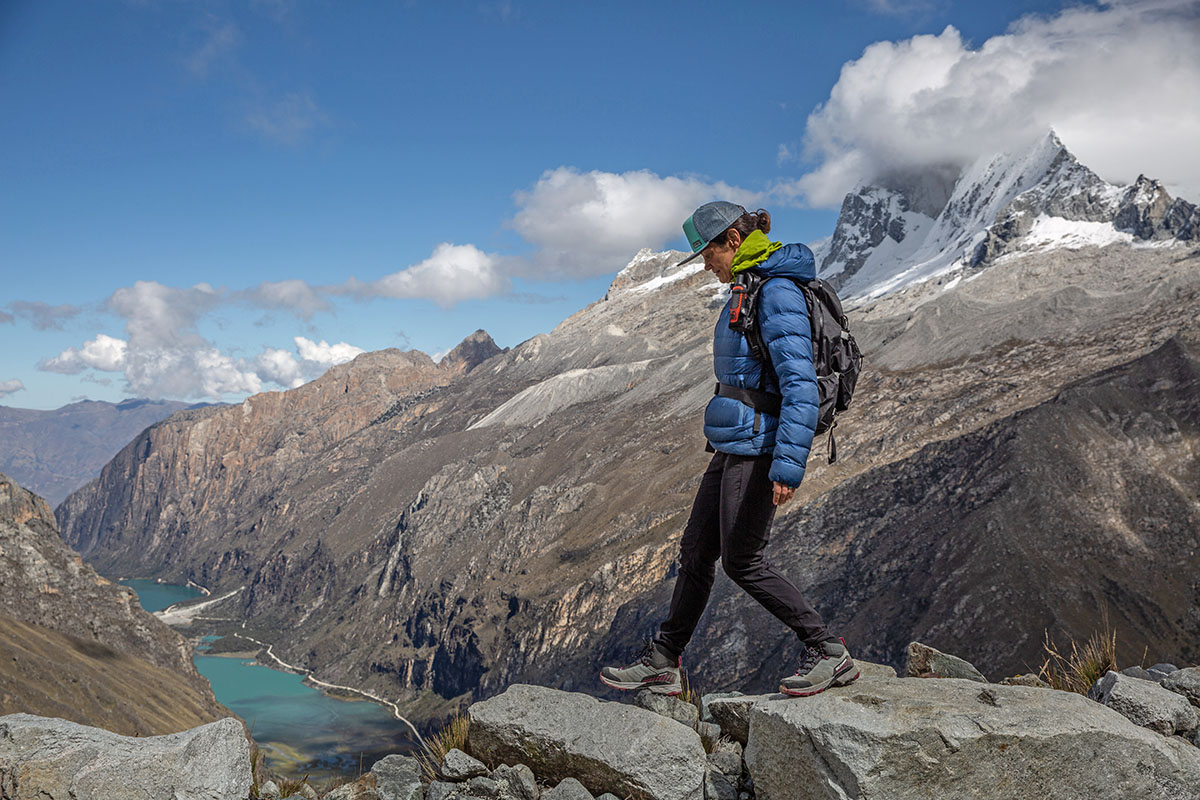 As far as carrying capacity goes, the Daybreak is rated for loads up to 25 pounds, which I maxed out on more than one occasion in Peru. While trekking the Cordillera Huayhuash, I began each day with 3 liters of water, an SLR camera with extra lenses, fruit, a juice box, and clothing for the constantly shifting weather conditions. Even though the weight added up quickly, the Daybreak carried the load well with ample support for struggling up steep mountain passes and navigating tricky terrain. It's worth noting that the pack is frameless by design, but it never felt floppy or underbuilt, and the backpanel provided enough structure and rigidity for the weight I was shuttling.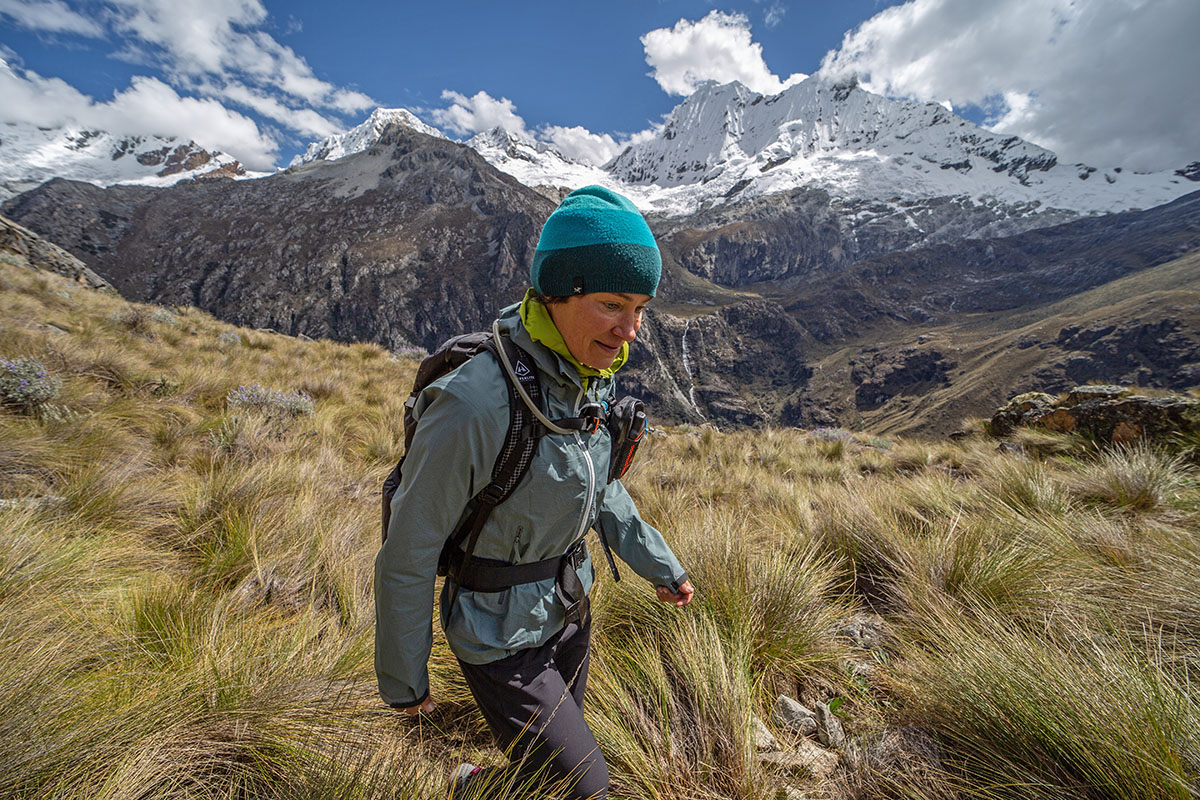 The only notable comfort-related issue I experienced was with the hipbelt, which I couldn't get to stay taut around my waist. I was able to achieve some additional friction by threading the strap through the buckle twice, but it continued to slide and loosen throughout the day and required frequent readjusting to transfer the weight back onto my hips rather than my shoulders. This was likely an anomaly with my pack—there are no other reports of this problem in user reviews—but it nevertheless detracted from overall carrying comfort. And a final (albeit smaller) complaint is that the sternum strap was a little loose across my chest, even when cinched as tightly as possible. I was still able to get a good all-around fit, but the lack of adjustability and one-size-fits-all sizing are unavoidable drawbacks for those with particularly narrow or broad builds (more on this in "Fit and Sizing" below).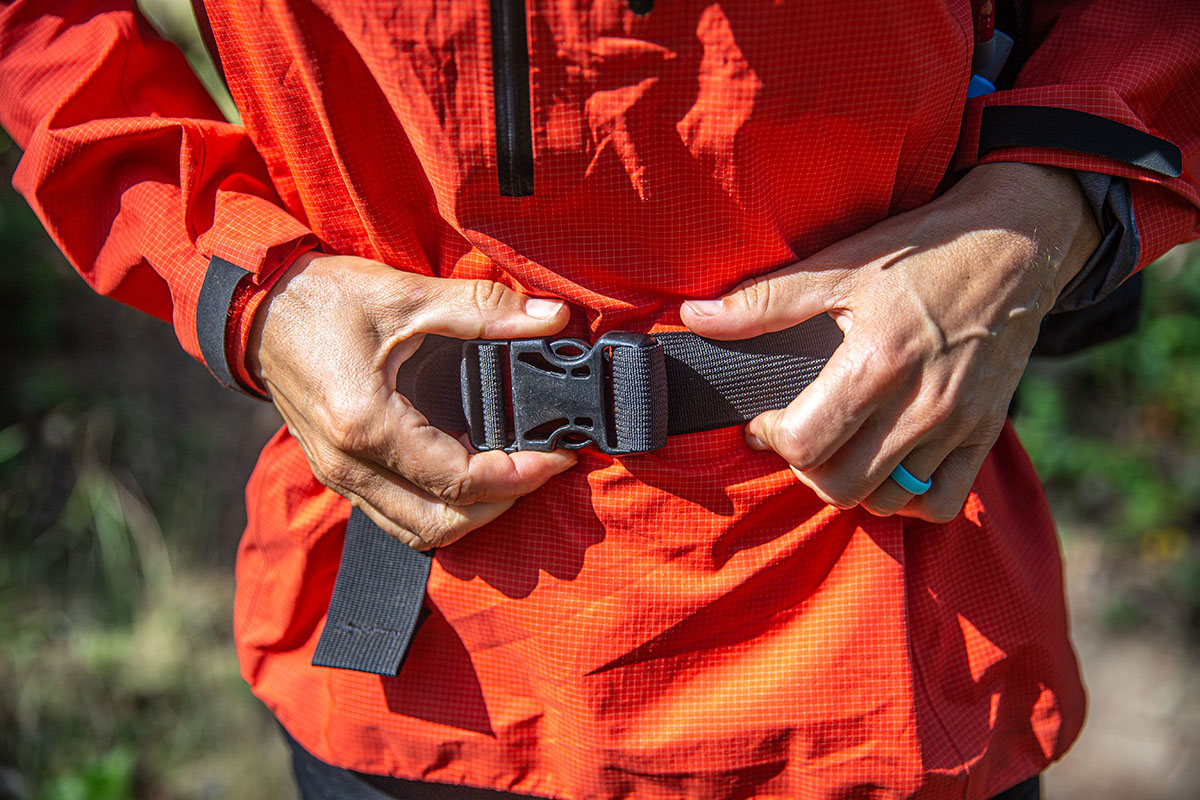 Weight
Hyperlite is a leader in the UL market, so it comes as little surprise that the Daybreak checks in at a scant 1 pound 4.3 ounces. For reference, most other daypacks with similar capacity clock in closer to the 2-pound mark, including designs like the Gregory Miwok 18 (1 lb. 12.3 oz.) and Osprey Talon Pro 20 (2 lbs. 1.3 oz.). Among similarly intentioned UL designs, Arc'teryx's Aerios 15 (1 lb. 4 oz.), Matador's Beast18 (1 lb. 5 oz.), and REI Co-op's Flash 22 (14 oz.) stack up competitively weight-wise but lack the weather resistance and impressive carrying comfort of the Daybreak with more minimalist padding and suspension systems. And a final bonus: The Daybreak's flexible backpanel makes it easy to roll the pack up and stuff it into a duffel or suitcase for travel—I used it as my carry-on going to Peru and stashed it in my Osprey Transporter 65 on the trip home.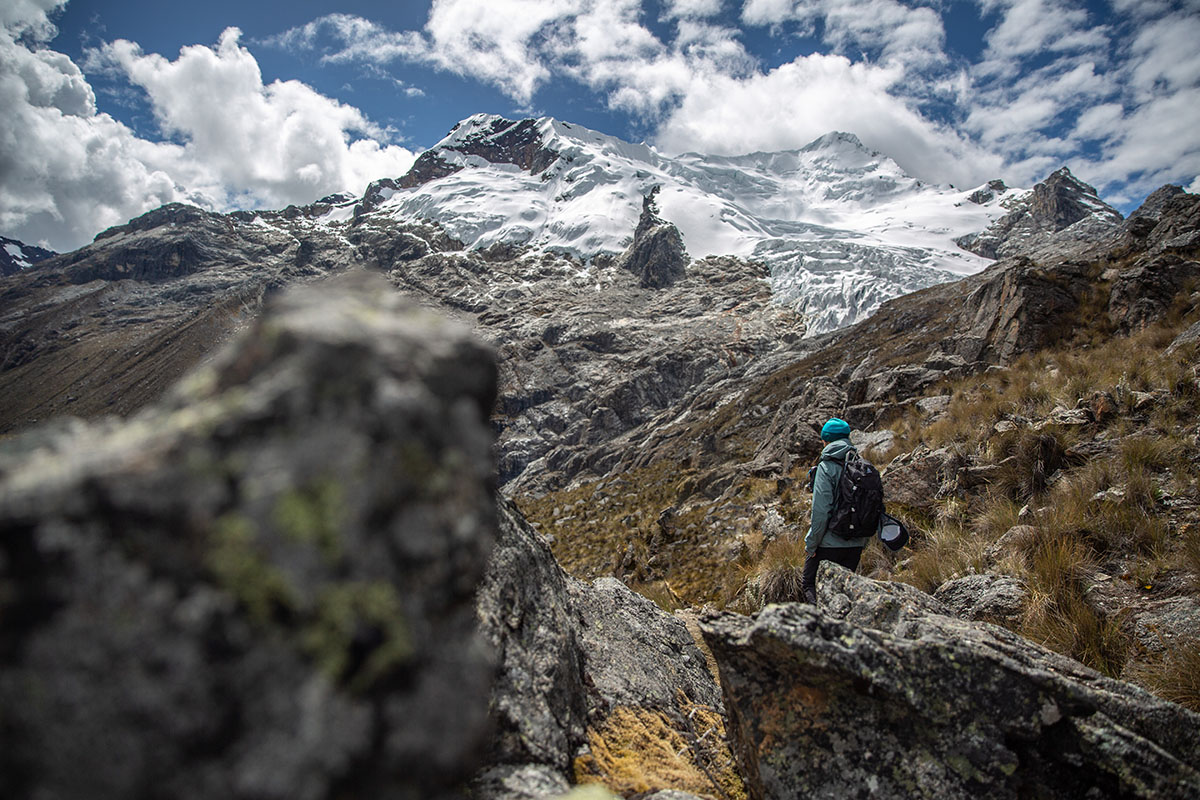 Ventilation
If I were to pinpoint the Daybreak's biggest weakness, it would unquestionably be ventilation. In addition to being on the thinner end, the backpanel lacks mesh and sits right up against my back, leaving no space between the pack and my body for air to flow. For reference, I don't typically tend to overheat while hiking (even on particularly steep slogs), but I frequently ended up with a sweaty back on effortful days in Peru. This isn't entirely uncommon among targeted ultralight designs—Six Moon Designs' larger Wy'east Daypack has a similar all-foam layout—but many competitors include some mesh along the back and/or suspension system to boost breathability. In my opinion, the Daybreak's otherwise well-rounded build makes up for the lack of ventilation, but it's a notable downside for those who tend to run hot.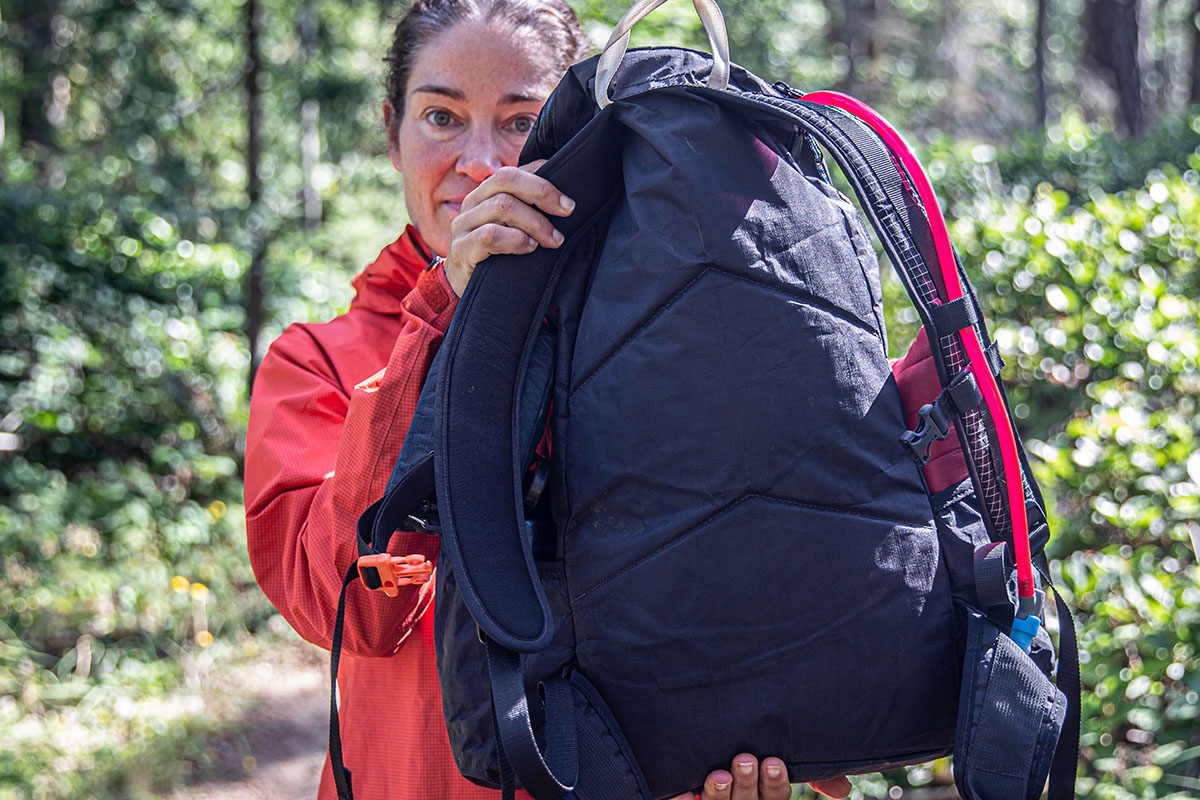 Pockets and Organization
Despite its streamlined appearance, the Hyperlite Daybreak managed to swallow far more gear than anticipated. The main compartment boasts 17 liters of capacity, which may not seem like a lot on paper, but the large front shove-it pocket and generous angled side pockets add a considerable amount of functional storage. The full-zip, clamshell-style opening allows quick and easy access to the interior—I was able to stuff my bulky camera inside clothing to keep it protected and had no trouble retrieving it whenever I needed to (this likely would have been much harder with a top-loading-only design). The external front pocket is also very generous and easily fit my Gore-Tex shell and pants plus snacks for the day, and the two side pockets are perfectly sized for Nalgenes. I did find it awkward to retrieve water bottles while moving (and putting them back was even tougher), but these pockets worked equally well for stashing a compressed jacket, beanie, and gloves.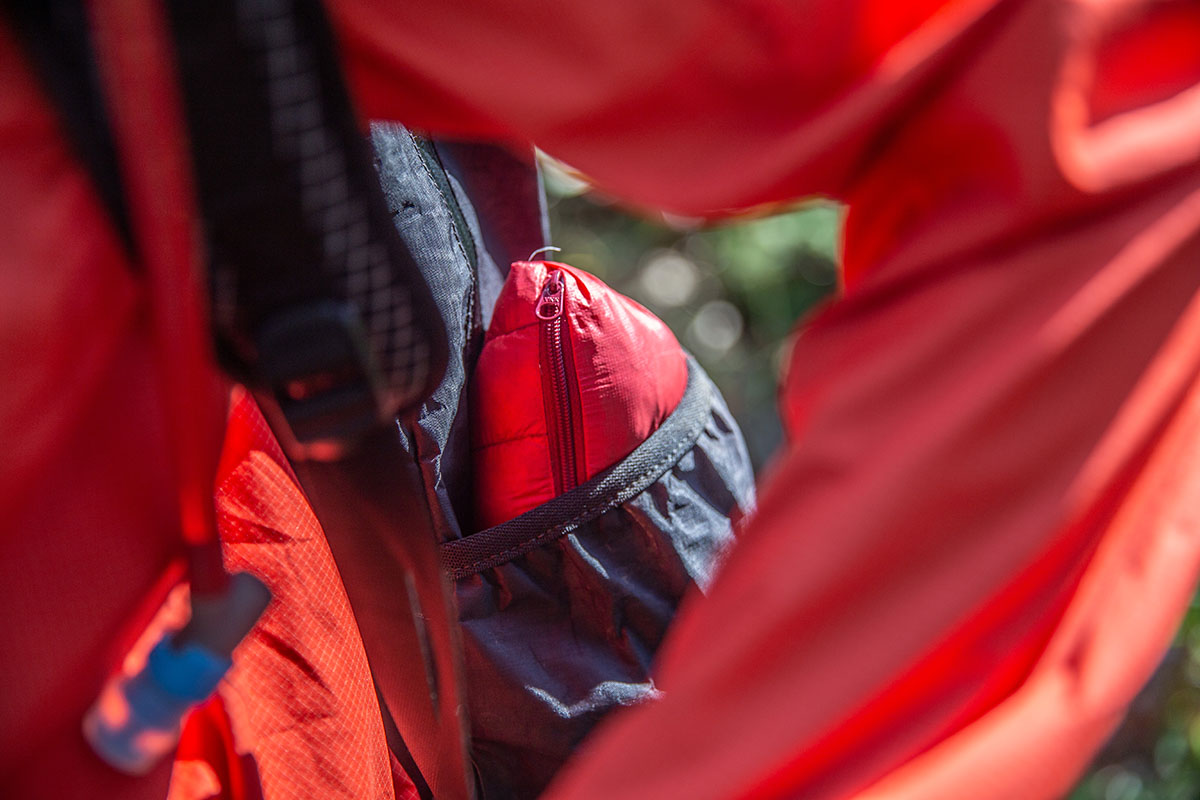 Rounding out the storage layout, you get an internal zippered pocket that measures 7 x 5 inches and worked well for stashing my passport, credit cards, and cash. It's not large enough for much else, but I was happy to have a space to separate those important items. Additional gear can also be secured to the outside of the pack by attaching it to the front shock-cord system or daisy chains along the shoulder straps. There's no designated spot to stash trekking poles to free up your hands while hiking, but I was able to fasten them to the front of the pack by threading them through the bungees. And you do get an ice axe attachment loop at the bottom, which is arguably a more functional inclusion and can be removed to shave a little weight. Finally, Hyperlite sells an assortment of storage accessories and add-ons separately—I added two shoulder pockets ($49 each) and put my Garmin inReach in one and iPhone in the other with enough leftover space for a couple sticks of lip balm (I always carry extra).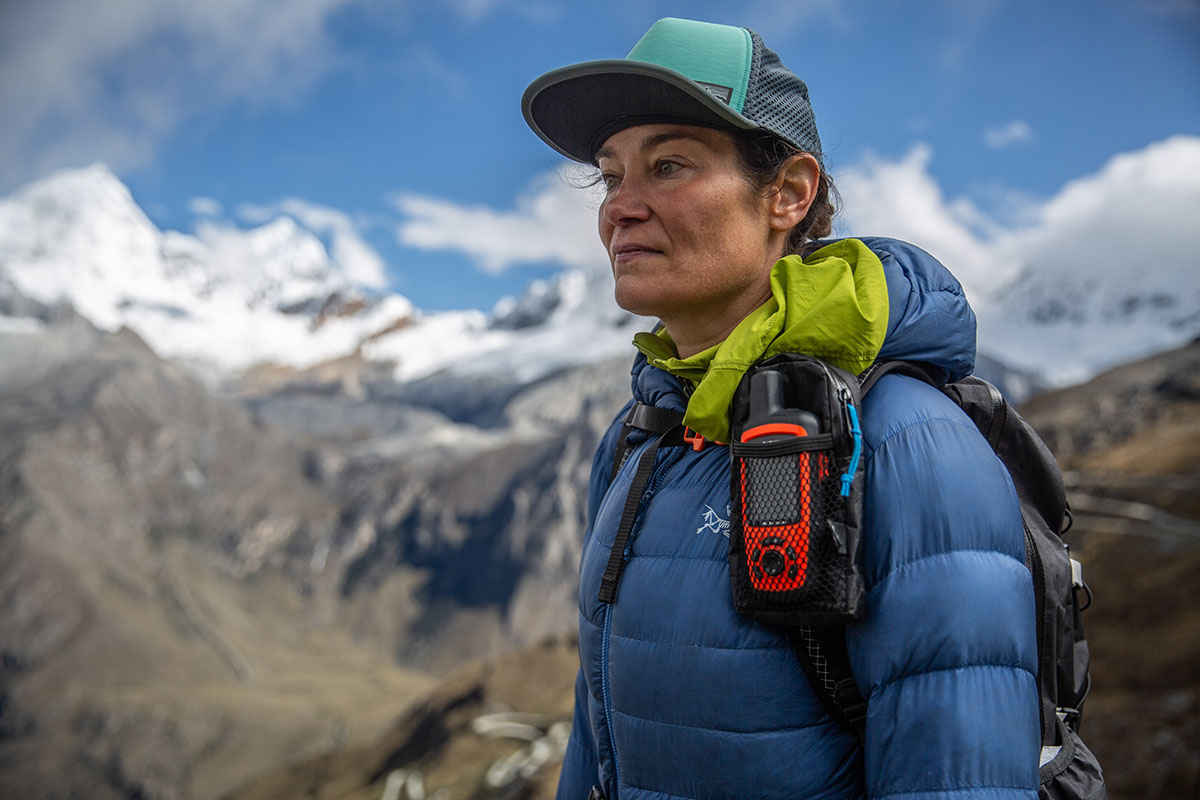 My only storage-related gripe with the Hyperlite Daybreak is that there's no great spot for a hydration bladder, which feels like a big omission. I was able to make do by utilizing the internal laptop sleeve along the back, but it wasn't an ideal solution: There's no loop for securely hanging a full bladder, and I had to feed the reservoir tube through the main zipper, which left a small gap for precipitation to enter. Hyperlite suggests placing your reservoir in the outer dump pocket, which solves the weatherproofing issue but makes it more difficult to access the main compartment (my full bladder tended to flop around and slide out of the outer pocket whenever I tried unzipping the pack). I also found it was more prone to bouncing around when moving quickly or bounding over boulders, which led to a pretty sloppy and awkward feel. In the end, while the laptop sleeve adds versatility for daily use or travel, I think hydration compatibility (sleeve, hanging loop, and opening for the tube) would have been the far more practical choice.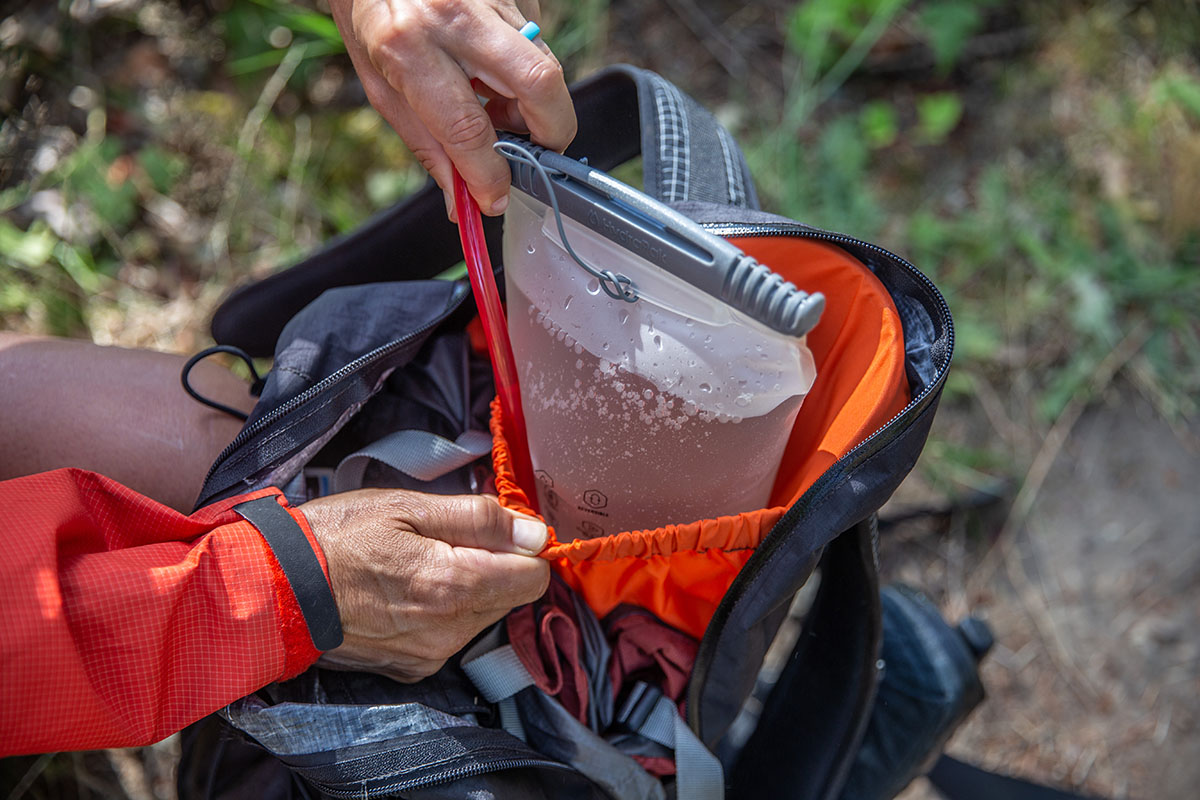 Build Quality and Durability
Ultralight gear isn't typically lauded for its durability, but the Hyperlite Mountain Gear Daybreak has proven to be impressively hardwearing throughout testing. Along with being light and highly water-resistant, the pack's 150-denier (D) Dyneema construction is very tough and reliable, and my pack is in excellent shape after considerable abuse in the unforgiving Cordillera Huayhuash. The smaller details are well sorted, too, including a water-resistant YKK zipper along the top closure that provides dependable protection in heavy rain and snow. My only notable knock on quality has to do with my pack's hipbelt, which won't stay taut and requires frequent readjusting to secure snugly around my waist. Again, this seems to be a one-off issue, but given the pack's steep $229 price tag, I was admittedly disappointed to encounter a problem right out of the box.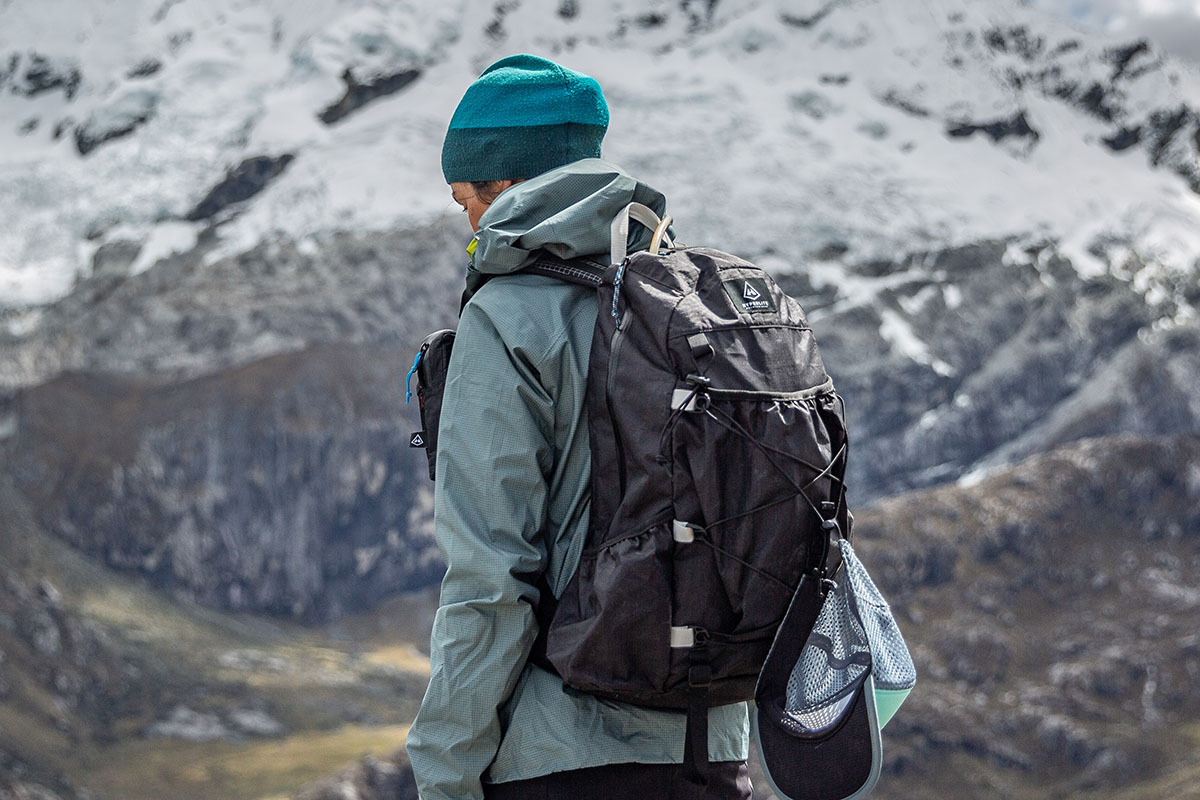 Though not a typical highlight among daypacks, the Daybreak's weather resistance is a hallmark of the design and worth calling out here. As I touched on above, Dyneema is inherently very resistant to moisture, and the top closure also boasts a water-resistant YKK zipper that creates an effective seal. Our basecamps along the Cordillera Huayhaush were largely wet and boggy, and I often dropped my pack beside my tent as soon as I arrived out of sheer exhaustion. More than once, items at the bottom of my partner's Osprey daypack got damp from the same haphazard treatment, but the Daybreak kept my gear perfectly dry and protected. In the end, while not technically waterproof, I'd trust the Daybreak without any added weatherproofing measures (like a rain cover or stuffing my gear in a dry bag) in all but the most inclement of weather.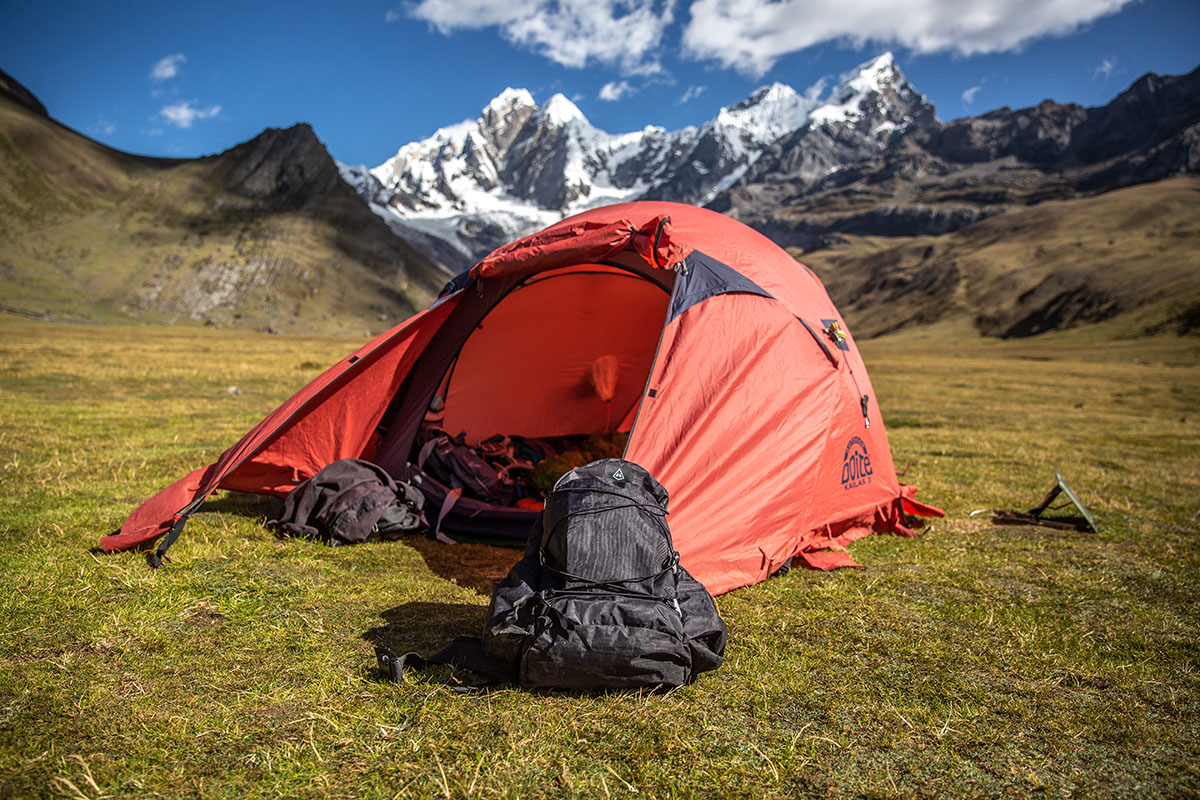 Fit and Sizing
The Hyperlite Daybreak is currently only offered in a single size, which is labeled as "medium." Unfortunately, this wasn't an ideal match for my narrow frame: Even when cinched as tightly as possible, the sternum strap was a bit loose across my chest. Combined with the hipbelt tensioning issue I noted above, I struggled to get a secure and dialed-in fit. On the bright side, overall carrying comfort was still good for long and demanding days on the trail, and the one-size-fits-all design makes it easy to share the pack with my husband, who has a much taller and broader build. And while not removable, the hipbelt can be tucked away when not in use by stuffing it into a small pocket along the back.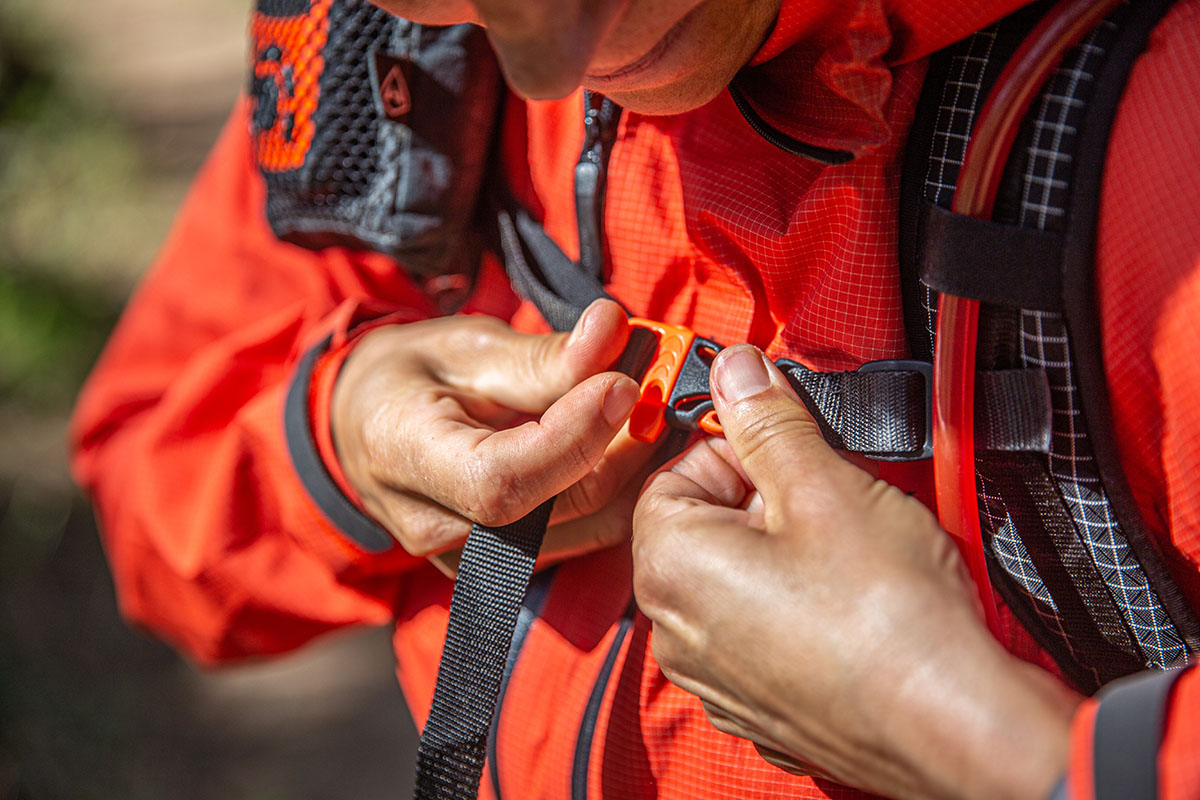 What We Like
At 1 pound 4.3 ounces, the Daybreak is impressively light while offering solid carrying comfort and long-term durability—which is no easy feat. 
Weather protection is great thanks to the pack's highly water-resistant Dyneema fabrics and YKK zipper on the top lid.
While streamlined, the Daybreak provides sufficient padding and structure for comfortably carrying loads of up to 25 pounds. 
Organizational layout is thoughtfully executed, including easy access to the main compartment, a generous front shove-it pocket, and ample exterior attachment points.

What We Don't
Very pricey at $229, especially considering the moderate 17-liter capacity.
Foam backpanel sits right up against the back and doesn't allow much airflow.
Only offered in a single size, which may not work for those with particularly narrow or broad builds.
The hipbelt on my pack wouldn't stay taut and required frequent readjusting on the trail, which doesn't seem to be a common issue but detracted from overall comfort.
There's no ideal spot for stashing and securing a hydration reservoir.


Comparison Table

The Competition
The Hyperlite Daybreak stands out in the daypack market as a decidedly premium and weather-ready ultralight design. Given the pack's niche intentions and steep price tag, there aren't many direct competitors, but Arc'teryx's Aerios 15 is a strong alternative for technical and weight-conscious missions. We're big fans of the fastpacking-inspired design, which merges the support of a backpack with the on-the-go storage of a running vest. Organization is good too, including a dedicated reservoir sleeve, front bungee system for securing extra gear (similar to the Daybreak), and generous zippered storage. That said, the Arc'teryx's thin webbing hipbelt is a big step down in carrying comfort from the Daybreak's wide and padded belt, and you forgo weather-ready materials and zippers (although the ripstop fabrics are impressively tough for the weight). But the clincher for many will be price: The Aerios is around $100 cheaper than the Hyperlite while offering comparable technical chops in a similarly light package.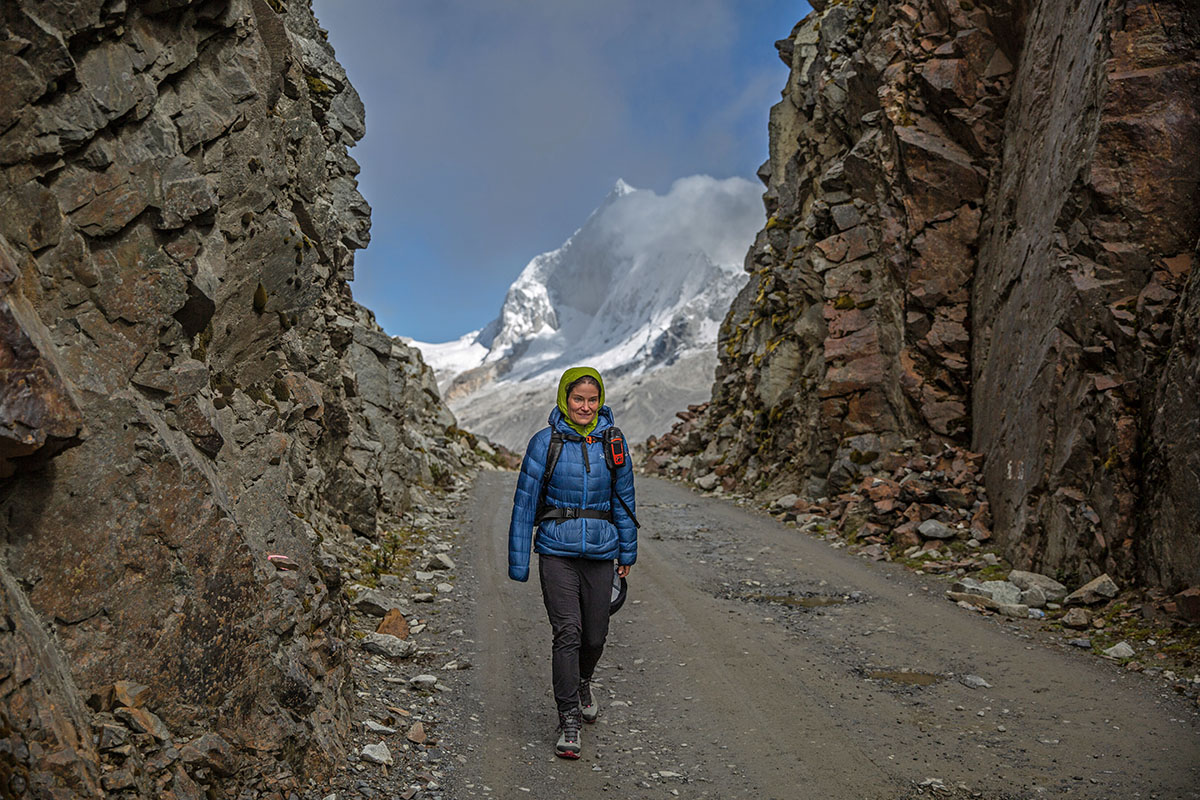 Boulder-based Matador is a relative newcomer to the daypack market, but their Beast18 stands out as a fully featured ultralight design at a great price. At 1 pound 5 ounces, the Beast checks in around the same weight as the Daybreak but adds a flexible steel frame that boosts structure and support and allows the pack to fold down into its included compression sack for storage. Like the Hyperlite, the Beast18 also boasts a clamshell-style opening that makes access quick and easy, water-resistant YKK zippers, and functional interior and exterior organization. The Daybreak's Dyneema build offers better assurance in inclement weather and is stronger for the weight, although the Matador's Robic nylon construction is reasonably durable and coated with a waterproof finish. In the end, it's hard to compete with Hyperlite's name and reputation, but the Beast18 offers similar features and performance at a much lower price point.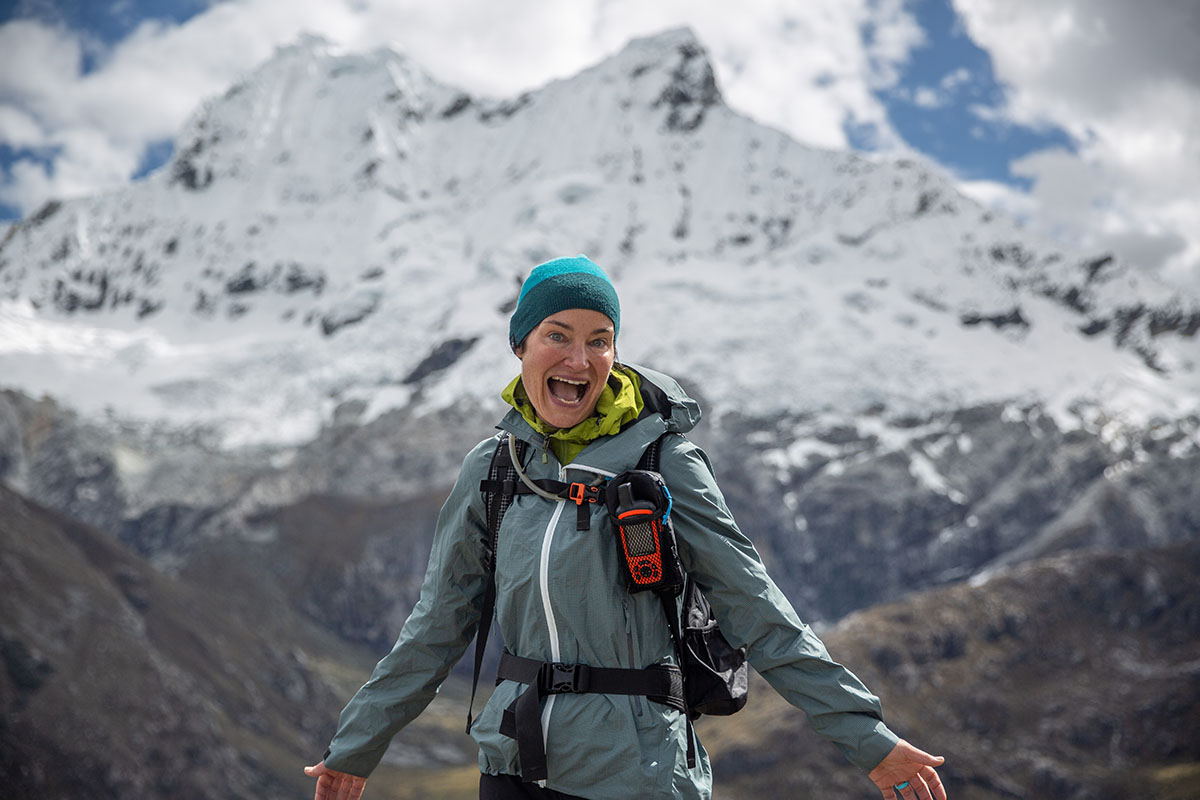 REI Co-op may not be a leader in the UL market like Hyperlite, but their Flash 22 Pack has been a popular choice among hikers, travelers, and those on a budget for years. Right away, we'll note that the Flash is a step down in all-out performance from the Daybreak with thinner and less robust fabrics, no waterproofing measures, and more minimalist cushioning along the hipbelt and shoulder straps that translates to less load-carrying capacity. On the flip side, the Flash wins out in breathability with padded mesh along the back and shoulders, is lighter at 14 ounces, and costs just $60. In the end, the REI is plenty of daypack for most casual hikers and crosses over well for daily use, but the Daybreak is the more specialized and premium UL design for committed backcountry-goers.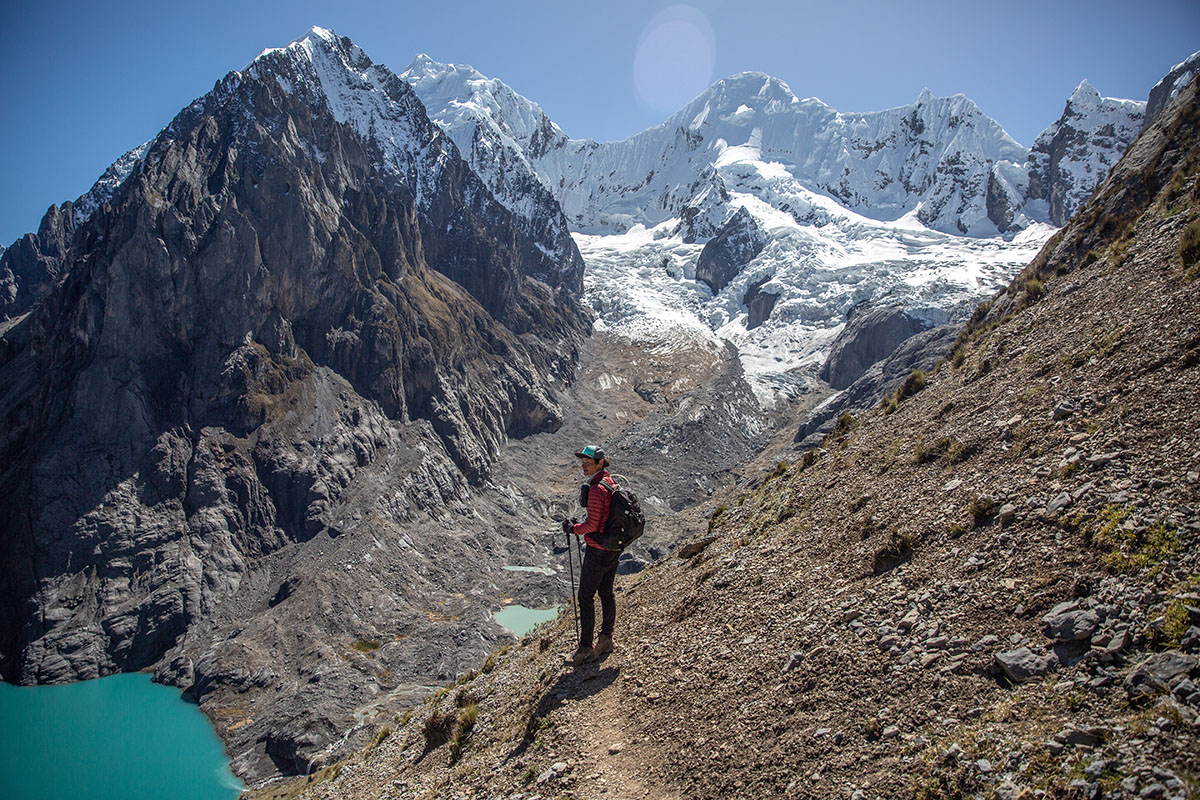 A final alternative to have on your radar is Ultimate Direction's Fastpack 20. Built for weight-conscious missions like fastpacking and ultralight mountain objectives, the running vest-inspired design is competitively light at 1 pound 4.8 ounces but comes nicely appointed with generous front storage, an easy-to-access main compartment, and a roll-top closure that can expand or compress to fit your load. We also like the backpanel design, which nicely balances support and breathability with mesh covering the pocketed foam. On the flip side, the Fastpack uses fairly thin materials along the shoulders and a very basic webbing hipbelt, which make it notably less comfortable and supportive under a heavy load than the Daybreak, and not everyone will love the technical, vest-style design. A final downside is lack of waterproofing, although that likely won't be a deal breaker for most.
If you're thinking about buying gear that we've reviewed on Switchback Travel, you can help support us in the process. Just click on any of the seller links above, and if you make a purchase, we receive a small percentage of the transaction. The cost of the product is the same to you but this helps us continue to test and write about outdoor gear. Thanks and we appreciate your support!
Depending on the seller, most products ship free in the United States on orders of $50 or more. International shipping availability and rates vary by seller. The pricing information on this page is updated hourly but we are not responsible for inaccuracies.
Read More From Switchback Travel