Zpacks Arc Haul Zip 64L Backpack
Price: $399
Weight: 1 lb. 9.4 oz. (size medium w/ small hipbelt)
Fabric: 4.85 oz/sqyd Gridstop
Capacity: 64L
What We Like: Truly ultralight without compromising on carrying comfort or adjustabilty.
What We Don't: Limited zippered storage (add-ons are sold separately), and one of the internal frame rods doesn't stay in place.
See the Zpacks Arc Haul Zip 64L
As a backpacker, I usually resign myself to some bruising on my hips after my first day with a full pack, but the Zpacks Arc Haul Zip 64L Backpack was a welcome reprieve. Despite its ultralight status, it was comfortable right off the bat, even when loaded down, and I've been equally impressed by the durability and fit customization (not often hallmarks of UL designs). I put the Arc Haul through its paces on a hike in Tombstone Territorial Park, the Northover Traverse in the Canadian Rockies, and the Three Passes Trek in Nepal, and below are my takeaways. To see how it stacks up to the competition, see our article on the best backpacking packs.
 
---
Table of Contents
---

Performance
Weight
Given the Zpacks Arc Haul Zip 64L's features, durability, and load-carrying capability, its all-in weight of 1 pound 9.4 ounces is pretty remarkable (for reference, this is for the small torso length with the medium hipbelt). By comparison, it even undercuts my Hyperlite Mountain Gear 2400 Southwest (1 lb. 14.1 oz.), which boasts far less capacity at just 40 liters. Other leading UL designs including Gossamer Gear's Mariposa 60 (2 lbs. 0.6 oz.) and Osprey's Eja 58 (2 lbs. 8.5 oz.) also check in considerably heavier. That said, as with many ultralight packs, weight is somewhat subject to change depending on customization and what add-ons you include (or don't). Additional accessories include a variety of pockets and pads, from a belt pouch (0.78 oz.) to a top side pocket (0.49 oz.), lumbar pad (.99 oz.), and more. Mixing and matching these features will affect your pack weight, but all of them are similarly ultralight.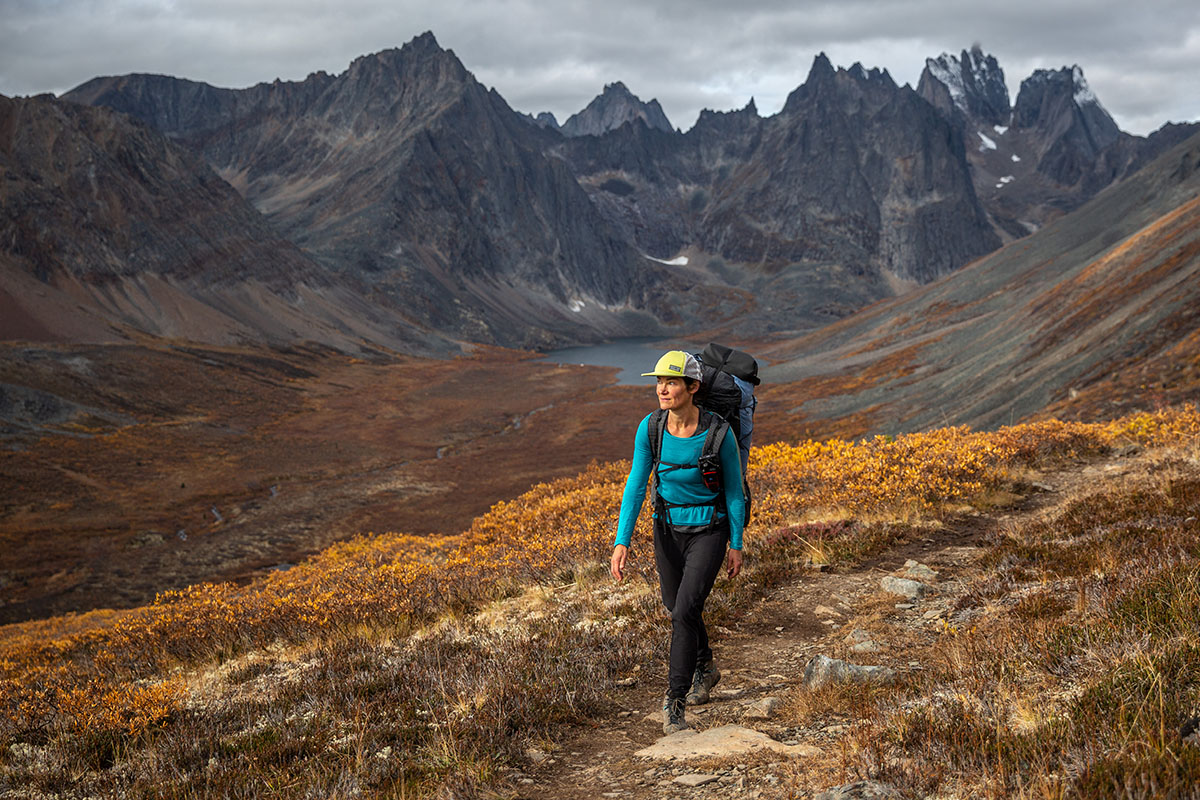 Carrying Comfort
Ultralight backpacks aren't often lauded for their comfort (they often prioritize shaving weight over cushy padding), but the Zpacks Arc Haul Zip was quick to win me over. For reference, I've tried a few different UL designs over the years, including Hyperlite Mountain Gear's 2400 Southwest and Osprey's Eja 48, and the Arc Haul gets the clear edge over both of those packs in terms of padding and support. In fact, I'd go so far as to say it's one of the most comfortable packs I've worn to date. I typically have tender or bruised hips at the end of my first day with a loaded pack, but I didn't suffer this issue with the Zpacks, even when I wore a belt underneath. Security is another hallmark: On the Northover Traverse in the Canadian Rockies, I had to navigate fairly narrow ridgelines that required some sketchy scrambling, but the pack stayed close to my body with minimal swaying. Even when loaded with 40 to 50 pounds (the maximum recommended capacity is 40 lbs.), the Arc Haul remained comfortable and well-supported.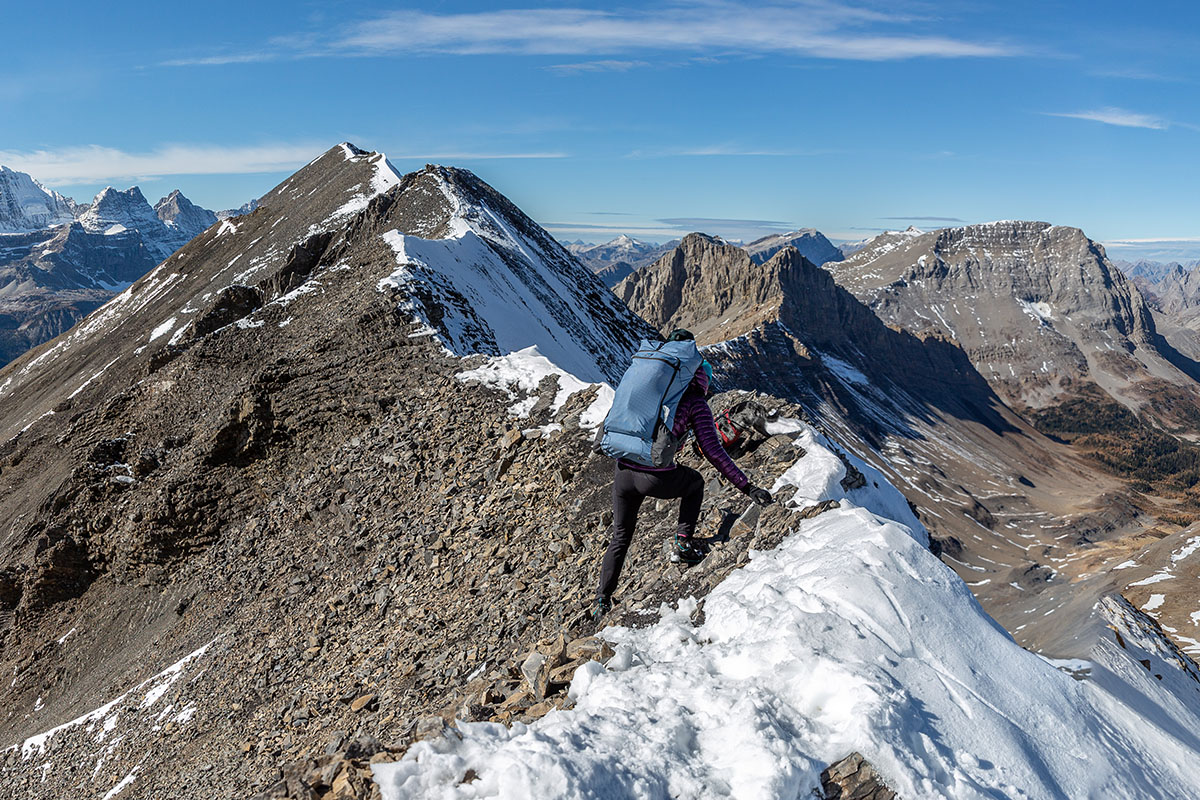 One comfort-related highlight is the adjustability at the hipbelt, which allows you to tailor the angle of pressure. On each side, there are two straps that come together at the buckle in a "V" style, allowing you to adjust them independently to fine-tune the fit. I tend to play around with the angle throughout the day to shift the way the load sits on my back. The hipbelt also wraps around the entire back (rather than a typical wing-style design common on most backpacking packs), promoting a very supportive, body-hugging feel. It's a similar story with the shoulder straps, which are nicely cushioned and comfortable when shuttling a full load. They've never ridden up or rubbed against my neck, nor have they caused any chafing or pressure points. Finally, the Arc Haul comes equipped with a sternum strap and load-lifter straps, the latter of which make it easy to transfer weight from the shoulders onto the hips.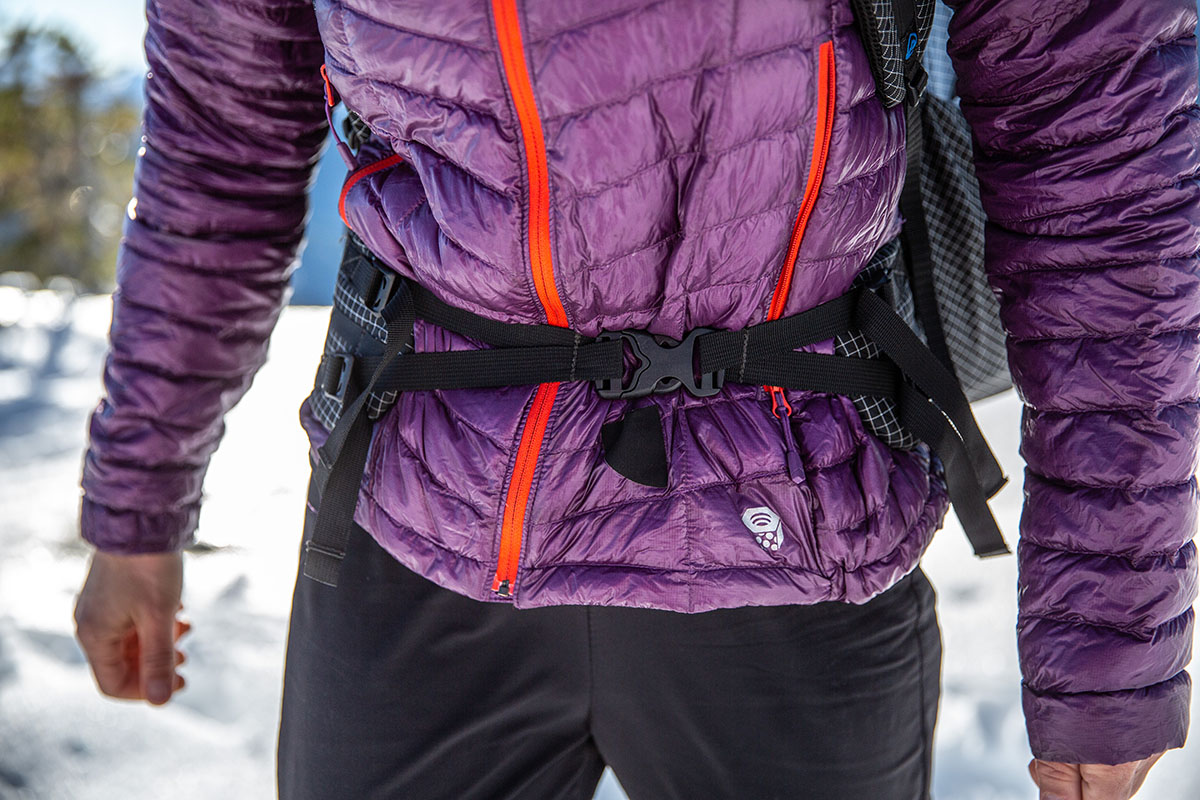 Organization
Despite being loaded down by required bear canisters and food for our dog (in addition to our usual assortment of equipment) while backpacking in the Canadian Rockies, the Zpacks Arc Haul Zip 64L was easily able to swallow all of my gear. The capacity is divided between 49 liters in the main compartment, 2.5 liters at each side pocket, and a 10-liter front mesh pocket. The main body can be accessed via the roll-top closure or via the zippered, U-shaped opening along the front (hence the name), allowing easy access whether the pack is positioned upright or laid flat. Having both options may seem redundant, but I've found it to be highly functional: I often dropped my bear canister in from above while using the zippered access to stuff other items around it (the double zippers help). The roll top also provides some flexibility in terms of volume, allowing me to cinch it down to secure a half-full load or expand the pack when it's stuffed to the brim.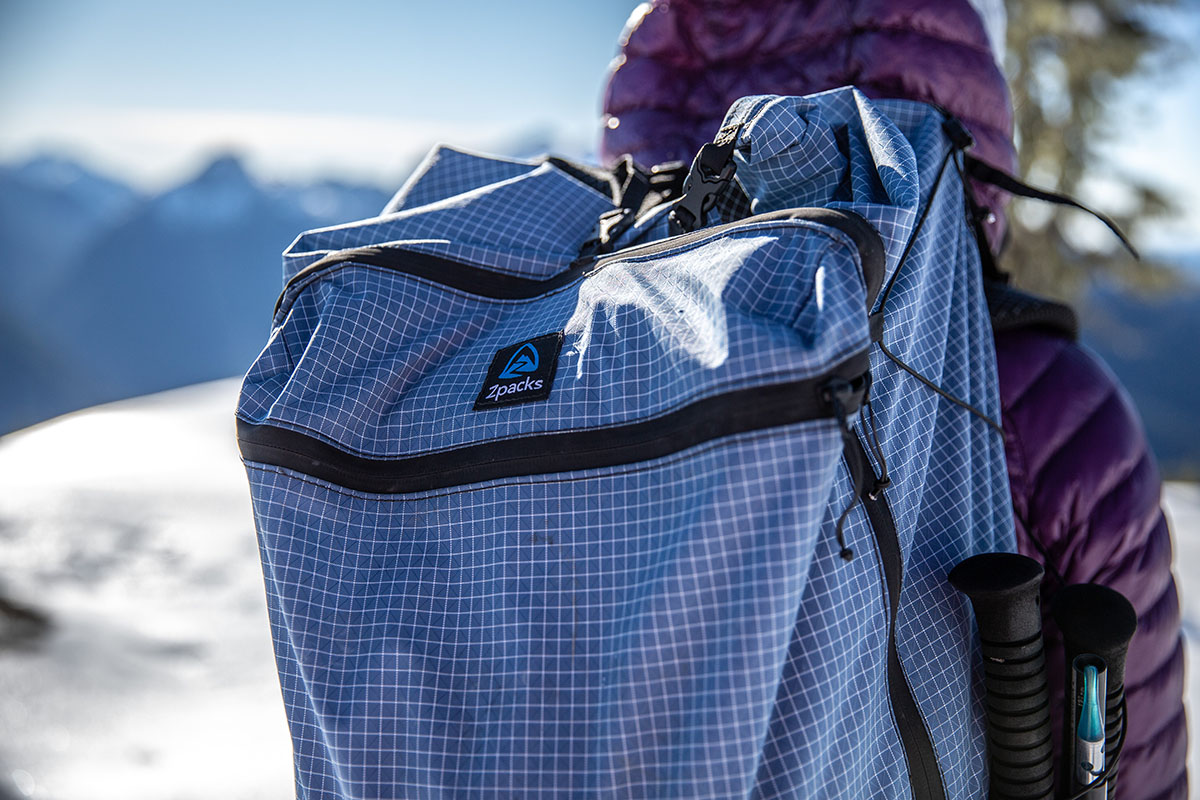 Inside the pack, there are two compression straps to help keep things in place and take pressure off the zipper. I have to admit that I rarely use this feature but did find it handy whenever I maxed out the Arc Haul's capacity. There's also a loop for hanging a hydration reservoir (I use a carabiner to secure mine since it doesn't come with a hook) and a port through which you can feed the hose. My only complaint here is that I wish Zpacks included a small zippered pocket for stowing smaller essentials like a wallet and keys. They do sell a Stick-On Key Zip Pouch for an additional $30 (and 0.6 oz.), but I consider this a fairly standard feature. I'm also a sucker for hipbelt pockets, which again can be bought separately but will add some weight and cost.
Moving onto the outside of the pack, the 10-liter mesh stuff pocket at the front is perfect for stashing items that I'll need quick access to on the trail. I typically stow our MSR Guardian water filter here, as well as snacks for the day and my puffy jacket (if I'm not already wearing it). I also purchased the separate shoulder pouch accessory ($33; 0.6 oz), which includes two compartments. I stashed bear spray in the main compartment and my Garmin inReach in the smaller pocket, and my phone also fits in either. Rounding out the storage are two large side pockets that easily swallow a Nalgene bottle, dog treats, hat, gloves, and even trekking poles or jackets on occasion. They also boast drainage holes at the bottom for dumping excess moisture. The elastic at the top effectively keeps items in place, and compression straps along the sides allow me to securely carry poles. The strap running over the roll top closure also works well for attaching additional gear like my camera bag or another layer.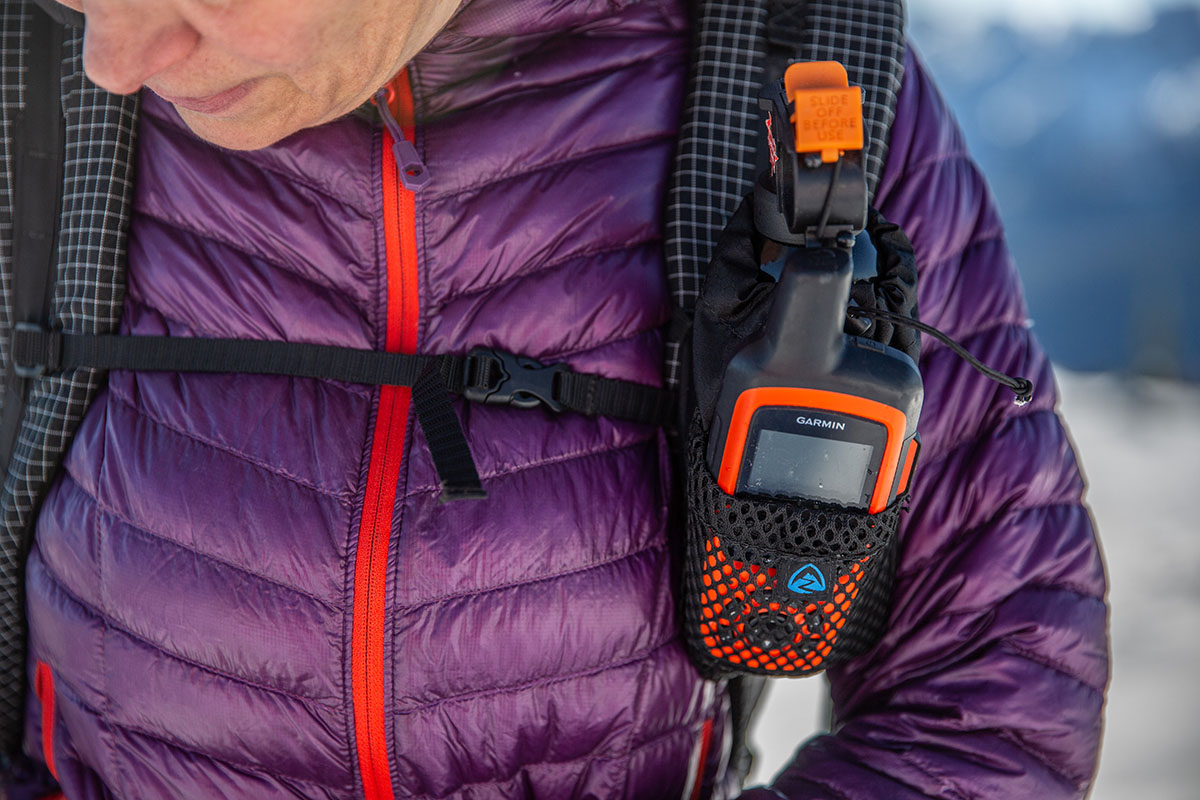 Ventilation
I initially grew hot wearing the Arc Haul Zip 64L, but after adjusting the pack to sit farther off my back, I've had no issues with ventilation. To help with airflow, there's a generous mesh panel that attaches to each corner of the frame, allowing you to tension it so that the frame is curved and doesn't come into direct contact with your back. The design is similar to Osprey's well-loved Anti-Gravity suspension system found on their more feature-rich Aura and men's Atmos packs and has done an admirable job at keeping me cool and comfortable, even in warmer conditions.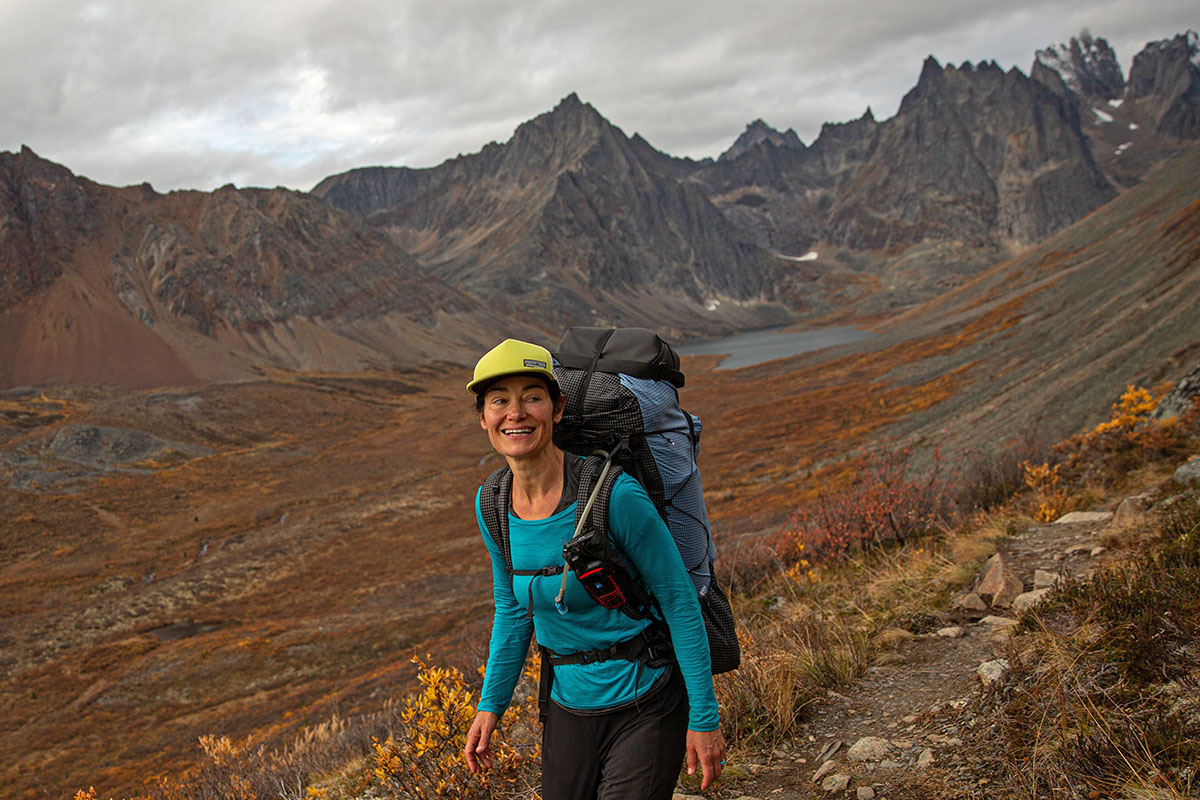 Build Quality and Durability
I've undoubtedly put the Zpacks Arc Haul Zip 64L through the wringer, but it's deftly withstood all of the abuse with almost no wear to show for it (the pack doesn't even look dirty). For reference, I've shuttled it over rough terrain, dropped it on rocks and wet ground, and haphazardly tossed it into a number of vehicles, including our van, a helicopter in the Yukon, and planes and taxis in Nepal. The aptly named Gridstop fabric (which boasts crisscrossing nylon and HDPE threads for excellent tear resistance) is lightweight but impressively durable, and the waterproof urethane coating, sealed seams, and waterproof zipper give the pack a very confidence-inspiring feel in wet weather. Zpacks suggests using dry bags for important items, but I consider the Arc Haul to be fully capable even in extended storms. We were subjected to pretty heavy rainfall while hiking in Tombstone Territorial Park, but all of my belongings stayed perfectly dry with no protection in the form of a dry bag or rain cover.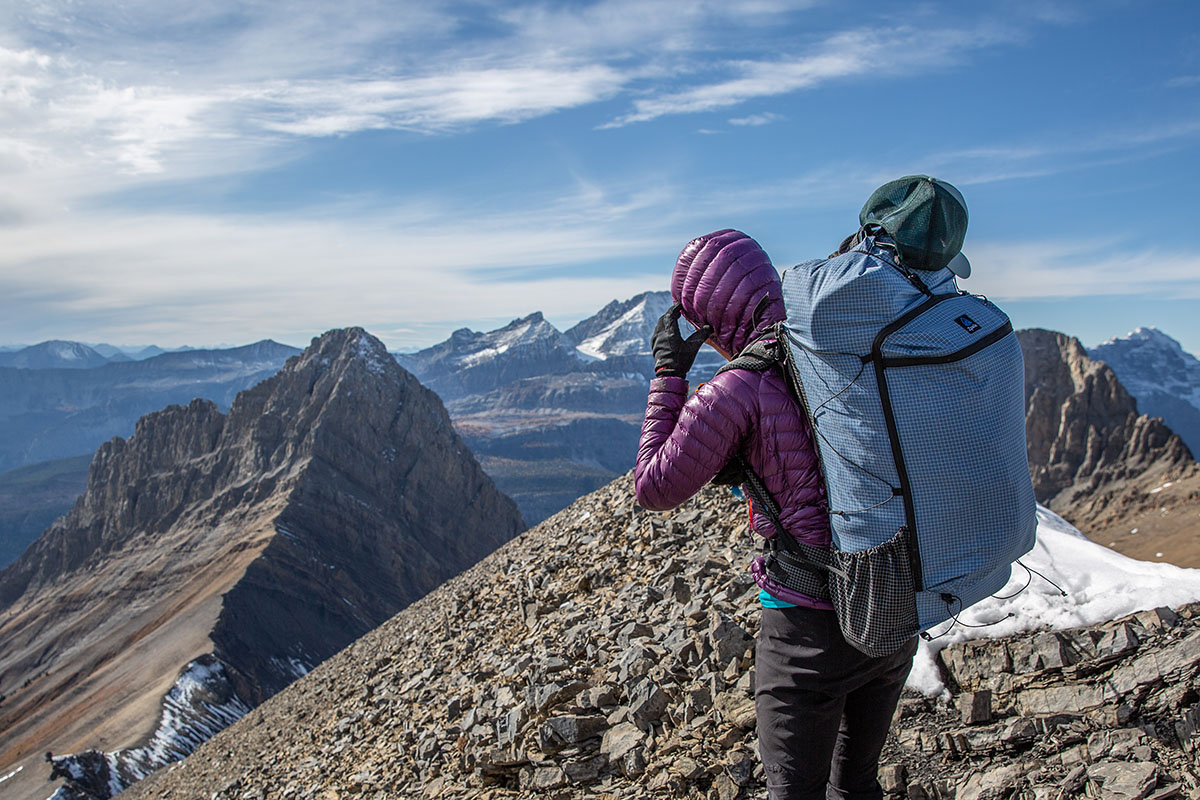 As is common with many UL designs, there isn't much to the actual frame of the Arc Haul Zip 64L—it's essentially framed by four rods. The horizontal rods are flat, with the bottom one lying behind the waistbelt. As described above, a mesh panel attached at each corner can be tensioned to adjust the curvature and fit of the pack (and also help with ventilation). The only construction-related issue I've noticed is that the rod that forms the structure for the bottom of the pack easily slides out of its "garage." It has jabbed and scraped me quite viciously on more than one occasion, and I now always double check that it's in place before putting on the pack.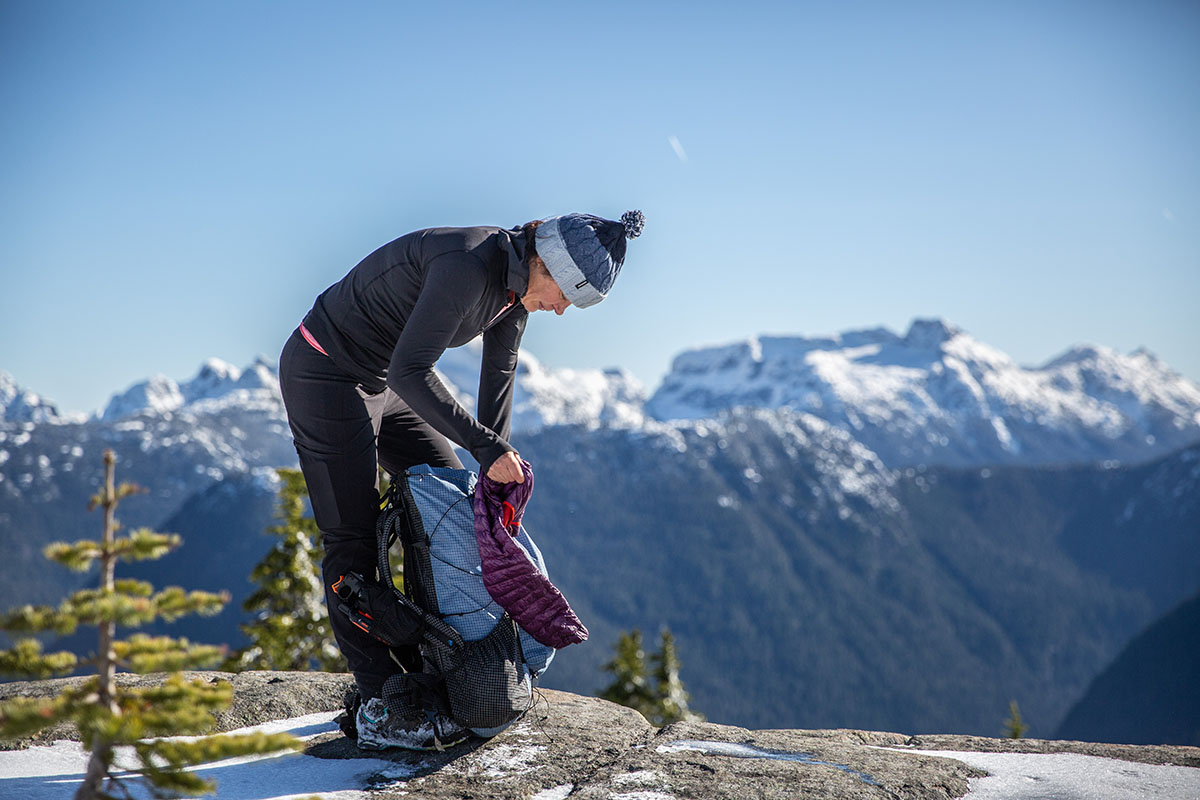 Fit and Sizing
The Zpacks Arc Haul Zip 64L is available in three torso lengths and five hipbelt sizes, which should allow most to find a comfortable all-around fit. I've traditionally had a tough time with sizing because I am quite narrow and often find that the hipbelt is too loose, even when tightened as snugly as possible (especially with unisex designs). But by opting for the medium torso length (which fits torsos between 20 and 23 in.) and small hipbelt (26-41 in.) with the Zpacks, I had no issues. The small belt leaves plenty of room on either side to tweak the tightness depending on the number of layers I'm wearing, and the shoulder straps can be moved up or down to further customize fit (the default position worked well for my 5'8" frame). The hipbelt is also interchangeable, meaning that my partner could wear the pack as well if we purchase the large variation for an additional $60.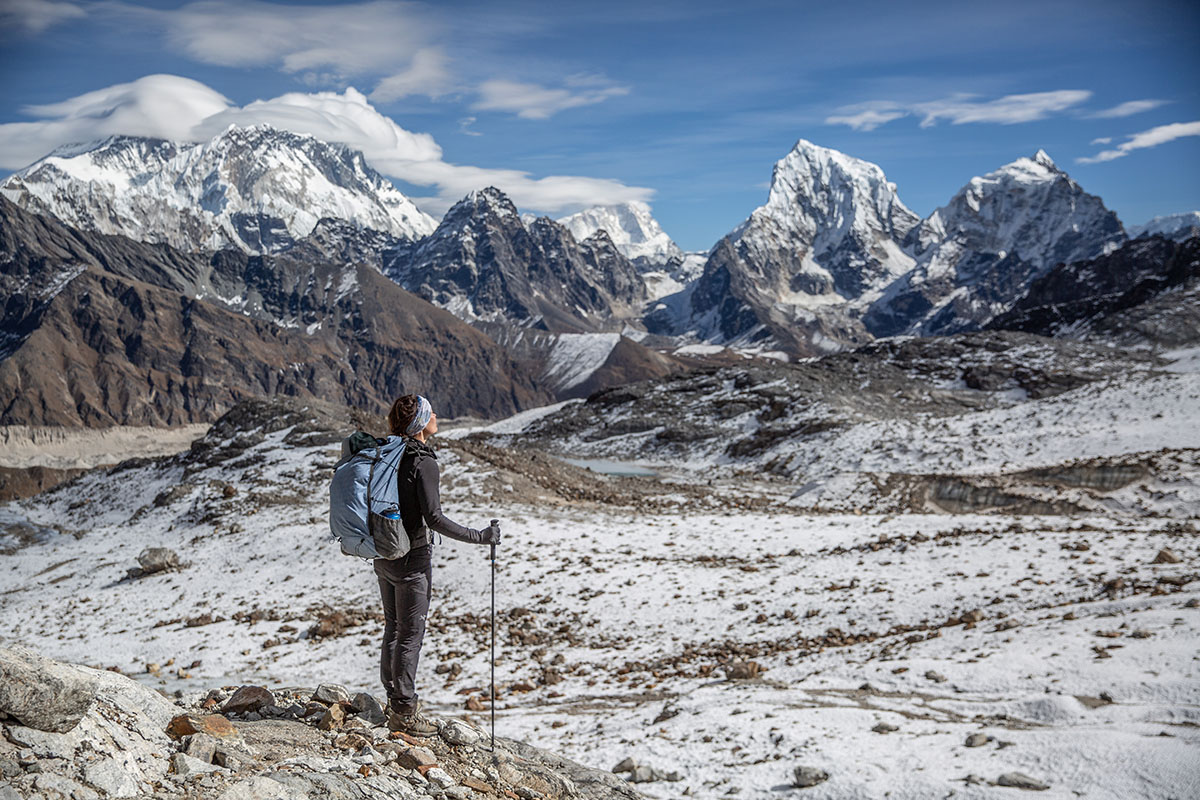 Other Versions of the Zpacks Arc Haul
I tested the Arc Haul 64L Backpack for this review, and it's also offered in a 62-liter size that's largely identical but sacrifices a little capacity, costs $50 less at $349, and checks in slightly lighter at 1 pound 6.1 ounces. It also foregoes the 64L's zippered access along the front, but the feature set and overall construction are otherwise the same. Rounding out the Arc Haul collection is the Arc Haul Ultra 60L, which trades the Gridstop fabric for a more abrasion- and tear-resistant Black Ultra 200 material laminated to a waterproof backing. You also get a couple other premium touches, including curved carbon fiber air stays to boost breathability and a stretchy Lycra backpanel. However, like the 62L model, the Arc Haul Ultra foregoes the zippered U-shaped opening that we love about the pack tested here.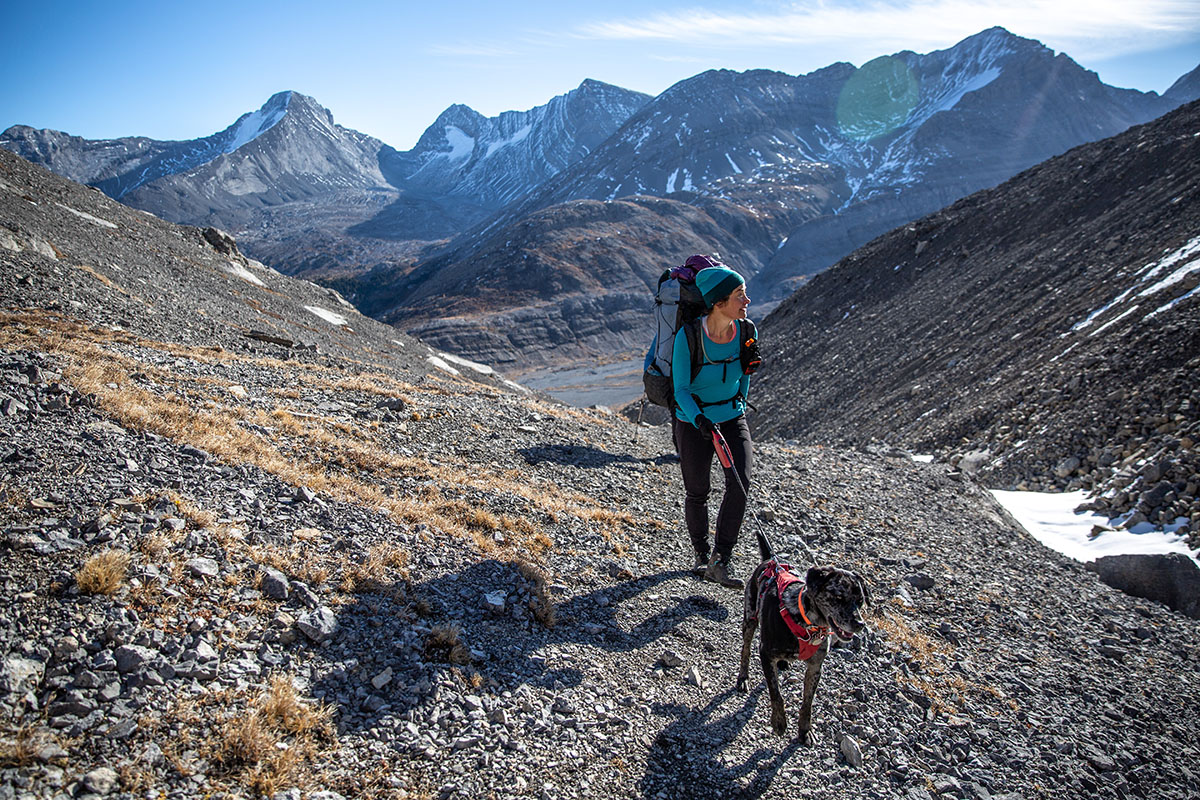 What We Like
Standout comfort and adjustability for an ultralight design.
Despite its UL intentions, the Arc Haul Zip is capable of carrying heavy loads (even beyond its 40-lb. recommended limit).
Surprisingly tough and tear-resistant for the weight, and the interior waterproof coating and weather-ready details make it very capable in wet conditions.
Flexible build can compress down to meet carry-on requirements.

What We Don't
I wish Zpacks included an internal zippered pocket and/or hipbelt pockets. Both can be purchased separately, but the accessories can add up quickly (both in terms of weight and cost).
The internal frame rod at the bottom easily shifts from its garage and has scraped me a few times.
Specialized UL packs aren't cheap, and the Zpacks costs a pricey $399.


Comparison Table

The Competition
The Zpacks Arc Haul Zip 64L stands out among the ultralight backpacking pack competition for its impressive carrying comfort and functional adjustability at a very low weight. Another UL design that I have a lot of experience with is Hyperlite Mountain Gear's Southwest, and the 3400 model (55L) is similar in both capacity and overall intentions to the Arc Haul. In terms of construction, the Hyperlite's Dyneema Composite material is lightweight, waterproof, and surprisingly tough (I'd say it's a slight step up from the Zpacks in terms of protection and durability). The Southwest also costs a little less than the Arc Haul at $355, but it's around 6 ounces heavier, more limited on features and padding, and doesn't breathe as well with no mesh backpanel for airflow. Given these downsides, we consider the Zpacks the better-appointed and more comfortable UL design (especially when shuttling heavy loads).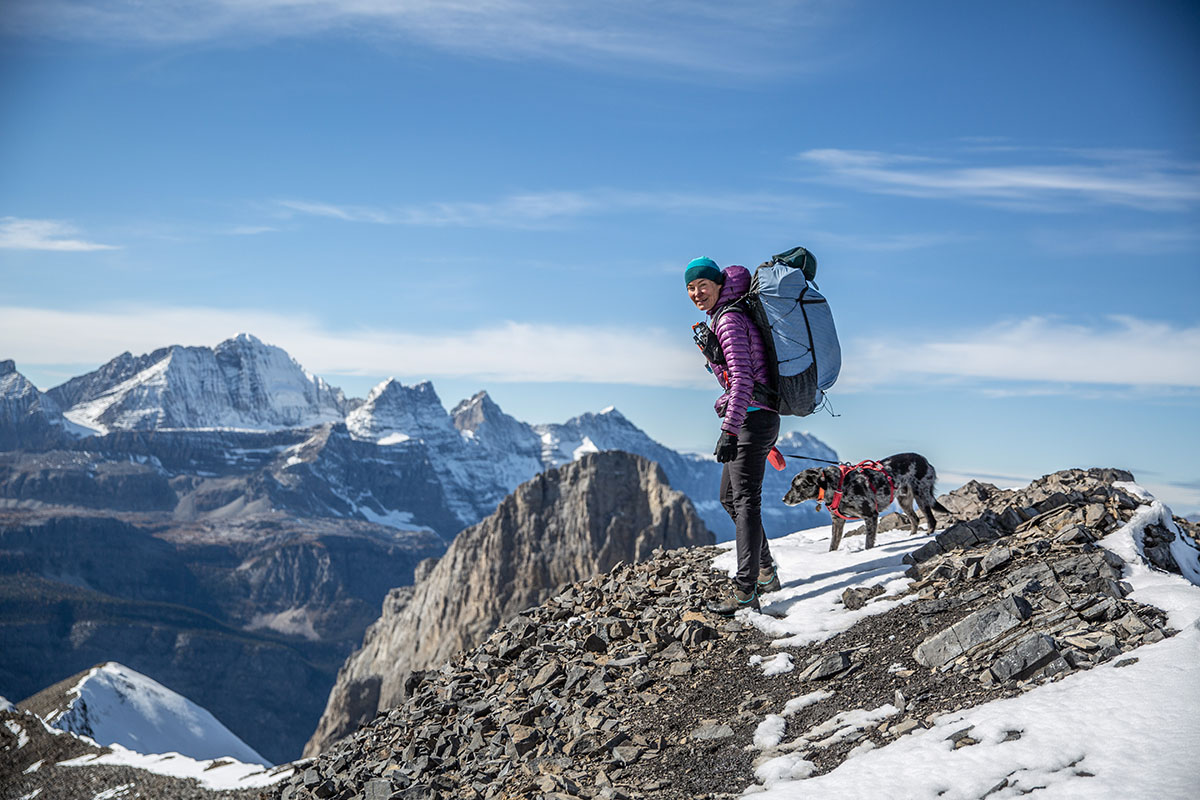 Gossamer Gear is another leader in the ultralight market, and their Mariposa 60 stacks up very favorably to the Arc Haul Zip 64L. Exterior organization is one notable highlight, including a cavernous main compartment, zip pockets at the hip and top flap, and four total dump pockets for stashing bulky gear. The Robic nylon construction is also light but highly moisture-resistant and durable, and we found the Mariposa to be comfortable right up to its weight limit of 35 pounds. Finally, the Gossamer Gear will save you a significant $114 over the Zpacks while checking in at a competitive 1 pound 13.8 ounces for a size medium with a small hipbelt. We did experience some bunching at the backpanel due to the removable SitLight pad and wish it came with more compression straps, but otherwise, it's a cheaper but perfectly viable alternative to the Arc Haul.
Transitioning from the cottage industry to the mainstream, Osprey's Eja 58 is another tried-and-true ultralight option to consider. At $220, the Eja costs considerably less than the more specialized UL designs above, although it's on the heavy end in this category at 2 pounds 8.5 ounces for a women's small. That said, you get a host of added features for the weight, including a removable floating lid with zippered storage both on top and underneath, dedicated trekking pole attachments, dual access stretch mesh side pockets, a large front mesh dump pocket, and ample exterior attachment points. However, I did experience some chafing and pressure points when testing the lower-capacity 48L model, and carrying comfort began to suffer with just 20 pounds in the pack (both the 48 and 58 are rated up to 40 lbs.). In the end, unless budget is a top concern, the Arc Haul is far more comfortable and customizable at a much lower weight.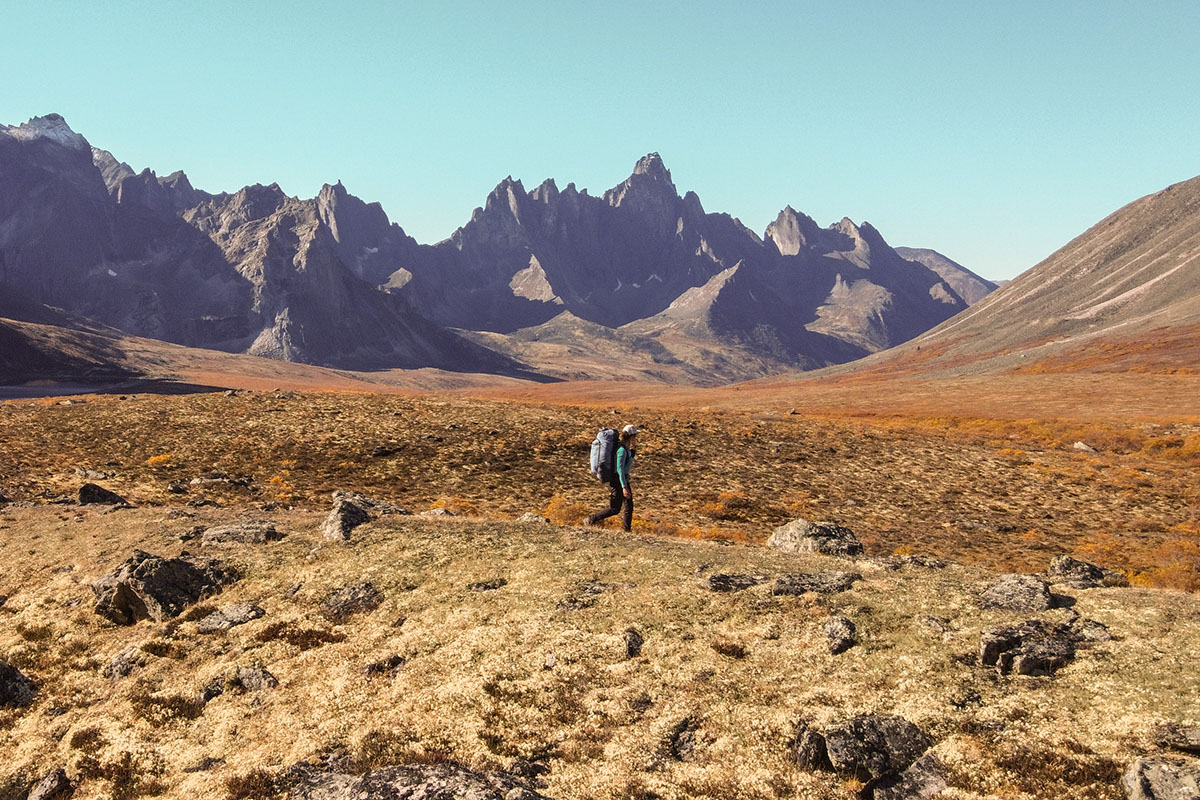 A final (and potentially surprising) contender is the REI Co-op Flash 55. At just $199, the Flash 55 is an excellent value at a whopping $200 less than the Arc Haul Zip, and overall performance is hard to beat for the price. The Flash isn't an ultralight standout like the Zpacks at 2 pounds 10 ounces for a women's small, but it's highly customizable with REI's Packmod system, which allows you to remove the compression straps, lid, and shoulder strap and hipbelt pockets to shave weight. Carrying comfort is also excellent: We pushed the pack 5 pounds past its 30-pound recommended limit with no issues. That said, the hipbelt and torso length aren't adjustable, and only the top lid is water-resistant, meaning you'll likely need to add a pack cover or waterproof your gear in inclement weather. But the price is certainly hard to beat, and if you're on a budget, the Flash 55 is a competitive UL design that nicely balances comfort, weight, and durability.
Editor's note: We usually provide a live price comparison table below our outdoor gear reviews, but the Arc Haul is sold exclusively by Zpacks. You can see the Arc Haul Zip 64L page here and purchase the optional add-ons and storage accessories separately.
Read More From Switchback Travel