REI Co-op Flash 55
Price: $199
Weight: 2 lbs. 10 oz. (women's small)
Fabric: Nylon (100D & 420D)
Capacities: 45, 55L
What we like: Lightweight, highly customizable, and a great value.
What we don't: Hipbelt and torso length aren't adjustable, which can make it tough to dial in fit.
See the Women's REI Co-op Flash 55  See the Men's REI Flash 55
REI Co-op entered the world of ultralight backpacking in a big way with the release of their Flash 55 pack a couple years ago. For a reasonable $199, the Flash pulls out all the stops: ample storage, removable features including a top lid and compression straps, and a modular design that's extremely customizable. After a challenging four-day trek through the Grand Canyon wearing a fully loaded Flash, we're happy to report that it performed well across the board, and we think its versatility makes it a capable choice for everyone from weekenders to ultralighters. Below we break down the REI Flash 55's overall performance. To see how it stacks up, see our articles on the best backpacking packs and ultralight backpacks.
 
---
Table of Contents
---

Performance
Weight
The REI Co-op Flash 55's claim to fame is its Packmod system: a variety of compression straps and organizational features that can all be removed to shed significant weight. Fully accessorized, the 55-liter women's model comes in at 2 pounds 10 ounces (the men's version in a size medium is the same weight). And in its pared-down state without the top lid, compression straps, and hipbelt and shoulder pockets, it weighs 2 pounds 3 ounces. This weight makes the streamlined Flash competitive with some our favorite ultralight models, including the Osprey Lumina 60 (1 lb. 14 oz.), Granite Gear Crown2 60 (2 lbs. 5.8 oz.), Gossamer Gear Mariposa 60 (1 lb. 12 oz.), and Osprey Eja 58 (2 lbs. 8.5 oz.). And the best part, in my opinion, is that shedding all the Packmod features doesn't impact the Flash's support or carrying comfort in any way.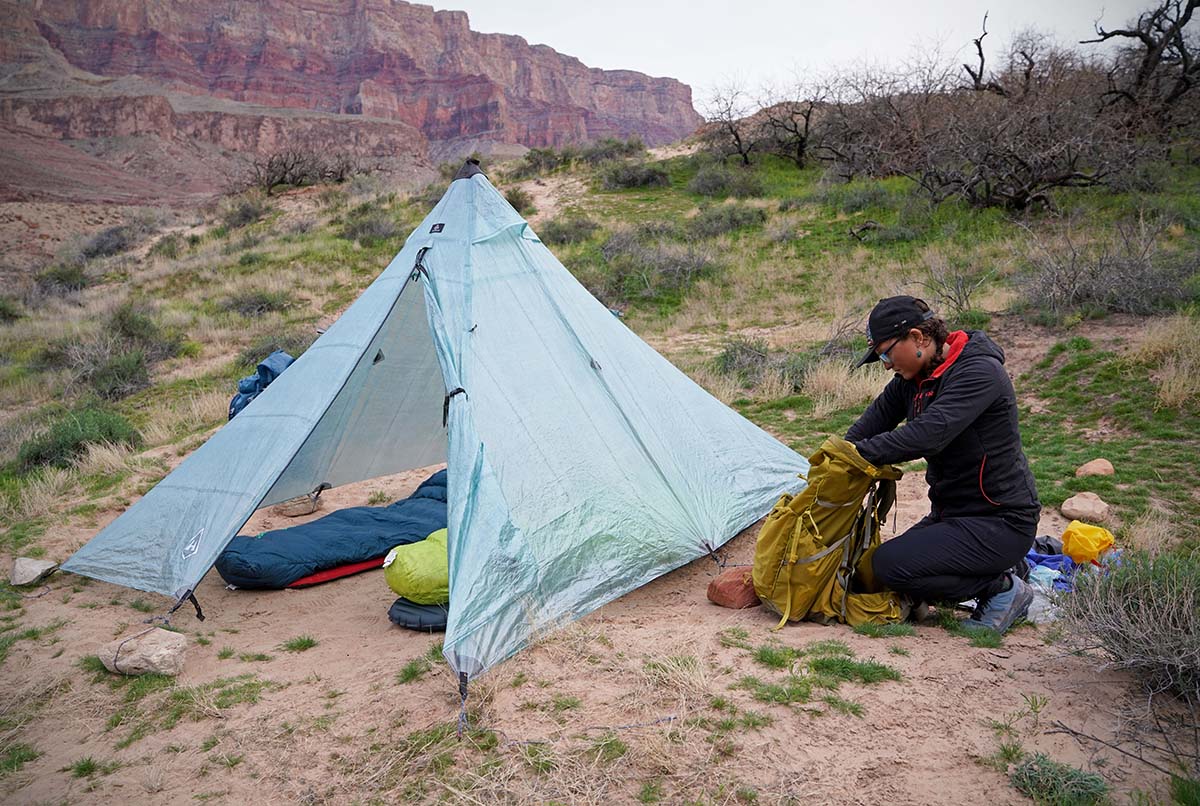 Carrying Comfort
I'll start off by saying that I'm usually hesitant to max out a pack's capacity and weight recommendation. However, for our trip into the Grand Canyon, I made some sacrifices: I didn't weigh every item on my scale, I packed comfy camp shoes, and I didn't skimp on warm layers given the questionable forecast. I also hauled a rope along for assistance on a notoriously technical section of the route, which added another several pounds. However, despite the full 35-pound load (about 5 more pounds than REI's maximum recommended weight), the Flash carried wonderfully. The pack felt evenly balanced and the padded hipbelt and internal steel frame proved to be light but stiff, lending ample support. Any time the Flash felt slightly top-heavy, I simply readjusted the load lifters on the shoulder straps and carried on comfortably. Given its on-trail performance, I'd venture to say that the Flash would probably be able to haul up to 50 pounds without too many sacrifices.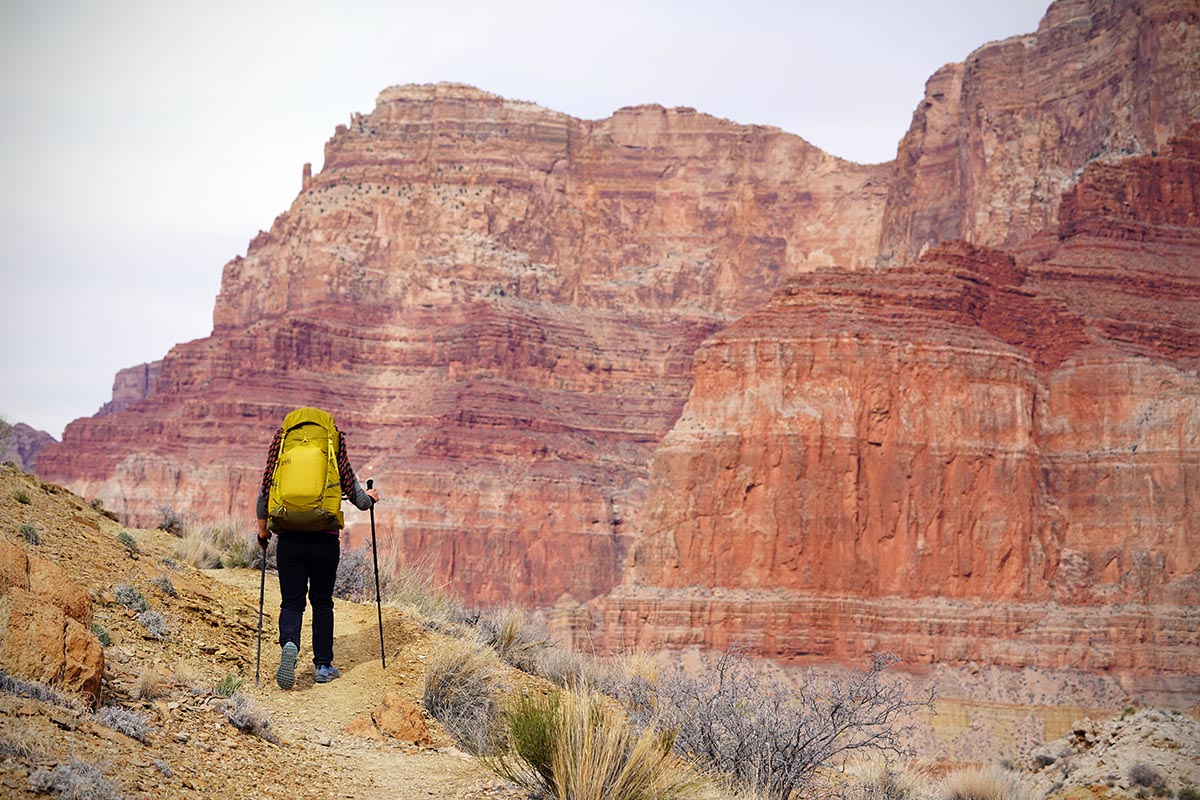 Organization
Without removing any accessories, the REI Flash 55 is fully featured with ample organization options. The pack features a sizable top lid with a zippered compartment, front mesh pocket that allows easy access, and a cavernous bucket-style main compartment. In addition, its wide, side dump pockets easily fit trekking poles and water bottles—and they're even tilted at an angle to make retrieval quick and easy. While some of my colleagues needed help grabbing their bottles from hard-to-reach side pockets, I was able to remove mine with little effort. However, if you instead prefer to use a hydration bladder, the Flash has two openings that allow you to drape the hose over either the right or left shoulder.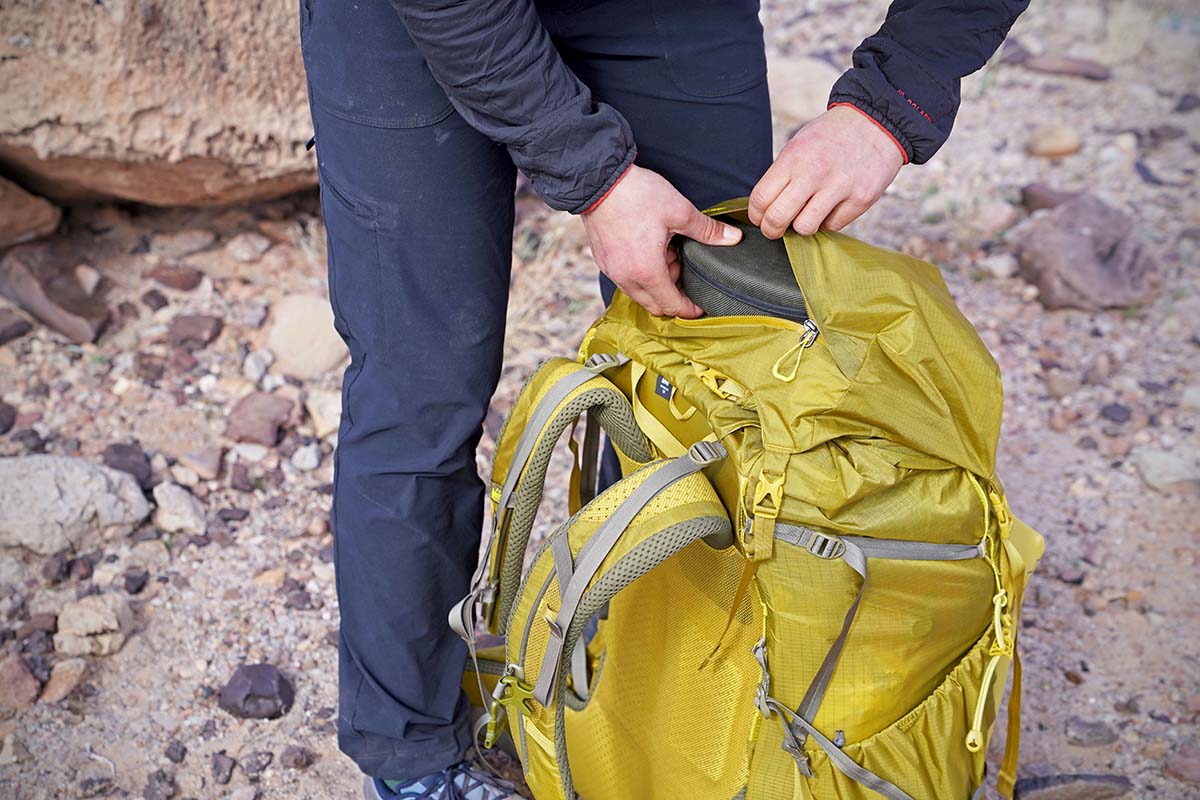 As far as the Packmod system goes, REI included removable pockets in two key places: two hipbelt pockets are the perfect size for carrying bars, Chapstick, sunscreen, and other necessities, while a single shoulder strap pocket easily stows a smartphone. This latter pocket seemed a bit unnecessary to me—I found it more annoying than useful—but I loved the convenience of the hipbelt pockets. Stripped down, the Flash does lose significant storage space, but that's to be expected with any lightweight pack. On the bright side, you can opt for any number of the removable features without sacrificing or keeping them all. For example, eliminating the brain and side compression straps while keeping the hipbelt and shoulder pockets saves 4.5 ounces and still leaves enough room for gear and easy-to-reach necessities.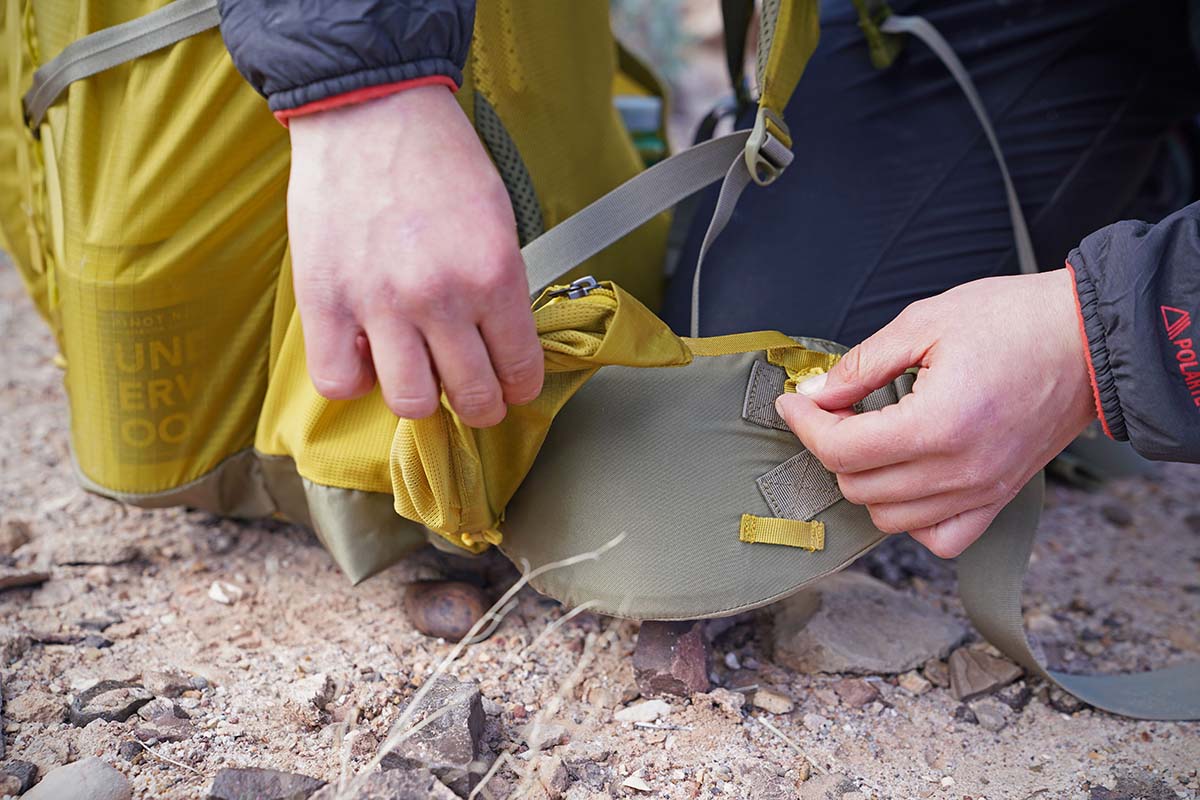 Closure System and Straps
I'm a sucker for roll-top closures: they allow you to compress your pack down to better fit the size of your load. The Flash's collar in particular extends quite far, allowing plenty of space for bulky gear, and can be easily snugged to make the pack more compact. If you're using the pack's top lid, simply roll and buckle the roll-top, then adjust and tighten the lid using two buckles along the front mesh pocket. If you choose to forego the lid, you can secure the roll-top in the same fashion—the buckles are interchangeable on the pack, so there are many options for configuration. In addition, a hook-and-loop strap cinches down over the roll-top, which proved to be especially helpful for carrying a climbing rope.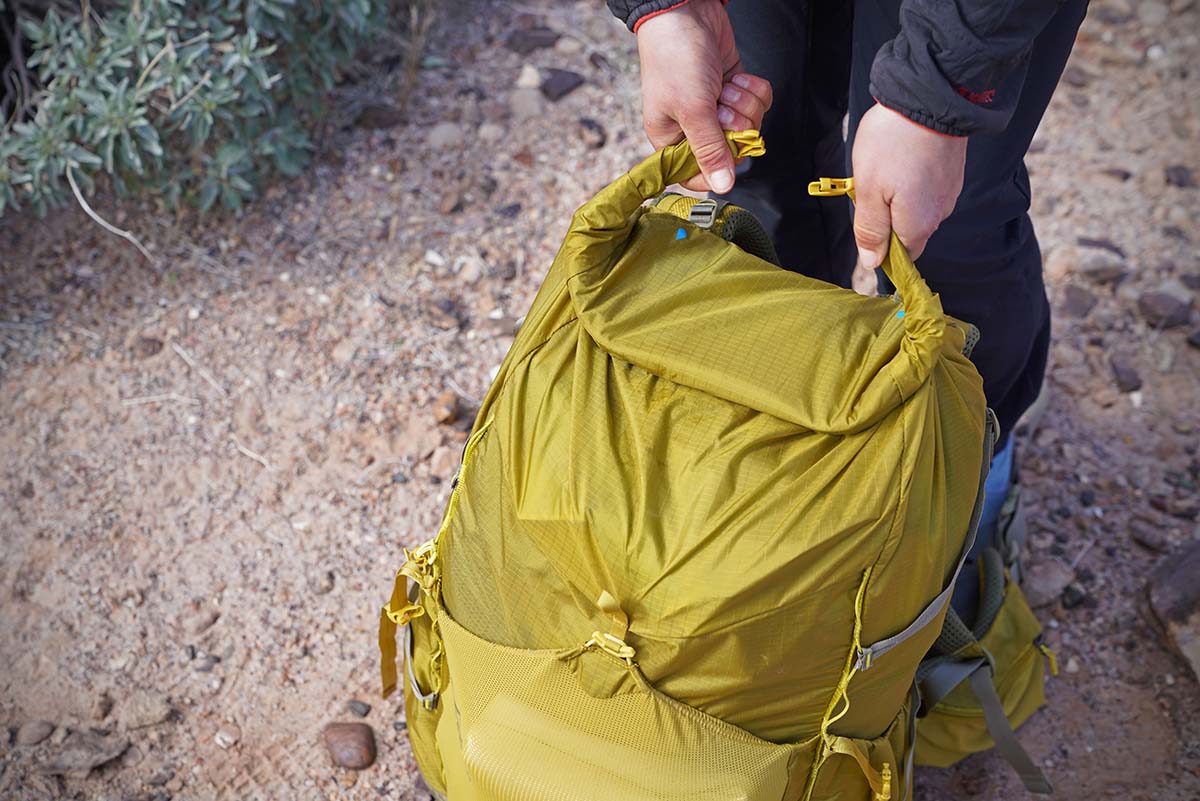 In addition to the multiple closure options, the REI Flash 55 also features four compression straps for securing extra gear. Depending on what you're carrying, the straps can be moved up or down along daisy chains at the sides of the pack, or they can be removed entirely to cut weight. Further, REI added a bit of a performance tilt with an ice axe attachment loop at the bottom of the pack. All things considered, both the attachment options and top closure system are well-constructed, easy to use, and highly customizable.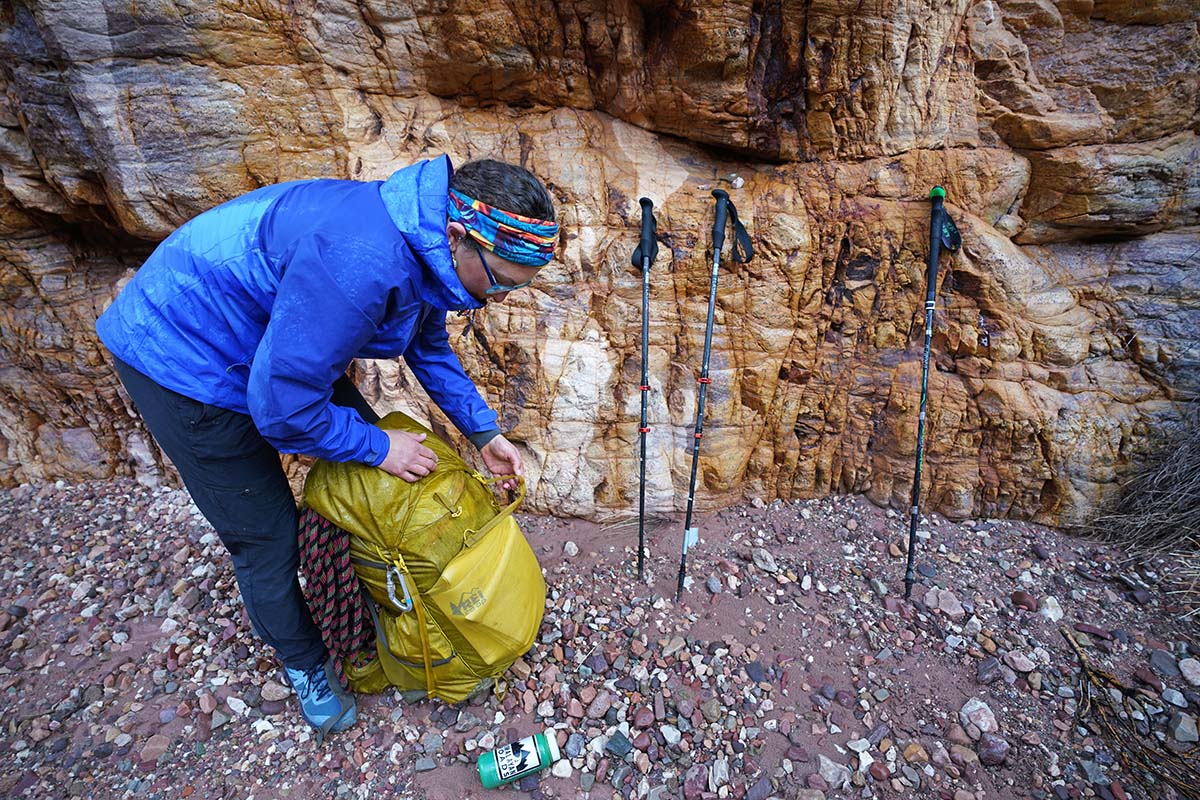 Build Quality and Durability
The Flash's body uses relatively thin 100-denier ripstop nylon, which is on par with other lightweight packs we've tested. However, REI added ultra-durable 420-denier nylon to the bottom to help combat against sharp rocks when setting the pack down. It's worth noting that we've gotten a few tears in our Osprey Exos 58 (which also uses 100-denier fabric on most of the body), but we haven't yet noticed any holes on our Flash. That said, it's always important to take extra care with such thin fabrics.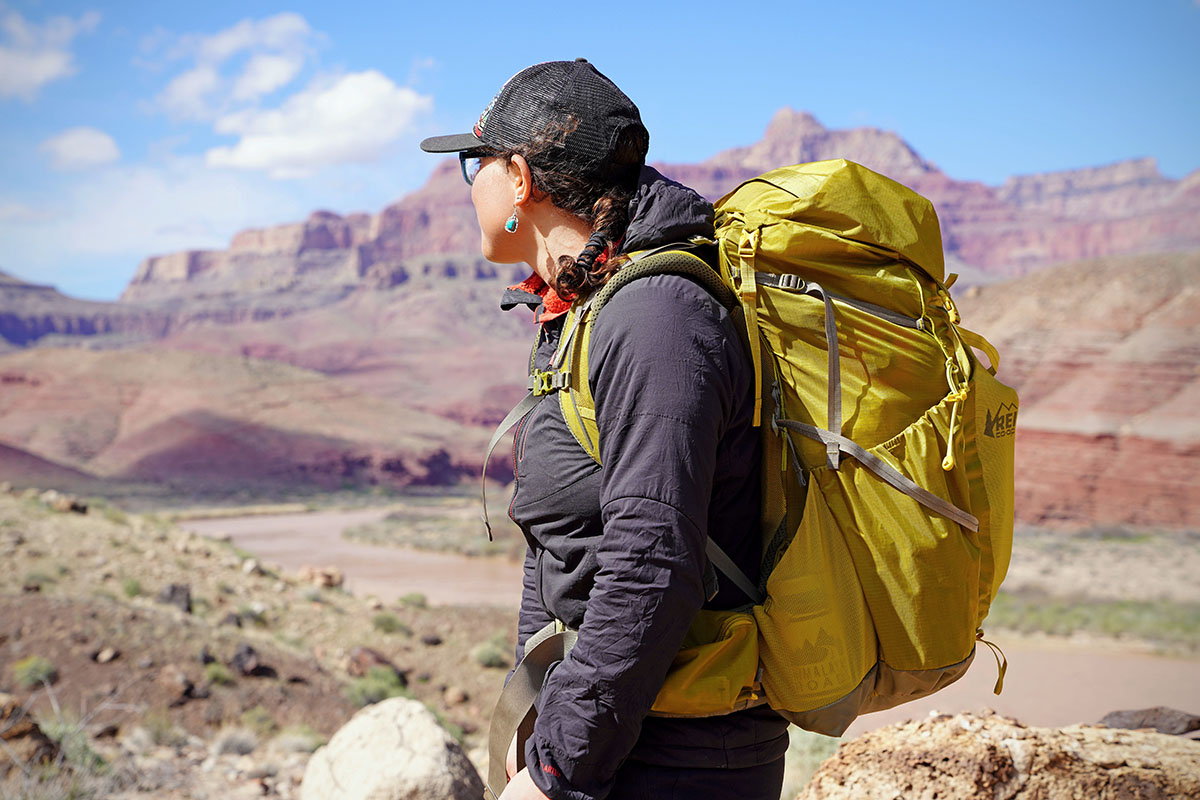 One of my favorite additions to the pack's construction was the seam-taping along the water-resistant top lid and shoulder strap pocket, which helped protect against light precipitation. I tested these features during sustained rain in the Grand Canyon and was pleasantly surprised that the items in my pack's lid stayed dry—not to mention, this upped the protection for gear I stored below in the main compartment. That said, the lid is not waterproof nor is it meant to withstand heavy storms. In other words, make sure to use a pack cover or waterproof any essential gear and electronics before heading out.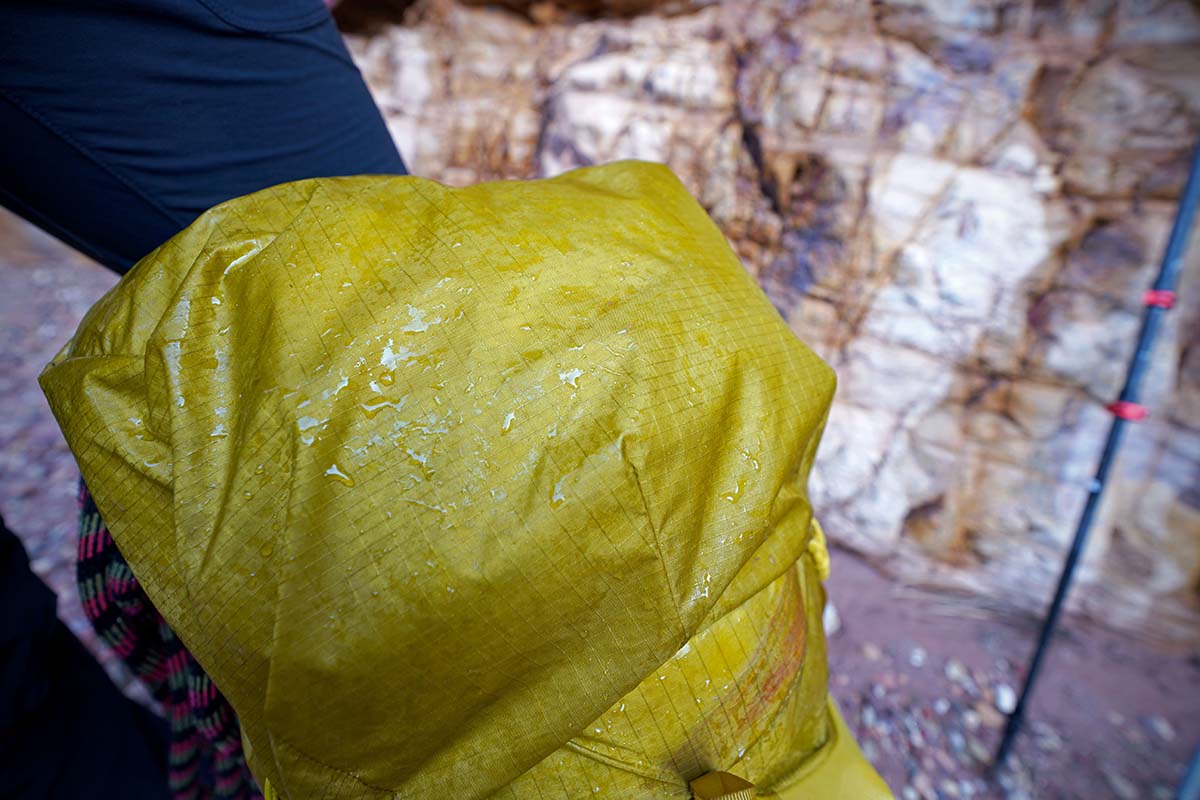 Ventilation
The REI Co-op Flash 55's backpanel and hipbelt allowed plenty of airflow thanks to generous use of mesh. Even on warm days in the desert during rigorous hikes, I didn't experience any sweating. Additionally, the padded foam added significant comfort and support in places where I really needed it: along my mid-back, lower back, and hips—something I can't say for many other ultralight models. All in all, I liked REI's choices in materials: the minimal use of padding helps keep weight down but doesn't sacrifice any carrying comfort or breathability. My only complaint is that the shoulder straps didn't ventilate nearly as well as the backpanel and hipbelt, but I happily traded this for the added cushioning.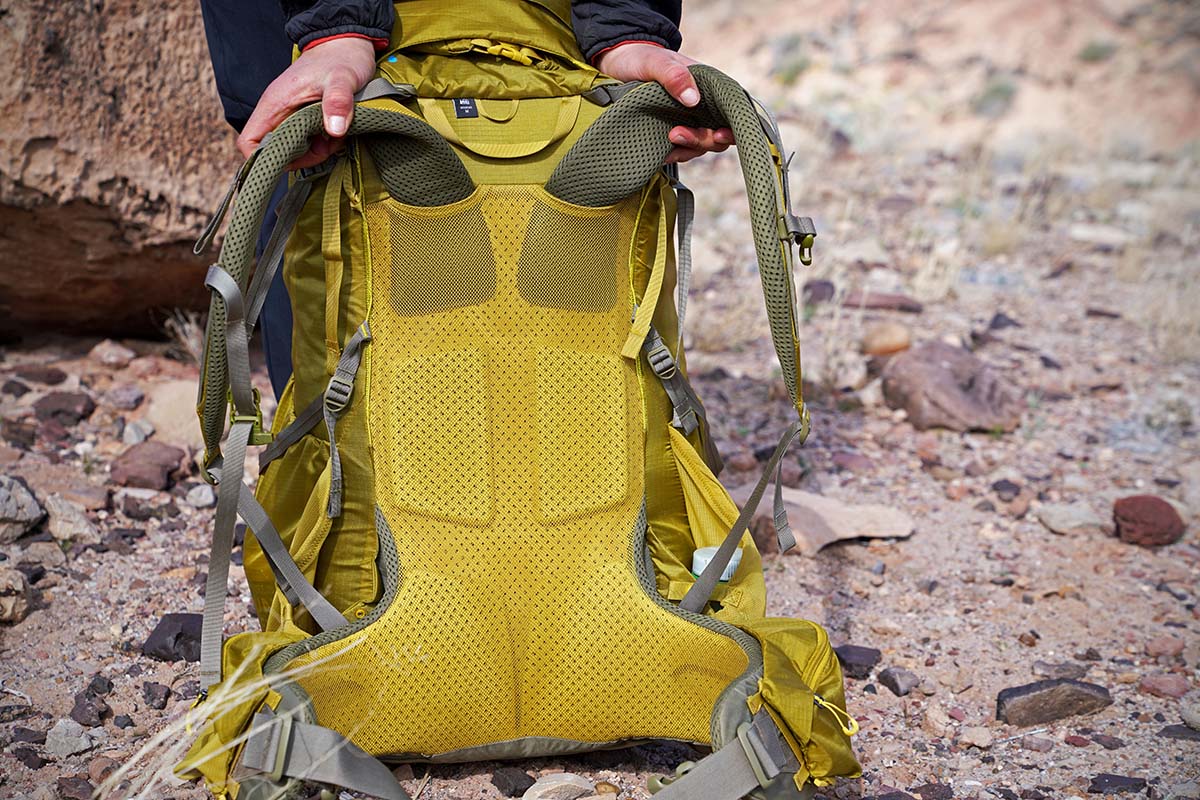 Fit and Sizing
The REI Flash comes in women's extra-small, small, and medium, and my women's medium fit my torso and hips very well. That said, the Flash 55 isn't highly adjustable like some of its competitors. For example, the Granite Gear Crown2 60 has a customizable two-piece hipbelt that uses Velcro to tailor the fit, while Gossamer Gear offers the option to purchase the hipbelt for their Mariposa pack separately so that you can choose the right size for your waist. REI simply offers the Flash 55 in three separate sizes depending on your torso length and hip/waist size. In the end, it's important to choose the best-fitting pack for your particular frame, which in this case might mean going into a store to try before you buy.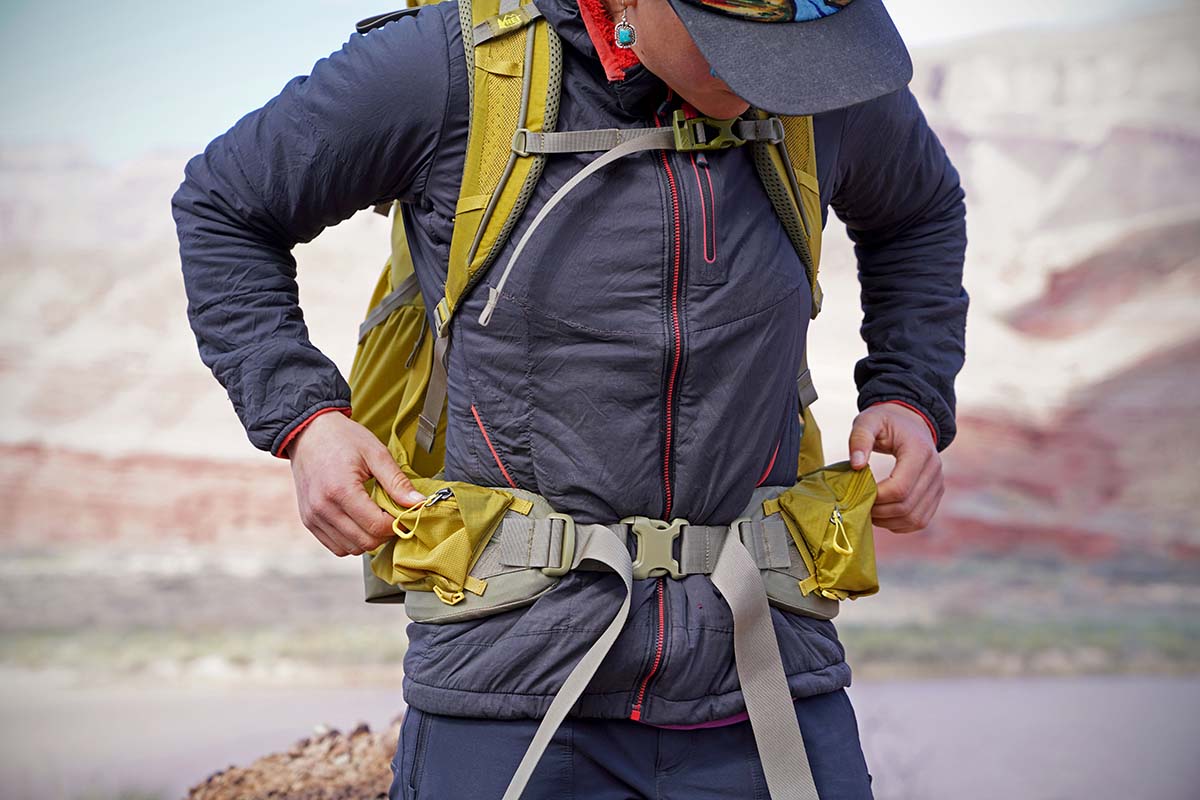 Other Versions of the REI Co-op Flash
We tested the women's Flash 55 for this review, which REI also makes in an almost identical men's version. The only major discernible differences between the two are in the pack's fit, including torso length and waist/hip measurements. Apart from the 55-liter Flash, REI also makes the lightweight pack in daypack models (18 and 22 liters) and in a 45-liter design. The Flash 45 ($159) retains most of the features of its larger sibling, but comes in a different colorway, sacrifices some of the Packmod features, and doesn't have the roll-top closure that we love.

What We Like
At $199, the Flash 55 is one of the best values on the market, especially given its reasonably low weight, superb quality, and high level of comfort.
Extremely customizable: keep the lid, compression straps, and hipbelt and shoulder pockets on for more storage or strip them off to shave 7 ounces.
Even when pushed 5 pounds past the recommended weight, the Flash 55 was extremely comfortable.
Compression straps and attachment loops allow you to tighten your load and attach extra gear to the outside of the pack.
 
What We Don't
You can't adjust the hipbelt size or torso length, so it's important to nail the fit before buying.
While the Packmod system is unique, I found the addition of the shoulder pocket to be unnecessary.
The top lid is water resistant, but I wish the rest of the pack offered some protection from the elements.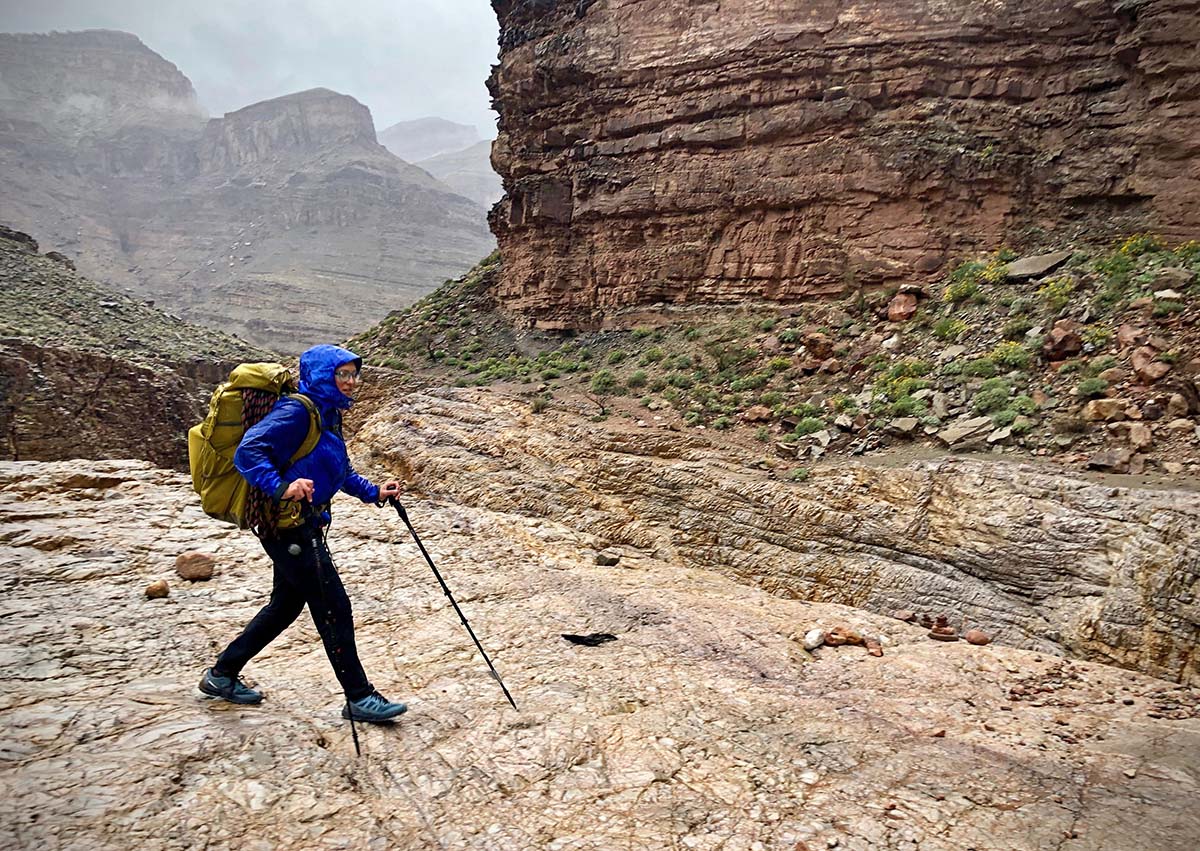 Comparison Table

The Competition
The Flash 55 puts REI solidly on the ultralight map. In this category, another one of our favorite packs is Granite Gear's Crown2 60, another highly versatile model that's still impressively functional and well-featured (see our in-depth review here). Like the Flash 55, the Crown2 is customizable with a removable backpanel and top lid, features large front and side mesh pockets, and includes a roll-top closure. We also love the Crown2's adjustable hipbelt, which can be easily tailored to your waist. That said, we found that the pack's lightweight frame and thin shoulder and hipbelt padding suffered under a typical 35-pound load—a weight that the Flash 55 managed with ease. For virtually the same price and similar weight (the women's Crown2 comes in 4.2 oz. lighter than the fully accessorized Flash), we give the nod to the Flash 55 for its superior carrying comfort on the trail.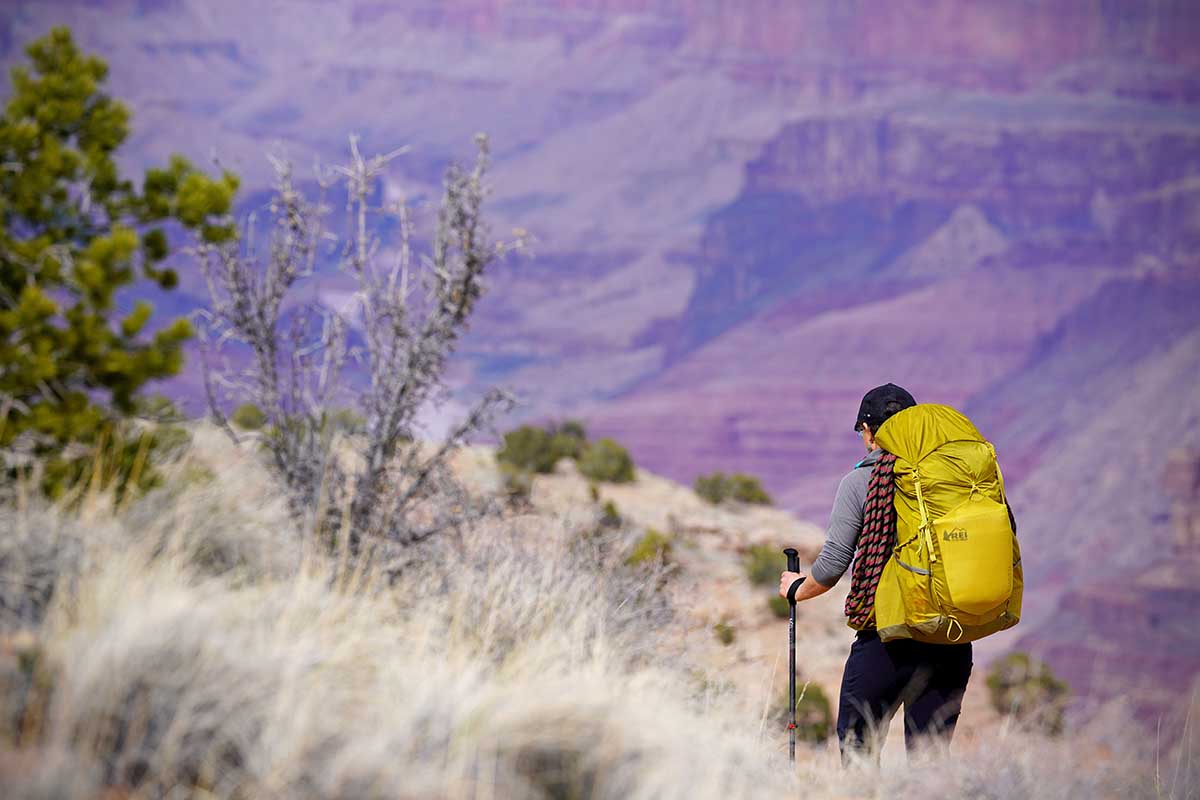 Another popular pick among the ultralight crowd is Osprey's Eja 58 (and men's Exos 58). Like the Flash 55, the Osprey has a solid feature set including a strippable lid and side compression straps. During testing, one area of concern with the line was durability: the 100-denier pack body of our men's Exos suffered multiple tears from granite and rough rocks. The Flash 55 features a similarly thin build, but we appreciate the extra-durable 420-denier nylon on the bottom (the Exos/Eja uses 210D underneath). Further, the Eja lacks hipbelt pockets and has noticeably less padding along the hips and shoulders, but only clocks in 1.5 ounces lighter than the Flash. All told, we prefer the more feature-rich (and $21-cheaper) Flash that carries a load better and can be stripped down if we need to shave weight.
Gossamer Gear's Mariposa 60 is our favorite ultralight pack this season for its durable Robic nylon build, impressive organization, and solid suspension. After a thorough round of testing, we had few complaints with the Mariposa: namely, the SitLight pad along the backpanel was prone to bunching and we would have liked a few more cinch straps to secure external gear. However, the Mariposa 60 comes in at an impressively light 1 pound 12 ounces (for a small frame with small belt, comparable to my women's medium Flash 55)—a whopping 14 ounces lighter than the fully featured Flash. You do sacrifice two exterior pockets with the Mariposa, but we think it's the most complete ultralight pack on the market and worth the extra $71.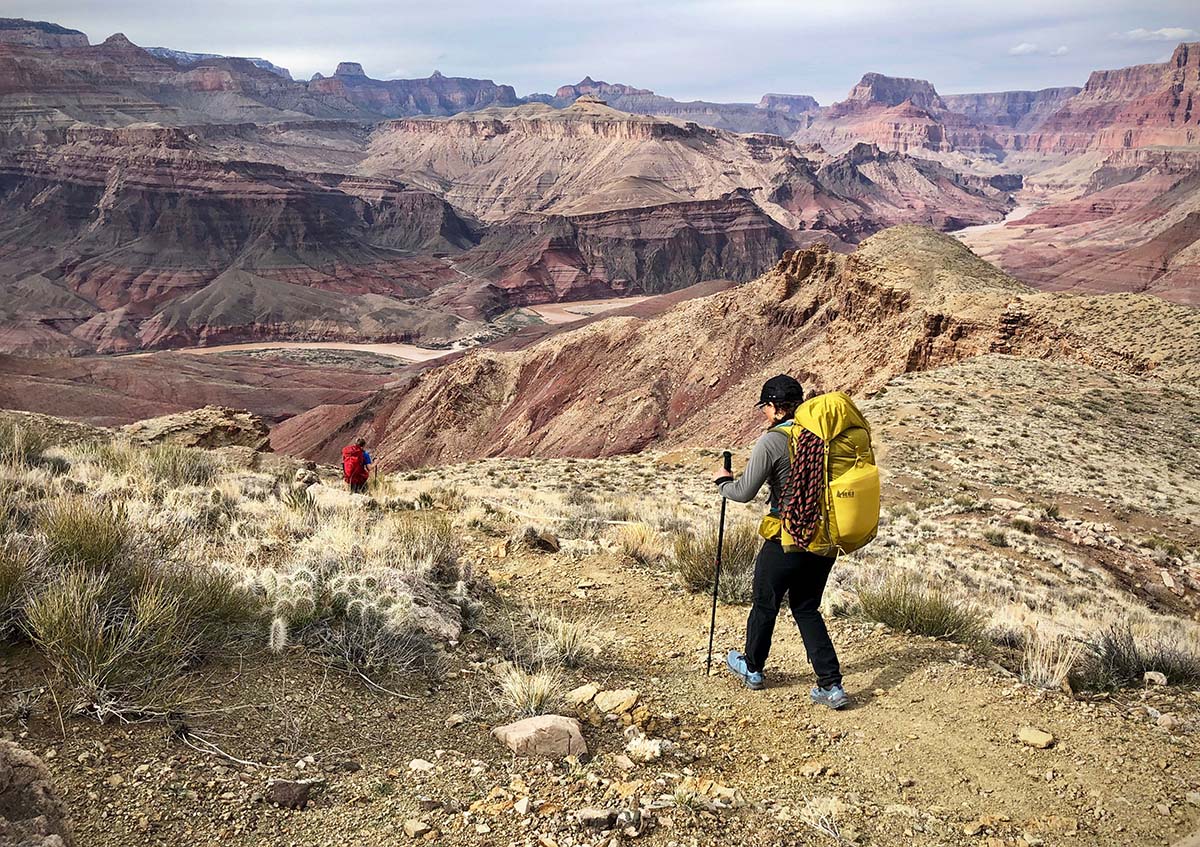 Another pack to consider is Hyperlite Mountain Gear's Southwest 3400. Right off the bat, the Southwest is in a different stratosphere price-wise at $355. But for the extra money, you get a tough Dyneema construction that offers superior water and tear resistance, similar carrying capacity, and a feathery 2-pound weight. It's true that the Hyperlite is lacking some of the organization options of the Flash, and it doesn't have anything resembling the unique Packmod compression system. But the no-nonsense durability and built-in weather protection make it a favorite among thru-hikers and ultralight backcountry explorers. In the end, each has their appeals, but we think the REI's significant cost savings, all-around ease of use, and carrying comfort are an enticing combination.
A final pack to have on your radar is REI's own Trailbreak 60, which slots in as the company's budget offering at $149. Impressively, the Trailbreak manages to retain most of the features we look for in a competitive backpacking design, including ample storage (six exterior pockets plus external attachment points), an adjustable torso, and an all-in weight of 3 pounds 11 ounces (around 1 lb. heavier than the Flash). However, the entry-level model comes with its fair share of compromises, including less cushioning (read: less comfort for big loads and long distances) and inferior ventilation. And the Trailbreak is only offered in one size (in both men's and women's versions), which makes it harder to dial in fit. All in all, we like the Trailbreak for those just starting out, but the Flash is much more well-rounded option for $50 more.
Editor's note: We usually provide a live price comparison table below our outdoor gear reviews, but the Flash 55 is sold exclusively by REI Co-op. You can see the Flash 55 page here and support us in the process. Thanks!
Read More From Switchback Travel