You won't get very far from the lodge without a good snowboard pant or bib, which guards against cold and wet chairlift seats, keeps snow at bay during a wipeout, and offers ample ventilation for sidecountry hiking or bluebird pow days. A quality design starts with a first-rate shell, and many of our favorite options are also insulated for resort riding in deep winter. Below we break down the best women's snowboard pants of 2023, including offerings from core snowboarding brands like Burton, Volcom, and Jones, in addition to premium designs from Patagonia, Arc'teryx, and more. For more background information, check out our comparison table and buying advice below the picks. 
 
---
Our Team's Women's Snowboard Pant Picks
---

Best Overall Women's Snowboard Pant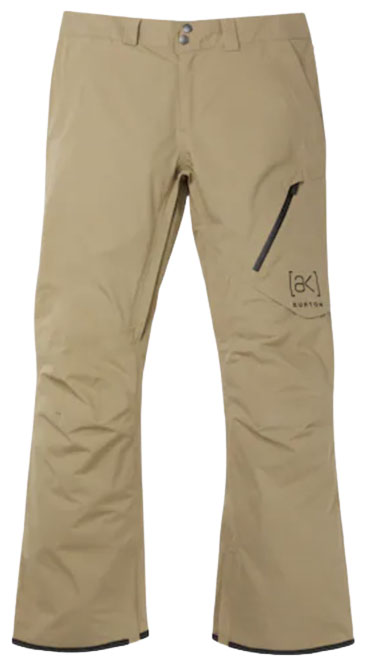 Category: Shell
Insulation: None
Waterproofing: 2L Gore-Tex
What we like: The Goldilocks of snowboard pants, with just-right weather protection, features, and style.
What we don't: Not as breathable or premium-feeling as a 3-layer pant.
Ever since Jake Burton Carpenter started building boards in his barn in the late 1970s, Burton has been one of the biggest names in snowboarding. Now, the Vermont-based brand offers everything from hardgoods to apparel, including the premium [ak] Summit Pant here. The Summit deftly balances style and performance, with a freeride-inspired fit and well-sorted feature set, in addition to stretchy yet durable face fabric and high-end Gore-Tex waterproofing. After a season of thorough testing, they were our clear favorite: The pants survived soggy PNW chairlifts and windy ridgelines, ventilated well for sidecountry hikes, and (importantly) were fun to wear, with an assortment of useful pockets, an adjustable waistband with fleece liner, cuff risers, and a great range of sizes (including short, regular, and tall inseams).
Many resort snowboarders will want an insulated pant (good news: Burton also offers the Summit Insulated), but we appreciate having full control over our layering system. In this way, the Summit is truly a Goldilocks snowboard pant: The Gore-Tex shell offers a decent amount of warmth and wind protection, while the mesh-lined inner thigh vents quickly dump heat (without being as vulnerable to flying snow as open or outer vents), and you get more than enough room for layering (the Summit runs a bit large). We did notice a decrease in waterproofing throughout the season, but this is common even amongst premium Gore-Tex designs and can be revived by laundering and reapplying a DWR finish. Finally, although the Summit fared well for sidecountry hikes, we'd opt for a lighter pant for dedicated backcountry touring, and would prefer outer thigh vents for less bulk while hiking. Nevertheless, Burton's [ak] pants are the full package for resort and sidecountry riders. 
See the Burton [ak] Summit 2L Gore-Tex
Best Budget Women's Snowboard Pant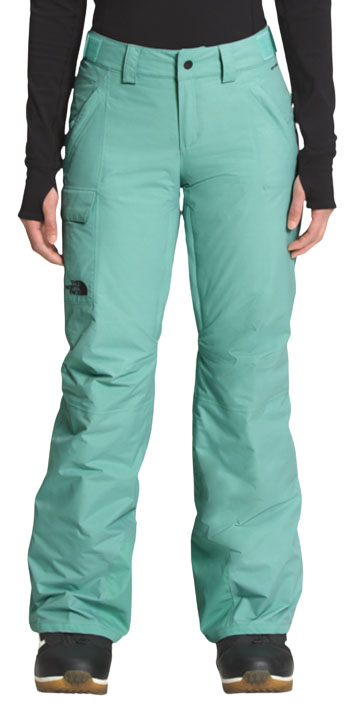 Category: Insulated
Insulation: Heatseeker Eco (60 g)
Waterproofing: 2L DryVent
What we like: Proven and tough resort design at a great price.
What we don't: Will not hold up to particularly wet conditions; fit isn't as fine-tuned as more premium pants.
If you're a casual snowboarder or only get out a few times each season, chances are you can get away with a pair of budget pants. Once prices dip below $200, there are a number of common distinctions from more premium models. First is the use of in-house waterproof membranes, which simply don't perform as well as heavy hitters like Gore-Tex and Patagonia's H2No—both in terms of waterproofing or breathability. Second are the cheaper synthetic fills, which in general are bulkier and heavier than name-brand varieties. And finally, build quality takes a bit of a hit: Expect a less fine-tuned fit, bulky flaps rather than waterproof zippers, less durable fabrics, and simple feature sets. 
But for those looking for the best value, there are some diamonds in the rough. Year after year, the North Face's Freedom Insulated is among the best budget snowboard pants on the market. With a super durable face fabric (most colorways are 160 x 140D), it's built to withstand seasons of hard use and provides an effective first line of defense against wind and snow. The mesh-lined inner thigh vents are also well-executed and perfectly functional for resort use when hiking and skinning are kept to a minimum. It's true that the DryVent membrane won't stand up to sustained moisture (as you'll find on most chairlift seats in the PNW), and it's less breathable than more premium designs. But for snowboarders in cold and dry areas like the Rockies, the Freedom is a fairly uncompromised pant that will save you hundreds of dollars over much of the competition. For a step down in price, check out TNF's Sally ($109), which features the same waterproof membrane and insulation but pairs it with less premium materials.
See The North Face Freedom Insulated
Best Women's Snowboard Bib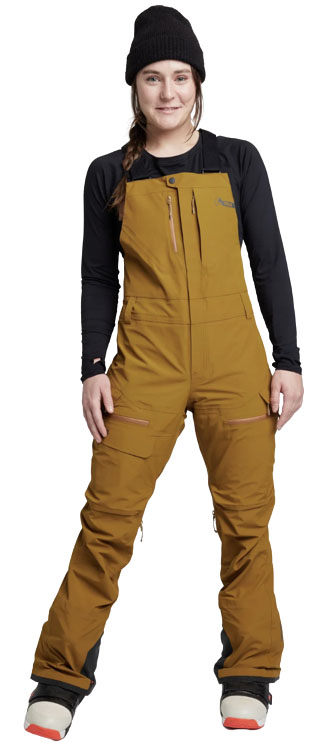 Category: Shell
Insulation: None
Waterproofing: 3L PNW Classic
What we like: Incredible fit for a range of body types; drop seat makes for easy bathroom breaks.
What we don't: Pricey; 3-layer construction could be overkill for resort riders.
Snowboard pants are a versatile and easy go-to, but there are a number of reasons you might opt for a bib instead. Not only are bibs super stylish, but they're functional too, with seemingly endless storage and full-on weather protection that minimizes the chance of snow making its way to your skin. Trew Gear's Chariot is one of the most loved among women's bibs and offers a ton of quality for the price. You get a reliable 3-layer PNW construction that's reminiscent of Gore-Tex in both look and feel, full seam taping with reinforcements, smooth-operating water-resistant zippers, and bomber coverage that keeps even the wettest of snow at bay. And Trew consistently nails the ladies' fit, with six standard sizes offered in short, regular, and tall inseams (adding up to a whopping 18 total options). 
Along with the premium construction and fine-tuned fit, one of the key reasons we love Trew Gear's women's bibs is their drop seat, which extends across the entire rear and is the best solution we've found for making bathroom breaks a breeze (most other models use side zips, which are awkward, especially when wearing a jacket). And while the Chariot is expensive, its price is reasonable for what you get: The 3-layer construction reduces bulk and boosts breathability, overall build quality is excellent, and unlike many rigid hardshells, the Trew has a reasonably soft and supple feel that's easy to move in. If you're looking to save, you can also find Trew's drop seat on their 2-layer Astoria bib ($299), which will get the job done for most resort riders; on the other hand, Trew also makes the Chariot Primo, which features thicker and more rigid material along with a higher-end Primo membrane (and is also offered in 12 plus sizes).
See the Trew Gear Chariot Bib Classic
Best Women's Insulated Snowboard Pant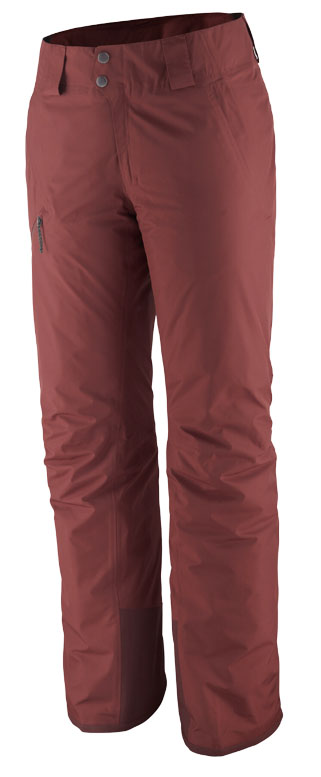 Category: Insulated
Insulation: 60g Thermogreen
Waterproofing: 2L H2No Performance Standard
What we like: Premium build quality for a decent price; warmth without bulk.
What we don't: Not specifically designed for snowboarders.
Insulated snowboard pants can be a really nice luxury, especially if you live in cold climates like the Northeast or Mountain West. They add a layer of synthetic insulation in between the shell/membrane and the inner lining, which offers a warm and cozy feel similar to that of a puffy down jacket (without compromising on waterproofing). Throughout our testing, the Patagonia Powder Town Insulated consistently struck us as the best mix of value and performance, with 60-gram Thermogreen fill that packs out less quickly than cheaper varieties, sleek and clean styling with minimal bulk, and a soft taffeta liner for great next-to-skin comfort. Tack on Patagonia's H2No waterproof membrane, a PFC-free DWR, and a robust 75-denier face fabric, and the result is a pair of snowboard pants that can handle brutal mountain weather season after season.
The Powder Town Insulated is $100 more than our top budget pant (also insulated), but you get what you pay for: Patagonia's build quality is consistently top-notch, all the details are sorted (including an adjustable fleece-lined waist and watertight zippers), and, in our experience, the H2No membrane is virtually on-par with Gore-Tex. You do trade a bit of versatility in opting for an insulated pant, but the Powder Town's outer thigh vents are very effective at dumping heat. It is worth noting that Patagonia's pants are built for both skiers and snowboarders, so you won't find any snowboard-specific trimmings like cargo pockets or a baggy fit (for that, look to the Burton Society below). But for extra warmth in a premium package, they're our favorite insulated pant of the season. For a step up in quality, Patagonia also offers the Storm Shift, which features a burly 150-denier shell, 2-layer Gore-Tex construction, and a high-end fleece liner.
See the Patagonia Powder Town Insulated
A Breathable and Stretchy Bib for Splitboarding

Category: Shell
Insulation: None
Waterproofing: 3L AscentShell 
What we like: Supple, softshell-like fabric is highly mobile, breathable, and comfortable.
What we don't: Not as weather protective as a standard 3-layer hardshell.
Our splitboard testers resoundingly prefer bibs over pants: In addition to trustworthy coverage and convenient storage, they eliminate the bunching where a jacket, pant, and powder skirt meet, which can be especially uncomfortable with a pack on. Standard hardshells like the Chariot above offer a lot of assurance in wet conditions, but our top recommendation for high-output touring is the more breathable and stretchy OR Skytour. Despite its waterproof 3-layer construction, the Skytour feels more like a softshell than a hardshell, with relatively thin (40D x 65D) and supple fabric that moves easily and effectively dumps heat. Above the belt, bonafide softshell material offers even more of the same. Tack on a gusseted crotch, articulated knees, and a trim fit, and the Skytour is a highly mobile yet protective bib, ideal for everything from skin-track kick turns to spring volcano shredding.
But while the Skytour is a great pairing for uphill enthusiasts, the design does have some compromises. For one, the AscentShell fabric doesn't offer quite the wind and water protection of Gore-Tex—we've needed to wear thicker-than-normal baselayers on cold or windy days, and the bib is fairly quick to wet out in soggy Pacific Northwest conditions. Further, the cuffs are a tight fit over snowboard boots in walk mode, and we wish there was a beacon clip in one of the leg pockets (you get one in the chest pocket). And finally, unlike the Trew Gear's 18 size options, the Skytour is only available in five sizes with one inseam length. But for the right application (i.e. snowboarders who like to earn their turns), the bib offers unbeatable performance, and the price is right, too. For a similarly stretchy and breathable design in an even more lightweight package, check out the Patagonia SnowDrifter ($379)—this design has had durability issues in the past, but we're excited to test the updated version this winter.
See the Outdoor Research Skytour AscentShell Bib
Best of the Rest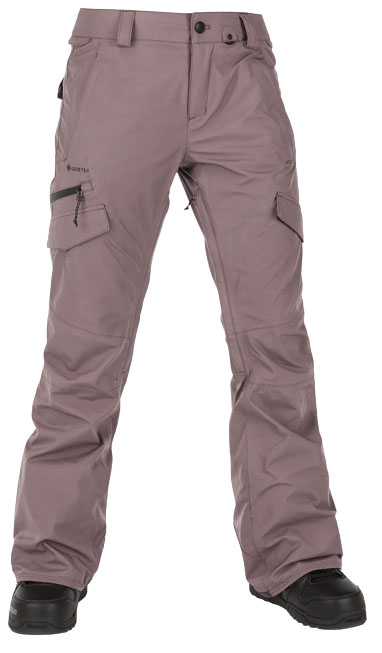 Category: Shell
Insulation: None
Waterproofing: 2L Gore-Tex
What we like: A sub-$300 Gore-Tex pant, oh my!
What we don't: A couple of fit and finish issues.
Volcom excels in the budget category, but the Aston pant here is a very competitive mid-range offering. Combining premium 2-layer Gore-Tex construction with a breathable liner and inner thigh vents, the Aston will keep you dry on wet lift rides but isn't prone to overheating on spring-like days. Serious riders will also appreciate the articulated fit, which makes for a stylish yet functional freeride design that won't weigh you down. Tack on features like cargo pockets, extra stitching at the inner rise, and hem reinforcements, and it's clear that the Aston is a thoughtfully built snowboard pant through and through.
You won't find a lot of Gore-Tex in the sub-$300 price range, making the Volcom Aston one of the better values out there (it offers similar protection to the Summit above for a whopping $140 less). But the finer details aren't as well sorted: The single button closure has a tendency to come undone, the white mesh lining on the thigh vents is reminiscent of cheap gym shorts, and—unlike the Summit—you don't get the option for a short or tall inseam. Finally, while some riders will appreciate the added assurance of Volcom's Zip Tech system, which uses zippers to securely attach the jacket and the pants, it does result in extra bulk at the waist. That said, we think the Volcom hits a nice sweet spot for price-conscious riders looking for a step up from an entry-level design. 
See the Volcom Aston Gore-Tex

Category: Shell
Insulation: Polyester liner
Waterproofing: 2L laminate
What we like: Liner adds streamlined and breathable warmth; waterproofing is effective even in wet conditions.
What we don't: Tight-fitting cuffs; side zippers have a tendency to slip.
Built from the ground up by legendary freerider Jeremy Jones, Jones Snowboards makes some of the best boards in the business. Recently, the Truckee, Calif.-based brand expanded their lineup to include outerwear, and the MTN Surf here is their versatile bib for everything from lift-served riding to mid-winter splitboarding. We've been impressed with the balanced nature of the MTN Surf, which offers a nice dose of warmth and is impressively waterproof for a non-Gore-Tex design. On the outside, you get thoughtfully patterned four-way stretch panels at the torso and thighs, along with durable 75-denier ripstop nylon on the seat and knees. Tack on a nice assortment of pockets with waterproof zippers, long side zips, and adjustable suspenders, and the MTN Surf is a premium quality bib that's competitive with offerings from brands like Burton [ak] and Arc'teryx.
Most snow pants add warmth with synthetic fill, which can be bulky and has a sizable impact on breathability. The MTN Surf Bibs forgo this insulation and use a warm liner instead, which, in practice, we really liked: It took away the sting of the cold on deep-winter days, but wasn't so insulative that we overheated on sidecountry hikes. But as this is the brand's first iteration of the MTN Surf Bibs, there are a few features that are in obvious need of refinement. The cuffs are so tight we could barely fit them over our snowboard boots, the fit was a bit trim for our liking, and, with no zipper garages, the side zips have a tendency to creep down. We'd love to see Jones improve on these few issues in future updates (and for now, it might be worth sizing up), but the MTN Surf is otherwise an impressively premium and weather-protective bib from a core snowboarding brand.
See the Jones MTN Surf Bib

Category: Shell
Insulation: None
Waterproofing: 3L Gore-Tex
What we like: A highly protective and breathable Gore-Tex bib built specifically for snowboarders.
What we don't: Expensive and only available in one inseam length.
If you're looking for la crème de la crème of women's snowboard pants, let your search end at the Burton [ak] Kimmy 3L bibs. As most well know, Gore-Tex is bar-none the industry leader in waterproofing, but that's only half the equation: A lot of performance also hinges on how the Gore-Tex is integrated. In the case of the Kimmy, the 3-layer construction mitigates the need for a hanging liner, which in turn minimizes bulk and increases breathability when compared to 2-layer designs. And the bib tacks on a bit of stretch to the design, which minimizes that rigid, crinkly feel you often get from 3-layer Gore-Tex. Added up, they're an impressively sleek, comfortable, and technical offering for serious riders headed into serious terrain. 
At $670, the Kimmy bib certainly isn't cheap, and its limited sizing (XS-XL in just one inseam length) means it will have a limited audience, too. And for most resort riders—especially those in cold and dry zones like the Mountain West—the 3-layer construction is simply overkill. But if you demand a lot from your gear, ride a lot of slackcountry and backcountry, or live in the Pacific North-wet, the Kimmy bibs are a true fan favorite. And as expected, the feature set is also well sorted for everything you might encounter during a day on the slopes, including stretch paneling for mobility, copious pockets, and a drop seat for easy bathroom breaks. Finally, we'd be remiss not to also mention the $760 [ak] Tusk Gore-Tex Pro 3L, which offers a step up in breathability with Gore-Tex's top-end Pro membrane.
See the Burton [ak] Kimmy Gore-Tex 3L Bib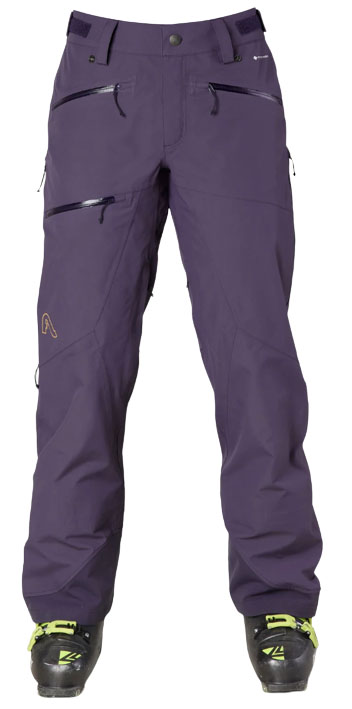 Category: Shell
Insulation: None
Waterproofing: 3L Surface
What we like: Great durability and breathability for hard chargers.
What we don't: In-house membrane isn't quite as premium as Gore-Tex.
Flylow Gear flies a little under the radar compared to bigger names like Burton and The North Face, but the Nina pants are a solid offering from the Colorado-based brand. Built for both skiers and snowboarders, this is a super tough design with a 3-layer construction, waterproof zippers, and burly cuff reinforcements. In addition to the impressive level of protection, the pants also ventilate well, and you can release hot air in four places: two zippered vents along the inner thigh and two large vents on the outside (honestly, we think two outer thigh vents are sufficient). All told, the Nina is a well-built design that combines best-of-both-worlds waterproofing and breathability for those who like to dip in and out of the ropes.
The Nina checks in for $55 less than our top-ranked Burton Summit above, but arguably features a more premium design. With a 3-layer build and crossflow venting, it gets the clear edge in heat-dumping capabilities, making it a better option for those who frequent the side- and backcountry. And while many resort riders will likely prefer the Burton's more subdued styling (and it's hard to beat the [ak] brand cachet), the Nina's baggy fit scores high marks among freeride enthusiasts. Keep in mind that you do give up the trusted protection of Gore-Tex, which we'd stick with for serious riding in wet regions like the Pacific Northwest. But if you're looking for a burly yet breathable pant that won't hold you back, the Flylow is worth a closer look. And while you're at it, check out Flylow's full lineup of bibs and pants, including the insulated Fae ($350), the budget Hyde ($190), and the Foxy Bib below.
See the Flylow Gear Nina
Category: Insulated
Insulation: Thermagraph (140 g)
Waterproofing: 2L infiDry
What we like: Incredibly warm; great style and feature set.
What we don't: Bulky; waterproofing won't hold up to particularly wet conditions.
Founded in the early '90s as part of a University of Southern California class project, 686 offers a large selection of skate and snowboard apparel. The Geode Thermagraph Pant highlights their in-house technology, combining a hefty dose of Thermagraph insulation with an infiDry waterproof membrane. We haven't had a chance to test the Geode pants, but can make a few very educated guesses based on their specs: They're very warm (140-g insulation is thick, especially compared to the 40- to 60-g fill used in most pants), and they're not incredibly waterproof or breathable (infiDry is the same membrane used in 686's $120 Standard pants). But for cold and dry conditions in the Rockies, this is a very functional combination.
Aside from their incredible warmth, the Geode pants have a lot going for them in terms of design. You get a large assortment of pockets—including rear, front, and side—and all the requisite cuff features, including a gusset with snaps, reinforced scuff guard, and BOA-compatible gaiter. Mesh-lined inner thigh vents keep air flowing without letting snow in, and a fleece liner at the waist offers a great next-to-skin feel. The 140-gram insulation does result in a bit of extra bulk, but 686 does a great job of integrating it with the pants' baggy style. All told, if you're on the hunt for a super warm pant that doesn't compromise on style, the Geode Thermagraph is worth a closer look.
See the 686 Geode Thermagraph

Category: Shell
Insulation: None
Waterproofing: 2L Gore-Tex
What we like: Highly durable, good looks, and quality protection.
What we don't: Doesn't come in short and tall inseams; useless front pockets.
No matter the resort, you're bound to see more snowboarders wearing Burton than any other brand. The Avalon Bib is one of their most popular offerings, so much so that it's made in both Gore-Tex, non-Gore-Tex, and Stretch Softshell varieties. The Avalon GTX here packs in a ton of quality for the price: You get premium 2-layer construction along with full seam taping and burly 150-denier face fabric for just $335—comparable offerings like the Jones MTN Surf Bibs above, which cost almost $100 more. If you're in the market for a robust resort-specific bib, the Avalon should be toward the top of your list.
However, as we mentioned previously, 2-layer constructions do not get high marks for breathability, and the Avalon's burly fabric certainly doesn't help. If you like to earn your turns or charge hard in and out of the ropes, a 3-layer design like the Chariot or Skytour above will do a much better job regulating temperature. Further, without a closure (read: no zipper or velcro flap), the Avalon's leg pockets are virtually useless. And like many bibs here, the Burton isn't offered in short or tall sizes, and the elastic waistband has a tendency to gape at the rear. But you'd be hard-pressed to find a better combination of performance, durability, and style at this price point, and there's a reason the Avalon is one of the best-selling bibs among snowboarders. Note: The non-Gore-Tex version of the Avalon is available in short, regular, and tall inseams, making it a great alternative if fit is an issue.
See the Burton Avalon Gore-Tex Bib

Category: Shell
Insulation: None
Waterproofing: 3L Tactic
What we like: A stylish yet high-performance bib with built-in stretch and a great range of fit options.
What we don't: Stretchy build slightly compromises weather protection.
Flylow Gear holds a special corner of the snow bib market, with a wide variety of offerings that hit the sweet spot between style and performance. The Foxy is their best all-rounder: This bib is versatile and hip, comfortable yet protective via a stretch-infused hardshell fabric (it's also impressively durable at 100D), and fully featured, with vents on both the inside and outside of the thighs and no shortage of pockets. We also love that it comes in three different inseam lengths, which really helps to nail the fit (bibs can be particularly finicky). We tested the Foxy throughout a season in the Pacific Northwest and give it our whole-hearted endorsement for those looking for a top-of-the-line bib for both resort and backcountry use.
Flylow's advertising of the Foxy as a softshell bib is a bit misleading—its 3-layer Tactic fabric is actually full-on hardshell with built-in stretch and taped seams. It also happens to be our favorite thing about the Foxy: The bibs are extremely comfortable and quiet, and the added mobility is a game-changer for both snowboarding and après. However, stretchy hardshell can't compete with the waterproofing of a rigid design like the Chariot above, which you might want for wintry chairlift rides or wet days out. But Flylow Gear's most popular bib is nevertheless a comfortable, high-performance, and stylish option for resort riders, casual backcountry-goers, and those who double dip. And fit-wise, the bib runs small—you'll likely want to size up, especially if you're going for a laid-back, freeride style... Read in-depth review
See the Flylow Foxy Bib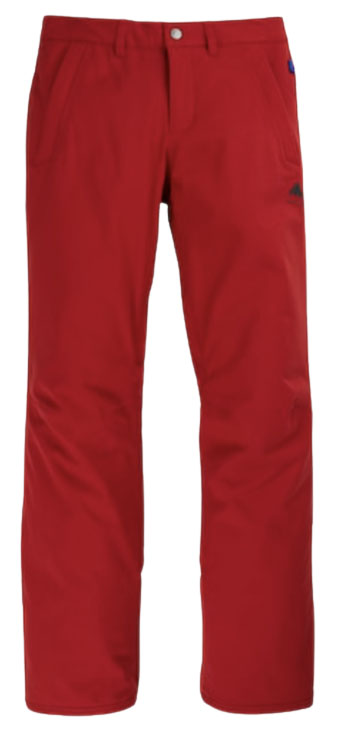 Category: Insulated
Insulation: ThermacoreECO (40 g)
Waterproofing: 2L Dryride
What we like: A stylish insulated pant at a great price.
What we don't: Not as protective or durable as the Patagonia Powder Town.
For value seekers on the hunt for an insulated pant, it doesn't get much better than the Burton Society. Priced right at only $170, the Society boasts a warm layer of 40-gram ThermacoreECO insulation wrapped up in Burton's 2-layer Dryride membrane with fully taped seams. A fairly minimalist feature set and simple fit keep costs low, but the Burton is still fully functional for in-bounds use with microfleece handwarmer pockets, stylish cargo and thigh pockets, inner thigh vents, and bungee cuff elevators (Burton's name for the cinch that keeps your cuffs from dragging in the snow while walking). And with a relatively high-rise waist and availability in a range of sizes and inseam lengths, this pant's female-friendly design wins us over.
If you're deciding between the Society and a premium insulated pant like the Powder Town above, there are a few things to keep in mind. In our experience, Burton's Dryride waterproofing and breathability are no match for Patagonia's H2No, and won't hold up as well to sustained wet weather. What's more, the Society isn't quite as warm with 40-gram insulation compared to the Powder Town's 60-gram fill. On the other hand, the Burton is $100 cheaper and its fit and aesthetic is fully geared toward snowboarders. In the end, we'd recommend the Powder Town for true winter conditions and those who get out a lot, but the Society is perfectly serviceable for most recreational riders. 
See the Burton Society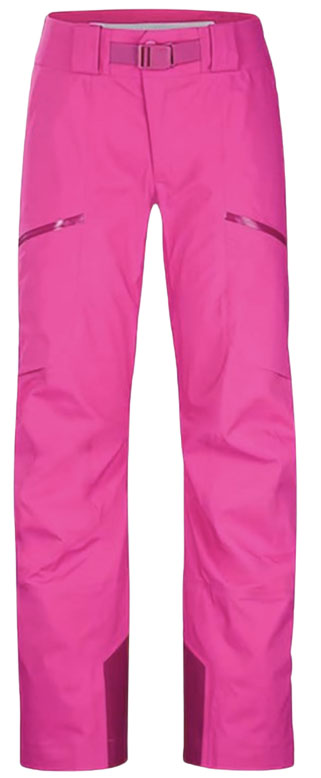 Category: Shell
Insulation: None
Waterproofing: 3L Gore-Tex
What we like: Bomber 3-layer build that excels both at the resort and in the backcountry.
What we don't: Expensive; trim and technical look won't be for everyone.
Based in British Columbia's Coast Mountains, Arc'teryx is no stranger to bad weather. Combine that with a truly impressive dedication to sweating the small details, and the brand consistently delivers premium, top-performing outerwear. Their go-to women's pant for both resort and backcountry riders is the Sentinel, which—similar to the Burton [ak] Kimmy bib above—features bomber yet lightweight 3-layer Gore-Tex waterproofing. Never satisfied with the standard, Arc'teryx also tacks on a brushed liner, which lends extra warmth but also functions to wick moisture better than a standard hardshell lining. For those who like the looks of the Kimmy but would rather ride in a pant, the Sentinel is a brilliant alternative.
So with that glowing review, why do we rank the Sentinel here? Like the Kimmy bib, it's a pricey pant, and overkill for most resort riders. More importantly for many, the Sentinel isn't specifically built for snowboarders, resulting in a more trim, technical style that lacks features like cargo pockets and extra butt protection. Finally, if you're looking for a 3-layer design, you can save almost $200 with the Flylow Gear Nina above, which will appeal more to the freeride audience. But nitpicks aside, the Sentinel is one of the best snow pants money can buy (it's our favorite women's ski pant this year) and is a great choice for those who split their time between the backcountry and the resort. Of note: Arc'teryx also makes the Sentinel Bib ($650), which features a similar design in terms of features, materials, and fit.
See the Arc'teryx Sentinel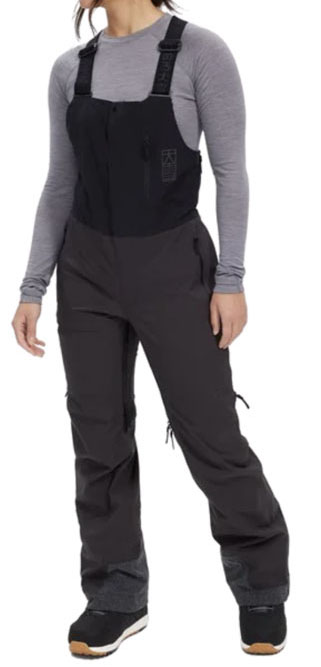 Category: Shell
Insulation: None
Waterproofing: 3L YamaPro
What we like: Stretchy and lightweight fabric offers an extra dose of breathability, comfort, and mobility.
What we don't: Wets out in sustained moisture; durability issues.
Based in Japan's powder capital, Oyuki has a growing lineup of outerwear designed for skiers and snowboarders. Their snow jackets and bottoms combine fun freeride styling with real-deal performance, and the Nimi Bib sits at the top of the food chain. Combining Oyuki's in-house YamaPro waterproof membrane with a lightweight and supple face fabric (noticeably thinner than most shells here), the Nimi is a comfortable and breathable option for mild climates and those who split their time in and out of bounds. Along with the stretchy fit and great freedom of movement, we particularly loved the bib's stylish fit and nice finishes, including a supple softshell upper, artsy seam taping, stretchy suspenders, four thigh vents, and a large assortment of pockets.
Despite the details we like, we hesitate to rank the Nimi among the ranks of bibs like the Chariot and [ak] Kimmy above. For one, its durability has been disappointing. After one season, the laminated logos are peeling off, the fabric zipper pulls have unraveled, and raw edges of frayed material are showing around the seam tape. What's more, the face fabric routinely wets out in mild conditions, and the YamaPro membrane is prone to being overwhelmed by moisture, too. Finally, the fit is a little off: Our size-small bibs were much too long for us, while we would have loved more room in the butt and thighs. But we admittedly put the bibs through the wringer, and for those who ride in dry conditions, the waterproofing weaknesses will be less of an issue. It's not rare for designs to need some refinement after their first release (the Jones MTN Surf is another example), and the Nimi has enough going for it that we're eager to test future iterations.
See the Oyuki Nimi YamaPro 3L Bibs

Category: Insulated
Insulation: Thermal STD (40 g)
Waterproofing: 2L Dryplay
What we like: A Euro-styled alternative to your standard baggy snowboard pant.
What we don't: Not the style most snowboarders are looking for.
Picture Organic is another brand building up a small but loyal following. With a commitment to sustainability at the helm, their products are a highlight reel of organic and recycled materials, PFC-free water repellent treatments, and ethical production practices. The Exa here is representative of their pant collection as a whole, combining excellent build quality with unique and thoughtful styling. In contrast to the baggy, freeride vibes epitomized by most snowboard pant designs, Picture Organic gave the Exa a fairly trim fit, unique high waist (with about 4 in. of stretchy material above the waistbelt), and buttoned hem. One of our testers described them as ideal for après in Vail or Aspen—that's the kind of style we're talkin' about here. 
Performance-wise, the Exa features Picture Organic's Dryplay membrane and a thin layer of 40-gram insulation. We've found the shell material to be burly enough to stand up to a lot of resort use, and it also serves as a great first line of defense against wet snow. The thigh vents, however, are a question mark for us: They're placed a lot lower than we're used to—all the way to the knee—which makes them fairly conspicuous, in addition to being extra vulnerable to moisture sneaking through. But the rest of the Exa is well built with a keen attention to detail; if you're not put off by the flashy Euro styling, it's a great value at $210 and a nice intro to what Picture Organic is all about.
See the Picture Organic Exa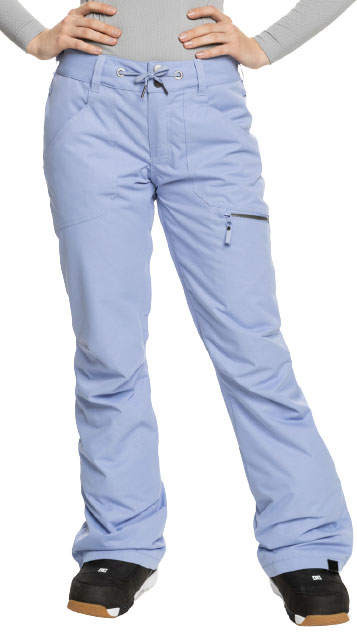 Category: Insulated
Insulation: WarmFlight Eco (40 g)
Waterproofing: 2L DryFlight
What we like: Female-specific fit and style.
What we don't: Budget waterproof/breathable membrane and no hem reinforcements.
Some brands are still guilty of the "shrink it and pink it" strategy when it comes to designing women's clothing, but Roxy is not one of them. Built specifically for women, the Roxy Nadia forgoes the more typical baggy snowboard style for a trimmer, flared-leg pant with a shoestring drawcord and front and back hand pockets reminiscent of your daily jeans. Many women will appreciate the more feminine cut, which also adds a layer of 40-gram synthetic insulation for an extra dose of warmth. Along with a jacket attachment, taffeta liner, and mesh-lined inner thigh vents, the $180 Roxy stands out as an excellent value for penny pinchers, new riders, and those who only get out a few times a year.
However, as with most things in life, you get what you pay for: The Nadia's 2-layer DryFlight membrane and critical seam taping certainly are on the budget end of the spectrum (Roxy rates it at 10/5K for waterproofing/breathability). As a result, we wouldn't push the pant too hard in sustained wet conditions—a good excuse to duck into the lodge—and when the mercury does rise, the Nadia is bound to heat up quickly given its insulated and barely breathable nature. Finally, with no scuff guard or hem reinforcement, the cuffs will grow scrappy in a hurry, especially if you do a lot of hiking or are tough on your gear. But for lady rippers who run cold or ride in consistently wintery climates, the Nadia is a fully serviceable insulated pant at an excellent price point.
See the Roxy Nadia
Women's Snowboard Pant Comparison Table
Editor's Note: The "rating" column above lists the waterproof and breathability ratings assigned by the manufacturer. For more information, see our buying advice section on the topic below.
 
Women's Snowboard Pant Buying Advice
Women's Snowboard Pant Buying Advice
Women's Snowboard Pant Categories
Shell
Snowboard pants can be divided into two general categories: shell and insulated. Shell pants are the most versatile option for most riders, featuring a simple 2- or 3-layer hardshell exterior (more on this below). Their lack of insulation means you can tune your layers underneath based on conditions: Go with a light baselayer for spring days or throw on a thick fleece pant to stay warm in cold temperatures. They're also the most breathable option, particularly those of the premium 3-layer variety. As a result, shell pants are our recommendation for parts of the country with fairly mild winter temperatures (like the PNW), those who tend to run warm, or riders who like to frequent the sidecountry or backcountry. Top shells from our list include the Burton [ak] Summit pant and Kimmy bib, Outdoor Research Skytour AscentShell Bib, and Flylow Nina.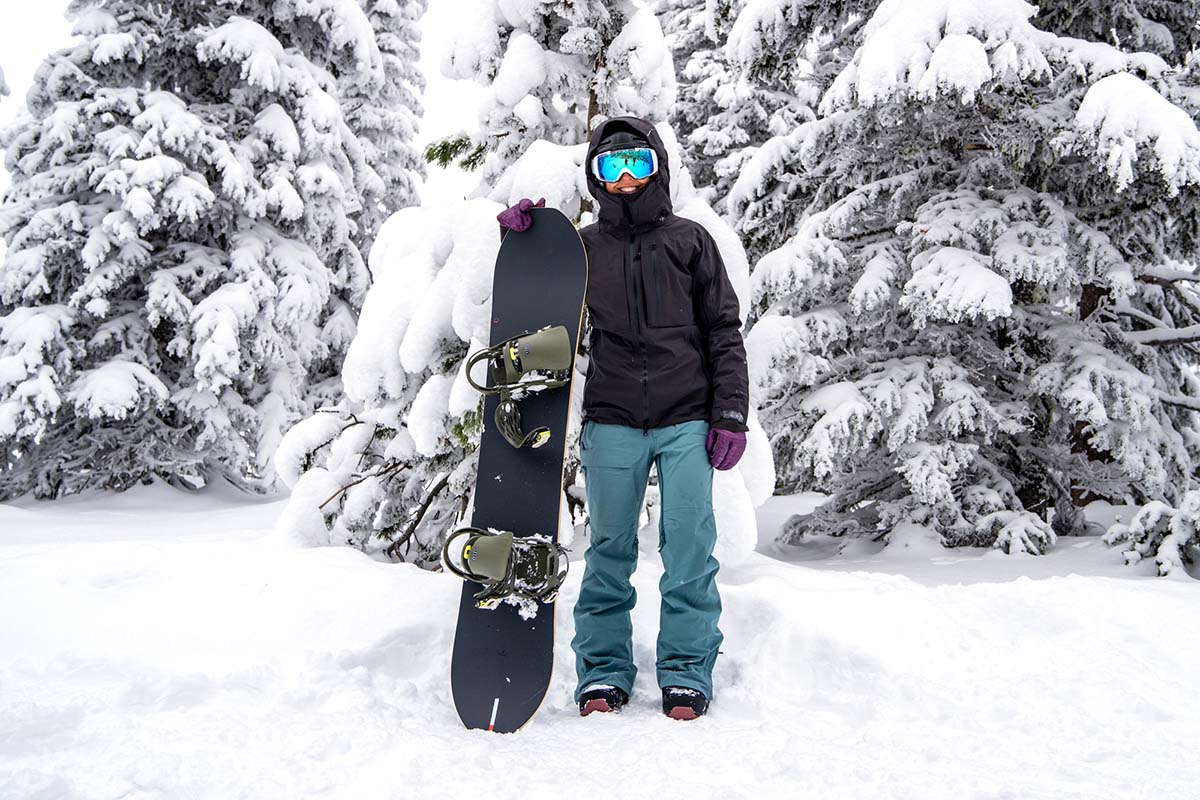 Insulated
Given the stop-and-start nature of snowboarding—sitting on the lift, strapping in and out of bindings, and hanging out in the park—some resort riders will consider a pant with some form of insulation. The vast majority of insulated pants use synthetic fill due to its affordability and ability to keep you warm even when wet (unlike goose or duck down, which clumps up). Warmth varies between models, and the picks above range from 40-gram to 140-gram fill weights. Finding your sweet spot will depend on the conditions you get out in, your riding style (aggressive or casual), and if you're prone to running hot or cold. We highly recommend erring on the side of under-insulating, as it's far easier to add baselayers underneath than deal with roasting in a too-warm pant.
While we love the security and comfort of slipping on an insulated pant in cold weather, there's no denying that it comes at the tradeoff of breathability and versatility. The built-in insulation means the pant will grow swampy in a hurry, and you can only release so much heat with thigh vents. But if you run cold or ride in consistently frigid temperatures, a good case can be made for an insulated model. Some of our favorites include Patagonia's Powder Town Insulated, The North Face's Insulated Freedom, and the Burton Society.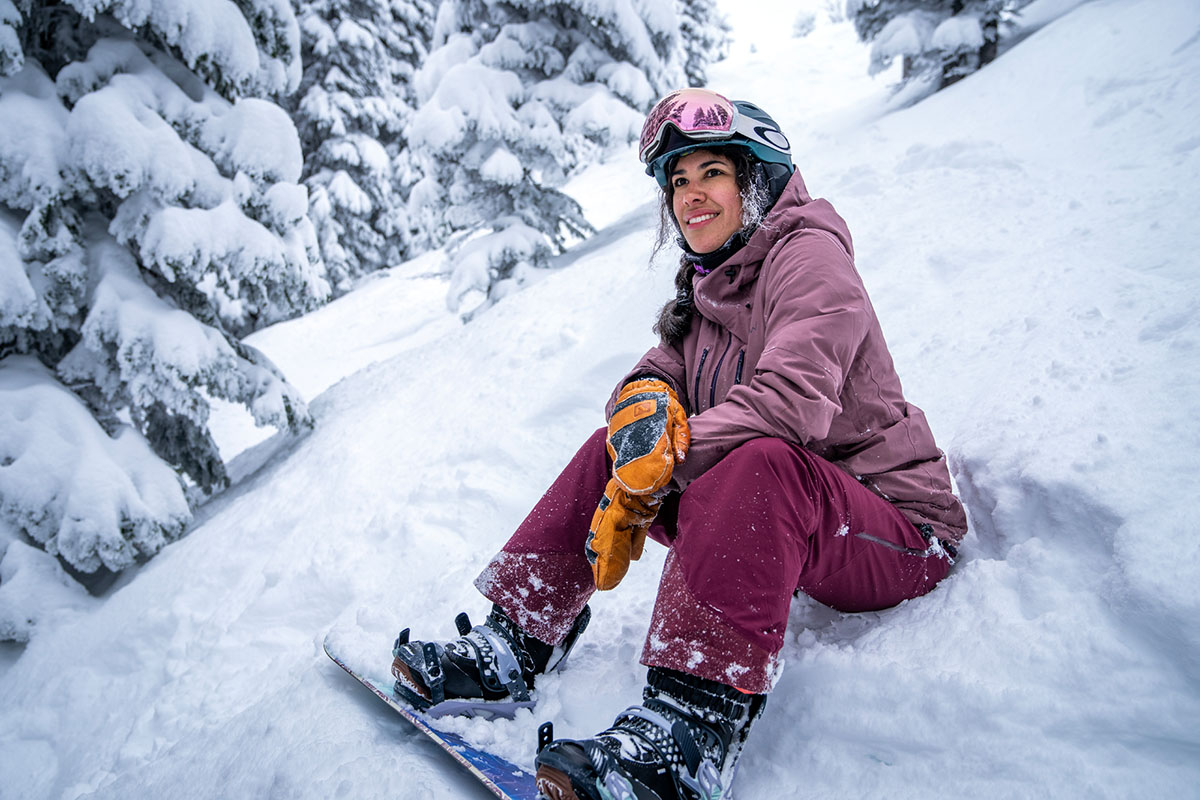 Waterproofing and Breathability Ratings
In researching snowboard pants, you'll consistently find two numbers being marketed heavily: a waterproof rating (usually listed in millimeters) and a breathability rating (provided in grams). For waterproofing, many manufacturers use what's commonly referred to as a static-column test: A piece of the pant's shell fabric is set below a 1-inch-diameter tube, which is then filled with water until the fabric begins to leak. The height of the water at that point of failure is its rating. The breathability test is more convoluted and less standardized, but it's designed to measure how much water vapor travels from the inside to the outside of the fabric over a 24-hour stretch.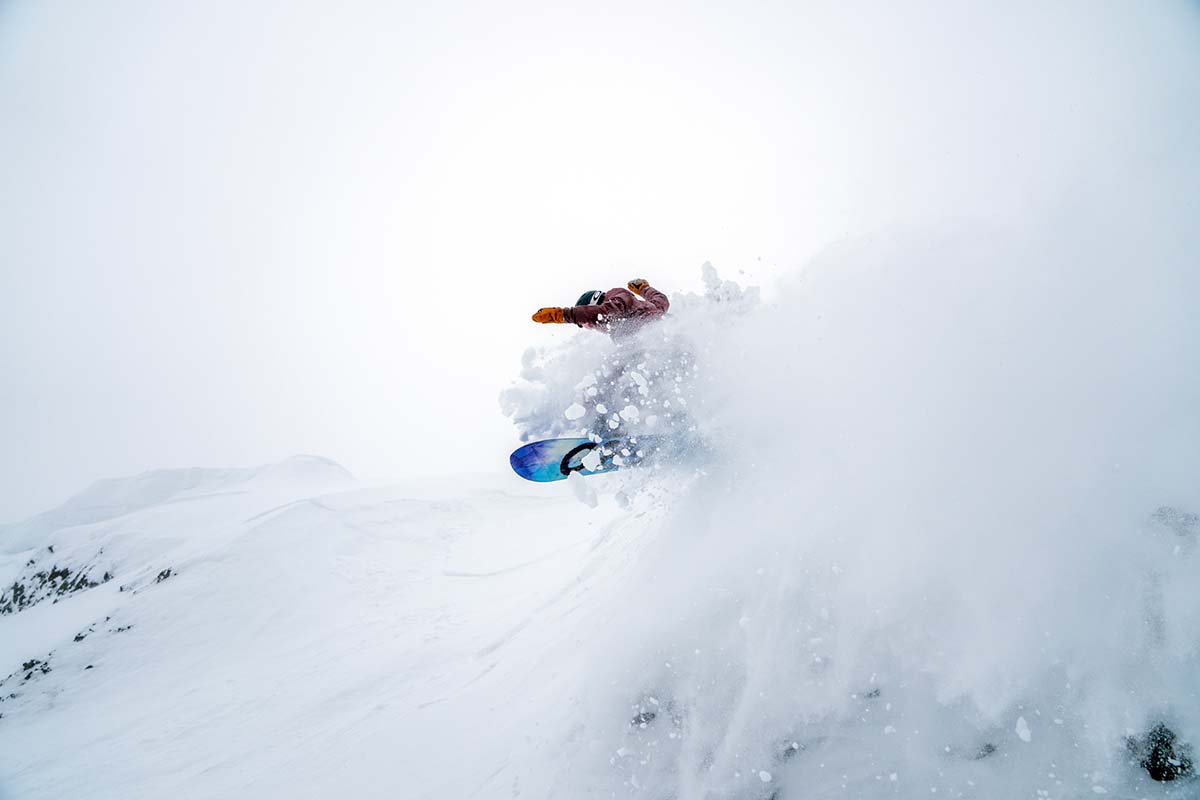 What should be immediately clear from both of these tests is that they don't perfectly simulate winter conditions, and we don't recommend relying on them heavily in selecting a pant. In particular, don't focus much on the breathability rating: There isn't an established procedure to compare products, and the test is done in a controlled lab environment (in other words, not out in snow). There is some value in the static-column rating—a higher number will typically lead to better waterproofing—but plenty of other factors come into play, including the quality of the membrane, DWR coating, fabric denier, and seam taping, which we detail below.
 
Waterproofing: Construction, DWR, and Seam Taping
Construction 
Waterproof ratings can be the first clue towards discerning the level of protection a pant will provide, but it's important to dig a bit deeper into the specs. The first thing we look for is the quality of the waterproof construction, and in terms of protection and longevity, it's hard to beat Gore-Tex. In both their mid-range 2-layer (found in the Burton [ak] Summit) and lighter and more breathable 3-layer varieties (Arc'teryx's Sentinel), we've found Gore-Tex to be reliably wind-resistant and waterproof even in harsh and wet conditions.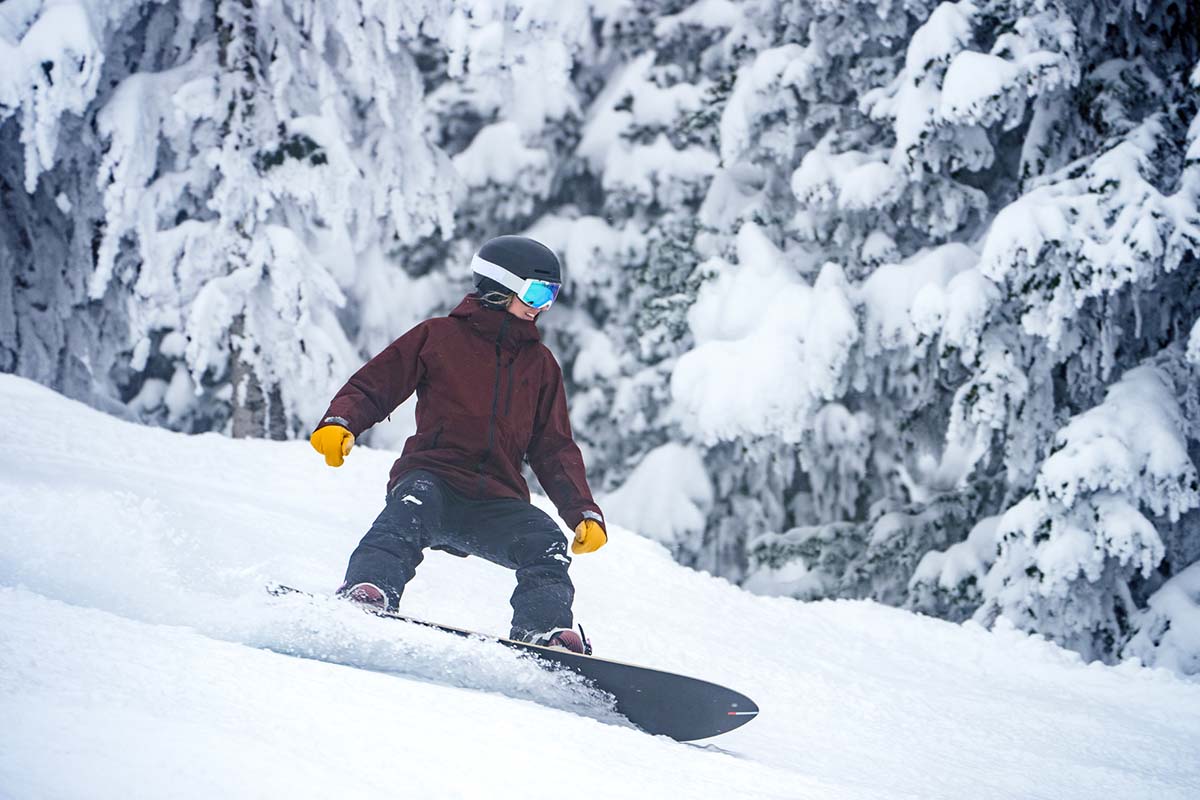 To save money, many manufacturers utilize in-house designs, and proven options here include Patagonia's H2No and Outdoor Research's AscentShell. Stepping down to budget-oriented models in the $100 to $200 price range gets you a noticeable drop in quality. These pants will provide sufficient protection in moderate and dry conditions, but the lower-end builds aren't as long-lasting or reliable on particularly gnarly days.

Durable Water Repellent (DWR)
Another key component of a snowboard pant's wet-weather protection is its durable water repellent coating (DWR for short). This finish is added to the exterior fabric to keep the nylon or polyester material from absorbing moisture, which helps keep the waterproof membrane functioning properly—if too much water gets through the outer fabric, the membrane can get overwhelmed, which causes issues with breathability and even leakage. A properly functioning DWR is easy to spot: Snow and water will mostly stay on the surface of your pant and be easy to shake or brush off with your gloves. The DWR used in higher-end designs is most often higher quality and longer lasting, while you might find yourself needing to refresh the finish of a pant like the budget The North Face Freedom more often (regularly applying a product like Nikwax TX.Direct will do the trick).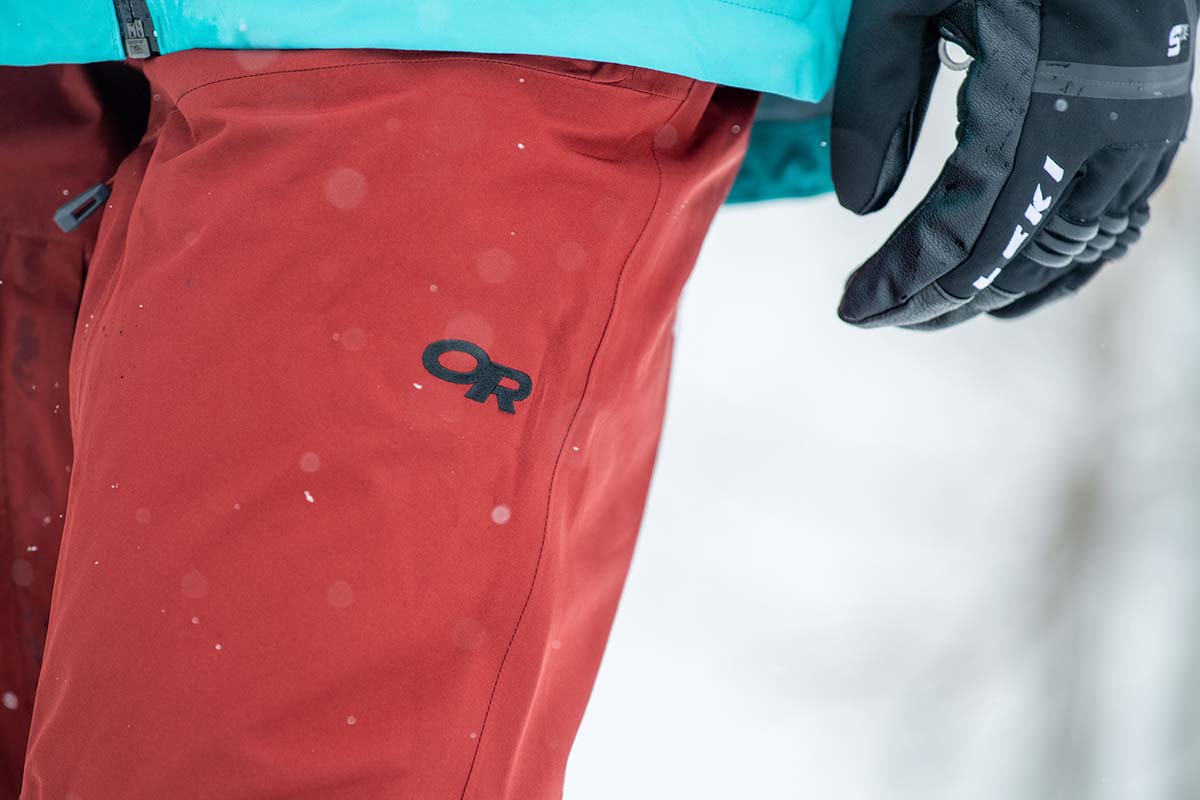 Seam Taping
Assembling a pant requires connecting multiple pieces of fabric, which leaves potential vulnerabilities for moisture to seep through. By applying tape to the interior lining and seams, companies can provide an effective and mostly watertight seal. Pants in the mid and high end of the market—including the majority of models on our list—will boast full seam taping, while budget-oriented designs like the Roxy Nadia only protect the "critical" seams (areas most prone to moisture, such as the rear). Finally, the quality of the taping can vary—Gore-Tex taping has a long lifespan, while cheaper varieties can peel back or even partially disintegrate over time.
Breathability
For most lift-assisted snowboarding, breathability is not a top consideration. As long as you're not overdoing it with insulation and sticking to groomers or shorter runs in the trees, most pants are breathable enough to keep you comfortable. To help, each of the models above features at least two vents (one on each leg), which can be opened up to dump heat on warmer days. Vent designs vary a little, with the biggest differentiators being placement (inner thigh, outer thigh, or both) and whether or not the openings are mesh-lined. For resort riding, inner thigh vents are perfectly serviceable, but they do start to feel in the way while hiking or skinning in the slackcountry or backcountry. And in terms of mesh lining, we find the added material useful for keeping blowing snow out—a plus if you'll be riding in inclement weather or in powder—but it does come at a small sacrifice in heat-dumping ability. 
For active riders or those who like to hike into the sidecountry, breathability jumps up the priority list. From the picks above, the best ventilators are non-insulated and use premium 3-layer construction, which features a thin built-in liner on the inside of the waterproof/breathable membrane rather than the hanging mesh or taffeta liner of a 2-layer design. Manufacturers will even take it a step further for backcountry use: For example, the Outdoor Research Skytour uses a stretchy 3-layer fabric almost akin to a softshell, in addition to an ultra-breathable softshell material on the bib where weather protection matters less. In the end, there's no shortage of options for snowboarders who need a breathable pant—but expect price to go up alongside performance.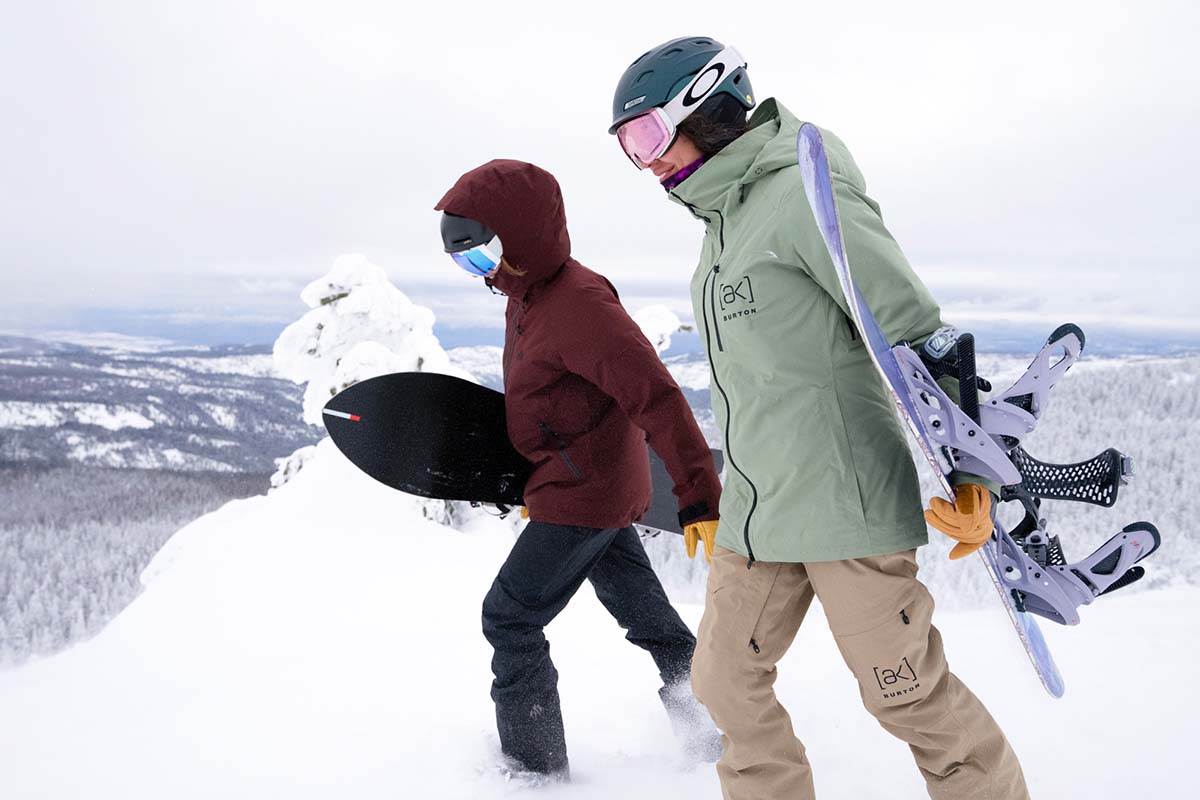 Fabric Layers: 2L vs. 3L
You'll see a lot of references to 2-layer and 3-layer constructions above, and the distinction is an important one. Most snowboard pants feature a 2-layer build, which consists of the shell fabric and a waterproof/breathable membrane. Importantly, manufacturers will then add a hanging mesh or taffeta liner in order to protect the membrane from your skin. In a 3-layer build, this liner is streamlined and affixed to the inside of the waterproof/breathable membrane—hence the third layer. The end result is that 2-layer designs are inherently bulkier and don't dump heat quite as well, while 3-layer pants typically are more unencumbered, lighter-weight, and more breathable.
But despite the clear advantages of a 3-layer pant, 2-layer designs are fully serviceable for most recreational riders and comprise the majority of our list above (including our top pick, the Burton [ak] Summit 2L). In short, the added performance of a more premium pant will be overkill in most resort applications and simply isn't worth the jump in price. However, if you're a serious rider, get out a lot, or dip into the backcountry from time to time, consider bumping up to a 3-layer pant.
 
Snowboard Pant Durability
Snowboard pants are a durable bunch, relying on substantial face fabrics to fend off harsh weather and rough use around chairlifts, park features, and sharp gear. However, not all snowboard apparel brands provide a fabric denier spec (a measurement of density and thickness), so it can be hard to compare models without seeing them in person. That said, designs fall into fairly predictable categories: Entry-level and mid-range pants are often quite tear-resistant and tough, using thick materials to provide a boost in weatherproofing (the Burton Avalon Gore-Tex Bib features a 150D shell). Moving up, we see higher-end materials that are lighter but still durable, such as the Patagonia Powder Town's 75-denier build. Backcountry-focused pants sacrifice a little durability for less weight and improved range of motion and breathability, but we've found even models like the Outdoor Research Skytour (45D x 65D) are reliably tough.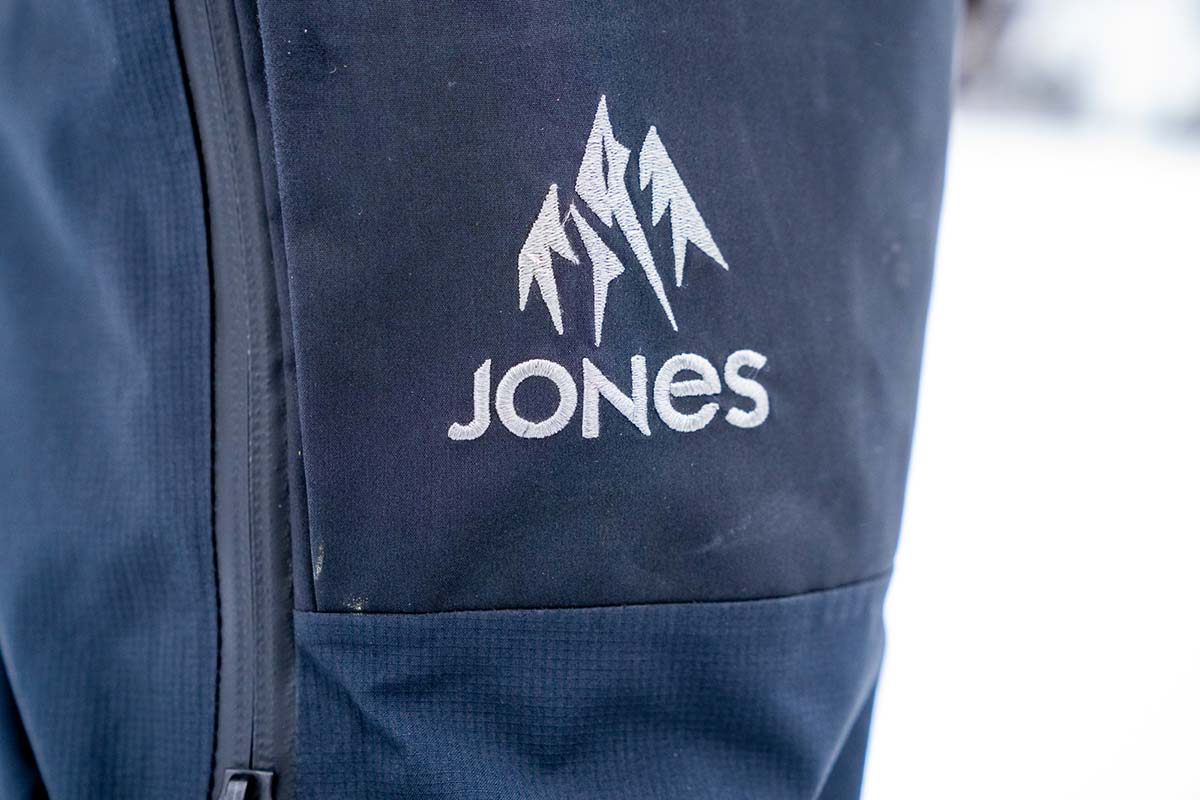 Snowboard Pant Features
Pockets
Pockets are a significant style component of many snowboarding designs, which often include a range of cargo, thigh, handwarmer, and rear storage. Pants that have crossover appeal between snowboarding and skiing typically boast simplified layouts, but they'll often include at least a few zippered pockets for stashing personal items and snacks. Many snowboard-specific pants will tack on cargo pockets, which offer easy access while on the hill. Finally, backcountry-specific models like the Outdoor Research Skytour put a greater emphasis on quality and functionality over quantity, with dedicated storage for items like an avalanche beacon and extras like a map or GPS device.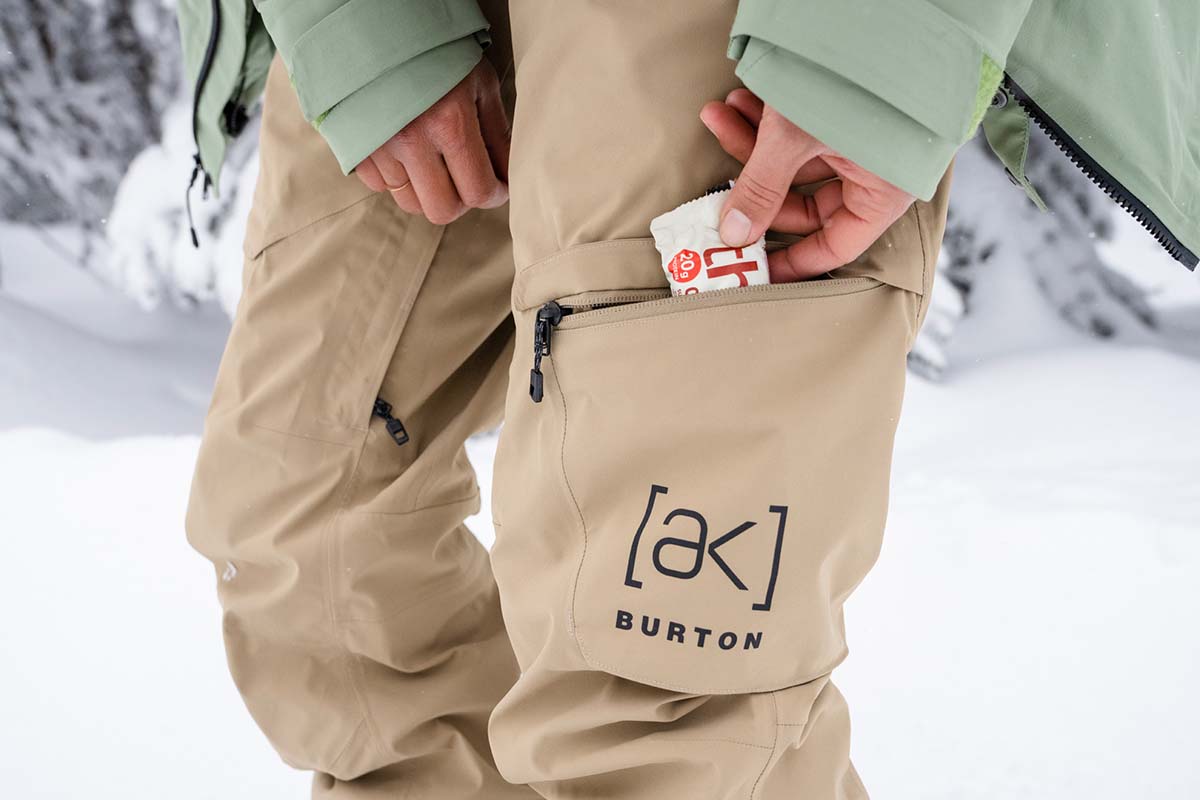 Vents
To aid in breathability, the vast majority of snowboard pants use a zippered ventilation system (essentially pit zips for your legs). The most common locations for the zippered panels are along the inside or outside of your thighs. We've found inner thigh vents to be perfectly serviceable for resort use, but they do add unwanted bulk and can occasionally impact comfort while hiking (on the bright side, they're less conspicuous). Outer thigh vents do a great job dumping heat, but they are a bit more vulnerable to flying snow. Pants like the Flylow Gear Nina have vents on both sides of the leg, which provides excellent cross ventilation (but is truly overkill for resort use).
You'll also want to pay attention to whether or not the vents are lined: The added mesh is useful for keeping blowing snow out—a plus if you'll be riding in inclement weather or in powder, or forget to close your vents for the descent—but it does come at a small sacrifice in heat-dumping abilities.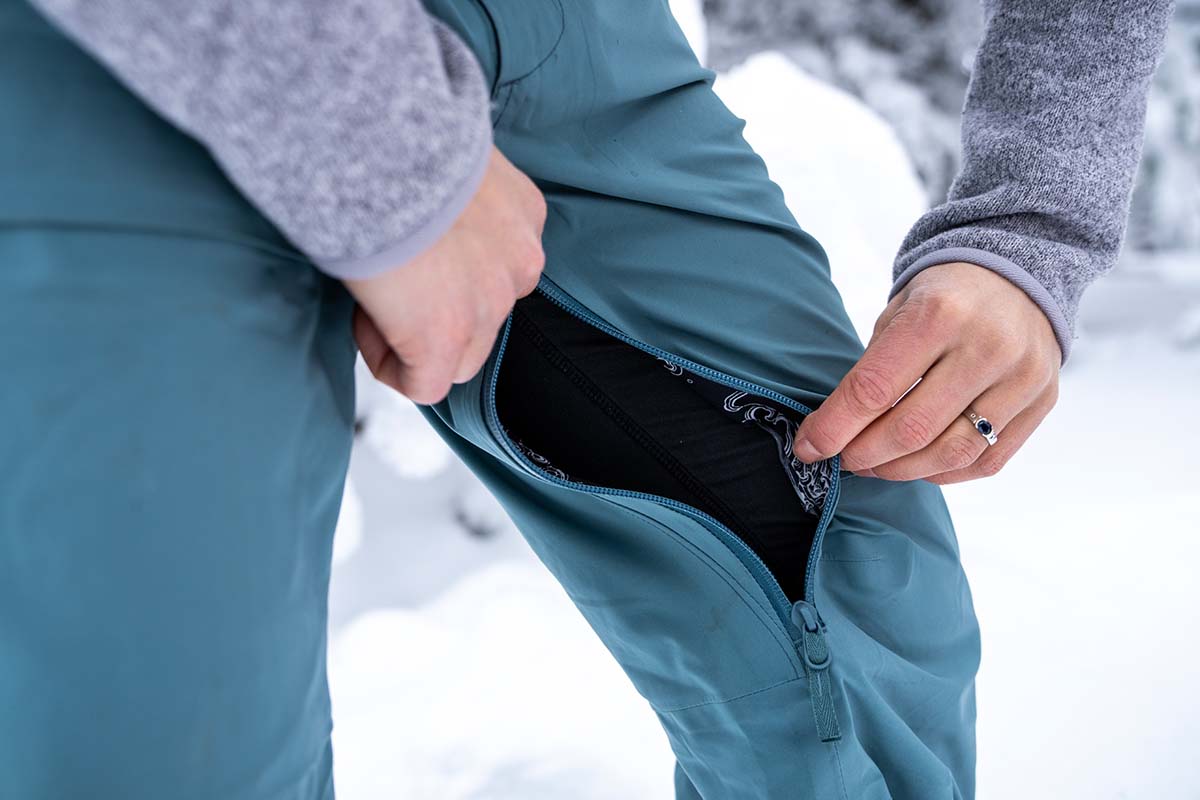 Waist Adjustment and Belt Loops
The majority of pants here feature a Velcro-style waist adjustment, generally at each hip. This is a great feature that offers simple, on-the-go adjustment and mitigates the need for a belt. Sometimes we'll also see pants with some sort of adjustment at the center (usually a drawcord), as in the case of the Roxy Nadia. Regardless of the placement, make sure this adjustment actually works to snug—and keep snug—the waist above your hips. Saggy snowboard pants might be a style, but they certainly don't have much going for them in terms of protection from the elements. If you opt for a pant without a waist adjustment or prefer the look of a belt, the good news is that the majority of pants also include belt loops—although you'll have to BYOB (bring your own belt).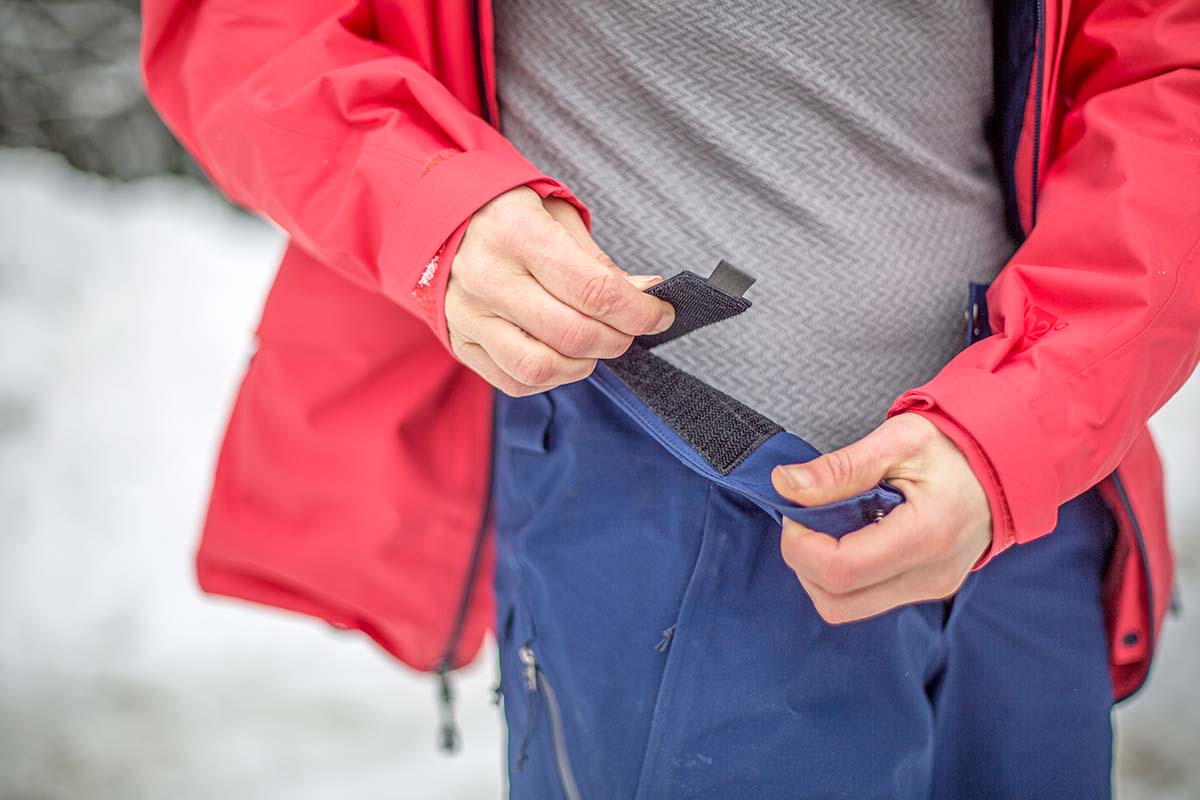 Jacket-to-Pant Attachment Systems
Let's face it: Wipeouts happen, regardless of your skill level. And if you've had the pleasure of experiencing a tumble on the slopes, you know that snow is adept at finding its way into the crevices of your snowboard jacket or pants. To help prevent this, some manufacturers place a button or loop on the jacket's powder skirt to connect it to a corresponding attachment on the pants, forming a solid seal from the wet and cold. In the case of Volcom's Zip Tech (as seen on the Aston pants), you get a full wraparound zip. Being able to attach your jacket to your pant is certainly not a required feature for either resort or backcountry use, but it's a nice addition for many. It's worth noting that in nearly all cases, you'll need to purchase a jacket from the same brand for the system to work and integrate properly.
Cuff Reinforcements and Risers
It's no secret that snowboarders like to wear their pants low, which can often result in torn cuffs from sharp edges over time. To remedy the issue, manufacturers reinforce the cuffs—often through use of thicker fabrics or even silicone—and sometimes provide a way for you to raise the cuffs to keep them from dragging through the parking lot or lodge. This is often done via a cinch near the ankle or the backside of the leg (Burton has nicknamed them bungee cuff elevators, and Picture Organic calls it their I-fit system). If you like the look of baggy pants but want to minimize wear at the hem, it's a good idea to look for cuff reinforcements and risers. Finally, unlike ski pants, snowboard pants will often forgo scuff guards (due to the nature of a snowboarder's feet being separated on the board), but you'll want to consider this feature if you spend a lot of time hiking or skinning out of bounds.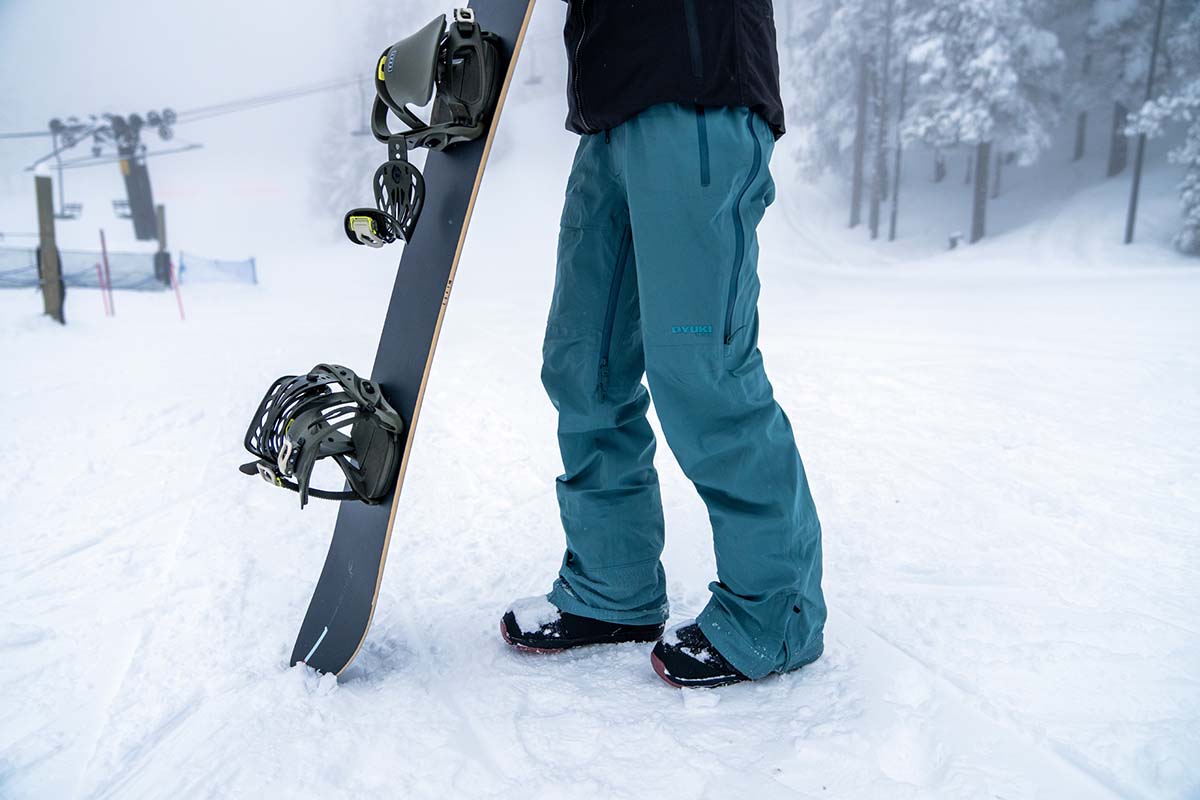 Snowboard Pants vs. Bibs
Another "either or" decision when choosing snowboard pants is if you should opt for regular pants or bibs. Snowboard pants are the traditional choice and what most folks are familiar and comfortable with. They're completely capable for all forms of riding and are much easier to slip on and off. The primary downside is felt when cold air or moisture finds its way up your back on the chairlift or after taking a fall.
Bibs are the remedy for these maladies as they offer better protection from the snow, wind, and wet. Our backcountry testers have also found that they mitigate pressure points where the pant, jacket, and powder skirt meet, which can be especially nice while wearing a backpack. Bibs also run a little warmer thanks to the extra layering that covers part of your upper body—and depending on conditions, this could be either a pro or a con. But while you don't have to worry about any discomfort from a waistband, the straps that run over your shoulders can take some getting used to, and you'll need to dial in the fit to keep a bib from moving around excessively or pulling the pant legs up too high (we appreciate bibs that come in short, regular, and tall inseams for this reason). And if you can't decide, pants like the Picture Organic Exa offer a nice middle ground—the high waist keeps out snow without the added fabric and inconvenience of a bib.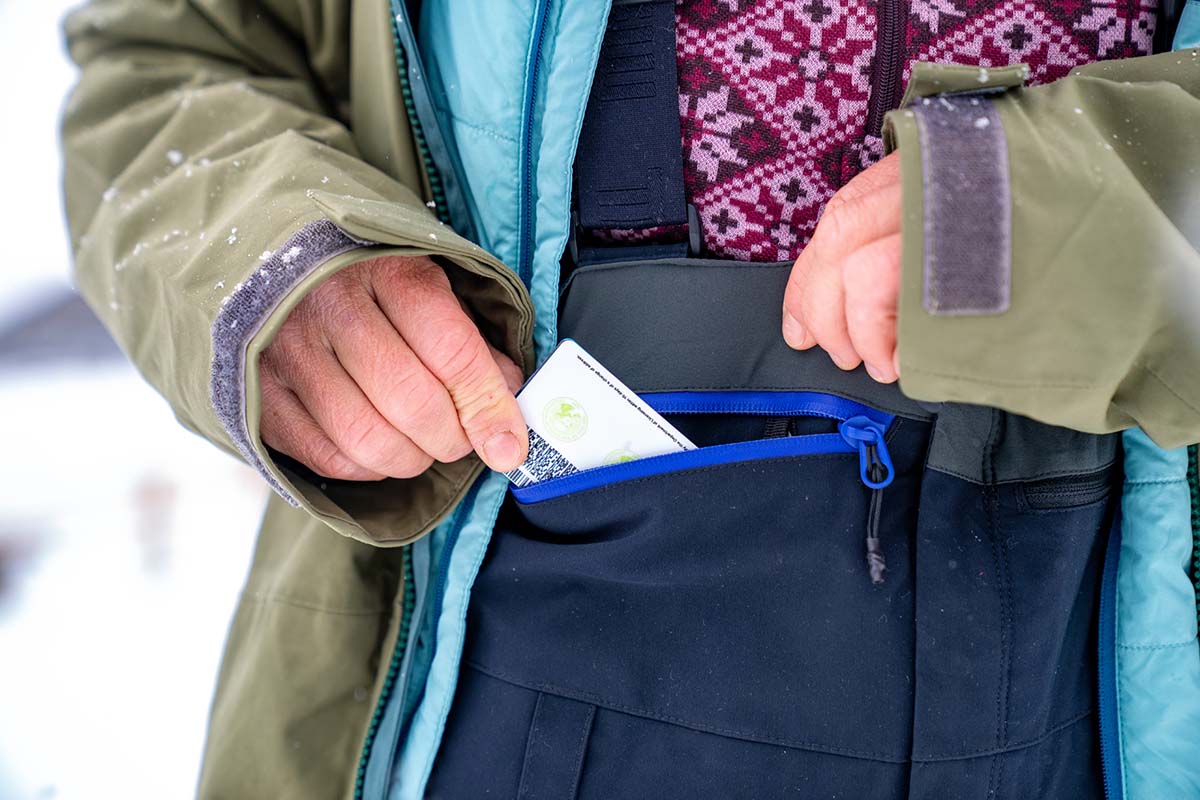 Weight
Weight isn't a heavily advertised spec among snowboard pants, but it's closely tied to durability—a thicker and very tough snowboard pant will logically weigh more. In addition, weight correlates with the categories we've listed above: Shells are the thinnest and lightest, while insulated models will feel much heavier. Further, 2-layer designs often weigh more than 3-layer designs due to the added heft of the hanging liner. For most resort uses, weight is only a small consideration. While it's nice to reduce bulk, many resort riders are perfectly content with a moderately heavy design. But if you'll be hitting the backcountry or even spending a fair amount of time off-trail, a lighter shell pant will provide a nice boost in mobility and all-around comfort.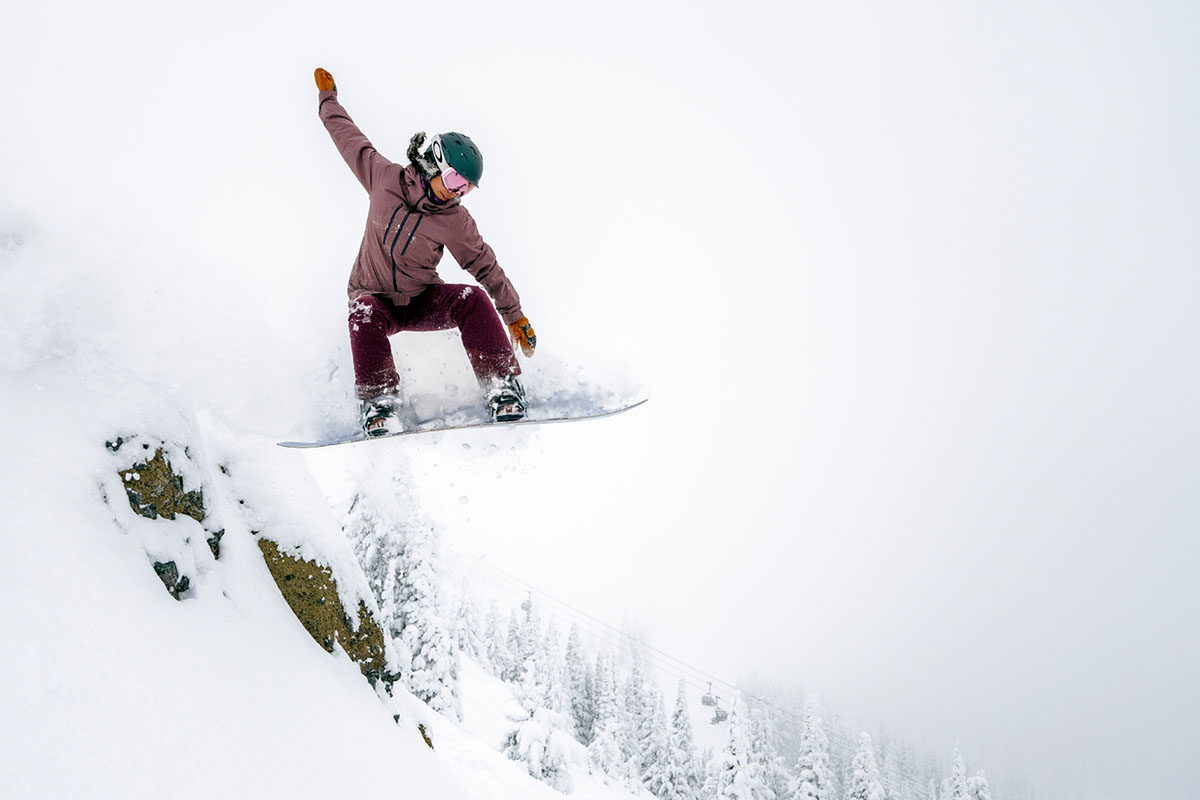 Fit and Sizing
Snowboard pants are known for having fairly large and baggy fits—and this holds true for a lot of the market—although there are a growing number of designs with trimmer cuts that reduce bulk. That said, most of our snowboarder testers still prefer to size up—there's perhaps nothing worse than having your legs in a wide stance all day while wearing too-tight pants. It's also important to think through the thickness of your layers underneath to avoid any binding and comfort-related problems. And if you option for non-snowboard-specific pants (like the all-rounder Arc'teryx Sentinel, which is also designed for skiing), keep in mind that these can run particularly trim when compared to the snowboard-specific competition.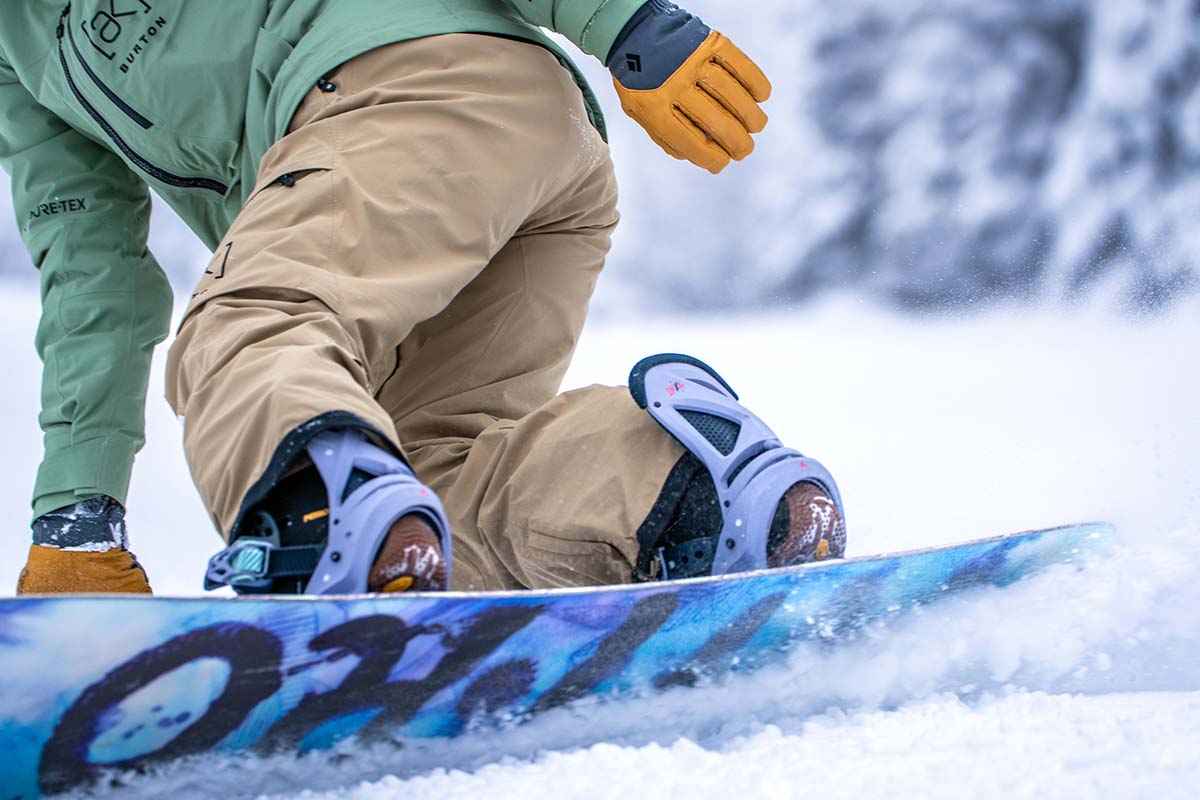 Layering Underneath Your Snowboard Pants
The layers you wear under your snowboard pants don't get as much attention as those warming your core, but they nevertheless remain an important consideration. To start, it's almost always a good idea to throw on at least a thin pair of long underwear. The extra layer not only provides insulation and protection from cold snow and freezing chairlift seats, but it also wicks moisture away from your skin. Further, the interiors of snowboard pants (especially uninsulated designs) are often not very plush, with exposed mesh, zippers, and minimalist liners that become less comfortable as the day wears on.
In choosing a baselayer, it's worth getting a soft and close-fitting design to maximize warmth. The best models are made with either synthetic knit fabric or merino wool—cotton doesn't insulate when wet, so it's a bad idea even on a resort day. Synthetics are the cheaper option and efficiently wick moisture, but merino wool is our favorite. It's very warm for its weight, cozy and soft, and naturally resists odor better than a polyester alternative. Baselayers are offered in a range of thicknesses, including lightweight designs for warm days or backcountry use, as well as mid- and heavyweight options for cold days at the resort. And in particularly frigid conditions, you can always double up your baselayers or add a fleece pant to increase warmth.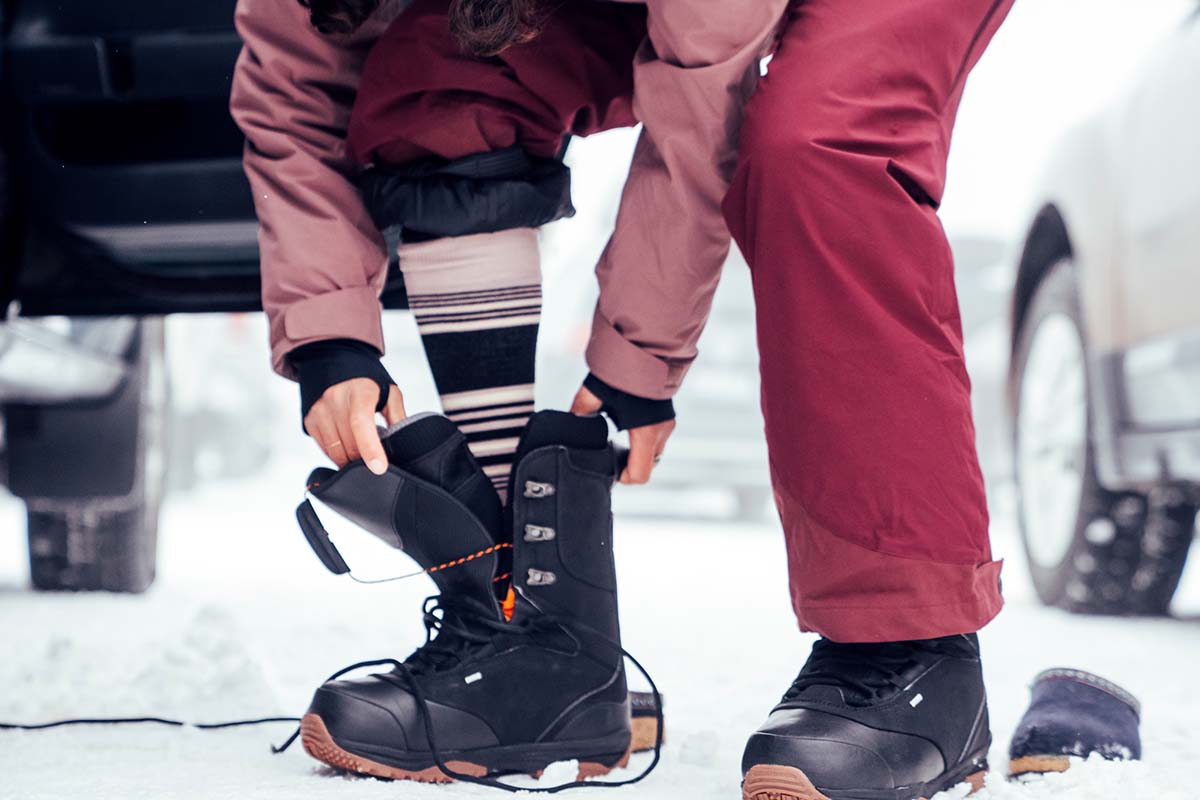 Sustainability: Recycled Fabrics, PFC-Free DWR, and More
In recent years, there's been a noticeable shift in sustainable practices within the snowboarding apparel market. Led by brands like Patagonia, Jones, and Picture Organic, we're seeing greater use of recycled materials, particularly in the shell and lining fabrics. Further, a growing number of manufacturers are using DWR coatings that are PFC-free (short for perfluorocarbons, which are non-biodegradable chemicals). And many brands are recognized as certified B Corps and/or utilize the bluesign system for sourcing materials responsibly. One final way to purchase sustainably is to select quality products and repair old gear rather than buy cheap items that don't last. Patagonia is a leader here as well: In addition to offering repairs for most of their goods, their well-established Worn Wear program allows you to trade-in and buy used gear online.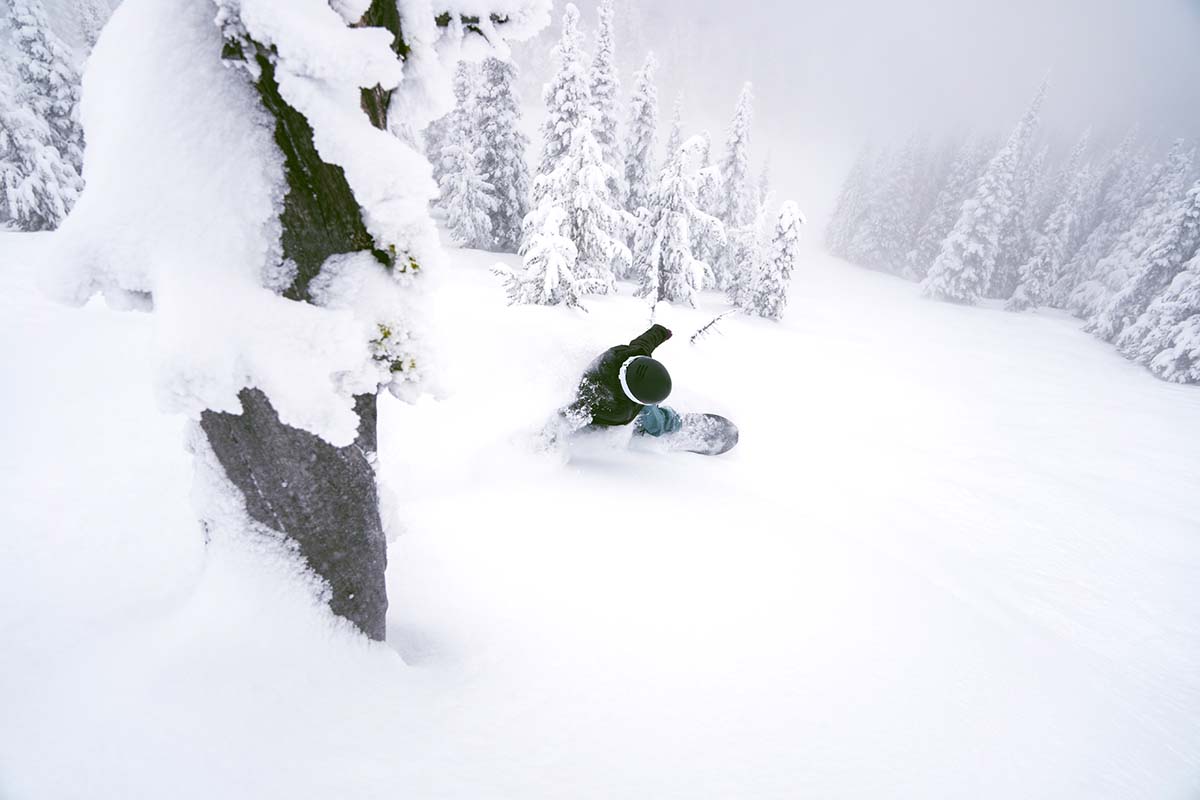 Snowboard Pants vs. Ski Pants
Given the similarities between the two sports, it's not surprising that many ski pants and ski bibs are perfectly capable for snowboarding (and vice versa). In fact, you'll see a lot of crossover in products when searching on a manufacturer or retailer site, and brands like Patagonia and Outdoor Research specifically state their pants are intended for both activities. 
That said, snowboarding pants do differ slightly in terms of fit and features: In general, snowboarders prefer a looser cut with more pockets and style components, including cargo pockets and boot gaiters—short zippers at the hem that create a flare around the boot. To help with the baggy fit, some snowboard pants feature a system that pulls the cuff up so it doesn't drag when walking through the parking lot or the lodge. It's also common that snowboard pants forgo scuff guards (or reposition the reinforcements to the hem), due to the nature of a snowboarder's feet being separated on the board. In many cases, these differences are cosmetic, but serious resort or backcountry riders will want to be mindful of the performance implications.
Back to Women's Snowboard Pant Picks  Back to Women's Snowboard Pant Comparison Table
Learn More About Snowboard Gear