Flylow Gear Foxy Bib
Price: $430
Waterproofing: 3L Tactic
Insulated: No
What we like: Great overall performance in a stretchy and good-looking package.
What we don't: Trim fit limits mobility and storage capacity while touring; stretchy build sacrifices a little protection.
See the Women's Flylow Gear Foxy Bib  See the Men's Flylow Baker Bib
Colorado-based Flylow Gear is well known among backcountry skiers for their tough and stylish designs that nicely balance fashion and function. The women's Foxy Bib is a shining example, combining great overall performance and versatility in a good-looking package. I put the bib to the test during a particularly wet winter in the PNW and came away with mostly high praise: The stretch-infused hardshell fabric is both comfortable and protective, there are ample pockets for stashing the essentials, and the design has a high-end look and feel. The stretchy build does compromise a little in weatherproofing, and sizing runs decidedly on the smaller end, but it's an excellent all-around option for resort skiers, casual backcountry-goers, and those who double dip. Below we break down our experiences with the Foxy Bib. To see how it stacks up to the competition, see our articles on the best women's ski bibs and women's snowboard pants.
 
---
Table of Contents
---

Performance
Weather Protection
Flylow advertises the Foxy Bib as a softshell, but make no mistake: The in-house, 3-layer Tactic fabric is full-on hardshell. Combined with a DWR finish, water-resistant YKK zippers, and taped seams, the Foxy has done an admirable job keeping me dry in wet and challenging conditions—even when sitting or lying in the snow to take photos and riding on cold, unpadded chairlifts at the resort. Wind resistance has been similarly good: Paired with a lightweight merino wool baselayer, the Foxy Bib effectively traps warmth and seals out cold gusts. The stretch-infused design does compromise slightly on all-out protection compared to rigid Gore-Tex designs like the Arc'teryx Sentinel LT or Patagonia PowSlayer bibs, but the difference isn't major, and many will find the Foxy's added mobility worth that tradeoff (myself included). My only complaint is that the DWR coating has started to deteriorate—I've noticed some wetting out in frequently exposed areas—but it's been a particularly wet winter, and moisture has never made its way through the shell.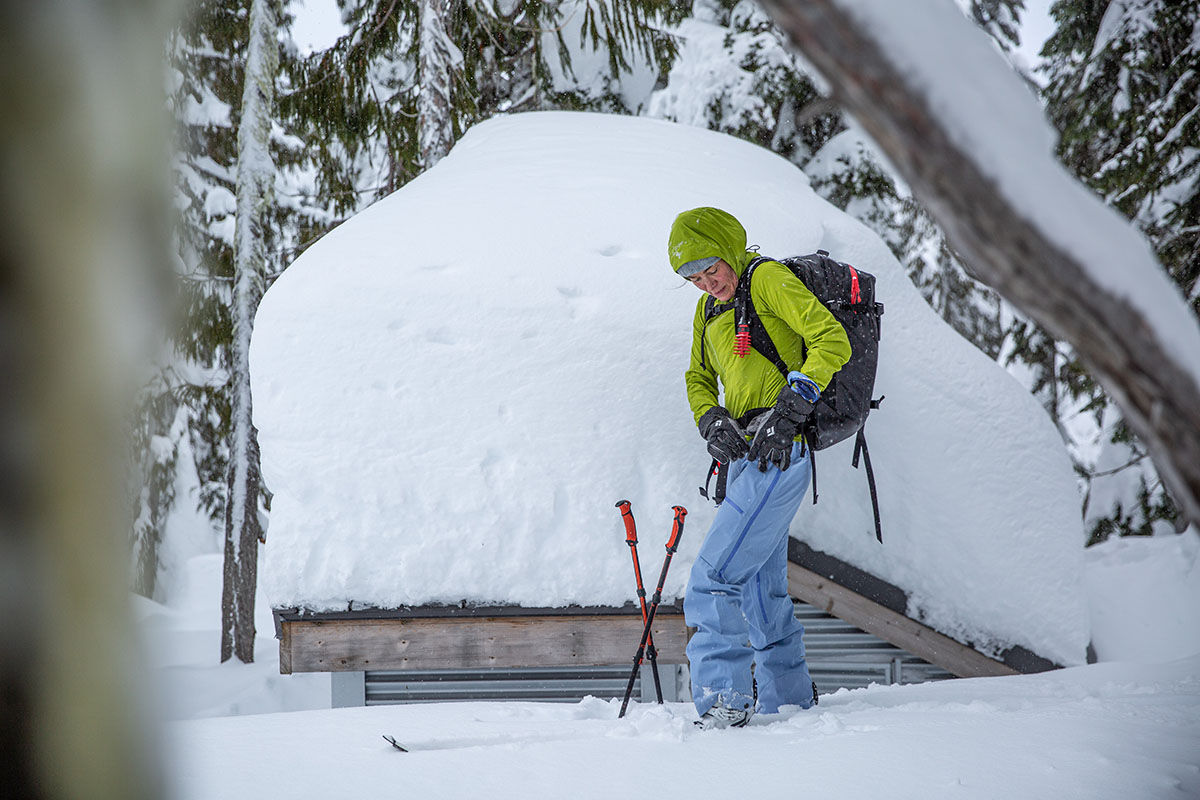 As I touched on above, the Flylow Foxy boasts fully taped seams and water-resistant zippers for added assurance against the elements. All of the zippers are also housed in small "garages" to better protect the openings, and I've experienced no leakage to date. Finally, the built-in powder gaiters are nicely executed and hold firm—no snow has made its way into my ski boots, and my socks and baselayers have remained perfectly dry even during full days of trudging through deep snow in the backcountry.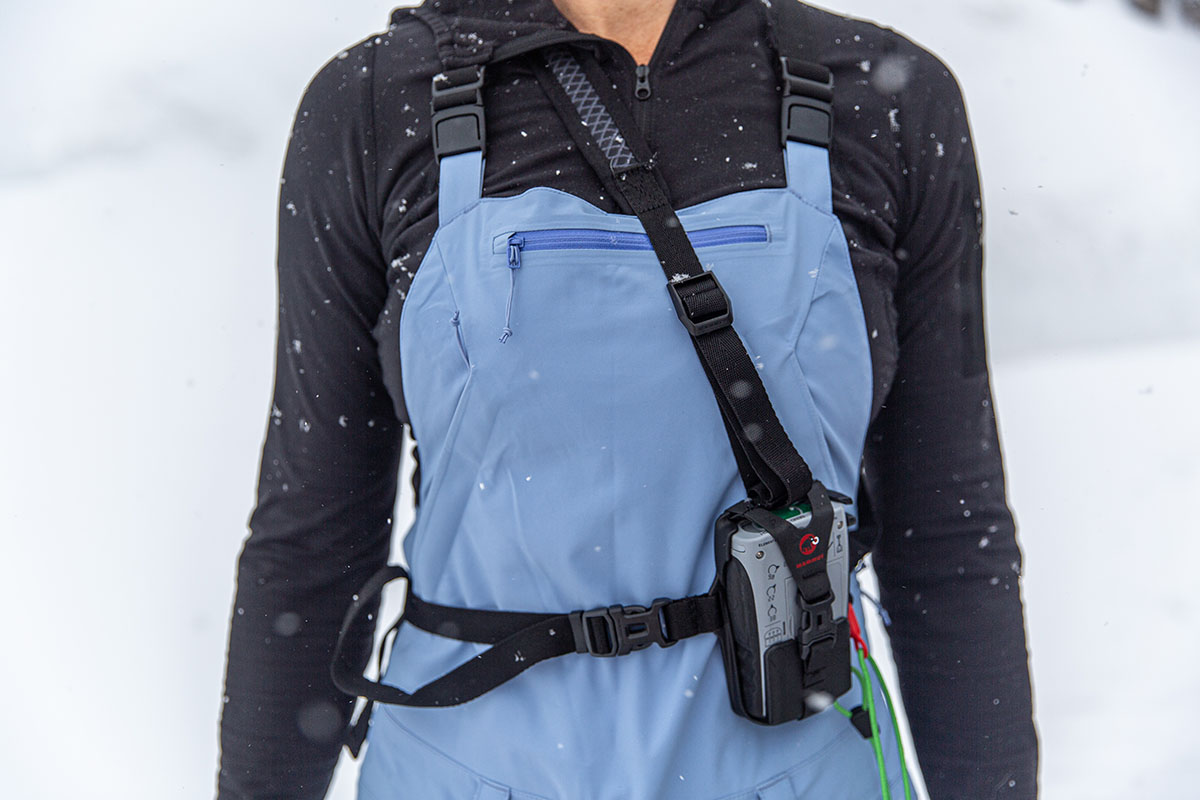 Breathability
Waterproof bibs inherently sacrifice some breathability to maximize protection, but the Flylow Foxy Bib is fully serviceable for high-output backcountry use. For reference, I've worn the bibs for lengthy tours in temperatures just above freezing and didn't overheat or sweat out of them. The four zippered vents have been a huge help: Each side boasts one at both the inner and outer thigh, and the left outer vent doubles as the "barn door" for easily getting the bibs on and off (more on this in "Key Features" below). The upper portion of the backpanel is also made of stretchy mesh, which adds a nice boost in airflow. My only gripe is that the kangaroo pouch is integrated into the chest panel and adds another layer of fabric at the front, resulting in a drop in breathability in this area. But the rest of the design vents very well, making it a great match for heart-pumping days on the skin track.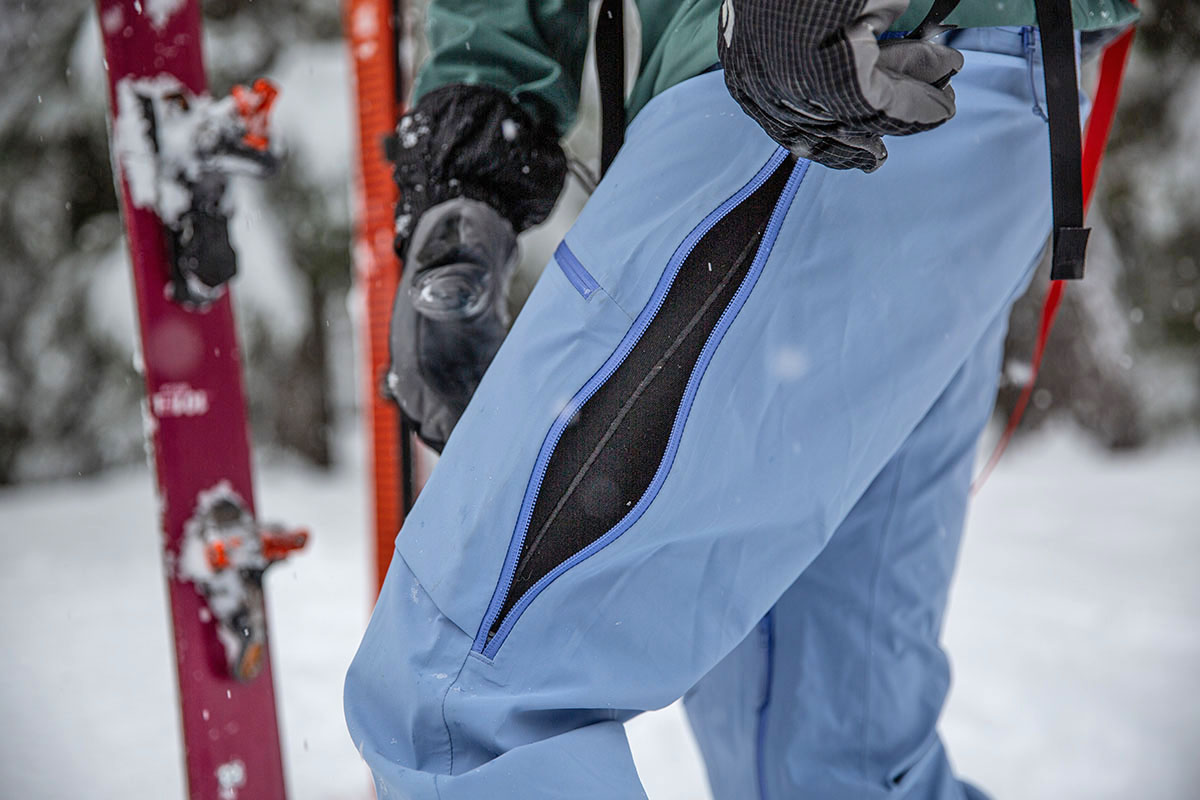 Comfort
Simply put, comfort is a clear highlight of the Flylow Foxy Bib. The proprietary Tactic fabric is impressively supple and quiet with a healthy amount of stretch—I've had no issues with mobility when pulling on ski boots, skinning, transitioning, or contorting to take photos. I also like the shoulder straps, which are wide and don't dig into my shoulders or neck, even with the added bulk of an avalanche beacon strap and backpack straps overtop. This might sound a little extreme, but the bibs are comfortable enough that I'll happily keep them on even when I'm not skiing—I've worn them when taking our dog on walks between resort laps, cooking and sitting around the campfire after a ski day, during après trips to the local brewery, and even while writing this review.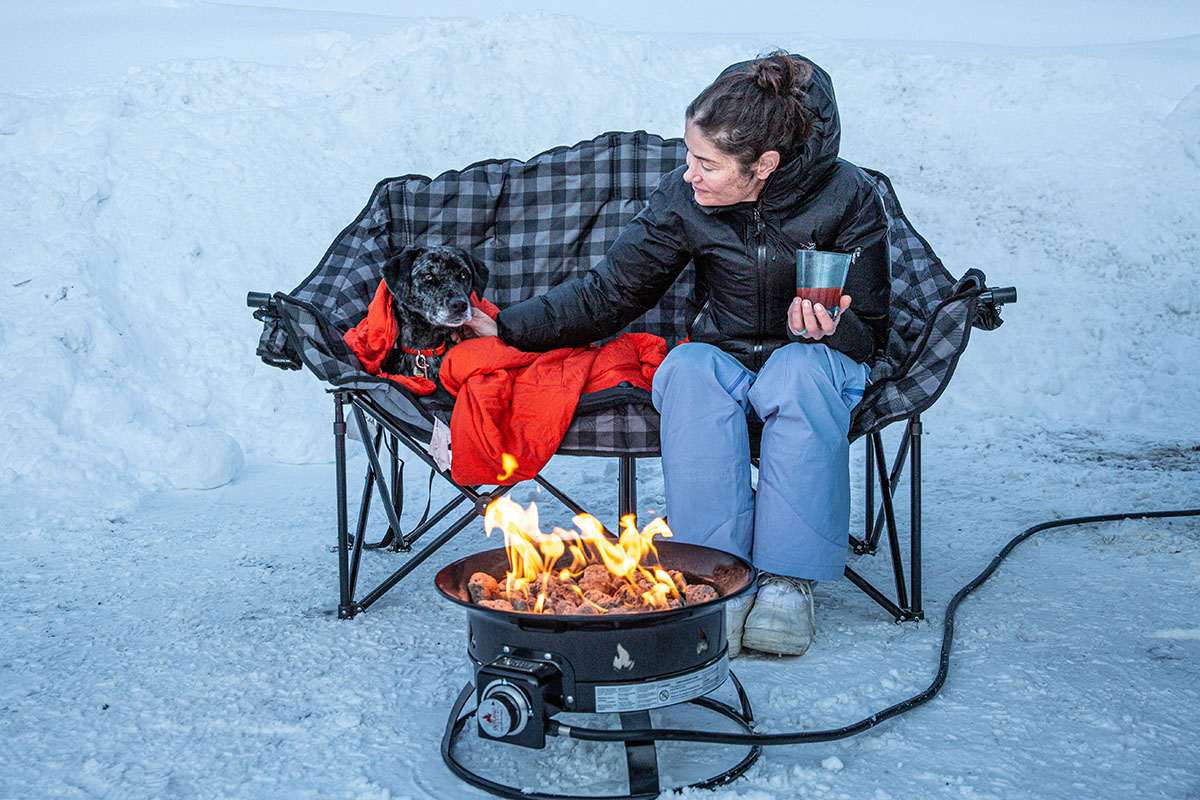 Build Quality and Durability
This was my first foray into testing Flylow gear, and I've been impressed by the overall quality of the Foxy Bib. Starting with thickness, the 100-denier (D) fabric has a very hardwearing and durable feel and stacks up well to the rest of the market. As I mentioned above, the DWR finish has started deteriorating, but that's to be expected given the amount of moisture I've exposed the pants to (and you can always revive the waterproofing by washing and drying the bib or applying a new treatment). The exterior is also looking a little dirty in high-contact areas, which is likely a result of the softer Tactic material and my bib's lighter colorway (opting for a darker color should help). But this is purely cosmetic, and everything else is holding up really well thus far. All of the smaller components—including zippers, seams, snaps, and straps—are in great shape, the snow gaiters have maintained their elasticity, and the reinforced cuffs are free of snags and tears.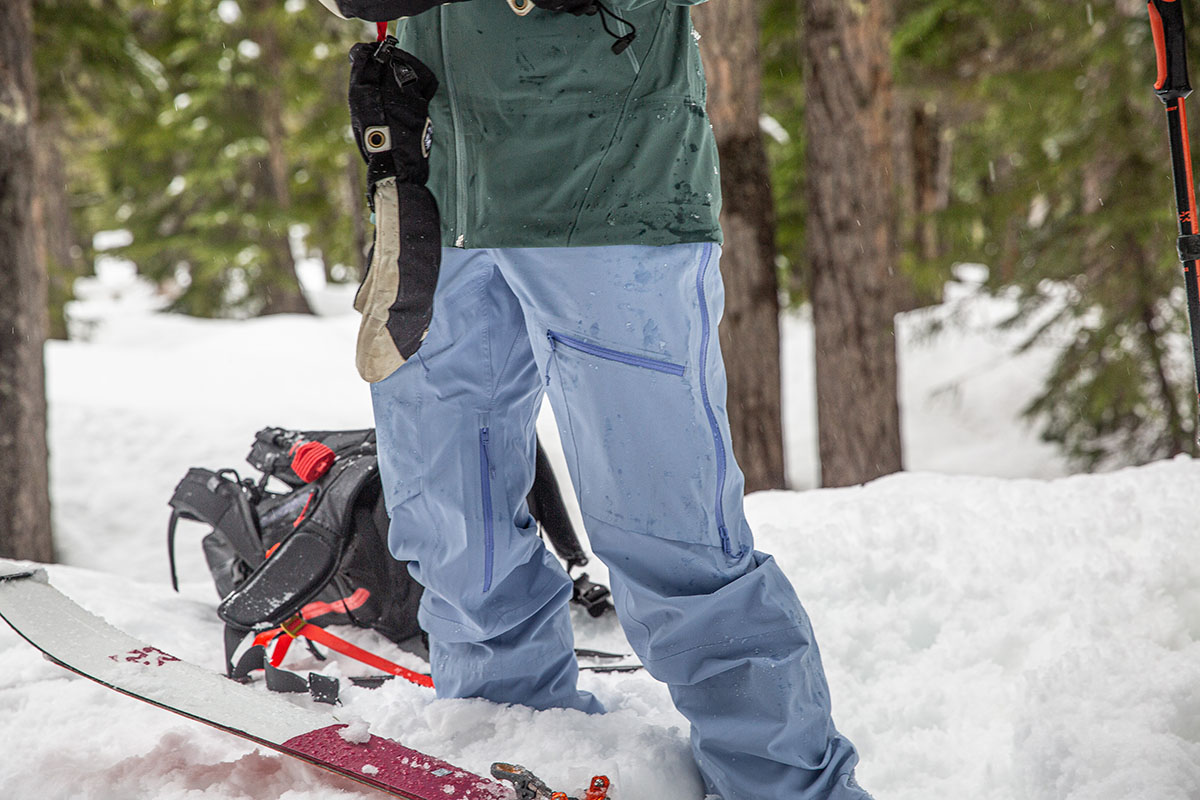 Weight
At 1 pound 6.9 ounces, the Flylow Foxy Bib certainly isn't the lightest design on the market, but it's perfectly reasonable given the premium build and full feature set. For reference, it undercuts other versatile resort/backcountry designs, including the TREW Gear Chariot (1 lb. 11 oz.) and Black Diamond Recon Stretch (1 lb. 9.4 oz.). You can shave some weight with more specialized backcountry models like the Arc'teryx Sentinel LT (1 lb. 2.3 oz.) or Patagonia's PowSlayer Bibs (1 lb. 3.9 oz.), but both of those sacrifice some coverage and storage. In the end, I have very few complaints about the Foxy's weight: I'm rarely concerned about the heft of my bibs (it's a different story with my ski jacket), and the Foxy is light enough that I've never noticed it on the skin track.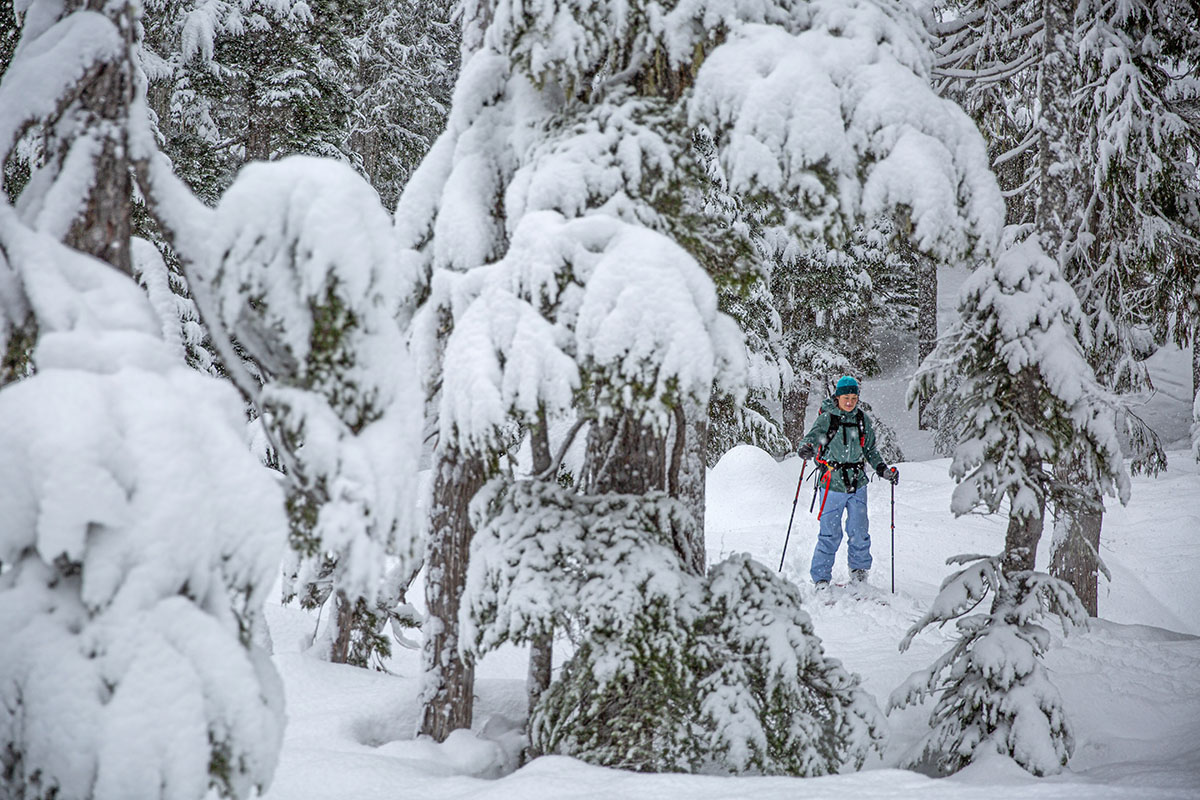 Key Features
Storage: Pockets
The Flylow Foxy Bib has a seriously generous storage layout that comprises six pockets: one on each thigh, two chest pockets, one at the back, and one kangaroo-style chest pouch. The thigh pockets are particularly deep and easily swallow my iPhone 11, although the slimmer cut of the bib makes it difficult to fit anything bulkier here, such as gloves/mittens or a beanie (sizing up might help). I typically utilize the chest pockets for smaller items like hand warmers and lip balm, while the kangaroo pouch is nicely sized for a buff or hat. However, because of its position right behind the chest panel (it's fully integrated rather than sewn onto the back), there's not a ton of room to work with, and stuffing too many items here detracts from the bib's sleek look and feel. The rear pocket also feels pretty impractical—I'm afraid of accidentally crushing any snacks or valuables when sitting down, so I tend to avoid using it entirely.


Vents
As I mentioned above, the Flylow Foxy comes equipped with both inner and outer thigh vents, which have proven incredibly useful for dumping heat during high-output ski tours. For reference, outer thigh vents are a standard feature on backcountry-ready ski bibs, but this was my first experience with inner vents. I don't run particularly warm, but I did notice a sizable boost in airflow when opening both options on sunny, late-season days. The left exterior vent also doubles as the "barn door" opening—it unzips from the side of the torso all the way down to the knee and makes the on/off process and bathroom breaks quick and easy (no need to remove your pack, beacon, or ski jacket). Though a relatively common inclusion on most modern bibs, the added convenience cannot be overstated.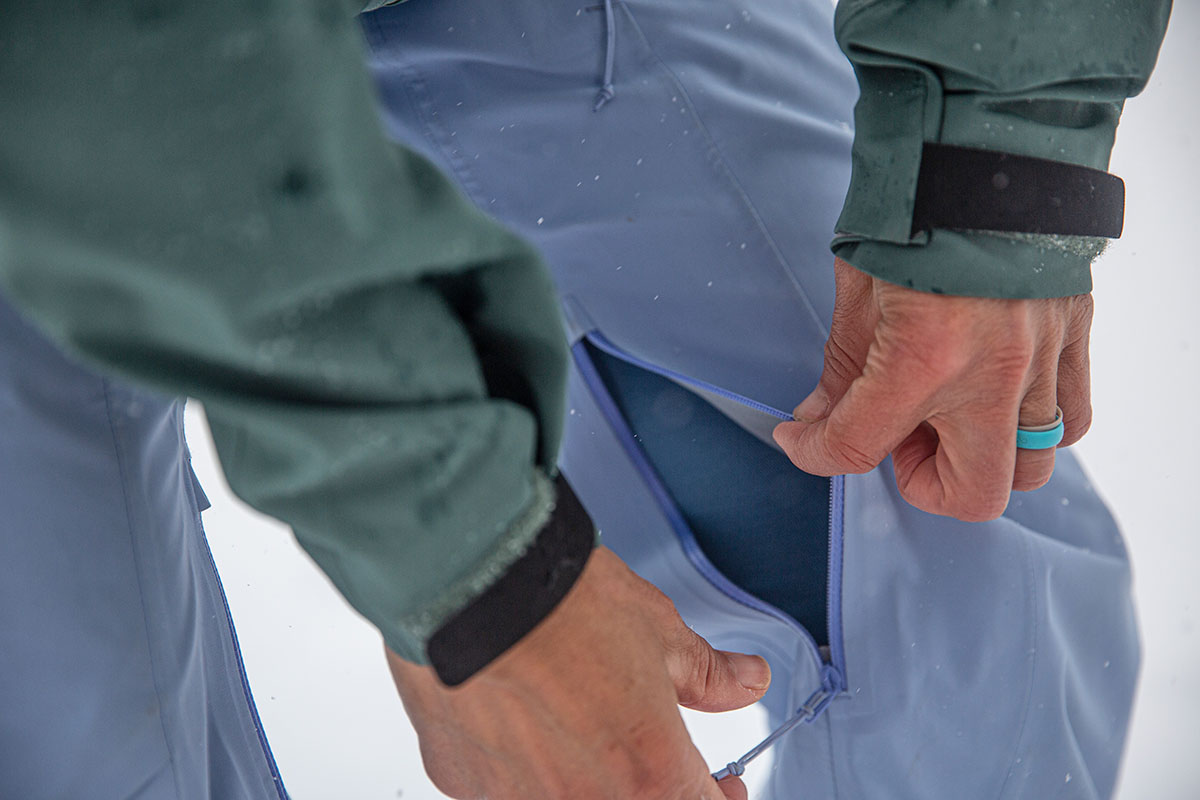 My only gripe—and it's a pretty small one—has to do with the snap at the top of this left vent zipper, which connects to the back of the shoulder straps. When snapped, it prevents the vent from unzipping and simultaneously secures the straps in place. This creates tension at the front of the torso, and as a result, I've found the button tough to re-secure with gloved or cold hands due to the tautness pulling the straps in the opposite direction. Again, it's a relatively small annoyance and hasn't caused any major issues, but I wish Flylow had made the button bigger to allow for easier manipulation with bulky ski gloves.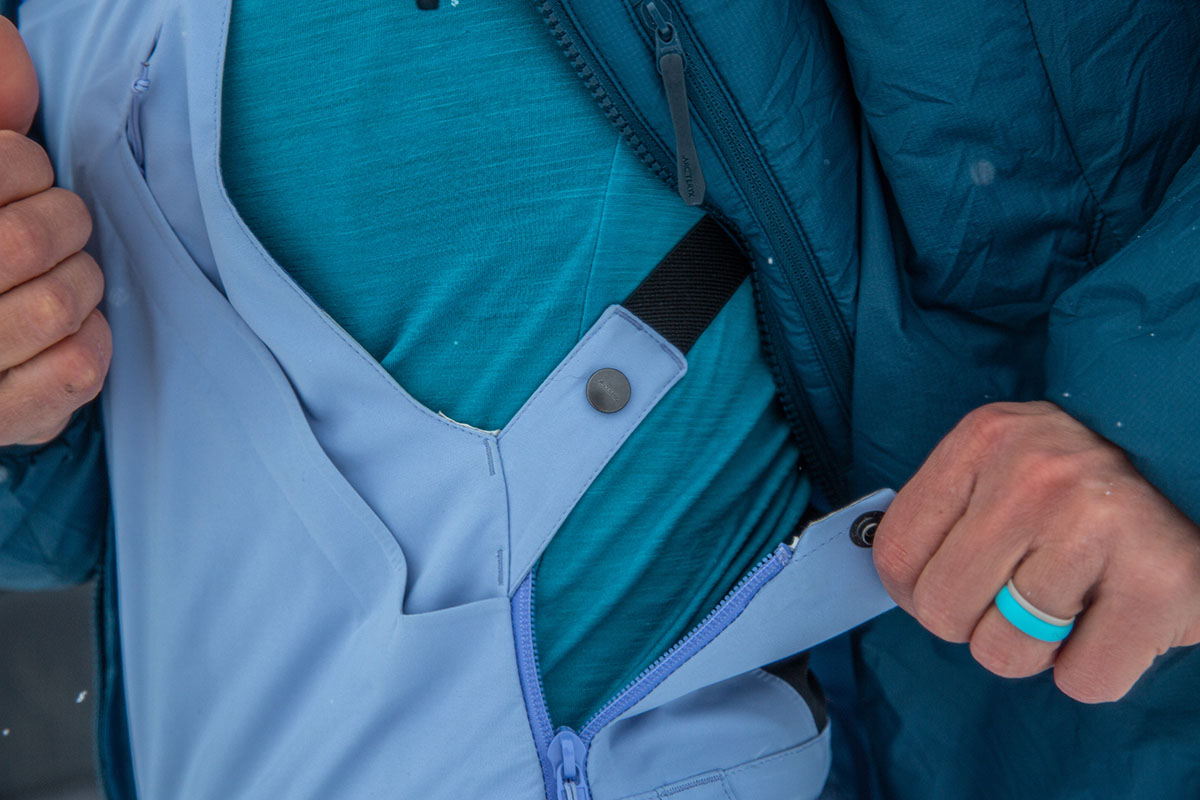 Other Features
Rounding out the feature set, you get built-in gaiters for sealing out snow at the ankles and thick cuff reinforcements for guarding against abrasion from sharp gear like skis and ski poles. For those who want a little extra protection, the Foxy also features snaps around the waist for connecting to a jacket's powder skirt, although this seems a little superfluous given the bib's generous torso coverage. There are also belt loops for those who want to cinch things in at the waist. The only notable omission is a built-in beacon clip, which wasn't a deal breaker for me (I typically use a separate strap to secure my beacon around my body) but does detract a little from overall backcountry appeal.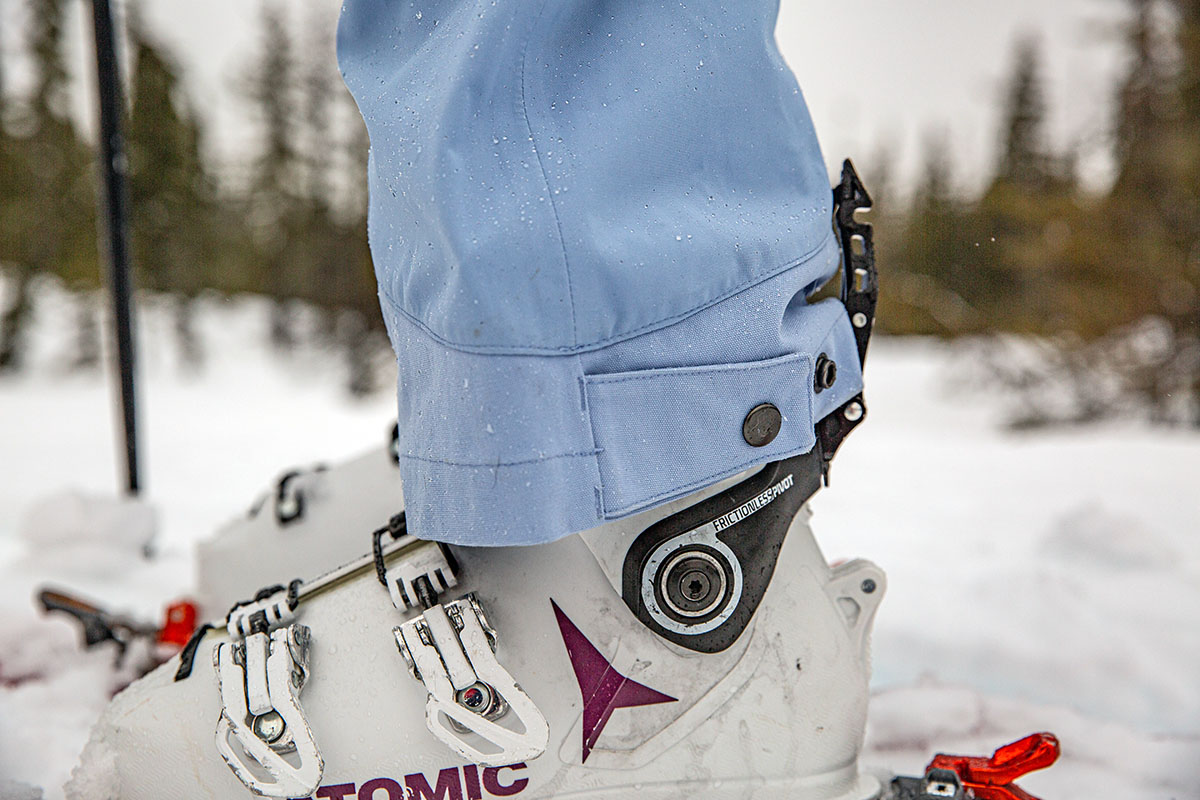 Fit and Sizing
The Flylow Foxy Bib is known to run small, and I agree with that assessment. For reference, I'm 5'8" and 130 pounds and typically prefer a slightly baggier fit, which is exactly what I get in a size small in other brands (namely Arc'teryx and Patagonia). That same size in the Foxy fit me well, although with less room than I'm used to. To be clear, I wouldn't categorize the fit as overly tight or restrictive, and the trimmer cut wasn't particularly noticeable while resort skiing.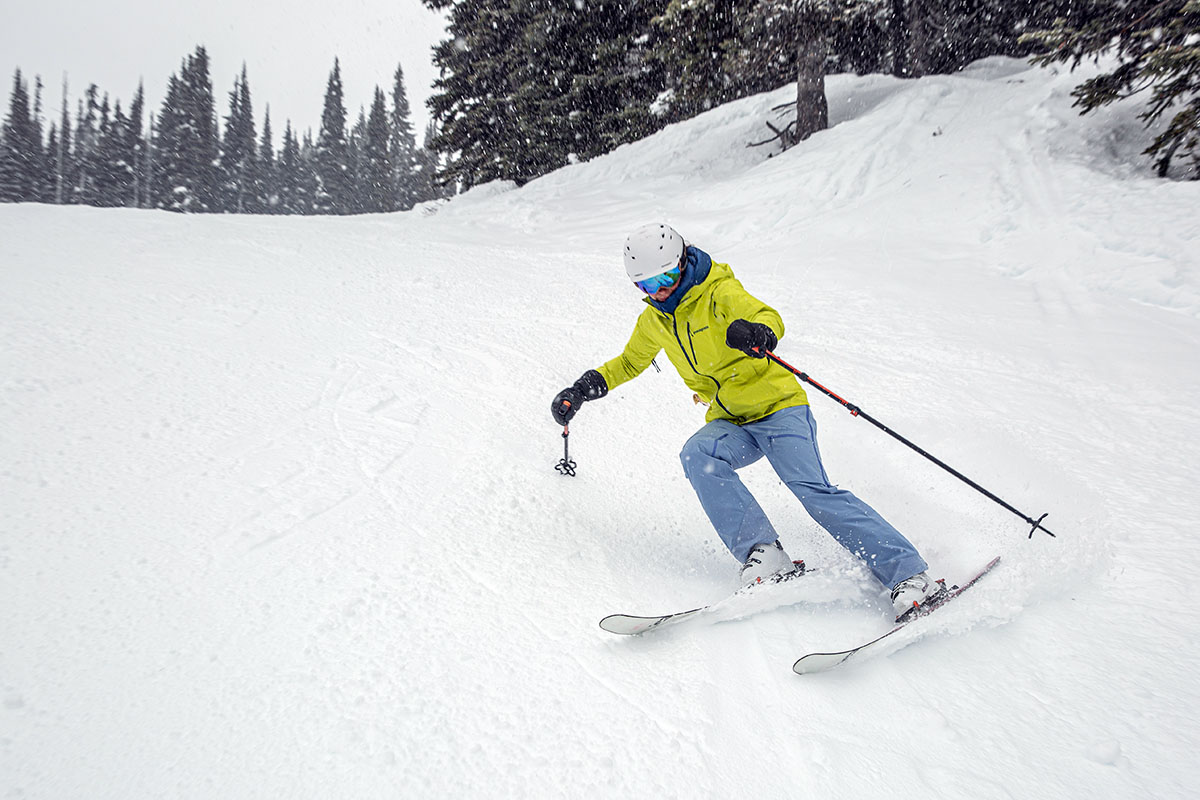 However, backcountry skiing was a different story: I often forgo a jacket while ascending and use the pockets on my ski pants or bibs to stash the essentials, but the Foxy's snugger fit made this pretty tough. I probably would have been better off by sizing up, and I'd advise trying the Foxy on before buying to ensure you get a good all-around fit. On the bright side, the bib is offered in three inseam lengths (short, regular, and tall), the shoulder straps are easy to tighten and loosen (I maxed out the adjustment range), and there are belt loops for those who need to cinch things in the waist.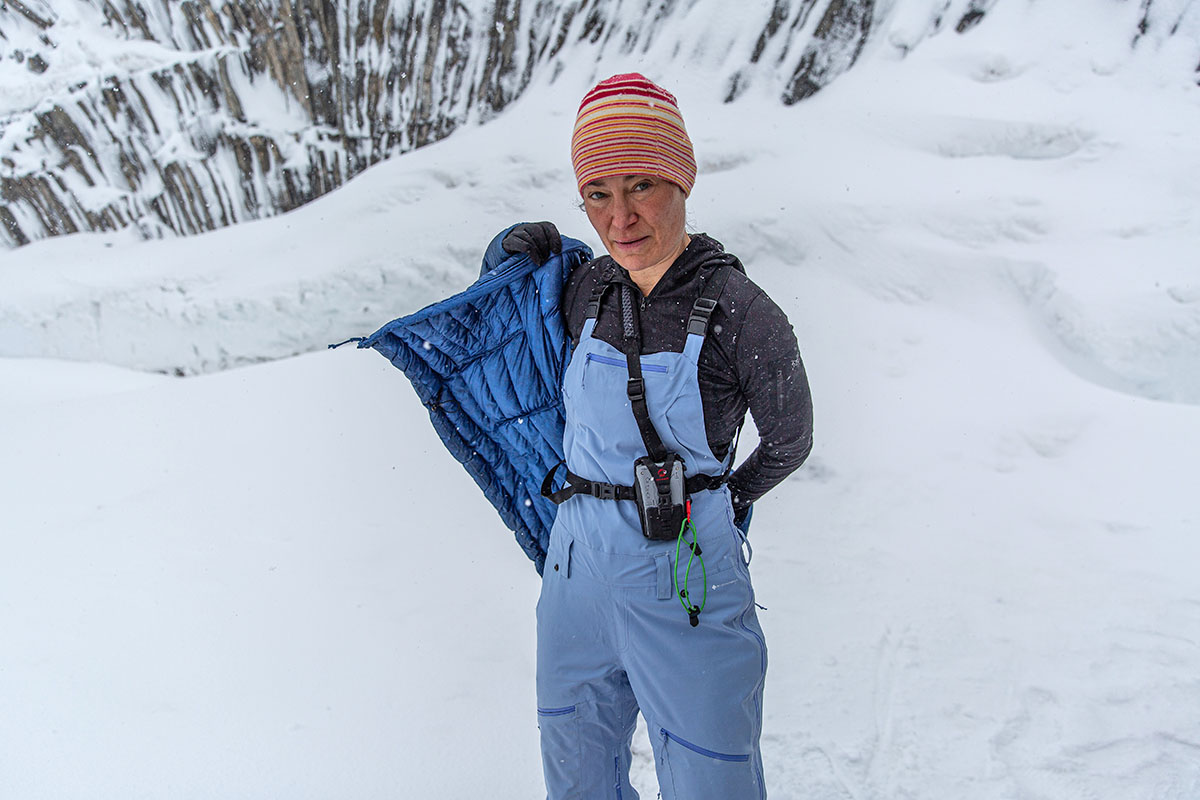 Sustainability
Sustainability is a bit of a buzz word in 2022, but we always appreciate when brands go the extra mile in creating more eco-friendly and intentionally built products. In this case, the Foxy Bib is made with 100% recycled polyester that's spun from repurposed plastics to help minimize waste. The materials are also bluesign-approved, meaning that they've been deemed safe for consumers, workers, and the environment. Finally, the DWR coating on the shell is PFC-free, forgoing the use of harmful perfluorocarbons. Added up, these measures only add to the bib's high-end feel and widespread appeal.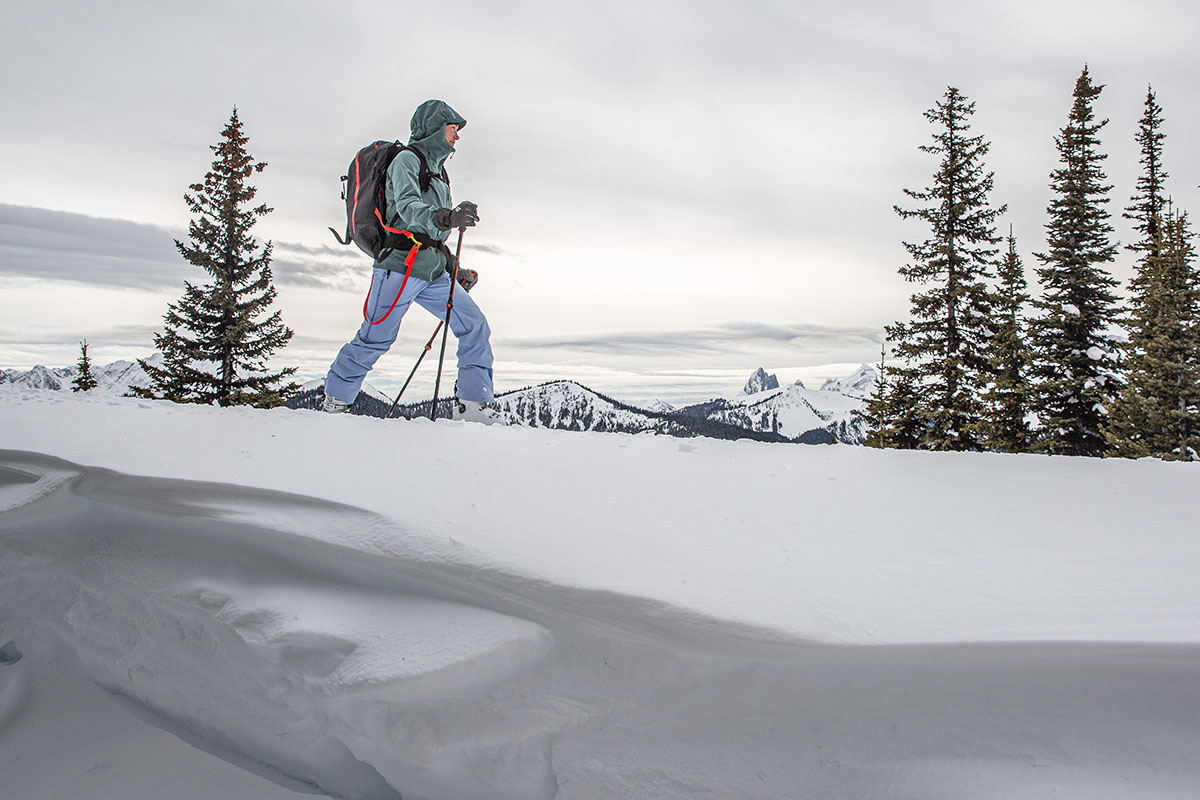 Men's Flylow Gear Baker Bib
The Foxy Bib is a women's-specific design, and Flylow's men's counterpart is the Baker Bib. Both bibs retail for $430 and use in-house waterproofing, but the Baker's 3-layer Surface fabric lacks the stretch of the Foxy's Tactic material. The Baker also has a more generous storage layout, including two hand pockets, one rear pocket, two zippered chest pockets, one snap chest pocket, one thigh pocket, and a similar kangaroo-style chest pouch. Finally, the Baker is heavier at 2 pounds 1.4 ounces and offered in different colorways. Rounding out the collection, Flylow now also offers the Baker Perm Bib, which is pricier at $520 and uses a more air-permeable Intuitive Perm HD fabric for added breathability while touring.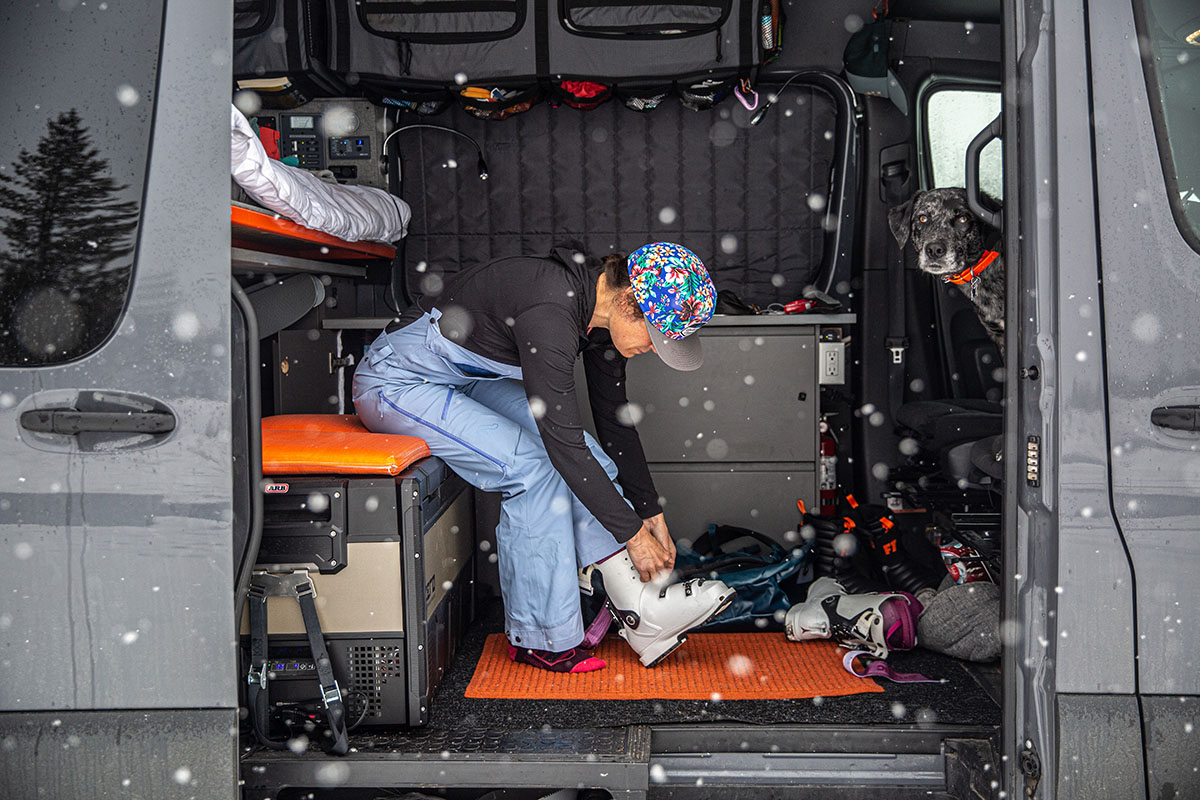 What We Like
Tactic fabric is soft, stretchy, and quiet while offering solid all-around protection, which is no easy feat.
Nice balance of fashion and function: The Foxy is a stylish, good-looking design and comes in a wide selection of classy colorways.
Inner and outer thigh vents allow great airflow for high-output use.
Barn door zipper makes bathroom breaks quick and easy and helps considerably with the on/off process.
Six-pocket layout provides ample storage for the essentials.

What We Don't
Trim fit limits mobility and storage capacity (those who spend a lot of time in the backcountry will likely want to size up).
Stretchy build compromises a little on all-out protection, particularly when compared to high-end Gore-Tex designs.
Kangaroo pouch is integrated into the chest panel, which detracts from overall breathability and limits what you can store inside.
Snap that connects the shoulder straps to the barn door is difficult to operate with cold or gloved hands.
No built-in beacon clip.


Comparison Table

The Competition
Flylow's Foxy Bib stands out in the women's ski bib market as a stylish all-rounder that nicely balances comfort, protection, and features. But there's no shortage of options in 2022, and TREW Gear's Chariot Bib is our favorite overall pick this season. Like the Foxy, the Chariot is a versatile choice for both resort and backcountry use with reliable 3-layer protection via TREW Gear's in-house PNW membrane, full seam taping, water-resistant zippers, and full torso coverage. Styling lines up well too, with a high-quality fit and finish and nice selection of bright colorways. In terms of downsides, the Chariot is a little heavier at 1 pound 11 ounces and lacks the stretch and softness of the Flylow's Tactic fabric, and we don't love the chest pockets, which are less secure as they open vertically (items are more prone to fall out). But these are relatively small gripes, and the Chariot's effective balance of price (just $9 more than the Foxy), performance, and styling is hard to beat.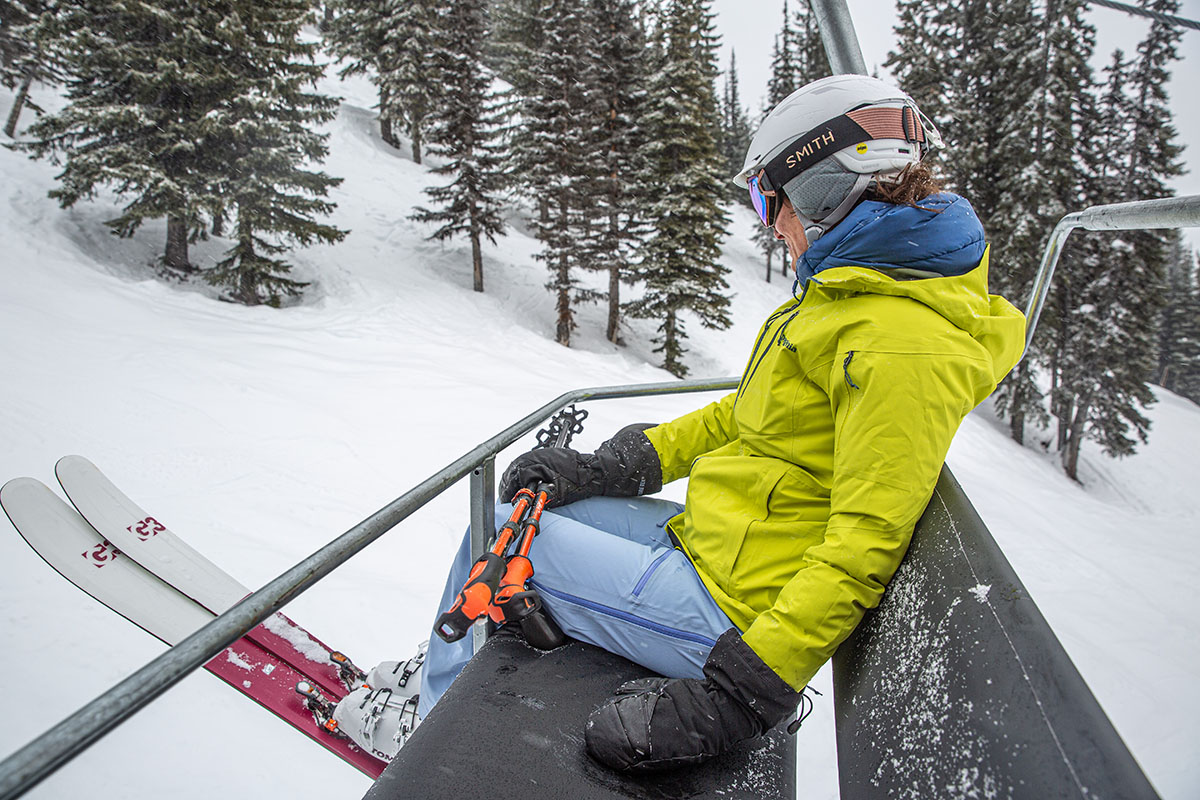 For women who spend most of their time in the backcountry, Arc'teryx's Sentinel LT Bib Pant has been a longtime favorite of mine. As we've come to expect from Arc'teryx, protection is top-notch: The 3-layer Gore-Tex construction is confidence-inspiring even in truly gnarly weather, and the C-Knit backer is soft and comfortable against the skin. Storage and coverage are two concessions, including just three total pockets (compared to the Foxy's six) and a low-riding design that reaches about mid-torso. Combined with the steep, $525 price tag and technical fit (with only one inseam length), the Sentinel is less of an all-rounder than the Flylow. That said, if you're looking for a streamlined bib that's high on weather protection and low on bulk (great for weight-conscious endeavors), the Sentinel LT is the more purpose-built alternative.
Next up are Outdoor Research's Skytour AscentShell Bibs, which offer a similarly competitive mix of protection, breathability, and mobility. The highlight here is OR's AscentShell fabric, which stretches and breathes like a softshell but with hardshell-like weather protection. You also get stretch-woven softshell above the belt for even more mobility and comfort. On the flip side, the Skytour is relatively thin at 50D (compared to 100D for the Foxy) and more air-permeable (read: less wind-resistant) as a result. We also found the cuffs to be slightly too narrow to fit over our ski boots in walk mode, and storage is more limited with three pockets. But for around $50 less than the Foxy, the Skytour is a light, mobile, and highly breathable alternative for committed backcountry-goers. For mixed in- and out-of-bounds use, we'd stick with the thicker and more feature-rich Flylow.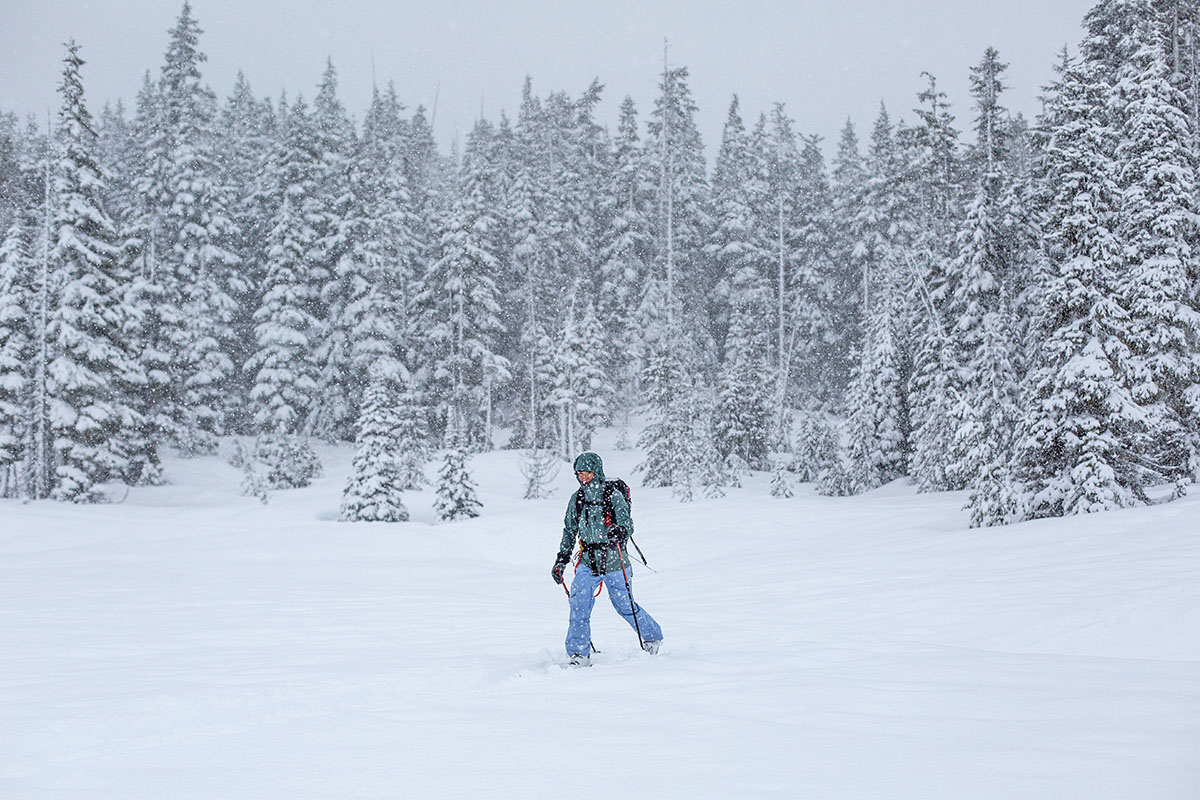 A final alternative to have on your radar is Black Diamond's Recon Stretch Bibs. For $20 more than the Foxy, the Recon features a stretchy 3-layer hardshell construction, along with generous softshell panels on both the front and back of the torso. The combination makes for great ventilation alongside solid waterproofing. Similar to Flylow's Tactic fabric, Black Diamond's BD.dry membrane is a step down in all-out protection from Gore-Tex but has held up well to wet chairlift rides and falling snow. Like the Foxy, the BD also boasts adjustable suspenders, functional storage, belt loops along the waist, reinforced cuffs, and integrated gaiters. However, the Recon is a couple ounces heavier, comes in fewer colorways, and falls a little short in styling with a slightly less streamlined look. In the end, both are great one-quiver options for mixed resort and backcountry use, but the Foxy's similar performance at a cheaper price gives it the edge for us.
If you're thinking about buying gear that we've reviewed on Switchback Travel, you can help support us in the process. Just click on any of the seller links above, and if you make a purchase, we receive a small percentage of the transaction. The cost of the product is the same to you but this helps us continue to test and write about outdoor gear. Thanks and we appreciate your support!
Depending on the seller, most products ship free in the United States on orders of $50 or more. International shipping availability and rates vary by seller. The pricing information on this page is updated hourly but we are not responsible for inaccuracies.
Read More From Switchback Travel