Arc'teryx is a leader in the technical backcountry ski market, and their Sentinel LT Bib Pant (and men's Sabre LT) slots in as a tough yet light and comfortable touring option. With a mix of weather-ready Gore-Tex covering most of the body and a stretchy softshell fabric at the upper torso, the Sentinel impressed us with its balance of protection and mobility. The thick build suffers a little in breathability, and the bib doesn't come cheap at over $500, but all-around performance is excellent. Below we detail our experiences with the Sentinel LT. To see how it stacks up to the competition, see our articles on the best women's ski bibs and best women's ski pants. And to complete your kit, we've also tested and reviewed the Arc'teryx Sentinel LT Jacket.
 
---
Table of Contents
---

Performance 
Weather Protection
Boasting a thick, 3-layer Gore-Tex with C-Knit build, taped seams, and a high-coverage bib design, the Arc'teryx Sentinel LT is a stalwart in wet and windy winter weather. I've worn the bib on every ski outing since I received it, including numerous days at the resort and multiple trips into the slackcountry and backcountry. I should also note that we've had a very variable season so far in the Pacific Northwest, with conditions ranging from rain and sleet to waist-deep powder. Through it all, my baselayers have remained perfectly dry (I typically wear heavy or midweight merino long underwear depending on the temperature), and the Sentinel LT has effectively shrugged off everything Mother Nature has thrown its way. It's important to highlight that the upper torso area is a non-waterproof softshell fabric, but I haven't had any issues with that space wetting out.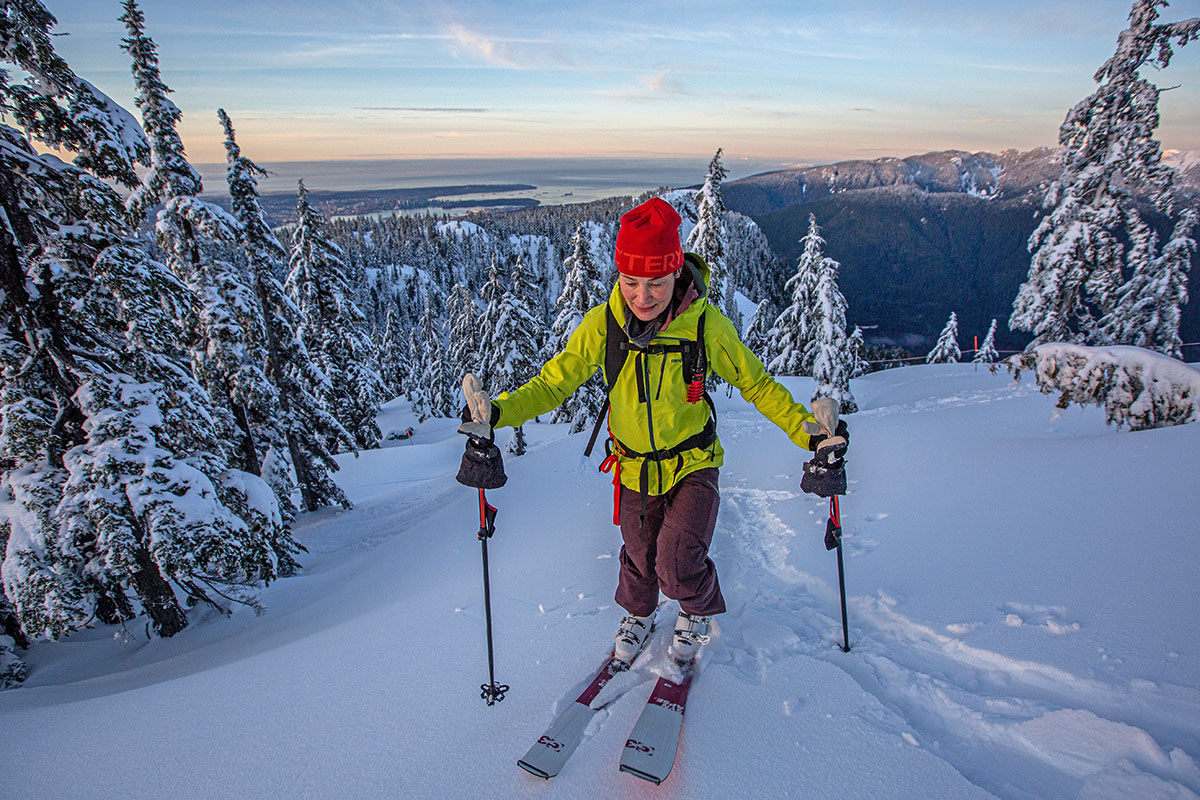 To help seal out the elements, Arc'teryx equipped the Sentinel LT with a few key features. First, the pockets are all protected in some way: the right thigh pocket has a flap covering the zipper, while the remaining pocket and vent zippers are highly water-resistant (I trust them enough to carry my phone inside, but those concerned about moisture can secure electronics in a Ziploc bag for added assurance). The Sentinel also boasts tough internal gaiters that nicely secure around ski boots and prevent snow from entering at the cuffs. Regardless of how sloppily I've pulled the gaiters over my boots, I've had no moisture sneak in. Finally, the Sentinel LT inherently offers better protection than traditional ski pants because of its higher-riding bib design, which provides great coverage for deep powder, those prone to falls, and skiers who run particularly cold.

Breathability
Given the thick Gore-Tex build, it wasn't too surprising to learn that the Sentinel LT can't match a softshell in terms of breathability. However, like most backcountry-focused designs, the bib comes equipped with two-way side vents, which are very effective at dumping excess heat. On the right side, the zipper extends all the way to the waist—and boasts a third zipper so that the side can be opened top-down for bathroom breaks—which promotes even more airflow if needed.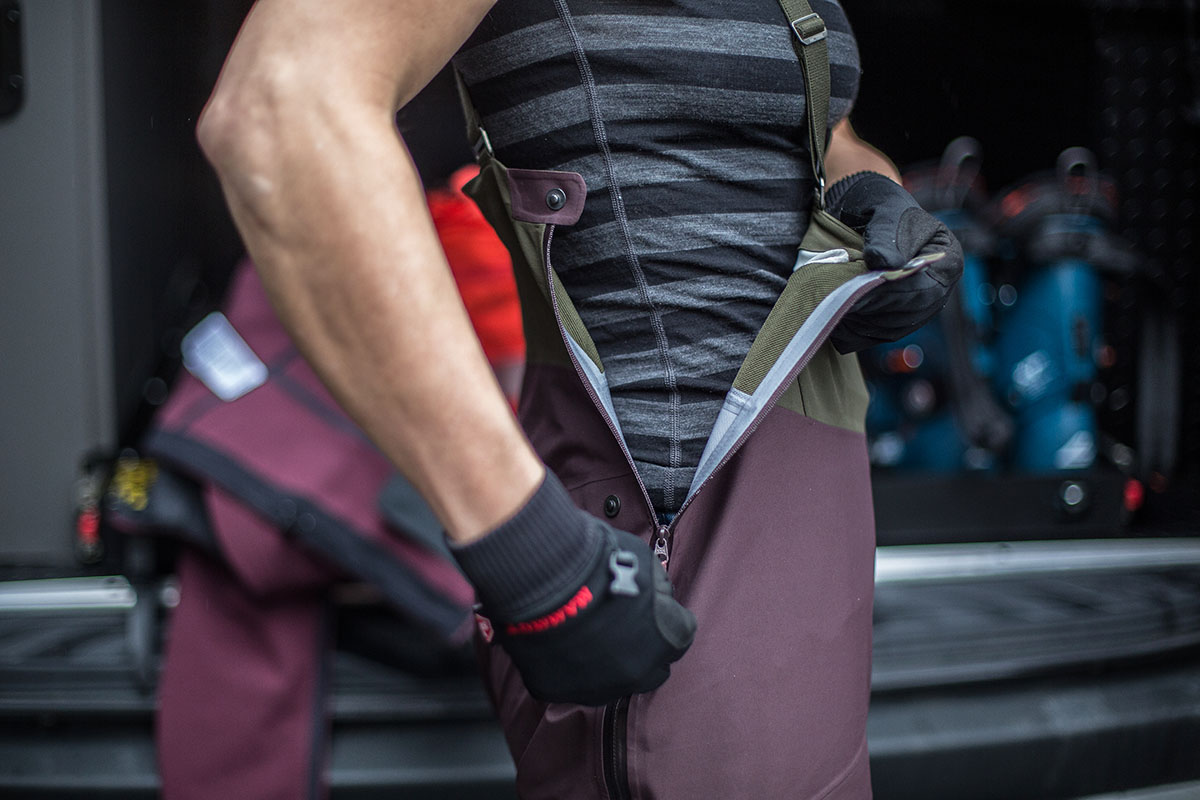 For full transparency, my legs typically don't overheat when I'm exerting, and I tend to regulate my temperature by removing layers from my upper body instead. That said, I have come to appreciate the side vents on the Sentinel LT, and the non-waterproof softshell fabric at the torso breathes quite well. Those who run particularly hot might prefer a lower-profile, non-bib pant design, or consider opting for a true softshell model instead (if you can sacrifice wet-weather protection). But all in all, I've found the Sentinel LT to be perfectly serviceable for regular, high-output backcountry use.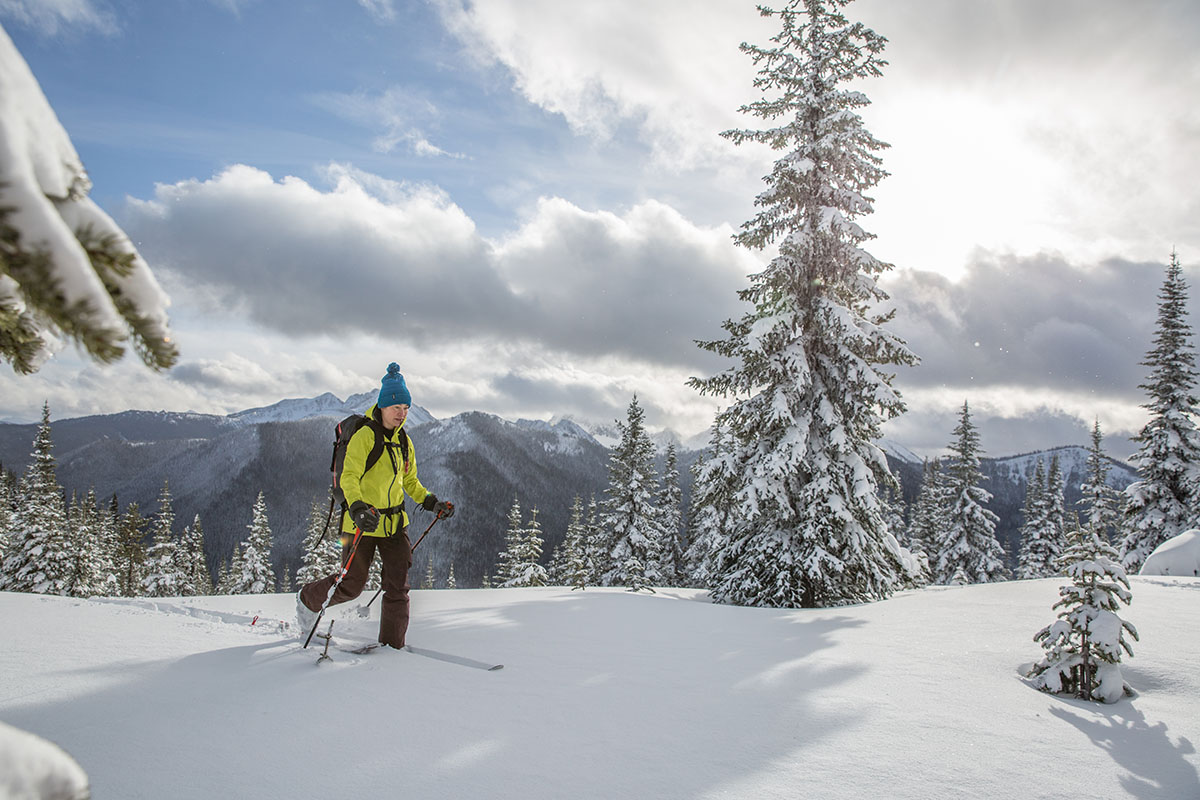 Comfort
Comfort is one area where the Sentinel LT truly stands out. The bib's C-Knit backer is incredibly soft, supple, and quiet, and the articulated patterning and gusseted crotch allow great mobility and freedom of movement. Further, the four-way stretch softshell fabric at the torso area has proven to be impressively malleable and comfortable. And the suspenders (which are removable) can be adjusted and are elastic enough for ascending, descending, or bending over to transition or adjust my ski boots. Lastly, due to its higher-riding bib design, I've found that the Sentinel LT doesn't cause any pressure or bunching at the waist, even when I'm sporting a baselayer underneath and wearing a ski backpack (the waist band of traditional ski pants can feel uncomfortable with so many fabrics, seams, and buckles rubbing together). They also allow me to stuff my pockets full without feeling like my pants are going to fall down.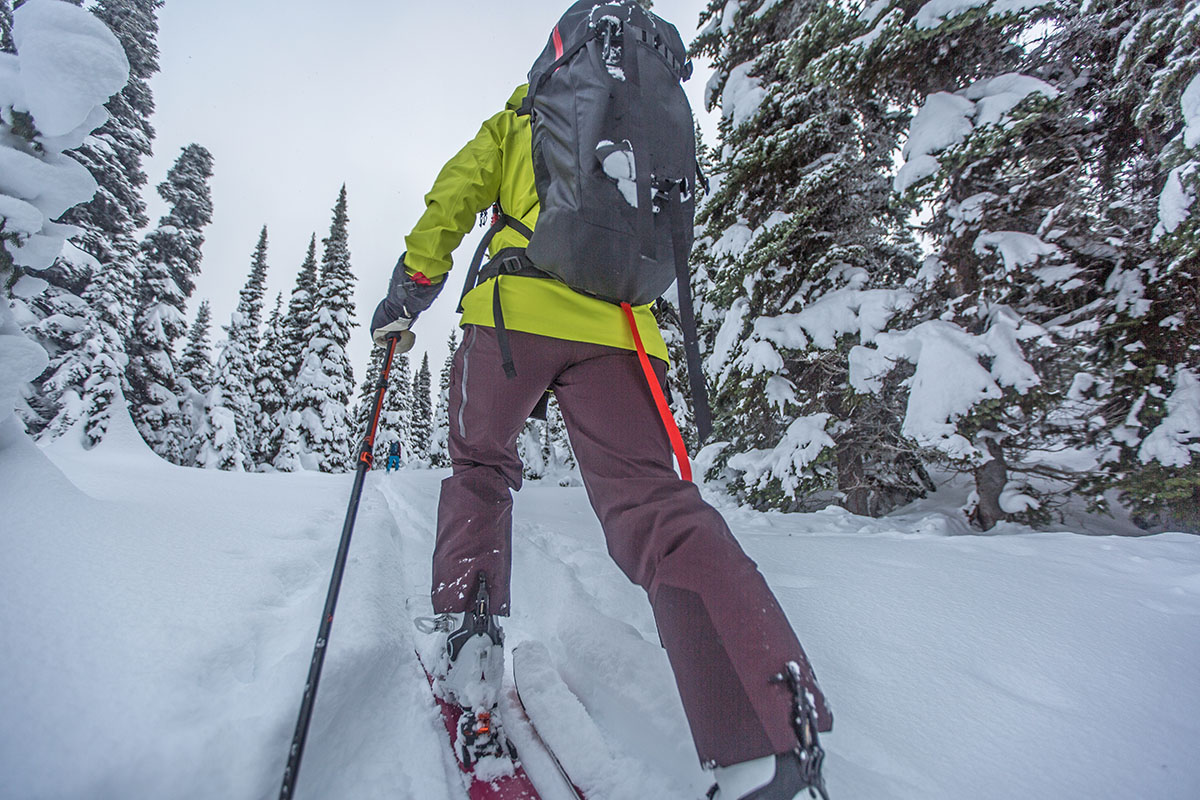 Build Quality and Durability
We've come to expect top-notch quality from Arc'teryx, and the Sentinel LT didn't disappoint. The entire design is noticeably robust and confidence-inspiring, with 80-denier Gore-Tex covering most of the bib and 100-denier Cordura at the cuffs for added protection against sharp ski and avalanche gear. After wearing the bib consistently for two months, there is no sign of wear other than some light cosmetic scuffs on the Keprotec instep guards (which is quite impressive given their exposure to ski edges and other backcountry equipment). Otherwise, all zippers and seams are holding up well, and the elastic at the gaiters remains grippy and fully functional.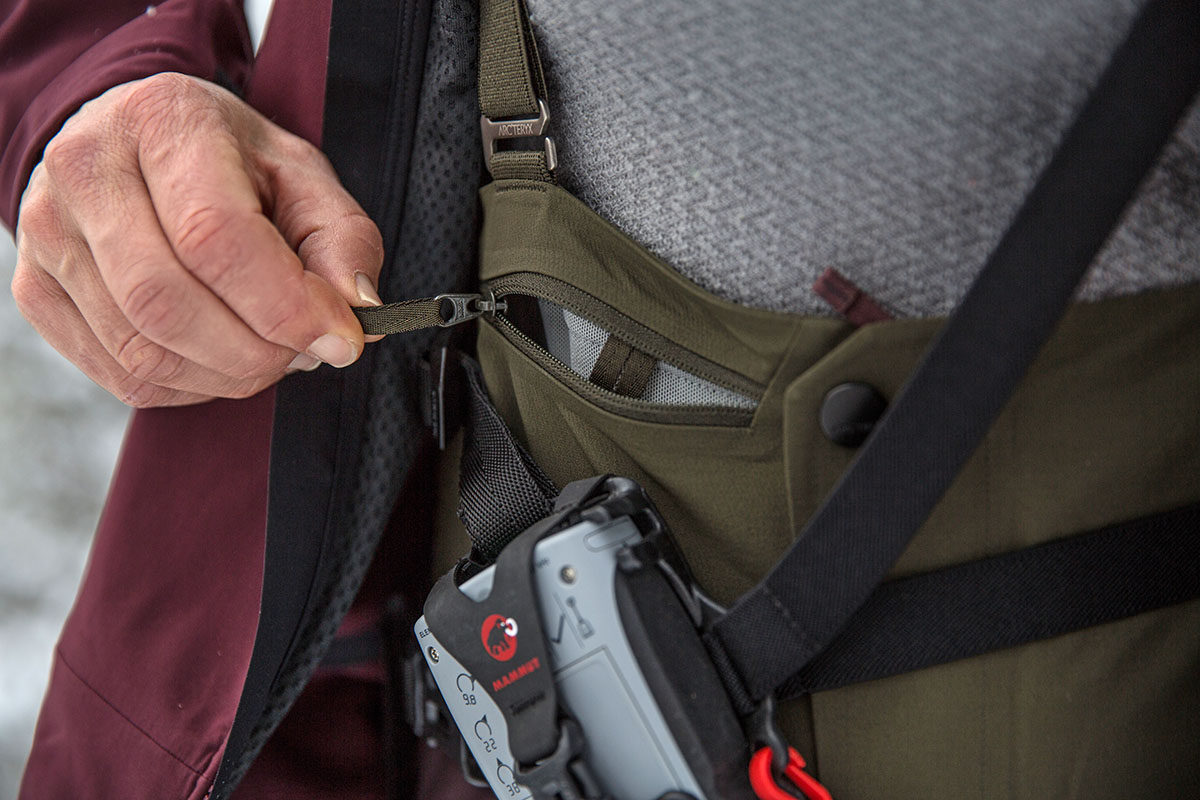 Weight
At 1 pound 2.3 ounces, the Arc'teryx Sentinel LT Bib is highly competitive in the wider backcountry ski bib market. For reference, it's lighter than similar designs like the Outdoor Research Hemispheres (1 lb. 4.1 oz.), Patagonia PowSlayer (1 lb. 3.9 oz.), and Flylow Gear Foxy (1 lb. 6.9 oz.). Patagonia's SnowDrifter Bibs ever-so-slightly undercut the Sentinel LT at 1 pound 2.2 ounces, but they use a less weather-ready H2No construction that falls short of Gore-Tex in all-out protection. As expected, a number of lower-riding pant models also weigh less than the Sentinel LT, but I personally don't mind the minor weight penalty for the Sentinel's added coverage around the torso (as I touched on above, I also think bibs are more comfortable due to the lack of seams and bulk at the waist).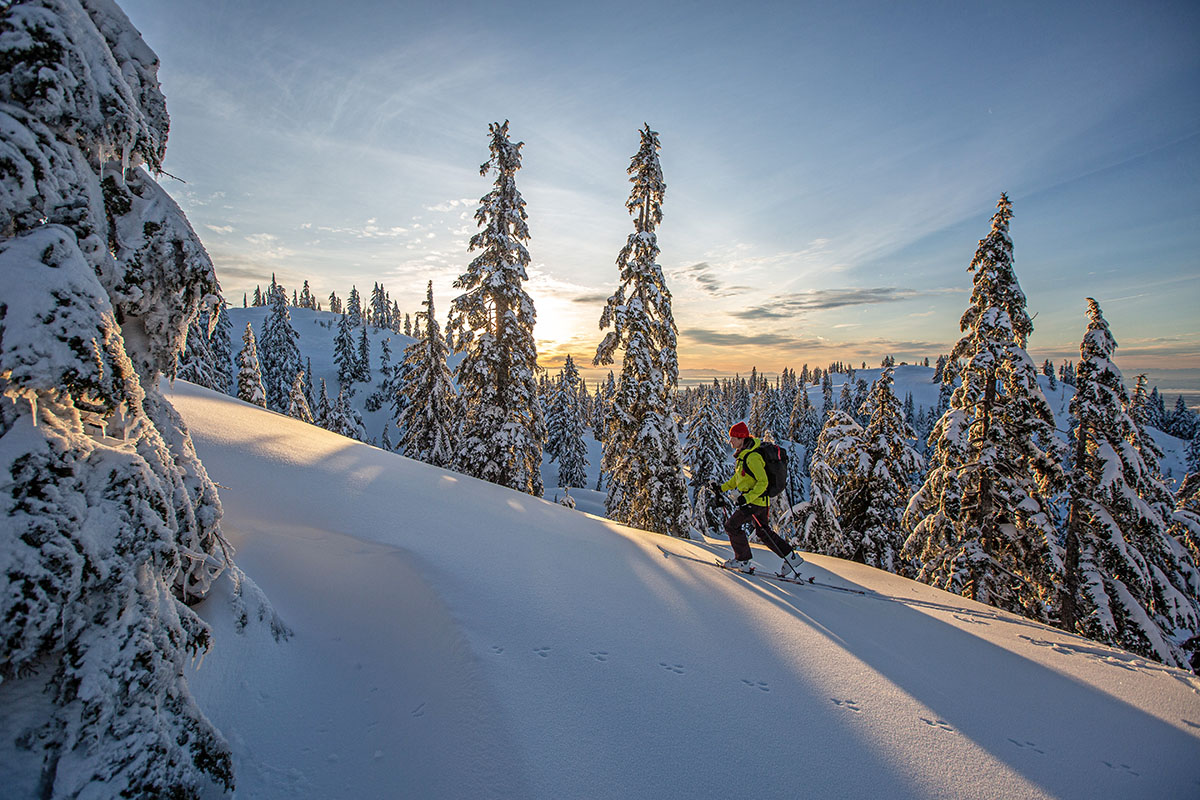 Key Features
Vents
As I mentioned previously, the Sentinel LT boasts generously sized vents at the outer thighs for dumping heat quickly in warm weather. Overall, I found them to be very effective at promoting airflow. And for added convenience, the right vent is longer than the left and extends all the way from the thigh to the top of the bib at the torso, which makes it easy to slide the bib off for bathroom breaks. My only complaint is that the zipper pulls are fairly small and tough to grab with bulky ski gloves, but they're easy to manipulate with thin liner gloves or bare hands.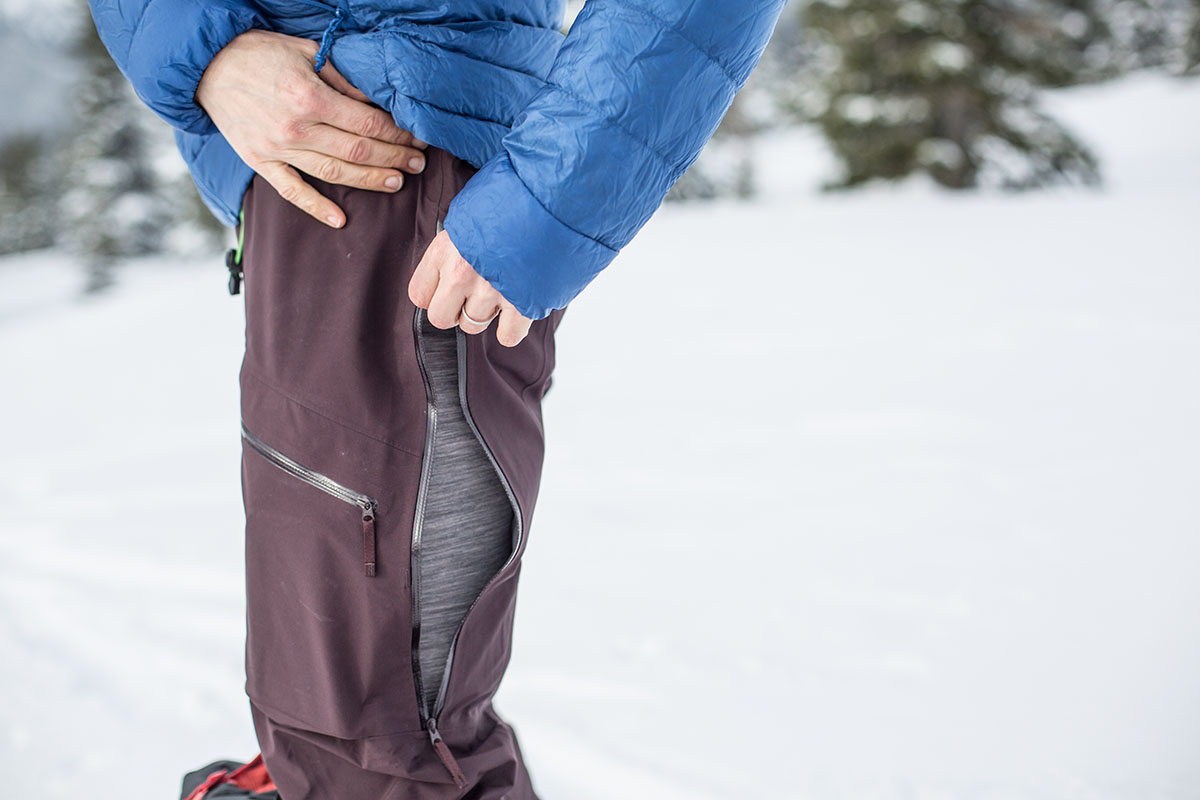 Storage: Pockets
In terms of storage, the Sentinel LT Bib comes adequately appointed for stashing the essentials with three pockets. On the softshell portion of the bib at the torso, there's one small pocket for stowing small items like a credit card or lip balm. Additionally, you also get a pocket at each thigh, both of which are nicely sized and can accommodate larger items (like my plus-sized iPhone or Garmin inReach) without causing any issues in the event of a fall. The right one also features a protective flap for added protection against moisture, although I've found it's a little more difficult to access and therefore less convenient for storing essentials that I want quick access to.

Gaiters with TouringCuffs
For sealing out snow at the ankles, the Sentinel LT Bib features internal gaiters with integrated power strap slots, which Arc'teryx dubs their "TouringCuff." The idea is pretty simple: a slot in each gaiter allows you to slide your boot's power strap through so that you can tweak the fit without peeling back the entire gaiter. In theory, this is designed to make boot buckle management easier and quicker, but we've found that power strap slots take a good amount of time and dexterity to operate. That said, the entire system is well-made and hardwearing overall with thick, 100-denier Cordura fabrics and great elasticity for gripping onto ski boots.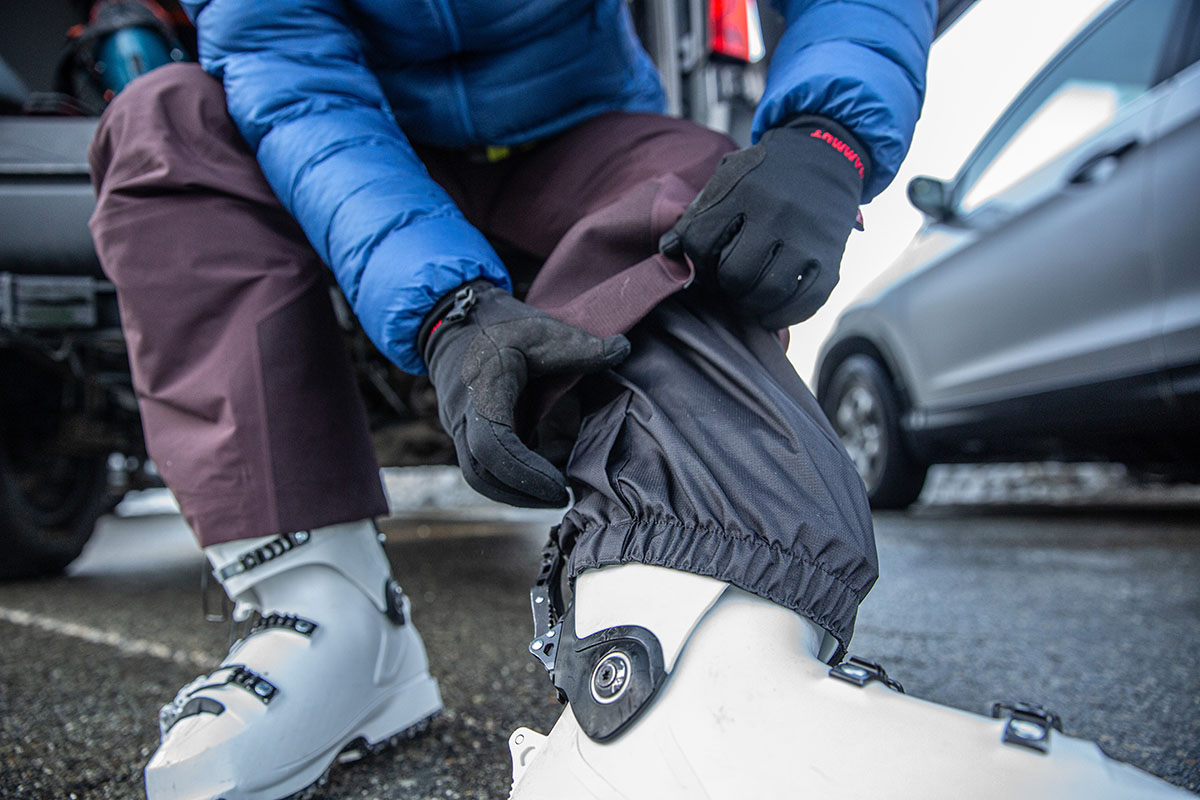 Fit and Sizing
Arc'teryx labels the Sentinel LT as a "trim fit," but I've found that the bib offers ample room for layering underneath. To be clear, they're not bulky or overly loose, but I'm able to accommodate more than one baselayer if necessary without negatively impacting mobility (I think a more accurate designation would be a "regular fit"). For reference, I typically wear a small in Arc'teryx gear, and that size in the Sentinel LT proved to be just about perfect: the cuffs fall right at my ankles, the torso area fits nicely, and the suspenders are easily adjustable to accommodate varying frames. All in all, I've never felt restricted or uncomfortable in the Sentinel, regardless of how much I'm moving while ascending or descending.

Other Versions of the Arc'teryx Sentinel LT
In addition to the bib version of the Sentinel LT that we tested, Arc'teryx also makes the design in a lower-riding pant variation for $499. The decision between pants and bibs comes down to a matter of personal preference, and whether the added coverage is worth the extra $26 is entirely up to you. Otherwise, the two share a nearly identical construction, including the same mix of materials, "trim" fits, and similar features (the pants have one fewer pocket and lack the softshell fabric at the torso). Rounding out the collection, Arc'teryx also offers the Sentinel LT Jacket, which retails for $699 and also boasts a 3-layer, 80-denier Gore-Tex with C-Knit construction and checks in at 1 pound 3.9 ounces (for more information, see our in-depth Sentinel LT Jacket review).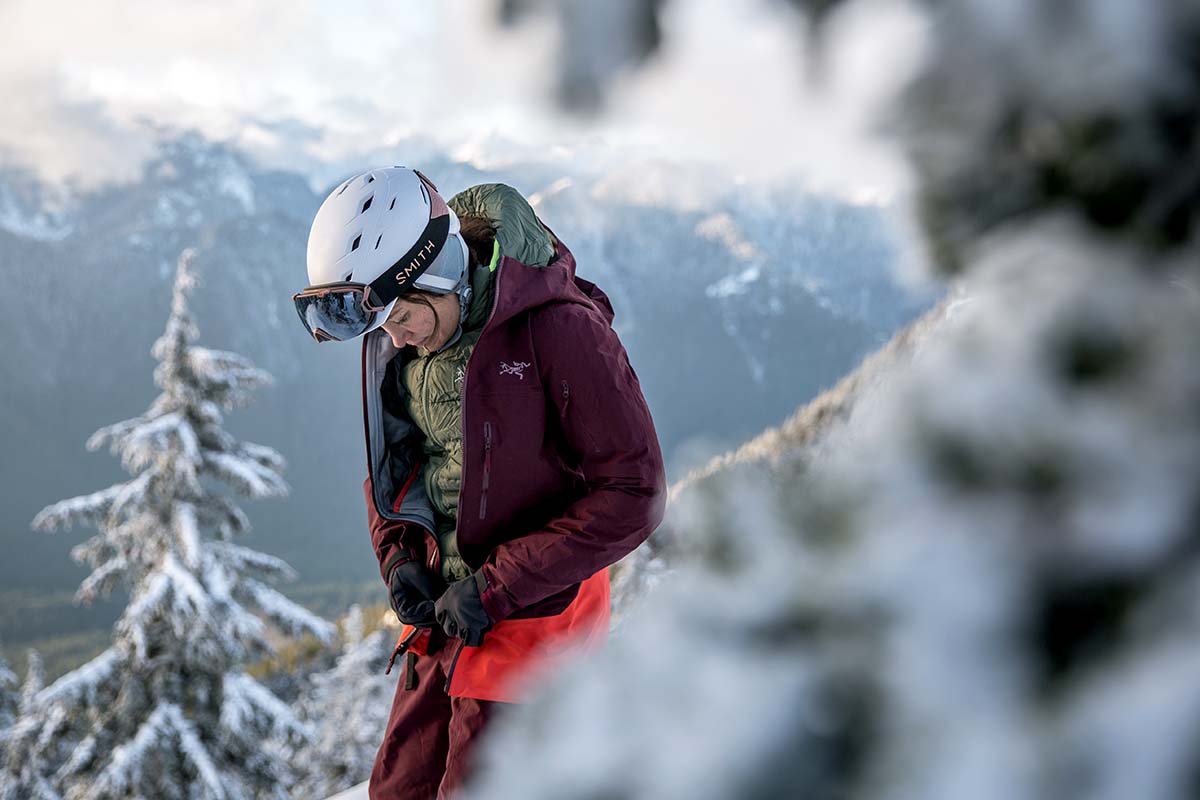 Men's Arc'teryx Sabre LT
The Sentinel is a women's-specific collection, and the men's equivalent is called the Sabre. Like the women's models mentioned above, the Sabre LT is offered in jacket, bib, and pant variations that cost the same as their women's counterparts but weigh more and come in different colorways. For example, stacked up against the Sentinel LT Bib tested here, the men's Sabre LT Bib Pant clocks in a few ounces heavier at 1 pound 5.9 ounces but otherwise retains an identical construction and feature set. We haven't had a chance to test the men's Sabre LT lineup yet, but we expect performance to be very similar across the board.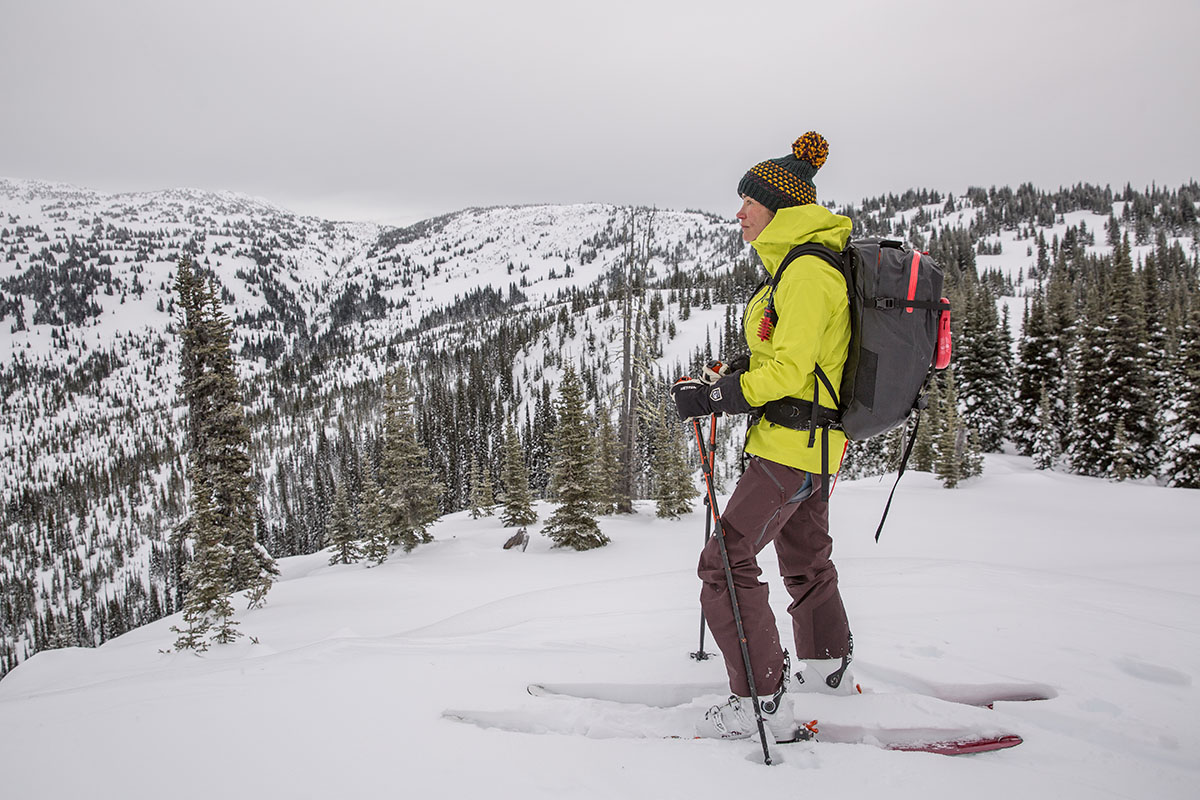 What We Like
With a 3-layer Gore-Tex with C-Knit build and stretchy softshell fabric at the upper body, the Sentinel LT offers an impressive mix of comfort, mobility, and all-out protection. 
High-riding bib design provides excellent coverage from the elements and eliminates bunching/pressure points at the waist (a common issue I have with traditional ski pants).
As we've come to expect from Arc'teryx, the Sentinel offers exceptional durability and a great all-around fit that's layering-friendly but not restrictive.

What We Don't
Very pricey at $525.
Thick Gore-Tex build isn't a standout in breathability, although the side vents are generously sized and do a good job dumping excess heat.
Thigh vent zippers are tough to manipulate with bulky ski gloves.
Limited and fairly muted colorway options.


Comparison Table
The Competition
Arc'teryx's Sentinel LT is an impressive option in the ski pant market, but there are a number of other competitive bib designs to choose from. For example, for around $75 more than the Sentinel, Outdoor Research's Hemispheres Bib boasts a similar 3-layer Gore-Tex with C-Knit construction but adds in panels of 2-layer Gore-Tex with Stretch. The net result is an exceptionally mobile and comfortable bib that doesn't sacrifice much in the way of weather protection. You also get better ventilation via long vents at each leg, as well as more storage including zippered hand pockets, center pockets, a kangaroo pocket, and a dedicated spot to stow an avalanche beacon. Apart from the added cost, the only notable downside is an increase in weight to 1 pound 4.1 ounces. But from a performance standpoint, the Hemispheres is impressively well-rounded and our preferred bib for touring.
Another premium and highly protective design to consider is Patagonia's PowSlayer Bibs. Stacked up against the Sentinel LT, the PowSlayer get an upgraded Gore-Tex Pro build that offers unmatched protection in brutal conditions. The PowSlayer also comes fully appointed with side zips, integrated gaiters with scuff guards, a RECCO reflector, watertight zippers, and three total pockets (the same as the Arc'teryx). Weight goes up slightly to 1 pound 3.9 ounces and price jumps to a steep $599, but our biggest concerns are durability and comfort. Put simply, the 40-denier fabric on the Patagonia is on the thin side and the Pro construction is crinklier and stiffer than the Sentinel's C-Knit backer. In the end, we give the nod to the Sentinel LT for its more hardwearing build, lower weight, and better overall comfort.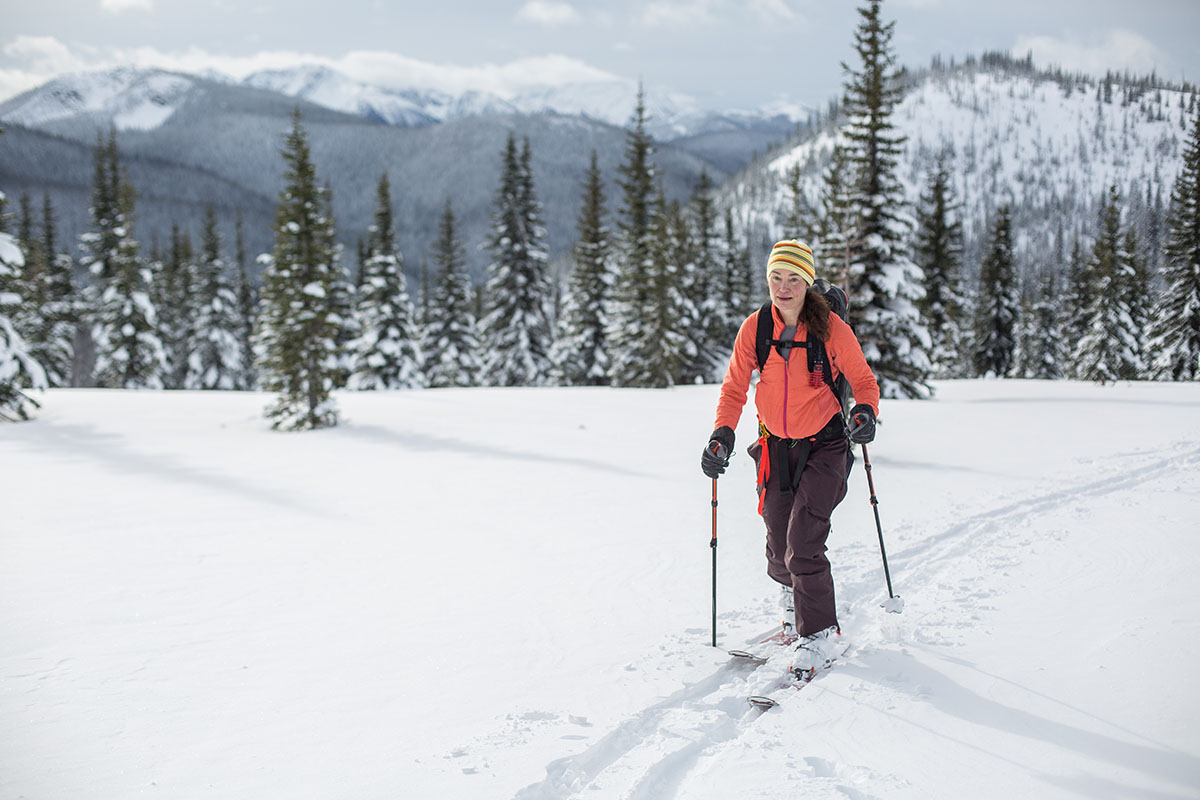 In addition to the PowSlayer, Patagonia offers another intriguing alternative to the Sentinel LT in their SnowDrifter Bibs. Rather that Gore-Tex, Patagonia opted for their in-house H2No waterproofing membrane, which we've found to be a slight step down in all-out protection but very comfortable, mobile, and reasonably weather-worthy. Like the Arc'teryx, the SnowDrifter also boasts a stretchy softshell fabric at the upper body, as well as two-way zippers at the back that double as a drop seat (the same as the PowSlayer above). But the real clincher for us is price: at $349, the SnowDrifter undercuts the Sentinel by around $175 without any notable drop in performance.
For the same weight as the Sentinel LT Bib, Arc'teryx's own Sentinel AR ("all round") is our top-rated ski pant this year. It's important to note that the Sentinel AR isn't sold in a full-coverage bib design, but the pants nevertheless offer excellent performance and a competitive feature set. In terms of construction, the AR uses a similarly robust 70-denier Gore-Tex build but adds a light flannel backer for a boost in comfort. This makes it our preferred option for resort use, but breathability lags behind the LT for extended tours and big outings into the backcountry. All told, if you split your time on- and off-piste, the AR has a lot of appeal. But if most of your ski days are spent skinning uphill in search of fresh powder, go with the thinner (and slightly cheaper) LT.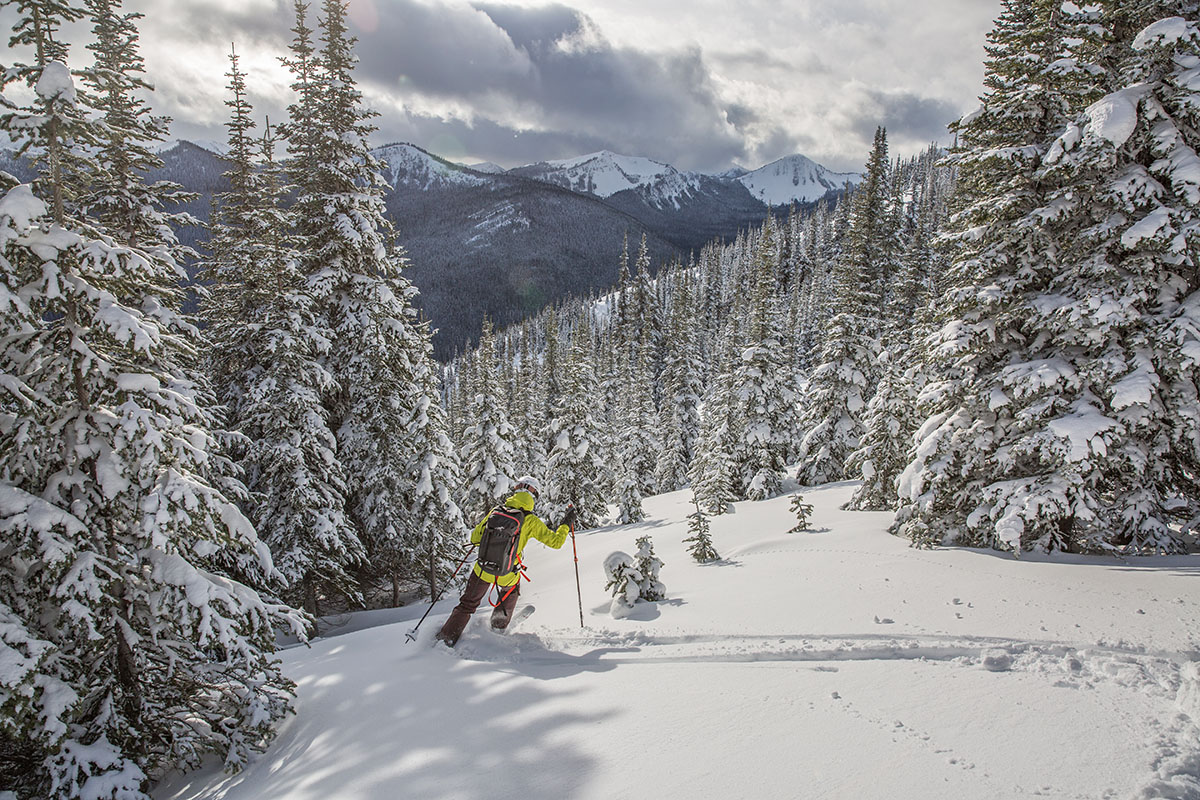 Last but certainly not least, Flylow Gear is a backcountry and big-mountain specialist with a nice array of touring kits, and their Foxy (and men's Baker) is our favorite bib design this season. What makes it stand out? First, you get great waterproofing and mobility from Flylow's in-house Stormshell Intuitive fabric, as well as waterproof zippers, generous gaiters with reinforcements at the cuffs, and ample storage with five pockets. Another highlight is the ventilation system, which consists of both massive side vents and zippered openings along the inner thighs. Finally, we love the nice selection of colorways, which include classy pastels and a couple of bright, poppy designs. The only major drawback is weight: the Flylow checks in at a fairly heavy 1 pound 6.9 ounces and is a bit bulky, which can be a problem for uphill touring. But at around $100 less than the Sentinel LT, the Foxy is far and away the better value.
If you're thinking about buying gear that we've reviewed on Switchback Travel, you can help support us in the process. Just click on any of the seller links above, and if you make a purchase, we receive a small percentage of the transaction. The cost of the product is the same to you but this helps us continue to test and write about outdoor gear. Thanks and we appreciate your support!
Depending on the seller, most products ship free in the United States on orders of $50 or more. International shipping availability and rates vary by seller. The pricing information on this page is updated hourly but we are not responsible for inaccuracies.
Read More From Switchback Travel