Arc'teryx Sentinel LT Jacket
Price: $699
Waterproofing: 3L Gore-Tex with C-Knit
Weight: 1 lb. 3.9 oz. (women's)
What we like: Impressive weather protection, excellent storage, and longer fit than most of the competition.
What we don't: Heavy and bulky for serious backcountry use.
See the Women's Arc'teryx Sentinel LT  See the Men's Arc'teryx Sabre LT
Arc'teryx is a leader in the premium ski shell market, and their Sentinel LT (and men's Sabre LT) is yet another standout for resort-goers and ski tourers alike. The jacket includes all the trimmings we'd expect at this price range, plus a longer length to seal out the elements on gnarly days. We put the Sentinel LT to the test both inbounds and in the backcountry, where it proved itself as a hardwearing and reliable shell in notoriously variable Pacific Northwest conditions. Below we outline our experience with the Sentinel LT. To see how it stacks up, see our article on the best ski jackets.
 
---
Table of Contents
---

Performance 
Weather Protection
The Arc'teryx Sentinel LT Jacket sports a burly 3-layer Gore-Tex construction with a durable water repellent (DWR) finish, making it a very capable resort and backcountry companion. Throughout its testing, the Sentinel LT has confidently withstood a variety of conditions typical of coastal skiing: wet sleet, bitter cold, pouring rain, snowstorms, and sideways wind. On one outing, while riding the painfully slow lift in Manning Park to access the sidecountry, we came to an unexpected stop during high winds and pelting snow. Because we were planning to immediately start skinning, I was slightly underdressed for the conditions. But with the Sentinel LT's hood cinched tightly over my head and the high collar hiding my chin, I remained remarkably dry and warm. The jacket has continued to perform well in all of my wet-weather testing and quickly has become one of my favorite pieces for use in truly harsh conditions.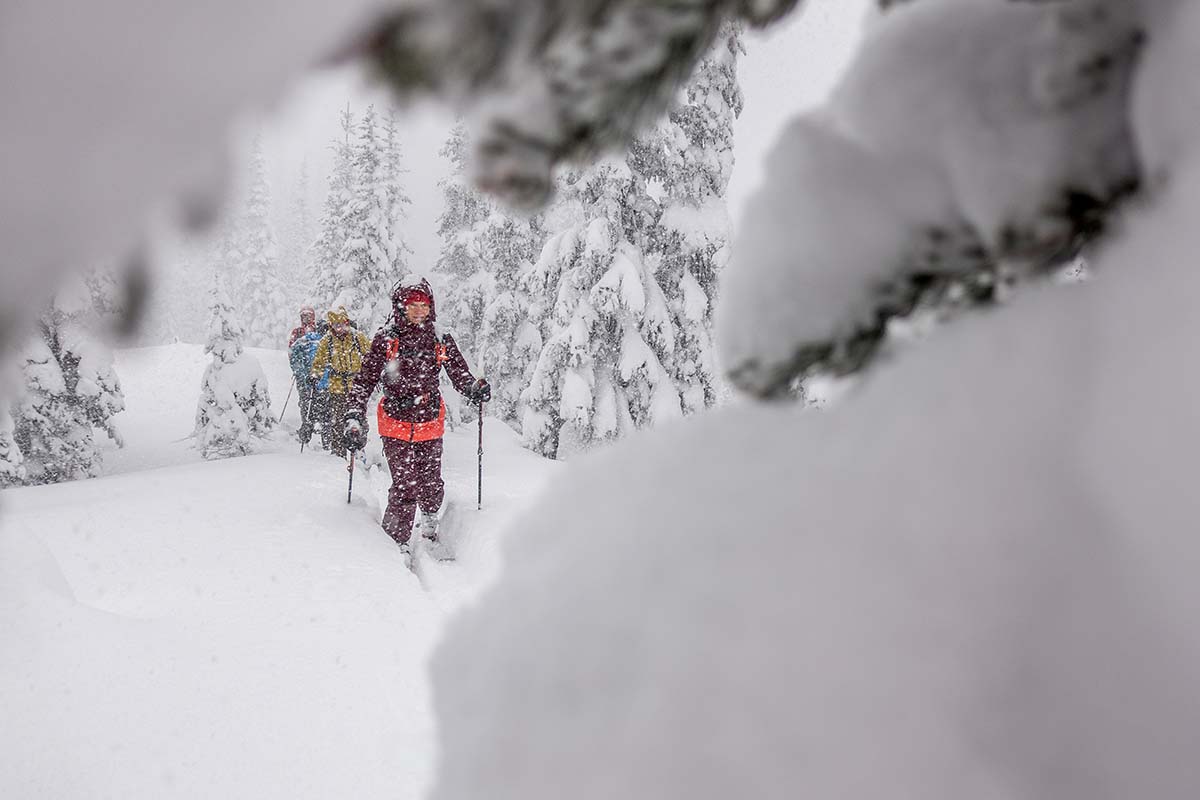 The rest of the Sentinel LT's build is equally weather-worthy. The WaterTight zippers with Rain Shield (RS) sliders over the pockets help seal out moisture, the adjustable Velcro cuffs can be snugged under or over gloves, the 29-inch (73.5 cm) length provides great coverage, and the powder skirt easily attaches to compatible ski pants, including Arc'teryx's Sentinel LT and AR models. And even when the jacket isn't attached to pants, the powder skirt is comfortable and stays put with a rubberized elastic hem at the back. I tested the jacket while skiing (and subsequently falling) in deep powder without pants connected, and the skirt still prevented snow from riding up my back.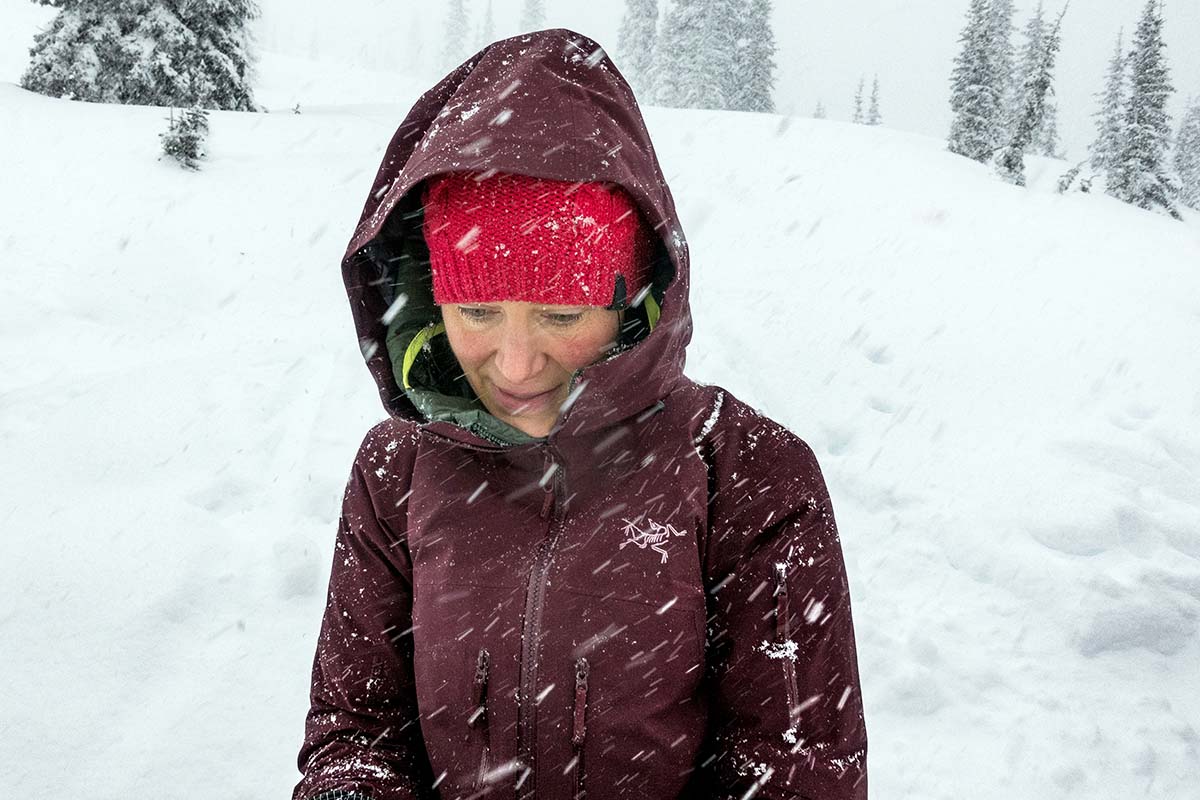 Breathability
Overall, the Sentinel LT breathes well considering its 3-layer Gore-Tex build. Like most of Arc'teryx's backcountry-focused shells, it comes equipped with nicely sized pit zips for dumping heat quickly, which are angled for easier access while wearing a pack. I should note that I don't tend to overheat in cold temperatures, even while exerting energy, so I've only had to resort to opening the front zipper and pit zips a handful of times. For me, the main priority is staying warm without overheating, and the Sentinel performed well in that regard. For example, on a day trip into the backcountry, conditions changed mid-day and we opted to do a few laps at the resort. While I usually grow cold quickly on chairlifts, I remained cozy in the Sentinel without feeling clammy.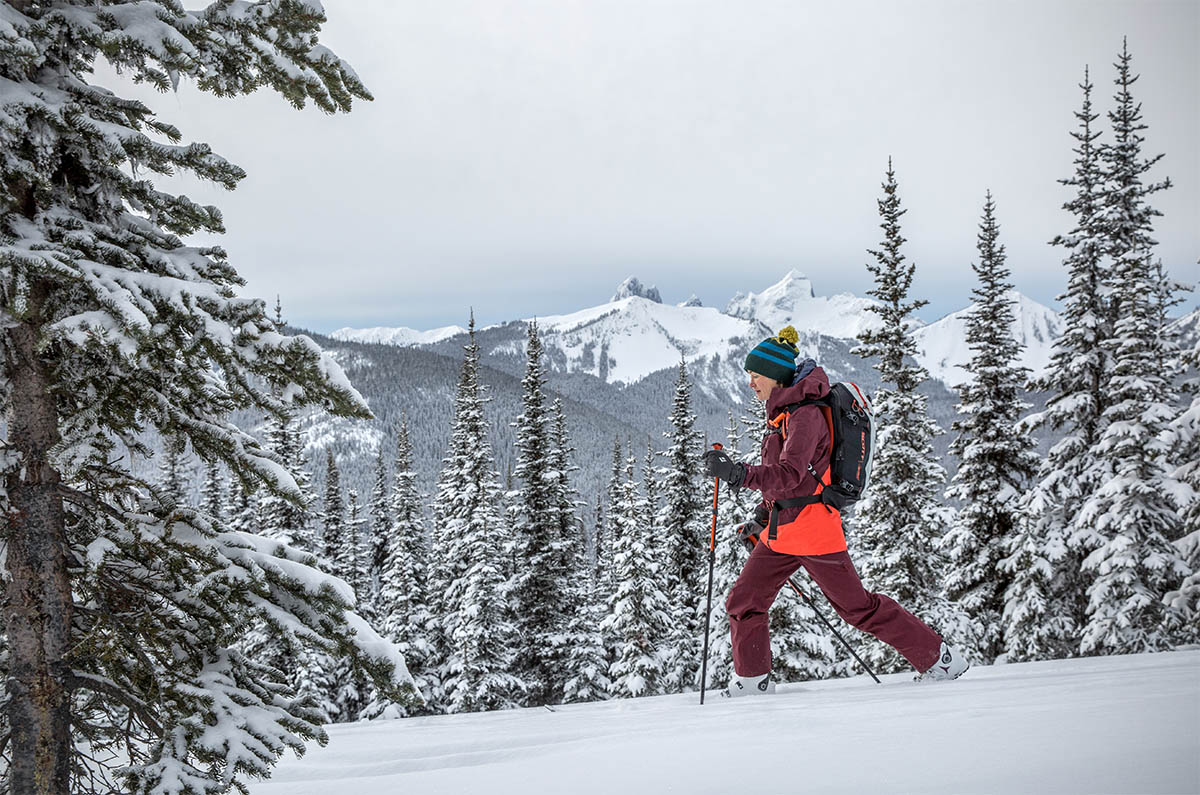 Build Quality and Durability
Arc'teryx is known for their quality craftsmanship, and that comes across clearly with the Sentinel LT. The shell's 80-denier Gore-Tex with C-Knit construction is softer and quieter than other Gore-Tex materials, and thus far has proven to be just as durable and abrasion-resistant. The jacket has spent a lot of time in my pack with sharp avalanche gear and wet climbing skins, but after several months of use and abuse, it has shown no signs of wear. The seam tape hasn't peeled, the powder skirt elastic has not stretched out, and all components—including the zippers and Velcro—continue to function and operate smoothly.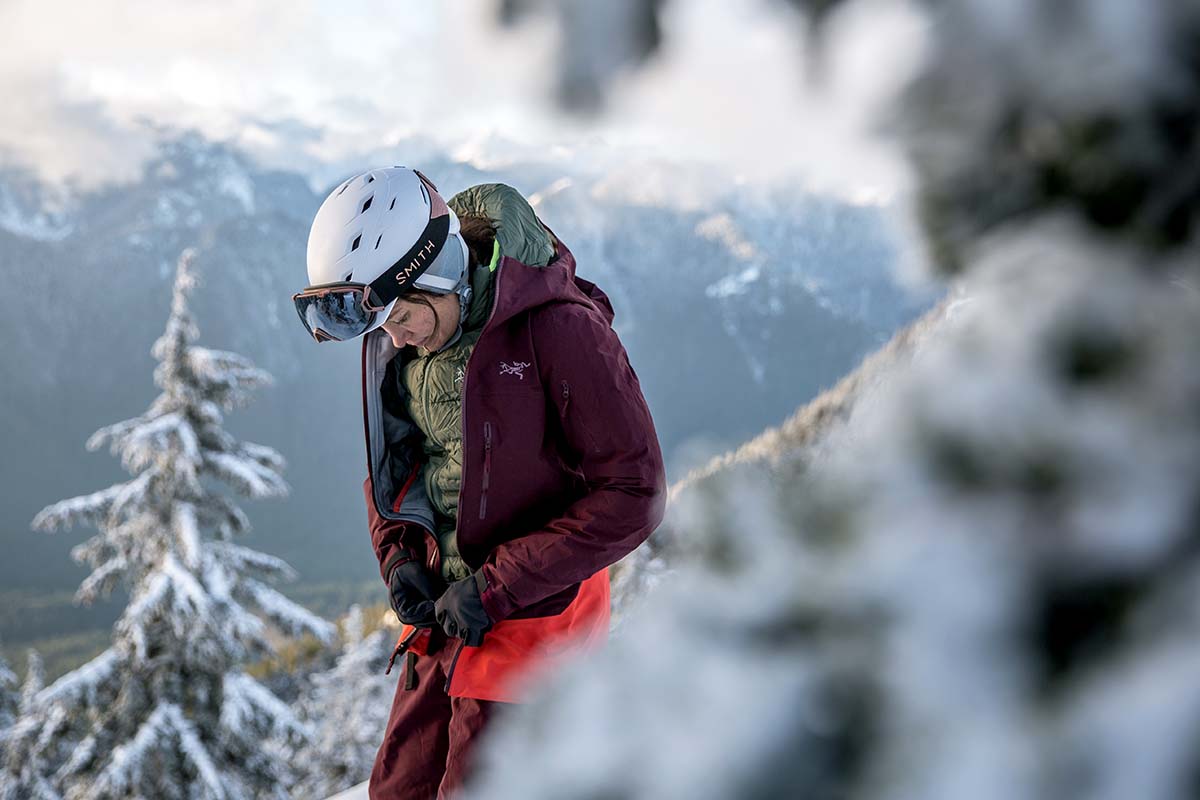 Key Features
Hood
Arc'teryx's helmet-compatible StormHood is our favorite design currently on the market: it offers full coverage, is easily adjustable, and stays put when snugged down. It also features a laminated brim that prevents moisture from dripping into your face in heavy precipitation, and the entire hood can be cinched tight using three drawcords (two at the front and one at the back). I do find it difficult to adjust the hood when wearing bulky gloves or mittens, but I almost always struggle with dexterity in the cold. Finally, the collar has a soft chin guard to help prevent the zipper from scratching your chin. I do wish that the chin guard covered more of the collar, but this complaint isn't specific to the Sentinel LT (most ski shells I've tested have had the same issue).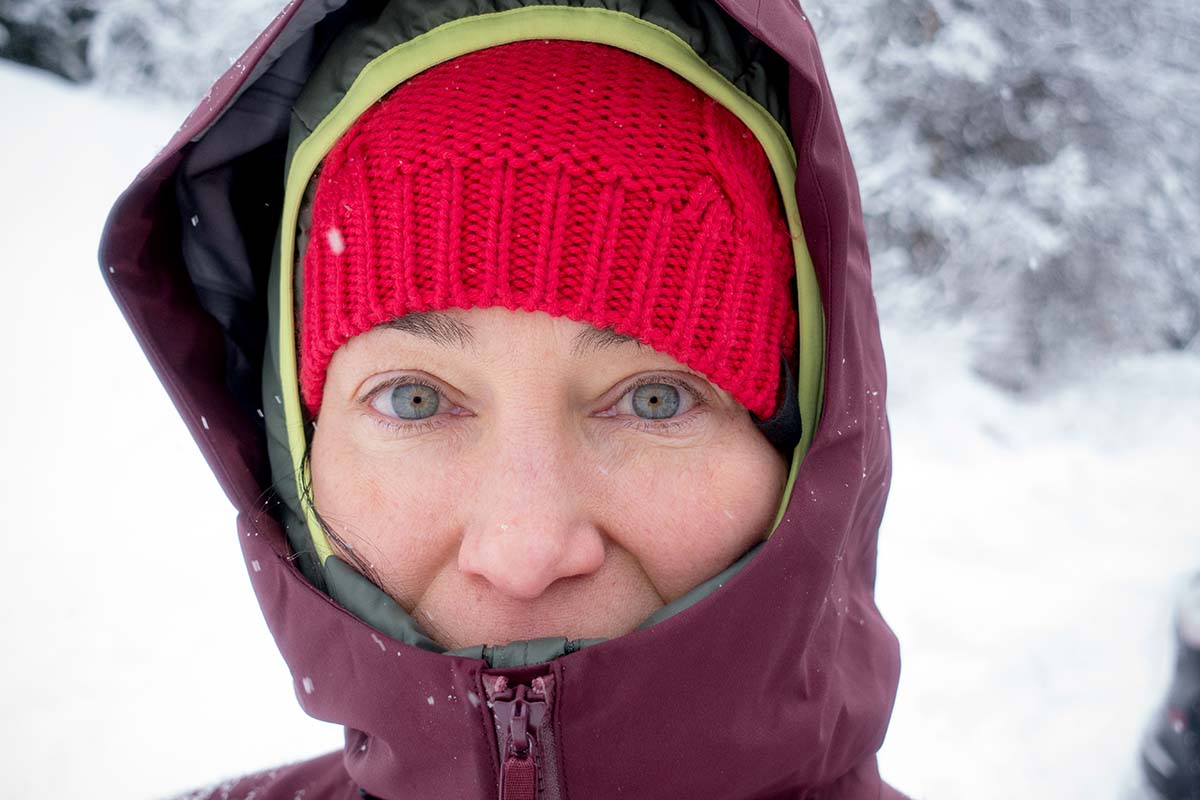 Storage: Pockets
The Arc'teryx Sentinel LT features a whopping seven total pockets, which was ample for keeping all of the essentials handy. This includes two chest pockets, two hand pockets, an arm pocket for a ski pass, ID, or credit card, an internal laminated pocket, and an internal (non-zippered) dump pocket. The external pockets feature Arc'teryx's WaterTight design with RS sliders, which forego the protective "hood" typically found at the top of other zippers—this shaves a little weight and bulk and adds to the jacket's streamlined and sleek exterior. Importantly, these are water-resistant and not fully waterproof, but I haven't experienced any moisture seeping through. In terms of space, the interior dump pocket is a good spot to stow ski goggles but is a bit too snug for skins, and the hand pockets are very generous and feature exterior flaps to boost protection even further.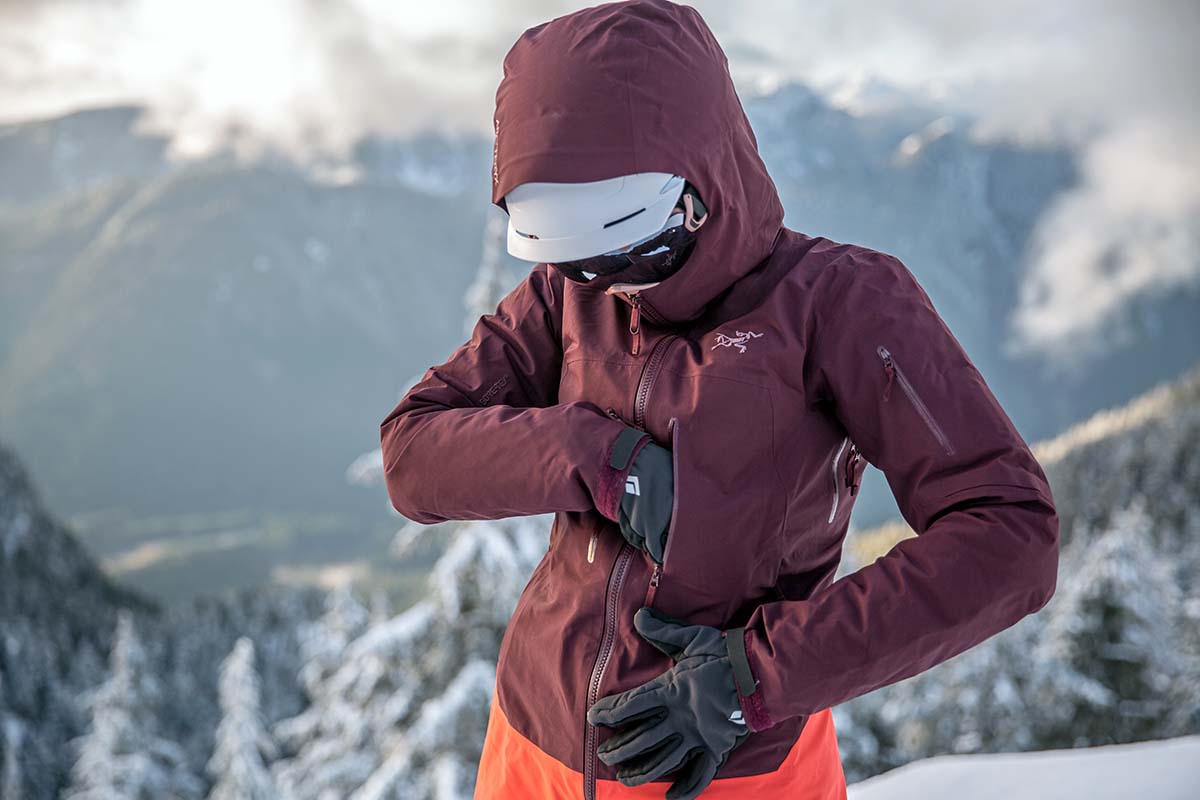 Powder Skirt
As I mentioned above, the Sentinel LT features an integrated powder skirt that attaches to compatible Arc'teryx pants with two Slide 'n Loc closures below the waist band at the back. I've found that these snaps can come undone if I'm fiddling with the jacket, but otherwise they've stayed attached while skiing without any issues. My only notable complaint is that I'm not able to adjust the snaps while wearing ski gloves or mittens, but most skiers should only need to secure the jacket once before heading out. And if you don't plan to pair the Sentinel LT with Arc'teryx snow pants, the powder skirt has a gripper elastic at the back that prevents it from flopping around.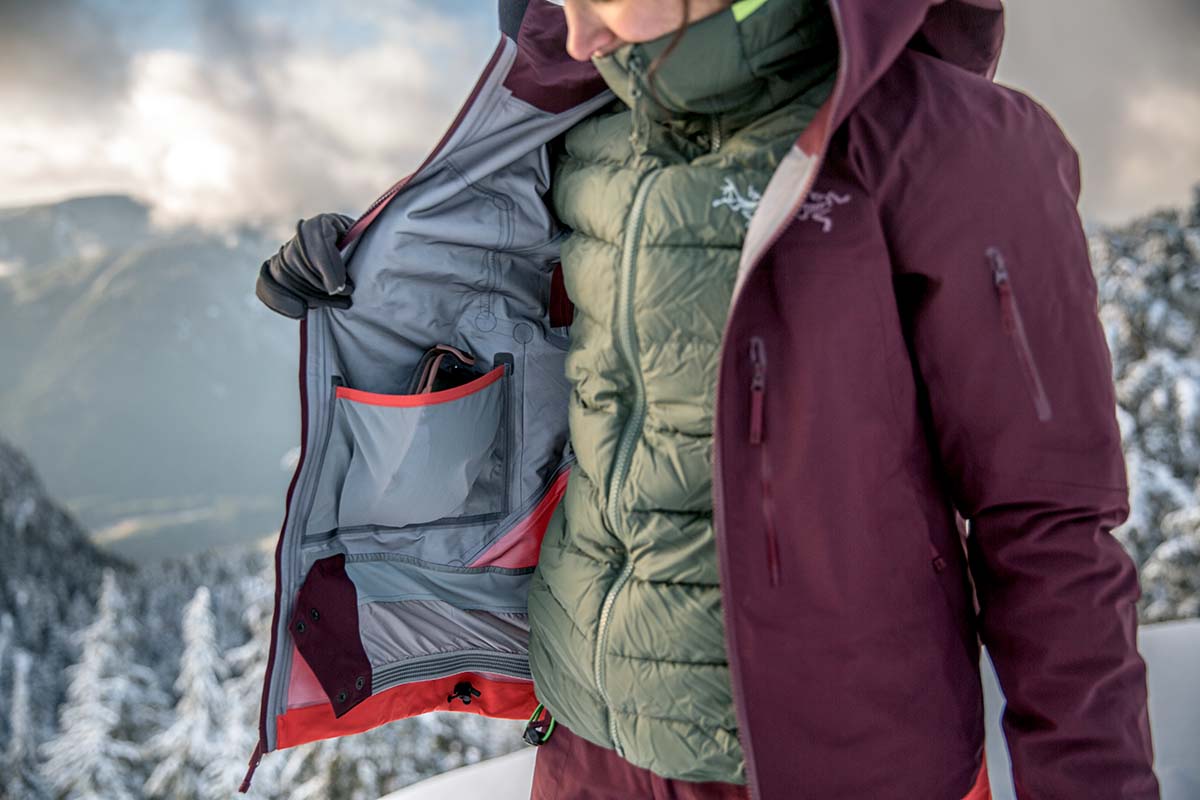 Length
At 29 inches (73.5 cm) down the back, the Arc'teryx Sentinel LT is the longest ski shell I've worn to date. For reference, I'm 5'8" and a size small falls about 2/3 of the way up my thigh with a bit more length around back. For comparison, both Arc'teryx's own Sentinel AR and Outdoor Research's Hemispheres are shorter at 28.5 inches (72.5 cm) and 27.75 inches (70 cm), respectively. For backcountry use, this added coverage can be helpful for sealing out snow, especially when taking falls or skiing in deep powder. It's also a plus when sitting on a frigid chairlift at the resort.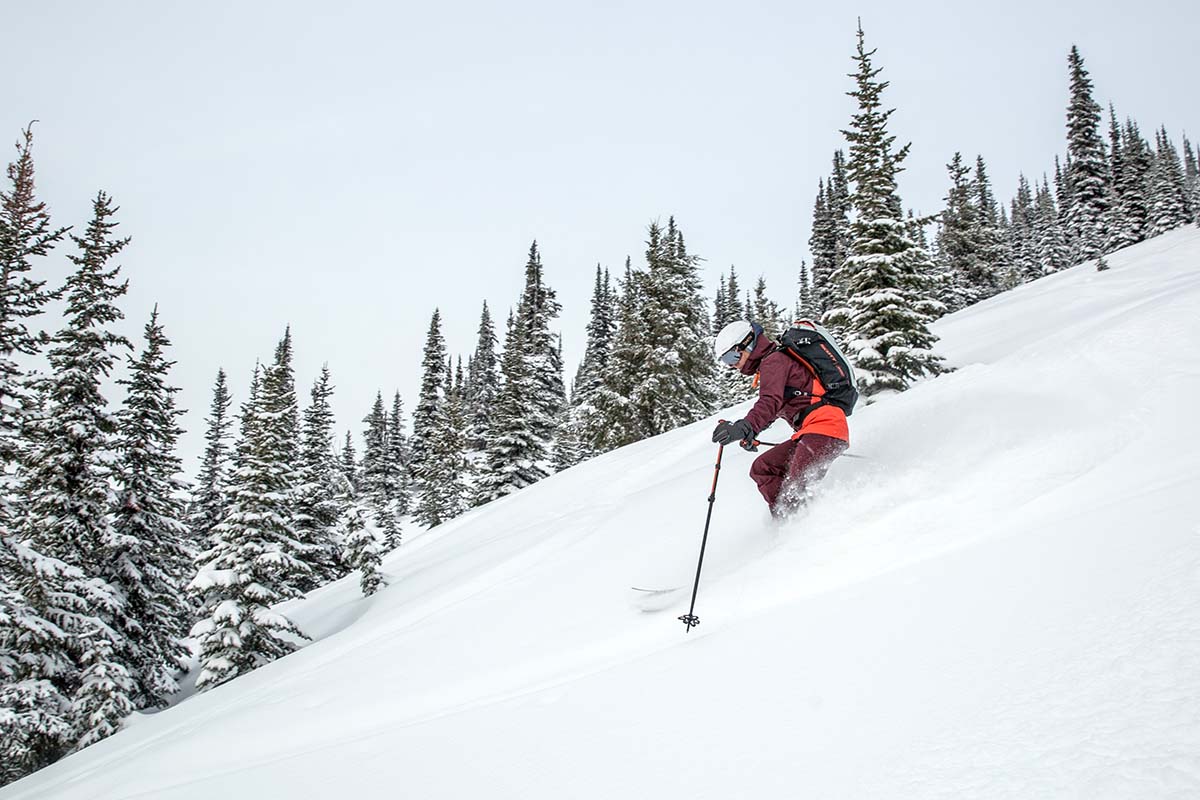 Weight and Packability
The Sentinel LT jacket clocks in at 1 pound 3.9 ounces, which is fairly heavy for the backcountry. To be fair, the jacket is packed with helpful features and still rolls and stuffs nicely into its own hood, but it's nevertheless a burly ski shell. Within the Sentinel family, the Sentinel AR ("all round") is heavier at 1 pound 4.8 ounces, although you get the addition of a thin flannel backer for added warmth and comfort. In the backcountry realm, both the Outdoor Research Hemispheres (1 lb. 1.8 oz.) and Patagonia PowSlayer (1 lb. 2.4 oz.) undercut the Sentinel LT, and you can go even lighter with a non-ski-specific shell such as Arc'teryx's own Alpha SV (15.5 oz.). But for resort days and outings when warmth and weather protection matter more, I don't mind shouldering the added weight of the Sentinel LT.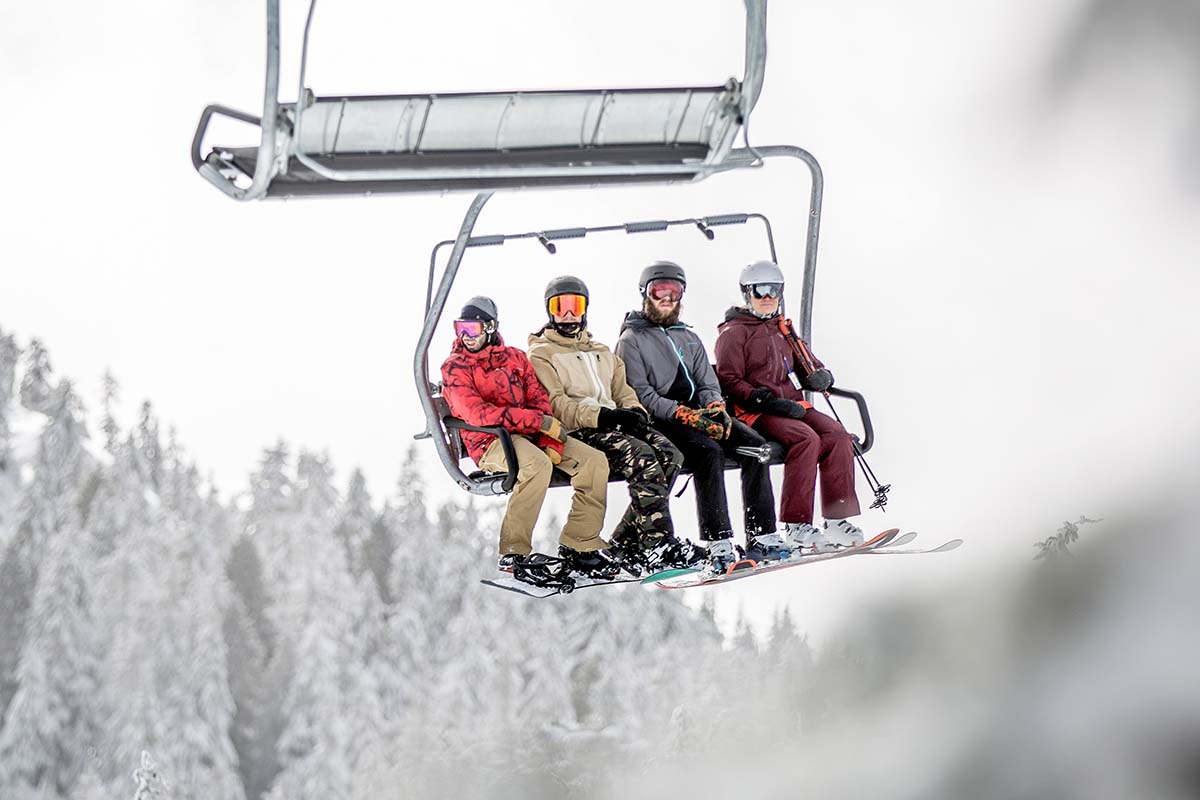 Fit and Sizing
I typically wear a small in most Arc'teryx jackets, and that size in the Sentinel LT felt very roomy at first. However, I soon realized that this was intentional to allow for layering underneath without restricting range of motion. My go-to midlayer is my Arc'teryx Thorium AR Hoody, which I'm able to pair under the Sentinel LT without feeling overly bulky or inhibited. Finally, as I mentioned above, the shell is fairly long at 29 inches (73.5 cm) down the back, which makes sitting in the snow or waiting on a cold chairlift a lot more bearable. I would even consider wearing the Sentinel LT for mountaineering expeditions, as the added length allows me to reach overhead easily without the jacket riding up.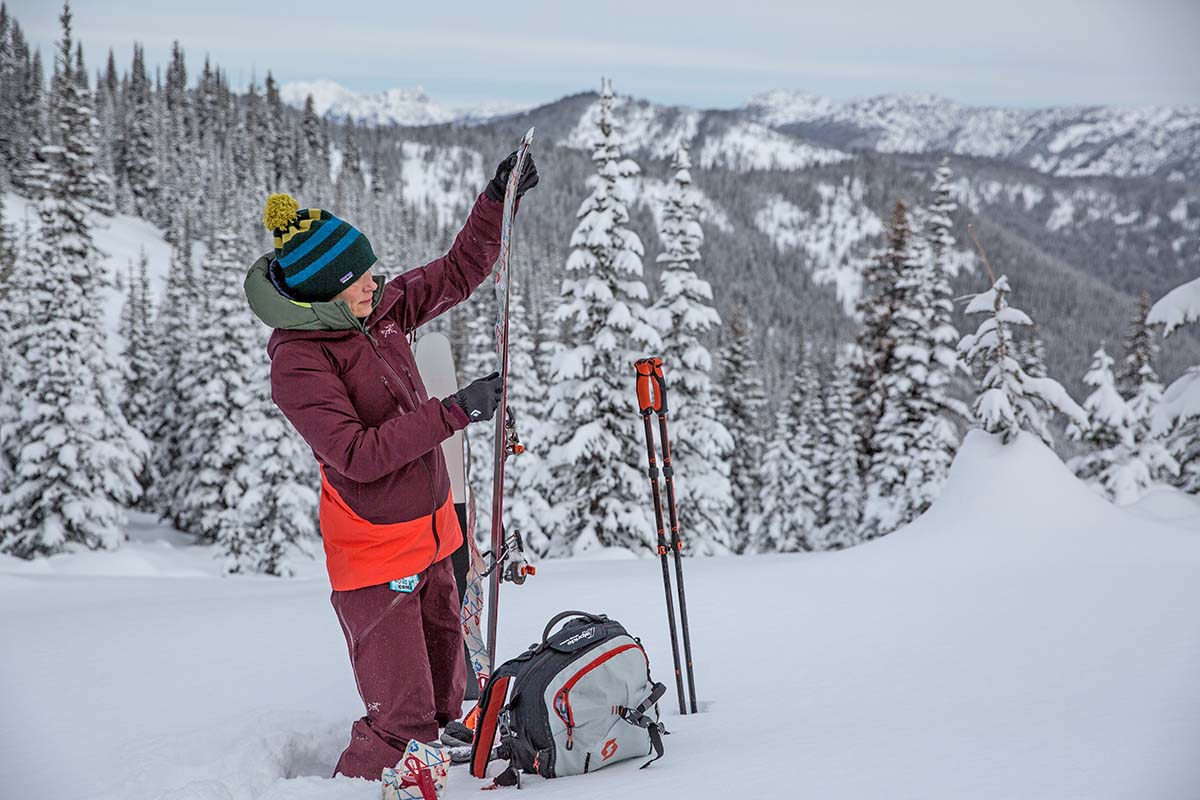 Men's Arc'teryx Sabre LT
The Sentinel LT is a women's-specific ski shell, but Arc'teryx also makes a men's version called the Sabre LT. Compared to the Sentinel, the Sabre LT costs the same at $699 but is heavier at 1 pound 7.3 ounces and offered in different colorways. Otherwise, the feature sets are nearly identical: the men's Sabre LT sports Arc'teryx's WaterTight zippers with RS sliders, an 80-denier, 3-layer Gore-Tex with C-Knit construction, an adjustable powder skirt, and a helmet-compatible StormHood. And just as we liked the length of the women's version for sealing out snow, the men's Sabre LT is long at 32.5 inches (83 cm).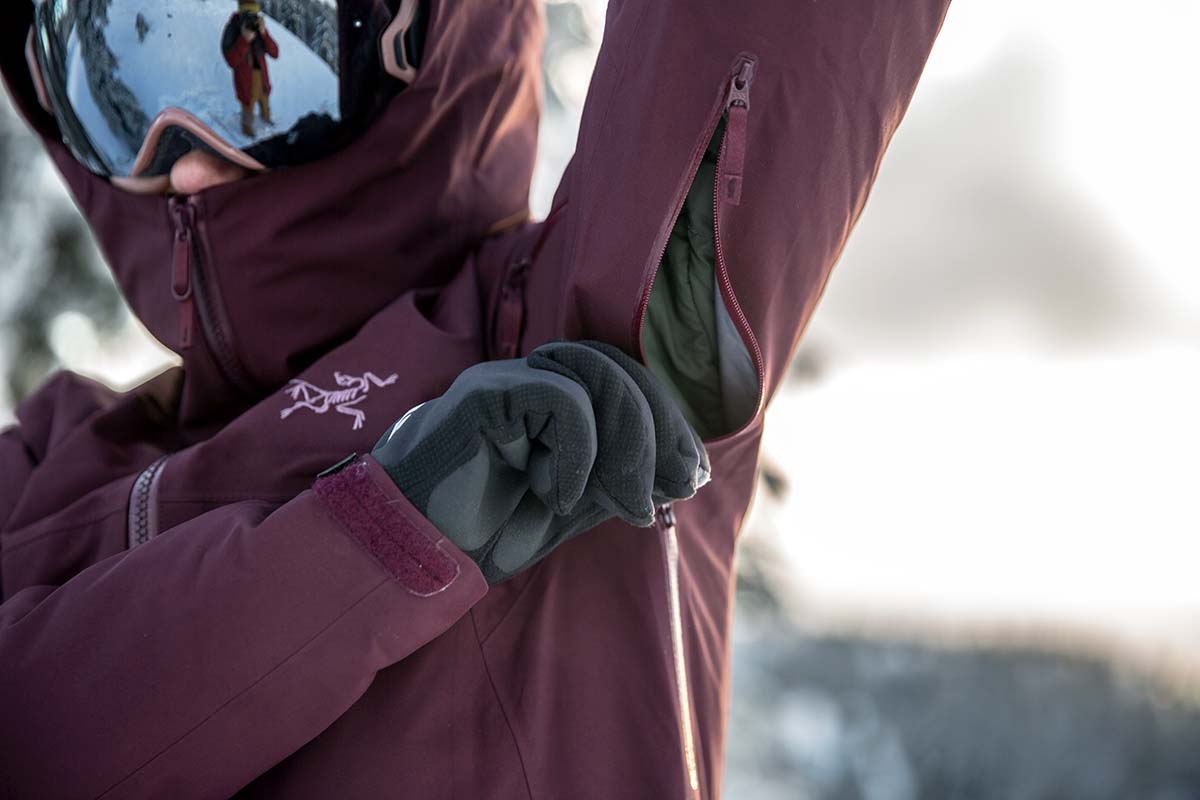 What We Like
At 29 inches (73.5 cm) down the back, the Sentinel LT is longer than much of its competition and very effective at sealing out snow.
Gore-Tex with C-Knit is impressively weatherproof without feeling crinkly or stiff.
Ample room for stowing the essentials.
Powder skirt stays put even when it's not attached to pants.
 
What We Don't
Fairly heavy for strictly backcountry use, although it makes a nice crossover piece for rough conditions
I found it difficult to adjust the hood drawcords while wearing bulky gloves.
I don't love the two-tone colorways of the women's Sentinel LT, although there is one solid version for 2020-2021 (Enigma).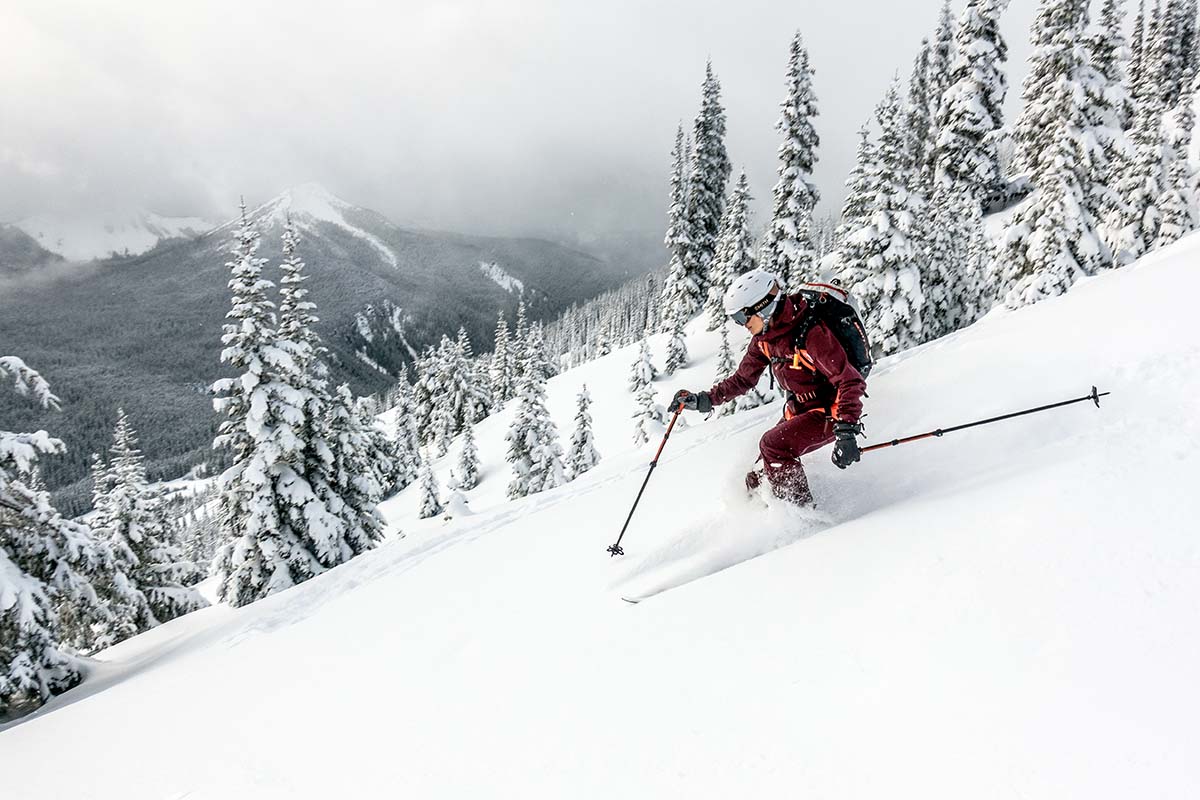 Comparison Table

The Competition
Arc'teryx's Sentinel LT Jacket is a premium ski shell that crosses over nicely between resort and backcountry use. Another versatile option in the same lineup is the Arc'teryx Sentinel AR ("all round"). The AR replaces the LT's C-Knit with a thin flannel backer, which provides a touch of warmth but adds about an ounce of weight. It's also shorter than the LT by half an inch, which translates to a bit less protection (although both are on the long end of the spectrum). Otherwise, the two designs are remarkably similar, including easy-to-use pit zips, helmet-compatible StormHoods, WaterTight zippers, powder skirts, and smartly-designed pockets (the AR has five compared to the LT's seven). Both are versatile ski jackets, but for $24 less and with only a small weight penalty, we prefer the AR.
Another backcountry option to consider is the Patagonia PowSlayer. At 1 pound 2.4 ounces, the PowSlayer undercuts the Sentinel LT by about 1.5 ounces but doesn't skimp on features. These include a helmet-compatible and adjustable hood, water-resistant zippers, pit zips, adjustable cuffs, a powder skirt, and a whopping eight total pockets (one more than the Sentinel LT). The PowSlayer's 3-layer Gore-Tex Pro construction also is a step up in protection and breathability from standard Gore-Tex, although the lack of a soft C-Knit backer makes it the less comfortable and more crinkly option of the two. The main downside of the Patagonia is the 40-denier fabric, which is noticeably less robust than the Arc'teryx's 80-denier shell. In choosing between the two, the Patagonia is better for dedicated backcountry use, while the Sentinel LT is the superior crossover choice for mixing in days at the resort.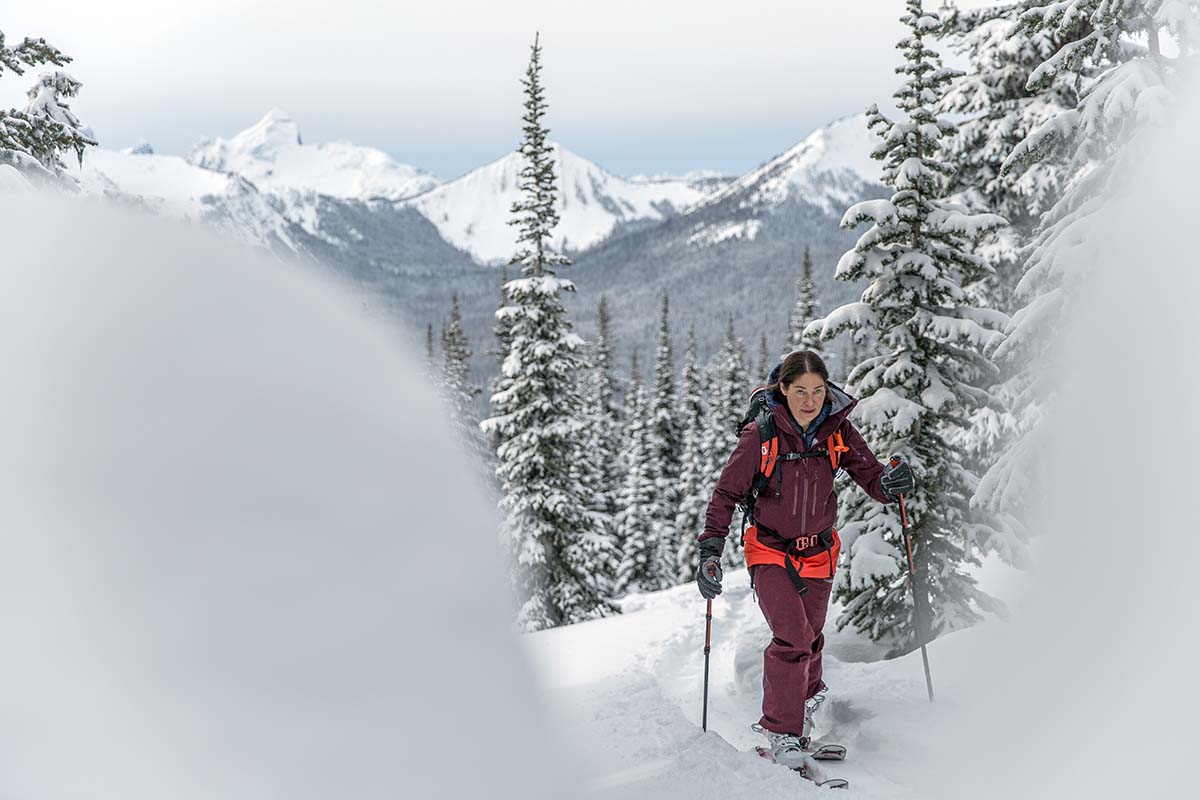 As I touched on above, Arc'teryx's own Alpha SV is a lighter-weight alternative to the Sentinel LT (it checks in at 15.5 oz.). What do you sacrifice by going with a non-ski-specific shell like the Alpha? First and foremost, it lacks features like a powder skirt and hand pockets (it replaces the latter with harness-friendly dual chest pockets), and it's noticeably shorter at 27.2 inches (69 cm) down the back. That said, you get a nearly impervious 3-layer Gore-Tex Pro construction (recently upgraded with Gore's Most Rugged technology), as well as a class-leading 100-denier shell thickness. You do pay a bigger premium for the Alpha SV at $799, but for alpine exploration and truly demanding backcountry pursuits, the levels of protection and durability are top-notch. 
Moving outside of Arc'teryx's collection, the Outdoor Research Hemispheres Jacket is another versatile piece for downhill and backcountry use. Like the Sentinel LT, the Hemispheres features a 3-layer Gore-Tex with C-Knit construction but adds in 2-layer Gore-Tex with Stretch Technology at the back of the shoulders, hood, and under the arms. In our testing of the Hemispheres, we found that this additional mobility gave the jacket a really nice boost in comfort when skinning, bootpacking, and transitioning. Otherwise, the Hemispheres includes a similar feature set including a helmet-compatible hood (although it can be tight with large helmets), weather-resistant zippers, and seven pockets (the same as the Sentinel LT). In the end, unless you want the Sentinel's added length, we think the stretchier Hemispheres is the slightly better all-rounder for $100 less.
Finally, at the same price point as the Sentinel LT is Norrøna's Lofoten Gore-Tex Pro Jacket. Like Arc'teryx, Norrøna is known for their attention to detail and overall quality, and the Lofoten is no exception. Importantly, you get all the trimmings for serious backcountry use, including a tall collar, adjustable hood, pit zips, ample storage, a zip-off powder skirt, and even a mesh-backed front zipper for releasing excess heat. You do sacrifice hand pockets (similar to the Alpha SV above), and the Lofoten is slightly heavier than the Sentinel at 1 pound 5.4 ounces, but those are fairly minor concerns and don't detract from the Lofoten's all-around appeal. The Sentinel is slightly more well-rounded, but you really can't go wrong with either premium shell.
If you're thinking about buying gear that we've reviewed on Switchback Travel, you can help support us in the process. Just click on any of the seller links above, and if you make a purchase, we receive a small percentage of the transaction. The cost of the product is the same to you but this helps us continue to test and write about outdoor gear. Thanks and we appreciate your support!
Depending on the seller, most products ship free in the United States on orders of $50 or more. International shipping availability and rates vary by seller. The pricing information on this page is updated hourly but we are not responsible for inaccuracies.