Outdoor Research Hemispheres
Price: $599
Weight: 1 lb. 4 oz. (men's large)
Waterproofing: 3L Gore-Tex w/ C-Knit & 2L Gore-Tex w/ Stretch
What we like: Excellent combination of protection, mobility, and comfort for long days in the backcountry.
What we don't: Not the most breathable construction and the hood feels restrictive over a ski helmet.
See the Men's OR Hemispheres  See the Women's OR Hemispheres
When it comes to choosing a shell, backcountry-goers often have to make the decision between range of movement and weather protection. However, the Outdoor Research Hemispheres Jacket aims to deftly balance both demands without making any major sacrifices. I set out to test the Hemispheres in and out of bounds in conditions ranging from deep powder to downpours and am happy to report that it lived up to the hype, especially when it came to mobility, waterproofing, and ventilation. Below we break down our experience with the Hemispheres. To see how it stacks up, see our article on the best ski jackets. To complete your kit, we've also tested and reviewed the OR Hemispheres Bib.
 
---
Table of Contents
---

Performance
Weather Protection
Thanks to a variable winter typical of the Pacific Northwest, I was able to put the Outdoor Research Hemispheres Jacket through heavy rain, wet snow, and lots of powder. As expected, the jacket's 3-layer Gore-Tex construction repelled precipitation with ease and did not wet out even during heavy snowfall. To add mobility, OR worked in sections of 2-layer Gore-Tex with Stretch Technology at the back of the shoulders, along the hood, and under the arms. I was initially concerned since some of these areas are notorious for accumulating snow, but I found that the more pliable material did an equally good job of sealing out wind and moisture. In fact, the shell felt just as bomber as my Arc'teryx Beta AR and Alpha SV jackets, which feature Gore's top-of-the-line Pro membrane.
On one particularly frigid and blustery day, I was stuck on a chairlift for upwards of 10 minutes. The large hood kept my face well-protected thanks to its high-cut collar and small opening that only left my goggles exposed. As far as the rest of the shell goes, the sleeves can be easily cinched with Velcro cuff closures (I wear these tight under my mittens on cold days and leave them loose over my gloves on warm days), and an elastic drawcord at the waist keeps snow and cold from creeping in. The jacket doesn't include a powder skirt, but the good seal at the waist and longer cut haven't led to any issues. In addition, the water-resistant zippers have protected my electronics and maps, and the main zipper's storm flap kept snow out even when it built up along the neck line.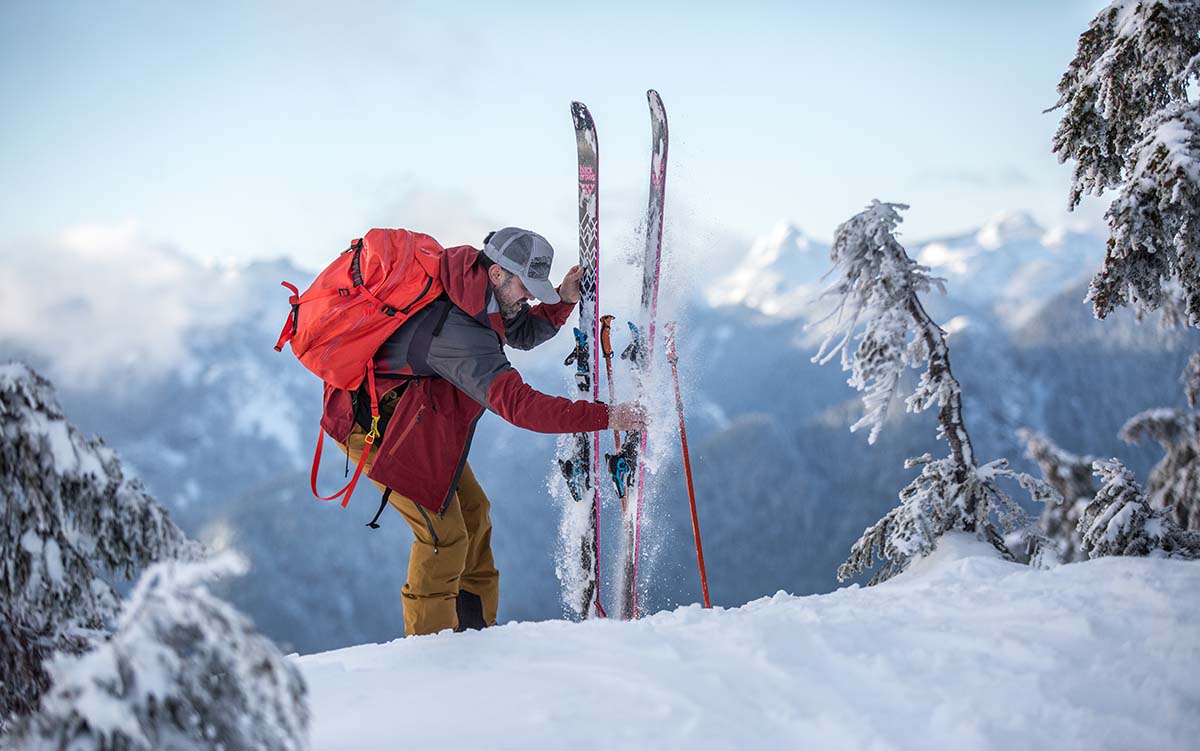 Breathability
When fully zipped, the Hemispheres doesn't offer much breathability, but that's to be expected with a Gore-Tex shell (plus, I'm prone to running warm). For this reason, I don't normally wear a hardshell when skinning unless the temperature is well below freezing or the wind is especially harsh. But for testing purposes, I've worn the Hemispheres with many midlayers including the Outdoor Research Ascendant Hoody, Mountain Hardwear Ghost Whisperer Down Jacket, and Patagonia Micro Puff Hoody—all of which caused me to overheat in a hurry. That said, once I stopped moving or sat down on a chairlift, I quickly became comfortable again.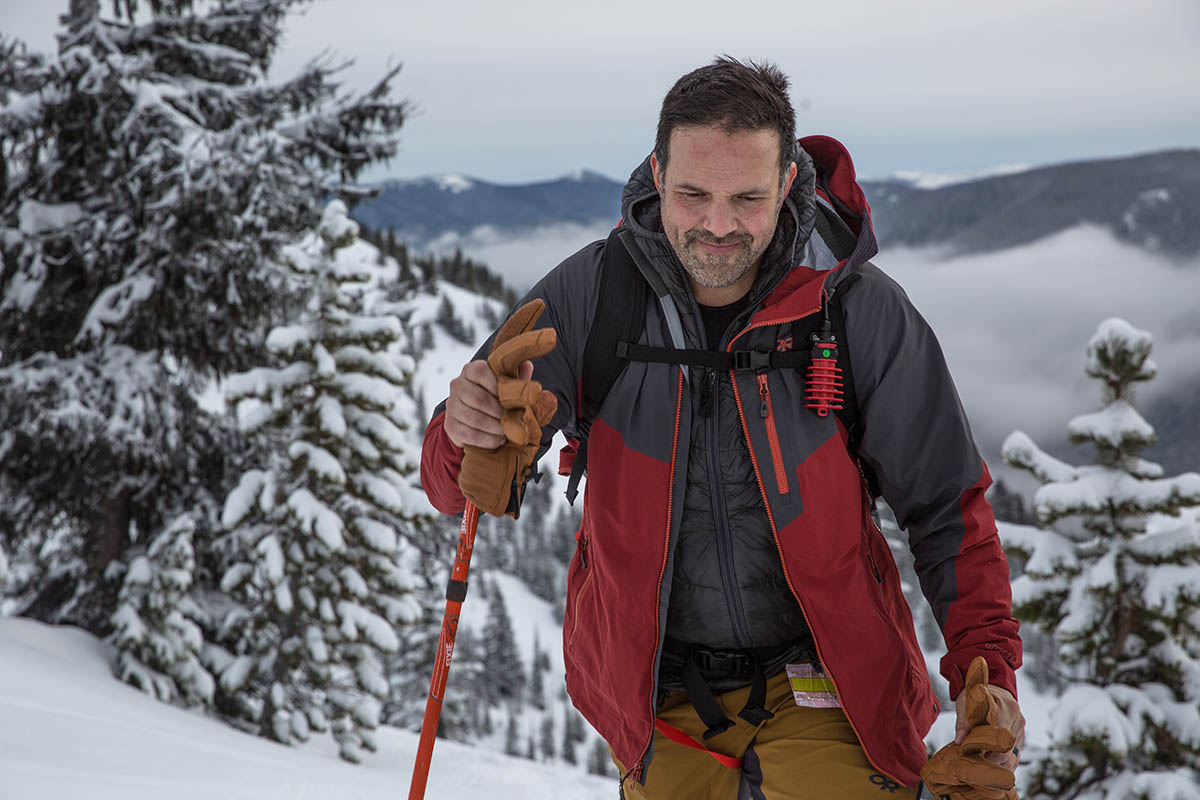 TorsoFlo Vents
To account for the lack of breathability in the fabrics, Outdoor Research outfitted the Hemispheres with a unique poncho-style venting system called TorsoFlo. These two-way zippered vents—which are also found on OR's own Skyward II Jacket—run 15 inches from the hem to the armpit. When unzipped from the bottom up, the jacket flaps open allowing significant airflow. Combined with an open front zipper, I've been surprised at how comfortable the shell is, even on high-output climbs. In addition, it's easy to adjust the vents depending on the weather and my activity level—for example, if I'm hot but it's snowing, I keep the main zipper closed for protection but the side zips slightly open to allow airflow. The only downside is that the venting takes some getting used to and looks a bit messy and cape-like when wide-open, but the system is incredibly functional for dumping heat quickly.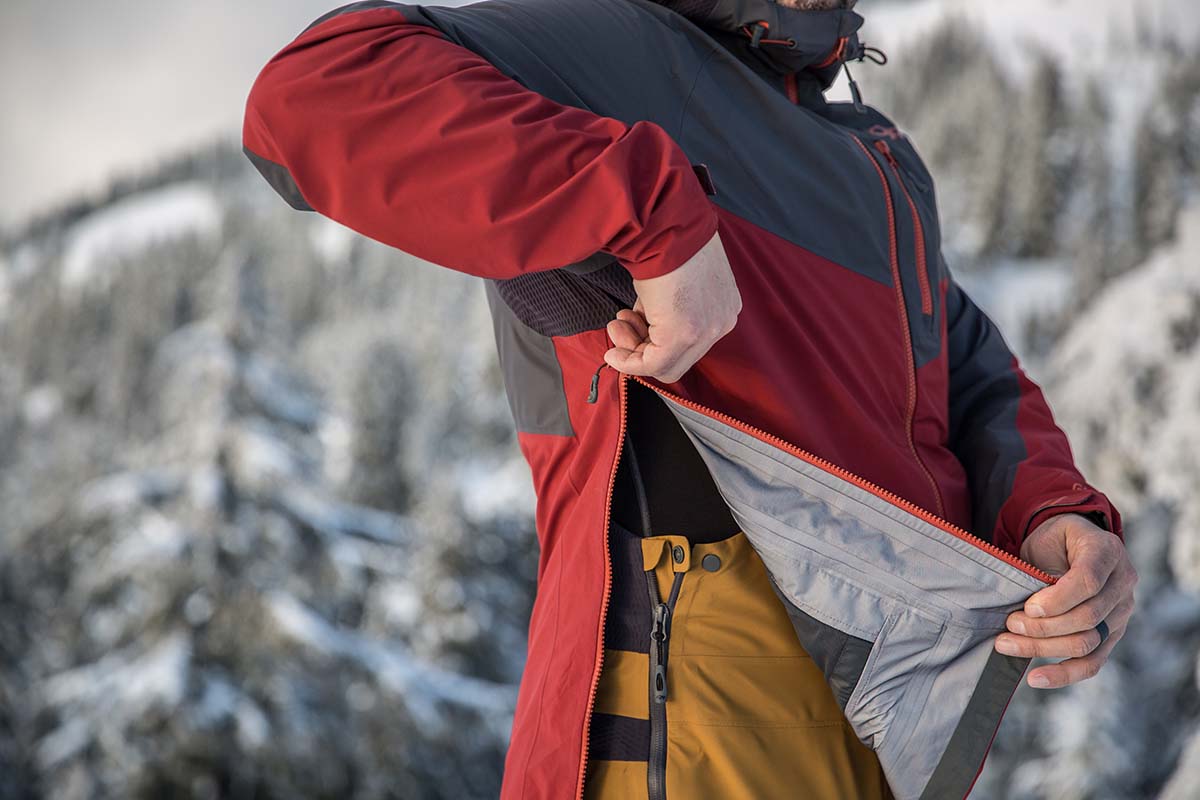 Comfort
As far as comfort goes, I barely noticed I was even wearing the Hemispheres most of the time. This is largely due to the soft-touch C-Knit lining and stretch construction, but the Hemispheres Jacket incorporates smaller details that help, too. For example, the double-separating front zipper effectively keeps the jacket out of the way—it can be unzipped from the bottom, which I found very useful while wearing a harness or whenever I wanted to sit down. This prevented it from bunching up and tightening around my waist, which is a common problem I've found with other hardshells. All things considered, given that Gore-Tex jackets are usually rigid and crinkly, I consider the Hemispheres Jacket one of the most comfortable shells I've owned to date.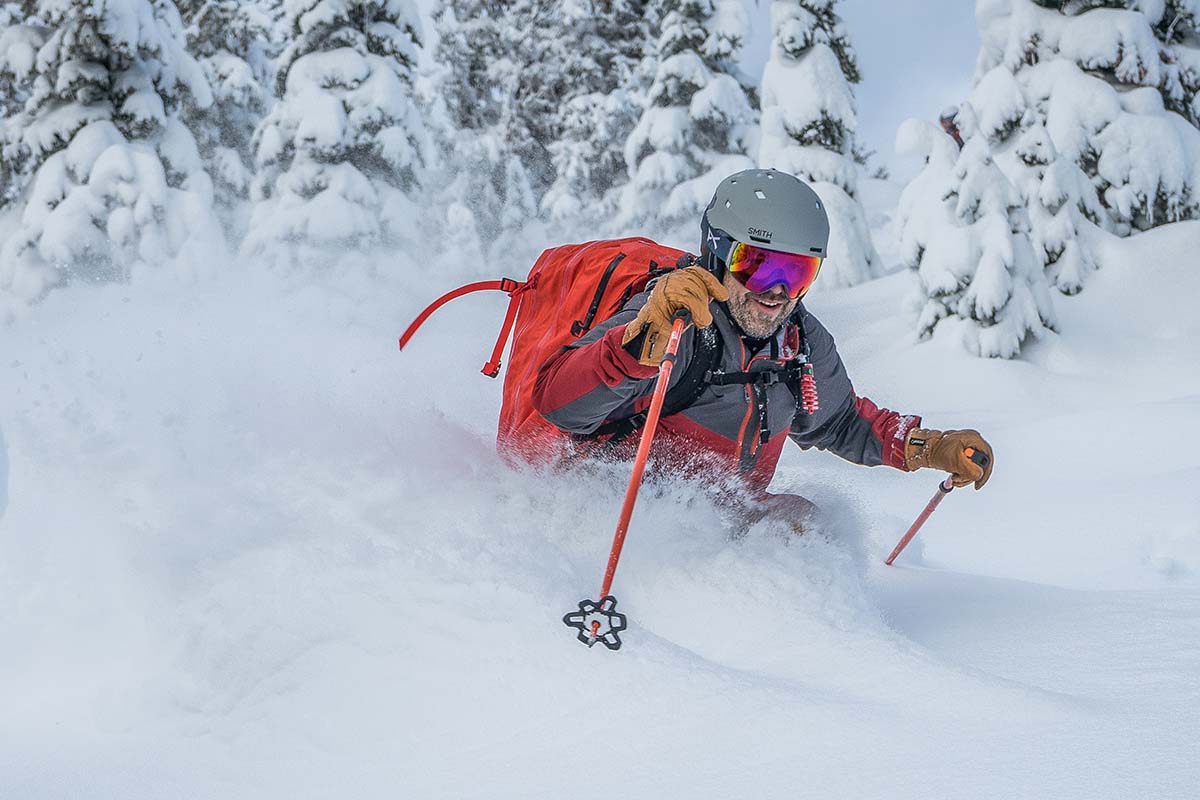 Build Quality and Durability
With a 70-denier face fabric and 3-layer construction, the Outdoor Research Hemispheres has all the ingredients you'd expect in a hardwearing, premium jacket. And it's lived up to its billing: the shell has encountered everything from harsh winter conditions and dodging tree branches to being crammed in the bottom of my avalanche pack with a shovel and crampons. Through it all, the Hemispheres has not shown any noticeable signs of wear. Additionally, the thinner stretchy panels (OR says they're approximately 50 denier) have retained their weatherproofing despite being located in high-wear areas where snow tends to accumulate.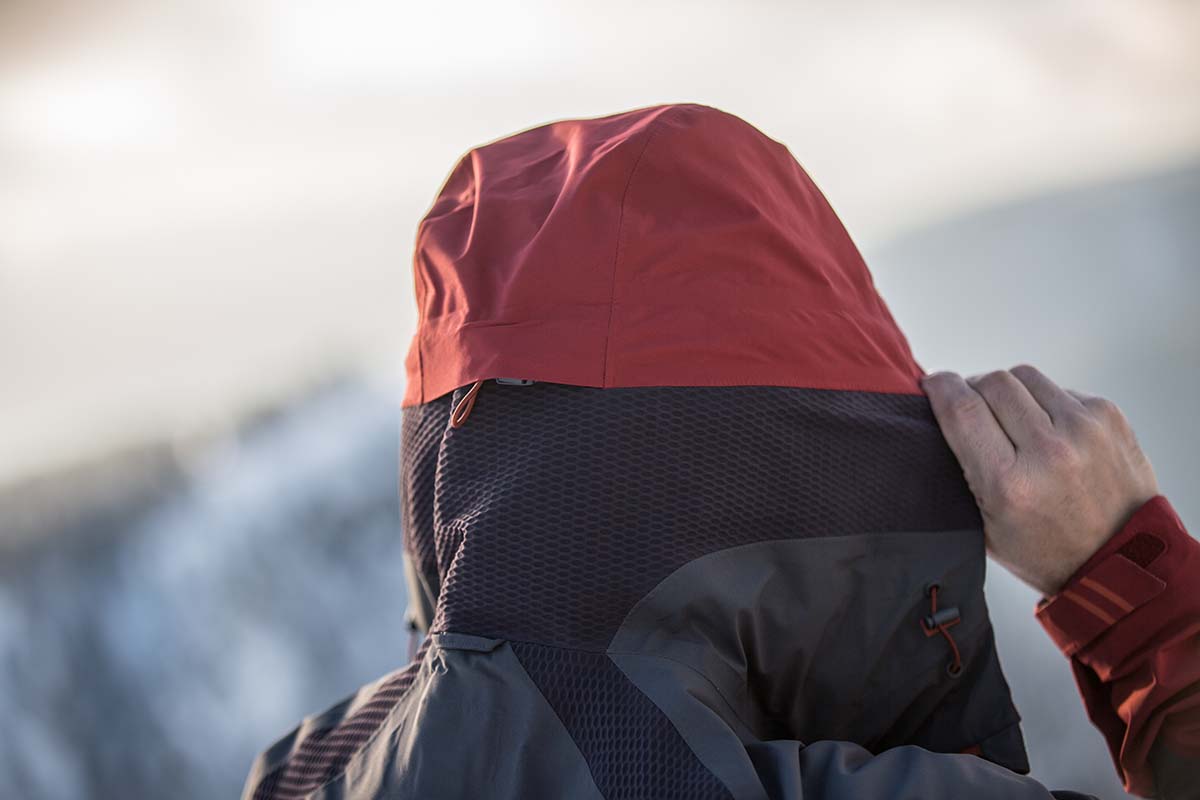 Weight and Packability
At 1 pound 4 ounces for a men's large, the Hemispheres Jacket is on the lighter end of the ski jacket spectrum, but not by much. Compared to other popular shells like the Arc'teryx Sabre AR (1 lb. 8.7 oz.), Patagonia PowSlayer (1 lb. 3.3 oz.), and Outdoor Research Skyward II Jacket (1 lb. 9.5 oz.), the Hemispheres isn't a standout in the weight department. Further, it falls well short of premium backcountry hardshells like the Arc'teryx Beta AR (1 lb.) and Alpha SV (1 lb. 2 oz.). However, the Hemispheres does roll up nicely into its own hood and cinches to maintain its compact size. Ounce counters will probably want to look elsewhere, but we think the tradeoff in comfort and protection is worth the small sacrifice in weight.

Key Features
Hood
Although the Hemispheres Jacket's hood is helmet-compatible, it initially felt slightly restrictive in the neck and over my helmet. That said, the stretch fabric did allow mobility once I began turning my head. When I wasn't wearing a helmet, the wire brim kept the hood from sagging and effectively prevented water from dripping onto my face, and the hood snugged down nicely to fit very comfortably over a hat. My biggest complaint is that the three-way adjustable cord locks (one on each side of the hood and one on the back) proved difficult to tighten and loosen, especially with gloves on.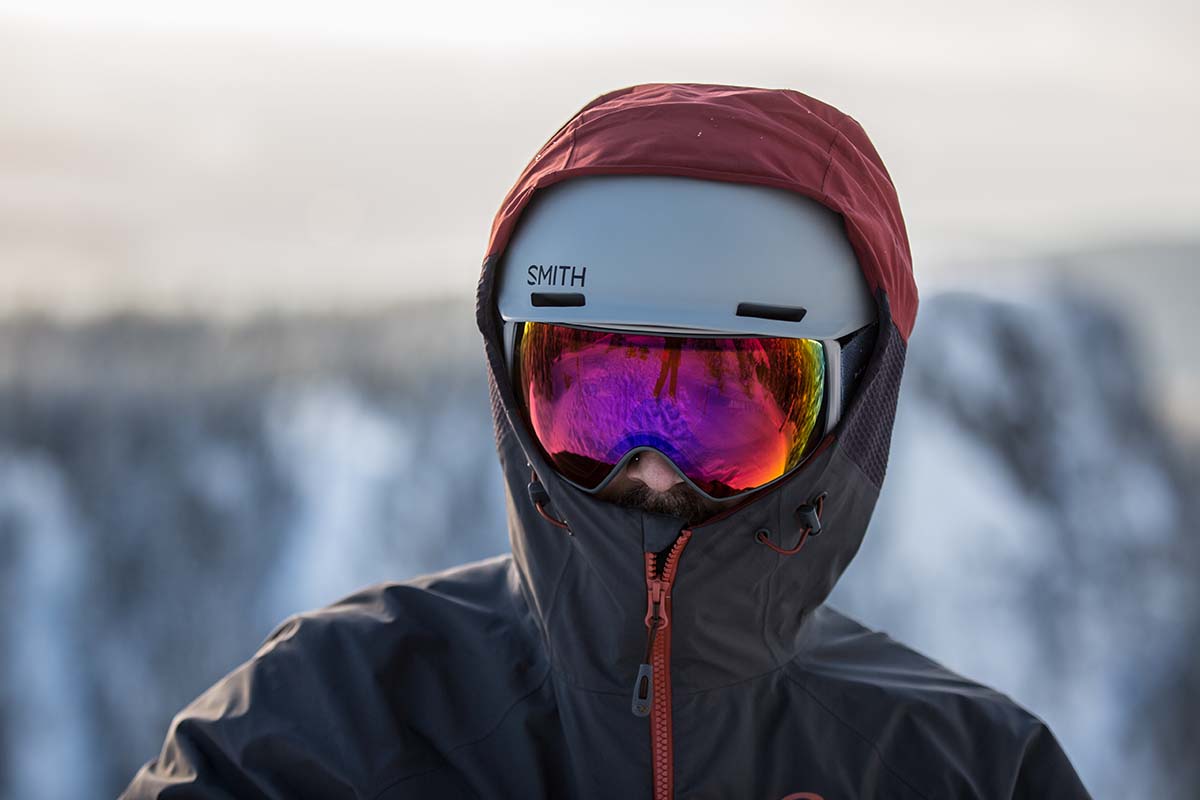 Storage: Pockets
The OR Hemispheres Jacket features a generous seven pockets that offered ample storage options. On the exterior, two large hand pockets easily swallow gloved hands or a hat, but are unfortunately slightly too small for a set of skins. Outdoor Research also advertises that these pockets fall above a pack's hipbelt or harness, but I found that they rode a bit too low on me—I had to unbuckle my pack's belt in order to access their contents. Lastly, a large chest pocket fits a phone or beacon, but it's hard to stuff anything much larger (like a folded map, for example) through the small zippered opening.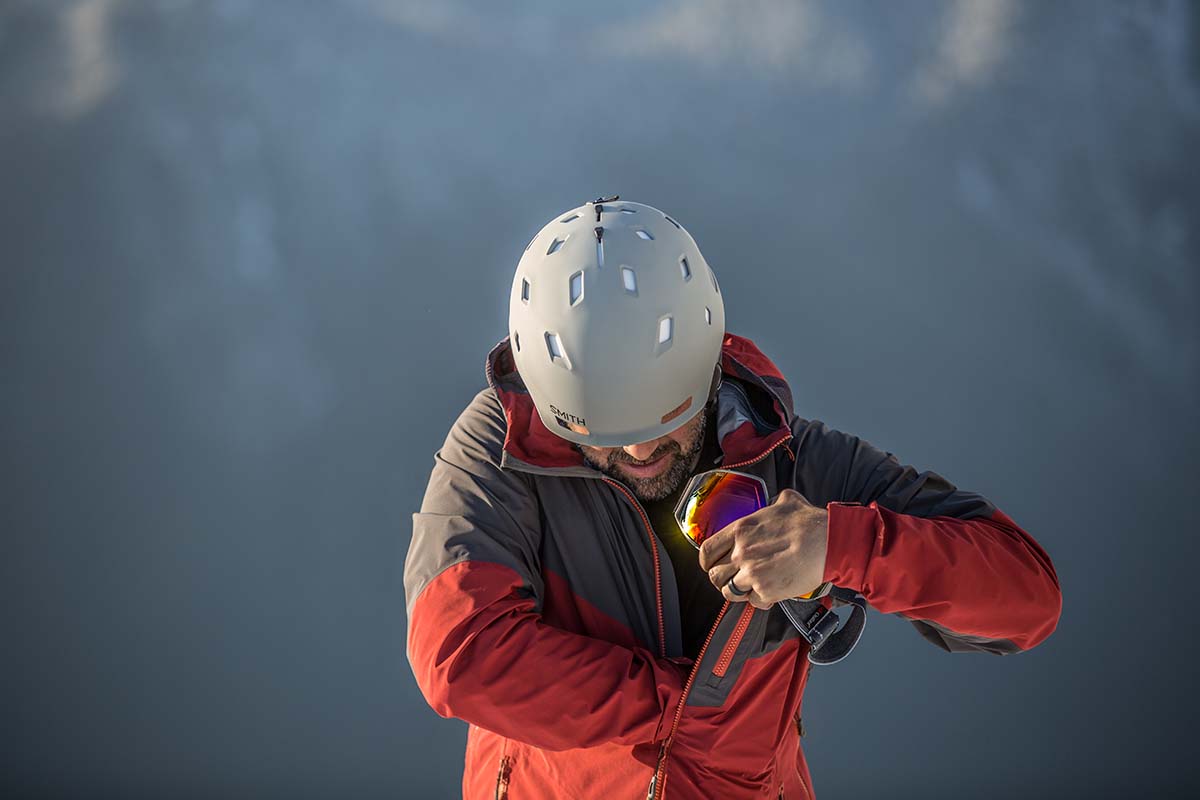 On the inside, the Hemispheres has an internal media pocket, two mesh drop-in pockets, and another chest pocket opposite the outer one. The small media pocket includes a tiny opening for headphone cords, and I found it was a great place for a ski pass or credit card but too small for my iPhone. The internal chest pocket is a good spot to store a GPS device, radio, or other electronics, while the drop-in pockets worked well for stowing goggles and skins. As touched on previously, I tend to run warm, so I would often ditch my gloves first and shove them in these mesh pockets, as well. With all this organization, I didn't have any trouble finding a dedicated spot for every piece of gear that I would need to access later.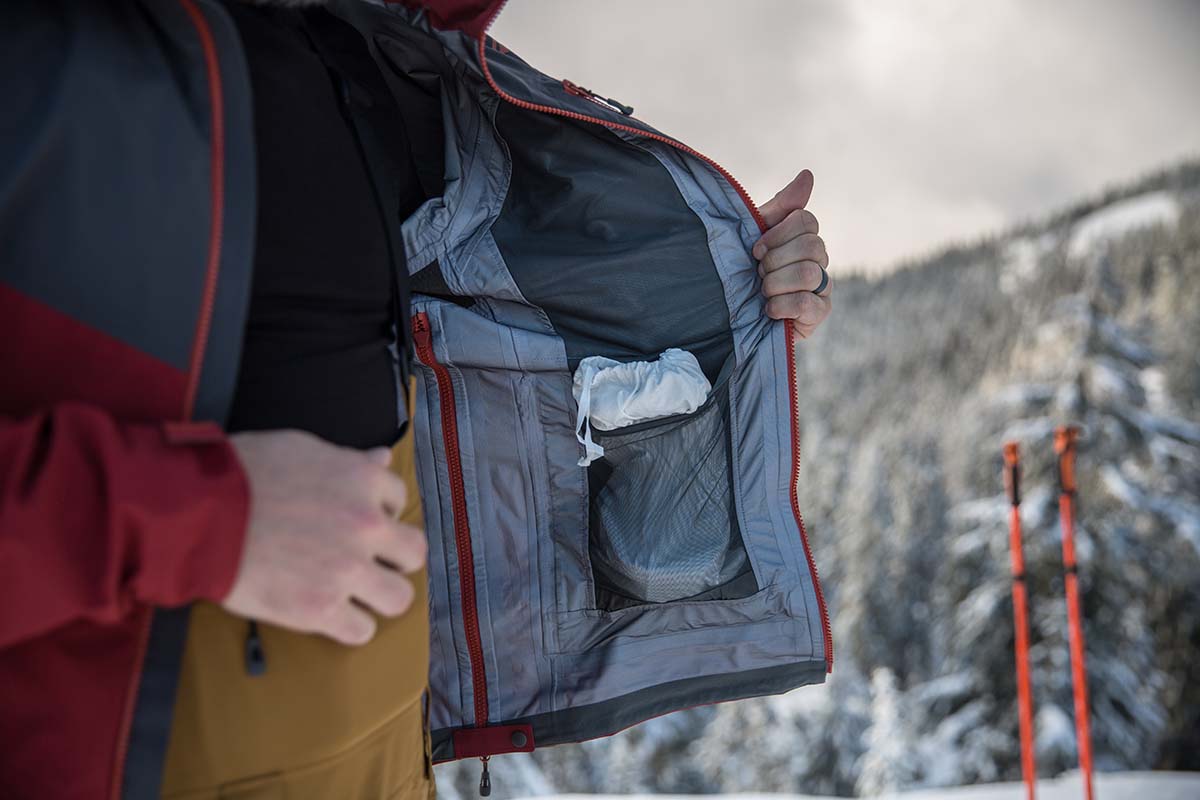 Fit and Sizing
A large size in the Hemispheres Jacket fit me well overall, but I found the shoulders and waist were a bit narrow. However, this was also the case with my Ascendant and Ferrosi hoodies, so I chalk this up to my body type not being an ideal shape for OR gear. As far as the rest of the Hemispheres goes, the arms and pit areas are a little baggier to accommodate layers and allow for increased mobility, which was helpful as I added and removed my midlayer depending on the conditions. The elastic sections similarly allowed plenty of flexibility as I transitioned, dug data pits to evaluate snowpack, and retrieved gear from my car's roof box. I also found the Hemispheres' length (32.75 in.) was ideal for me: it kept snow from creeping under the jacket and prevented the shell from riding up when I was wearing a pack.

Other Versions of the Outdoor Research Hemispheres
We tested the men's Hemispheres Jacket for this review, but it also comes in a women's version for the same price. The women's Hemispheres (size medium) tips the scale at 1 pound 1.8 ounces and is available in different colorways, but otherwise sports the same hybrid Gore-Tex construction, hem-to-bicep vents, and feature set. In addition, to complete the kit, both the men's and women's jackets pair with the Hemispheres Bib (see our in-depth review), which similarly impressed us with its weather protection and range of movement on the slopes.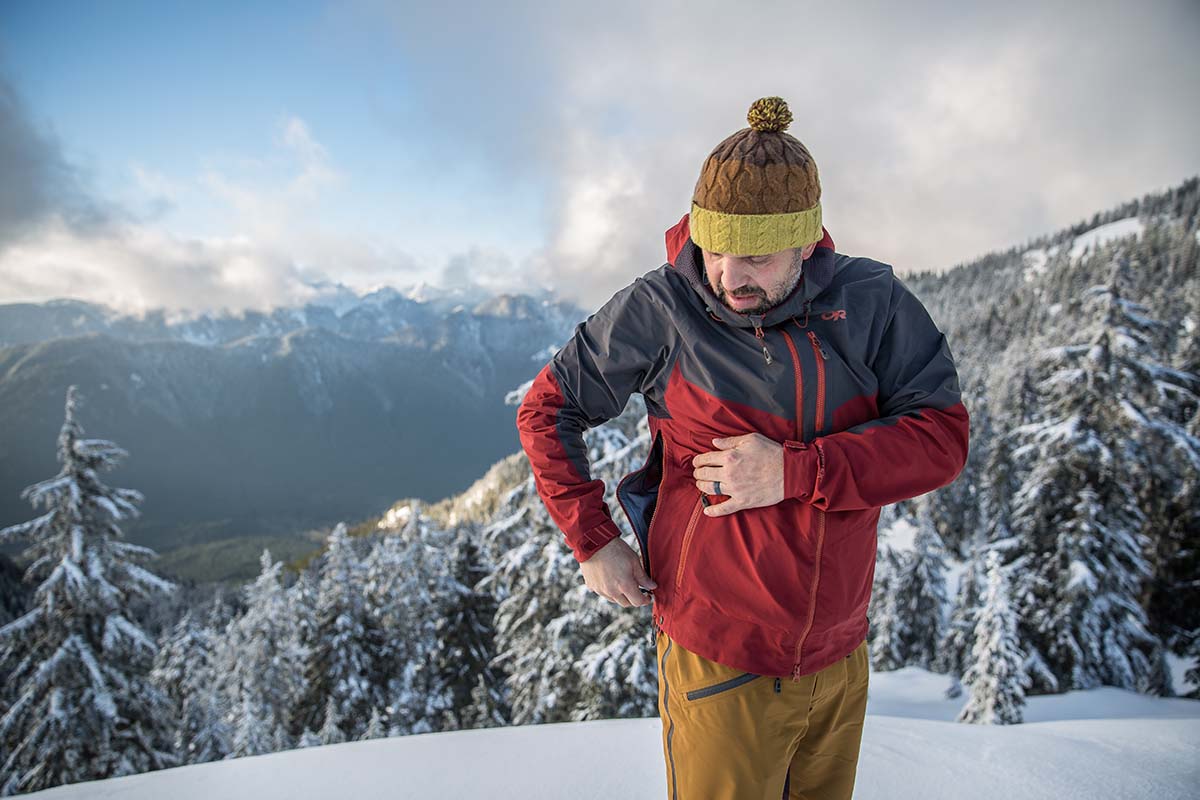 What We Like
The Hemispheres Jacket, just like the corresponding Bib, offers impressive freedom of motion and excellent weather protection.
Although it takes some getting used to, the TorsoFlo venting system is a very effective way to dump heat quickly.
One of the most comfortable Gore-Tex shells I've ever worn.
With seven pockets, the Hemispheres has ample storage for critical gear.

What We Don't
Although the Hemispheres has a unique and functional venting system, the 3-layer Gore-Tex construction still caused me to overheat on high-output days.
The hood could use a little more stretch to fit more comfortably over helmets, and the cord lock system is hard to use with gloves on.
As with some other OR jackets I've worn, the Hemispheres was a bit narrow in the shoulders and waist for me.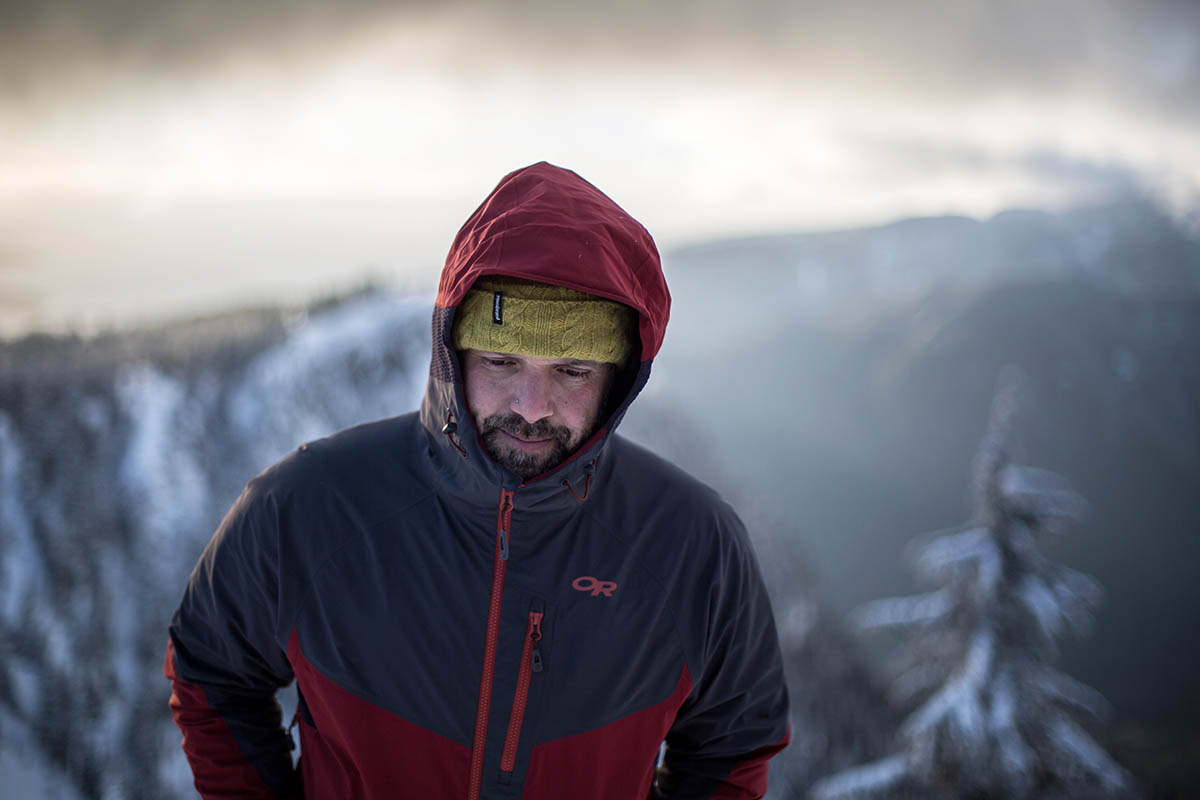 Comparison Table
| Jacket | Price | Type | Best For | Waterproofing | Weight |
| --- | --- | --- | --- | --- | --- |
| OR Hemispheres | $599 | Hardshell | Backcountry/resort | 3L & 2L Gore-Tex w/Stretch | 1 lb. 4 oz. |
| OR Skyward II | $350 | Hard/softshell | Backcountry/resort | 3L AscentShell | 1 lb. 9.5 oz. |
| Patagonia PowSlayer | $699 | Hardshell | Backcountry | 3L Gore-Tex Pro | 1 lb. 3.3 oz. |
| Arc'teryx Sabre AR | $675 | Hardshell | Backcountry/resort | 3L Gore-Tex | 1 lb. 8.7 oz. |
| Norrøna Lofoten GTX Pro | $699 | Hardshelll | Backcountry/resort | 3L Gore-Tex Pro | 1 lb. 8.6 oz. |
| Strafe Pyramid | $599 | Hard/softshell | Backcountry/resort | 3L Recon Elite | 1 lb. 11.7 oz. |

The Competition
The Hemispheres Jacket nicely balances range of motion, breathability, and weather protection—three crucial considerations for backcountry skiers. Outdoor Research also offers a more budget-friendly ski jacket with similar priorities: the Skyward II, which comes in at a significant $249 cheaper. Like the Hemispheres, the Skyward II provides impressive range of movement (it uses OR's proprietary AscentShell construction), is fully waterproof, has ample storage, and features the same hem-to-bicep side zips for ventilation. However, the in-house fabric lacks the same bombproof feel of Gore-Tex, and the stretchy paneling on the Hemispheres makes a big difference for mobility-dependent activities like transitioning. All in all, the Skyward II is a great, less expensive alternative but is more backcountry-specific than the versatile Hemispheres.
At the premium end of the spectrum, Patagonia's PowSlayer is a proven and well-made design. With a helmet-compatible hood, generously sized pit zips, an adjustable powder skirt, and eight pockets, the PowSlayer is a fully featured yet lightweight backcountry companion. However, the Patagonia jacket uses 3-layer Gore-Tex Pro, which offers improved durability (relative to its thickness) and breathability but sacrifices some range of motion compared to the stretchy build of the Hemispheres. In the end, we give the nod to the Hemispheres for its superior mobility and venting system (not to mention, it's the better value at $599 compared to the PowSlayer's $699 price tag).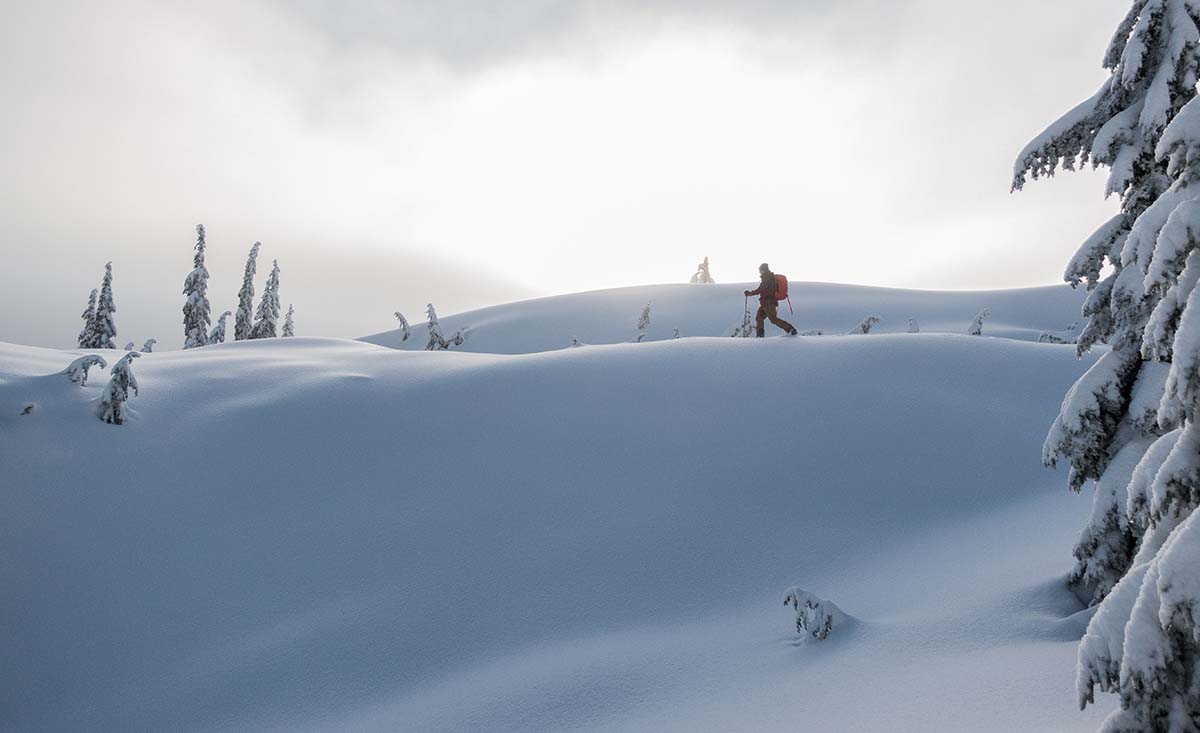 Arc'teryx Sabre AR is our top-rated ski jacket this year and another versatile resort and backcountry shell. Its Gore-Tex construction is a step down from the PowSlayer's Gore-Tex Pro, but the Sabre doesn't skimp on helpful features: it has a best-in-class helmet-compatible hood, decently sized pit zips (although not as long as those on the Hemispheres), and a powder skirt. For added comfort and light insulation, Arc'teryx also used a soft fleece backer on the Sabre (opting for the LT version for $24 more will get you the same C-Knit as the Hemispheres). All things considered, the Sabre is an undoubtedly well-rounded jacket, but those that spend more time touring than at the resort will be better served by the Hemispheres with its lighter weight, bigger vents, and stretchy paneling.
For the utmost protection in rough conditions, it's worth considering an upgraded design like Norrøna's Lofoten Gore-Tex Pro. Like the PowSlayer above, the Lofoten uses Gore's top-end waterproofing but is the more specialized design with minimal storage—on the outside, you chest and sleeve pockets but no handwarmer pockets—and a mesh-backed front zipper to dump heat when you're working up a sweat (in addition to pit zips). The Lofoten is heavier than the OR at 1 pound 8.6 ounces and pricier at $699, but it checks all the boxes for serious alpine adventures. If you don't need the added weatherproofing or prefer more storage, the Hemispheres is slightly less protective but will save you some cash.
Last but not least is Strafe's Pyramid, which costs the same as the Hemispheres at $599. Like the OR Skyward, the Pyramid is a hybrid design that nicely combines the protection of a hardshell with the mobility and comfort of a softshell. For waterproofing, Strafe uses an in-house 3-layer build with four-way stretch, which offers excellent breathability but lacks the confidence-inspiring feel of the OR's Gore-Tex design. In addition, the Strafe is heavier than the Hemispheres at 1 pound 11.7 ounces, and we prefer the TorsoFlo venting on the OR for dumping heat (the Strafe's pit zips are noticeably smaller). If you live in an area with more mild conditions and prioritize breathability and stretchiness, however, the Pyramid has a lot going for it.
If you're thinking about buying gear that we've reviewed on Switchback Travel, you can help support us in the process. Just click on any of the seller links above, and if you make a purchase, we receive a small percentage of the transaction. The cost of the product is the same to you but this helps us continue to test and write about outdoor gear. Thanks and we appreciate your support!
Depending on the seller, most products ship free in the United States on orders of $50 or more. International shipping availability and rates vary by seller. The pricing information on this page is updated hourly but we are not responsible for inaccuracies.
Learn More About Ski Gear