Smith Vantage MIPS
Price: $270
Construction: Hybrid in-mold
Weight: 1 lb. 1.6 oz. (women's)
Ventilation: Adjustable (21 vents)
What we like: The Vantage puts it all together: comfort, performance, safety, and looks.
What we don't: Very pricey.
See the Women's Smith Vantage  See the Men's Smith Vantage
Smith is a leader in the ski helmet market, and their Vantage MIPS is a favorite among serious downhill and alpine touring riders. This lid seemingly has it all: comfort, performance, safety, and good looks to boot. Given its impressive résumé, we were eager to put the helmet to the test in the Pacific Northwest backcountry, where it faced high winds and long, cold days. Following a full season of use, the Vantage lived up to its billing with a thoughtful feature set, cozy feel, and general ease of use. Below we detail our test of the Smith Vantage MIPS. To see how it stacks up to the competition, see our article on the best ski helmets.
 
---
Table of Contents
---

Performance
Comfort
When I put on the Smith Vantage MIPS for the first time, I was immediately impressed by its comfort. The soft but supportive liner fits snugly and comfortably even when tightly adjusted on my head, and I've had no pressure points or rubbing since day one. The chin strap contains the same plush padding, which translates to no irritation even when my skin is cold and dry. The strap is also very simple to tighten, loosen, and fasten. That might not sound like high praise, but I've had significant issues with other helmets. For example, my Giro Sheer always seems to have a twisted chin strap, leaving the soft guard flipped away from my face and the harsh material against my skin. I look forward to putting on the Vantage whenever I'm transitioning—perhaps the greatest compliment a backcountry helmet can receive.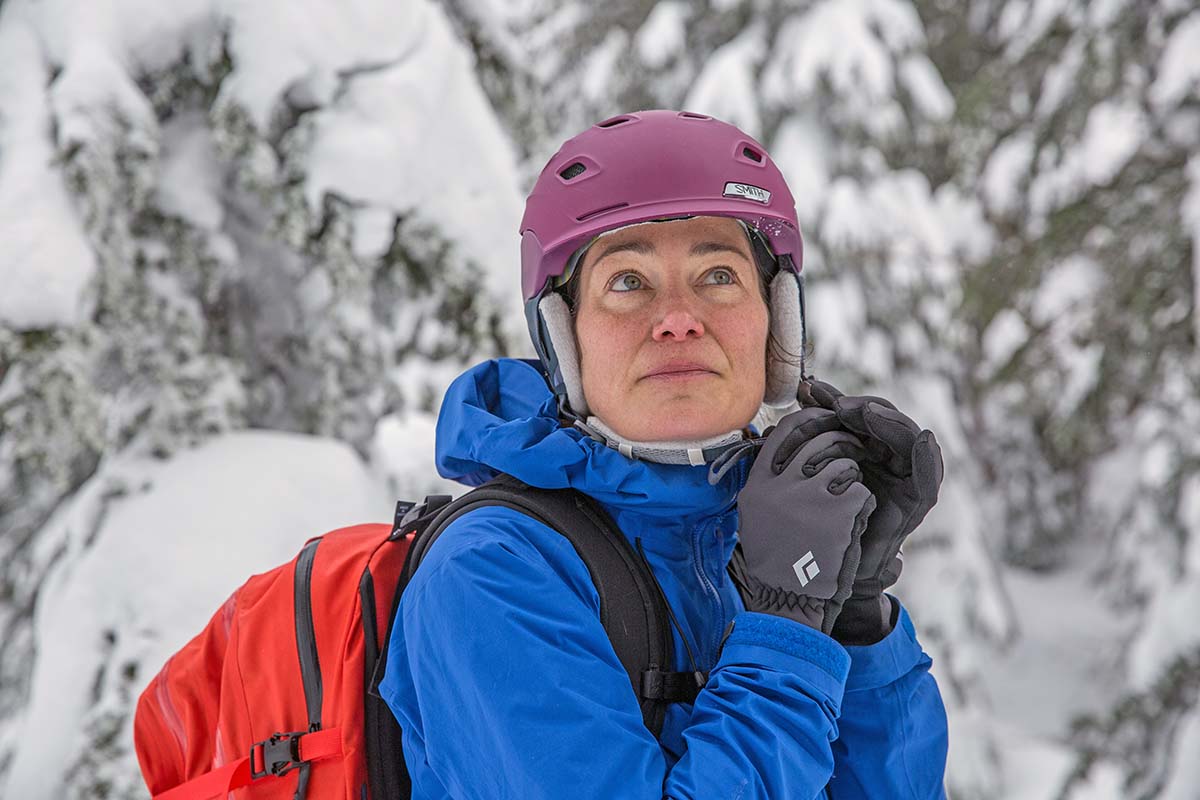 Ventilation
The Vantage features 21 vents—far more than most other helmets on the market. For example, competitors like the Oakley Mod 5 (eight vents), Smith Liberty/Level (20 smaller vents), and Giro Stellar/Range MIPS (13 vents) fall short compared to the Vantage. Importantly, the openings are generously sized and easy to customize: the Vantage has two separate sliders to easily open and close more than half of the vents. Even with ski gloves on, I found it very simple to adjust both sliders—one controls four vents on the top and front of the helmet, and the other controls eight along the sides and back. All in all, thanks to both the plush lining and exceptional ventilation, the helmet is a standout in its ability to balance comfort and capability for frontside and backcountry use.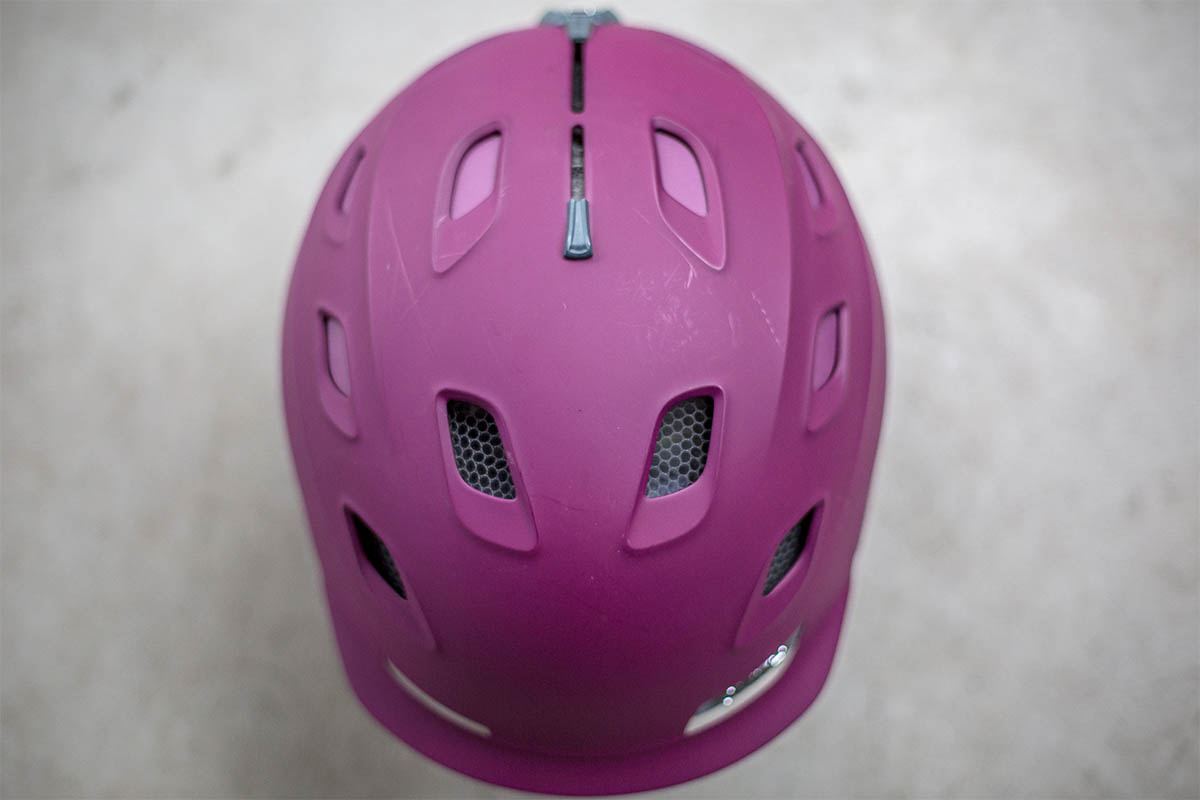 Warmth
Despite the ability to quickly dump heat, I found the helmet was just as warm as far-less-ventilated designs. When closed, no drafts crept through and the Vantage kept my head cozy and warm throughout the season. However, I should note that I do tend to don the hood of my Gore-Tex hardshell jacket whenever it's particularly blustery, so that may be responsible for blocking some of the wind. And for those that prefer extra insulation, I found there was enough room to squeeze a thin beanie or balaclava underneath the helmet if needed (this is dependent on where you land on the fit range), although I haven't had to resort to that just yet.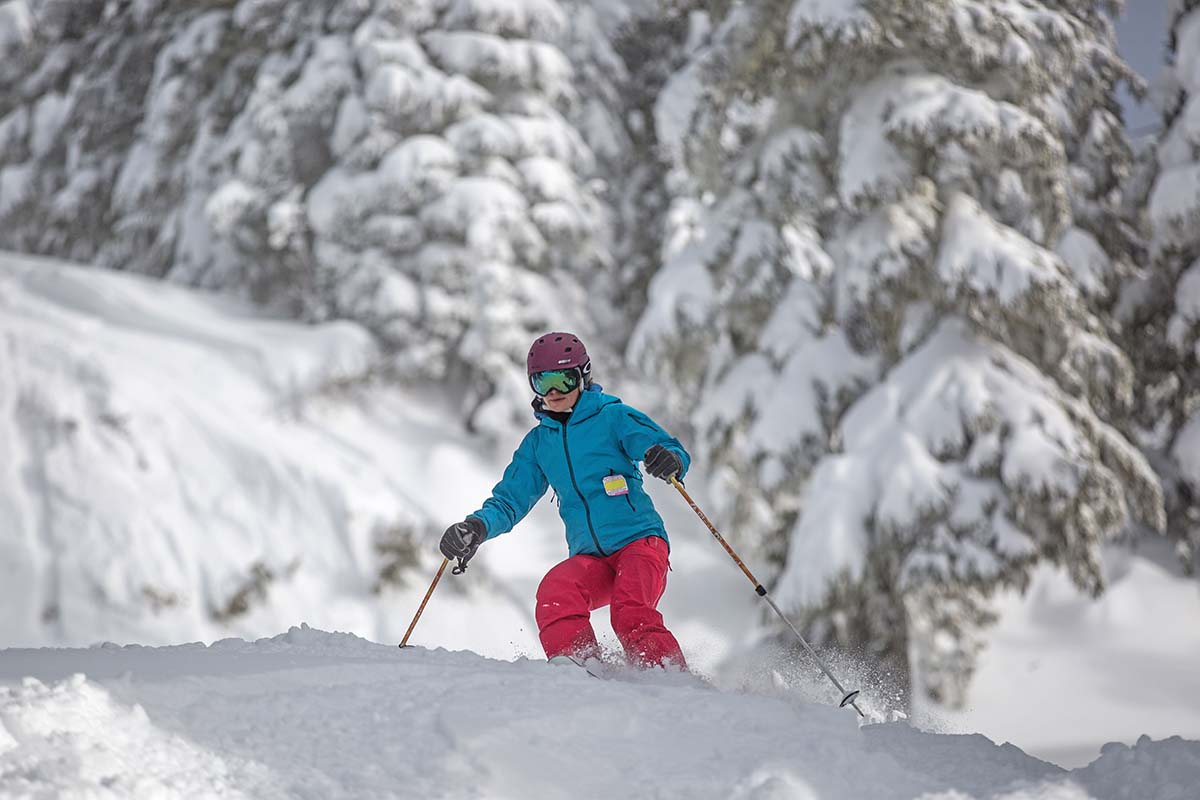 Features
MIPS Liner
In an effort to increase safety, many companies have begun including MIPS technology in their designs (Multi-directional Impact Protection System). And while some brands have created their own proprietary options—like POC's SPIN system, for example—none have been so universally adopted as the MIPS liner. In short, the technology is designed to reduce potential damage to the brain in angled impacts through a liner that moves independently from the outer shell. In the case of the Vantage specifically, the only difference is a slight reduction in size compared with non-MIPS-equipped Smith helmets we've worn (more on this in "Fit and Sizing" below). Otherwise, you'd hardly know the extra layer is there.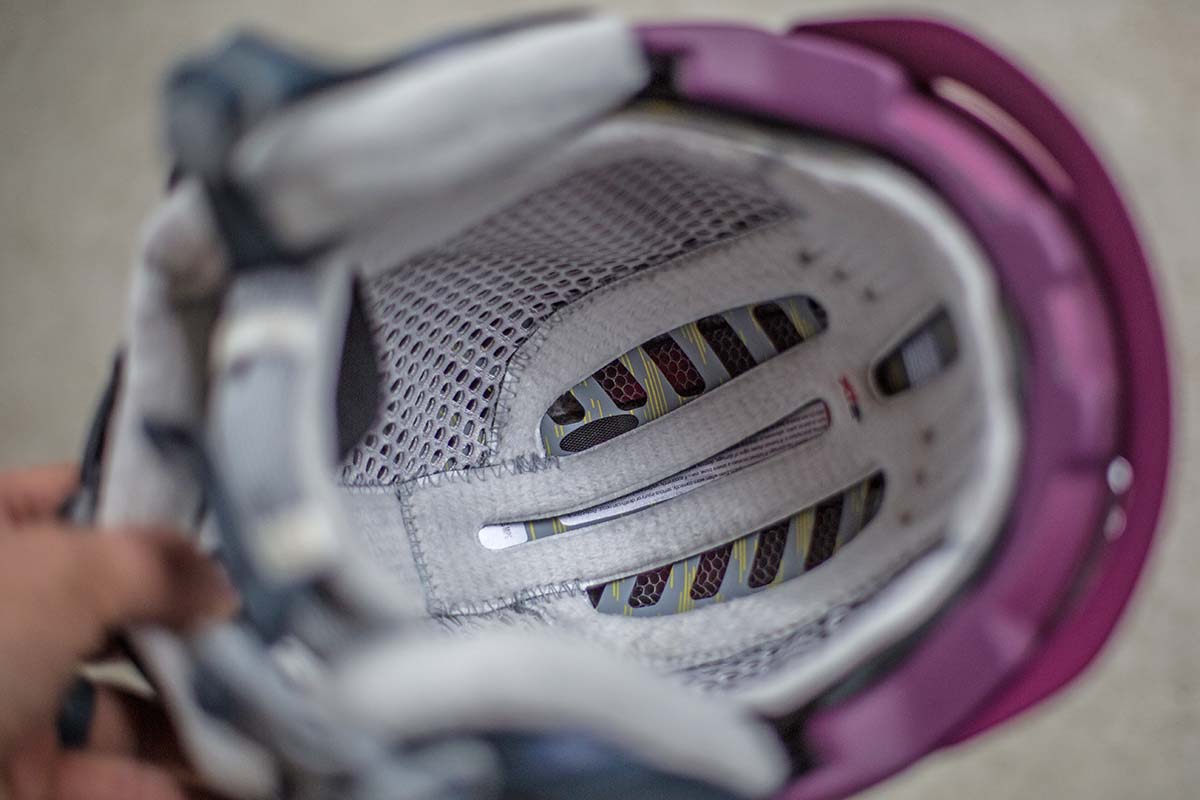 Aerocore Construction
Another safety feature integrated into the Vantage MIPS' design is Smith's distinctive honeycomb Aerocore construction, which is visible through the vent openings. This technology is intended to improve energy absorption in a crash, in addition to increasing airflow and regulating temperature. To achieve this construction, EPS foam (the same foam used in many mountain biking and climbing helmets) is blended with Koroyd, a material made up of tiny tubes heat-welded together and designed to collapse on impact. These safety features are tough to quantify, but it's worth noting that the extra tech is integrated very well into the low-profile design.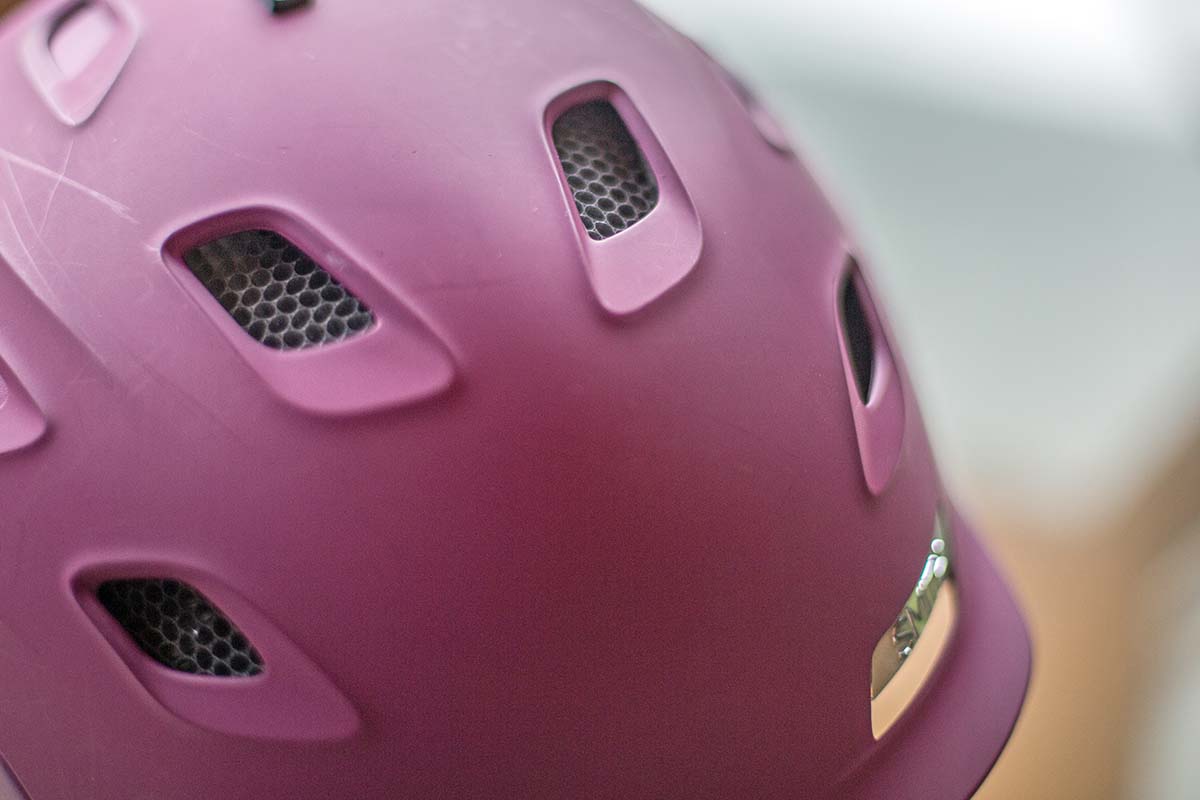 Boa Tensioning System
Boa closure systems are the easiest to use on the market. You've probably spotted them on other outdoor gear and accessories, from backcountry snowshoes to footwear. But for anyone unfamiliar, a Boa is a simple dial—in this case, on the back of the helmet—that tightens and loosens much easier than any strap system we've used. When tightened, the dial locks in place to prevent unwanted adjustment. Smith's Boa system, in particular, sports a 360-degree design that targets both forward and lateral fit, helping the Vantage conform evenly to your head.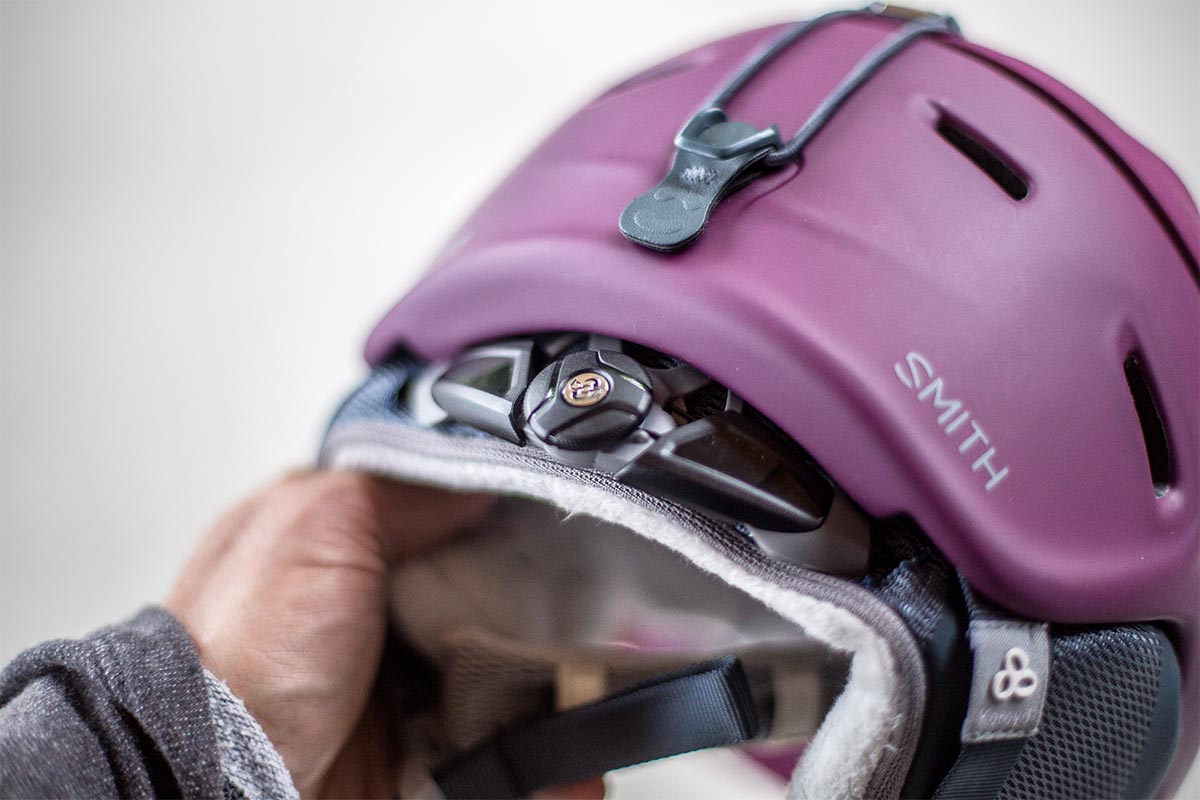 Weight
At 1 pound 1.6 ounces, the women's Smith Vantage MIPS has a fairly average weight within the ski helmet market. Compared to similarly priced, full-featured models like the Oakley Mod 5 (1 lb. 4 oz.), Smith Liberty MIPS (1 lb. 3 oz.), and Giro Stellar MIPS (1 lb. 3 oz.), the Vantage undercuts the competition, but not by much. Going ultralight with an option like the Salomon MTN Lab (13.3 oz.) sacrifices features and comfort to appeal to ounce-counting backcountry-goers, but if you split your time between in- and out-of-bounds, the extra weight shouldn't matter much. As I mentioned above, I was glad to have the cozy liner and easy-to-adjust vents and chin strap, even though they add a little bulk.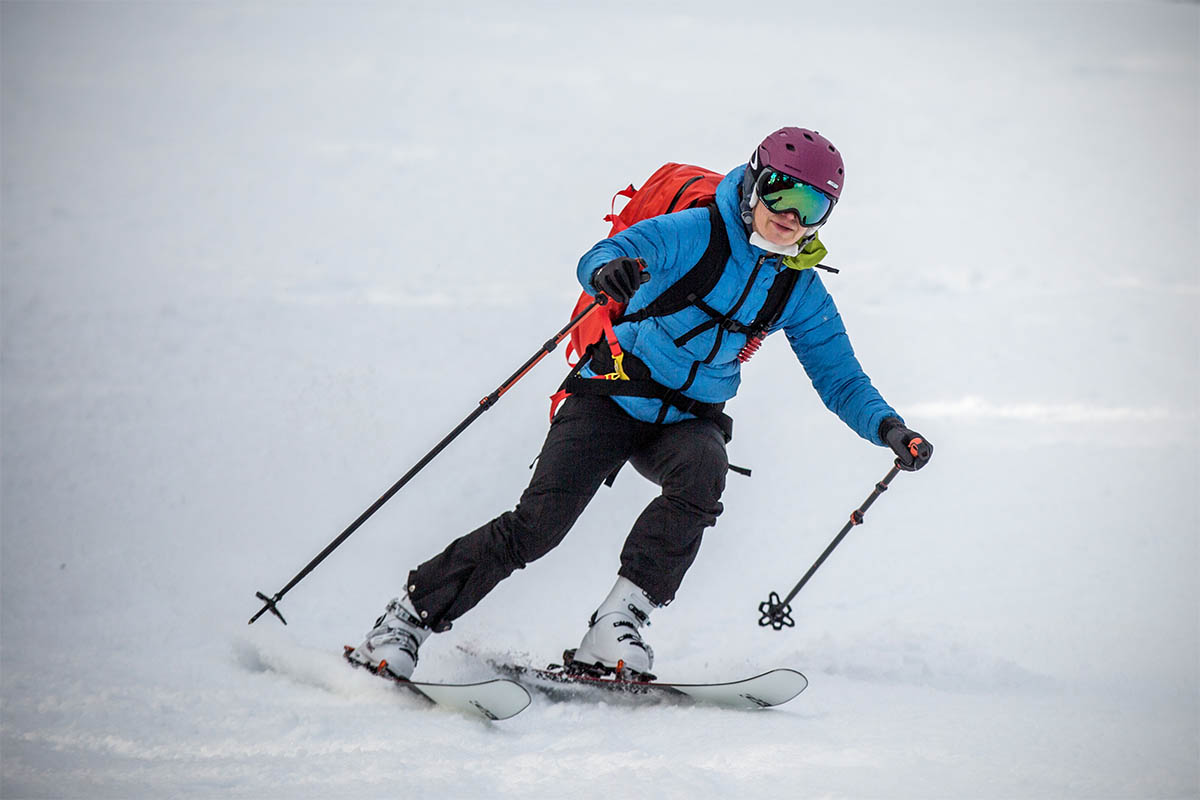 Build Quality and Durability
After a very full season of testing, I'm happy to report no durability issues with the Smith Vantage MIPS helmet. There's no fraying or loosening of any stitching in the liner, and there are no obvious signs of wear on any other part of the helmet (which is to be expected with a tough ABS plastic upper). The only part of this helmet I've had a problem with is the goggle lock on the back—the elastic and hook system proved a little hard to get used to compared to the snap systems I'm more familiar with. That said, once I was accustomed to it, I grew to like the secure and user-friendly lock.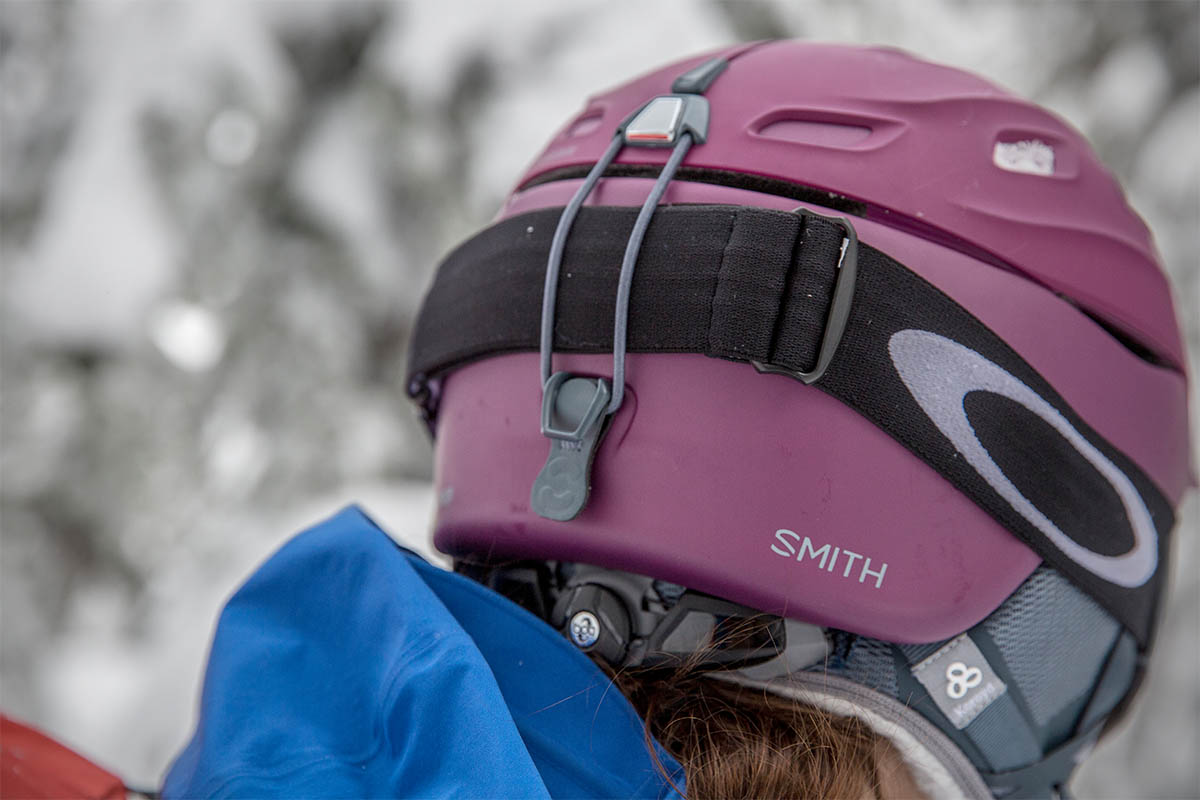 Fit and Sizing
I typically wear a small in ski helmets, but I found that size was only comfortable in the Vantage when I adjusted the Boa system to the largest possible setting. Given that left no flexibility for a beanie or balaclava underneath, I decided to go up to a women's medium, which fit me perfectly. It is large enough to accommodate a hat but can also tighten to fit my head snugly and comfortably thanks to the superb tensioning system. It's worth noting that the women's version is only offered in sizes small (51 to 55cm head circumference) and medium (55 to 59cm), but the men's Vantage MIPS comes in a large and XL (as well as a small and medium) to complete the range.

Other Versions of the Smith Vantage
For this review, we tested the women's version of the Smith Vantage MIPS, but the helmet also comes in a men's version for the same price. The men's model is identical to the women's version in every way but color and size. As mentioned above, it is available in four sizes: small (51 to 55cm), medium (55 to 59cm), large (59 to 63cm), and x large (63 to 67cm). Both men's and women's Vantage helmets used to be offered in non-MIPS versions, although those have been mostly phased out. If you can track one down on sale, we've found that the non-MIPS version runs a bit truer to size than the slightly snug MIPS model.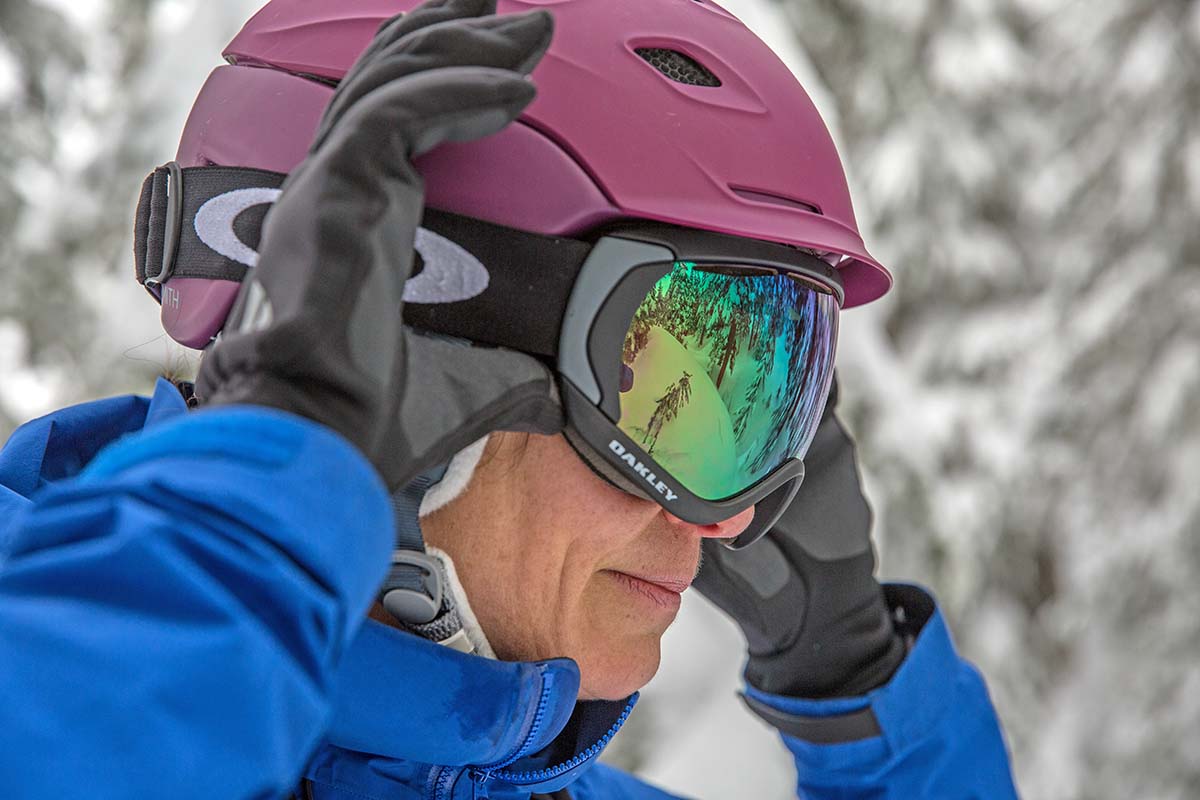 What We Like
Great build quality, and the liner, ear pads, and chin strap are soft and supportive.
The Vantage has impressive ventilation with 21 vents, but it's still plenty warm for cold days at the resort.
Lightweight enough to provide all-day comfort.
Boa tensioning system is very easy to use and gives the helmet a snug fit all around.
 
What We Don't
At $270, the Vantage is one of the most expensive ski helmets on the market.
The MIPS liner seems to make it run a little small, so those on the fence may need to size up.
The elastic/hook goggle attachment at the back takes some getting used (but I wound up liking the system).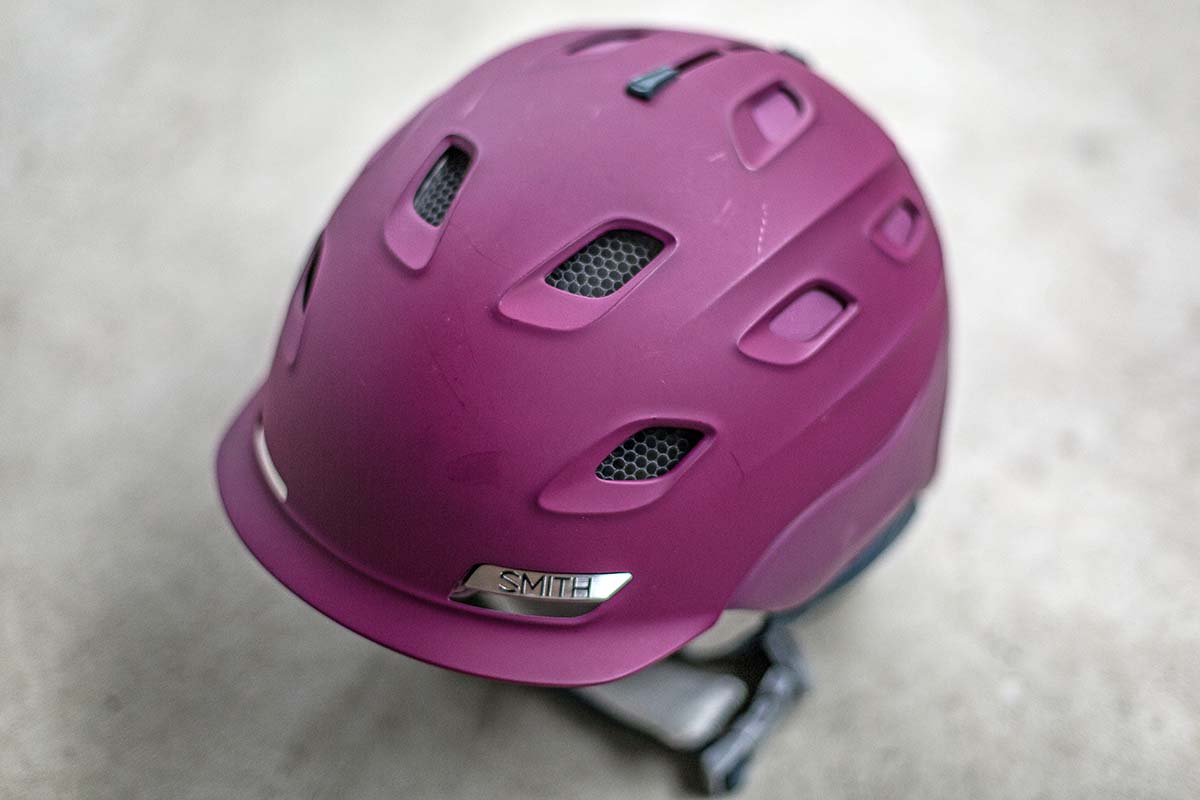 Comparison Table

The Competition
The Vantage is a strong all-around performer, and it has been at the top of our ski helmet round-up for multiple seasons. One recent competitor is Oakley's Mod 5 MIPS, which shares a lot of design features with the Vantage for $30 less. Both helmets sport tough ABS plastic along the top for extra protection, an adjustable ventilation system (the Oakley has eight vents), Boa dial, and MIPS technology. That said, the Mod 5 has less cushioning in the liner and it doesn't regulate heat as well due to its fewer openings and simplified design. For overall superiority in performance, comfort, and venting, we give the nod to the Vantage.
On the outside, Smith's Liberty and men's Level look very similar to the Vantage, but at a more palatable price ($220 with MIPS). The line offers the same ABS and in-mold construction, includes a section of Aerocore along the top of the lid, and we've found its interior padding has a similarly soft feel. However, the Liberty swaps the Boa dial for an in-house design, has inferior ventilation, and adds about an ounce in weight. For those sticking solely to the resort, we think the Liberty is a near-ideal choice. But if you spend some of your time in the side or backcountry, the Smith Vantage is a better all-rounder.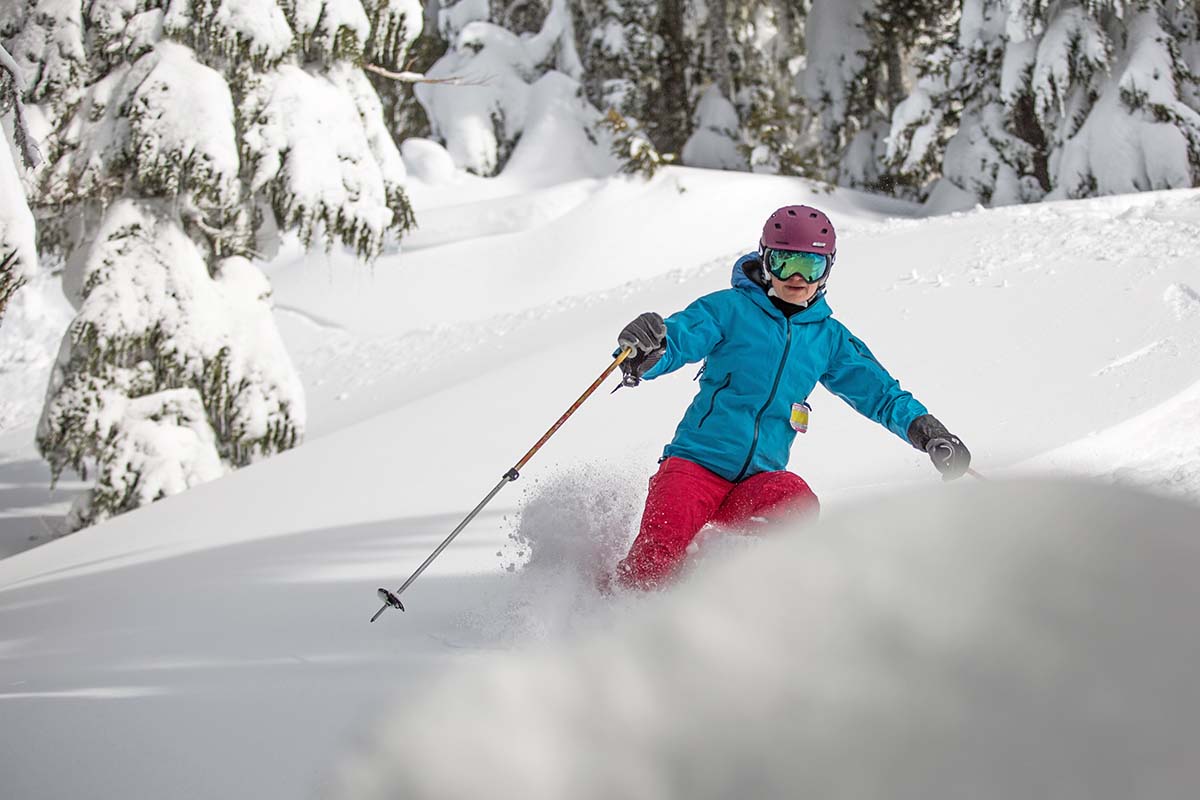 Sitting atop Smith's helmet lineup and packing just about every feature they offer is the Quantum MIPS. Key differences from the Vantage include the entire helmet using Aerocore (the Vantage only has it towards the top), an extended section of ABS plastic along the side and back of the head for a boost in protection, and a magnetic buckle, which we found to be convenient and reliable. Ventilation and fit customization are a draw between the two, although weight does go up a fairly significant 5+ ounces with the Quantum (it's worth noting we didn't really notice the increase, however). In the end, we really like the Quantum, but it's hard to justify the added $30 for only incremental improvements.
Moving outside of Smith's collection, POC has a strong reputation in the park and ski touring worlds thanks to burly designs like the Auric Cut Backcountry SPIN. This helmet features a full ABS shell, EPP liner that's rated for multiple impacts (the standard EPS foam on the Vantage typically cracks from one big hit), and POC's in-house SPIN technology (essentially their take on MIPS). For big-mountain riding or if you spend a fair amount of time in the terrain park, this is a worth helmet to have on your list. But it comes up short in interior comfort as well as weight (it's a hefty 1 lb. 6 oz.), which makes it less versatile for season-long use as the Vantage.
A final alternative is the women's Giro Envi MIPS (and men's Grid MIPS), which is the lightest option here at a feathery 14.1 ounces. Other highlights include good temperature regulation with 16 adjustable vents and excellent protection thanks to MIPS' Spherical technology, which is designed to keep weight and bulk low while still guarding against rotational impacts. We also love the plush removable liner and magnetic chin strap (rather than the Vantage's standard buckle), which makes it easier to take on and off while wearing gloves. That said, the Envi falls short of the Vantage in durability with a less hardwearing in-mold construction, making it the less appealing option for those that spent a lot of time at the resort. In the end, for just $10 more, we give the edge to the Vantage for its more well-rounded performance at a very small weight penalty.
If you're thinking about buying gear that we've reviewed on Switchback Travel, you can help support us in the process. Just click on any of the seller links above, and if you make a purchase, we receive a small percentage of the transaction. The cost of the product is the same to you but this helps us continue to test and write about outdoor gear. Thanks and we appreciate your support!
Depending on the seller, most products ship free in the United States on orders of $50 or more. International shipping availability and rates vary by seller. The pricing information on this page is updated hourly but we are not responsible for inaccuracies.
Learn More About Ski Gear