If you're an avid skier or snowboarder, a functional rooftop rack can be well worth its weight in powder turns. These sleek pieces of gear accommodate up to six pairs of skis or four snowboards, feature glove-friendly handles and secure locks, and installation is (generally) pretty painless on any vehicle with pre-existing crossbars. Our list below offers a comprehensive look at the market for winter 2023-2024, from high-end models to budget designs, including popular all-rounders that you see dotting the parking lots at most resorts. For more details, check out our comparison table and buying advice below the picks.
 
---
Our Team's Ski/Snowboard Rack Picks
---

Best Overall Ski/Snowboard Rack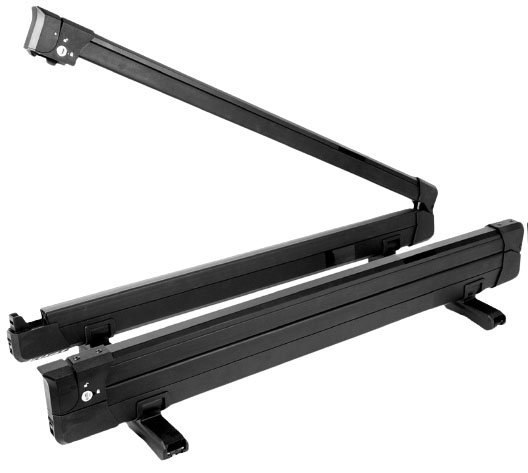 Capacity: 6 skis/4 snowboards
Locks: Rack
T-slot compatible: Yes
What we like: Great build quality for less than the competition; folds down when not in use.
What we don't: Tall profile and doesn't lock to crossbars.
Widely known for their selection of premium bike racks, Küat recently dropped into the snow sports world with the Grip (below) and Switch here. It's odd to see a ski rack article topped by a name other than Yakima or Thule, but we're whole-hearted fans of the Switch for a number of reasons. For just $249, the Switch is simple yet sleek, with high-end materials that offer a far better user experience than popular models like the Thule SnowPack ($330) or Yakima FatCat ($379). Installation was painless and took us a grand total of 12 minutes from start to finish (we didn't even open the instruction manual), and the rack is a breeze to operate with large, glove-friendly handles and sturdy yet smooth-operating locks. And unlike any other model here, the Switch rotates to lie flat when not in use, which both looks great and is a saving grace for aerodynamics and wind noise.
The Switch 6's tall, folding profile is one of its most defining features, and both a blessing and a curse. It sits much higher off the crossbars than most racks (the sleek Grip below measures 4½ in. from mounts to top, while the Switch is 6 in.), giving it a rather ungainly appearance. However, we haven't experienced any extra road noise as a result, and the extra height is great news for snowboarders or vehicles with low crossbars (there's more than ample clearance between the Küat and our rooftop to accommodate an upside-down board). In addition, the ability to fold down the Switch when not in use is a massive benefit—when collapsed, it has a sleeker profile than any rack here. We do wish that Küat had designed the Switch to lock to the crossbars—you just need an Allen wrench to remove it, making it a bit vulnerable to theft. But gripes aside, the Switch 6 (which also comes in a four-ski version) is a true value standout, making it our favorite overall design of the year.
See the Küat Switch 6  See the Küat Switch 4
Best High-End Ski/Snowboard Rack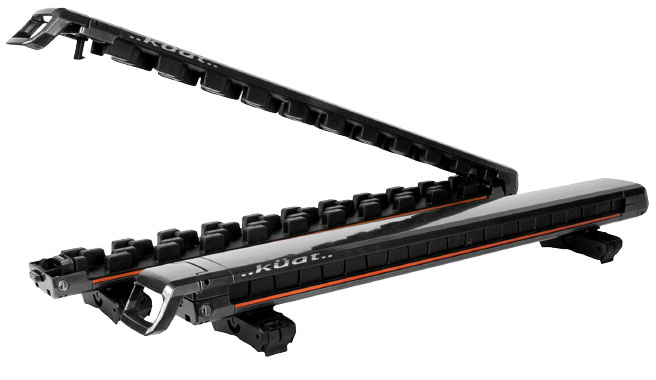 Capacity: 6 skis/4 snowboards
Locks: Rack and crossbars
T-slot compatible: Yes
What we like: Industry leading design, with high-end materials, sleek look, and an innovative feature set.
What we don't: Expensive and overkill for most.
With a strong emphasis of utility over style, ski racks have never been the most exciting outdoor gear—until the Küat Grip, that is. Building off of the success of Küat's popular NV 2.0 bike rack, the Grip breathes fresh life into the ski-rack category with high-end materials, a sleek, low-profile design, and innovative features. You simply won't find a more durable, hardwearing rack: The mostly-metal Grip opens and closes easily with heavy-duty glove-friendly clamps (which don't ice up like other designs), incorporates two separate locks that secure both the rack (to the crossbars) and your skis, and uses sturdy toothed rubber that conforms to the individual shape of each ski or board. And uniquely, the Küat also features an extender bar, which allows you to slide the base of the rack towards you, making loading and unloading a breeze.
The Grip dominates the ski rack market in terms of features and quality, but it's hard to ignore the price tag, which is just south of $500. We understand the appeal of the high-end build quality and fun features, but you'll want to remind yourself: This is just a ski rack. In the end, all of the other offerings here also tote your ski gear to the mountain, and some do it for half the cost (or less). If you like the idea of the extender bar (we do), it's also worth looking at the SnowPack Extender ($450) below. But the Grip is truly in a class of its own in terms of functionality, durability, and aesthetics, and well worth the investment for those in the market for the best ski rack money can buy. Finally, Küat also offers a direct-mount kit for T-slot crossbars ($35); and if you want to save a little cash, the Grip 4 is slightly more affordable at $429 and accommodates up to four skis or two snowboards.
See the Küat Grip 6  See the Küat Grip 4
Best Budget Ski/Snowboard Rack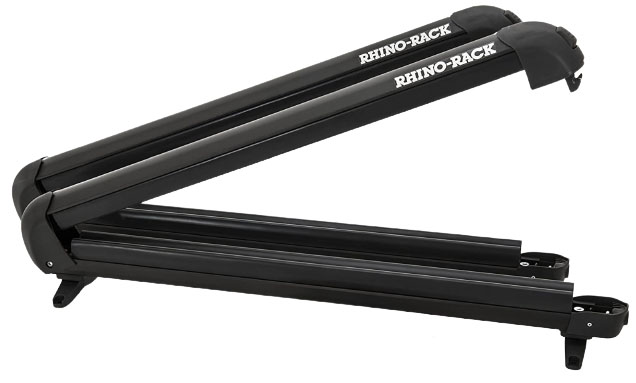 Capacity: 6 skis/4 snowboards
Locks: Rack
T-slot compatible: Yes
What we like: A decent ski rack for significantly less than most.
What we don't: Many plastic parts and fairly involved installation.
You can spend upwards of $400 on a ski rack, but Australia-based Rhino-Rack offers a number of serviceable budget solutions. For $170, their 27-inch design (model #576) features universal mounts that install on the majority of crossbar styles, accommodates up to six skis or four snowboards, and secures your gear with an integrated lock. You can also purchase a riser (also known as a spacer) separately, which raises the height of the rack to create clearance between your rooftop and bulky bindings. In other words, you get all the features essential to toting your skis to and from the mountain, along with a price that's easy on the wallet. Notably, the Rhino-Rack also comes in 10-, 13-, and 20-inch lengths, which are great options for solo skiers, smaller vehicles, and when you want to free up rooftop space for other toys and accessories.
It should come as no surprise that the Rhino-Rack lacks the high-end finishes and refined features of the pricier models above. Be prepared for a more involved installation—including finagling a number of nuts, bolts, and screws into place—and a few more plastic parts. And with less defined handles, the rack is prone to icing up and can be difficult to open with cold hands. Finally, given that external bolts connect the mounts to the vehicle cross bars, the Rhino-Rack is an easy rack to swipe—although it does use tamper-proof 5mm Allen heads, which require a very specific wrench to adjust. All told, user experience is fairly on par with other entry-level models here, despite checking in over $100 less (the budget-oriented Yakima FreshTrack 6 is $299). And Rhino-Rack also offers Master Key cores, so you can use one key to open all your Rhino-Rack equipment. 
See the Rhino-Rack Ski and Snowboard Carrier
Best Ski Rack for Vehicles Without Crossbars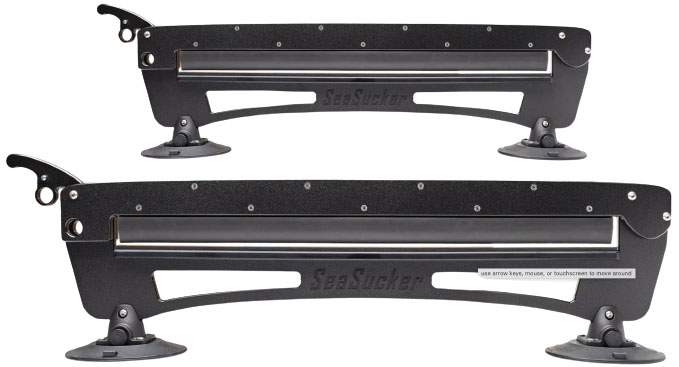 Capacity: 4 skis/2 snowboards
Locks: Available
T-slot compatible: No
What we like: Easy to install/remove on vehicles without crossbars.
What we don't: Plastic construction; sub-par locking solution.
If you drive a luxury vehicle or only head to the slopes once or twice a year, the SeaSucker Classic might be up your alley. This rack is incredibly easy to install and remove and requires no crossbars—essentially, you can put it on any vehicle's roof, anywhere. The SeaSucker's secret solution is its 6-inch pressurized vacuum mounts that are surprisingly secure and install in 5 minutes or less. It's easy to be skeptical of the setup—a ski rack that attaches with suction cups?!—but SeaSucker has been around for a number of years and their bike racks and crossbar systems have proven to be reliable.
While the SeaSucker excels in terms of versatility, there are some inherent downsides with the design. It maxes out at four skis or two snowboards, and there's nothing to write home about regarding the rack itself: It's made with plastic rather than the metal construction of more premium designs, and the cheap padding doesn't provide a particularly high-end grip on your equipment. You also don't get any other special features like extender bars or ice-resistant handles. And in terms of locks, SeaSucker does provide a cable solution, but it's cumbersome and involves placing a part over your window. As a result of these downsides we don't recommend the SeaSucker for most; but for the occasional user who doesn't want to commit to permanently customizing the roof of their rig, it's an intriguing option. And if you're open to trying something different, check out SeaSucker's innovative Pallavicini rack, an ultra-compact solution for up to four skis or two snowboards.
See the SeaSucker Classic
Best of the Rest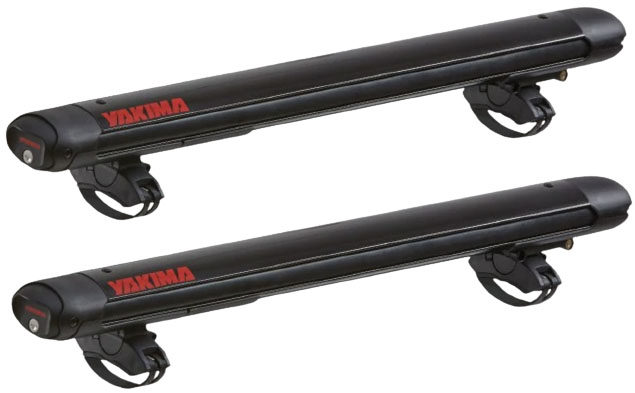 Capacity: 6 skis/4 snowboards
Locks: Rack and crossbars
T-slot compatible: Yes
What we like: Sleek, aerodynamic profile and versatile mounting options.
What we don't: Lacks the high quality materials and finishes of the Küats above.
Yakima's most premium design, the FatCat Evo features a sleek, aerodynamic profile that keeps road noise low and style points high. At 40.5 inches across, the "6" we tested is legitimately large (easily accommodating three pairs of skis and two snowboards), and proved to be a tight fit on the narrow-width bars of our wagon. To help, Yakima added an additional mounting point closer to the middle—ideal for narrower roofs or if you want to bias the rack to one side for easier access to gear. Once installed, the FatCat's large glove-friendly clamps are easy to operate and close with a nice click, Yakima's SKS (Same Key System) lock and key secure your skis and snowboards, and an integrated SkiLift feature raises the rack, offering more clearance for bulky bindings. Finally, the FatCat's mount attachment points are hidden within the rack, so locking your skis means that you're effectively locking the rack to your crossbars, too.
But despite the FatCat's premium intentions, the design is fairly middle of the road in most ways, falling short of the more high-quality Küats above. Installation was time-consuming for us, the clamps and locks are prone to icing up, and the rack is almost all plastic, including the mounts and latch. And while it's a small gripe, our sticker logo started peeling off almost immediately, which is disappointing for a $379 piece of gear. Finally, although the FatCat is specifically designed to be low-profile, it's still taller than the Grip above (by ¾-in.). But if you're stuck between Yakima and Thule, the FatCat's aerodynamic shape is a nice contrast to the upright SnowPack, and most will have an easier time deciphering Yakima's instruction manual (which, unlike Thule's, actually includes words). Finally, the FatCat is also compatible with T-slot crossbars with an adapter kit (sold separately), which offers an even sleeker aesthetic. 
See the Yakima FatCat Evo 6  See the Yakima FatCat Evo 4

Capacity: 6 skis/4 snowboards
Locks: Rack and crossbars
T-slot compatible: Yes
What we like: Extender bar slides the rack toward you, great for loading and unloading.
What we don't: Difficult-to-decipher instructions; Thule's keys are flimsy.
Building off the success of their popular SnowPack (below), Thule's SnowPack Extender tacks on a slider that allows you to pull the whole rack towards you for easy loading and unloading. This is a feature we only see in one other rack (the Küat Grip above), and it adds a lot of convenience, especially for those with taller vehicles or shorter reaches. Like the Grip, the SnowPack Extender also features two locks for each rack—one to secure the rack to the crossbars and one to lock the rack closed over your skis—which is a nice bit of extra assurance. Tack on tool-free installation, secure-feeling clamps, and a variety of mounting options (including the ability to add risers to better accommodate bulky bindings), and you get a premium rack from one of the biggest names in rooftop storage.
However, we do have a few gripes with Thule's racks in general. First off, the installation instructions are poorly laid out and difficult to decipher, with multiple mounting systems represented and no words accompanying the diagrams. Second, Thule's lock-and-key system is our least favorite here: The key is built with flimsy metal and the lock is far from smooth-operating—a combination that results in a fair number of broken keys. And finally, unlike the large metal handles of the Grip, the Thule's plastic handles have a tendency to ice up in inclement conditions. But if you can nail the installation and are gentle with the lock and key, the SnowPack Extender is a fully serviceable rack—with a nice bit of added convenience—that gets the job done for many.
See the Thule SnowPack Extender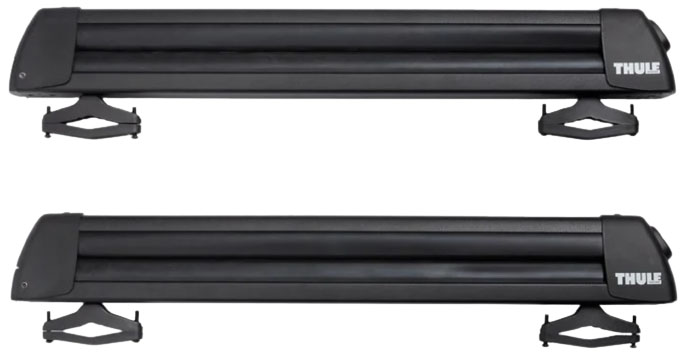 Capacity: 6 skis/4 snowboards
Locks: Rack
T-slot compatible: No
What we like: A very affordable rack from a trusted brand.
What we don't: Not as theft proof as the Rhino-Rack above.
The Rhino-Rack above gets our top budget pick for its great feature set at a low price, but we don't blame you if you'd prefer to stick with a trusted name like Thule. For just a few more Washingtons, the Thule Classic combines a bare-bones design with Thule's reliable build quality and track record. You won't find glove-friendly metal clamps, aerodynamic shaping, or tool-free installation here, but what you do get is an affordable rack that will carry your skis and snowboard to the slopes. And it doesn't hurt that at the time of writing, the Classic (aka the "Universal") is on sale on Amazon for $169.
We rank the Thule Classic below the Rhino-Rack for a few reasons. While both racks aren't particularly theft-proof, the Rhino-Rack at least goes so far as to use tamper-proof Allen heads in the mounting hardware. Second, we've heard from users that the Classic's capacity is limited to four skis and two snowboards—keep in mind this will depend on the width of your equipment—while the Rhino-Rack's 27-inch width is more accommodating. In the end, either model will get the job done for those in the market for an affordable, no-frills rack. Within this category, it's also worth taking a look at Yakima's now-discontinued PowderHound 6, which tacks on a few premium features and is still available through Amazon for $198 (at time of publishing).
See the Thule Classic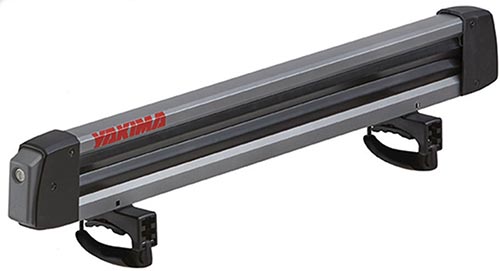 Capacity: 6 skis/4 snowboards
Locks: Rack
T-slot compatible: No
What we like: Less pricey than the FatCat above with many of the same features.
What we don't: Tall, non-aerodynamic profile; does not lock to crossbars.
The FatCat Evo above is Yakima's premium, aerodynamic design, but you can save a lot of money with the FreshTrack here. For $299 for the "6"—$50 less than the FatCat—you get a very similar feature set, including tool-free installation, Yakima's SKS locks, and large, glove-friendly clamps. The FreshTrack also includes Yakima's SkiLift attachments, which you can add to create more clearance between the rack and the rooftop (great for storing two snowboards base-to-base).
But there are some noteworthy downsides to the FreshTrack's design. First off, it doesn't lock to your roof rack or hide the attachment points inside the rack, meaning theft is as easy as a few turns of a wrench. Second, the FreshTrack is not set up for T-slot mounting, which is a nice, sleek method that eliminates the bulk of the mounts (this adaptability is offered by models like the FatCat and SnowPack Extender above). And last, the FreshTrack is one of the least aerodynamic options here—it measures 7¼ inches from mount to top, which is almost three inches taller than the Grip above (and over an inch taller than the already-bulky Switch). In most cases, we'd stick with the higher-quality and more well-rounded options above, but the FreshTrack will nevertheless get the job done. 
See the Yakima FreshTrack 6  See the Yakima FreshTrack 4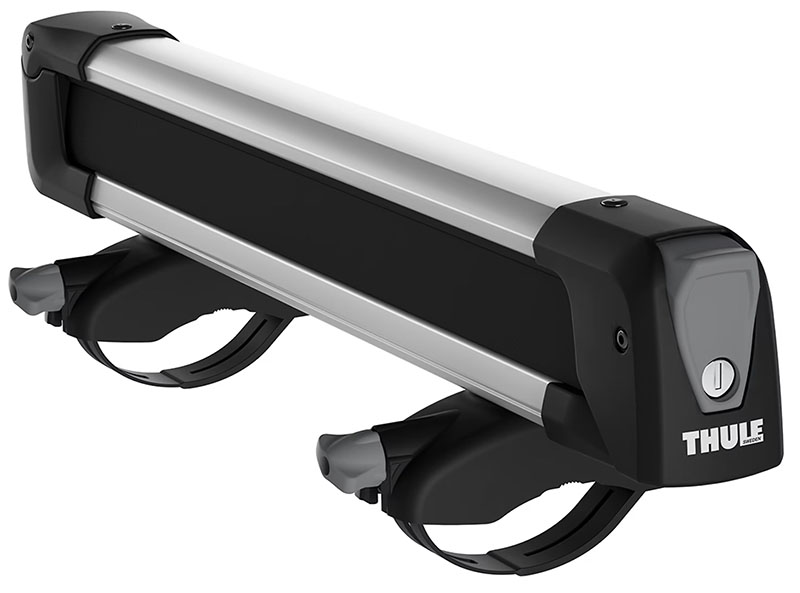 Capacity: 4 skis/2 snowboards
Locks: Rack and crossbars
T-slot compatible: Yes
What we like: Multiple mounting options and secure, theft-resistant design.
What we don't: Felt decidedly cheap when tested back to back with the Küat Switch above.
Last but not least is the SnowPack M, Thule's most economical offering and one of the most ubiquitous racks at the ski hill. For $100 less than the SnowPack Extender above, the SnowPack is a very similar design that features a smaller footprint (it also comes in an "L" version) and forgoes the slider. It also cuts about 1.5 inches from the Extender's height, which is nice for aerodynamics and road noise. But the rest of the rack is nearly identical, with multiple mounting options (including T-slot compatibility and universal clamps that work with the majority of crossbar styles), three hinge points to secure boards and skis of all sizes, and a glove-friendly clamp that closes with a nice reassuring click.
We tested the Thule SnowPack M side by side with the Küat Switch 6, and the differences between the two racks were glaring. The Küat sits much higher off the crossbars, which is great for accommodating upside-down snowboards (you can raise the Thule a little over an inch with included risers, but only if you're installing it on a bar with a center channel). Further, despite the SnowPack's tool-free installation, mounting the Switch was notably easier. And finally, the SnowPack's keys feel cheap and its locks have a track record of icing up, far from the premium and hardwearing nature of the Switch's design. But on the bright side, the SnowPack does lock to the crossbars regardless of mounting method (the Switch does not), which will be an important feature for some. 
See the Thule SnowPack M  See the Thule SnowPack L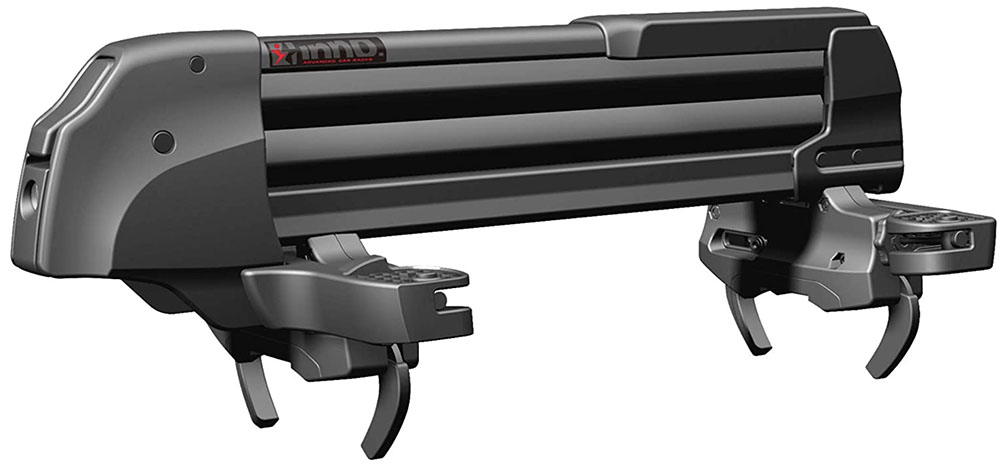 Capacity: 3 skis/2 snowboards
Locks: Rack and crossbars
T-slot compatible: No
What we like: A half-length option for individuals, couples, or competitive rooftop real estate.
What we don't: Not particularly high quality; won't fit two snowboards on all crossbars.
Inno offers a wide selection of vehicle accessories for everything from bikes to fishing gear, and the Gravity is their ski and snowboard rack. Measuring a little over 14 inches in usable space, the Gravity is the smallest design here and accommodates up to three fat skis or two snowboards. The price is on the smaller side as well: At just $191, the Inno is cheaper than our budget pick above and a great deal for couples or solo skiers/riders who don't anticipate needing more storage space. Not only that, but half-sized racks can also be a helpful solution if you have limited rooftop real estate (for example, in the case that you're also toting a kayak or bikes, or have a small rooftop tent like the Thule Foothill).
Given that racks from Thule, Yakima, and Küat are all full-length, the Inno is a nice minimalist option to have on your radar. Rhino-Racks also offers a few in their 10-inch and 13-inch models, which check in at $143 and $166, respectively. Keep in mind that you do sacrifice some quality with all of these budget models—the Inno in particular is a challenge to install, and many users report issues with stuck locks. Further, snowboarders will want to exercise caution: If you're toting two boards, they'll need to be arranged base-to-base, meaning you'll need tall enough crossbars for clearance between your roof and the bindings of the upside-down board (Inno makes a Gravity rack with risers—also compatible with T-slot crossbars—but it's not available in the U.S.). But for the right user, the Gravity is a functional roof rack that will cost you significantly less than most alternatives.
See the Inno Gravity
Ski/Snowboard Rack Comparison Table

Ski/Snowboard Rack Buying Advice

Ski/Snowboard Rack Capacity
The racks on our list range in capacity from two skis or one snowboard to six skis or four snowboards. The most common sizes carry four to six skis (or two to four snowboards), which will suit the needs of most families or small groups. However, it's important to keep in mind that these specs are general guidelines and not applicable in all situations. For example, the Thule SnowPack (size M) we tested (which claims to fit four skis or two snowboards) sat so low on our Subaru Impreza's crossbars that it did not accommodate a snowboard in the upside-down position, and our two boards were too wide to fit side-by-side (the SnowPack maxes out at 19.6 in.). Thus, before deciding on a rack, make sure to consider the width of your gear (fat powder skis or extra-wide snowboards might require a bigger rack), the height of your pre-existing crossbars, and the maximum amount of gear you might want to carry.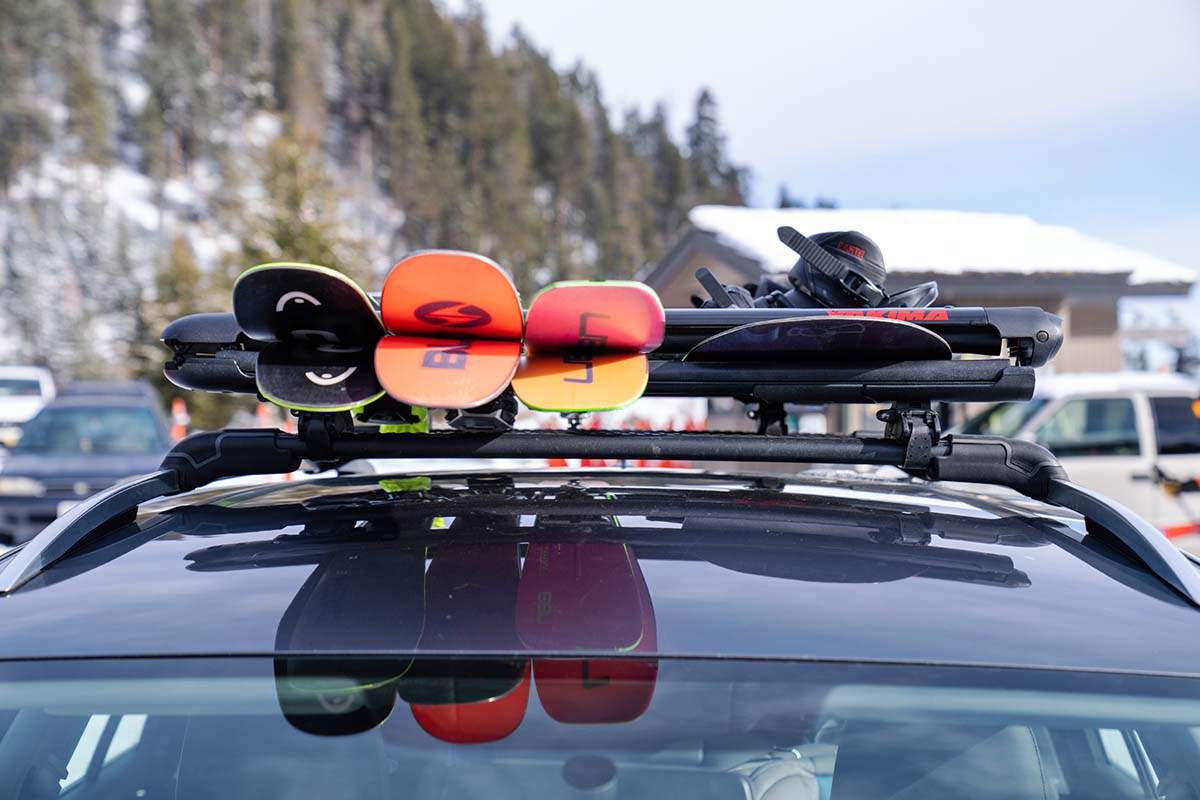 Ski/Snowboard Rack Dimensions
A rack's stated capacity provides a good idea of how many skis and snowboards it can accommodate, but you can learn a lot more by looking at the specific dimensions. Manufacturers generally provide a length, width, and height measurement for their racks, with the height and length being the most important spec for the majority of users. A rack's height alludes to its aerodynamics, along with hinting at how much clearance it provides over the rooftop (necessary for bulky snowboard bindings—more on this below). On the other hand, the length spec is helpful for determining how much gear the rack can fit, along with whether or not it will extend over the sides of your vehicle's roof. You'll want to be careful with interpreting this dimension: Sometimes it's a measure of the internal (usable) length; in other cases, it specifies the overall length. Finally, some manufacturers provide a measurement for the space in between the rack's mounts, which is important for users with smaller vehicles (for example, a 6-ski rack was a tight squeeze on our wagon's rear crossbar).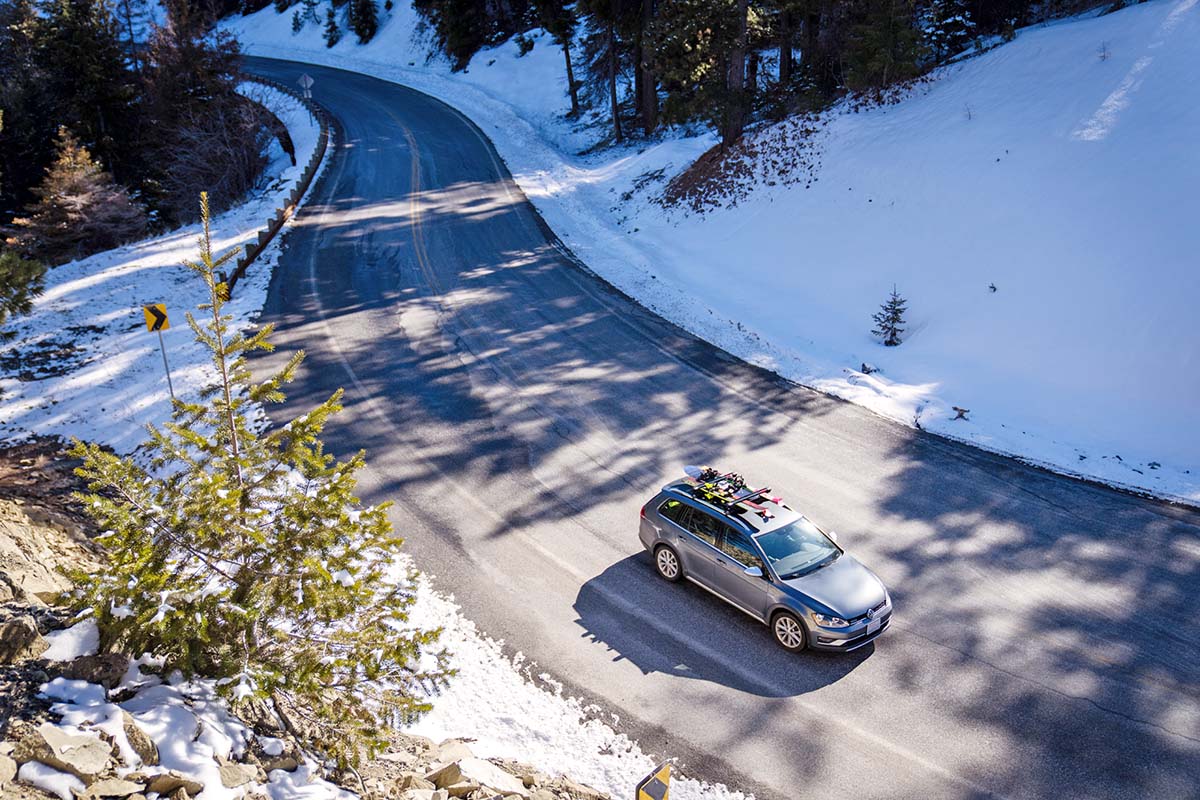 Some manufacturers make it easier than others to do a deeper dive into a rack's dimensions. Küat's fit guide uses simple diagrams to clearly lay out the Switch and Grip's length, height, and width between the mounts. Thule offers the dimensions for their SnowPack racks, including both the external length and loading width (usable length). And while Yakima only provides external dimensions for their racks, they do specify that their FatCat 6 can accommodate six pairs of skis up to 136mm at the tip (on the other hand, the FreshTrack 6 fits six pairs up to 120mm wide). In the end, if you think you'll be maxing out your rack or rooftop—or want a better idea of a rack's aerodynamics—it can be a good idea to take a closer look at dimensions.
 
Ski/Snowboard Rack Features
Open/Close Mechanisms
All of the ski and snowboard racks listed above feature hinges on one end and open/close mechanisms on the other. Given that they're designed specifically for winter use, these latches are generally large and easy to operate with gloves or mittens on. Most of the time, a rack will not lock unless it's closed correctly (you'll want to hear an audible click), which offers a nice level of assurance that your gear is secure. Importantly, we have noticed that some of the more basic designs have a tendency to ice up, while premium models like the Küat Grip have large, easy-to-grab handles that are specifically constructed to prevent ice buildup.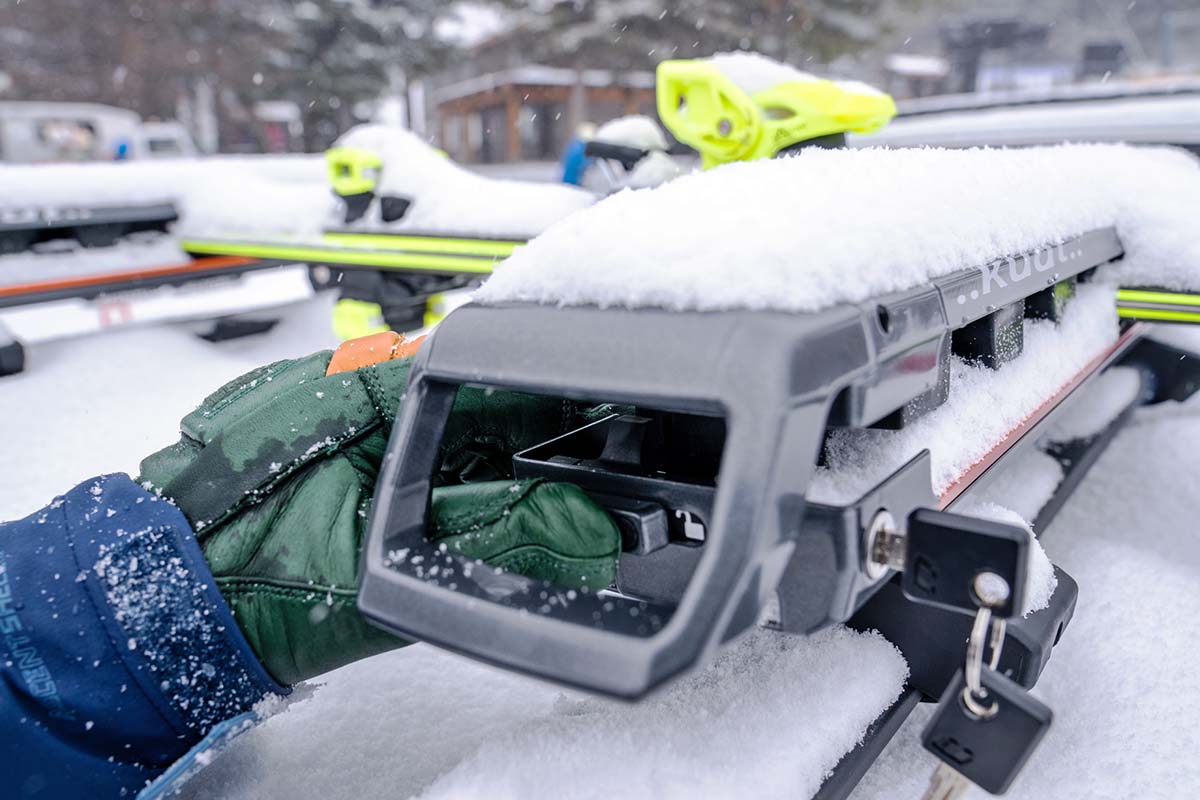 Locks
Locks are an important feature on a ski/snowboard rack, so much so that we see them on every model listed above. These are either built into the open/close mechanism (as in the case of the Yakima FatCat Evo) or placed off to the side, as we see on the Küat Grip. It's important to note that we see a lot of variation in the quality of locks and keys: Küat's designs are smooth-operating and durable, while Thule's locks are finicky to turn (it doesn't take much research to find complaints about them breaking, too).
In addition to locks on the open/close mechanism, many modern racks (like the Küat Grip and Thule SnowPack) also feature locks that secure the rack itself onto the crossbar. This ensures that your rack isn't easily stolen off the roof of your vehicle—with or without your skis attached. In addition, some racks achieve a similar effect by hiding the mount adjustments inside the rack, meaning you'll have to unlock the rack and remove the skis and rubber pad in order to remove the whole setup from the vehicle. Given that will be a very important feature for many, we've noted the included locks in each of the write-ups above.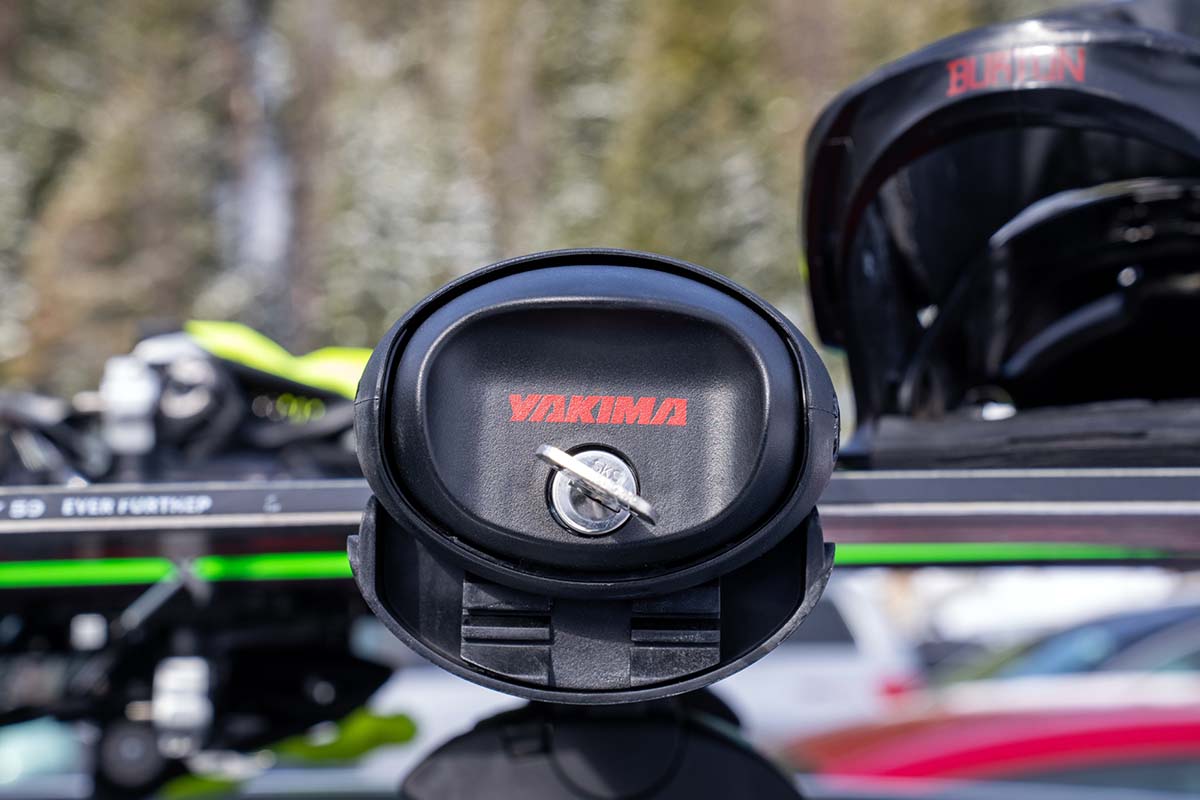 Finally, if you've kitted out your vehicles with an assortment of racks and cargo boxes, chances are you have a number of little keys lying around. Many brands—including Küat, Thule, and Yakima—allow you to streamline with sets of replacement lock cores that open with one universal key. For example, you can purchase a package of four Same Key System (SKS) lock cores ($70) and insert them into all of your Yakima products. With this setup, there's no more confusion about which key works with which lock—you have one Yakima key to operate all of your Yakima products. 

Rubber Pads
All of the racks listed above feature a rubber pad on both the top and bottom arms, which securely sandwich and hold tension on the skis and snowboards. In most cases, this is a continuous piece of rubber that conforms to the shape of the items on the rack, and it generally offers a nice, tight hold. Küat's Grip has taken the idea to the next level, with individual rubber teeth that allow for a more precise clasp regardless of differing shapes and sizes. This is far from the main selling point of the Grip, however, and overall we have few complaints regarding the rubber pads on any of the racks listed above.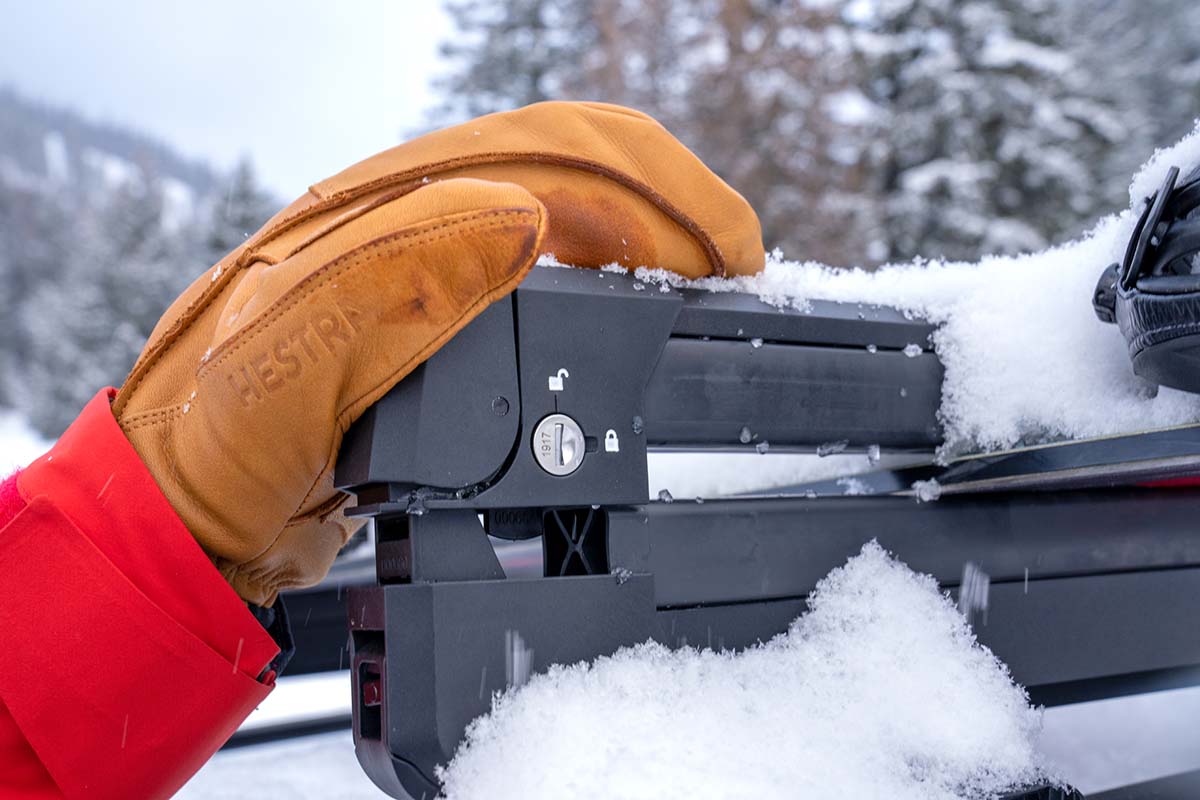 Extender Bars
Extender bars are a relatively new feature we've started to see creep their way into the rooftop rack market. And for good reason: These bars (seen in the Küat Grip and Thule SnowPack Extender above) slide the rack to the vehicle's side, allowing you to load and unload without having to awkwardly reach over the roof. For high-roofed vehicles, shorter-framed people, or just to make life easier loading and unloading a bunch of skis or boards, this is a game changer that we hope to see more companies adopt over time.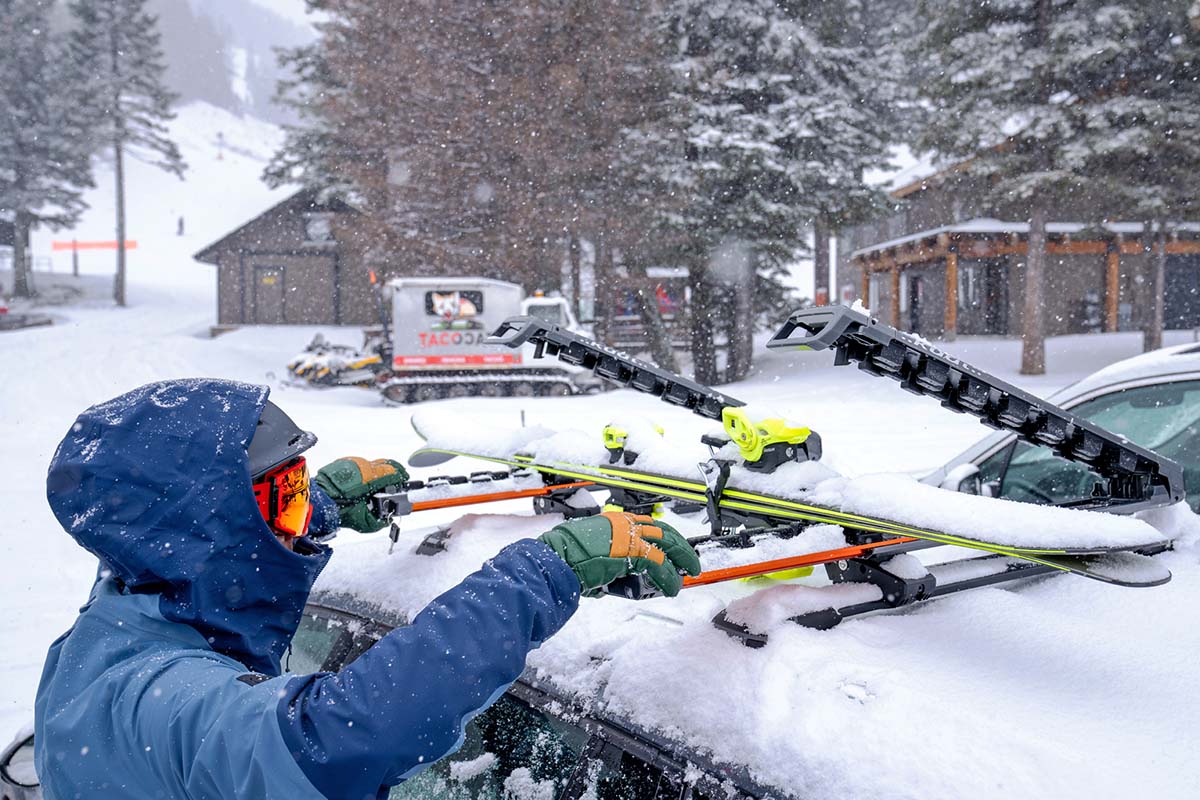 Will My Snowboard Fit Upside-Down?
Many of the racks above claim to accommodate up to four snowboards, but this can be a tricky rule to follow. In order to fit this many boards, they must be loaded base-to-base—in other words, the first is loaded upside-down, and the next is stacked on top right-side-up. This can pose a clearance issue on low crossbars or if you have particularly bulky bindings (it's usually not an issue with ski bindings), and is also influenced by the type of rack being used. For example, we were unable to fit two snowboards base-to-base on the Thule SnowPack (loaded onto our Subaru Impreza), but the taller Küat Switch accommodated them with ease.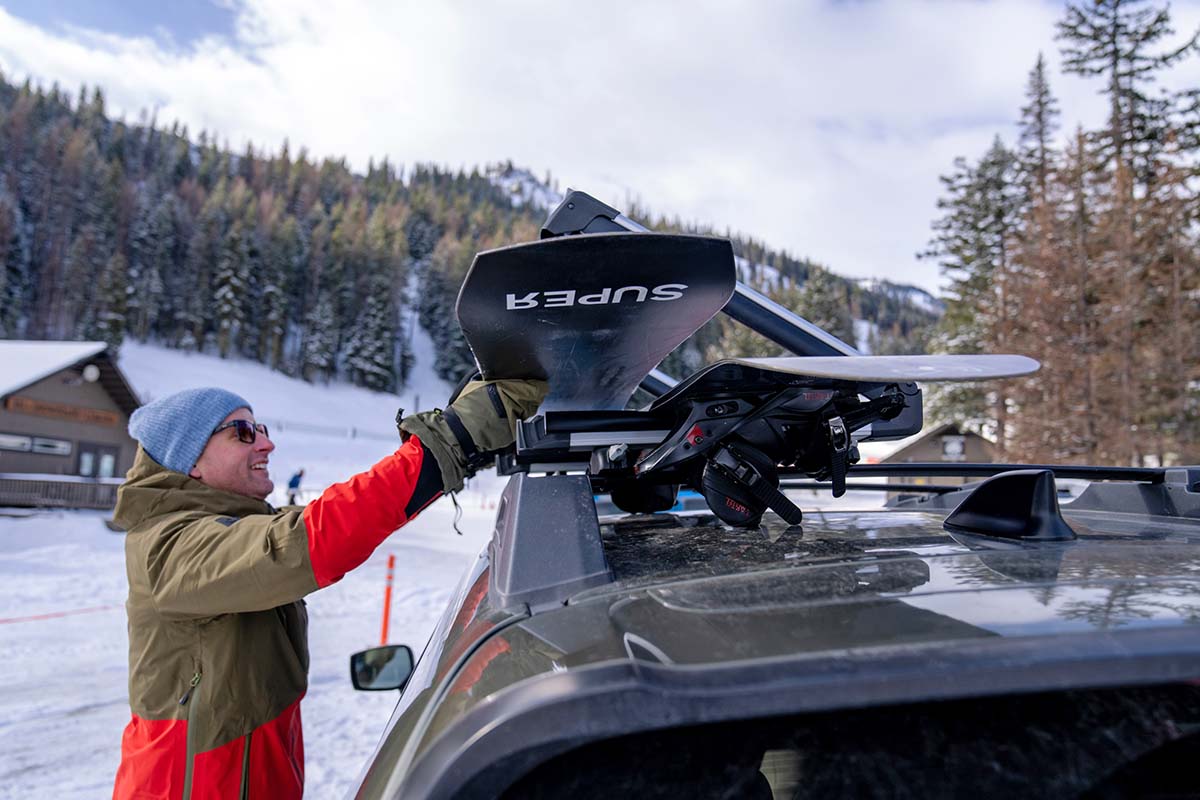 A taller rack and crossbars will go a long way towards solving this situation, but the good news is that many rack manufacturers offer risers to create more clearance between the rack and the rooftop. Sometimes these are built into the rack—as in the case of the Yakima FatCat Evo—and sometimes they're an addition you can add during installation (keep in mind that Thule's risers are only compatible with their T-slot crossbars). In addition, and generally speaking, using universal mounts will raise the rack off the crossbars more than T-slot mounts. If you anticipate rooftop clearance being an issue, these are certainly factors to keep in mind.
 
Roof Rack Compatibility
Before installing your ski/snowboard rack, you'll need to make sure your vehicle has the proper crossbars. Crossbars either come stock with a vehicle or can be installed after purchase. Brands like Yakima and Thule are great places to start for aftermarket crossbars, and helpful buyers' guides on their website will help you match your car to the right setup (if your rooftop doesn't feature side railings to accommodate a standard set of crossbars, check out Thule's Clamp Evo). There are many different styles of crossbars, including aero, square, and round shapes, and many aftermarket varieties also come with a center channel (Yakima calls them T-slots, while Thule refers to them as T-tracks) for a sleeker look that hides the mounts inside the rack.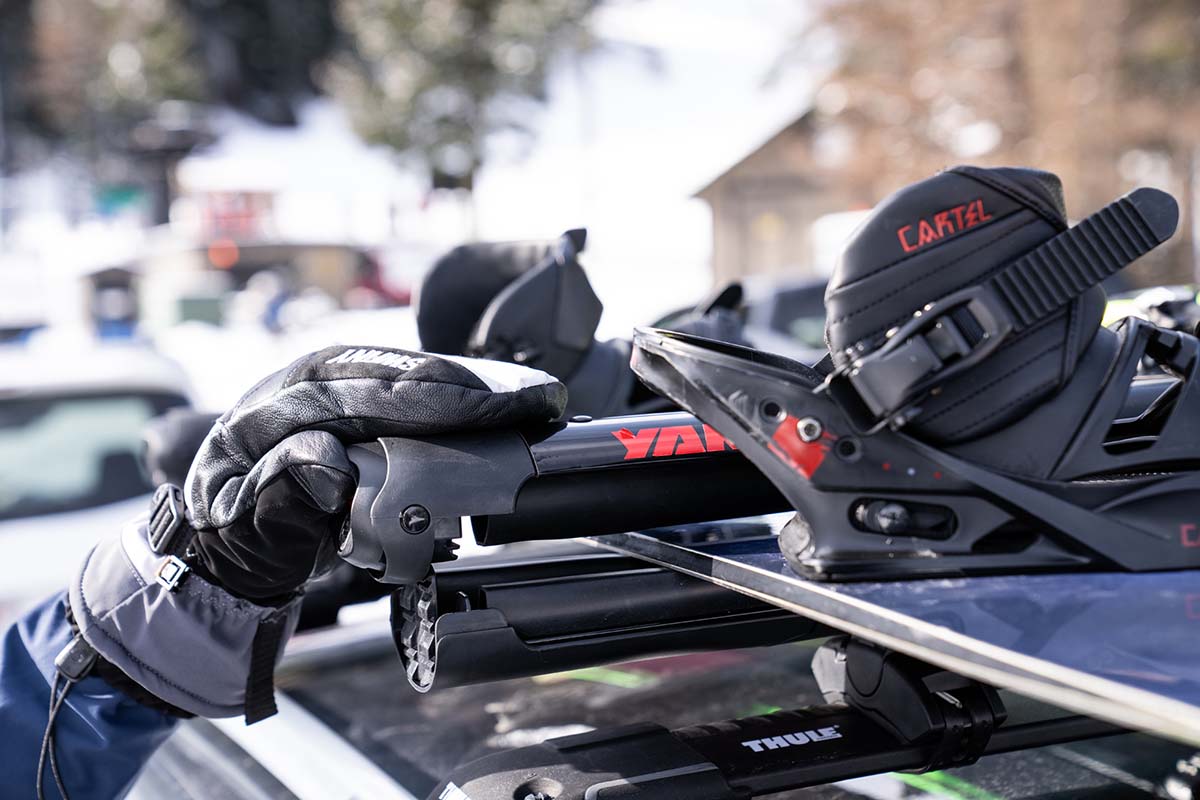 The good news is, once you have your crossbars installed, much of the effort is done. Most modern racks come standard with universal mounts, designed to work with all types of crossbars. Many are also set up to mount on racks with center channels (sometimes you'll have to purchase the hardware separately, as with the Yakima FatCat). Two other things to keep in mind are the crossbar dimensions and crossbar spread. Each rack will specify the size of crossbars it can accommodate (for example, the Küat Grip maxes out at 4.25 x 2 x 0.5 in.), along with the recommended spread (which will also depend on the length of your skis or snowboards). But in all but the most outlying cases, you can expect your rack to fit onto your crossbars with ease.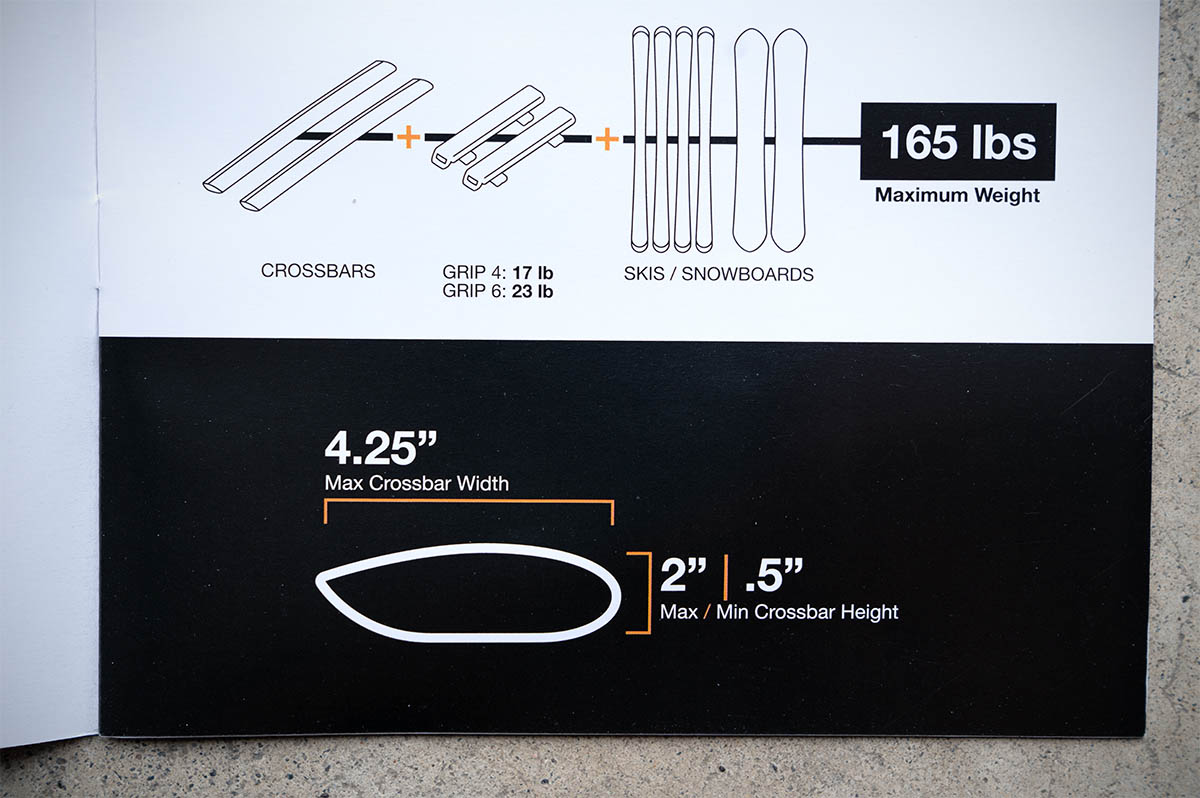 Rack Installation
Most modern ski and snowboard racks are fairly easy to install, provided that you have a bit of mechanical aptitude. The majority will come disassembled, requiring some assembly even before installation. Each manufacturer includes an assembly instruction manual with helpful photos (notably, we've found Thule's wordless manual to be particularly baffling), and it can also be helpful to watch videos online. In most cases, you don't need any tools: Yakima's racks offer tool-free installation, while Küat includes a few Allen wrenches to help with mounting.
When installing your rack, you'll want to consider if you want to bias it to one side for easier loading and unloading. Some larger racks, like the Küat Grip 6 and FatCat Evo 6, provide two separate mounting positions to keep them well balanced even when set to one side. It's also worth thinking about which side you want to open your rack from—in many environments, it won't matter, but if you're loading and unloading on the side of the street (as might be the case for many city dwellers), you'll likely want to place the open/close mechanism on the passenger side.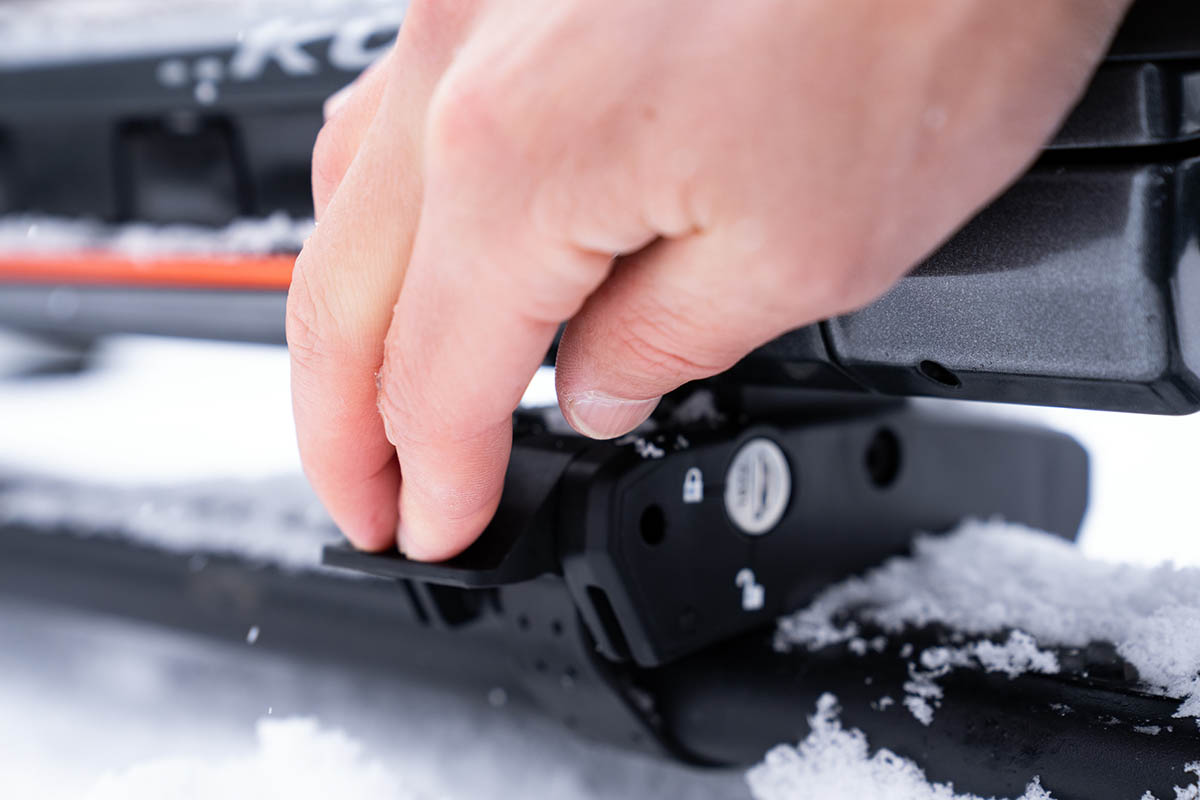 Materials and Build Quality
Most ski and snowboard racks feature a combination of lightweight metal, tough plastic, and rubber. The majority of premium designs are built predominantly out of metal for durability and a great high-end finish, and include strips of rubber on each side that form a secure seal around the skis or snowboards. Entry-level racks are generally constructed of heavy-duty plastic, which is great for weight- and cost-savings and relatively hardwearing, but won't stand up to the rigors of the road as well as metal models. Küat's Grip is just about as premium as it gets in terms of materials, with large, metal components and high-quality rubberized teeth to hold gear in place.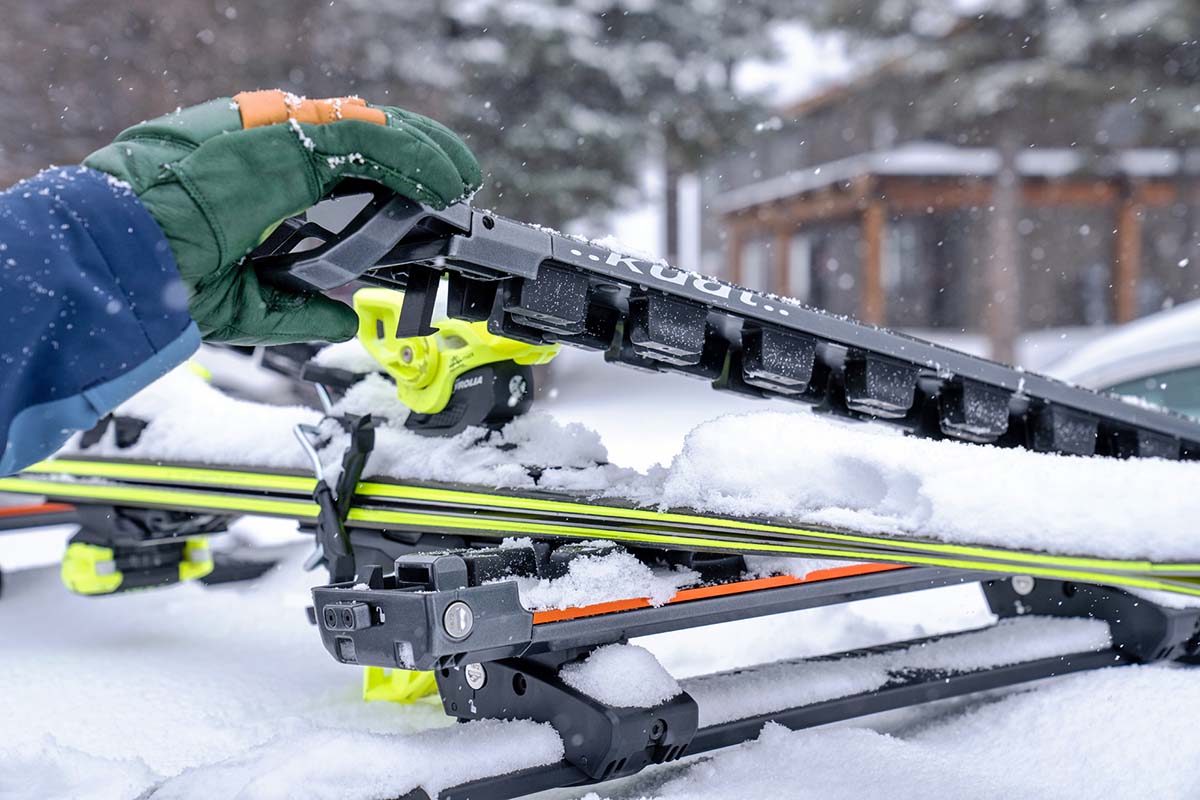 Weight
The racks on our list range from about 6.5 pounds to 23 pounds. In most cases, weight won't be too large of a consideration in deciding which rack is right for you, but it's worth mentioning for a few reasons. First off, all else being equal, a heavier rack can indicate higher quality, as designs fashioned predominantly out of metal will weigh more than those with greater amounts of plastic. In an era when a lot of gear is purchased online, this can provide a helpful hint to guide your selection. Second, keep in mind that most vehicle rooftops max out at around 165 pounds, so the heavier your rack, the less additional gear you can add (although this shouldn't be much of a concern with skis and snowboards). And finally, weight plays a small factor in installation, although none of the racks above should be particularly challenging to lift.
 
Wind Noise and Aerodynamics
Regardless of the size or design, it's likely that your rack will generate a bit of extra drag as you drive (especially when you're toting skis or snowboards). And while the exact science on this is hard to figure (keep in mind that a number of factors come into play, including vehicle type, interior load, speed, and external wind conditions), more drag most often results in lower gas mileage and more wind noise. There are a few ways to hush this whistling, including both DIY solutions and after-market purchases: You can wrap your front bar with a towel (and duct tape) or a bungee cord, swap in aerodynamic crossbars (Yakima's JetStream is a popular option), or add a fairing (like the Thule AirScreen XT). It's also worth noting racks like the Küat Switch, which fold down into a more aerodynamic position when not in use. While these solutions might not cut out wind noise and drag completely, they'll go a long way in smoothing airflow, which is well worth it for a more peaceful drive (and the gas savings might pay off in the long run).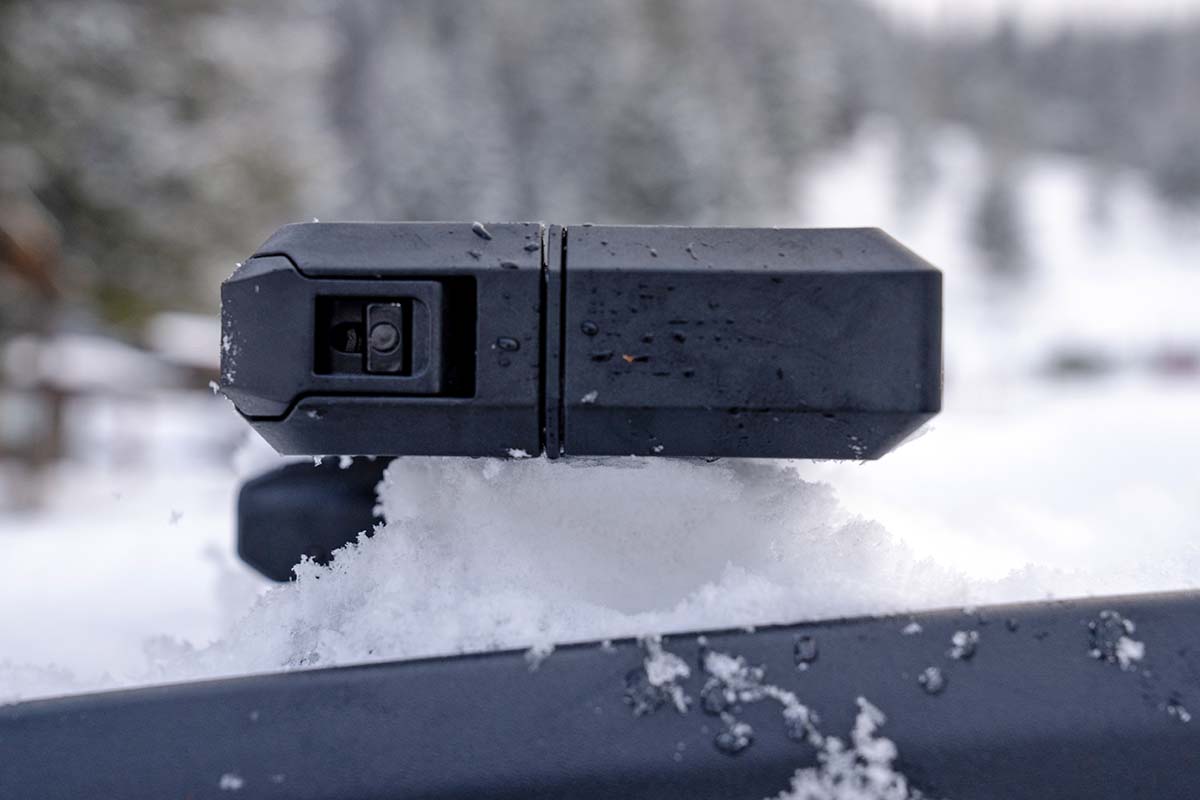 Hitch-Mounted Racks
The majority of snow sports enthusiasts will opt for roof-mounted racks, which can carry up to six pairs of skis, are fairly easy to reach on most small- to mid-sized vehicles, and still allow access to the trunk or rear hatch. However, if you drive a van or SUV with a tall roof or already have a hitch-mounted rack (for bikes or other storage), it's worth considering a hitch-mounted ski/snowboard rack. These racks (such as Thule's Tram and Yakima's HitchSki) are add-on pieces of gear that affix to pre-existing infrastructure: The HitchSki, for example, must be installed on a mast-style rack, while the Tram requires a dual-arm hitch rack. And Yakima also makes the Exo SnowBank, which attaches to their versatile Exo hitch system.
Most hitch racks can accommodate up to six skis or four snowboards, making them a great option for larger families or groups, and they also leave your rooftop open for other uses (such as a rooftop tent or boat storage). But these racks do have their downsides: They make accessing the trunk a bear, might interfere with a vehicle's backup cam, and will add extra length to your footprint—which especially comes into play when navigating tight spaces in the city. They're also much pricier all-in, considering that you'll need to purchase the hitch bike rack separately. But if you seasonally migrate from biking to skiing and back again, they can be a really nice all-in-one gear-toting solution.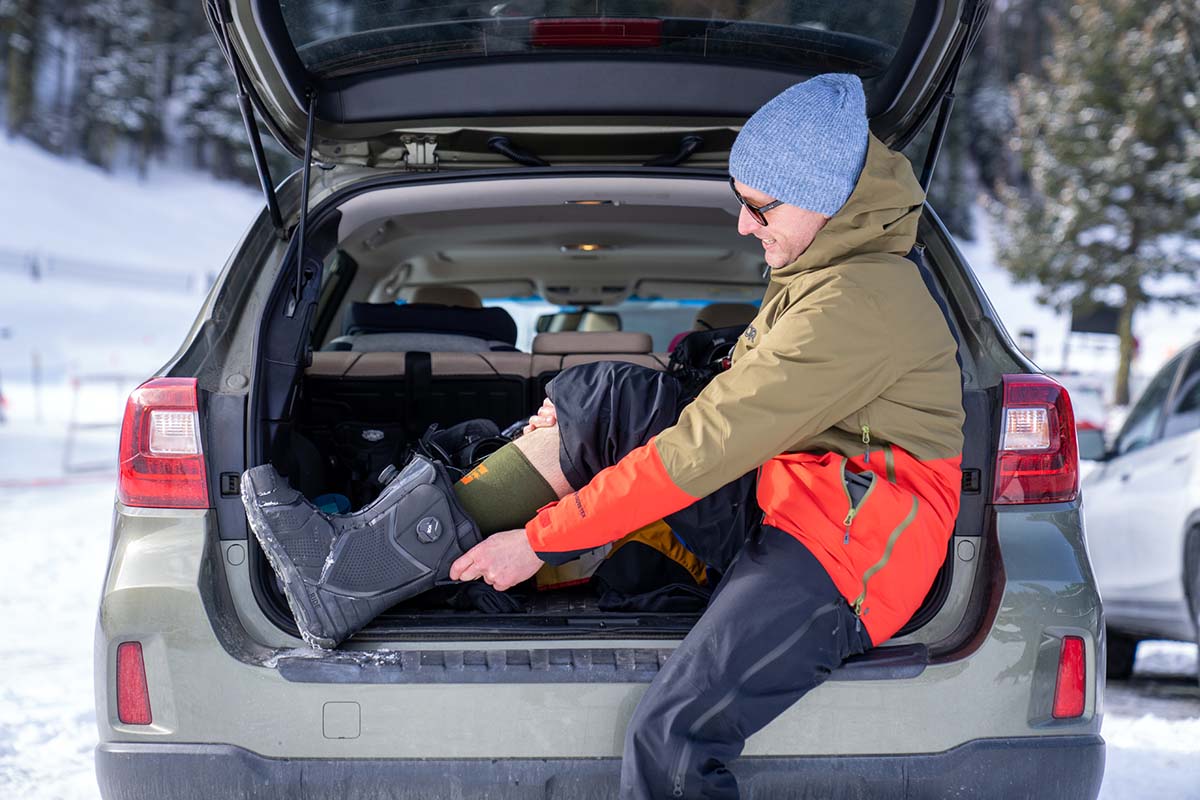 Rooftop Racks vs. Cargo Boxes
If you're thinking about purchasing a rooftop rack for your skis or snowboards, chances are you've also considered a rooftop cargo box. Most rooftop cargo boxes are built to fit multiple pairs of skis, along with a host of other gear (including wet gloves, ski pants, helmets, and more). Not only do they accommodate more than a rack, but cargo boxes also protect your skis and snowboards from the elements, which can be worth it for overnight storage or long road trips.
Many shoppers will settle on a cargo box for their added benefits, but they come at a cost—both literal and figurative. Our favorite mid-range model, the Thule Motion XT XL, checks in at $950, which is almost double the cost of our top-ranked Küat Grip 4 ($429). Second, they can be a pain to install (you'll probably need two people) and take up a good deal of garage space when not in use. And finally, they're typically less aerodynamic than a streamlined ski rack, resulting in more potential whistling and road noise on your rooftop. But for a versatile carrier that's useful during summer, winter, and everything in between, there's a lot to like about a cargo box.
Back to Our Ski/Snowboard Rack Picks  Back to Our Ski/Snowboard Rack Comparison Table
Learn More About Ski and Snowboard Gear