Yakima SkyBox 16 Carbonite
Price: $679
Gear capacity: 16 cu. ft.
Weight: 47 lbs.
What we like: Extremely versatile design, quality build, and competitive price.
What we don't: Stiff latch can be a challenge to open; can't accommodate tall items.
See the Yakima SkyBox 16 Carbonite
Yakima has been a leader in the cargo roof box game for some time, and their core and arguably most versatile product is the SkyBox Carbonite. We've had the 16-cubic-foot model on the top of our vehicle for a few years now and have found it to be endlessly useful. It has hauled everything from firewood and camping gear to skis and snowboards and performed nearly flawlessly throughout. Below we break down our experiences with the SkyBox 16. To see how it stacks up to the competition, see our article on the best rooftop cargo boxes.
 
---
Table of Contents
---

Gear Capacity and Interior Space
There are a wide range of cargo box designs and shapes on the market, but we've found the Yakima SkyBox 16 Carbonite hits the sweet spot in gear capacity for all-season use. Its manageable size fits on most vehicles, and our model has accommodated bulky camping gear for a family of four, including a large tent, sleeping pads, sleeping bags, and a stove (plus a kid's Strider bike). It required some strategic packing, but it stores an impressive amount (especially with items that are soft-sided and compressible). And for winter-time use, the box easily swallows snowboards and skis. Yakima lists the maximum length at 185 centimeters, but I can confirm it was just long enough for a couple pairs of 182-centimeter all-mountain skis plus a snowboard. It's worth noting for those with larger vehicles and a need to haul even more gear, Yakima offers the SkyBox in larger 18- and 21-cubic-foot capacities (Switchback's founder picked up a SkyBox 21 for a big family move).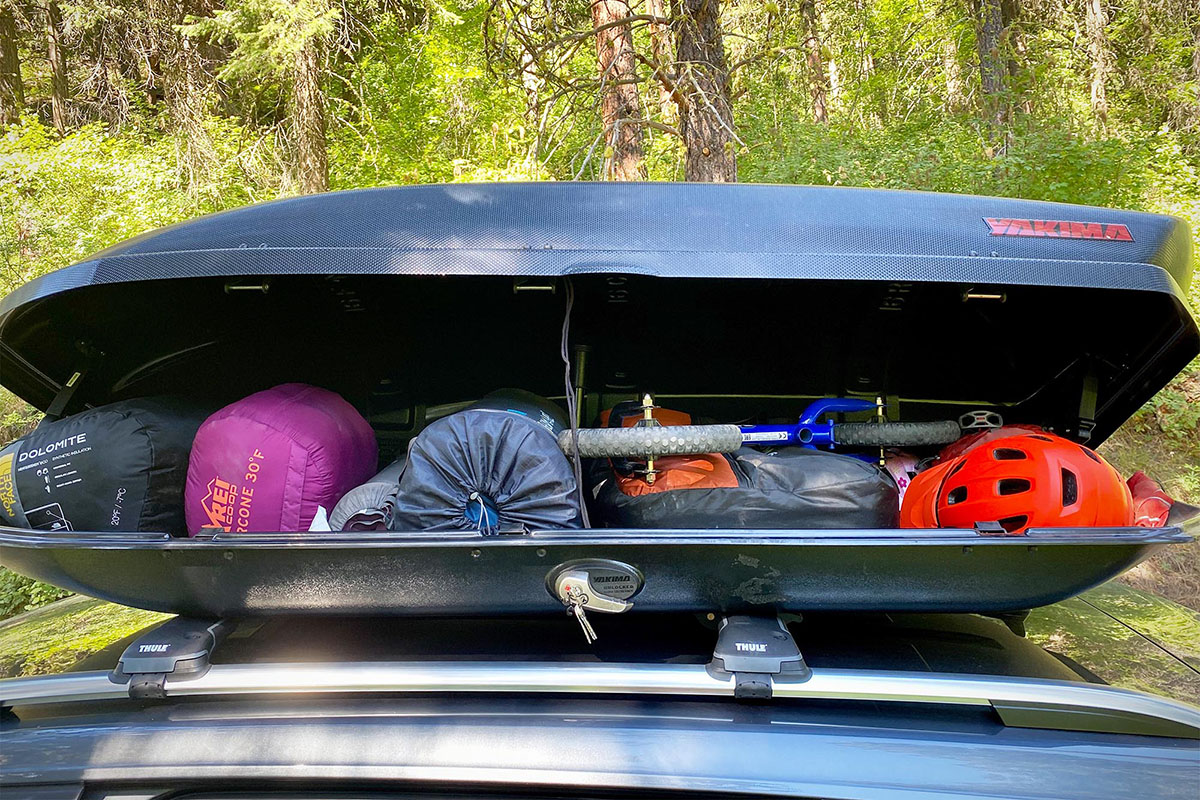 One thing to keep in mind with the SkyBox 16 is its aerodynamic shape does limit what you can haul to items that are fairly low-profile. It's great for camping gear, but it's only 15 inches tall at its peak (and those are the exterior dimensions) and lower towards the front. As such, you'll run into issues stacking items that are long (like camping chairs) or especially tall (some strollers that have large 16-inch wheels won't fit). In addition, the four raised levers that secure the box to your vehicle's crossbars do take up a little space along the interior and keep the floor from being completely flat. This also impacts what you can fit inside, but it's far from a deal breaker, and overall we've been very pleased with how much gear the SkyBox can hold.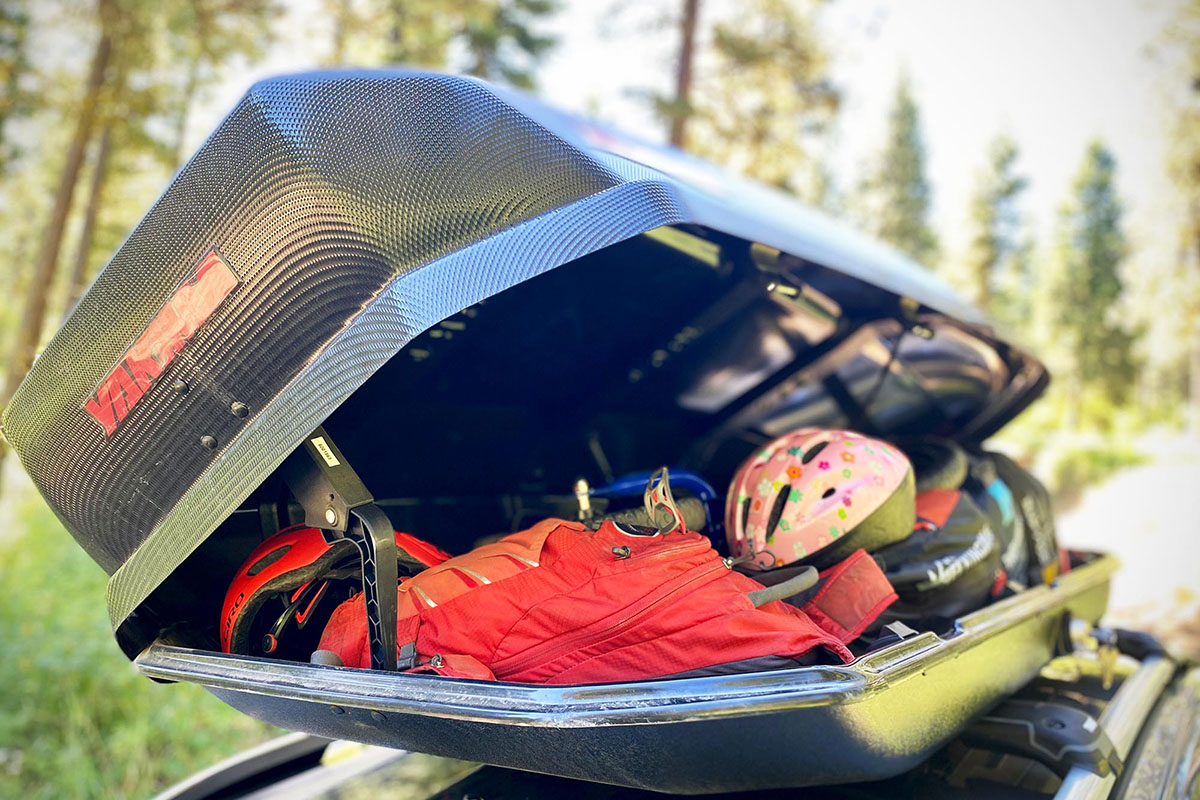 Box Dimensions and Weight
The dimensions of a roof box are a key consideration—you need to make sure it won't interfere with your vehicle's rear hatch—and this is one of the largest appeals of the SkyBox 16. Overall, it's long enough at 6 feet 9 inches to accommodate most skis and a fair amount of gear, but with ability to slide the clamps fore/aft, it works with a wide variety of vehicles. I haven't had any fit issues on my Volkswagen Alltrack, but to ensure it will fit, you'll want to measure from your front cross bar to the closest contact point of the open hatch (Yakima has a useful guide for nailing this down). And we touched on the height above, but at 15 inches (interior dimensions are about 1 inch less), it does come with some limitations on what squeezes inside. Finally, its 36-inch width works well with a narrow vehicle like my Alltrack, and you'll have the option to add accessories like a bike rack on larger vehicles with wider cross bars.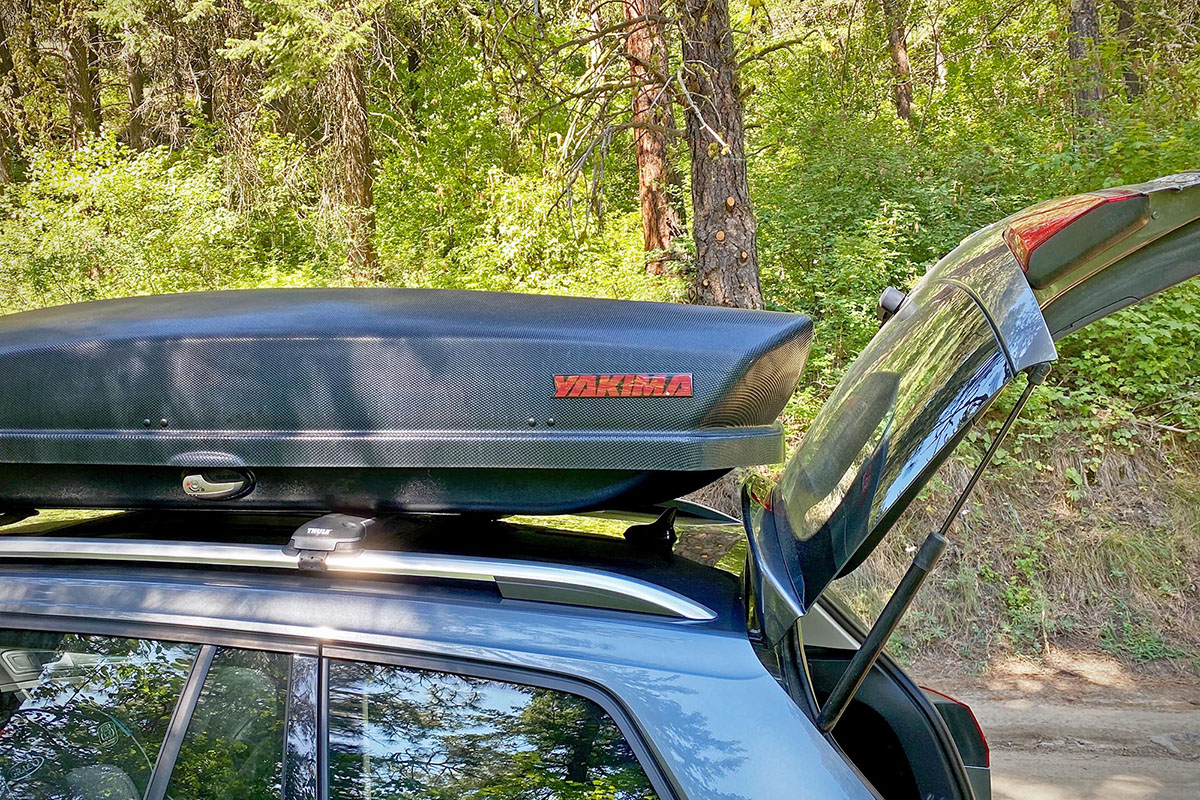 In terms of weight, the SkyBox 16 clocks in at 47 pounds. Combined with the bulky dimensions, it's best to move the box with a partner (more on this in "Installation and Removal" below). Weight is important to keep in mind as your rack system—whether from the manufacturer or aftermarket—as well as your specific vehicle will have weight limits. But at 47 pounds, the SkyBox leaves plenty of leeway for hauling fairly heavy items (for reference, my Thule rack can handle 165 pounds and my vehicle's roof is rated for the same).

Cargo Box Access and Security
One of the advantages in opting for a mid- or high-end box is easy access to the interior. In the case of the Yakima SkyBox 16 Carbonite, this means you can open the box from either the driver or passenger side of the vehicle. Both have identical handles and integrated locks, which allow you to easily load or grab small items you've stowed in the interior's nooks and crannies. The box opens in a clamshell configuration and is plenty wide for adding or removing bulky items. And for closing, each side has a string hanging down in the middle that you can grab if the opened box is too high and difficult to reach.
One access-related nitpick we have is that we found the latches to be fairly stiff and require a sturdy push downward to open. In some ways this is reassuring—the box is clearly well made, and the levers have held up great thus far—but we'd prefer it took less effort. The SkyBox also includes a set of SKS keys, which are required for opening the box and cannot be removed until it has been fully closed and secured. This can be a somewhat polarizing feature—if you keep your keys on a larger ring, the full set will be connected to the box and out in the open until you close it—but it does provide a good dose of security and ensures you've properly closed the box before heading out.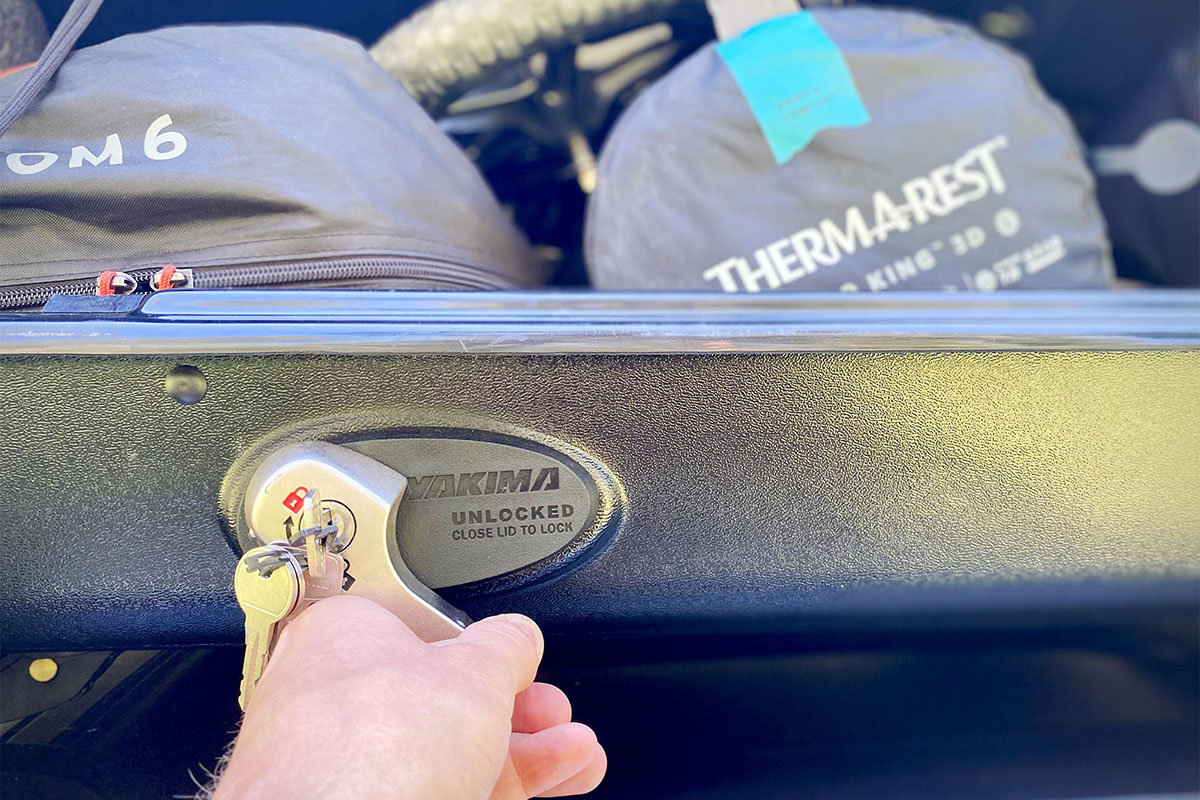 Weather Resistance
In about three years of use, my Yakima SkyBox 16 Carbonite has seen everything from 100+ degree heat to driving rain and snowstorms and has yet to leak or fail. Yakima describes the box as water-resistant, and I would put it decidedly toward the high end of the spectrum. The lips on the side of the box hang over the seam where it opens, so moisture rolls over the top. And the latch hasn't been a source of weakness either. On the flip side, the interior understandably can get quite warm in direct heat. The combination of no openings to release air and the black exterior means a lot of hot air comes out when you open it after driving on a sunny day. But overall, this is a fairly minor complaint, and I'm happy with the all-around protection.

Road Noise and Aerodynamics
A common fear in strapping a large box to the roof of your vehicle is the impact on road noise, as well as a big hit to gas mileage. The good news with buying a quality product like the SkyBox is that these effects are fairly negligible. The exterior doesn't have the high-end sheen of a premium model like Yakima's own GrandTour 16, but the dimpled pattern and shape (with a lowered front end) make it a strong performer.
Starting with road noise, the difference with my 2017 Volkswagen Golf Alltrack with and without the box has been minimal. In fact, on windless days on the highway, there's little to no difference. If it's gusty outside, there is an occasional whooshing sound as wind hits (particularly cross winds), but again, it's faint enough that I frequently forget the box is up there. If you're concerned about aerodynamics or fitting into a garage, you could opt for an even lower-profile design like Yakima's SkyBox Lo (11.5 in. peak height), but that design makes compromises in both vehicle hatch compatibility and gear storage (more in "The Competition" below).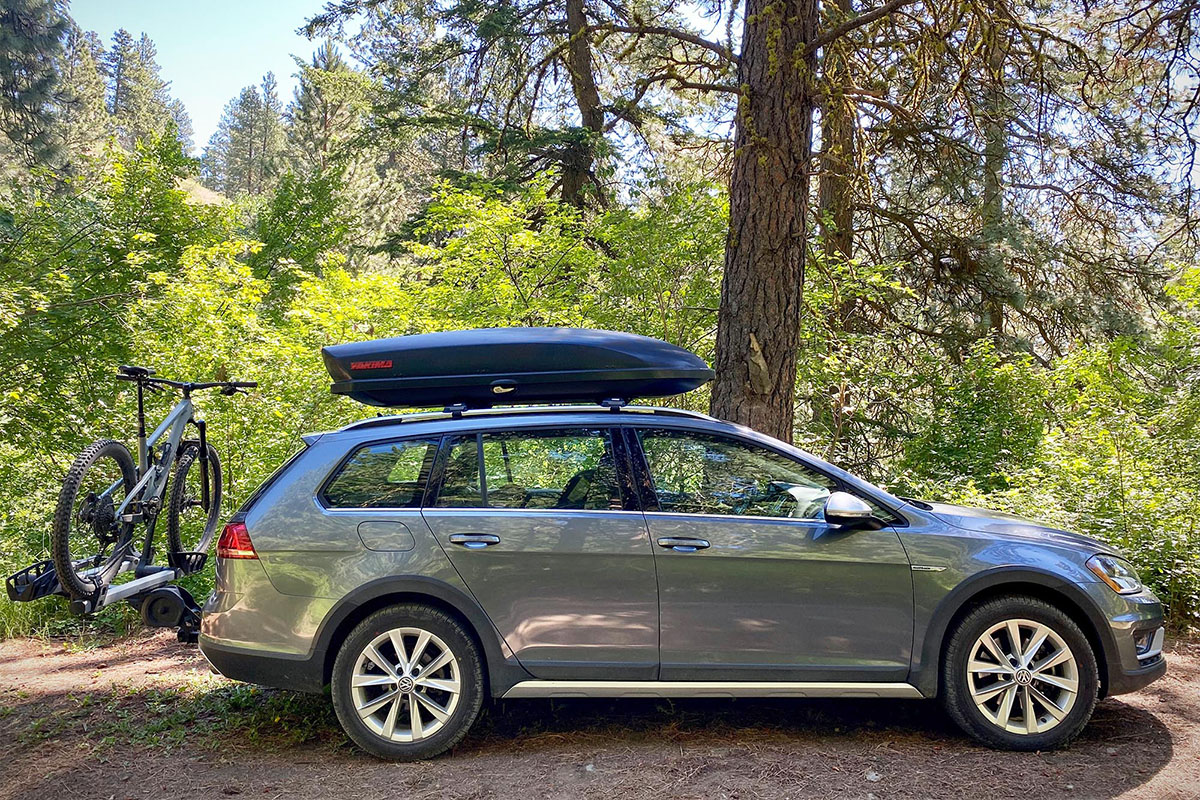 And the same can be said for your car's gas mileage: If there isn't much wind, the impact is very minimal. While my tests haven't been exactly scientific, I've repeated similar two- to four-hour routes along two-lane and major highways throughout Washington state—including over mountain passes—and I've seen only minor dips in average mileage. On particularly windy trips, it will be 1 to 3 miles per gallon lower, while in milder conditions it's close enough to not see a difference.

Build Quality and Durability
We'll cut straight to the chase: Cargo roof boxes are expensive items. At $679, the SkyBox 16 falls at the upper end of mid-range offerings, and its overall build quality is reflective of that. You do miss out on the sleek look of a top-end build like the GrandTour ($779) or Thule's Motion XT L ($800) that have premium-level paint jobs, but everything is clearly well made and built to last. The plastic sides are plenty durable to handle the elements, and as I mentioned above, I've had no issues with weather protection. I've had the box on top of my vehicle for a couple years and have only removed it for a relatively short stretches (I store my vehicle outside, and my local weather conditions in the middle of Washington state vary from desert-like in the summer to snowy in the winter). All told, I have no concerns from a longevity standpoint, and the SkyBox does come with a lifetime warranty (wear and tear not included).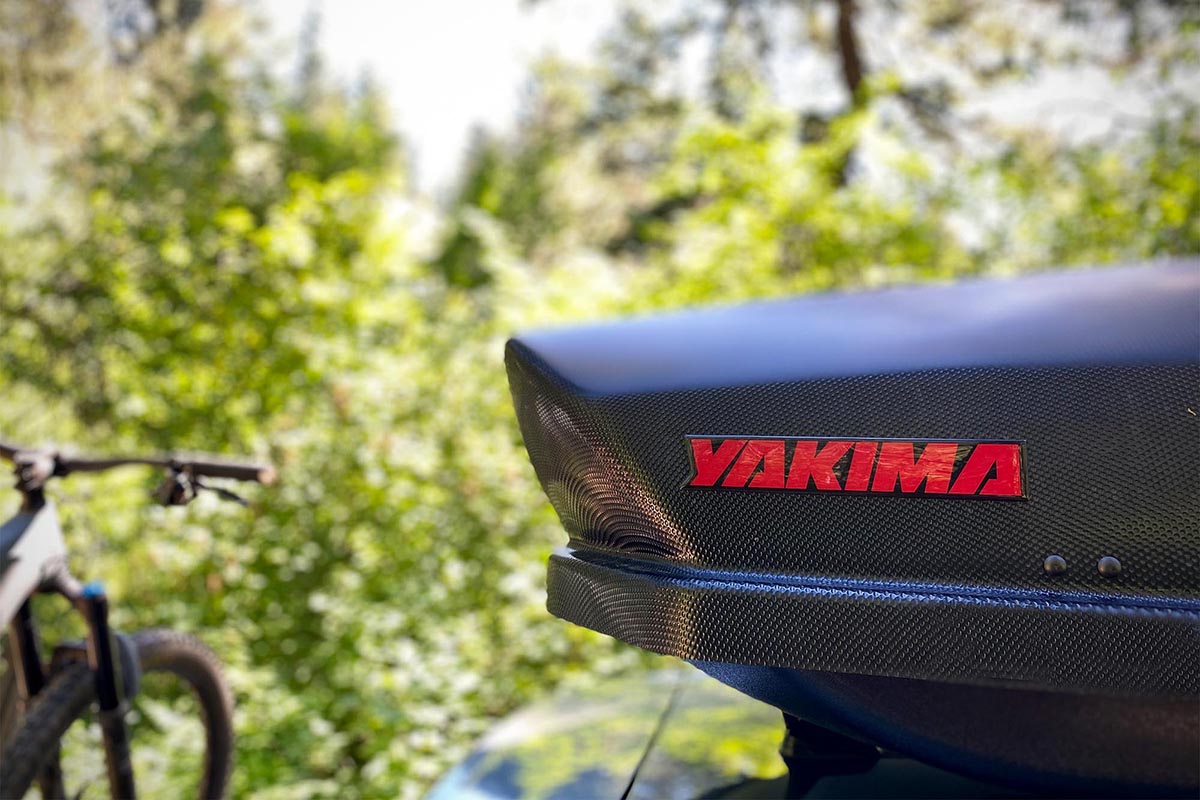 Installation and Removal
Initial set up of the Yakima SkyBox 16 Carbonite is about as easy as it gets with no tools required. I picked mine up from an REI store, removed it from the box, and had it on my vehicle within a couple minutes. For installing, you'll want to raise the lid and ensure that all four of the internal levers are open (you'll see the clamps along the bottom expand to fit over the cross bars). Then, with a second person, you simply lift the box, approach the vehicle from the front (the open clamps will make this positioning obvious), and set the box immediately in front of the bars. Then you can slide the clamps (they're highly adjustable) over the bars and secure them by flipping all four over. And for visual learners, there are a number of quality videos put together by both Yakima and various online retailers. Removal just requires reversing the process and is equally simple—but again, you'll want a second person to help take it off.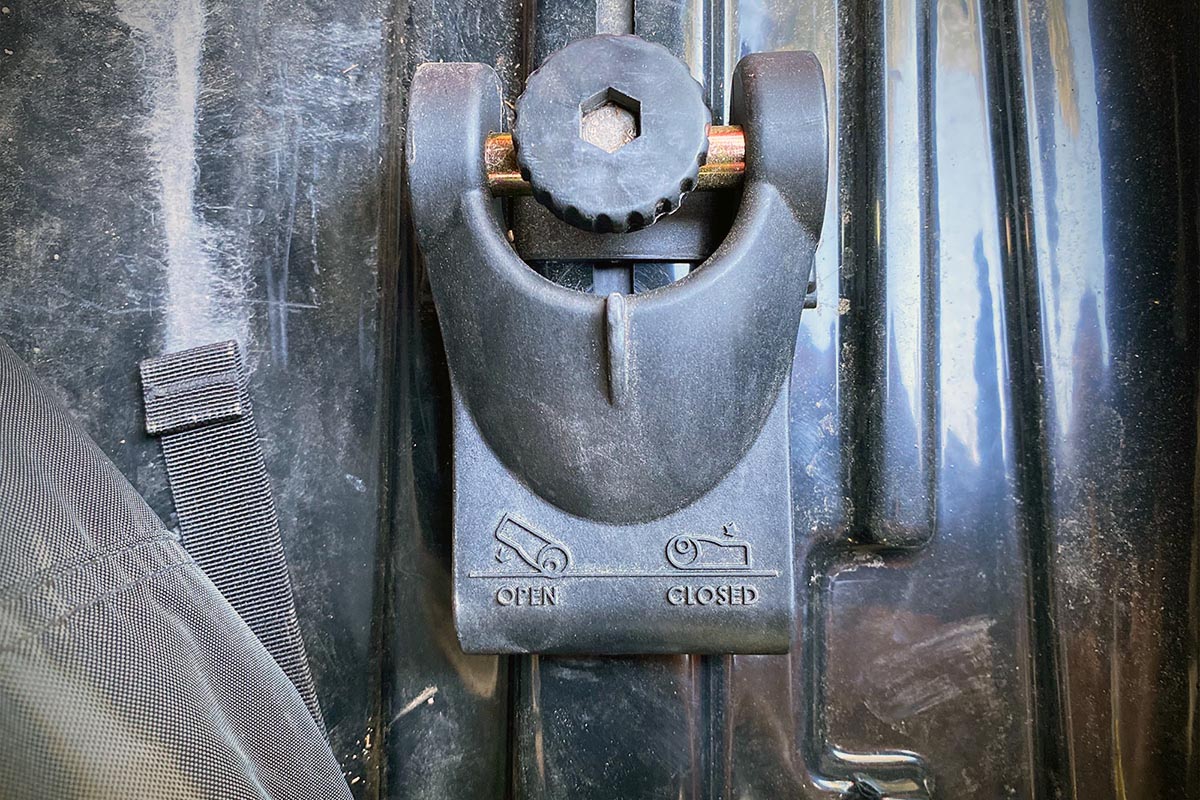 Cross Bar Compatibility
Unlike in the past, cross bar compatibility is rarely an issue with modern roof boxes. In the case of the SkyBox, Yakima claims its open clamps will work with any of their rack systems (round or aerodynamic), factory bars that come from the vehicle manufacturer, and square bars (commonly found with entry-level Thule sets). My vehicle had Thule's AeroBlade system, and while Yakima's fit guide doesn't explicitly state it will work, the box fits seamlessly. It's always best to use the fit guide prior to buying, and we highly recommend going through the process of measuring if there will be any potential hatch interference.

Other Capacities of the Yakima SkyBox
We tested the 16-cubic-foot version of the Yakima SkyBox Carbonite, and it also comes in 12, 18, and 21 options depending on how much storage space you want. We found the 16 to be nearly perfect for our gear needs, but the 15-inch peak height (about 14 in. for the interior) was fairly limiting for stacking items on top that are long or particularly tall. For those, we advise stepping up to the 18 (peak height: 16 in.) or 21 (18 in.) model. Finally, Yakima offers the SkyBox in a Lo Carbonite variation, which costs $649 and is lower-profile and longer than the model tested here at 11.5 inches tall and 7 feet 8 inches long (more on this below).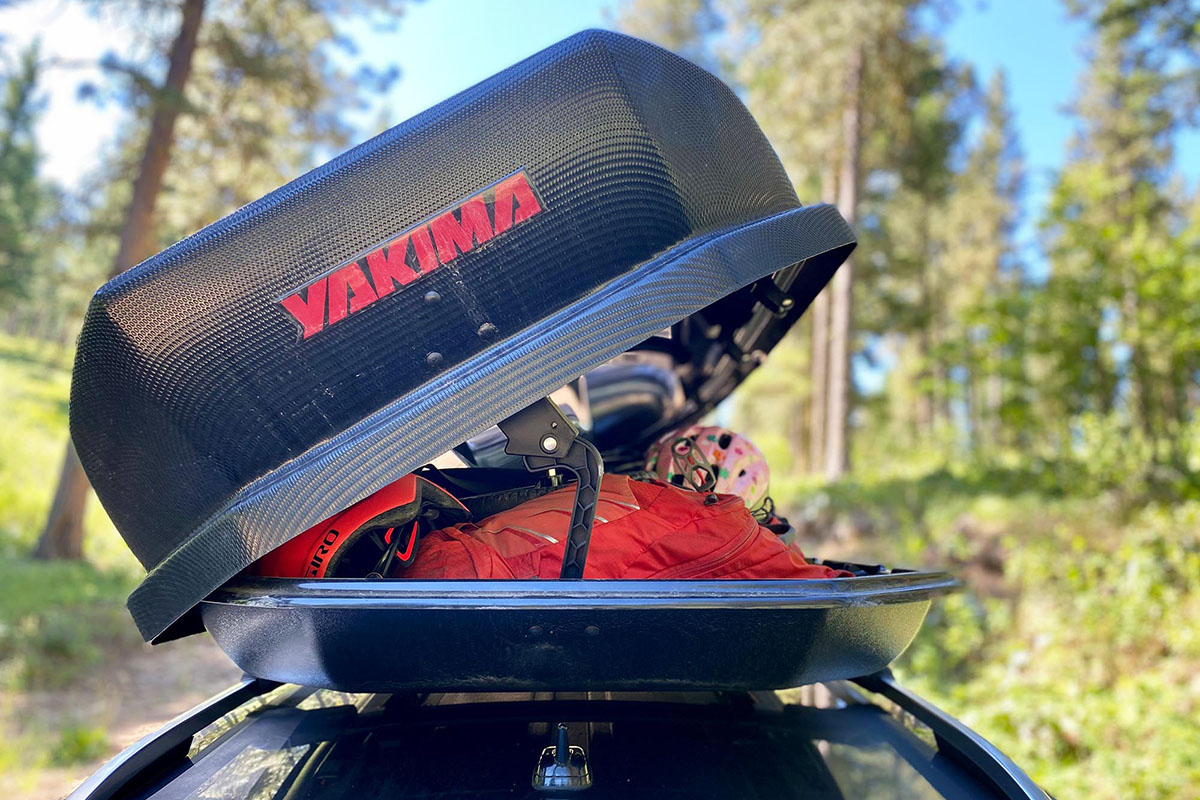 Sustainability: Recycled Materials
Roof boxes aren't typically known for their focus on sustainability, but Yakima took an extra measure with the SkyBox 16 Carbonite by using recycled materials in production. Specifically, the box uses up to 80-percent-recycled ABS plastic in its build (as do all other models in the SkyBox collection). Given the large amount of plastic required to make a roof box, it's nice to see and a feature you won't currently find on their primary competitor (Thule).

What We Like
Design hits the sweet spot for all-season use: It's a manageable size that fits most vehicles while retaining ample capacity for skis and bulky camping equipment.
Can be accessed by both the driver and passenger sides.
Easy, tool-free setup and removal.
Road noise and impact on gas mileage are minimal—I frequently forget that the box is on my roof.

What We Don't
Stiff latch can be challenging to open.
Aerodynamic shape and relatively shallow 15-inch peak height limit what you can haul to items that are fairly low-profile.
Lacks the sleek look of a top-end roof box like Yakima's own GrandTour or Thule's Motion XT (although for the price, the SkyBox is very well built).


Comparison Table

The Competition
Yakima's SkyBox 16 offers an impressive balance of capacity, ease of installation, and on-road performance. Thule's Force XT L is the SkyBox's closest competitor: It matches it in carrying capacity at 16 cubic feet, sports key features including dual access and an aerodynamic shape, and is quick and easy to install and remove. Where the two differ is in dimensions: The Force is taller with an 18-inch peak height (the SkyBox is 15 in.) but shorter at 6 feet 2.75 inches (6.25 in. shorter than the Yakima). This means the Force is limited to skis that are 175 centimeters long, which might be a deal breaker for those who ride longer sticks (myself included). The Thule is also a bit pricier at $700, and its smooth plastic finish isn't as sleek as the SkyBox (although that's mostly a matter of personal preference). For me, the SkyBox's shape wins out, but both are well-made and nicely executed designs from top roof box brands.
On the other end of the price spectrum is Thule's $600 Pulse L. Compared to the SkyBox, you get the same amount of capacity at 16 cubic feet, a taller peak height at 16.5 inches, and a lower weight (by over 10 lbs.) at 36 pounds. However, the Pulse is shorter than the SkyBox at 6 feet 4 inches and can only be opened from the passenger side, which is a notable compromise in convenience (we really like the dual access on the SkyBox). The Thule will save you around $80, but we think the Yakima's added access point is worth the weight and price penalties.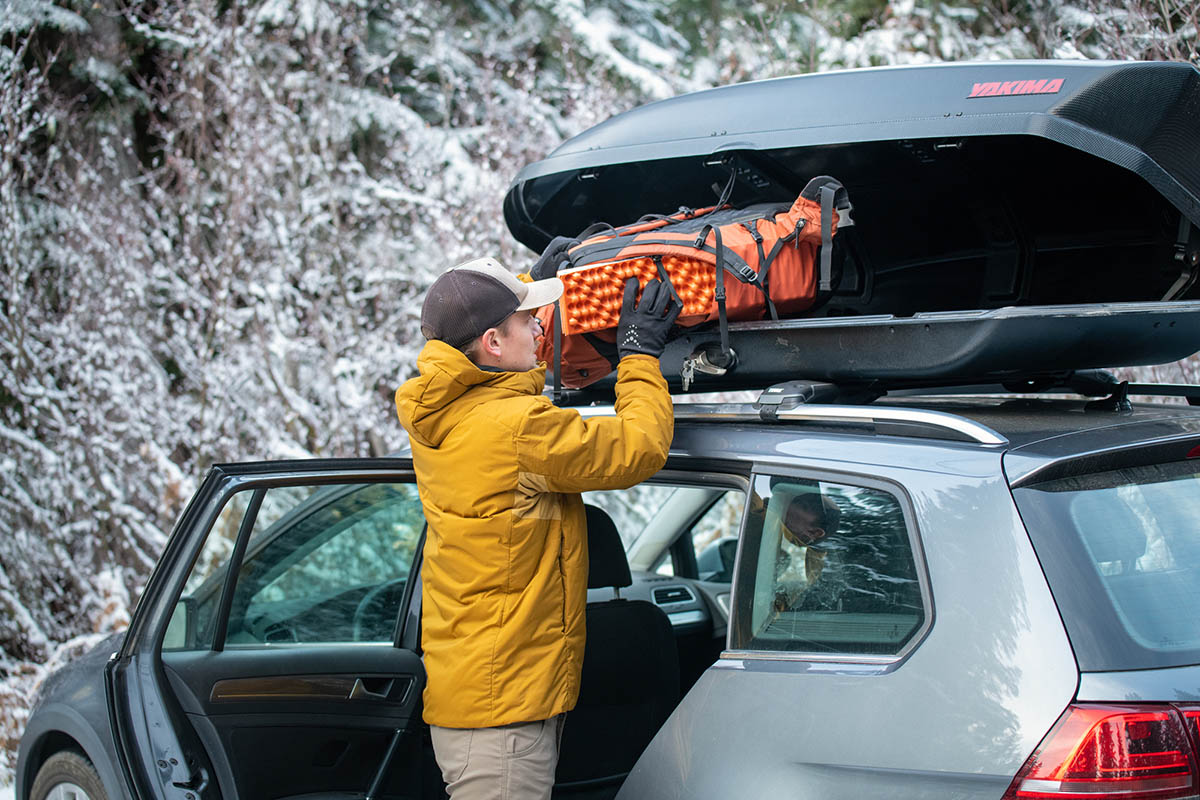 As we mentioned above, Yakima also makes the SkyBox in a Lo Carbonite version, which is shorter and longer than the model tested here and ideal for those concerned about aerodynamics. In terms of specs, you get 3.5 fewer inches of height but almost another foot lengthwise at 7 feet 8 inches. Depending on your vehicle and garage height, this could be the difference between storing your car inside or out. The biggest compromises are in compatibility and gear storage, as the longer length is more prone to hatch interference, and the shorter peak height is limiting for larger and taller items. For $30 more, we think the SkyBox 16 is the more versatile overall design. But again, this largely comes down to personal preference (as well as garage height) and the types of items you'll be stowing.
Yakima's GrandTour 16 offers the same capacity in cubic feet but is a step up in their lineup and costs an additional $100. For the price, you get a higher-end painted shell, a flatter floor with tiedowns, and a taller peak height at 18 inches. That said, the GrandTour weighs more at 51 pounds 8 ounces and can only accommodate skis up to 180 centimeters with its 6-foot-7-inch length (vs. 185cm max or the SkyBox 16). Both boxes feature dual-sided openings for easy access on the vehicle or driver side, SKS locks for added security, and easy, tool-free installation and removal. In the end, a strong case can be made for both models, but we think the SkyBox is the better overall value (plus, the GrandTour 16 is hard to track down at the time of publishing).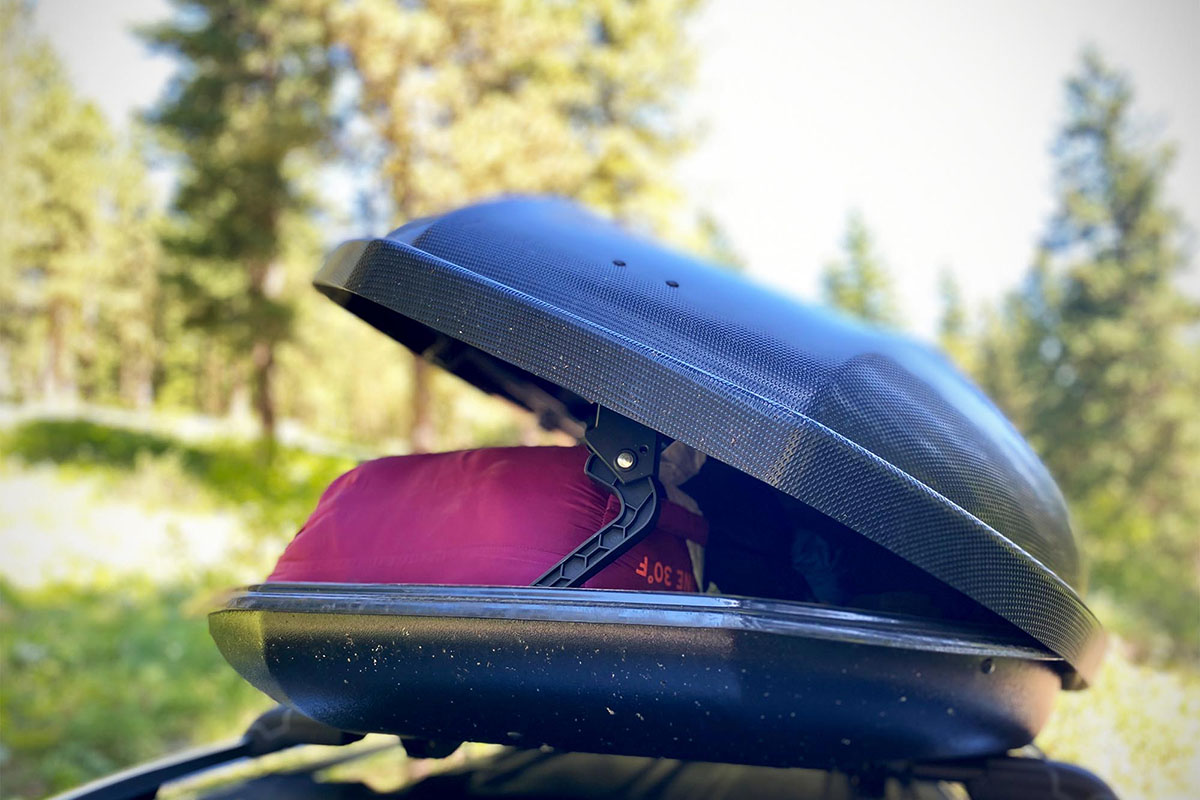 Last but not least is the INNO Wedge 665, which falls at the higher end of the market with its premium look and sleek finish. Stacked up against the SkyBox 16, the Wedge 665 is slightly taller at 15.7 inches but weighs more at 51 pounds 12.9 ounces and is shorter lengthwise at 6 feet 8 inches. However, it's a great match for skis—it's rated to handle six to eight pairs (or four to six snowboards)—and it's incredibly well made throughout. That said, the INNO is less of a proven design than the longstanding SkyBox, and it's pricey for what you get at $700 (plus, stock has been hit or miss lately, and the Wedge 665 is largely unavailable at the time of publishing). For around $20 less, we prefer the Yakima for its similar capacity at a lower weight.
If you're thinking about buying gear that we've reviewed on Switchback Travel, you can help support us in the process. Just click on any of the seller links above, and if you make a purchase, we receive a small percentage of the transaction. The cost of the product is the same to you but this helps us continue to test and write about outdoor gear. Thanks and we appreciate your support!
Depending on the seller, most products ship free in the United States on orders of $50 or more. International shipping availability and rates vary by seller. The pricing information on this page is updated hourly but we are not responsible for inaccuracies.
Read More From Switchback Travel