Backpackers want a stove that is dependable, durable, and will get the job done quickly after a long day on the trail. Thankfully, the market is full of proven designs that perform well in nearly all conditions. Backpacking stoves can be broken into two main categories based on their fuel type: isobutane/propane canister and liquid-fuel stoves. Generally, canister stoves are compact and less expensive, while liquid fuel stoves are a bit bulkier but excel in colder, more extreme conditions. Below are our picks for the best backpacking stoves of 2017. For more background information, check out our comparison table and buying advice below the picks.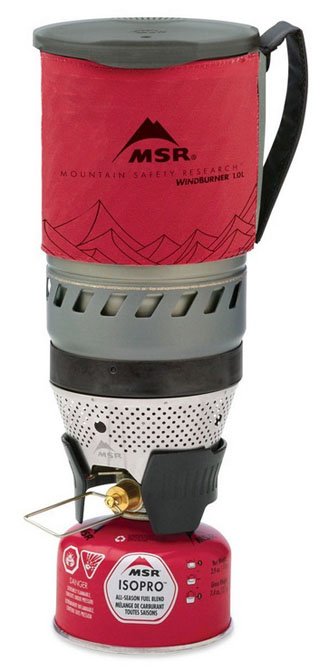 Fuel type: Canister
Weight: 15.25 oz.
All-in-one system: Yes
What we like: Integrated system, cold and windy weather performance.
What we don't: No built-in ignitor and a little heavy.
For boiling water for freeze-dried meals or coffee in the morning, there is no better stove type than the canister system. These stoves offer all-in-one functionality because the pot locks onto the stove (for this reason, they also are more stable), and they burn very efficiently. Jetboil had the integrated sit-on-top stove market cornered for years, but MSR has overtaken them with our favorite stove on the market, the WindBurner.
The WindBurner boils water fast and has all the features necessary to cook and eat in a single pot. The standard 1 liter model is great for one or two backpackers, but for larger groups, we recommend the 1.8 liter. Everything from the lid to the honeycomb burner is well made. And we love the windproof design: after lighting the stove and snapping everything into place, the enclosed burner brings water to a boil quickly, even in gusty conditions. If you prefer to do more than just heat water, there is a WindBurner Skillet that can be purchased separately that integrates nicely into the burner and cooks evenly. With a recent price bump, the WindBurner is getting fairly costly, but it still holds its place as our top pick of 2017.
See the MSR WindBurner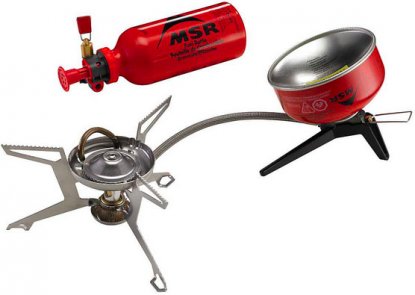 Fuel type: Canister/Liquid
Weight: 14.9 oz.
All-in-one system: No
What we like: Multi-fuel compatibility and easy maintenance.
What we don't: A bit heavy for backpacking.
With the ability to run on a number of different kinds of fuel, including both liquid and canisters, the WhisperLite Universal is a go-to stove for well-traveled backpackers. This means that you can use nearly any type of fuel at your destination (travelers to remote places like Patagonia will appreciate the flexibility). It's also a cinch to maintain, which can be essential during extended travels in far-off regions.
The WhisperLite Universal is not a bad performer domestically either. With a stable base and the ability to run on isobutane/propane canisters, this backpacking stove can be a workhorse at high elevations. You are, however, paying a high price for the multi-fuel capability: it's a very similar design as the MSR WindPro II below but $40 more expensive. Domestic backpackers may prefer to hone in their fuel type and save some dough, but for international adventurers or high elevation explorers, the WhisperLite Universal still stands above the rest.
See the MSR WhisperLite Universal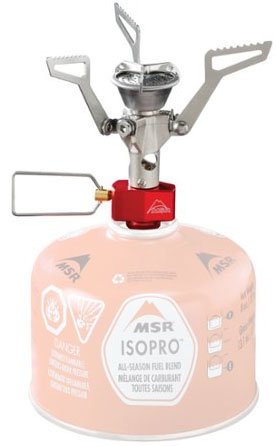 Fuel type: Canister
Weight: 2.6 oz.
All-in-one system: No
What we like: Light, simple, affordable, and a strong burner.
What we don't: The options above are more stable.
In terms of simplicity, weight, and price, it's hard to beat the MSR Pocket Rocket. Updated to the "2" for 2017, the stove appeals both to ounce counters and those on a budget with quality construction, a sub-3-ounce weight, and a relatively low $45 price tag. Notable changes to the new model include an even lower weight (our Pocket Rocket 2 is 2.6 ounces vs. 3.1 ounces for the original), and the redesigned supports can accommodate a wider range of pot diameters and are about 1 inch shorter when folded. But what we love about the original Pocket Rocket hasn't changed: it's surprisingly powerful for its size and has good temperature control for doing more than boiling water.
The main downside of the Pocket Rocket 2 is that it relies on the fuel canister for its base, which can make it unstable and a little tippy on rough ground. This is a common problem for this style of stove, and for extra stability we've had success with the MSR Universal Canister Stand (although it adds weight and bulk to your setup). Overall, we think the Pocket Rocket 2 will continue to be a top seller with its impressive combination of reliable performance, low weight, and an attractive price.
See the MSR Pocket Rocket 2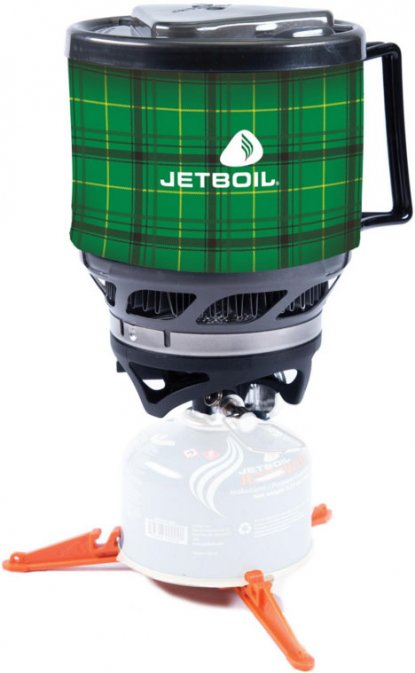 Fuel type: Canister
Weight: 14.6 oz.
All-in-one system: Yes
What we like: Built-in ignitor, good simmer control, wide-mouth opening.
What we don't: Lacks in windy weather performance, pricey.
Their best stove to date, the MiniMo continues a long line of excellent integrated systems from Jetboil. And with an upgraded temperature regulator for vastly better simmer control, the MiniMo is a far cry from the original Jetboil, which was an all on or all off kind of affair. Much of what made those stove systems popular is still here, however. The 1-liter cooking cup wrapped in a neoprene sleeve makes for safe handling, set up and take down (as well as storage) is quick and easy, and it's a fast water boiler.
Differentiating it from the WindBurner above is the built-in ignitor, bringing added convenience to the start-up process. It does, however, fall short in windy weather compared with the WindBurner by a good margin. The head-to-head comparison with the WindBurner pushes it down our list, but the MiniMo remains a great option, particularly for those that will appreciate the improved valve and easy eating large diameter pot.
See the Jetboil MiniMo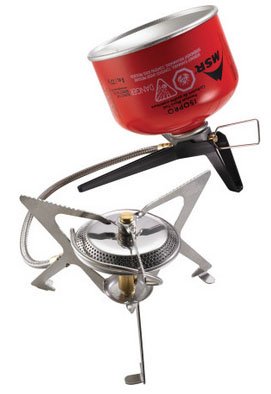 Fuel type: Canister
Weight: 10.3 oz.
All-in-one system: No
What we like: Great stability and temperature control.
What we don't: A bit heavy and pricey.
The MSR WindPro II is one of our all-time favorites—we've used it for many years and counting without any maintenance. Instead of a screw-on or integrated system that sits vertically on the cansiter, the WindPro II has a separate fuel line with the canister off to the side. Accordingly, the center of gravity is lower and the support arms are larger and more stable (we've seen many dinners ruined by toppled sit-on-top stoves). More, the ability to flip the canister on its top allows the WindPro to perform well in cold temperatures.
In addition to its practical design, the MSR WindPro II is easy to set in place, has an adjustable boil to simmer flame, and comes with an aluminum windscreen for faster cooking. It's also better at holding larger pots than the screw-on style stoves, making it a viable option for a couple or small group of backpackers. The WindPro II is quite a bit heavier than a stove like the Pocket Rocket above, but it does undercut the similarly designed Whisperlite. The Whisperlite, however, uses a refillable white gas container instead of canisters, which burns hotter and makes gas usage easier to measure.
See the MSR WindPro II
Fuel type: Canister
Weight: 3.3 oz.
All-in-one system: No
What we like: Strong burner and lightweight.
What we don't: Not great in wind; a few early QC issues.
Breaking from their all-in-one systems, Jetboil has added the MightyMo canister stove to their lineup for 2017. Sharing a regulated burner design with the MiniMo above but in a standalone, compact shape, the MightyMo features a strong 10,000 BTU burner, built-in ignitor, and is compatible with Jetboil's lineup of FluxRing pots and pans. The advanced burner is highly adjustable and has excellent simmer control for such a compact and lightweight (3.3 ounces) design.
The MightyMo is a strong competitor to the Pocket Rocket 2 above from MSR. Both stoves pack a good punch for their diminutive size and are great for the lightweight camp cook. The MightyMo costs $5 more, but justifies that with the push-button ignitor and included canister stand (you can purchase a stand separately for the Pocket Rocket). We rank the Pocket Rocket above the MightyMo, however, because the MSR performs better in wind and is the more proven design—the MightyMo has had some early reports of issues with the built-in ignitor failing. If the MightyMo ends up matching the Pocket Rocket in reliability, we think it has a good chance of working its way up our list.
See the Jetboil MightyMo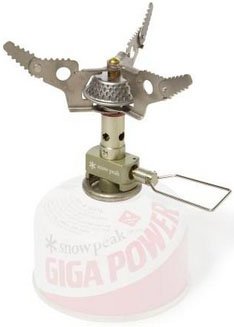 Fuel type: Canister
Weight: 1.9 oz.
All-in-one system: No
What we like: Very light and well made.
What we don't: Price jump for minimal weight savings.
For ultralighters that scoff at the "heavy" MSR Pocket Rocket 2 above, the Snow Peak LiteMax is a similar screw-on design made with higher-end materials. A mix of titanium and aluminum reduces the total weight to an incredible 1.9 ounces, yet the support arms are similarly stable than the Pocket Rocket. We still recommend, however, taking extra care while cooking with a stove of this design.
Japan-based Snow Peak is known for craftsmanship and the LiteMax is beautifully made. It does come at a cost: you're spending $15 more than the Pocket Rocket 2 for minimal weight savings. You do get great flame adjustability, the LiteMax burns hot for a stove of this type, and the support arms even provide a little wind protection. Is this an absolutely necessary upgrade? Probably not, but we love it nevertheless.
See the Snow Peak LiteMax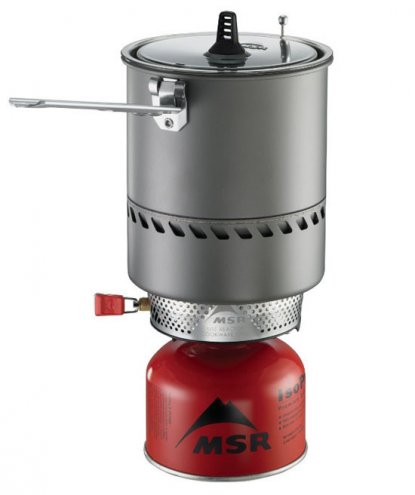 Fuel type: Canister
Weight: 14.7 oz. (1L model)
All-in-one system: Yes
What we like: Very efficient burner; fast boil time.
What we don't: Ours failed in cold temperatures.
The MSR Reactor is getting a little long in the tooth, but it's still a top choice for melting large amounts of snow or boiling water quickly with minimal fuel waste. Along with the WindBurner above, the protective housing, efficient burner, and all-in-one design make it one of the best we've tested for cooking in windy weather. In choosing between the two MSR models, the WindBurner is the more versatile and affordable option for backpackers, but we recommend the Reactor if you need the stronger burner (9,000 BTUs vs. 7,000 BTUs) or a larger capacity pot (up to 2.5 liters).
We've had the Reactor very highly ranked on our list in the past, but a recent failure at high elevation has pushed it down for this season. On a ski mountaineering trip, our Reactor failed to light at temperatures below 5°F. Incidentally, the stove that was functioning on this trip (with the same fuel canister) was our top-ranked WindBurner. Back in milder temperatures, the Reactor was back to working normally. For some context, the Reactor has a long and proven track record in the cold and at high elevations so our experience may be uncommon, but it's enough to push the otherwise well-made Reactor to the middle of the pack.
See the MSR Reactor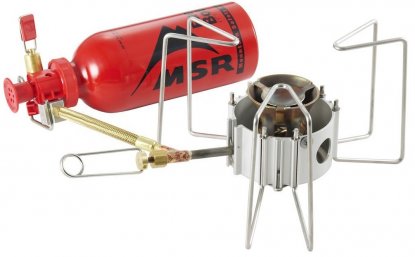 Fuel type: Liquid
Weight: 17.8 oz.
All-in-one system: No
What we like: Multi-fuel, unmatched flame control, stable base.
What we don't: Noisy, loud (see a thesaurus for more synonyms).
The MSR DragonFly is a do-it-all backpacking stove. First, it burns multiple kinds of liquid fuel, including white gas, kerosene, unleaded auto fuel, and diesel. For the international traveler, this means you can cook up local delicacies around the globe no matter your access to a certain type of fuel. Second, it has a very stable design that is both efficient and able to handle large cookware. And the DragonFly's calling card is its simmer and flame control. Camp chefs will love the combination of hot flames and precise adjustments from simmer to boil. Just don't expect a peaceful environment while you're making those gourmet meals: the DragonFly is known for the roaring sound that is noticeably louder than other liquid-fuel models.
See the MSR DragonFly
Fuel type: Canister
Weight: 14 oz.
All-in-one system: Yes
What we like: Good price and easy to use.
What we don't: Only good at boiling water.
Jetboil's classic Flash has all the ingredients for what make integrated cooksets so popular: simple set up, fast boil times, and enough space in the pot to store the burner and a small fuel canister. The Flash is Jetboil's midrange offering and includes a 1-liter pot, which is great for 1 or 2 backpackers, and upgraded features like a built-in ignitor and a heat indicator on the outside of the insulated cozy (although we find the latter to have questionable value). The Flash is down on power and doesn't perform as well in blustery conditions compared with the WindBurner above, but it does save you a significant $40.
Within Jetboil's lineup, we prefer the modern MiniMo over the Flash, although the Flash still is a great budget option for those that only heat water. The MiniMo has superior heat control and simmers far better, which is important if you plan to cook diverse meals. The wider MiniMo also is easier to eat directly out of than the rather tall and narrow Flash. Where the Flash excels is its value, and saving you $35 from the MiniMo is plenty to get it on our list, despite a drop in versatility.
See the Jetboil Flash
Fuel type: Canister
Weight: 13.6 oz.
All-in-one system: No
What we like: Functional windscreen and very stable.
What we don't: Heavy compared to the MSR WindPro; slow set up.
Snow Peak rarely is a value leader, but their thoughtful builds and high-end construction have a developed a loyal following in the backpacking crowd. Their unique GeoShield stove takes a standard remote canister design like the MSR WindPro above and adds a clip-on windscreen and base. The result is one of the more athletically pleasing stoves on the market that also is quite functional. The Snow Peak pumps out a strong 11,000 BTUs but works equally well at a simmer, and the low height and very stable base of the GeoShield make it a solid option overall.
The primary downsides of the GeoShield are its relatively high weight and slow set up and take down times. At 13.6 ounces (not including the 0.5-ounce ignitor), the stove is quite a bit heavier than the 10.3-ounce MSR WindPro. More, the set up and take down of the windscreen can get tedious over time and lacks the backcountry simplicity that we love about the WindPro. In the end, we prefer the more user-friendly MSR, but the GeoShield undoubtedly is a cool backcountry stove.
See the Snow Peak GeoShield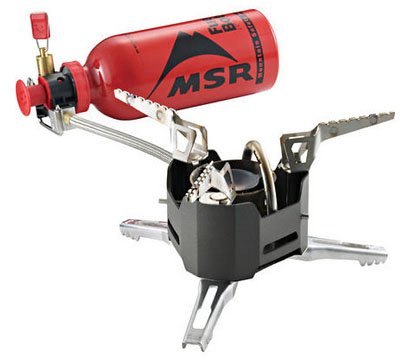 Fueld type: Liquid
Weight: 17.2 oz.
All-in-one system: No
What we like: Durability and cooking speed.
What we don't: Cost and weight, lacks the flame controls of the DragonFly.
For expeditions and extreme conditions, you won't find a tougher or more weather-resistant backpacking stove than the MSR XGK EX. It has extra wide feet for stability in poor conditions and can bring large pots to a boil in a matter of minutes (mountaineers can't rely on running water and often use their stove to melt snow and ice). The MSR XGK EX also uses a number of fuel types including kerosene, white gas, and diesel. On the whole, the stove is hot, fast, and as durable as they come.
This is not the stove that we recommend for the casual hiker—the extra heft and lack of a temperature control limit its appeal. But for high altitude adventures or expeditions where a reliable and effective stove is imperative (you know who you are), we recommend checking out the XGK EX.
See the MSR XGK EX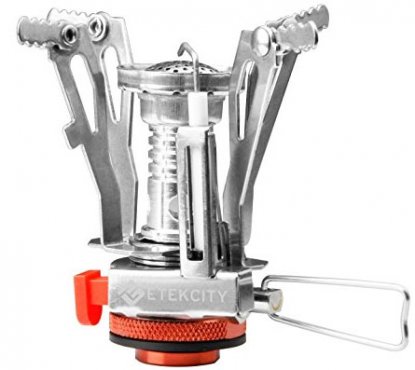 Fuel type: Canister
Weight: 3.3 oz.
All-in-one system: No
What we like: Really, really cheap and still works.
What we don't: Lower performance than options from MSR and Jetboil.
At a double-take-worthy price of $12, the Etekcity Ultralight doesn't inspire a lot of confidence, but its performance stacks up surprisingly well to standalone stoves from MSR and Jetboil. The generic design—we've seen very similar models under the name Icetek Sports—doesn't try to reinvent the wheel, but offers decent flame control and reliability for casual backpackers. The stove functions in a similar way to the Jetboil MightyMo above, running on isobutane/propane canisters, and includes folding pot supports and a push-button ignitor. Just like the Jetboil, the ignitor can be finicky in use.
At such a low cost, there are a few letdowns in the build. For one, the stove doesn't burn as efficiently as the Pocket Rocket and MightyMo, so you will go through a fuel canister in a shorter amount of time. This can add up, and particularly on longer trips. More, the stove doesn't do well in the wind and will take longer to boil at full power. But for first timers with reasonable expectations, the Etekcity is an intriguing budget option.
See the Elekcity Ultralight Portable Stove
Fuel type: Wood
Weight: 33 oz.
All-in-one system: No
What we like: No fuel bottles or canisters.
What we don't: Bulky and heavy, relies on finding fuel.
The BioLite CampStove is a very cool concept: instead of using gas, the stove burns off biomass (small pieces of wood, pinecones, etc.) from around your campsite. The heat powers a small fan to keep the flames going strong and extra electricity can be used to charge small electronics through a USB outlet.
All in all, the stove functions well and the wood is able to create a reasonably hot flame, but the chamber needs to be re-loaded to maintain high heat. More, depending on where you're camping, there may be restrictions on having a fire or clearing out a campsite of twigs. It's also bulky at 33 oz. and 8 inches tall. We do love the concept and eco-friendliness of the BioLite stove—no more gas canisters to carry or throw away—but it's too heavy for our tastes.
See the BioLite CampStove 2

Type: Tablets
Weight: 3.25 oz.
All-in-one system: No
What we like: Cheap and ultralight.
What we don't: Cooks slowly, messy and stinky, and no flame control.
For those going ultralight and who don't use their stove often, the Esbit is a true test of your minimalist loyalties. Powered by solid fuel tablets, this system is lightweight and bucks the need for canister or liquid fuel systems altogether. It's best uses are as a backup or emergency stove, not a primary stove, and some people even use the Esbit for day hiking to heat up beverages and small meals. For the weight and price, it's a pretty decent option for these purposes.
Each fuel tablet weighs 0.5 ounces and offers about 12 minutes of burn time, but cooking is much less efficient than canister or liquid fuel systems and you have little control over the intensity. You also may find a sticky residue on the bottom of pots and pans from burned up tablets. As a final note, there are new restrictions on using Esbit or alcohol stoves in at least one U.S. National Park due to the potential fire danger (see our buying considerations below for more information).
See the Esbit Pocket Stove


Backpacking Stove Comparison Table
Backpacking Stove Buying Advice
Fuel Types: Canister vs. Liquid
Nearly all backpacking stoves run on either isobutane/propane fuel canisters or traditional liquid fuel. Reasons for choosing one type over the other will vary based on your needs, but for the vast majority of backpackers a canister stove is your best option. If however, you're still deciding between the two fuel options, we've broken down the primary considerations below.

Canister (Isobutane/Propane) Stoves
A mix of primarily isobutane and propane, or IsoPro as it's referred to by MSR, is the most popular type of fuel used for backpacking. The 4 ounce (110g) or 8 ounce (220g) canisters are significantly more compact than bringing along a 20 to 30-ounce fuel bottle and have enough fuel to accommodate weekend trips or longer. The fuel burns very clean, can be set to either simmer or boil quickly (especially with an advanced design like the MSR WindBurner) and heats very efficiently. But it's not the end-all and be-all of backcountry fuel (that perfect fuel actually doesn't exist, but these canisters are about as close as we get). Below we detail the most significant pros and cons of the isobutane/propane mix:
Pros:
Easily found in the U.S. (although thru hikers may still need to plan ahead)
Simple to use
Burns clean
Fast performer in mild weather and at lower elevations
Self-sealing canisters are easy to store and transport
Universal threading between brands (don't have to match MSR stove with MSR fuel)
Smallest stoves on the market are canister stoves

Cons:
Suffer in cold weather
Disposal of used canisters can be a hassle
Carrying multiple canisters adds weight
Not always available overseas
Liquid-Fuel Stoves
Stoves that are set up to run on liquid fuel, like the MSR Whisperlite Universal, have a fuel line that connects to a separate refillable bottle. Most liquid fuel stoves run on at least white gas, and many, including the MSR stoves that made our list, can run on multiple fuel types. The advantages of the multi fuel capabilities include being able to take these stoves overseas, but they are bulky items.
Pros:
Cold weather performance
White gas tends to burn hotter than canister stoves
Can bring a single, refillable fuel bottle (less waste)
Various compatible fuels often available in US and internationally
Can actually see how much fuel is remaining (less fuel anxiety)

Cons:
Slower setup and use (you often have to pump)
For short trips, liquid fuel is heavier overall than one or two isobutane canister(s)
Not available in a compact, integrated system like canister stoves
Expensive

All-In-One Systems vs. Canister Stoves
If you fall into the large group of backpackers that are best served by choosing a stove powered by an isobutane/propane canister, the next step is deciding whether or not a complete stove system is the best choice for you. These all-in-one setups consist of a burner, heat exchanger, and pot that all sits on top of (and screws into) a fuel canister. They often are designed for solo backpackers with a small 1-liter pot, but the system can also work well for 2 or more people in a pinch. Most models have a built-in handle and insulated cozy around the pot, which lets them pull double duty as a bowl to eat out of (the larger MSR Reactor is a notable exception). Although a little tall, the systems are often more stable than screw-on stoves like the MSR Pocket Rocket because every part of the system is interconnected.
Jetboil can be credited with igniting the integrated stove craze thanks to their lineup of cook systems that now span a wide range of models. MSR followed suit with a number of compelling stove options (including our top-ranked WindBurner and Reactor systems) that further push how quickly and easily these personal systems can boil water. The clear advantage of the integrated system is efficient heating: when everything is so tightly connected, the system heats faster and uses less fuel. However, the smaller pot and smaller diameter burner means it's more of a one-trick pony. True, you can buy pan attachments for the JetBoil, but they don't heat as evenly as something like the MSR WindPro II and flame control often is lacking.
Verdict: If you plan to heat up water for your meals, we suggest picking up an integrated stove system. Our favorites are the new MSR WindBurner and the tried-and-true Jetboil Flash or new MiniMo. If you're the camp chef type that requires greater flame and simmer control, we suggest a stove like the MSR WindPro II or the liquid-fuel DragonFly that offer exceptional fine-tuning of the heat output and a wider base to accommodate pots and pans of various sizes. If you're of the ultralight persuasion, you can cut weight by combining a screw-on canister stove with a lightweight pot.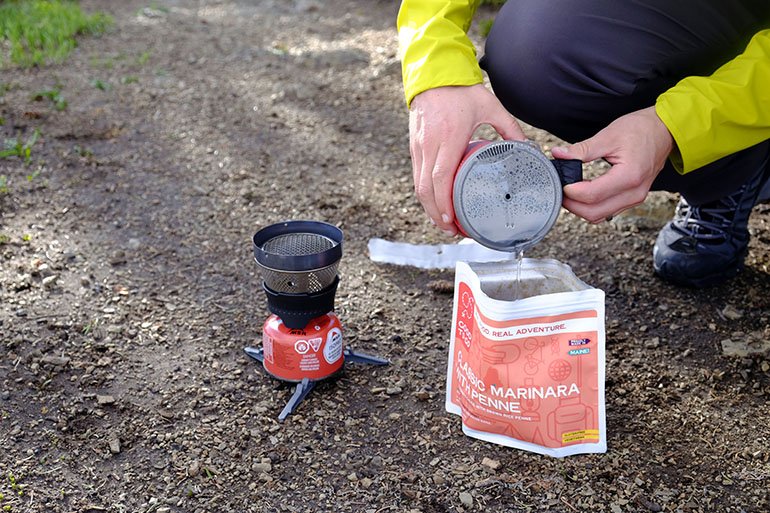 Stove Weight and Packability
Like most backpacking gear, weight is an important consideration when choosing a stove. A quick check of the table above shows that standalone models like the MSR Pocket Rocket 2 and Snow Peak LiteMax are the clear leaders at less than 3 ounces, and they're small enough to fit in the palm of your hand. It's important to note that these do not include pots like the all-in-one systems, but it's still relatively easy to undercut those integrated models by combining a standalone stove with a lightweight pot (we cover this in detail in our ultralight cookset section below).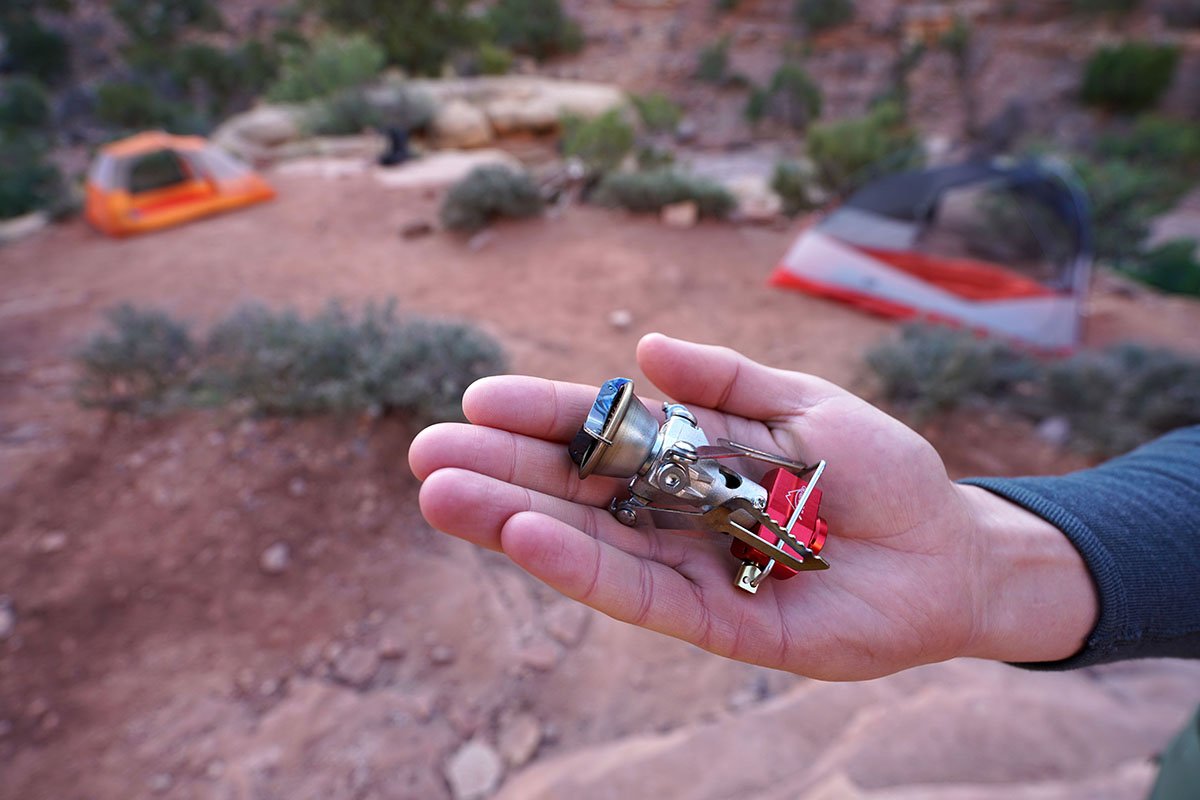 Nearly every model that made our list is what we consider light and packable enough for backpacking, although our weight tolerance will vary based on conditions. For example, a liquid fuel stove like the MSR XGK EX is well worth its 17.2-ounce weight—which doesn't include a fuel bottle or pot—at high elevation or in extreme cold. On the other hand, it's overkill and too heavy on a typical summer backpacking trip. The only stove on our list that doesn't meet our standard weight requirements is the BioLite CampStove 2, which at 33 ounces is too heavy and doesn't fold down small enough to be suitable for most backpacking trips. A small portion of that weight is made up by the fact that you don't have to carry canisters as the BioLite runs off twigs and other natural fuel.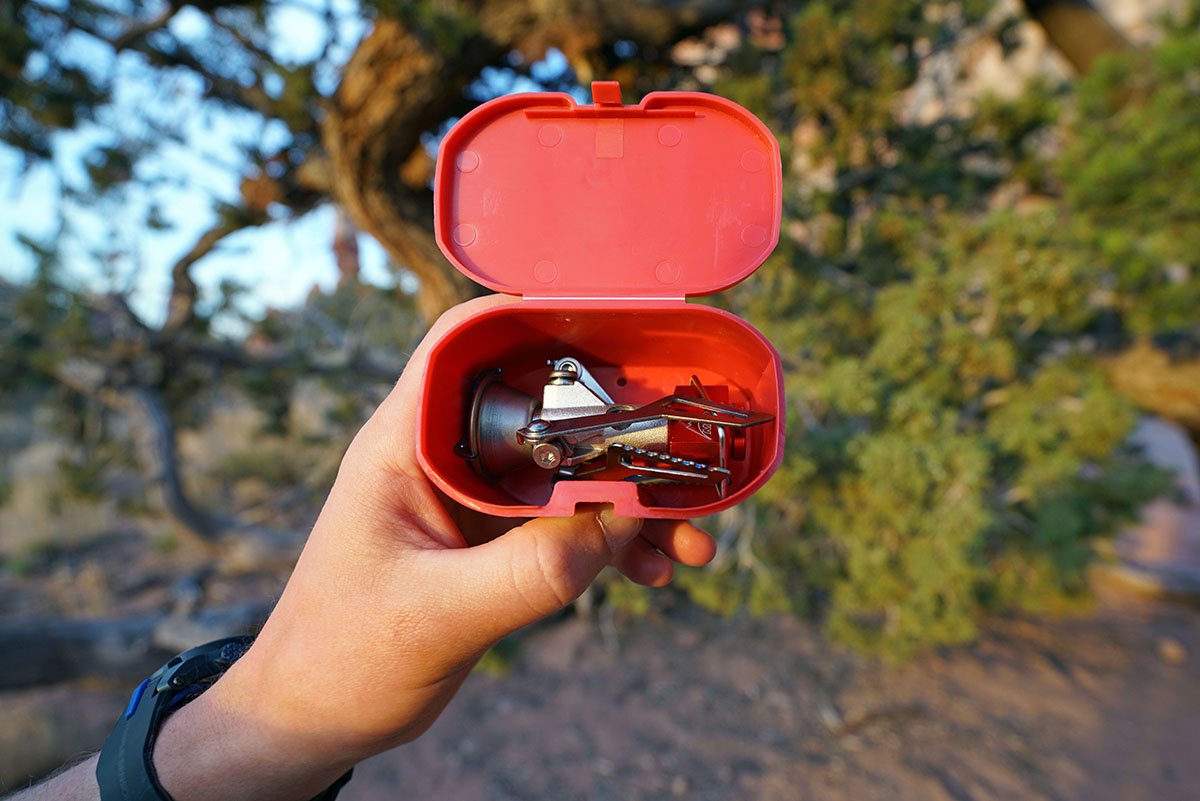 Flame Control: Simmering Quality
Those that plan to do more than just boil water will want a stove with quality flame control. Nearly all backpacking stoves have a dial or twist valve to adjust the height of the flame, but built-in regulators and advanced valve systems improve a stove's ability to put out consistent heat. Cheap burners typically don't have the ability to run smoothly at a low heat. All-in-one systems like the Jetboil Flash are also often among the worst with flame control—they're best at just full heat for boiling water—but the new WindBurner from MSR and MiniMo from Jetboil are positive indications that this will change. One of the all-time best models for backcountry chefs is the liquid fuel MSR DragonFly, which has very precise controls, a windscreen, and an extremely stable base for excellent cooking abilities. Other stoves that simmer well include MSR's Whisperlite and WindPro II and the new Jetboil MightyMo.

What Is a Piezo Ignitor?
You'll often see canister-style stoves with a built-in starter, referred to as a push-button or Piezo ignitor. With a simple push of a button (after loosening the fuel control valve), an electric spark lights your stove. This handy tool does add a tiny bit of weight and can have a small impact on a stove's packed size, but the convenience factor is significant for some backpackers.
What are the pros and cons of a built-in ignitor? Piezo lighters save time and are particularly helpful in windy conditions when a match could easily be blown out. On the downside, if they do fail (and some have been known to stop working over time), you have a useless protrusion stuck to the side of your otherwise fully functioning stove. Should this happen, however, you can continue to light the stove the old-fashioned way. No matter what, we always suggest bringing some backup matches for the just in case.

Ultralight Cooksets
There are a number of ways to cut weight and packed size from your current stove system. A common setup is combining an ultralight screw-on style canister stove, like the MSR Pocket Rocket 2 or Snow Peak LiteMax, with an ultralight titanium cookset. Snow Peak makes the excellent Mini Solo Cookset (1 titanium pot and dish), which weighs less than 6 ounces. A quick check of the math for both the MSR and Snow Peak stoves gives you a complete stove system in the ballpark of 8 ounces (without the fuel canister), and everything will nest inside the .82-liter pot. Not too shabby.
There are a few sacrifices in this stove and pot setup. Although very lightweight, the independent stove and pot is not as efficient at boiling water as an integrated system and will waste more fuel. Additionally, titanium is prone to hot spots, which makes it a less ideal choice for more advanced meals. That being said, it's hard to beat the ease of use and weight of this type of pairing.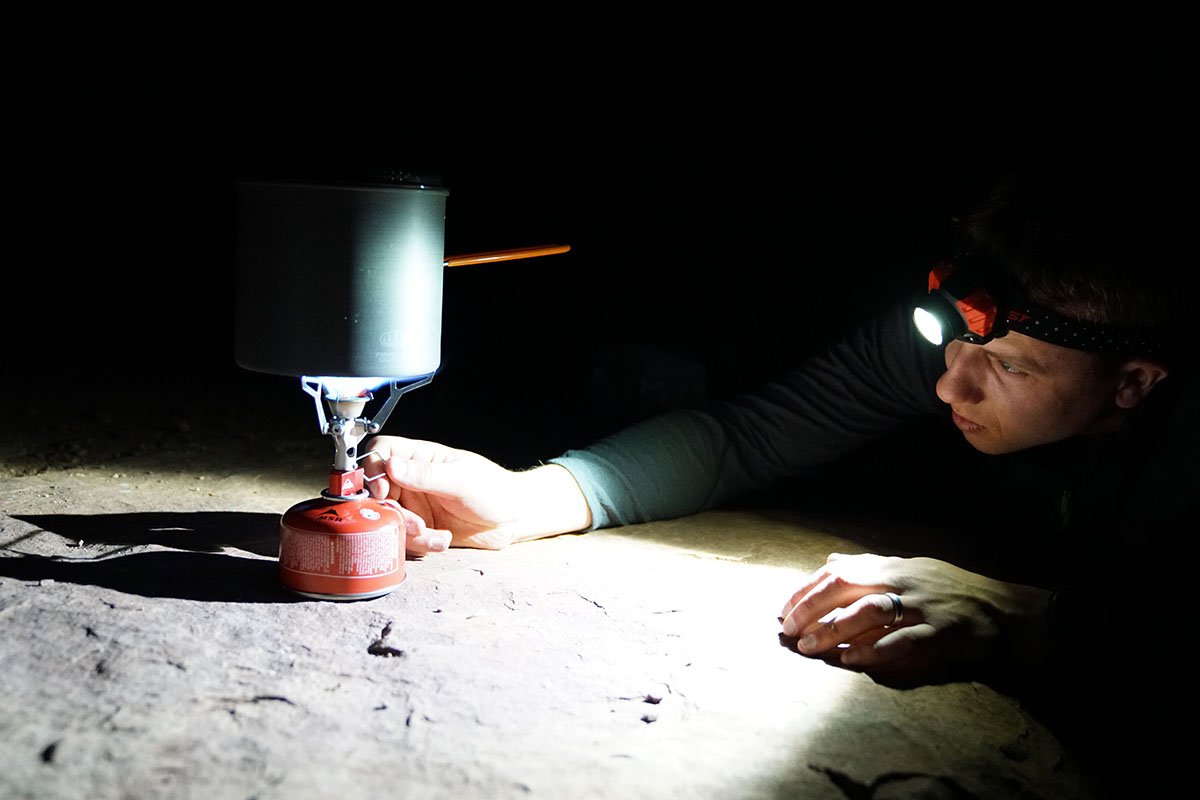 Alternative Fuel Stoves
More extreme ultralight options include the Esbit stove featured in our alternative fuel section. This is more of a fringe piece: the small cubes don't burn as hot as other fuel, and as a result, boil water rather slowly. They also are known to leave a sticky mess on the bottom of pots. What is beyond doubt is that the stove is simple, easy to use (if you can keep the flame protected from wind) and light. If those characteristics align with your stove requirements, consider picking up this cheap stove for light and fast trips.
Ultra-long distance hiker Andrew Skurka's backpacking strategies aren't for everyone, but one of his savviest concepts is a do-it-yourself backpacking stove made from a cat food can. With a cat food can (or a tuna fish can for larger pots), a hole punch, and denatured alcohol, you can make your own lightweight backpacking stove for under $10.
With alcohol, Esbit, or even the wood-burning BioLite stove, keep in mind any potential regulations and make sure to check before your trip begins. Based on fire concerns, Rocky Mountain National Park banned alcohol and Esbit stoves because they lack a shutoff switch or valves. Thus far, this is the only location we are aware of that does not allow the stove, but it's worth keeping in mind should the policy expand to other areas. BioLite stoves may not be usable in areas that ban twig collecting (meaning you'd have to bring in your own fuel). The lesson here is to do your homework before heading out on a trip to see if they have any restrictions on fuel type.

Tips for International Travelers
A liquid-fuel backpacking stove is a popular choice to bring along for overseas adventuring. Whether it's backpacking across Europe or cycling through South America, a reliable stove is an absolute must. And the multi-fuel stoves that we detail in our picks above can run on most every type of fuel you may find. Our favorites include a couple from MSR: the WhisperLite Universal and DragonFly.

It's always a good idea to research what types of fuel are most common at your destination. Due to airline restrictions, you cannot carry any of the fuel on the plane with you. Some travelers have even run into issues with stoves fuel lines that haven't been properly cleaned out creating some security delays during transport. It's our recommendation when researching to dig a little deeper than a basic country guidebook. Don't be satisfied knowing that the destination country has the fuel available, but get to know (as best you can) how readily available it is and how often can you refill during your travels.
As a final recommendation, make sure to be familiar with the quirks of your stove before heading out. Unleaded fuel will burn a lot dirtier than white gas or a canister, so make sure you're savvy in how to quickly clean the fuel lines. Having reasonable expectations for what fuel will be available as well as knowing the ins and outs of your stove will make your travels that much more enjoyable.
Back to Our Top Backpacking Stove Picks Back to Our Backpacking Stove Comparison Table
Learn More About Backpacking