Backpackers need a stove that is lightweight, dependable, and will get the job done quickly after a long day on the trail. Thankfully, the market is full of both time-tested models and newer, more innovative designs. From all-in-one models made exclusively for boiling water fast to those that cook gourmet meals in the most alpine of conditions, there's a stove to match every need. Below we break down the top backpacking stoves of 2020, including leading canister, liquid gas, alcohol, and wood-burning models. For more background information, see our backpacking stove comparison table and buying advice below the picks.
 
Best All-in-One Stove System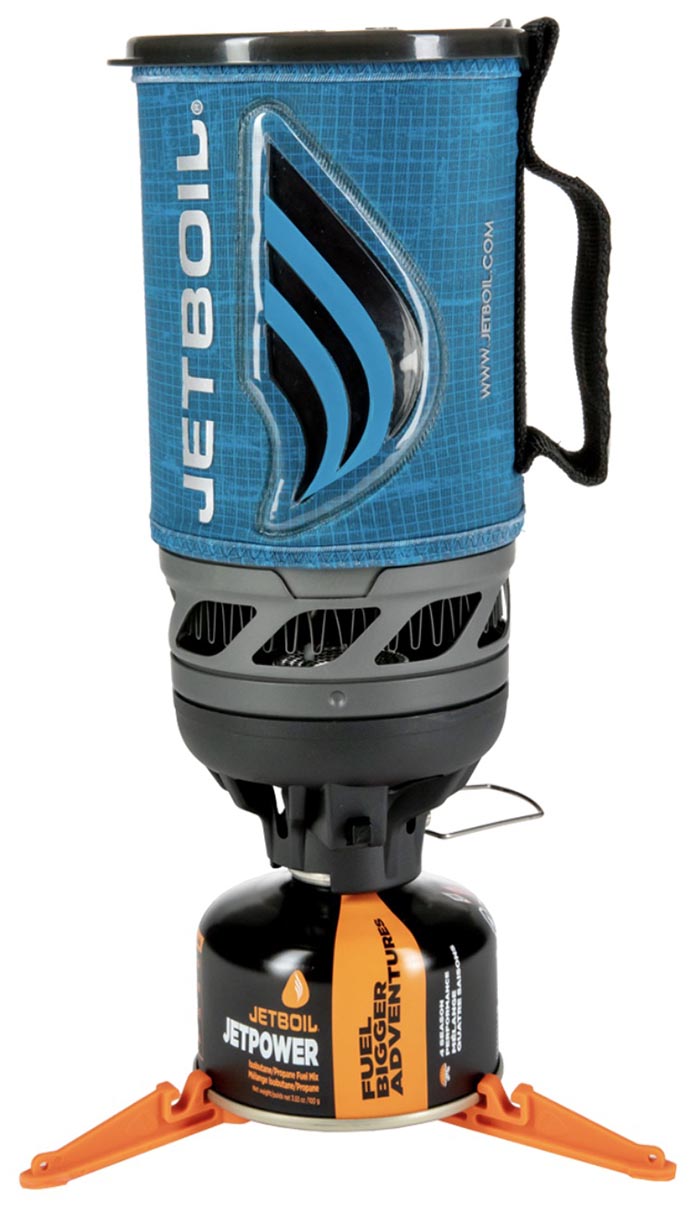 Fuel type: Canister
Weight: 13.1 oz.
Integrated pot: Yes
What we like: Super fast boil time and a great price.
What we don't: Only excels at boiling water.
With the increased quality and selection of dehydrated meals, many backpackers now use their stove primarily to boil water. If this sounds like you, an integrated canister system like the Jetboil Flash is an excellent option. This all-in-one stove offers fast boiling with an included insulated cozy that attaches directly to the stove via a heat exchanger, making it efficient and weather-resistant. The Flash can boil one liter of water in around 3.5 minutes, and considering that you don't need an additional pot, the total weight of 13.1 ounces is fairly reasonable. For backpackers making pouch meals and hot beverages, it's our favorite backpacking stove of 2020. 
What are the shortcomings of the Jetboil Flash? In tough conditions, MSR's Windburner and its burlier design offers better performance in the wind (for a notable $40 and 2.2 ounces more). In addition, Jetboil's own MiniMo and MicroMo below include simmer control (the Flash is more of an on or off operation), but both models boil slower and cost more. Finally, the Flash certainly isn't ultralight by thru-hiking standards—but keep in mind that most other stoves require carrying a pot, which will add at least a few ounces even for the thinnest titanium models. All in all, it's tough to beat the boiling speed, price, and ease of use of the Flash, which is why it's ranked here. 
See the Jetboil Flash Cooking System
Best Ultralight/Screw-On Backpacking Stove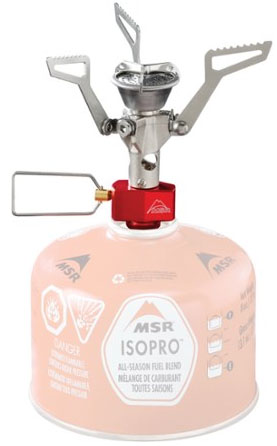 Fuel type: Canister
Weight: 2.6 oz.
Integrated pot: No
What we like: Lightweight, inexpensive, and a surprisingly strong burner.
What we don't: Integrated canister systems are more stable and windproof.
If keeping weight and cost down are your top priorities, MSR's PocketRocket 2 is a streamlined screw-on stove that should get the job done. This tiny stove attaches directly to the top of an isobutane canister, allows for nice simmer control, weighs just 2.6 ounces all-in (.5 ounces less than the previous version), and takes up very little space in your pack. With a surprisingly powerful burner for its size and price tag of less than $50, the PocketRocket 2 is one of the most popular backpacking stoves on the market. 
True ounce-counters might be drawn to an alcohol stove like the 0.4-ounce AntiGravityGear Tin Man (not listed here), but that comes with big compromises in terms of boil time, simmer control, and overall reliability. On the other end of the spectrum, you'll get more efficiency and wind protection with an integrated stove like the Jetboil, and you won't have to purchase a pot separately either. Yet despite all of the options, it speaks volumes that we find ourselves reaching for the MSR PocketRocket on almost backpacking every trip. And it's not just us: most ultralighters we know favor the PocketRocket 2 (or a comparable model like the Soto Amicus below) over lighter alternative-fuel stoves. And for a slightly more souped-up version, MSR also offers the $70 Deluxe, which weighs more (2.9 oz.) but includes a push-start igniter and regulator for better performance in cold conditions.
See the MSR PocketRocket 2
Best Multi-Fuel Stove for Travel and the Cold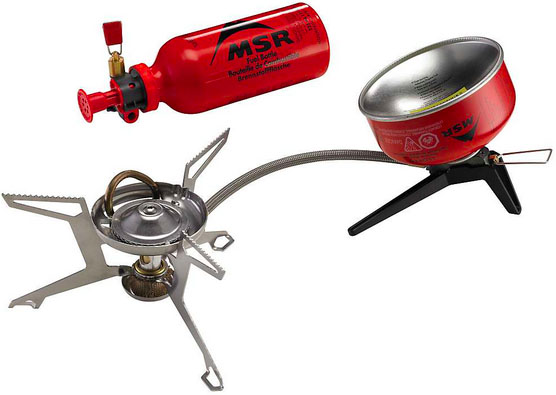 Fuel type: Canister/liquid
Weight: 11.2 oz.
Integrated pot: No
What we like: Multi-fuel compatibility and an invertible canister.
What we don't: Expensive and a bit heavy.
There are many factors that affect the function and efficiency of backpacking stoves, and cold weather is one of the biggest culprits. Without diving into too much detail here, when the mercury drops, standard canister stoves suffer (for more on this, see our buying advice below). But before you decide to forgo your winter plans: there is a solution. In particular, stoves that run on liquid fuel or a remote canister that can be inverted perform best in cold conditions. And our favorite model in this class is the MSR WhisperLite Universal, which puts it all together with multi-fuel capabilities and a remote (read: invertible) canister.
It's no secret that the MSR WhisperLite Universal doesn't come cheap, but it is the most versatile option here. In mild temperatures, you get a canister stove with excellent flame control in an easy-to-use package. Conditions colder than expected? Simply invert the canister. And in truly frigid weather, the option for liquid fuel is a gamechanger (some remote canister stoves like the Optimus Vega work fairly well for 4-season use, but there's simply no substitute for the reliability of liquid gas). And if you don't need the versatility of a canister hookup, the Whisperlite International below will save you $40. Both stoves are designed to run off of multiple fuel types (white gas, kerosene, unleaded gasoline), making them great options for international travel.  
See the MSR WhisperLite Universal
Best Wood Stove for Backpacking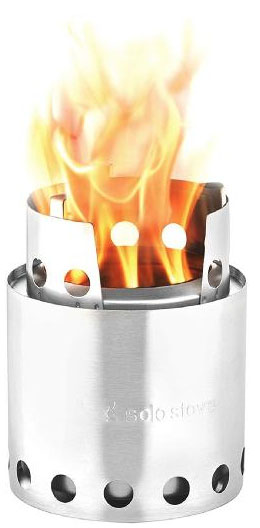 Fuel type: Wood
Weight: 9 oz.
Integrated pot: No
What we like: Burns efficiently, simple design.
What we don't: Some wilderness areas are too fragile for a wood-burning stove.
The Solo Stove Lite is a very cool concept: instead of using gas, it burns off biomass (small pieces of wood, pinecones, etc.) from around your campsite. Wood-burning backpacking stoves have become increasingly popular in recent years, and a number of key features set the Stove Lite apart. The double-wall construction allows the fire to feed off both wood and smoke, creating a strong, efficient flame, and a burn plate at the base protects the ground underneath. It's simple and easy-to-maintain, and the design includes an all-in-one windscreen and pot support that packs down into the stove body for compact carrying. Finally, the Stove Lite can double as a denatured alcohol burner, giving it added versatility.
At 9 ounces, the Solo Stove Lite is not ultralight like the wood-burning Vargo Hexagon below, and it certainly cannot keep up with liquid or canister stoves in terms of boiling time. You also need to be traveling below tree line and won't be able to use the stove in areas with fire restrictions or rules against collecting downed twigs and brush. Finally, keep in mind that wood stoves do not burn clean, meaning your pot or pan likely will gather some soot during use. But for some backpackers, the benefit of not having to carry fuel and the joy of having a warm flame is worth the clean-up. 
See the Solo Stove Lite
Best Alcohol Stove for Backpacking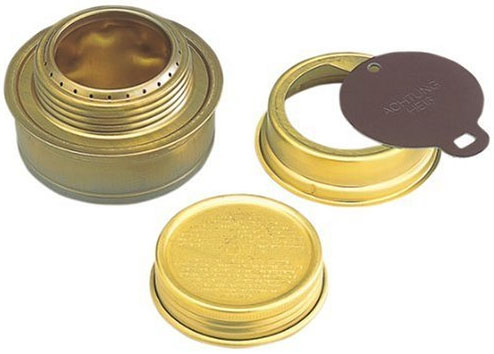 Fuel type: Denatured alcohol
Weight: 3.8 oz.
Integrated pot: No
What we like: A standout alcohol stove with a thoughtful design.
What we don't: Weaker flame than canister or liquid fuel options.
In the world of ultralight backpacking, alcohol stoves have gained traction as the ultimate minimalist cooking system, and the Trangia Spirit Burner is a well-rounded option. It stays true to the simple tin can design, but with some convenient features added to the mix. With a durable brass construction that includes a "simmer ring" to adjust the flame, the Spirit is tough, burns efficiently, and provides more temperature control than other alcohol stoves. Moreover, a screw-on lid allows you to store excess fuel in the stove rather than pouring it back into your container (and inevitably wasting a few drops in the process).
Keep in mind that you'll need to purchase a windscreen or pot stand separately or use rocks to prop up your pot. And you can certainly go lighter in this category—AntiGravityGear's Tin Man, for instance, is a weight leader at just 0.4 ounces, although it's a less refined build than the Trangia. Last but not least, there is a fair deal of concern about the potential fire danger of alcohol stoves, and the lack of an on/off valve in particular. Solo Stove's Alcohol Burner addresses this with a functional flame regulator to extinguish the flame easily, although cost goes up to $20. Regardless of which model you choose, make sure to check stove regulations in your area and be very attentive during use.
See the Trangia Spirit Burner
Best of the Rest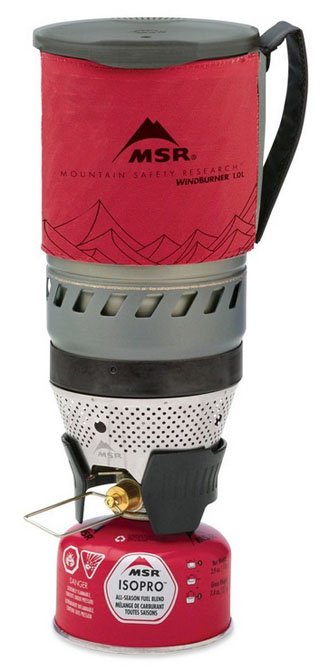 Fuel type: Canister 
Weight: 15.3 oz.
Integrated pot: Yes
What we like: An all-in-one stove system with excellent windy weather performance.
What we don't: No built-in igniter and a little heavy.
Similar to the Jetboil Flash above, the MSR WindBurner is a great integrated stove solution if your backcountry cooking routine consists mostly of boiling water. We love the windproof design: after lighting the stove and snapping everything into place, the enclosed burner brings water to a boil quickly, even in gusty conditions (this can be a weakness of Jetboil models, which leave more of the stove exposed). In terms of quality, practically everything about this stove—from the honeycomb burner to the lid—is well-made and has stood up over time. The price of the WindBurner is steep at $150, but it's a top-notch backpacking stove overall.
So why is the MSR WindBurner ranked here? The added weather protection is overkill for many summer backpackers, and in our opinion is not worth the $40 increase in price from the Jetboil Flash, our top pick. Furthermore, the WindBurner takes longer to boil a liter of water than the Flash at 4 minutes 30 seconds (it outputs 7,000 BTUs vs. the Flash's 9,000). But for those traveling to windy regions who expect a lot of exposure, the MSR is a premium all-in-one stove with a great track record. MSR has recently added the Duo and Group stove systems to the WindBurner line, which feature larger pots, remote canister attachments (for better cold-weather performance), and the ability to simmer.
See the MSR WindBurner Stove System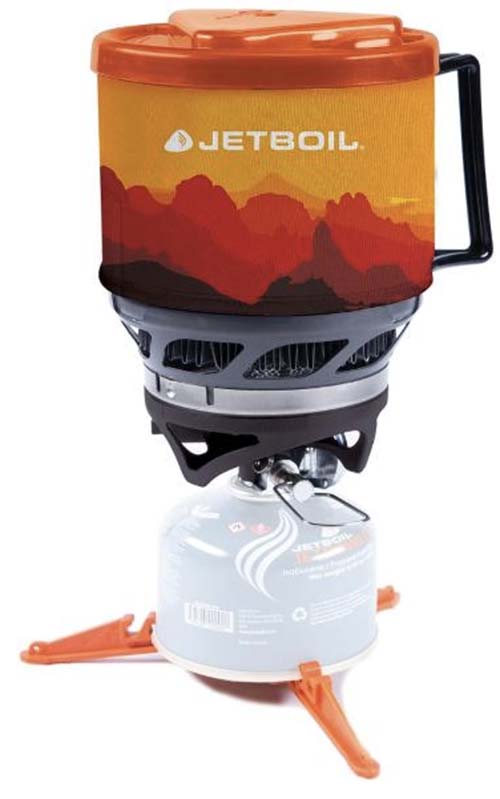 Fuel type: Canister 
Weight: 14.6 oz.
Integrated pot: Yes
What we like: Impressive simmer control.
What we don't: Not great in the wind.
Jetboil has become synonymous with all-in-one systems that boil water fast, but the MiniMo has some additional tricks up its sleeve. With an upgraded temperature regulator for impressive simmer control, the MiniMo offers the easy set-up and fast boil times of the Flash above, but with better cooking functionality that many backcountry travelers seek. In terms of features, the 1-liter cooking pot is wrapped in a neoprene sleeve for safe handling, and its short and stout build offers stability over the flame and doubles as a bowl when your meal is ready to eat. If you like to cook and not just boil water, the MiniMo is a great option. 
Why do we have the MiniMo ranked below the Flash? At $150, it costs significantly more than the $110 Flash, which was our biggest consideration. It also boils water slower (4 minutes 30 seconds for one liter vs. the Flash's 3 minutes 20 seconds) and weighs about an ounce more. Again, if you cook your own meals and want the added stability and simmer control, go with the MiniMo. But for those who just need to heat water for dehydrated or freeze-dried pouch meals, the Flash is the better value. And a final note: the MSR Windburner above offers better wind protection (but less simmer control) for the same price.
See the Jetboil MiniMo Cooking System
Fuel type: Canister
Weight: 11.2 oz. (stove only: 2.9 oz.)
Integrated pot: No (pot included)
What we like: A great starter kit for a competitive price.
What we don't: Aluminum cookset is heavier than titanium.
If you're starting from scratch and looking for a lightweight, affordable setup (pot included), it's hard to go wrong with the Soto Amicus Stove and Cookset. For the same price as the MSR PocketRocket 2 above, you get a comparable stove and two pots, which is a true steal. The two stoves battle it out in the specs, with the MSR beating the Soto out in terms of weight (0.3 ounces lighter) and simplicity (less moving parts means less maintenance), and the Soto winning out with a more compact size, built-in ignitor, and slightly more power (12,200 vs. 10,200 BTUs).
It's hard to dethrone the MSR PocketRocket 2, but the Amicus is a strong contender if you're looking for a capable stove at both a low weight and price. Again, you can go lighter with an alcohol or wood-burning stove, or more efficient with an integrated setup, but a stove like the Amicus offers a nice middle ground. And while true ounce-counters likely won't be interested in the included aluminum cookset (at 8.3 ounces, it's much heavier than a titanium setup of comparable size), the stove can also be purchased on its own (also $45) and sans ignitor for $40.
See the Soto Amicus Stove Cookset Combo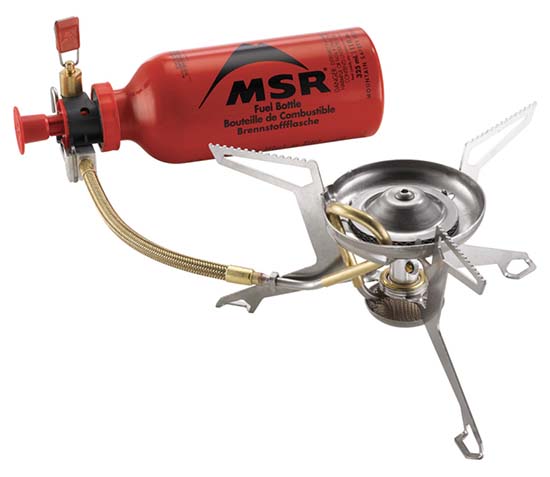 Fuel type: Liquid
Weight: 10.9 oz.
Integrated pot: No
What we like: Compatibility with many fuel types for $40 less than the WhisperLite Universal.
What we don't: No simmer control.
We all know the difficulty of tracking down specific fuel canisters in far-flung parts of the world—or even at home sometimes—which is why MSR created the Whisperlite International. This one-piece stainless steel stove is tough, simple to use and clean, and can run off of anything from white gas and kerosene to unleaded auto fuel (the latter of which you should be able to find just about anywhere). In terms of weight, the International clocks in at 10.9 ounces, which does not include the required MSR Fuel Bottle sold separately ($22 and 5.25 ounces empty). It's true that you can go lighter or cheaper elsewhere on this list, but we love the versatility and toughness of this stove. 
The International is very similar to MSR's Universal above, with one main distinction: it is not compatible with propane/isobutane canisters. For those who love the convenience and simmering capabilities of canister stoves, this is a point in favor of the Universal. However, with the International's simpler build, you get slightly faster boil times and easier maintenance. Of course, the International also is a healthy $40 cheaper and ever-so-slightly lighter. If adding canister fuel compatibility to the mix is a deal breaker for you, go with the Universal. Otherwise, the International provides a lot of versatility for less money.
See the MSR Whisperlite International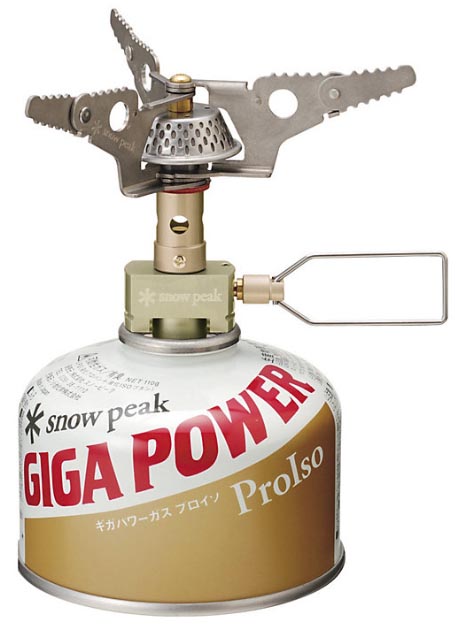 Fuel type: Canister
Weight: 1.9 oz. 
Integrated pot: No
What we like: Very light and well-made.
What we don't: Price jump for minimal weight savings.
For ultralighters that scoff at the "heavy" MSR PocketRocket 2 and Soto Amicus above, the Snow Peak LiteMax is a similar screw-on design but with higher-end and lighter materials. A mix of titanium and aluminum reduces the total weight to an impressive 1.9 ounces, making the LiteMax one of the lightest canister stoves on the market. You also get great flame adjustability, the support arms offer a pretty wide base, and the LiteMax burns hot for a stove of this type.
What are the downsides of the LiteMax? Japan-based Snow Peak is known for craftsmanship and the LiteMax is beautifully made, but it's also an extremely slow boiler. We took one on a summer backpacking trip in the North Cascades and could literally boil multiple pots of water with our MSR WindBurner is less time than it took one pot to boil with the LiteMax. Further, stability is compromised by the ultralight design. The MSR PocketRocket 2 isn't a standout in stability or boil time either, but it still beats out the LiteMax in both categories (and costs $15 less). Snow Peak also makes the popular GigaPower 2.0, which is more than an ounce heavier than the LiteMax but includes four prongs (one more than the LiteMax) for added stability and an integrated igniter.
See the Snow Peak LiteMax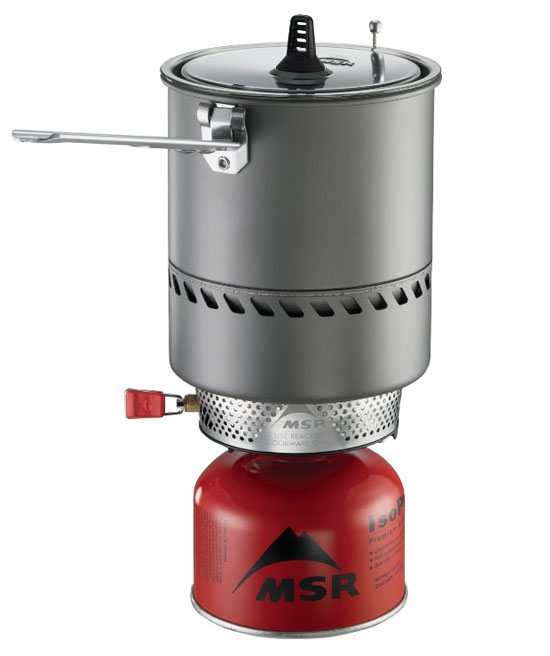 Fuel type: Canister
Weight: 14.7 oz.
Integrated pot: Yes
What we like: Efficient burner and fast boil time.
What we don't: Expensive and overkill for most backpacking.
The MSR Reactor is expensive and getting a little long in the tooth, but it's still a top choice for melting large amounts of snow or boiling water quickly with minimal fuel waste. Along with the WindBurner above, the protective housing, efficient burner, and stable design make it one of the best stoves we've tested for cooking in tough conditions. In choosing between the two MSR models, the WindBurner is the more versatile and affordable option for backpackers, but we recommend the Reactor if you need the stronger burner (9,000 BTUs vs. 7,000 BTUs) or larger-capacity pot (up to 2.5 liters).
We've ranked the Reactor stove very highly on our list in the past, but with models such as the WindBurner and MiniMo being better fits for all but the most discerning alpinists, the Reactor may soon become obsolete. Unlike the MiniMo, it cannot simmer. Further, the Reactor did malfunction during our testing, failing to light at temperatures below 5°F (a backup WindBurner saved the day). That said, as one of the only truly windproof stoves, the Reactor is popular for cold weather and high elevations, and we still see alpine climbers using it more than any other stove.
See the MSR Reactor Stove System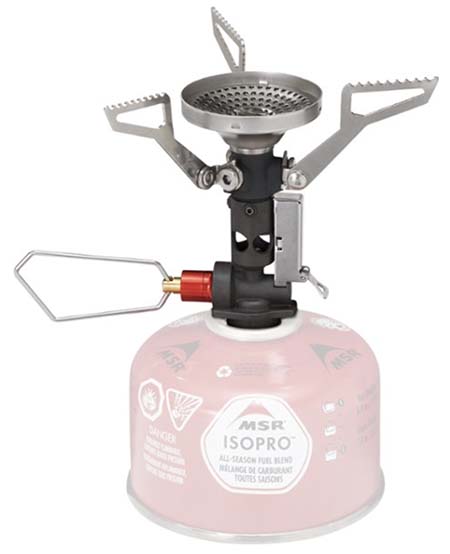 Fuel type: Canister
Weight: 2.9 oz.
Integrated pot: No
What we like: More stable cooking surface than the PocketRocket 2 and comes with a pressure regulator.  
What we don't: Pricey and Piezo igniters tend to give out. 
We've already covered the PocketRocket 2 above, but last year MSR released an even more souped-up version in the Deluxe. How do the two stoves differ? The Deluxe comes with a Piezo igniter for auto-ignition (allowing you to fire up your stove without matches or a lighter), a wider and more stable burner head, and a pressure regulator for efficient boil times in a range of temperatures and canister fill levels. In theory, it's a fully featured screw-on backpacking stove that still weighs just 2.9 ounces, which is pretty darn impressive. 
Why is the MSR PocketRocket Deluxe ranked here? We've had mixed experiences with Piezo ignitors—some seem to last forever no matter what you throw at them, while others give out rather quickly. Because of this, we always bring backup matches anyway, which makes the Piezo rather inconsequential. Second, the pressure regulator is a nice touch that can help with efficiency in tough conditions, but the PocketRocket Deluxe still is an unusual choice for hardcore missions and most people will bring a more protective all-in-on stove like the MSR Reactor or Windburner. Last but not least, the Deluxe costs a whopping $70, which is a lot for a screw-on stove. It's hard to knock the impressive feature set, but the standard PocketRocket 2 is more practical for most backpackers.
See the MSR PocketRocket Deluxe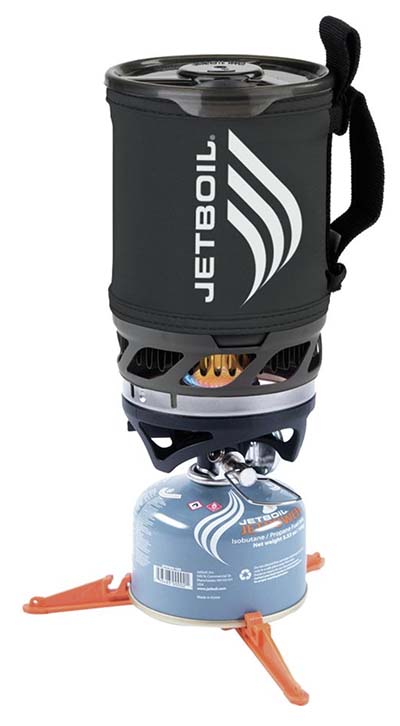 Fuel type: Canister
Weight: 12 oz. 
Integrated pot: Yes
What we like: Impressively lightweight, plus simmer control.
What we don't: Smaller pot size can be difficult for two backpackers. 
For solo backpackers or those who love Jetboil but want to shave a little weight, enter the MicroMo. We know, all of these Jetboil deviations are a bit confusing, but we'll break it down for you clearly. At 12 ounces, the MicroMo is the lightest stove system in their lineup (the MightyMo is only 3.3 ounces, but does not come with an integrated pot). Unlike the Flash but similar to the MiniMo, you get simmer control for cooking meals straight out of the pot. The boiling time of 4 minutes 30 second ties it with the MiniMo but is slower than the Flash. Last but not least, the pot on the MicroMo has 27 fluid ounces of capacity (.8 liters), which is smaller than the other two models, both of which are 33.8 fluid ounces (1 liter).
Who is the Jetboil MicroMo best for? The easy answer is those backpacking solo or who don't mind cooking up a second batch of water for their partner. Many backpacking meals require adding approximately .5 liters of boiling water, so the .8-liter capacity on this stove leaves you with a perfect cup of hot tea on the side without needing to fill the pot to the brim. The weight savings are fairly insignificant (the difference between all three models is just a couple of ounces) but the simmer control is nice. With the MicroMo, Jetboil has provided ample stove options for everyone, which isn't a bad thing. 
See the Jetboil MicroMo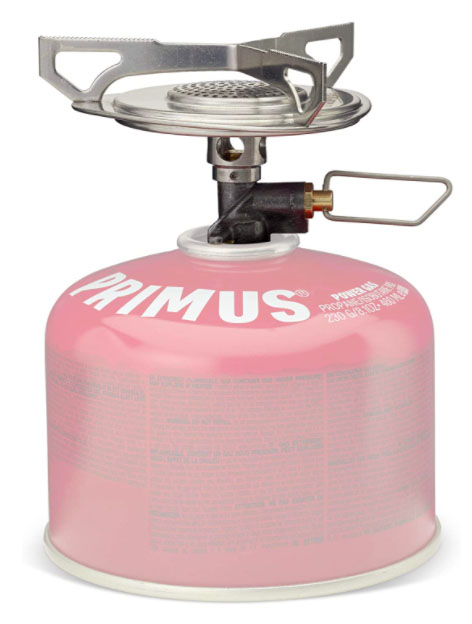 Fuel type: Canister
Weight: 4 oz.
Integrated pot: No
What we like: A cheaper alternative to the PocketRockets above.
What we don't: Doesn't fold down for storage and weighs more than the MSRs.
The MSR PocketRocket2 and Deluxe above are undeniably lightweight and powerful, but you can get similar performance for less with the Primus Essential Trail. For only $25 (a considerable $20 cheaper than the PocketRocket2), the Essential Trail boasts an identical boil time of 3 minutes 30 seconds, good flame adjustment via a wire control valve, and a durable build to withstand regular use and abuse. We also like the wider pot platform on the Primus, which translates to more stability and better protection against strong gusts (although it still falls well short of an integrated model like the MSR Windburner).
What do you sacrifice by saving with the Primus Essential Trail? For starters, weight goes up to 4 ounces, which makes this stove less of an ultralight standout than the PocketRocket2. And at this price point, you don't get push-start ignition (that will require stepping up to the $70 PocketRocket Deluxe above). Finally, unlike the MSRs, the Essential Trail doesn't fold down, which is good from a durability standpoint (read: fewer breakable parts) but will take up more space in a pack. These reasons are enough to push the Essential Trail down our list, but it's nevertheless a reliable and well-made PocketRocket alternative at a great price.
See the Primus Essential Trail
Fuel type: Liquid
Weight: 13.2 oz.
Integrated pot: No
What we like: Fast and powerful; multi-fuel compatibility.
What we don't: Not ideal for precision cooking.
For high-altitude basecamping and expedition scenarios—think places like the Himalayas—trekkers and mountaineers don't need all the bells and whistles that come with many of the models above. Instead, they simply need a stove that melts snow and cooks a lot of food fast, and the MSR XGK EX is one of the most proven and capable options in this category. Like MSR's own International above, the XGK EX burns multiple kinds of liquid fuel including white gas, kerosene, unleaded auto fuel, diesel, and even jet fuel. Additionally, the retractable legs and pot supports provide a stable and effective cooking platform, even for larger pots.
Keep in mind that the MSR XGK EX is a one-trick pony and doesn't offer great temperature regulation, meaning it's not an ideal tool for cooking elaborate meals or simmering—dehydrated pouch meals are about the most gourmet you'll get here. It's also known to be quite noisy (third-party sound-dampeners actually are available, which says something). But it's reliable, powerful, and easy to troubleshoot should something go wrong, which is an excellent combination for far-off adventures. MSR's own DragonFly is another option in this category with better flame control and at a slightly cheaper price, but it's heavier than the XGK and not as efficient overall.
See the MSR XGK EX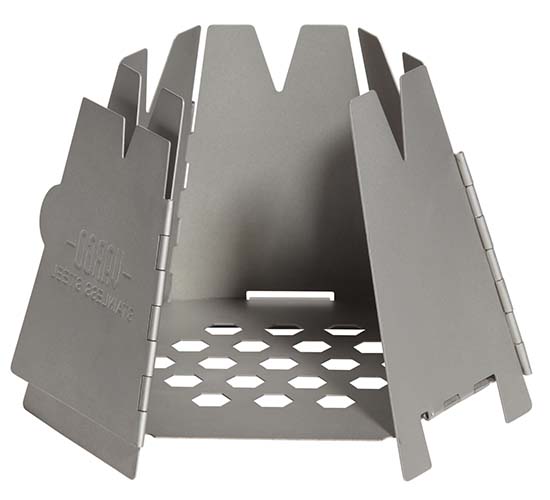 Fuel type: Wood
Weight: 4.1 oz. 
Integrated pot: No
What we like: Very light and packable for a wood-burning stove. 
What we don't: Unstable and requires a lot of attention to maintain flame.
At 4.1 ounces, the Vargo Hexagon Wood Stove is the lightest wood-burning backpacking stove we've tested. And because it eliminates the need to carry the added weight of fuel, it's in the running for the lightest stove system on this list. With a unique collapsible design, the Hexagon packs down flat and set-up is a breeze. With the right fuel—small branches, sticks, twigs—it makes a great ultralight solution to heating water or food. And although we list the titanium version here, you also have the option of purchasing the stainless-steel Hexagon for only $40. At 7.5 ounces all-in, the stainless steel is still a lighter-weight option than most. 
Keep in mind that the build of the Vargo Hexagon feels considerably less sturdy than the Solo Stove Light above. Specifically, the metal side panels snap together loosely enough to be somewhat concerning when boiling a pot of water on top. In addition, given the small compartment for debris, it's more difficult to build a sizable flame and keep airflow going in order to boil water quickly (when we tested the stove, it took 9.5 minutes to boil a half liter of water). But if you've got time on your hands to tend to your stove, the Vargo can be worth the hassle for its streamlined weight and build. 
See the Vargo Titanium Hexagon Wood Stove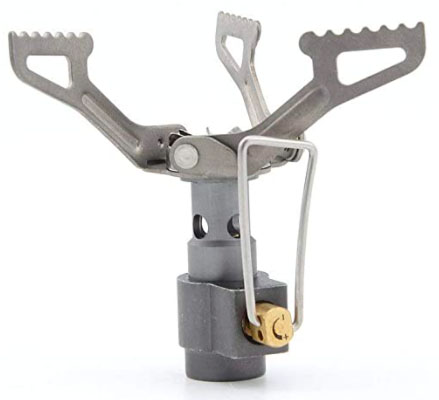 Fuel type: Canister
Weight: 0.9 oz.
Integrated pot: No
What we like: Really, really cheap and still works.
What we don't: Inferior performance compared to the PocketRocket and similar models above.
At a double-take-worthy price of $17, the BRS 3000T doesn't inspire a lot of confidence, but its performance stacks up surprisingly well to standalone stoves from MSR, Snow Peak, Primus, and others. The generic design—we've seen very similar models under the name Icetek Sports—doesn't try to reinvent the wheel, but it does offer decent flame control and performance for casual backpackers. The stove functions in a similar way to the MSR PocketRocket above, running on isobutane/propane canisters, and includes folding pot supports and an easy-to-use control valve (note: you don't get push-button ignition).
At such a low cost, there are a few letdowns in the build. For one, the stove doesn't burn nearly as efficiently as the PocketRocket, Essential Trail, or LiteMax, so you will go through a fuel canister in a shorter amount of time (this can add up, particularly on longer trips.) Moreover, the stove doesn't do well in the wind and will take longer to boil at full power, and it's noticeably flimsier and less durable than the pricier canister options on our list (including the $25 Primus Essential Trail). But if you set reasonable expectations, the BRS 3000T is an intriguing budget option.
See the BRS 3000T

Fuel type: Tablets
Weight: 3.25 oz.
Integrated pot: No
What we like: Cheap and ultralight.
What we don't: Cooks slowly, messy and stinky, and no flame control.
For those going ultralight and who don't use their stove often, the Esbit is a true test of your minimalist loyalties. Powered by solid fuel tablets, this system is lightweight and bucks the need for canister or liquid fuel systems altogether. Its best uses are as a backup or emergency stove, not a primary stove, and some people even use the Esbit for day hiking to heat up beverages and small meals. For the weight and price, it's a pretty decent option for these purposes.
Each fuel tablet weighs 0.5 ounces and offers about 12 minutes of burn time, but cooking is much less efficient than canister or liquid fuel systems and you have little control over the intensity. You also may find a sticky residue on the bottom of pots and pans from burned up tablets. As a final note, there may be restrictions on using Esbit or alcohol stoves in at least one U.S. National Park due to the potential fire danger (see our buying considerations below for more information).
See the Esbit Pocket Stove
Backpacking Stove Comparison Table
Backpacking Stove Buying Advice
Backcountry Stove Types
Canister Stoves
Canister stoves, which run on a mix of primarily isobutane and propane, dominate the backpacking market. What makes them so popular is the user-friendly design: you simply connect the 4- or 8-ounce fuel canister to the stove, light it, and you're good to go. Further, the mixture burns very clean, can be set to either simmer or boil quickly (especially with an advanced design like the Jetboil MiniMo) and heats very efficiently. Canister stove models vary widely, ranging from small and light (MSR's PocketRocket) to all-in-one systems that boil water efficiently (Jetboil's Flash). For more on these distinctions, see our section on "Integrated Stoves vs. Non-Integrated Stoves" below.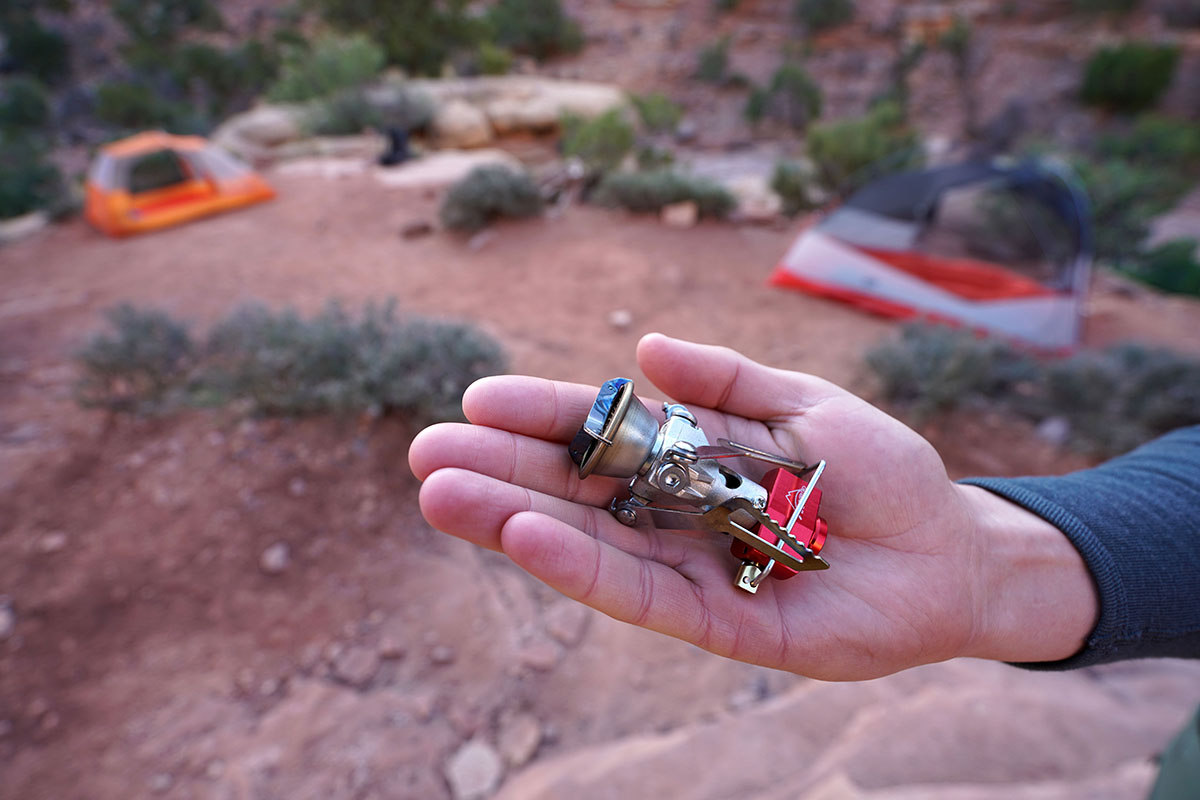 But canister stoves do have their downsides. For one, they often suffer in cold weather, especially when compared to white gas models (see more on this below). Second, the metal canister itself is fairly heavy and bulky, which can become an issue if you need to carry a lot of fuel for extended backcountry travel. If you're cooking two meals a day for a week or two—not just boiling water, but cooking meals—a liquid-fuel stove is a better option. Third, isobutane/propane canisters don't refill easily, which results in a great deal of waste (recycling is an option, but can be difficult to find). And finally, isobutane/propane canisters aren't always easy to track down overseas, and you certainly can't fly with them.

Liquid and Multi-Fuel Stoves
Stoves that are set up to run on liquid fuel, like the ubiquitous MSR WhisperLite, have a fuel line that connects to a separate refillable bottle. Most liquid-fuel stoves run on white gas, although there are a number of models that can use multiple fuel types, including kerosene and unleaded gas (the MSR WhisperLite Universal and XGK EX are two examples). If you're traveling overseas, these versatile designs are your best bet. Liquid gas (namely white gas) burns hotter than isobutane/propane, so the stoves offer better performance in cold weather and at altitude. Furthermore, white gas is a far better fuel choice for longer trips, as you can bring more with less bulk, and even store your backup supply in a lightweight plastic bottle (just don't mistake it for water!). But perhaps our favorite thing about liquid fuel is the way that it cuts down on waste—you can purchase it in bulk and reuse the same fuel bottle over and over again.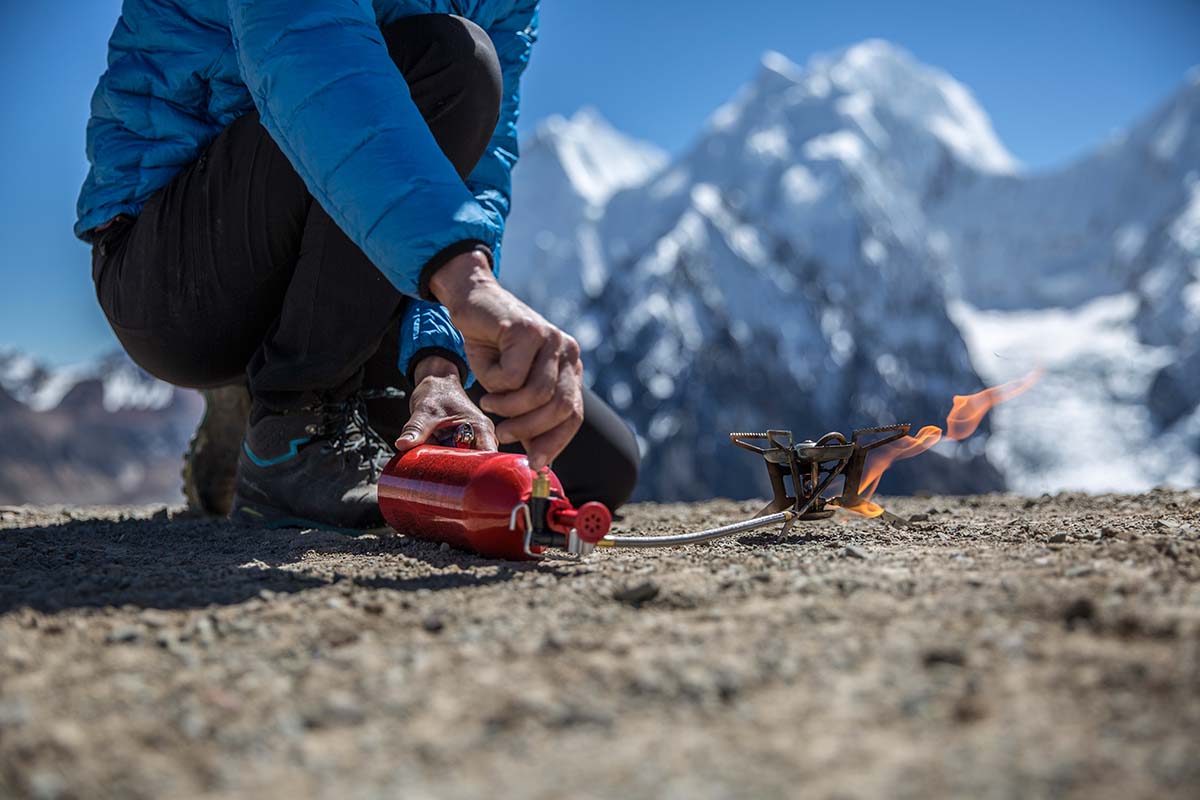 For short trips, we still prefer stoves that run on isobutane/propane over liquid fuel models for their lightweight, compact builds and remarkable convenience. Liquid fuel stoves are slower to set up and use, and you'll need to pump the bottle every few minutes to maintain pressure (especially when it's less than full). These stoves are also usually bulkier, heavier, and more expensive than their canister alternatives. All in all, if your trips extend past the length of a week (without resupply), are outside of the United States, or venture into cold or high-altitude environments, we recommend a liquid fuel stove. For all other backpacking needs, a canister stove is still our cook set-up of choice.

Alcohol Stoves
Stoves that run on denatured alcohol are popular among ultralight and thru-hiking communities, preferred for their affordable price, lightweight construction, and simplicity. The most basic design can be made by punching holes along the rim of a tuna fish or cut-off soda can, and more complex stoves offer features such as simmer control, an integrated windscreen, or a pot stand. Alcohol stoves can't compete with the liquid or canister stoves above in terms of efficiency, heat output, or flame control, but they do take the cake for simplicity and overall weight. And perhaps one of the biggest selling points of an alcohol stove is the ease of acquiring fuel, especially at hardware stores or gas stations in small resupply towns.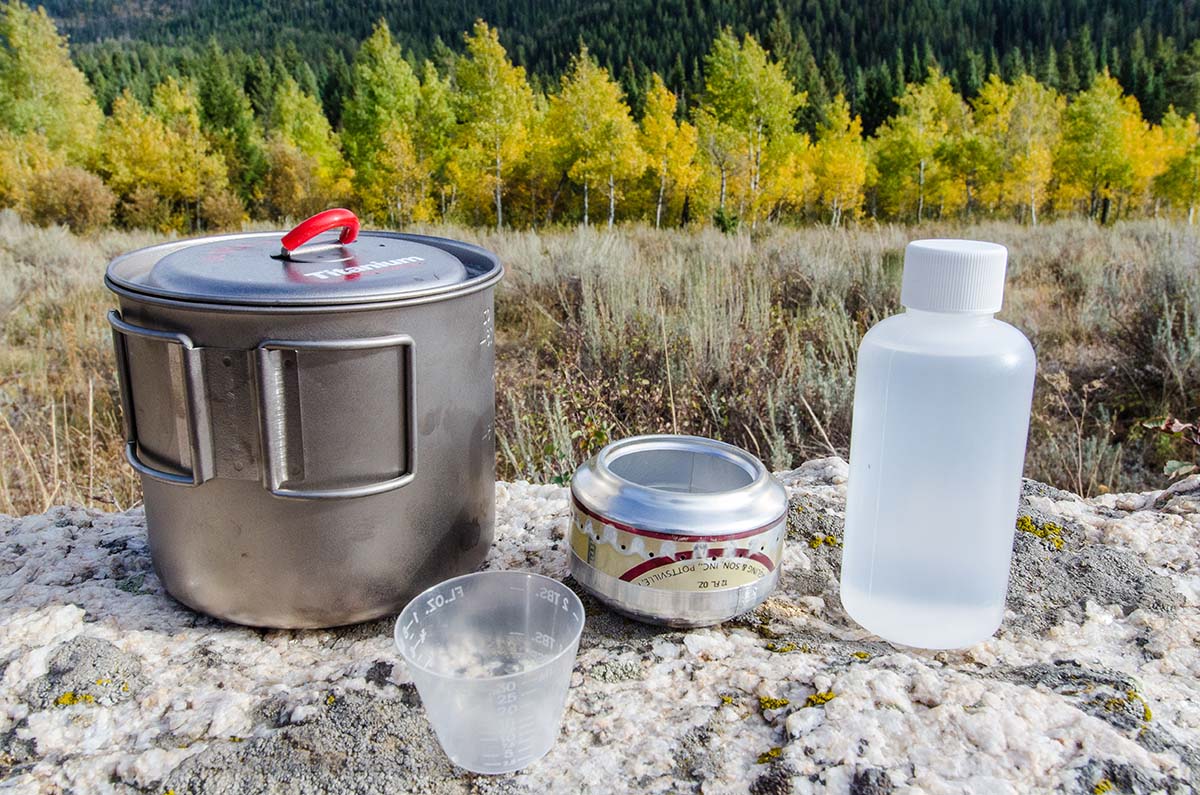 Wood-Burning Stoves
Wood-burning stoves use sticks, pinecones, leaves, and other dead and downed forest items for fuel, resulting in an extremely lightweight stove that doesn't require you to pack any additional fuel weight or bulk. Logically, these stoves make a good option for those heading out for long-term sojourns in the woods—you can collect your fuel as you go. However, wood-burning stoves take a great deal of care, and don't hold a candle to the ease of use or output of a more traditional canister or liquid-fuel stove. Because of this, we recommend them for backcountry travelers who enjoy the novelty of an actual fire and don't mind a slower meal prep process. And take note: wood is not a clean-burning fuel and will leave your stove and cookware covered in soot. You will also need to check for local fire and twig collection regulations before you use a wood-burning stove, and consider the fact that your potential fuel may be wet.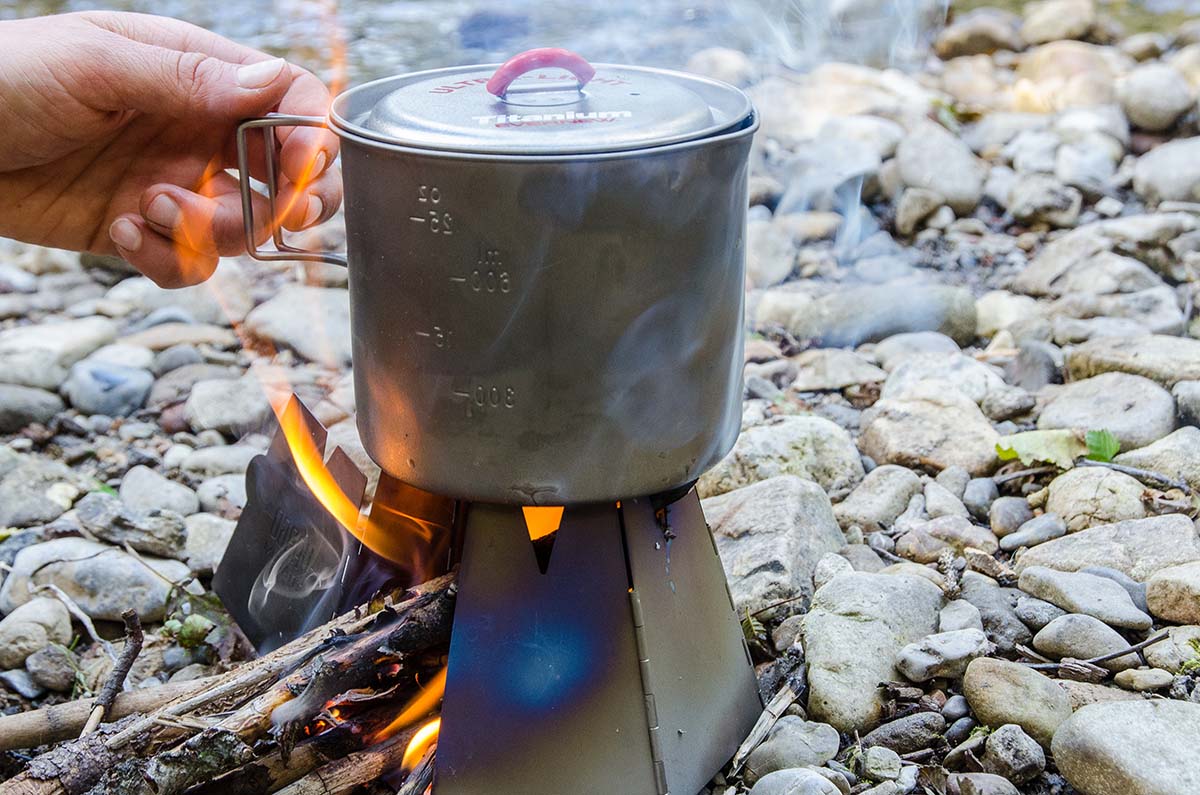 Solid Fuel Tablet Stoves
We include one tablet stove on our list: the Esbit Pocket Stove. This ultralight, fringe piece runs off of solid fuel tablets, and clocks in at just over 3 ounces. We wouldn't want to cook or boil water consistently with such a stove—the small cubes don't burn as hot as other fuel and are known to leave a sticky mess on the bottom of pots. But the Esbit—and other tablet stoves—is a great backup option to bring along just-in-case. And as with wood stoves, you'll want to check on regulations before you use your tablet stove in the field; notably, a couple of years ago Rocky Mountain National Park banned alcohol and Esbit stoves because they lack a shutoff switch or valve. 
 
Integrated Stoves vs. Non-Integrated Stoves
Integrated Stoves
An integrated system—like the Jetboil Flash—is unique to canister stoves, and consists of a burner, heat exchanger, and pot that all secure to the top of a fuel canister in one streamlined package. The all-in-one set-up has the clear advantage of efficient heating: when everything is so tightly connected, the design allows faster heating with less fuel. As a result, these stoves are the clear winners in terms of quickest boil times. And it doesn't hurt that integrated stoves are simple purchases: you get everything you need in one fell swoop, rather than having to make multiple decisions about pots, fuel bottles, and windscreens.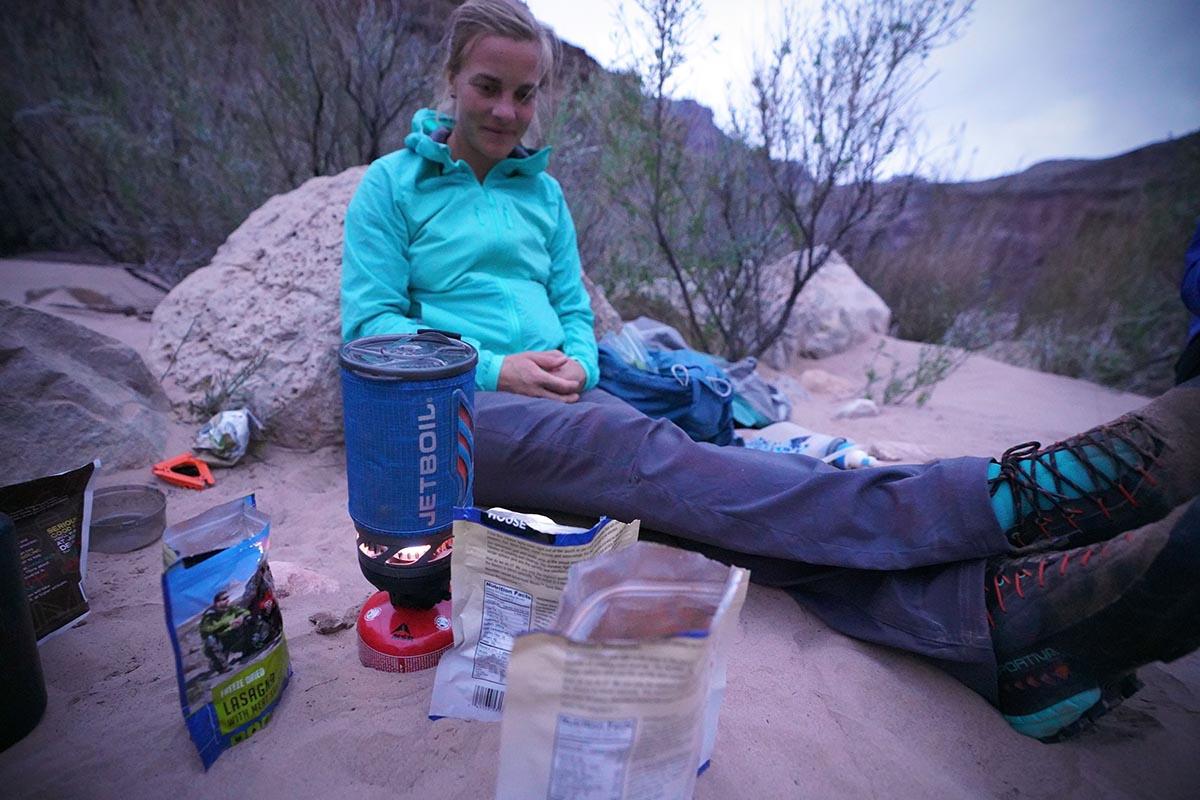 However, the tall and skinny pot size, small diameter burner (making it difficult to substitute a different pot), and lack of simmering capabilities mean that integrated stove systems are often one-trick ponies, used primarily as a means to boil water for dehydrated meals and hot drinks. Jetboil's MiniMo is a notable exception here, with the ability to simmer and a short and stout pot for convenient cooking. If you want to make gourmet feasts, look below at the non-integrated stove systems. But for the trend toward dehydrated meals over backcountry cooking, all-in-one systems offer the best in stability, convenience, and wind resistance. Plus, with a built-in handle and insulated cozy that easily turn the pot into a mug, they are the most streamlined and user-friendly systems available.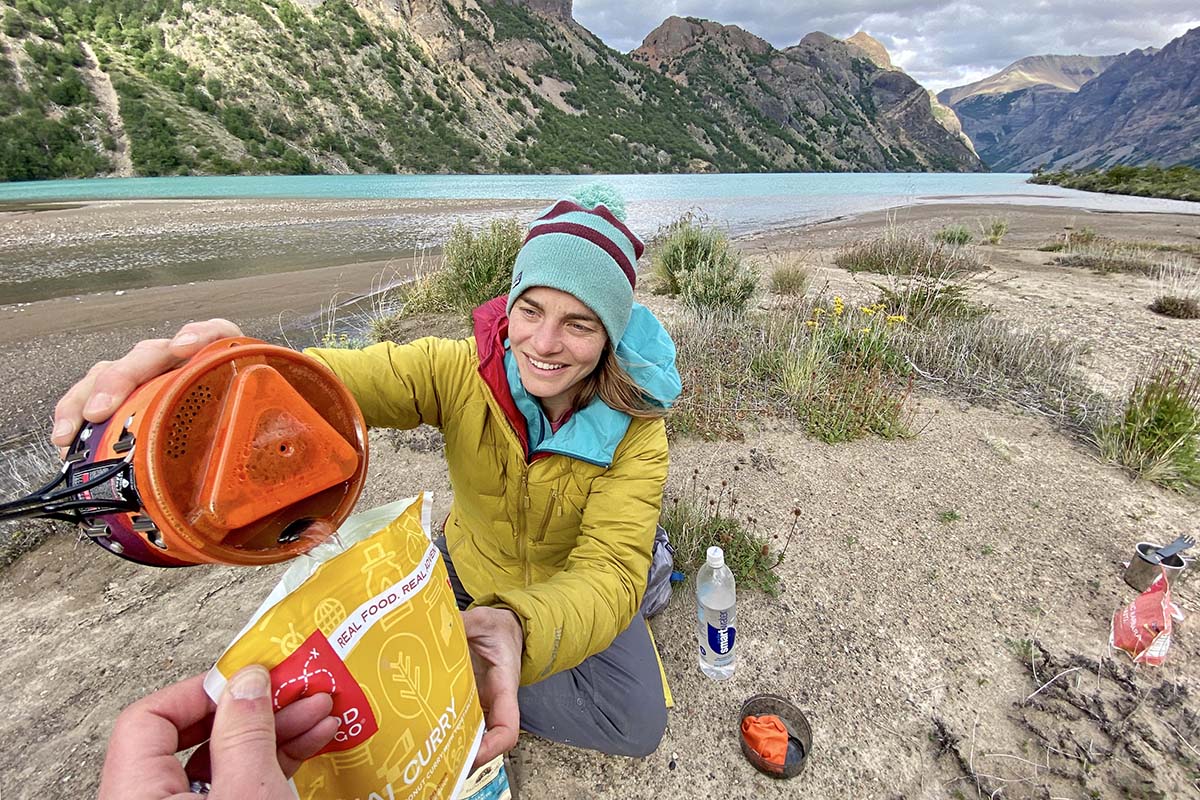 Non-Integrated Stoves
On the other hand, a non-integrated stove functions as two separate units: the fuel source and stove are at the bottom and a pot or frying pan is then perched on top. These stoves don't include the heat exchanger of an all-in-one system and are generally less stable and less efficient. Further, the flame is more exposed to the wind, so it's a good idea to use a windscreen in most cases to keep the stove functioning effectively (this is particularly true for fuel types like alcohol, wood, and tablets that don't burn as hot). These set-ups also lack the convenience of the systems above, and you'll need to purchase your cookset separately.
But non-integrated stoves are not without their benefits. Most notably, they offer a great deal of versatility. You can swap out your pot for one of a different size (or even a frying pan), simmer a meal over the flame, and use white gas for better functionality in the cold or at higher elevations. Additionally, non-integrated stoves are often lighter and more affordable than those of the integrated variety (provided you choose a lightweight cookset). We think of these stove systems as an excellent choice for backpackers who like to cook over the flame and don't need a particularly windproof set-up. Those of the ultralight persuasion can cut weight by combining a screw-on canister stove (like the MSR PocketRocket) or alternative-fuel stove with a lightweight pot.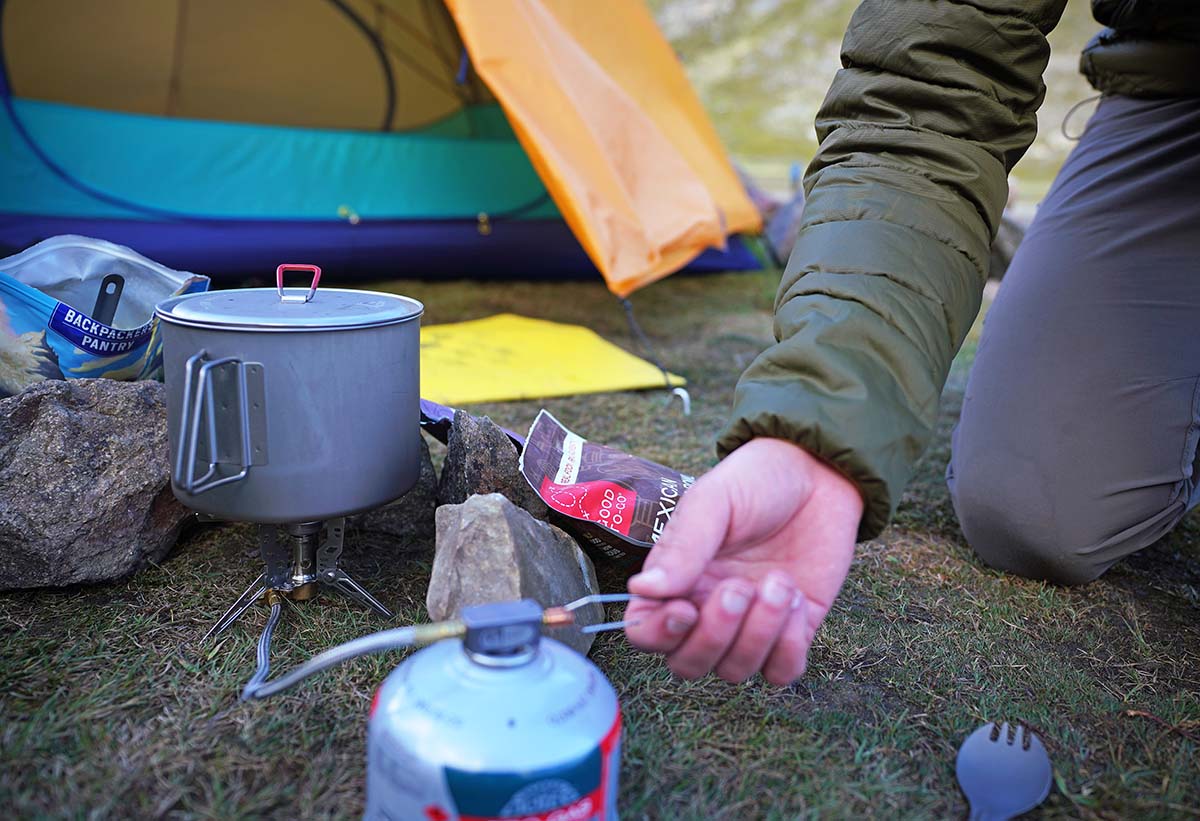 Weight and Packability
Like most backpacking gear, weight is an important consideration when choosing a stove. Before we start in on the specifics, it's important to note that weight is rather difficult to compare among backpacking stoves, as you need to consider your type of fuel and amount needed, in addition to whether or not you'll be adding the weight of a cookset. For each stove on our list, we've listed the bare bones weight, which does not include the isobutane/propane canister or liquid-fuel bottle, fuel pump (if required), or additional pots. One exception is an integrated system like the Jetboil Flash, which factors its pot into the weight.
In general, you can expect alternative-fuel stoves to be the lightest options, and liquid-fuel stoves to be the heaviest. Canister stoves—especially non-integrated canisters models like the 1.9-ounce Snow Peak LiteMax—are truly a happy medium in terms of weight. In choosing the right system for you, it comes down to priorities: you'll nearly always be sacrificing something—convenience, speed, durability, cold-weather performance, etc.—when you shave ounces. That said, every model here on our list is what we consider light and packable enough for backpacking. Even a relatively heavy design like the 14.7-ounce MSR Reactor is still sub-1-pound, and well worth its weight at high elevations or in the extreme cold.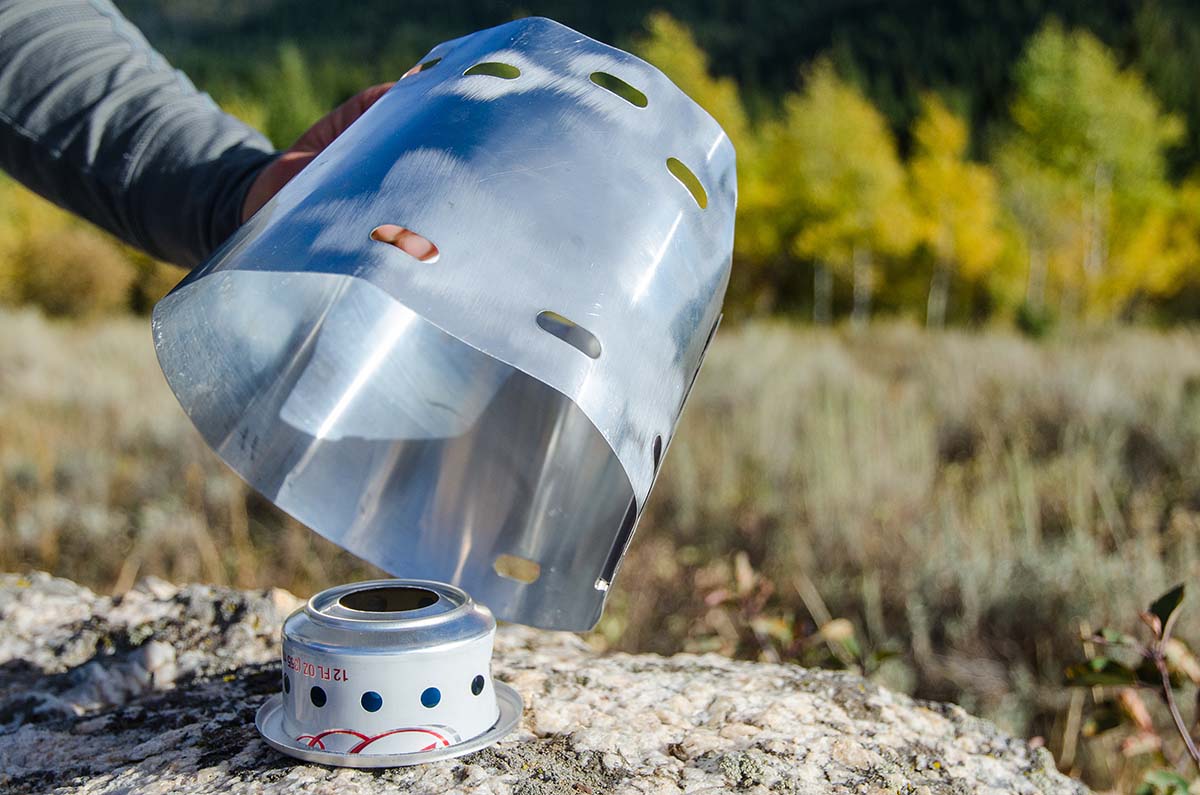 Simmering Capabilities
Those that plan to do more than just boil water will want a stove with quality flame control. Most canister and liquid fuel models have a twist valve to adjust the height of the flame, but a built-in regulator or advanced valve system is what truly improves a stove's ability to simmer. Some stoves that simmer well include MSR's WhisperLite Universal and PocketRocket 2, as well as the Jetboil MiniMo. On the other hand, basic liquid-fuel stoves (like the standard WhisperLite) and all-in-one systems like the Jetboil Flash typically don't have the ability to run smoothly at low heat, although you can usually keep a small flame going with skillful regulation of the fuel valve (i.e., a whole lot of babysitting).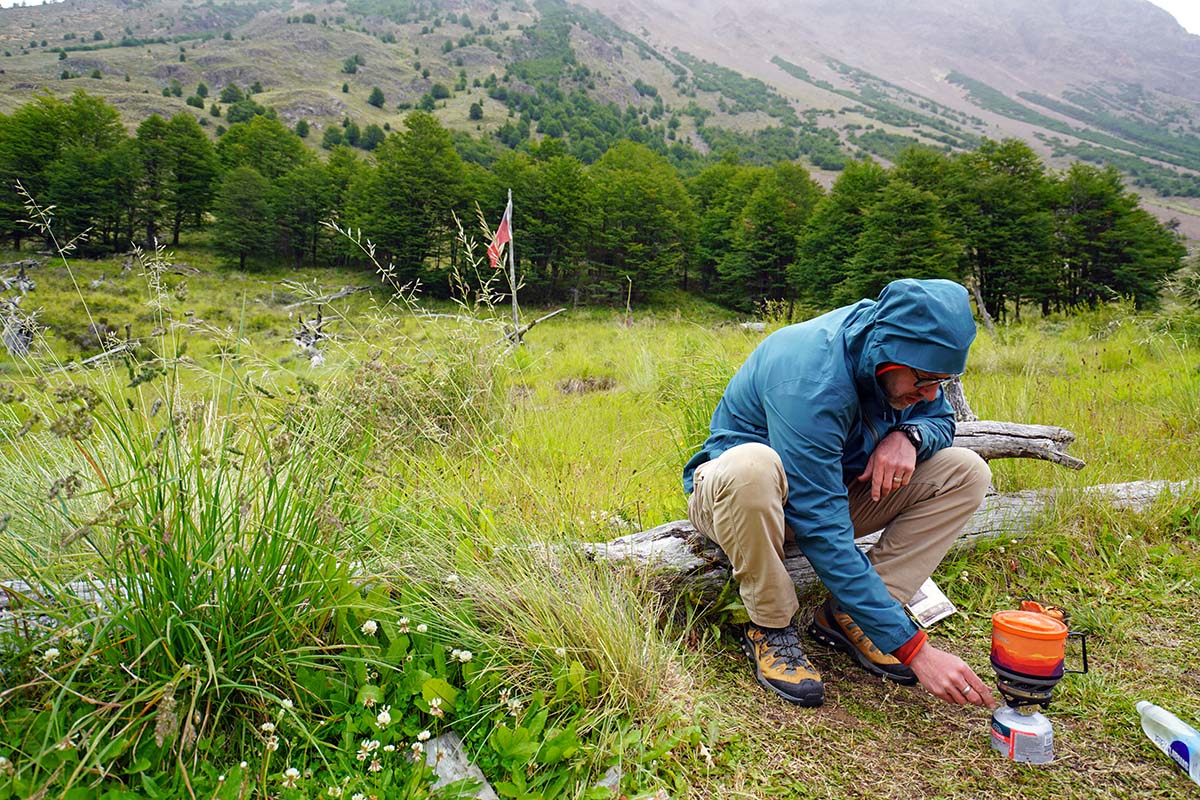 Wind Resistance
As we've touched on throughout this article, backpacking stoves and wind don't get along. Strong winds can quickly put out your flame, and re-igniting your stove can be a major hassle in gusty conditions. For the best performance in blustery weather, all-in-one systems are far and away the best choice. The MSR WindBurner, for example, leaves very little of the stove exposed to the elements. Non-integrated stoves, on the other hand, typically will require the purchase of a separate windscreen or set-up in a well-protected area at camp. Alcohol and wood-burning stoves fall at the bottom of the pack in terms of wind resistance, and it might take some practice and patience to get an even and consistent flame. If you backpack in consistently windy conditions—think above-treeline locations like 14ers in Colorado or the High Sierra—consider whether or not you need added protection before heading out.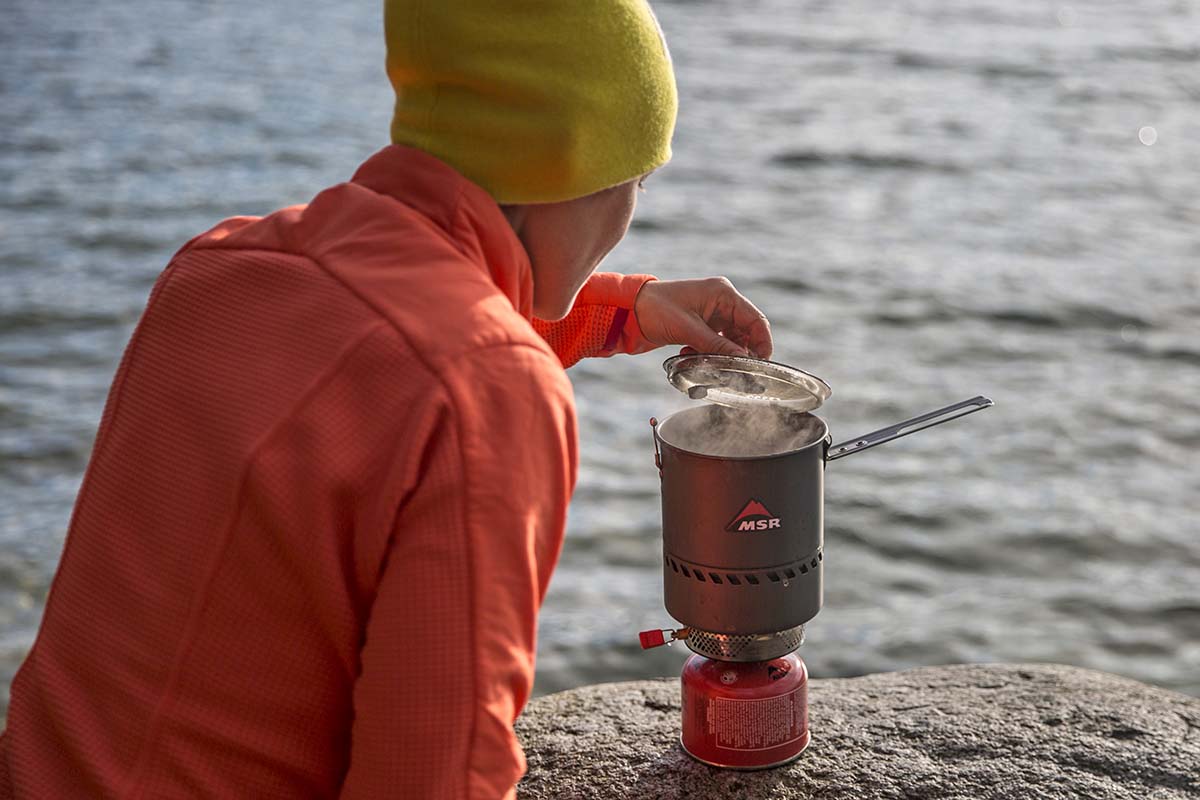 Cooking at Altitude and in the Cold
Interestingly, fuel reacts similarly to both cold weather and altitude. For traveling in these conditions, we'll always recommend a liquid-fuel stove over a stove run on isobutane/propane—white gas and other liquid fuels simply operate better in the cold, and you can regulate the dropping pressure with the fuel pump too. On the other hand, canisters have the tendency to depressurize in the cold or at elevation, and freezing temperatures can keep liquid gas from vaporizing (a necessary process for moving gas from canister to stove). At best, the result is inefficient cooking and a weak flame (at worst, you get a non-operational stove). If you don't want to give up the convenience of a canister stove, we recommend one with a remote connection that allows you to invert the canister, such as the MSR WhisperLite Universal. And if you're in a pickle in cold weather with a standard canister stove, you can keep your fuel warm by putting it in your jacket pocket or sleeping bag, or wrapping it in a layer during use. But for the best results, leave your canister stove at home for cold or high-altitude trips, and bring a liquid-fuel stove instead.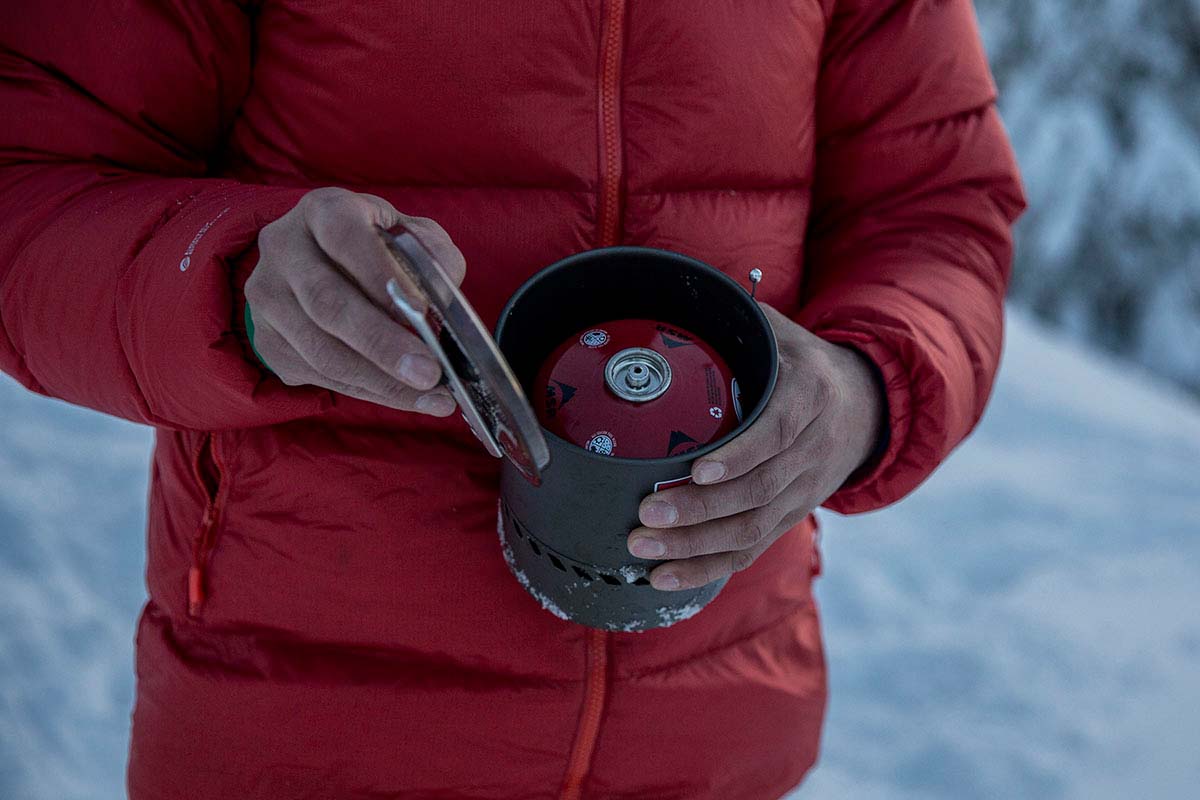 Even with a liquid-fuel stove, there's not much you can do to speed up cook times at high altitudes. Here, you're dealing with two contributing factors: first, water evaporates faster at higher elevations, and second, water has a lower boiling point. This means that you'll need to boil more water, and importantly for dehydrated food eaters: your meals will take longer to cook because of the lower water temperature. In general, you'll start to notice this slowing down around 5,000 feet, with the boiling point dropping roughly 5˚F every 2,500 feet.
 
What is a Piezo Igniter?
You'll often see canister-style stoves with a built-in starter, referred to as a push-button or Piezo igniter. With a simple push of a button (after loosening the fuel control valve), an electric spark lights your stove. This handy tool does add a tiny bit of weight and can have a small impact on a stove's packed size, but the convenience factor is significant for some backpackers.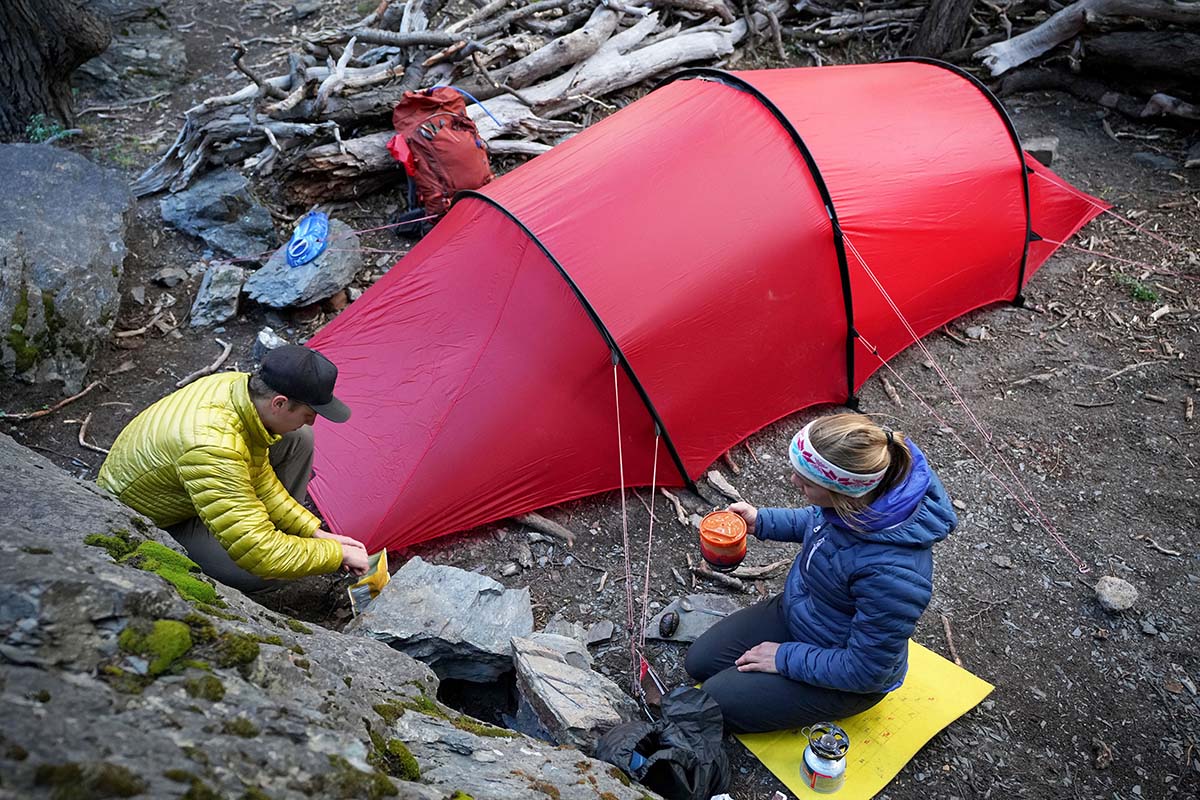 What are the pros and cons of a built-in igniter? Piezo lighters save time and are particularly helpful in windy conditions when a match could easily be blown out. On the downside, if they do fail (and many have been known to stop working over time), you have a useless protrusion stuck to the side of your otherwise fully functioning stove. Should this happen, however, you can continue to light the stove the old-fashioned way. No matter what, we always suggest bringing some backup matches or a lighter for the just-in-case.
 
Ultralight Cooksets
There are a number of ways to cut weight and packed size from your current stove system, and pairing a non-integrated stove with an ultralight cookset is a big one. Titanium offers the best in ultralight cookware, with ridiculously low weights and a higher strength rating than aluminum. Combine a titanium pot (like the 4.2-ounce MSR Titan Kettle) with a lightweight canister stove (the MSR PocketRocket 2 is 2.6 ounces) or an alcohol, wood, or tablet stove, throw in a lightweight spork, and you have a stove system in the ballpark of 8 ounces (without the fuel canister). That's not too shabby and considerably lighter than the integrated systems on our list (Jetboil's lightest offering, the MicroMo, is 12 ounces).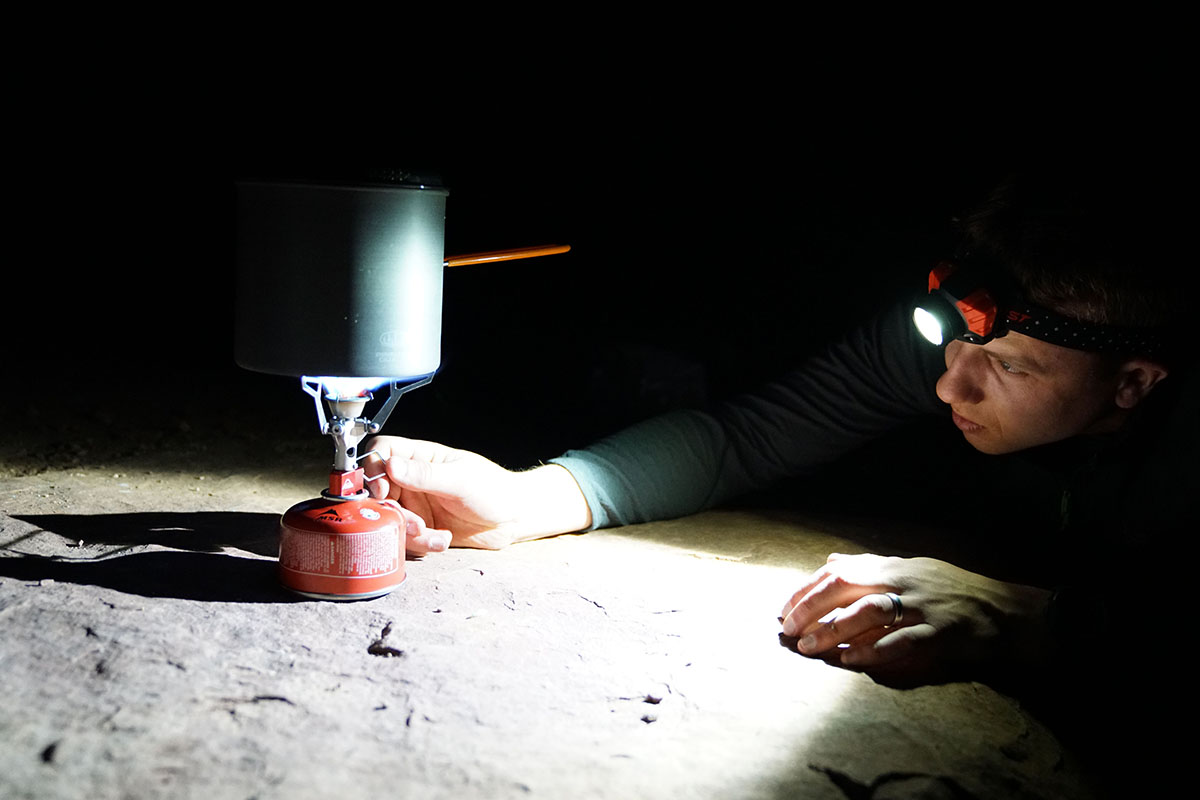 While a small titanium pot will always be your lightest option, it does come with a few downsides. For one, the price: for the cost of one titanium pot or kettle, you can likely buy three stainless steel pots. Second, titanium is great for boiling water, but will form hot spots if you cook with it, resulting in burned food and difficult to clean pots. If you're not too focused on counting ounces, hard-anodized aluminum is a less expensive but still lightweight option, seen in popular cookware like the GSI Outdoors Halulite Boiler Pot.
 
Traveling Internationally with a Stove
Whether it's backpacking across Europe or cycling through South America, a reliable stove that can run on fuel that's readily available locally is an absolute must. White gas and isobutane/propane canisters are not sold everywhere, but multi-fuel stoves can run on almost every type of fuel you might find throughout the world, including kerosene and unleaded gasoline. Our favorites include a few proven options from MSR: the Whisperlite International and Universal, and the XGK EX.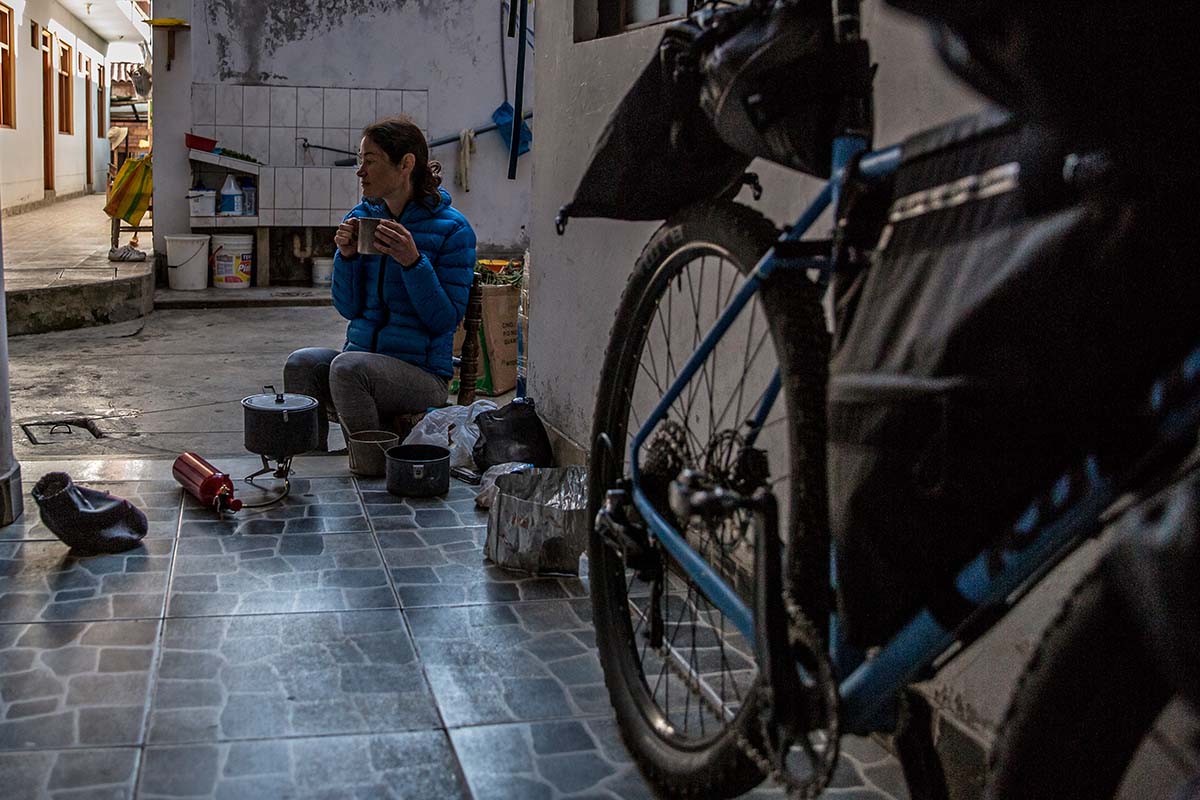 It's always a good idea to research what types of fuel are most common at your destination. Due to airline restrictions, you cannot carry any fuel on the plane with you, whether in your checked bags or your carry-ons. Some travelers have even run into issues with dirty or used fuel lines creating some security delays at the airport. It's our recommendation when researching to dig a little deeper than a basic country guidebook. Don't be satisfied knowing that the destination country has the fuel available, but get to know (as best you can) how readily available it is and how often can you refill during your travels. And as a final recommendation, make sure to be familiar with the quirks of your stove before heading out. Unleaded fuel will burn a lot dirtier than white gas or a canister, so make sure you're savvy in how to quickly clean the fuel lines.
Back to Our Top Backpacking Stove Picks  Back to Our Backpacking Stove Comparison Table
Learn More About Backpacking