Whether you're new to backcountry skiing or have been earning your turns for decades, selecting an alpine touring binding can be a particularly intimidating task. For the 2023 season, the market is absolutely flooded with options, ranging from ultralight tech bindings for the uphill-focused crowd to capable designs that play double duty in the resort and backcountry. No two models are the same and there's something for everyone, so the main task is matching your style and needs with the right binding. To help you choose, we've compiled a thorough breakdown of the best touring bindings on the market, including a comparison table and detailed buying advice below the picks. To complete your set-up, be sure to check out our articles on the best backcountry skis and backcountry boots.
 
---
Our Team's Backcountry Ski Binding Picks
---

Best Overall Backcountry Ski Binding
Type: Tech
Weight: 1 lb. 8.3 oz.
Release value: "women," "men," and "expert"
What we like: Reliable, easy to use, and great all-around performance.
What we don't: Only three predetermined release settings.
For the majority of skiers, the best backcountry ski binding is a tech design that deftly balances uphill and downhill performance, weight, ease of use, and durability. With these metrics in mind, the Salomon MTN Pure is our overall favorite, especially for those that put a premium on user-friendliness and well-rounded performance. Tech bindings can come with a steep learning curve, but the MTN is easy to step into and a breeze to transition between ski and tour modes. The binding showcases its simplistic nature with just three release value settings, and you can also opt for the brakeless version (with included leash). Finally, Salomon nailed the build quality with metal-heavy heel and toe pieces that have held up impressively well throughout our testing.
All that said, the MTN Pure isn't ideal for everyone, and expert skiers in particular might not like the inability to customize the release settings. The Marker Alpinist 12 below performs even better on the descent with a gapless heel piece that lends a smooth feel and consistent release, although it's not as easy to transition as the Salomon. Alternatively, if you're looking for a burlier binding that prioritizes power and stability on the downhill (at the cost of added weight), it's worth stepping up to a tech design with an alpine heel like the Fritchi Tecton below, or choosing a resort-capable model like the popular Salomon Shift. However, whether you're a recent backcountry convert, experienced powder hound, or somewhere in between, the MTN Pure puts it all together better than most, earning our top spot of the 2023 season... Read in-depth review
See the Salomon MTN Pure
Best Hybrid Resort/Backcountry Ski Binding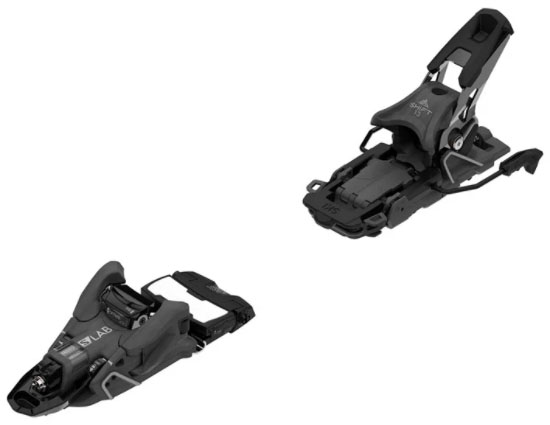 Type: Hybrid
Weight: 3 lbs. 14.4 oz.
DIN: 6-13
What we like: Full downhill performance in a touring binding; compatible with a variety of boots.
What we don't: Expensive and heavy compared to simple tech bindings.
Immediately after its release, Salomon's Shift changed the backcountry ski binding landscape. Simply put, it was the first tech binding that provided legitimate performance and safety while hitting big lines or bombing laps at the resort. The magic formula here is a fairly standard alpine-style heel piece paired with a wildly innovative toe piece, which functions like a pin-ready set-up for uphill travel and converts into a traditional downhill toe clamp in ski mode. The net result is impressive versatility in terms of performance and boot-sole compatibility: You can wear your downhill boots and put down the power in hardpack and crud, or go lightweight with your touring set-up on a backcountry adventure.
What are the downsides to the Shift? The binding's two-mode toe piece and beefy heel add some weight, so those who like to go far or fast will want to stick with a design like Salomon's MTN Pure above or the Marker Alpinist below. Additionally, the Shift is not compatible with alpine touring boots that don't have full toe and heel lugs, which leaves out models like the Dynafit Hoji Pro Tour. Finally, in testing we found that the heel's locking lever occasionally pops out while in tour mode (also releasing the brakes), and all the Shift's moving parts can be a bit onerous to operate. As a result, this wouldn't be our top choice for those skiing exclusively in the backcountry. But these gripes are fairly minor for a game-changing product that still stands out as the best hybrid binding on the market. Of note: Like the MTN Pure above, it's also sold under the Armada and Atomic brand names, with the only difference being color... Read in-depth review
See the Salomon S/Lab Shift MNC
Best Ultralight Backcountry Ski Binding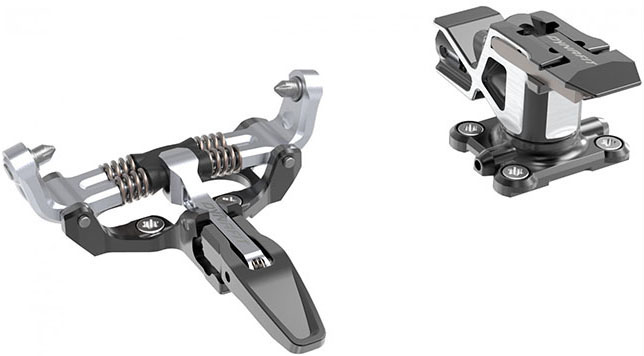 Type: Tech
Weight: 11.3 oz.
DIN: 4-13
What we like: Great performance and feature set in an ultralight build.
What we don't: Non-adjustable heel piece requires numerous rotations depending on riser height.
The majority of backcountry skiers will opt for an all-rounder like the Salomon MTN Pure above, which for most intents and purposes is very lightweight at just 1 pound 8.4 ounces for the pair. But decidedly uphill-focused skiers can streamline their kit even further with a design like the Dynafit Superlite 150. The Superlite is inspired by the lightest skimo race bindings on the market, but with more versatility for everyday touring and ski mountaineering. As a result, it's one of the best ultralight yet highly durable options for ski mountaineers and endurance enthusiasts. For the ascent, you get a 11.3-ounce build with two riser heights (plus flat) and the option for brakes. And on the downhill, the Superlite truly stands out in its weight class, with a nice balance of retention and release safety paired with a wide 4-13 DIN range, as well as an all-metal heel (minimizing the chance of breakable parts). 
As with any ultralight gear, there are some tradeoffs inherent in the Superlite's design. The most glaring is that there's zero room for boot sole length adjustment, making it difficult to share skis or swap out boots (you can purchase a heel adjustment plate separately for an extra $100). Second, the 150's minimum forward release is 7, which is a bit high for lighter or less aggressive skiers (the lateral release value is still 4-13). And finally, you'll have to reach down to manually spin the heel piece rather than using your pole, and the tallest riser is just 51 millimeters (some risers extend up to 85mm or more). Despite these compromises, the Superlite 150 is in a league of its own as a fully featured ultralight binding with great downhill performance.
See the Dynafit Superlite 150
Best Skimo Race Binding
Type: Tech
Weight: 7.5 oz.
DIN: Fixed 
What we like: Super reliable and easy to use in a race setting.
What we don't: A very expensive niche binding.
Skimo is a rapidly growing sport and one of the newest additions to the winter Olympics, debuting in 2026. And while most local races are welcoming to all levels of skiers and splitboarders, you'l need an extraordinarily lightweight setup to be competitive. This is where skimo race bindings come into play, and the Dynafit Low Tech Race 105 is our top pick. Available with an automatic or manual-locking toe piece, the front of the binding is a pared-down version of the typical pin design. On the other hand, the tiny, compact heel piece is unique: It transitions from tour to ski mode with the simple flip of a metal riser, saving racers precious seconds during competition. And although the binding is small and weighs only ounces, it's designed to withstand speedy off-piste skiing in all manner of conditions. It all adds up to one of the most popular bindings among elite racers in both the U.S. and Europe.  
Of course, the Low Tech 105 is a specialty binding that is intended for racing on ultra lightweight skimo race skis. It is not suitable for driving beefier skis or for ski mountaineering or everyday touring settings—if you want a weight-conscious set up for these disciplines, we recommend Dynafit's race-inspired but more versatile Superlite 150 above or the ATK Trofeo below. Further, a skimo race setup is an expensive investment when you tally up the bindings, ultralight skis, and racing boots (not to mention a lycra suit). Before throwing down for the whole setup, we recommend trying a race or two and making sure it's something you enjoy.
See the Dynafit Low Tech Race 105
Best Budget Backcountry Ski Binding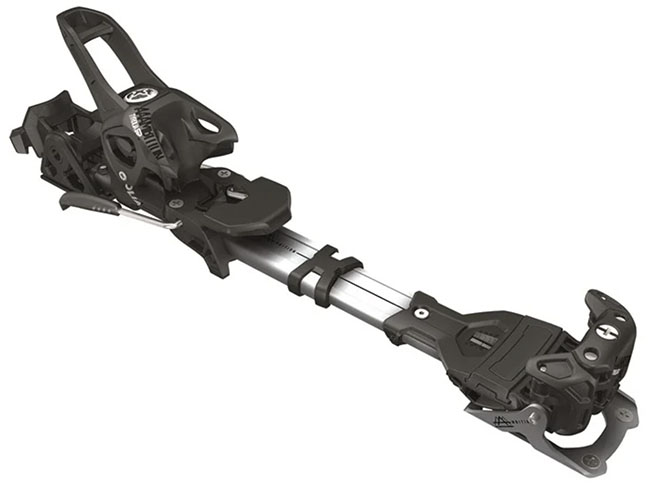 Type: Frame
Weight: 4 lbs. 5.1 oz.
DIN: 3-10
What we like: Affordable, solid downhill performance, and compatible with a wide range of boots.
What we don't: Heavy, clunky, and less efficient than most tech bindings.
We'll cut straight to the chase: backcountry bindings are expensive. In fact, the average model here is about twice as much as a standard alpine binding (our top-ranked Marker Griffon 13 ID is a relatively affordable $270), which—along with boots and skis—can make putting together your initial touring set-up rather daunting. One of the best ways to save is by opting for a frame binding, which offers versatility (they pair with a wide range of boots, including alpine models) and downhill performance in an affordable package. Of course, the most obvious downside to frame bindings is weight: the Tyrolia Ambition 10 here clocks in at a whopping 4 pounds 5.1 ounces, which is more than three times the heft of many of our favorite all-around tech bindings.
For uphill-focused skiers, weight is a major factor and can put a real dent in your efficiency. If you prefer to stay in the tech category, the ATK Kuluar 12 or Dynafit Radical are two of the best budget options (starting around $470-$500). But for casual weekenders, new skiers, or those who plan to split their days between the resort and backcountry, a strong case can be made for an affordable and versatile binding like the Ambition here. But expect a sizable performance drop: in addition to its added heft, the Tyrolia's walkability suffers with a pivot point in front of the toe. Additionally, at 10 on the DIN scale, aggressive riders will be better off with a heavier option like the Salomon Shift above, the Marker F12 or Baron EPF 13, or the 12-DIN Ambition. But the Tyrolia is an affordable choice for beginners, budget-conscious skiers, or riders that don't want to invest in a tech-compatible boot.
See the Tyrolia Ambition 10
Best of the Rest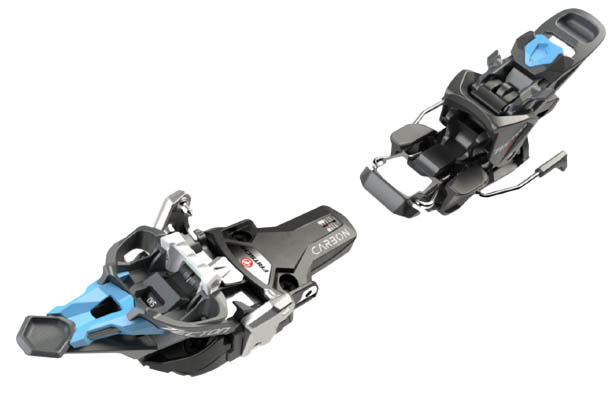 Type: Tech
Weight: 2 lbs. 12.4 oz.
DIN: 5-13
What we like: Alpine-style heel provides security at a reasonable weight.
What we don't: Heavier than pure tech designs and not as versatile as the Shift.
Switzerland-based Fritschi specializes in backcountry bindings, with a streamlined yet impressive lineup ranging from the entry-level Scout below to the impressive Tecton here. The Tecton defines the "free-touring" category, combining a tech toe (like that of the MTN and Superlite above) with an alpine heel similar to what we see on the Salomon Shift. This hybrid design, which has been updated for 2023 to be lighter and even more powerful, balances security and performance on the downhill—nearly on par with many standard resort bindings—with a reasonable uphill weight. With brakes, the Fritschi clocks in at just 2 pounds 12.4 ounces for the pair, more than a full pound less than the Shift above.
If you're a hard-charging skier or like to spend the odd day at the resort, you might find yourself choosing between the Shift and a binding like the Tecton here. The main distinction between these two models is the toe piece: The Shift's innovative design means you get a full alpine binding for the descent, which provides superior elasticity and feel and can also be paired with an alpine boot (it also earns it an official TÜV certification for DIN). The Tecton isn't quite as versatile (it pairs with tech boots only) but still provides impressive performance for a tech binding without the safety compromises inherent in most of these designs (for more, see the section on Release Values in our buying advice). In short, we'd recommend the Shift for those who spend a lot of time in-bounds, but the Tecton offers our favorite combination of weight and performance for aggressive skiers who stick to the backcountry. Finally, keep in mind that Fritschi also makes the Vipec Evo, which combines the toe piece of the Tecton with a standard pin heel.
See the Fritschi Tecton 13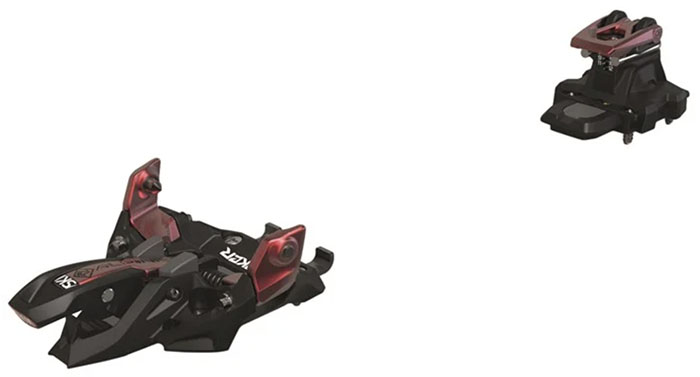 Type: Tech
Weight: 1 lb. 3 oz. (w/ brakes: 1 lb. 9.4 oz.)
DIN: 6-12
What we like: Gapless design offers impressive downhill capabilities.
What we don't: More plastic parts than the Salomon MTN Pure and trickier to transition.
Marker's Alpinist 12 goes head-to-head with the Salomon MTN Pure for the best lightweight tech binding here. The two bindings are very similar in terms of both price and weight (keep in mind the brakeless version is listed here), but the Alpinist 12 tacks on a bit of extra tech with its "gapless" (also called a "kiss gap") heel piece design. This allows the heel to move along a track to compensate for ski flex, rather than the buffer more common in tech bindings, which translates to better downhill performance, including a smoother ride and more consistent release than a model like the MTN Pure. And the real kicker is that the Marker accomplished this at a truly impressive weight: at just 1 pound 9.4 ounces with brakes, the Alpinist undercuts the gapless G3 Ion 12 (2 lbs. 8.8 oz.) by a huge margin.
With all that praise, why do we have the Marker ranked here? In short, the Salomon is the more approachable option for the majority of skiers: it's easier to step into and transition with a 90-degree heel piece rotation (the Alpinist's is a full 180˚), and provides a bit more assurance in terms of durability with more metal parts (the Marker uses a lot of carbon-reinforced plastic). It's also a bit lighter when you factor in brakes (sold separately, they'll add about $60 and 7 oz. for the pair). But for the more experienced skier who's familiar with tech bindings and doesn't need a gentle learning curve, the Alpinist's combination of downhill performance and value is truly hard to beat, and Marker even updated their toe piece for 2023 with a rubber "stop pad" and wider platform to make stepping into it easier. Finally, unlike the MTN Pure, which offers only three release settings, you can also tweak the Alpinist's DIN anywhere between 6 and 12 (or save some cash with the 8-DIN or 10-DIN models).
See the Marker Alpinist 12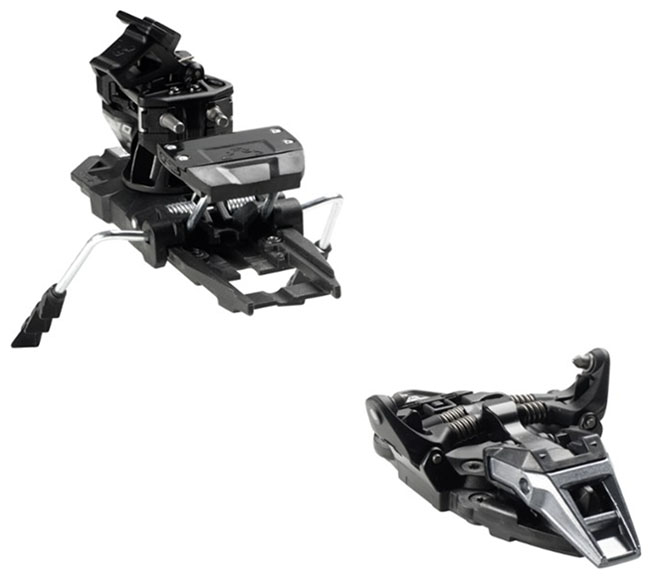 Type: Tech 
Weight: 2 lbs. 10.7 oz.
DIN: 6-12
What we like: A TÜV-certified tech binding that offers proven performance at a low weight.
What we don't: Heavier than the MTN Pure and not as downhill-savvy as the Tecton.
Dynafit is credited with starting the tech binding craze—some still refer to the category simply as "Dynafit bindings"—and among their core offering is the ST Rotation. Evolving from the popular Radical line, the ST Rotation's standout feature is its pivoting toe piece, which offers elasticity and consistent release like an alpine binding (unlike the vast majority of tech bindings, this earns the Rotation a TÜV certification for safety). Compared to the aforementioned Radical, it's easier to step into thanks to a catch that keeps the toe piece gently locked into a centered position. Finally, many will appreciate the ability to choose among release options depending on size and skiing ability: 7, 10, 12, or 14-DIN.
The ST Rotation isn't nearly as light as options like the MTN Pure and Alpinist above, but the next-level downhill performance and safety are well worth it for some. In the end, the Rotation fills a nice gap between the two categories and slots in as one of the most refined touring designs on the market, including easy transitions between ski and tour modes and smooth performance on both the ascent and descent. Finally, we'd be remiss not to mention that Dynafit's durability and expertise are time-tested, and their bindings seem to take a beating significantly better than most offerings here.
See the Dynafit ST Rotation 12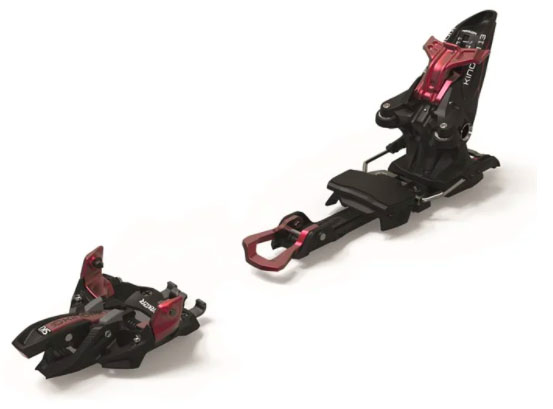 Type: Tech
Weight: 3 lbs. 2.4 oz.
DIN: 6-13
What we like: Impressive combination of power, safety, and usability.
What we don't: More expensive and not as versatile as the Salomon Shift.
Like the Fritschi Tecton above, the Kingpin is a free-touring binding designed for skiers who don't like to hold back. It's also one of the only set-ups here that earns a TÜV certification for DIN, giving the Kingpin the credentials to stamp its mark in a crowded and highly competitive market. For the descent, you get the safety and secure feeling of a quality 13-DIN alpine binding that releases both vertically and laterally at the heel. On the uphill, the reasonable 3-pound weight easily undercuts most other hybrid models. It's true that the Kingpin is overkill for all but the most expert-level skiers, but if you're dropping big lines, it's one of the most capable tech bindings money can buy.
The Kingpin wasted no time in becoming one of the most popular tech bindings ever made, but it hasn't kept pace with recent improvements in the market. Compared to the Fritschi Tecton above, it's a bit heavier and doesn't include the added release mechanism at the toe, which could be a deal-breaker for aggressive skiers (the Tecton doesn't have an official TÜV certification, but it's very confidence-inspiring overall). And held up against the Shift, you give up alpine boot compatibility and the true alpine toe, which are great features for those who dabble both in and out of bounds. But these are all fairly small nitpicks for such a highly capable design, and there's a reason it's garnered so much attention over the years. Importantly, Marker recently expanded the line to include the Kingpin M-Werks, which combines the trimmed-down toe piece of the Alpinist, the heel of the standard Kingpin, and a host of other upgrades. The result: a drop in weight (2 lbs. 14.2 oz.) but a steep $800 price tag. 
See the Marker Kingpin 13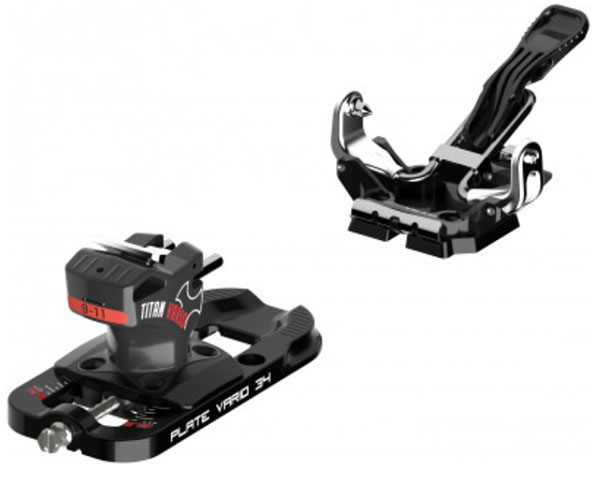 Type: Tech 
Weight: 1 lb. 1.9 oz.
Release value: 7-9 (fixed)
What we like: Great downhill performance and safety in a feathery package.
What we don't: DIN cannot be adjusted and toe piece takes some getting used to.
Designed and manufactured in the resort town of Bormio, Italy, the Titan Vario.2 boasts an excellent combination of performance and retention at a fast-and-light-ready weight. One unique touch is its toe piece, which has its resting state in the clamped position—opposite the market standard. This means you have to depress the lever to step in, but once you're in, you're not going anywhere (the jaws also work independently of each other, which further reduces the chance of accidental release). But the biggest news here is the Titan's gapless heel piece, which uses a spring and flexible track to deliver a whopping 43 degrees of elasticity. Added up, you get remarkable downhill capabilities and safety for a tech design at a low weight of just 1 pound 1.9 ounces per pair.
Very few bindings match the cult-like following of Ski Trab's Titan Vario.2, but there are some notable tradeoffs to the niche design. Namely, the Ski Trab can be hard to track down in the U.S. (Skimo.co carries it), the optional brakes max out at 94 millimeters, and the DIN isn't adjustable, despite what the listed 7-9 range might imply (it also comes in fixed 5-7 and 9-11 models). Additionally, the reverse toe piece can take some getting used to, although most tech bindings have some amount of learning curve. But there's no denying the standout retention, downhill savvy, and durability of the Titan Vario.2, which should be near the top of the list for avid ski mountaineers and endurance enthusiasts who like to charge on the descent. 
See the Ski Trab Titan Vario.2 7-9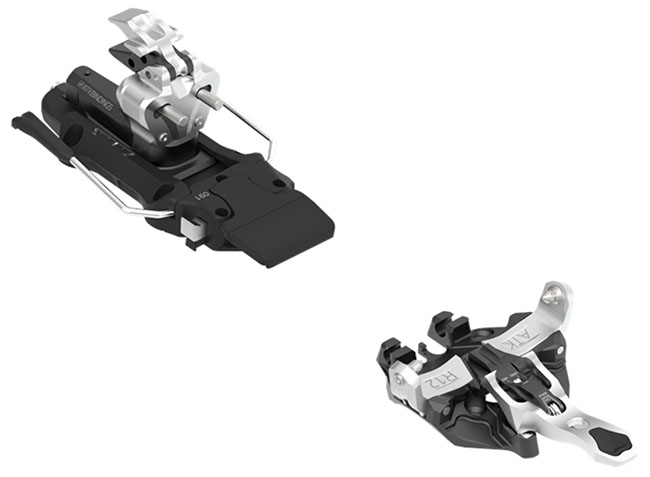 Type: Tech
Weight: 1 lb. 7.6 oz.
Release value: 5-12
What we like: Extremely durable for the weight with an all-metal build.
What we don't: Expensive for a standard pin binding; you'll have to purchase ATK's Freeride Spacer separately.
Like Ski Trab, ATK is another Italian brand that knows how to make a solid binding. A traditional tech design, the Raider 12 goes head-to-head with models like the MTN Pure and Titan Vario.2 above, but a few details set it apart. ATK has always cared about uphill performance—the previous Raider 2.0 had brakes on the toe piece in the event it came unhinged on the skin track—and the current iteration allows you to tweak the pin tension to really lock in your boot on the steeps. Durability is also best-in-class, with CNC-machined pieces, aircraft-grade aluminum, and a smattering of carbon throughout the components (ATK's bindings are almost fully metal). It's a big investment at $700 and the priciest standard pin binding here, but the Raider 12 is undeniably premium and built to last. (Note: Black Diamond is a U.S. distributor for ATK, making most of the bindings fairly easy to find stateside.)
The Raider doesn't have a gapless heel piece like the Alpinist above, so you do give up a bit of the smooth feel and consistent release that we love about the Marker. ATK does allow you to add their "Freeride Spacer," which slides in between your boot sole and ski to bring the binding's downhill performance up to speed, but that'll run you an additional $80. In the end, the Raider 12 is a tough sell when high-quality, durable alternatives like the aforementioned MTN Pure and Titan Vario.2 cost $100-$240 less, but committed riders who get out often and are hard on their gear might be able to justify the added investment. And it's worth noting ATK's new-for-2023 "EVO" line, which features an adjustable release value on the toe piece, automatic brakes, and an increased elastic angle on the heel piece—so far, EVO bindings are not readily available in the U.S., but we'll keep an eye out for them this winter.
See the ATK Raider 12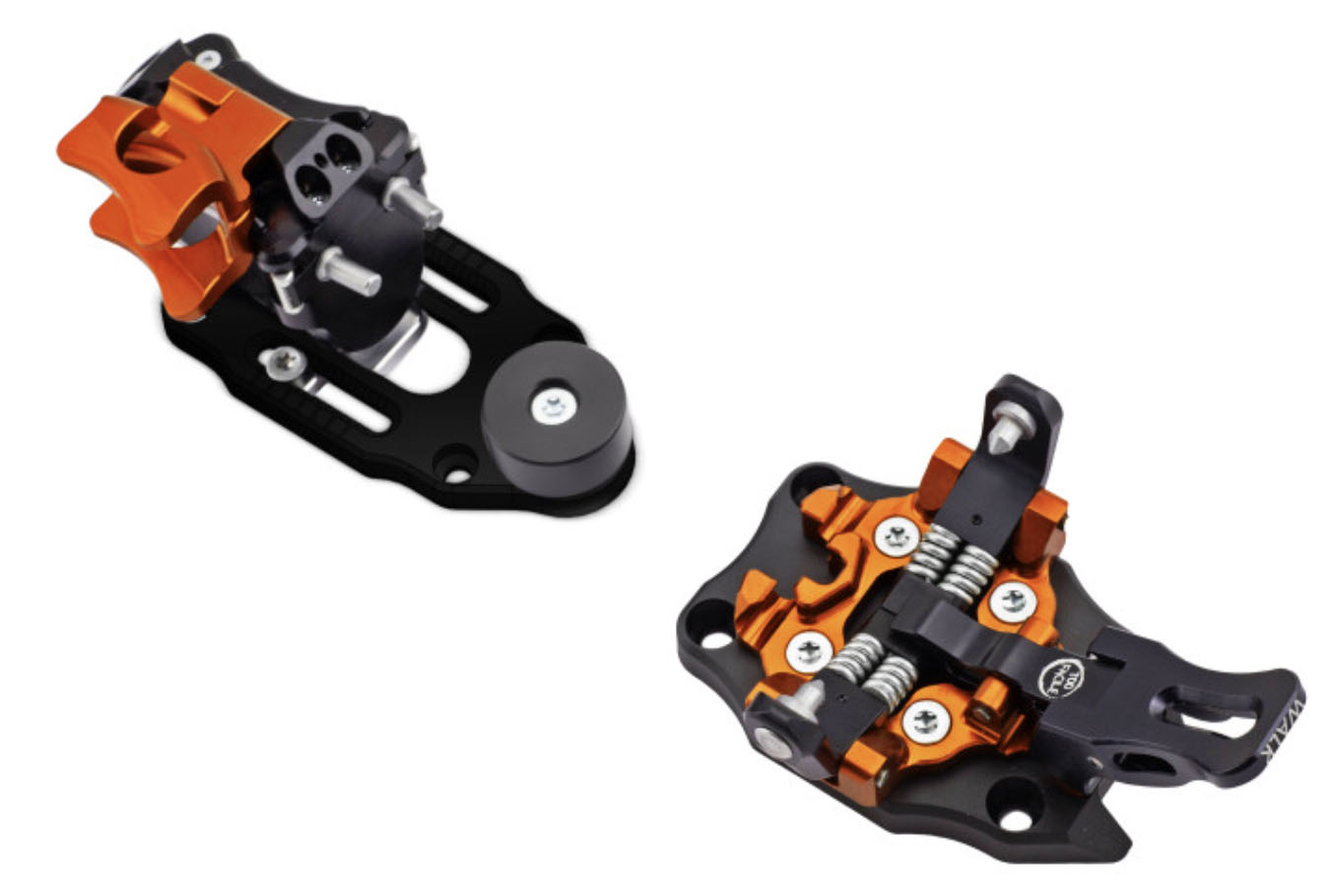 Type: Tech
Weight: 1 lb. 15.4 oz.
Release value: 5.5-12
What we like: An all-metal design that's very user-friendly.
What we don't: Not a standout in terms of safety or performance.
As backcountry skiing continues to rise in popularity year after year, the binding market has followed suit. And as we've seen above, many of the best designs consistently come out of the European Alps from names like Dynafit, Ski Trab, ATK, Fritschi—and Plum. Handcrafted in France, Plum sells a range of high-quality, all-metal backcountry bindings that run the gamut from ultralight skimo offerings to the Summit 12 here (they even make splitboard bindings). A traditional tech binding, the Summit goes head-to-head with some of the more downhill-capable tech options here, including the Dynafit ST Rotation above and G3 Ion below.
However, in this increasingly competitive market, the Summit simply doesn't stand out in any major way. You don't get lateral elasticity in the toe like we see in the Fritschi Tecton and Dynafit Rotation, and the Plum's traditional tech heel is no match for the performance of an alpine heel (it's not a gapless design either). On the bright side, the Summit is simple to operate, and the heel risers are particularly well-designed, including lifters that toggle easily with a ski pole and three distinct levels (the 84mm is one of the tallest here). What's more, the Summit 12's forward and lateral release values have a wide range of adjustment between 5.5 and 12, and there's no denying the added assurance you get from an all-metal design. Given their reliability, we know a lot of skiers who also turn to Plum's lighter-weight offerings (like the Oazo or Pika) for spring missions into remote mountains. 
See the Plum Tech Summit 12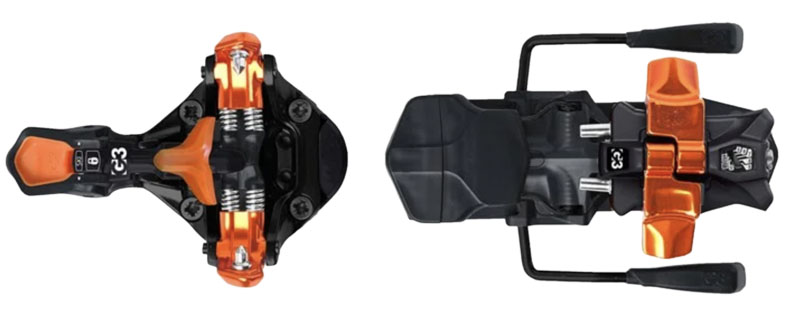 Type: Tech 
Weight: 2 lbs. 8.8 oz.
Release value: 5-12
What we like: Very user-friendly and great power transfer on the downhill.
What we don't: Heavy; G3 bindings are known for durability issues.
G3 shook up the tech market with its Ion bindings, which have arguably the most user-friendly design in the business. Tech bindings are known to be finicky when stepping in—particularly in powder—but the Ion's tall stand height makes it easy to clear out snow with a ski pole, and the pins hook up consistently with your boots thanks to a built-in bumper at the front. Once you're in, transitioning between modes is pretty seamless and quick: the heel rotates 90 degrees in either direction, and the large riser bars are easy to flip with your pole's basket or grip. With the Ion 12, we've mastered the art of switching into ski mode by levering the heel piece with our pole as we stomp down (and then ripping the skins), and are consistently the first skier in our party ready to hit the slopes at transitions.
Another strong suit of the Ion 12 is its kiss-gap heel design, which translates to great downhill performance (the Marker Alpinist is another pin binding with this feature). However, at 2 pounds 8.8 ounces, the Ion is far from a weight leader. If you're going this heavy, you might as well bump up to an alpine heel design like the 2-pound-12.4-ounce Fritschi Tecton above (even the TÜV-certified Dynafit ST Rotation would be a better option). But the biggest knock against the G3 is durability: we've lost track of how many times we've heard about the Ion (or its lightweight sibling, the ZED) breaking in the field, which is particularly grim if you're ski mountaineering or venturing into remote areas. That said, if you're gentle on your gear and prioritize ease of use above all else, the Ion 12 (also sold in a 10-DIN version) is worth a look... Read in-depth review
See the G3 Ion 12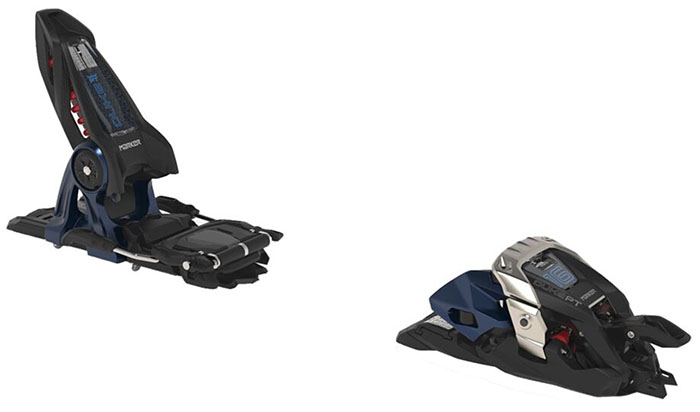 Type: Hybrid
Weight: 5 lbs. 15.2 oz.
DIN: 6-16
What we like: A legitimate competitor to the impressive Salomon Shift.
What we don't: Very hefty; convertible toe is a polarizing feature.
The immediate popularity of the Salomon Shift has proven that there's a strong market for all-in-one resort/backcountry bindings, and Marker has thrown its hat into the ring with the Duke PT. Like the Shift, the Marker design is highlighted by an innovative toe piece that functions like a tech design in tour mode and a sturdy alpine binding on the downhill (it's also compatible with both boot types). The models differ, however, in that the Marker's alpine toe needs to be moved out of the way for climbing either by flipping it back or removing it completely, while the Salomon's toe stays in place. This adds time to transitions, although the Duke PT is a decent climber overall, easily beating out frame options in both efficiency and comfort.
Who is the Duke PT best for? With a sturdy heel, 16-DIN release, and the aforementioned alpine toe, the binding is well-equipped for aggressive skiers that split their time between resort days and freeride touring. But to be clear, this burly construction does come with a significant weight penalty: with the toe piece in place, the Duke PT is a full 2 pounds heavier than the Salomon Shift (that said, this 16-DIN model has a much higher release value than the 13-DIN Shift). Removing the toe pieces saves you about 1 pound 3.5 ounces for the pair, but the Duke PT still can't match the Salomon in this department. In the end, ultra-aggressive riders with true big-mountain ambitions may prefer the Duke PT, but the lighter and more streamlined Shift remains the gold standard for most skiers.
See the Marker Duke PT 16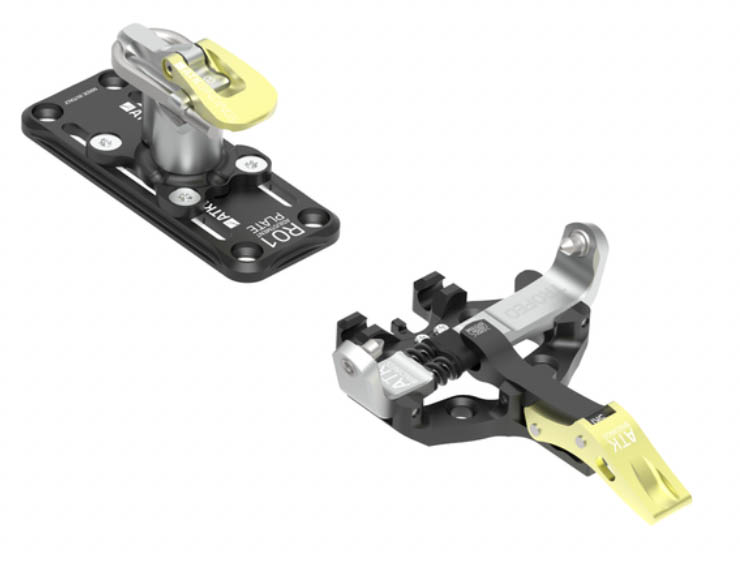 Type: Tech
Weight: 14.4 oz.
DIN: Fixed (4, 6, 8, or 10)
What we like: All-metal build; considerably more affordable than the Superlite 150.
What we don't: Limited as a touring binding. 
You really can't go wrong with ATK bindings, and we love the Trofeo for its versatility for both skimo racing and ski mountaineering. Like most skimo bindings, the Trofeo Plus is lightweight (the standard version is just 10.2 oz. for the pair) and pared down with a fixed release value, but a number of features make it an attractive option for everyday touring. With the Plus model here, you get a durable all-metal build, ski crampon receptor, and an accessory plate for adjusting the boot sole length. What's more, the binding offers three height settings (two risers and one flat), which we don't always see in skimo designs. All in all, the Trofeo is a super lightweight and burly binding that you can accessorize to best meet your ski touring goals.
Who is the best target audience for the Trofeo? Although advertised as a race binding, it's a great setup for weight-conscious ski mountaineers, similar to the Dynafit Superlite 150 above. In fact, we know a few skiers who rely on the Trofeo as their daily driver, pairing it with skis as wide as 110 millimeters at the waist. But with a fixed DIN, you'll want to know exactly what (and who) the binding is for, and the max riser height of 44 millimeters is not ideal for steep pitches. In the end, the Superlite 150 is the more well-rounded option, but you can save considerably with the Trofeo here. It's also worth checking out ATK's Kuluar 12, which weighs just a little more at 1 pound 1.6 ounces for the pair and features an adjustable lateral release (up to 12-DIN) and 20 millimeters of boot sole length adjustment. 
See the ATK Trofeo Plus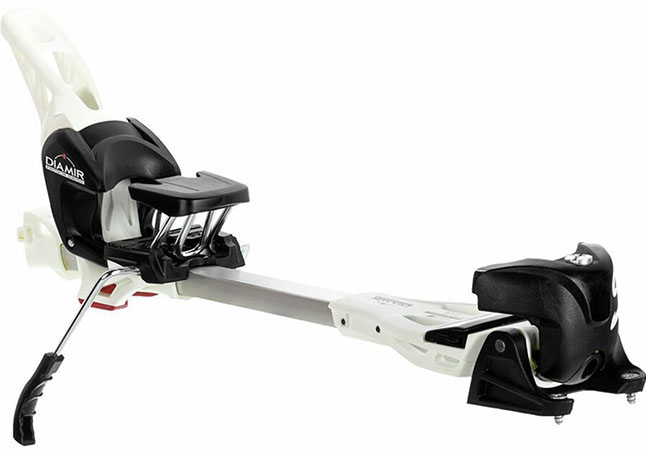 Type: Frame
Weight: 3 lbs. 14.8 oz.
Release value: 3-11
What we like: The versatility, performance, and affordability of a frame binding in a relatively light build.
What we don't: More expensive than the competition and maxes out at a DIN of 11.
The second frame binding to make our list is the Fritschi Scout. As we saw above with the Tyrolia Ambition above, frame bindings are among the heaviest options available for backcountry skiers, but the tradeoff is excellent downhill performance and versatility with a range of boot types. The Scout here is no exception: it's fully DIN-certified, compatible with touring and alpine boots, and checks in at 3 pounds 14.8 ounces, which is almost a half-pound lighter than the Tyrolia. For backcountry-curious resort skiers or those who don't want to spend upwards of $600 on a tech design, the Scout is a really nice option.
There are a number of other frame bindings worth having on your radar, including the aforementioned Tyrolia Ambition and Marker F10/F12 Tour. All three models have competitive price tags (you'll spend up for the 12-DIN versions), but the Scout is the lightest of the group by a decent margin (the Ambition 10 and F10 Tour are 4 lbs. 5.1 oz. and 4 lbs. 13.6 oz., respectively). On the other hand, 11-DIN can be a little low for some, and Fritschi only offers the Scout with the one low release-value range. The Tyrolia gets the edge for us with a $40-lower price point, but the Scout 11 is nevertheless a great option for recreational skiers who go on the occasional tour.
See the Fritschi Scout 11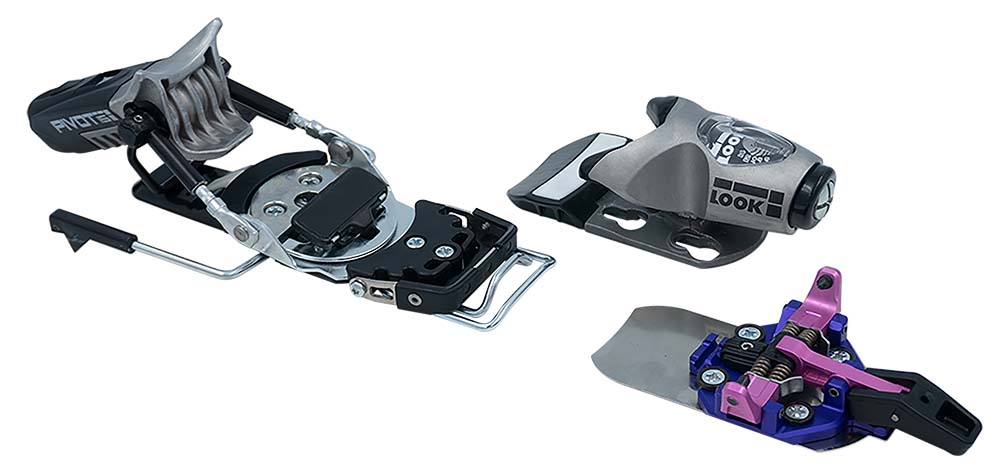 Type: Hybrid
Weight: 6 lbs. 11.8 oz. (4 lbs. 6.5 oz. in tour mode)
Release value: 6-15
What we like: No-holds-barred downhill performance.
What we don't: Lots of moving parts and overkill for all but the most aggressive riders.
The Salomon Shift dominates the hybrid binding market, but for truly unmatched downhill performance, CAST's Freetour Pivot is worth a look. The unique setup takes Look's popular Pivot alpine binding—modified so that the toe piece can be removed—and adds CAST's pin-tech touring toe for swapping in on the ascent. In other words, you're getting one of the most capable and powerful alpine bindings on the market (available in 15- and 18-DIN variations) along with all of the uphill benefits of a tech binding. For the small group of expert skiers for whom the Shift and Marker Duke fall short, the Freetour Pivot is a functional and highly capable solution.
For the rest of us, however, the CAST Freetour Pivot probably isn't worth the tradeoffs. The swappable toe system has a lot of moving parts (don't lose your spare toe piece) and requires additional time and tweaking at each transition. It also adds considerable weight and heft, checking in 4 pounds 6.5 ounces in tour mode and nearly 7 pounds with the alpine toe. Further, you're paying a sizable premium at $735, and a DIN of 15 or 18 is overkill for most riders, especially in the backcountry. And if you already own a Pivot binding, the CAST Freetour Upgrade Kit ($350) includes all the parts required for conversion.
See the CAST Freetour Pivot 15
Backcountry Ski Binding Comparison Table
| Binding | Price | Type | Weight | Release Values | TÜV | Boots |
| --- | --- | --- | --- | --- | --- | --- |
| Salomon MTN Pure | $600 | Tech | 1 lb. 8.3 oz. | women, men, expert | No | Tech |
| Salomon S/Lab Shift MNC 13 | $600 | Hybrid | 3 lbs. 14.4 oz. | 6-13 | Yes | Alpine, touring, tech |
| Dynafit Superlite 150 | $600 | Tech | 11.3 oz. | 4-13 | No | Tech |
| Dynafit Low Tech Race 105 | $550 | Tech | 7.5 oz. | Fixed | No | Tech |
| Tyrolia Ambition 10 | $359 | Frame | 4 lbs. 5.1 oz. | 3-10 | Yes | Alpine, touring |
| Fritschi Tecton 13 | $680 | Tech | 2 lbs. 12.4 oz. | 5-13 | No | Tech |
| Marker Alpinist 12 | $550 | Tech | 1 lb. 3 oz. | 6-12 | No | Tech |
| Dynafit ST Rotation 12 | $650 | Tech | 2 lbs. 10.7 oz. | 6-12 | Yes | Tech |
| Marker Kingpin 13 | $700 | Tech | 3 lbs. 2.4 oz. | 6-13 | Yes | Tech |
| Ski Trab Titan Vario.2 7-9 | $460 | Tech | 1 lb. 1.9 oz. | 7-9 (fixed) | No | Tech |
| ATK Raider 12 | $700 | Tech | 1 lb. 7.6 oz. | 5-12 | No | Tech |
| Plum Tech Summit 12 | $609 | Tech | 1 lb. 15.4 oz. | 5.5-12 | No | Tech |
| G3 Ion 12 | $649 | Tech | 2 lbs. 8.8 oz. | 5-12 | No | Tech |
| Marker Duke PT 16 | $700 | Hybrid | 5 lbs. 15.2 oz. | 6-16 | Yes | Alpine, touring, tech |
| ATK Trofeo Plus | $470 | Tech | 14.4 oz. | Fixed (4, 6, 8, or 10) | No | Tech |
| Fritschi Scout 11 | $400 | Frame | 3 lbs. 14.8 oz. | 3-11 | Yes | Alpine, touring |
| CAST Freetour Pivot 15 | $735 | Hybrid | 6 lbs. 11.8 oz. | 6-15 | Yes | Alpine, touring, tech |

Backcountry Ski Binding Buying Advice

What is a Backcountry Ski Binding?
Backcountry ski bindings, otherwise known as AT (alpine touring) bindings, are designed specifically for use when skiing in areas with no chairlift access. They differ from standard downhill (alpine) models in a few ways, the most notable of which is uphill capability. Whereas a downhill ski binding is only built to function with both your toe and heel locked in, a backcountry binding operates in both uphill mode (toe on a hinge) and downhill mode (toe and heel fully locked in). Additionally, they're designed with an emphasis on weight savings—essential for uphill travel—and many are only compatible with backcountry-specific boots with tech fittings at the toe (there are a few exceptions to this rule).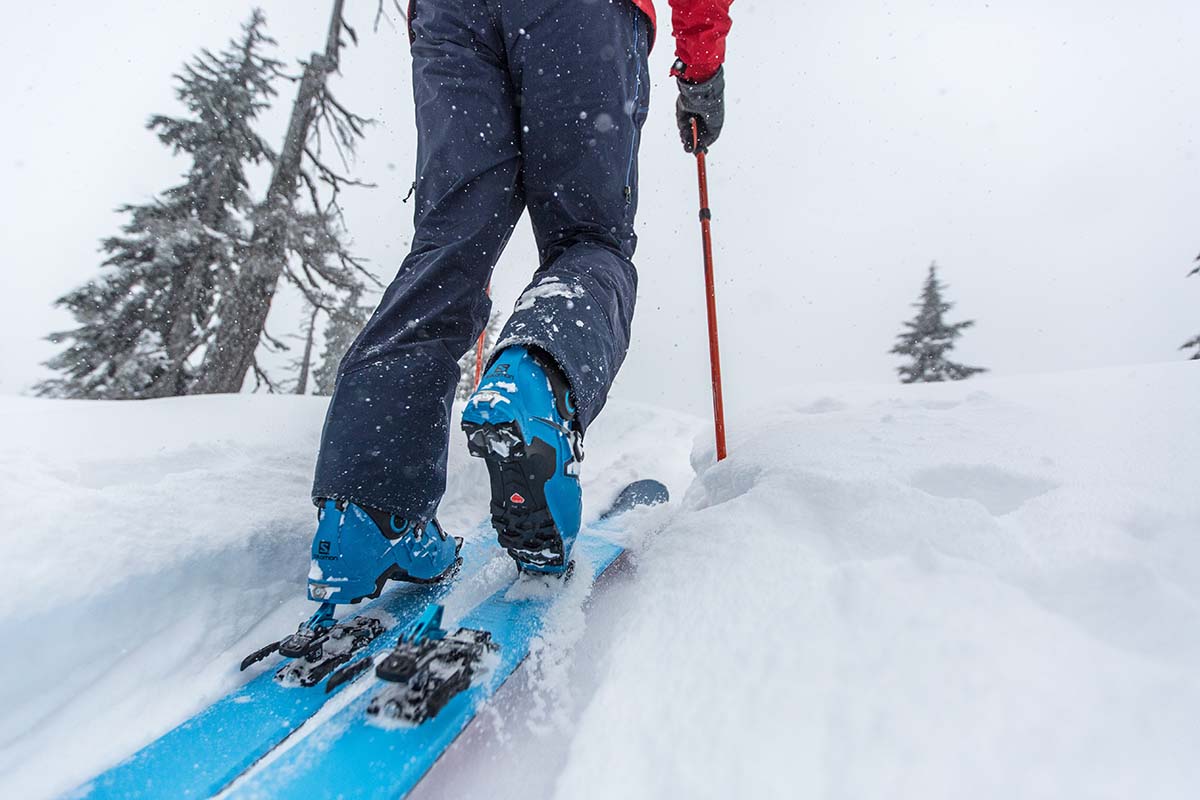 Before we go any further, we want to make one thing clear: there is no one-size-fits-all backcountry binding. In other words, there is no one ideal binding for every skier—but there is an ideal binding for each skier. Your choice will come down to a number of factors, including uphill and downhill performance, weight, price, durability, ease of use, retention, safety, and compatibility with your current ski or ski boot. Read below to find out more, and be sure to also check out our top picks above, which line up with many popular backcountry skiing styles.
 
 

Uphill vs. Downhill Performance
When shopping for a backcountry binding, one of the first questions you'll want to ask yourself is: Where do I want this to perform best? Given the opposing demands of backcountry travel, bindings will usually excel on either the ascent or the descent, but rarely both. If you're motivated by long ski traverses, endurance missions, and fast-and-light travel, you'll want to look for a lightweight tech binding with an efficient pivot point under the toe. There are a few other factors to also keep in mind, including riser heights, ease of transition, and durability for remote environments. Bindings like the Salomon MTN Pure, Ski Trab Titan Vario.2, and Dynafit Superlite 150 are some of our favorites in this category.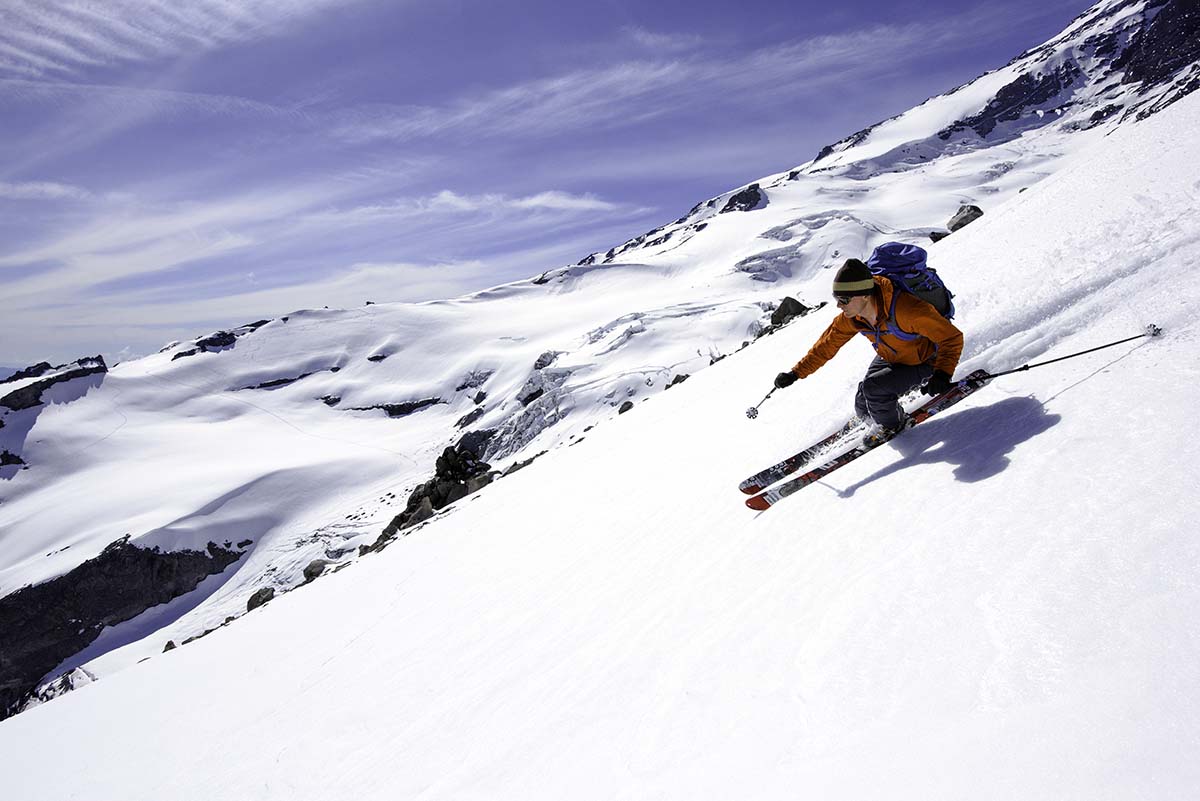 On the other hand, for skiers who endure the uphill for rowdy freeride descents (including those who typically access terrain via sled, snocat, or helicopter), the ideal binding will have an alpine heel and prioritize safety features like lateral toe release and official TÜV certification for DIN. A few tech designs fall into this category—namely the Marker Kingpin—but hybrid bindings like the Salomon S/Lab Shift MNC 13 and Marker Duke PT really shine, with toe pieces that lock down to mimic the connection of an alpine binding. Keep in mind, however, that weight typically matters less for those who prioritize downhill performance, and many of these bindings are notably heavier as a result.
 
Backcountry Binding Types
Tech Bindings
Also referred to as pin bindings, tech bindings are the most common form of backcountry ski binding and characterized by their skillful combination of uphill and downhill performance. These designs are the lightest of the bunch (most versions range from 1 to 3 lbs. for the pair), feature separate heel and toe pieces, and are compatible with tech boots only. Some even swap in an alpine heel (similar to a binding used for resort skiing) for the standard pin heel, which adds a lot of downhill capability without detracting from walkability or tacking on too much weight (the Marker Kingpin 13, for example, clocks in at 3 lbs. 2.4 oz.). Tech bindings are generally offered with either a brake or a leash, and the majority have adjustable boot-sole lengths and customizable release values.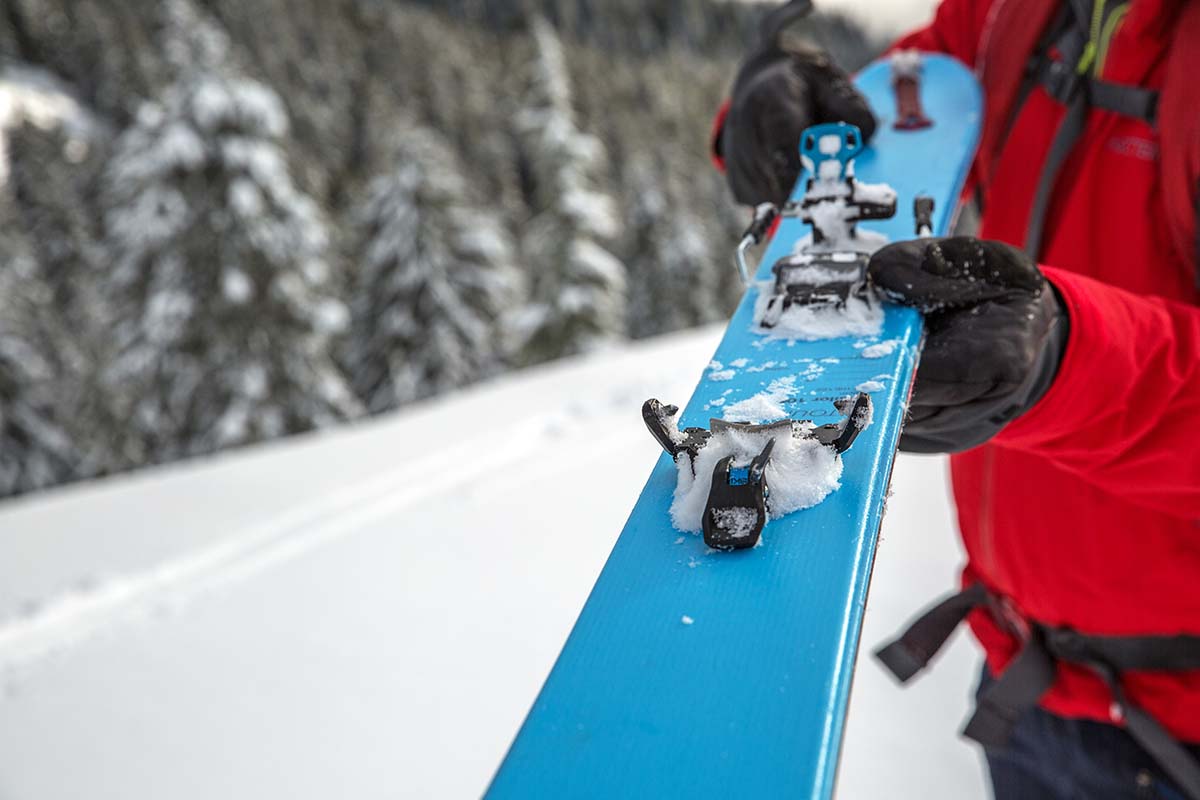 Due to their lightweight builds and pivot point near the ball of the foot that allows for a natural stride, tech bindings are our first choice for skiers who spend most of their time in the backcountry and especially those who want to move efficiently uphill. Downhill performance ranges from serviceable to very good, with the highest-performing models bringing in design features like a kiss-gap/gapless heel, laterally releasing toe piece, or even an alpine heel. You can expect to see an increase in both weight and price with these options, which are primarily designed for particularly heavy or aggressive skiers.
All that said, we'd be remiss not to mention the downsides associated with tech bindings. Given their unique design and intention, they do not have the same release attributes as alpine-style bindings, including frame bindings and hybrid designs. In fact, most tech bindings do not earn a TÜV certification for DIN (the Dynafit ST Rotation and Marker Kingpin are two exceptions). The biggest reason for this is their fixed toe (alpine bindings have a toe that releases with lateral force), which offers no elasticity in the event of a fall and has been implicated in many leg injuries (specifically, spiral tib/fib fractures). For more on the topic, see our section on Release Values and TÜV-Certified DIN below.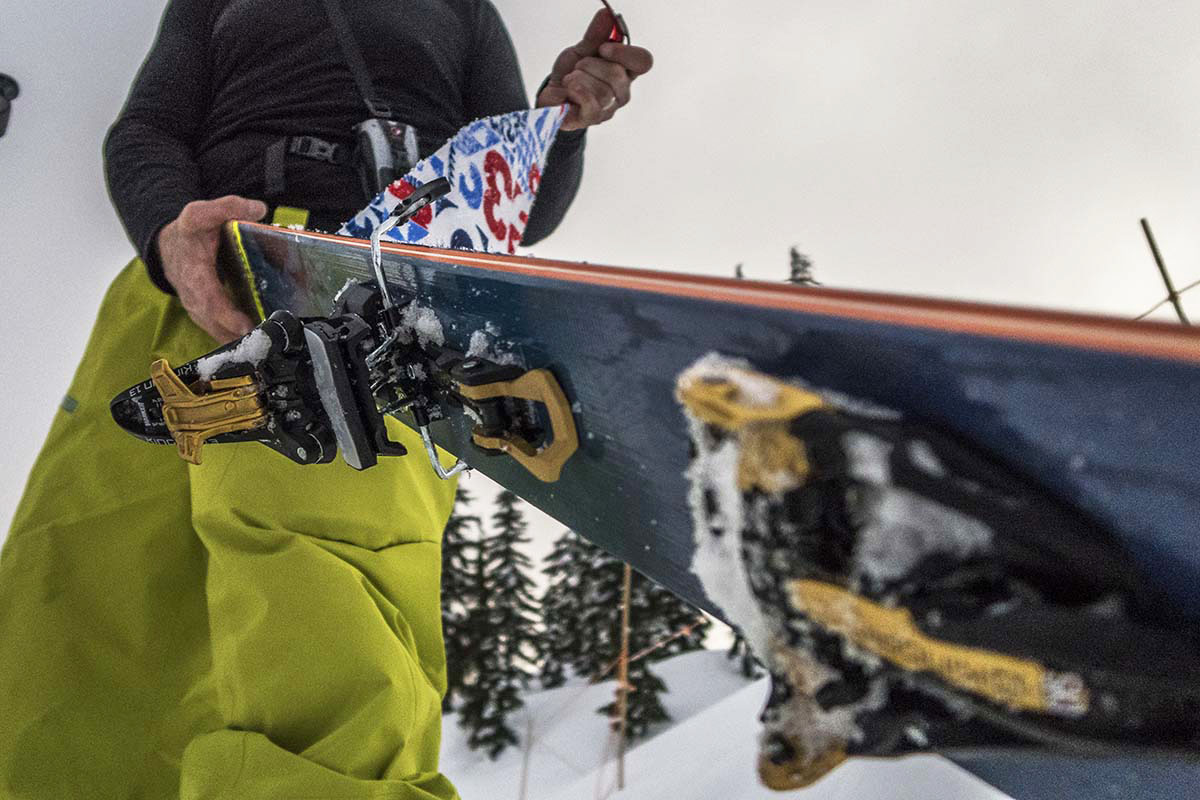 Frame Bindings
Frame bindings are a crossover category that merge the design of an alpine (downhill) binding with the intention of a tech binding. As a result, you get many features standard to alpine bindings, such as official DIN certification, good downhill performance, and compatibility with most boots (including tech, touring, and alpine styles), along with the ability to detach the heel piece and head uphill. But the biggest selling point here is affordability, with price tags that amount to hundreds of dollars less than tech or hybrid designs.
The most notable compromise with frame bindings is uphill performance: they are very heavy (clocking in anywhere from 3.5 to almost 7 lbs.), and the placement of their pivot point in front of your toe results in an unnatural stride and reduced efficiency on the skin track. With more capable tech and hybrid designs on the market than ever before, frame bindings are at risk of becoming obsolete and aren't our first choice for most skiers. That said, if you're on a strict budget or ski mostly inbounds, a frame binding could be the best option.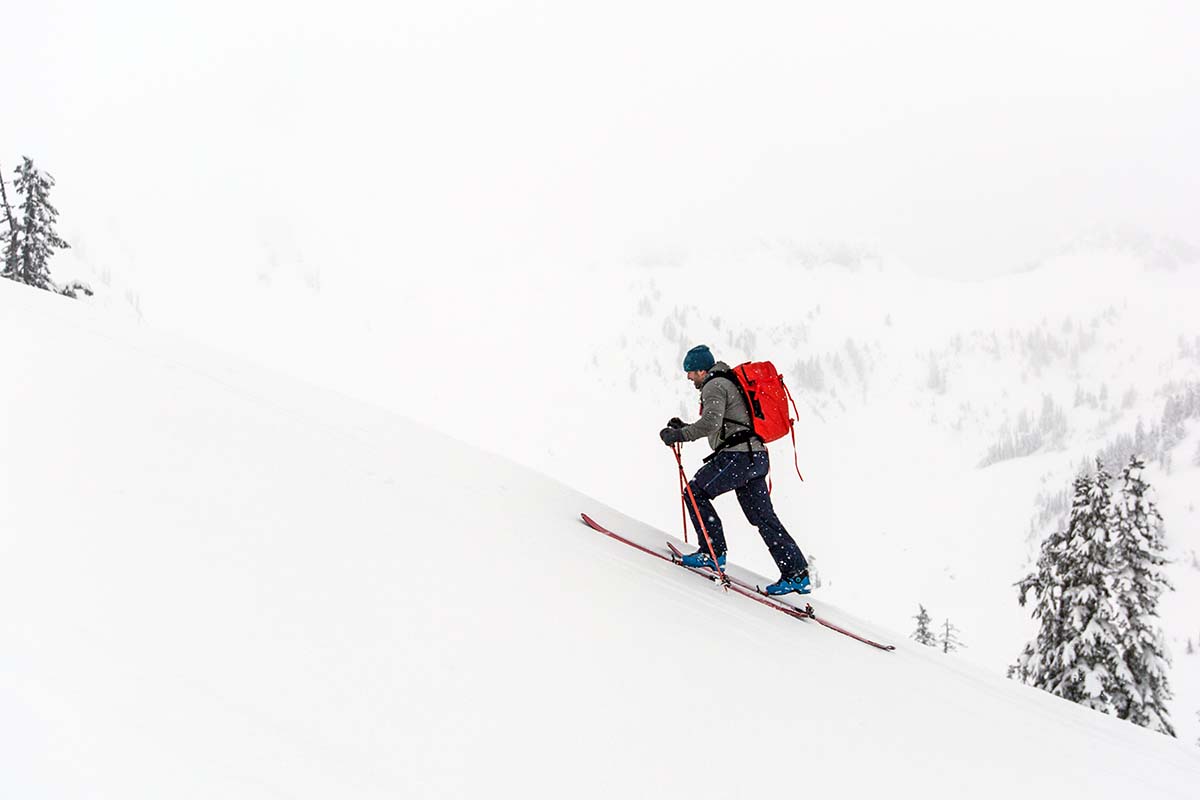 Hybrid Bindings
Hybrid backcountry bindings are a relatively new category and defined by two key designs: the Salomon Shift and Marker Duke PT. Along with an alpine heel, these bindings feature an evolved toe piece that functions like a tech toe on the uphill but converts into a traditional downhill design in ski mode. This means a few things: For one, you get incredible downhill performance and safety with a fully locked-in toe, on par with a standard alpine binding (both the Salomon and Marker are TÜV-certified for DIN). Second, hybrid bindings are incredibly versatile in terms of boot sole compatibility: you can wear your tech boots to seek out remote powder stashes (a pin toe is required for uphill travel) or strap in your alpine boots for a day in the resort. They're heavier than tech bindings (the Shift is almost 4 lbs., while the Duke PT clocks in close to 6 lbs.) but are the least compromised option for hard chargers or skiers who split their time between the front and backcountry and want to use the same setup in both environments.
If you're a particularly large person and/or an aggressive skier, there's one final option: the CAST Freetour Pivot. Available in 15- and 18-DIN variations, this binding takes the Look Pivot (a popular alpine binding) and adds a swappable tech toe piece for uphill travel. In other words, you get the security and power of a full-on alpine binding along with uphill touring capabilities. The CAST is largely overkill in weight, price, and overall construction for most riders, and the swappable toe pieces can take some time to get used to, but if you already own the Look Pivot or are looking for no-holds-barred security, it's an intriguing and innovative solution.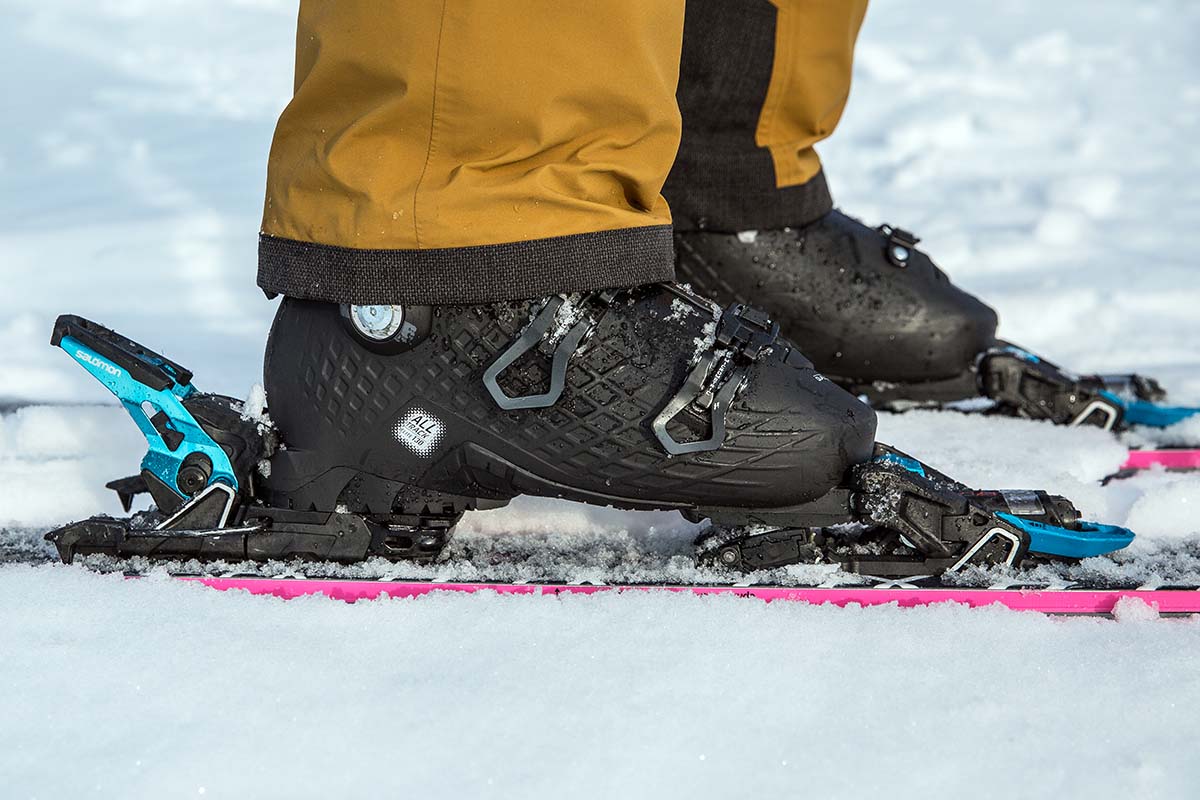 What's Skimo? 
A wildly popular activity in Europe, skimo has recently gained momentum in the U.S., thanks in part to its inclusion in the 2026 winter Olympics. In short, the sport includes both uphill and downhill racing on skis, with an emphasis on quick transitions between the two. Importantly, skimo and ski mountaineering are incredibly different activities—the former takes place in a controlled environment and generally implies racing; the latter involves traveling unsupported in big mountains, often for multiple days at a time. To illustrate the point, we know some skimo racers who don't ski in the backcountry at all—rather, they use uphill resort travel as a way to maintain fitness and log vert during winter months.
The most important thing to note about skimo race bindings is that they're designed specifically for competition and are not recommended for everyday ski touring or ski mountaineering. Skimo race bindings rarely have adjustable release values, and often include just one riser height (and often no flat setting). Historically, they have not included brakes or attachments for ski crampons, though that's changing with a few models like Dynafit's Low Tech Race 105 (our top pick for skimo) and Ski Trab's Gara Titan (another popular race binding). Finally, most skimo bindings should only be used in conjunction with skimo race skis and boots—they're simply not strong enough to drive wide skis or be driven by stiff boots.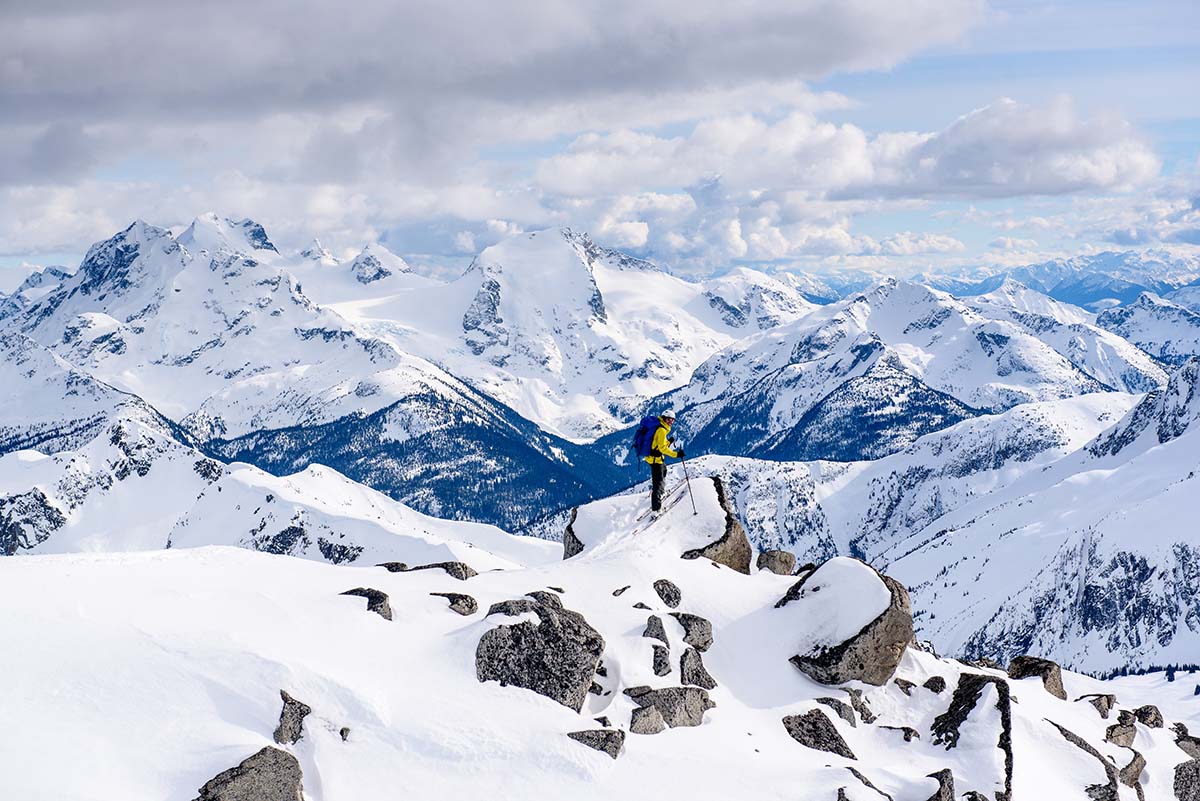 Weight
All backcountry skiers will benefit from a lightweight set-up, but ski mountaineers, skimo racers, and fast-and-light enthusiasts in particular will want to minimize weight. Tech bindings are our preferred choice for this group because of their minimalist build: the picks here range from 7.6 ounces for the Dynafit Low Tech Race 105 to 3 pounds 2.4 ounces for the Marker Kingpin 13. Within this category, expect the heavier models to have better retention and release features, higher performance on the downhill, and ease of use. On the other end of the spectrum, frame and hybrid types like the Marker Duke PT (5 lbs. 15.2 oz.) are among the heaviest options, but they also offer the best downhill performance, are versatile with a range of ski boots, and excel for skiers who spend most of their time inbounds. In the end, deciding how much weight you're willing to shuttle underfoot will depend on a variety of factors, including your ski objectives, how much durability you need, what boots you plan to wear with your bindings, and more.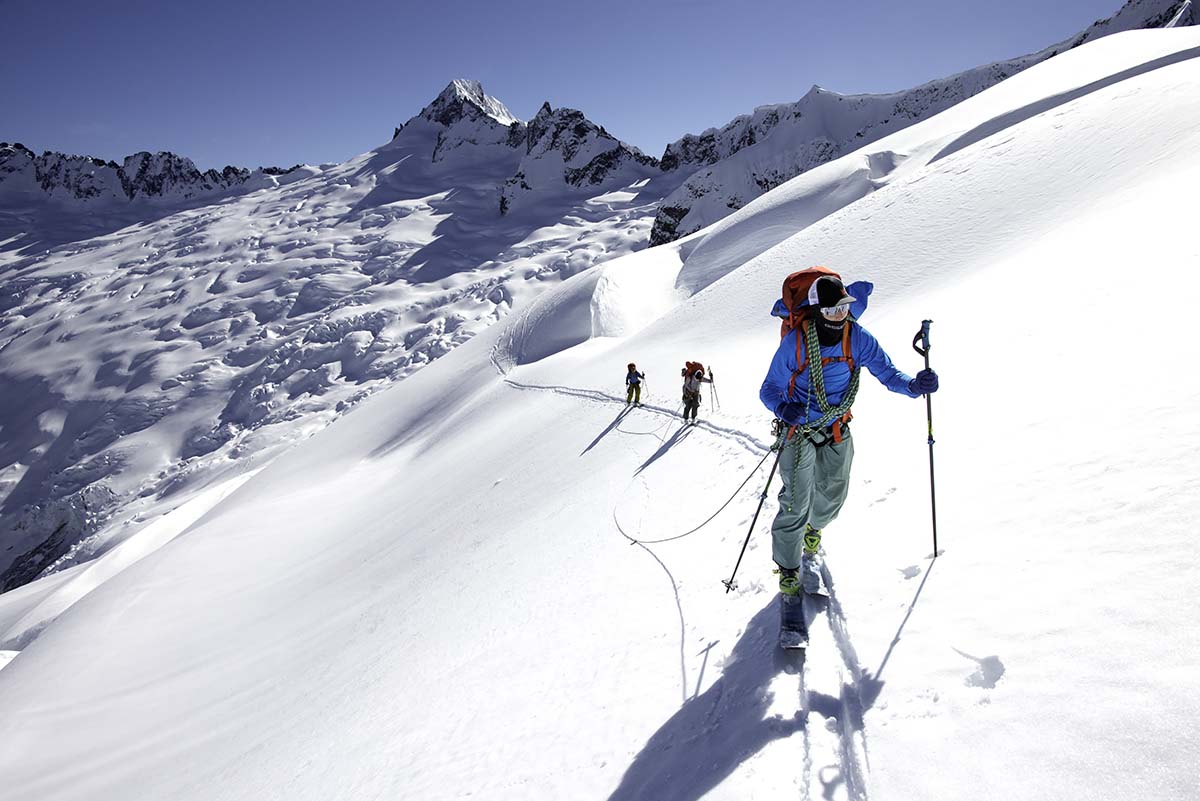 Release Values and TÜV-Certified DIN 
Each binding on our list comes with a manufacturer-specified release value (usually a range of values), which provides an idea of the amount of force that must be exerted on the binding before it releases your boot. The numbers generally range from 1 to 18, and the higher you go, the longer the binding will keep you locked in. Lighter and less aggressive skiers typically set lower release values, while heavier and powerful skiers will dial it in higher. Understandably, this is a very important number to get right, as a binding that releases either prematurely or too late can have pretty serious safety ramifications—not to mention impact performance.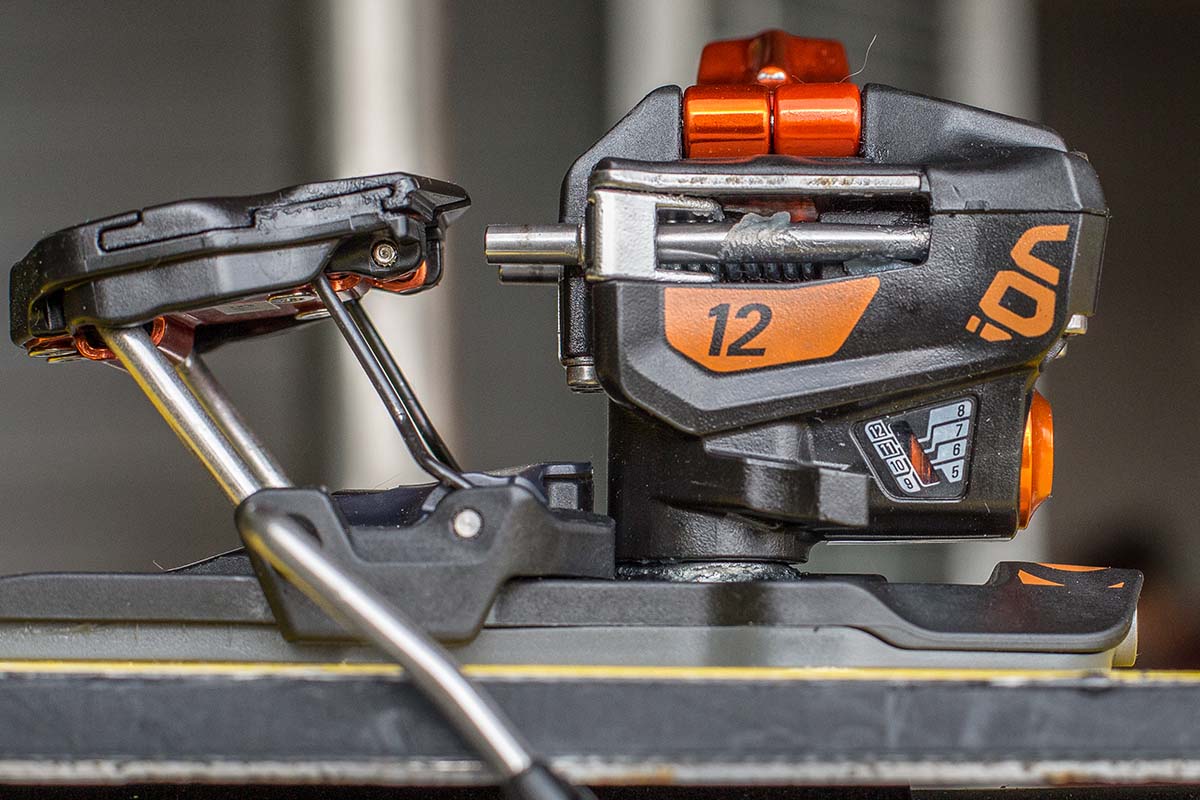 Within the alpine skiing world, release value is referred to as DIN (short for Deutsches Institut für Normung) and is measured via a standardized test administered by the TÜV (an international testing group based in Europe). When a binding meets all the requirements laid out by the DIN ISO 13992 specification, it is often referred to as TÜV certified.
While all the hybrid and frame bindings here are TÜV-certified, tech styles are essentially the Wild West with just a few exceptions (namely, the Dynafit ST Rotation and Marker Kingpin). The reason for this is their unique toe and heel pieces, which prioritize durability, lightness, and strength over safety features like elasticity and release mechanisms. While alpine bindings release laterally at the toe, most tech bindings feature a fixed toe and release at the heel instead, which has been attributed to an increase in the risk of leg injuries. In other words, if safety is a priority, it's not a bad idea to opt for a TÜV-certified binding like the aforementioned Rotation and Kingpin (the Fritschi Tecton also features a lateral toe release) or bump up to a hybrid binding like the Salomon Shift.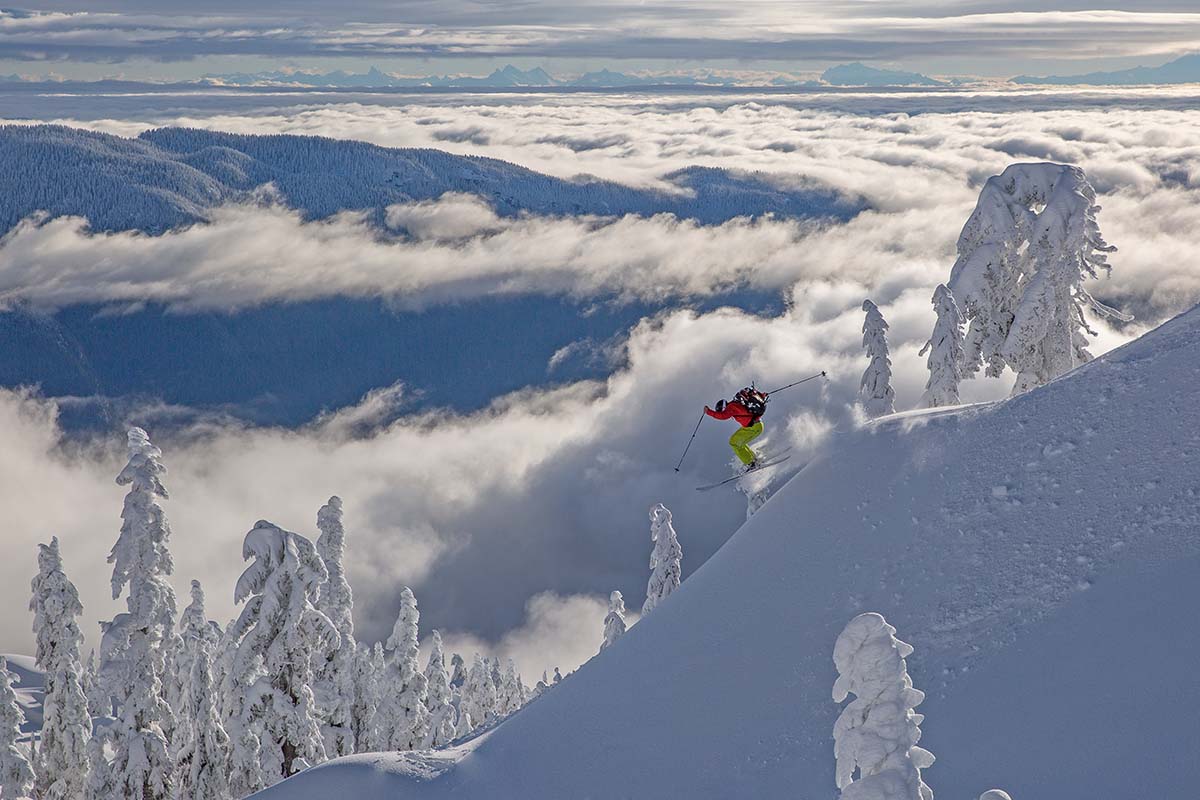 Brakes vs. Leashes
Whether you're skiing at a resort or in the backcountry, it's a good idea to use either a brake or a leash to keep your skis from going far if they detach from your boot. Most hybrid and frame styles come with built-in brakes, but tech styles often give you the option for leashes instead. On one hand, leashes are lighter and keep your skis much closer to you (brakes don't always bite on icy terrain). On the other hand, brakes make it easier to step into your ski boot by holding your ski in place and don't require you to bend over and attach them like a leash does. In our opinion, brakes are the most user-friendly solution for the majority of skiers, but we understand the appeal of leashes, especially for those focused on minimizing weight. If you opt for the latter, the B&D Ski Leash is our favorite: it features a coiled cord that stretches so that you can transition without unclipping and breaks under a certain force (you choose between 40 and 60 lbs.), which is a nice safety measure in the event of a serious fall.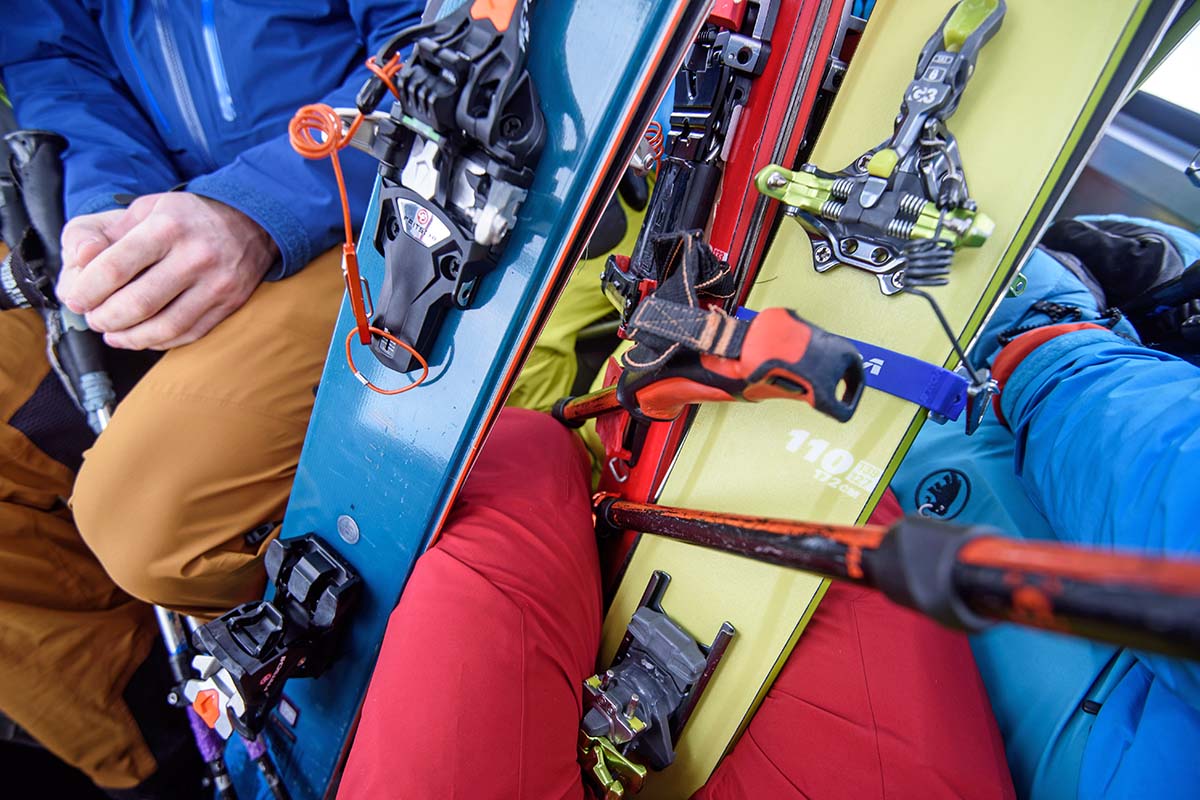 Brake Width
If you opt for brakes, you'll likely have your pick between a variety of widths. It's a good idea to get a width that closely matches the waist width of your skis—part of the reason it's always a good idea to select your skis prior to picking a binding. The typical recommendation is to choose a width that is no more than 10 to 15 millimeters wider than your ski's waist, and not slimmer than a few millimeters (a ski shop can bend the bars ever so slightly). Be sure to avoid buying a brake that is too wide, as it can drag when you're carving on hardpack.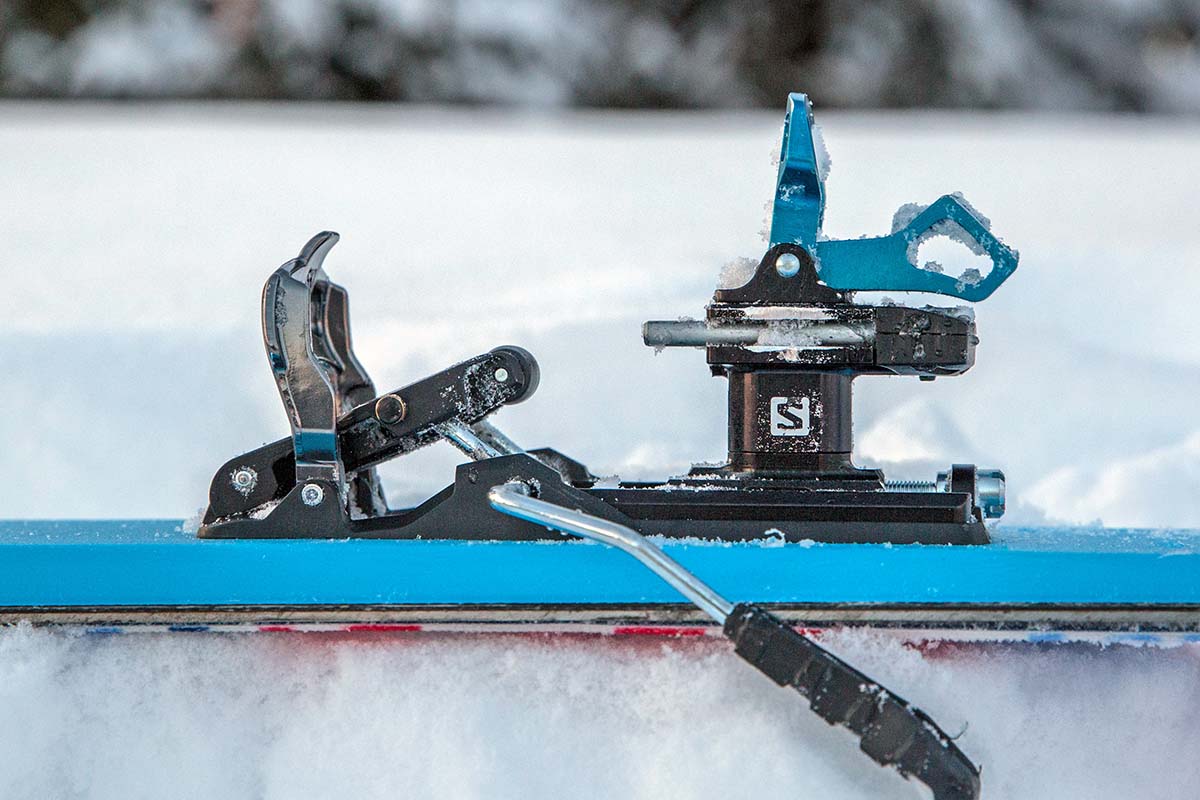 Transitioning and Ease of Use
Backcountry bindings are fairly complex pieces of gear, and you're bound to face some sort of learning curve no matter which design you choose. In general, we've found that frame bindings are the easiest to use, while tech and hybrid styles have more moving parts, especially during transitions. For us, a user-friendly binding is one that rotates quickly (ideally, with just the twist of our ski pole), offers a convenient transition from tour to ski mode without detaching from the boot, and uses risers to alternate between climbing modes (rather than rotations). And some subtler features can go a long way toward increasing efficiency, including easy-to-grab heel pieces that only require 90-degree rotation (we like taller and more rectangular shapes), climbing risers that toggle with your pole's basket or grip, and rubberized components like the toe lever on the G3 Ion 12.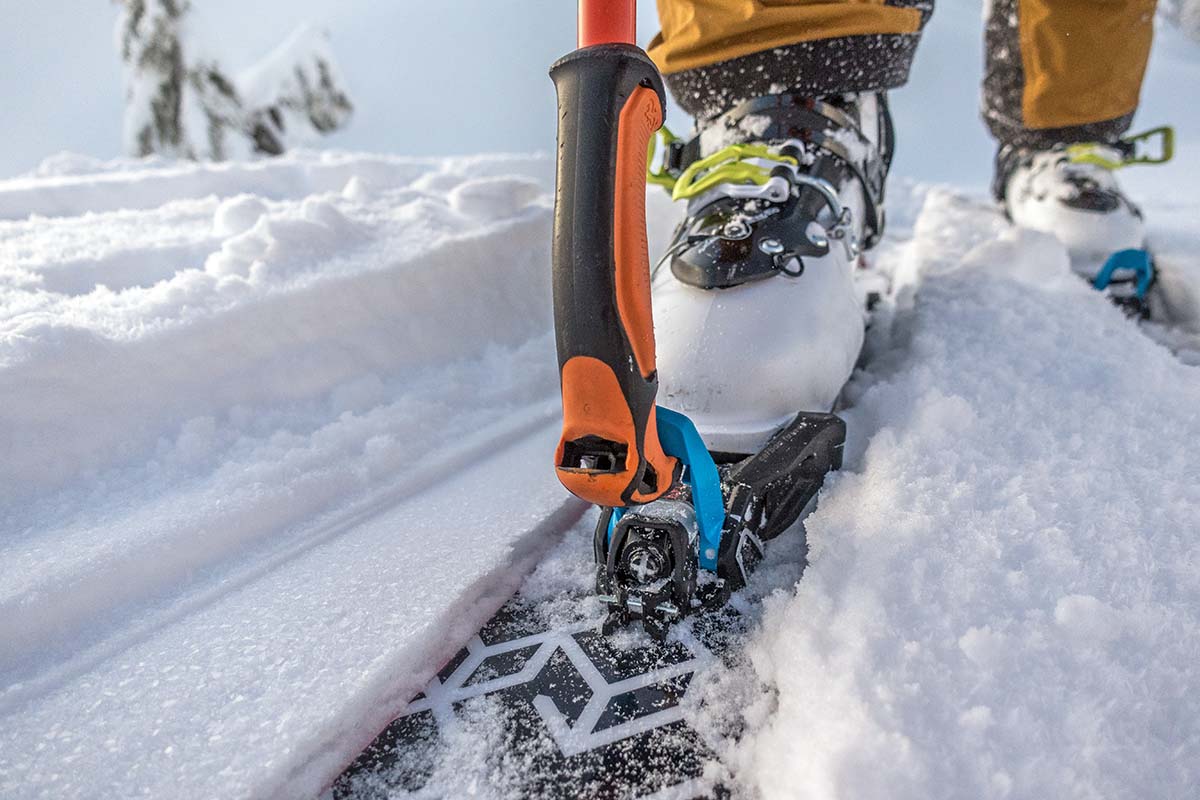 Durability and Materials
More than most gear, backcountry bindings truly take a beating, especially if you like to ski hard or venture deep into the mountains. We ask a lot from these devices, and most of the time, they hold up impressively well (although if you're a ski mountaineer, it's likely you have a story of your binding breaking at the least optimal time). Most tech bindings are made with predominantly metal parts, including aircraft-grade aluminum, titanium, and carbon, but we also see a lot of high-tech synthetic materials, especially in the hybrid and frame categories. While an all-metal design is certainly robust and confidence-inspiring (ATK prides itself on this), we've found the durability of bindings with plastic components to be almost equally as impressive (and plastic can help shave weight and cost, too).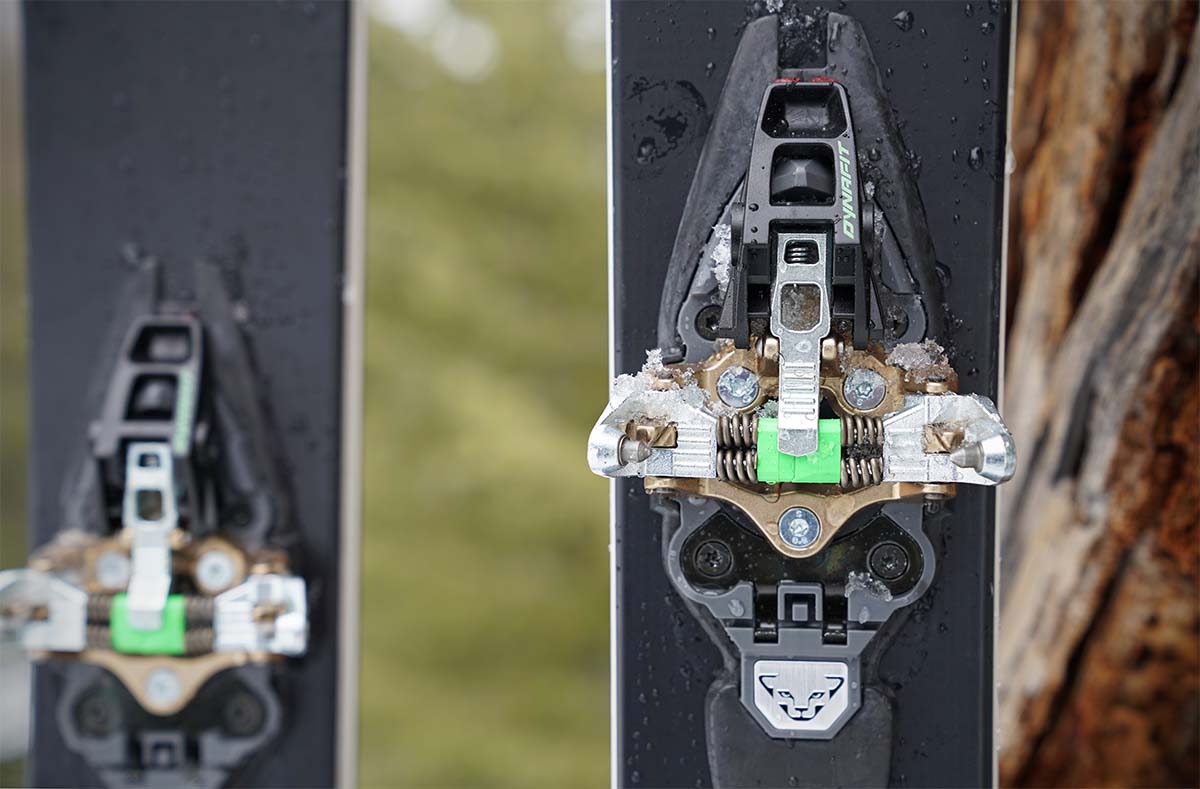 More than the quality and type of materials (metal vs. synthetics), it's important to consider the quantity—that is, the weight of your binding. In other words, you'll want to ski your binding well within its limits in order to maximize its lifespan (and importantly, take care to match it with an appropriate ski). We dive deeper into this in the next two sections below. 

Ski Boot Compatibility
Ski boot compatibility is a big topic in the alpine binding world, and it's arguably even more consequential for backcountry bindings. However, the good news is that it's fairly easy to break down. Starting with tech bindings, which comprise the majority of the options on our list, you get compatibility only with boots with tech fittings at the toe, which come standard on most modern touring boots. In terms of the boot sole, tech bindings typically work with designs that have ISO 9523 soles or non-compliant soles (often found on streamlined, lightweight models).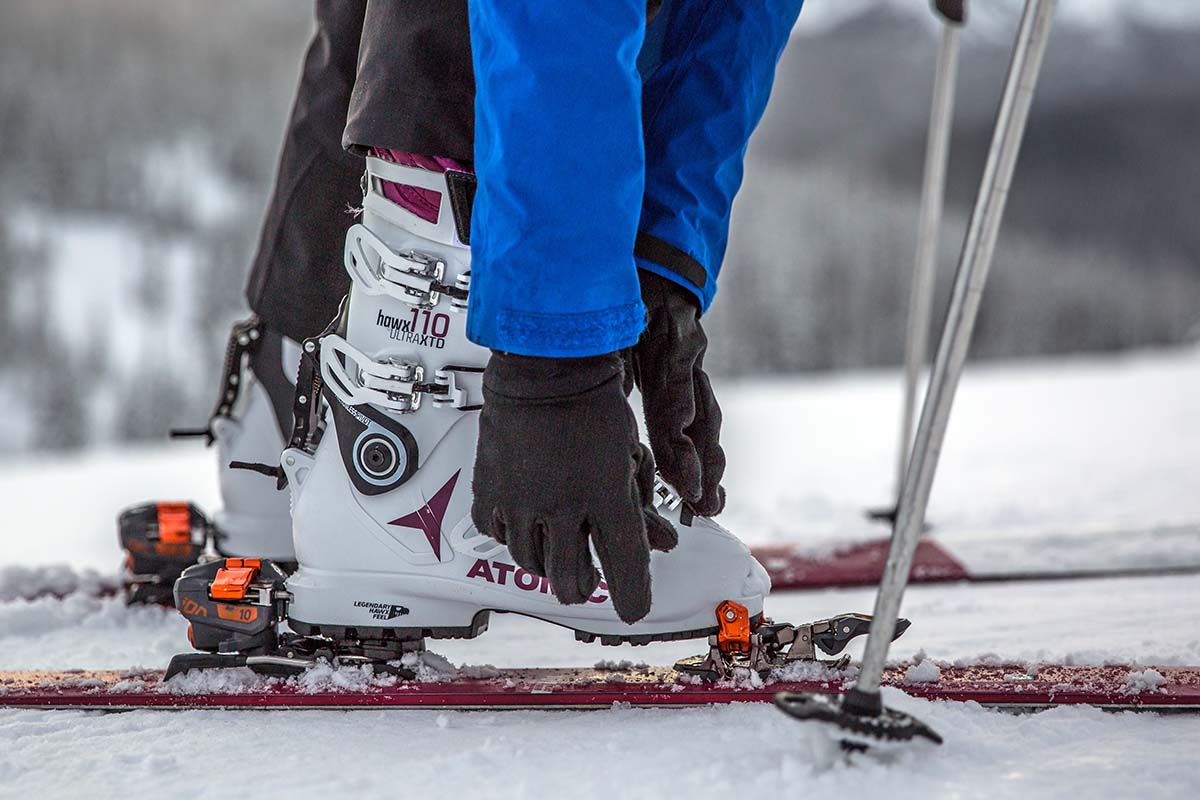 Frame bindings and multi-norm hybrid bindings like the Salomon Shift or Marker Duke PT are a different story: with these styles, you can ski a very wide range of boot types. These include most tech boots, crossover downhill/backcountry designs that have GripWalk and Walk to Ride soles, and standard alpine boots that do not have tech fittings (ISO 5355 Alpine). The benefit to this versatility is huge for skiers who want to ski one pair of skis with two separate boots—you can throw down on groomers in your stiff resort boots and strap on your light and flexy backcountry boots for the skin track. Of course, you'll want to check the details for each binding before you commit to purchasing, as there are always exceptions to the rule (for example, the Salomon Shift does not accommodate a tech boot like the now-discontinued Dynafit Hoji Pro Tour due to its shortened heel and toe lugs).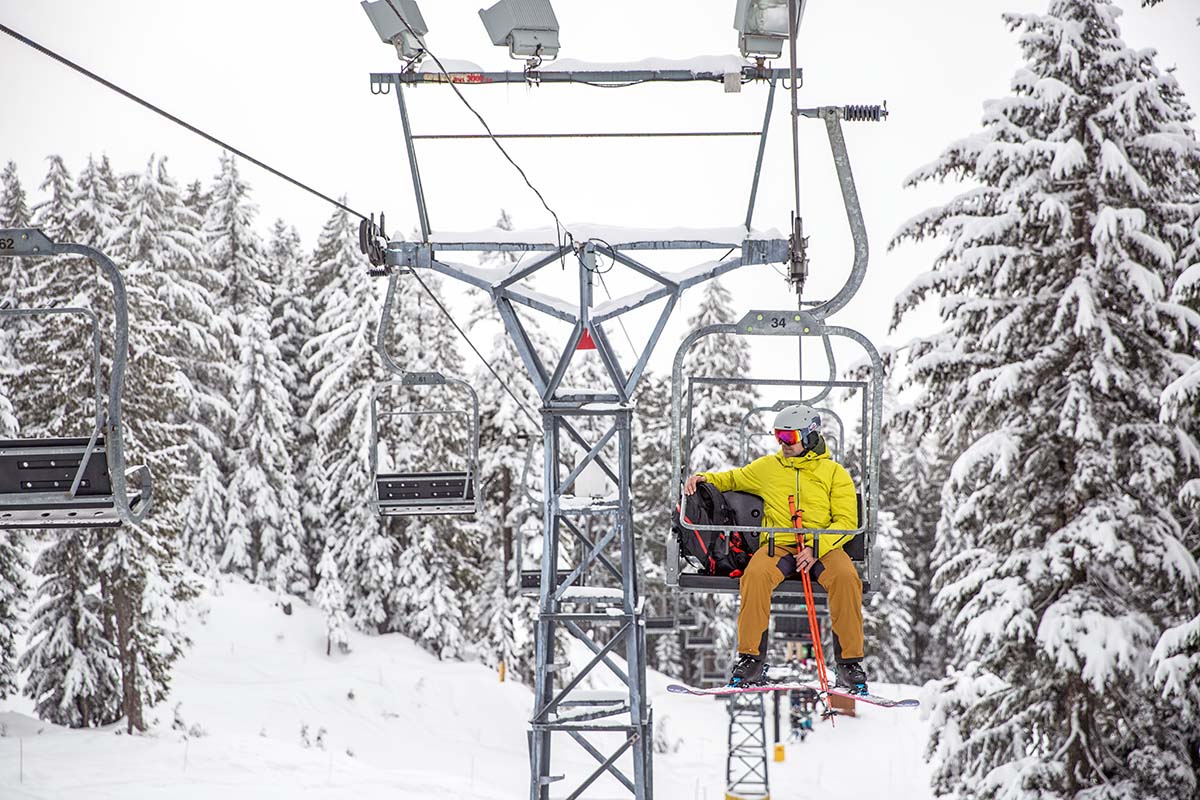 Pairing Bindings with Skis
Ski gear works best as an integrated system, so it's a good idea to research your skis, boots, and bindings all at once. Outside of the basic compatibility issues between boots and bindings that we touched on above, it's important to ensure all parts complement one another. Put another way, don't throw an ultralight tech binding on a heavy powder ski—it's just a waste of a lot of cool technology (and cash). And the same goes with some of the heavier and more downhill-capable bindings here: we recommend avoiding an ultralight touring ski that isn't powerful or stable enough for carving. To help in the process, see our top picks for backcountry skis.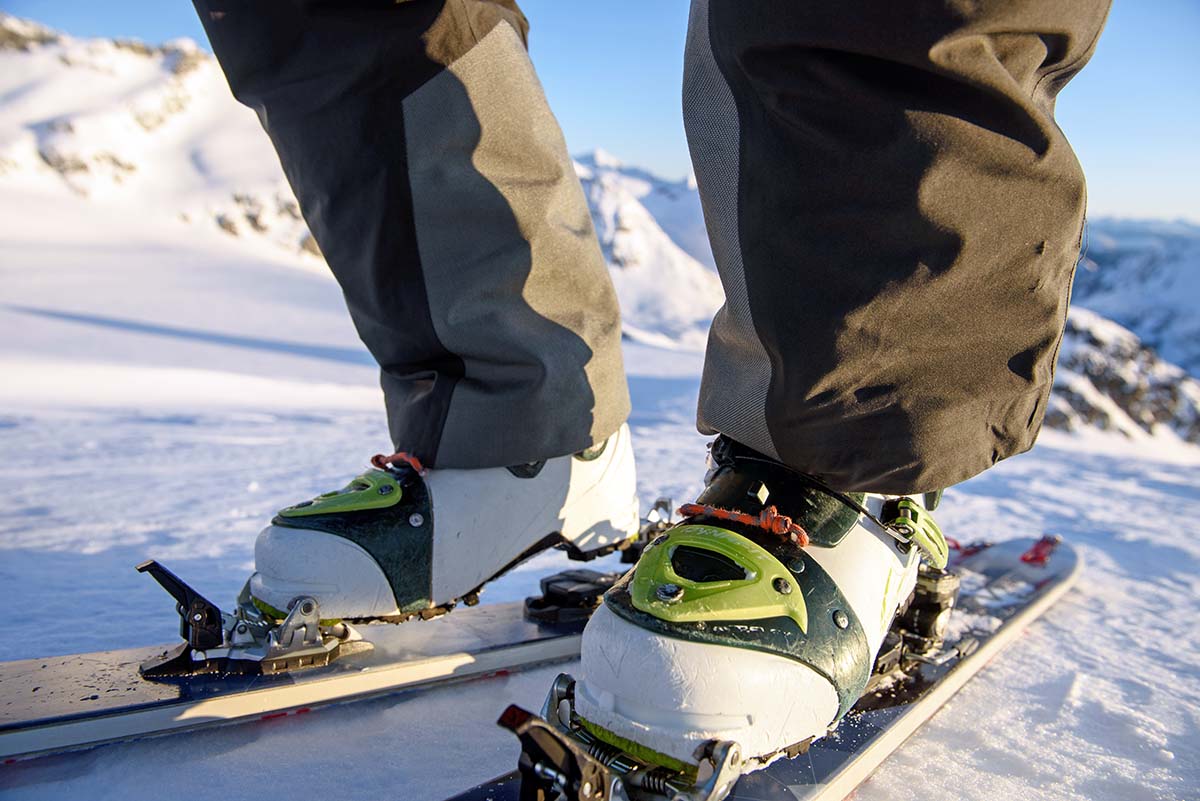 Buying Ski Bindings Online
When ordering skis and bindings online, it's important to know that the bindings will not arrive mounted (unless you specifically buy them mounted together). If you have a local ski shop or order from a retailer like REI, it's as simple as paying to get the bindings mounted on the skis (you'll need to bring your boots along too). The typical cost is around $40 to $70, but REI will do the work for $25 if you purchase from them (this is the current price at the REI Flagship in Seattle, but it does vary by store). It's worth noting that there are some pretty good DIY mounting tutorials online, but given the safety element and risk (you'll be drilling into your own pricey skis), we think it's well worth having a professional technician do the job.
Back to Our Top Backcountry Binding Picks  Back to Our Backcountry Binding Comparison Table
Learn More About Backcountry Skiing