Whether you're top roping in a gym, projecting a sport route, or climbing Cerro Torre in Patagonia, you're going to need a harness. Harnesses are one of the most important pieces of climbing gear you can own. We think of ropes as the things that catch us when we fall, but in truth, what catches you is the harness you're wearing. You want it to be comfortable, fit properly, and appropriate to the type of climbing you're doing. Harnesses come in all shapes and sizes: sport climbing harnesses, trad climbing harnesses, big wall, alpine, gym, and more. This article highlights a diverse selection of the best harnesses available today. We've also included a comparison table and buying advice to help you make your selection.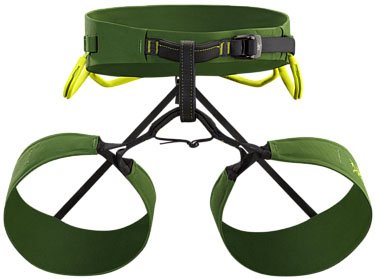 Weight: 12.9 oz.
Padding: Foamless "Warp Stretch Technology" webbing
Buckles: 1 autolocking buckle on waistbelt
Gear loops / Haul loop: 4 gear loops, 1 haul loop
What we like: Such a comfortable harness, slim profile, very packable, great construction.
What we don't: Expensive.
Women's: Arc'teryx FL-355
I put off buying an Arc'teryx harness for nearly 15 years, in spite of an ever-growing cadre of friends that swore by them. "They're lightweight," people told me, "they're comfortable," I heard again and again, "they're worth the money." It was this last tidbit I had trouble swallowing. At $145, I could buy three Black Diamond Momentum harnesses. But under the pressure of too many positive reviews to ignore, I finally buckled and bought the FL-365.
Everything I had heard was true. The "Warp Strength Technology" is Arc'teryx's groundbreaking design of spreading the load across the entire waistbelt, providing a great amount of comfort and zero pressure points, all without bulky padding. A piece of webbing lies underneath the outer fabric, teased apart vertically across your lower back to eliminate focused pressure points. Black Diamond, and recently Petzl in a way, eventually followed suit because this is such a good idea.
Everything else on the FL-365 is the picture perfect quality we've come to expect from Arc'teryx. The gear loops are big but not obtrusive; the leg loops are comfortable and don't feature buckles because they don't need to. This harness even has a haul loop and ice-clipper slots so you can get your big wall or ice climbing game on without buying a new rig. In the end, I came around to agreeing that the FL-365 was worth the extra dough. I spend a ton of time in my harness, whether at the gym, the sport crag, on big walls, or developing new routes. It was really nice to have one that I just absolutely loved. My guess is that you will, too.
Note: Arc'teryx makes a few different models of harnesses with slightly different features, all with their signature Warp Strength Technology. If we had room, we'd make a 1b) and 1c) to include the others at the top of this list as well.
See the Arc'teryx FL-365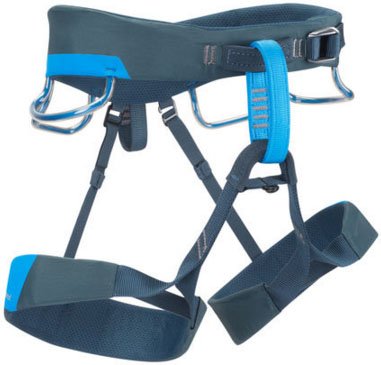 Weight: 12.5 oz.
Padding: Thin EVA foam with "Kinetic Core Construction" webbing
Buckles: 1 autolocking buckle on waistbelt
Gear loops / Haul loop: 4 gear loops, 1 haul loop
What we like: An excellent all-arounder, and a good bit less expensive than the FL-365.
What we don't: It's not the FL-365.
Women's: Black Diamond Ethos
Before I owned the Arc'teryx FL-365 above, I proudly donned the Black Diamond Chaos for years. This is a really excellent harness. It was more for curiosity than dissatisfaction that I turned to the Arc'teryx, and considering the price difference, it was still a close call as to which to put at the top of this list. The "Kinetic Core Construction" is basically Black Diamond's version of Arc'teryx's "Warp Strength Technology". It spreads out the load over the whole width of the waist and leg loops, eliminating pressure points as you hang. Like the FL-365 there's only one buckle—the leg loops have stretchy mesh to make them easy to get on and off.
The reason I prefer the FL-365 is that the waistbelt and leg loops actually are significantly wider. I found this to provide a more comfortable fit during hanging belays and projecting sport climbs. It's nice that the Chaos throws in a little EVA foam to help with the padding, but I still found the FL-365 more comfortable, even right out of the box when the Chaos's foam was fresh. I also liked the FL-365 gear loops better than those of the Chaos. I don't use gear slings and rack everything straight onto my harness, so big gear loops is a really nice feature. If you are the same, you may find the Chaos's gear loops frustratingly small. All that said, it's a fantastic harness and it's not much of a loss to come in second to Arc'teryx's best model. If you don't want to pony up the dough for the FL-365, we definitely recommend the Chaos.
See the Black Diamond Chaos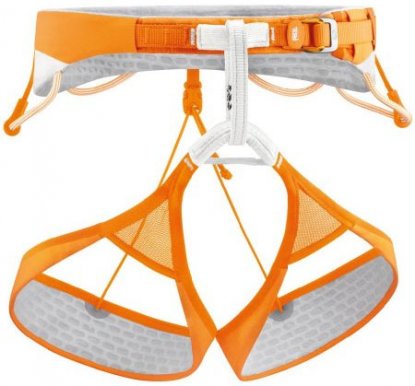 Weight: 9.5 oz.
Padding: "Wireframe Technology"
Buckles: 1 autolocking buckle on waistbelt
Gear loops / Haul loop: 4 gear loops
What we like: Petzl craftsmanship, superlight, and innovative. The best new harness in years.
What we don't: More expensive than the Arc'teryx but not as multi-faceted.
There's a lot about Petzl's new Sitta to be very excited about. This harness actually was created as a superlight alpine climbing and mountaineering harness, but quickly became adopted by high-end sport climbers looking for something light and sleek for sending tough sport climbs. What really sets the Sitta apart from other Petzl harnesses is the new "Wireframe Technology" in the waistbelt and leg loops. This technology is essentially Petzl's answer to Arc'teryx Warp Strength Technology: to efficiently distribute the load over the entire width of the harness belt and loops, the Sitta includes multiple parallel strands of super-strong and ultra-light spectra. If there were just one or two strands, the result would be horribly painful, but with many strands together, the harness supports you like a hammock.
We're a little nervous about how comfortable the harness will stay over time. In addition, the Sitta isn't quite as versatile as some of the other harnesses on this list. That said, for alpine and sport climbing, this is one of the best harnesses money can buy. It's shockingly light (3 ounces less than the options above), surprisingly comfortable, and features some great new technology like the separated gear loops and leg-loop height adjuster. The Sitta is probably not a great choice for projecting routes and it's definitely expensive, but we still give it a nod as one of the most interesting harnesses as of late.
See the Petzl Sitta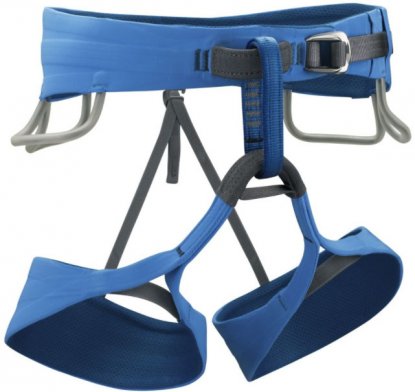 Weight: 11 oz.
Padding: Thin EVA foam with Fusion Comfort Technology
Buckles: 1 autolocking buckle
Gear loops / Haul loop: 4 gear loops
What we like: Beautiful, streamlined, comfortable harness for a good price.
What we don't: Sport-climbing specific.
Women's: Black Diamond Solution
The Black Diamond Solution appeared on the scene in January of 2016, and we've been seeing it all over the crags ever since. Black Diamond came up with another streamlined technology (different from the Chaos above) that is specifically designed to move with the climber's body while providing load distribution and comfort, and it's been getting rave reviews.
To put it simply, the Solution is…simple. It doesn't have a haul loop or adjustable leg loops. But what it does, it does extremely well. The leg loops are wide for support and comfort, and the waistband contours around the body: wide on the sides where most of the pressure lies, and narrower in the rear to save weight. The material is breathable and quick drying, and won't sweat you off your project. Overall, this new harness is making waves—including a well-earned place among our top harnesses of 2017.
See the Black Diamond Solution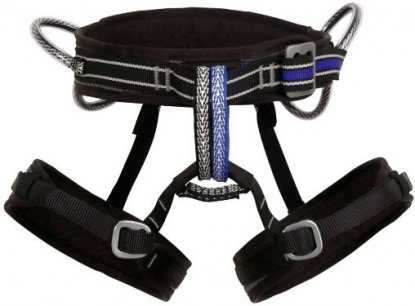 Weight: 20 oz.
Padding: Polyethylene foam
Buckles: 3 double-back buckles (1 on waistbelt, 2 on legs)
Gear loops / Haul loop: 4 gear loops, 1 haul loop
What we like: Literally bombproof. Clip or tie into anything and you'll survive.
What we don't: Bulky, heavy, and cumbersome.
Women's: Metolius Safe Tech Deluxe
The Metolius Safe Tech diverges significantly from the top four choices on this list by going relatively heavy for a climbing harness. That said, it does so for a very good reason. If ever there was a foolproof harness, this is it. Literally everything on the harness is rated to catch a fall of at least 10kn, even the rope locator strap on the lower tie-in point. No other harness on this list is anywhere near that (usually only the tie-in points, belay loop, and maybe the haul loop are rated). The end result is maximum security whether sketching out, or simply bungling the tie-in job (something beginners and expert climbers do alike). Metolius is the only company that makes such a harness, so we think it's worth giving the Safe Tech a serious look.
While not as light or inconspicuous as the other models on this list, this harness will deliver a lot of comfort over its lifespan. It may add bulk and weight to your climbing pack, but consider the benefits it brings. If you were going to give any harness to any beginner anywhere, this would be our choice. That said, it's also really great for climbers of other skill levels as the beefy padding really supports you through hanging belays and route projecting. It's not an alpine harness, it's probably not for sending your 5.13 sport projects, but it is a great choice for the everyday climber's everyday harness.
See the Metolius Safe Tech Deluxe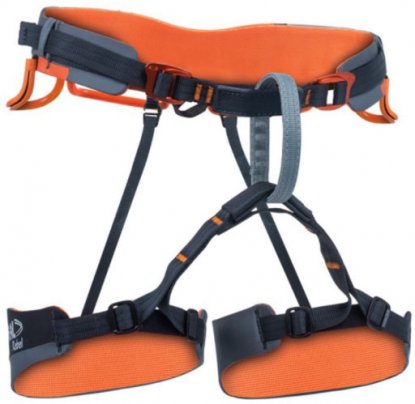 Weight: 12.8 oz.
Padding: Web-Core technology
Buckles: 6 autolocking buckles (2 on waistbelt, 2 on each leg)
Gear loops / Haul loop: 4 gear loops
What we like: Beal's much more affordable counterpart to the current high-end harness market.
What we don't: Webbing on waistbelt might dig into waist.
Women's: Beal Venus
Beal didn't want to get left behind, so they joined the party of streamlined harness technology with the Rebel. Web Core technology, as Beal calls it, attaches two smaller pieces of webbing (the straps you pull to adjust) to each end of the wider mesh-lined piece of webbing that wraps around your waist. Their design includes two buckles instead of one, so that the harness stays centered and the gear loops squarely on either side. The Rebel fits extremely well, but the webbing around the belay loop does not hide in front of the mesh-lined webbing, and we found that it dug into our waists uncomfortably.
In addition, the Rebel is a bit limited in its versatility, without a haul loop, ice clipper attachment points, or large gear loops. However, especially when worn over layers of clothing, the harness is comfortable, compact, and a great price for what you get.
See the Beal Rebel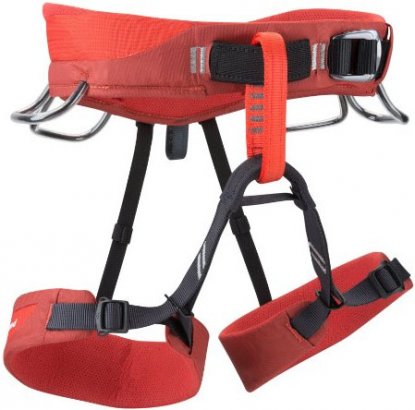 Weight: 12 oz.
Padding: Dual Core construction, OpenAir EVA foam insert
Buckles: 1 autolocking buckle on waistbelt, two leg adjustment buckles on leg loops
Gear loops / Haul loop: 4 gear loops, 1 haul loop
What we like: Surprisingly inexpensive for the quality—a great value.
What we don't: The biggest selling point is how inexpensive it is, not how good of a harness it is.
Women's: Black Diamond Primrose
What makes the Black Diamond Momentum so special is not what it is, so much as what it isn't. What it is is pretty plain. It's an average harness with some cool features like the Dual Core construction and TrakFit leg adjustments. All in all, it's not much to write home about but does the job and does it well enough for many climbers. It's reasonably comfortable and versatile enough to be used indoors, outdoors, for trad, or sport.
That's what the Momentum is, so now let's talk about what it isn't. It isn't $145, like the FL-365. It isn't $125, like the Chaos. It isn't $100, or $75, or even $60. The Momentum is a $55 harness and you can often find it on sale for even less. I like the FL-365 because I've been climbing for 15+ years and spend tons of time in my harness, so I don't mind dropping a little extra cash for one. But if you're just getting into climbing, or maybe you just don't do it all that often, then the price is right for the Black Diamond Momentum. For what it is, it's the best value harness money can buy.
See the Black Diamond Momentum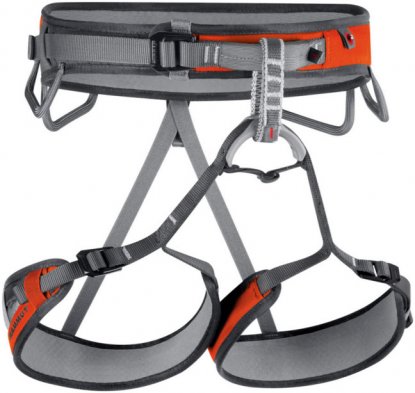 Weight: 15.1 oz.
Padding: "Split Webbing Technology", foam
Buckles: 3 autolocking buckles (1 on waistbelt, 2 on legs)
Gear loops / Haul loop: 4 gear loops, 1 high-strength haul loop
What we like: Price, buckles for adjusting the leg loops.
What we don't: Foam has a shelf life.
Women's: Mammut Ophira 3-Slide
The Ophir is a solid all-around harness from Mammut and similar in quality from the Momentum above. The "Split Webbing Technology" in the waistbelt and leg loops are super comfortable, and completely adequate (if not as luxurious as some of the models above) for projecting sport routes. Meanwhile, the harness is relatively light at just under 15 ounces, and packs up small enough to be a nice option for crags with longer approaches, such as the Monastery in Colorado's Front Range.
In this most recent version of the harness, the designers changed the gear loops, though in our opinion, not for the better. They are now slightly more rigid and angled, and not coated in plastic, possibly attempting to mimic gear loops on Petzl harnesses. On the bright side, the Ophir sports a drop seat buckle, unlike many of the ultralight harnesses on this list, allowing for quick bathroom breaks without removing the harness.
Additionally, we prefer the Ophir to some of the other harnesses on this list because we really like the buckles for adjusting the leg loops. Harnesses that rely on elasticized leg loop adjustments are often too tight over thick pants, or just big strong legs. You can expect the comfort of this harness to deteriorate over time as the foam support does the same, but for the price, we think the Ophir is a pretty good bargain.
See the Mammut Ophir 3-Slide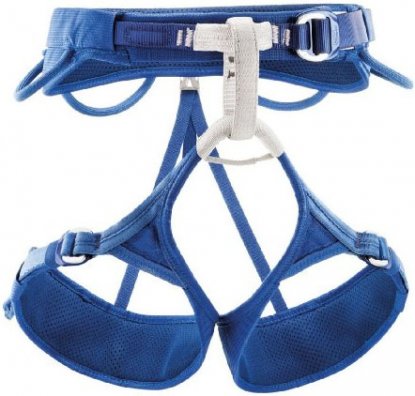 Weight: 14.8 oz.
Padding: EVA Foam supported Dyneema.
Buckles: 3 double-back buckles (1 on waistbelt, 2 on legs)
Gear loops / Haul loop: 4 gear loops, 1 haul loop
What we like: Great sport climbing harness, excellent construction.
What we don't: It's basically the Ophir, but more expensive.
Women's: Petzl Luna
The number of similarities between the Adjama and the Ophir is striking. Both are mid-range harnesses from top climbing companies, both weigh approximately 15 ounces, and both have three autolocking buckles and similar construction properties on the waistbelt and leg loops. For all intents and purposes, they are basically the same harness.
Really, the only two differences will be in fit and price. Some people swear by the fit on Petzl harnesses, so much that they refuse to buy any company. I'm not sure what exactly it is because it isn't me, but for a certain kind of body, Petzl harnesses are just right. I've never heard the same said about Mammut, but that doesn't mean it's not also true. But in the end, the bigger difference is in price. The Adjama is significantly more expensive than the Ophir, which is why we rank the latter higher.
See the Petzl Adjama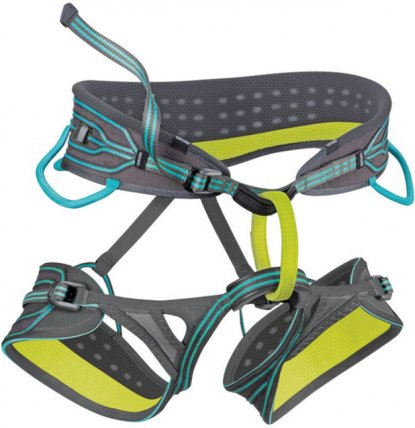 Weight: 14.1 oz.
Padding: Foam-supported "3D Vent Technology"
Buckles: 3 autolocking buckles (1 on waistbelt, 2 on legs)
Gear loops / Haul loop: 4 gear loops, 1 haul loop
What we like: A really good design from an up and coming company.
What we don't: One major design flaw, which makes this harness less durable.
The Orion is Edelrid's premier harness and definitely worthy of inclusion on this list. Similar to the Petzl's new Wireframe technology, the Orion manages the load of falls or hangs efficiently by distributing it over a grid of structural webbing strands. The Orion, however, adds to the comfort by including super well-ventilated foam, which is not only durable but as comfortable and breezy as the name of the technology implies.
The only glaring problem with the Orion is that the structural component of the webbing is exposed externally to abrasion. All the other harnesses on this list cover their structural components in thin fabric to protect them against wear and tear in chimneys and other situations. We're not sure why Edelrid didn't follow suit, but at first glance, that seems somewhat problematic—like a rope without a sheath. Additionally, many climbers report that the waistbelt padding doesn't meet at the front. Instead, webbing bridges the gap under the front buckle, allowing it to dig into your stomach. The Orion looks and feels like a top harness in every other way, but for these reasons, we'd be hard-pressed to rank it higher on the list.
See the Edelrid Orion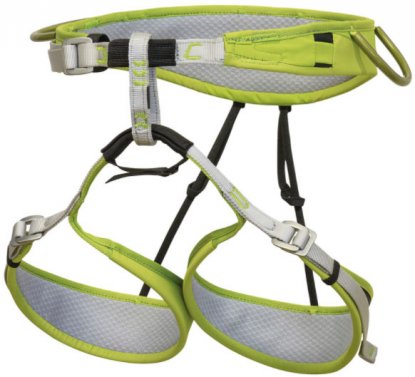 Weight: 8.5 oz.
Padding: EVA foam, 3D mesh
Buckles: 3 autolocking buckles (1 on waistbelt, 2 on legs)
Gear loops / Haul loop: 4 gear loops, 1 haul loop
What we like: Light and compact.
What we don't: It may be safe to hang in, but that doesn't mean you actually want to try.
The Camp USA Air CR EVO sure has a lot of acronyms in its name, but that's about the only thing that's complicated about it. At 8.5 ounces, the Air is by far the lightest harness on our list, and it's about as simple as they come. This harness is certainly not for most styles of climbing. However, we wanted to include it here as our recommendation for moderate alpine rock climbing or mountaineering, specifically when you need a harness but don't plan on hanging in it much or at all.
Obviously, the elements we love the most about the Air are its weight and compactability. However, this harness also has all the key features we look for in a harness—gear loops, autolocking buckle, non-rated haul loop, adjustable leg loops, and even attachment for ice clippers. Camp has also improved the Air in 2015, upgrading the padding for comfort and durability. This isn't your everyday cragging harness, but is definitely worth considering if you're taking long trips into the mountains and trying to shave weight and bulk from your pack.
See the Camp USA Air CR EVO
Climbing Harness Comparison Table
| Harness | Price | Weight | Padding | Buckles | Loops | Best Uses |
| --- | --- | --- | --- | --- | --- | --- |
| Arc'teryx FL-365 | $145 | 12.9 oz. | Webbing | 1 autolocking | 4 gear, 1 haul | Sport, trad, alpine |
| Black Diamond Chaos | $125 | 12.5 oz. | Foam, webbing | 1 autolocking | 4 gear, 1 haul | Sport, trad, alpine |
| Petzl Sitta | $160 | 9.5 oz. | Webbing | 1 autolocking | 4 gear | Sport, alpine, mountaineering |
| Black Diamond Solution | $70 | 11 oz. | Foam | 1 autolocking | 4 gear | Sport |
| Metolius Safe Tech Deluxe | $105 | 20 oz. | Foam | 3 double-back | 4 gear, 1 haul | Trad |
| Beal Rebel | $75 | 12.8 oz. | Webbing | 6 autolocking | 4 gear | Sport, trad |
| Black Diamond Momentum | $55 | 12 oz. | Foam, webbing | 1 autolocking | 4 gear, 1 haul | Gym, sport, trad |
| Mammut Ophir 3-Slide | $55 | 15.1 oz. | Foam, webbing | 3 autolocking | 4 gear, 1 haul | Gym, sport |
| Petzl Adjama | $75 | 14.8 oz. | Foam, webbing | 3 double-back | 4 gear, 1 haul | Sport, alpine, mountaineering |
| Edelrid Orion | $120 | 14.1 oz. | Foam, 3D mesh | 3 autolocking | 4 gear, 1 haul | Sport, trad, alpine |
| Camp USA Air CR EVO | $90 | 8.5 oz. | Foam, 3D mesh | 3 autolocking | 4 gear, 1 haul | Mountaineering |
Climbing Harness Buying Advice
Types of Climbing
The first thing to consider when choosing a harness is the kind of climbing that you will do most. Climbing companies make harnesses for a wide variety of climbing styles, and the differences from style to style can be sizable. While there is often some overlap (gym and sport, sport and trad, trad and big wall, for example), you'll find that most harnesses are manufactured with a particular climbing discipline in mind. Here's what to look for in a harness in each type of climbing.

Gym Climbing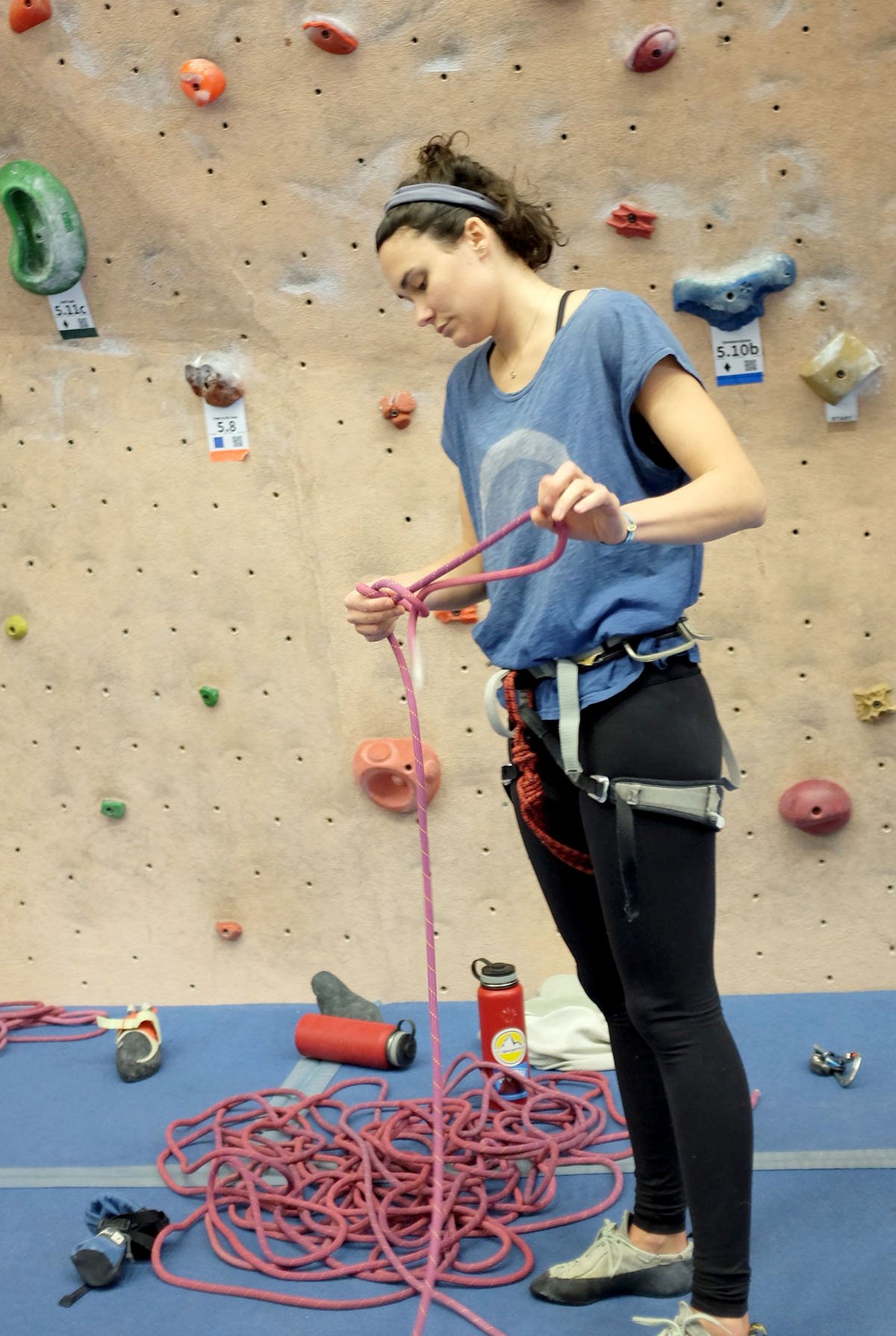 A gym climbing harness should be three things: comfortable, inexpensive, and durable. Gym climbing is a little different from outdoor climbing in that you won't ever be hiking, so it doesn't matter if your harness is light or packable. Also, you'll likely spend more time hanging in your harness at the gym than you do outside—unless you are seriously projecting an outside route. It's just a lot easier to consistently push yourself indoors, so you'll be falling and hanging more often. What you're really looking for in a gym harness is the baseline model for most companies. Save the frills and steeper purchases for the gear you take outside.
Recommended: Black Diamond Momentum (Men) or Primrose (Women)

Sport Climbing
Everyone loves clipping bolts. It's just pure climbing fun. For a sport climbing harness, you'll want something that gives soft catches, is lightweight, and rides unobtrusively. Look for minimalist models that put the emphasis on standing comfort rather than hanging comfort. You can get away with two gear loops on a sport harness since you'll only ever carry quickdraws or slings. You can expect a good sport harness to be a step up in price from a gym harness.
Recommended: Petzl Sitta, Black Diamond Solution

Trad Climbing
Trad climbing harnesses should be a little bit beefier than sport harnesses. Trad is just a scrappier sport. You'll likely grunt your way through some heinous offwidths and gnarly chimneys (so your harness should resist abrasion well), and begin to spend unreasonable amounts of time in hanging or semi-hanging belays (so your harness should be extra-comfortable while hanging). While you do want a lightweight harness for trad due to long approaches, you still want it to be durable and strong. This will take you up a notch in price. Finally, make sure your trad climbing harness has at least four gear loops and a rear haul loop—you'll need all of them.
Recommended: Arc'teryx FL-365, Black Diamond Chaos

Big Wall Climbing
So you want to climb El Capitan. Unless you're planning to go for the Nose In A Day (NIAD), you're going to want a harness you can spend a few days in. Big Wall harnesses are over the top in every way you can imagine, and that is why we love them. They are ultra-padded and comfy for long hanging belays and nail biting aid pitches, feature lots of gear loops for efficient racking of all your protection, come with a load-bearing haul loop (just one more safe clip-in point), and often feature double belay loops. If you're going to spend all day in your harness, nothing else will do. They're not fast and light, but neither is Big Wall climbing. Expect to pay a bit more for these.
Recommended: Metolius Waldo Safe-Tec

Alpine Climbing
Think trad climbing but ultralight. Fast and light is the name of the game in alpine climbing, and your harness should be no exception. There are many different alpine harnesses out there, but why beat around the bush? Arc'teryx makes the best alpine harness, hands down.
Recommended: Arc'teryx FL-365

Mountaineering
There are two things you really don't want to do much of in mountaineering: hanging and falling. If you find yourself doing either, you probably have bigger things to worry about than the comfort of your harness. Instead, most of your time mountaineering will be spent walking, taking your harness off and putting it back on every time you want to add or remove layers, or taking it off to go to the bathroom. Hence, your mountaineering harness should be more comfortable for walking than climbing, and easy to take off and put on (especially over boots and crampons). Finally, since mountaineering is such a grueling sport where every ounce counts, you'll want your mountaineering harness to be as light as possible. Mountaineering harnesses are pretty minimal, so expect a lower price than other types of harnesses.
Recommended: Camp USA Air CR EVO

Climbing Harness Materials and Features
Once you've narrowed down the type of climbing you're doing, you'll still have a plethora of different harnesses to choose from. The next step is to go through the different pieces of the harness, figuring out what specific features and styles to look for in the kind of harness you want.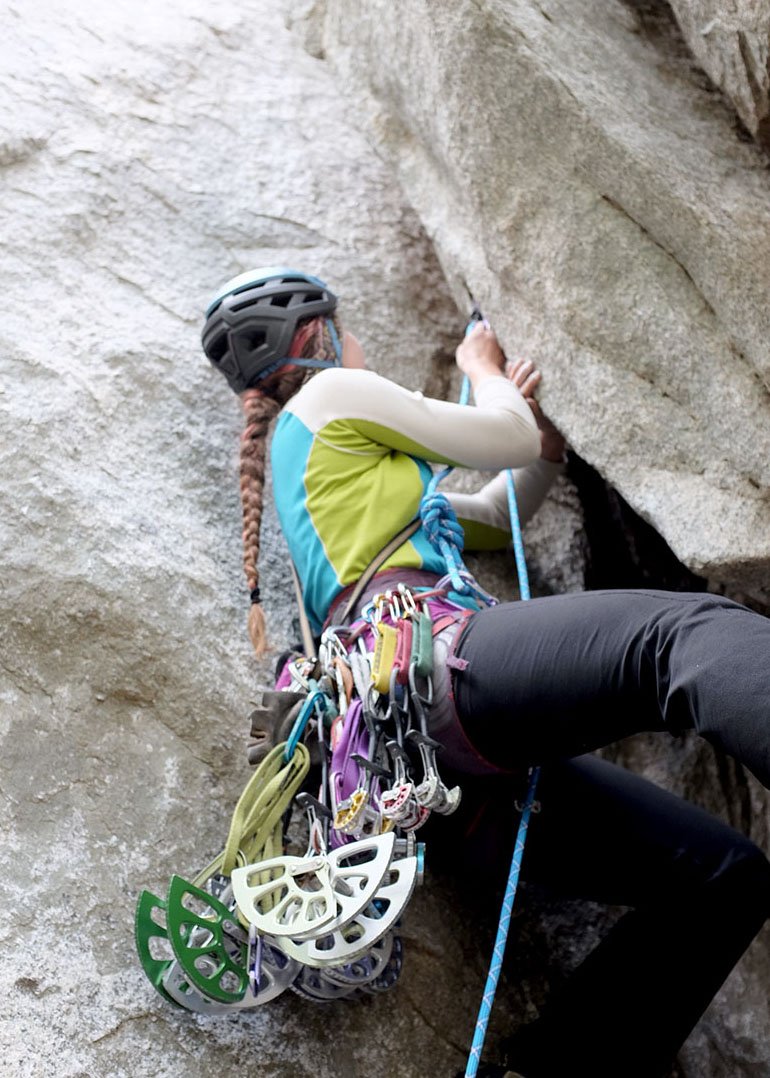 Waist Belt
Waistbelts typically use a mixture of padding and webbing to distribute the shock of a fall across the small of your back and upper iliac crest. Keep an eye out for where the load-bearing part of the harness lies. Is it two thin strips at the top and bottom of the waistbelt? Is it an inch-wide swath going through the middle? Foam breaks down over time, so unless the load-bearing material is distributed evenly throughout the waistbelt, you'll end up getting sore spots as your harness ages. Also, make sure the waistbelt is the right size for you. Most companies break their harnesses into small, medium, and large, and give the corresponding pant sizes.

Gear Loops
The gear loops on a harness are the small plastic rings along the waistbelt. These are where you'll hang your protection. If you are primarily gym and sport climbing, you can get away with just two gear loops. If you are trad or alpine climbing, four should be sufficient (and a haul loop for a tag line). Finally, if you are big wall climbing, look for at least four gear loops and a reinforced haul loop on the back of the harness.

Belay Loop
The belay loop should be pretty straightforward: it's just a super-strong ring of webbing that connects the waist loop and leg loops and is what interfaces with the climbing rope. If you are looking for a lightweight sport, alpine, or ice harness, look for a skinny belay loop. For trad or big walling, look for a fatter belay loop or double belay loops.

Leg Loops
Most leg loops follow suit with the same technology as the harness' waistbelt. The major things to look for on leg loops are how adjustable they are (buckles or elastic?), and how they are kept elevated on your legs (usually with a slight elastic strap on the back of each loop). If you have powerful legs, or want to be able to add or subtract layers, keep an eye out for adjustable leg loops as not all leg loops have them. One way or another, leg loops should fit comfortably and not restrict circulation.

Buckles
Harness buckles come in two styles: double backing, and auto-locking. The double-backing style is pretty archaic and out of fashion, but you can still find them on some models. If you are considering a double-backing style harness, just make sure you are aware how to properly dress the buckles. Most harness buckles nowadays are auto-locking, and do not need to be re-dressed after loosening or tightening.

Comfort vs. Weight
Obviously we want our climbing harnesses to be comfortable. We hang in them, we take whippers in them, we offer long belays in them, and spend long days in them. It makes sense that we would want the harness to be barely noticeable through all those scenarios, and indeed, the best harnesses out there are. You never want your harness to restrict movement or cut into you when you hang in it.
That said, comfort exists on a sliding scale that is typically offset by weight and packability. In other words, lighter, smaller, lower-profile harnesses often are less comfortable to hang in for long periods of time. But they are more comfortable to wear when you're not hanging. You should do a quick calculation in your head and take a guess at whether you spend more time whipping and hanging, or more time climbing and walking. If it's the former, you'll want a beefier harness like the Metolius Safe Tech Deluxe. If it's the latter, consider something like the FL-365 or Sitta.

Sizing
Sizing your harness appropriately is as important as getting the right harness. There's a lot more that goes into it than simply saying, "Well, I wear a medium in men's pants, so I'll get a medium-sized harness." Sizing involves everything from the number of buckles (leg buckles will allow more dynamic sizing on the leg loops for people with large legs), to the length of the belay loop (shorter ones force the leg loops higher into the crotch, which is uncomfortable for people with high hips), to the physical shape of the waistbelt.
As with anything you wear, it's a good idea to try some harnesses on before you buy them. Try to go into the store, put it on, adjust it properly (the waistbelt should sit higher than you wear your pants, upon the iliac crest, and should be snug but not tight), and actually hang in it—most climbing shops and gyms are set up to do so. If you have the option, try to take some falls in the harness and see how that feels. Try it with shorts on, then with heavy pants, in a t-shirt, and then over a puffy. All of these harnesses are adjustable to a degree, but some won't accommodate cold-weather clothes as well as others.
For women, definitely try to shop for women's specific models. The construction of these harnesses is completely different and tailored to what is generally perceived as more feminine features.

Price
One useful tool for thinking about harnesses is to consider them according to price, rather than style, type of climbing, or materials. Paying attention to the price of a harness doesn't simply exclude models outside your budget. It also can tell you a ton about what a harness is best used for, and how much you should consider spending on a harness for the kind of climbing you do.
For harnesses less than $50, think entry-level gym models. Mountaineering harnesses often also fall into this category, as well as sale items from past-year models. In the $50-100 bracket are your typical mid-range harnesses. You can get a really good sport climbing harness here, and some nicer trad harnesses as well. Big wall harnesses tend to hover right around $100, give or take 20 bucks. Finally, in the $100+ category, are top of the line harnesses for serious climbers. If you are shopping here, you are probably planning to spend a lot of time in your harness, and to take it to some pretty extreme places. Be wary of anything above $150, as most of the top harnesses we can think of are just below that number. The most expensive harnesses can be multi-faceted, or used for specific applications. Either way, unless you really spend a ton of time in your harness, you can probably get away with a cheaper model.
Back to Our Top Climbing Harness Picks Back to Our Climbing Harness Comparison Table
Learn More About Climbing