Whether you're top roping in the gym, projecting 5.14, or climbing Cerro Torre in Patagonia, you'll want the best harness for the job. In addition to being a vital part of every climber's safety, harnesses offer varying levels of comfort, adjustment, organization, and weight. Our picks for the best climbing harnesses of 2023 below highlight a diverse selection of leading models for all disciplines, including sport, trad, big wall, and alpine climbing. For more background information, see our comparison table and buying advice below the picks.
 
---
Our Team's Climbing Harness Picks
---

Best Overall Climbing Harness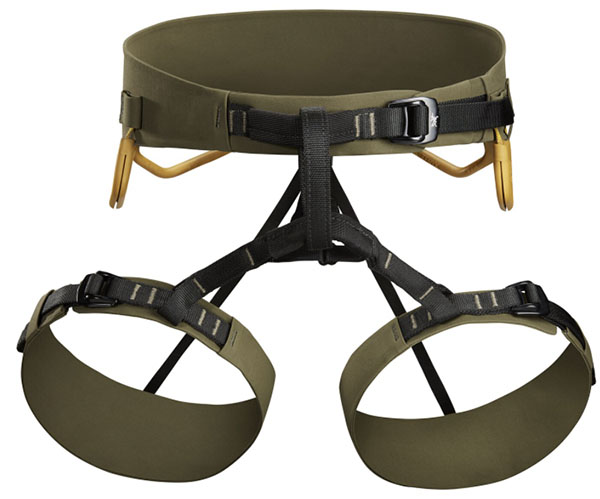 Best uses: Trad, alpine
Weight: 13.9 oz.
What we like: Super comfortable and slim; premium construction.
What we don't: Expensive.
British Columbia-based Arc'teryx is no stranger to the climbing harness—in fact, harnesses were the first product they designed and sold back in the late '80s. We've used various iterations of their AR-395a for over 10 years now and have yet to find a better tool for the job. The wide waistband and split webbing construction offer incredible comfort without the added bulk of foam, adjustable leg loops allow for customization for various body sizes and layering, and the feature set leaves nothing to be desired, with four smooth-clipping gear loops and a haul loop, four ice clipper slots, and easily detachable elastic straps at the rear. For the serious climber looking for a harness they can take to the crag, the mountains, and even the gym, the Arc'teryx AR-395a is our premium pick.
All praise aside, the AR-395a is not for everyone. If you mostly clip bolts at the crag, chances are you'll appreciate a more simplified design like the Black Diamond Solution below. Further, at 13.9 ounces, it's relatively heavy—although to give the harness some credit, it feels rather svelte compared to padded alternatives. And finally, the price is undeniably steep: For $160, you could purchase two entry-level harnesses, which will get the job done for casual climbers. But if you're willing to make the investment, the AR-395a is a durable, comfortable, and featured harness for everything from cragging to alpine climbing, and we've found its sleek fabric to hold up nicely over time despite groveling up countless cracks and chimneys. Note: Arc'teryx also makes the C-Quence ($145), featuring fixed leg loops and mesh for breathability, and mid-range ($130) Konseal. 
See the Men's Arc'teryx AR-395a  See the Women's Arc'teryx AR-385a
A Close Second (for $70 Less)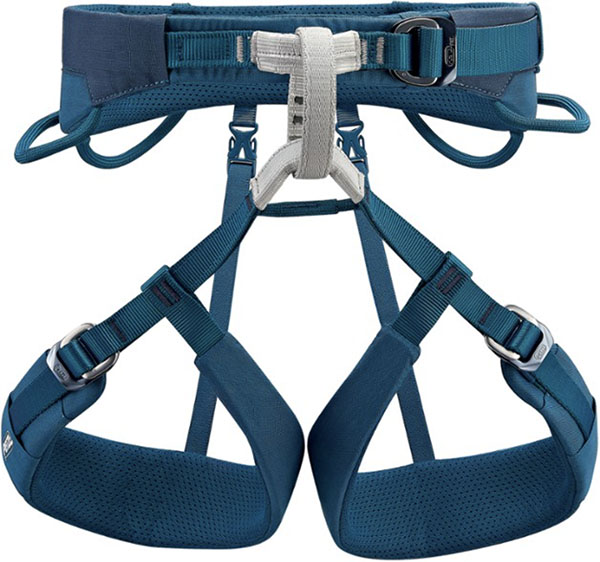 Best uses: Trad, sport
Weight: 1 lb. 1.1 oz.
What we like: A versatile harness offering great comfort and high-quality construction.
What we don't: Slightly heavy and bulky; rear gear loops are hard to access.
The Arc'teryx AR-395a is a hard act to follow, but Petzl's Adjama (and women's Luna) is a great alternative for a full $70 less. This harness can do it all, from comfy hang-dogging at the crag to gym climbing and long multi-pitch routes. Like many modern climbing harnesses, the Adjama utilizes a combination of soft foam and split webbing to spread out the load, and features adjustable leg loops to suit a wide range of body shapes (we've found these to be almost mandatory for muscular legs). And while many harnesses have just four gear loops, the Adjama features five, along with an accessory loop at the back for toting gear.
The Adjama is bulkier and heavier than most harnesses here, although this won't be much of an issue for gym climbing and cragging (it's been our crag harness of choice for years). Plus, the extra heft translates to greater durability and comfort. Dedicated trad climbers toting more rack might want to consider the Arc'teryx AR-395a above or Black Diamond Technician below, and the BD Solution is more purpose-built for sport cragging, but the Adjama is nevertheless a wonderful choice for the all-rounder looking for a versatile rig. Finally, Petzl also offers the Sama and Selena ($80), which are virtually identical to the Adjama and Luna but feature fixed leg loops and four gear loops.
See the Men's Petzl Adjama  See the Women's Petzl Luna
Best Sport Climbing Harness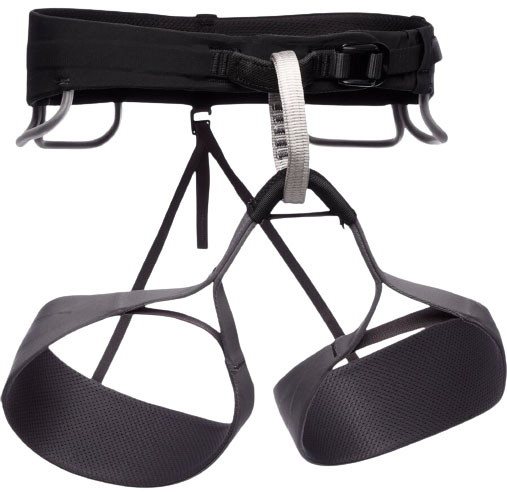 Best use: Sport
Weight: 11.6 oz.
What we like: Streamlined and comfortable design is perfect for sport cragging.
What we don't: Small gear loops; leg loops are not adjustable.
The Black Diamond Solution is a great example of less being more. The harness weighs in at just over 11 ounces and features non-adjustable leg loops, four gear loops, and a sleek foam and split-webbing design. As a result, it's one of our favorite harnesses for sport climbers who don't need to tote much gear or switch up their layering systems. And despite the low weight, we've found that the combination of foam and three separate strands of low-profile webbing provide great load distribution and comfort. In fact, the Solution is the closest any harness has come to emulating the aesthetic and functionality of an Arc'teryx design, but at a much lower price point.
What are the downsides of this harness? The Solution is rather cragging-specific—it doesn't have a rated haul loop or adjustable leg loops, nor does it have ice clipper attachment points (if you're looking for these features, see the Technician below). The gear loops aren't particularly large either—you can get by with wearing this harness on a multi-pitch route, but it's not ideal. Despite the shortcomings, the Solution's comfort, good looks, and simplicity make it our top overall pick for sport climbing. And at an affordable $80, it's a great entry-level and gym harness as well. For trad climbers, Black Diamond also makes the Solution Guide ($100), which features more durable fabric, larger gear loops, and a fifth loop at the back for carrying your water bottle, wind jacket, shoes, and more.
See the Men's Black Diamond Solution  See the Women's Black Diamond Solution
Best Budget Climbing Harness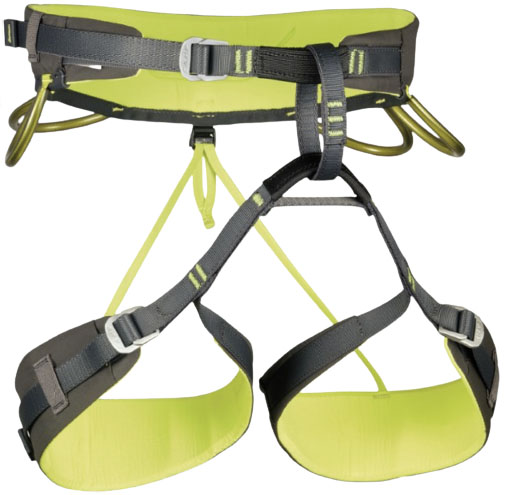 Best use: Beginner
Weight: 13.2 oz.
What we like: A very affordable yet well-built harness.
What we don't: Heavy and padding will pack out over time.
It's easy to spend upwards of $200 on a climbing harness, but new climbers or those who get out only occasionally can save a lot of money with an entry-level model. The Camp Energy CR-3 (and women's Energy Nova) is our favorite budget pick, with a bargain-basement price of just $50—$15 cheaper than any other harness here. You get a fairly standard padded construction combined with four gear loops, a haul loop, and releasable rear risers for easy bathroom breaks. All told, it's a solid option that will keep you just as safe as the pricier alternatives.
The CR-3 comes with adjustable leg loops, but those who appreciate a more performance fit can opt for the fixed leg loops of the "Energy" instead. And while we've had great experiences with Camp gear (such as the Alpine Flash below), it's important to recognize the limitations of a budget harness: The CR-3's padding will pack out over time and diminish in comfort, and the face fabric doesn't hold up particularly well to abrasion. Further, it's a solid 2.5 ounces heavier than the Momentum below, which isn't ideal for multi-pitch or alpine climbing. But for new or casual climbers headed to the gym or crag, Camp's entry-level harness is a strong value and will get the job done.
See the Men's Camp Energy CR-3  See the Women's Camp Energy Nova
Best Ultralight Climbing Harness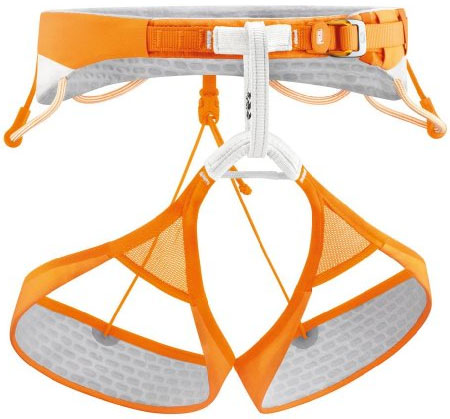 Best uses: Alpine, sport
Weight: 9.5 oz.
What we like: Lightweight but with a premium Petzl build.
What we don't: More expensive than the Arc'teryx above but not as versatile.
The Sitta initially was intended to be a super-light alpine climbing and mountaineering harness, but quickly was adopted by high-end sport climbers looking for something light and sleek for sending tough climbs. Upon first glance, you'll probably question how such a dramatically light harness can provide ample support and comfort. The answer: "Wireframe technology," a Petzl innovation that uses parallel strands of strong and ultralight Spectra to distribute the load over the waist belt and leg loops. As a result, the Sitta offers durability and comfort without the weight or bulk of foam padding.
Keep in mind that the Sitta isn't quite as versatile as some of the other designs on this list, with its non-adjustable leg loops and minimalist gear loops. That said, for alpine pursuits and sport climbing, it's one of the best harnesses money can buy. It's shockingly light at just 9.5 ounces (4.4 oz. less than the AR-395a above), surprisingly comfortable, and features practical details like separated gear loops and a leg-loop height adjuster. On the flipside, the Sitta is very pricey at $200 and not the best choice comfort-wise for hanging belays. Within this category, it's also worth checking out the Black Diamond Vision (7.9 oz.; $175) and the Camp Alpine Flash below, which is slightly heavier (10.6 oz.) but a considerable savings at just $80. 
See the Petzl Sitta
Best of the Rest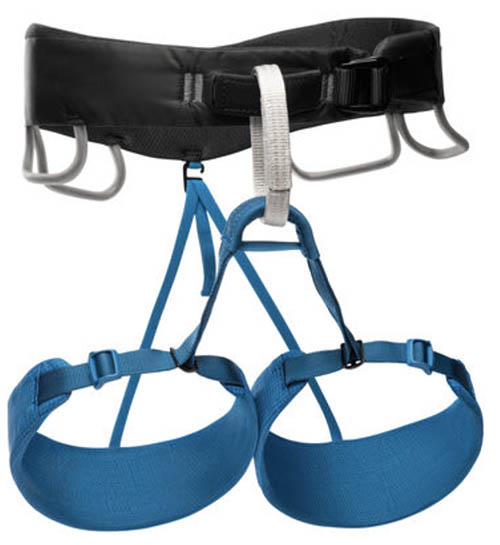 Best use: Beginner
Weight: 10.7 oz.
What we like: One of the least expensive harnesses on the market.
What we don't: Quality and comfort are sacrificed for price.
Black Diamond's Momentum isn't the most comfortable, high-quality, or innovative harness on this list, but it does have one main thing going for it: price. For just $65, you get a well-made and reasonably durable harness that comes in a range of sizes (six for men and five for women). With TrakFit leg adjustments for easy customization and a rear haul loop, the Momentum is versatile enough to be used indoors or outdoors, for sport or trad. Plus, the most recent version shaves more than an ounce off the previous weight, making it lighter than all but a few harnesses here. All told, there's good reason why the Momentum is a long-time favorite of beginner climbers of all disciplines. 
You can save $15 by opting for the Camp Energy CR-3 above, but it's a noticeably heavier and bulkier design. On the other hand, for those who don't plan to spend much time hanging, Black Diamond's Solution ($80) offers a much more streamlined fit and finish that improves freedom of movement for aspiring sport climbers. As with all foam harnesses, you can expect the padding of the Momentum to deteriorate over time, and we've noticed that the fabric is more likely to show wear than most (off-width and chimney climbers beware). But it's a capable and comfortable harness for $65, making the Momentum one of our top choices for those on a budget. 
See the Men's Black Diamond Momentum  See the Women's Black Diamond Momentum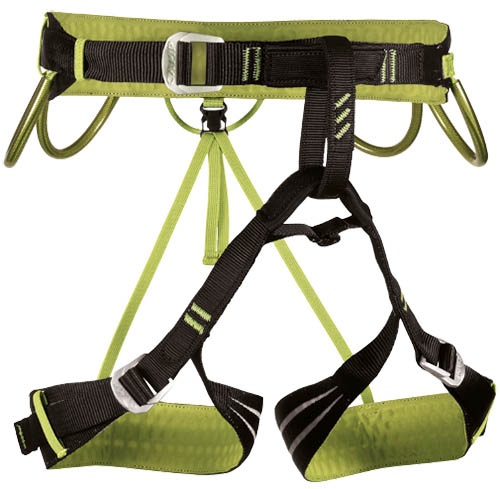 Best uses: Alpine, trad
Weight: 10.6 oz.
What we like: A lightweight all-rounder for $120 less than the Petzl Sitta above.
What we don't: Adjustable leg loops might feel clunky for some.
Close on the heels of the ultralight Petzl Sitta above is the Camp Alpine Flash harness. With minimal padding and a streamlined 10.6-ounce design, the Alpine Flash is built for weight-conscious missions into the mountains. Ice clipper slots and adjustable leg loops keep things functional for four-season use, along with five gear loops for cams, slings, and more. But the true selling point here is comfort—despite its minimalist intentions, the Alpine Flash manages to remain incredibly supportive and easy to wear. The result is a great all-around harness that can play double duty at the mountains and the crag.
Held up against the Petzl Sitta above, the Alpine Flash features adjustable leg loops but clocks in a little over an ounce heavier. While some (especially sport climbers) might appreciate the streamlined design of a fixed leg loop, we love the ability to adjust depending on layering (the Alpine Flash's leg loops also unbuckle completely so you can put it on while wearing crampons or skis). It's certainly hard to beat Petzl's high-end fit and finish, but the Camp is right up there in terms of function for a full $120 less. 
See the Camp Alpine Flash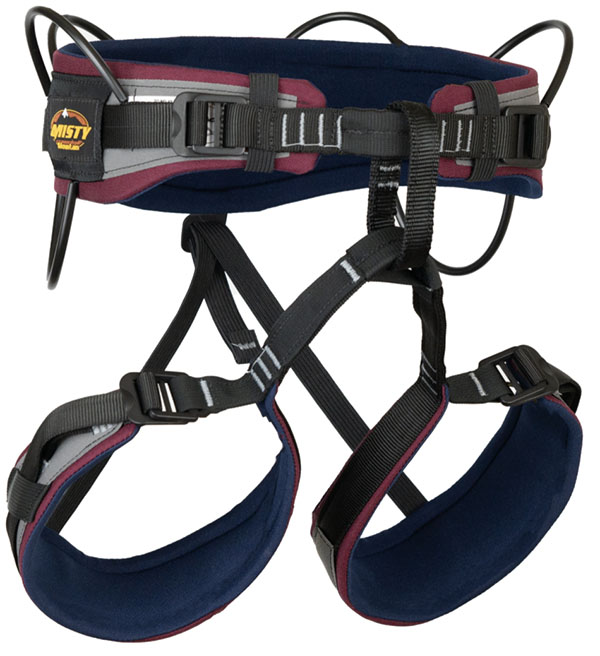 Best use: Trad
Weight: 1 lb. 3 oz.
What we like: Impressively built, comfortable, and hand-made in the U.S.
What we don't: Archaic features and weight.
If Black Diamond represents the elite alpine culture of its hometown of Salt Lake City, Misty Mountain is as Western North Carolina as it gets: unflashy, down-home, and totally legit. This small company has been hand crafting harnesses and sewn climbing gear for over 30 years—if you're into supporting local business and craftspeople, Misty Mountain is your jam (check out our in-depth look at the company). The Cadillac is their most popular harness, and right away you'll notice that it's not lightweight or packable, the buckles are heavy, and it doesn't come in flashy colors. That said, it's as comfortable as any on our list, is built extremely well, and offers all the features we look for in a trad or aid climbing harness.
The Cadillac was made for all-day missions on North Carolina's slabby granite domes: its six gear loops make it a perfect multi-pitch harness, and the padding offers a high amount of comfort for hanging at belays and projecting routes. The harness is surprisingly supple and allows for freedom of movement better than some of the more padded harnesses on our list (the Long Haul below, for example). However, the Cadillac is heavier and bulkier than most sport or alpine climbing-specific models, and we wouldn't recommend it for steep bolt-clipping or carrying deep into the mountains. It's also worth noting that Misty Mountain customizes harnesses, adding belay loops or extra gear loops, ice clipper slots, and adjusting leg and waist sizes. Whatever idea you come up with, they'll listen.
See the Men's Misty Mountain Cadillac  See the Women's Misty Mountain Cadillac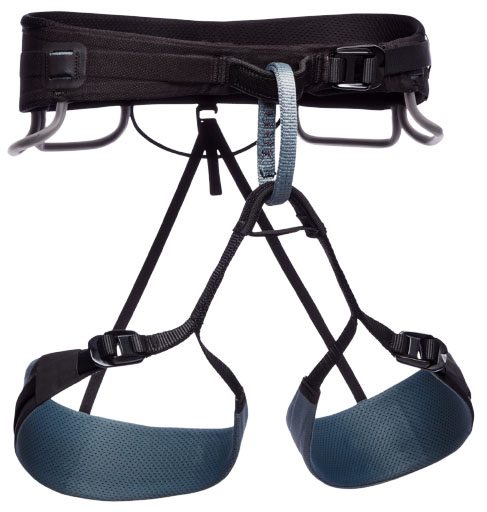 Best uses: Trad, alpine
Weight: 13.3 oz.
What we like: A versatile BD harness for trad and alpine climbers.
What we don't: $10 more than the Camp Alpine Flash above.
The Technician harness is Black Diamond's modern offering for serious trad climbers and alpinists who want to transition between seasons. It uses the same foam and split webbing construction as the uber-popular BD Solution (above), but adds ice clipper slots and adjustable leg loops for extra versatility. An compared to the chart-topping Arc'teryx AR-395a (another great four-season harness), the Technician is slightly lighter and a notable $70 less.
We do find room for improvement with the Technician, however. Most glaringly, the leg loops are fairly streamlined, translating to less hanging comfort than the AR-395a or Adjama above. Furthermore, the gear loops are relatively small, and the Technician's fabric isn't as durable as other trad-specific harnesses (including the extremely tough Super Fabric of Black Diamond's Solution Guide). And finally, you can go lighter with a harness like the Camp Alpine Flash above. But for the all-around climber who might benefit from adjustable leg loops, the Technician is a nice option from BD for only $90. The harness is also available in a version with a Recco Reflector for $100, giving you a greater chance of being found in the event of an accident.
See the Men's Black Diamond Technician  See the Women's Black Diamond Technician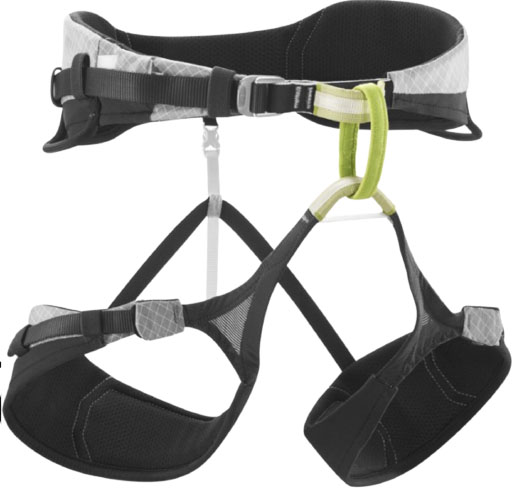 Best uses: Trad, alpine
Weight: 15.5 oz.
What we like: Thoughtful design that's high on comfort.
What we don't: Expensive and relatively heavy.
The Helio (and women's Helia) is Edelrid's premium harness, highly engineered to offer performance and comfort at a relatively low weight. Just about everything on this harness is thoughtfully designed, from the streamlined buckles to the flexible tie-in loop (great for packability), contoured waistbelt, and easy-release rear elastic. Five gear loops and four ice clipper slots make the Helio fully functional for four-season use, and it even comes with a detachable pouch, great for storing your keys, an energy bar, or the route topo.
Edelrid has gone to great lengths to shave weight off the Helio, as seen in the minimalist buckles (20 mm at the waist and 15 mm on the legs) and butterfly-shaped waistbelt, which narrows at the lower back and expands over the kidneys for maximum hanging comfort. However, at 15.5 ounces, it's still one of the heavier harnesses here. Further, both the Helio and Helia are only available in three sizes, which can't match the range you can get from a design like the Black Diamond Solution (available in six sizes for men and five for women). Edelrid's gear is undeniably well built and thoughtfully crafted, but most climbers can get away with one of the more affordable harnesses above.
See the Men's Edelrid Helio  See the Women's Edelrid Helia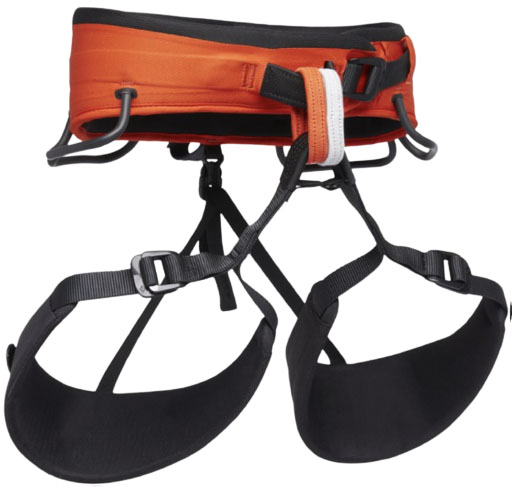 Best use: Big wall
Weight: 1 lb. 5.7 oz.
What we like: One of the most fully featured aid climbing harnesses.
What we don't: Heavy, bulky, and stiff.
Replacing the Big Gun in Black Diamond's lineup, the Long Haul is the only harness on this list built specifically for aid climbing. Clocking in at a whopping 1 pound 5.7 ounces, it features a wide and generously padded waist belt and contoured leg loops, all of which are adjustable via large, durable buckles. While most harnesses have four gear loops, the Long Haul features seven loops for racking multiple sets of cams, aiders, draws, carabiners, shoes, water bottles, and more. You also get two belay loops that accommodate daisies and a fifi hook, and easy-release rear-riser buckles allow you to sleep comfortably with your harness on (and leg loops off). Even the haul loop is rated, so you don't have to worry about losing your tag line when you're high up on the wall.
Despite its bulk, the Long Haul hugs the body nicely, breathes well, and offers decent freedom of movement. It's decidedly stiffer and less supple than other harnesses here—even including robust models like the Misty Mountain Cadillac—although it's lighter and features a bit more padding than the outgoing Big Gun. But while this harness will be a go-to choice for climbers projecting on big walls, we certainly don't recommend it for sport climbing or days when you're trying to go fast and light in the alpine. And if you're making comparisons among dedicated aid climbing harnesses, we also recommend checking out the Metolius Safe Tech Waldo ($150) and Misty Mountain Titan ($210).
See the Black Diamond Long Haul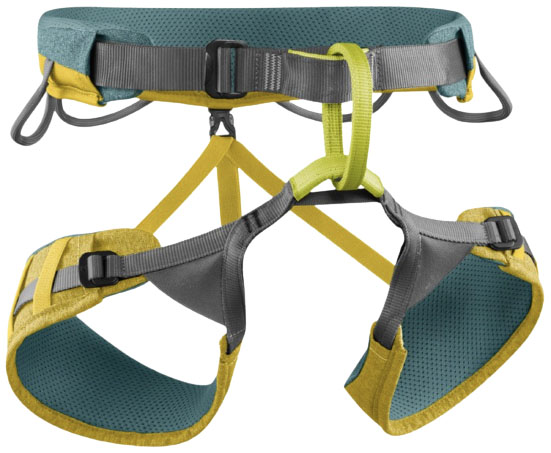 Best use: Beginner
Weight: 13 oz.
What we like: Well-constructed and highly adjustable.
What we don't: Not lightweight or packable.
If you're looking for a quality harness with a customizable fit that won't break the bank, the Jay is a nice option. The Jay—or the female version called the Jayne—is Edelrid's top all-around workhorse harness, and it's great for everything from gym and sport climbing to trad and ice. It's one of the best-fitting harnesses on our list: one of our favorite features is the ability to cinch it tight and then adjust it so that the belay loop always is down the center of your body. Additionally, the Jay comes with adjustable leg loops, a feature that many will find necessary. Last but not least, the men's version comes in three sizes and the women's in four, meaning that no matter your body type, this harness should fit you well.
Unlike our top picks above, the Jay isn't a lightweight, compact harness, nor is it trying to be. While it would never be our first choice to take to the alpine, we think it makes an honorable cragging rig. We recently spotted a crew of NOLS (National Outdoor Leadership School) students at Smith Rock all sporting the Edelrid—further proof that this is a long-lasting, durable, versatile choice for many climbing disciplines. And in their most recent update, Edelrid chose to build the harness fully from bluesign-certified materials, so you get the added benefit of purchasing a sustainably made product.
See the Men's Edelrid Jay  See the Women's Edelrid Jayne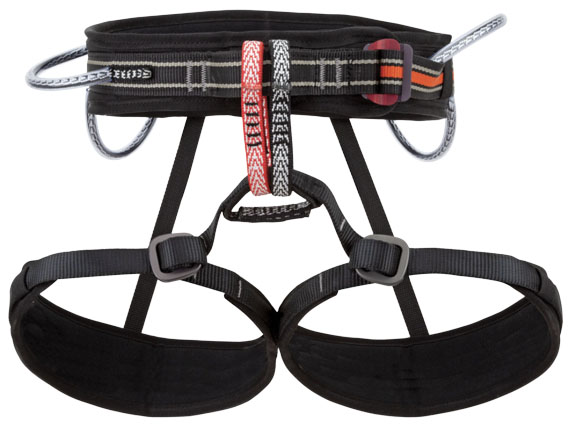 Best use: Trad
Weight: 1 lb. 4 oz.
What we like: Safe, durable, and very comfortable.
What we don't: Heavy and bulky for a trad harness.
The Metolius Safe Tech All-Around diverges significantly from our top choices on this list by going heavy. That said, if there was ever such a thing as a foolproof harness, this is it. Just about everything on the Safe Tech is rated to catch a fall of at least 10 kN, even the rope locator strap on the lower tie-in point. No other harness on this list comes anywhere near this level of safety (usually only the tie-in points, belay loop, and maybe the haul loop are rated). The end result is maximum security whether you're sketching out or simply bungling the tie-in job (something beginners and expert climbers do alike). Metolius is the only company that makes such a harness, so we think the Safe Tech is worth a look.
Although not as light or low-profile as the other models on this list, the Metolius Safe Tech All-Around should deliver tons of comfort over its lifespan, and its fleece lining adds a nice dose of suppleness for days at the crag. Further, the wide waistband and beefy padding provide excellent support for hanging belays and route projecting, making the Metolius a solid choice for both beginners and climbers of higher skill levels. It's not versatile for the alpine, nor is it the best choice for sending your 5.13 sport projects (although we've seen it done), but the Safe Tech All-Around is a dependable choice for a long-lasting, everyday harness.
See the Metolius Safe Tech All-Around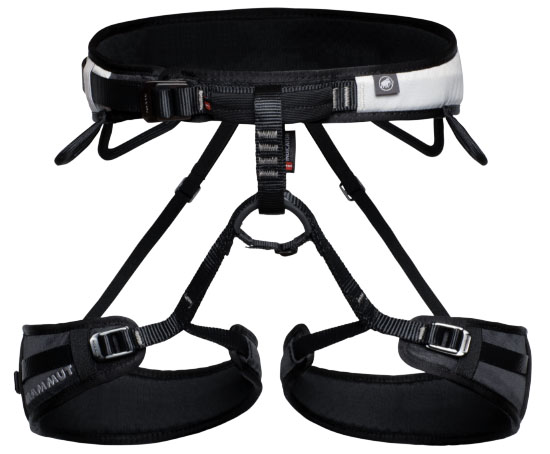 Best use: Beginner
Weight: 13 oz.
What we like: Breathability and comfort at a low price.
What we don't: Foam has a shelf life.
The Ophir is a solid all-around harness, offering a few more features and better construction than other $70-and-under options on our list. With a drop-seat buckle, 4-kilonewton haul loop, and adjustable leg loops, it's ready for a variety of climbing adventures, both sport and trad. Meanwhile, it's decently light at just 13 ounces and packs up small enough to be a trusty choice for crags with longer approaches. Last but not least, Mammut included abrasion indicators so you know when it's time to retire your harness, which we think is a nice addition.
In comparison to other budget harnesses like the Momentum and the Jay above, the Ophir's design is noticeably thin on foam. While this means more freedom of movement and breathability, it also translates to less hanging comfort. Further, when racked with trad gear, the supple waistbelt tends to buckle a bit under the load. But for its entry-level price, the Ophir is a versatile harness and particularly great for new climbers exploring the range of disciplines. It's also available in a "4-Slide" version for $80, which includes two buckles on the waistbelt for even greater adjustability and a more tunable fit.
See the Men's Mammut Ophir 3 Slide  See the Women's Mammut Ophir 3 Slide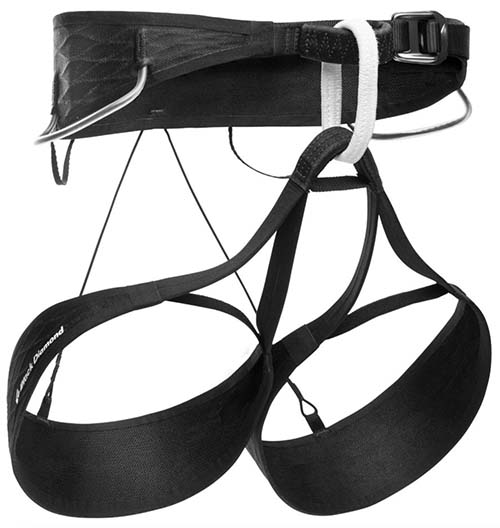 Best use: Sport
Weight: 8.3 oz.
What we like: Remarkable comfort and durability at just 8.3 ounces.
What we don't: Stripped-down feature set limits its use to redpoint burns and comp climbing.
Designed in collaboration with accomplished climber Adam Ondra for his Olympics bid, Black Diamond's airNET is an incredibly lightweight yet well-appointed harness. Instead of opting for a traditional split webbing construction, Black Diamond turned to their patented airNET technology, which uses a minimalist Dynex net to distribute the load. But the weight-shaving didn't stop there: the harness also features two streamlined gear loops made of thin webbing (in addition to two standard gear loops), skinny rear risers, and a seamless "infinity" belay loop that minimizes bulk. The net result is a strong and comfortable harness that clocks in at just 8.3 ounces, tuned for both competition climbing and difficult sport ascents.
Compared to the ultralight Petzl Sitta above, the airNET checks in about an ounce less and is $30 cheaper, making it a very attractive alternative for the right climber. But while the Sitta is versatile for everything from sport to alpine climbing, the airNET is a bit more targeted with pared-down gear loops (not ideal for a full trad rack) and thinner face fabric that provides less abrasion resistance for chimneying or thrutching up wide cracks. But you won't find a more purpose-built option for redpoint burns and comp climbing, and Black Diamond still includes durable tie-in points and a standard-sized buckle for easy on and off when every bit of finger strength matters.
See the Men's Black Diamond airNET  See the Women's Black Diamond airNET
Best use: Beginner
Weight: 1 lb. 0.6 oz.
What we like: An affordable Petzl harness with great adjustability.
What we don't: Heavy and bulky.
We're used to turning to Petzl for the crème de la crème of climbing gear, as epitomized by their Sitta harness above. But for new climbers or those looking for a durable, comfortable workhorse, the Corax has a lot to offer. At just $70, it's very affordable for a Petzl product and competitive with Black Diamond and Edelrid's entry-level offerings. But despite the budget pricing, the Corax still is a well-thought-out and high-quality harness. Closed-cell foam layered over a thick strap of webbing distributes weight throughout the waist and leg loops, and you also get the versatility of four adjustment points (two at the waist), ice clipper attachments, four generous gear loops, and an extra accessory loop at the rear.
At over a pound, the Corax is undeniably heavy, which might be a deal-breaker for some. In other words, this likely isn't the harness you want to be throwing in your backpack for a long approach, but it will get the job done at the gym and the crag. Further, while the padding is a boon for comfort while hanging, it's a lot of bulk to walk around with. But with high levels of adjustability, this is a great harness for those who are particular about fit, whether you've got a larger frame, are sharing your harness among partners, or want to be able to accommodate a lot of layers. And keep in mind that Petzl does offer the lighter Corax LT (12.2 oz.; $65) with fixed leg loops and one buckle at the waist. Finally, if comfort is your highest priority, it's also worth checking out Petzl's Aquila ($120), which has similar intentions in a more premium package.
See the Petzl Corax Harness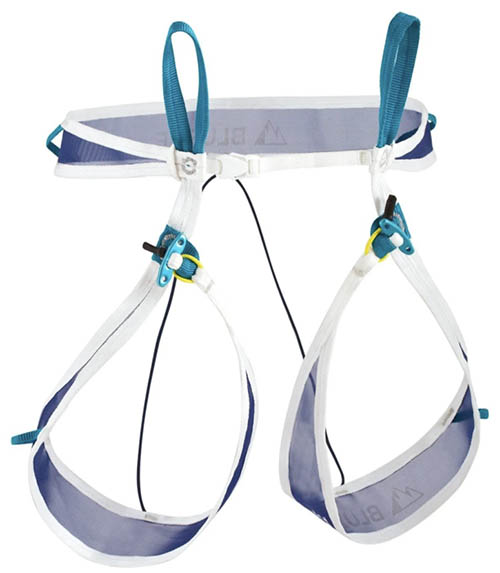 Best use: Mountaineering
Weight: 3.1 oz.
What we like: Extremely lightweight and compact.
What we don't: Very little support and thin materials aren't super durable.
The harnesses above are built for the demands of rock climbing, but mountaineers and skiers can get away with a more minimal design. The idea here is that you might need a harness to rope up on a glacier, belay a short step of steep ice or rock, or rappel a few hundred feet, but don't plan on hanging in it for long (or at all). As a result, harnesses built for mountaineering or ski touring prioritize weight-savings, packability, and streamlined builds that are easy to walk in. And despite not being padded for comfort, they're as safe as any option here.
Without a doubt, the Blue Ice Choucas Light is one of the lightest and most compact harnesses on the market. At only 3.1 ounces for the medium, it packs up to the size of a ProBar yet is still fully functional with two gear loops, ice screw keepers, and leg loops that unbuckle completely for donning with skis on. You can certainly opt for a more heavy-duty mountaineering harness (consider the Petzl Altitude or the Black Diamond Couloir) which might hold up a bit more over time and offer a little more support while hanging. But the Choucas Light is an impressively built and affordable option for mountain athletes looking for the lightest option available.
See the Blue Ice Choucas Light
Climbing Harness Comparison Table
Climbing Harness Buying Advice
Climbing Harness Best Uses
The first thing to consider when choosing a harness is the type of climbing you do most. Sure, any harness from a reputable company should keep you safe, but whether or not it will be comfortable or well-suited to the job is another story. Do you need large loops for trad gear or slots for ice clippers? Adjustable leg loops to accommodate layers? Extra padding for hang-dogging? Or perhaps you want something light and compact for long approaches. Our list includes everything from versatile all-rounders to harnesses built with particular disciplines in mind, including sport and trad climbing, alpine climbing, big wall climbing, and mountaineering.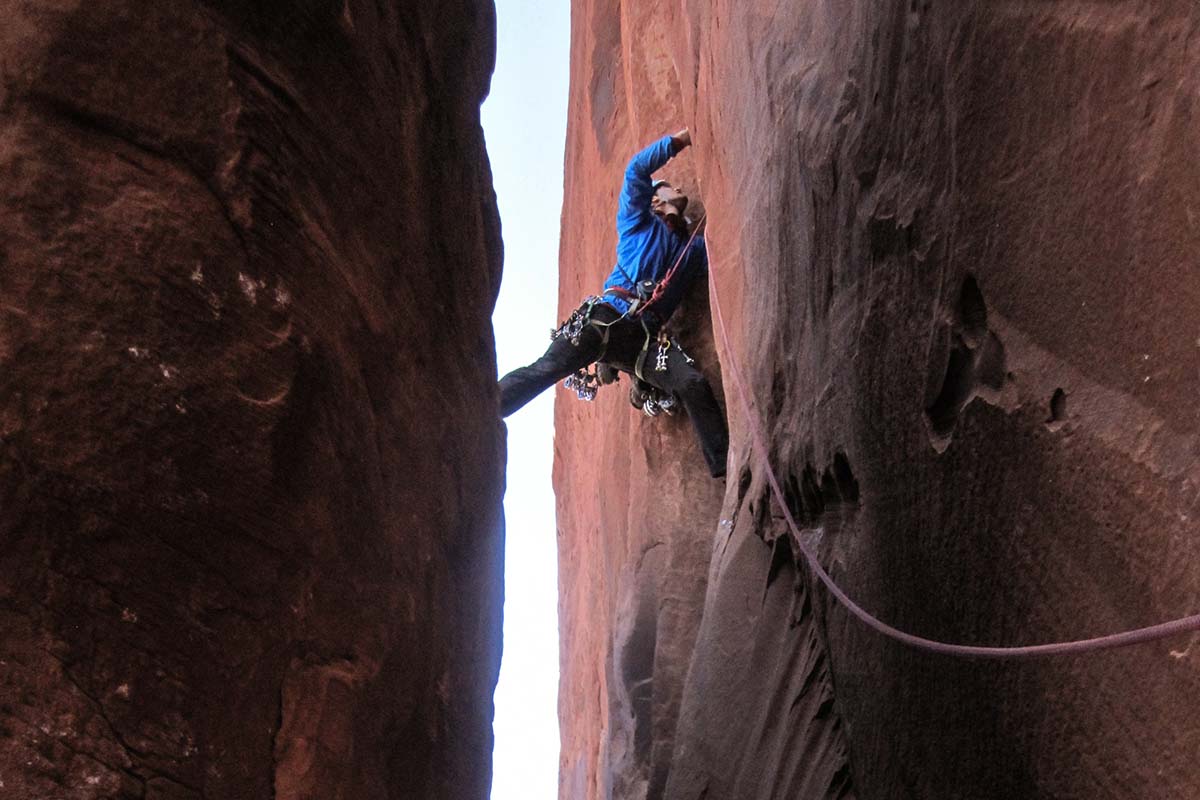 Beginner
The beginner category is our home for versatile, entry-level harnesses. These designs aren't the lightest or most fully featured, but they're a great choice for new and recreational climbers, whether you're frequenting the gym or the crag. Beginner designs prioritize comfort and affordability, including foam padding and a range of fit adjustments for climbers of varying sizes (look for adjustable leg loops). In terms of features, these harnesses are fairly barebones: you'll likely get four gear loops and a rear accessory loop, but expect to forgo add-ons like ice clipper slots, extra gear loops, or a rated haul loop. In the end, these models will do the trick for indoor climbing, single-pitch sport, and even the odd multi-pitch route, but you'll want to step up to one of the categories below as weight and freedom of movement start to matter more.
Recommended: Black Diamond Momentum, Camp Energy CR-3/Nova, Edelrid Jay/Jayne

Sport Climbing
Beginner sport climbers can get away with an entry-level all-rounder, but if you're projecting routes and putting in redpoint burns, you'll want a more performance-oriented harness that moves with your body and doesn't weigh you down. These lightweight designs are commonly built with streamlined split webbing instead of bulky foam and feature minimal adjustments for weight-savings and freedom of movement (we see a lot of fixed leg loops here, although that comes down to a matter of personal preference). You won't find ice-clipper slots on a sport climbing harness, and you can get away with smaller gear loops as you'll only be carrying quickdraws and slings. Expect a good sport harness to be a step up in price from an all-around model, with premium designs clocking in close to $200.
Recommended: Black Diamond Solution, Petzl Sitta, Black Diamond airNET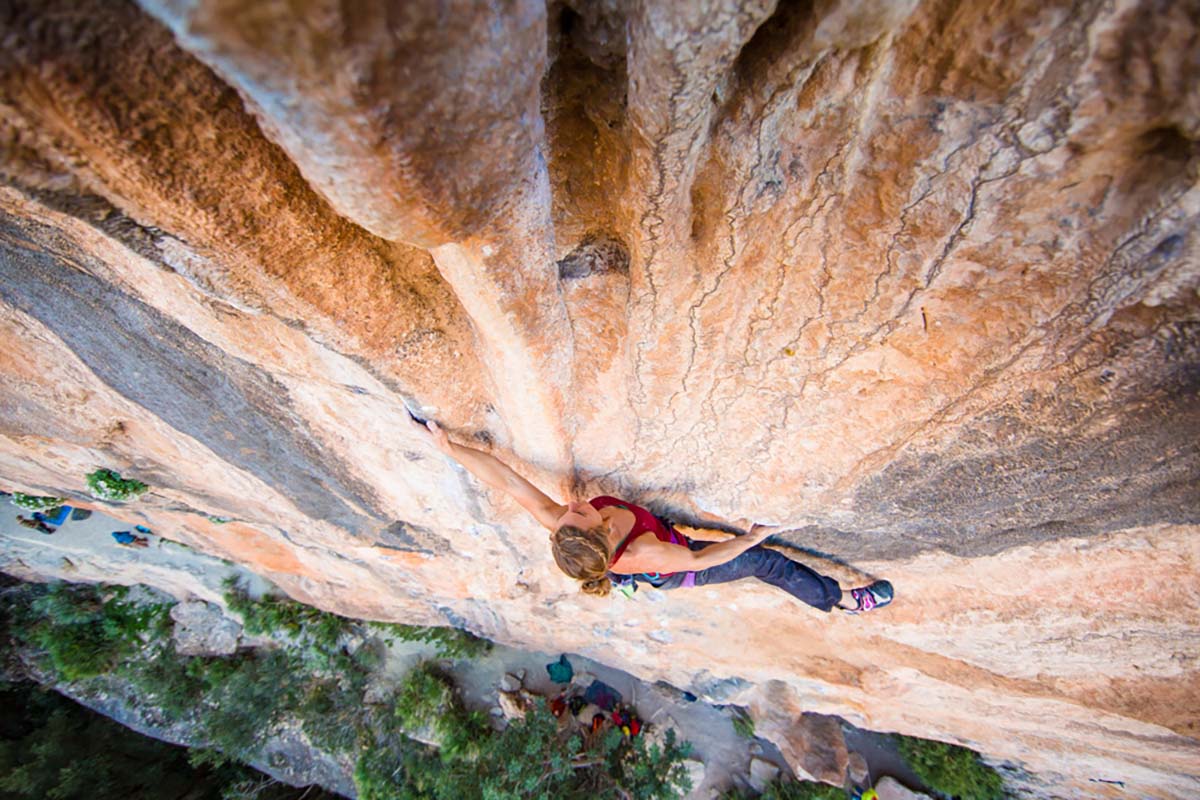 Trad Climbing
Trad climbing often implies multi-pitching, so for simplicity's sake, we're lumping the two together here. But whether you're cragging or questing high off the ground, a trad harness will be a bit more fully featured than a sport harness. For one, it should be made of more durable material—you're more likely to grunt your way through some heinous off-widths and gnarly chimneys. Second, it needs to be extra comfortable for hanging or semi-hanging belays. This means a wide waist belt and leg loops, and the use of either foam padding or a split-webbing construction (the latter of which will take you up a notch in price). Finally, make sure your trad climbing harness has at least four large gear loops and a rear haul loop—you'll need all of them.
Recommended: Black Diamond Technician, Arc'teryx AR-395a/AR-385a, Petzl Adjama/Luna
Alpine Climbing
An alpine climbing harness will have a lot of the same features as a trad climbing harness, including durable fabrics, large gear loops and a haul loop, and a supportive build for hanging belays. Most of these harnesses will also tack on adjustable leg loops and ice clipper slots, which provide versatility for ice and mixed routes but are not always necessary for summer alpine rock climbing. And because alpine climbing often entails long approaches and an emphasis on moving fast and light, the majority of alpine harnesses will be as streamlined as possible, with high-end split webbing constructions and some of the lightest and most packable designs here.
Recommended: Arc'teryx AR-395a/AR-385a, Camp Alpine Flash, Black Diamond Technician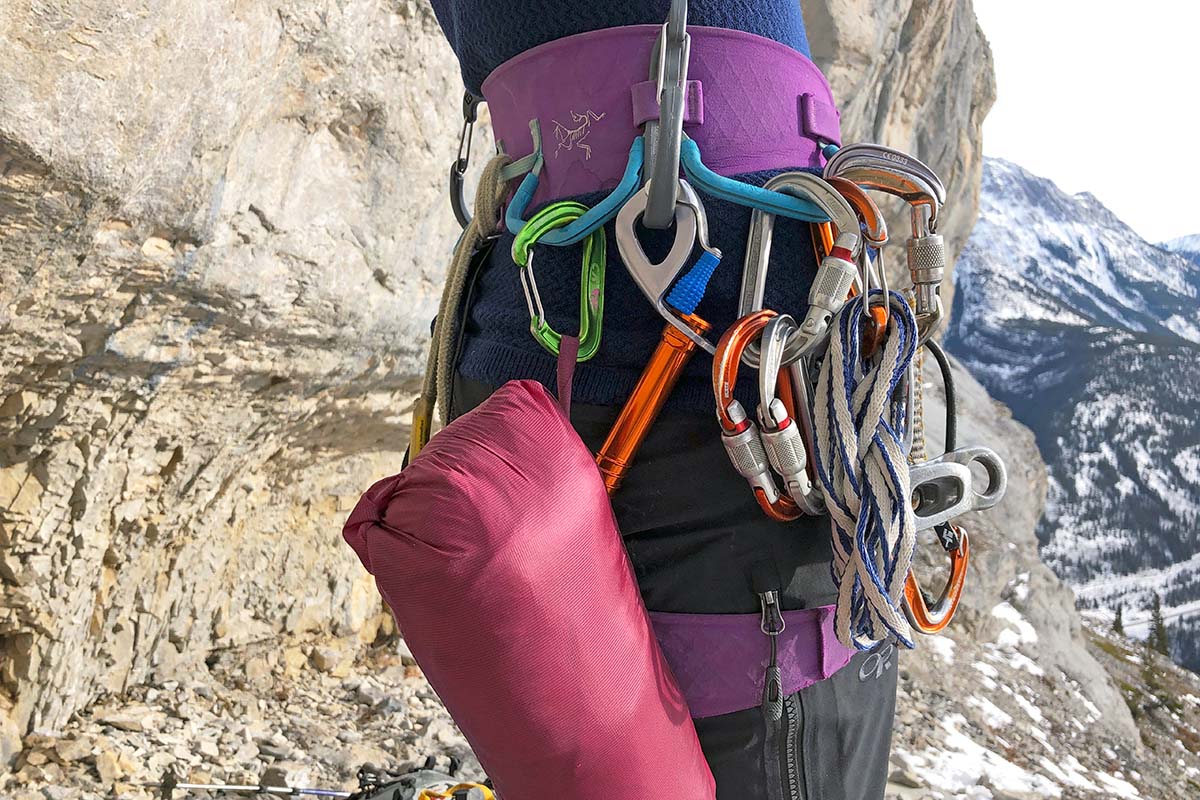 Big Wall Climbing
If you're looking to hang your way up a big wall like El Cap, you'll want a harness you can spend significant time in. Big wall harnesses are over-the-top in every way you can imagine: they're ultra-padded and comfy for long, hanging belays and nail-biting aid pitches and feature a myriad of gear loops for efficient racking of all your protection, a load-bearing haul loop, and often two belay loops for added safety and versatility. They're not fast and light, but neither is big wall climbing. If you're going to spend all day hanging in your harness, nothing else will do.
Recommended: Black Diamond Long Haul, Metolius Safe Tech Waldo

Mountaineering
There are two things you really don't want to do much of in mountaineering: hanging and falling. If you find yourself doing either, you probably have bigger things to worry about than the comfort of your harness. Your mountaineering harness should be more comfortable for walking than climbing and easy to take off and put on (especially over boots and crampons). And since mountaineering is such a grueling sport where every ounce counts, you'll want your harness to be as light as possible. Mountaineering harnesses are pretty minimalistic, so expect a lower price than other types of harnesses.
Recommended: Blue Ice Choucas Light, Petzl Altitude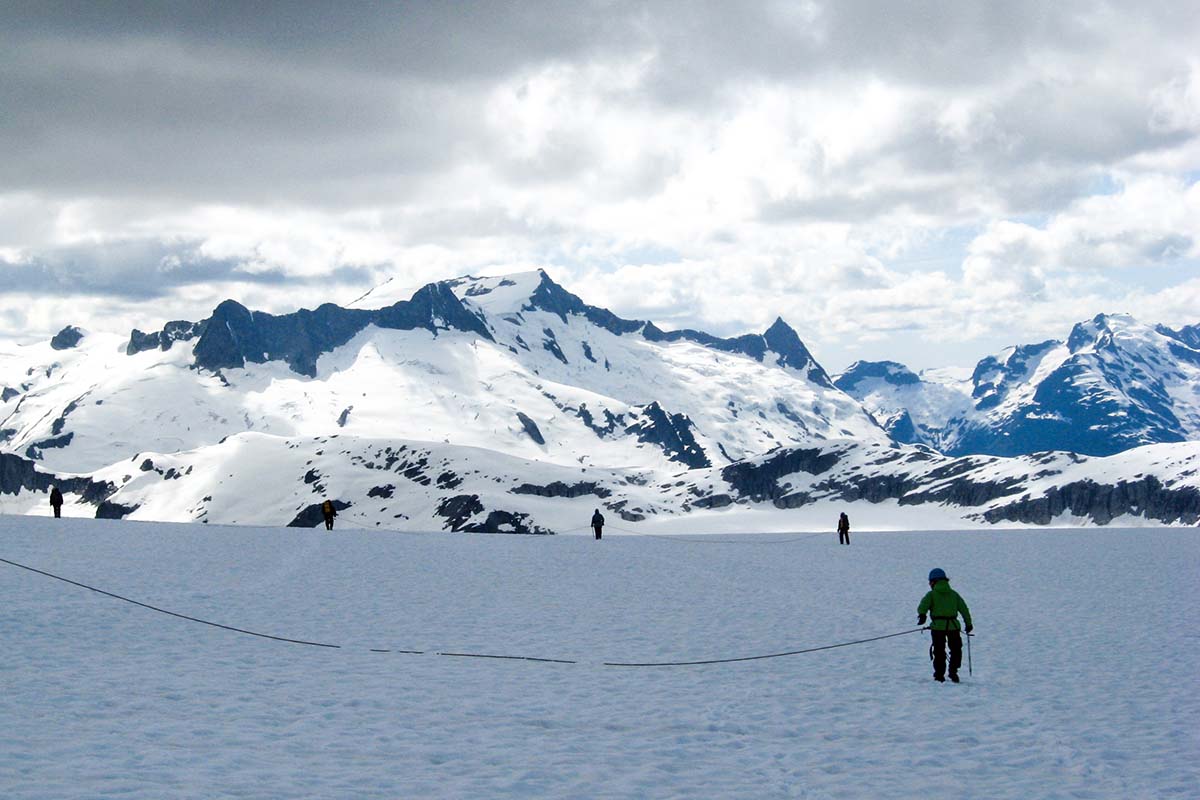 Construction
As climbing has evolved, so have harnesses. Half a century ago, when climbers rarely pushed themselves to the point of falling, harnesses were a "just in case" piece of gear. These swami belts or bare-bones nylon affairs certainly were not designed with comfort in mind. But as sport climbing grew in popularity and multi-pitch routes began to ascend steeper and steeper features, climbers started to demand more from their harnesses and the need for added comfort became paramount. Foam padding was introduced, as well as wider waist belts and leg loops. Now, many harnesses provide excellent comfort and load distribution without the bulk of padding, using many small pieces of webbing instead. Today's top picks include a mix of both padded and non-padded designs, and we delineate these through the materials used to spread the load: foam and split webbing.

Foam
Many modern harnesses are constructed with a single piece of one-inch webbing layered between soft foam. This construction provides structure and a soft catch, and spreads out the load when hanging. Foam is cushy and padded—certainly effective—but it does have a few downsides.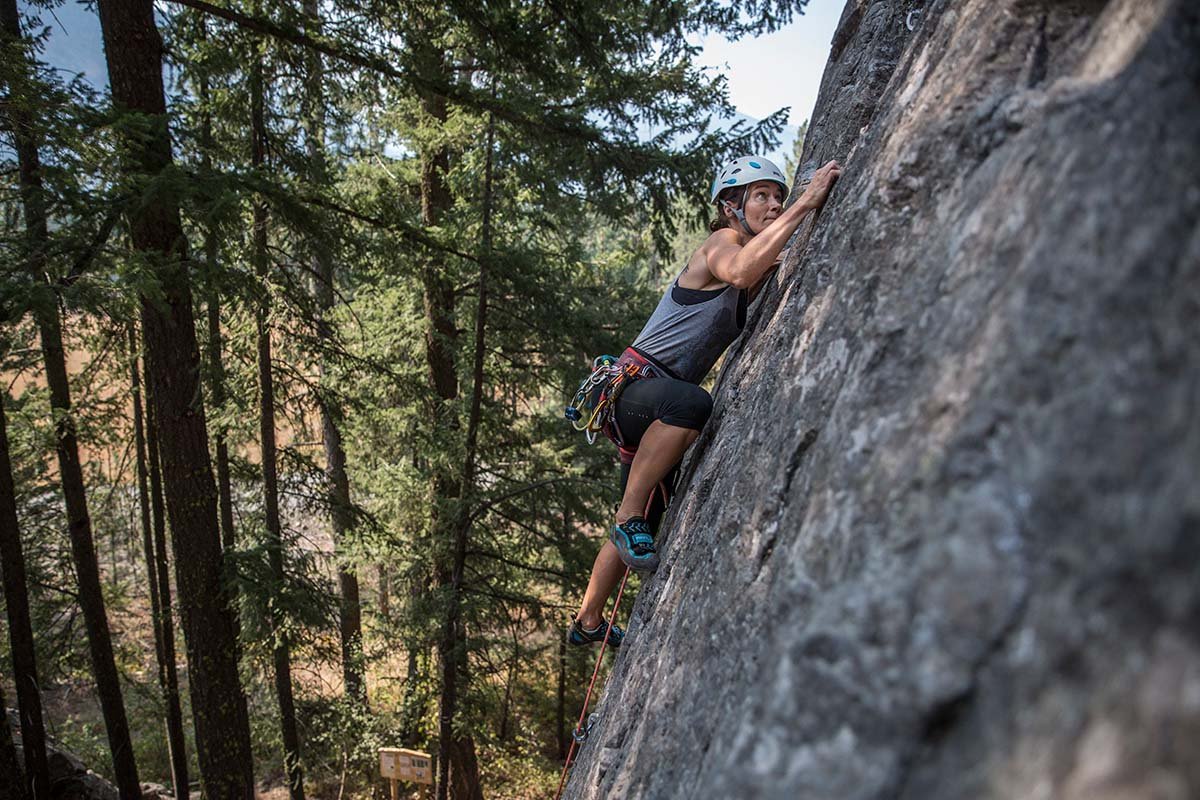 First, foam is bulky and heavy, which isn't great for those who like to go light, and it's far from the most breathable material. That said, manufacturers have found a few workarounds here: Edelrid, for example, perforates the foam on their Helio and Helia harness and layers airy mesh overtop. Breathability aside, foam also wears out over time, and if you climb a lot, your harness will lose its padding before it needs to be retired for safety reasons. 
These downsides make standard foam harnesses a fine choice for entry-level climbers or as an inexpensive gym set-up, but we don't recommend them for much else. Nowadays, many foam harnesses incorporate split-webbing technology in the place of the single piece of webbing, which we detail below. If you're set on the cushioned padding of foam, we recommend sticking with this combination.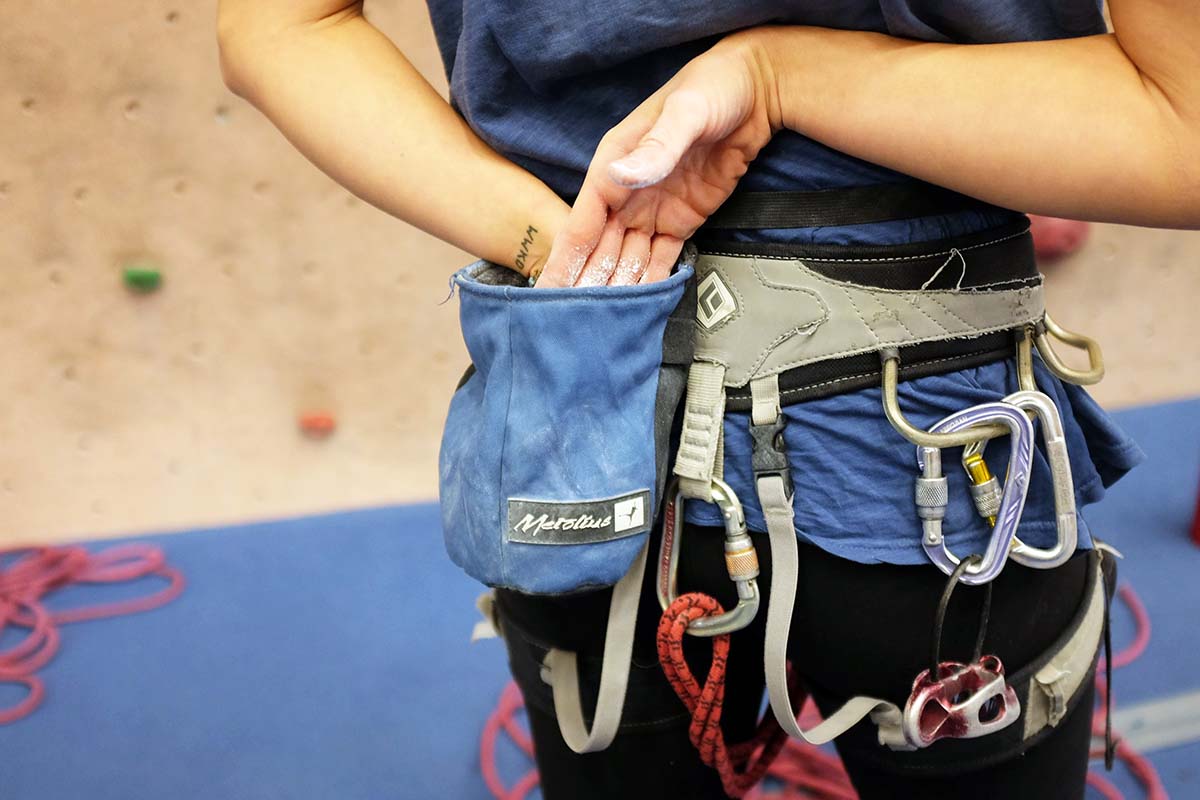 Split Webbing
Arc'teryx was the first company to think up a comfortable and streamlined alternative to foam, spearheading a recent revolution in light and packable harnesses. They took the single piece of webbing that we know from traditional foam harnesses and split it width-wise, spreading the strands up and down the waist belt and leg loops to distribute the load more evenly. This technique—coined Warp Strength Technology by Arc'teryx—eliminates pressure points altogether and provides hanging comfort without the weight and bulk of foam. Other brands have followed suit—Petzl with its Wireframe technology, Black Diamond with Fusion Comfort Construction, and Mammut with the aptly named Split Webbing Technology—using a variety of high-strength materials including Spectra, Vectran, and nylon. And the innovation continues: Black Diamond's airNET Technology, recently debuted in its namesake harness, features Dynex patterned in a net-like formation (rather than standard strands).
Split-webbing designs like our top-ranked Arc'teryx AR-395a and Petzl Sitta are lighter, more streamlined and breathable, longer-lasting, and arguably much more comfortable than the alternatives. In general, they also come with a higher price tag. But this is the direction that harnesses are headed and we'd recommend jumping on the bandwagon. And as mentioned above, split webbing and foam are not mutually exclusive—many technologies (Black Diamond's Fusion Comfort, for example) combine split webbing and a thin layer of foam for an affordable harness that is still lightweight and durable.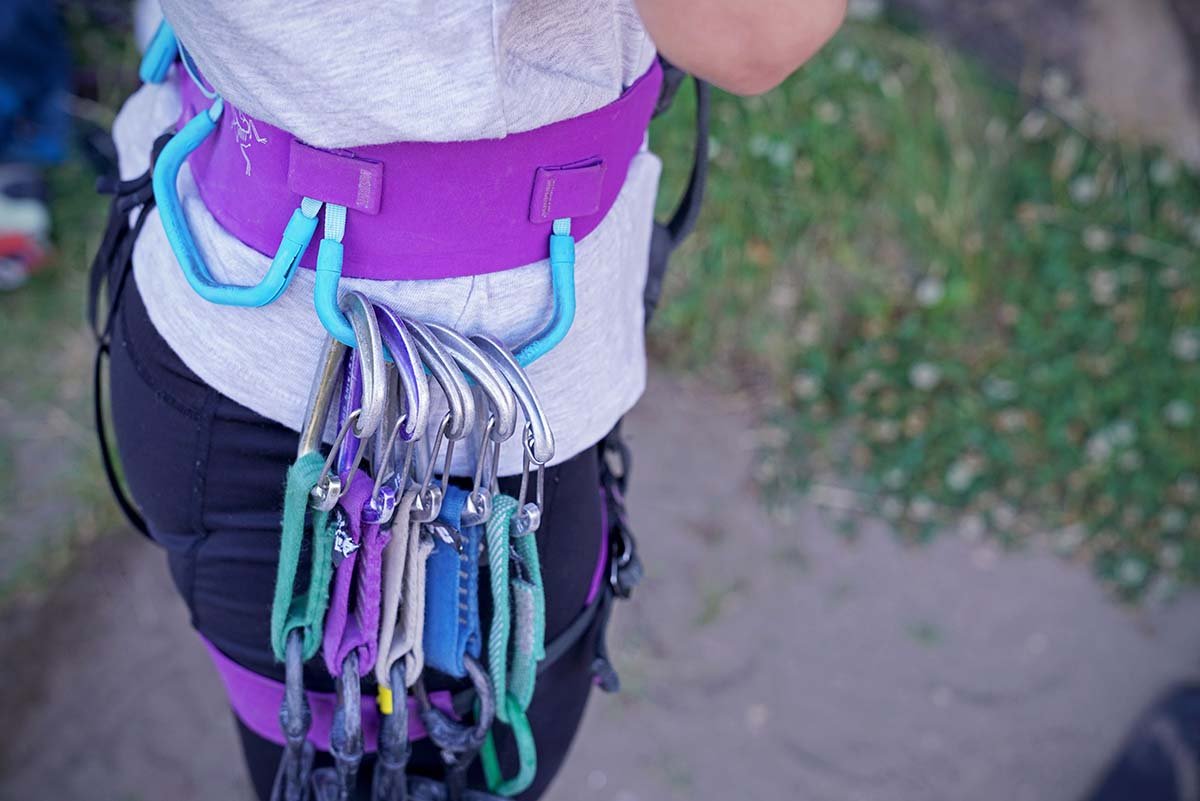 Loops: Gear, Haul, and Belay
Gear Loops
The gear loops on a harness are the small plastic rings that run along the waist belt. These are where you'll hang your gear: quickdraws for sport climbing, cams for trad climbing, belay device, jacket, etc. Generally, the more technical the climbing, the more gear loops you'll need. If you are primarily gym and sport climbing, you can get away with just two gear loops for the necessities like slings and quickdraws. If you are trad or alpine climbing, four should be sufficient, although you'll love having a haul loop or fifth gear loop for your shoes or tag line. If you're big wall climbing, look for at least four gear loops and a rated haul loop on the back of the harness.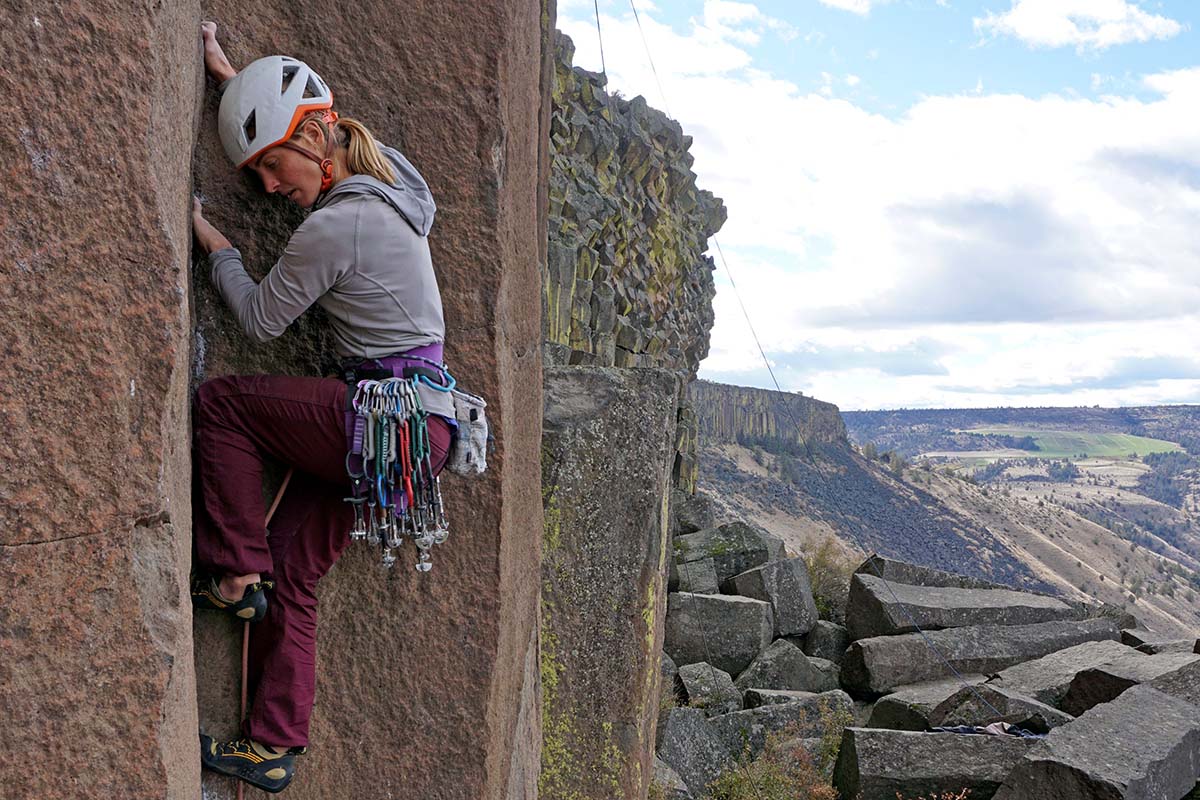 Haul Loop
Not every harness has or needs a haul loop, but many will find it an extremely useful feature. The haul loop is positioned on the back of the harness in between the two rear gear loops. This is where you'll attach a haul line, second rope, or your shoes during a multi-pitch climb. If you're not multi-pitch climbing, we can't think of much use for a haul loop. Most haul loops are not rated to take a fall, so this is not an appropriate loop to use to attach yourself to the rope or anchor—or to hang anything particularly heavy, for that matter. Haul loops on big-wall harnesses, however, often are rated, such as the 12-kilonewton loop on the Black Diamond Long Haul (for more on kilonewtons, see our "Safety and Ratings" section below).

Belay Loop
The belay loop is fairly straightforward: it's a super-strong ring of webbing that connects the waist loop and leg loops. It's also the point from which you hang your belay device for belaying or rappelling. If you're looking for a lightweight sport, alpine, or ice harness, look for a skinny belay loop. For trad or big-walling, look for a fatter belay loop or double belay loops. And most importantly, make sure to inspect your belay loop often for wear and tear.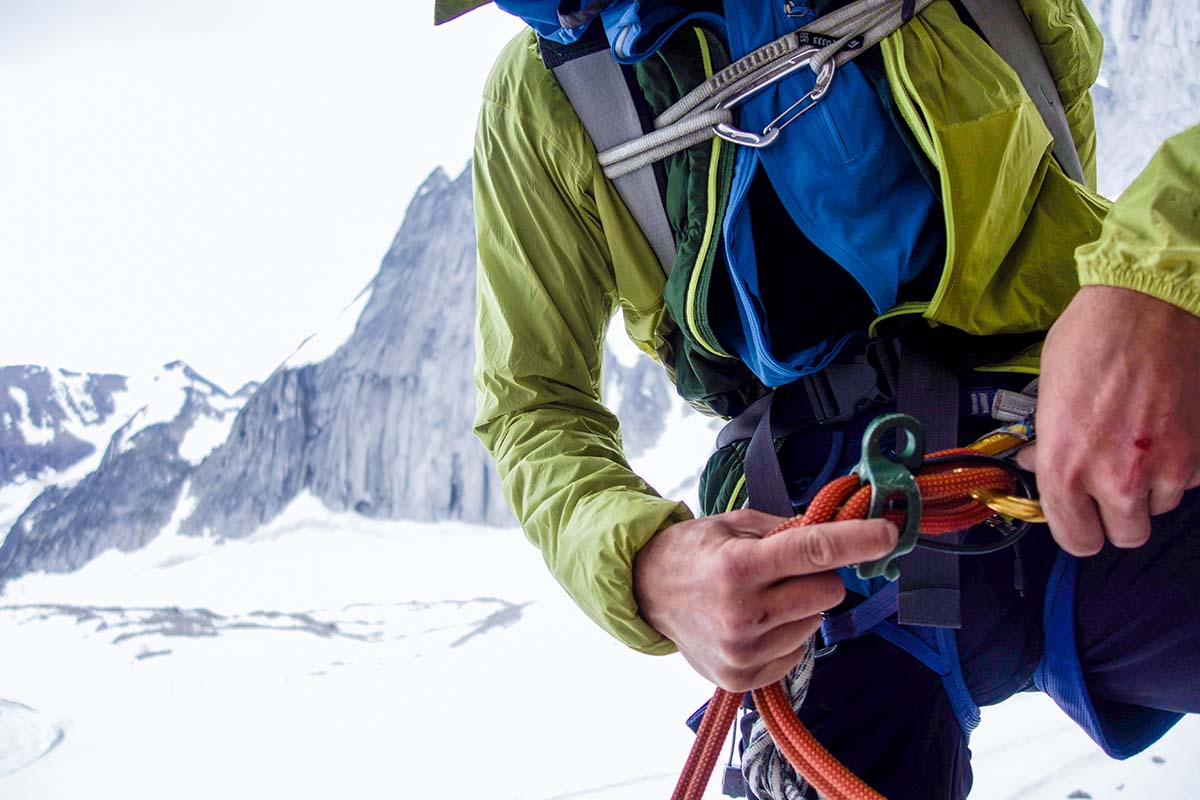 Sizing and Adjustability 
Sizing your harness appropriately is as important as getting the right harness for your preferred type of climbing. Unfortunately, it's not as easy as walking into the store and choosing a medium-sized harness since that's what you normally wear in pants. Sizing involves considering everything from the length of the belay loop (shorter ones force the leg loops higher into the crotch—uncomfortable for people with high hips), to the physical shape of the waist belt, to the amount of adjustability offered in the waist and leg buckles. It's also important to note that not all harnesses have leg buckles, but we do recommend them for those with strong legs or winter climbers who need the ability to add or subtract layers.
As with anything you wear, it's a good idea to try a harness on before you buy it. Go into the store, put it on, adjust it properly (the waist belt should sit higher than you wear your pants—right above your hips), and actually hang in it (most climbing shops and gyms have an area for you to do so). If you have the option, take some falls in the harness and see how it feels. Keep in mind that a harness doesn't need to be ultra-tight to be safe—you should be able to fit two fingers between your body and the waistbelt or leg loops. All harnesses will have elastic risers to help keep the leg loops riding near the apex of your thighs. Some are releasable with small buckles for easy bathroom breaks, while others are not. These should be cinched tight enough that your leg loops stay in place, but not so tight that they restrict your movement.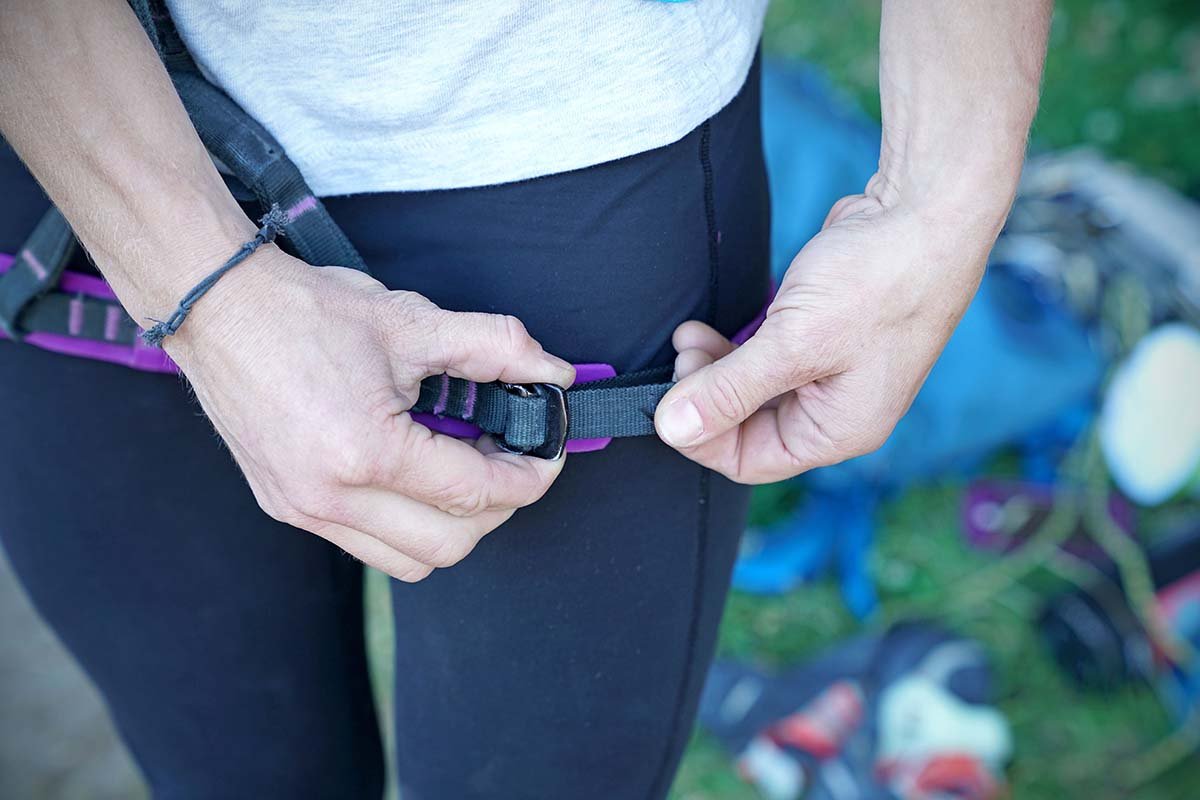 Men's and Women's Climbing Harnesses
Speaking of sizing, most harnesses are now made in both men's and women's fits. Bodies come in all shapes and sizes, and it's certainly not unheard of for a male climber to wear a "women's" harness, or vice versa. If it feels good, go for it. But take note that the waters can be a bit muddy around the naming of these different versions. For example, Edelrid's entry-level harness is named the Jay (for men) and the Jayne (for women)—even more confusing is the Petzl Adjama and Luna (same harness, two fits). Thankfully, Black Diamond is leading the charge in streamlining these naming schemes: their budget harness comes in a men's version and a women's version, both called the Momentum (the women's model used to be called the Primrose). And to help, we've linked to both options in all our product descriptions above.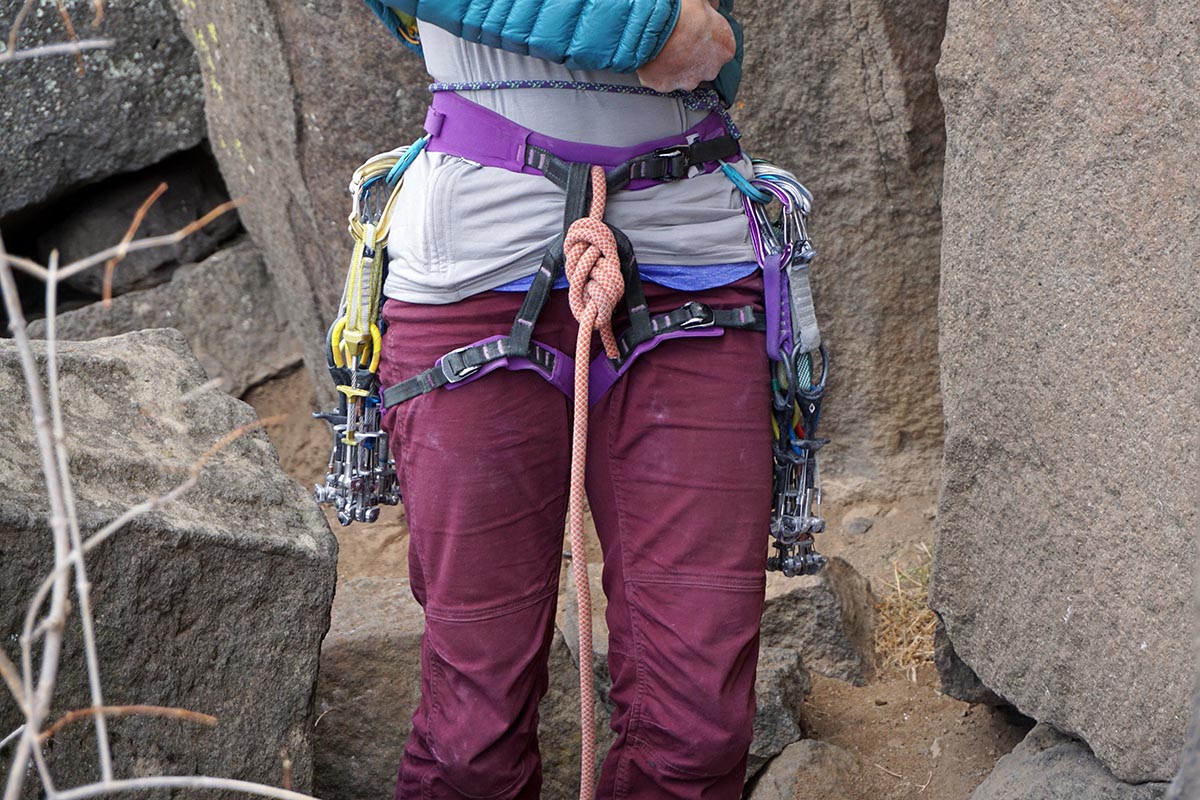 Weight
Climbing harnesses run the gamut from 3.1 ounces for the minimalist Blue Ice Choucas Light to a whopping 23 ounces for Black Diamond's big wall specialist, the Long Haul. Because lightweight gear often implies increased performance, weight is a huge concern for many climbers. Sport climbers pushing the grade will want to look not only for a lightweight set-up, but also a low-profile one (the last thing you want is to have your movement restricted by your harness). The same goes for alpine climbers and mountaineers, with a bigger emphasis on weight-saving and packability. As a general rule, the more you're walking in or carrying your harness, the lighter you want it to be. But weight doesn't matter for everyone: If you're climbing in the gym or casually at the crag, you can pretty much ignore the weight spec entirely—you'll notice an increase in comfort far more than a few extra ounces around your waist.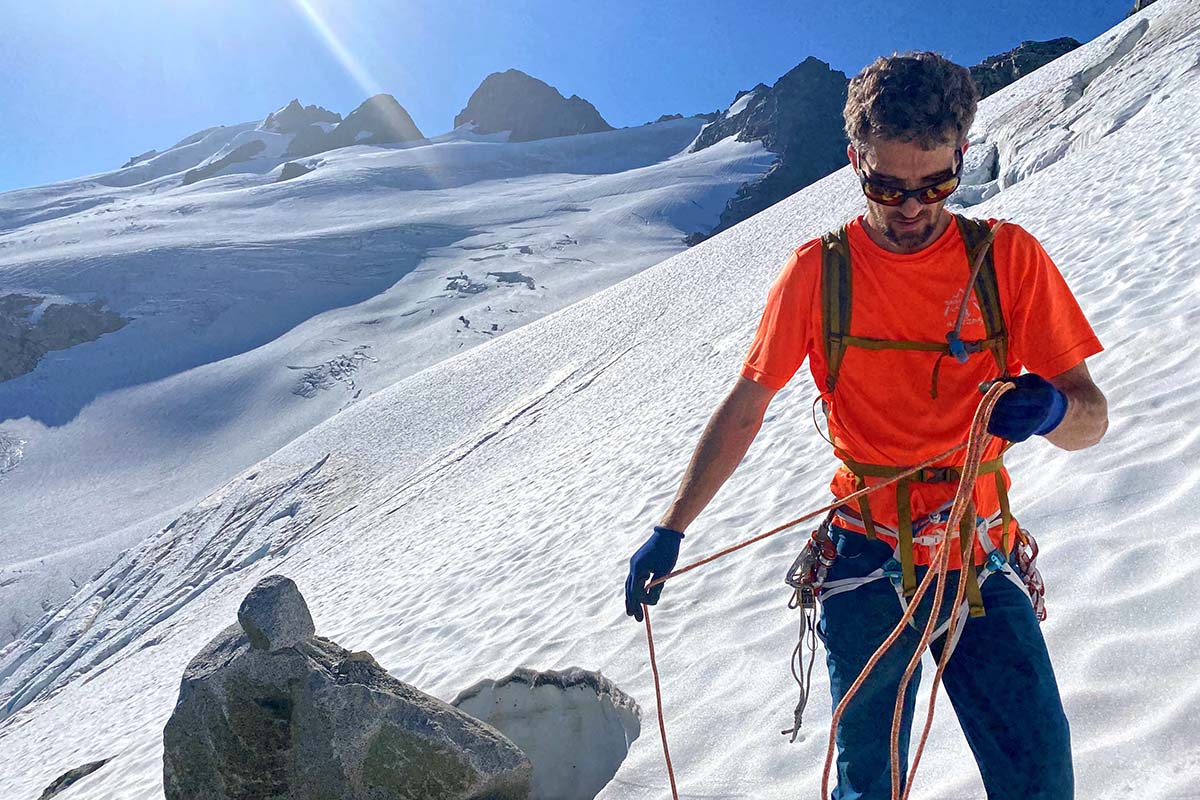 Safety and Ratings
All climbing gear that is part of your safety system (i.e. climbing rope, harness, carabiners, cams, quickdraws, etc.) is certified to hold a certain force, represented by a kilonewton (kN) rating. Without getting too deep into the details, a 1 kN-rating means a piece of gear can handle about 100 kilograms (or 220 lb.) of static weight. The amount of weight a kN represents decreases as the force of the fall increases—a lead fall, for example, will exert far more force on your gear than a static top-rope fall. Climbing gear, including harnesses, is usually rated in the range of about 14-25 kN.
Climbing harnesses are so strong that the number doesn't matter so much as knowing which parts of your harness are engineered to handle force, and which are not. You can count on a harness' tie-in points and belay loop to always be fully-rated, as this is where you'll attach the rope and belay device. Aside from these main connection points, it's good practice not to rely on any other part of your harness (a gear loop or leg loop, for example) for safety. The rare harness has a rated haul loop, which is essential for when you're attaching it to a line with a loaded haul bag. And then there's the Metolius Safe Tech All-Around: more fool-proof than any other harness on the market, all loops on this harness—including leg risers—are engineered to withstand at least 10kN of force.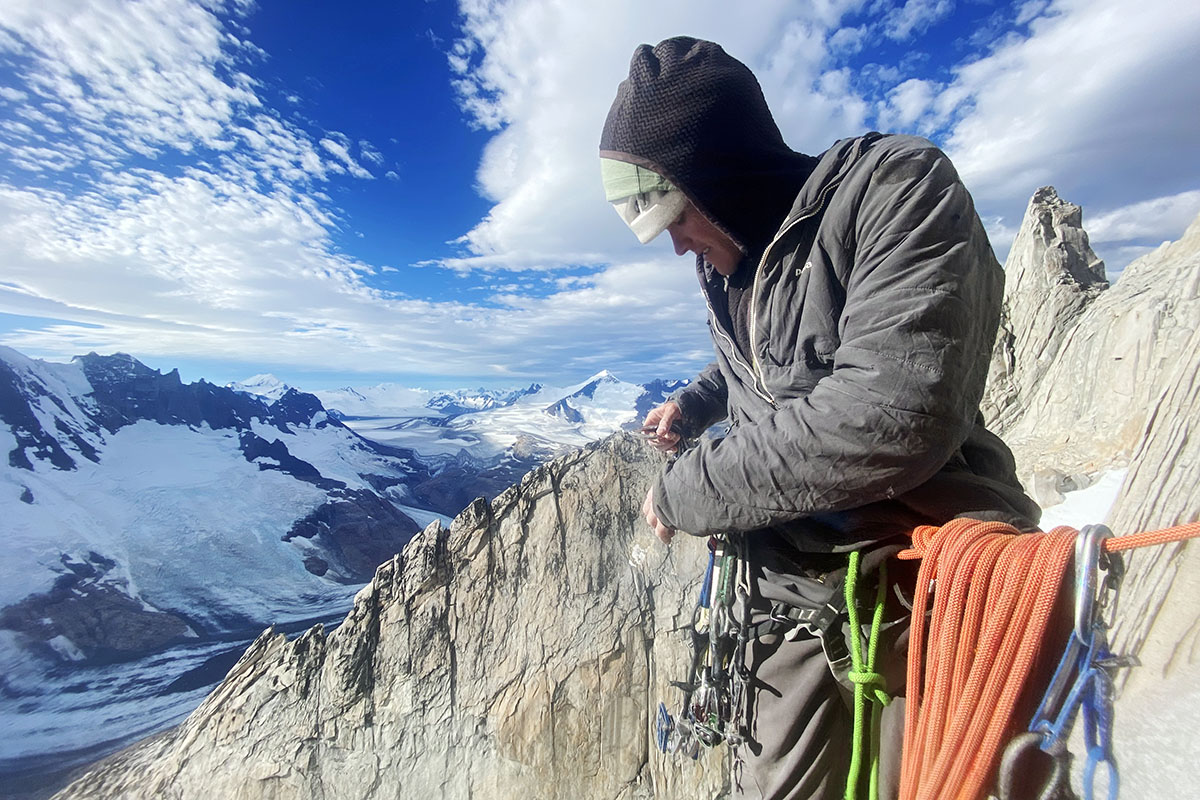 Durability and Retiring Your Harness
There are very few things in climbing that we rely on just one of. Most things are redundant, meaning they have a backup. Anchors always are made using at least two bolts or pieces of gear. We clip our rope to multiple pieces of protection when leading. Many of us secure ourselves using two separate clove hitches or personal anchors. But we rely on just one rope for safety and just one harness, too. Because of this—and we really can't stress this enough—it's immensely important to make sure your harness is in working order. Inspect it often for fuzziness or fraying, giving special attention to the belay loop. Follow the manufacturer's instructions for care, maintenance, and storage. And retire your harness when wear suggests it's done, or once it hits the suggested lifespan—whichever comes first.
When we talk about durability and climbing harnesses, much of what we're addressing pertains more to superficial materials and features than outright safety. The longevity of a harness is dependent on the type and thickness of the materials used, as well as the quality of construction and style of climbing you prefer. Sport climbers will worry less about durability than trad, alpine, and big wall climbers, just due to the nature of the contact with the rock (think delicate crimping vs. scraping up chimneys, glissading, or all-day hanging). Fortunately, most trad or big wall harnesses take this into account, using more robust fabrics, thicker belay loops, and more stitching. The Black Diamond Solution Guide, for example, is made with a much more abrasion-resistant external fabric than the Solution, and a harness like the Misty Mountain Cadillac incorporates oversized buckles and webbing.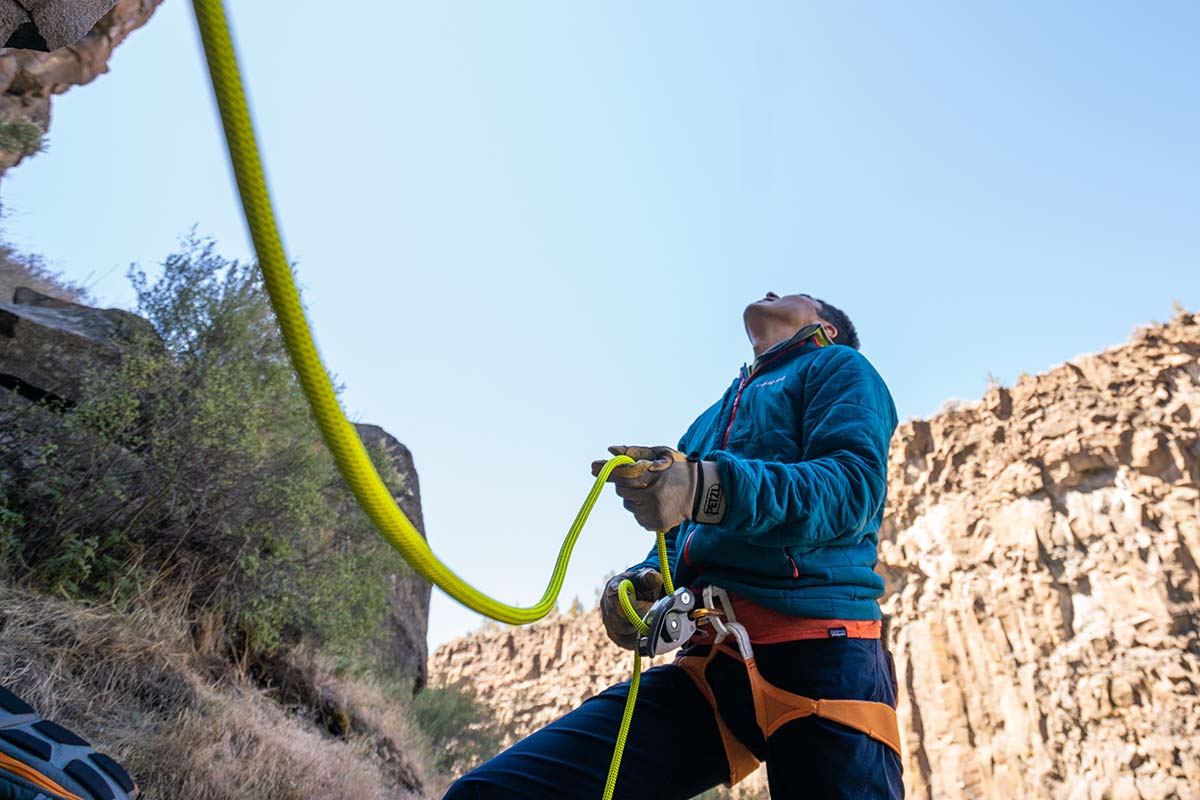 Comfort
Many features contribute to comfort in a harness. These include wide waist belts and leg loops, generous padding or split-webbing technology, breathable materials, and a good fit. In general, there's a correlation between comfort and weight: the heavier a harness, the beefier and more cushioned it will be for hanging without developing pressure points. As weight drops, padding is removed, waist belts and leg loops get thinner, and comfort suffers. But there is an exception to this rule: harnesses made with split-webbing technology are the best of both worlds. They're light and packable, but also incredibly adept at distributing the load evenly. For everything but aid climbing, these are our top picks. 
All that said, comfort while hanging is not the only detail to consider. Harnesses that are smaller, lighter, and lower-profile might not be ideal for long belays or hang-dogging (hanging from the rope while working through the moves on a route), but they are more comfortable to climb in. Again, we think split-webbing harnesses prevail here too. In general, it might help to consider whether you spend more time whipping and hanging versus climbing and walking. If it's the former, you'll want a beefier harness like the Metolius Safe Tech All-Around, or a high-quality split-webbing harness like the Arc'teryx AR-395a. If it's the latter, consider something like the Petzl Sitta or Camp Alpine Flash.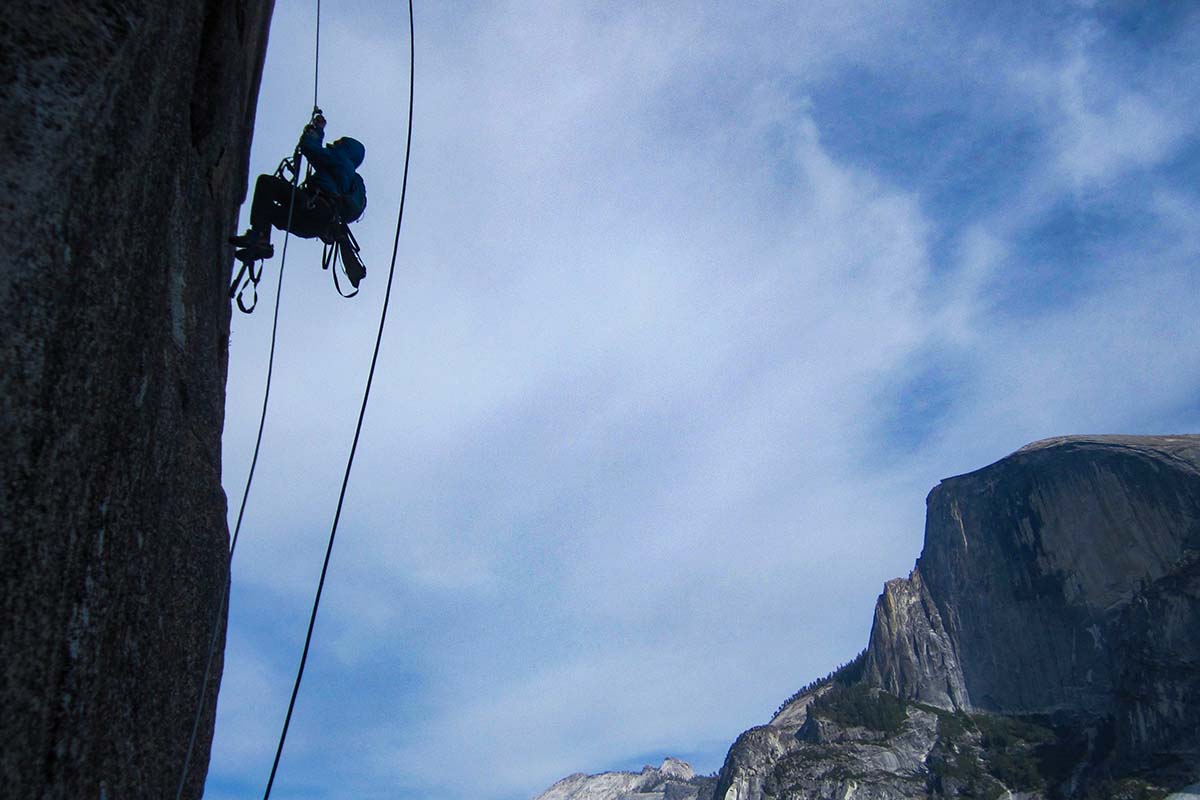 Price
Rather than focusing on style, type of climbing, or materials used, it's sometimes helpful to think of harnesses grouped according to price. Between around $50 to $70, think entry-level gym models and mountaineering harnesses (as well as sale items from past-year models). These will get the job done but aren't your most comfortable options (especially for hang-dogging). In the $70 to $100 window are your typical mid-range models, where you can find excellent sport climbing harnesses as well as some decent trad harnesses. We recommend most people end their search here. Finally, in the $100+ category are top-of-the-line harnesses for serious climbers. If you're shopping at this price point, you're probably planning to spend a lot of time in your harness and take it to some pretty extreme places. 
Back to Our Top Climbing Harness Picks  Back to Our Climbing Harness Comparison Table
Learn More About Climbing