There's a strong argument that the most important part of your ski touring kit is a pair of quality boots that fit well. The good news is that this growing category has seen some impressive advancements in recent years, with a plethora of models that excel both on the climb and descent. Below are our top backcountry ski boot picks for the 2023-2024 season, which range from lightweight builds for deep alpine exploring to downhill-oriented models that can split time between the backcountry and resort. For more background information, see our detailed buying advice and comparison table below the picks. And to complete your alpine touring setup, see our articles on the best backcountry skis and backcountry ski bindings.
 
---
Our Team's Backcountry Ski Boot Picks
---

Best Overall Backcountry Ski Boot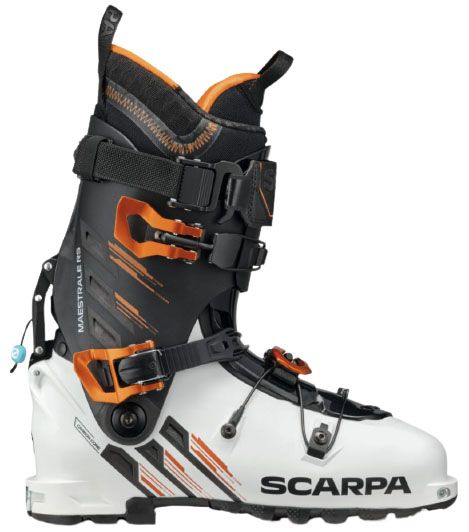 Category: All-around
Weight per pair: 6 lb. 7.6 oz.
Flex: 125
Other flexes: 100W, 110, 120W
What we like: Excellent performance on both the uphill and descent.
What we don't: Not burly enough to be a top crossover resort choice.
Many backcountry boots favor either uphill or downhill performance, but the Scarpa Maestrale RS's impressive balance of both earns it our top billing for the 2023-2024 season. To start, it's a standout on the skin track with a comfortable fit, lightweight construction, and 61-degree cuff rotation, which exceeds our ankle's range of motion. Further, the boot does a fine impression of an alpine model with a progressive 125 flex that can be driven hard. And Scarpa didn't skimp on the liner either: The included Intuition Pro Flex Performance is a proven design that is warm, resists packing out, and can be heat-molded for a custom fit.
The Maestrale RS (and women's Gea RS) was updated this year with carbon inserts on the shell and cuff for improved torsional rigidity and power transfer from the legs to the skis. Scarpa also added a new Vibram sole for improved grip and walkability. But it's still the Maestrale we know and love: The RS is compatible with a wide range of binding and crampon styles, sports a generous 102-millimeter last that accommodates most foot types, and its 125 flex rating is plenty sturdy for the vast majority of aggressive skiers. For a step down, Scarpa also makes a standard Maestrale, which is $100 less and boasts a 110 flex rating.
See the Men's Scarpa Maestrale RS  See the Women's Scarpa Gea RS
Best Crossover Backcountry/Resort Boot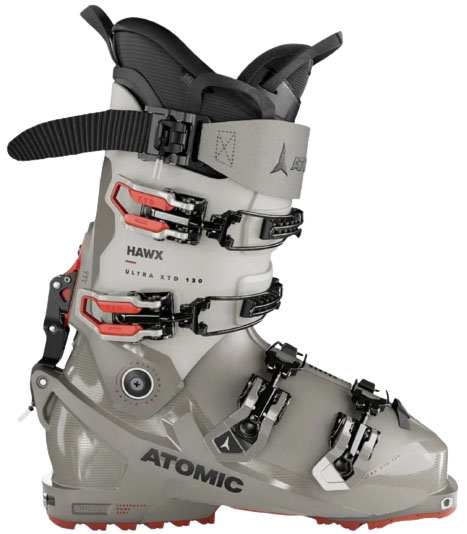 Category: All-around/crossover
Weight per pair: 8 lb. 0.8 oz.
Flex: 130
Other flexes: 95W, 110, 115W, 120
What we like: Well-rounded performance for backcountry and resort use; smoother flex with the latest model.
What we don't: Falls short of the Maestrale for touring.
Truth be told, many backcountry skiers split their time between touring and the resort. The good news for these folks is that there are a growing number of one-quiver boot options, including Atomic's Hawx Ultra XTD 130. The Hawx is reasonably nimble for walking and skinning, but with an aggressive stance, four-buckle design (many backcountry models use two or three), and a substantial liner, it truly holds its own on steep groomers. What's more, the latest version features an updated shell material that offers a more progressive flex (and an easier on/off experience). 
The Hawx Ultra XTD toes the line better than most, but as with any all-in-one answer, there are some compromises. Race-oriented downhillers will want a little more stiffness and control, and dedicated backcountry enthusiasts will prefer the Maestrale RS above with its lighter weight, smoother tour mode, and better range of motion. And while its main competitor—the Lange XT3 Free—can ski more aggressively, the Atomic is the better option for those putting in a fair amount of time on the skin track. The Ultra listed here has a snug 98-millimeter last, but Atomic also offers the roomier Hawx Prime XTD 130 GW ($900) with a 100-millimeter last. And for the closest fit, check out the new-age Hawx Ultra XTD 130 Boa GW ($950), which features a Boa dial.
See the Men's Atomic Hawx Ultra XTD 130  See the Women's Atomic Hawx Ultra XTD 115
Best Ultralight Ski Touring Boot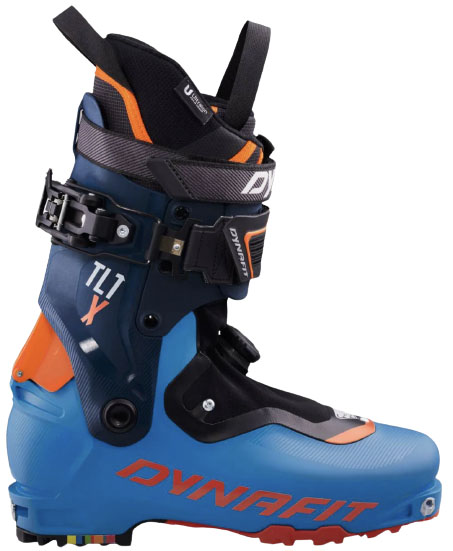 Category: Ultralight
Weight per pair: 4 lb. 9 oz. 
Flex: Unavailable
What we like: Super lightweight and quick to transition; new model forgoes speed nose for better crampon and binding compatibility.
What we don't: Can't charge like an alpine boot.
Short for "Tour Lite Tech," Dynafit's TLT collection has helped to define modern ski touring as we know it. Updated last season, the TLT X shaves off almost a half-pound from the previous version and brings the pair under 5 pounds. The new model features a Boa-like lacing system (Dynafit calls it "Twistfit"), which securely snugs the boot around the instep and heel, and the sleek upper buckle both adjusts the cuff and quickly transitions between ski and tour modes. The X also boosts comfort with a wide, 101-millimeter last (in Dynafit's words, designed for "North American feet") and an updated Dynafitter 5 boot liner, which is a step up from the minimalist liner of the TLT 8.
Another noteworthy change with the TLT X is the omission of the "speed nose." Used in previous iterations of the boot, this design maximized touring efficiency but limited binding and crampon compatibility. Now with a full toe welt, the new TLT can be paired with automatic crampons and is compatible with most multi-norm bindings. But keep in mind that while the TLT series is a longtime favorite among the fast-and-light touring and ski mountaineering crowd, the boot does have its shortcomings: It's fairly stiff relative to its feathery construction, can feel harsh, and is more difficult to drive in poor snow conditions. But among the ultralight competition, the TLT X has no equal, making it our favorite boot for backcountry skiers covering a lot of ground. And for the 2023-2024 season, Dynafit now offers the TLT X Extra Wide—with a 107-millimeter last, this is a one-of-a-kind solution for wide-footed backcountry skiers.
See the Men's Dynafit TLT X  See the Women's Dynafit TLT X
Best Budget Backcountry Ski Boot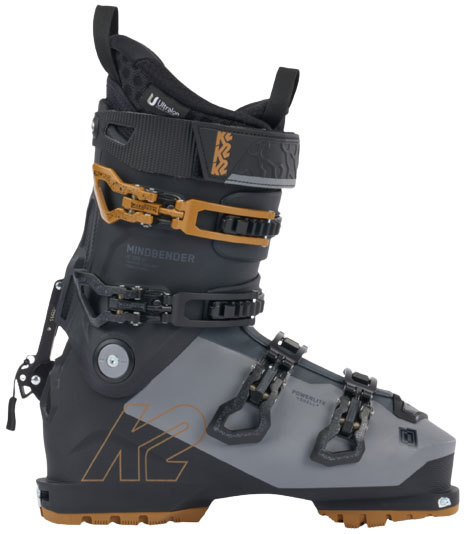 Category: Crossover
Weight per pair: 7 lb. 12.2 oz.
Flex: 100
Other flexes: 95W, 115W, 120, 130
What we like: Solid entry-level backcountry boot at a great price.
What we don't: Not for hard chargers and inefficient on longer tours.
Touring boots are undeniably expensive, but K2's Mindbender 100 is a solid entry-level design for skiers splitting time between the resort and backcountry. Beginners should prioritize comfort more than anything else, and the Mindbender's generous last and heat-moldable liner and shell help to ensure a good fit. Further, you get the benefit of compatibility with both alpine and tech bindings—a great setup for those who want to try out backcountry skiing but aren't ready to fully commit. Add it all up, and at $600, the K2 Mindbender 100 ticks all the boxes for beginner skiers on a budget.
Considering the great price—for a backcountry boot, at least—you can expect a few drawbacks. For one, the Mindbender is far from light at over 7.5 pounds when you factor in its modest 100-flex rating. While many of the models in this article are made with Grilamid or carbon, the K2's more affordable TPU shell adds significant heft. Additionally, its 50-degree range of motion is only average, and it lacks the friction-free performance of higher-end alternatives. On the downhill, the 100-flex rating is missing the precision and power that you get with a stiffer design (K2 does make 120-flex and 130-flex versions for $700 and $800, respectively). Serious riders should stick with a premium option like the Scarpa Maestrale RS above, but the Mindbender is a solid choice for adventurous resort skiers that want to dabble in the backcountry.
See the Men's K2 Mindbender 100  See the Women's K2 Mindbender W 95
Best of the Rest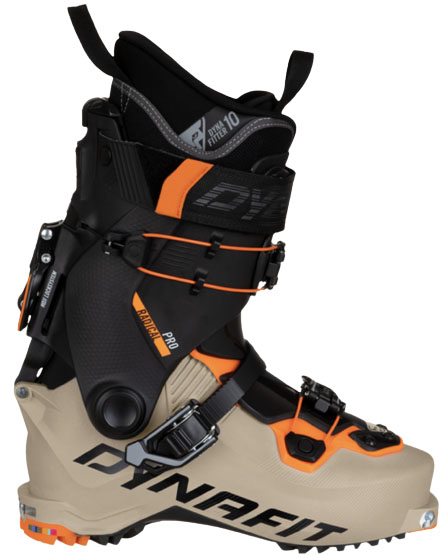 Category: All-around
Weight per pair: 6 lb. 2.8 oz.
Flex: 120
Other flexes: 110, 110W, 120W
What we like: A great all-around boot with the ingenious Hoji Lock System.
What we don't: Doesn't charge as hard as the Scarpa Maestrale RS.
Dynafit's Hoji Pro Tour was the first model of the now-beloved Hoji lineup, and it recently saw a full refresh (and name change) in the Radical Pro. This boot is fine-tuned for classic ski touring, with a high volume (the 103.5mm is one of the widest here), 60-degree range of motion in walk mode, and relatively light weight that will satisfy most recreational skiers. And like its predecessor, the Radical Pro features the innovative Hoji Lock System (which makes transitioning between skiing and skinning a one-step breeze) but replaces the speed nose with a more standard design, resulting in more versatility with a range of bindings.
The Radical Pro gives our top-ranked Scarpa Maestrale RS a run for its money in most departments, but falls short for hard-charging skiers with a less aggressive stance (11˚ forward lean vs. the RS's 16˚) and a bit softer build. But the Radical Pro hits a really nice middle ground for the majority of backcountry-goers, and particularly those with wide feet. Dynafit also makes the standard Radical ($650), which features a 110 flex and more basic PU cuff (rather than the Pro's fiber-reinforced Grilamid), and drops the Hoji Speed Lock system for a more traditional boot design.
See the Men's Dynafit Radical Pro  See the Women's Dynafit Radical Pro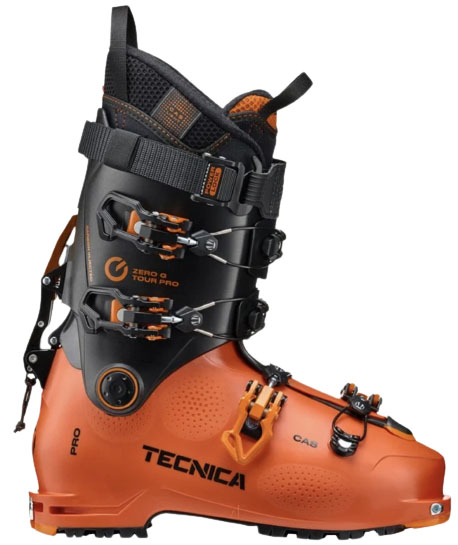 Category: All-around
Weight per pair: 5 lb. 13.1 oz.
Flex: 130
Other flexes: 105W, 110, 115W, 120
What we like: Very lightweight for a stiff, aggressive boot.
What we don't: Thin liner impacts comfort.
Tecnica's Zero G boots are some of the most sought-after designs among committed backcountry riders. The top-end Tour Pro here uses a thin Grilamid shell, and carbon fiber in the cuff keeps it light while also adding stiffness. Additionally, the walk mechanism connects in two spots when locked into ski mode—both at the top of the spine and the bottom—keeping the boot from bowing and deforming under pressure and increasing the flex point. Overall, these features make the Tour Pro one of the lightest, stiffest touring boots on the market.
Tecnica trimmed away over one pound with this latest model, which certainly is impressive, but we're curious to see how the boot stands the test of time. Comfort also suffers a bit with the minimalist build, and not everyone will like the thin liner. And take note: A 130 flex makes for a solid boot for expert skiers, but this stiff and unforgiving build will overpower those with less experience. If this sounds like you, Tecnica also offers the Zero G Tour Scout and standard Tour, which have 120 and 110 flex ratings, respectively.
See the Men's Tecnica Zero G Tour Pro  See the Women's Tecnica Zero G Tour W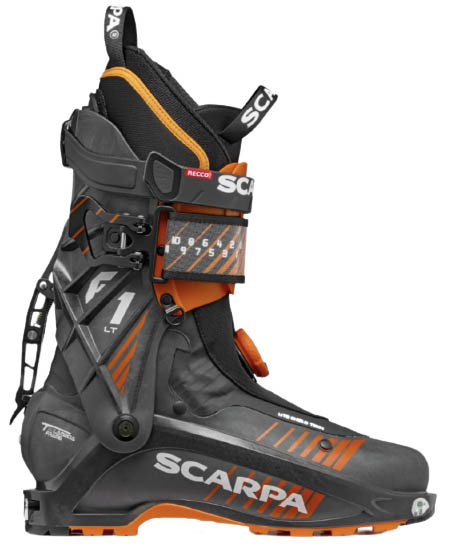 Category: Ultralight
Weight per pair: 4 lb. 6 oz.
Flex: 100
Other flexes: 100W
What we like: A lightweight and capable boot for high-mileage days.
What we don't: Thin construction impacts warmth and durability.
Relatively new to the ultralight scene, the Scarpa F1 LT is worth talking about. This boot is the love child of two of Scarpa's classics, the skimo-focused Alien and the all-rounder F1, resulting in a ridiculously capable alpine touring machine. For uphill pushes and long traverses, you get 72-degree range of motion and a feathery-light weight of 2 pounds 3 ounces per boot. And when the descents get technical (as they tend to do in the mountains), the F1 LT is a predictable partner with a solid Carbon Grilamid shell and cuff and 3D Lambda Frame that give it a progressive flex (at least relative to its feathery weight).
The F1 LT goes head-to-head with boots like the Dynafit TLT X above and Atomic Backland Carbon below. With a flex of 100, it's softer and a bit more accommodating for lighter and less experienced skiers, especially compared to the more rigid TLT X. Scarpa beats out all of the competition in terms of weight, including the TLT X and the Backland, though just by a small margin. Really, you'd be hard-pressed to find a lighter touring boot that doesn't sacrifice features like a full shell and cuff. The only thing that gives us pause is that the F1 LT's weight-cutting measures impact warmth and durability, but these are expected tradeoffs in the UL market. For those wanting an uphill rocket, the F1 LT is definitely worth having on your short list.
See the Men's Scarpa F1 LT  See the Women's Scarpa F1 LT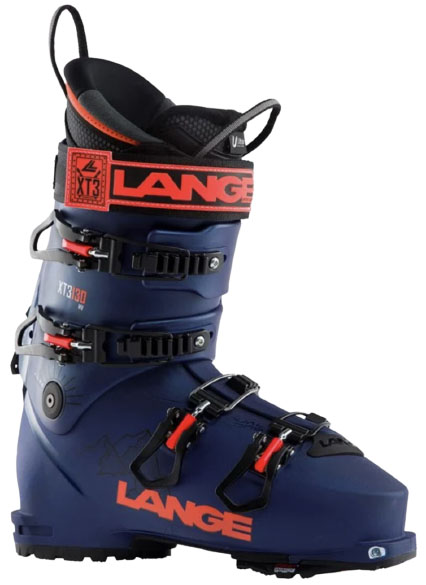 Category: Crossover
Weight per pair: 7 lb. 14 oz.
Flex: 130
Other flexes: 85W, 95W, 110, 115W, 120
What we like: The downhill capabilities of an alpine boot with a walk mode.
What we don't: Too heavy for long tours.
On the pendulum of uphill and downhill performance, Lange's XT3 Free swings decidedly toward the latter. Featuring a strong 130 flex, snug and performance fit from the four-buckle design, and a shell construction that's shared with their impressive RX downhill boot, the XT3 Free is as confidence-inspiring as it gets when skiing big lines and through variable conditions. But flip the lever into walk mode, and you get surprisingly good range of motion (53˚ with the latest model) and the GripWalk soles hold their own while hiking. For sidecountry skiers or those who want one boot that can transition between the resort and backcountry, the Lange XT3 Free is a strong option.
What do you give up by going with such a downhill-focused boot? Most notably, the Lange XT3 Free is one of the heaviest designs on our list at almost 8 pounds for the pair, which is a significant downside for those spending extended time on the skin track. And while crossover boots are an undeniably heavy and bulky breed, the Atomic Hawx Ultra XTD above feeling nimbler and more comfortable for longer walks (despite coming in at a similar weight). Regardless, with Lange's performance on the descent and the added ability to choose between flexes and last widths (low volume, or "LV," versions are also available), the Lange XT3 Free is a great match for aggressive riders embarking on the occasional uphill foray... Read in-depth review
See the Men's Lange XT3 Free 130 MV  See the Women's Lange XT3 Free 115 MV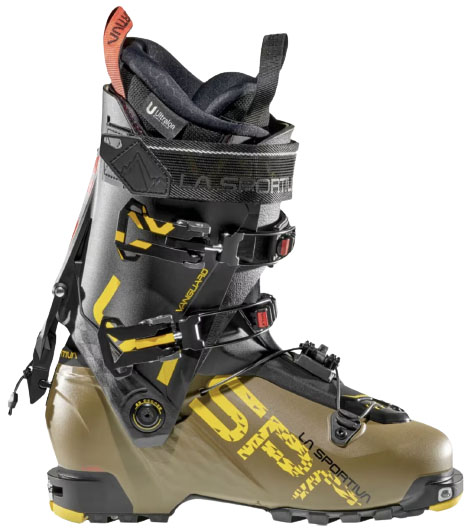 Category: All-around
Weight per pair: 6 lb. 0.6 oz.
Flex: 130
What we like: Relatively wide last and large flex offer great comfort without sacrificing downhill performance.
What we don't: Buckles have a tendency to break.
Lighter and stiffer than its four-buckle sibling, the Vega, the La Sportiva Vanguard offers uphill performance alongside enough structure to hold its own on the descent. With three easy-to-adjust buckles and an impressive 63-degree range of motion, the boot stands out where most stiff designs fall short and lands near the top of the heap for touring comfort and efficiency. Additionally, the Vanguard's V-shaped cuff design not only makes it very easy to get on and off, but creates a full wrap in ski mode for efficient power transmission on the descent. The combined tourability and 130 flex means that the Vanguard is capable of driving heavier skis, yet light and comfortable enough to make taking another lap an easy choice. 
Looking at the numbers, the Vanguard gives our top-ranked Scarpa Maestrale RS a run for its money. The Sportiva's stiffer flex (130 vs. the Scarpa's 125) is a boon on the descent; for the uphill, it offers a slightly wider range of motion (63˚ vs. 61˚) and is 7 ounces lighter for the pair. However, the Vanguard falls disappointingly short in terms of durability. We've read countless claims of buckles busting, which can be enough to land the boots on the shelf for the remainder of the season. In the end, it seems as though the Vanguard might be a little too lightweight for its own good. We're hopeful that La Sportiva made some improvements in the most recent update, and will update this review once we have a chance to see the boots in action. 
See the Men's La Sportiva Vanguard  See the Women's La Sportiva Vanguard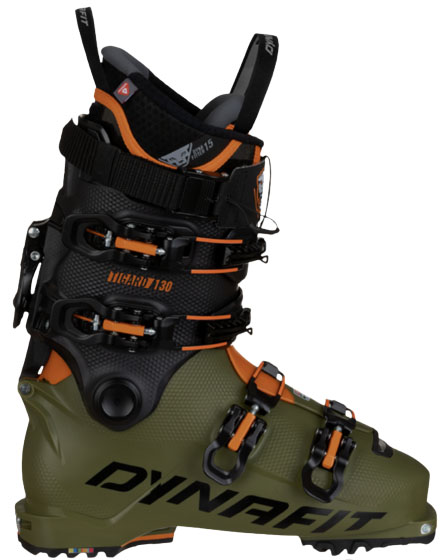 Category: Crossover
Weight per pair: 7 lb.
Flex: 130
Other flexes: 110
What we like: An impressive balance of freeride performance and touring capability.
What we don't: Unless you're truly splitting your time, other options will save weight.
For the 2023-2024 season, Dynafit is fully leaning into frontside performance, and the new Tigard 130 is a case in point. Fans of the widely popular Dynafit Vulcan (discontinued several years ago) may find a worthy replacement in the Tigard, a four-buckle boot that boasts a stiff 130 flex and 13 degrees of forward lean. Additionally, an overlapping Grilamid and carbon shell fully wraps the foot in an alpine-style construction, and a quality Primaloft liner boosts warmth on lift-riding days. But it can hold it's own as a touring boot, too, with 70 degrees of cuff rotation, Dynafit's unique Hoji Lock System for fast and easy transitions, and a reasonable weight of just 7 pounds for the pair.
It's not difficult to make an aggressive ski boot—these are a dime a dozen in the downhill boot category—but the true challenge comes in the crossover design. For this reason, we're excited to see Dynafit re-enter this space, as the Austrian brand brings a lot of uphill expertise to the table. The Tigard is undoubtedly no exception, with walkability and ease of transition on par with many all-around and ultralight models here (in fact, its listed range of motion is the 3rd best on our list). Popular crossover designs like the Atomic Hawx Ultra XTD and Lange XT3 Free should be shaking in their boots (no pun intended), and we're excited to see how the Tigard fares during early-season testing. Finally, it's worth noting that Dynafit also offers the boot in a 110-flex version, which will appeal to lighter or less aggressive skiers. 
See the Dynafit Tigard 130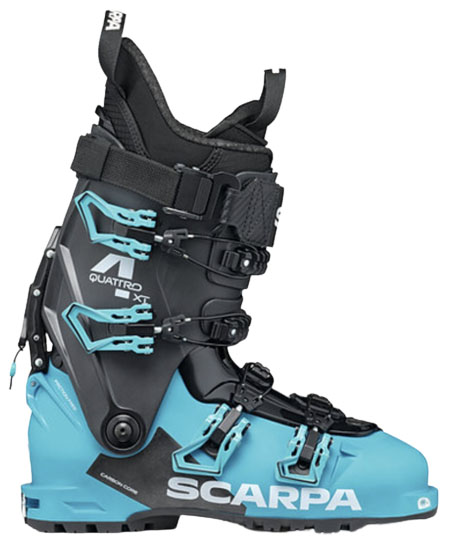 Category: Crossover/all-around
Weight per pair: 6 lb. 9.8 oz.
Flex: 130
Other flexes: 100W, 115W, 120
What we like: Lighter than the Atomic Hawx Ultra XTD and skiability on par with the Lange XT3 Free.
What we don't: GripWalk sole is not replaceable; boot runs small.
The third Scarpa boot to make our list is the 4-Quattro XT, their popular crossover offering. While the F1 LT is a classic amongst fast-and-light skiers and the Maestrale is an incredible all-rounder, the 4-Quattro XT sits at the top of Scarpa's lineup as their most aggressive touring boot for the downhill-focused crowd. On the descent, the Quattro is a true beast, with a stiff 130 flex and four-buckle design offering a confidence-inspiring ride on par with the likes of the Lange XT3 above. On the other hand, it's relatively light for a crossover boot (6 lb. 9.8 oz. for the size 27) and features an impressive 61˚ range of motion, which is competitive even with the Maestrale RS in terms of uphill performance (6 lb. 6 oz., 61˚). 
The 4-Quattro XT has been our boot of choice this season for resort and lift-accessed backcountry skiing, and it's become a strong contender for our top crossover pick. But while the Scarpa is currently the lightest GripWalk boot in its class, it does make some compromises. The GripWalk sole is permanently fixed, meaning it can't be replaced (especially applicable for guides, patrollers, and others who put a lot of mileage on their soles). Second, they're fairly slim-fitting—an "old-school alpine, crush-your-feet kind of feel" in the words of our tester—although on paper the 100-millimeter last is fairly standard (we sized up and were happy with the fit). All told, the 4-Quattro XT is an exciting new entry from one of the best in the business, and should be high on the list for the crossover crowd... Read in-depth review
See the Men's Scarpa 4-Quattro XT  See the Women's Scarpa 4-Quattro XT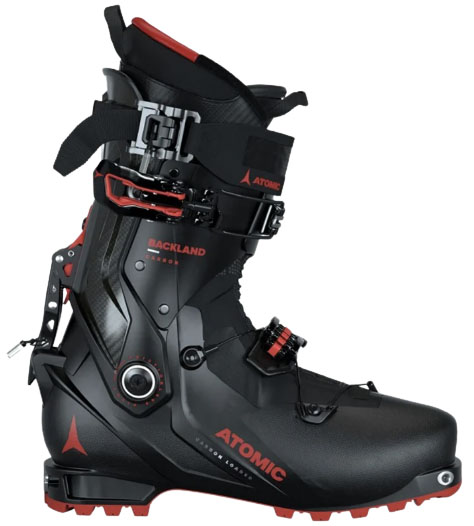 Category: Ultralight
Weight per pair: 5 lb. 2 oz.
Flex: 110
What we like: Impressive range of motion with high flex point for aggressive downhill skiing.
What we don't: Superlight build compromises durability and dampness in rough snow.
At just over 5 pounds for the pair, the Atomic Backland Carbon is among the lightest boots on our list, and a solid choice for uphill-focused skiers with high downhill demands. Combining a 74-degree range of motion with a relatively stiff 110 flex, the Backland is on par with the Scarpa F1 LT and Dynafit TLT X in terms of mobility, although it doesn't quite measure up in terms of weight. And with a recent update, the boot is now easier to transition: Atomic removed the removable tongue stiffener—an innovation that proved too cumbersome in use—and instead built downhill stiffness into the spine.
With the most recent update, Atomic ditched the Boa lacing system in lieu of a buckle-and-cable system and revamped the liner to make it more resistant to packing out. These updates added a few ounces to the boot's weight (from 4 lb. 14 oz. to just over 5 lb.), but we still think the Backland ranks on par with the F1 and the TLT X. That said, with all the new tech, we have slight concerns about the boots' long-term durability, although we're happy to see metal used for the top buckle. But these are fairly common concerns for ultralight boots, and the Backland's combination of weight, mobility, and downhill performance make it a very appealing option.
See the Atomic Backland Carbon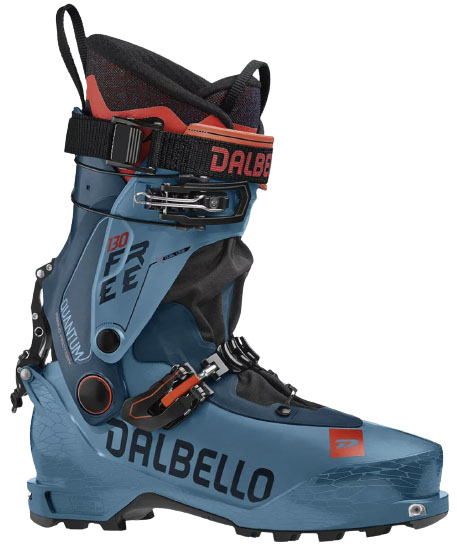 Category: All-around
Weight per pair: 5 lb. 13 oz.
Flex: 130
What we like: Great warmth, comfort, and downhill performance for the weight.
What we don't: Lacks power on a heavier ski setup.
It's rare to see a lightweight two-buckle boot claim a 130 flex, but that's exactly what's happening with the Dalbello Quantum Asolo Factory 130. Launched a few years ago, the Quantum has been worked on so much each year that older iterations hardly resemble the current model. What makes this boot stand out? For one, it's among the lightest boots for its flex rating (the Tecnica Zero G Pro Tour is comparable), and its 65-degree range of motion in walk mode puts it up there with the best in touring capability. Second, fit is excellent: The 100-millimeter last will fit most feet, and in the latest version, Dalbello swapped the stiff carbon-reinforced shell for a two-part bonded shell that offers a more accommodating shape. And finally, we're happy to see that the latest Quantum ditched the flimsy-looking cord of previous versions and went with slightly heavier but way more durable buckles. 
But it's hard to ignore that this boot has seen a lot of changes from season to season, and we need to give it some more time before we move it up in the rankings. Additionally, we've found that its flex, while nicely progressive, is a little softer than the claimed 130—if boot stiffness is paramount, you'll be better off with the La Sportiva Vanguard or the Tecnica Zero G Tour. On the other hand, the Quantum is a great option for those whose feet are too narrow for the Dynafit Radical Pro above. All told, we're impressed with Dalbello's continued improvements to its touring boot offerings, and the Quantum Asolo Factory is another example of why we keep paying close attention to the brand. 
See the Dalbello Quantum Asolo Factory 130
Category: Crossover
Weight: 7 lb. 12 oz.
Flex: 120
Other flexes: 90W, 100, 110W, 130
What we like: Alpine boot-like design and performance.
What we don't: Relatively limited range of motion.
As a follow-up to their standout Shift binding, Salomon has released a touring boot under the same name. The hybrid design targets downhill-oriented riders with traditional alpine boot features like a four-buckle layout, sturdy shell, and a warm liner. The fit also is among the most customizable on our list thanks to Salomon's Custom Shell HD, which is shared with the brand's popular S/Pro resort boot and allows for extensive head molding. For the uphill, the Shift checks the right boxes with an easy-to-access hike lever, tech inserts, and GripWalk soles for reliable traction.
Who is the Salomon Shift Pro best for? With its powerful and heavy build, the design caters more to the resort crowd that mixes in the occasional half-day tour. Switching into tour mode gets you pretty limited freedom of movement—its 43-degree range of motion is one of the smallest on our list and falls short of other freeride models like the K2 Mindbender (50˚) and Lange XT3 (53°). That said, if your climbs aren't especially steep or you don't mind sacrificing some efficiency, the Salomon's resort-inspired construction has a lot of appeal among skiers who like to charge both on- and off-trail.
See the Men's Salomon Shift Pro 120  See the Women's Salomon Shift Pro 110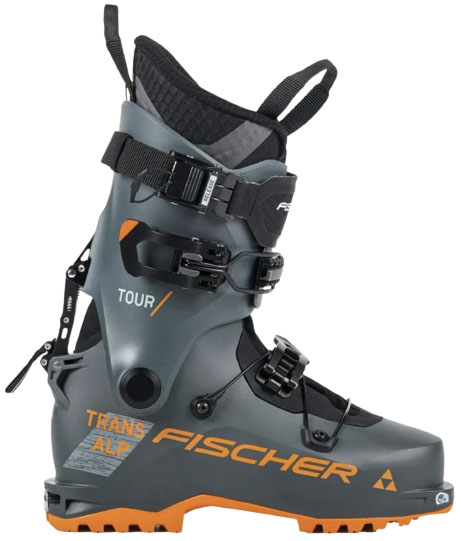 Category: All-around
Weight per pair: 5 lb. 15 oz.
Flex: 110
Other flexes: 100, 110W
What we like: Sustainably made Pebex Rnew shell and 80-degree range of motion.
What we don't: Not as stiff as the Maestrale RS above.
New last season, Fischer's Transalp lineup features three ski touring designs: the Pro, the Tour (and women's Tour), and the entry-level TS. These boots slide right into our all-around category, with equal focus on both uphill and downhill performance. And the headliner for the Pro and Tour models is the Pebax Rnew shell, which is sustainably made from 65% castor oil (a natural and degradable alternative to plastic). Not only that, but Pebax is thought to be more durable and responsive than Grilamid, a standard material in designs like the Zero G Tour Pro above. Added up, the Transalp is another solid contender for backcountry-goers looking for a boot that's as fun on the skin track as it is in the powder stashes.
At just under 6 pounds for the pair, the Transalp Tour is a bit lighter than our chart-topping Scarpa Maestrale RS, and it also comes with the added benefit of an 80-degree cuff rotation (the Pro drops even more weight at 5 lb. 10.3 oz.). Taken together, this means that the Fischer offers slightly better performance on the uphill. But the tradeoff comes in flex—while the Maestrale RS clocks in at 125, the Tour receives a "stiff" rating that is decidedly not as progressive as the Scarpa's. On the other hand, it's a nice bump up from an ultralight model like the T1 LT or TLT X above. Backcountry skiers are always walking that fine line between uphill and downhill performance, and the new Transalp Tour is another high-quality and well-balanced option.
See the Men's Fischer Transalp Tour  See the Women's Fischer Transalp Tour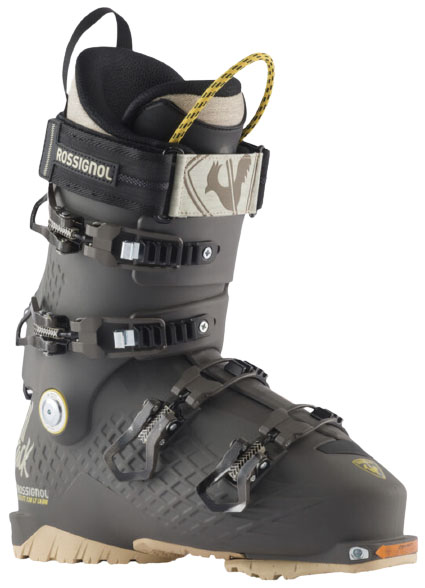 Category: Crossover
Weight per pair: 7 lb. 11 oz.
Flex: 130
Other flexes: 90W, 110W, 110, 120
What we like: Like the Lange XT3 Free, the Alltrack is confidence-inspiring on the descent.
What we don't: Heavy and fairly limited range of motion.
Rossignol's Alltrack Elite is built for those who aren't ready to bid farewell to their loyal resort skis and bindings. While in ski mode, the Alltrack Elite feels like a true alpine boot: it has an aggressive stance, four sturdy buckles, and the shell is stiff but precise. Additionally, the GripWalk sole makes it easy to swap between touring and resort setups (provided you have modern bindings), and the Thinsulate-filled liner offers sufficient warmth for season-long use. Its narrow 98-millimeter last might not work for all foot shapes, but the Alltrack Elite is well-equipped for hard chargers that like to take on ambitious side- and backcountry lines.
With the Alltrack's emphasis on downhill performance, you inevitably give up some of the seamless walkability of a dedicated backcountry boot. Rossi's hike mode and more traditional buckle system simply can't match the ease of use and freedom of movement that you get with Scarpa's Maestrale or Dynafit's Radical Pro above. And among sturdy freeride-oriented models, the Lange XT3 Free has a little better range of motion and climbing comfort. But the Rossignol remains a well-made, versatile boot overall, and there's real value in being able to use it interchangeably at the resort and in the backcountry... Read in-depth review
See the Men's Rossignol Alltrack Elite 130  See the Women's Rossignol Alltrack Elite 110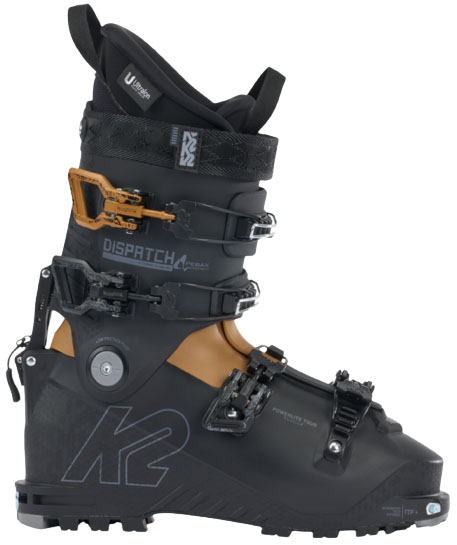 Category: All-around
Weight per pair: 6 lb. 11 oz.
Flex: 130
Other flexes: 110, 120
What we like: An impressive 60˚ range of motion in walk mode.
What we don't: Not as light as the competition and the liner is tough to get on and off.
Last but not least is one of K2's newest boots, the Dispatch Pro. K2 has always done well with their downhill-focused crossover collection (see the Mindbender above), but the Dispatch Pro ups the tech with an aim to achieve better uphill performance without compromise. They even go so far as to classify the Dispatch line as "freetour"—a hybrid of freeride and touring—which is a bold claim. But everything about the Pro seems to back it up: The boot balances a 60-degree range of motion with a stiff 130 flex rating while checking in under 7 pounds—these specs alone are enough to hold our attention—and fine-tuning the fit is as easy as twisting the Boa adjustment dial (note: this tech does make the boot rather hard to get on and off). Finally, with a 100-millimeter last and heat-moldable shell and liner, the Dispatch Pro should be a comfortable pairing for most feet.
Along with the Pro here, the Dispatch collection also includes a beginner friendly boot (the standard Dispatch) and the Dispatch LT. The Dispatch ($700) features a flex of 110 and purposefully retains the feel of an alpine boot, which makes it a great pick for those just beginning their transition from the resort. On the other hand, the LT ($800) prioritizes weight-savings with a 120 flex and sub 6.5-pound build. For the weight, these boots can't quite match the downhill performance of designs like the Scarpa Maestrale and Tecnica Zero G Tour Pro, but the Pro does have a competitive range of motion (60˚ compared to the Scarapa and Tecnica's respective 61˚ and 55˚). Time will tell as to how the Dispatch line fares in a competitive market, but it's certainly a solid entry from a well-respected brand.
See the K2 Dispatch Pro
Backcountry Ski Boot Comparison Table
Backcountry Ski Boot Buying Advice
What Are Backcountry Ski Boots?
Backcountry ski boots, otherwise known as AT (alpine touring) boots, are designed specifically for use in areas with no chairlift access. They differ from standard downhill (alpine) models in a few ways, the most notable of which are binding compatibility and uphill capability. Whereas a downhill ski boot typically is only compatible with an alpine binding that keeps both the heel and toe locked in at all times, a backcountry ski boot is used with a touring-specific binding that secures the toe and allows you the option of freeing the heel of the boot for uphill travel on skis.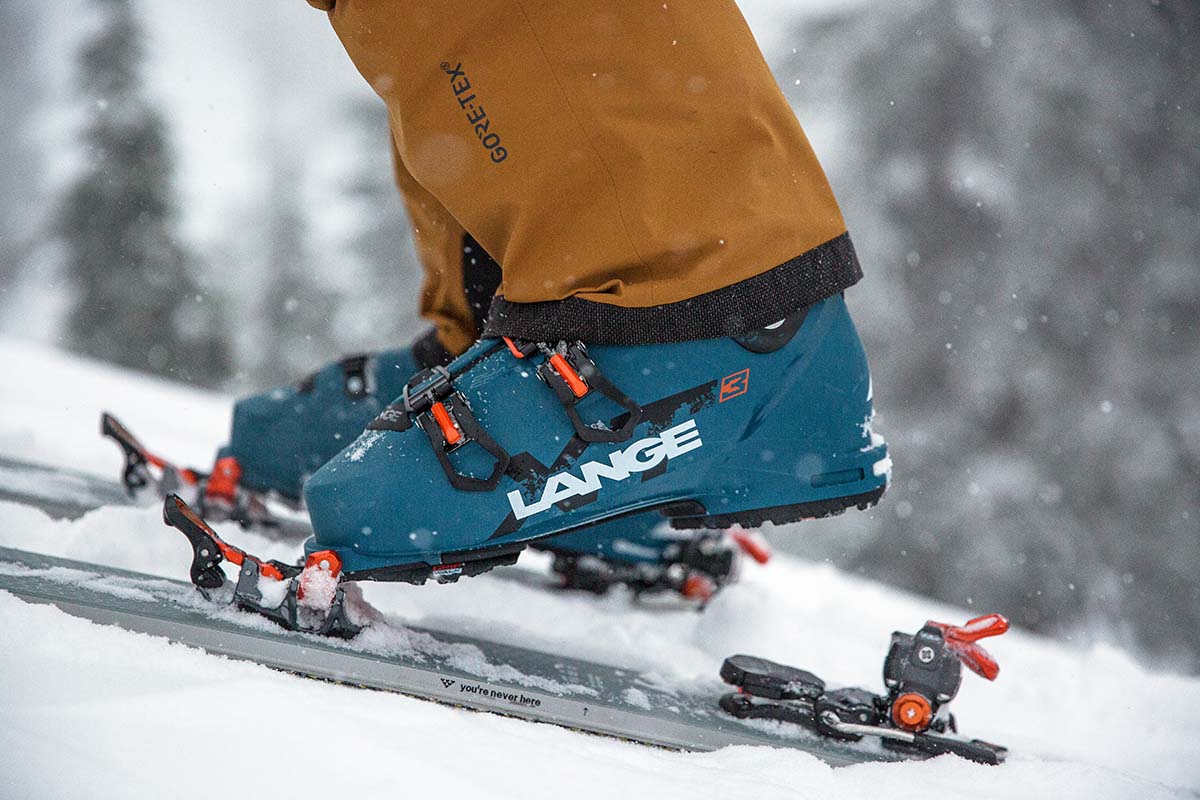 In order to travel uphill, backcountry ski boots also feature a walk mode, which allows the boot to flex with each stride. In the vast majority of cases, this is toggled via a lever along the spine of the boot. Opened up, you get sufficient range of motion for skinning. Locked into place, the boot resembles a standard downhill design with enough stiffness to transfer power to the bindings and skis. The competing demands of weight and flexibility on the climb (and therefore comfort and natural movement), with stiffness and control on the descent, means alpine touring boots are complex and incorporate high-end materials like Grilamid, Pebex Rnew, and carbon fiber. This leads to expensive price tags that often exceed $800, but a quality design that fits your feet well can be an amazing partner for exploring the backcountry.

Backcountry Ski Boot Categories
Most ski brands want you to believe that their backcountry gear compromises nothing on the uphill or downhill. In a perfect world, an alpine touring boot would be both lightweight and flexible on the uphill, and stiff and supportive when bombing down steep terrain. We don't live in a perfect world, however, and although some boots come close, the reality is that you'll always be sacrificing a bit of downhill prowess for uphill comfort—or vice versa. As a result, we've put backcountry ski boots into three general categories: "all-around" for boots that try to achieve that elusive all-in-one solution for backcountry demands, "ultralight" for those that prioritize climbing efficiency and low weight above all else, and "crossover" for those that feature alpine-worthy downhill performance. Below, we break the styles down in greater detail.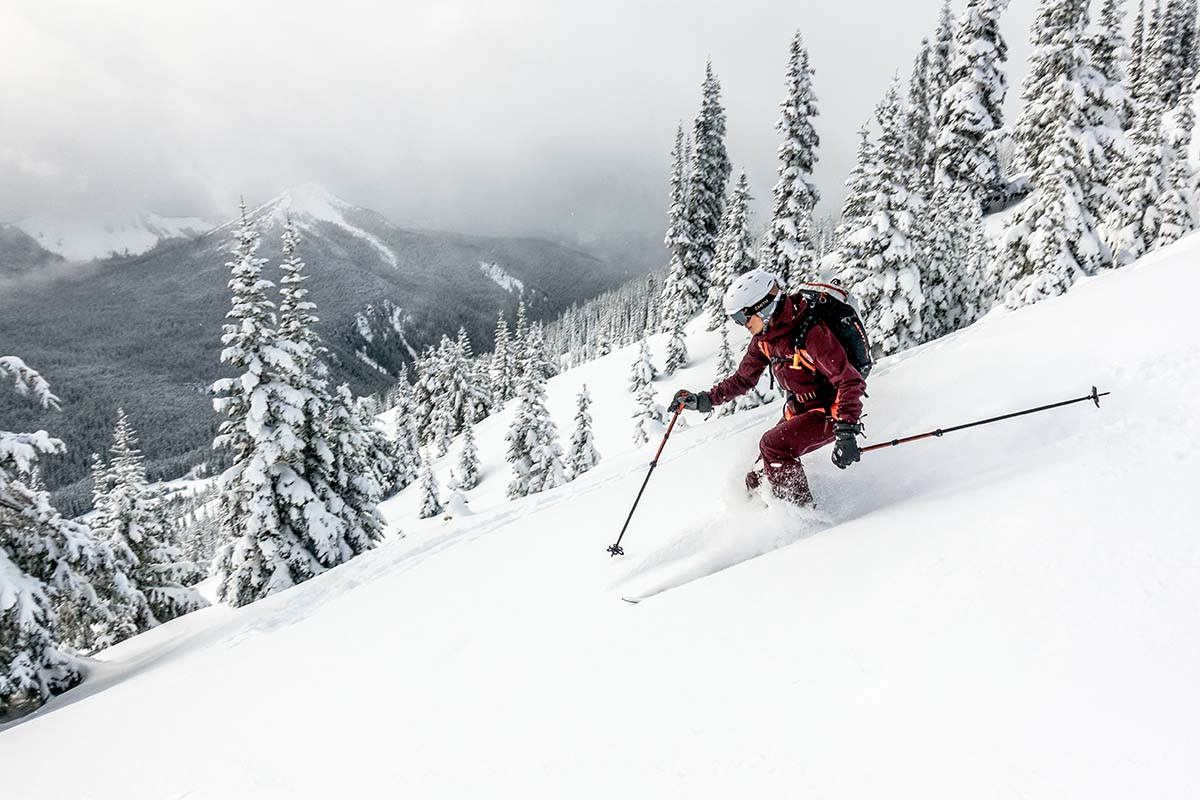 All-Around
Our all-rounder category is home for standard touring designs that meet all the needs of a standard day of skiing in the backcountry: You're probably not attempting to set any FKTs (Fastest Known Time), but your ascent is likely completely human powered. For this healthy mix of downhill and uphill, you need a boot that can excel at both—that proverbial perfect world. Alpine touring boots are characterized by this balance, with lightweight builds, a high range of motion in walk mode, a stiff ski mode, crampon and tech binding compatibility, and grippy soles. A boot like the Scarpa Maestrale RS (and women's Scarpa Gea RS) is able to pull off all of these features. This best-of-both-worlds scenario tends to warrant a higher price tag, but for folks who seek a true backcountry experience with big ups and big downs, it's worth the investment.

Ultralight
More than any other style of touring boot, ultralight designs for ski mountaineering or deep backcountry exploration prioritize uphill travel. They are characterized by a minimalist build, high range of motion (often both lateral and vertical), minimal buckles, crampon compatibility, tech binding fittings, and grippy soles. The low weight and increased range of motion of these boots (as well as typically softer flex) can make skiing down feel a little insecure, especially on icy or hard-packed terrain. Thus, these boots are perfect for long days in the mountains when uphill travel or long mileage is the goal, and certainly not for frequent use in bounds. The Dynafit TLT X and Scarpa F1 LT are two of our favorite ultralight boots.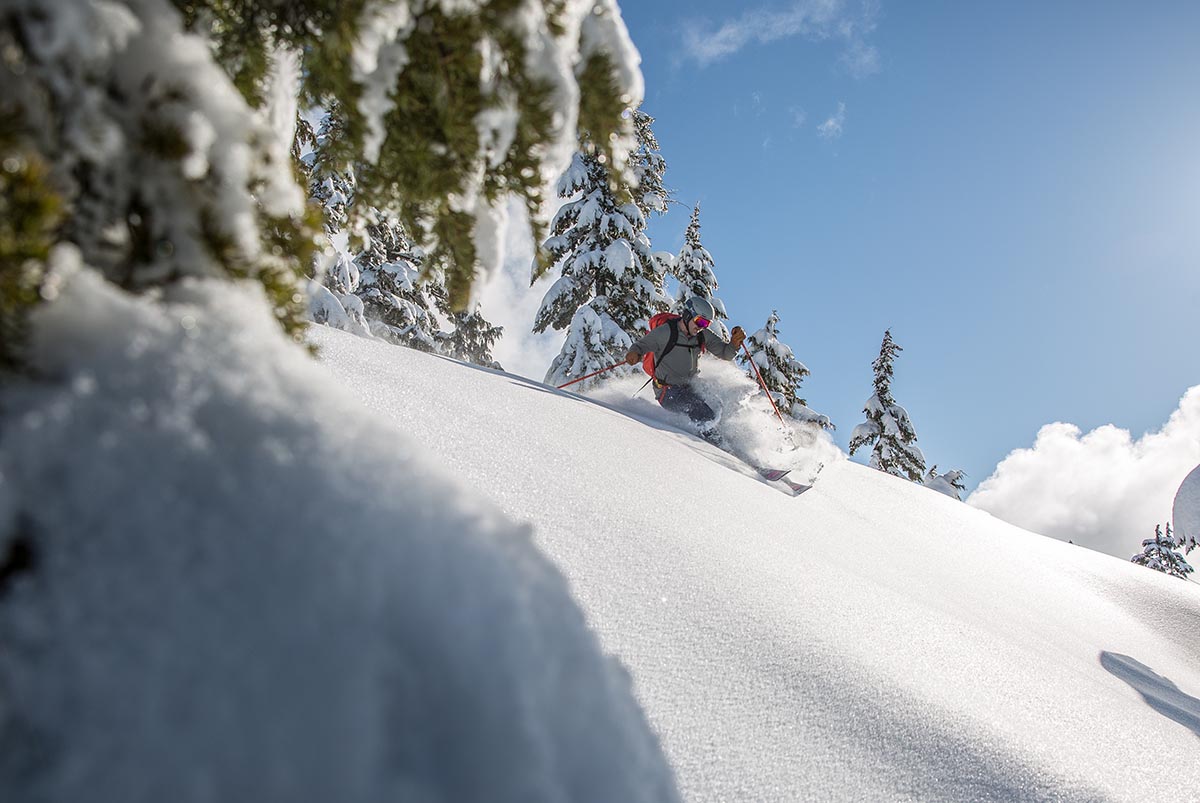 Crossover
In skiing, the word "crossover" refers to a piece of gear that bridges the gap between the resort and the backcountry (the terms "50/50" or "freeride" are also commonly used). A crossover boot is the ideal option for backcountry-curious resort skiers who want the option to dip under the ropes from time to time (this terrain is often referred to as the sidecountry). Because the sidecountry necessitates far less uphill travel than other forms of backcountry skiing, an ideal crossover boot will prioritize stiffness and stability on the downhill over uphill comfort and weight savings. Look for an increase in weight, bulkier designs, less range of motion, four buckles, a slightly more forward lean, and compatibility with alpine bindings. Crossover boots also excel for aggressive skiers who want a burly and reliable option for big-mountain backcountry adventures with mechanized access using a snow cat or helicopter. Boots like the Lange XT3 Free 130, Rossignol Alltrack Elite 130 LT, and Dynafit Tigard 130 fit squarely into this category.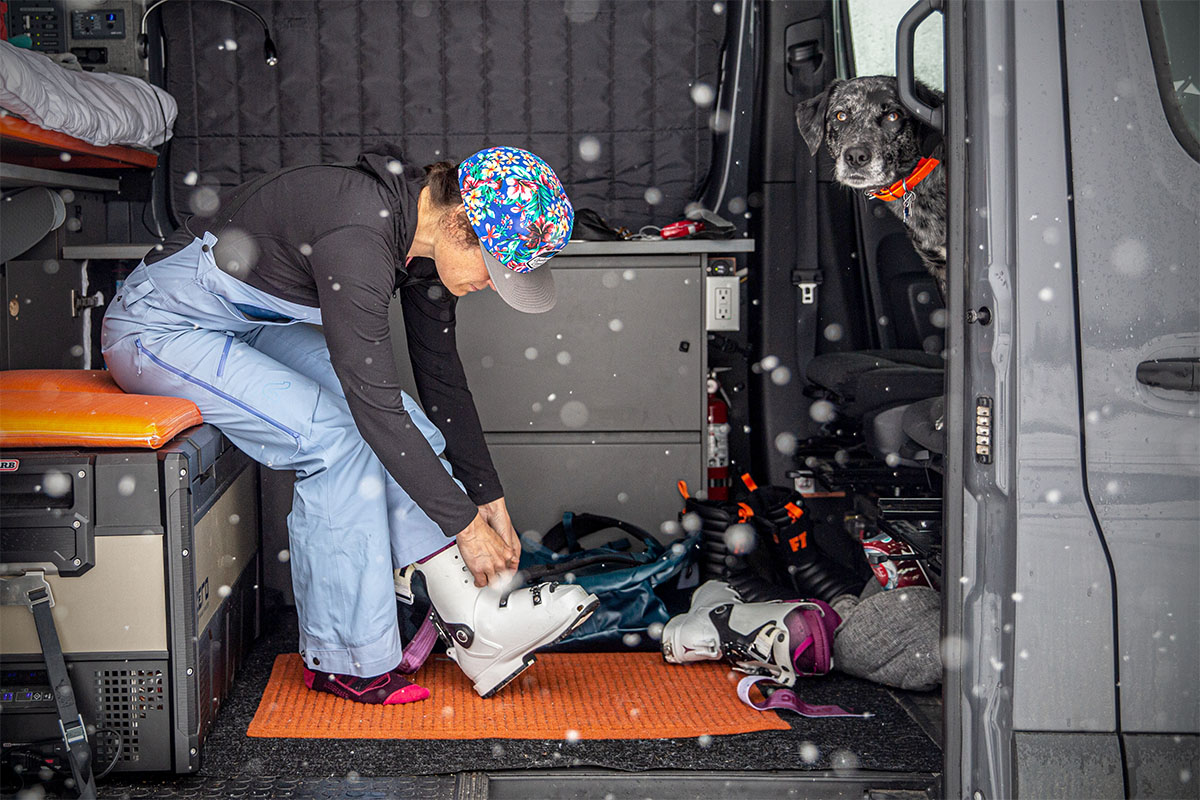 Backcountry Ski Boot Weight
The weight of a ski boot makes a huge difference for comfort and maintaining energy throughout a day in the mountains. Whereas the typical weight of an alpine ski boot design can hover around a hefty 11 pounds per pair, an average backcountry model weighs around 6 pounds and can drop as low as 3 pounds for a ski mountaineering set. If traveling uphill comfortably and efficiently is the goal—without overly compromising on the descent—there are a number of excellent options in the 5 to 7-pound range. For short tours or strong riders who prioritize downhill performance (including sidecountry enthusiasts), you should have approximately 8 pounds and under for the pair as a good benchmark. When you creep above that point, uphill travel can become an uncomfortable and overly exhausting activity.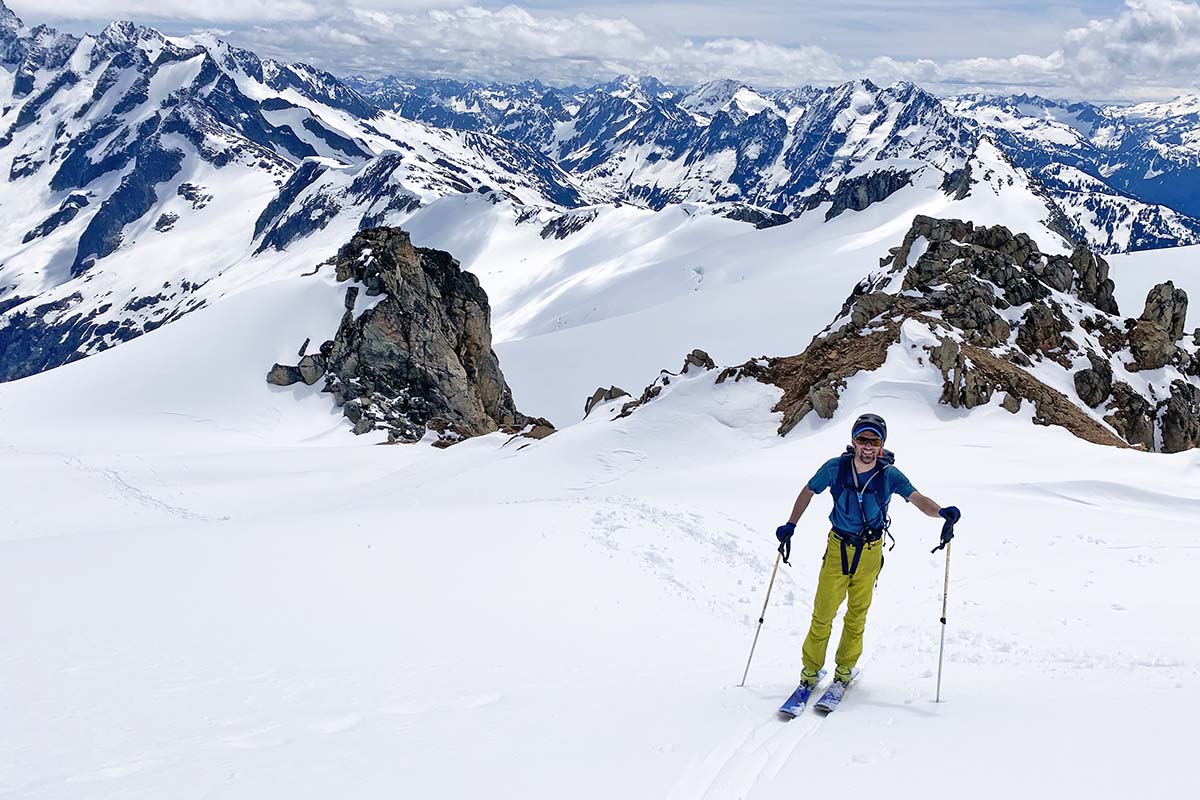 Flex Rating
The flex rating describes how much pressure must be applied to flex the boot forward at the ankle while in ski mode. A lower number means the boot is softer, while a higher number means the boot is stiffer, and you'll find numbers ranging from 80 at the low end for a super soft beginner alpine boot up to 130+ for an expert model. It's worth mentioning that there isn't a standardized test to establish these ratings—it's up to the manufacturer to list them. But for the most part, we've found the flex rating to be a helpful tool (and we call out any boots that don't seem to match their given rating in the write-ups above). Typically, less experienced skiers will prefer a boot on the soft side, while advanced skiers will want the power transfer and stability of a stiffer boot. Furthermore, female skiers or those with lighter builds often prefer boots with lower flex ratings, which is reflected in the offerings on the market. 
Backcountry ski boots tend to be less stiff than alpine boots for a number of reasons. First, backcountry skiers are more likely to seek out powder than hard snow, and a boot with more give will perform better in these conditions. Second, speed is harder to generate and of less priority in the backcountry. And third, touring boots typically are manufactured with lighter materials, which makes them softer in general. Because of this, a backcountry ski boot's flex rating won't always translate perfectly to the flex rating of an alpine ski boot (for example, a backcountry boot with a stated flex of 110 might feel slightly softer than an alpine ski boot with the same given flex number). Below are some general recommendations for ski boot flex based on ability level:
Beginner: 70-90
Intermediate: 90-110
Advanced: 100-120
Expert: 120+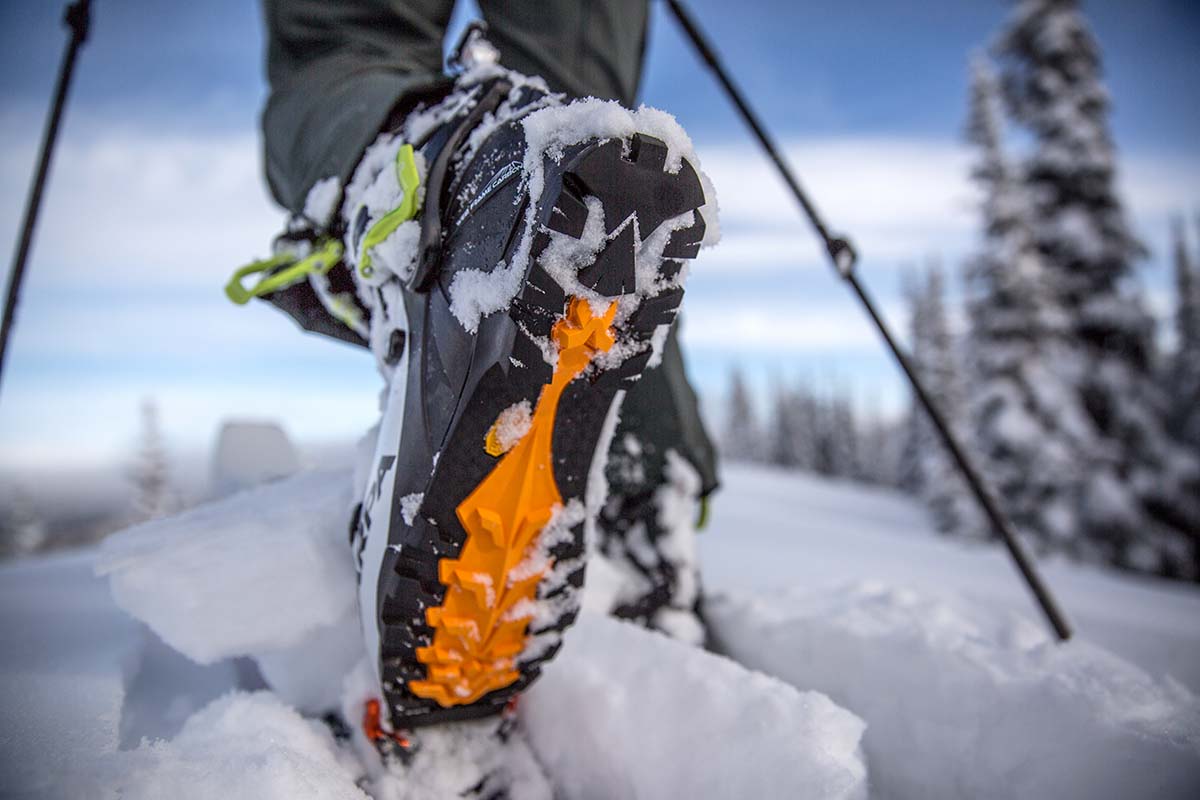 Recently, there has been a push by many ski gear manufacturers to offer a range of flex options for individual boot models, allowing the user to choose the perfect stiffness for his or her ability level. For example, the Atomic Hawx Ultra XTD is available in 100, 120, and 130 flex ratings for men, and the women's version has 95 and 115 variations. Further, you'll see prices rise as flex ratings increase, due to the more premium materials and design of a stiffer boot. When applicable, we've made mention of the various flex options available for each boot in the individual write-ups above. 
 
Walk Mode and Range of Motion
"Earn your turns" or "You've gotta get up to get down." However you choose to say it, backcountry skiing is just as much (if not more) about the uphill as it is about the downhill. For this reason, all backcountry ski boots (and some alpine ski boots), are designed with two modes: a walk mode (increased range of motion for uphill travel) and a ski mode (stiff and supportive for descents). Each boot has a way of locking into ski mode or releasing into walk mode, usually by way of a lever on the back that engages and disengages with a flip.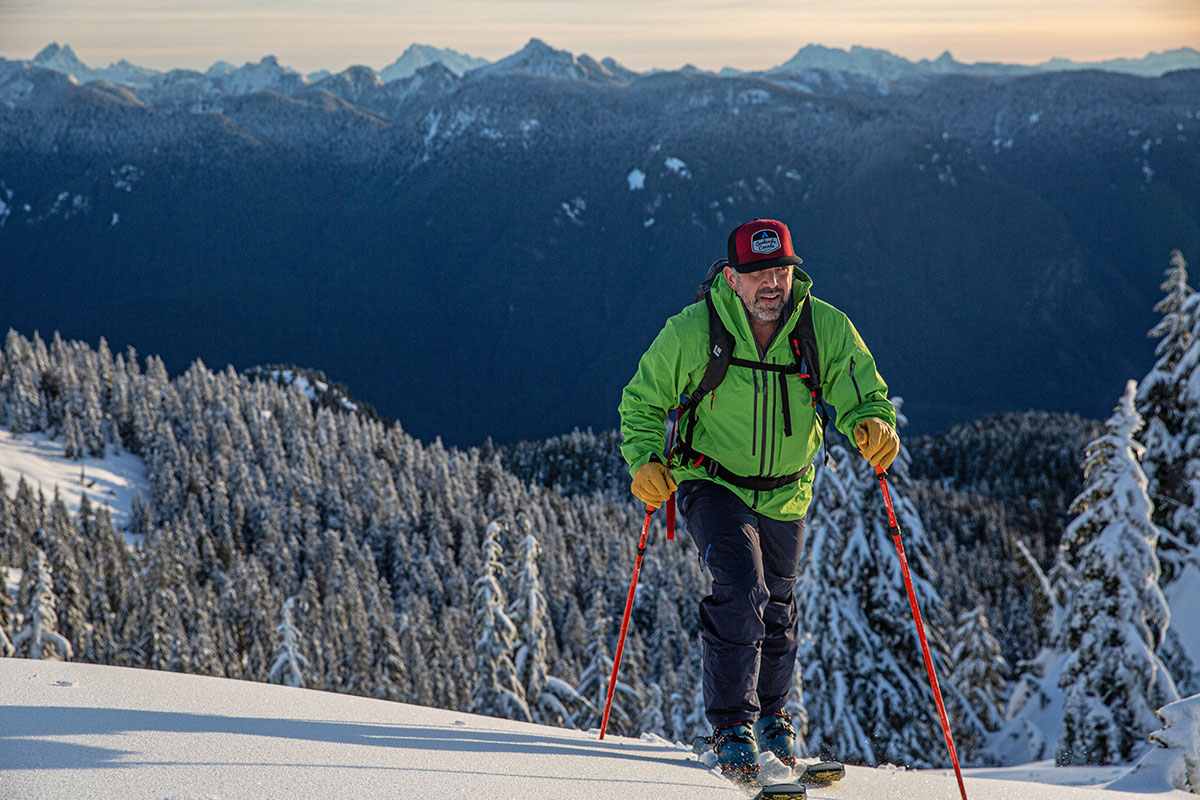 Walk mode and range of motion go hand-in-hand: This specification describes the amount of fore/aft motion available in a ski boot while in walk mode. The range of motion (ROM)—also known as cuff rotation—is defined by a few factors, namely the materials used in the design of the boot and the amount of play these materials are allowed. But it's important to note that soft materials and a high ROM create inherent weakness in the structural integrity of a boot. Thus, while boots with a greater ROM will be more comfortable on long ascents, they aren't able to provide as much support on the descent as a boot with harder materials or lower cuff rotation.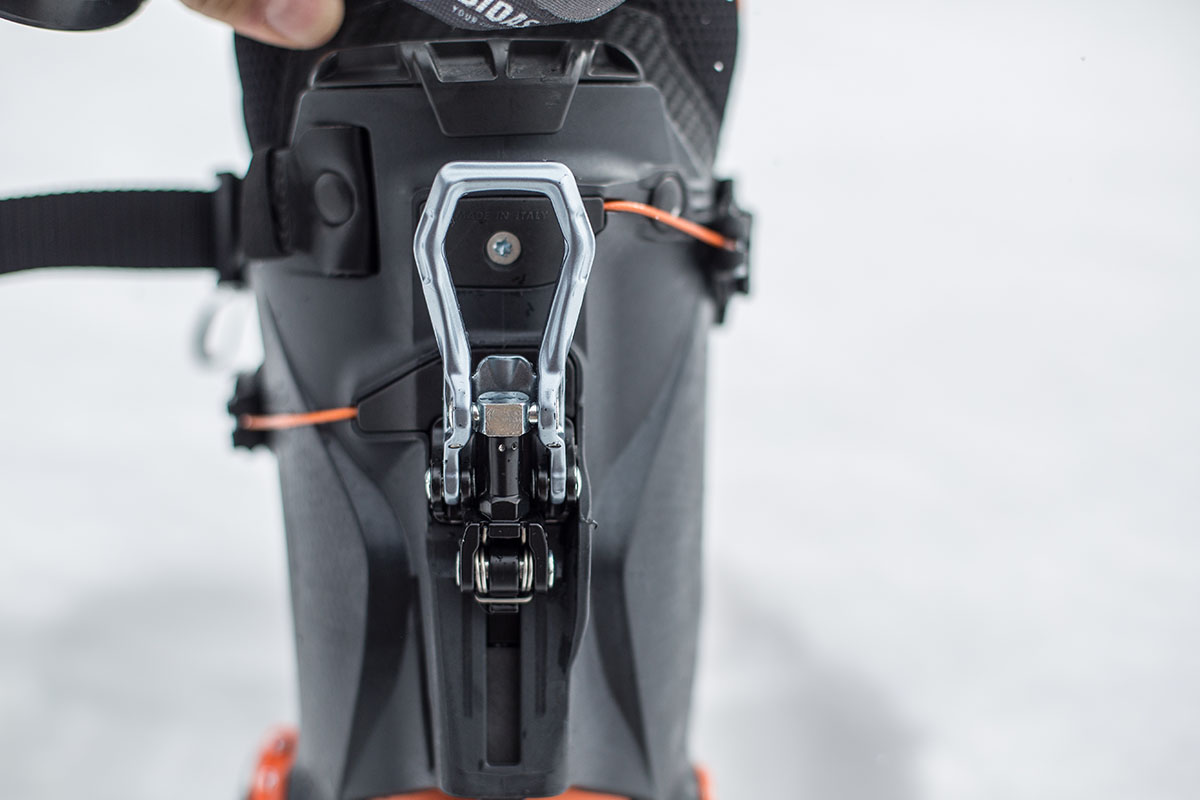 The ROM specification is a good number to pay attention to when thinking about how much of your ski day will be uphill focused. If you are more interested in full days in the mountains with big ups and long traverses, a greater ROM like what you get with the Scarpa F1 LT (72˚ total forward/backward) will help preserve energy in your legs and get the most out of each stride, and will be more comfortable in general. If the goal is long, potentially steep descents, opt for a boot that sacrifices ROM for a higher flex rating. Boots such as the Scarpa Maestrale RS (61˚) and the Dynafit Tigard 130 (70˚) offer a good mix of both.
 
Buckles
Buckles are yet another place where manufacturers can make decisions regarding the uphill vs. downhill performance debate. Whereas a standard alpine ski boot has four buckles, a backcountry boot can have anywhere from two to four. Fewer buckles means less weight, which certainly is helpful for uphill travel. However, fewer buckles also means you'll sacrifice power and rigidity on the descent. Skiers more interested in uphill travel can get away with a boot with fewer buckles, while skiers more interested in making solid downhill turns will feel more confident with three or four buckles. Additionally, most backcountry-specific ski boots are manufactured with a removable "power strap," which is a thick piece of Velcro near the top of the cuff. This strap adds significant support for aggressive downhill skiing, particularly on harder snow. However, since it also adds weight and is not needed for uphill travel, some manufacturers prefer to remove the strap altogether.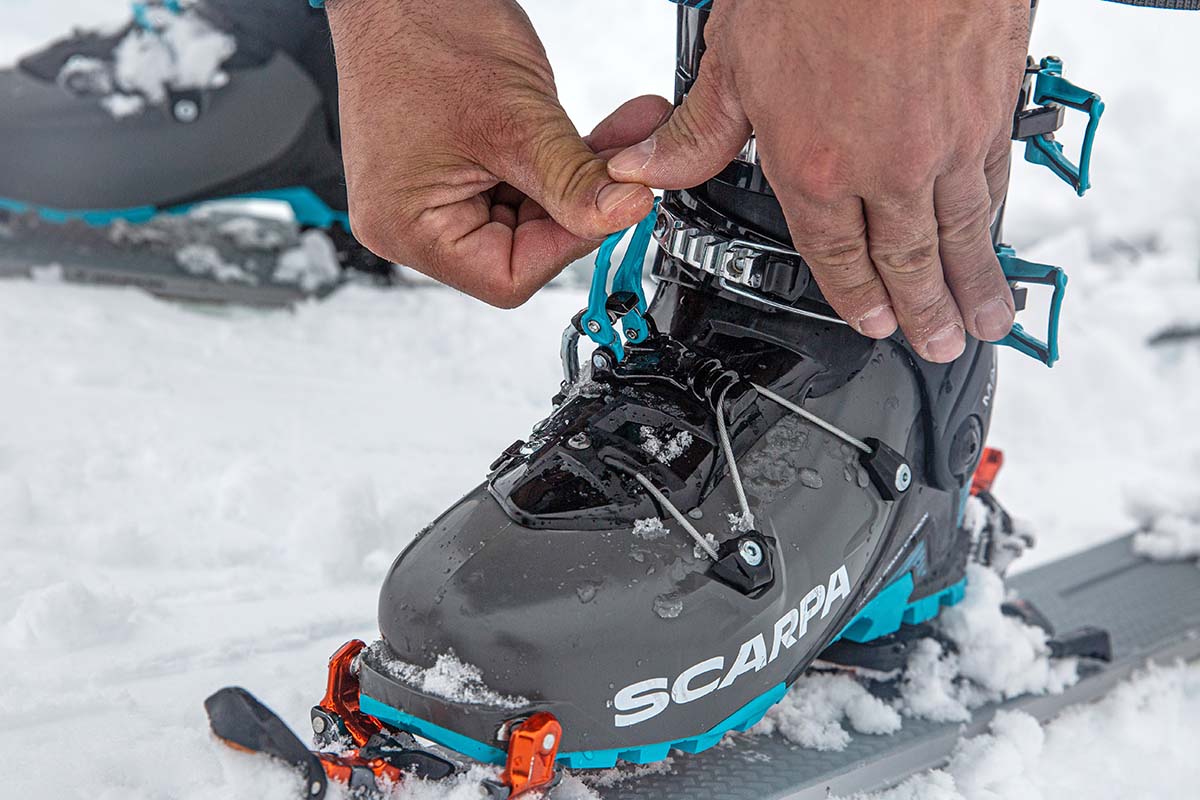 In terms of buckle design, most boots are built with a classic aluminum buckle with ladder and catch bail, but more and more we're seeing different configurations and technologies. Many recent innovations allow for more support without more ounces. The Scarpa Maestrale RS, for example, combines two buckles with one strap for a lightweight setup that spreads pressure out along the entire top of the foot. Other boots use the Boa buckle closure to hone in fit with a simple twist. No matter the closure system, it is important to practice buckling, unbuckling, and adjusting your boots before heading into the mountains. You'll likely be dealing with your buckles a lot as you transition from uphill to downhill and vice versa, and you'll want to be efficient when temperatures drop and the wind starts howling.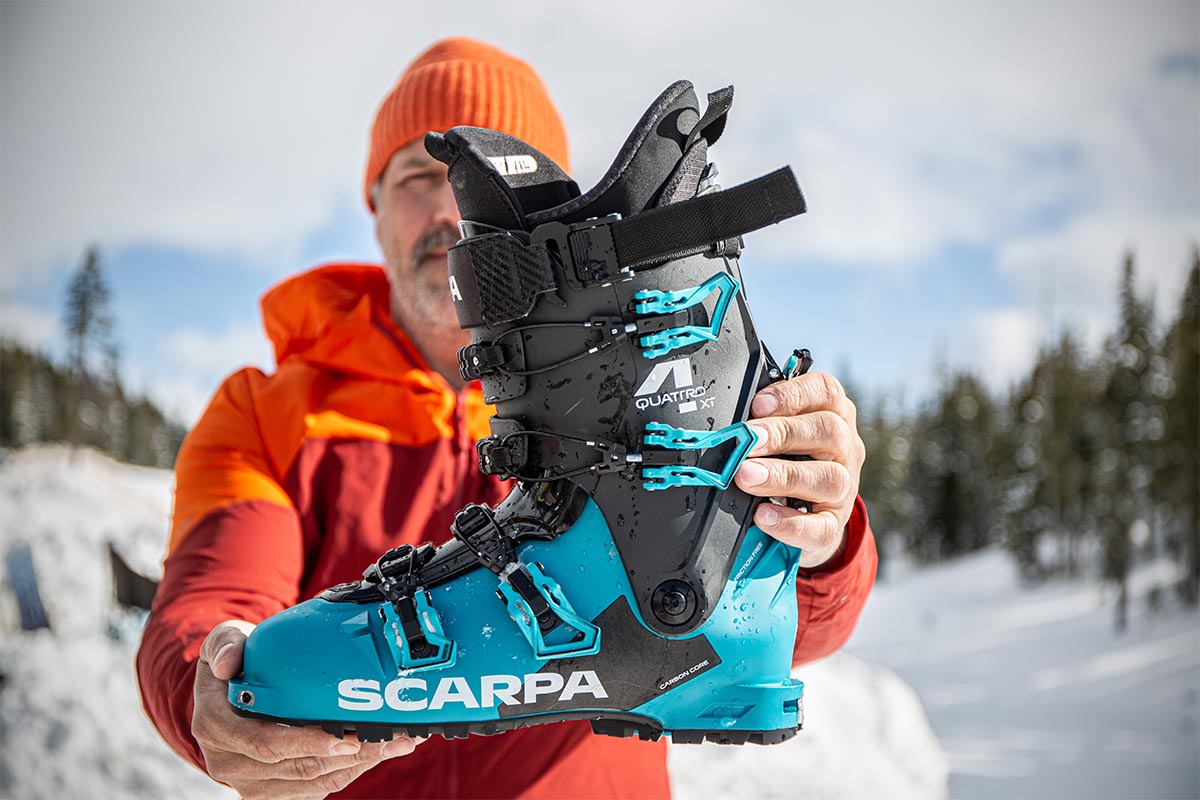 Boot Fit and Sizing
Perhaps the single most important aspect of a ski boot is how it fits your foot. We highly recommend trying on multiple pairs before purchasing, as every manufacturer builds boots with a specific shape that will fit some feet better than others. The main challenge will be finding the ideal balance of a snug yet comfortable fit. If it's too roomy, a boot will not offer the needed support for downhill skiing. If sized too tight, it will (at best) be uncomfortable during long days in the mountains, but more likely it will cut off circulation and create dangerously cold feet. If you're transitioning from alpine skiing to alpine touring, keep in mind that you'll want to size your boot a bit looser than you might be accustomed to. With little opportunity to take your boots off throughout the day and the need to skin or hike uphill, you'll want to prioritize comfort and a good fit above all else.

Mondopoint
Ski boots size is delineated by the Mondopoint—aka-Mondo-scale—which refers to the length of your foot in centimeters. You can measure your own Mondo size quite easily, by putting your foot against the wall, marking where your toes end, and measuring the distance in centimeters. Most ski boot shells are built only in full-size increments, whereas liners come in half sizes. If you're a Mondo size 25.5 for example, you'll get a size 26 ski boot shell with a size 25.5 liner. You can use a conversion chart to determine your Mondo size but we still highly recommend getting fitted by a ski boot professional.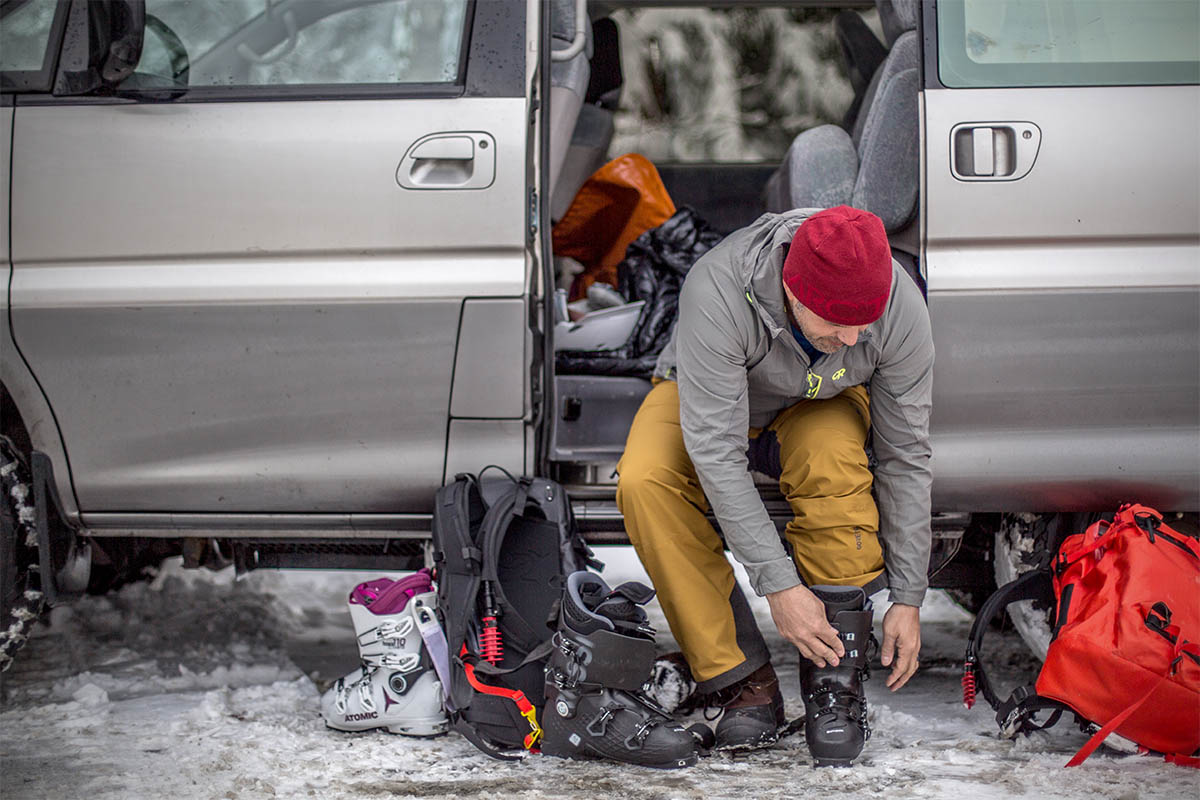 Last
Whereas a boot's Mondo size refers to the length of the foot, the last refers to the foot's width, in millimeters. Many traditional alpine ski boots are available in two to three different lasts to accommodate various foot sizes, but backcountry ski boots don't usually offer this option. Because of this, when shopping for a boot you'll want to make sure you choose a model made with a last that fits your individual foot. Those with wider or higher volume feet should look for boots with lasts 100 millimeters and up, and those with narrower feet will be happy with a last between 95 and 98 millimeters. Again, it's worth repeating that this information is good for planning purposes but can't come close to the value in getting fitted by a reputable ski shop.

Customization
Like their alpine counterparts, most touring boots can be customized through heat molding, punching, grinding, etc. In most cases, the liners can be heat-molded, which we prefer to do at our local ski shop. But because alpine touring boots are intended for extended time on your feet—walking, gliding, possibly kicking in steps, skiing, and some standing around during transitions—you'll want to try to start out by choosing boots that are fairly comfortable right out of the box. Hard-to-fit feet may require some customization, but if your touring boots require extensive work, you might be better off with a different pair altogether. We recommend working with a professional boot fitter, trying on multiple pairs of boots before purchasing, and getting any customization done at a ski shop with the proper equipment. 

Women's-Specific Ski Boots
Most ski boots technically are unisex, but some manufacturers have chosen to offer touring models specifically for female skiers. Some of these have different monikers—for example, the women's version of the Scarpa Maestrale RS is called the Gea RS—while most go by the same name. The question is: What are the differences between a women's ski boot and a men's ski boot?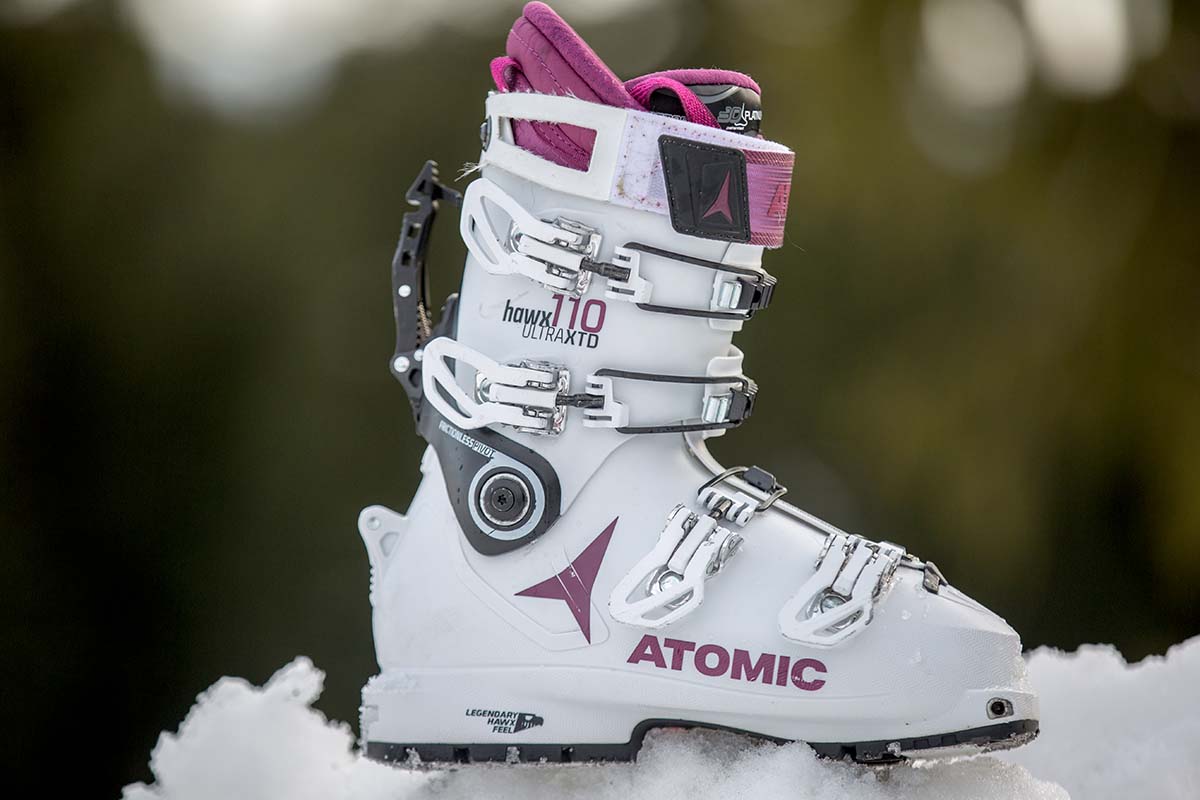 In reality, there are not as many differences as you might think. Women's boots have graphics that may (or may not) have more marketing power for the female ski community. In addition, women's boots usually come in smaller sizes (for instance, the Scarpa Gea RS starts at a size 22.5, while the Maestrale RS starts at 24.5). But most importantly, many women's-specific boots have lower flex ratings that make them softer. All of this assumes, of course, that women prefer different graphics, have smaller feet, and want softer boots—which is often, but not always, the case.
The bottom line is that each ski brand makes their boots with a unique shape, fit, and features. The men's and women's models embody the distinct qualities the brand aspires to offer. If you identify as a female and have found the perfect pair of boots that only come in a men's model, try them on and don't be afraid to go for it (and vice versa). As long as they feel snug and comfortable, they'll provide you with the backcountry ski experience you're looking for.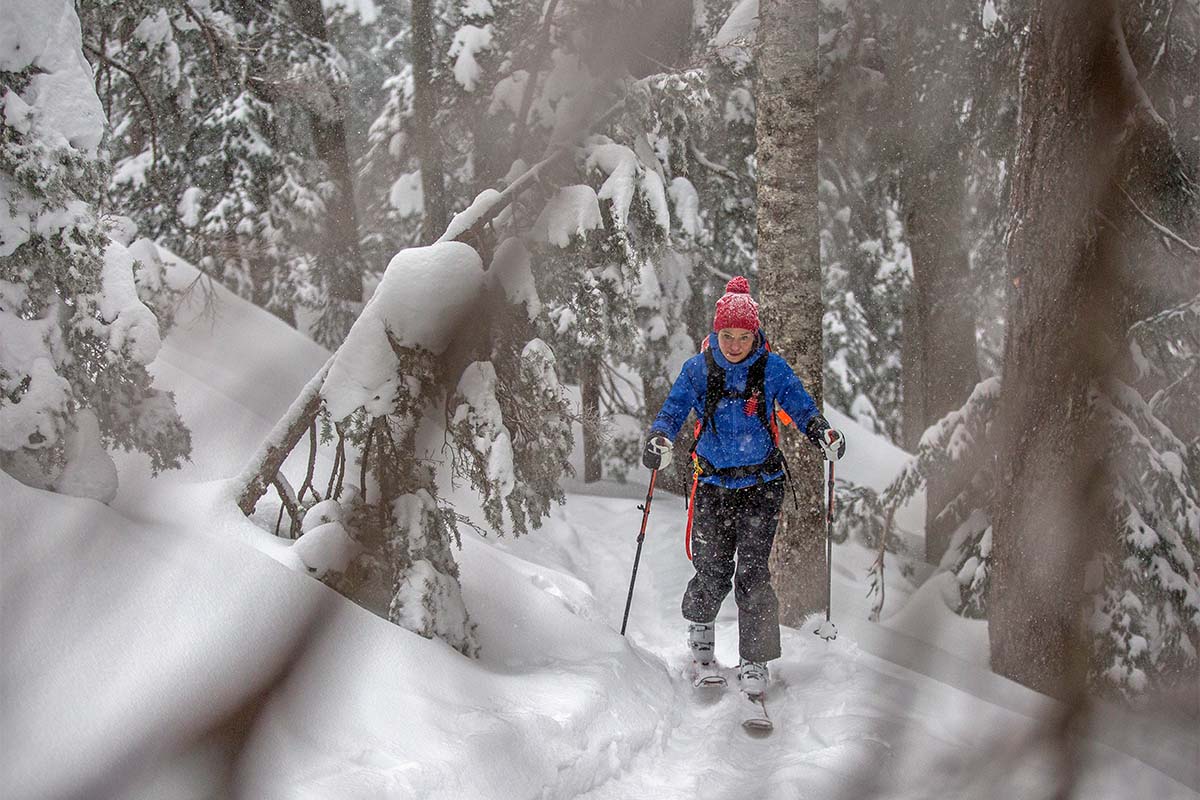 Boot Liners
A backcountry ski boot is designed with both an outer shell and an inner liner. The shell is responsible for structure, while the liner is built to conform to the foot and provide both comfort and warmth. Most boot liners are a classic slip-on with a forward tongue, while some have a lace or Boa closure for added support. Finally, some liners do not have a tongue at all. In general, the type of liner you choose comes down to how secure and adjustable you like your boot to feel.
One of the most important features of a boot liner is the foam that is sandwiched between the shell and inner lining. On the budget end of the spectrum are open-cell foam designs, which are comfortable at first but tend to pack out quickly. They also take some time to dry, which can make for an extremely cold day as your sweat starts to freeze. On the other hand, some premium offerings include a more expensive closed-cell foam liner—for example, the Intuition Pro Flex Tour in the Scarpa Maestrale RS. These liners keep their shape and cushioning much longer than those of the open-cell variety. What's more, they dry very quickly and tend to keep your feet warmer, even during the coldest days. If your ski boots come with an open-cell foam liner, we have found it to be worth the price (especially for those who run cold) to buy a closed-cell foam liner separately.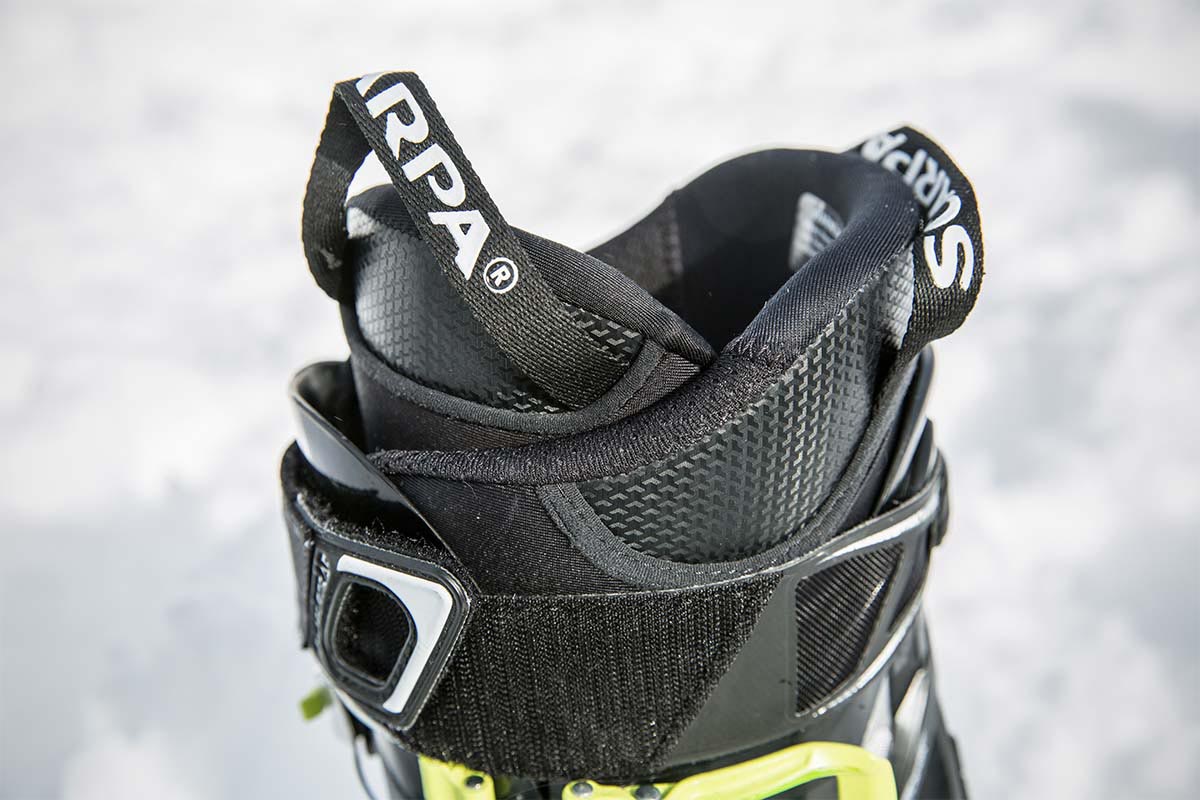 One final note regarding insoles: Most ski boots, whether made for alpine or alpine touring, contain a thin piece of foam in the bottom of the liner. When you're spending a good portion of your day on your feet, especially when it involves walking, the factory insole that comes with your boot will not provide sufficient support for your arches and foot muscles. Investing in a pair of quality insoles (such as Superfeet) will go a long way in adding comfort, reducing foot fatigue, and contributing to a better fit within your boot's insole. 

Binding Types and Compatibility
There are three categories of backcountry ski bindings: tech, frame, and hybrid (you can read more about the pros and cons of each in our article on tech vs. frame bindings). The style of boot you choose will influence which binding you'll pair it with, and vice versa. Tech bindings, otherwise known as pin bindings, are the most common form of backcountry ski binding. These designs are also the lightest of the bunch (most versions range from 1 to 3 lb. for the pair), feature separate heel and toe pieces, and are only compatible with boots that have tech fittings at the toe (including all of the designs above). Due to their lightweight builds and pivot point near the ball of the foot that allows for a natural stride, tech bindings are our first choice for skiers who spend most of their time in the backcountry and especially those who want to move efficiently uphill. Downhill performance ranges from serviceable to very good, depending on the specific binding.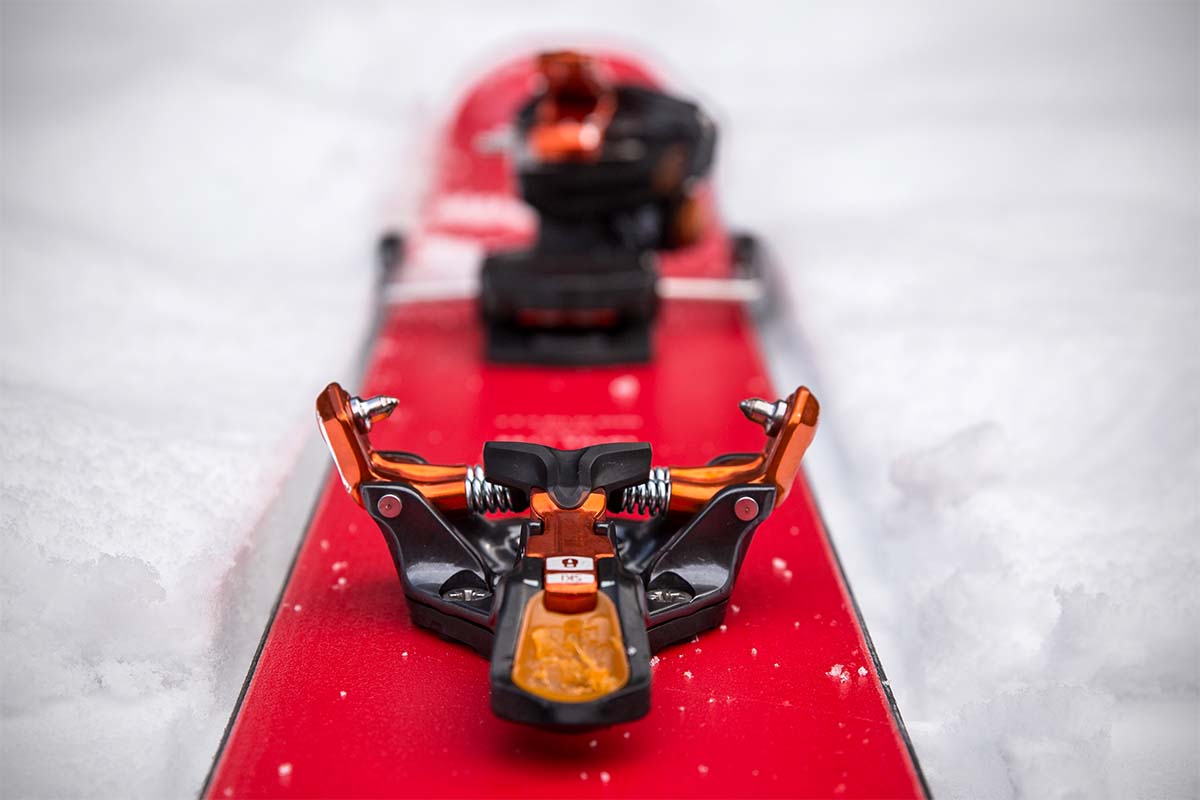 Frame bindings essentially are traditional downhill bindings attached to a rail that extends from heel to toe. This rail attaches and releases from the heel, allowing for both uphill and downhill movement. Importantly, frame bindings don't require boots to have tech fittings, which means you can get away with using an alpine boot with a walk mode. The most notable compromise with frame bindings is uphill performance: They are very heavy (weighing anywhere from 3.5 to almost 7 lb.), and the placement of their pivot point in front of your toe results in an unnatural stride and reduced efficiency on the skin track. With more capable tech and hybrid designs on the market than ever before, frame bindings are at risk of becoming obsolete and aren't our first choice for most skiers. That said, if you're on a strict budget or ski mostly inbounds, a frame binding could be the best option.
Which brings us to the third category (also the newest): hybrid bindings. Hybrid backcountry bindings are really defined by two key designs: the Salomon S/Lab Shift MNC and Marker Duke PT. Along with an alpine heel, these bindings feature a toe piece that functions like a tech toe on the uphill but converts into a traditional downhill design when in ski mode. This means a few things: For one, you get incredible downhill performance and safety with a fully locked-in toe, on par with a standard alpine binding (both the Salomon and Marker are TÜV-certified for DIN). Second, hybrid bindings are incredibly versatile in terms of boot sole compatibility: You can wear your tech boots to seek out remote powder stashes (a pin toe is required for uphill travel) or strap in your alpine boots for a day in the resort. They're heavier than tech bindings (the Shift is almost 4 lb., while the Duke PT clocks in close to 6 lb.) but they're the least compromised option for skiers who split their time between the front and backcountry and want to use the same setup in both environments.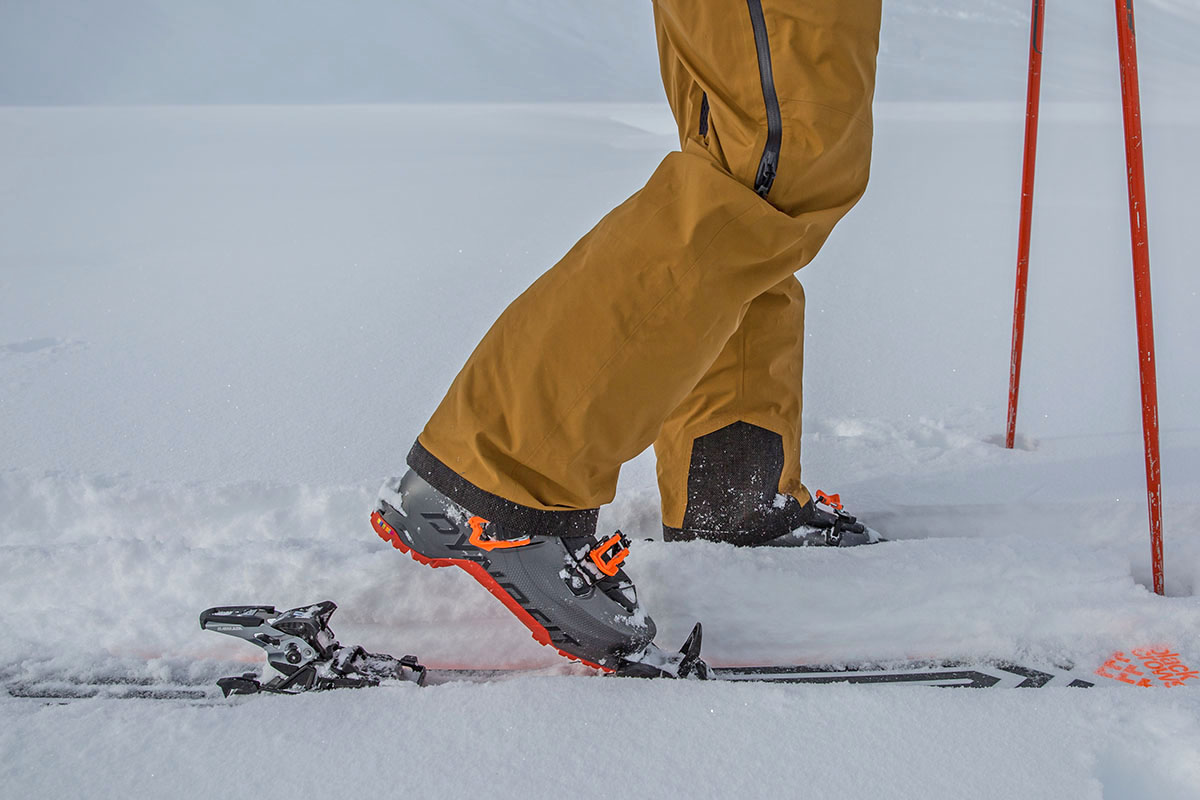 Backcountry Ski Boot Soles
The ski boot sole discussion actually is a continuation of the binding compatibility dialogue above. In other words, boot sole is another determining factor of what bindings will fit your boot. This certainly is one of the more complicated topics surrounding backcountry ski boots, especially as technology continues to change so dramatically. That said, it's very important to have a general understanding here, and at the least, have the wherewithal to check that your boots and bindings are compatible before you buy. 
Let's start simply. An alpine (resort) ski boot sole (referred to as ISO 5355) is flat on the bottom and only compatible with corresponding ISO 5355-ready bindings (often frame style). A touring boot sole (ISO 9523) is rockered (similar to the bottom of a boat) to allow for a more natural gait. It also has sticky rubber on the bottom, which comes in handy for walking or kicking steps in snow. These boots, such as the Atomic Backland Carbon, are only compatible with tech bindings.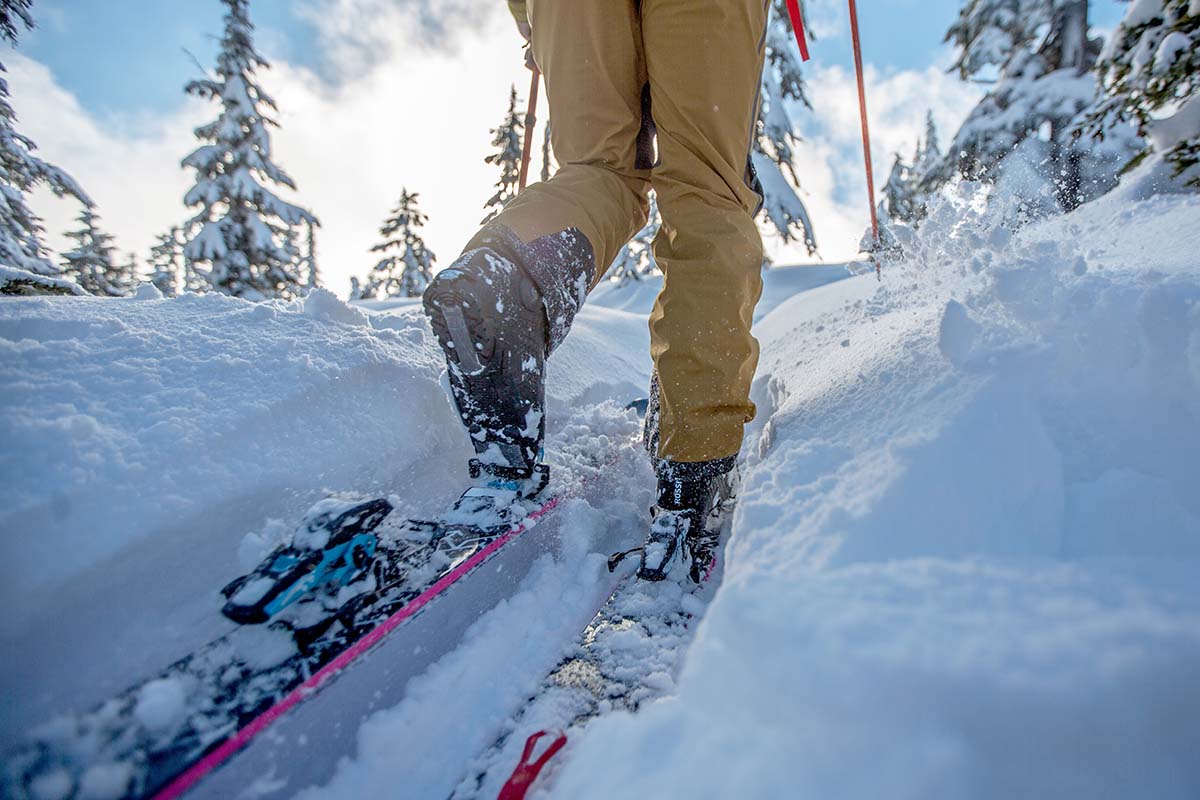 Now there is a third option. In the last few years, Salomon and Marker have created new technologies—Walk-to-Ride (WTR) and GripWalk, respectively—that allow a boot to be compatible with both frame bindings and tech bindings. Boots with WTR or GripWalk technology are not quite as rockered as tech-only boots, yet not totally flat like an alpine boot. Most of these boots are made with tech fittings as well. And most companies have followed suit, leading to popular boots such as the Atomic Hawx Ultra XTD, which can be used with tech bindings, tech toe/alpine heel bindings, GripWalk frame bindings, and MNC bindings (see below). Thus, one pair of boots can now be used with multiple ski setups (resort setup, alpine touring setup, etc.) without the pain of swapping out bindings or having incompatible combinations. 
It's important to note that not all alpine (non-touring) bindings are WTR or GripWalk compatible. If you are interested in using your backcountry boots with your downhill setup, it's definitely worth double checking whether or not your bindings are WTR or GripWalk certified. Furthermore, new MNC (Multi Norm Compatible) bindings from Marker and Salomon take away the guesswork—they simply are compatible with pretty much every style of boot. Very few boots and bindings are labeled MNC (Salomon's S/Lab Shift MN binding is one standout), but it is a strong indication of where the market is headed.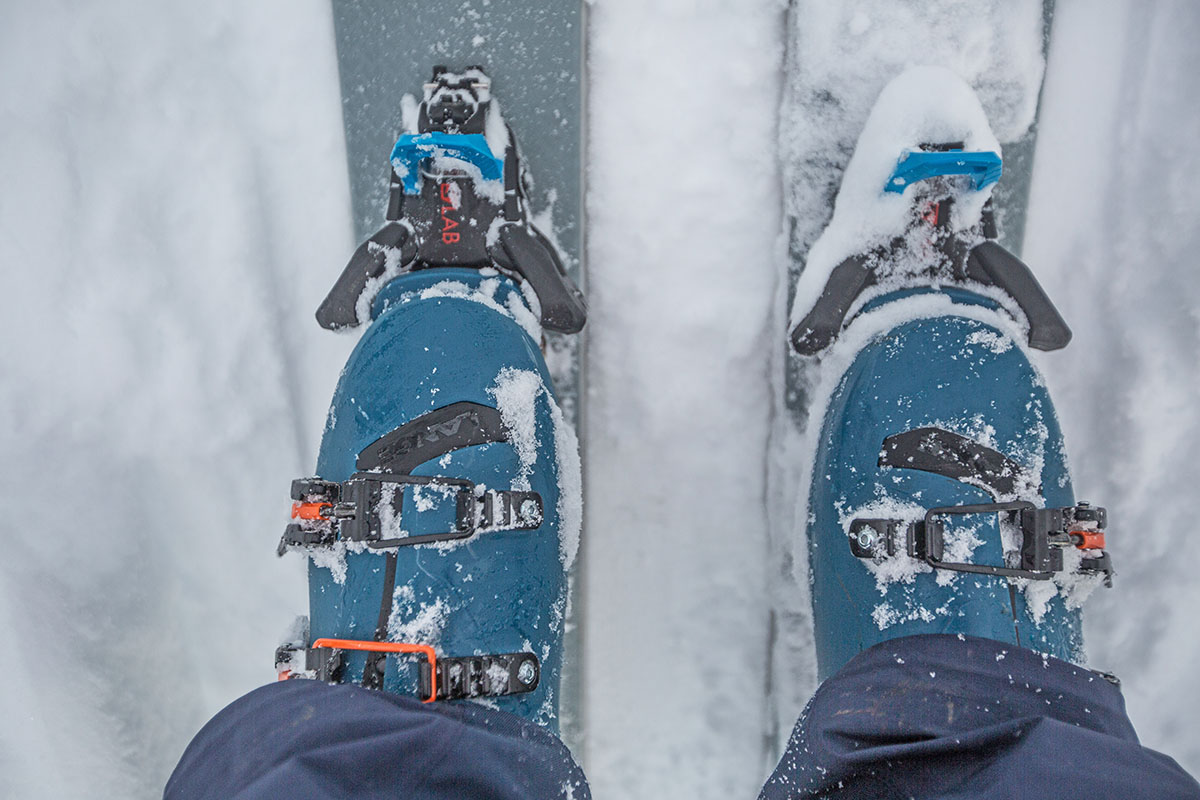 Choosing Skis and Bindings
When choosing a pair of boots, it's important to think through the style and performance level of your entire ski kit, including your skis and bindings. Starting with alpine touring skis, you'll want to make sure to match the flex of your boots with the stiffness of your skis. There is no rubric for this, but generally boots with a higher flex rating (115+) should be paired with stiffer skis, and vice versa for boots with a lower flex rating. A pair of soft skis can feel overpowered by a stiff boot like the Maestrale RS, which can lead to a disconnected and insecure feeling while descending. Alternatively, it is never fun to feel as if you can't turn your skis while using a pair of boots that flex too much.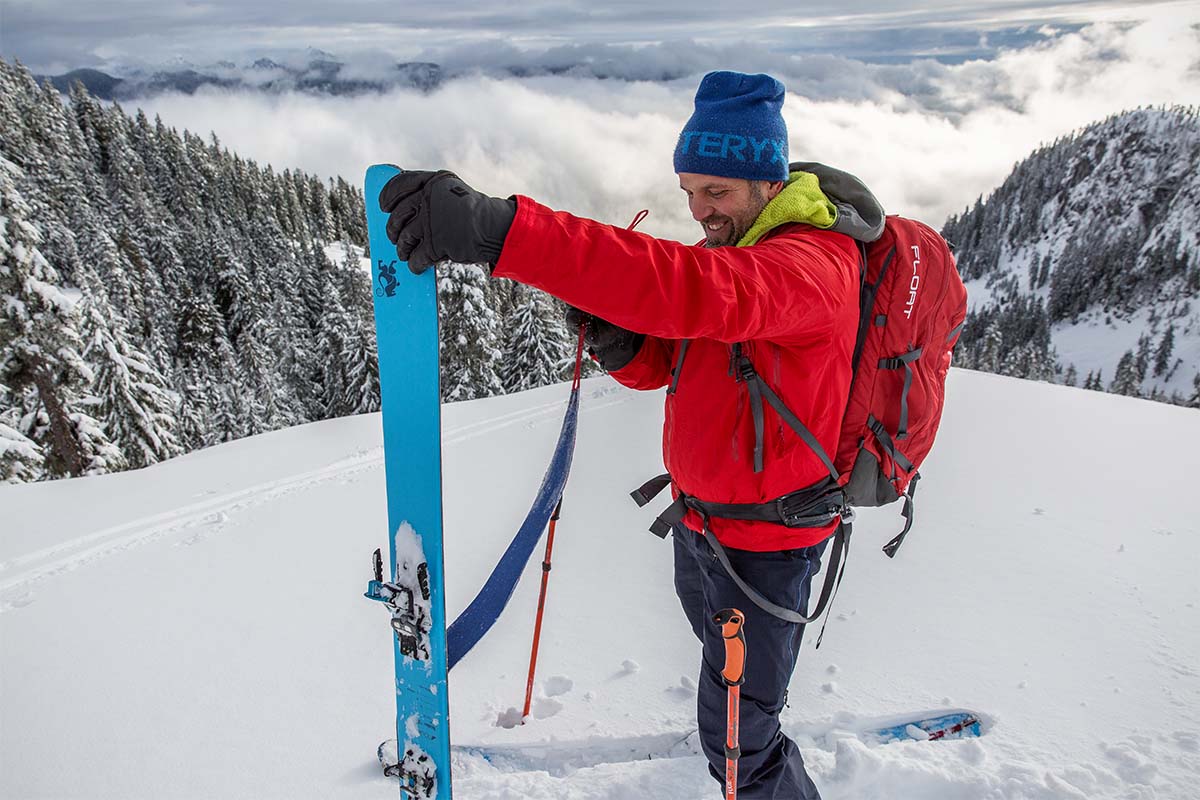 In addition, your ski bindings play a key role in performance. Like boots, the binding options fall into general categories of ultralight, all-around, and downhill-focused. Light and fast travelers will want a minimalist design like the Dynafit Superlite 175. The Salomon MTN Pure is an excellent all-rounder option, and the Salomon S/Lab Shift MNC has a lot of appeal for those splitting time between the resort and backcountry. Most importantly, as we covered in detail above, you'll want to make sure your boots and bindings are compatible with one another. For more information, including our top picks, be sure to see our article on the best backcountry ski bindings.
Back to Our Backcountry Ski Boot Picks  Back to Our Backcountry Boot Comparison Table