Rossignol is one of the biggest and most respected names in the ski industry, and their Alltrack collection of touring boots offers quality performance for downhill-focused backcountry skiers. We brought the Alltrack Elite 130 LT into a range of terrain and conditions throughout Canada and found it to be a good match for tackling steep groomers and big lines. Range of motion is limited for extended skinning, but it's nevertheless a powerful and stable companion—ideal for lift-accessed sidecountry runs and short forays into the backcountry. Below we break down the Alltrack Elite 130 LT's overall performance. To see how it stacks up to the competition, see our article on the best backcountry ski boots.
Editor's note: We tested the 2019-2020 model of the Rossignol Alltrack Elite for this review, and the latest 2020-2021 version has seen a few changes. Most notably, Rossignol swapped the ISO 5355 sole for a rockered GripWalk sole, made light changes to the insulation, and weight went up by around 7 ounces per pair.
 
---
Table of Contents
---

Uphill Performance
Despite the Rossignol Alltrack Elite 130 LT's stated 50-degree range of motion and recent improvements to walkability, it's far from a leader in uphill performance. In my opinion, that 50-degree rotation feels rather overstated, and I'd say it's even more limiting than my Salomon S/Lab MTN (47-degree ROM). Further, although Rossignol made changes to the back of the lower shell, including a wider opening (dubbed Hike Mode 2.0), I found the system to feel rather rudimentary and restrictive. After wearing the boot for several months, the walk mode has worn in a bit and feels more mobile, but the difference is minimal. To make matters worse, the high cuff pivots over the shell when climbing, which causes the boot to stop abruptly while flexing forward. Finally, the Alltrack's ISO 5355-certified sole has a smooth, flat surface under the toe and heel, which can make walking and touring in hardpack, icy conditions tricky and dangerous (note: for 2020-2021, more capable GripWalk soles are now included).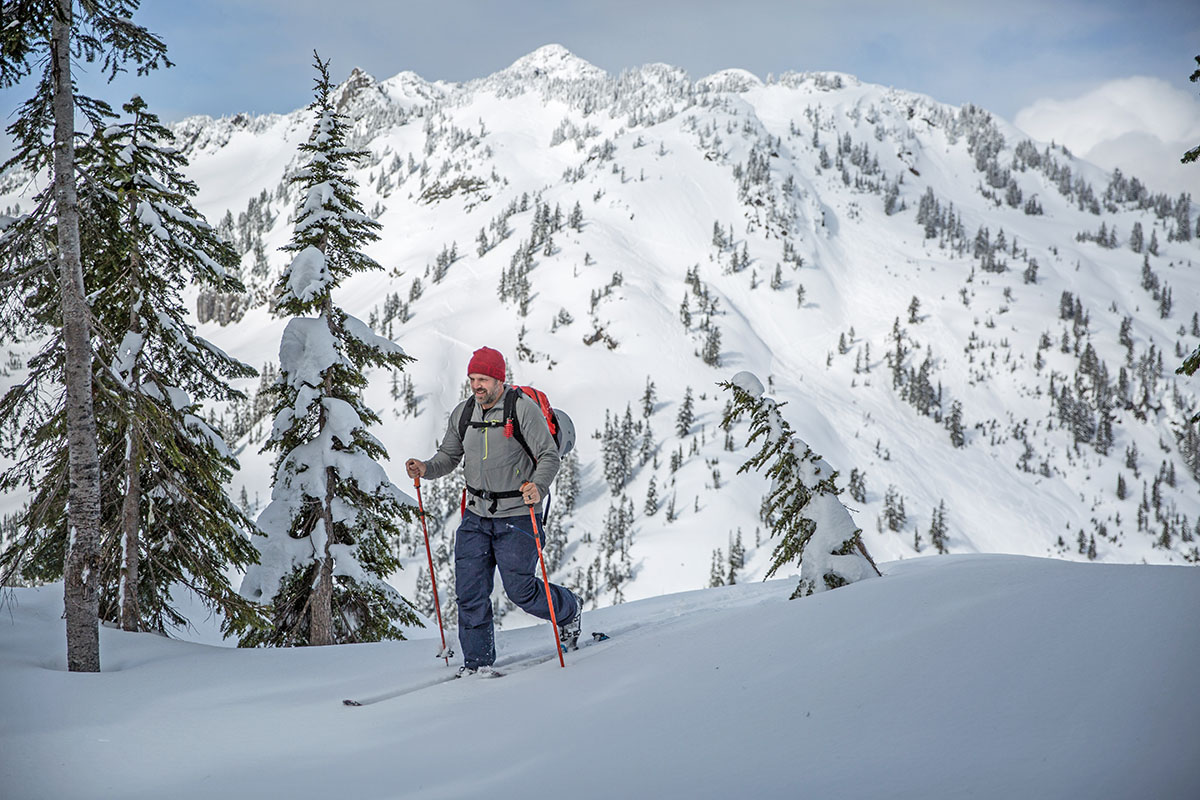 However, that's not to say the Alltrack Elite can't be used on long outings or challenging tours. With the lack of forward flex in walk mode, I find myself using my binding's heel rises far more often than I do in any other boots—my Scarpa Maestrale RS and Dynafit Hoji Free can handle the same slopes with ease and no assistance—but it's a reasonable strategy for ascending steep pitches. In addition, the Alltrack is compatible with both tech and alpine bindings (now GripWalk-specific downhill bindings), making it a nice option for those who like to transition between the resort and backcountry. For reference, I've worn the boots with a range of binding styles, including the Salomon S/Lab Shift MNC, Dynafit ST Rotation, and G3 Ion. Finally, weight is undeniably high at over 7 pounds per pair, but I've spent many six- to seven-hour days in the Mount Baker backcountry without issue. I do feel the heft by the end of the day, but the tradeoff in downhill performance (more on this below) is worth it for me.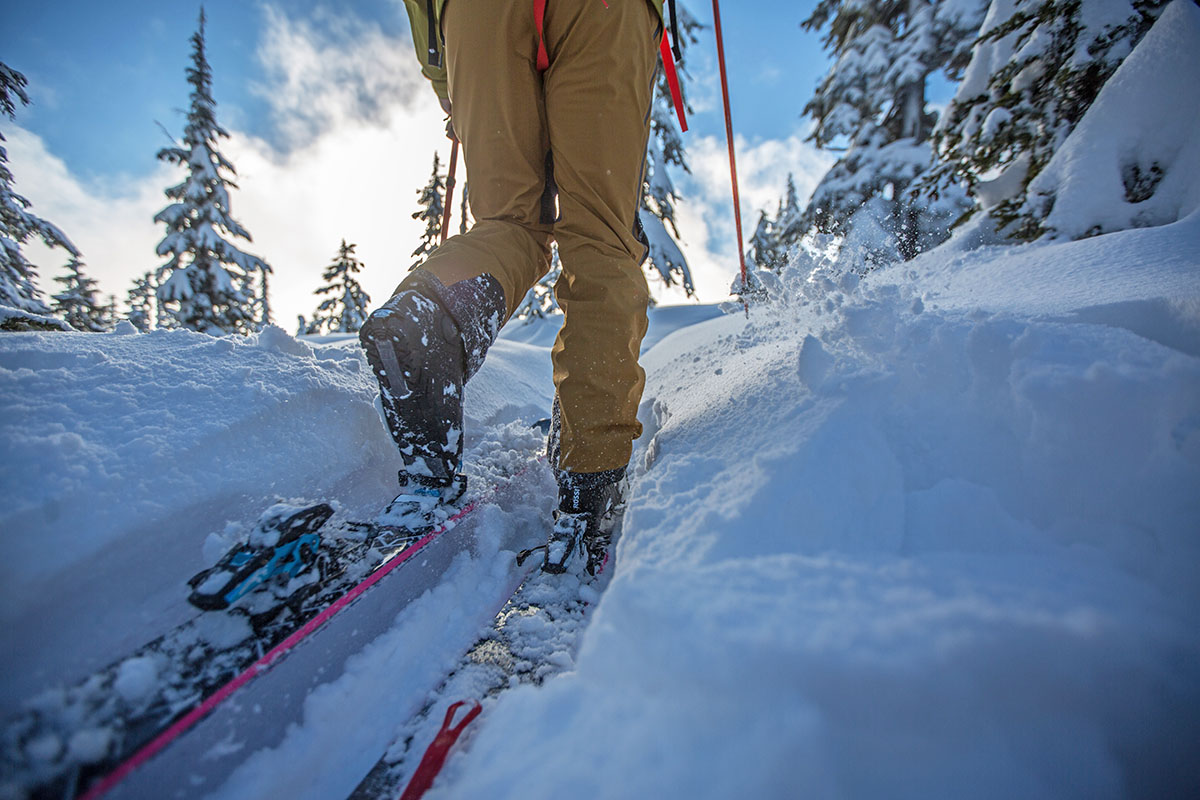 Downhill Performance
All of the aforementioned downsides—including the higher weight, overlapping cuff, and relatively stiff feel—make the Alltrack an exceptional descender. The Dual Core construction—essentially harder and softer plastics layered strategically—and fairly progressive 130 flex allow the boot to drive and transfer energy extremely well. It's easily able to pilot my 116-millimeter Black Diamond Helio powder skis and narrower, 107-millimeter Black Crows Corvus. Additionally, the alpine-style Velcro power strap and four micro-adjustable aluminum buckles effectively secure the boot and allow precise tensioning for navigating variable conditions, from skied-out groomers to frozen crud and knee-deep power. In fact, I've drowned these boots up to my knees and had no issues controlling my buried skis. Taken together, the Alltrack Elite 130 LT is a confidence-inspiring and highly capable downhill companion.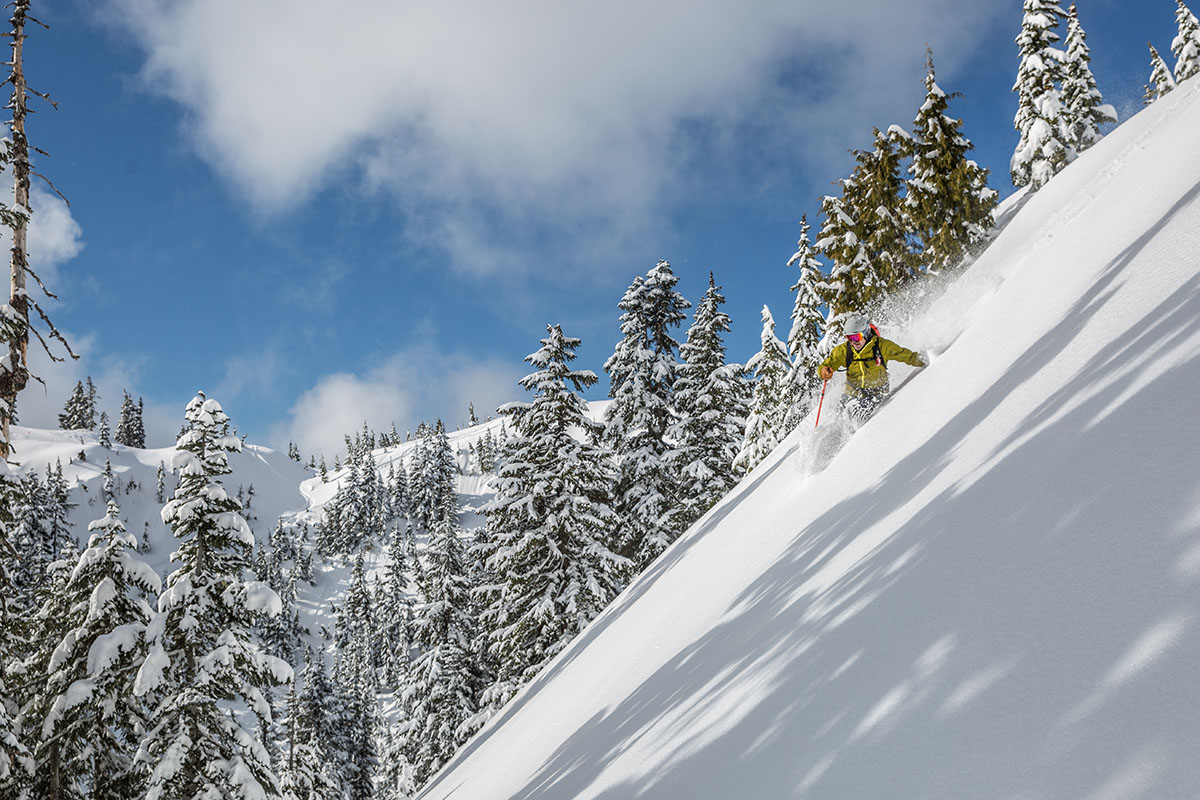 Weight
At 7 pounds 3 ounces per pair (weight has jumped to 7 lbs. 10.8 oz. for 2020-2021), the Rossignol Alltrack Elite 130 LT is decidedly on the heavy end of the touring boot spectrum. Other boots in my quiver, including the Dynafit Hoji Pro Tour (6 pounds 6.3 oz.), Free Tour (6 lbs. 13.3 oz.), and Scarpa Maestrale RS (6 lbs. 6.2 oz.) all undercut the Alltrack considerably. That said, when stacked up against similar sidecountry- and downhill-focused models like the Lange XT3 130 LV (7 lbs. 15 oz.), the Alltrack starts to look more competitive. And to be fair, this is still a serviceable touring boot. As I mentioned above, I've worn the Alltrack Elite while exploring the Mount Baker Wilderness for hours on end and found it to be very capable, especially for those who like to ski committing lines.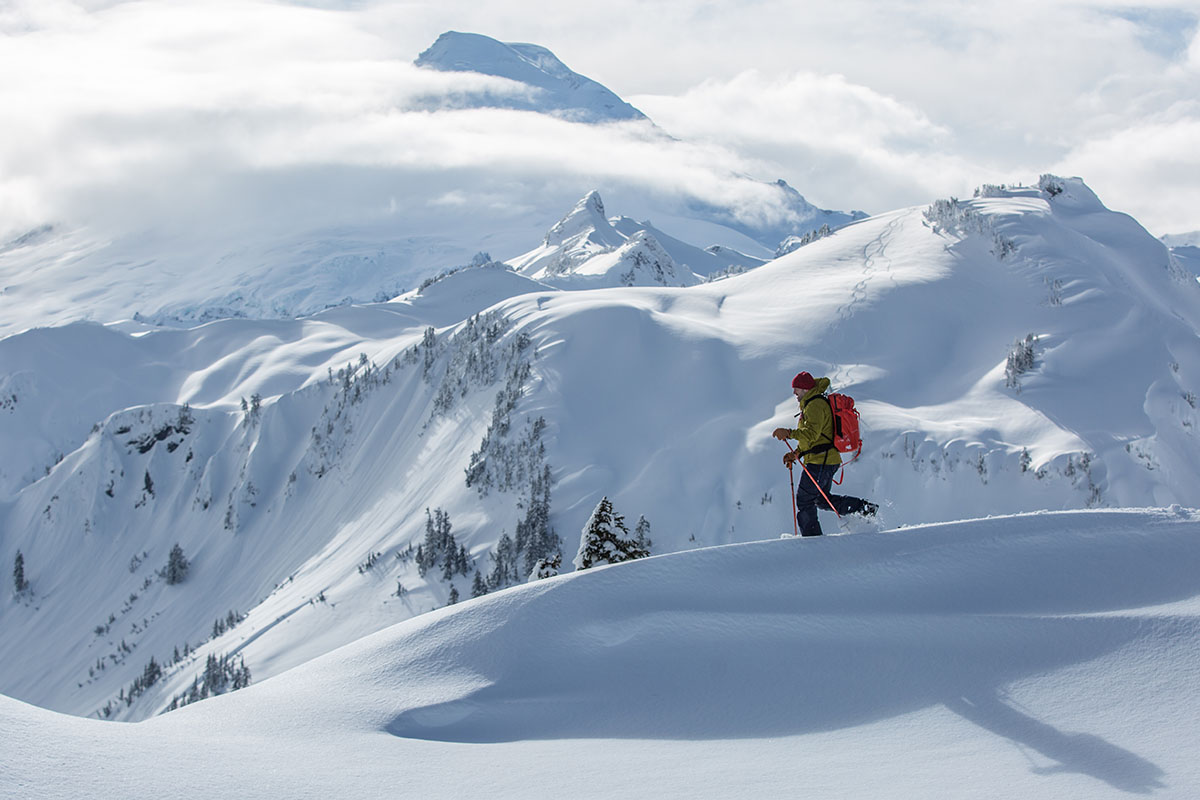 Warmth
With Thinsulate Platinum insulation and a pre-molded polyethylene liner (note: the 2020-2021 model uses Thinsulate Stretch), the Rossignol Alltrack Elite 130 LT is a very warm and comfortable boot. In fact, I've buried the boot on numerous powder days in the backcountry and have never experience any numbness. Even with the Alltrack submerged for hours while skiing, bootpacking, and skinning, my feet have never once grown cold. It's worth noting that a proper boot fit has a lot to do with maintaining warmth, as too much or too little space can have a major impact on heat retention. But sized properly (the boot can be heat-molded to improve fit), the Alltrack Elite is very cozy and retains heat well.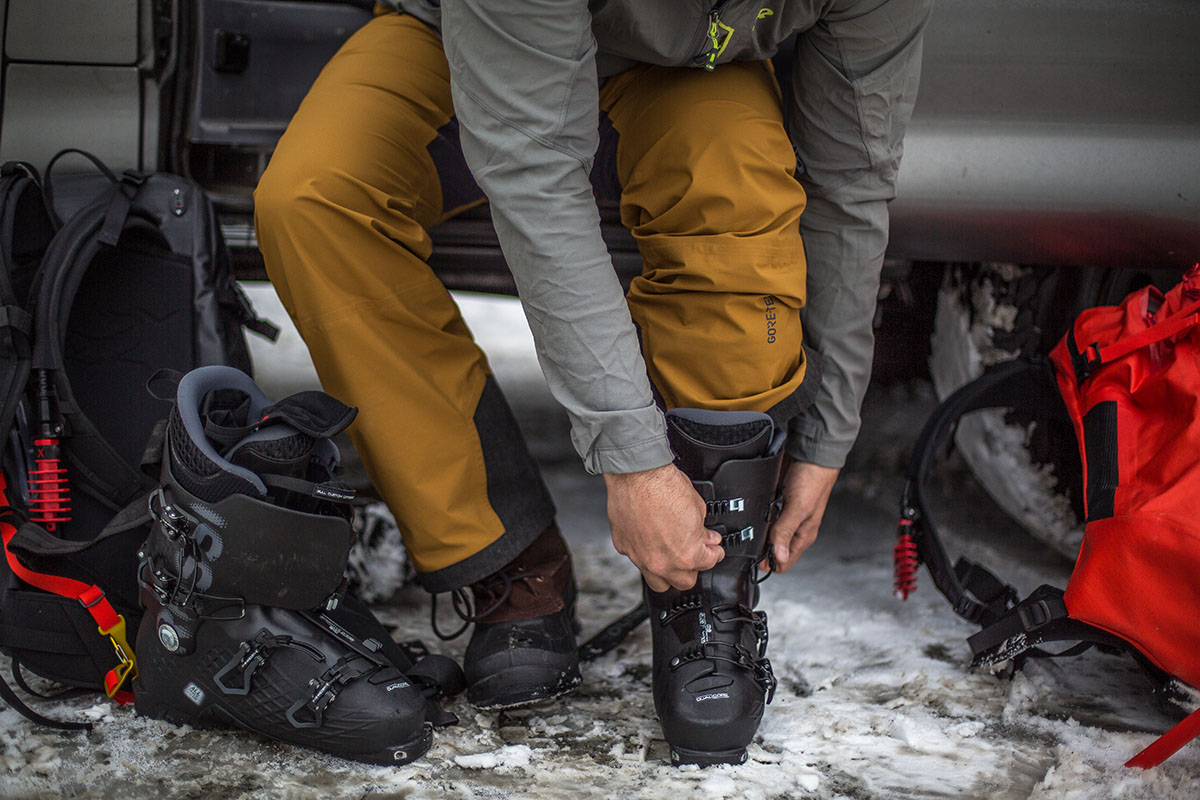 Key Features
Buckle System
Skiers who spend a lot of time at the resort will love the familiar closure system on the Alltrack Elite 130, which includes four study aluminum buckles and a 40-millimeter power strap. The power strap—a basic Velcro design similar to that on most traditional alpine boots—is very easy to manipulate with gloves on. It doesn't have the micro-adjustability of locking power straps like those found on the Salomon S/Lab MTN or Dynafit Hoji Free, but the upside is that it's notably less finicky, making it easy to crank the tension.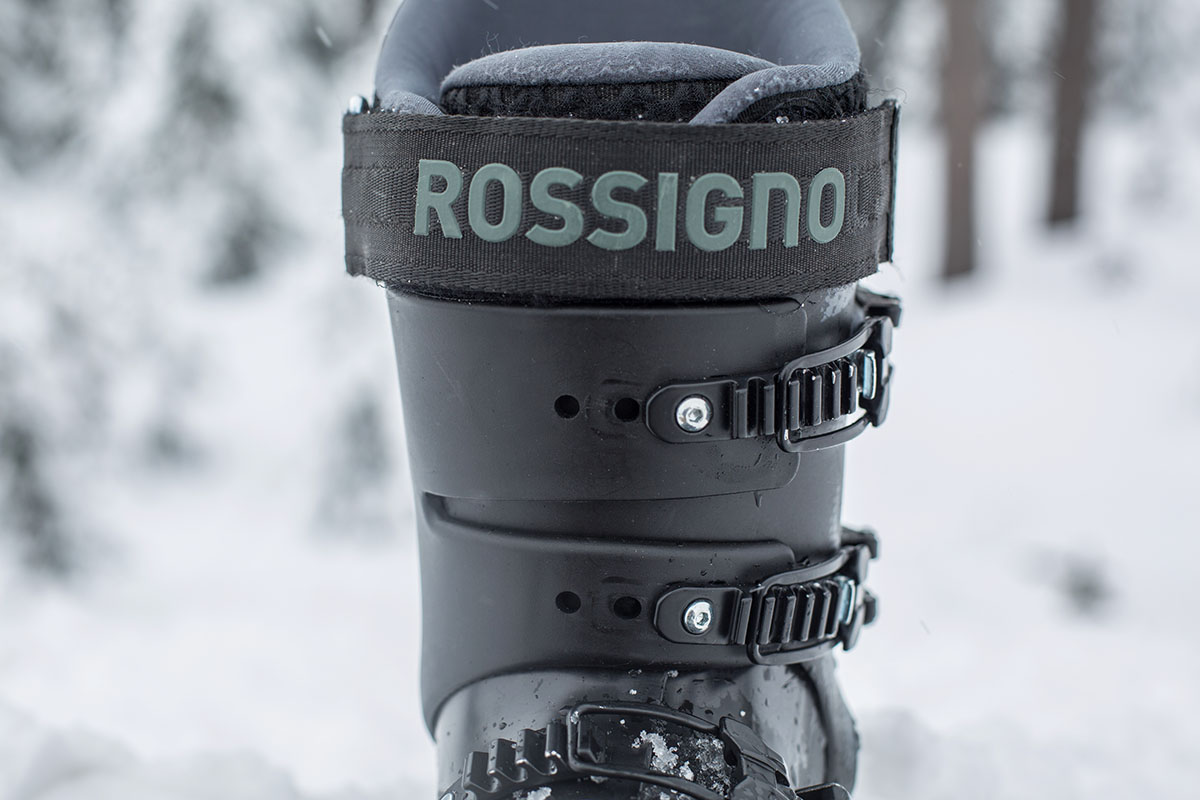 The four buckles across the boot are equally easy to access and toggle and do a remarkable job of cinching the boot to my preferred tightness. Further, all four have connections that can be twisted to set the buckle at various lengths. And like most boots, the upper buckle ladders can be adjusted by removing a small screw and sliding it into one of three holes—I have big calves, so I set both upper ladders to their maximum length. That said, it's important to make sure you adjust the buckle length before heading out on the slopes. If they're too short, it will be difficult to cinch down the upper buckles; if they're too long, you run the risk of not being able to get the required tension for charging downhill.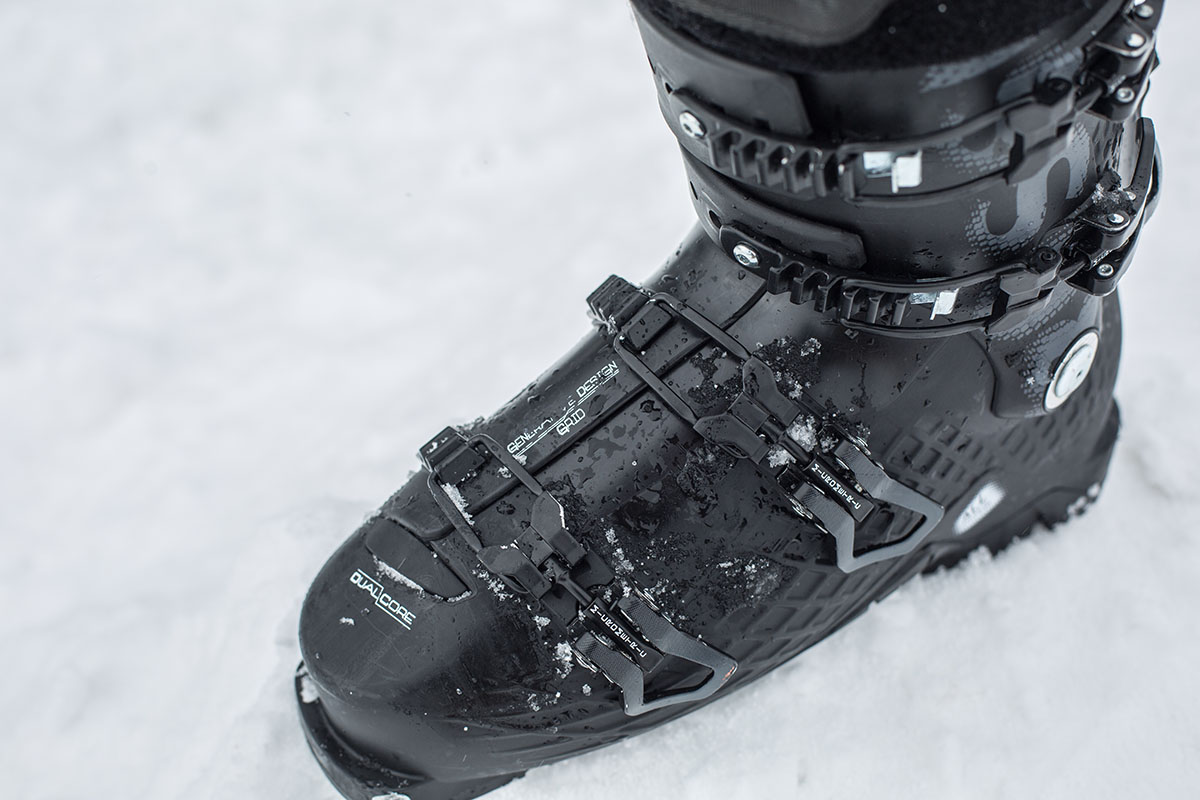 Ski/Walk Lever
Simply put, the ski/walk lever on the Rossignol Alltrack Elite 130 LT is the most rudimentary design I've used to date. The pull tab is adequate for toggling the vertical lever, but I wish it were a bit larger to make it easier to use with gloves. Additionally, when I put on the boot for the first time, it felt like a traditional alpine boot when in walk mode with very little flexibility and give. I've also found that the lever tends to stick a few millimeters before engaging, which has tricked me into believing I was in ski mode more than once. Both of these issues have lessened over time, but the lever remains finicky compared to every other touring boot I've worn. Finally, alternating between modes requires leaning far forward, which makes it difficult to lock into place, particularly from a seated position. On the plus side, the lever has never released unintentionally, and because it sits so close to the boot, it doesn't tend to cake up with snow or ice as I've found with some other designs, including the Scarpa Maestrale RS.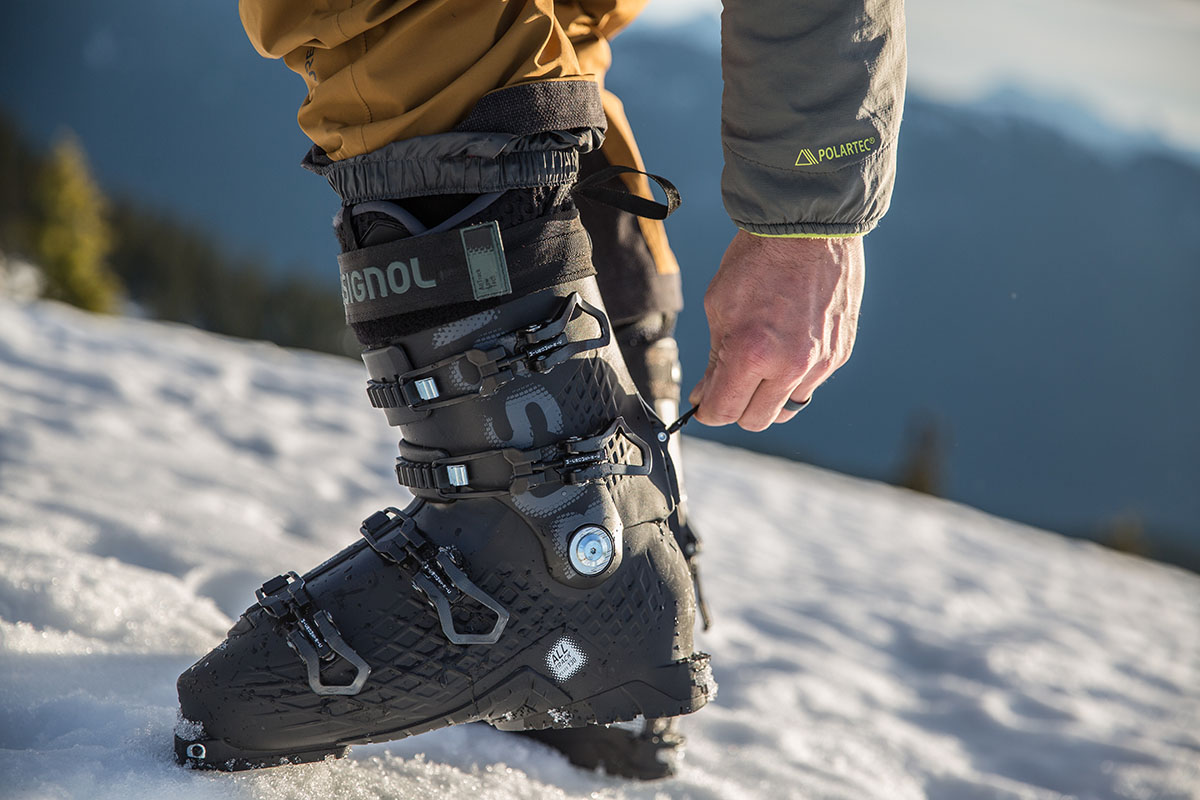 Liner
The Alltrack Elite features a Full Custom Optisensor T1-Polyethylene liner, which fit me incredibly well out of the box: nice and snug in the heel but with enough room through the instep and toe box. And throughout testing, the liner has packed out nicely, conforming to my foot without causing any hotspots or areas of rubbing. Further, the tongue is quite thick and well-cushioned, with a hard plastic shell on the outside to boost overall stiffness and reduce pressure when the buckles are cinched tight. If you consistently struggle to get a good fit, the Alltrack can accommodate laces, and the liner also can be heat-molded to your particular foot shape (I haven't had to do either).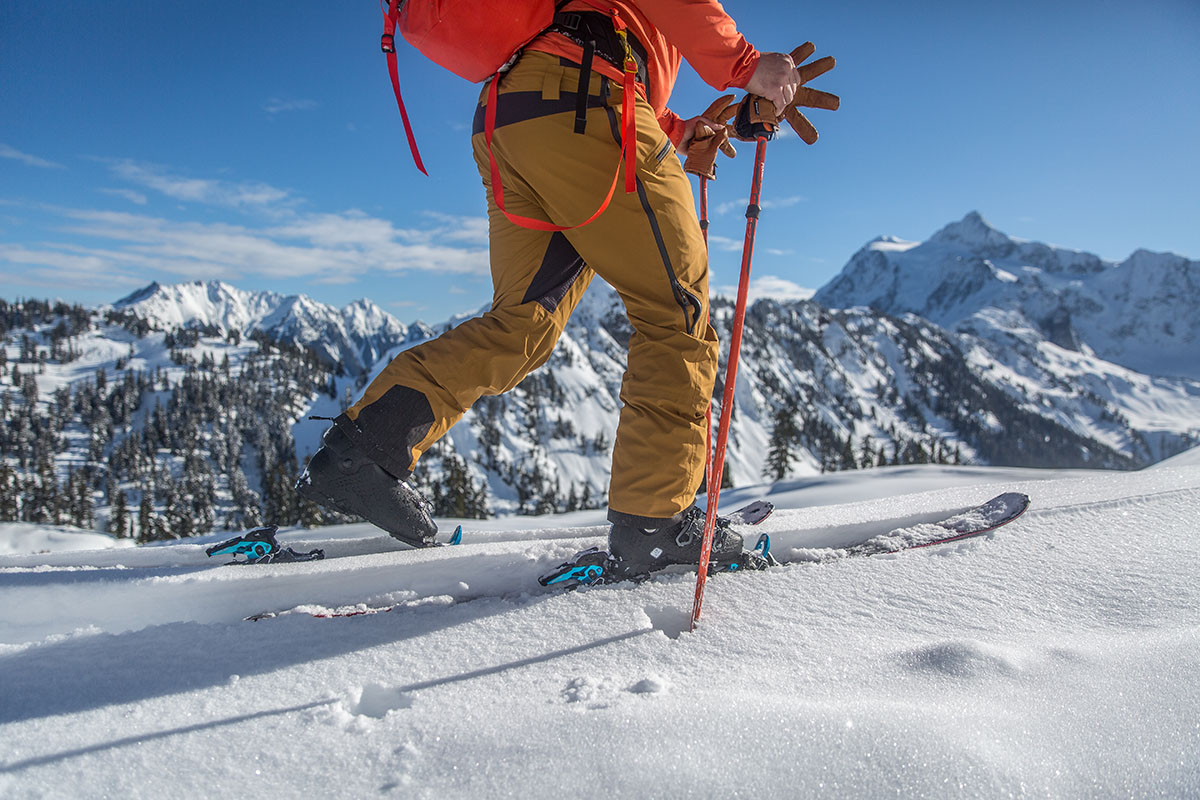 Build Quality and Durability
Rossignol is one of the most respected names in the ski industry, and the Alltrack Elite 130 LT is well-made and built to last. For starters, the Grilamid shell and Polyolefine cuff feel noticeably tough and have shown nothing more than light cosmetic wear after regular use and abuse. Further, all buckles, ladders, and the power strap are holding up well and remain in perfect working order. In this iteration of the boot, Rossignol opted for a Generative Design Grid, which reduces the boot's thickness in low-stress areas while maintaining rigidity where you need it most—you can actually see this mixed construction on the exterior of the boot. My only construction-related complaint is that the ski/walk lever took a significant amount of time to wear in and work properly, and it still takes a good amount of pressure to toggle.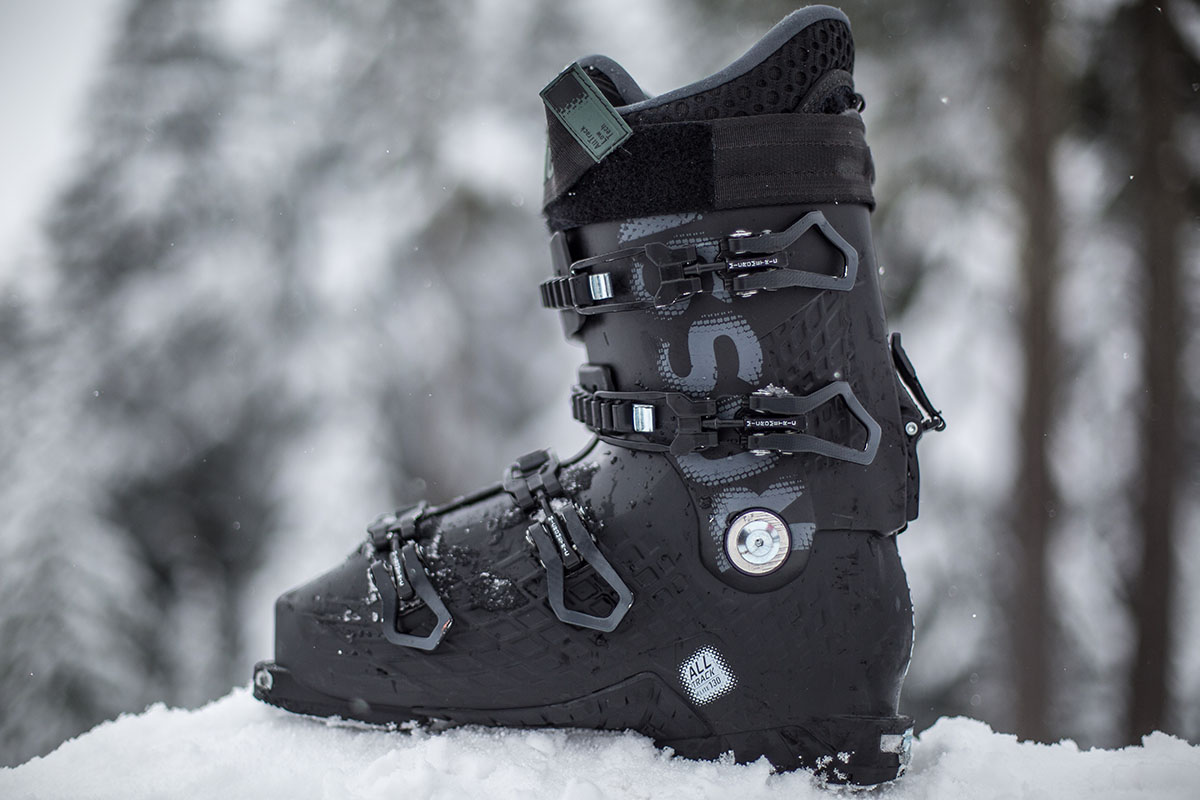 Fit, Sizing, and Comfort
I chose a 27.5 shell (315 BSL) in the Rossignol Alltrack boots, which offered a surprisingly good fit out of the box. With a performance-focused, narrow 98-millimeter last, the boot is designed to be snug, which is great news for those who like to charge downhill at speed. I typically get my backcountry boots punched, but I decided to try the Alltrack without any adjustments in order to maximize its downhill-focused build. In the end, the boot definitely fits tight in the toe box (particularly widthwise), but not to be point of being overly uncomfortable. That said, I do take the boots off as soon as I'm done skiing, and getting out of the Alltrack can be downright painful, as the lower shell tends to pinch the top of my foot. For those who prioritize comfort over performance, I would recommend considering heat molding to get a more accommodating all-around fit.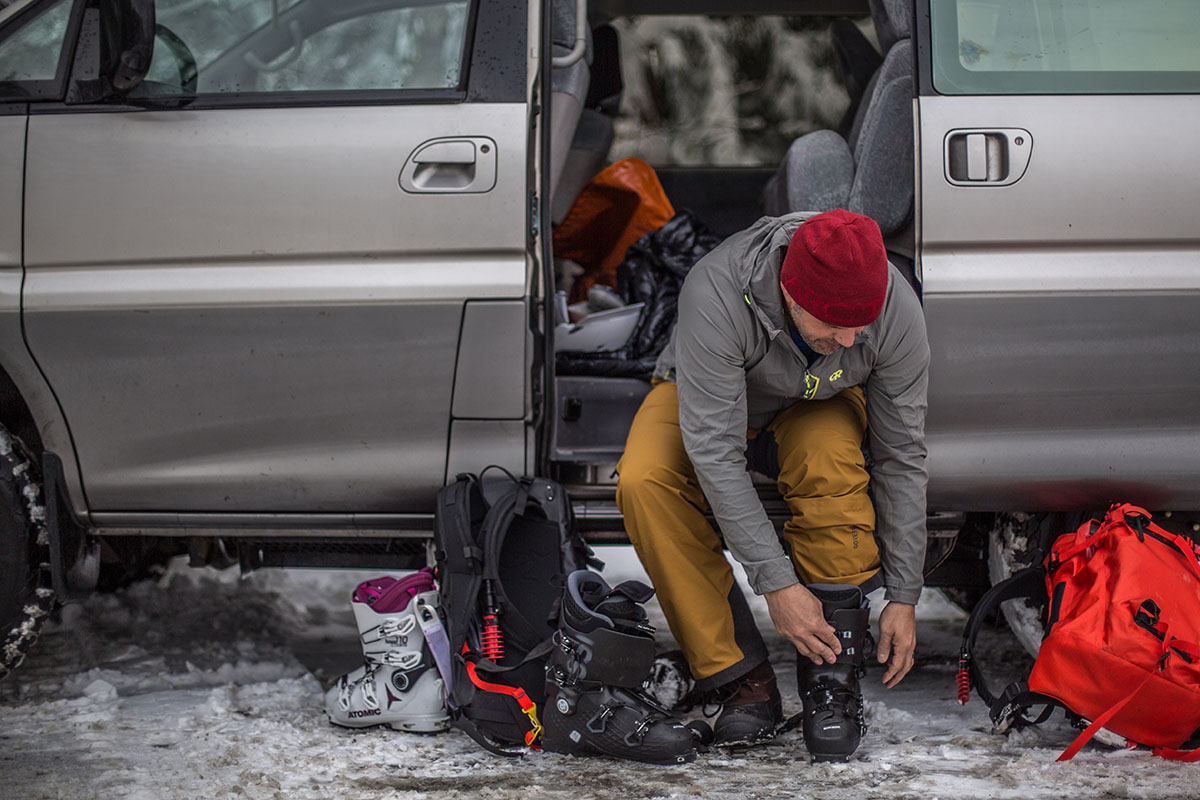 Other Versions of the Rossignol Alltrack
We tested the Alltrack Elite 130 LT for this review, and Rossignol has a number of other models in the Alltrack lineup. On the women's side, the Alltrack Elite is available in 90 and 110-flex versions. The women's Alltrack Elite 110 sports a very similar overall build and feature set to the men's model, including a 98-millimeter last, four micro-adjustable buckles and a Velcro power strap, Thinsulate Stretch insulation, and GripWalk soles. It's softer, costs $150 less, and weighs 6 pounds 11.9 ounces per pair, but you can expect similar performance across the board. The Alltrack lineup also includes a variety of more downhill-focused "Pro" models ranging in flex from 100 to 130 (more on the latter below), as well as standard Alltrack variations (90 or 110 flex) that trade the narrow fit of the Elite for a wide, 102-millimeter last, forego GripWalk soles, and use a cheaper and heavier shell material.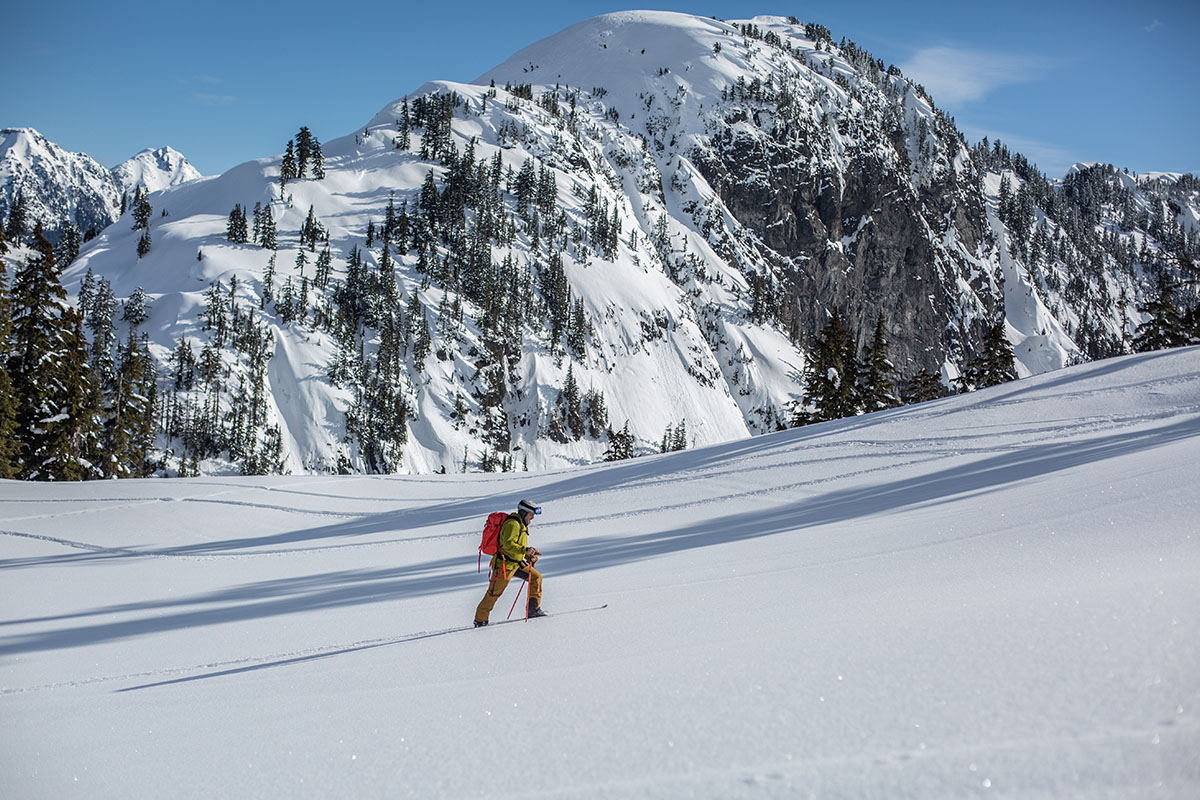 What We Like
Downhill performance is excellent: the Alltrack Elite has impressive power transfer and precision through conditions ranging from hardpack to knee-deep powder. 
Highly durable with a tough Grilamid shell and Polyolefine cuff.
Compatible with a wide range of bindings.

What We Don't
It's not a great climber: the ski/walk lever is pretty rudimentary and it has below average flexibility and comfort in walk mode.
Flat sole is awkward for walking (the 2020-2021 version of the boot comes equipped with more capable GripWalk soles).
Those with high-volume feet will likely have issues with the narrow toe box, and I found it tough to get out of the boot.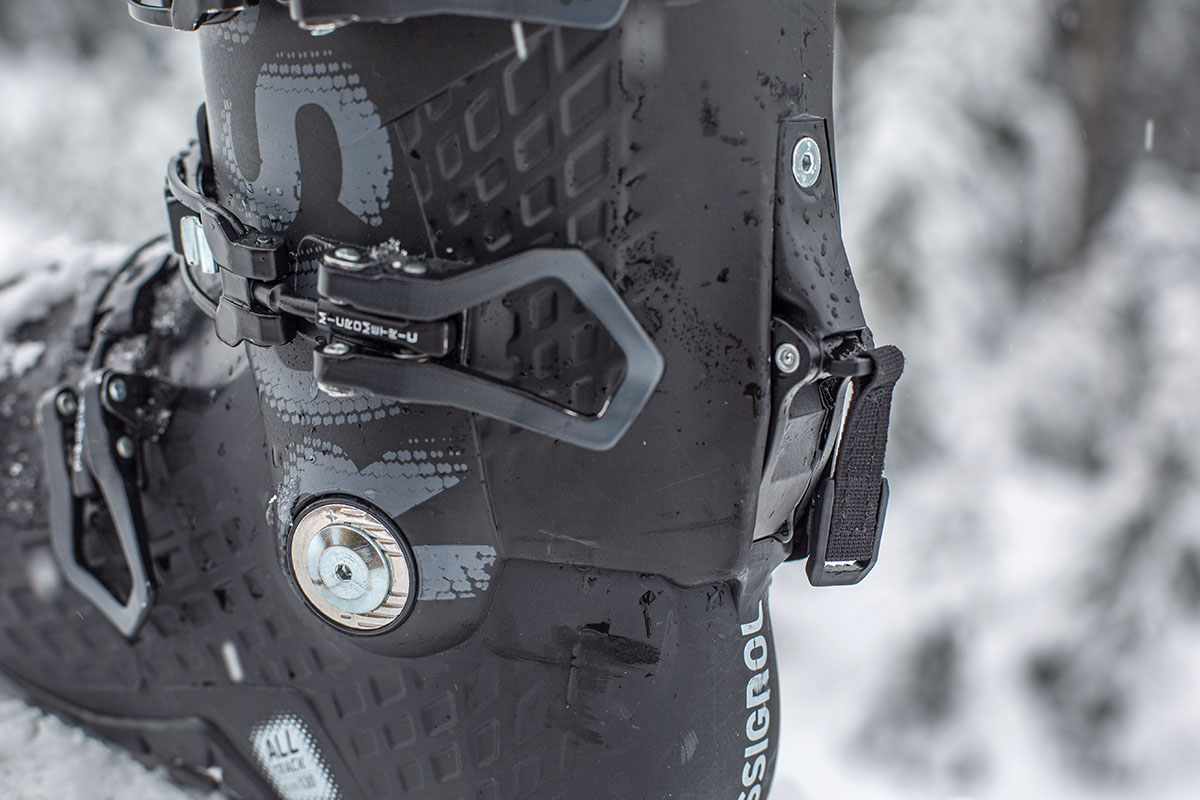 Comparison Table

The Competition
Rossignol's Alltrack Elite 130 LT is a capable touring boot for backcountry skiers who don't want to sacrifice downhill performance. As we touched on above, the Alltrack lineup also includes a "Pro" version, which shares a lot in common with the Elite: they cost the same at $700, both feature four-buckle-and-power strap designs, have a stiff 130 flex, sport the same liner and insulation, and have tacky GripWalk soles. In parsing out the differences, the Pro has a wider 100-millimeter last (Rossignol lists it as a "medium" fit rather than the Elite's "precision" fit) and trades the Elite's light-but-tough Grilamid shell for a heavier polyether version. This translates to a slight bump in weight to 8 pounds 1.8 ounces, which makes the Pro less appealing for those who spend considerable time on the skin track. We think the Elite tested here is the more well-rounded Alltrack, but if most of your off-piste days are lift-assisted, the Pro is a viable alternative.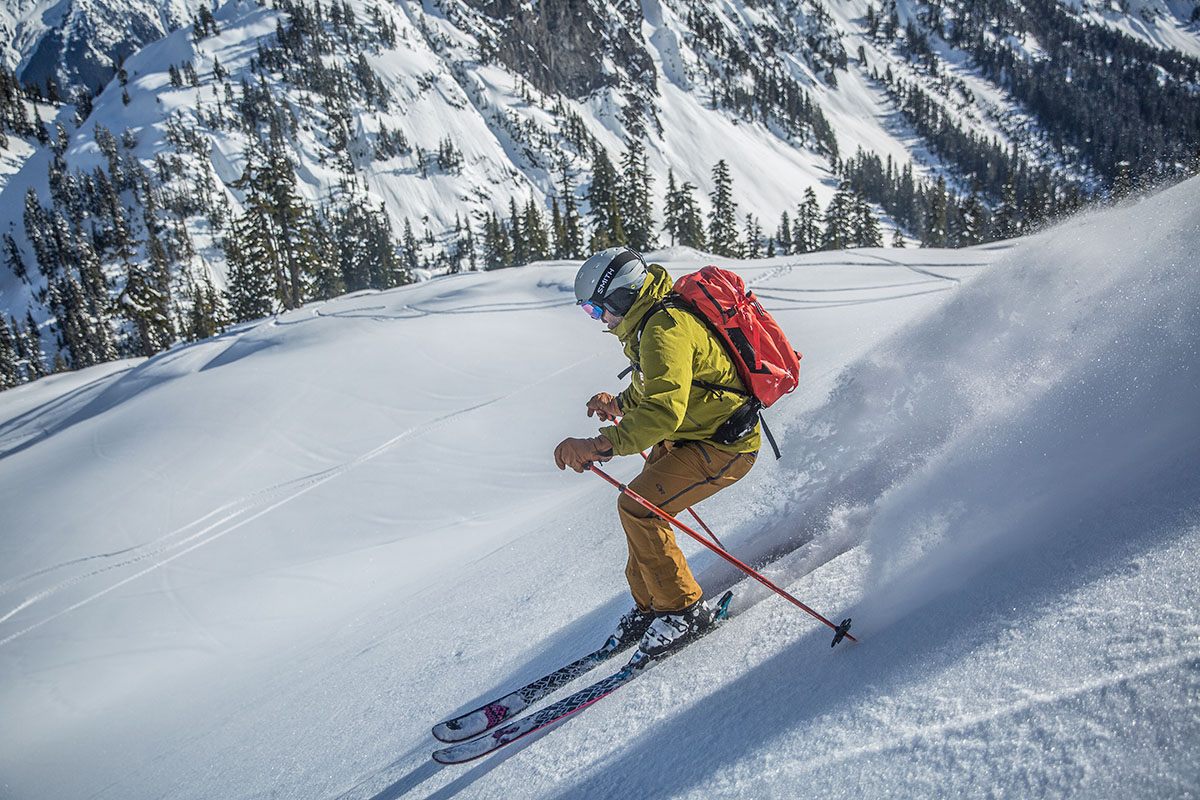 For 50/50 resort and backcountry use, our favorite hybrid model this year is Atomic's Hawx Ultra XTD 130. In testing the Hawx, we found it to be much more capable on the uphill with a light and flexible build, generous 54 degrees of flex (compared to the Alltrack's 50-degree ROM), and reasonably low weight (6 lbs. 15 oz.). That said, with four study buckles, stiff 130 flex, and wide range of binding compatibility (including alpine bindings), the Hawx can also hold its own on steep groomers and when tackling big lines in the backcountry (although it's not as solid overall). We did have a couple of fit issues during testing, including difficulty getting the boot on and off, but it's an impressive all-rounder and outperforms the Alltrack pretty much across the board. 
Another sidecountry-focused model is the Lange XT3 130 LV. Like the Alltrack Elite, the XT3 features a 130 flex rating, is powerful and stiff, and has an alpine-like feel that's confidence-inspiring across a wide range of conditions and terrain. However, the Lange is one of the few touring designs to outweigh the Alltrack at 7 pounds 15 ounces, which is a considerable downside for those who spend a lot of time ascending. But you get a more refined walk mode with the XT3 as well as better range of motion and climbing comfort in general. Combined with its strong construction, we think the Lange is worth the extra ounces (and $50) for its superior performance (for more, see our in-depth Lange XT3 review).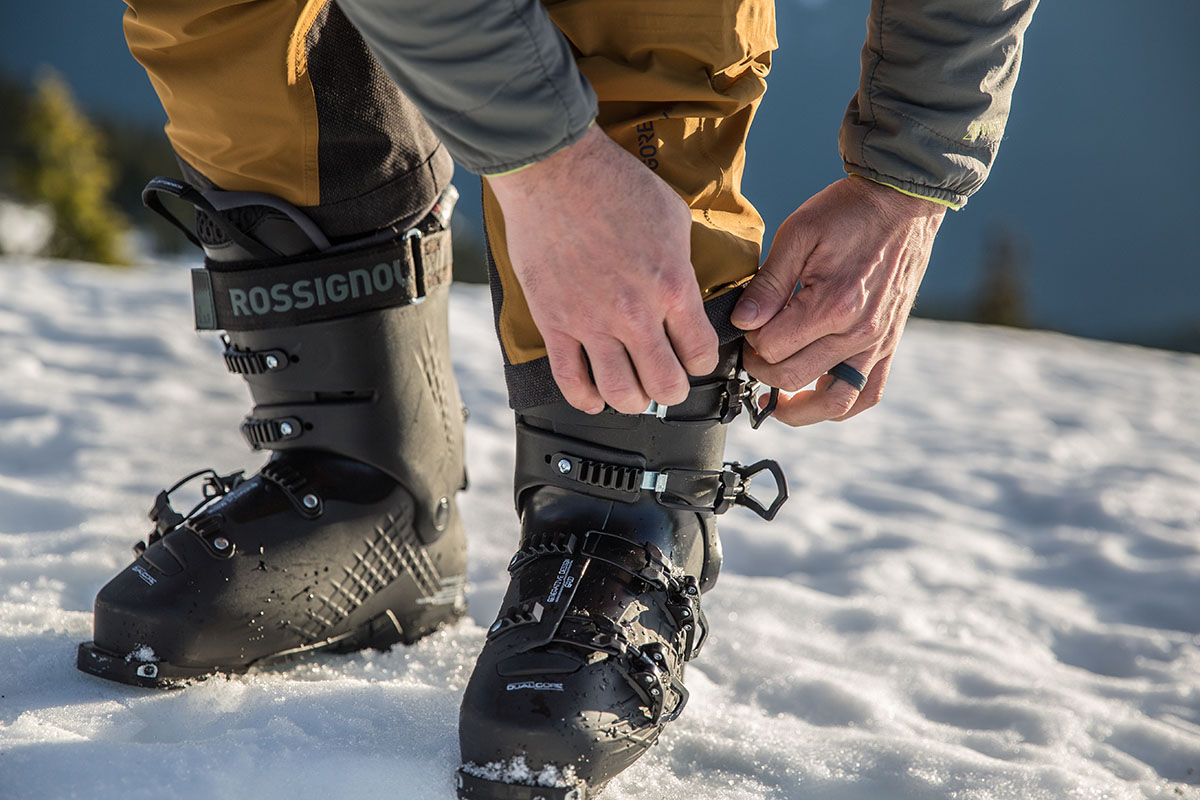 Salomon is no stranger to the backcountry ski market, and like the Alltrack, their S/Lab MTN is designed with the descent in mind. For starters, the boot has a fairly stiff 120 flex rating, light and hardwearing Grilamid shell, and powerful build for piloting skis through variable conditions (the Salomon clocks in at 6 lbs. 14.8 oz.). In testing, we found the Salomon fell short for climbing with a stiff cuff that limits mobility (ROM is listed at 47 degrees), and we maxed out its flex while touring on multiple occasions (similar to our experience with the Rossignol). And on the way down, the Salomon wasn't as smooth as the Alltrack and felt noticeably harsh driving forward. But in the end, the Salomon's lighter weight and quality build are undeniably enticing.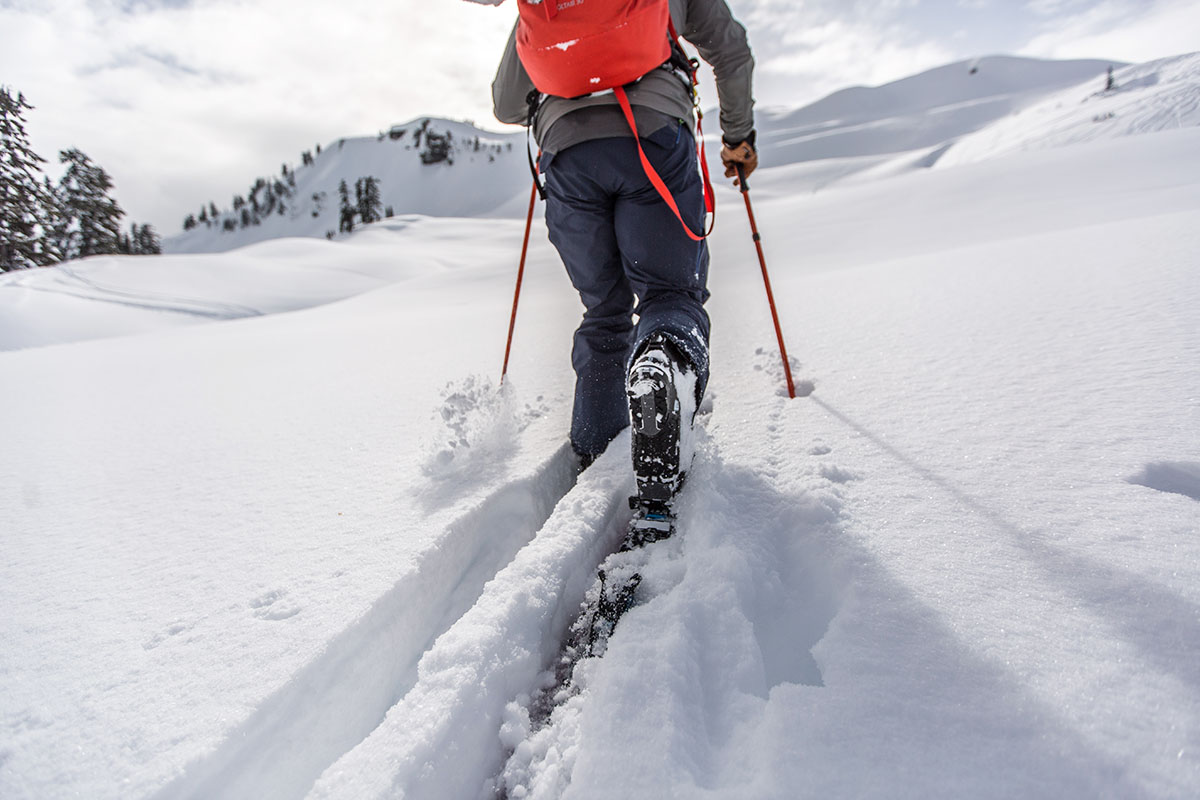 Our top-rated touring design this year is Scarpa's Maestrale RS, which is more uphill-focused than the Alltrack Elite but doesn't sacrifice much performance on the descent. On the way up, you get a generous 56 degrees of mobility (compared to the Alltrack's stated 50, which felt like a stretch) that exceeded our ankle's range of motion, as well as a relatively low weight (6 lbs. 6.2 oz.) and light-yet-durable construction. The Scarpa also excels in comfort with a premium and proven Intuition liner that's warm, hardwearing, and heat-moldable for a precise fit, and has a more accommodating 101-millimeter last that fits a wider range of foot sizes. You do sacrifice some power and stability on the way down with a softer build and one fewer buckle, but the difference is minimal, and we consider the Scarpa the best all-around option on the market. 
If you're thinking about buying gear that we've reviewed on Switchback Travel, you can help support us in the process. Just click on any of the seller links above, and if you make a purchase, we receive a small percentage of the transaction. The cost of the product is the same to you but this helps us continue to test and write about outdoor gear. Thanks and we appreciate your support!
Depending on the seller, most products ship free in the United States on orders of $50 or more. International shipping availability and rates vary by seller. The pricing information on this page is updated hourly but we are not responsible for inaccuracies.
Learn More About Backcountry Skiing