Lange XT3 130
Price: $750
Weight per pair: 7 lbs. 14.3 oz.
Flex: 130
What we like: An exceptional downhill companion for big lines and variable conditions. 
What we don't: Heavy; overlapping cuff inhibits range of motion while touring.
See the Lange XT3 130  See the Women's Lange XT3 110
Backcountry skiers often sacrifice downhill performance for the ability to tour uphill, but Lange's XT3 130 is designed with the descent in mind. We put the XT3 to the test both on- and off-piste in the Coast and North Cascade ranges of the Pacific Northwest and found it to be impressively confidence-inspiring in committing terrain. Weight-conscious skiers looking to cover ground quickly should look elsewhere, but the Lange is a true standout for confident riders hitting big lines, resort-goers who like to explore the slackcountry, and aggressive skiers who want an alpine boot-like feel in the backcountry. Below we break down the Lange XT3 130's overall performance. To see how it stacks up to the competition, see our article on the best backcountry ski boots.
 
---
Table of Contents
---

Uphill Performance
We won't mince words: the Lange XT3 130 is not the most efficient or capable climber. For starters, the boot is very heavy at nearly 8 pounds for the pair, and—similar to my experience with the Rossignol Alltrack Elite 130 LT—I've found the overlapping cuff causes the boot to stop abruptly when flexing forward. To be fair, the problem is much worse with the Alltrack, but it nevertheless limits range of motion and overall mobility. Another issue is the sole: despite being a fairly versatile GripWalk design (which is compatible with both alpine and tech bindings), the smooth, flat surface under the toe and heel makes walking in icy conditions difficult and dangerous (it can even be dicey in a ski hill parking lot). The rubber arch pad does help when scrambling on rocky sections, but it's no match for the full rubber sole found on Scarpa's Maestrale RS or Dyanfit's Hoji Free.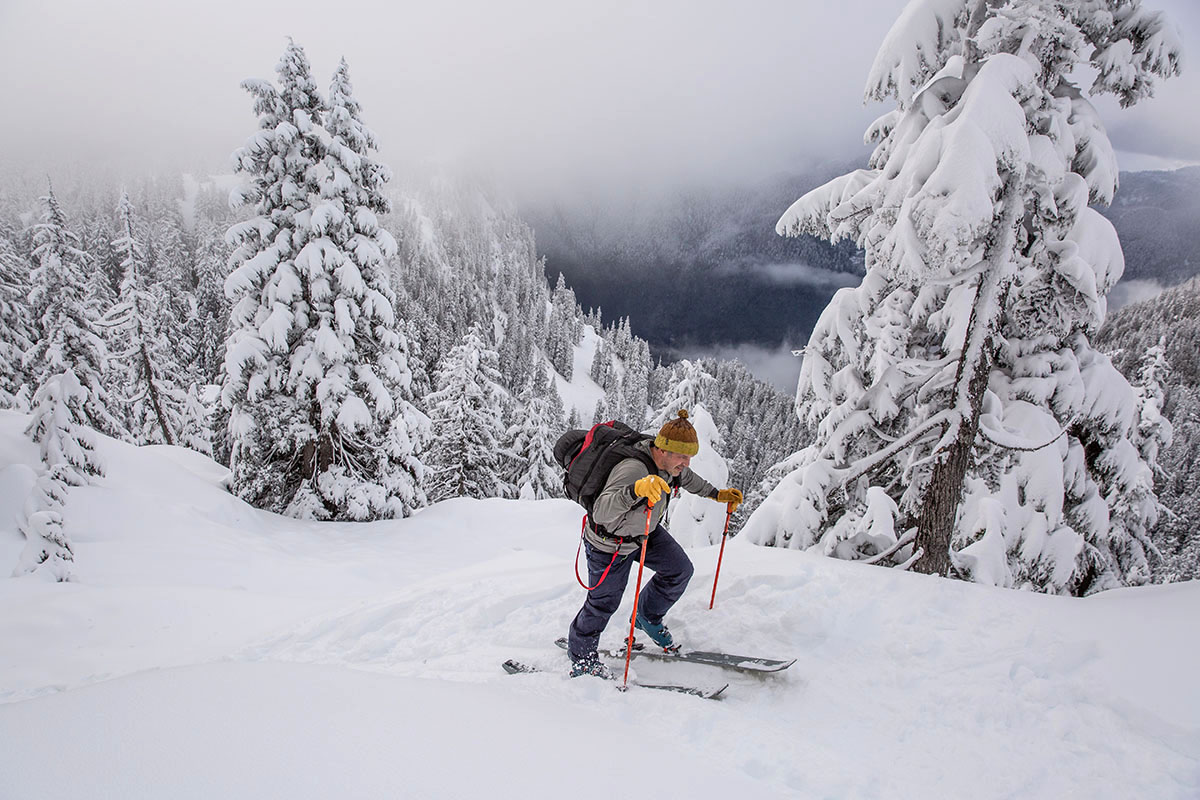 All that said, the Lange XT3 isn't totally out of its element on the skin track. All in all, I've found the boot to be a much more capable ascender than the Rossignol Alltrack Elite 130, and I've been able to wear the XT3 comfortably on longer outings and challenging tours through tricky, undulating terrain. The stated 53-degree range of motion is a considerable 13 degrees more than previous models, although I've found that I need to use my binding's heel risers on particularly steep inclines (and I always set the boot's buckles on the loosest hooks to minimize restriction). Finally, the ski/walk lever has taken some time to break in, but the stiffness decreased significantly after just a few outings.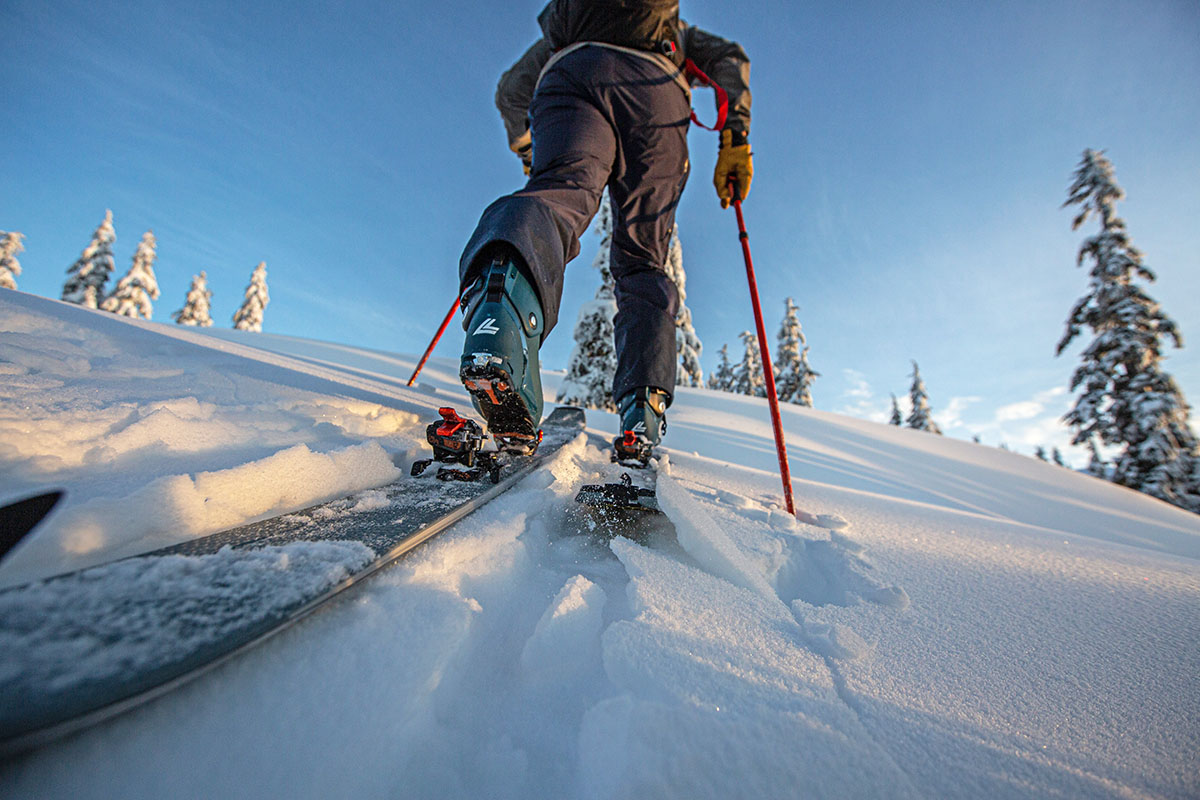 Downhill Performance
All the features that make the XT3 130 mediocre on the skin track—including the hefty weight and overlapping cuff—translate to exceptional downhill abilities. Put simply, it's the most capable and aggressive downhill-focused touring design I've worn to date. The progressive 130 flex promotes excellent energy transfer from ski to boot, and the alpine-like closure system (more on this below) is confidence-inspiring and offers great security and rigidity in a range of conditions from hardpack snow to frozen crud and deep powder. Combined with my 107-millimeter-wide Black Crows Corvus skis, the XT3 has been a reliable companion for carving groomers and plowing through skied-out chop early in the season at my local ski hill. Once the backcountry filled in, I paired the boots with my slightly wider Black Crows Ferox Freebird skis (110mm) and have been able to navigate tight glades and smear through powder with ease.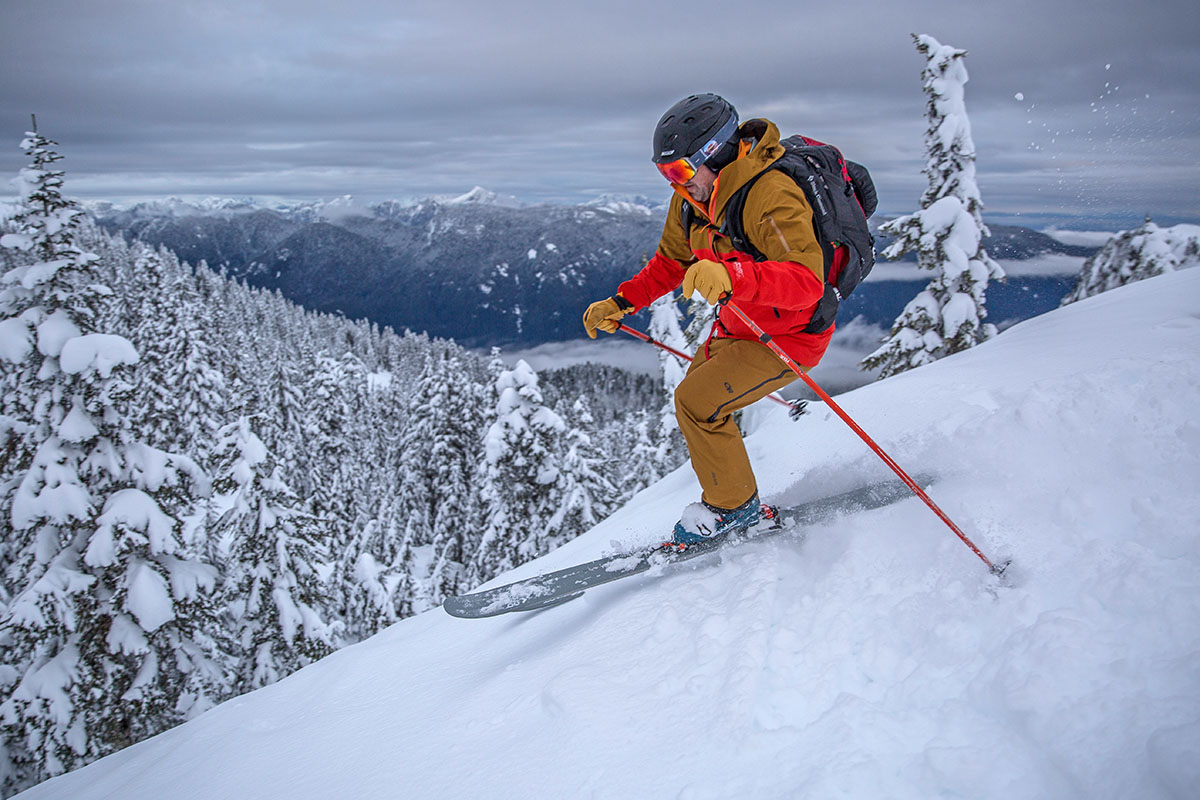 In terms of binding compatibility, the XT3 130 comes equipped with both Dynafit-certified tech inserts for traditional pin models and toe/heel lugs for alpine bindings. This makes the Lange incredibly versatile for a variety of set-ups and skiing objectives. For reference, I alternate between my Salomon Shift MNC bindings on my Black Crows Corvus skis and G3 Ion bindings mounted on my Ferox Freebirds. Regardless of which combination I choose, the boot drives and transfers power exceptionally well, and I love the near-perfect balance of flex and stability (it can generate power into turns but never feels sloppy or loose). Added up, the XT3 truly feels like an alpine boot and inspires confidence in a wide range of conditions.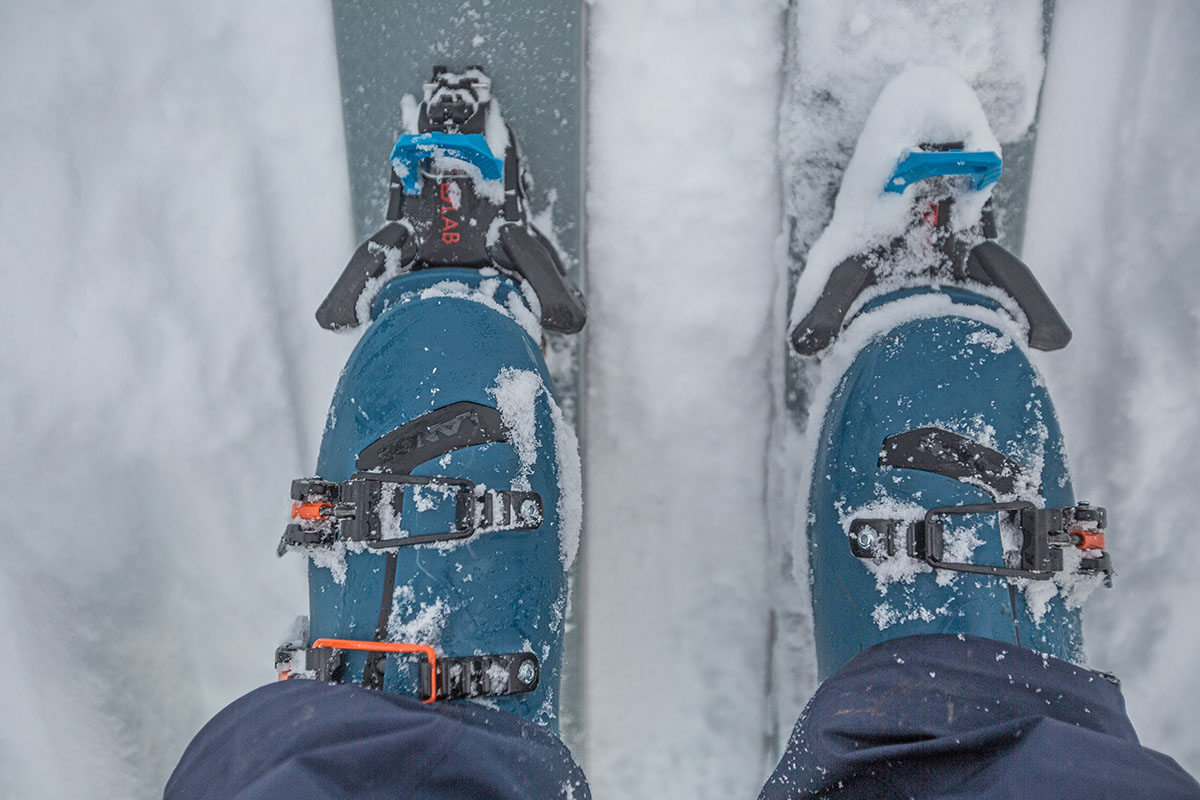 Weight
At 7 pounds 14.3 ounces for the pair, the Lange XT3 130 is one of the heaviest backcountry boots on the market. For comparison, other sidecountry-focused models like the Atomic Hawx Ultra XTD 130 (6 lbs. 15 oz.), Rossignol Alltrack Elite 130 (7 lbs. 11 oz), and Salomon Shift Pro 130 (7 lbs. 3 oz.) are also fairly hefty but still manage to undercut the Lange. And you can go much lighter with a more well-balanced design like Scarpa's Maestrale RS (6 lbs. 6 oz.) or Tecnica's Zero G Pro Tour (5 lbs. 14 oz.).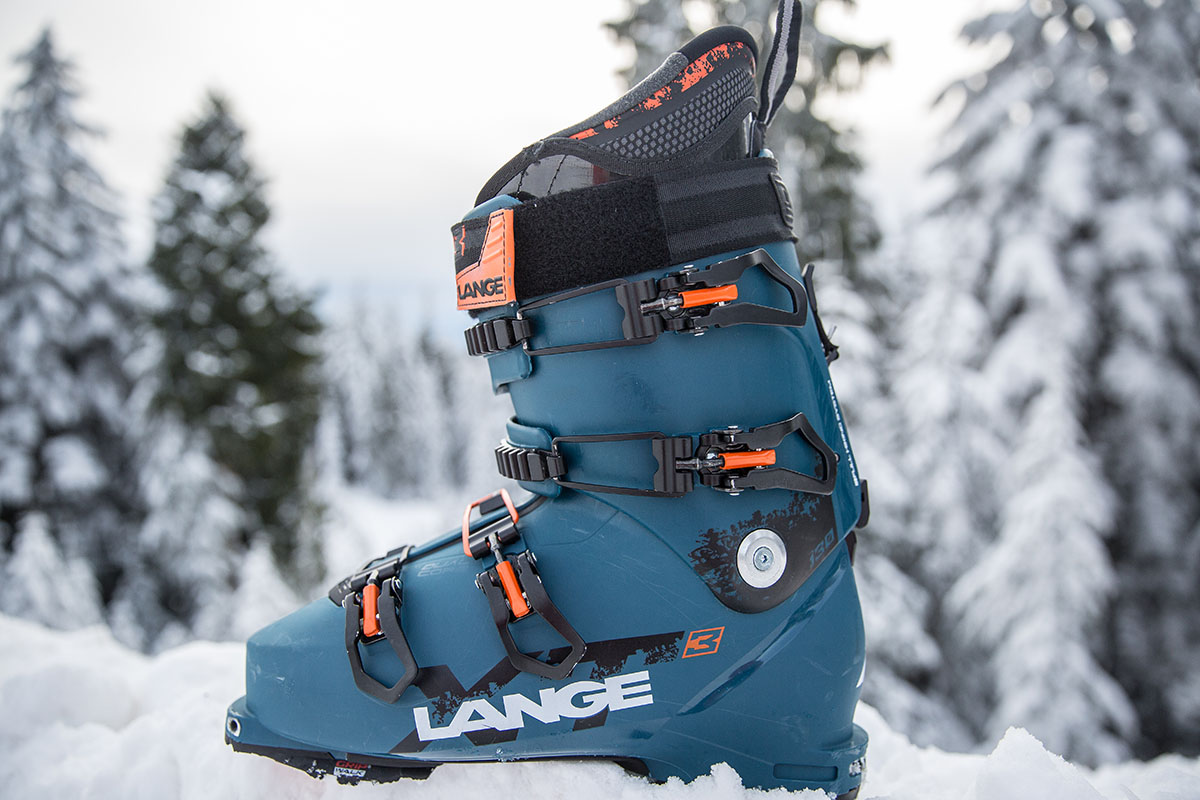 All that said, while the XT3 certainly won't be on the podium of any skimo races, it nevertheless is perfectly capable for longer outings in the backcountry. In fact, I've spent many six- to seven-hour days in the Coast Mountains and North Cascades without much issue. I do feel the heft by the end of the day, but for my objectives, the tradeoff in downhill performance is worth it. If you're more focused on covering ground quickly, however, I recommend looking elsewhere (Dynafit's TLT8 Expedition CR is a favorite for weight-conscious missions).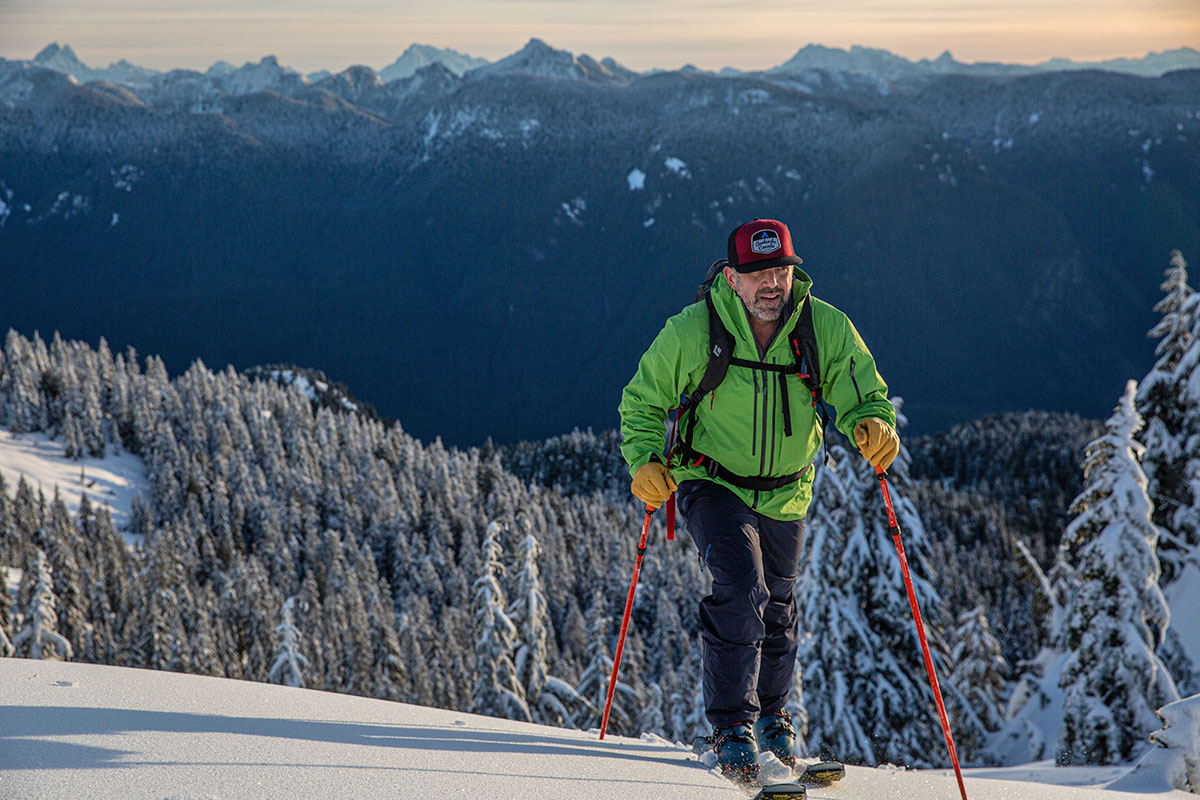 Warmth
The Lange XT3 130's dense Dual 3D Full liner and sturdy polyurethane shell make for a very warm boot capable of withstanding freezing temperatures, wet and heavy snow, and bitterly cold winds. I've drowned the boots on numerous powder days both in the backcountry and at the resort, and they've also been subjected to bootpacking and skinning for hours in frigid conditions. Through it all, I've experienced zero issues with cold feet or numb toes. It's worth noting that a proper boot fit has a lot to do with maximizing warmth—too much or too little space can have a major impact on heat retention—but sized properly, I've had no problems with the Lange (and the boots can be heat-molded to improve fit).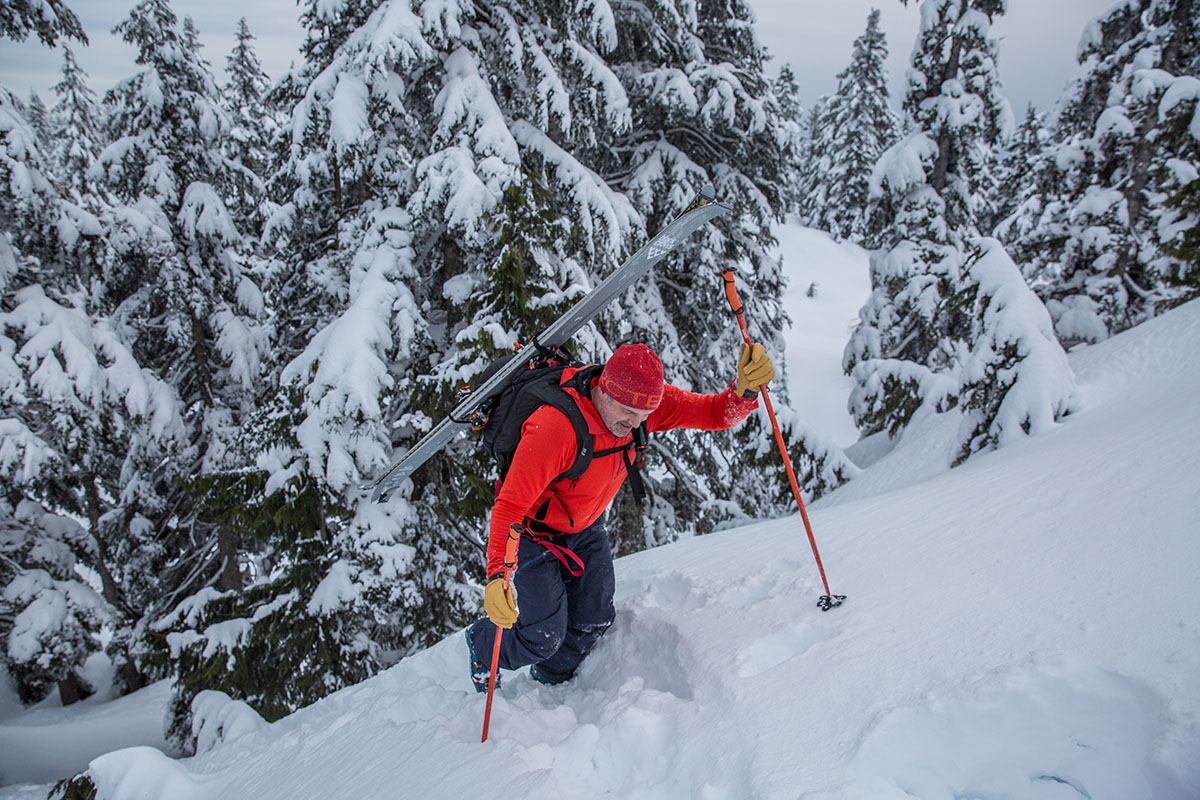 Key Features
Buckle System
Like many traditional downhill boots, the Lange XT3 has a robust four-buckle-and-power-strap system that offers excellent security. The simple, 40-millimeter Velcro strap is easy to manipulate and adjust with gloves on, and I've found it surprisingly easy to crank the tension (the downside is that it lacks the slick micro-adjustability of models like Dynafit's Hoji Free and Salomon's S/Lab MTN). The four aluminum buckles are similarly easy to access and toggle, and they also feature connections that can be twisted to set each buckle at various lengths. Finally, the upper two ladders can be adjusted by removing a small screw and sliding it into one of three holes depending on how snug you want the boot to fit around your calves.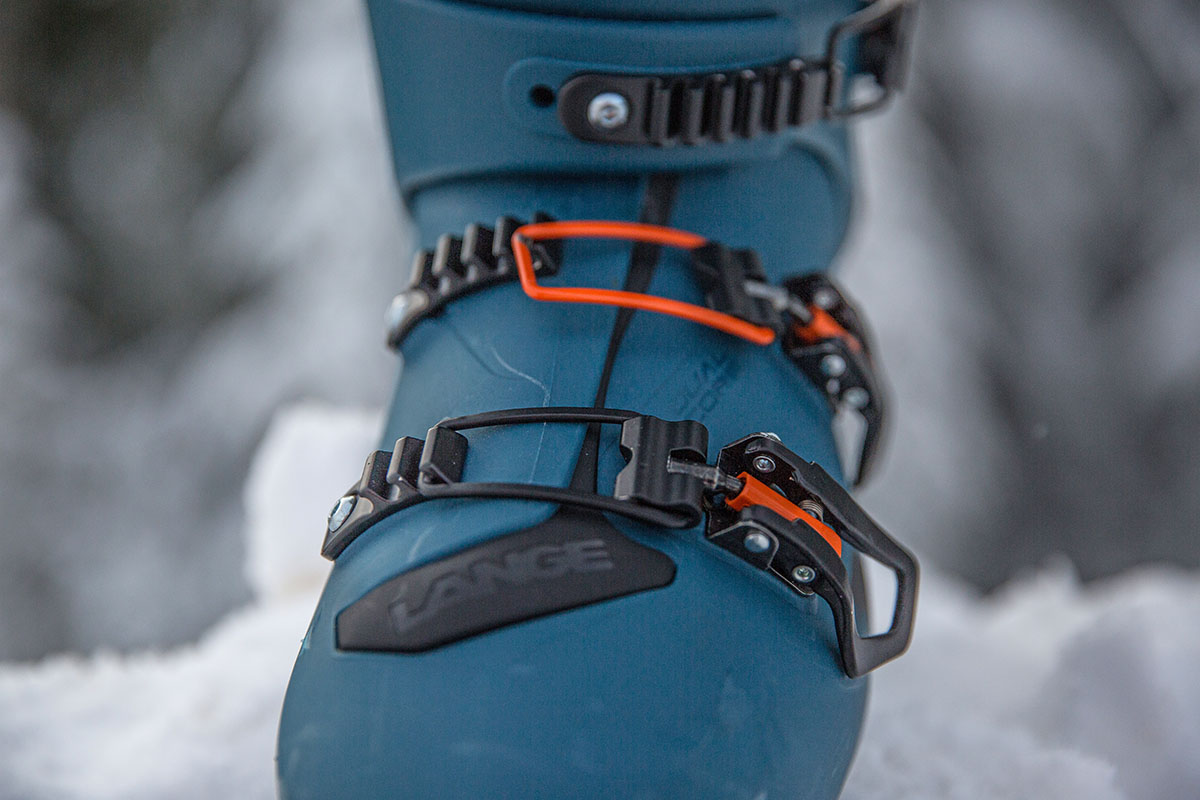 Ski/Walk Lever
The XT3 boasts a simple, vertical pull tab attached to a lever that engages Lange's V-Lock for transitioning between ski and walk mode. The metal on metal mechanism is fairly intuitive to use: When pulled up, simply lean forward to lock the boot into ski mode; when pulled down, lean back to engage walk mode. Unlike the Rossignol Alltrack Elite's more rudimentary design, I've found the Lange's to be smooth, accurate, and much easier to alternate between modes. I would prefer a slightly larger lever or pull tab to make it easier to toggle with bulky ski gloves, but that hasn't been too big of an issue. And on the bright side, the smaller size and location close against the boot means it isn't subject to filling with snow or icing up (an experience I've had with my Scarpa Maestrales).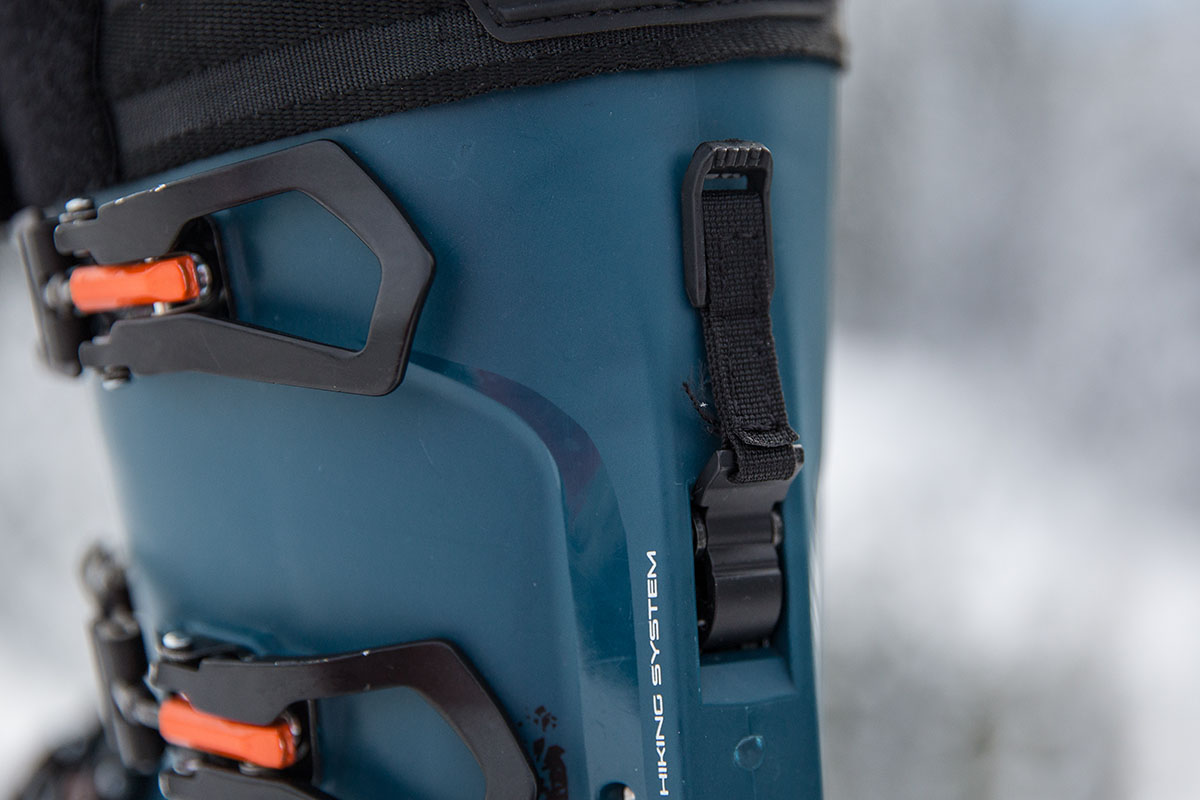 Liner
As I touched on above, the XT3 comes with a Dual 3D Full liner that's cozy, nicely cushioned with three layers of foam, and heat-moldable. The tongue in particular is thick and well-padded, and the hard plastic shell on the outside helps maximize stiffness without causing pressure at the shin from the buckles along the front. Out of the box, I found that the liner was already a great size and shape for my foot, although you can bring the boots to a bootfitter or add laces to better dial in fit if needed. And finally, I love that the liner comes with a nicely sized grab loop, which helps ease the struggle of pulling the boots on.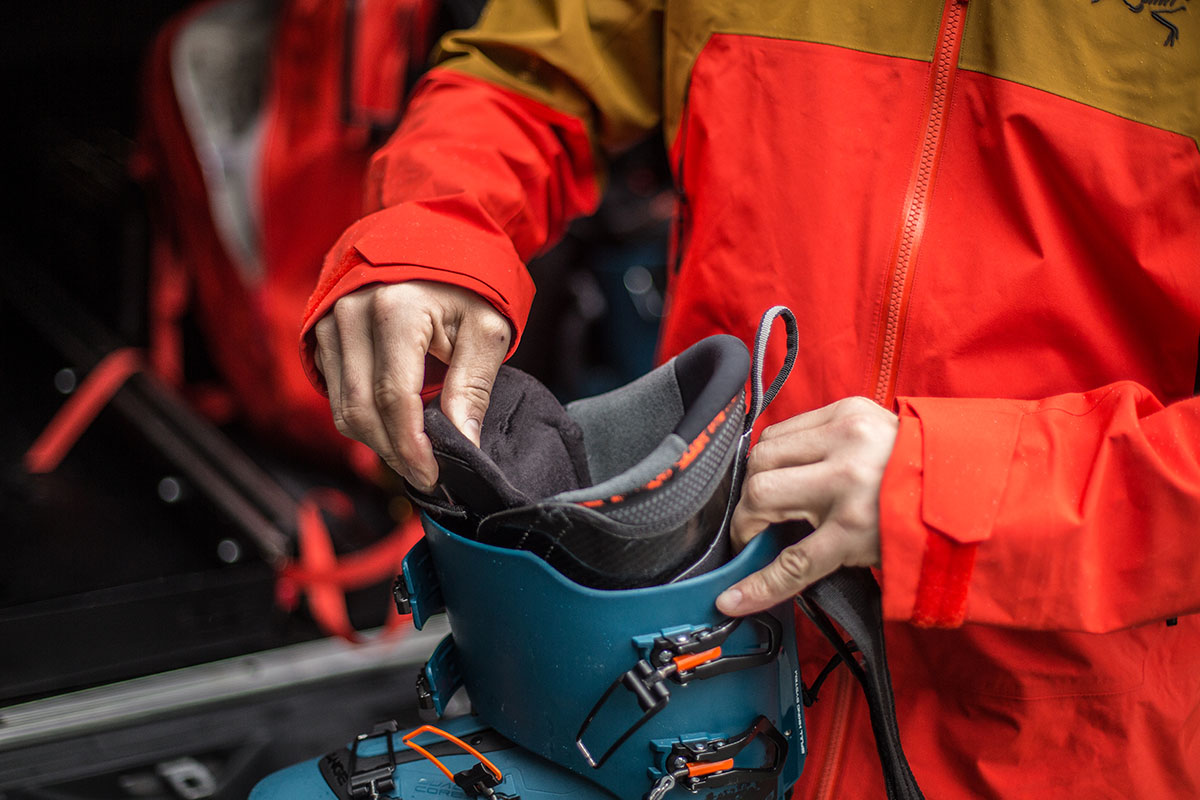 Build Quality and Durability
Given its impressive downhill performance, it should come as little surprise that the Lange XT3 130 is a very sturdy, well-constructed boot. As I covered above, the liner is well-designed and nicely cushioned, the closure system is robust and easy to operate, and the boot has an alpine-like feel that's confidence-inspiring in a wide range of conditions. After months of abuse, my pair only shows light cosmetic wear, and all buckles, ladders, and straps are holding up well and continue to function flawlessly. As I mentioned, the ski/walk lever did take some time to break in, but it's now fairly smooth and easy to operate (and the metal on metal construction should age well). All told, from a longevity and quality standpoint, I expect the XT3 to hold up to many more seasons of use without issue.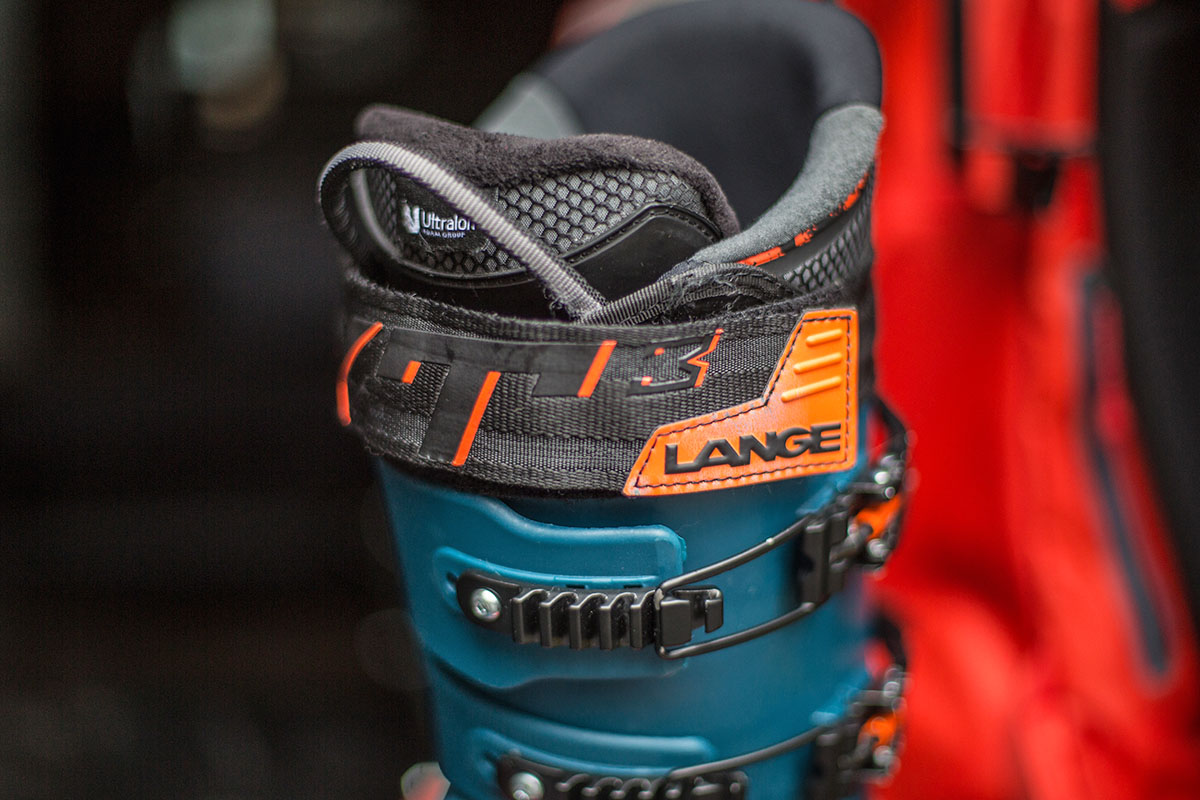 Fit, Sizing, and Comfort
After squeezing my way into a 27.5 in my Rossignol Alltracks last season, I opted for my usual 28.5 with the Lange XT3 and was happy with that decision. And in terms of width, I chose the 100-millimeter version of the XT3, which Lange dubs their "performance fit" (it's also available in a low-volume, 97mm model with a "precision fit"). For reference, I have notoriously difficult-to-accommodate feet, but the XT3 provided a great all-around fit out of the box: it was a bit roomy in the heel, but not dramatic enough for me to experience any blisters or hot spots (and this was easily remedied by adjusting the middle buckles).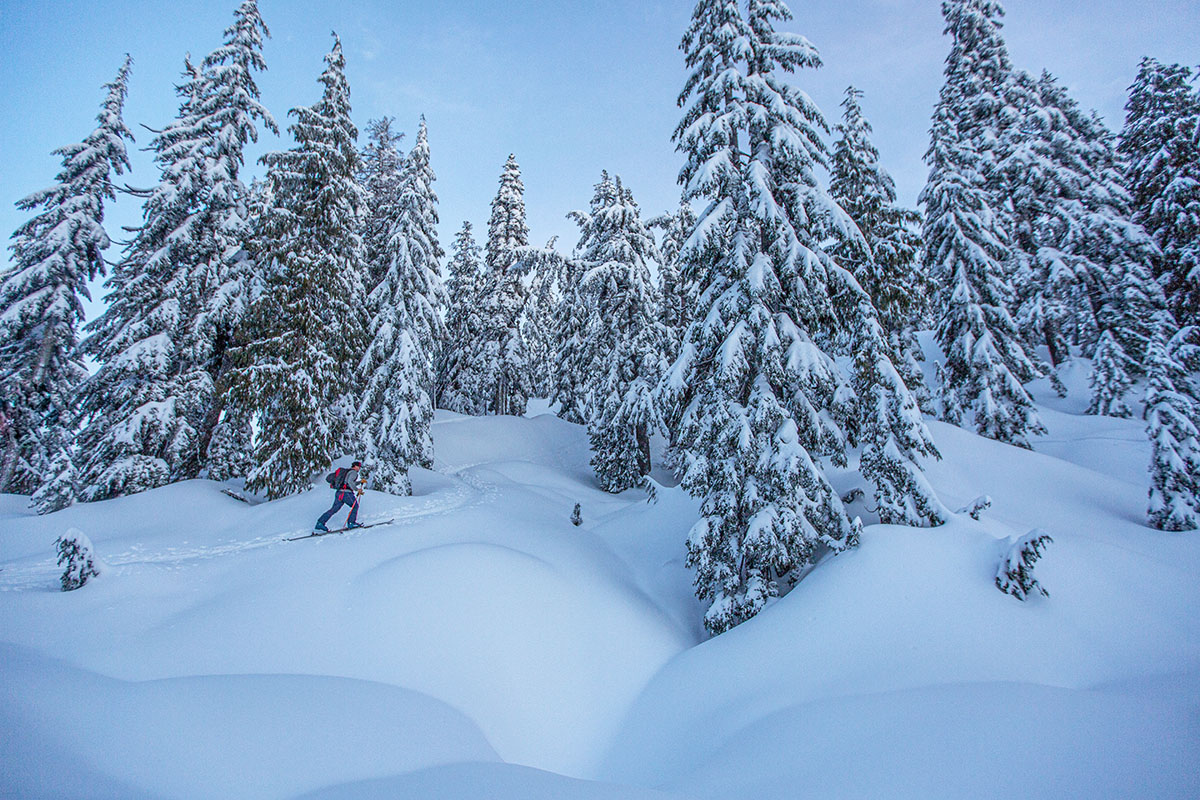 My only notable fit-related complaints have to do with the instep and overlapping cuff design. Similar to my experience with Dynafit's Hoji Free and Pro Tour, I found the XT3 to be a bit lacking in arch support, which required adding an insole (although to be fair, I do have rather high arches). And the overlapping cuff makes getting out of the boots difficult and fairly painful, since the lower portion of the shell tends to dig into the top of my foot as I twist and pull to get it off. However, I should note that I had a similar issue with the Rossignol Alltrack, and my wife almost always needs help getting out of her Atomic Hawx Ultra XTDs. I've found the best way to remedy the problem is to warm the boots before trying to take them off, which makes them noticeably more pliable and much easier to work with.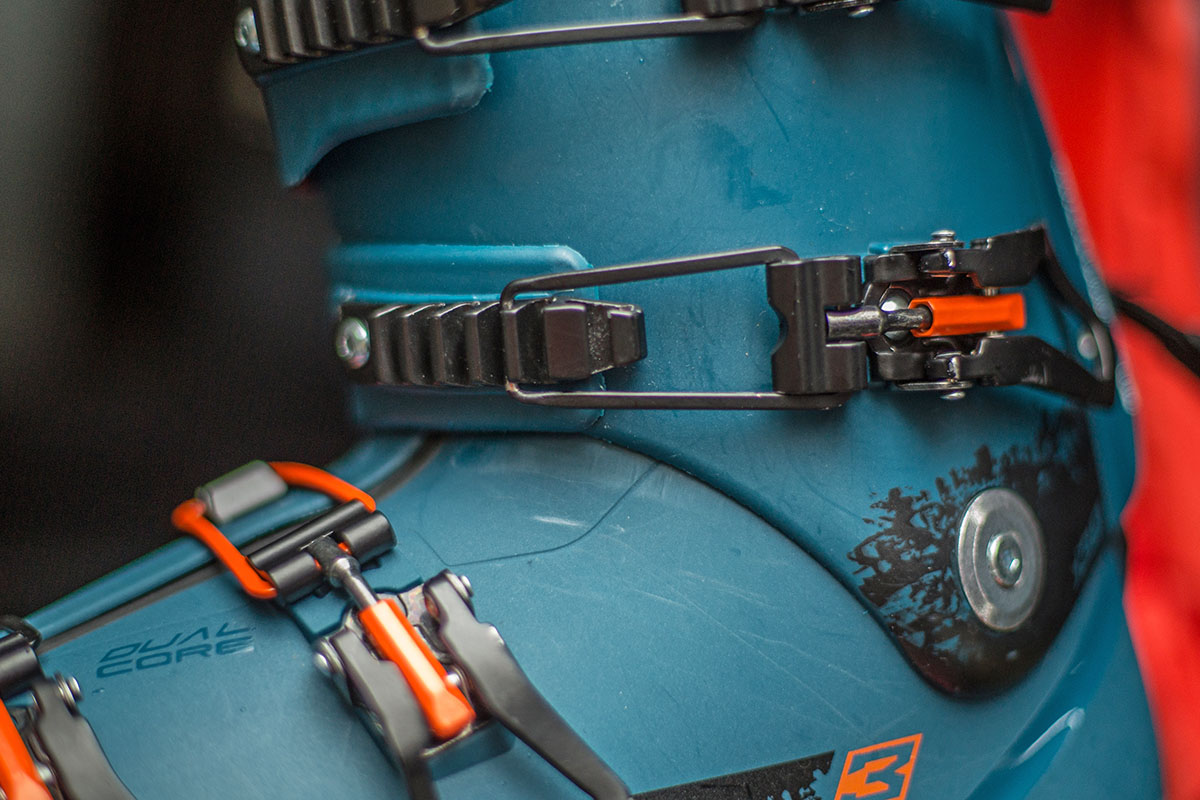 Other Versions of the Lange XT3
We tested the 100-millimeter, 130-flex version of the Lange XT3, and it comes in a number of other widths and flex options to accommodate different riding styles and foot shapes. Skiers who want to tackle big, high-consequence lines or are heavier can upgrade to the stiffer 140 Pro version, which costs $50 more at $800. Alternatively, lighter riders or those who want a bit more of a forgiving feel have the option of 100, 110, or 120-flex variations. On the women's side, you get the option of an 80, 90, or 110 flex. And all designs are available in low-volume or standard versions with 97- or 100-millimeter lasts, respectively.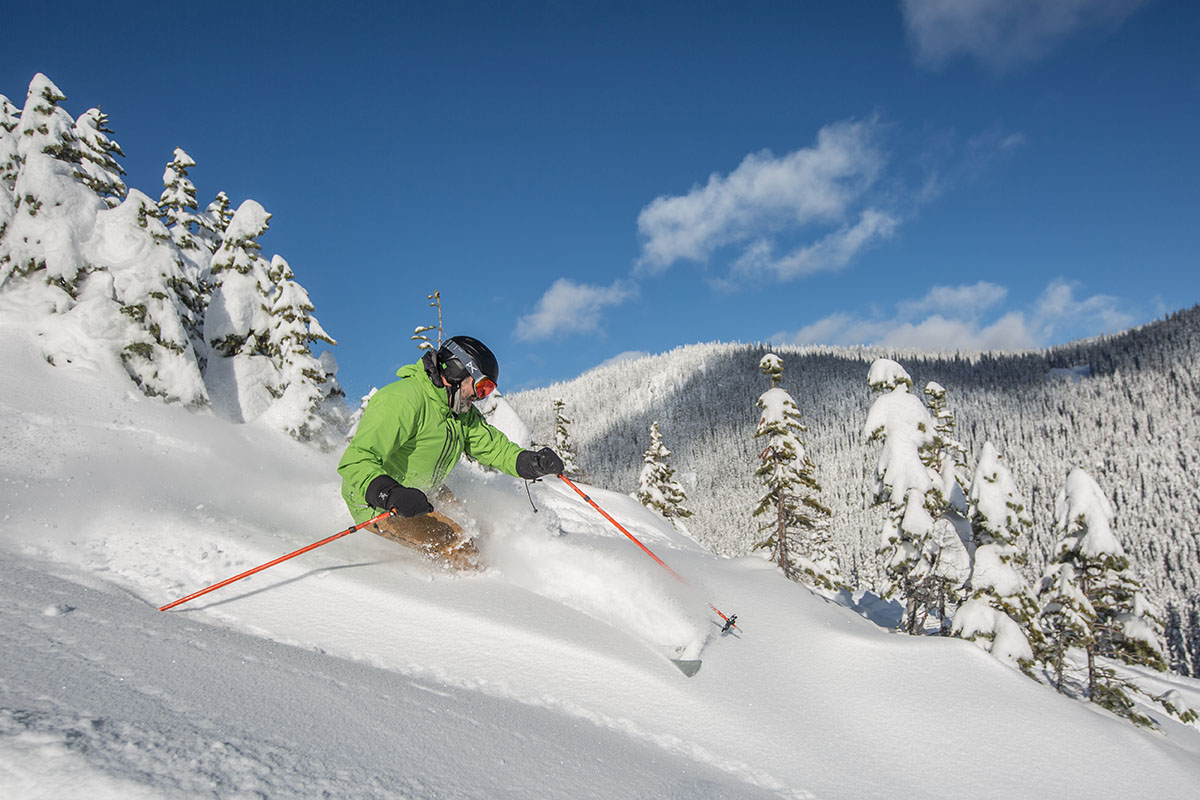 What We Like
The Lange XT3 is an exceptional downhill companion: this boot is highly responsive, transfers power incredibly well, and is stable at speed and in a range of conditions.
Extremely hardwearing and confidence-inspiring build has held up impressively well to rough backcountry and resort use.
Dual 3D Full liner and sturdy polyurethane shell provide great warmth and fit me very well out of the box.
Compatible with both tech and alpine bindings.

What We Don't
Very heavy at nearly 8 pounds for the pair, which can take a toll on long tours.
Overlapping cuff design causes the boot to stop flexing abruptly while in walk mode and can make it difficult and painful to get off.
Flat surface under the toe and heel makes walking in icy conditions tricky and fairly treacherous.


Comparison Table

The Competition
Lange's XT3 130 is a strong and powerful backcountry ski boot that performs exceptionally well on the descent. In this category, we also like Atomic's Hawx Ultra XTD 130. The Atomic is the weight leader at 6 pounds 15 ounces per pair (nearly a full pound lighter than the Lange) and features 54 degrees of range of motion, both of which translate to better uphill capabilities. You also get a sturdy 130 flex and a four-buckle layout, although it's still a step down from the alpine boot-like feel of the Lange on the downhill, making it the less ideal pick for heavy riders and big-mountain lines. In the end, a final decision between the two will come down to your objectives and priorities: the Lange can ski more aggressively, but the Ultra XTD is the more versatile 50/50 resort and backcountry pick.
Another downhill-focused backcountry option to consider is Rossignol's Alltrack Elite 130 LT. Similar to the XT3, the Alltrack Elite boasts fairly capable and versatile GripWalk soles, features four sturdy buckles and a thick power strap for excellent stability and dialing in fit, and is heavy at 7 pounds 11 ounces. In parsing out the differences, the Lange offers better and smoother range of motion, has an easier-to-use and more robust walk/ski lever, and boasts a wider last (the Rossi has a more performance-focused, 98mm last). Both are well-made and versatile designs for transitioning between the resort and backcountry, but we give the nod to the XT3 for its slightly better uphill capabilities and touring comfort.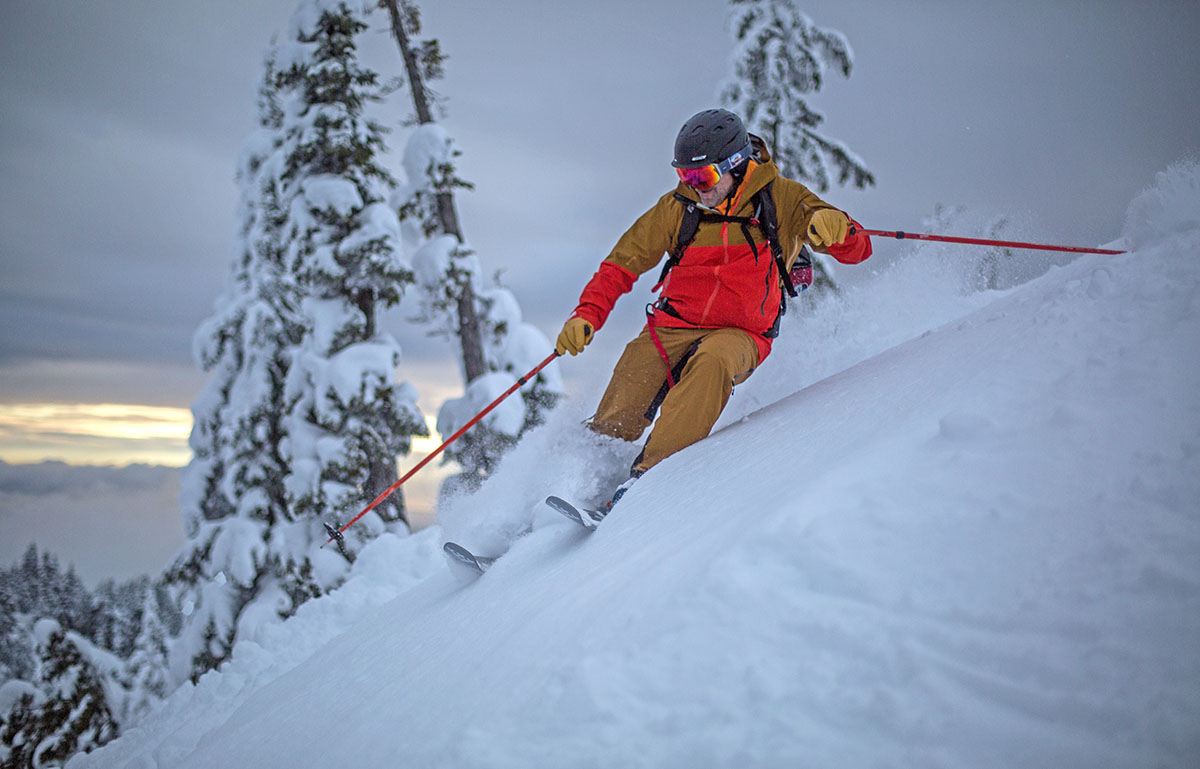 For those looking for a more balanced design, one of our favorite all-rounders is Dynafit's Hoji Free. Although less aggressive on the descent, the Hoji Free undercuts the Lange considerably in weight at 6 pounds 13 ounces per pair but retains a progressive and stiff 130 flex, has a 55-degree range of motion that offers a smooth and natural uphill experience, and is compatible with both alpine and tech bindings. And importantly, despite its great performance on the skin track, the Hoji Free still is an excellent downhill companion thanks to Dynafit's Hoji Lock system, which locks the spine and cuff together via a single lever for a snug, alpine boot-like feel (for more, see our in-depth Hoji Free review). The Hoji doesn't come cheap at $900, but we consider it the much more well-rounded option for touring (and the clear choice if you'll be doing any multi-day trips). 
We'd be remiss not to mention Scarpa's venerable Maestrale RS here, which slots in as our top-rated backcountry boot this year. Like the Dynafit mentioned above, the Maestrale is more uphill-focused than the Lange but still a very capable descender. Range of motion increases to a generous 56 degrees with the Scarpa (we had no mobility complaints), and it's reasonably light (6 lbs. 6.2 oz.) for the levels of performance and durability you get. We also love the Maestrale's Intuition liner, which is warm, comfortable, and heat-moldable. The Scarpa has one fewer buckle than the XT3 and boasts a slightly softer 125 flex (in other words, the Lange offers more stability and power on the descent), but we consider it one of the most well-balanced boots on the market. And for a stiffer but slighter heavier option, check out the Maestrale XT (130+ flex and 6 lbs. 9.2 oz.).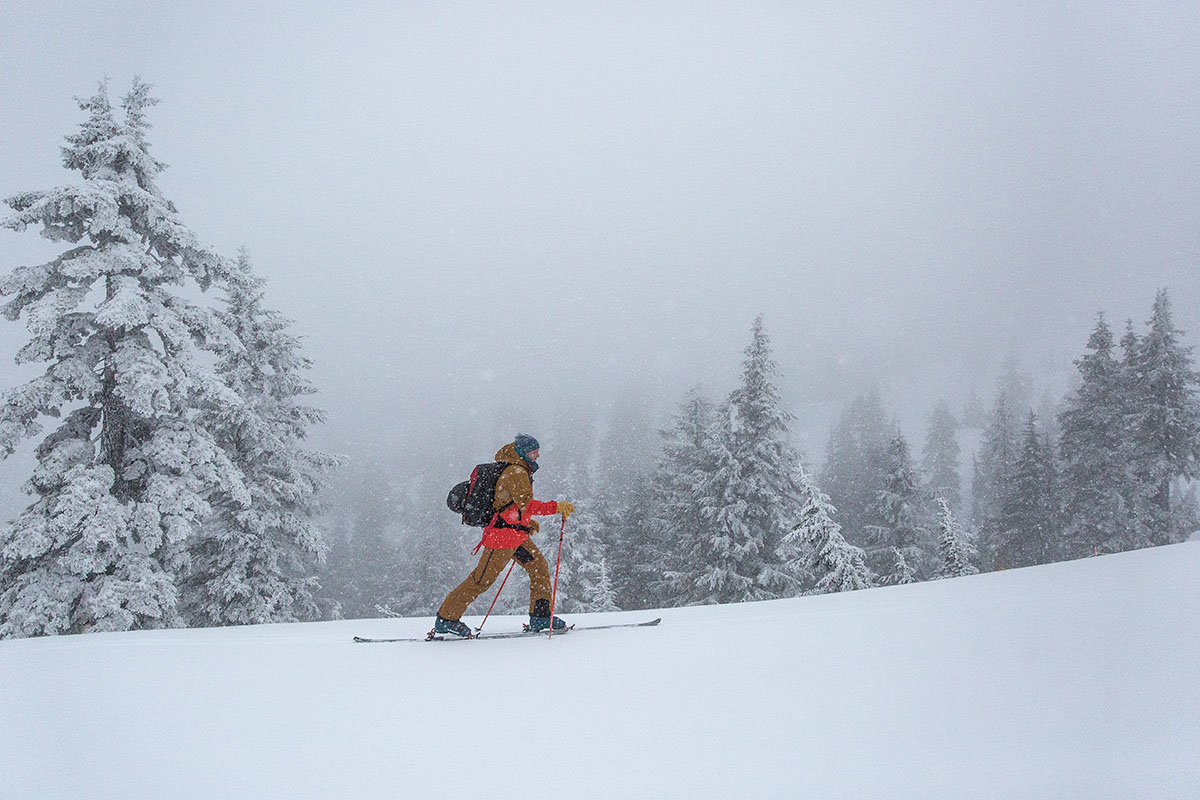 Finally, Salomon recently released an intriguing hybrid design in their Shift Pro 130. Like the Lange, the Shift Pro is best for downhill-oriented skiers with an alpine boot-like feel, study four-buckle closure system, GripWalk soles (with a Contagrip section to boost traction on icy surfaces), and easy-to-use ski/walk lever. Compared to the Lange, the Salomon weighs less at 7 pounds 3 ounces per pair but falls notably short in overall mobility and freedom of movement (it has a 40-degree ROM). In the end, the XT3's better climbability and $50-cheaper price tag are enough for us to give it the edge over the Salomon, but the Shift Pro nevertheless is a competitive addition to the hybrid category. And for a slightly softer option for backcountry and sidecountry adventures, check out Salomon's S/Lab MTN.
If you're thinking about buying gear that we've reviewed on Switchback Travel, you can help support us in the process. Just click on any of the seller links above, and if you make a purchase, we receive a small percentage of the transaction. The cost of the product is the same to you but this helps us continue to test and write about outdoor gear. Thanks and we appreciate your support!
Depending on the seller, most products ship free in the United States on orders of $50 or more. International shipping availability and rates vary by seller. The pricing information on this page is updated hourly but we are not responsible for inaccuracies.
Learn More About Ski Gear