Dynafit Hoji Free
Price: $900
Weight per pair: 7 lbs. 9 oz. (size 28) 
Flex: 130
What we like: Innovative ski/walk lever delivers great all-around performance.
What we don't: Fairly heavy among dedicated touring designs and lacks arch support.
See the Dynafit Hoji Free
Dynafit is no stranger to the ski boot market, and their Hoji collection stands out as a balanced backcountry design. We put the Hoji Free model to the test this past winter and were impressed by the do-everything personality: the innovative ski/walk lever is easy to use and well-executed, range of motion is superb for climbing, and the shell has a progressive flex that nicely combines stiffness and power. Below we outline our experiences with the Hoji Free. To see how it stacks up to the competition, see our article on the best backcountry ski boots.
 
---
Table of Contents
---

Uphill Performance
My local ski hill outside North Vancouver is rife with tight, steep pitches that wind their way into the backcountry and truly test a boot's walkability, and the Dynafit Hoji Free passed with flying colors. The boot has a generous 55 degrees of cuff rotation that never limited me on the ascents (my Achilles tendons were the inhibiting factor). In fact, I was able to comfortably skin up without using any of my binding's heel risers, and movement felt natural and smooth when leaning both back and forward. Further, the tongue has a V-shaped cut in it, which allows the shin to lean forward and split the tongue under pressure, eliminating that grinding-halt feeling of maxing out the flex. And the Hoji Free is a capable companion while bootpacking too: the Formula Pomoca Climb sole (ISO 9523) is very grippy and inspires confidence on variable snow, ice, and even walking around the parking lot on my way to the hill.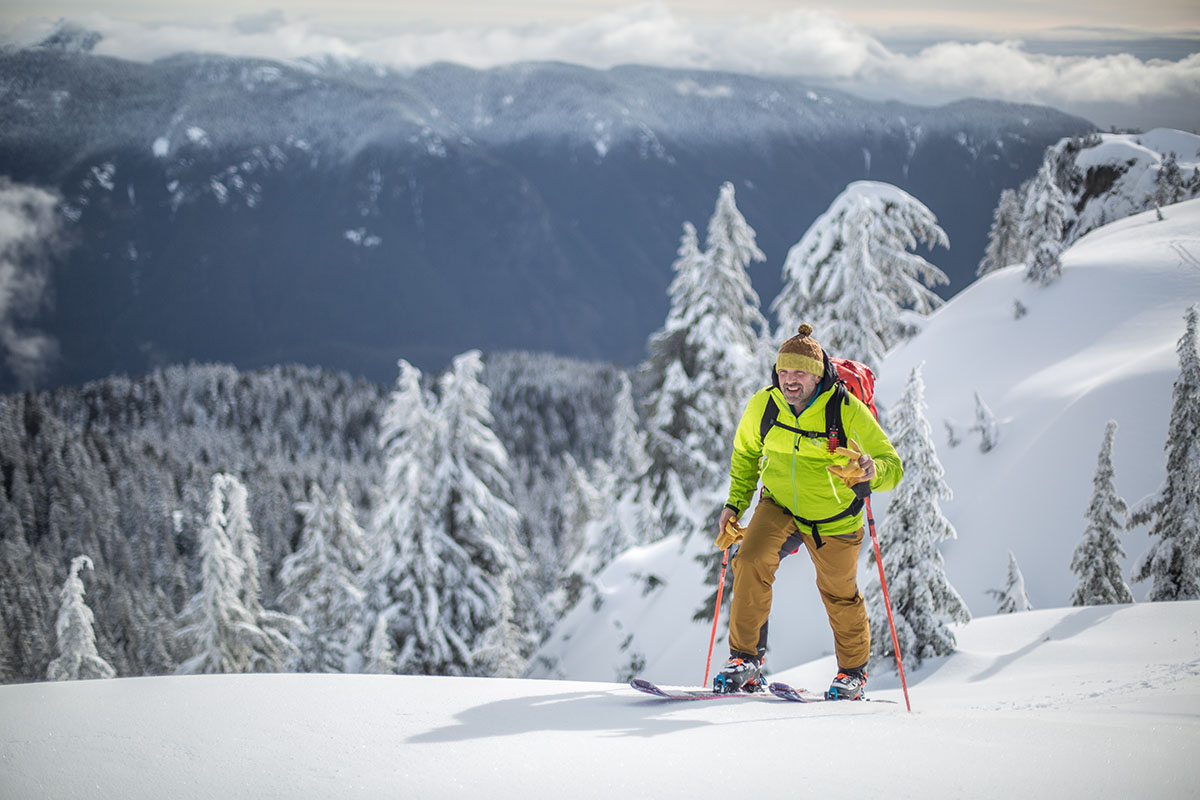 When touring in other boots, including the Scarpa Maestrale RS and Rossignol Alltrack Elite 130 LT, I tend to leave my power strap and buckles quite loose in order to stay comfortable on the uphills. With the Hojis, however, I've managed to find a better sweet spot by tensioning up the power strap and buckles slightly, which keeps my feet comfortable and also reduces the amount and time and effort required to transition on the downhill thanks to the unique Hoji Lock system (more on this below). All in all, from an efficiency standpoint, I couldn't be happier.

Downhill Performance
Despite its impressive uphill capabilities, the Dynafit Hoji Free doesn't sacrifice any power transfer or stability on the descent. The smooth, progressive flex (it's listed at 130, which felt accurate) and Grilamid shell provide a good amount of rigidity and stiffness for being driven hard in a range of conditions. But the standout feature is the unique Hoji Lock system, which locks the spine and cuff together via a single lever for a secure, alpine boot-like feel. Importantly, the design is easy to use and functions just like a typical walk/ski lever by flipping up and down at the back of the boot. Combined with the functional and well-placed buckles and power strap, the Hoji Free does a nice job driving my 107-millimeter Black Crows Corvus skis through variable crud and icy debris, but it's still playful enough to slash and float through knee-deep powder on my 122-millimeter Black Crows Nocta.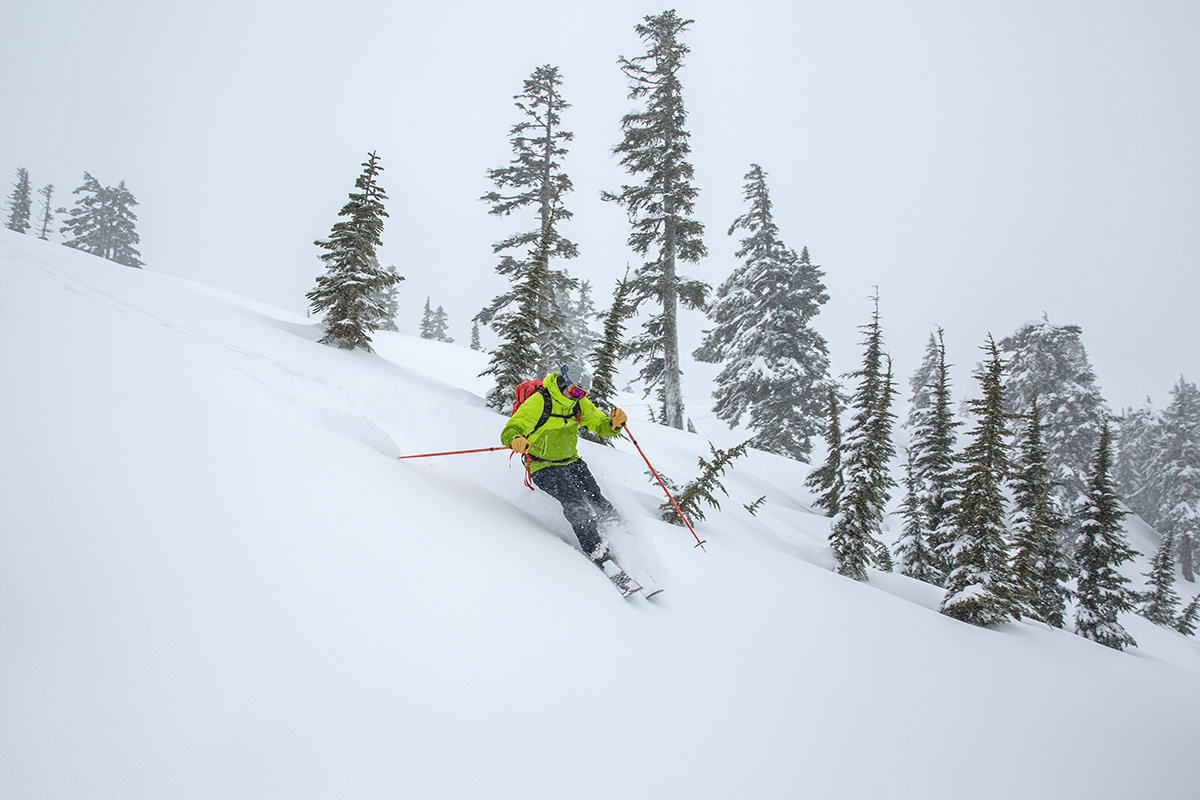 Like my Scarpa Maestrale RS and Rossignol Alltrack Elite 130 LT, the Hoji Free is compatible with both alpine and tech bindings. I've paired the boot with my Dynafit ST Rotation and hybrid Armada and Salomon Shift MNC bindings, and combined with the latter, it's been a very capable set-up for ripping groomers and committing to big lines. I've also exposed the boots to a wide range of conditions, from wet and heavy West Coast "concrete" in my local North Shore mountains to B.C.'s light "champagne" powder and deep blower snow in the Mount Baker backcountry, and they've handled it all with aplomb.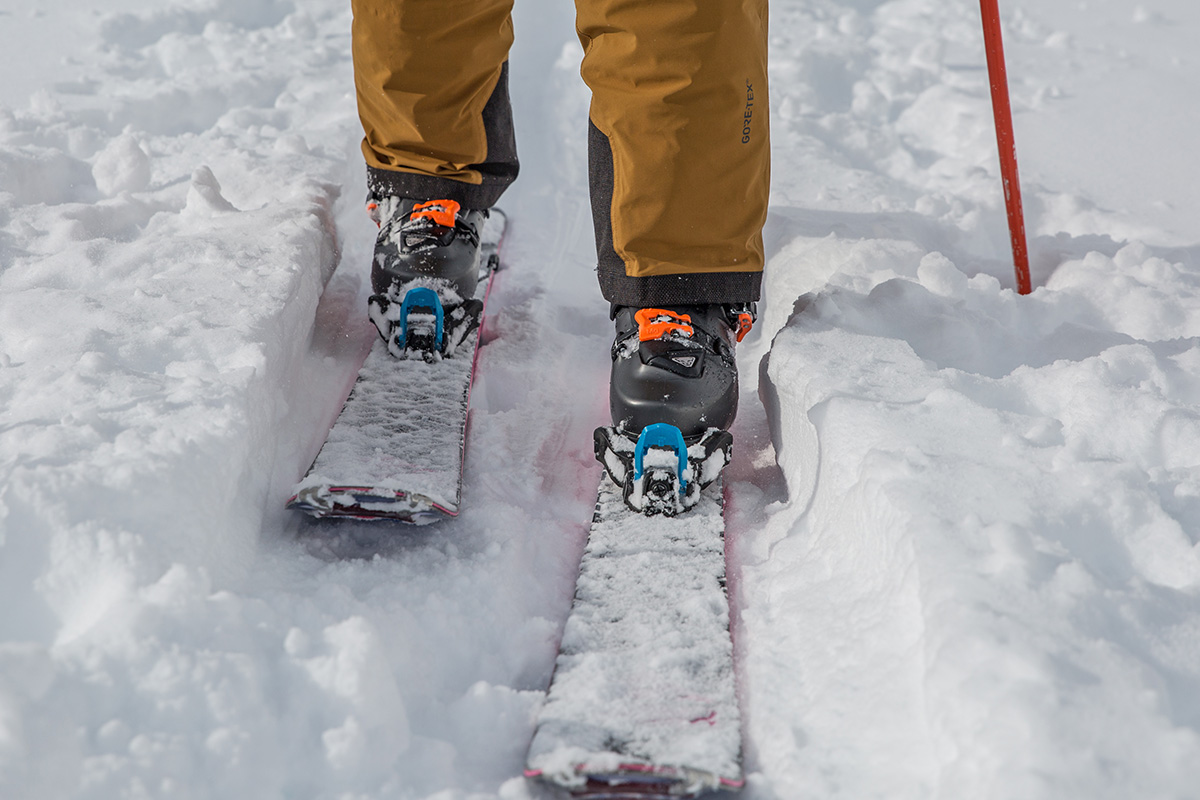 Weight
At 7 pounds 9 ounces per pair for my size 28 boots (the listed weight is 6 lbs. 13 oz.), the Hoji Free is on the heavier end of the spectrum among dedicated backcountry designs. For comparison, our top-rated touring boot this year, the Scarpa Maestrale RS, clocks in at 6 pounds 6.2 ounces, and even Atomic's hybrid backcountry/downhill Hawx Ultra XTD 130 comes in lighter at 6 pounds 5 ounces. And those traveling long distances can shave much more weight with a mountaineering-focused model like the Salomon S/Lab X-Alp (5 lbs. 7 oz.), although you'll sacrifice considerable power and stability on the downhill.
As someone that puts a premium on downhill performance, the Hoji Free offers a near-ideal balance of weight and stiffness with its Grilamid shell and fiberglass-infused cuff, three-buckle-and-power-strap layout, and rugged rubber sole. While light enough for climbing, the boots are heavy and stiff enough to tackle poor conditions, including frozen-over crud and skied-out snow, without getting tossed around. All in all, this is a backcountry boot I'm able to wear all day without really thinking about, which is very high praise (something I can't say about my Rossignol Alltrack Elite boots). In fact, I've headed out on numerous four- to six-hour days in the backcountry, slackcountry, and even on groomers and can't remember a single time that I noticed the heft.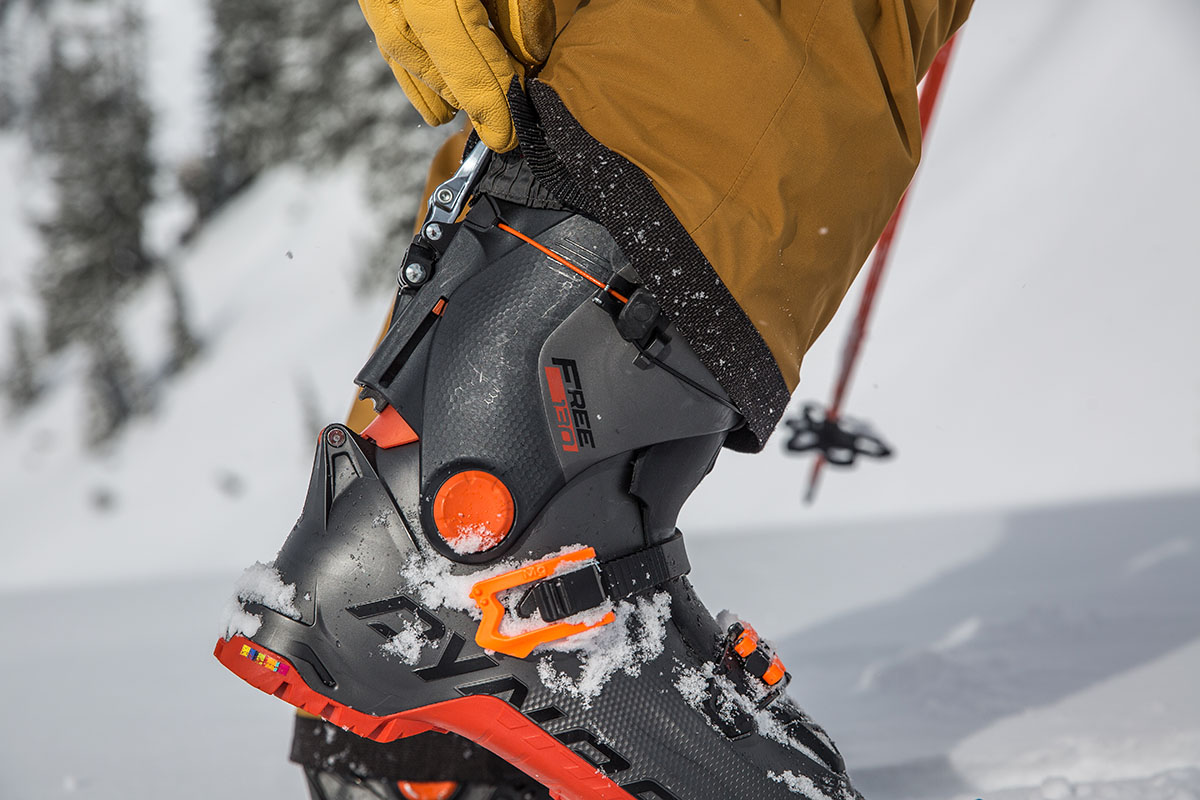 Warmth
I've suffered cold damage from my ski boots in the past (wearing Arc'teryx's original Procline), but the Dynafit Hoji Free is a warm and comfortable place to be. Although the SIDAS liner feels thin in places, I've experienced no numbness or significant cold spots, even when standing idle for hours during a whiteout in the Mount Baker backcountry and spending time in negative temperatures. And the Grilamid shell and overlapping tongue do a great job keeping moisture from penetrating the liner, which helps with warmth retention and preventing cold, soggy feet. Finally, I'd be remiss not to mention how important a proper fit is here, as too much or too little space can have a major impact on circulation and comfort. Overall, the Hoji Free is a great all-around shape for my high-volume feet, and I surprisingly didn't have to have the boots punched or altered to get a decent fit (more on this below).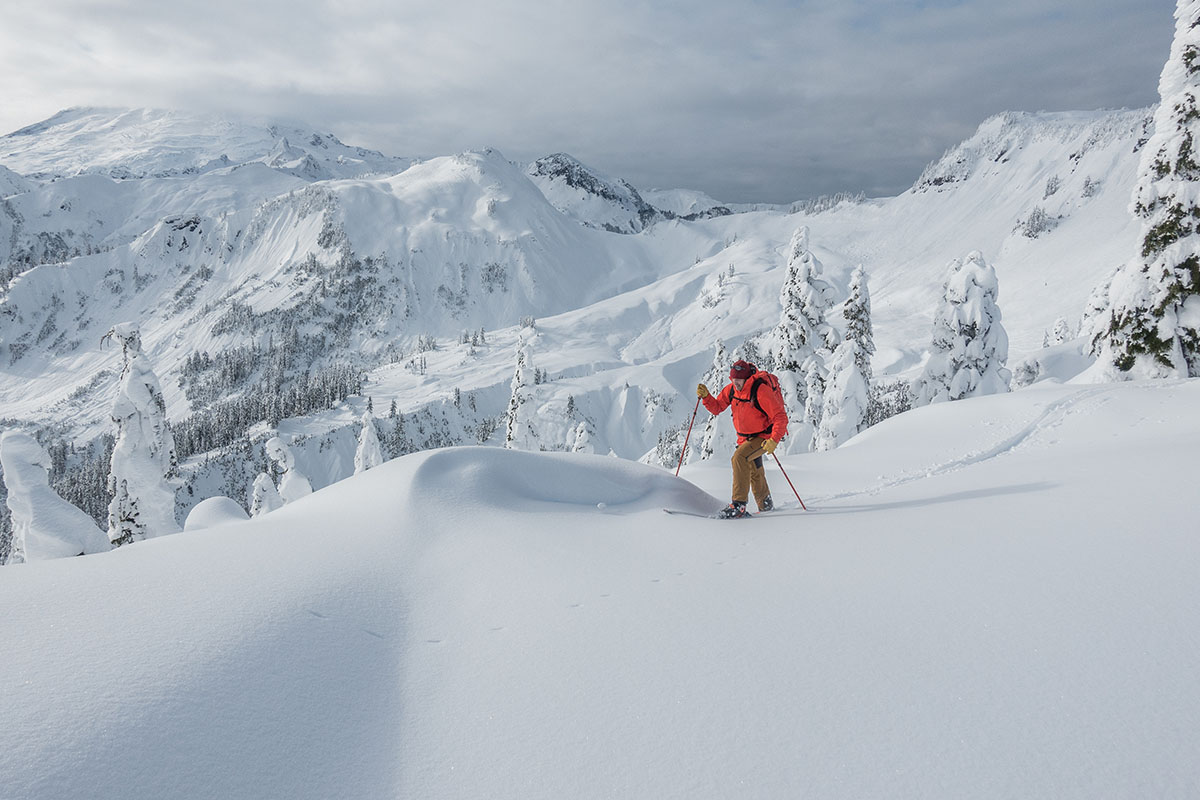 Key Features
Buckle System
The Hoji Free's closure system consists of a power strap and three easy-to-adjust buckles—the toe and upper buckle use a self-equalizing cable, while the heel-retention buckle features a plastic strap. All are micro-adjustable and relatively easy to access and toggle with ski gloves on. I did have some initial issues with loosening the power strap, especially when trying to come completely out of the boot, but once I located the release loop, unfastening was very easy (the loop is located right inside the plastic adjustment point on the side of the strap).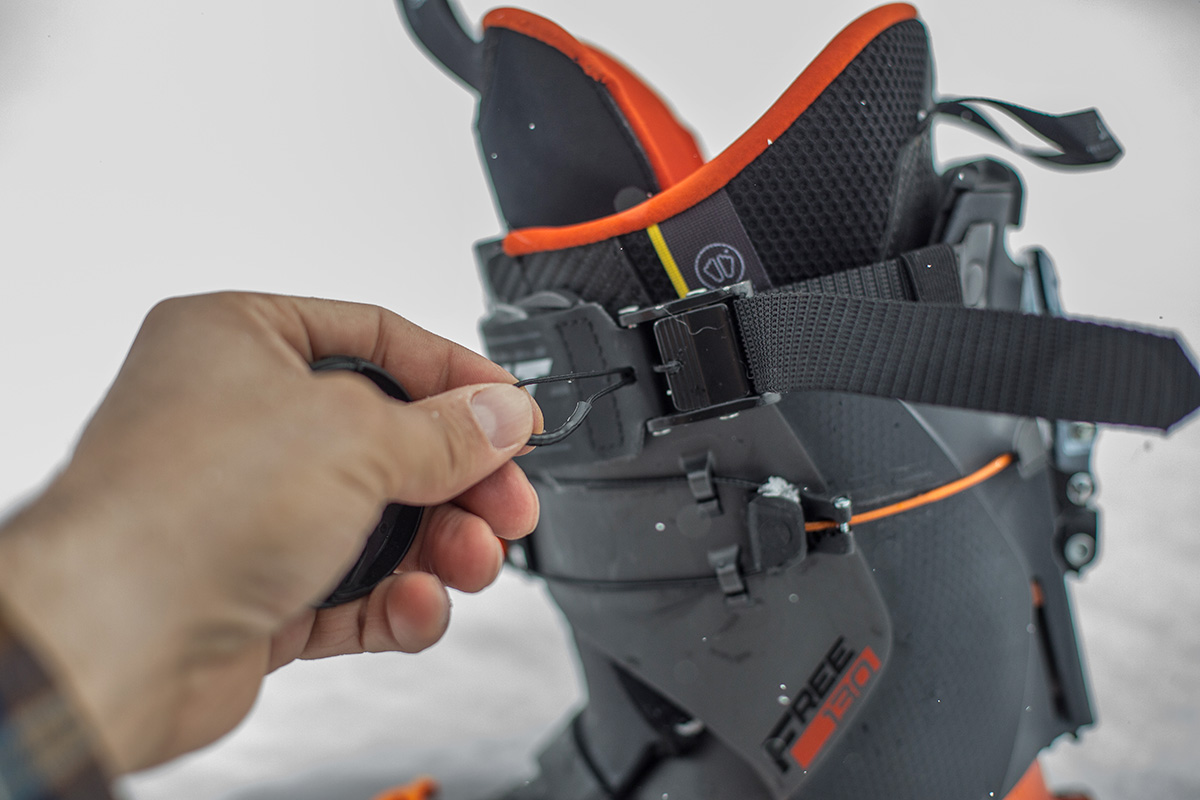 Ski/Walk Lever
As I mentioned above, the Hoji Lock system is at the core of the boot's design and a very innovative system overall. How it works: when you flip the lever from walk to ski mode, the upper buckle and power strap tighten to your pre-set settings via a single self-equalizing cable at the back of the boot, pushing the cuff forward to 17 degrees. If you don't need to tailor the lower two buckles (i.e., if you can find a good balance between walking tension and skiing tension), this means transitioning only takes a single motion. It did take me several weeks to find that sweet spot, but once I did, switching from walk to ski mode became almost effortless. To be sure, the system might not work for everyone and does require some patience to dial in, but it saves me significant time and strikes me as a highly functional and well-executed design.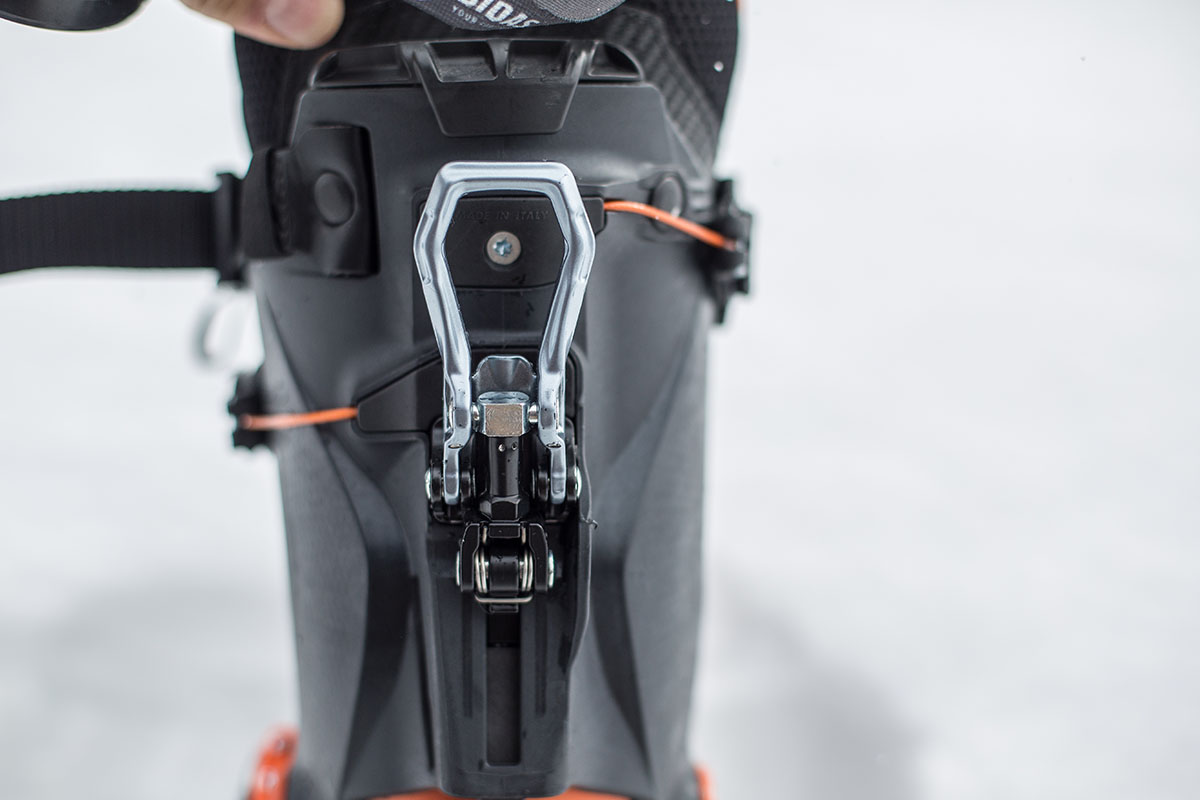 Liner
As I touched on above, the Hoji Free's SADIS liner was comfortable out of the box but did feel noticeably thin in a few areas, including the outside of the lower two buckles (at the toe and ankle). While mildly annoying, this hasn't interfered with the boots' performance, nor has it caused any hot spots, blisters, or issues with heat retention. I wouldn't go as far as calling the liner plush, but comfort is adequate, and the minimal seams help reduce the risk of rubbing and abrasion. It does lack the ability to accommodate laces for those who want an even closer fit, but I find that the closure system does a decent job of snugging the liner down. And on the bright side, the liner is heat-moldable for those struggling with pressure points or areas of tightness, and the tongue can be raised or lowered to further hone in fit.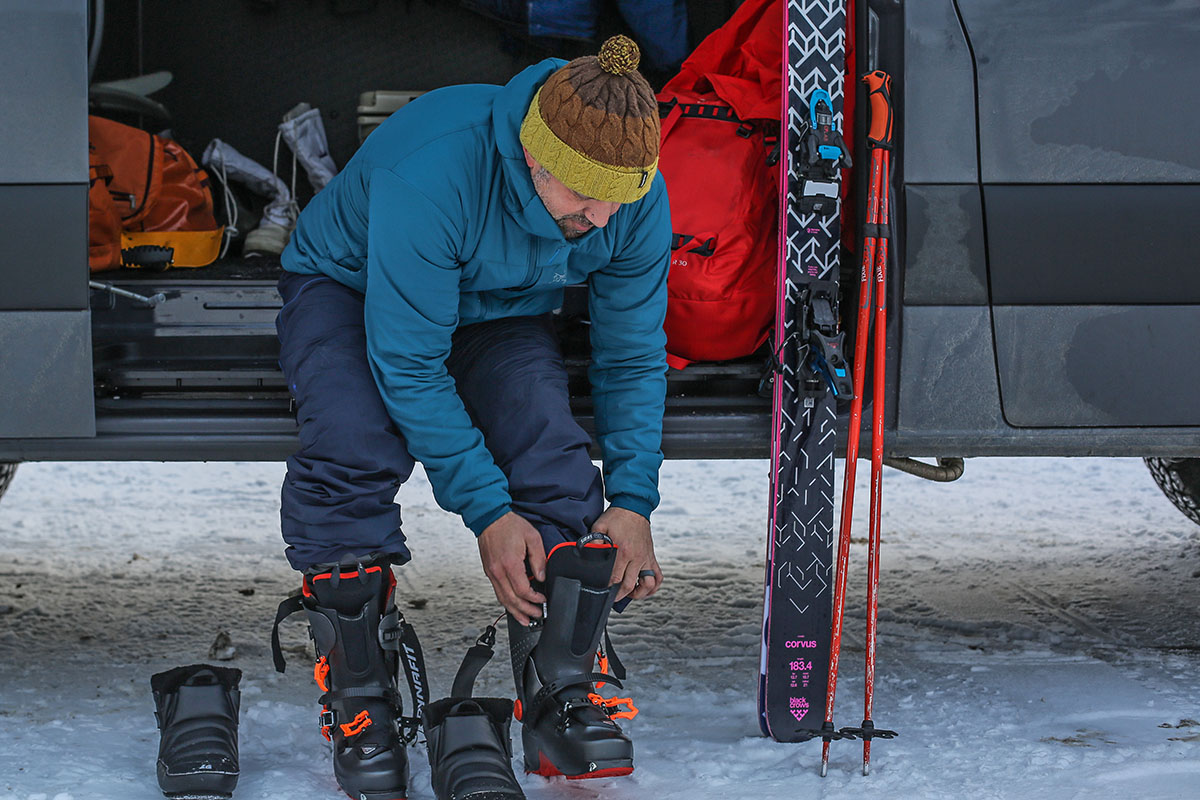 Build Quality and Durability
Dynafit has a longstanding history in the ski boot market, and the Hoji Free is built with the quality and attention to detail that we've come to expect from the seasoned brand. I will admit that with so many moving parts and such a complicated ski/walk system, I was initially concerned that durability would be an issue, but thus far, everything is holding up extremely well with no signs of wear or failure to date. The Grilamid shell and cuff are light but durable and show only minor scuffs and nicks after several months of rough use. Further, the Formula Pomoca Climb soles are hardwearing and holding up admirably, and all buckles and cables continue to function well and operate smoothly. I'll report back if any issues arise through additional testing, but all signs are positive that the Dynafit Hoji Free is a well-made and long-lasting boot.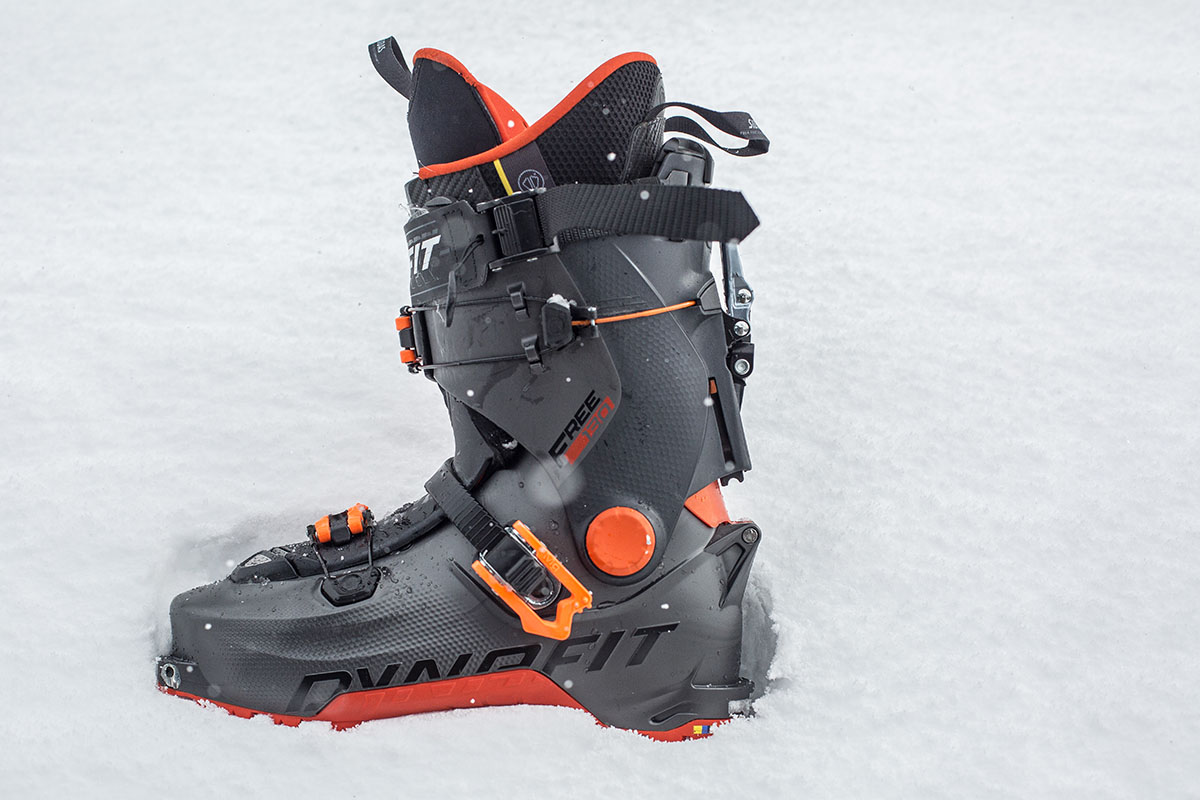 Fit, Sizing, and Comfort
I ordered my usual size 28 in the Dynafit Hoji Free 130 and found it fit true to size (for reference, the boot sole length is 320mm). As I mentioned above, I haven't had the liner heat-molded as it fit well out of the box and hasn't caused any major comfort-related issues. The toe box does feel a bit tight for my high-volume feet, but not to the point of causing any blistering or bruising after long days on the slopes (and the 102mm last is very generous elsewhere). In fact, the boots are comfortable enough that I've found myself wearing them for après-ski drinks, while packing up the van, and for hanging out around the campfire. I've even fallen asleep with them still on (granted, it was a long and exhausting day).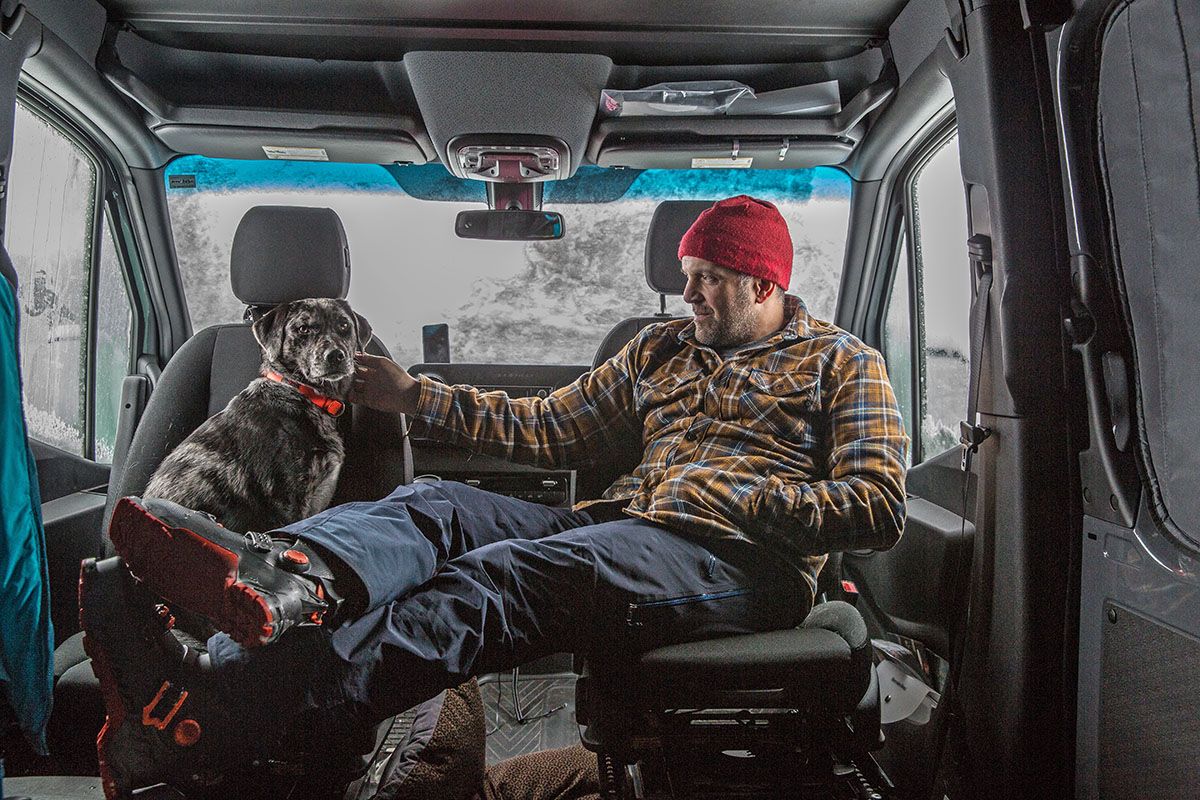 All that said, like my experience with the Dynafit Hoji Pro Tour, I found the Hoji Free to be noticeably lacking in arch support. Adding an insole helped with the Pro Tour, and those with high arches should strongly consider doing so with the Free. I also found the heel and midfoot areas to be a bit roomy, which can lead to some sloppiness in chop and crud, but snugging the lower buckles mostly solved that problem. And unlike my experience with the Scarpa Maestrale RS, getting in and out of the boot is a cinch with a hinged tongue that folds forward and away, allowing easy entry and exit. All in all, from a fit and comfort perspective, I've been highly impressed by the Hoji Free.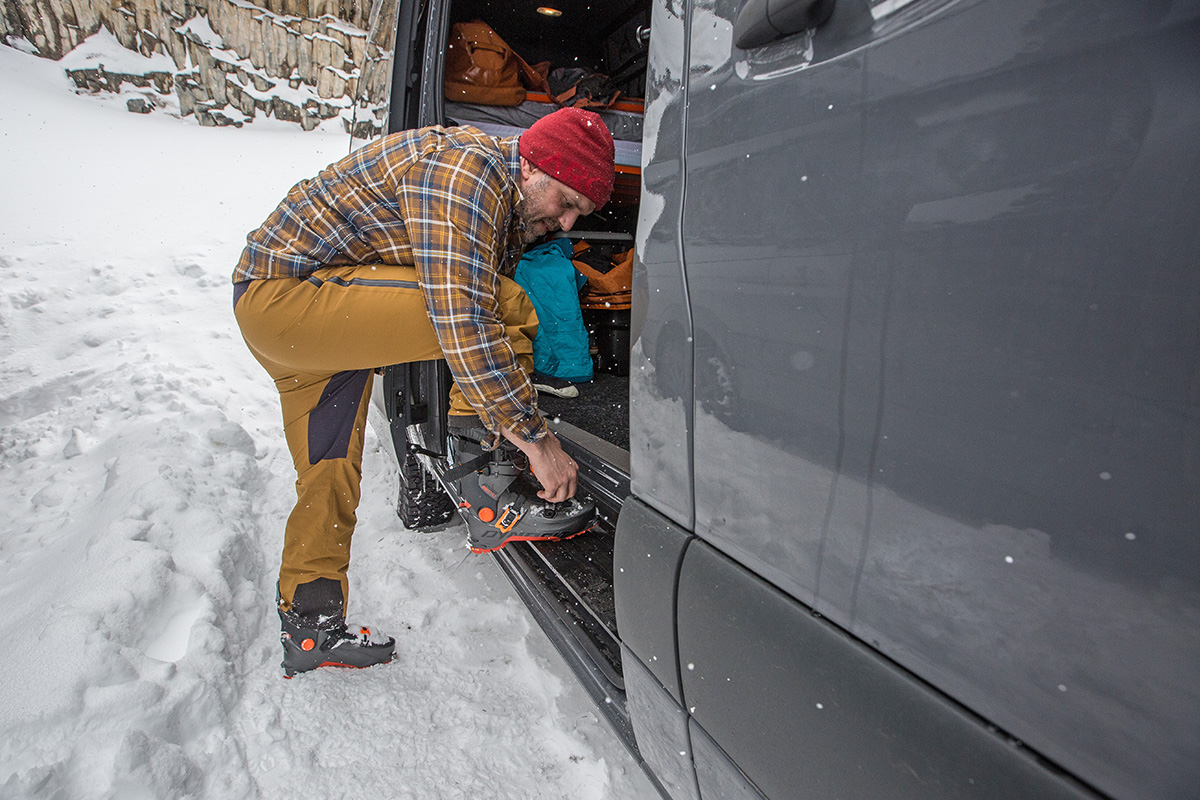 Other Versions of the Dynafit Hoji
We tested the men's version of the Dynafit Hoji Free for this review, and the Hoji line includes a number of other variations. For starters, the Hoji Free is also available in a 110 model, which costs $750 and has a softer flex but otherwise retains an identical build and feature set, including the Hoji Lock system, SIDAS liner, 102-millimeter last, and 55-degree range of motion. Rounding out the collection, Dynafit offers the Hoji Pro Tour in both men's and women's versions, which also have a 130 flex and sport a similar buckle design with the Hoji Lock. However, the Pro Tour has a wider last (103.5mm), isn't compatible with alpine-style toes or heels found on crossover bindings like the Salomon Shift (only traditional tech bindings work), and doesn't accommodate most crampons. The Pro Tour does undercut the Hoji Free in weight at 6 pounds 6.3 ounces and costs $100 less, but we consider the Hoji Free the more versatile and well-rounded boot.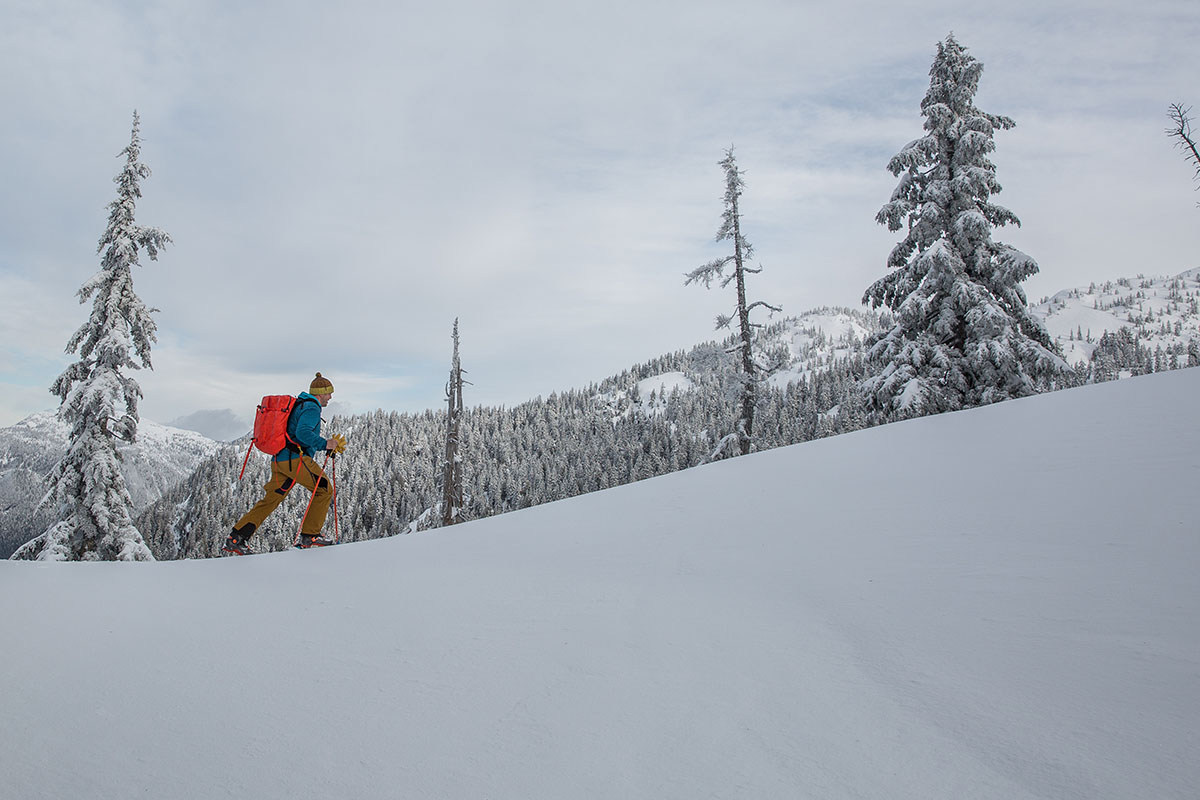 What We Like
Excellent balance of weight and stiffness: this boot is a strong climber but doesn't sacrifice any power or stability on the descent.
Hoji Lock system is easy to use, functional, and saves significant time when transitioning (once you dial in your preferred tightness).
Great range of motion and all-day comfort for touring.

What We Don't
Heavier than a lot of the competition at almost 7 pounds per pair.
Boot and liner lack arch support, which led to some minor comfort issues (and those with high arches should consider adding insoles).
Despite a 102-millimeter last, the toe box is a little snug for my high-volume feet.


Comparison Table

The Competition
The Dynafit Hoji Free is one of our favorite backcountry boots for its excellent balance of climbing and skiing abilities, but our top-rated design this year is Scarpa's venerable Maestrale RS. Like the Hoji Free, the Maestrale is well-rounded with great ascending and descending capabilities, although the Hoji Lock system on the Dynafit is much more efficient and far less prone to icing up than the Scarpa's more traditional ski/walk lever. The Maestrale wins out in comfort with its premium and proven Intuition liner, and it also gets in the edge in weight at 6 pounds 6.2 ounces (the Hoji Free is 6 lbs. 13 oz.) and range of motion (56 degrees vs. the Dynafit's 55). Both boots boast similar flex ratings (125 for the Scarpa and 130 for the Dynafit), are compatible with a wide range of bindings, and can accommodate most automatic and semi-automatic crampons. In the end, you really can't go wrong with either, but we give the slight nod to the Scarpa for its $100-cheaper price tag, lower weight, and more comfortable liner.
Another premium boot to have on your radar is Rossignol's Alltrack Elite 130 LT. During testing, we found the Rossignol to perform particularly well on the downhill with a stiff, alpine-centric feel and additional buckle, although the Hoji Free handily outperforms the Alltrack in walkability with greater range of motion (55 degrees vs. the Rossi's 50) and more capable hike function. Both boots are stiff with 130 flex ratings and compatible with both tech and alpine bindings, although the Alltrack has a narrower, 98-millimeter last and weighs more at 7 pounds 10.8 ounces (for more, see our in-depth Alltrack Elite review). Added up, despite the Rossi's impressive downhill performance and $200 savings, we prefer the Hoji Free for its well-rounded build, more functional ski/walk lever, and added uphill capabilities.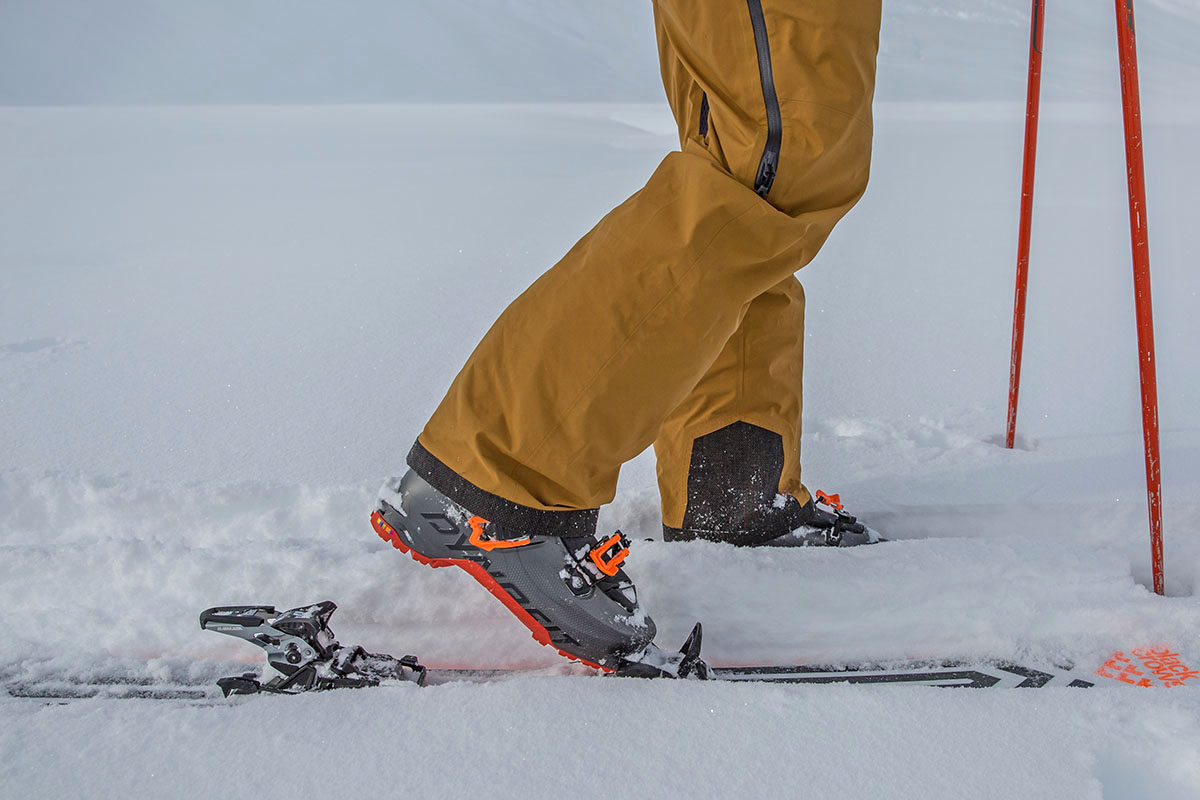 For those who split their time between touring and the resort, Atomic's Hawx Ultra XTD 130 is our favorite hybrid model this season. The four-buckle design, stiff 130 flex, and aggressive stance are a great match for charging steep groomers and skiing committing lines, but the relatively low weight (6 lbs. 5 oz.) and generous range of motion (54 degrees) also make it a capable uphill companion. However, we did have a couple notable issues crop up throughout testing, including considerable trouble getting in and out of boot and some difficulty transitioning from walk to ski mode. But these problems aside, the Hawx is impressively well-balanced and a nice alternative to the Hoji Free for $100 less (those with low-volume feet will also likely prefer the narrower 98mm last).
For those who prioritize stiffness and power over shaving weight, a boot like Lange's XT3 130 LV makes a lot of sense. Like the Alltrack above, we consider it a nice option for sidecountry skiers or those who split their time between the resort and backcountry. However, the Lange is hefty at 7 pounds 15 ounces per pair (a full pound heavier than the Hoji Free) which is fairly limiting for significant uphill travel. The narrow 97-millimeter last is also pretty snug for those with wider feet, although Lange does make the boot in a wider 100-millimeter model for the same price (we break down this version in our in-depth Lange XT3 review). Again, you'll save a considerable $150 with the Lange, but the Hoji Free is the better pick for those who spend significant time off-piste, and you don't sacrifice much performance on the downhill.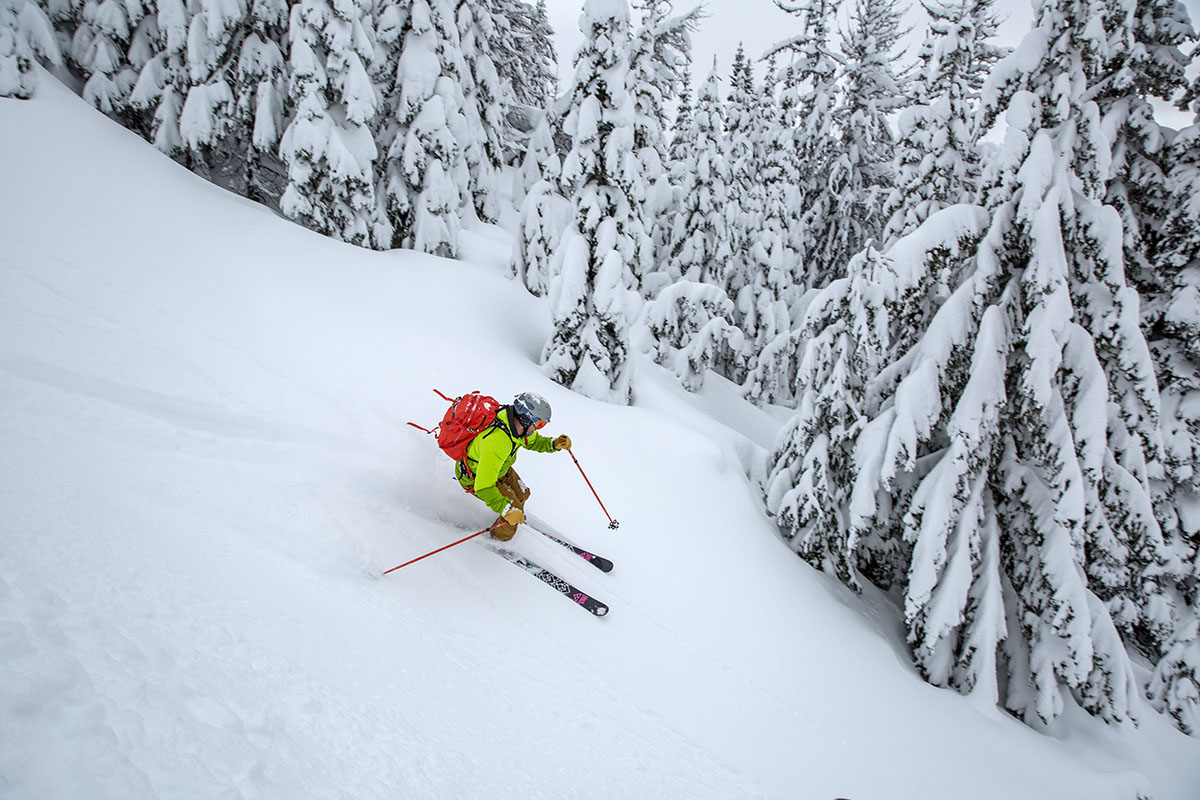 Last but not least, Salomon's S/Lab MTN is another intriguing option for those focused on the descent, with a sturdy 120 flex rating and stiff Grilamid shell that give the boot an alpine-like feel. However, it can't compete with the Hoji Free in walk mode: the Salomon is noticeably stiff and has a fairly limiting 47-degree range of motion. In testing, we found the forward flex stopped abruptly and caused discomfort on the skin track. And unlike the Hoji, the Salomon felt clunky underfoot despite a similar 6-pound-14.8-ounce weight. All in all, serious downhillers will find a lot to like in the Salomon, but the Hoji Free is a better all-around performer, and especially for skiers who split their time between the front- and backcountry.
If you're thinking about buying gear that we've reviewed on Switchback Travel, you can help support us in the process. Just click on any of the seller links above, and if you make a purchase, we receive a small percentage of the transaction. The cost of the product is the same to you but this helps us continue to test and write about outdoor gear. Thanks and we appreciate your support!
Depending on the seller, most products ship free in the United States on orders of $50 or more. International shipping availability and rates vary by seller. The pricing information on this page is updated hourly but we are not responsible for inaccuracies.
Read More From Switchback Travel