Black Crows Corvus
Price: $870
Ability level: Advanced to expert
Dimensions: 137-107-126mm (183cm length)
What we like: Planted and capable at speed in a wide range of snow conditions. 
What we don't: Best in the hands of an aggressive rider; heavy for touring.
See the Black Crows Corvus
Black Crows is a relative newcomer to the U.S. market, but the brand has quickly impressed with its lineup of fun and capable skis. One of the most popular is their flagship Corvus model, which is a big-mountain charger built for speed. Here's our verdict after a season of use: it's not the best option for high-mileage touring or non-expert riders, but the ski nevertheless is a very stable and powerful pick for the right pilot and conditions. To see how the Black Crows Corvus stacks up to the competition, see our article on the best all-mountain skis.
 
---
Table of Contents
---

Hardpack Performance
The Black Crows Corvus is built for hard chargers, so it came as no surprise that it was a standout on the downhill. However, I'll start off by admitting that it took me a while to get comfortable on the Corvus. I tend to avoid groomers and don't consider myself a speed-hungry skier, so it felt a bit sluggish and lackluster at first with its double Titanal plates as I meandered down groomed runs. Plus, its full rocker profile means the Corvus is flat underfoot, which translates to a less traditional feel that doesn't pop as energetically between turns.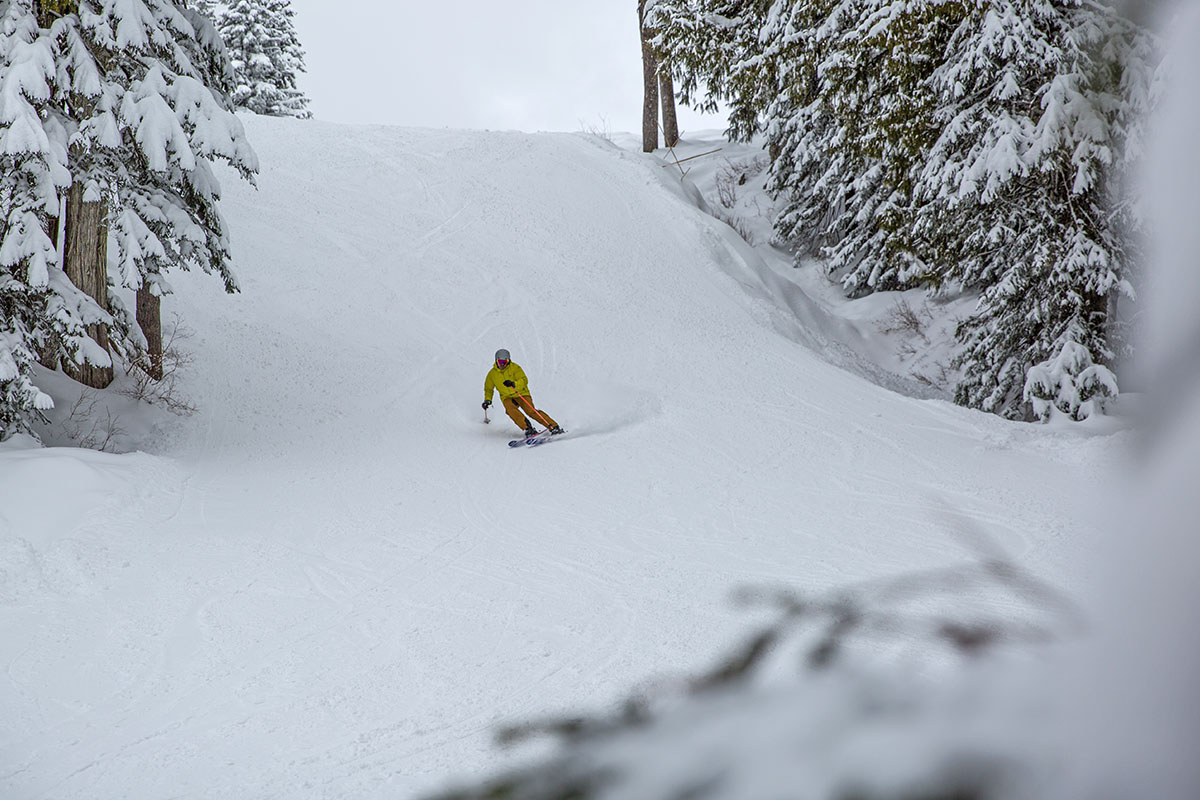 That said, as soon as I picked up speed, the skis came to life. Despite the lack of camber, the Corvus held an edge extremely well as I carved and was exceptionally adept at slicing through variable snow and crud. In fact, I've never had more fun on icy, skied-out hardpack. The Corvus' solid build keeps it from being tossed around easily, while the poplar wood core dampens and absorbs small bumps and blows. Finally, although stiff underfoot, the moderately softer shovels (there's no Titanal in the tips) help with maneuverability without leading to a chattery ride. Its groomer performance may be a little lacking for ex-racers wanting maximum grip and power for big sweeping turns, but it's a real standout among rockered designs.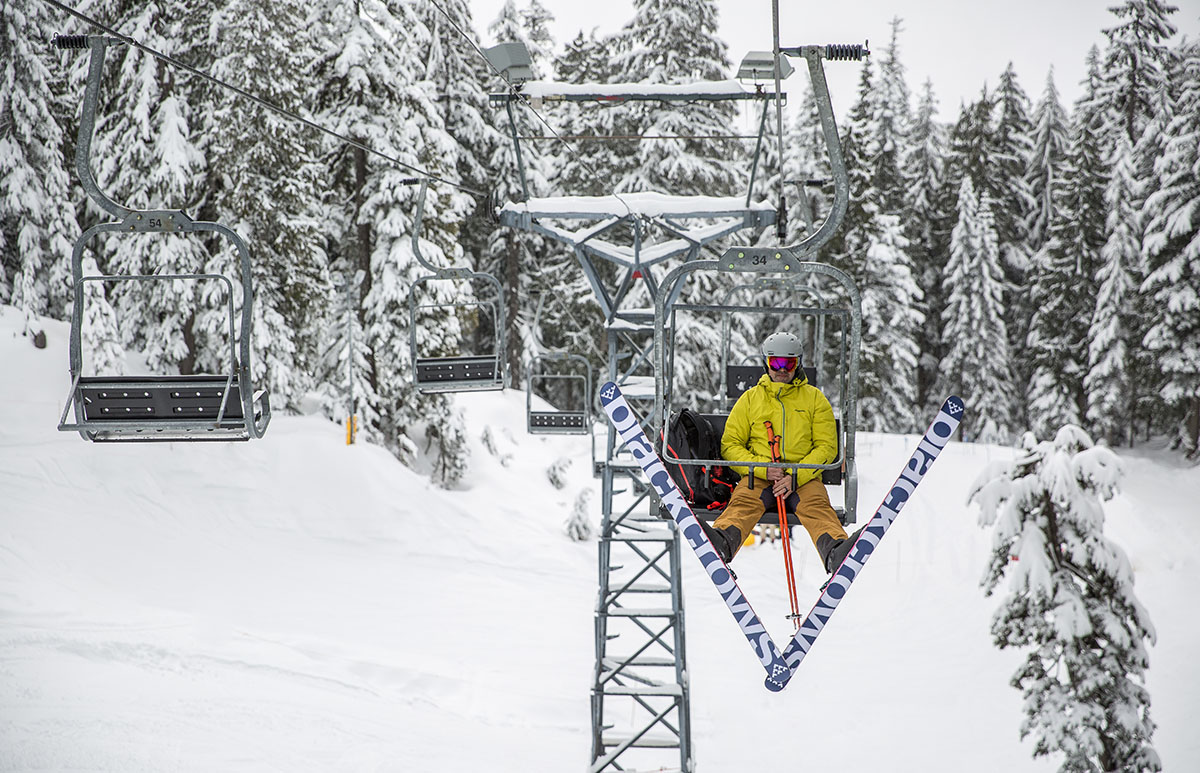 Soft Snow (Powder) Performance
In powder, the 107-millimeter-wide Corvus floats as well as expected. I've buried the skis in deep snow around Mount Baker and found that the flat mid-section allows me to pivot and steer when immersed. In other words, the ski is predictable—it doesn't dive unexpectedly under the snow—but still very playful and responsive to turning. And as is the case with its on-piste performance, the Corvus feels most confident when moving quickly in powder. However, while I found the skis easy to control overall, they do require a stiff boot to pilot. My go-to option is my Rossignol Alltrack Elite 130 LT, which does a great job steering the Corvus. I've also used my Scarpa Maestrale RS boots (125 flex), but these proved to be a bit soft and lacked the stiffness needed to guide the skis through poor, variable snow.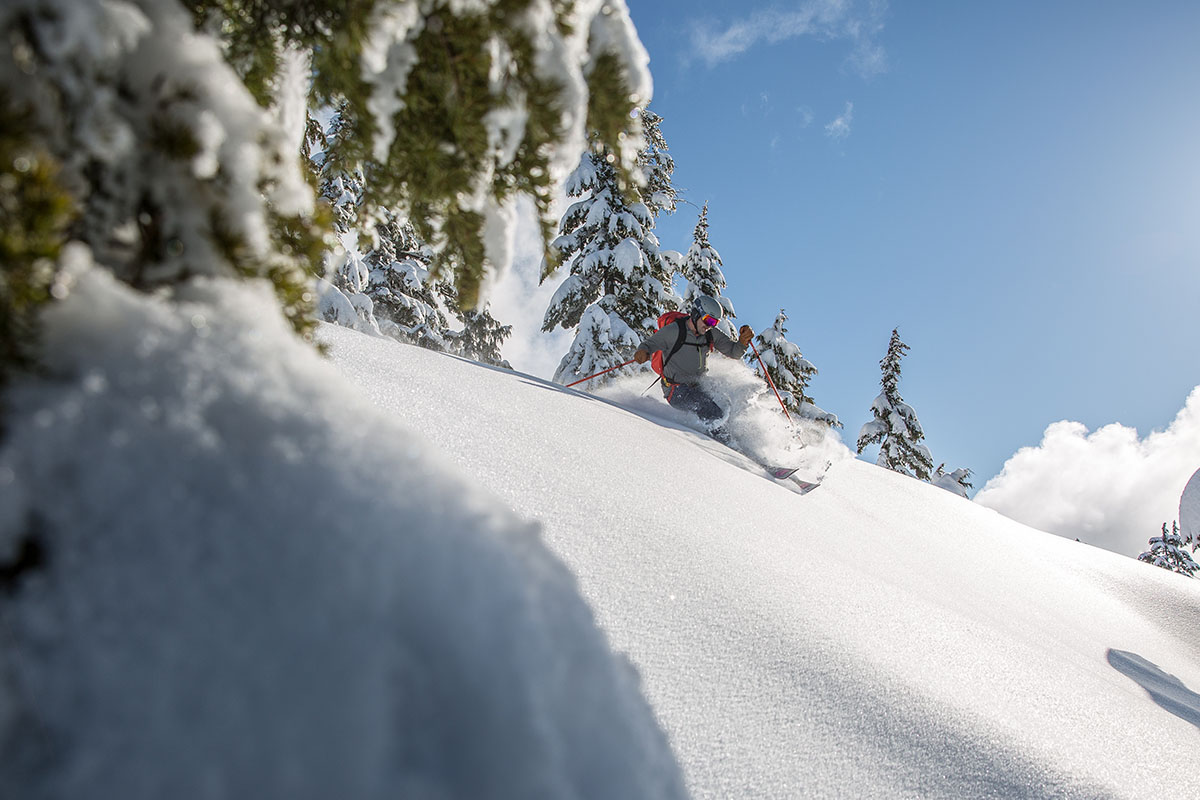 Uphill (Touring) Performance
The Black Crows Corvus is a big-mountain ski by design, but it still performs reasonably well for alpine touring. We'll kick off with the downsides: at over 4 pounds per ski, the Corvus isn't particularly light for use in the backcountry. Further, there are no tabs at the tail for holding climbing skins in place. My skin has slid off the end on a few occasions while navigating awkward side slopes, which can be a pain if you aren't flexible enough to lean down and fix it without removing your skis.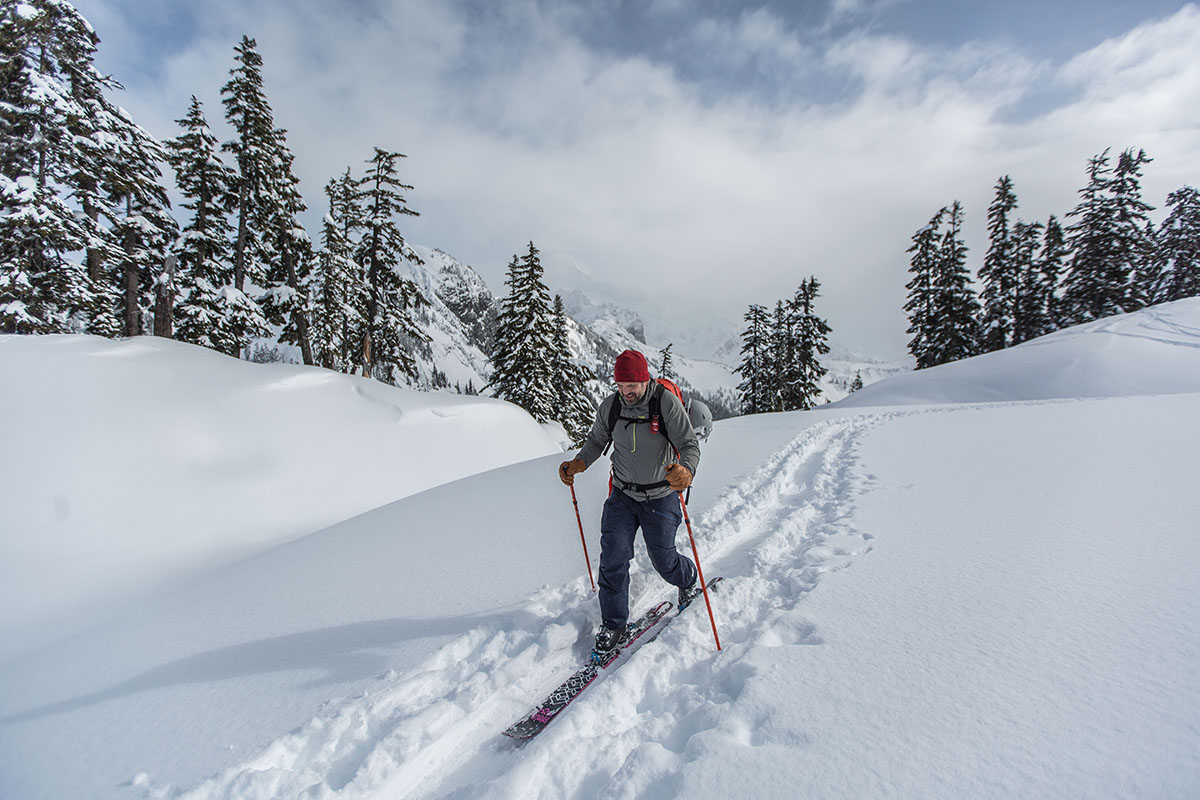 All that said, combined with my versatile Salomon Shift bindings, my set-up is very capable for shorter slackcountry objectives. I've even put the skis through six- to seven-hour tours in my local North Shore mountains and the Mount Baker Wilderness with few performance-related issues. The 107-millimeter waist floats very well while breaking trail, and the stiffness underfoot allowed me to skin over early-season drainages and ditches, cross variable snow, and traverse icy, off-camber slopes with ease. To be sure, I'd opt for my dedicated backcountry set-up (or the touring-oriented Corvus Freebird) for longer or more intensive missions, but the Corvus nevertheless is serviceable for short day trips and any lift-accessed sidecountry.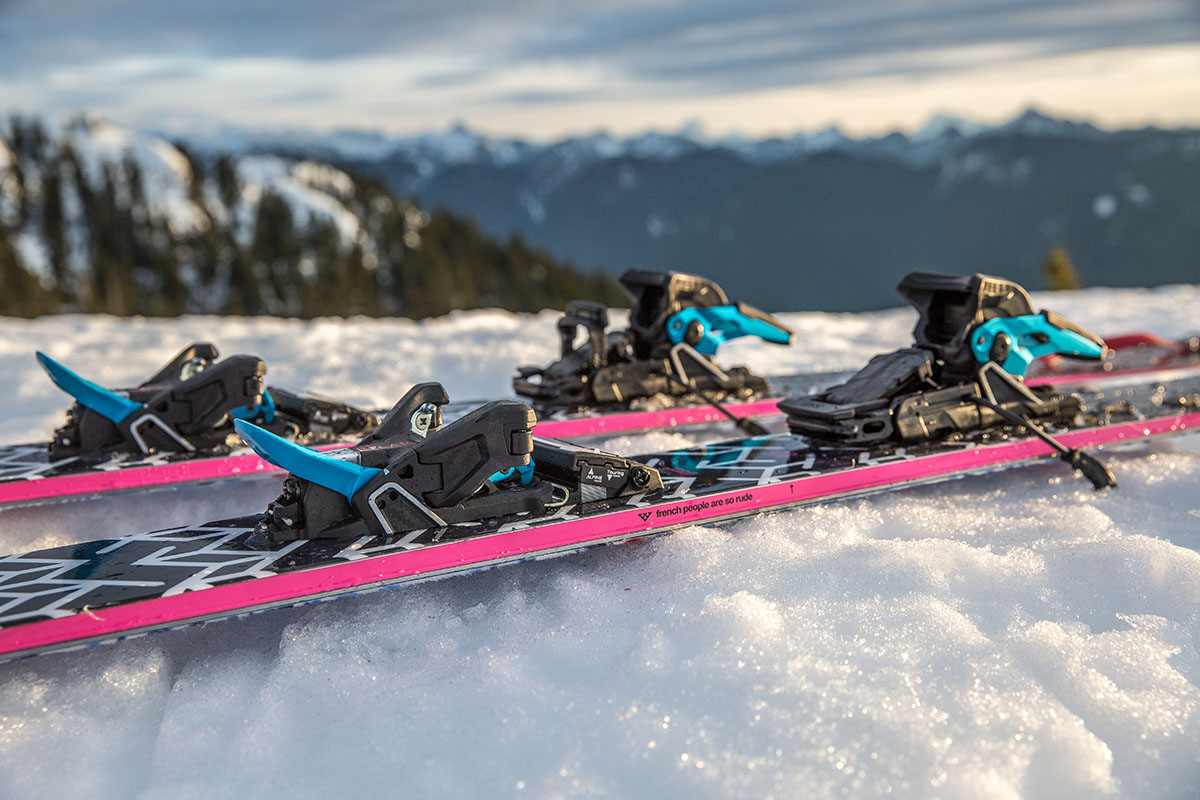 Weight
At about 8 pounds 10 ounces per pair, the Corvus is fairly heavy for strictly backcountry use but a nice match for mixed resort and sidecountry exploration. For comparison, similar models like the Salomon QST 106 (7 lbs. 15 oz.), Fischer Ranger 107 Ti (8 lbs. 6 oz.), and Icelantic Nomad 105 (8 lbs. 5.6 oz.) check in slightly lighter. If you're looking for a more touring-focused ski from Black Crows, their Corvus Freebird also shaves a bit of weight at 8 pounds 6 ounces pounds for the same length (183cm).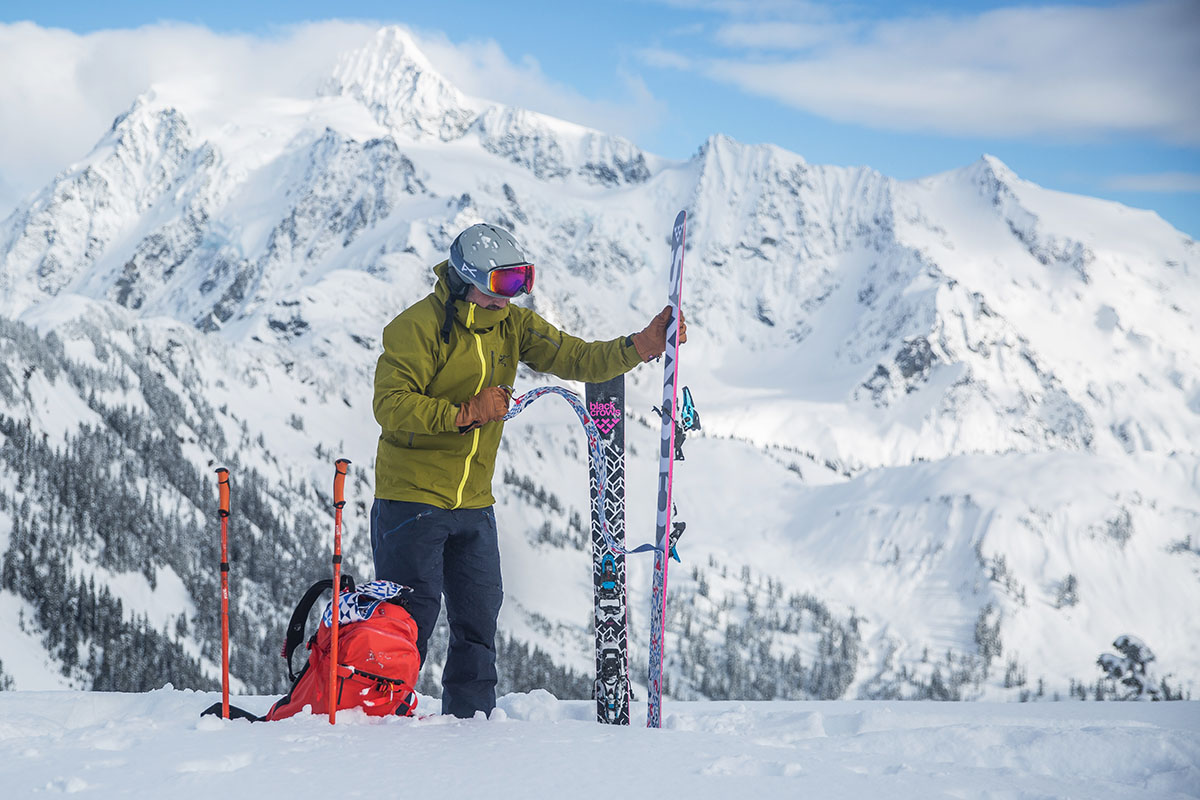 Despite the added heft, in practice the Black Crows Corvus hasn't ever felt overly heavy or bulky underfoot, and the only time I've really noticed the weight is when lifting the skis out of my roof box or while bootpacking. On longer bootpacks, I prefer to attach the skis to my back rather than carry them by hand, as they do start to feel heavy after a short time. Those who don't want to shoulder the weight can opt for a lighter model, although lighter skis can feel skittish and often get tossed around more easily in chundery conditions (like chunky snow and ice). In my opinion, the Corvus' performance advantage in variable snow is worth the slight weight penalty.

Build Quality and Durability
I'm not easy on my gear, but the Corvus has held up impressively well through a full season of use and abuse in the mountains of the Pacific Northwest. The skis have been tossed on the ground, thrown in the back of my van or Thule roof box with several other skis, and banged against hard snow and ice (which is how I remove snow from the skis). But despite all this, the Corvus is in great shape: the edges, topsheet, and sidewalls show no signs of splitting, and the skis continue to hold up well to anything I throw their way. The only wear I've noticed is scuff marks along the glossy topsheet and a few minor chips on the corners from edge-to-edge contact, but these issues are purely cosmetic and to be expected over time.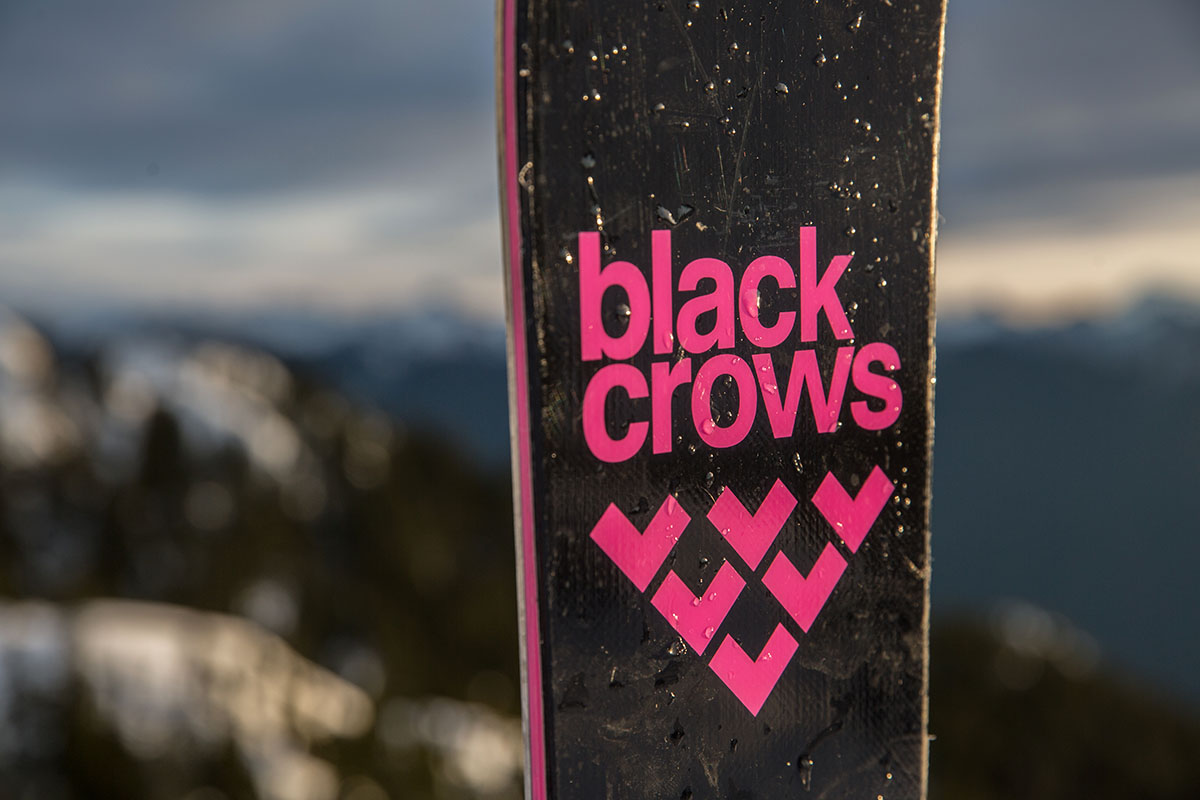 Fit and Sizing
The Black Crows Corvus comes in four lengths: 176, 183, 188, and 193 centimeters. At 6', I usually try to stay around 180, so I opted for the 183-centimeter version of the Corvus. Despite being a little longer than I'm used to, the added length only highlighted the ski's stability and power at speed. And given its big-mountain, high-performance ambitions, my recommendation would be to not size down, which would compromise some of planted feel. Sticking to your typical length or going slightly up (provided you're an expert-level rider) unleashes its full potential.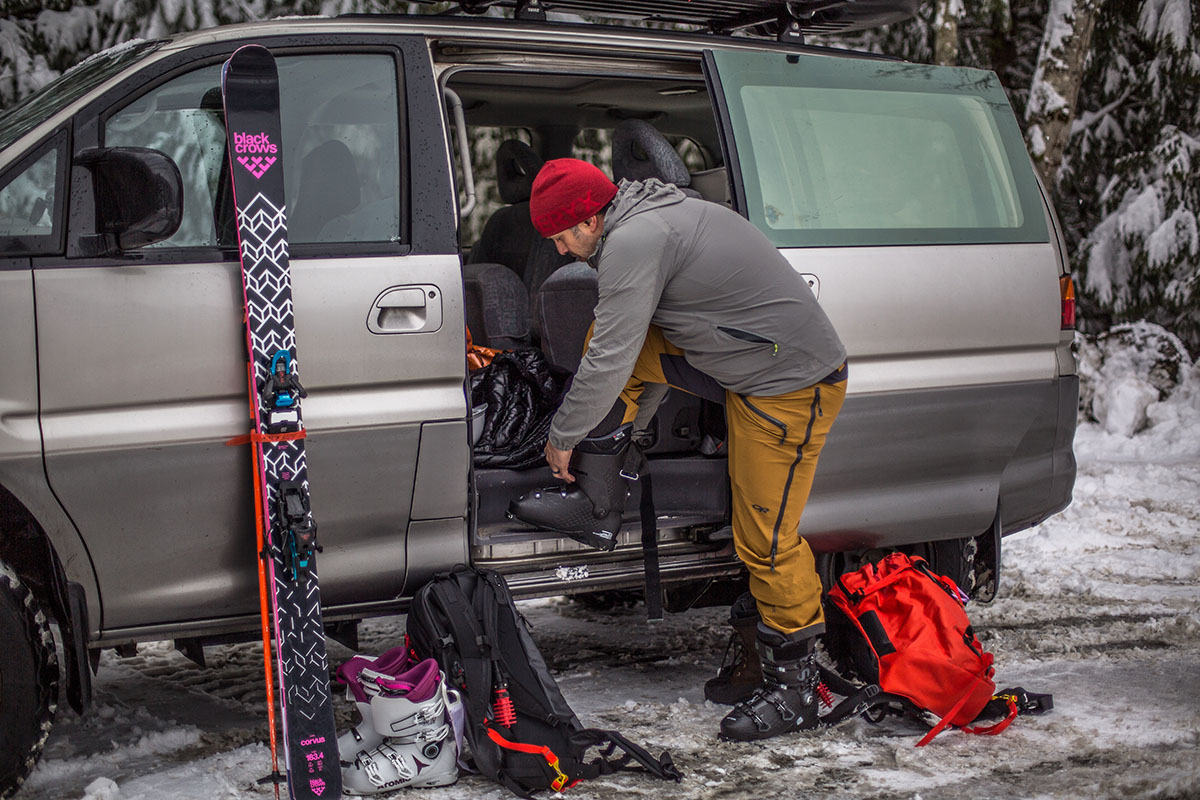 What We Like
The Corvus is incredibly capable, stable, and powerful on the downhill, even through variable snow and crud—a great match for mixed groomer/sidecountry use.
Very durable and well-built, with few signs of wear after a lot of rough use.
Despite the heavier weight and 107-millimeter waist, the skis float and are serviceable for touring in powdery conditions (with some caveats in efficiency and convenience).

What We Don't
Non-experts will find the skis tough to control, especially at slower speeds.
On the heavy side for touring and lacks tabs for securing skins (although the skis aren't built specifically for the backcountry).
For the best performance, you'll need to pair the Corvus with a very stiff boot (around 130 flex was best for us). 


Comparison Table
| Ski | Price | Ability Level | Dimensions | Radius | Construction |
| --- | --- | --- | --- | --- | --- |
| Black Crows Corvus | $870 | Expert | 137-107-126mm | 21m | Wood, Titanal |
| Nordica Enforcer Free | $800 | Advanced to expert | 135-104-124mm | 18.5m | Wood, Titanal, carbon |
| Head Kore 105 | $749 | Advanced to expert | 135-105-125mm | 17.8m | Wood, carbon, graphene |
| Salomon QST 106 | $750 | Intermediate to advanced | 139-106-125mm | 20m | Wood, Titanal, carbon, flax |
| Rossignol Black Ops | $800 | Advanced to expert | 137-106-127mm | 18m | Wood, Titanal, carbon |
| BC Corvus Freebird | $900 | Expert | 140-107-119mm | 21m | Wood, Titanal, carbon |

The Competition
Black Crows' Corvus has an undeniable big-mountain personality that's best suited to expert riders, and one of its closest rivals is Nordica's Enforcer Free 104. Like the Corvus, you get two layers of metal and a decent amount of tip and tail rocker for balancing on- and off-piste use. However, the Enforcer is a bit stiffer at the ends and features camber underfoot (rather than the pure rocker of the Black Crows), so it's a little more natural for connecting turns on groomers. On the flipside, the full rocker profile of the Corvus and added width give it the edge on deeper powder days, and its lighter weight makes it a better match for bootpacking and slackcountry touring. Within the all-mountain, one-quiver category, however, we consider the Enforcer 104 Free to be a bit more well-rounded.
Head's Kore 105 generated a lot of excitement in the all-mountain market at its release a few years ago, and it remains a top option in the 100+ millimeter range. In use, however, we've found the ski's stiffness and relatively light build take away some of its personality. All in all, it's not a ski we found to be particularly fun, and its stability comes up short of the Black Crows too. In the end, the Corvus is the better performance machine, but the Kore is a viable alternative at a lower weight.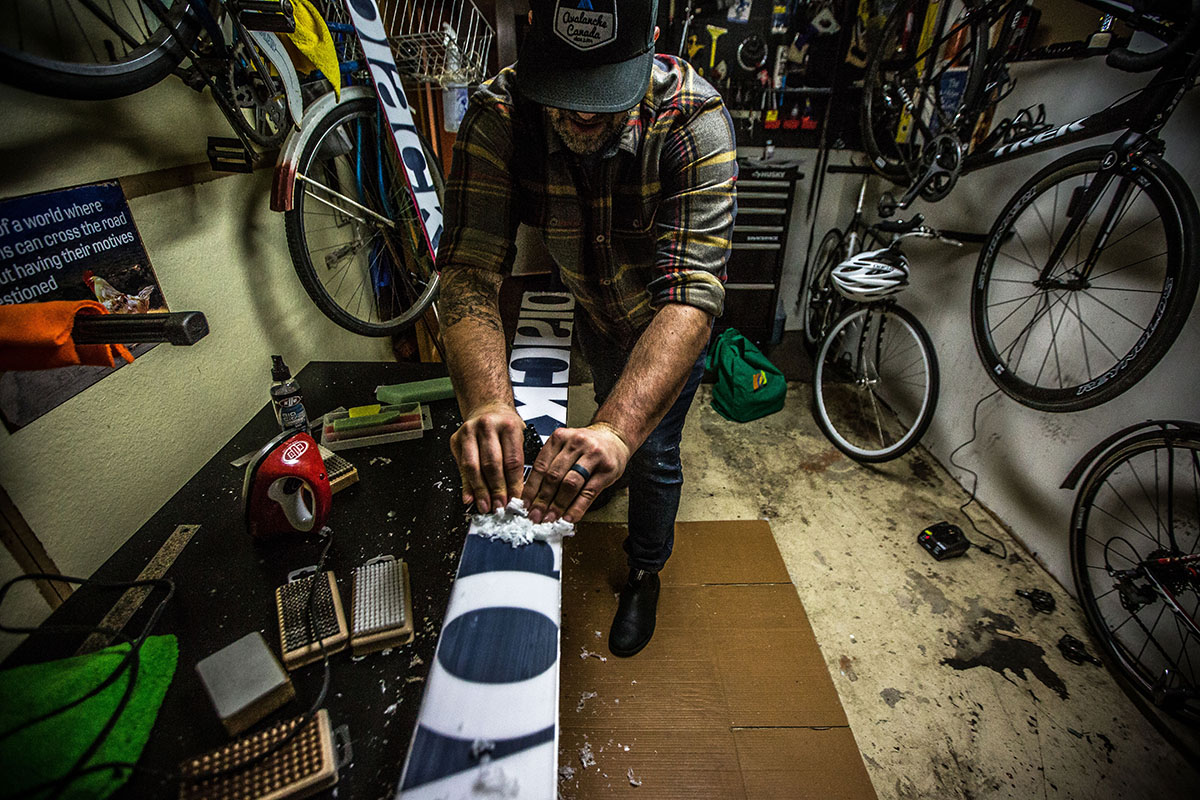 Salomon's QST 106 is another strong contender in the big/all-mountain category and saw a fairly significant update for last season. Of note, the ski's weight went up—a considerable downside, as it used to be a very popular 50/50 resort and touring option. On the plus side, the ski is noticeably more planted and damp through variable conditions. In comparison to the Corvus, the retooled QST is more approachable at slower speeds and easier to manage but isn't as much of a hard charger all-out (although the differences aren't dramatic). Finally, despite the weight gains, the QST is still a better touring option thanks to its mixed camber/rocker profile that offers more grip and efficiency.
Replacing the iconic Soul 7 for 2021 is Rossignol's Black Ops Sender Ti. Compared to the outgoing model, the Black Ops is a more capable and high-speed machine, which puts it fully on the Corvus' radar. Both are for the hard-charging types, although their rocker profiles give them different personalities. More specifically, the Corvus can pivot faster off-piste and is a little surfier as a result of its full rocker build, while the Sender's camber underfoot gives it a healthy dose of power. Weight is pretty similar between the two, and neither will be top choices for backcountry users. In the end, a final decision will likely come down to preferences in rocker set-up.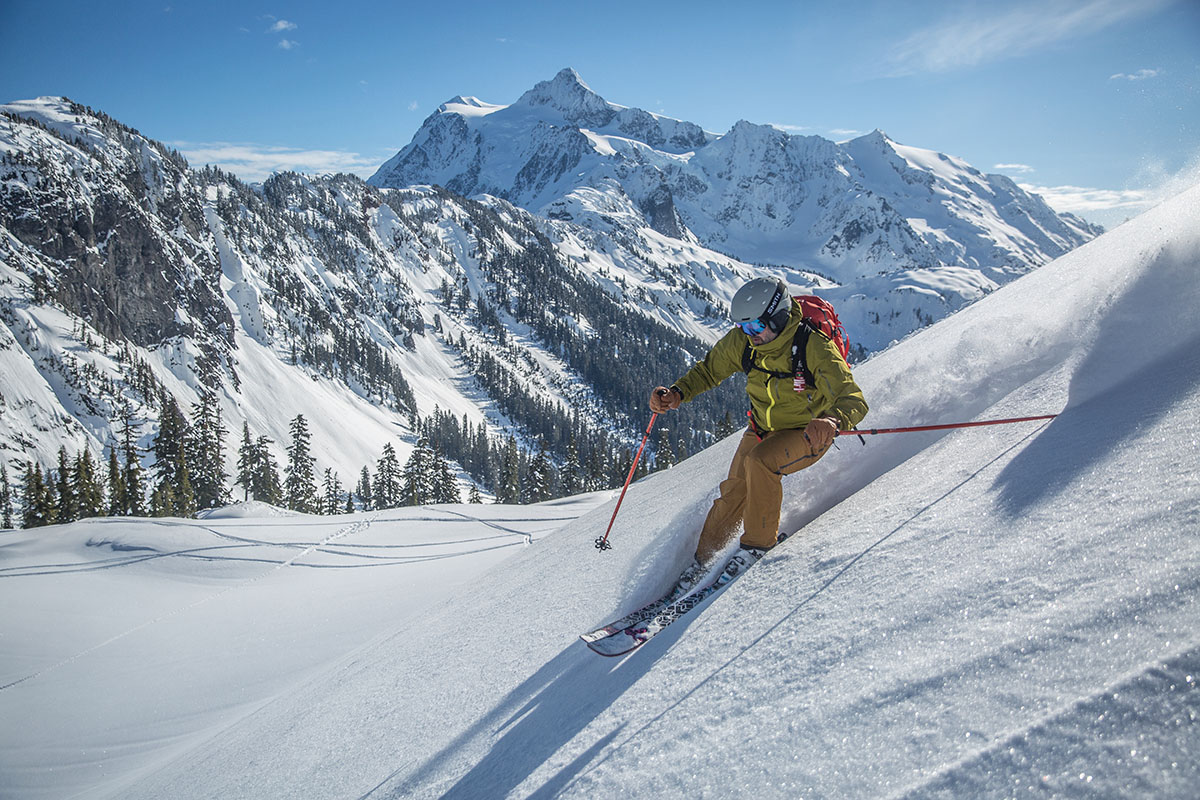 Finally, if you like the dimensions of the Corvus but want something lighter for less effort on the uphill, Black Crows does make a trimmed-down backcountry model called the Corvus Freebird. The construction is tweaked in a number of ways, including less Titanal, more carbon, and lighter-weight woods like poplar and paulownia. This brings weight down slightly to 8 pounds 6 ounces (the standard Corvus weighs 8 lbs. 10 oz.). Further, the full rocker profile is swapped to a more traditional rocker/camber/rocker set-up, which grips better while skinning and is a little easier to trust in unfamiliar terrain. The tradeoff is some of the standard Corvus' big-mountain feel, and the rocker build is better in powder. Choosing between the two comes down to priorities: pick the Freebird if you plan to spend extensive time on the skin track, while the regular Corvus is for those wanting a powerful daily driver. 
If you're thinking about buying gear that we've reviewed on Switchback Travel, you can help support us in the process. Just click on any of the seller links above, and if you make a purchase, we receive a small percentage of the transaction. The cost of the product is the same to you but this helps us continue to test and write about outdoor gear. Thanks and we appreciate your support!
Depending on the seller, most products ship free in the United States on orders of $50 or more. International shipping availability and rates vary by seller. The pricing information on this page is updated hourly but we are not responsible for inaccuracies.
Read More From Switchback Travel