Volkl M5 Mantra
Price: $700
Ability level: Advanced to expert
Dimensions: 134-96-117mm
What we like: Sturdy and fast with versatile dimensions for all-mountain hard chargers. 
What we don't: Not a standout in floatation or playfulness in soft snow.
See the Volkl M5 Mantra  See the Women's Volkl Secret 92
Volkl's Mantra is one of the most well-respected names among dedicated all-mountain riders, and the current model delivers serious speed and stability on hardpack. We put the 177-centimeter M5 Mantra to the test in Washington State and found that it's a great option for those who like a moderately wide yet powerful and damp design. It's a little less capable and fun off-piste than you'd expect given the dimensions, but the Mantra offers a noticeably stable and satisfying ride for hard chargers. Below we break down the M5 Mantra's hardpack performance, soft snow performance, build quality and durability, fit and sizing, and more. To see how it stacks up to the competition, see our article on the best all-mountain skis.

Hardpack Performance
Volkl returned to camber underfoot with the M5 Mantra Ski—the previous version used a fully rockered construction—and it pays big dividends in firm conditions. The ski can be pushed hard and responds extremely well by gripping reliably and consistently in the bends. And when you finish the turn, there's a satisfying amount of rebound and power to propel you along. This performance is reflective of the ski's overall construction: Volkl utilizes their Titanal Frame design, which means there's stiff metal along the perimeter of the ski as well as a thin strip under the bindings. Along with a lightweight carbon fiber shovel and a moderate amount of tip and tail rocker (although it's not heavily raised at either end), the Mantra is damp through chop, rock-solid and stable when running at a good clip, and fairly easy to initiate a turn.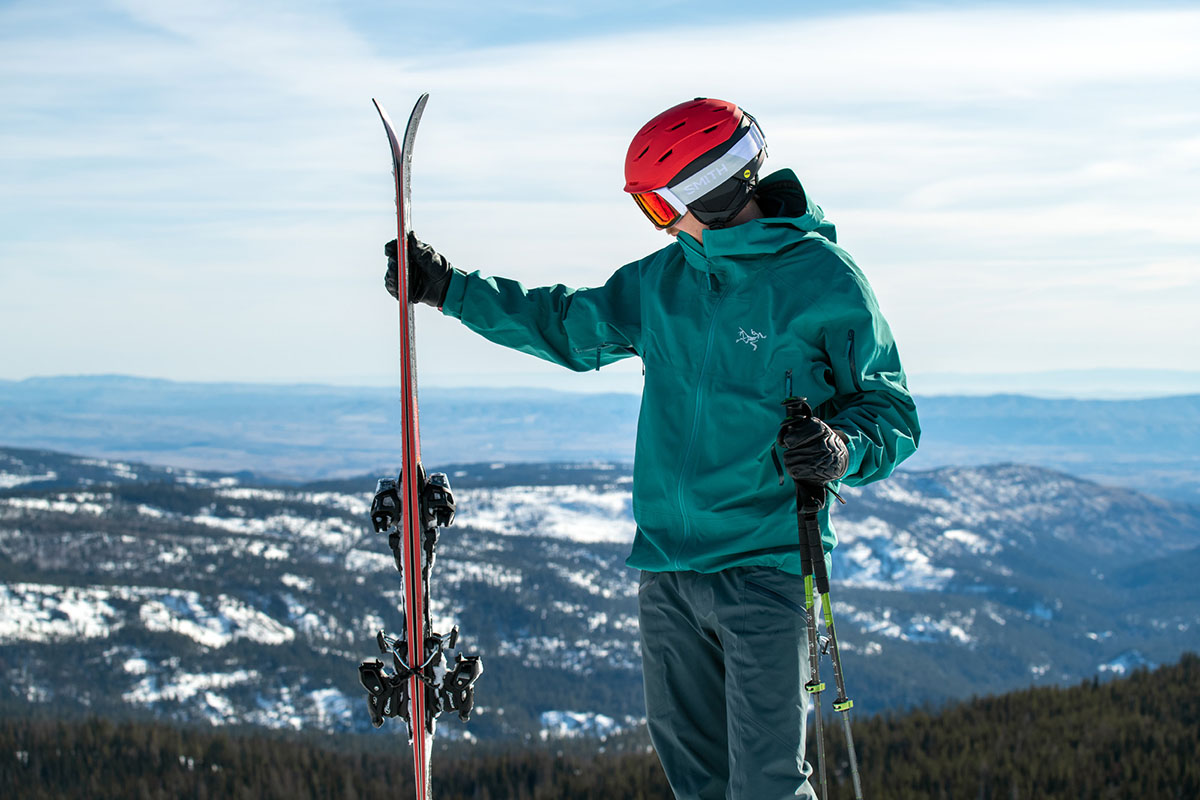 In addition, the Mantra's moderately wide turn radius of 19.8 meters made it a lot of fun to really lay on edge and execute big, sweeping turns through corduroy. It's the kind of ski that picks up speed fairly quickly, and I found myself wanting to move fast to really tap into its fun potential. On the other hand, at lower speeds, in tighter spaces, and with less input, the Mantra felt a bit heavier and more difficult to manage than alternatives we were testing alongside it, including Nordica's updated Enforcer 94 and Rossignol's Experience 88 Ti. For on-piste adventures, it strikes me as a ski that can work for riders ranging from advancing intermediates to experts, although it shifted more to the latter as I moved off-piste.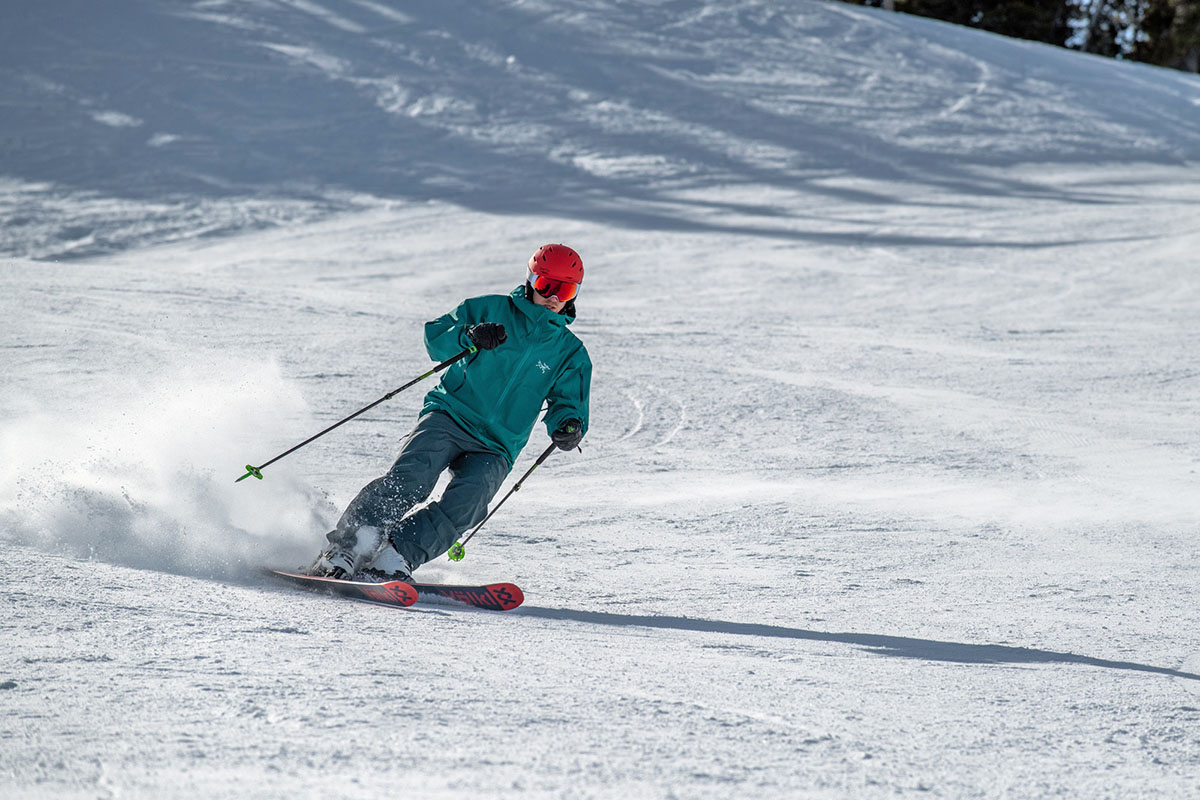 Soft Snow (Powder) Performance
Despite its promising specs—including a moderately wide 134-millimeter shovel, 96 millimeters underfoot, and with tip and tail rocker—the Volkl M5 Mantra offered only average performance in powder. Its all-mountain, do-everything dimensions didn't float as well as I was hoping (at 5'9" and 155 lbs., I was testing the 177cm length), although it was a nice match for days with about 6 inches or less of soft snow. Further, the ski required more commitment than I expected to maneuver in tight spaces. The less pronounced tip rocker likely plays a role here, and it felt most comfortable in wider bowls and at higher speeds. And in contrast to the rebound and pop it displayed on hardpack, the Mantra rarely felt especially playful—it's not the kind of ski that encourages too many shenanigans on the way down.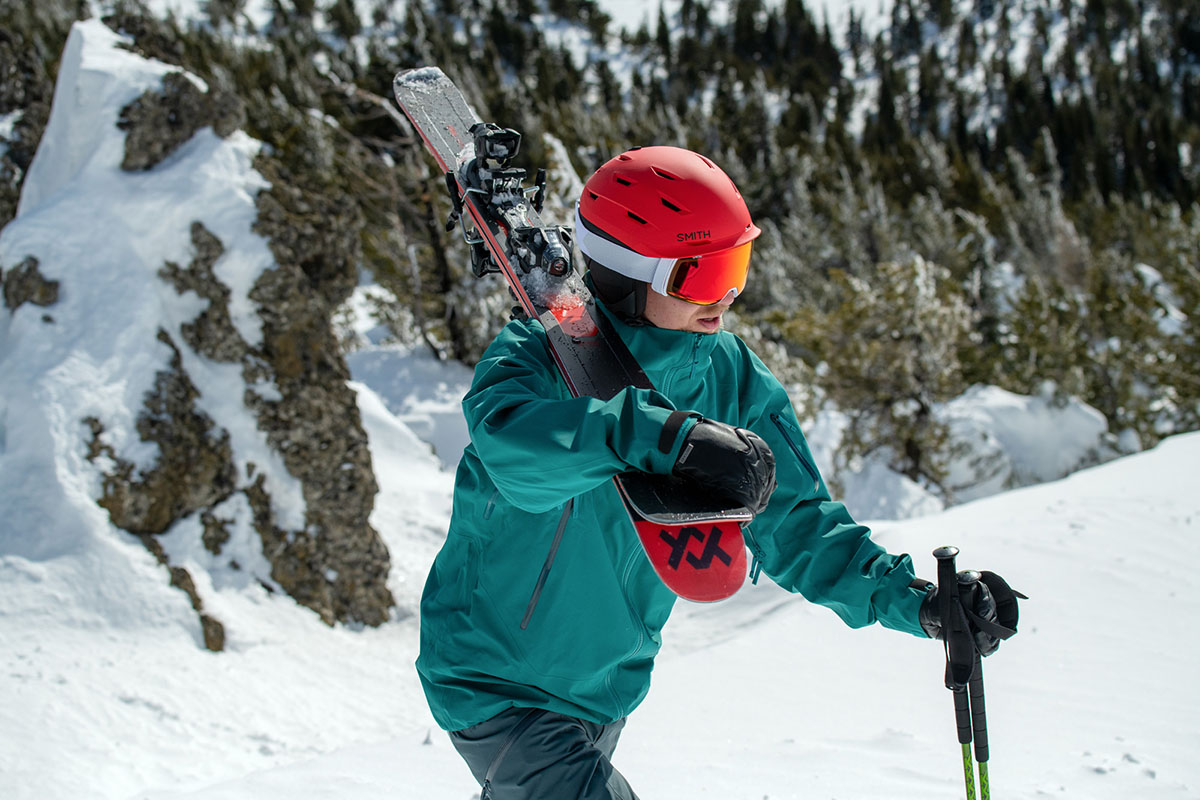 All told, expert riders that prefer a sturdy and damp design will likely be happy with this set-up, but the Mantra struck me as a little too much ski for most riders, even those on the high end of the intermediate category. And as far as conditions go, it's a model that I think matches well for areas that aren't known for getting serious storms with a lot of snowfall. Instead, the Mantra works best for those that spend more than half of their time on-piste but still want enough width and capability for daily dips into a favorite powder stash.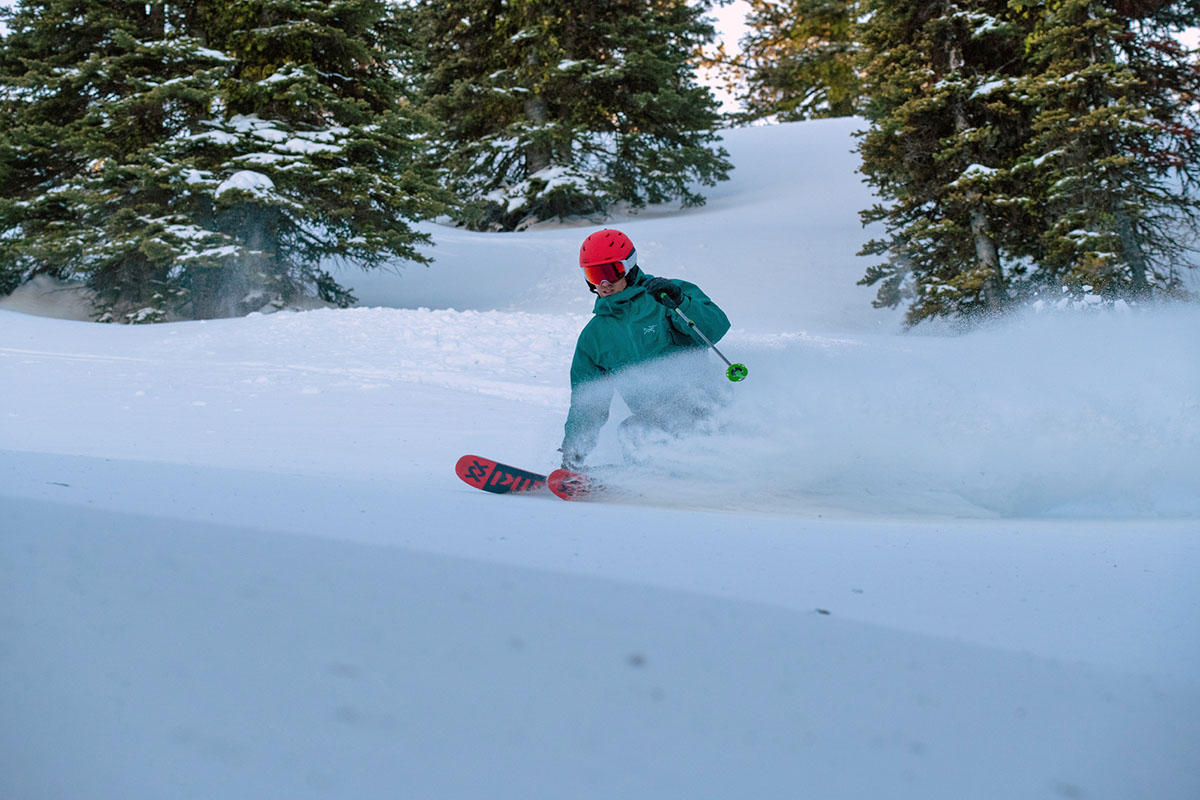 Performance in the Bumps
Like many skis in the high-speed all-mountain category, the Volkl M5 Mantra likely won't be a top choice among mogul skiers. To be sure, it's not that a capable pilot couldn't sling it down a zipper line, but the ski is not especially quick at pivoting, and the stiff tip and tail mean a misstep could get you into a world of trouble quickly. For those that put in a lot of time in the bumps, loosened-up and more playful builds like the Blizzard Rustler 9 or Salomon's QST 99 strike us as more suitable options.

Build Quality and Durability
Volkl takes a lot of pride in their ski designs, which typically have a clean and very refined look. And this holds true with the Mantra: you don't get any fancy graphics or artwork, but the colorway is attractive, and we love that Volkl highlighted the Titanal Frame construction so clearly—the top sheet is raised wherever there's metal (along the perimeter and through the center/middle). In addition, the core is a quality mix of materials, including tough but light poplar and beech woods, the aforementioned layers of Titanal, and carbon fiber in the tips. Our demo pair had seen a lot of trail time and rough use, and it showed with a fair number of nicks and scratches, but this didn't detract from the skis' look or performance. The Mantra doesn't come cheap at $700, but we think the overall design and attention to detail easily justify the premium price tag.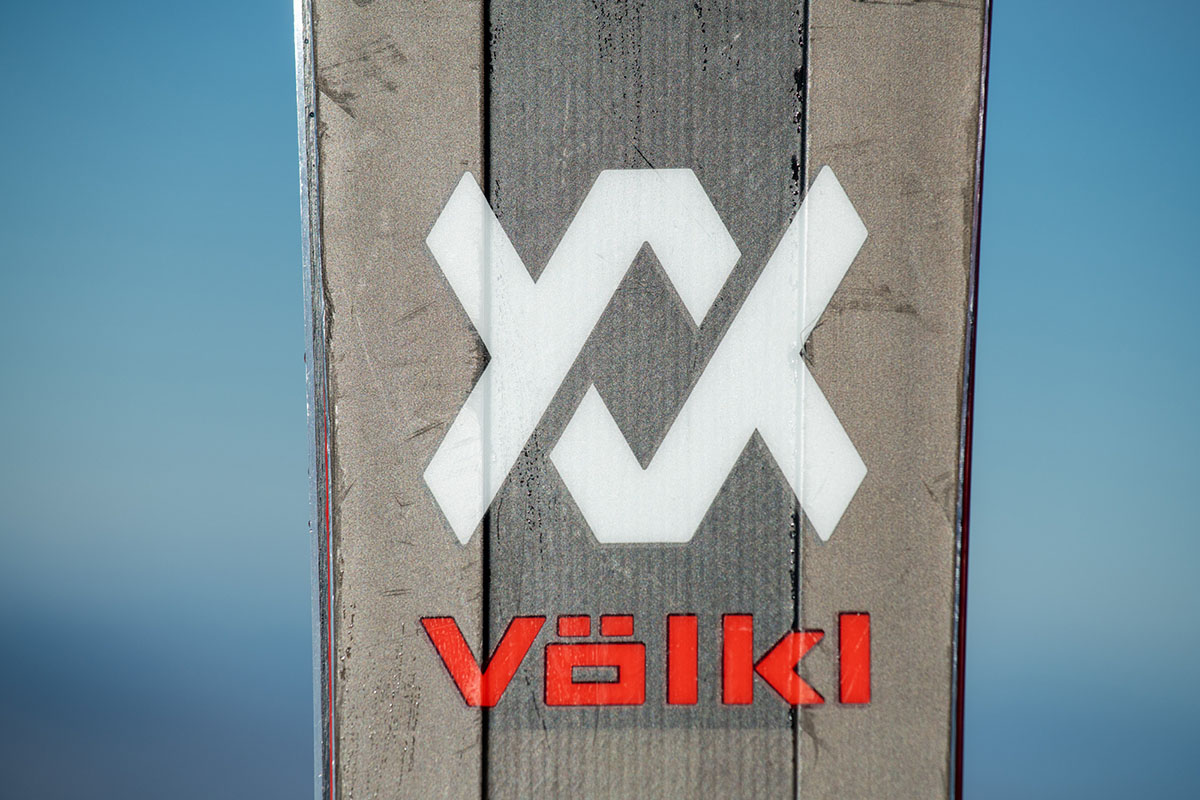 Fit and Sizing
At 5'9" and 155 pounds, I landed on the 177-centimeter length in the Volkl M5 Mantra and was happy with my choice. I didn't feel like I needed any extra speed and power for hardpack, and sizing up to the 184-centimeter version would have further detracted from the ski's playfulness and maneuverability off-piste (turn radius increases from 19.8 to 21.2m with the longer model). Our female tester (5'6" and 135 lbs.) had the same experience on the 170-centimeter version of the Volkl Secret 92 (the Mantra's women's-specific counterpart): it was an ideal length for maximizing responsiveness speed, but anything longer would have taken away some of the fun. Suffice it to say that the ski strikes us as a model that's best suited to your standard length.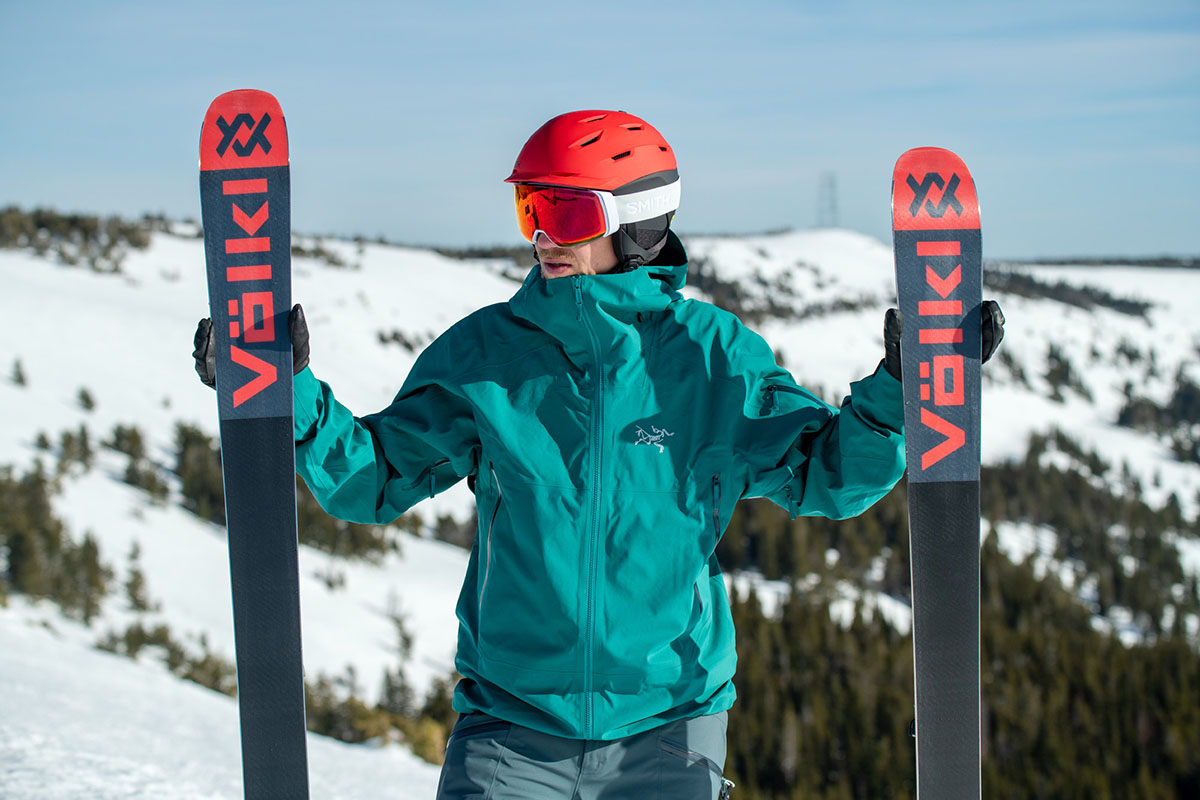 Other Versions of the Volkl Mantra
We put the M5 Mantra (96mm underfoot) to the test for this review, and Volkl also makes the ski in a 102-millimeter version. The Mantra 102 has a wider tip and tail (140 and 123mm respectively), as well as a slightly shorter turn radius (19m for the 177cm version). The 102 also costs $50 more at $750 but otherwise retains an identical construction to the model that we tested here. Finally, as we touched on above, Volkl makes a women's-specific version called the Secret that costs the same as the Mantra. We tested the Secret 92—like the men's ski, it's also made in a 102 model—and found that it offered similar all-around performance: it's reliable and grippy through turns, solid and stable at speed on groomers, and easy to lay on edge (for more, see our in-depth Secret 92 review).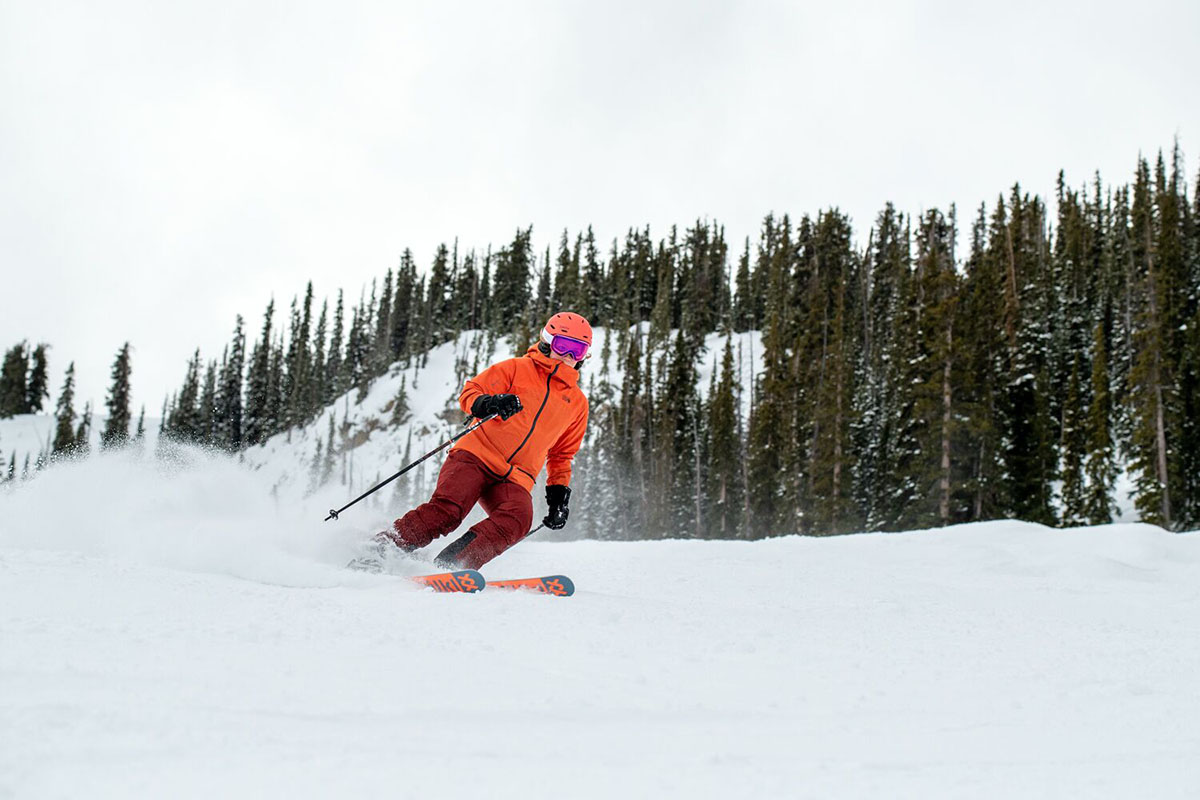 What We Like
Standout performance on hardpack: the M5 Mantra can be pushed hard and responds well by gripping nicely through turns and maintaining power as you finish.
Moderately wide turn radius (19.8m) makes it a lot of fun to lay on edge and do big, sweeping turns.
Powerful and smooth even in chopped-up conditions and through crud.
High attention to detail and quality overall design.

What We Don't
Despite its dimensions, the ski didn't float as well as we were hoping in deep powder (it's a nice match for around 6 inches of fresh snow or less).
The Mantra felt poppy on hardpack, but it wasn't especially playful in soft snow.
A bit heavier and more difficult to manage at lower speeds, in tighter spaces, and with less input than an option like Nordica's latest Enforcer.


Comparison Table
| Ski | Price | Ability Level | Dimensions | Radius | Construction |
| --- | --- | --- | --- | --- | --- |
| Volkl M5 Mantra | $700 | Advanced to expert | 134-96-117mm | 19.8m | Wood, Titanal, carbon |
| Nordica Enforcer 94 | $700 | Intermediate to expert | 127-94-115.5mm | 17.1m | Wood, Titanal, carbon |
| Blizzard Bonafide 97 | $750 | Advanced to expert | 136.5-97-118.5mm | 17m | Wood, Titanal, carbon |
| Salomon Stance 96 | $700 | Advanced to expert | 132-96-114mm | 20m | Wood, Titanal, carbon, flax |
| J Skis Masterblaster | $666 | Intermediate to expert | 125-96-114mm | 18m | Wood, Titanal |
| Atomic Vantage 97 Ti | $700 | Advanced to expert | 131.5-97-120.5mm | 19.1m | Wood, Titanal |

The Competition
The Volkl Mantra M5 is one of our favorite all-mountain designs for its standout performance on hardpack and excellent turnability. Nordica's Enforcer 94 is another one of our top picks in this category and gives the Mantra a run for its money across the board. Updated for 2021 with a healthy dose of carbon fiber in the build, we found that the newest Enforcer was quite similar to its predecessor throughout testing, which is a good thing. It's a ski that feels natural almost immediately: it's buttery smooth on and off trail, easy to manage yet fast and capable, and quite playful. Compared to the Mantra, the Nordica is easier for intermediates to control and a little less planted all-out but more well-rounded for all-mountain riding (especially in tight spaces and at lower speeds). All in all, both are strong options, but we prefer the more versatile and fun Enforcer for 2021.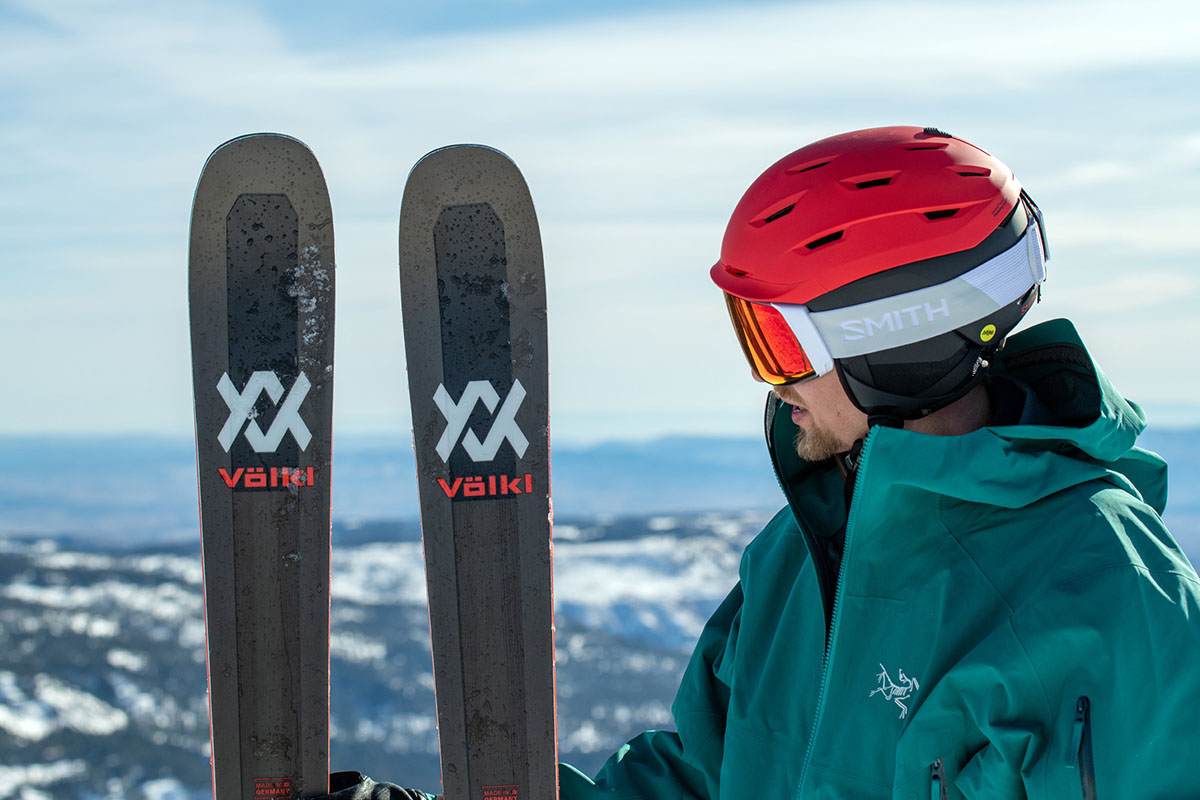 Another ski that got a revamp for 2021 is Blizzard's Bonafide 97. Importantly, the previous model had a similar on-trail/hardpack feel as the Mantra: strong, sturdy, and wide enough to rail corners and bust through chop. But the shift to a new blended wood core has loosened things up a little and broadened its appeal (although it's still plenty strong with two sheets of metal). Now, we consider the Bonafide a bit more forgiving in mixed conditions, and it's a little happier to turn quickly as well. Not a whole lot separate the two skis, but the new Bonafide strikes us as the slightly superior design for all-mountain use. 
Salomon's Stance 96 is new for 2021 and a notable entry into the market. Salomon is currently best known for their freeride QST line, but the Stance clearly targets the Mantra's core market of metal-reinforced, all-mountain skis. We brought the Stance along on the same trip for testing as the Enforcer and Bonafide, and despite the dated graphics that had us scratching our heads (there are so many good-looking skis out there that the bland design really stuck out), it performed admirably on hardpack, has similar tip rocker, drove nicely, and felt noticeably stable at speed. Unfortunately, we didn't have the conditions to take it out in powder before the season came to an early end due to COVID-19, but we expect overall performance to line up well. It's too early to make a final call at the moment, but we will follow up as we get more time on the Stance.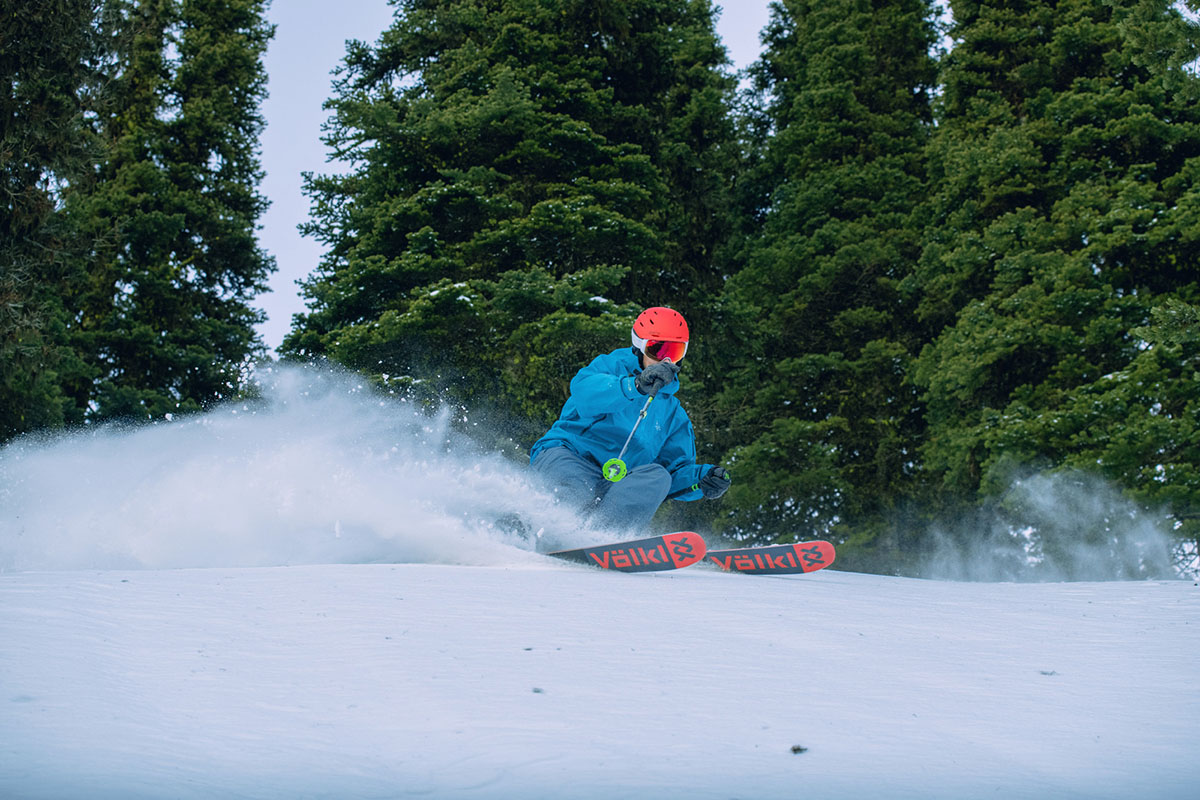 J Skis is best known for making fun and playful skis, and their Masterblaster collection carries the torch but in a moderately stiff package. Stacked up against the Mantra, you get similar specs including a 96-millimeter waist but a slightly narrower tip and tail. The net result is a sturdy ride that puts a lot of emphasis on hardpack performance like the Mantra, but it doesn't have the same combination of energy and confidence when slicing turns. That said, the Masterblaster will encourage you to hit more jumps and drops than the Volkl when heading off-piste (true to its freeride roots), so a final decision between the two should come down to priorities and where you plan to spend most of your time.
A final option to consider in this crowded all-mountain category is Atomic's well-respected Vantage 97 Ti. The Vantage saw a big update last year—Atomic stiffened up the build and added "windows" to showcase the Titanal—and the result is a noticeably different personality than the Mantra. Both will fly downhill and are happiest on hardpack, but the Vantage isn't as damp and falls short of the Mantra's confidence-inspiring build. On the flipside, if you need to flick it around, the Vantage is a bit more willing and responsive due to its lighter construction. In the end, we prefer the smoother and more predictable Mantra, but both have their merits for high-speed carving.
If you're thinking about buying gear that we've reviewed on Switchback Travel, you can help support us in the process. Just click on any of the seller links above, and if you make a purchase, we receive a small percentage of the transaction. The cost of the product is the same to you but this helps us continue to test and write about outdoor gear. Thanks and we appreciate your support!
Depending on the seller, most products ship free in the United States on orders of $50 or more. International shipping availability and rates vary by seller. The pricing information on this page is updated hourly but we are not responsible for inaccuracies.
Read More from Switchback Travel