Volkl Secret 92
Price: $700
Ability level: Advanced to expert
Dimensions: 130-92-113mm (170cm length) 
What we like: Very stable at speed on hardpack and through variable snow.
What we don't: Flotation falls short in deep powder. 
See the Women's Volkl Secret 92  See the Volkl M5 Mantra
Volkl's Secret 92 (and unisex M5 Mantra) slots in as their versatile all-mountain design built for hard-charging resort-goers that like to explore both on- and off-piste. We brought the Secret to Crested Butte, Colorado, for testing and came away with mostly high praise: while the ski is noticeably powerful and stiff, it's also playful and quick to turn. Those who live in areas with a lot of powder might want to step up to a wider option (there's a Secret 102 available), but the Secret 92 strikes us as a great match for advancing intermediates to expert riders in places with moderate snowfall. To see how the Secret 92 stacks up to the competition, see our articles on the best all-mountain skis and women's all-mountain skis.
 
---
Table of Contents
---

Hardpack Performance
Like its unisex counterpart, the M5 Mantra, the women's Volkl Secret 92 is a real ripper on hardpack. In fact, on my first run with the Secret, I was immediately impressed by how stable it felt at speed: coming off the softer and more forgiving Nordica Santa Ana 98, the Volkl felt stiffer and more powerful, which gave me confidence to cruise down groomers and plow through chop. This performance is largely a result to the ski's construction, which includes stiff metal along the sides and under the bindings (Volkl calls this their Titanal Frame design), along with a light carbon tip and moderate tip and tail rocker. Overall, the build provides just the right amount of stiffness to be reliable through variable snow and when cruising down hardpack, but the ski is still soft enough to maintain a playful and fun personality.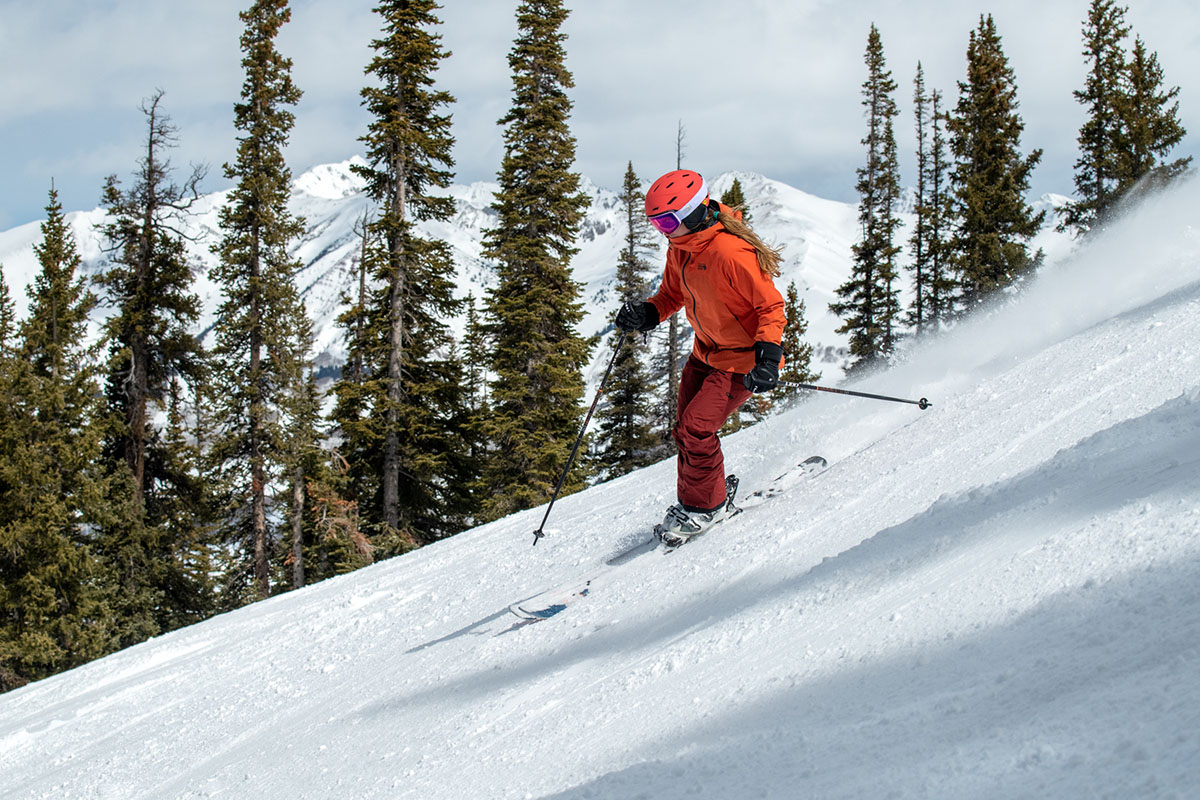 Despite the relatively wide 17.9-meter turn radius (for the 170cm version), the Secret 92 was also happy to get on edge and transition in and out of turns with little input. In general, it was noticeably grippy, had a good amount of rebound, and was easy to execute wide, arching turns. I did find the ski a bit more difficult to maneuver in tight spaces—short, tight turns required much more effort—but it nevertheless was a great all-around match for the firm snow that we encountered most of the week at Crested Butte. All in all, the Secret was reliable and consistent across a wide range of resort conditions—from light powder to chopped-out snow, crud, and even icy patches—and I never had the skis chatter out or feel unstable underfoot.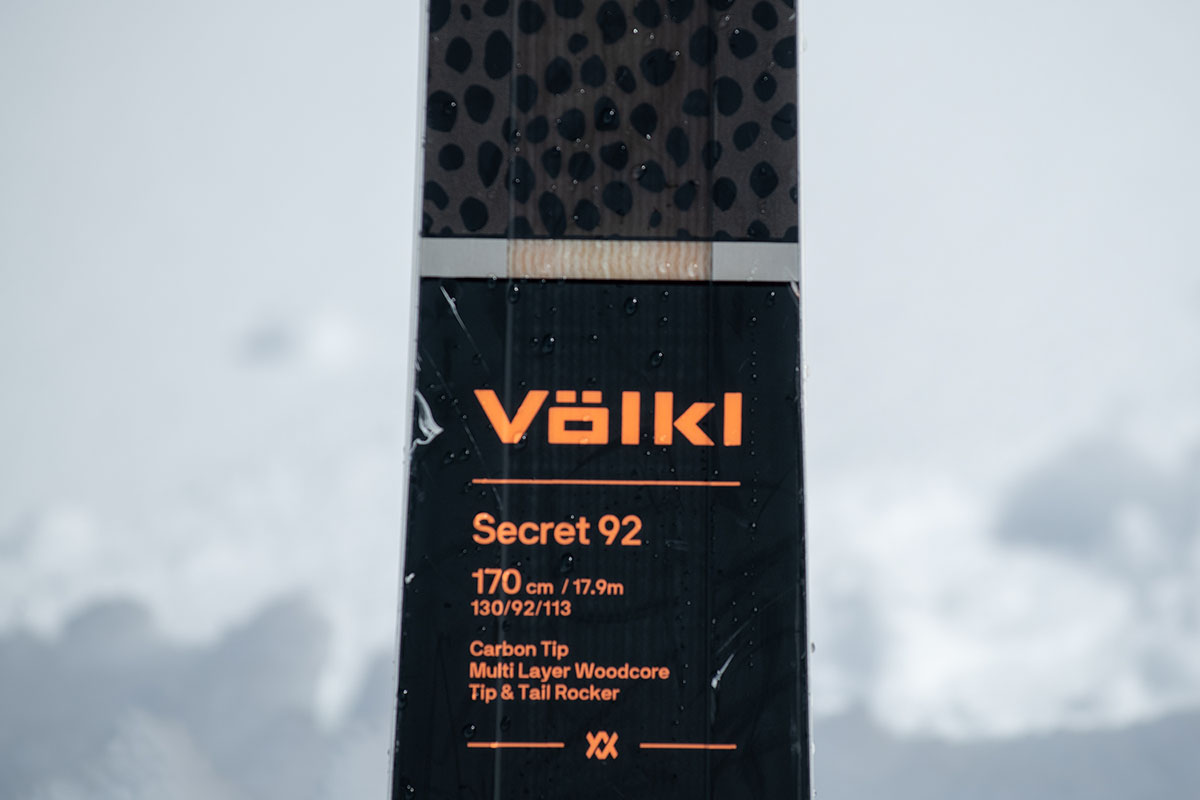 Soft Snow (Powder) Performance
COVID-19 cut our testing short, so I wasn't able to take the Secret into true powder conditions (it was a bit of a dry spell with very little fresh snowfall during our week at Crested Butte). That said, I did manage to dip into a couple of soft snow patches with the Secret, and it performed decently overall. The 92-millimeter waist stayed afloat on what little powder we had, but in deeper sections, I noticed the ski began to lack the playfulness I experienced on hardpack and became tougher to maneuver. For reference, in testing the Volkl M5 Mantra (which has a similar construction and dimensions), we also didn't find it to be a standout in the deep stuff. The ski didn't float as well as expected (the 177cm length we had out for testing measured 134-96-117mm), although it was a nice match for around 6 inches or less of fresh snow. In both cases, the rockered carbon tips help keep the skis on top of the surface, but they're simply not a great match for areas with a lot of snow like Colorado and Utah.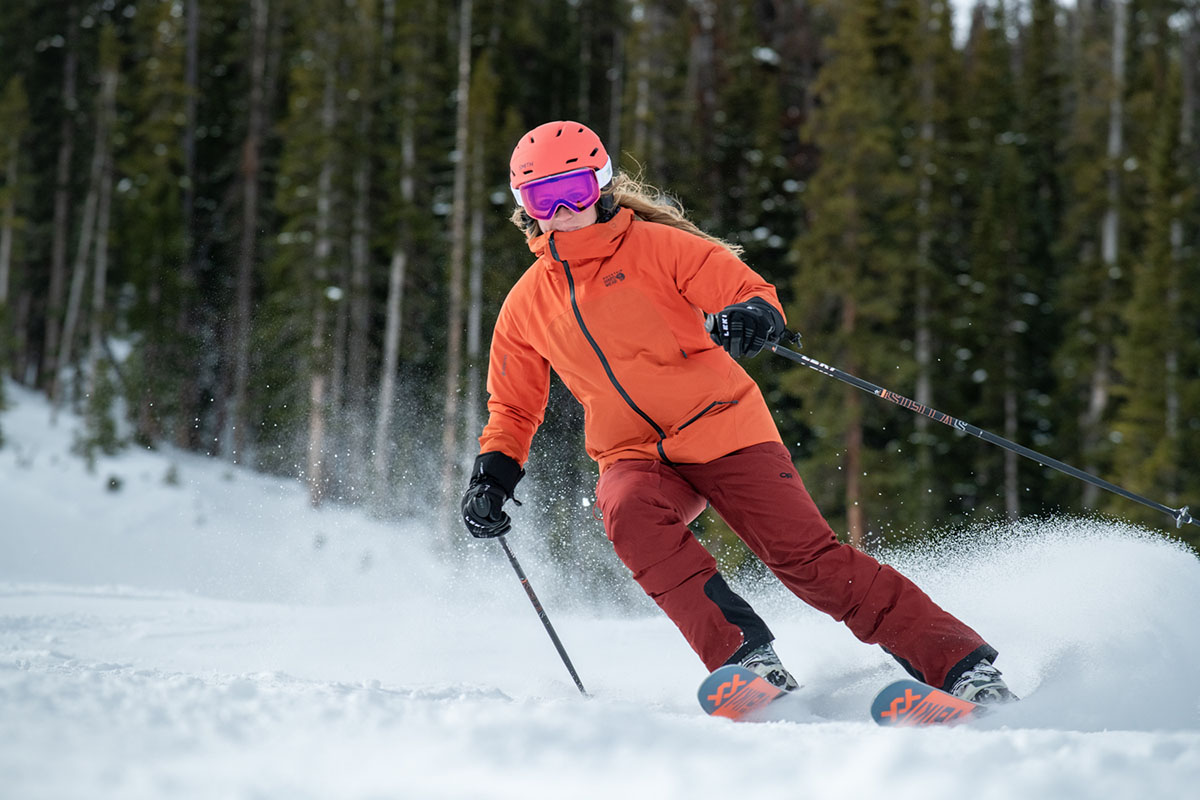 Performance in the Bumps
Like many versatile all-mountain designs, the Volkl Secret 92 isn't the best performer in the bumps. I'm admittedly not a mogul skier, but I found the Secret hard to navigate through tight spaces and pivot quickly. Overall, the ski felt noticeably less playful when I brought it into tricky terrain, and I struggled to flip it from edge to edge. The construction is promising for advanced to expert mogul skiers—the Secret is quite sturdy but still soft enough to absorb impacts—but beginning and intermediate riders will likely find it fairly unwieldy and hard to control.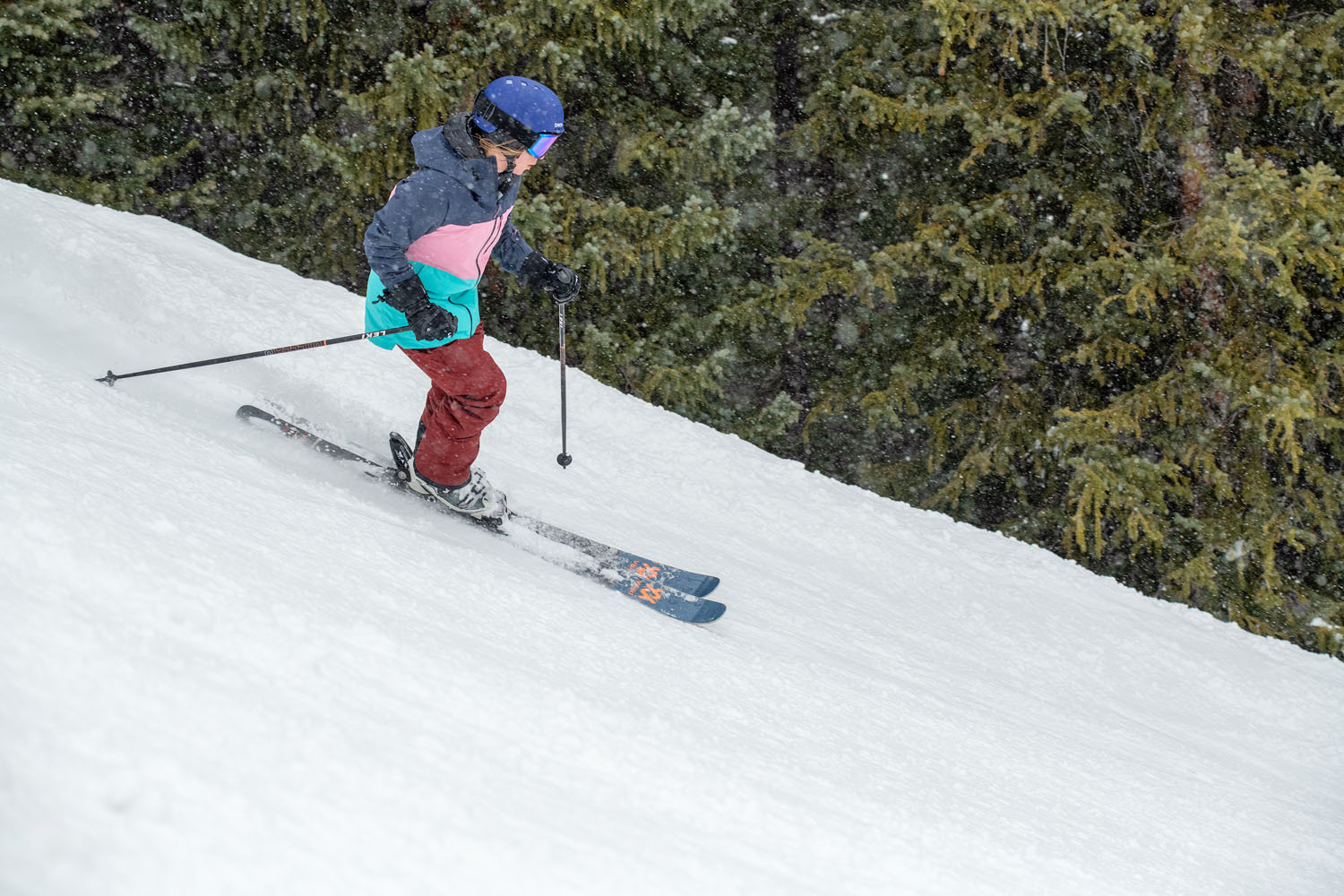 Build Quality and Durability
Volkl rarely disappoints from a quality standpoint, and I have no major complaints about the Secret's build. The graphics are fairly muted and don't stand out in any big way, but the design is unobtrusive and simplistic, and the top sheet is raised along the sides and middle to showcase the Titanal Frame. Additionally, in terms of construction, Volkl utilized all quality materials, including a beech and poplar wood core, carbon tips, and the aforementioned Titanal Frame. It was clear that the Secret I was skiing had seen a lot of use, but this type of cosmetic wear is to be expected, and it had no impact on the ski's overall performance. All in all, this is an impressively well-built and high-quality all-mountain design.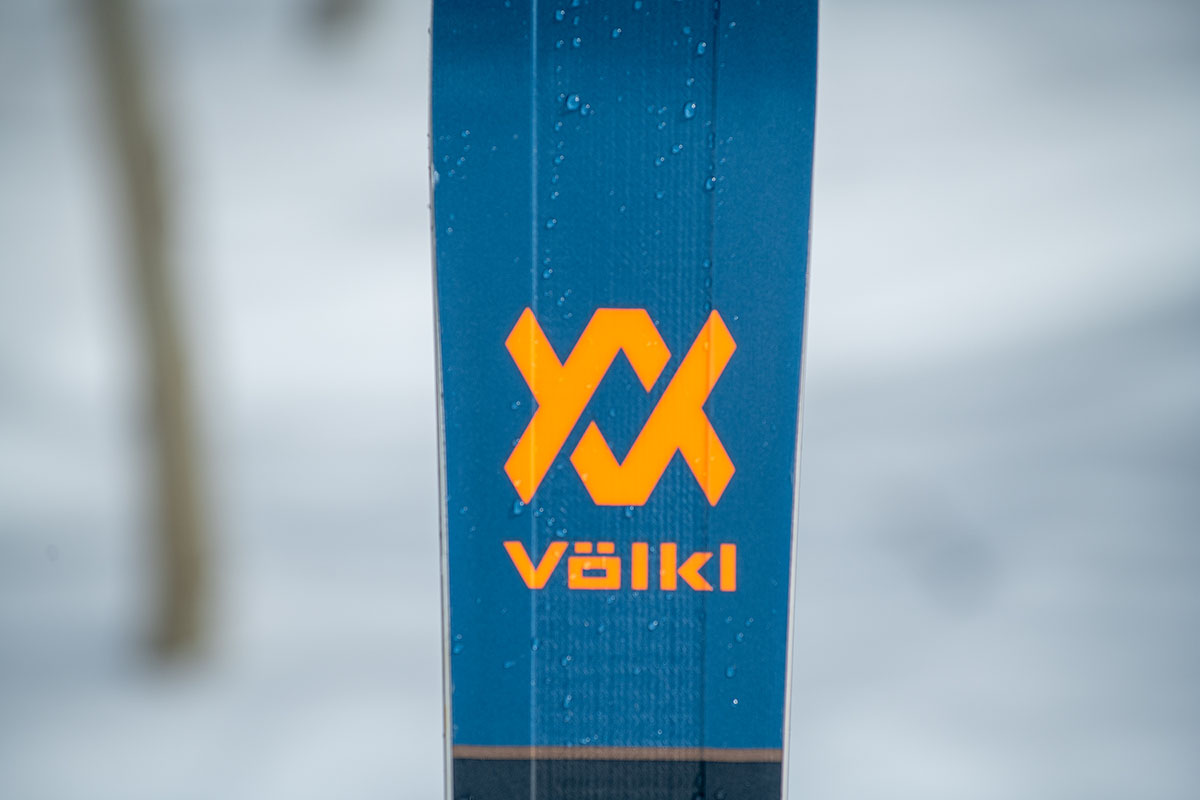 Fit and Sizing
At 5'6" and 135 pounds, I'm happiest in the high 160s to low 170s when it comes to ski length, and the 170-centimeter Secret 92 was a good all-around match. I never felt out of control or unstable on hardpack, and the length provided just the right amount of stability and power for me to pick up speed without sacrificing playfulness or maneuverability. Our male tester on the M5 Mantra had a similar experience on the 177-centimeter length, and he thinks that stepping up to the 184-centimeter ski would have taken away some of the fun off-piste. All in all, I recommend sticking to your standard length with the Secret.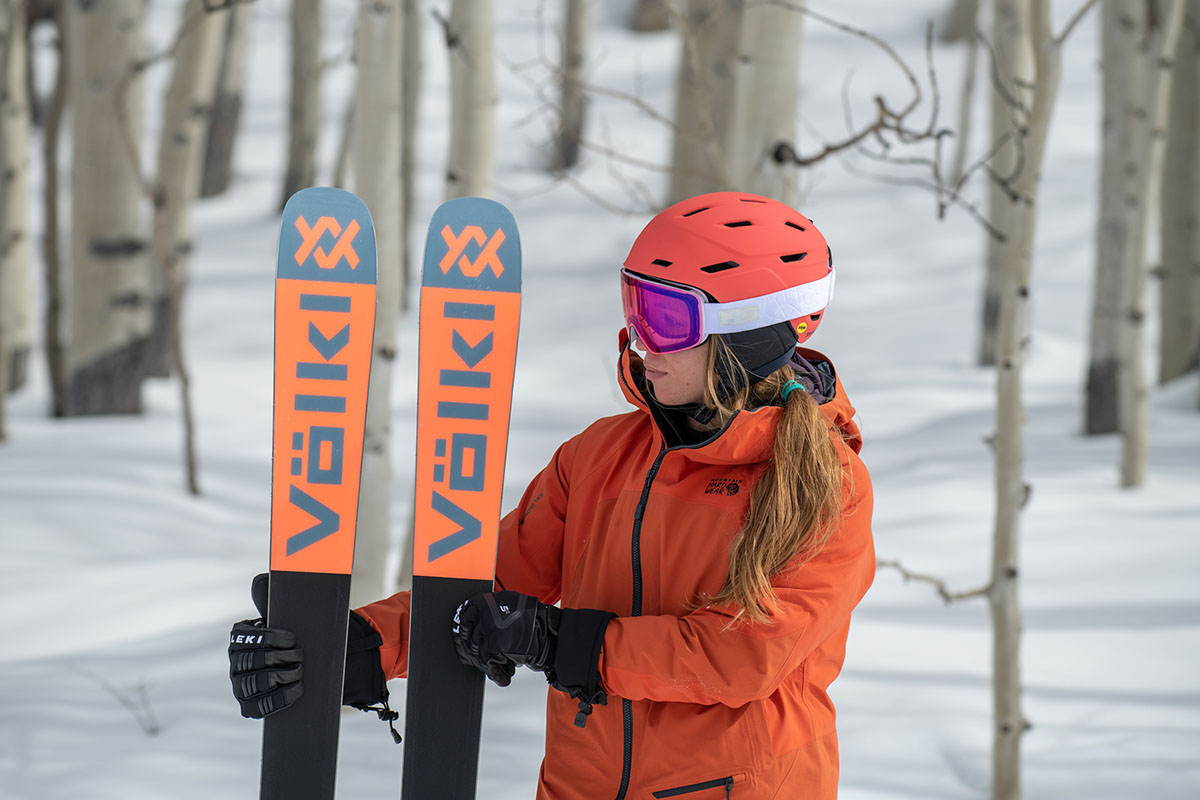 Other Versions of the Volkl Secret
We brought the women's Volkl Secret 92 along to Crested Butte for testing, and Volkl also makes the ski in a wider, 102-millimeter model ($750) for those who frequent areas with significant snowfall. As I touched on above, the Secret 92 was a good match for the minimal fresh snow we experienced during testing, but the 102 is the more capable option for exploring deep powder stashes. Finally, Volkl also makes a unisex/men's model called the M5 Mantra (96mm underfoot), which we found to be a similar overall performer to the women's version (see our in-depth M5 Mantra review). Like the Secret, the Mantra is also offered in a 102-millimeter variation for more versatility in the soft stuff.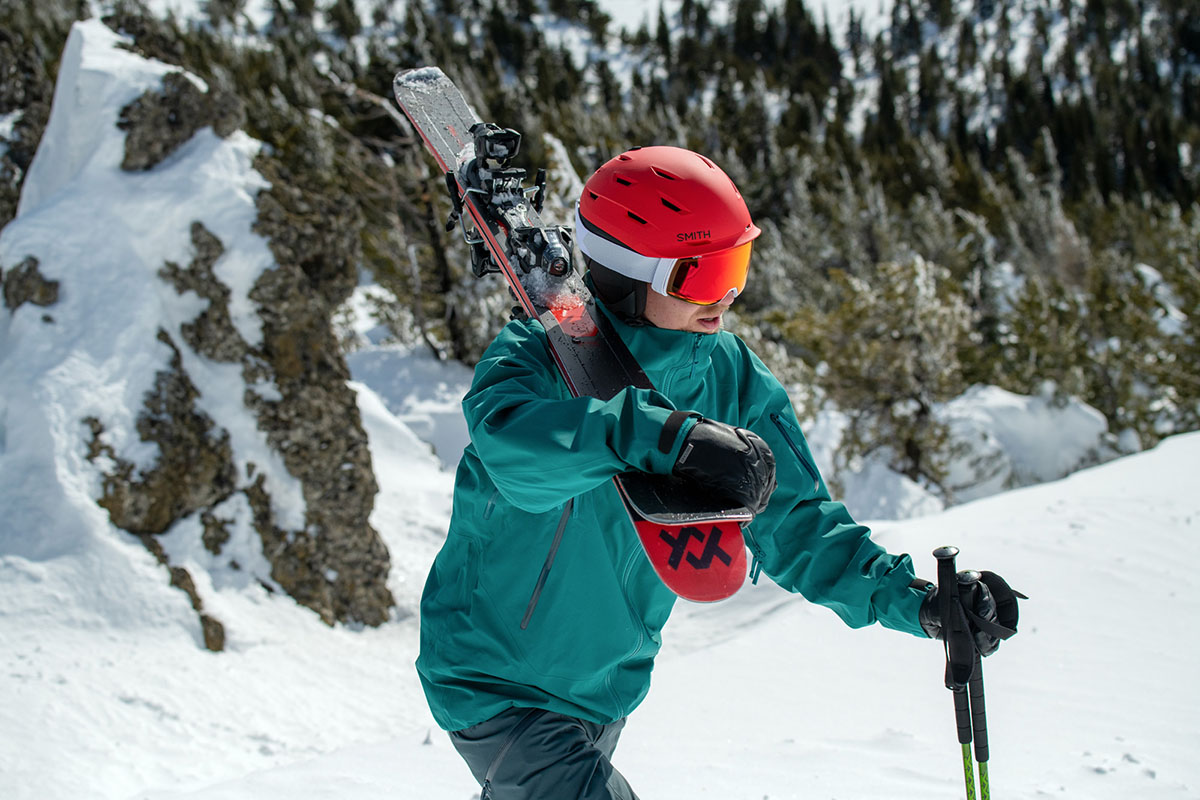 What We Like
The Secret 92 is very comfortable, consistent, and reliable at speed on hardpack.
Great combination of stiffness, power, and playfulness for variable conditions.
Premium materials including multi-wood core and simple top sheet design give the ski a high-quality look and feel.

What We Don't
92-millimeter waist is a good match for light snow, but those who regularly ski deep powder will likely want a wider platform.
Moderately wide (17.9m) turn radius prefers arching turns over bumps and tight spaces.
Takes more effort and input to control off-piste compared to the more forgiving Nordica Santa Ana 93.


Comparison Table
| Ski | Price | Ability Level | Dimensions | Radius | Construction |
| --- | --- | --- | --- | --- | --- |
| Volkl Secret 92 | $700 | Advanced to expert | 130-92-113mm | 17.9m | Wood, Titanal, carbon |
| Nordica Santa Ana 93 | $700 | Intermediate to expert | 126.5-93-114.5mm | 16.1m | Wood, Titanal, carbon |
| Salomon Stance 94 | $650 | Advanced to expert | 124-94-106mm | 18m | Wood, Titanal, carbon, flax |
| Blizzard Black Pearl 97 | $700 | Intermediate to advanced | 136.5-97-118.5mm | 15m | Wood, Titanal, carbon |
| K2 Mindbender 88Ti | $650 | Advanced to expert | 125-88-112mm | 14.7m | Wood, Titanal |
| Salomon QST Lux 92 | $550 | Intermediate to advanced | 130-92-113mm | 17m | Wood, Titanal, carbon, flax |

The Competition
Volkl's Secret 92 is a well-rounded all-mountain design for intermediate to expert riders who like a powerful and stable ride. Another favorite for this season is Nordica's Santa Ana 93. In parsing out the differences between the skis, the Nordica has similar overall dimensions but is a little more forgiving (intermediates will be more comfortable on it). In testing, we found that the Santa Ana had a very natural feel from the get-go that was easier to handle in tight spaces (although neither is a top pick for mogul skiers) and floated a bit better in soft snow. That said, the Secret felt more stable at top speed on hardpack (although the differences aren't substantial). In the end, a final decision will come down to priorities: if you want a stiff and planted ride, go with the Secret, but the Nordica wins out as the superior all-rounder.
Another ski we brought along to Crested Butte was Salomon's new-for-2021 Stance 94. In testing the Stance, we found that it was noticeably stiffer with more Titanal in the build and less natural-feeling than the Secret. All in all, it took a good deal of input to control at first, even on groomers. The narrower tip and tail (the Salomon measures 124-94-106mm) also made it less at home in light powder, although we didn't get the chance to test either model in truly deep conditions. Taken together, both designs prioritize a fast and stable ride, but the Secret strikes us as the more well-rounded construction and worth the added $50 investment.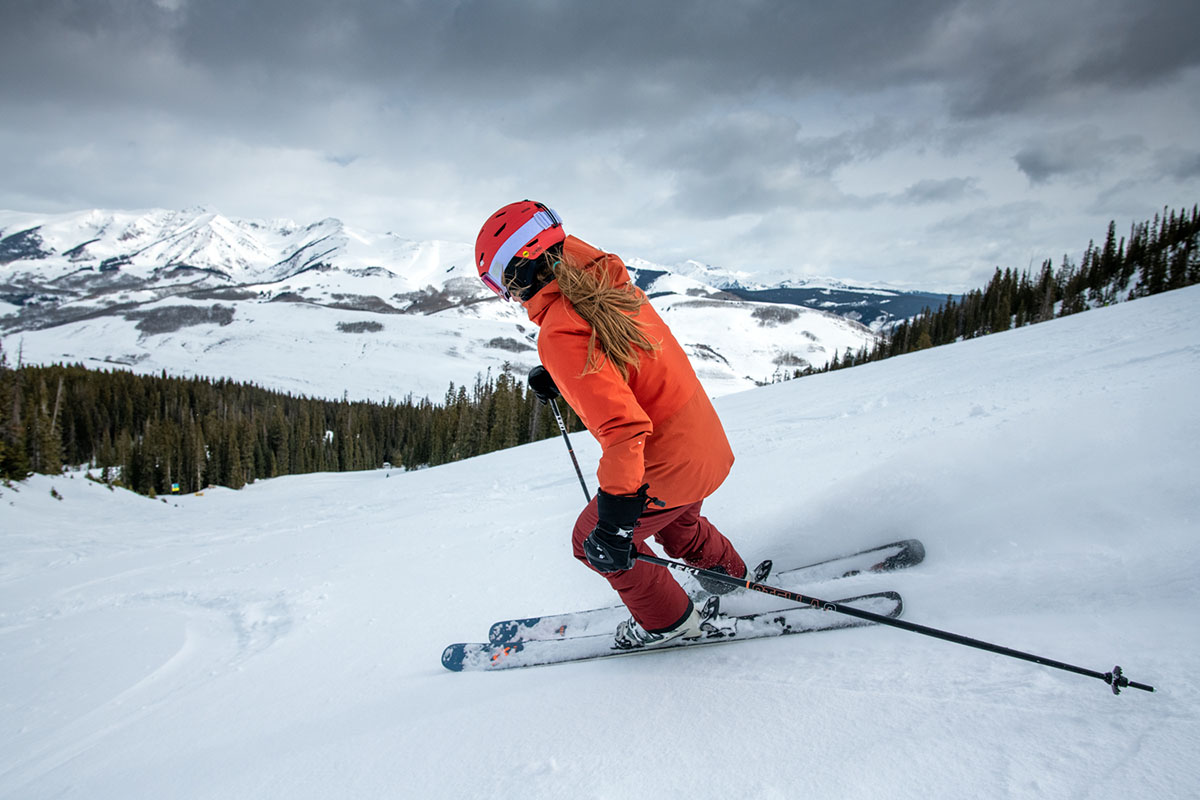 Another versatile design to consider is Blizzard's Black Pearl. Both the 88- and 97-millimeter variations are close competitors to the Secret, although the 97 is the more all-mountain-friendly width. In parsing out the differences, the Black Pearl has wider dimensions (136.5-97-118.5mm) that translate to better performance and more float in soft snow, as well as a shorter turn radius (15m) that makes it happier to turn quickly. Importantly, Blizzard also updated the construction for 2021 with a blended wood core that's widened the ski's appeal for mixed snow conditions—the previous version had a similarly strong and sturdy on-trail feel as the Secret. Both are exceptionally capable skis for on-piste use, but we give the slight edge to the Black Pearl for its added width and loosened-up build.
 
For a similar speed-hungry personality as the Secret, we also like K2's Mindbender 88Ti Alliance. As with the Black Pearl above, the Secret falls between lengths of the K2 (you can step up to the 98mm for better off-piste performance), but the 88 is a great match for hardpack and those who live in areas with less snowfall. Overall, the narrower dimensions (125-88-112mm) and flatter tail aren't as promising for off-piste use, but the ski is powerful and stable at speed on groomers, and the smaller platform will be more maneuverable in tight spaces like moguls and trees. In deciding between the two, the Mindbender strikes us as a nice East Coast design, while the Secret's dimensions and performance are better out West.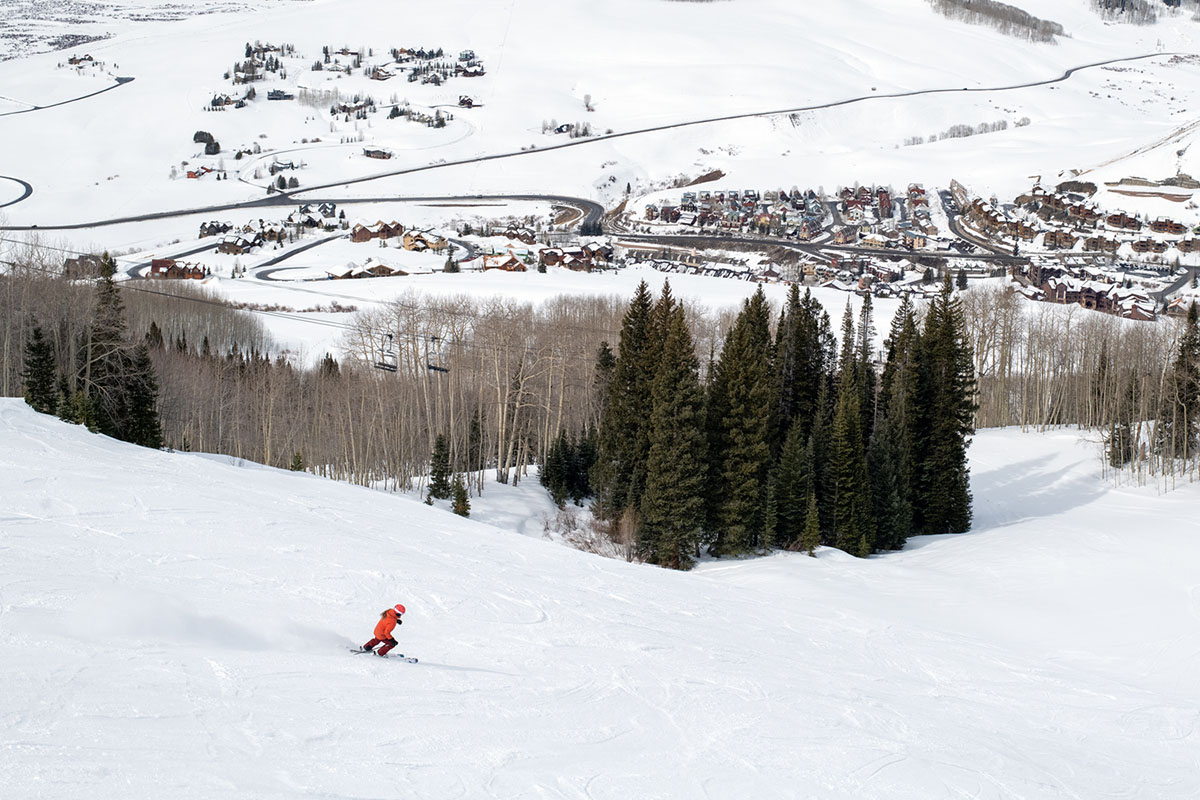 For something a little different, Salomon's QST Lux 92 is a good option to have on your radar. Despite identical dimensions (130-92-113 for the 169cm version), the Salomon is noticeably nimbler and softer than the Secret 92, which translates to a more off-trail-friendly personality. This also makes the ski a bit easier for intermediates to control (we consider the Secret ideal for advancing intermediates to expert skiers), and it also comes in at a budget-friendlier $550. Where the Secret gets the edge is when traveling at speed on hardpack—here, it's noticeably more stable and powerful. But for all-mountain riders that prioritize versatility and maneuverability, the QST Lux is a nice alternative.
If you're thinking about buying gear that we've reviewed on Switchback Travel, you can help support us in the process. Just click on any of the seller links above, and if you make a purchase, we receive a small percentage of the transaction. The cost of the product is the same to you but this helps us continue to test and write about outdoor gear. Thanks and we appreciate your support!
Depending on the seller, most products ship free in the United States on orders of $50 or more. International shipping availability and rates vary by seller. The pricing information on this page is updated hourly but we are not responsible for inaccuracies.
Read More From Switchback Travel