Salomon Stance 96
Price: $700
Ability level: Advanced to expert
Dimensions: 132-96-114mm (182cm length)
What we like: Powerful and fast; likes sweeping turns on hardpack.
What we don't: Unforgiving and not very playful; dated-looking graphics.
See the Salomon Stance 96  See the Women's Salomon Stance 94
Salomon has filled a notable void in their lineup for 2021 with the new Stance all-mountain collection. In comparison to their fun and playful QST designs, the Stance is stiffer and more powerful, taking aim at popular options like Volkl's M5 Mantra and Nordica's Enforcer. Our testing was cut short due to COVID-19 and the early closure of the resorts, but we were able to spend time on both the men's 96-millimeter model and women's 94. Below we break down the Stance's hardpack performance, soft snow performance, build quality and durability, fit and sizing, and more. To see how it stacks up to the competition, see our article on the best all-mountain skis.

Hardpack Performance
From the very first run, one thing was strikingly apparent with Salomon's new Stance: these sticks are built to go fast. In terms of construction, the ski has a sturdy and somewhat heavy feel due to two sheets of metal and a poplar wood core (the women's model blends this with lighter Karuba wood). Combined with camber underfoot and a moderately wide turn radius for this category at 20 meters (the women's is 18m), the result is a ski that likes to go on edge for wide, sweeping, and ultra-smooth turns. In addition, the blunt nose front-end and tip rocker help keep it damp and prevent it from getting kicked around when plowing through crud.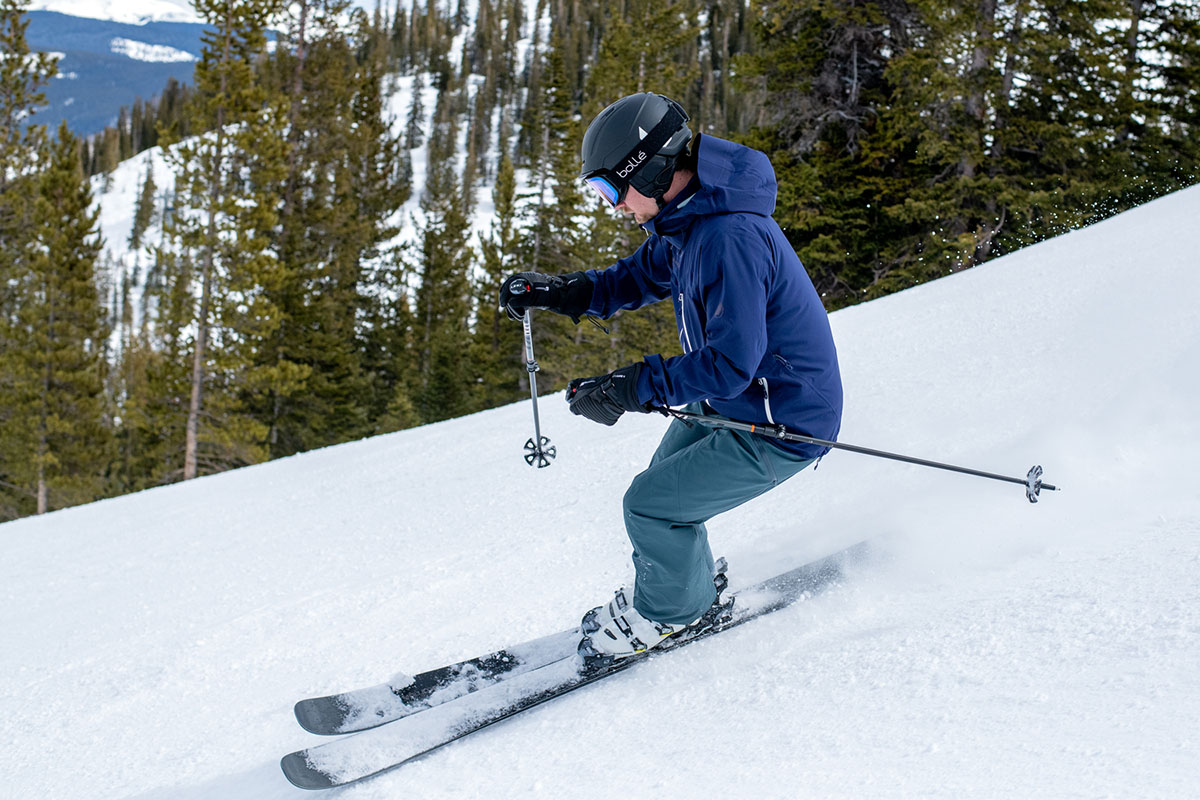 On the flipside, the Stance isn't very flickable or maneuverable in tight spaces and felt noticeably less approachable and fun than the Nordica Enforcer 94 and Santa Ana 98 that we were testing alongside it. Despite having similar flex patterns—softer at the tips and stiffer at the tails—the Nordicas were easier to control at moderate speeds, didn't require as much work to initiate a turn or come to a sliding stop, and felt more playful and natural (i.e., less metal-heavy) in general. Our female tester's first run with the Stance 94 was especially telling: after skiing the Santa Ana 98 all morning, she picked up speed with the Stance easily, but upon trying to come to a stop mid-run, the ski got noticeably chattery and became difficult to control. Coming off of the natural-feeling Nordica, the difference was stark.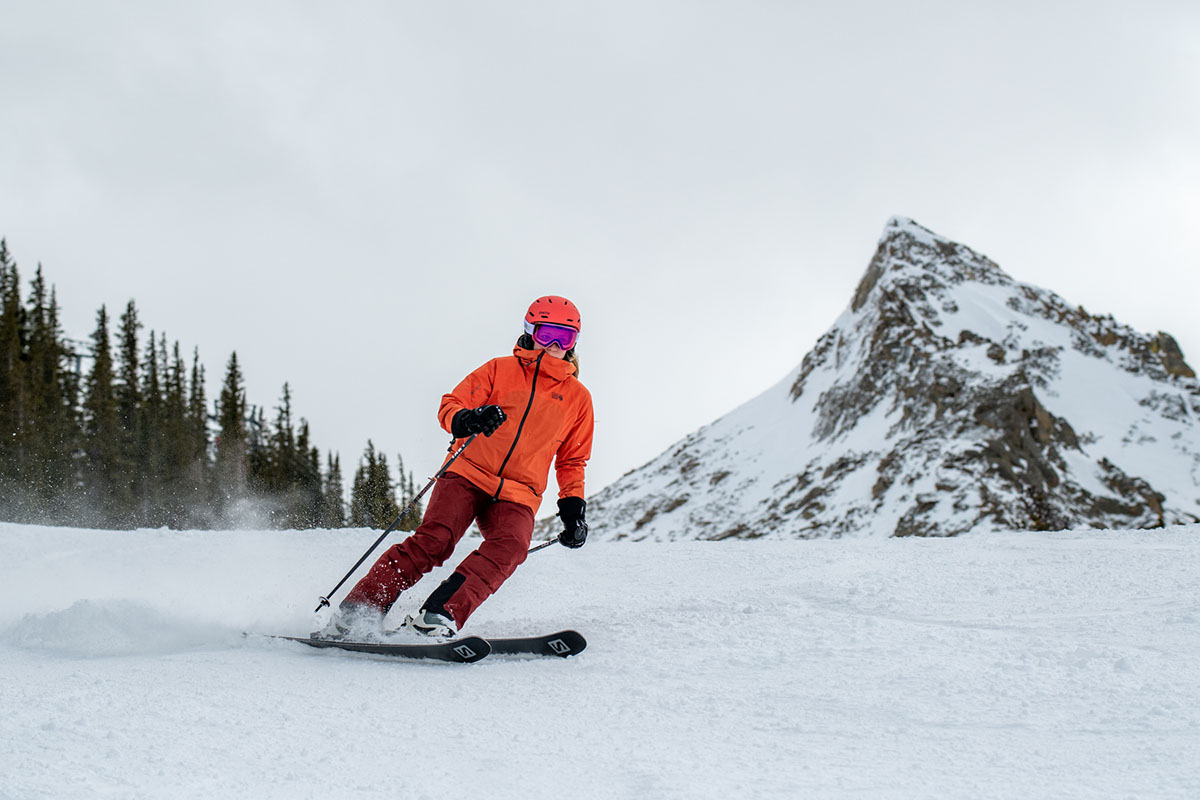 It's worth noting I was on a pair of 182-centimeter Stance 96's, which is a little longer than I prefer (I usually opt for a ski in the mid to high 170s). Given that the skis felt like they were riding a bit long in general, I would strongly consider sizing down to the 176 to improve agility. This is largely a matter of personal preference, and frontside chargers in the advanced to expert category that like a planted and powerful build will likely be happy with the tradeoffs (more on this in "Fit and Sizing" below). But compared to the other skis we had out for testing, including Volkl's Mantra/Secret, Nordica's aforementioned Enforcer/Santa Ana, and Blizzard's updated Bonafide, the Salomon struck us as the most focused and least versatile design of the bunch.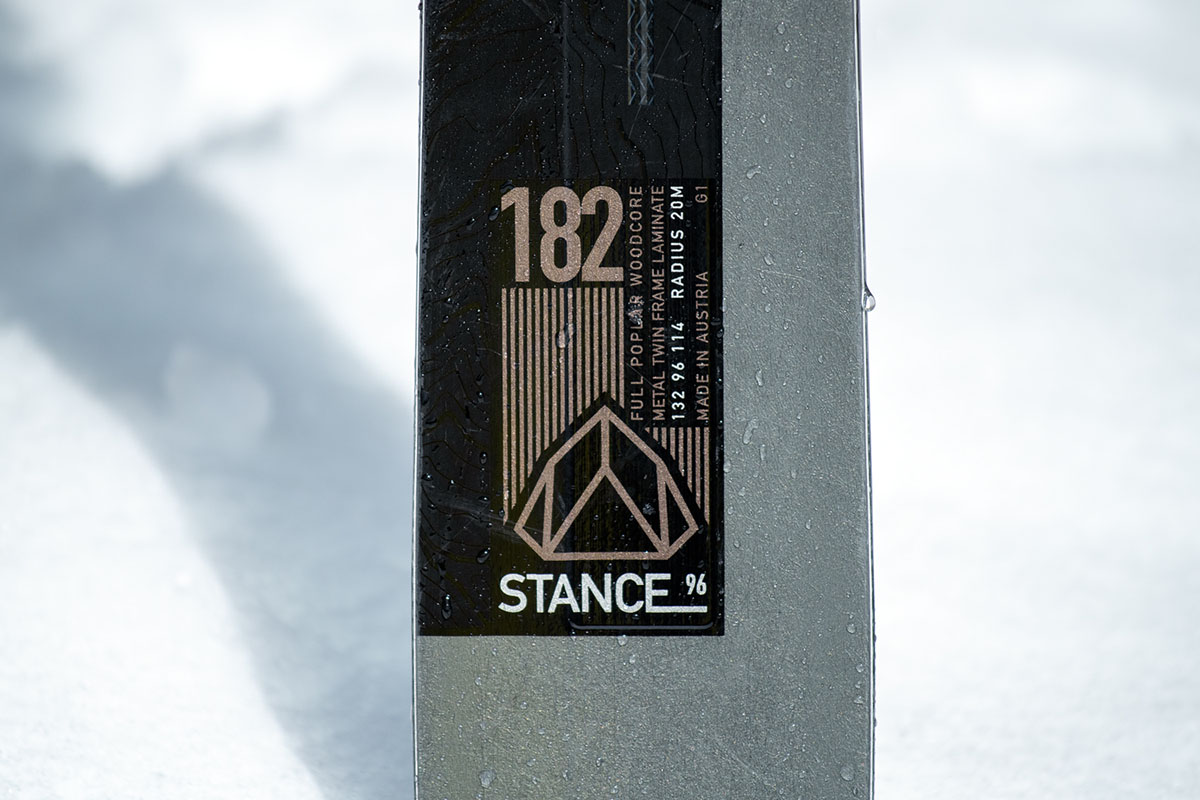 Soft Snow (Powder) Performance
With the season cut short and our visit to Crested Butte corresponding with a dry spell, we didn't get a lot of time off-piste with the Stance. But dipping into some patches of soft snow confirmed our initial impressions: the Stance certainly prefers frontside carving over sidecountry powder runs. To be fair, it's not out of its element with a 96-millimeter waist (94 for the women's version), some rocker at the tip (although it's fairly minimal), and just enough tail rocker to keep it from being grabby. Further, the top sheet of metal has cutouts in front of and behind the binding, which are filled with Salomon's C/FX carbon and flax weave to make it a little more forgiving and damp.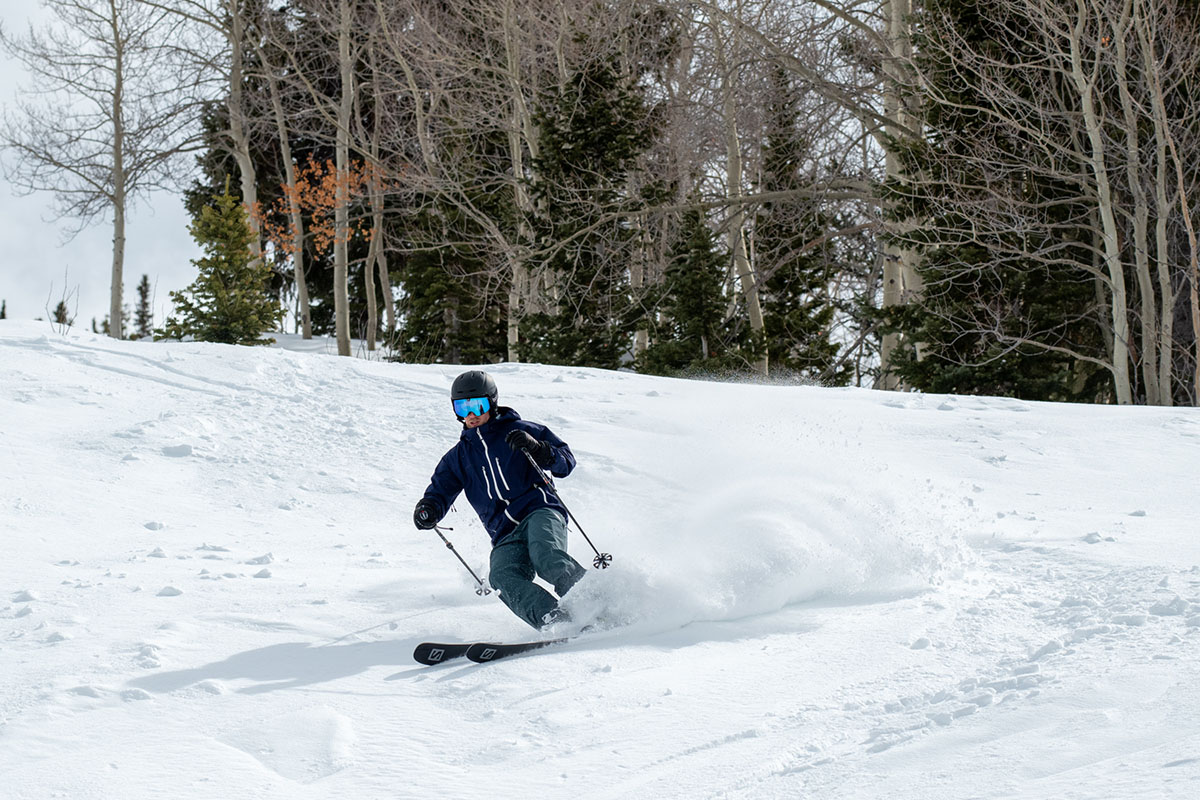 While I didn't get a chance to confirm this, I suspect the Stance would be enjoyable in a wide-open bowl where you could get it moving at a good clip. That said, the added weight and limited playfulness do lessen its fun factor in powder. Of skis with a similar waist width, the Volkl M5 Mantra felt a little more at home in soft snow, although neither would be a top choice for deep days. The loosened-up Bonafide 97 is incrementally better than both the Volkl and Salomon, and Nordica's Enforcer/Santa Ana collection is one of our favorites for mixed on- and off-piste use (the men's 100 and women's 98 are great for places that see a good amount of snowfall).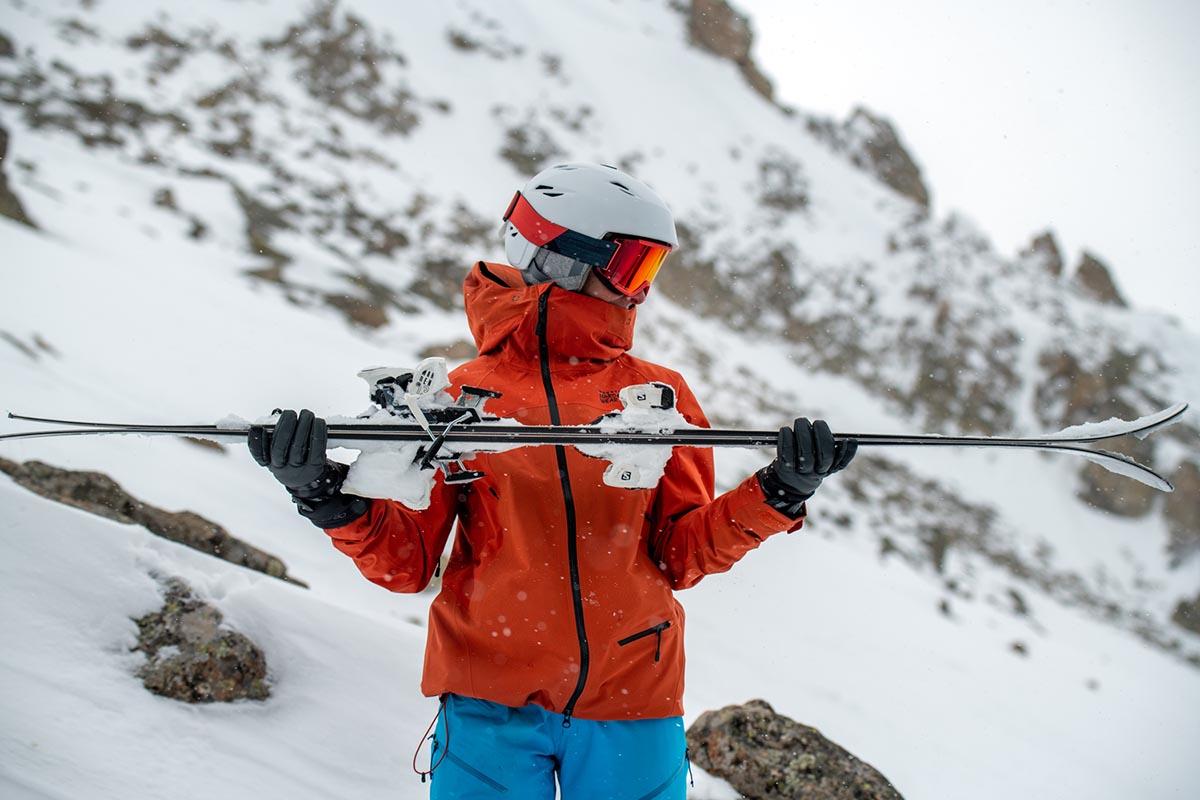 Performance in the Bumps
We touched on this above, but the Stance's planted design and preference for wider turns doesn't translate to a whole lot of fun in bumps, trees, or moguls. It's not too rigid that a capable and strong skier couldn't rip off a good zipper line, but it's not particularly energetic or poppy (Salomon's own QST or Blizzard's Rustler are much better choices for these types of terrain). Additionally, the stiff construction isn't forgiving and could get an intermediate rider bucked around and out of rhythm fairly quickly. To be fair, this category of ski is never going to be a top mogul pick, and we had similar feelings about Volkl's M5 Mantra/Secret, but the Stance is a lower-than-average performer among similar all-mountain designs.

Build Quality and Durability
Build quality is rarely a concern in the high-end ski market, and the Stance is no exception. For reference, the Stance 96 is similarly priced to its main competition at $700, and the same goes for the women's Stance 94 at $650. The material choices line up well too, with the proven poplar wood core for the unisex model (poplar/Karuba for the women's), Titanal metal, Salomon's unique carbon fiber/flax mix (which they've been using in the QST collection for years), and a strong base. The only area where we think Salomon missed the mark is the bland top sheet on both the unisex and women's variations. The color choices are uninspiring, and the Stance 96 in particular struck us as a design that could've been released 10+ years ago. In contrast to the QST collection, which is equally simplistic but cleaner and more modern, the Stance comes across as dull.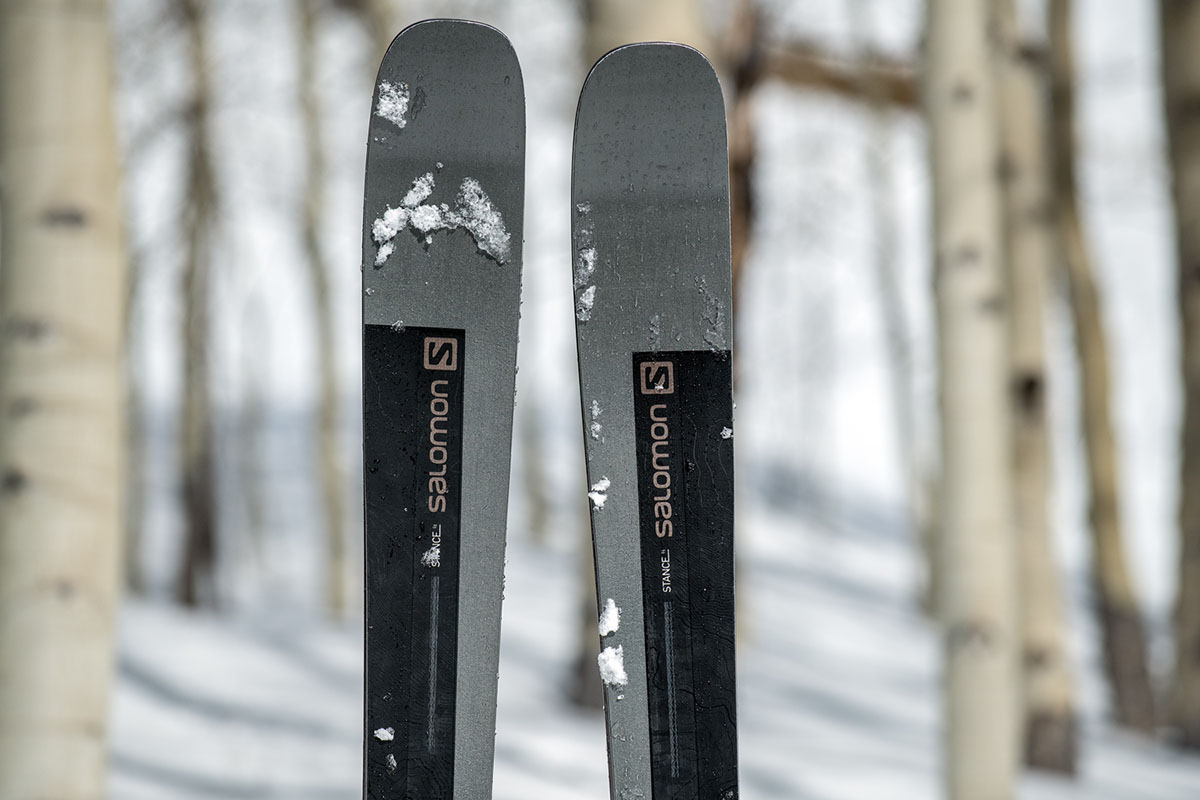 Fit and Sizing
At 5'9" and 155 pounds, I'm typically happiest on a ski in the mid to high 170s to around 180 centimeters in length. This put me slightly in between Salomon's sizing options for the Stance 96 (168, 176, 182, and 188cm), and I wound up testing the 182. On hardpack, speed wasn't an issue but I felt it was lacking in maneuverability. As such, I think opting for the lighter and shorter 176 would have been the better choice for all-mountain riding. And for comparison, our female tester (5'6" and 135 lbs.) had the 174-centimeter length of the women's Stance 94 and wished she had gone with the shorter 168 for more control in tight spaces.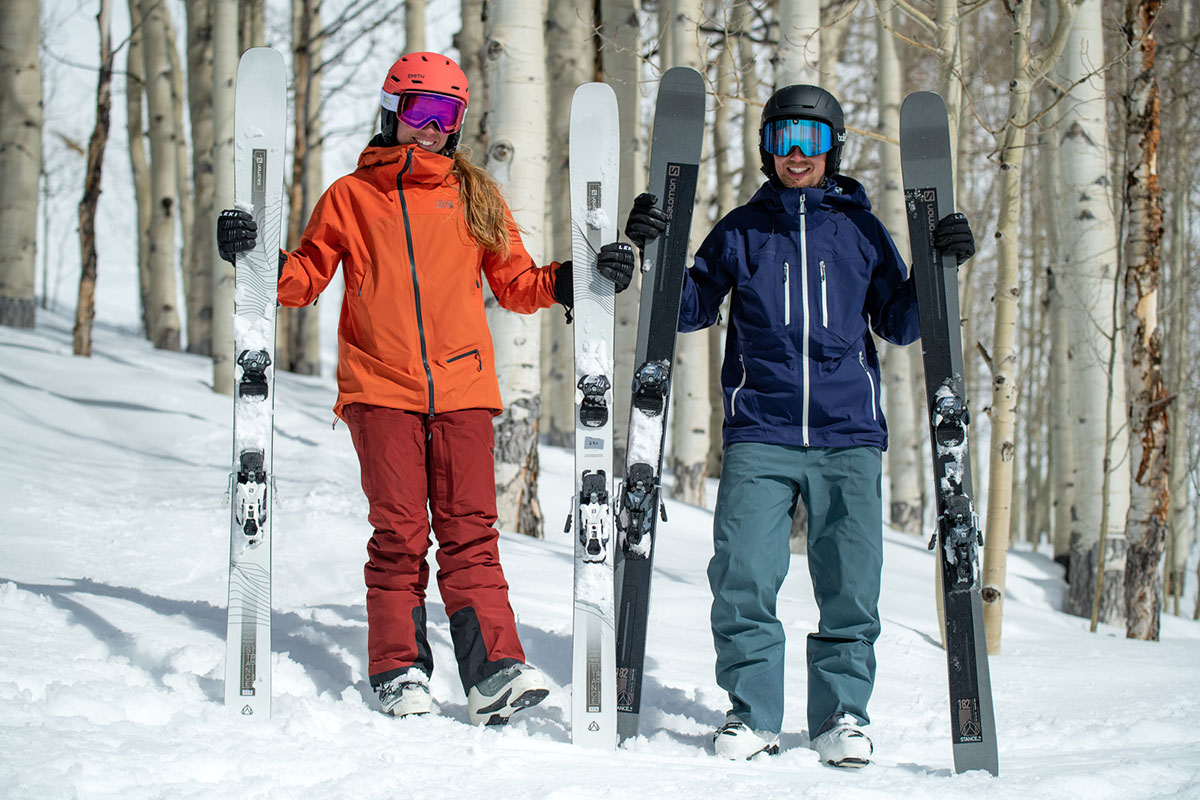 Other Versions of the Salomon Stance
We brought the unisex Stance 96 and women's Stance 94 to Crested Butte for testing, and Salomon also released the ski in 90- and 102-millimeter options, as well as a women's-specific 88 variation. The Stance 90 ($650) and women's 88 ($600) strike us as nice all-mountain options for places like the East Coast that get less snowfall than Colorado, and the 102-millimeter width ($750) is a good match for those that like to dip into the trees, explore powder stashes, and head off-piste regularly. All of the designs share a similar overall shape and construction, although dimensions and side cut radius vary by width.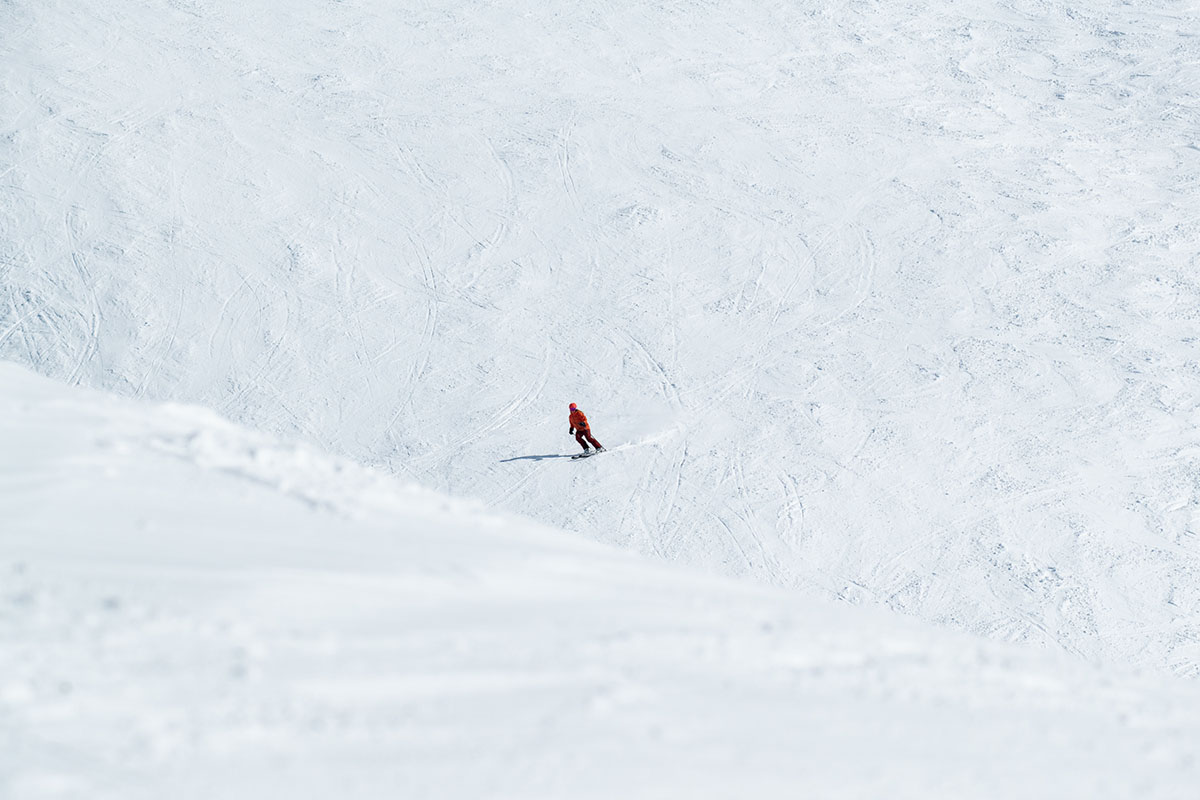 What We Like
Sturdy feel and mostly metal construction make the Stance noticeably powerful, planted, and very comfortable at speed on hardpack.
Great at sweeping, smooth turns thanks to camber underfoot and wide, 20-meter turn radius.
Premium construction and nice mix of materials, including a poplar wood core, Titanal, and a carbon fiber/flax combination.

What We Don't
Not as natural-feeling, flickable, or easy to control as all-mountain options like Nordica's Enforcer/Santa Ana.
Not a standout in powder. Overall, the ski felt heavy and lacked playfulness when we ventured off-trail.
Graphics are uninspiring and dated. In this competitive all-mountain category, we wish Salomon had gone with a cleaner and more modern design.


Comparison Table
| Ski | Price | Ability Level | Dimensions | Radius | Construction |
| --- | --- | --- | --- | --- | --- |
| Salomon Stance 96 | $700 | Advanced to expert | 132-96-114mm | 20m | Wood, Titanal, carbon, flax |
| Volkl M5 Mantra | $700 | Advanced to expert | 134-96-117mm | 19.8m | Wood, Titanal, carbon |
| Nordica Enforcer 94 | $700 | Intermediate to expert | 127-94-115.5mm | 17.1m | Wood, Titanal, carbon |
| Rossignol Experience 94 | $700 | Intermediate to expert | 132-94-122mm | 18.5m | Wood, Titanal |
| Blizzard Bonafide 97 | $750 | Advanced to expert | 136.5-97-118.5mm | 17m | Wood, Titanal, carbon |
| Atomic Vantage 97 Ti | $700 | Advanced to expert | 131.5-97-120.5mm | 19.1m | Wood, Titanal |

The Competition
Salomon's Stance is a new for 2021 and joins the very crowded directional all-mountain ski category. One of its strongest competitors is Volkl's popular M5 Mantra, which we found to be a slightly better overall performer than the Stance. The Mantra can be pushed hard, feels powerful and smooth on hardpack, and is noticeably sturdy underfoot. It's also a bit more versatile and willing to do a range of turn widths and styles. And as we touched on above, the Mantra felt a little more at home in soft snow, although it didn't float as well as we were hoping given the dimensions. It's a fairly close call between two similar builds, but we consider the M5 Mantra the more complete design.
Another one of our favorite all-mountain skis is the Nordica Enforcer/Santa Ana. We tested the latest 94-millimeter version (and women's 98) and found it to be one of the most well-rounded options on the market: while not as sturdy or fast as the Stance, it's confidence-inspiring in a range of conditions, highly responsive, and transitions nicely between on- and off-piste use. All in all, it feels much more natural and forgiving than the Stance, and it strikes us as a better match for intermediate- to advanced-level riders. If your main priority is power, the Salomon fits the bill. Otherwise, we think the Enforcer wins out in all other key areas.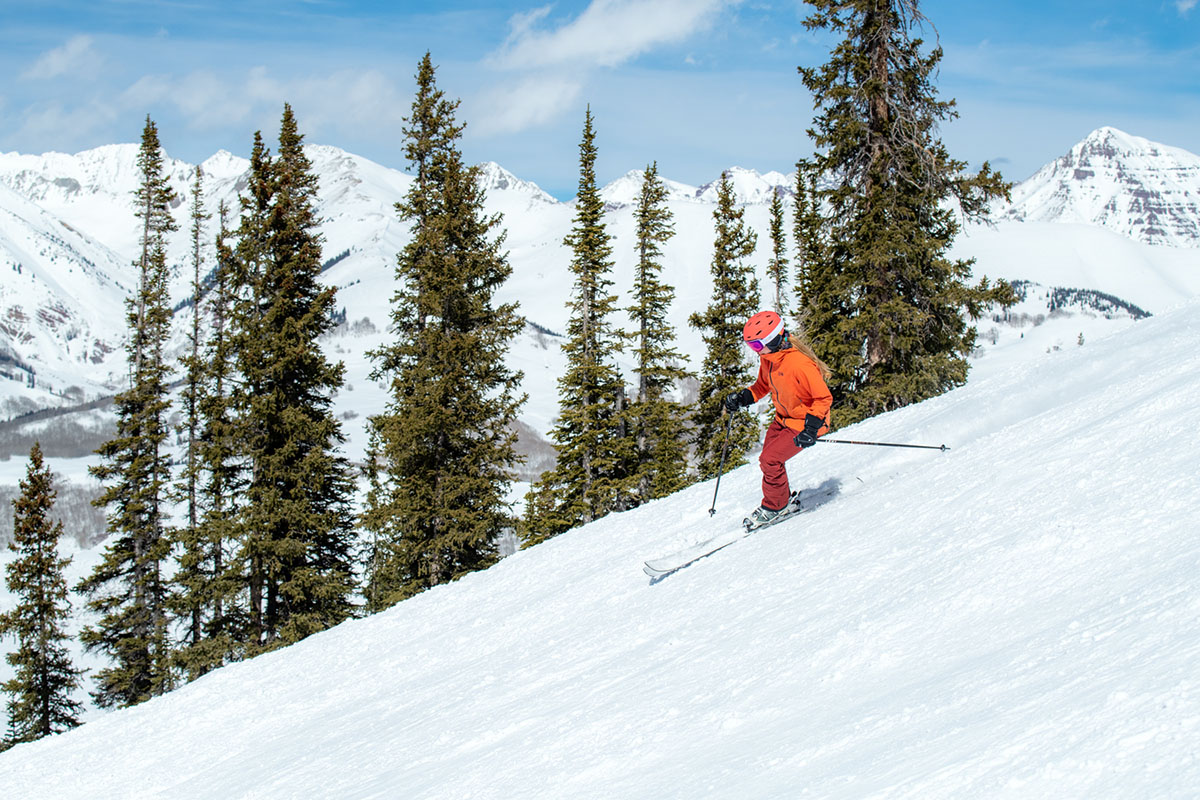 Rossignol's Experience 94 Ti is another option wide enough for true all-mountain use, although its strengths lie on-piste. The ski is built for charging on groomers with a moderately stiff, metal-reinforced construction, and its versatile width makes it a nice choice for transitioning from hardpack to soft snow. That said, the Experience is also more forgiving, requires less input to initiate, and is easier in general to snap between short turns than the Stance. All-out, the Salomon will be more stable, but the Experience is poppier and more intermediate-friendly.
Another ski we've been testing and that got retooled for 2021 is Blizzard's Bonafide 97. Like the Salomon, the previous version of the Blizzard was noticeably strong and sturdy, but the latest update loosened up the build with a new blended wood core. The ski still has two sheets of metal, but we think the changes have widened the Bonafide's appeal significantly. Now, the Blizzard is considerably more forgiving than the Stance, especially in mixed conditions. Again, the Salomon is a little happier on edge and executing wide, sweeping turns, but the Bonafide is the more approachable design for most all-mountain riders.
A final ski to consider is Atomic's Vantage 97 Ti. Both the Vantage and Stance are impressively comfortable and stable at speed on hardpack, but the Vantage is noticeably lighter and less damp, which translates to less of a confidence-inspiring feel at full tilt or when plowing through chopped-up snow. On the other hand, the Atomic wins out in responsiveness and flickability in tight spaces. In the end, a final decision should come down to how you prioritize speed (the Salomon gets the edge) versus maneuverability (the Vantage is the better pick).
If you're thinking about buying gear that we've reviewed on Switchback Travel, you can help support us in the process. Just click on any of the seller links above, and if you make a purchase, we receive a small percentage of the transaction. The cost of the product is the same to you but this helps us continue to test and write about outdoor gear. Thanks and we appreciate your support!
Depending on the seller, most products ship free in the United States on orders of $50 or more. International shipping availability and rates vary by seller. The pricing information on this page is updated hourly but we are not responsible for inaccuracies.
Read More From Switchback Travel