For experienced skiers and snowboarders venturing into avalanche terrain, an airbag pack can provide an extra boost in safety. These systems function by inflating an airbag to about 150 liters via compressed air (or gas) or an electric fan, which help the user stay on the surface of the snow in the event of a slide. Take note that these are not a substitute for avalanche safety gear (beacon, shovel, and probe), but rather an addition to your kit. Below, we've compiled a list of the best avalanche airbags for the 2021 season, including entry-level canister designs, premium battery-powered systems, and ultralight models. For more information, check out our comparison table and buying advice below the picks.
**Disclaimer: There are inherent risks to traveling in avalanche terrain. We do not condone the use of an airbag pack—or any avalanche safety tools—without proper education. Visit AIARE's website to learn more and sign up for a Level 1 avalanche class.
 
Best Overall Avalanche Airbag Pack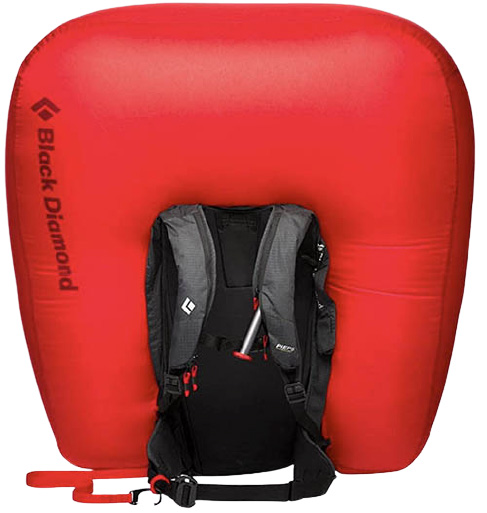 Category: Electric fan (battery)
Weight: 6 lbs. 7 oz.
Capacities: 10, 25, 35L
What we like: A lightweight battery-powered fan and modular design.
What we don't: Expensive and the airbag compartment has a tendency to come unzipped.
Black Diamond's JetForce series has gone through many iterations over the years, and the Pro is their best effort yet. Developed in collaboration with PIEPS, the latest variation of their fan-based system is truly impressive: it sets a new weight standard for electric designs, offers multiple deployments on one charge, and includes Bluetooth connectivity for updates and to personalize your settings. The pack itself is well-designed, with easy access to gear, a secure fit, and valuable features like a helmet holder, hipbelt stash pocket, and diagonal ski carry that doesn't interfere with airbag deployment. And perhaps the most eye-catching news: Black Diamond's modular design means you can swap out "Boosters" (which come in 10, 25, and 35L sizes and a 25L splitboard option), giving you maximum versatility for all manner of snow missions.
For winter 2021, electric-fan airbags are more popular than ever (they're rechargeable, travel friendly, and allow for multiple—and practice—deployments), and the JetForce Pro faces strong competition from brands like Arc'teryx and Alpride. In particular, Alpride's E1 supercapacitor system is more compact and versatile (it can be swapped between compatible packs) and can be found in most all-in-one systems for a few hundred dollars less than the JetForce Pro. But BD's airbag unit is over 6 ounces lighter, and the Pro backpack is one of the most user-friendly options here. Black Diamond hasn't quite reached perfection—specifically, the airbag compartment has a tendency to gape open unless very carefully packed—but their JetForce Pro puts it all together better than most and is our top choice for this ski season. And keep in mind that PIEPS offers a very similar design (their JetForce BT) with just a few slight—and mostly aesthetic—deviations... Read in-depth review
See the Black Diamond JetForce Pro 25L
Best Canister-Powered Airbag Pack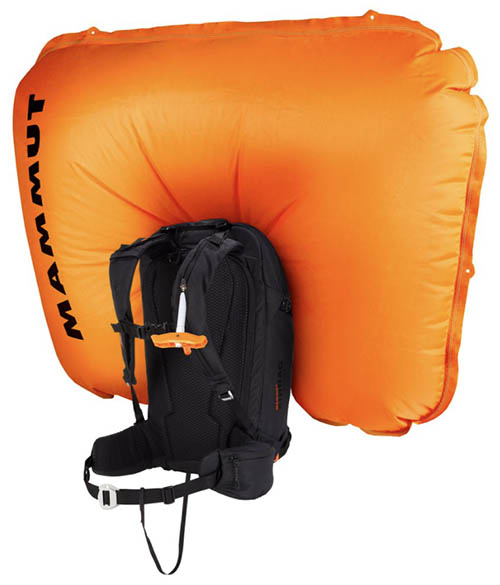 Category: Canister (compressed air)
Weight: 5 lbs. 11.4 oz.
Capacity: 35L
What we like: Lightweight, reliable, and versatile design.
What we don't: Electric systems are overall more user friendly.
Electric fan airbags might be the wave of the future, but there's a lot to like with Mammut's canister-powered designs. Among the various options, which include the Light Protection 3.0 and Ultralight below, their Pro X Removable Airbag hits a sweet spot in performance, capacity, and features. The 35-liter size is versatile for anything from day tours to extended trips, a full rear zip makes it easy to access your gear, and Mammut's Removable Airbag System (RAS) can be easily swapped between compatible designs. Clocking in at just 2 pounds 3.6 ounces, the Pro X's airbag unit is a few ounces lighter than the JetForce Pro above, and with no complex wiring or technology it's likely a safer long-term bet. And finally, it gets the clear edge in price at $970 all-in.
But going with a canister airbag does have its compromises. As we touched on above (and detail in the buying advice), canisters are difficult to travel with, require refilling after each use, and can only be deployed once per fill. For some this might represent a simple inconvenience, but others will value the extra safety and ability to practice that an electric system provides. But if you've decided on a canister airbag, Mammut is a good place to land and their RAS is even compatible with many high-quality packs from other brands—including Dakine's popular Poacher RAS collection. 
See the Mammut Pro X Removable 3.0  See the Women's Mammut Pro X Removable 3.0
Best Budget Airbag Pack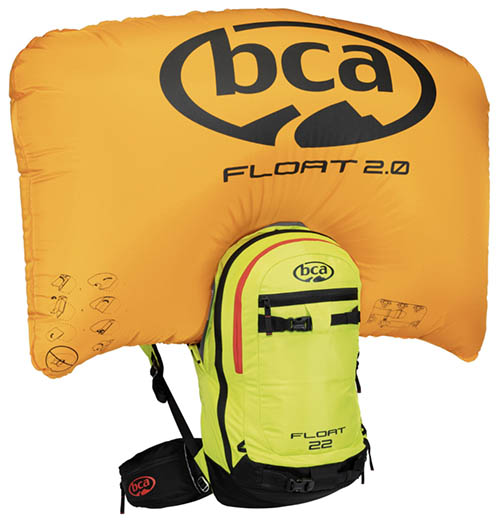 Category: Canister (compressed air)
Weight: 6 lbs. 2.1 oz. 
Capacities: 12, 22, 32, 42L
What we like: Great price and BCA canisters can be filled all over the world.
What we don't: Airbag unit is heavy and bulky; the pack comes in just one size.
Backcountry Access (BCA) is a leader in snow safety and their Float 2.0 is one of the most time-tested designs here. Both reliable and affordable, the BCA Float 2.0's simple mechanical system uses a canister of compressed air to deploy the airbag (like the Mammut above), and it clocks in at over $100 less than most packs here. The 22-liter model is well designed and features hydration compatibility, straps for both ski and snowboard carry, a dedicated avy-tool pocket, hipbelt pockets, and a plush molded backpanel. You can also bump up to the 32- and 42-liter versions for more adjustability, support, and features. And more than any other company, BCA makes their canisters easy to use, with over 300 authorized refill locations all around the world.
The Float used to be one of the top airbags on the market, but recent innovations in both electric fan and canister designs now place it towards the bottom of the pack. At 2 pounds 12 ounces for the airbag unit, it's on the heavy end of the spectrum, and unlike the interchangeable systems here it can't be removed and used in another backpack. Further, while both packs above are available in two sizes (the BD comes in S/M and M/L while the Mammut comes in men's and women's versions), the Float packs are one-size-fits-most. Finally, with the bulky airbag unit at the top of the pack, we've found it very hard to maximize space. But these shortcomings are minor for those who simply need an airbag pack a few days a year, making the BCA Float 22 2.0 our top budget pick for 2021.
See the Backcountry Access Float 22 2.0
Best Ultralight Airbag Pack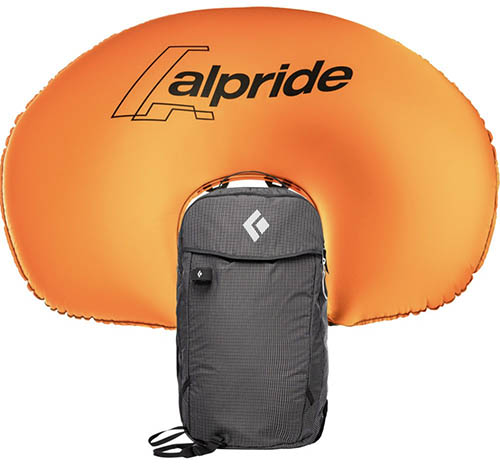 Category: Canister (compressed gas)
Weight: 4 lbs. 6 oz.
Capacity: 26L
What we like: Ultralight without compromising too much in capacity and features.
What we don't: One deployment per pull and each pull will cost you $50; not travel friendly.
Most packs here fall in the 5- to 7-pound range, with the airbag units taking up nearly half of the total weight (often about 2.5 lbs). But for those looking for the most streamlined option, Black Diamond's JetForce UL stands out with its impressively light 4-pound 6-ounce build. This weight savings is primarily achieved thanks to the Alpride 2.0 airbag, which utilizes smaller cartridges of compressed argon and CO2. At only a pound and a half, the 2.0 is by far the lightest airbag unit here, and its simple mechanical (read: non-electric) design makes it durable and easy to maintain. Finally, the 26-liter pack—which can also be used on its own thanks to the removable airbag system—does a nice job balancing weight with a good array of features, including a dedicated avy-tool pocket, helmet holder, internal accessory pocket, and ski and ice-tool attachments.
What are the downsides of the ultralight build? Most importantly, like the Mammut and BCA above, you only get one deployment per pull, and unlike compressed air, gas cartridges cannot be refilled and will run you about $50 per set. In other words, despite its $850 price tag (add $50 for the cartridges) the JetForce UL is the most expensive per pull of any pack here. In addition, the BD's pack materials are noticeably thin, and you'll want to exercise caution particularly around sharp objects like ice tools, snow saws, or even your ski edges. As such, it lacks the versatility of the options above and is best for those that are willing to make compromises to trim off a couple pounds.
See the Black Diamond JetForce UL
Best of the Rest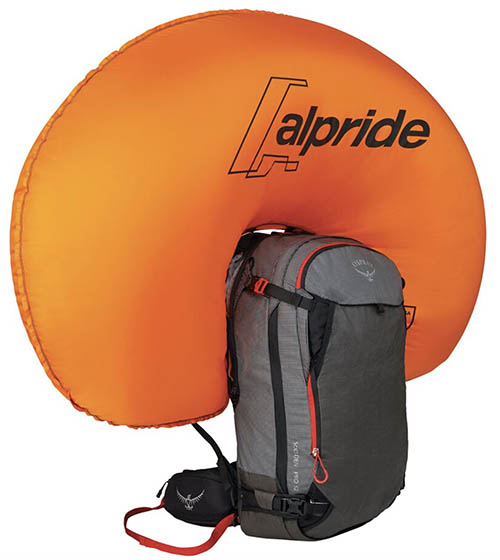 Category: Electric fan (supercapacitor)
Weight: 6 lbs. 8 oz.
Capacity: 32L
What we like: A backpack and airbag unit from two companies at the top of their game.
What we don't: Not as lightweight as the JetForce Pro and only one deployment per charge.
Osprey is a giant in the hiking and backpacking world, and they're making a big push in the snow market this winter. Their flagship piece is the new Soelden Pro 32, which combines Osprey's well-known build quality with the Alpride E1—a top-notch supercapacitor-powered fan airbag. Like most of Osprey's packs, the Soelden is comfort-focused with a supportive suspension system and well-designed hipbelt and backpanel with gender-specific shaping (women can opt for the Sopris Pro 30). And the Soelden's storage is thoughtfully laid out, with convenient hipbelt, goggle, and avy-tool pockets and a cavernous main compartment easily accessed via a U-shaped front zipper.
In terms of airbags, the Alpride E1 is an impressive design that uses a supercapacitor (rather than a battery) to power the fan. We won't get too deep into the nitty gritty of supercapacitors, but here's what matters: they're quick to charge, a breeze to travel with (some Lithium-Ion batteries—like that of the Arc'teryx Voltair—are considered too large for checked bags), and relatively small and lightweight. But while the Alpride used to be our favorite electric design, BD's new JetForce Pro is lighter and able to power multiple deployments on one charge (you'll have to charge the E1 after each deployment, which can be done via USB or 2 AAs in the field). The Osprey does get the edge in price by $200, and it's also removable, which means you can swap it into a number of compatible packs (including models from Scott and Black Diamond).
See the Men's Osprey Soelden Pro 32  See the Women's Osprey Sopris Pro 30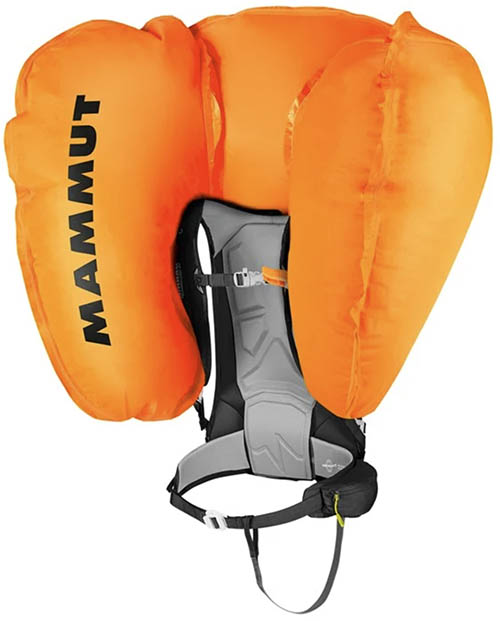 Category: Canister (compressed air)
Weight: 5 lbs. 5.7 oz. 
Capacity: 30L
What we like: Great trauma protection and more affordable than electric airbags.
What we don't: Only comes in one size and uses pretty thin materials.
Mammut's Pro X above is arguably their most versatile model, but a strong case can also be made for their Light Protection 3.0. This pack uses their Protection Airbag System (PAS), which differs from the Pro X's RAS design with added coverage around the head and neck and over the shoulders (at a modest weight penalty of 8 oz.). Given that some studies have shown that a sizeable percentage (Mammut cites 25%) of avalanche fatalities are caused by trauma rather than burial or asphyxiation, the added protection is an upside (particularly if you'll be riding in forested or rocky areas). The rest of the Light Protection is nicely put together, balancing a reasonable 5-pound 5.7-ounce weight with solid load carrying and organization.
All that said, the Light Protection Airbag 3.0 is not without its downsides. At $930, which includes the $200 compressed-air cylinder, it's one of the most expensive canister systems on the market (on our list, only the Pro X and sledding-specific Highmark below are more). Further, it only comes in one size, and no women's-specific model. And its pack body uses a thin 100-denier material, which will require extra care (although the Cordura fabric is durable for its weight). In the end, the Light Protection is a strong air canister option, and especially if you'll value the extra trauma coverage from the Protection Airbag System. 
See the Mammut Light Protection Airbag 3.0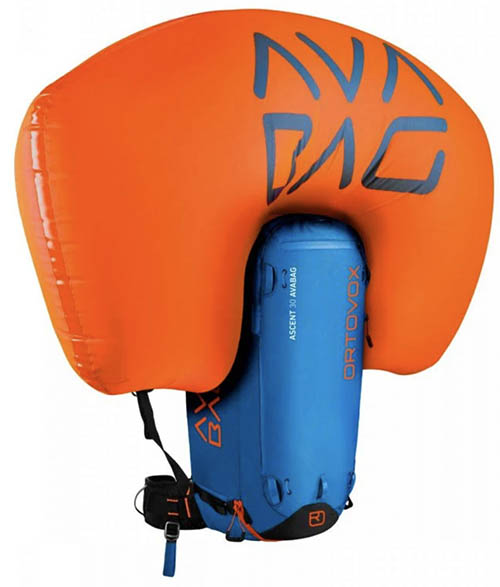 Category: Canister (compressed air)
Weight: 5 lbs. 8.5 oz.
Capacities: 22, 30, 40L
What we like: Interchangeable with other Ortovox packs and the only canister airbag here that offers practice deployment.
What we don't: Heavy airbag unit.
Don't be deceived by its mid-pack finish: the Ortovox Ascent Avabag is one of our favorite canister designs. First of all, Ortovox's proprietary Avabag airbag is removable and compatible with their full lineup of packs, meaning you can purchase one airbag and pair it with multiple packs depending on your objective. Second, the Avabag design allows you to practice deployment with the canister removed, which provides peace of mind as well as a good opportunity to build up muscle memory in case you need to deploy it in the field. And finally, its 5.5-pound weight is fairly competitive for an airbag pack, and the $910 price tag will save you hundreds of dollars compared to the electric models here.
In terms of features, the Ascent backpack is nicely appointed with an ice axe and pole attachment points, a rope strap, a removable helmet net, and straps for securing skis, a snowboard, or snowshoes. Like the Mammut above, durability is a concern with the 100-denier fabric (a consequence of keeping things light), plus its airbag can't match the Light Protection in coverage. These complaints push the Ortovox a little down our rankings in the end, but its versatile Avabag system and the ability to test deploy without blowing through a canister makes it a strong option.
See the Ortovox Ascent 30 Avabag  See the Women's Ortovox Ascent 28 S Avabag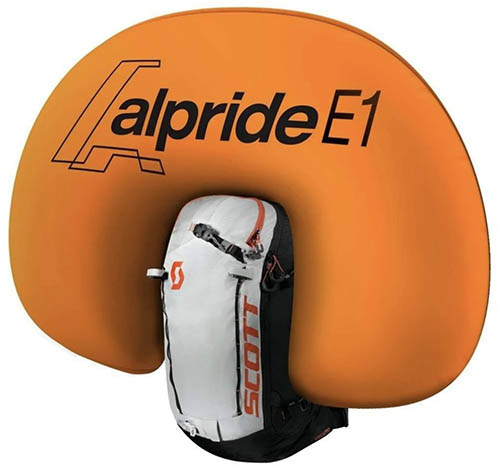 Category: Electric fan (supercapacitor)
Weight: 5 lbs. 14.1 oz. 
Capacities: 22, 30, 40L
What we like: Interchangeable airbag unit that's travel-friendly, easy to recharge, and relatively lightweight.
What we don't: The Osprey Soelden Pro is a better backpack with the same Alpride system.
The Scott Patrol E1 30 is a supercapacitor-powered airbag pack featuring the Alpride E1, similar to the Osprey Soelden Pro 32 above. To review, this system is fully electric and rechargeable via USB (or two AA batteries in the field), saving you time and money (no need to refill your canisters) and allowing you unlimited practice deployments. Supercapacitors are a breeze when it comes to air travel, are not affected by cold temperatures, and the E1 is lighter than other fan systems (with the main exception being the BD JetForce Pro above). Finally, the Alpride system is removable, meaning you can buy one airbag unit and use it in a variety of compatible packs.
At $1,100, the Scott Patrol E1 30 will save you $100 over the Osprey above (and it's over half a pound lighter), but a few design flaws place it lower on our list. For one, the Patrol only opens via a small front zip, which offers significantly less access to the main compartment than the Soelden's generous U-shaped zipper. Second, the Patrol's simple webbing waistbelt provides minimal support and does not come with the convenient stash pocket seen on the Soelden. Finally, it's only offered in one size (which proved too large for our female tester), while Osprey makes both men's and women's (the Sopris) versions. In the end, there are better options out there with the same Alpride technology, moving the Scott Patrol 30 down our list.
See the Scott Patrol E1 30
Category: Canister (compressed air)
Weight: 3 lbs. 5.3 oz. 
Capacity: 20L
What we like: Extremely lightweight yet features a quality airbag system.
What we don't: Limited capacity and does not carry a heavy load well.
No typos here—the Mammut Ultralight 20L is the lightest backpack on our list (by over a pound) and the most affordable too, at $700 all-in (this includes Mammut's $200 canister). And featuring the same Removable Airbag System as the Pro X above, you can rest assured that you're still getting top-notch protection in a time-tested design. Only the Black Diamond JetForce UL comes close to matching the Mammut's specs, but at $200 less and over a pound lighter, the Ultralight is truly in a class of its own.
Not surprisingly, there were some sacrifices made in building the 1-pound 1.7-ounce backpack. Simply put, the Ultralight is the definition of streamlined, with 18 liters of capacity (2L are eaten up by the airbag unit), 100-denier body fabric, no dedicated avy-tool compartment, and a removable foam backpanel that plays double duty as a sit pad. The result is a fragile pack that doesn't carry heavy loads well. By contrast, the JetForce UL offers a more supportive suspension and much greater capacity. In the end, Mammut's Ultralight RAS 20L is a great choice for sidecountry skiers or heli- or cat-accessed terrain, but it falls short for many backcountry applications.
See the Mammut Ultralight Removable Airbag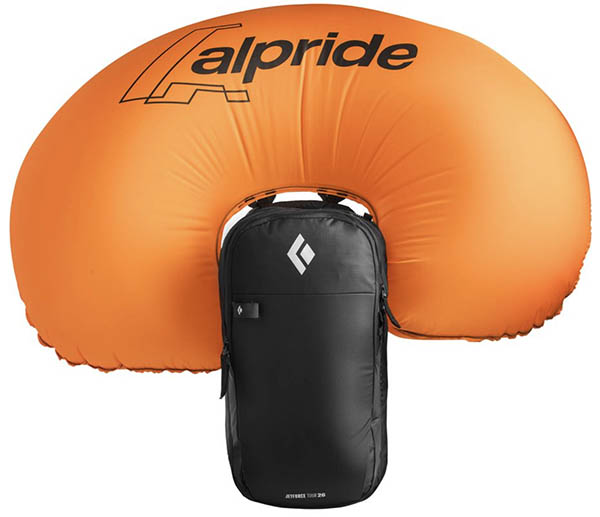 Category: Electric fan (supercapacitor)
Weight: 5 lbs. 13 oz. 
Capacity: 26L
What we like: BD's take on an Alpride E1 airbag pack.
What we don't: Limited capacity and storage.
The Black Diamond JetForce Tour joins the ranks of other Alpride E1-equipped packs here, including the Osprey Soelden and Scott Patrol above. As we mentioned in the Scott's write-up, this supercapacitor-powered system has a number of strong suits: it's lightweight, easy to recharge both at home and in the field, and circumvents any travel headaches with no cartridges or lithium batteries. Further, the airbag can be swapped between backpacks, which is a nice touch for avid skiers who alternate between human-powered and motorized access. Despite the sweeping popularity of the JetForce Pro above, there are still a number of reasons that the Tour remains a go-to pick.
At $1,200, the JetForce Tour costs the same as the Osprey Soelden Pro but comes in a full 9 ounces lighter. However, the BD pack is considerably more limited with no hipbelt pockets, less convenient access to the avy tool compartment, and a design that doesn't easily accommodate a snowboard. Further, 26 liters is a challenging capacity—too roomy for heli-skiing but not spacious enough for full days on the ski track. And in terms of fit and overall comfort, the Tour is no match for the Soelden (Osprey specializes in pack design, after all), and women and smaller riders in particular will appreciate the female-specific Sopris. But the JetForce Tour nevertheless is a high-quality offering with reliable tech and provides a nice alternative to BD's battery- and canister-powered designs.
See the Black Diamond JetForce Tour 26L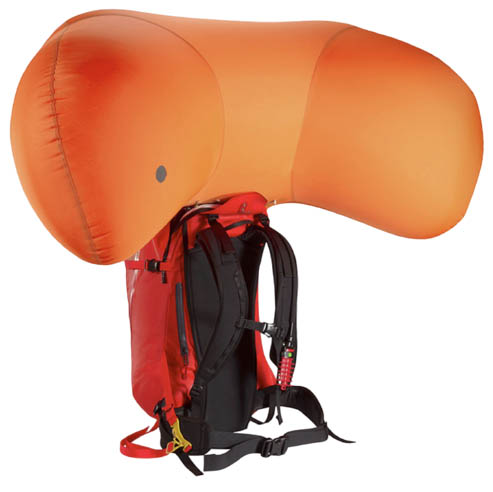 Category: Electric fan (battery)
Weight: 7 lbs. 10.4 oz.
Capacities: 20, 30L
What we like: Arc'teryx-level quality and waterproof design.
What we don't: Heavy and expensive, no external helmet carry.
Arc'teryx often hits it out of the park, and their Voltair 30 is about as ambitious as it gets. Along with the Black Diamond JetForce Pro above, it's one of only a few battery-powered fan airbag designs on the market, and the highest-priced ski pack here. On top of that, its airbag is shaped to wrap slightly forward and guard the head and neck, making it competitive with the class-leading trauma protection of Mammut's PAS (as seen in the Light Protection 3.0 above). In terms of the pack, it offers great organization and simple but functional external straps for gear and ski carry, although we do wish Arc'teryx included a helmet carry system, too. Finally, unlike most models here, the Voltair's design is highly water-resistant and notably durable, with premium additions like sealed seams and WaterTight zippers. 
But we'll stop there with the accolades, because at $1,680 for the pack, battery, and charger, the Voltair really should be close to perfection—and unfortunately, it's not. First of all, you'll have to buy all three items separately, which can be difficult as available stock has been inconsistent. Secondly, after a recall, Arc'teryx downgraded the battery's temperature rating from -22 to -4 degrees Fahrenheit (other packs here are rated to -22˚F), meaning that the jet fan might not function on particularly cold days. And finally, the Voltair is significantly heavier than the other airbag designs here at over 7.5 pounds, which can make a real difference on extended tours. To be fair, the Voltair has plenty of merits, but the combination of extremely high price point and a few questionable design choices drops it towards the bottom of our list.
See the Arc'teryx Voltair 30
Category: Canister (compressed air)
Weight: 6 lbs. 14 oz.
Capacities: 15, 25L
What we like: Interchangeable airbag unit and a range of backpack capacities.
What we don't: Heavy airbag and not widely available in the U.S. 
Arva might not be a household name in the U.S., but this French company has been designing and manufacturing snow safety equipment for over 30 years. Widespread in Europe, some of Arva's most popular products are available stateside, including their Evo4 beacon and Explorer backpack. The Reactor is their airbag backpack series, and the Ultralight model featured here come in 15- and 25-liter capacities. Similar to models like the BCA Float 2.0 and Mammut's PAS and RAS above, the proprietary system is powered by a canister (filled with either argon gas or compressed air) and can be swapped between compatible packs. As the name implies, the Ultralight is fairly streamlined with lightweight 210-denier Cordura on the pack body, simplified organization, and a foam backpanel.
Clocking in at 2 pounds 14.6 ounces for the airbag system (including the full canister, which you'll have to purchase separately), the Reactor is one of the heaviest airbag units on our list. It's also among the more difficult to find in the U.S., although some retailers like Evo and Backcountry are stocking a small number of Arva packs for this season. Finally, Arva's canister refill network is much more limited than alternatives like BCA and Mammut, which will likely play a role in the decision process. 
See the Arva Reactor Ultralight 25
Category: Canister (compressed air)
Weight: 6 lbs. 10.4 oz.
Capacity: 18L
What we like: A sledding-specific design with the class-leading protection of Mammut's PAS.
What we don't: Expensive for a canister airbag.
This article features an assortment of airbag backpacks designed for skiers and snowboarders, but we'd be remiss not to mention at least one sledding-specific design here. In general, sledders prefer vest-style airbags that feature smaller capacities, external shovel carry (sledders need quick access to a shovel to dig out their sled), and even hard-shell protection from obstacles like trees or handlebars. The Highmark Spire Vest is one of the most popular airbag vests among sled heads, most revered for its Mammut Protection Airbag System (featured in the Light Protection 3.0 above). 
The Mammut PAS is a logical pairing for the Highmark, as the likelihood of trauma increases when you add in speed and the presence of a sled. We should note that BCA also makes a popular design in their Float MtnPro Vest ($1,000), which adds on a foam-wrapped hard shell on the front, back, and sides for even more protection. Interestingly, these vests will run you a few hundred dollars more than comparable airbag packs for skiers while offering less capacity (but with more organization along the front). And keep in mind that with both models, you'll need to purchase the compressed air canister separately.
See the Highmark Spire Vest 3.0 PAS
Avalanche Airbag Comparison Table
| Airbag Pack | Price | Category | Weight | Capacities | Removable Airbag |
| --- | --- | --- | --- | --- | --- |
| Black Diamond JetForce Pro 25L | $1,400 | Fan (battery) | 6 lb. 7 oz. | 10, 25, 35L | No |
| Mammut Pro X Removable 3.0 | $970 | Compressed air | 5 lb. 11 oz. | 35L | Yes |
| Backcountry Access Float 22 2.0 | $735 | Compressed air | 6 lb. 2 oz. | 12, 22, 32, 42L | No |
| Black Diamond JetForce UL  | $900 | Compressed gas | 4 lb. 6 oz. | 26L | Yes |
| Osprey Soelden Pro 32 | $1,200 | Fan (supercapacitor) | 6 lb. 8 oz. | 32L | Yes |
| Mammut Light Protection 3.0 | $930 | Compressed air | 5 lb. 6 oz. | 30L | Yes |
| Ortovox Ascent 30 Avabag | $910 | Compressed air | 5 lb. 9 oz. | 22, 30, 40L | Yes |
| Scott Patrol E1 30 | $1,100 | Fan (supercapacitor) | 5 lb. 14 oz. | 22, 30, 40L | Yes |
| Mammut Ultralight Removable 3.0 | $700 | Compressed air | 3 lb. 5 oz. | 20L | Yes |
| Black Diamond JetForce Tour 26L | $1,200 | Fan (supercapacitor) | 5 lb. 13 oz. | 26L | Yes |
| Arc'teryx Voltair 30 | $1,680 | Fan (battery) | 7 lb. 10 oz. | 20, 30L | No |
| Arva Reactor Ultralight 25 | $875 | Compressed air | 6 lb. 14 oz. | 15, 25L | Yes |
| Highmark Spire Vest 3.0 PAS | $1,100 | Compressed air | 6 lb. 10 oz. | 18L | Yes |
*Editor's note: prices and weights include batteries/canisters.

Avalanche Airbag Buying Advice
What is an Avalanche Airbag?
Integrated into a ski backpack or vest, an avalanche airbag system is comprised of an airbag and power source (either a canister of compressed air or gas or an electric fan). When a skier (or snowboarder, sledder, etc.) pulls the attached handle, the airbag inflates to about 150 liters around and behind her torso. In the event of a slide, the inflated airbag keeps the skier at or near the surface of the snow thanks to a process known as granular segregation (i.e. in a mixture, larger objects are more likely to stay at the top while smaller objects sink down). In other words, it's less about buoyancy, and more about increasing the size of the skier. Thus, whereas an avalanche beacon is an important piece of gear to have in the event that you (or your partner) are buried, an avalanche airbag increases your odds of not getting buried in the first place.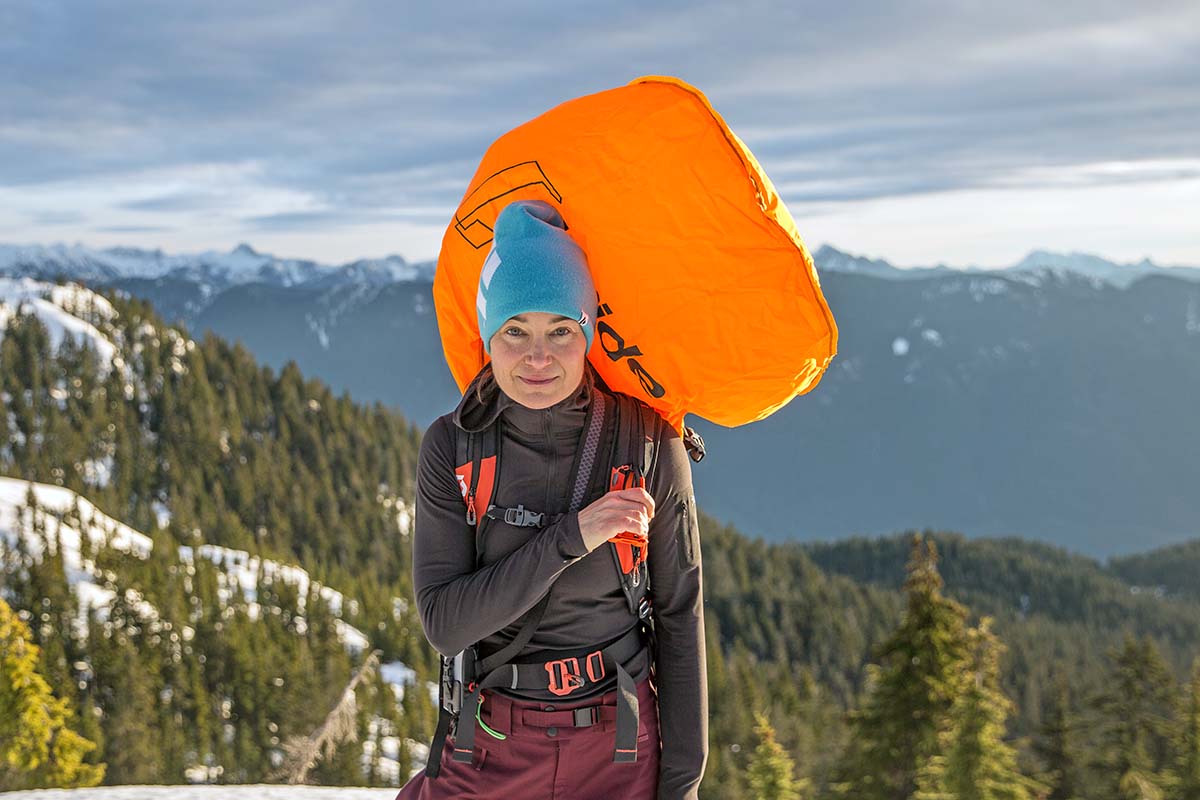 Good research into the field of avalanche airbags is hard to come by, which is unsurprising given that they've only become popular in the last decade or so. And as with all avalanche science there are a number of human factors at play: for example, in many cases an airbag might offer an illusion of safety, thus actually increasing the likelihood of traveling in avalanche terrain. All factors aside, there's no denying the efficacy of an airbag in the event of a slide, and one well-known 2014 study found a reduction in the overall mortality rate from 22 (without an inflated airbag) to 11 percent (with an inflated airbag). In the end, if you're going to be skiing in high-consequence terrain, an airbag backpack is a valuable piece of equipment.
 
Inflation Systems: Canister or Electric
In general, there are two main types of avalanche airbags: those that inflate via a canister filled with compressed air or gas, and those powered by an electric fan. Canister-powered airbags differ from electric designs in a number of ways, including weight and packed size, convenience, price, ability to travel, and more. Thus, when deciding on which airbag is right for you, the type of power source will be one of your first considerations.

Canister Airbags
In a canister system, compressed air or gas is held under pressure in a cylinder (usually made of aluminum) via a thin metal disc or O-ring valve. When the handle is pulled, the air or gas is released into the airbag, inflating it to its maximum capacity. Airbags like the BCA Float 2.0 use compressed air, while set-ups like the popular Alpride 2.0 (seen in Black Diamond's JetForce UL) use a two-canister compressed gas system (one filled with argon and the other with carbon dioxide). Compressed gas cylinders are substantially smaller and lighter and are certified for international airline travel (however, the TSA does not allow gas cylinders on US-based flights), but they'll usually run you about $50 for a set of two. On the other hand, the major benefit to compressed air is that the cylinders can be refilled by visiting an authorized refill location (this will cost you roughly $20) or with a high-pressure pump (like the Benjamin High Pressure Hand Pump).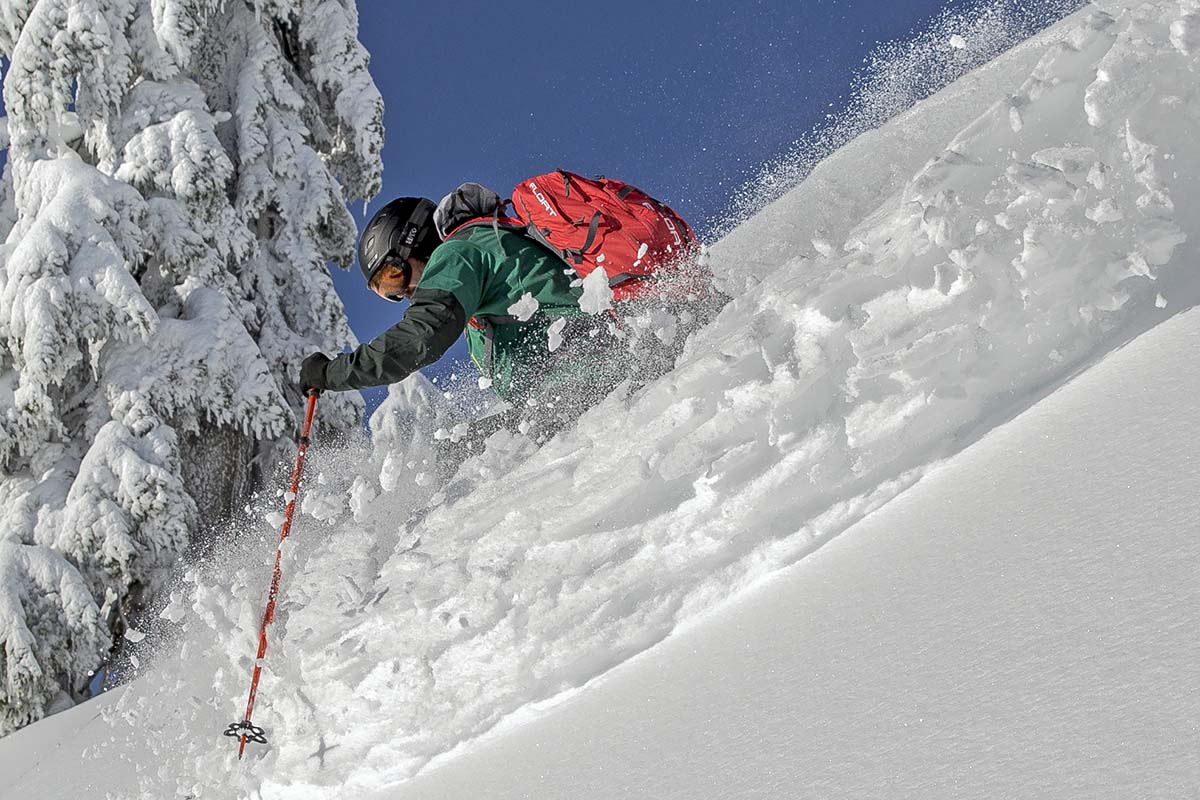 Currently, canisters are still the most popular form of airbag inflation, although electric systems are quickly gaining steam. Perhaps the most obvious benefit to canister airbags is price—packs like the popular Mammut Light Protection 3.0 will cost you $930 all-in (the BCA Float 22 2.0 is even more affordable at $735), while electric airbags start around $1,100. In general, canister airbags are a bit lighter and more compact as well (although fans are smaller every year), and their mechanical nature (read: non-electric) means they require very little maintenance and don't need to be charged or powered on/off. But the downsides are many: as we'll touch on below, canister systems aren't easy to practice with (you'll blow through your air or gas), don't allow for multiple deployments or continuous deployment (helpful if your airbag gets punctured), are inconvenient to refill, and not compatible with air travel (in the U.S.).
Pros:
The most affordable airbag option.
Lighter than most electric fan systems.
Require little maintenance and have few breakable parts.

Cons:
Not ideal for practice deployment.
Don't allow for multiple deployments or continuous deployment.
Inconvenient to refill and gas cylinders are expensive.
You can't fly with a full air cylinder anywhere, and in the U.S. you can't fly with full gas cylinders.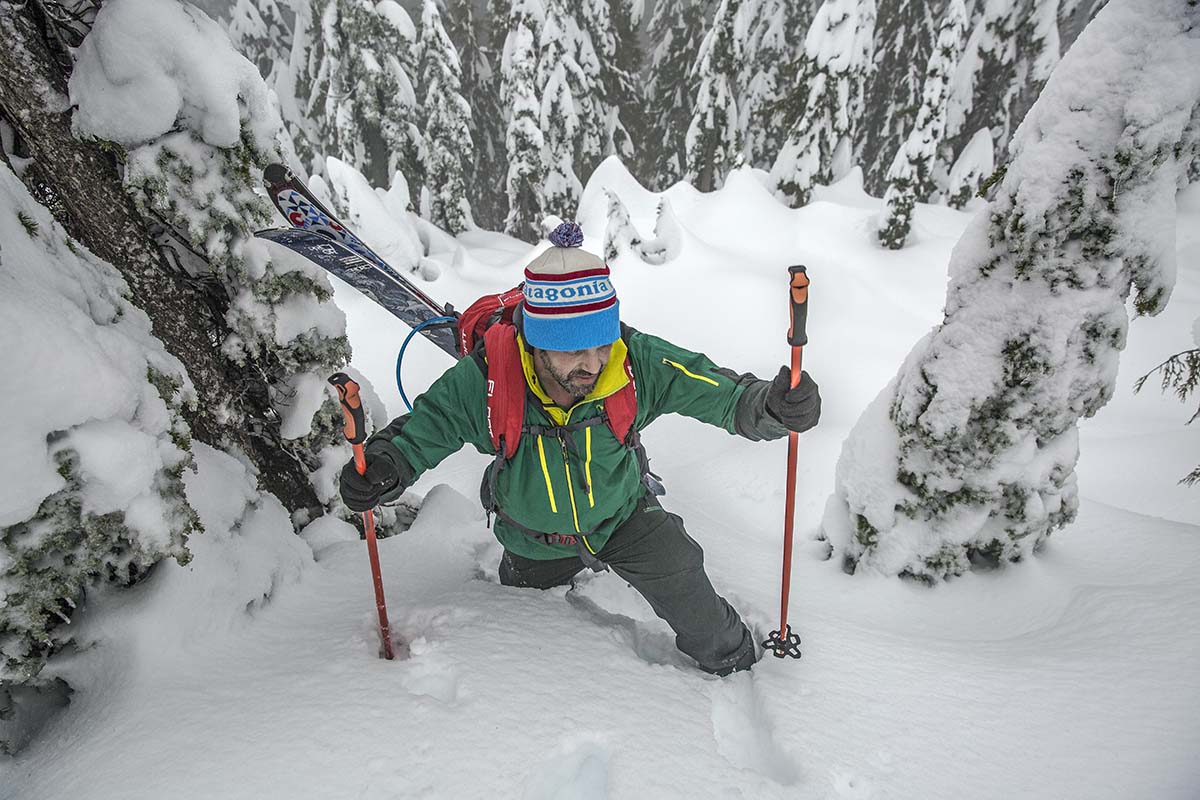 Electric Airbags
Electric airbags use a high-speed fan to pull air into the airbag and are powered either by a battery or a supercapacitor (which itself is powered by a battery). Both of these systems require you to charge the unit and power it on before use. Airbags like the Black Diamond JetForce Pro use a battery to power their fan, whereas the popular Alpride E1 (seen in the new Osprey Soelden Pro) employs a supercapacitor. Supercapacitor- and battery-powered fans vary in terms of weight (supercapacitors are lighter) and lifespan: batteries have enough charge to continuously fill an airbag (helpful in the case that an airbag is punctured) and can inflate an airbag multiple times in one charge (they even offer controlled deflation after 3 minutes to create an air pocket for the victim). On the other hand, supercapacitors use up all of their charge with one deployment, but the good news is that they can be recharged in the field in about an hour with two AA batteries. 
It's no surprise that electric airbags have caught on, as they are superior to canister-powered airbags in a number of ways. First and foremost, you just can't beat the ability to practice without churning through air cylinders or gas cartridges, and we'd much rather service our airbag by simply plugging it into the wall rather than having to find a place to refill a canister (or buy new gas cartridges). Second, the option for continuous deployment (keep in mind, this is only possible with battery-powered fans) can be extremely valuable if your airbag is ripped during a slide. And finally, electric airbags are practically a non-issue when it comes to air travel (larger Lithium-Ion batteries might need airline approval and must be placed in a carry on), meaning that you don't have to hassle with emptying your air cylinder or find a place to acquire compressed air or gas at your destination.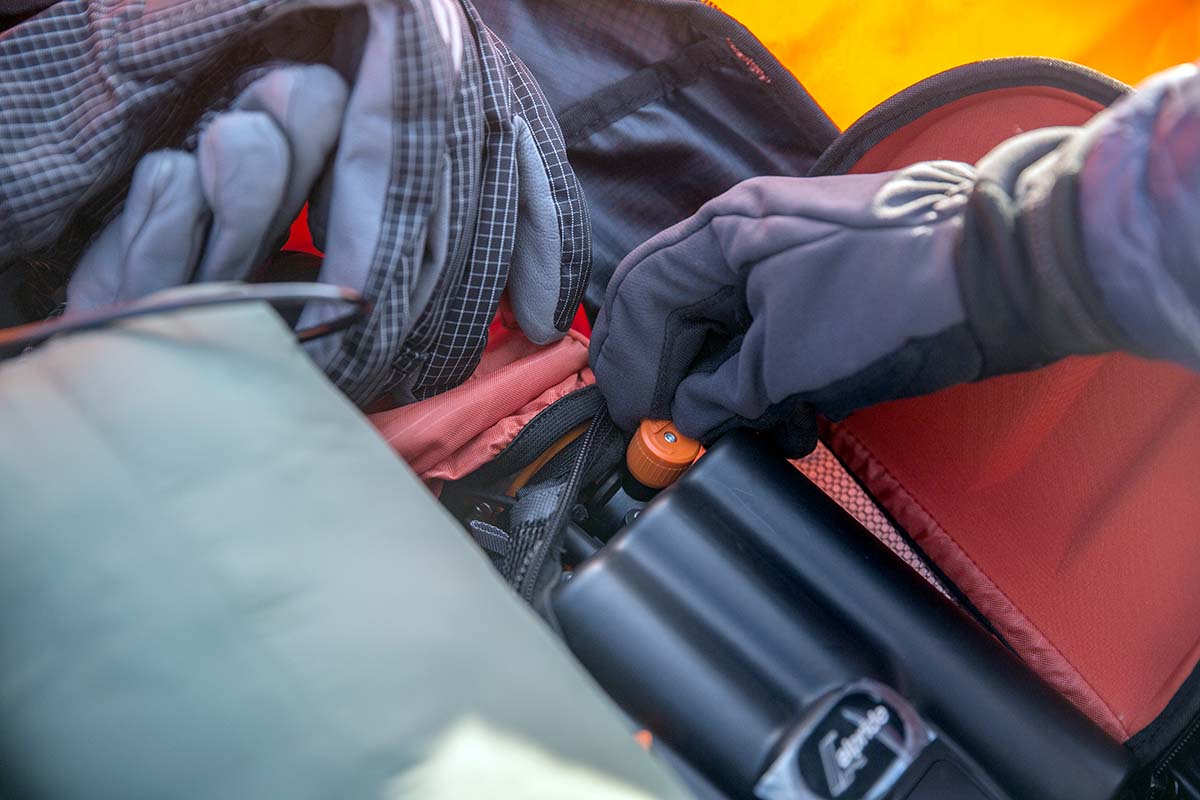 Of course, there are a few reasons why electric airbags haven't completely taken over the market. For one, they are expensive. The Black Diamond JetForce Pro will run you $1,400, while BD's canister airbag (the JetForce UL) is available for just $850. Second, they're heavy—especially battery-powered fans—and will run you on average about a pound more than a canister airbag system. Further, there's simply more that can go wrong with an electric design, and you'll want to keep your battery charged, updated (the JetForce Pro is Bluetooth compatible), and remember to turn it on at the beginning of each ski day.
Pros:
Recharge by plugging into the wall—no need to refill air cylinders or buy more gas cartridges, making practice deployment a reality.
Permitted on airplanes.
Offer continuous deployment and controlled deflation and can be deployed multiple times in one charge (battery-powered fans only).

Cons:
More expensive than canister airbags.
Slightly heavier than most canister systems (battery-powered airbags in particular).
Electric systems require professional maintenance in the event they malfunction.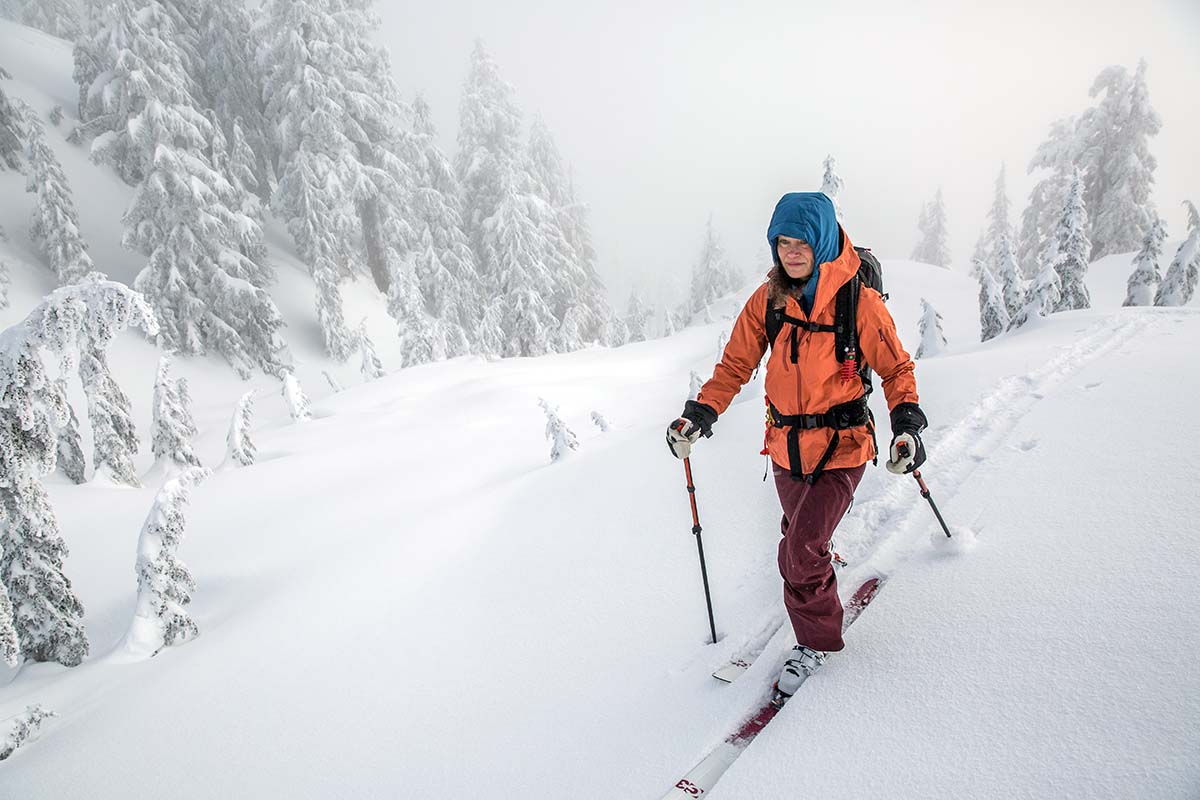 Weight
The airbag backpacks on our list range in weight from 3 pounds 5.3 ounces for the Mammut Ultralight Removable to 7 pounds 10.4 ounces for the Arc'teryx Voltair. In general, you can expect airbags powered by gas cylinders to weigh the least, followed by compressed air, and then supercapacitor- and battery-powered fans. For example, the Alpride 2.0 (which uses compressed gas) weighs 1 pound 8.3 ounces, while the Mammut Removable Airbag System (compressed air) clocks in at 2 pounds 3.3 ounces. Bumping up to fan systems, Black Diamond's JetForce Pro (battery) tips the scales at 2 pounds 7 ounces and the Alpride E1 (supercapacitor) is the heaviest at 2 pounds 13.2 ounces.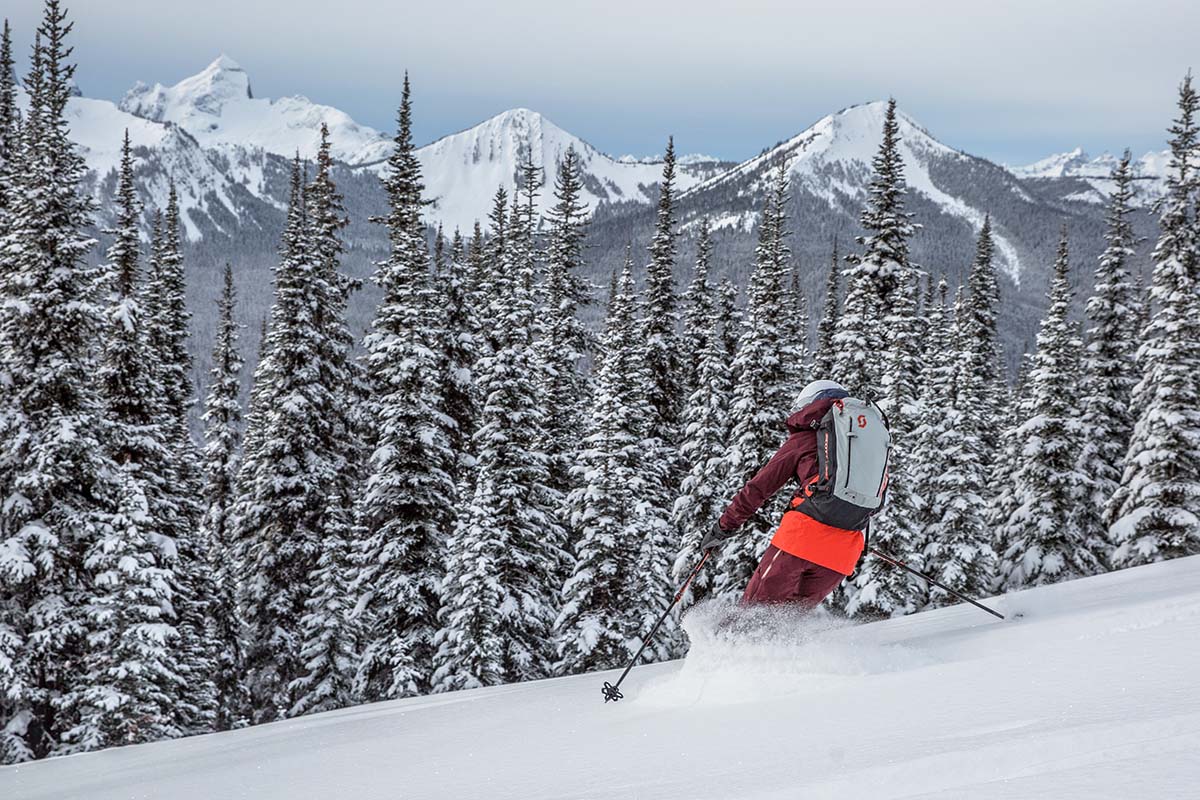 Regardless of your style of skiing (heli or cat-accessed, ski mountaineering, etc.), weight will be a factor in your purchasing decision. Anecdotally, on a hut trip in British Columbia's Valhalla mountains last winter, one of our ski partners repeatedly left his Black Diamond Halo (a now discontinued electric airbag system that weighs 7 lbs. 8 oz. all-in) at the lodge because it was "just too heavy." If getting a lighter airbag pack means you'll use it more often, we'd say it's well worth it.

Airbag Backpack Capacity
Most airbag backpacks range in capacity from about 20 to 35 liters. For heli- or cat-powered laps, skiers and snowboarders can get away with a smaller model (in the 20-liter range) for toting the bare essentials: avy tools, water and snacks, and perhaps a layer. If you're earning your turns, you'll likely want to bump up to a 25 or 30-liter pack to accommodate extra layers, skins, and food and water for the entire day. Finally, for overnight ski mountaineering missions (such as the hut-to-hut Haute Route), a 35-liter pack is your best bet. The good news is that most brands offer the same airbag technology in a range of capacities, so it's easy to find the right pack for your needs.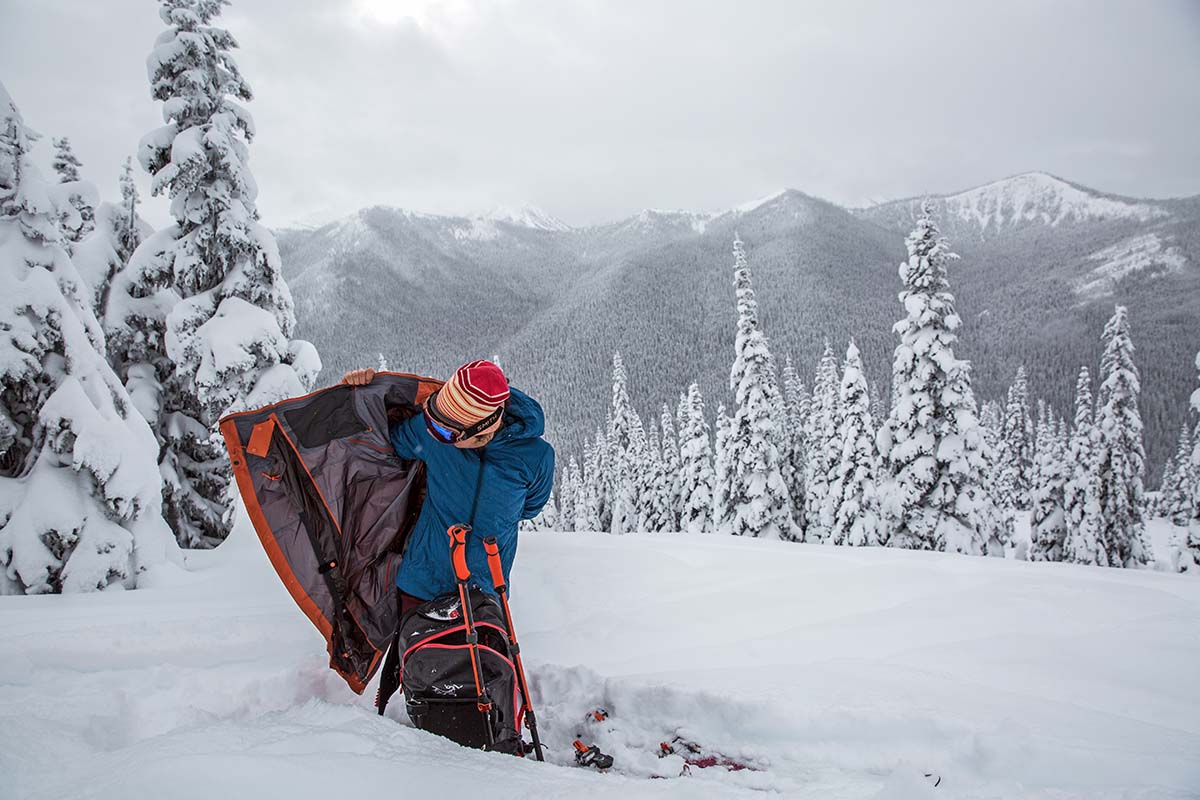 The ability to customize capacity is one of the biggest selling points of interchangeable airbags (for more on this, see below), which can be swapped between packs of varying capacities. Ortovox's Ascent series is a great example, which features an interchangeable Avabag that can be used in any of the 22, 30, and 40-liter Ascent backpacks. And then there's Black Diamond's modular JetForce Pro, which allows you to attach a 10, 25, or 35-liter "Booster" to the JetForce Pro unit. Given that a skier's carrying capacity needs can vary a great deal depending on the day, this is an innovative solution and one we hope to see more of in the years to come. 
Finally, in our discussion of capacity it's also important to factor in the volume of the airbag unit. An airbag unit—including the packed airbag and power source—will take up roughly two liters of space within your backpack, which sounds small but in practice is not insignificant. Supercapacitors and gas-cylinder systems are the most compact options (the Alpride E1 has a listed volume of 1.7L), while batteries and compressed air canisters are on the bulky side. Most backpacks will come with a section particularly designed for the airbag unit, and we prefer those that place it towards the bottom (not directly in the middle, as is the case with the Scott Patrol E1). Regardless of the airbag unit's size and placement, chances are you'll be tweaking your packing system slightly to accommodate for the extra bulk (we have to position our helmet to "spoon" the battery pack in our Arc'teryx Voltair).
Airbag Backpack Features
For all this talk about airbags, it's worth remembering that you'll be purchasing a backpack along with the airbag unit. Airbag backpacks range in size from about 20 to 35 liters and are similar in most ways to standard ski backpacks. Look for a dedicated avy tool pocket, ski (or snowboard) attachment, helmet carry, multiple access points to the main compartment, and more (for a complete breakdown of ski backpack features, check out our article on the best ski backpacks). 
Airbag backpacks will also have a few specific features that set them apart. First, they all have a dedicated space that holds the airbag unit in place (many airbag units are fixed, while others are removable). Second, every airbag backpack will feature a zippered sleeve on one or both shoulder straps—this is where the airbag handle extends (similar to a dromedary hose). Finally, attached to the back of the hipbelt you'll find a leg-loop strap that extends through your legs and to the front of the hipbelt, ensuring that your pack stays on your body in the event of a slide.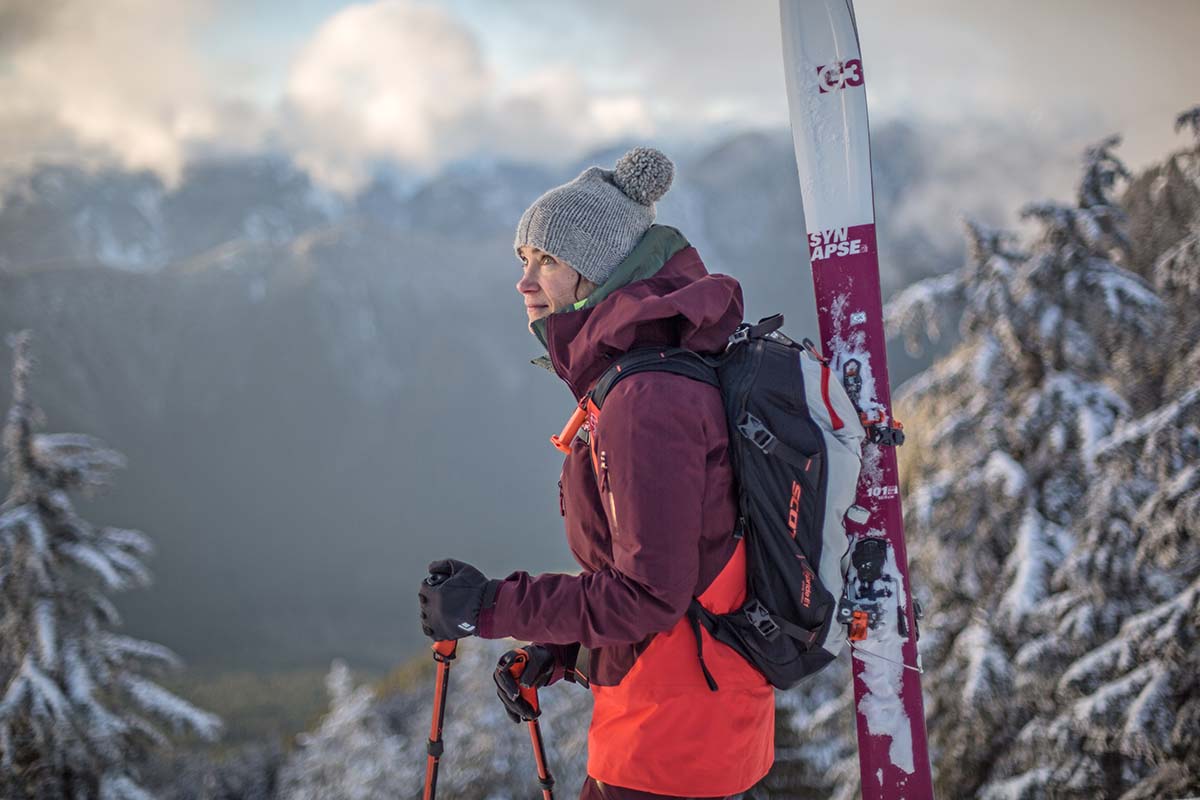 Backpack Sizing and Fit
An ill-fitting backpack will be a bear to carry, and this is especially true for airbag packs given their inherently heavy design. Further, airbag packs lack the adjustment range of standard backpacking packs, so you'll want to make sure you purchase the right size (trying on before you buy is a good idea) and adjust the pack properly each time you put it on (our backpack fit and sizing guide can help). It should come as no surprise that we have a strong preference for packs that come in multiple sizes—the Black Diamond JetForce Pro, for example, is available in S/M and M/L, while the Mammut Pro X comes in both a men's and a women's version. On the other hand, a one-size-fits-all pack like the Scott Patrol E1 either fits or it doesn't (it was prohibitively large for our female tester), which will be a deal breaker for many.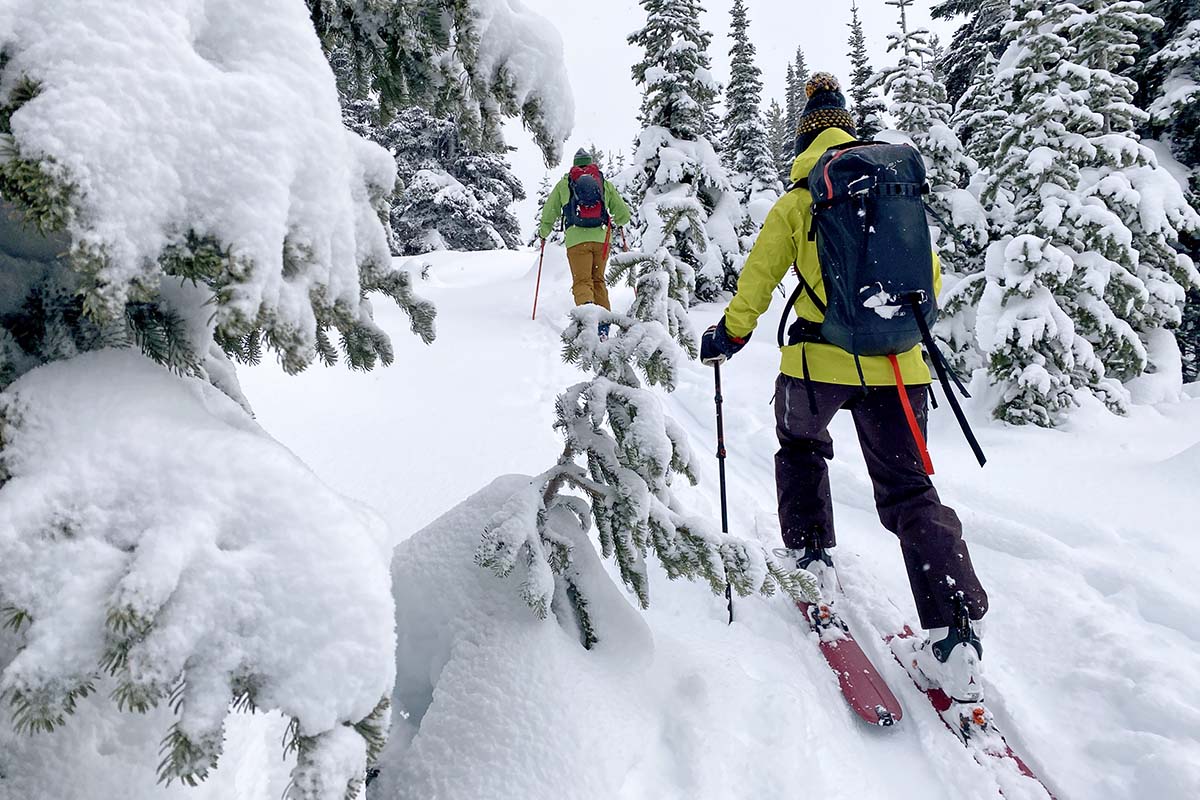 Removable/Interchangeable Airbags 
Many avalanche airbags are sold as all-in-one systems, meaning that the airbag you purchase can only be used with the included backpack. However, a few models—namely the Alpride E1 and 2.0 and the Mammut Removable Airbag System (RAS) 3.0—are more widely used and have been adapted by brands like Black Diamond, Dakine, Scott, Osprey, Highmark, and more. These airbags can be purchased as standalone items or as part of an all-in-one system and then swapped between compatible backpacks. Keep in mind that a removable airbag must be paired with a pack specifically designed for use with that airbag—any other combination is unsafe and could result in equipment failure.
Most of us won't be purchasing an airbag unit and backpack separately, but the option can come in particularly handy if you want to swap your airbag between packs of varying capacities. For example, perhaps you purchased the Ortovox Ascent 22—with the Avabag installed—but want a 30-liter pack for longer days. For another $250, you can purchase the Ascent 30, move the Avabag over, and have a second airbag pack for a fraction of the cost. Interchangeable airbags also allow you the versatility of using your pack without the airbag on particularly low-risk days (models like the Black Diamond JetForce Pro are not meant to be removed from their pack). In the end, for those who float between disciplines, interchangeable airbags offer the most versatility and bang for your buck.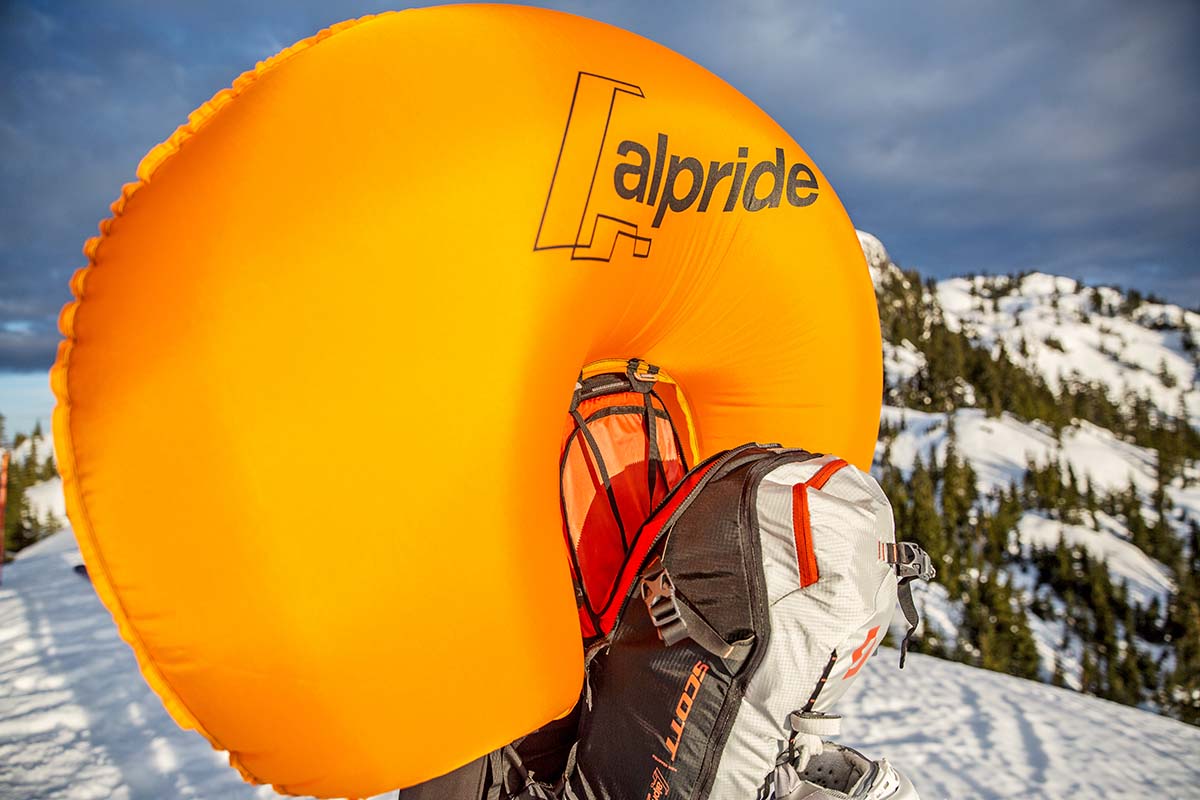 Air Travel and Avalanche Airbags
Not all skiers will travel via air to their ski destinations, but those who do will need to make special considerations for their airbag backpack. We'll get the good news out of the way first: airbags powered by supercapacitors or batteries are good to go for air travel, either in a carry-on or checked baggage (your airline might ask you to separate the Lithium-Ion battery from the unit and place it in your carry on). If you plan on flying a lot to ski, these are by far the most convenient option.
The issue is a bit more complicated for canister airbags: compressed air is a no-no according to the TSA, so if your travels begin in the U.S. (or you'll be going through security in the U.S.), you'll need to empty your canister before flying. For the sake of clarity, it's best to show the canister is empty by removing the top completely, and pack it in your carry-on so airline security can see that it's empty without rifling through your bags. Interestingly, the International Air Transport Association has made special accommodations for canister airbags, but this is only applicable to non-U.S. travel (we've found this article from BCA useful). Compressed gas is a bit more complicated: the TSA permits compressed gas for items like cordless curling irons, inflatable life jackets, and air guns, but does not state any exceptions for airbags. In the end, it's not a guarantee you'll be able to transport the gas cylinder.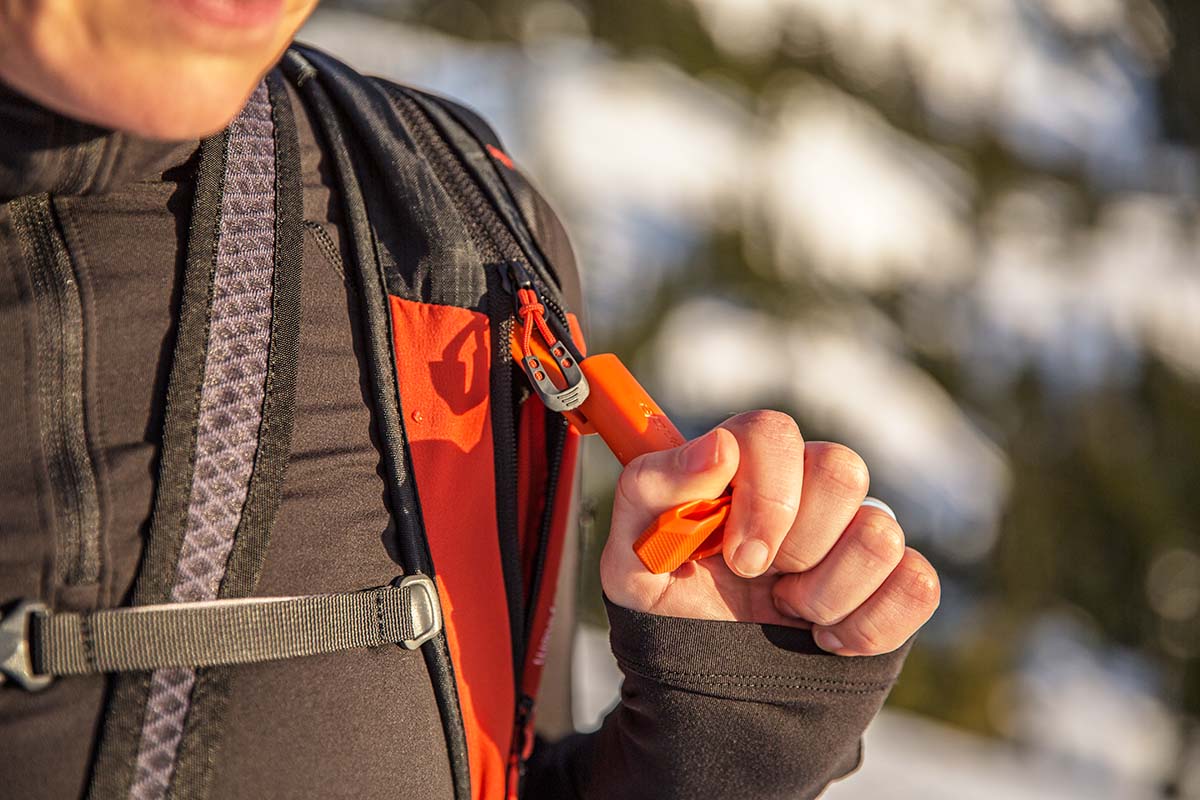 If you do choose to travel with your canister-powered airbag, you'll have to find a way to fill your canister (or purchase compressed gas cylinders) at your destination. While far from impossible, this is an extra task that you'll have to manage upon arrival in a new country, and the major reason we recommend electric airbags for international travel. The good news is that if you're headed to a ski resort or major town nearby, it shouldn't be too hard to find somewhere to refill (or exchange) your canister, and in many places you can even rent a canister. We've found BCA's Cylinder Refill/Exchange Locator to be a helpful resource.
 
Operating an Airbag in Cold Temperatures
Airbags are built for cold, whether they're powered by compressed air/gas or an electric fan. The majority of airbags on our list function in temperatures as low as -22˚ Fahrenheit (including the battery-powered BD JetForce Pro, the supercapacitor-run Scott Patrol E1, and canister models like the Mammut Pro Protection Airbag 3.0). That said, you'll want to be sure to charge your electric airbags at room temperature. Interestingly, the Arc'teryx Voltair, first advertised as functioning at -22˚ Fahrenheit, is now only rated to -4˚ Fahrenheit. In the end, if you're skiing in extremely cold temperatures, you'll want to keep your battery or canister well insulated (it can't hurt to wrap it in a down jacket) and monitor your system throughout the day.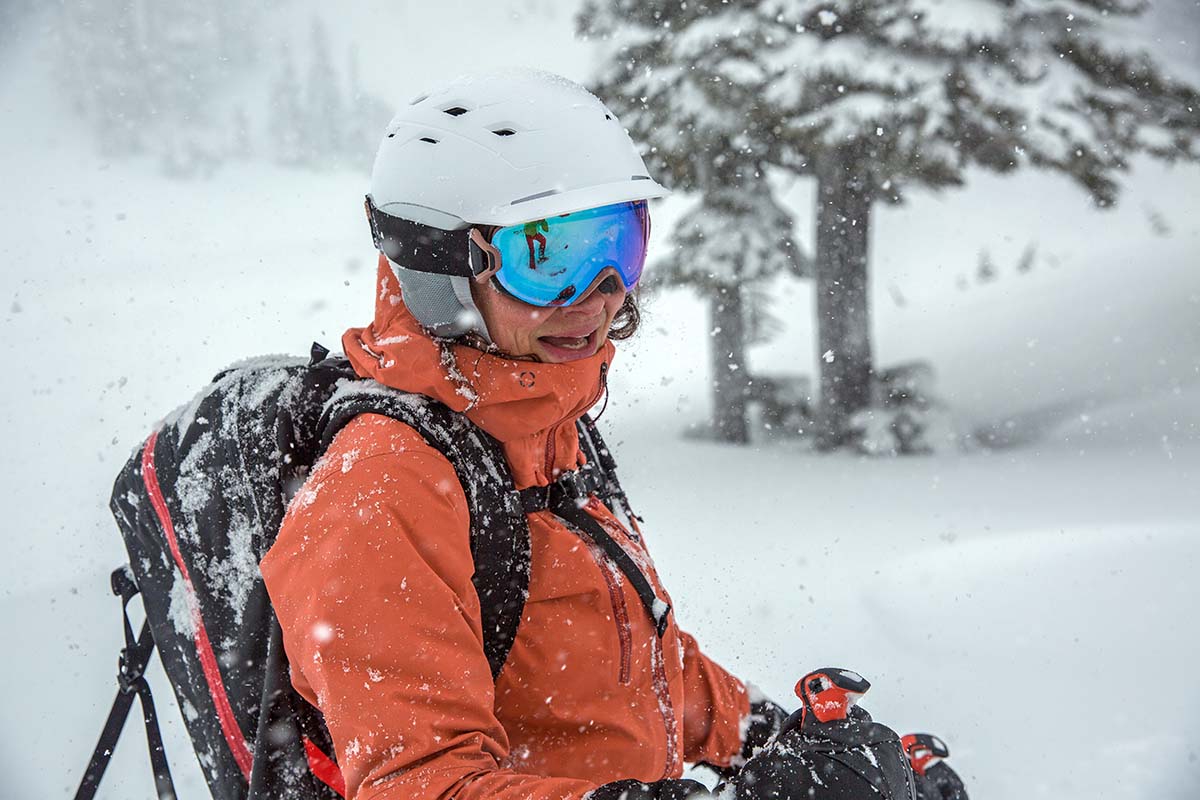 Maintenance and Lifespan
Despite their steep price tags, avalanche airbags are not a lifetime purchase. Most airbags have a stated life of 40 to 50 deployments, or about 5 years of regular use. Across the board, manufacturers recommend that airbags be retired 10 years after the date of purchase. There are a few steps you can take to prolong the life of your airbag: manufacturers recommend deploying it at least once per year, and always allow it to dry out completely before repacking (see below for more storage tips). And we do recommend performing routine checks on your system, including assessing the airbag, wiring and fan (if applicable), deployment handle, and backpack suspension.
 
Storing an Airbag in the Off-Season
It's unlikely you'll be putting your airbag to use 12 months out of the year, so you'll want to make sure you store it well in the off-season. In general, airbags should be kept in cool environments (around room temperature), out of direct sunlight, and away from heat sources or moisture. Battery-operated packs should be disarmed and put into storage mode (check your user manual for instructions) and stored with roughly 75-percent battery life. If your airbag uses a canister, be sure to remove it before long-term storage. Finally, when bringing your equipment out of storage at the beginning of the season, you'll want to fully charge your batteries and check the pressure gauge on your compressed air canister, as air can leak over time. If you can, it's even best to fully deploy your airbag to make sure it's in working condition.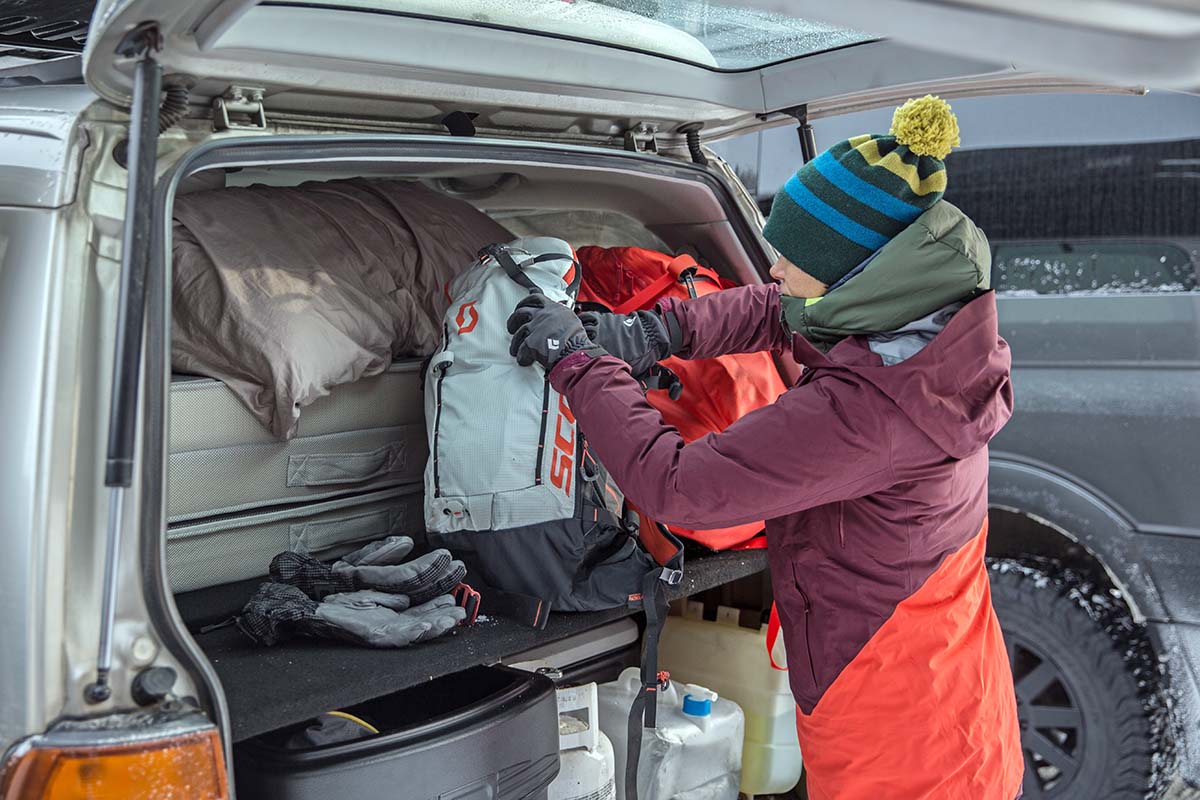 Avalanche Safety Courses
Chances are, if you're purchasing an avalanche airbag you're well versed in avalanche terrain and rescue. Regardless of your level of experience, we recommend that everyone traveling into the backcountry in the winter take an avalanche safety course, for their own safety and the safety of their partners. The American Institute for Avalanche Research and Education (otherwise known as AIARE) is the industry standard for avalanche education, offering a series of classes for both recreational and professional learners. If you need a place to start, check out their 1-day Avalanche Rescue Course or 3-day AIARE 1. And of course, before you head out each day, you'll want to check in with your partners to make sure they've refreshed their knowledge and are prepared to act in the event of a slide (always do a beacon check as well).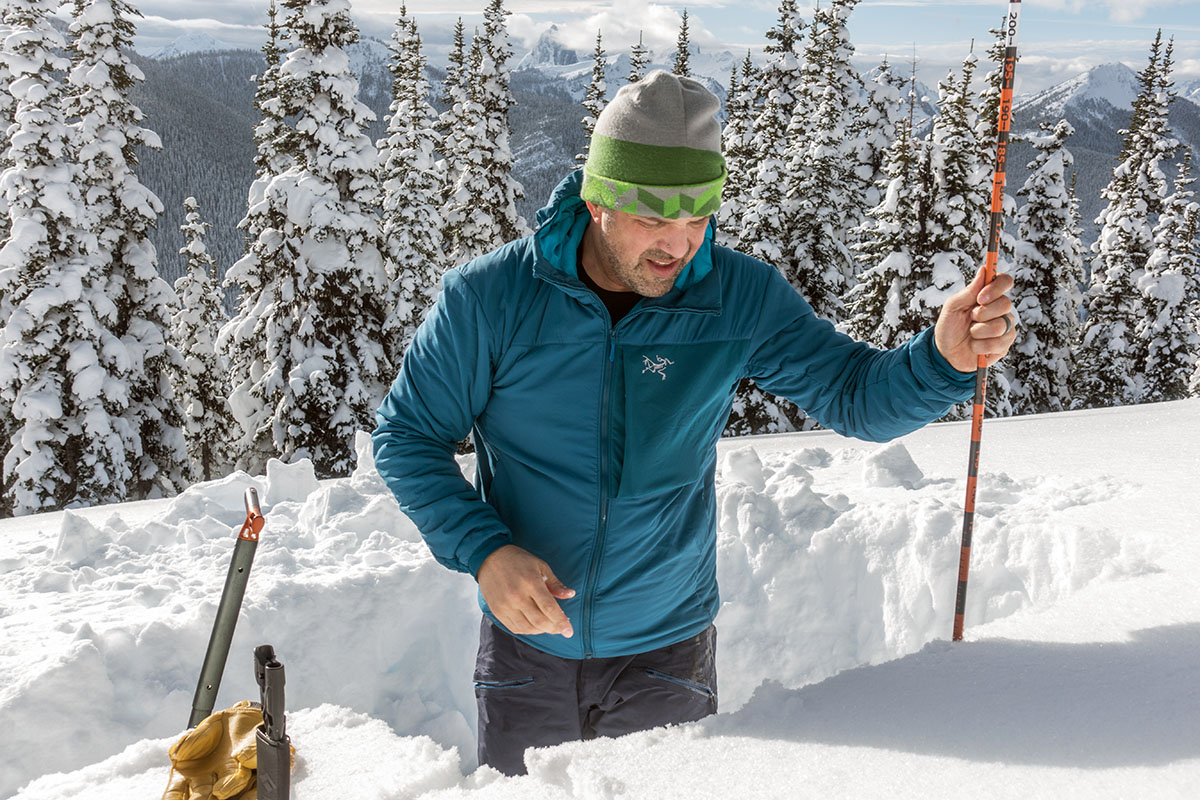 Completing your Backcountry Ski Kit
An avalanche airbag is a great tool for intermediate and advanced skiers who often find themselves in avalanche terrain. However, it by no means is a replacement for your avalanche rescue toolkit, which includes a beacon, shovel, and probe (along with the knowledge of how to use them). In terms of clothing and equipment, we've compiled in-depth lists for everything you need to hit the slopes, including backcountry skis and boots, ski helmets and goggles, ski jackets and pants, and even climbing skins (perhaps our backcountry skiing checklist is the best place to start). And if you're not yet sold on your need for an avalanche airbag backpack, check out our list of standard ski backpacks for a deep dive into the market. 
Back to Our Top Avalanche Airbag Pack Picks  Back to Our Airbag Pack Comparison Table
Learn More About Ski Gear