Scott Patrol E1 30
Price: $1,100
Weight: 5 lbs. 15 oz. 
Capacities: 22, 30, 40L
What we like: Airbag unit is light, removable, travel-friendly, and quick and easy to recharge.
What we don't: Limited interior capacity and fit isn't ideal for those with smaller frames.
See the Scott Patrol E1 30
Avalanche packs help backcountry-goers stay on the surface of the snow in the event of a slide by using a power source (either a canister of compressed air or gas or an electric fan) to inflate an airbag. In the case of the Patrol E1 30, you get Scott's Alpride E1 system, which is a supercapacitor-powered fan design that's lightweight, compact, and very user-friendly. We ran into a couple of issues during testing—including problems with dialing in fit with my smaller frame and a fairly cramped interior—but the Patrol nevertheless is reliable, easy to use, and quick to recharge after deployment. Below we break down our experiences with the Patrol E1 30. To see how it stacks up to the competition, check out our article on the best avalanche airbag packs.
*Disclaimer: There are inherent risks to traveling in avalanche terrain. We do not condone the use of an airbag pack—or any avalanche safety tools—without proper education. Visit AIARE's website to learn more and sign up for a Level 1 avalanche class.
 
---
Table of Contents
---

Battery
There are two mains styles of airbags: those that inflate with compressed air and those powered by a battery or electric supercapacitor. Compared to air-based systems, electronic-fan packs like the Scott Patrol E1 30 are far and away the more convenient and user-friendly option. Most importantly, you can practice deploying the airbag in a safe environment without churning through canisters (and second-guessing whether or not they're inserted correctly), the bag continues to inflate even if ripped during an avalanche, and the system is easy to travel with (gas canisters need to be emptied before flying on a plane). Electric designs typically are pricier than the competition—and the Scott is no exception at $1,100—but the added deployment ability and general ease of use are hard to beat.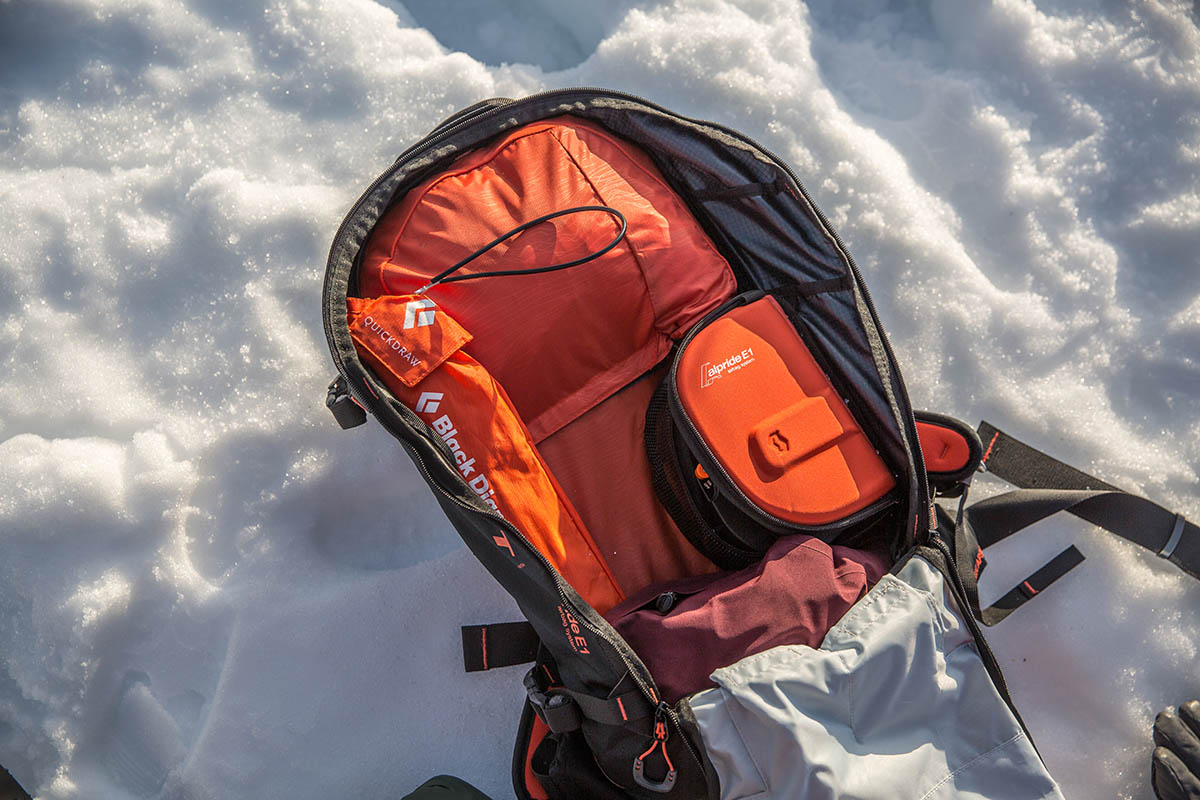 In this case, Scott's Patrol pack uses their Alpride E1 system, which is a supercapacitor-powered fan airbag. Compared to more traditional battery-powered designs, the Alpride system is lighter and more compact, not as sensitive to extreme temperatures (you can bring it as low as -22 degrees Fahrenheit), and quick to charge (about 20 minutes via micro USB). The only notable downside is that supercapacitors like the Alpride E1 use all of their charge in a single deployment, although you can recharge in the field in about 40 minutes with two AA batteries, which aren't as affected by the cold as lithium-ion.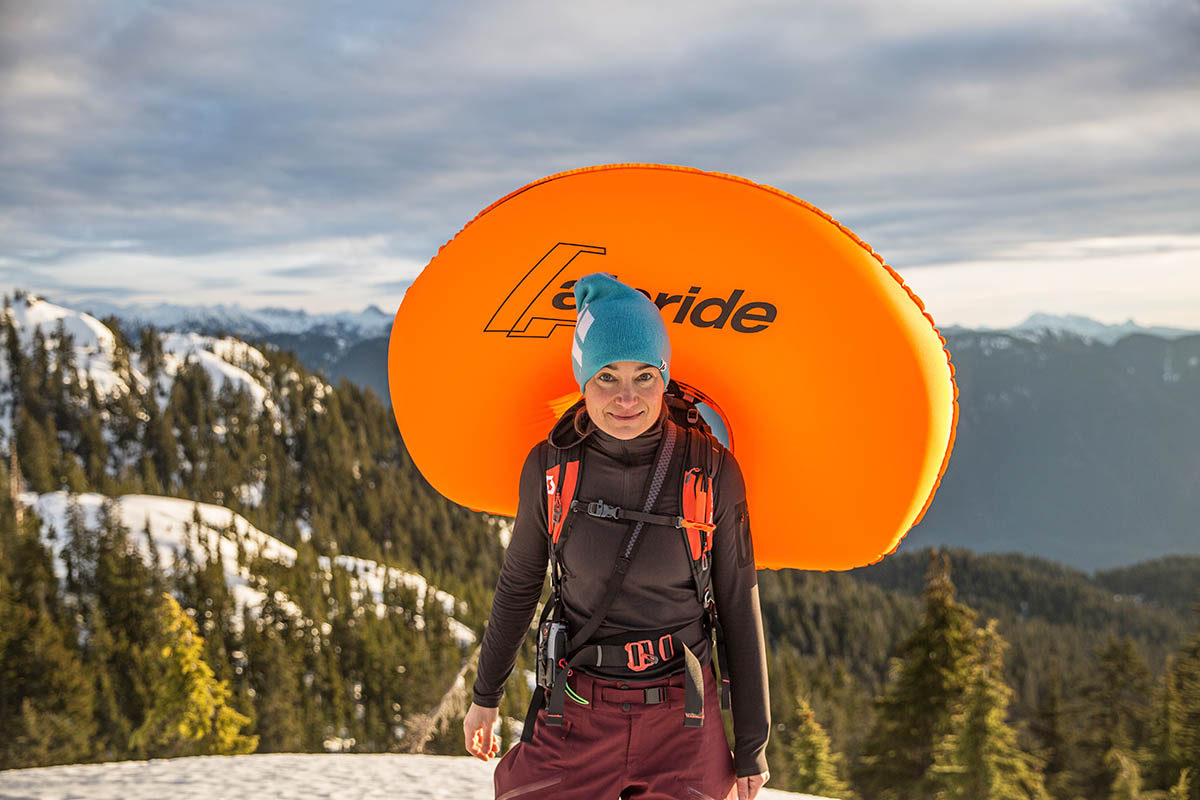 Practice Deployments
As we touched on above, practicing deployment in a safe and stress-free environment is crucial for maximizing efficiency should you encounter an actual avalanche. In particular, I like to get a feel for the handle and how much force it takes to trigger, and measure how long the bag takes to inflate. The fan can also be quite noisy when operating the bag, so it's a good idea to get accustomed to it ahead of time.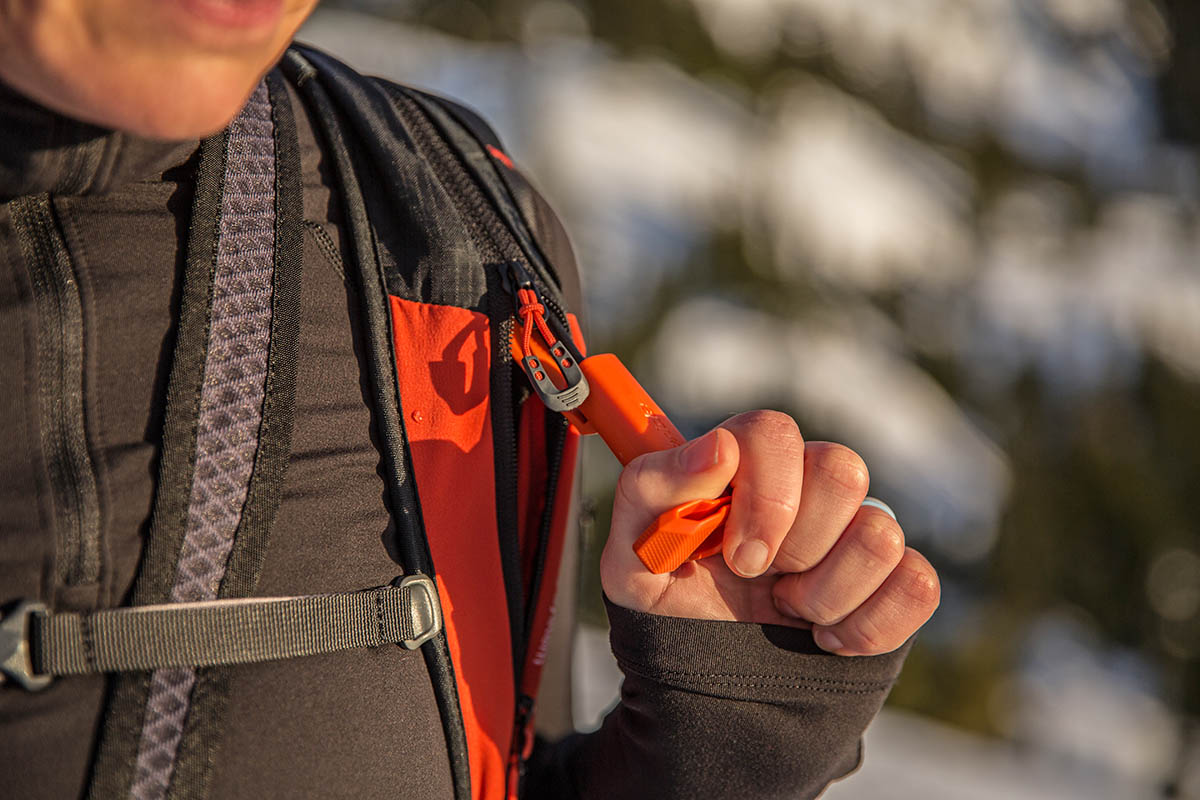 I've deployed the Scott Patrol's airbag numerous times now and have found it to be quite simple and intuitive. Pulling the trigger is most easily accomplished by reaching across your body with your opposite hand to grab the handle, and it does take a decent tug, but it's pretty easy overall. When pulled, a turbo radial fan inflates the bag in around 3 seconds. And it's worth noting that the Patrol's mechanical trigger is more reliable with fewer moving parts than electronic models (like that on Black Diamond's JetForce Pro).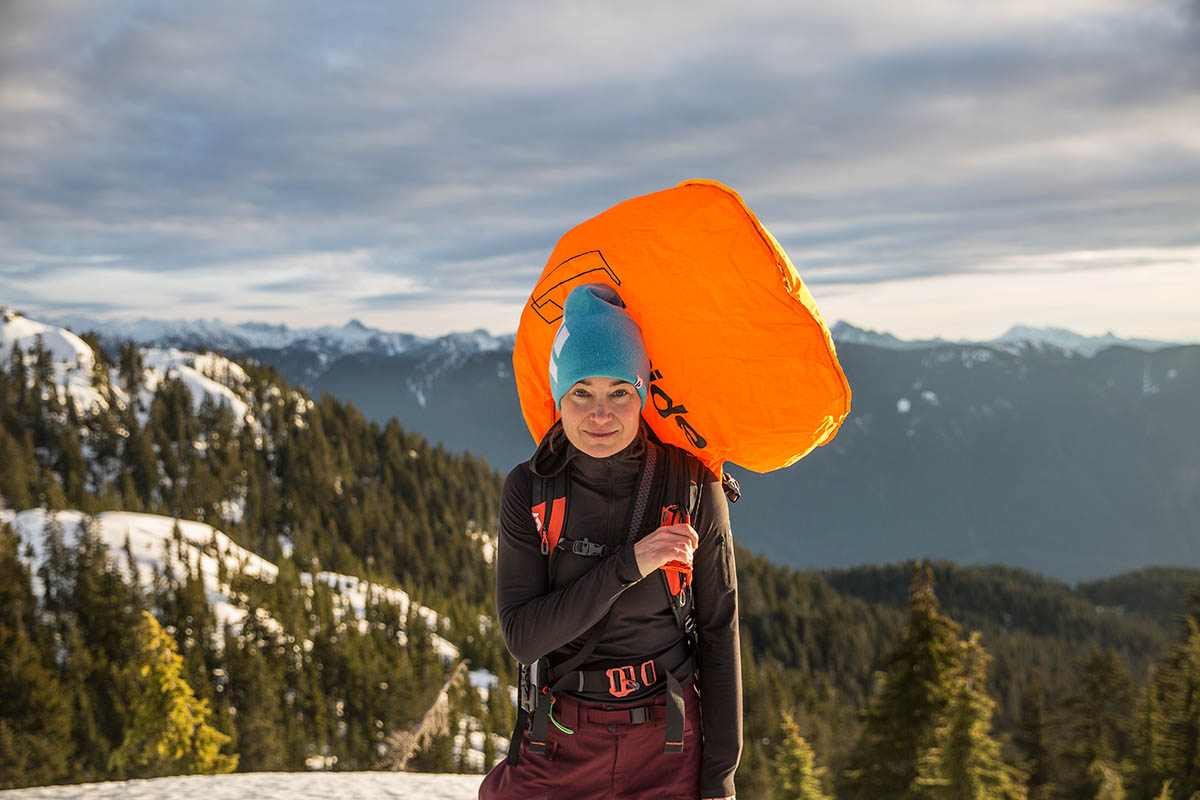 Another task worth being familiar with is deflating and repacking the airbag in the field. And unfortunately, it does take some practice and finesse with the Patrol. In particular, the deflation knob has to be held in an open position in order to continue deflating the bag, which is easiest with two people (one to keep the knob in position and the other to force the air out of the bag). To be fair, the bag will deflate on its own, but that process takes a while. On the bright side, folding the airbag and setting it back into the pack is relatively easy once you've read the instructions and practiced the motions. If you can fold your clothes, you can get the bag back into the pack.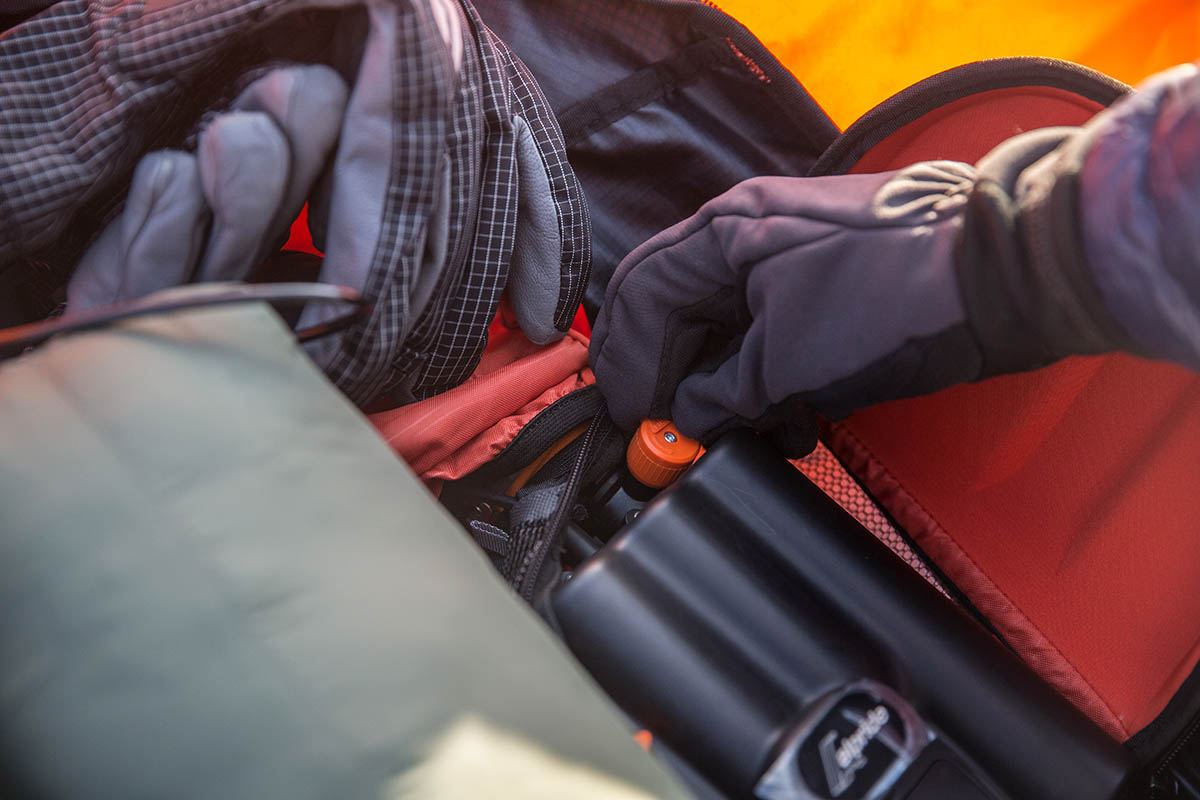 Carrying Comfort
All things considered, the Scott Patrol E1 30 is decently comfortable while traveling uphill on the skin track or boot pack, which is in large part due to its light, streamlined build (more on this below). Further, the airbag itself is quite compact against the back, which helps keep the pack from feeling awkward or unwieldy on the ascent. And the widely spaced shoulder straps distribute weight well without causing any uncomfortable pressure points or rubbing.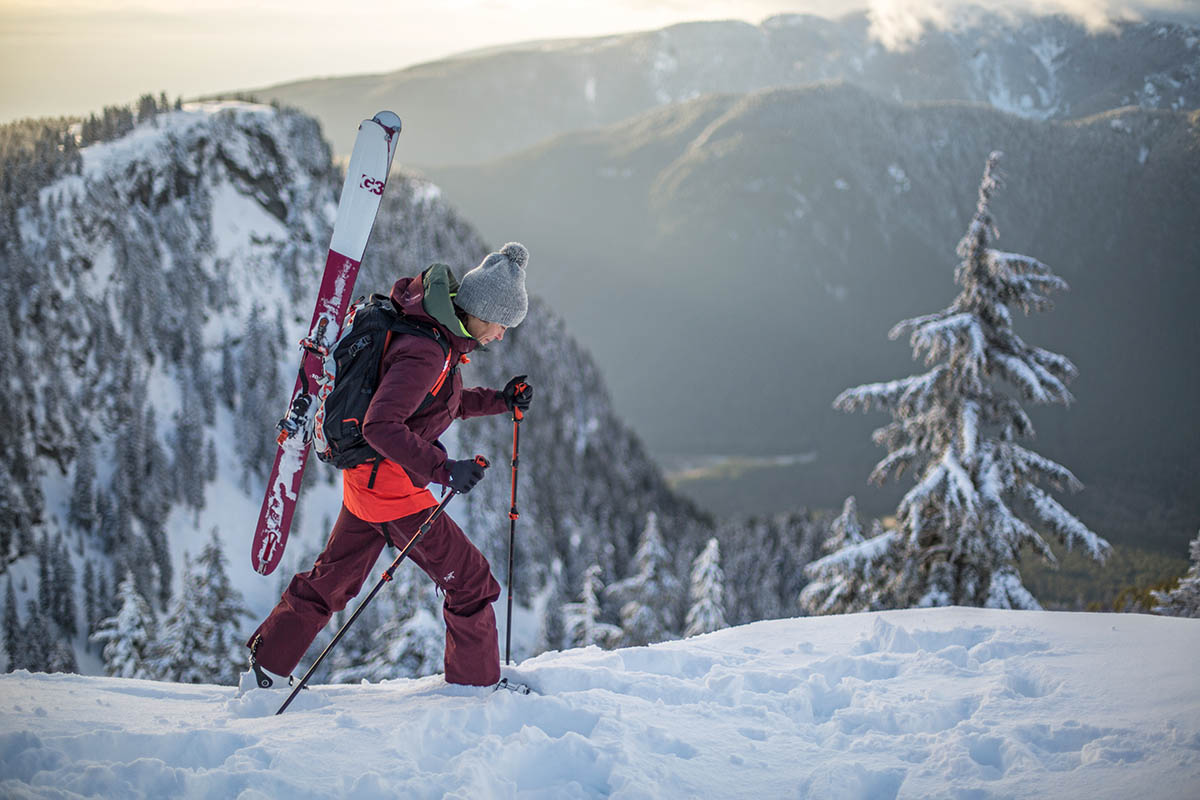 All that said, I do have a few notable comfort-related complaints. First and foremost, the pack only comes in one size, which is a big shortcoming compared to most designs that are offered in at least two sizes. Because I have a relatively small frame and narrow shoulders, I'm not able to get a snug enough fit with the sternum strap, which can lead to the pack swaying as I descend. I've also found that the airbag tends to push my head forward when deployed, which I've mitigated by loosening the load lifters above my shoulders (obviously, this would be the least of my concerns during a real slide). And finally, the Patrol's waistbelt is made of simple webbing that provides minimal support and is secured via fairly clunky and finicky metal buckles that take some finesse to adjust and are almost impossible to tighten or loosen with thick ski gloves on. 

Features and Organization
Storage: Main Compartment and Pockets
Unfortunately, the Patrol E1's 30-liter designation feels like a stretch. In fact, stacked up against my 20-liter Arc'teryx Voltair (which is no longer in production), I found that both packs accommodate the same amount of gear, and it's actually easier to fit a helmet inside the Voltair. When worn by a larger skier (like my husband), the Scott pack lacks the internal space to stow standard items like a helmet, puffy, climbing skins, goggles, etc. My clothing tends to pack down better since I'm smaller, but it still was difficult to fit all of my necessities inside. In the end, the Patrol performs best if you strap your helmet to the outside, and it's also perfectly serviceable for quick sidecountry laps or when cat or heli skiing (when you're already wearing your helmet). And a final knock has to do with access: the Patrol only opens via a small front zipper, which offers significantly less convenience than a full-sized zipper or U-shaped design like you get with Osprey's Soelden 32.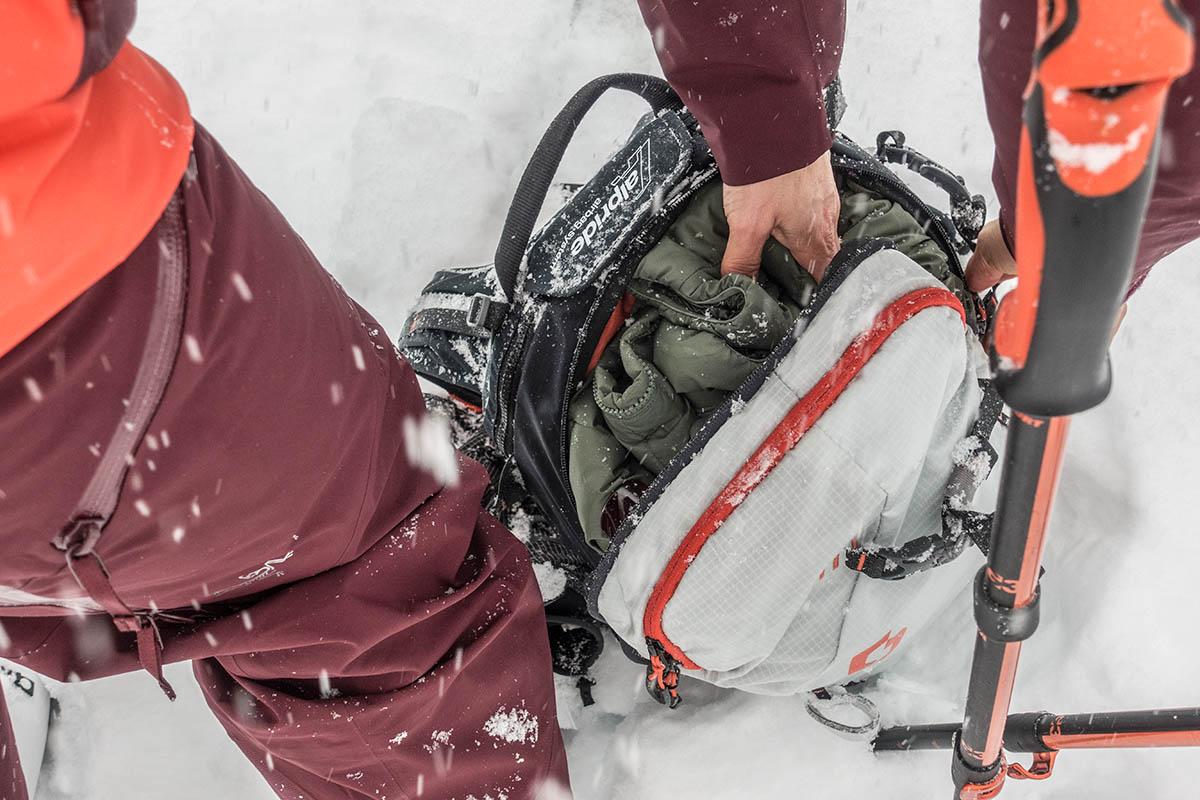 As far as other storage options go, there is a designated pouch for avalanche equipment inside the main compartment, which includes a separate sleeve for a shovel and probe. However, while I appreciate the focus on organization, gear has a tendency to slide out of the sleeve when the zipper is opened. This has forced me to be very diligent when digging through the pack, especially on a steep slope.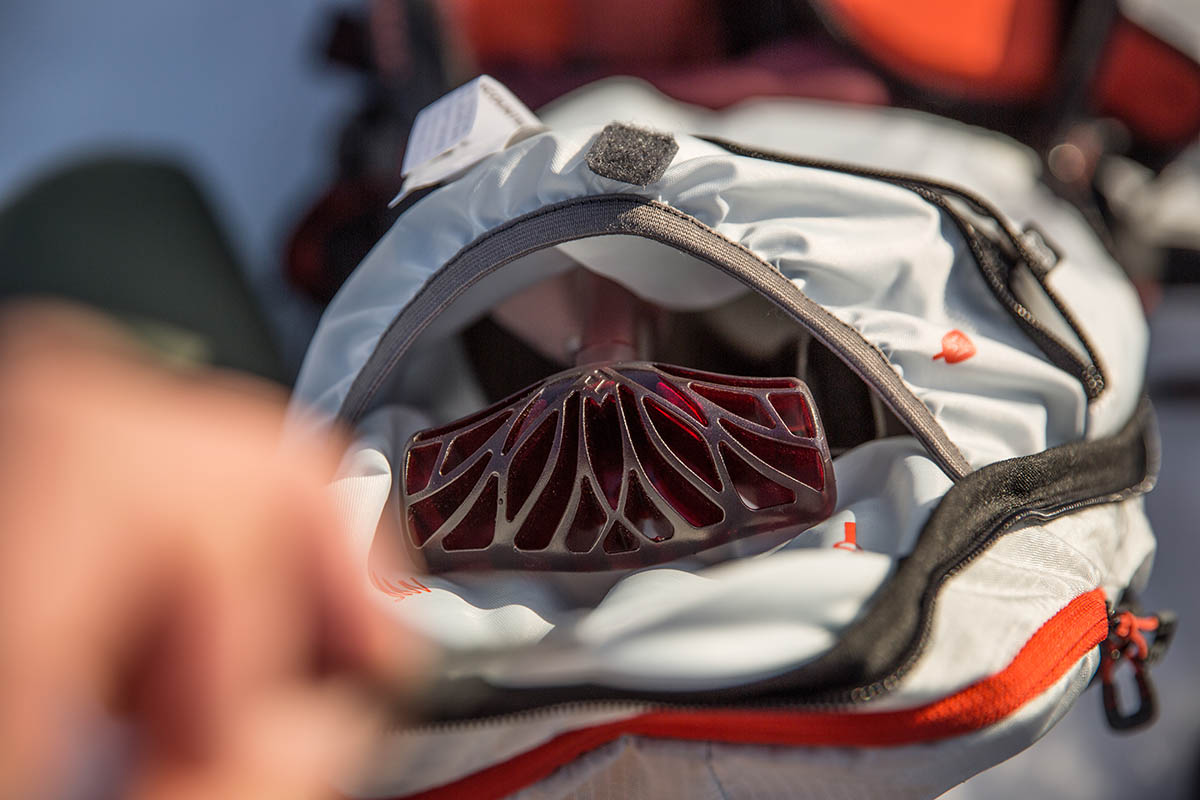 Rounding out the storage options, you get a large, fleece-lined pocket on top of the bag that's great for stowing ski goggles and smaller items like snacks, sunglasses, or a wallet, as well as an additional accessory pocket inside the pack for a map, car keys, etc. And finally, daisy chain loops on the outside of the pack allow you to strap additional gear on externally (I use these to secure my helmet).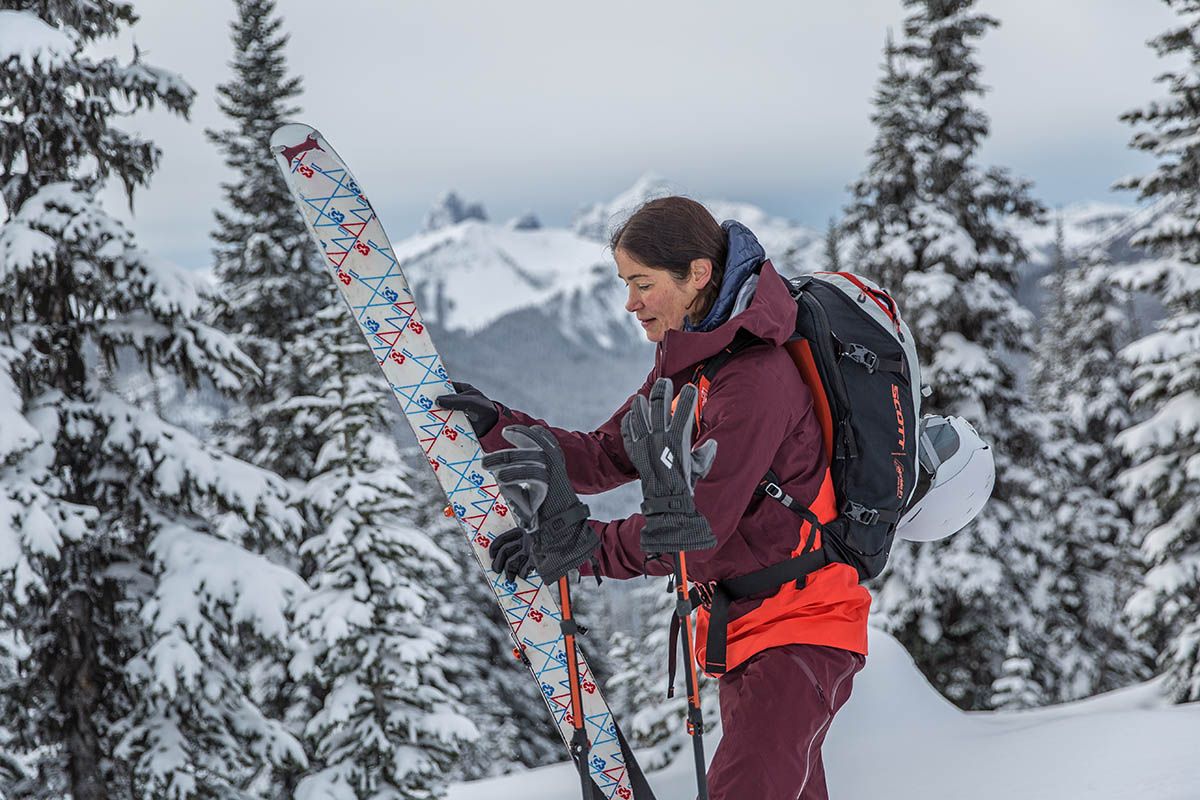 Helmet and Ski Carry
Unlike Black Diamond's JetForce, the Scott Patrol doesn't have a dedicated ski helmet carry, but the aforementioned daisy chains effectively secure a lid. And for hauling skis, the Patrol can accommodate either diagonal or A-frame configurations. The diagonal ski carry is especially well-executed: when pulled, the system simultaneously tightens the upper buckle and lower loop to cinch skis snugly against the pack. My only complaint is that the lack of support on the upper strap allows the skis to sway, which can put tension on the zipper and force it open (this is more common with heavier skis). If you prefer A-frame carry, two side compression straps make the process fairly easy. It's worth noting that most avy packs don't allow this option as it would prevent the airbag from deploying properly, but Scott specifies that it should not inhibit the Patrol's airbag function. And finally, for snowboards and splitboards, there's a standard front carry strap.

Other Features: Ice Axe Attachments, Leg Loop, and More
Rounding out the feature set, you get two ice axe attachment points at the back of the pack, as well as a leg loop for better securing the pack to your body in the event of a big slide. When not in use, the loop can be stuffed away and stored in the waist belt, although it can be a bit of a pain trying to thread the hipbelt through the loop when you're ready to use it. Finally, the Patrol has an emergency whistle on the sternum strap (great for signaling if you get separated from you group or stuck in a tree well), as well as an SOS label with emergency instructions, rescuer contact info, and basic first aid techniques (like placing someone in the recovery position).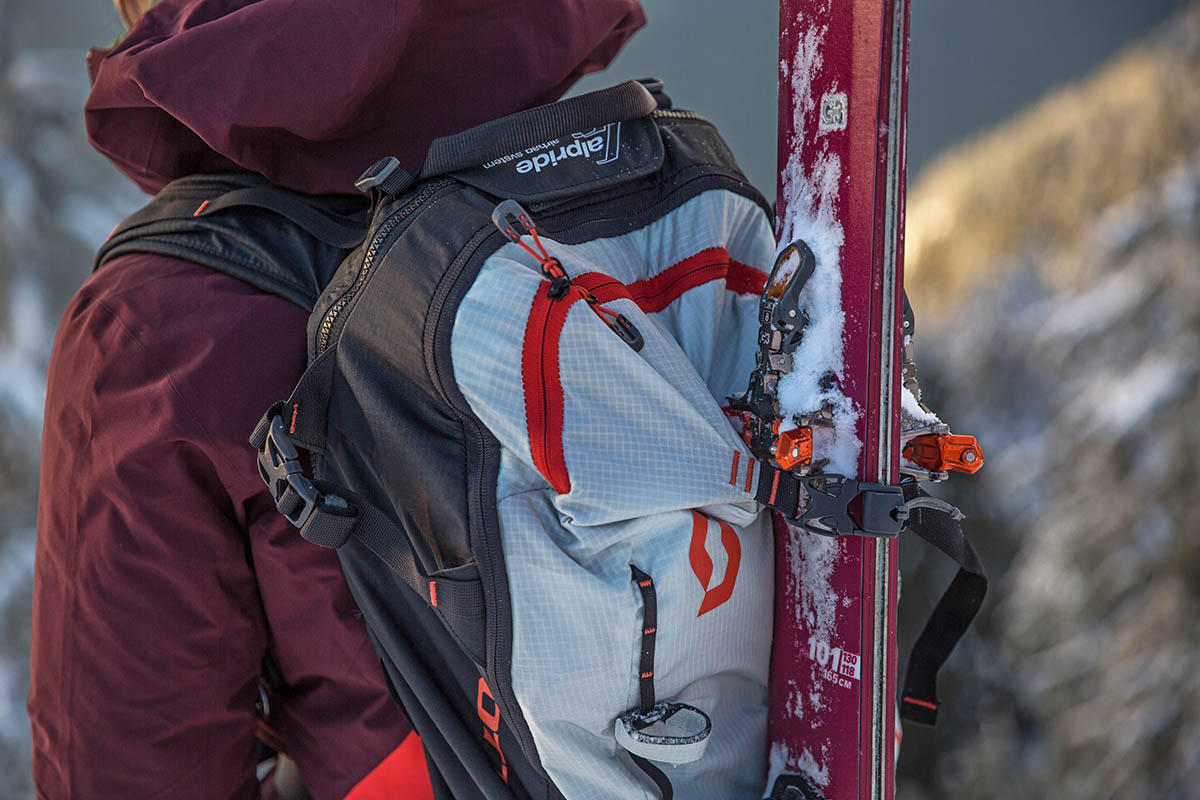 Weight
The Scott Patrol E1 30 checks in at 5 pounds 14.2 ounces (it weighed a bit more on our scale at 5 lbs. 15 oz.), which is impressively light considering its feature set and capacity. For reference, Osprey's Soelden Pro 32, which also utilizes the Alpride E1 airbag, is notably heavier at 6 pounds 8 ounces. Black Diamond's JetForce Tour 26L checks in a little lighter at 5 pounds 13 ounces and uses the same supercapacitor system, but it's a little smaller and not as feature-rich. And as we touched on above, many popular fan-powered designs, including BD's JetForce Pro (6 lbs. 7 oz.), add considerable weight. You can go lighter with a canister model like the Mammut Pro X Removable Airbag 3.0 (5 lbs. 11.4 oz.) or BD's JetForce UL (4 lbs. 6 oz.), but again, electric systems like the Patrol easily win out in convenience and overall usability.

Build Quality and Durability
Reducing weight almost always comes with a drop in durability, and the Scott Patrol E1 30 is no exception. In this case, Scott chose a fairly thin 210-denier (D) nylon fabric for the body of the pack with thicker, 420D reinforcements in high-wear areas. In use, the pack felt slightly more vulnerable than my Arc'teryx's Voltair 20 (400D), although I've experienced no tears or issues to date. But it's important to note that I have been careful while packing items like crampons in the pack and when using the diagonal ski carry, since the edges can be pressed against the bag.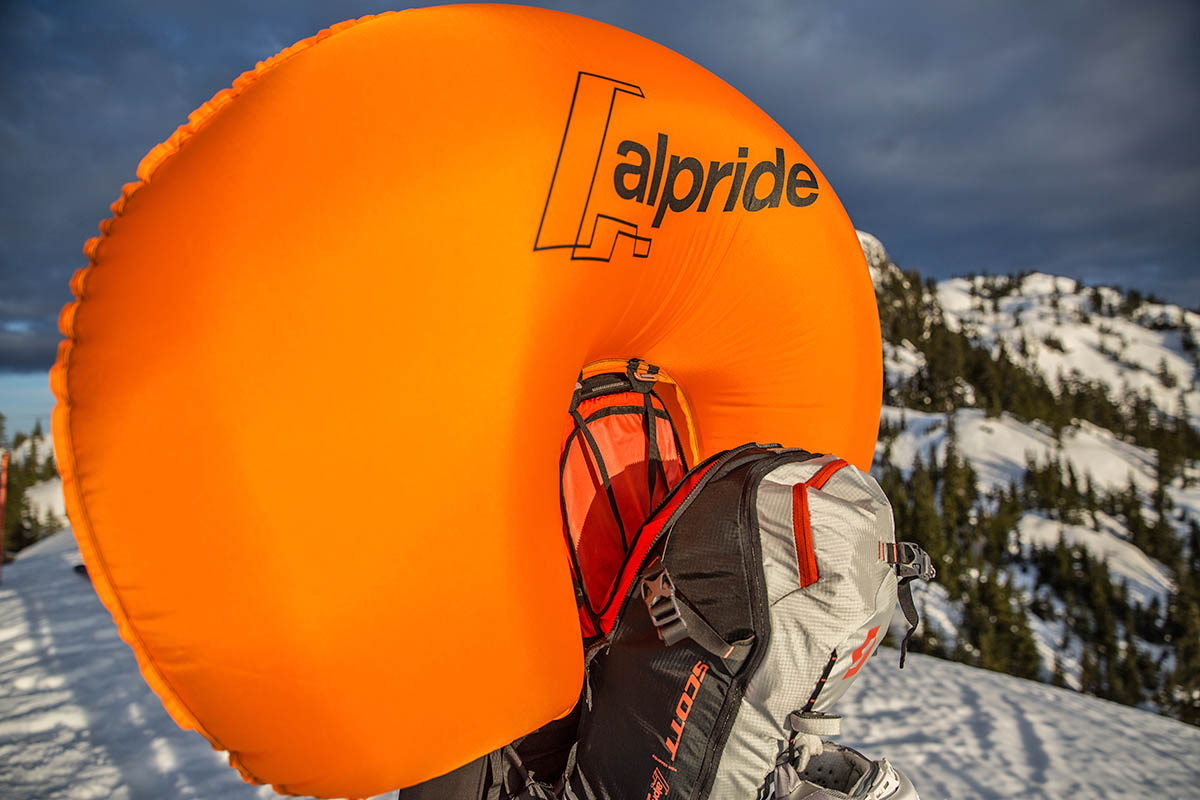 Unfortunately, the Patrol's sternum strap strikes me as a potential point of failure: when cinched tightly, the small C-clamp closures can become detached from the shoulder straps and are very difficult to slide back in (using force could easily break them). But to be fair, the rest of the design is well-built and nicely executed, and all zippers, buckles, and snaps are intact and functioning well after a few seasons of use. The zipper for the airbag compartment has come undone unexpectedly a few times, but this has happened with all avalanche airbag packs I've tested. And again, the waist belt buckle can be a little finicky to use, but the tradeoff is that its metal construction is very robust.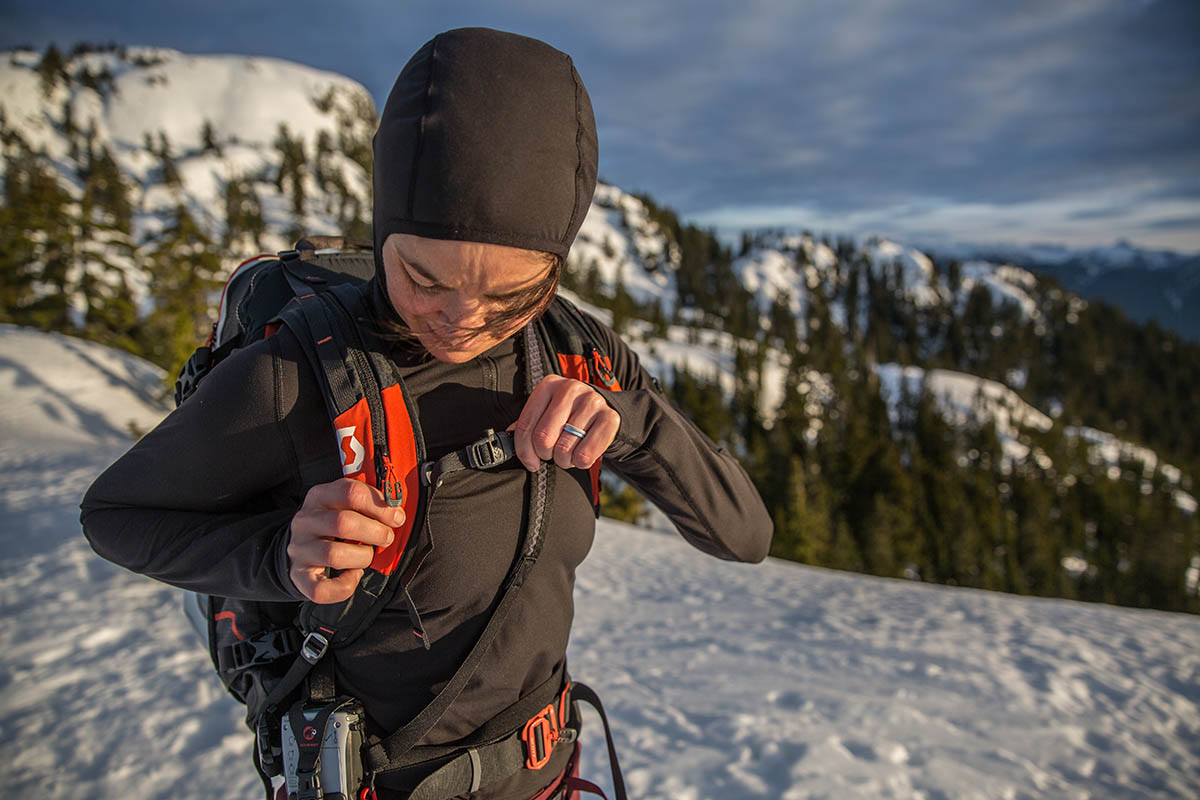 Fit and Sizing
The Scott Patrol E1 30 only comes in a single size, which unfortunately isn't great news for those with decidedly narrow builds. For reference, I'm 5'8" and fairly petite, and the pack was too large even with a hardshell jacket and midlayer underneath and with the sternum strap pulled tightly. This added room between the shoulder straps allowed the pack to sway from side to side, which threw my balance off while skiing. On the flipside, the Patrol fit my husband quite nicely, who is much taller and broader than I am. In the end, if you're on the larger side, the Scott shouldn't pose any major issues with fit (although we always recommend trying before you buy just to be safe).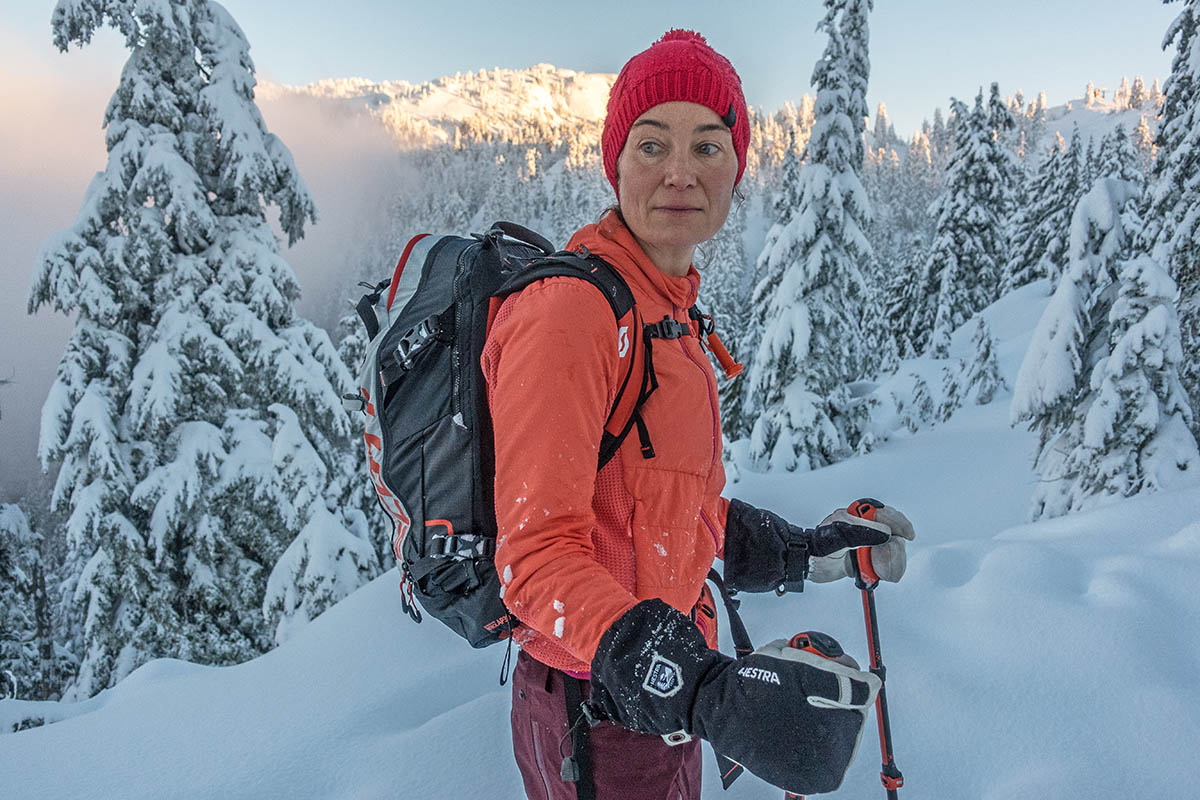 Other Capacities of the Scott Patrol E1
We tested the 30-liter version of the Patrol E1 avalanche airbag pack, and Scott also makes it in 22- and 40-liter variations (the 22L costs the same at $1,100, while the 40L is $1,150). In parsing out the differences, the Patrol E1 22 pack lacks the top, fleece-lined accessory pocket, weighs less at 5 pounds 6.4 ounces, and has a fit that better accommodates smaller torsos. Stepping up to the 40-liter model, weight goes up slightly to 6 pounds 3.8 ounces, but we think the boost in capacity is worth it given our experiences with the lack of storage space in the 30L's main compartment (you also get a padded hipbelt with the 40L pack).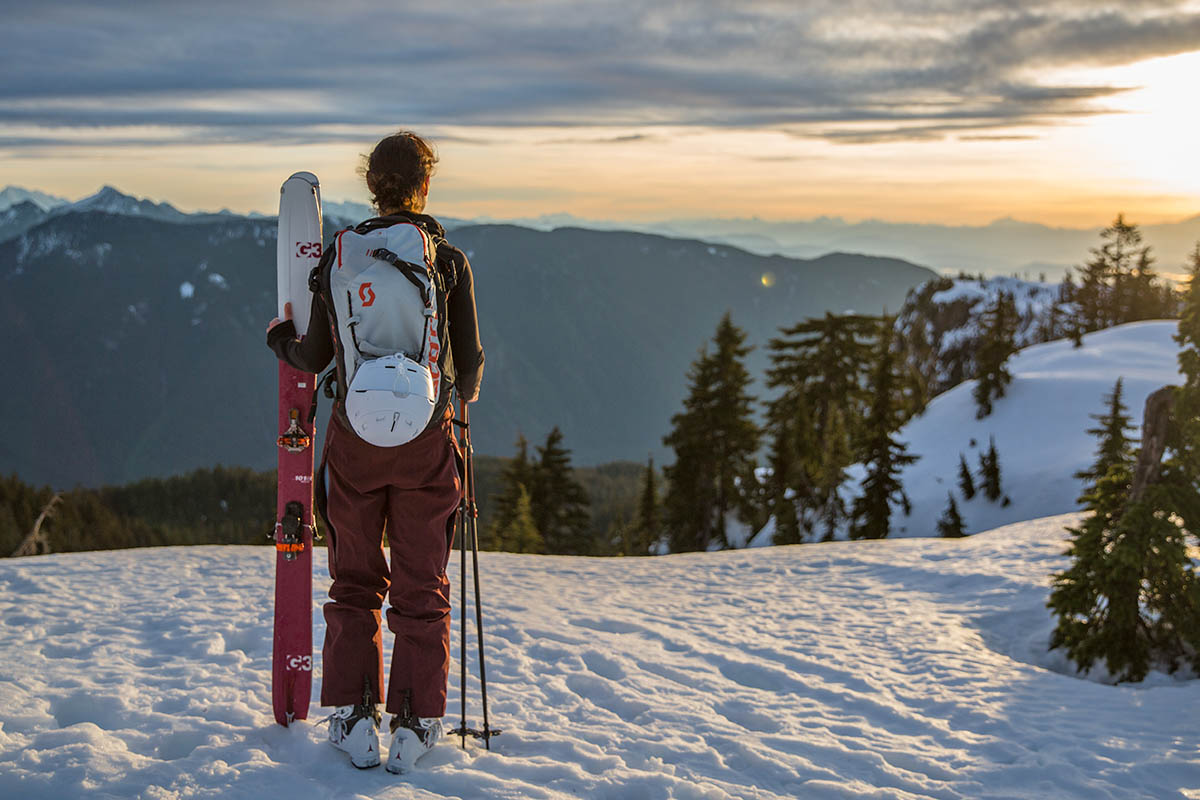 What We Like
Supercapacitor-powered fan system is light and compact, easy to use and travel with, and can be swapped between compatible packs.
At 5 pounds 14.2 ounces, the Patrol is impressively light given its capacity and full feature set.
Quick and easy to recharge either via micro USB (which takes around 20 minutes) or two AA batteries in the field.
Multiple ski carry options, including both diagonal and A-frame configurations.

What We Don't
Main compartment is fairly small and can't accommodate the essentials with a helmet inside. We recommend upgrading to the 40L capacity if you prefer to carry your helmet in your pack.
Only available in one size, and the shoulder and sternum straps are too wide for those with smaller frames.
When deployed, the airbag pushes my neck forward uncomfortably if the load lifter straps are cinched tightly.
Shovel and probe have a tendency to slide out of their dedicated sleeve when the avy tool compartment zipper is open.
Metal hipbelt buckle is finicky and time-consuming to adjust, especially with gloves on (although it's burly and unlikely to break).


Comparison Table
| Airbag Pack | Price | Category | Weight | Capacities | Removable Airbag |
| --- | --- | --- | --- | --- | --- |
| Scott Patrol E1 30 | $1,100 | Fan (supercapacitor) | 5 lbs. 14.2 oz. | 22, 30, 40L | Yes |
| Osprey Soelden Pro 32 | $1,200 | Fan (supercapacitor) | 6 lbs. 8 oz. | 32L | Yes |
| Black Diamond JetForce Tour | $1,200 | Fan (supercapacitor) | 5 lbs. 13 oz. | 26L | Yes |
| Black Diamond JetForce Pro 25L | $1,400 | Fan (battery) | 6 lbs. 7 oz. | 10, 25, 35L | No |
| Mammut Light Protection 3.0 | $930 | Compressed air | 5 lbs. 5.7 oz. | 30L | Yes |
| Backcountry Access Float 22 2.0 | $735 | Compressed air | 6 lbs. 2.1 oz. | 12, 22, 32, 42L | No |
*Editor's Note: Prices and weights include batteries/canisters.
 
The Competition
We love the Alpride E1 airbag in Scott's Patrol E1 30, but there are a number of other avalanche airbag packs that utilize the same system. The most noteworthy is Osprey's Soelden Pro 32, which we give the slight edge over the Scott for a few key reasons. Namely, the Soelden has a generous U-shaped zipper that makes accessing the main compartment much easier, boasts a more well-padded hipbelt for better carrying comfort, and comes in dedicated men's and women's versions (the women's pack is called the Sopris), which makes dialing in fit much easier. The Patrol is lighter by around 10 ounces and costs $100 less, but the Osprey is the more comfortable and well-executed design. And for another option that uses the same airbag system, check out Black Diamond's JetForce Tour ($1,200), which features a more streamlined 26-liter design.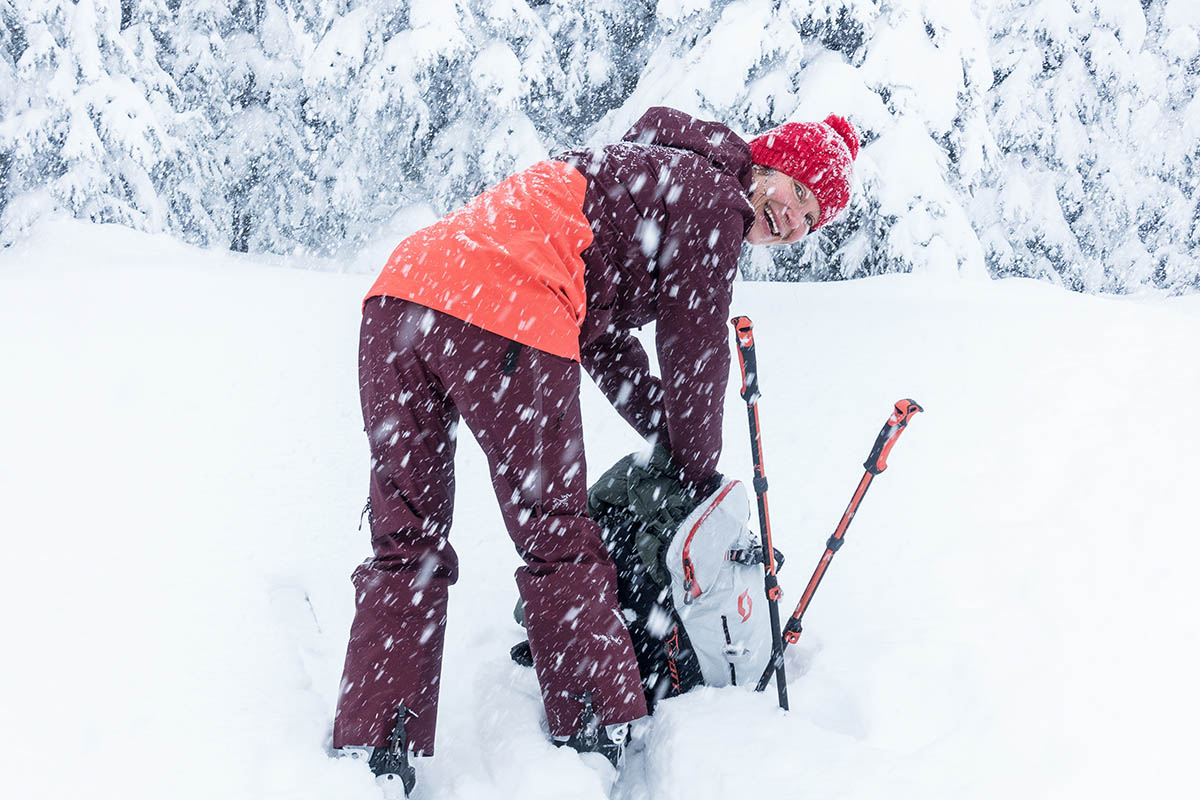 Our top-rated avalanche airbag pack this year is Black Diamond's JetForce Pro 25L, which uses a battery to power its fan rather than a supercapacitor. Stacked up against the Patrol, the BD is slightly heavier at 6 pounds 7 ounces, its airbag unit can't be removed and used interchangeably between compatible packs, and it's pricier at $1,400. That said, the JetForce's airbag can be deployed multiple times on a single charge, the pack is comfortable and well-featured, and BD offers a modular "booster" system that allows you to swap between capacities depending on your storage needs (boosters are available in 10, 25, and 35L options). If you're willing to spend up a little, we think those advantages are worth the added investment.
For a step down in price, you might consider a canister-powered airbag like the Mammut Light Protection Airbag 3.0. As we touched on above, canister systems are relatively lightweight (the Mammut is 5 lbs. 5.7 oz.), cheaper than electric designs (the Light Protection costs $930 including a canister), and have fewer moving parts that can break over time. We also love the Mammut's additional coverage around the head and neck and over the shoulders, which is designed to help boost protection against obstacles like rocks and trees in the event of a slide. That said, the Light Protection pack uses a very thin 100-denier material for the body, which will require extra care. And then there are the inherent compromises in choosing a canister system, including travel restrictions, only one deployment per fill, and required refilling after each use. Whether or not those tradeoffs are worth the $170 cost savings is up to you.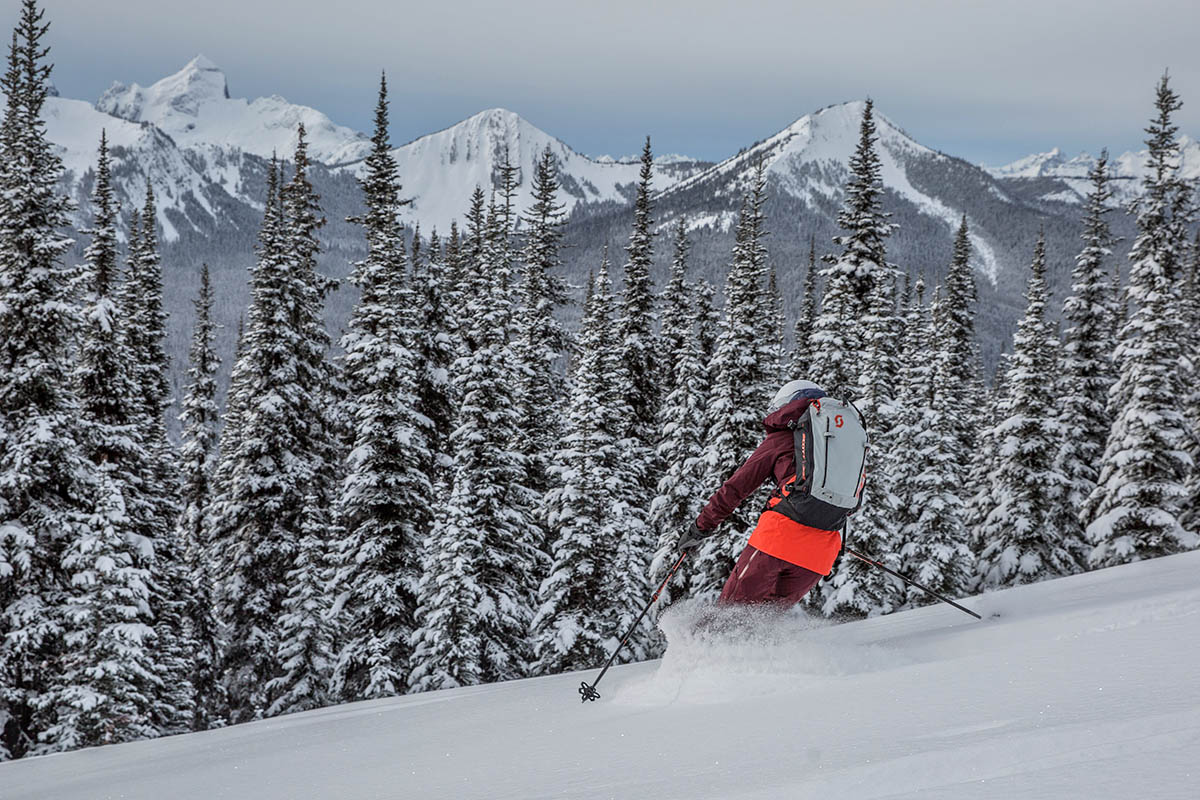 Last but not least is another canister-based design to consider and the cheapest option here: the Backcountry Access Float 22 2.0. For just $735 all in (including a canister), the BCA Float checks in at a reasonable 6 pounds 2.1 ounces, is well-built with good carrying comfort and features like hydration compatibility and functional organization, and can be refilled at any of BCA's 300+ refill locations around the world. However, the airbag can't be removed and used in another pack, and the unit itself is fairly bulky and makes it tough to maximize space in the main compartment. Finally, in our opinion, being able to practice deployments in the field is a no-brainer and worth the added cash. But the BCA nevertheless is a reliable and proven option at an excellent price for experienced backcountry-goers.
If you're thinking about buying gear that we've reviewed on Switchback Travel, you can help support us in the process. Just click on any of the seller links above, and if you make a purchase, we receive a small percentage of the transaction. The cost of the product is the same to you but this helps us continue to test and write about outdoor gear. Thanks and we appreciate your support!
Depending on the seller, most products ship free in the United States on orders of $50 or more. International shipping availability and rates vary by seller. The pricing information on this page is updated hourly but we are not responsible for inaccuracies.
Read More From Switchback Travel