Hiking boots are critical to your comfort and performance on the trail, but this no longer means a stiff and burly model that will weigh you down. The trend is toward lighter materials that still offer decent support, and waterproof boots are the most popular by far (many are offered in a non-waterproof version for hiking in hot or dry climates). Our picks for the best hiking boots of 2020 below are broken down into three categories: lightweight boots for day hiking and fastpacking, midweight options that work well for most backpacking trips, and heavyweights for rough terrain or hauling a large load. For more information on choosing the right boot, see our comparison table and buying advice below the picks. If you prefer to go even lighter and faster, see our article on the best hiking shoes.
 
Best Overall Hiking Boot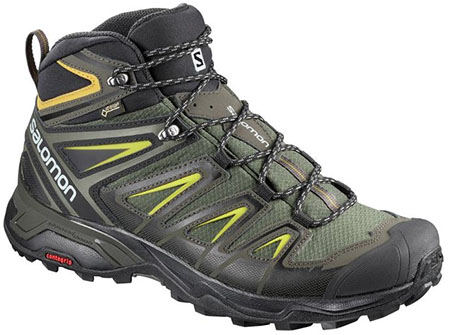 Category: Lightweight
Weight: 1 lb. 15.7 oz.
Waterproof: Yes (Gore-Tex)
What we like: Fast, light, flexible, and reasonably priced.
What we don't: Thinner underfoot and less stable than the Salomon Quest 4D below.
Built like a trail-running shoe but with added ankle support and protection, the Salomon X Ultra 3 Mid is our favorite all-around hiking boot for 2020. These boots offer an impressive combination of comfort and low weight, all while retaining solid toe protection, a stable chassis, and an improved lug design that grips exceptionally well. You also get Salomon build quality, which tends to stand up to more abuse on the trail than other boots in this weight and price range. For fast-moving day hikers, lightweight backpackers, and even thru-hikers, we heartily recommend the X Ultra 3 Mid.
Naturally, there are a few compromises that come with the X Ultra's lightweight construction. The most significant is the lack of underfoot protection, which is thinner than the burly Salomon Quest 4D below. In addition, the X Ultra is fairly flexible and doesn't sit as high on the ankle as the Quest, so it isn't as supportive over technical terrain or when carrying a heavy pack. However, it beats out other ultralight options like the Altra and Adidas below in long-distance comfort, durability, and traction. Further, it's one of the few lightweight designs that is made in wide sizes. For those who want to cut even more weight, the X Ultra 3 also is offered in a low-top hiking shoe... Read in-depth review
See the Men's Salomon X Ultra 3  See the Women's Salomon X Ultra 3
Best Budget Hiking Boot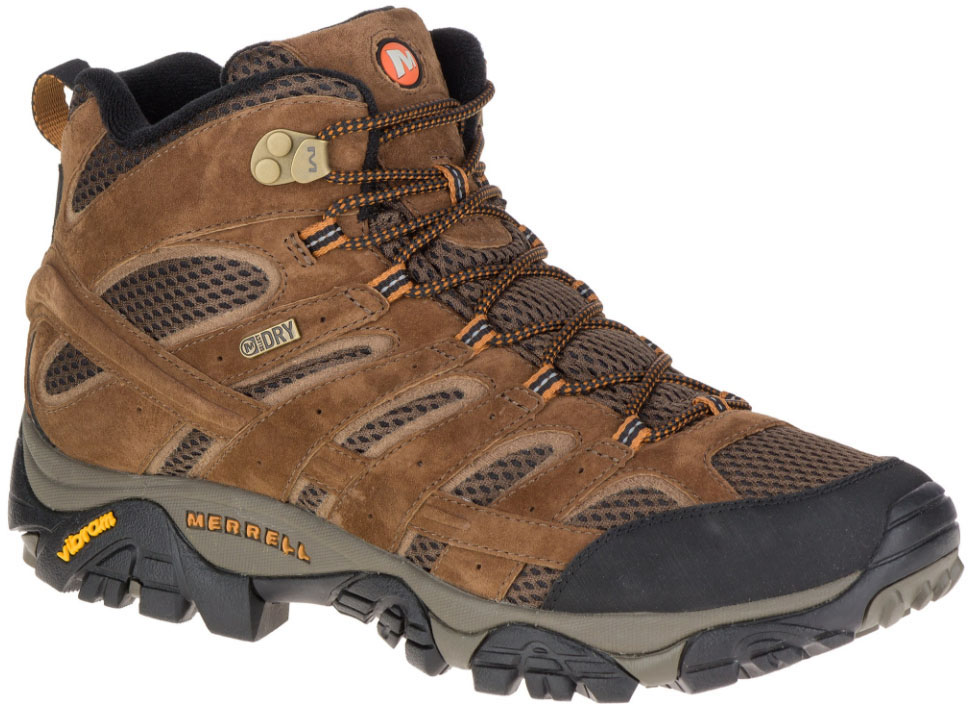 Category: Lightweight
Weight: 2 lb. 4 oz.
Waterproof: Yes (M Select DRY)
What we like: Great price, fit, and comfort.
What we don't: Not as supportive for rough trails or heavy loads.
For day hikers and lightweight backpackers who stick mostly to maintained trails, our top value pick is the Merrell Moab 2. What makes this boot so popular is its lightweight and comfortable feel at such a reasonable price. For $135, you get good cushioning underfoot, trusty Vibram outsoles, and a waterproof membrane (an upgraded Gore-Tex model is available for $155). The Moab was updated to the "2" a couple of years ago, but they didn't fuss much with the proven design. Notable changes included a new insole with a higher arch, improved cushioning under the heel, and a more waterproof and durable suede upper.
What are the downsides of the Moab 2 Mid WP? The boot is lacking in support compared to some of the pricier models on this list for carrying a heavy load or scrambling on rocky or rough trails. Second, it isn't quite as durable or long-lasting as some of the pricier models on this list. The Moab is a well-built hiking boot overall, but the lack of premium materials means that it may eventually need to be replaced a little sooner than we would prefer. But at a significant discount from other top boots on this list, the Moab offers the right mix of comfort and performance for many day hikers and weekend adventures. And those who hike in warm climates or prefer a non-waterproof boot should check out the Moab 2 Mid Ventilator... Read in-depth review 
See the Men's Merrell Moab 2  See the Women's Merrell Moab 2
Best Backpacking Boot for Rough Terrain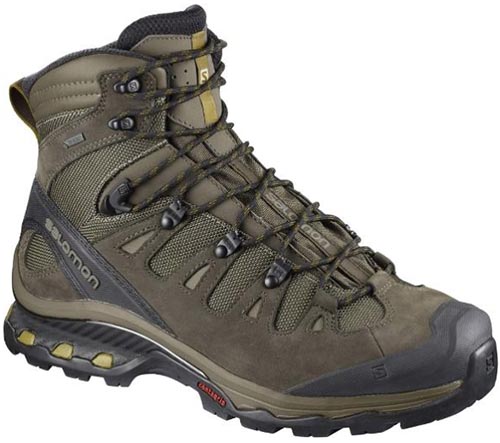 Category: Midweight
Weight: 2 lbs. 13.8 oz.
Waterproof: Yes (Gore-Tex)
What we like: Tough and supportive yet comfortable.
What we don't: Pretty heavy and overkill for most day hiking.
If you're in the market for a tough boot for serious day hiking and backpacking, Salomon's Quest 4D 3 GTX is the whole package. Updated last year, this boot adds an aggressive outsole that grips well in just about all conditions, along with a redesigned, more flexible platform for improved comfort. What stays consistent is the top-notch performance fit, aggressive stance, and durable construction that has made the Quest one of our favorite all-around hiking boots for years.
The Salomon Quest 4D 3 GTX is not, however, any lighter than the previous model and sits solidly in our midweight category. It was ideal for our trek on the demanding Huemul Circuit in Patagonia, which involved steep climbs and descents and off-trail hiking while carrying a full pack. But the boot is a bit stiff and overkill for people that don't need the extra protection or want to move fast and light on well-maintained trails. Those folks will be better off with a lighter and nimbler boot option like the Salomon X Ultra 3 Mid GTX above... Read in-depth review
See the Men's Salomon Quest 4D 3  See the Women's Salomon Quest 4D 3
Best of the Rest
Category: Light/midweight
Weight: 2 lb. 2.6 oz.
Waterproof: Yes (Gore-Tex)
What we like: Well built, extremely comfortable, and tough.
What we don't: Pricey and not quite as supportive as some of the heavier boots on this list.
When we think of Asolo, the classic Fugitive GTX below comes to mind, which weighs over 3 pounds and has looked the exact same for nearly a decade. The sleeker and more modern Falcon GV, however, represents where we think hiking footwear is headed: a little less weight and support than a traditional hiking boot, but with serious technical chops. We took the Falcon on and off trail over the course of the rugged Huemul Circuit in Patagonia and came away impressed. It's well built, extremely comfortable right out of the box, and can handle just about anything you can throw at it.
The biggest downside in choosing the Asolo Falcon GV is stability, which we would rate as moderate. If you're used to a high-cut boot with tons of support, the Falcon isn't it. But when laced up tight, we wore it backpacking with a relatively heavy load over all types of terrain from scree fields and glaciers to steep rocky passes with few issues. For those who don't need the ultimate levels of stability and want a lightweight and comfortable do-all boot for everything from day hiking to serious backpacking, we love the Falcon... Read in-depth review
See the Men's Asolo Falcon GV  See the Women's Asolo Falcon GV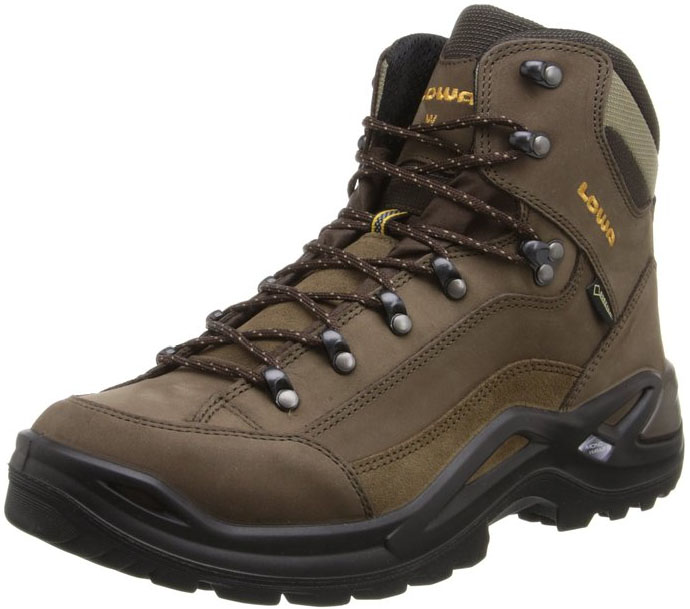 Category: Midweight
Weight: 2 lbs. 7 oz.
Waterproof: Yes (Gore-Tex)
What we like: Light and comfortable; enough support for most backpackers.
What we don't: Not the toughest construction.
The Lowa Renegade has the look and feel of a traditional hiking boot at an impressively low weight. Unlike the nimble and more modern Quest above, the leather Renegade offers better isolation from the ground and feels more planted and sturdy. It does give up a little of the fun factor and performance fit of the Quest, but the trade-off is worth it for those carrying a heavy pack or wanting more underfoot protection from rocky trails.
Lowa kept the weight down in part by moving some of the stabilizing duties to a very effective external polyurethane frame. This makes the Renegade perform like a true backpacking boot while weighing less than 2.5 pounds. Further, its leather upper is relatively thin, which saves ounces and reduces break-in time. The sacrifice of all this lightening is a lack of long-term durability—high-mileage users have reported needing a new pair nearly every year. But they keep coming back for the comfortable feel and the right balance of weight and support. And it's easy to find a good fit as the Renegade is made in narrow, regular, and wide widths... Read in-depth review
See the Men's Lowa Renegade  See the Women's Lowa Renegade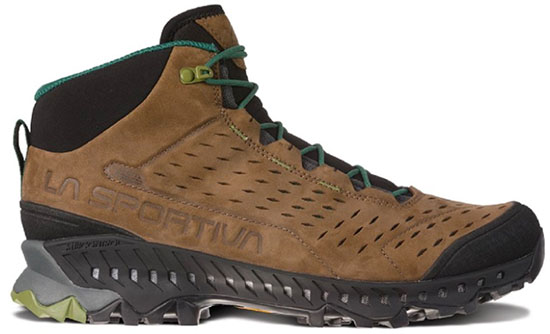 Category: Lightweight
Weight: 2 lbs. 1.6 oz.
Waterproof: Yes (Gore-Tex Surround)
What we like: Breathable and waterproof; comfortable without much break-in.
What we don't: Narrow fit and lack of wide sizes.
La Sportiva has been a leader in the modern hiking boot movement over the past few years, and the Pyramid GTX is a shining example of that. This hiker is lightweight in feel yet surprisingly capable, including the use of Gore-Tex Surround that is breathable and waterproof (rather than just venting through the upper of the shoe, the Pyramid is designed to also release air through the footbed and midsole). Add in signature La Sportiva traction and toughness, and you get an impressive boot for summer hiking and scrambling that weighs just 2 pounds 1.6 ounces. 
Like most La Sportiva footwear, our biggest complaint with the Pyramid GTX is that it runs narrow and is not made in wide sizes. This means that people with normal and wide feet are simply left looking elsewhere. In addition, the Surround technology offers a small step up in breathability from standard Gore-Tex, but like all waterproof footwear, the Pyramid runs warmer than a non-waterproof model and is not made in a non-GTX version. But for those with narrow feet, the Pyramid punches well above its weight and is one of our favorite boots of 2020.
See the Men's La Sportiva Pyramid GTX  See the Women's La Sportiva Pyramid GTX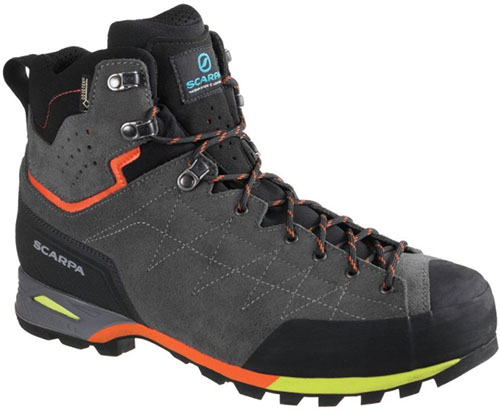 Category: Midweight
Weight: 2 lbs. 6.4 oz.
Waterproof: Yes (Gore-Tex)
What we like: Reasonably light but stiff enough for backpacking over rough terrain.
What we don't: Overkill for maintained or moderate trails.
For a trek over the harsh terrain of Peru's Cordillera Huayhuash, we turned to Scarpa's Zodiac Plus. This boot mixes approach shoe-like traction on rock and boulders with the toughness and stability of a lightweight mountaineering boot, which is quite a combination. Over a brutal 10 days of on and off-trail hiking while shouldering a heavy pack, the Zodiac impressed: the semi-stiff build, high quality construction, and solid protection provided a lot of confidence on steep climbs and sketchy descents.
Among tough and serious hiking boots, the Zodiac Plus and Salewa Mountain Trainer below are two of the best. The Zodiac is more comfortable out of the box, weighs 9 ounces less for the pair, and is a bit more flexible for covering ground quickly, but the Mountain Trainer's stiffer build and 360-degree rubber rand offers even better protection in the alpine. Depending on your needs, both are mountain-ready waterproof designs that should get the job done... Read in-depth review
See the Men's Scarpa Zodiac Plus  See the Women's Scarpa Zodiac Plus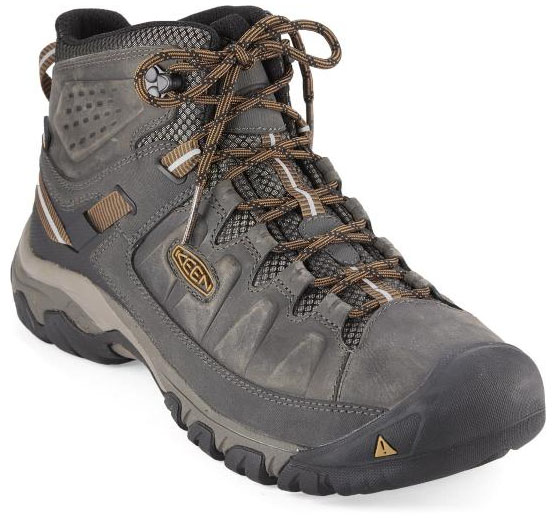 Category: Lightweight
Weight: 2 lbs. 2.8 oz.
Waterproof: Yes (Keen.Dry)
What we like: Good budget option with a tough leather upper.
What we don't: Not very secure on rough trails.
With an affordable price tag and great out-of-the-box comfort, the Keen Targhee line is an extremely popular boot for day hiking and easy to moderate backpacking trips. The Targhee III, released in fall of 2017, is $15 more than the older model but hones in comfort nicely (this boot is known for having a very wide fit, and the current version feels a little less wide in the toebox, which we like). Despite the reasonable price, the boot is surprisingly tough with a good-sized toe cap and leather upper, and it sits just high enough on the ankle to offer decent rollover protection. Keep in mind that the Targhee III still is a clear step down in stability and ankle support from a boot like the Lowa Renegade above, but it offers sufficient stability and grip for most subalpine adventures.
The Targhee's main competitor is the Merrell Moab 2 above, and both models have undergone a remake in the past couple years. The Targhee is more durable overall with its leather construction, but the Moab matches it in trail comfort, keeps you cooler with its mesh design, and costs $15 less. That price difference gives the edge to the Moab on our list, but the Targhee remains a solid choice, and particularly for those with wide feet... Read in-depth review
See the Men's Keen Targhee III  See the Women's Keen Targhee III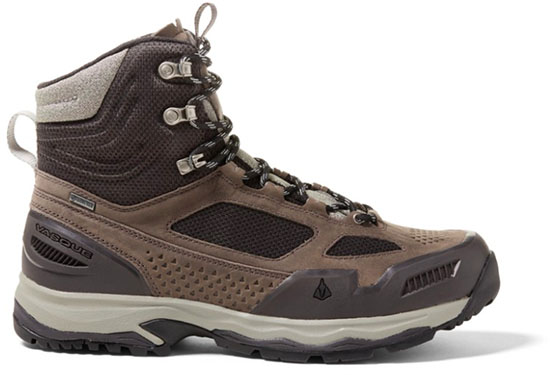 Category: Midweight
Weight: 2 lbs. 11 oz.
Waterproof: Yes (Gore-Tex)
What we like: Comfortable, stable, and supportive. 
What we don't: Not as nimble as many of the boots above.
If you're in the market for a stable, supportive, and protective hiking boot, the Vasque Breeze AT Mid is a solid option. We'll start by noting that this boot has a fairly traditional feel—compared to many of the lighter boots and shoes we've tested of late, the Breeze AT Mid feels heavier and noticeably less nimble. That said, it's hard to knock the value: for $190, you get premium features like a Gore-Tex liner, Vibram outsole, and nubuck leather upper. We like the fit as well: the boot is sufficiently snug in the heel but wide enough in the toe box for comfort over long days on the trail. 
In terms of competitors, the Lowa Renegade above manages to accomplish many of the same performance benefits as the Breeze AT Mid at a lower weight and ankle height, and the Salomon Quest 4D 3 GTX is even tougher, has a more modern feel, and includes higher-quality materials (in particular, we greatly prefer its lacing system over the Breeze). But the Vasque is the cheapest of the bunch by a healthy margin and a significant step up in trail capabilities from the lighter Moab and Targhee above. And for those looking for an even burlier boot from Vasque, the St. Elias GTX long has been the brand's flagship all-leather model and is another standout in terms of support... Read in-depth review
See the Men's Vasque Breeze AT Mid  See the Women's Vasque Breeze AT Mid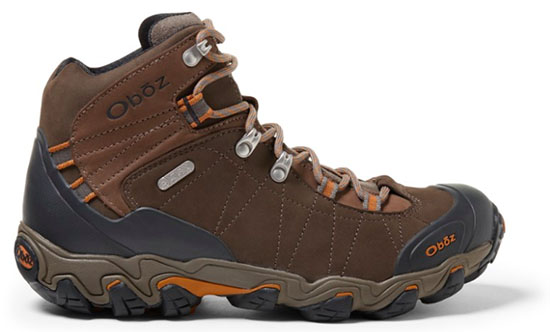 Category: Light/midweight
Weight: 2 lbs. 6 oz.
Waterproof: Yes (B-Dry)
What we like: Sturdy and supportive for the price; quality insole included.
What we don't: Feels a bit slow and heavy on the trail.
Based in Bozeman, Montana, Oboz has a reputation for making tough, comfort-first footwear. Our favorite over-the-ankle design from their 2020 lineup is the Bridger Mid, which in many ways is a beefed-up version of the Keen Targhee III above. It's nicely cushioned and protective underfoot, including TPU reinforcements and a nylon shank, but lacks the lightness and flexibility of many modern options. The upside is that the boot is stable and supportive—the leather upper can withstand a lot of abuse, and the midsole reinforcements give the boot a planted feel. For anything from weekend backpacking trips to snowshoeing in the winter, the Bridger Mid BDry is a comfortable choice.
What's not to like with the Oboz Bridger? On the trail, the boot feels slower and heavier than competitors like the Merrell Moab 2 Mid or Keen Targhee III Mid. Further, the in-house B-Dry waterproof membrane makes the boot run warm even in moderate temperatures. For a cheaper option from Oboz, the Sawtooth is another mid-height boot that has more mesh in the build, but it's less tough and supportive at a similar weight (although you do save $30 in the process). For those hiking in hot and dry conditions, both the Bridger and Sawtooth are made in non-waterproof versions... Read in-depth review
See the Men's Oboz Bridger Mid BDry  See the Women's Oboz Bridger Mid BDry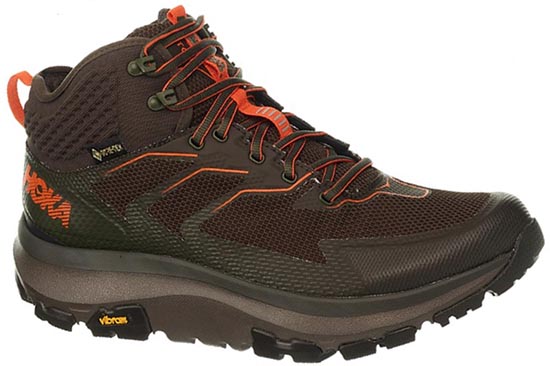 Category: Light/ultralight
Weight: 1 lb. 14.2 oz.
Waterproof: Yes (Gore-Tex)
What we like: Extremely comfortable thanks to the thick cushioning and flexible construction.
What we don't: Lacks the support, stiffness, and durability needed for challenging terrain.
Well oh well, hiking boots sure are getting more fun of late. Popular running shoe brand Hoka One One, which is known for its lightweight and cushioned designs, has made a serious push in the hiking footwear market. Our favorite of the bunch is the nimble Sky Toa, which was updated for 2020 and features Hoka's well-known springy midsole, a Gore-Tex waterproof upper that extends over the ankles, and a flexible construction for fast days on the trail. Backpackers hauling heavy loads over rough terrain likely will be disappointed by the lack of support and protection, but there's a lot to like with this speed-focused hiker on well-maintained paths.
In terms of other options in Hoka's new hiking line, the Sky Kaha is the most traditional and heaviest of the collection and made for those carrying a loaded pack. The wild Sky Arkali aims to do it all—with only moderate success—by combining the lacing and protection of an approach shoe with the midsole of a trail runner and the collar height of a boot. And the Speedgoat Mid 2 takes their best-selling trail runner and adds over-the-ankle support (it's billed as a "trail shoe" as many people will run in it too). In the end, we think the Sky Toa does the best job highlighting the brand's max-cushioned, comfort-first ethos, but all are viable, trail-worthy options... Read in-depth review
See the Men's Hoka Sky Toa  See the Women's Hoka Sky Toa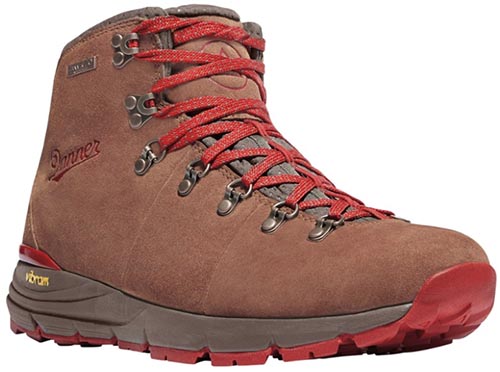 Category: Lightweight
Weight: 2 lbs. 5 oz.
Waterproof: Yes (Danner Dry)
What we like: Classic Danner looks in a lightweight package.
What we don't: Not very durable or long-lasting.
Danner is best known for their throwback, full-leather boots, but their Mountain 600 has struck a chord with the day hiking crowd. The over-the-ankle design is lightweight at 2 pounds 5 ounces for the pair, surprisingly flexible underfoot, and has sharp looks with a full suede upper and quality lacing hardware. An in-house waterproof liner combined with the water-resistant suede helps keep your feet protected from mud and wet grass, while also providing a light boost in warmth for wearing around town in the cold (to the detriment of breathability).
As expected considering its casual slant, the Mountain 600 is not intended for high-mileage users. The materials aren't known for holding up over the long haul, particularly if you subject them to rugged trails. Further, the boot is pretty expensive at $180 when stacked up to more capable, lighter-weight designs like the $165 Salomon X Ultra 3 Mid above. But if you prioritize out-of-the-box comfort, styling, and everyday versatility, the Mountain 600 is worth a look.
See the Men's Danner Mountain 600  See the Women's Danner Mountain 600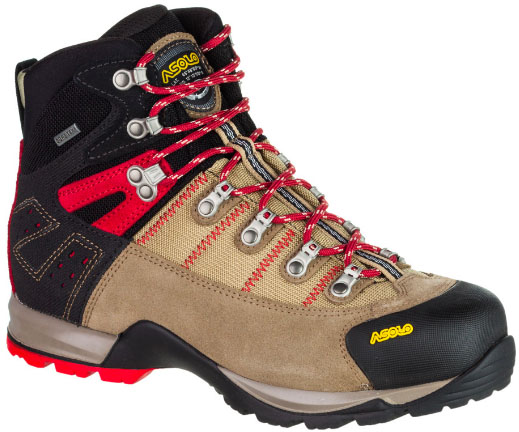 Category: Heavyweight
Weight: 3 lbs. 0.7 oz.
Waterproof: Yes (Gore-Tex)
What we like: Durable upper material.
What we don't: Stiff and heavy.
In sharp contrast to the light and flexy Hoka Sky Toa above, the Asolo Fugitive GTX follows a much more traditional boot design. And for some of our most demanding trips—including trekking through Nepal and Patagonia–the Fugitives were absolutely bomber. Their stiff construction and thick mid and outsoles isolate you from rocks, and the boots work well in 4-season conditions for snowshoeing or even light mountaineering. As tough boots go, the Fugitive is highly recommended.
With the burly construction comes more weight, and at over 3 pounds for the pair, they're considered a heavyweight boot by today's standards. Unless you need the ultra-tough build, the weight can be a downside over long distances (we prefer the Salomon and Lowa options for most of our backpacking needs). However, if you need a boot made for the alpine and like the stiffness and protection, the Fugitive remains a classic. 
See the Men's Asolo Fugitive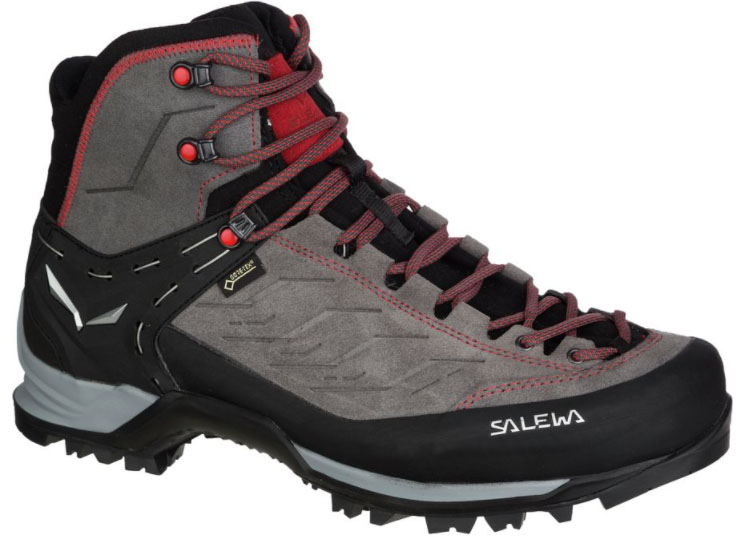 Category: Midweight
Weight: 2 lbs. 15.2 oz.
Waterproof: Yes (Gore-Tex)
What we like: Burly combination of an approach and alpine shoe.
What we don't: Not everyone will like the stiff build and runs warm.
Resembling a mix between an approach shoe and an alpine boot, the Salewa Mountain Trainer Mid GTX is designed for rough trails and harsh conditions (Salewa is a mountaineering and climbing company first). The boot features a protective rand that wraps around the entire lower section of the boot for total isolation from rocks, snow, and other trail debris. A further nod to the company's climbing background is the lacing system, which extends all the way to the toes (most hiking boot laces end at the middle of the foot). This makes it easy to customize the fit, which is great for those with a wide forefoot and narrow heel or vice versa.
The Mountain Trainer is most at home in rough environments, such as hikes above treeline or scrambling over rocks off trail. On a regular path the boot can feel heavy and overly stiff (this can be a benefit for those in need of strong lateral stability). For most hikes and backpacking trips, we still prefer the Salomon Quest, and the Scarpa Zodiac gets you similar levels of toughness but with a nimbler feel. But for all-out protection and 4-season usability, it's hard to beat these Salewas.
See the Men's Salewa Mountain Trainer  See the Women's Salewa Mountain Trainer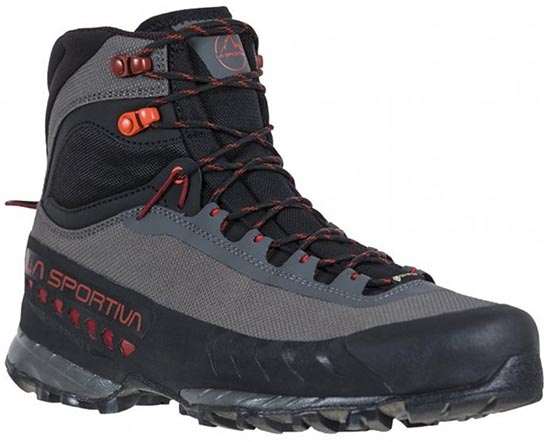 Category: Light/mid
Weight: 2 lb. 3.6 oz.
Waterproof: Yes (Gore-Tex)
What we like: Better on mud and snow than La Sportiva's approach shoes. 
What we don't: The Asolo Falcon above is lighter and more comfortable. 
La Sportiva's TX line has been a favorite of ours for years, offering a really nice combination of protection and comfort for those who like to get after it in the mountains. That said, the TX4 Mid is a bit disappointing for a hiking boot—the traction is better on rocks than trails and ankle support is limited—and the leather TX5 has been discontinued. Enter the TXS, which was released in 2020 and is very similar to the TX5 but with a synthetic upper that is lighter and a bit more hiking centric. And with deeper lugs and a different lug pattern than approach shoes like the TX4, this boot really can hold its own on mud and snow. 
In terms of competitors, the TXS goes against other tough yet comfortable boots like the Asolo Falcon GV above. The La Sportiva is a full $60 cheaper, which is significant, and offers a bit more protection around the foot with its thick rubber rand. On the flipside, the Asolo is lighter and even more comfortable for long days on the trail. And one final note: unlike most La Sportiva footwear including the Pyramid GTX above, the TXS isn't as narrow and has more of a normal fit that should accommodate a wider range of hikers, which we appreciate. 
See the Men's La Sportiva TXS  See the Women's La Sportiva TXS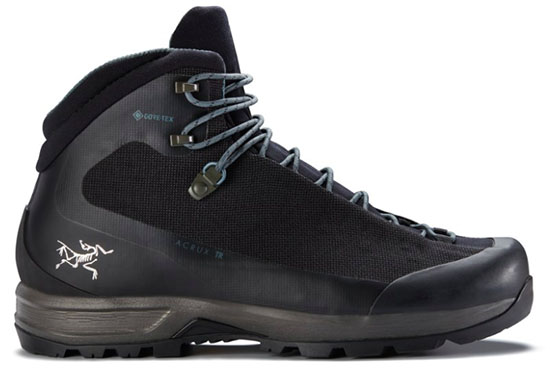 Category: Midweight
Weight: 2 lbs. 6.8 oz.
Waterproof: Yes (Gore-Tex)
What we like: Tough and capable yet lightweight.
What we don't: We'd prefer more cushioning.
Last year, Arc'teryx released the Acrux TR GTX technical hiking boot, which took the place of the discontinued Bora in their footwear lineup. In contrast to the Bora, the Acrux follows a more traditional route: it has a standard one-piece upper, EVA midsole, and Vibram traction. But this being Arc'teryx, there are some fun surprises. In particular, we've found the SuperFabric upper material to be especially durable and tough considering its thin build. And that in many ways sums up our overall impression of the Acrux: despite weighing less than 2.5 pounds for the pair, the boot has provided excellent support and protection while hauling 50+ pounds (due to heavy camera equipment) over challenging terrain.
One disappointment with the new model is its general lack of cushioning. The thin upper is partly to blame, but underfoot, the stock OrthoLite insole is simply too thin and flat to be comfortable over full days of hiking. Replacing the insole is a good start (it is removable), but the cushioning strikes us as a weak point in the design. In addition, the collar dips fairly low around the back, which let in more debris than we're used to with a mid-height boot. These complaints push the Acrux down our rankings, but there's still plenty to appreciate with this burly yet light backpacking boot... Read in-depth review
See the Men's Arc'teryx Acrux TR  See the Women's Arc'teryx Acrux TR
Category: Ultralight
Weight: 1 lb. 9 oz.
Waterproof: No (waterproof version available)
What we like: Essentially a trail-running shoe with more stability.
What we don't: Limited protection and questionable durability.
Altra's Lone Peak trail-running shoes have developed a serious following among thru-hikers, making the mid-height hiking boot version an intriguing concept. Most notable is the impressively low weight of 1 pound 9 ounces per pair, which is the lightest on this list. You also get a very roomy toe box, a zero-drop profile, and a decently cushioned ride. We've included the non-waterproof mesh version here, but Altra also makes an RSM model with eVent that costs $160 and weighs a touch more at 1 pound 10 ounces total. 
In practice, we weren't super impressed with the performance of the Altra Lone Peak 4 Mid, and particularly over rocky terrain. Our testers described the boot as a, "slipper with a higher ankle," and the toe box was so roomy that it was too much for our normal-sized feet. In addition, underfoot protection was subpar off-trail and durability was concerning—the toe rubber peeled away from the shoe after just one long day hike. However, it's worth noting that we did take the Altras on a challenging trip through Washington's granite-filled Enchantments, and they may be enough boot for putting in mileage on well-trodden trails like the PCT and AT. But in those types of scenarios when ankle support isn't a huge concern, the shoe version makes more sense than the boot, which is why we have the Lone Peak 4 Mid ranked here... Read in-depth review
See the Men's Altra Lone Peak 4  See the Women's Altra Lone Peak 4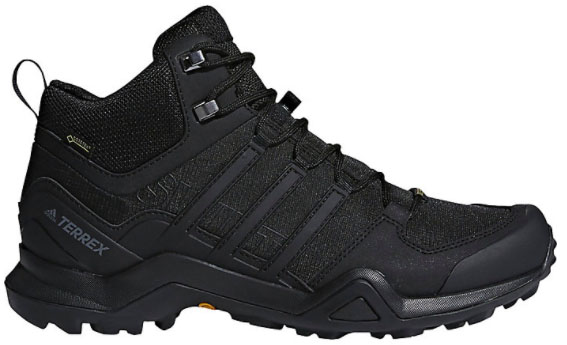 Category: Lightweight
Weight: 1 lb. 15.6 oz.
Waterproof: Yes (Gore-Tex)
What we like: Impressive traction and protection for the weight.
What we don't: The floppy ankle support doesn't match the stiff design underfoot.
Adidas may not yet be on the radar of the average outdoorsperson, but they have an impressive (and growing) line of hiking and trail-running gear. Their updated Swift R2 GTX boot is a great example. It offers approach shoe-like grip with a Continental outsole, Gore-Tex waterproofing, and plenty of toe and foot protection for under 2 pounds per pair. At $170, the Swift R2 is a formidable competitor to Salomon's popular X Ultra 3 for fast and light adventures.
The low-top version of the Swift R2 is one of our favorite hiking shoes, but we have mixed feelings about the boot model. Our biggest complaint is that the stiff and solid feeling underfoot doesn't match the ankle support, which is pretty soft and flexible. This makes the boot a bit unpredictable on uneven or rough sections of trail—an issue we've never had with the low-top Swift. All told, we prefer the more complete Salomon X Ultra 3 design, but the Terrex gets a spot on our list due to its grippy outsole and light weight.
See the Men's Adidas Terrex Swift R2  See the Women's Adidas Terrex Swift R2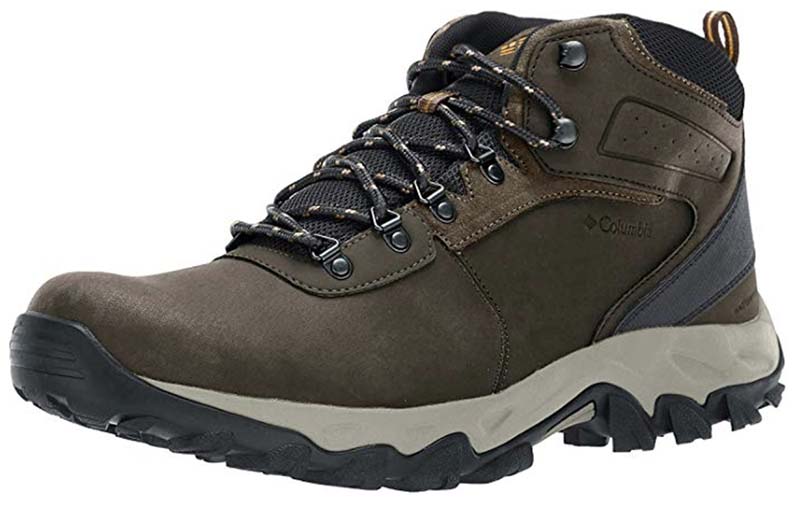 Category: Lightweight
Weight: 2 lbs. 0 oz.
Waterproof: Yes (Omni-Tech)
What we like: Leather and waterproof hiking boot at a bargain price.
What we don't: Not very breathable and limited support.
As bargain-priced hiking boots go, you would hard-press to find a better option than the Columbia Newton Ridge Plus II. It's consistently on sale for well under its $80 retail price, yet has a leather upper and a completely waterproof, seam-sealed design. Further, the padded collar and tongue offer good comfort right out of the box. Against the competition, however, trail performance falls short of even the budget-oriented Targhee and Moab, with only a light amount of ankle support and limited breathability through the leather upper.
What are the recommended uses for the Newton Ridge? It's not a boot we'd take on a 10-day backcountry trip, but performance should be completely adequate if you stick to moderate trails or are visiting the occasional national park. And the more casual styling makes it one of the better boots here to pull double-duty for daily wear (along with the Danner above).
See the Men's Columbia Newton Ridge  See the Women's Columbia Newton Ridge
Hiking Boot Comparison Table
Hiking Boot Buying Advice
Hiking Boot Categories
Lightweight
Boots in this lightweight category are, not surprisingly, light and flexible but tough enough for a longer day hike or short overnight backpacking trip. Options range from the budget-friendly Keen Targhee II to the light and fast Salomon X Ultra Mid 3. Waterproof liners are the norm, but they're typically the less expensive type (read: non Gore-Tex). Materials used in the construction trend toward a heavy use of mesh and nylon with leather mixed in. This keeps cost and weight down, but doesn't make them as durable as some pricier full-leather options. You also won't see as stiff of a structure, as the boot's shank and support won't be very substantial. As long as you're not carrying a heavy pack, that shouldn't be a deterrent.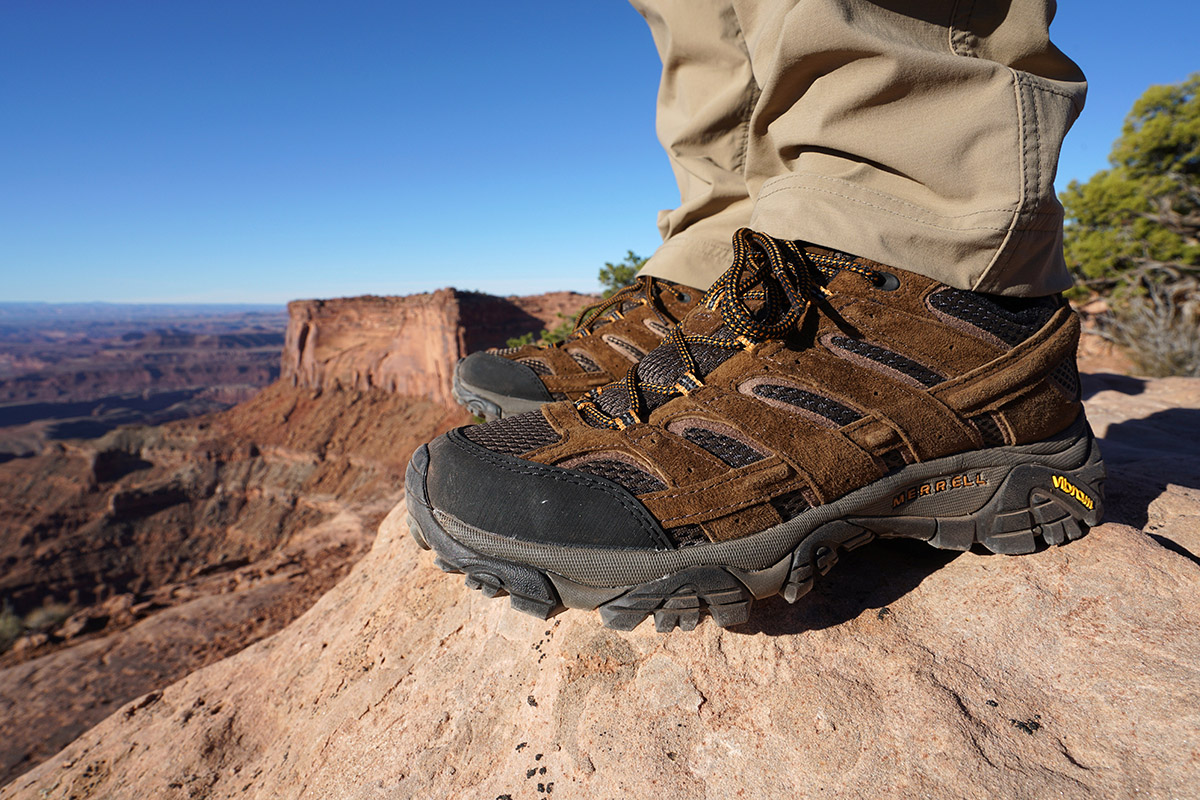 Midweight
Midweight boots are skilled compromisers, with enough support to carry a heavy load but without feeling like someone stuffed lead in your socks. It's a rapidly growing category, reflecting demand from backpackers and serious day hikers for a light but capable option. It's also home to some of our favorite boots (the Salomon Quest 4D 3 and Lowa Renegade are both midweight). Solid support underfoot makes the boots a bit stiffer than your day hikers but not excessively so. Because of the quality of materials and construction techniques, prices in this category usually start at around $200. At that price point, the quality of the waterproof bootie improves and you'll typically find GTX (Gore-Tex) in the name.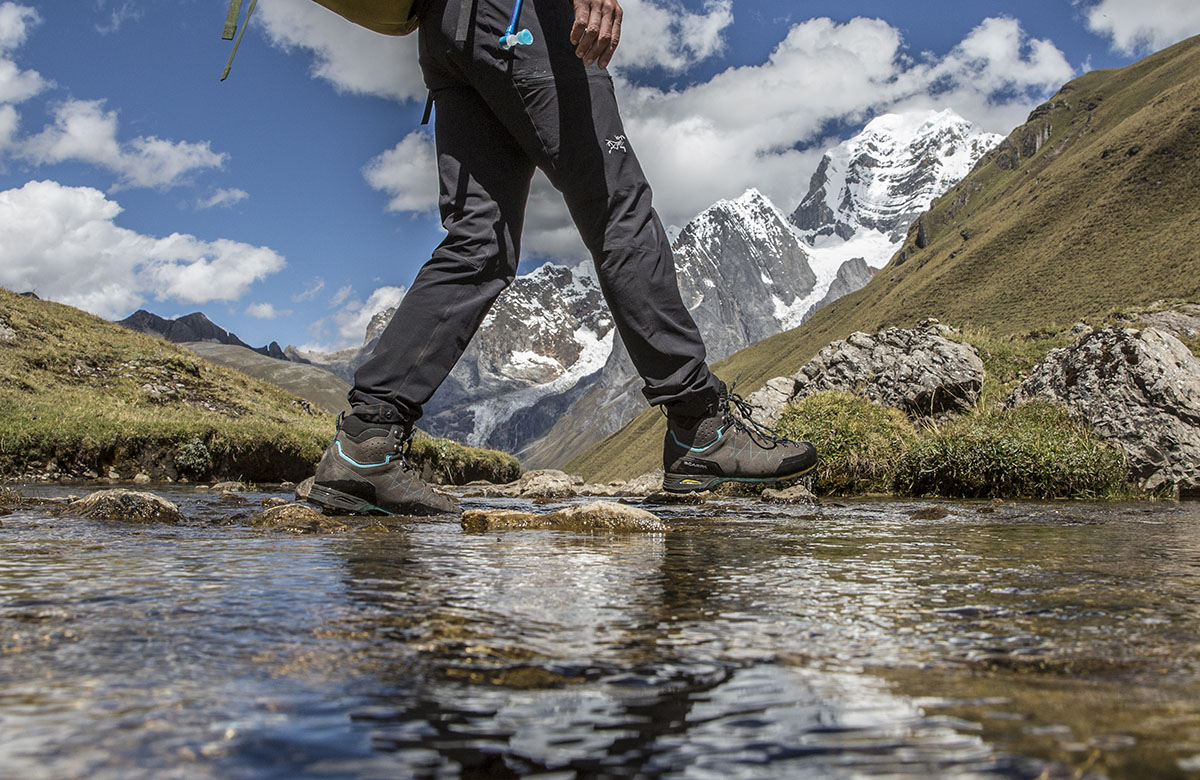 Heavyweight
Stiff, tough, and incredibly reliable, boot legends of the past were made in the heavyweight category. Classic models like the Asolo TPS 520 and Zamberlan Vioz GTX remain popular for those wanting a full-leather design, but the shift towards lighter weights in boot construction has expanded the category to include models like the Asolo Fugitive GTX.
In general, heavyweight boots are built for tough, rocky trail and long slogs with heavy backpacking packs (they are also a great choice hiking with a loaded down baby carrier pack). While the thick upper materials and Gore-Tex make for excellent performance in the wet and snow, they will run warm in hot conditions (some prefer a non-waterproof leather boot instead). Their solid structure also takes some of the strain out of long ascents by keeping the heel from dropping at each step, and makes them often friendly with strap-on crampons for light mountaineering. A final tip: don't pick up one of these boots and head directly to the trailhead for a long trip. Spend the time to break them in and you'll have a backpacking footwear partner for years to come.
 
Weight
From a quick look at our comparison table above, it's clear that hiking boot weights vary a lot. You can choose an over-the-ankle design anywhere from over 3 pounds to half that in the case of the Altra Lone Peak 4 Mid (essentially a trail runner with higher ankles and waterproofing). What's equally obvious is how the various weights have an impact on a boot's performance. To start, while the correlation isn't perfect, a lighter boot generally will offer less support and lateral stability. If you're carrying a heavy pack, this can present a problem, but for thru-hikers or minimalists, going lightweight can be a great idea.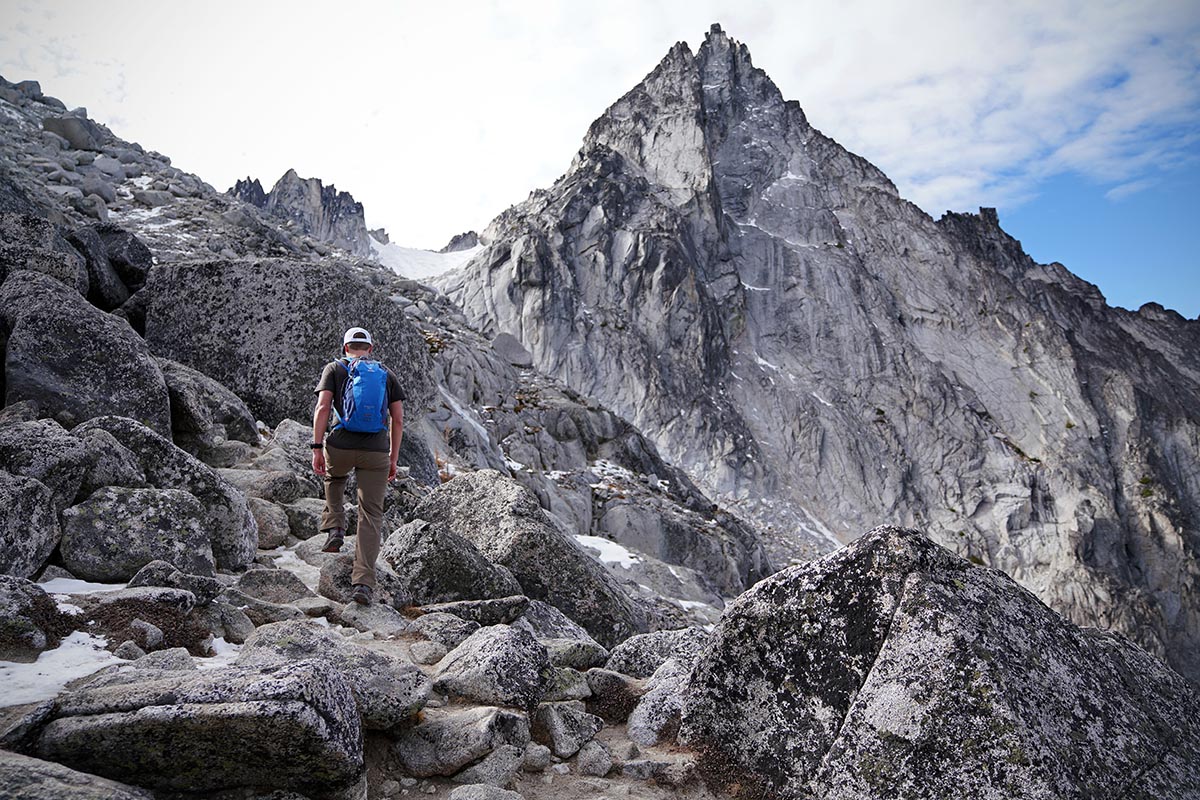 Whenever we can, we try and keep the weight of our boots to a minimum, providing enough comfort and support for the weight of our pack and the conditions, but without having to lug around anything extra. Depending on the trip, this can mean a lightweight trail-runner style for fastpacking all the way up to a burly boot like the Asolo Fugitive GTX for trekking through Nepal. If you're going to choose one boot to do it all, the Salomon Quest 4D 3 GTX does a great job balancing weight and performance.
Hiking Boots vs. Hiking Shoes
One of the first decisions in choosing hiking footwear is selecting either an over-the-ankle boot or low-top shoe. Each style has its respective strengths, and we use them interchangeably for hiking and backpacking trips. We've found that hiking shoe models vary just as much as the boots listed above, so you can choose from stiff and supportive down to light and nimble.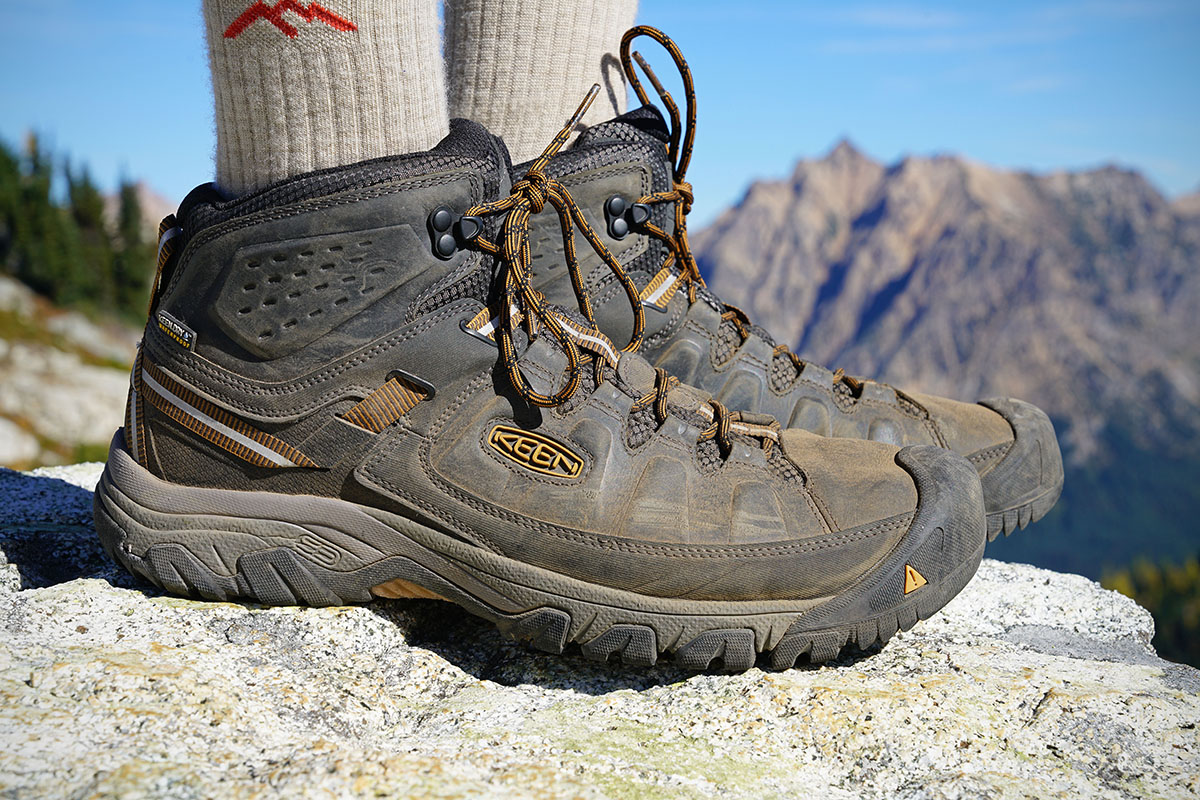 In the end, the differentiators are ankle protection and stability. For rocky terrain, water crossing, snow, and for carrying a backpacking pack, a boot is our preferred option. But the low-top style trims away material and weight, making it the clear choice for those focused on moving fast and light without a large pack. There isn't a definite right answer in this debate, but the weight of your gear and the conditions you'll be hiking in can make the decision a lot simpler.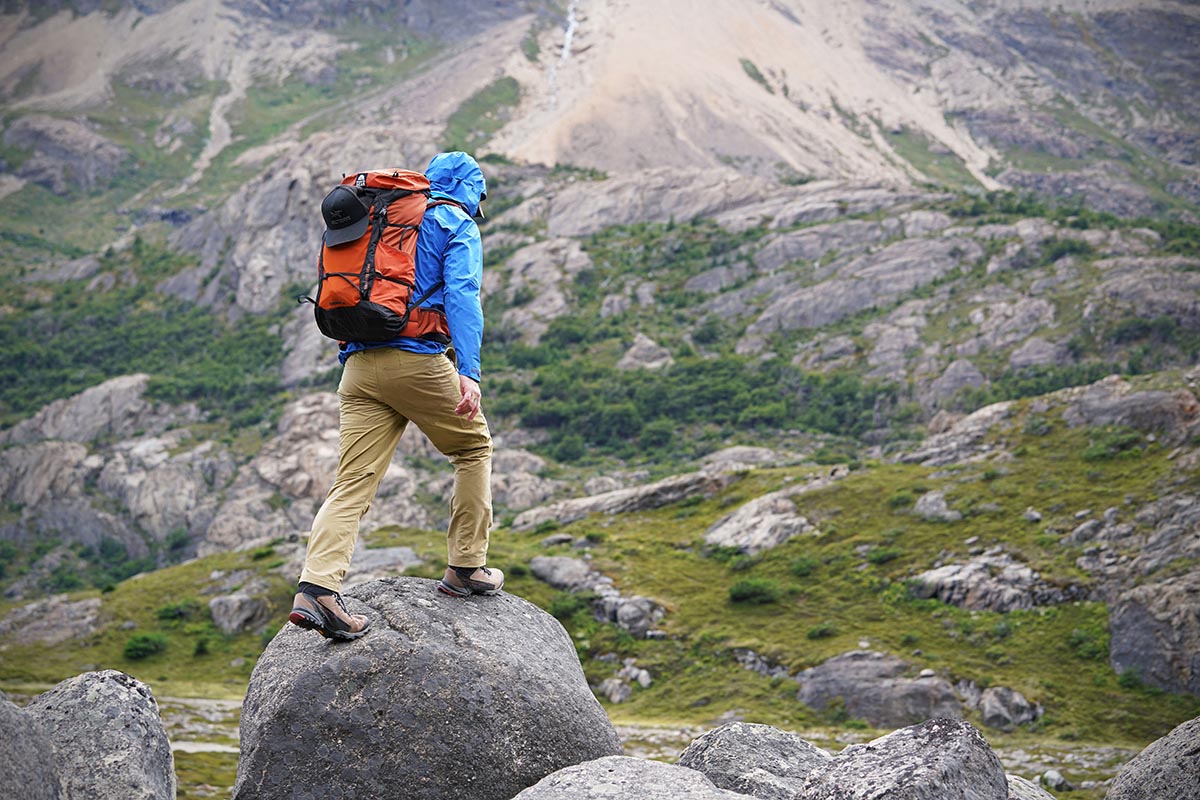 Stiffness and Stability
In general, a hiking boot is designed to be stable, which typically involves a piece of hard plastic inserted between the midsole and outsole, known as a shank. The length of the plastic can vary from just under the arch to the full-length of the boot, depending on intended use. The benefit of a stiff boot is that the heel will not drop on an ascent, which helps reduce calf fatigue. This is why the stiffness of a boot will increase along with its technical abilities, culminating in extremely unyielding mountaineering boots that can better handle long summit pushes. On the other end of the spectrum, some lightweight boots do not have this additional structure, instead resembling a tall, flexible hiking shoe.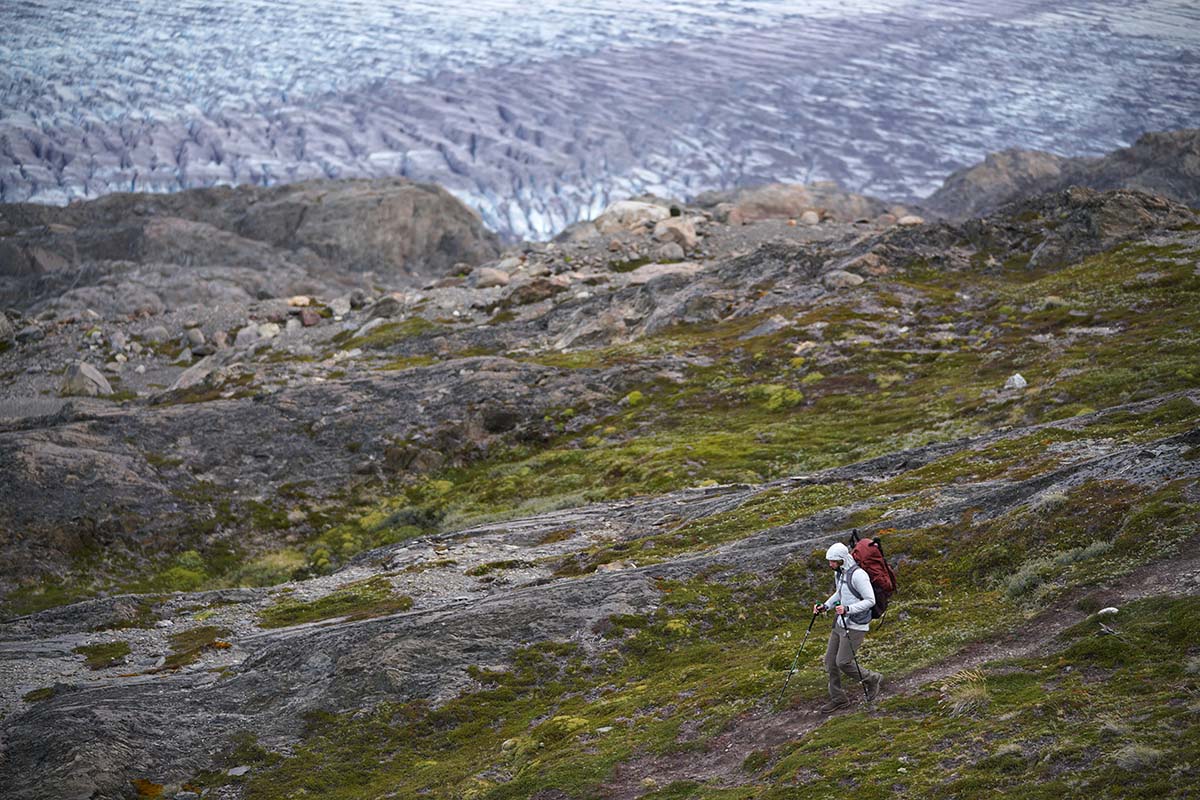 For day hikes on flatter or less technical terrain or if you're aiming to move fast and light, we can't recommend a lightweight and flexible hiking boot enough. Shoes like the Altra Lone Peak 4 or Salomon X Ultra Mid are standouts for these uses. As your trips get longer and your pack gets heavier, a more substantial boot that increases ankle support is a better decision. Look to the Lowa Renegade or Salomon Quest 4D 3 for a great all-around option that is equally adept at conquering summit peaks and multi-day backpacking. On the extreme end, heavyweight boots like the Asolo Fugitive are excellent for hiking in areas that require maximum support: off-trail bushwhacking, traversing an exposed area, or trekking over rough ground.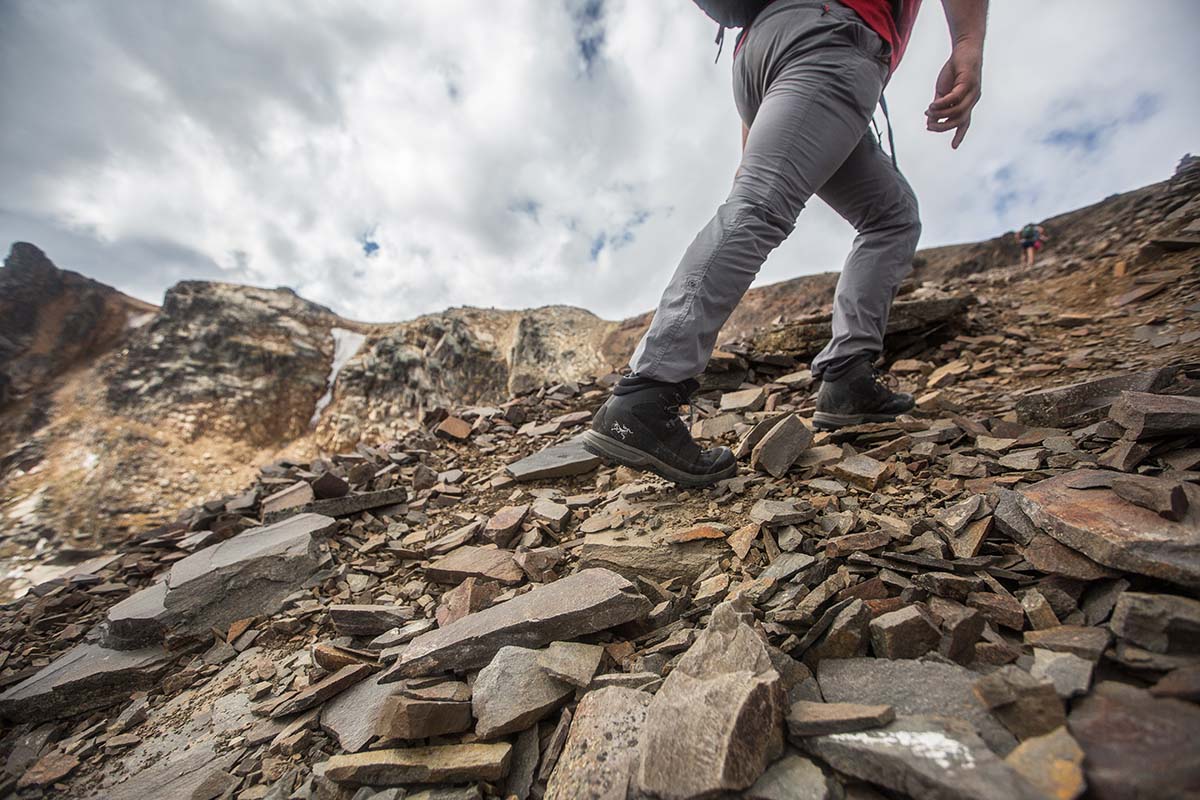 Waterproofing
The vast majority of hiking boots are waterproof, and the security from a surprise deluge on a backpacking trip is reason enough for most folks to choose a GTX (Gore-Tex) model. To make these boots waterproof, most designs have a waterproof and breathable bootie inserted inside the outer fabric. Gore-Tex liners are the most popular and have the brand cachet, but even in-house technologies like Keen's Keen.Dry are similar in terms of waterproofing performance (it's breathability and some inconsistency between models where they'll differ). In addition, a water-repellent coating is added to the boot to help bead up and shed water droplets.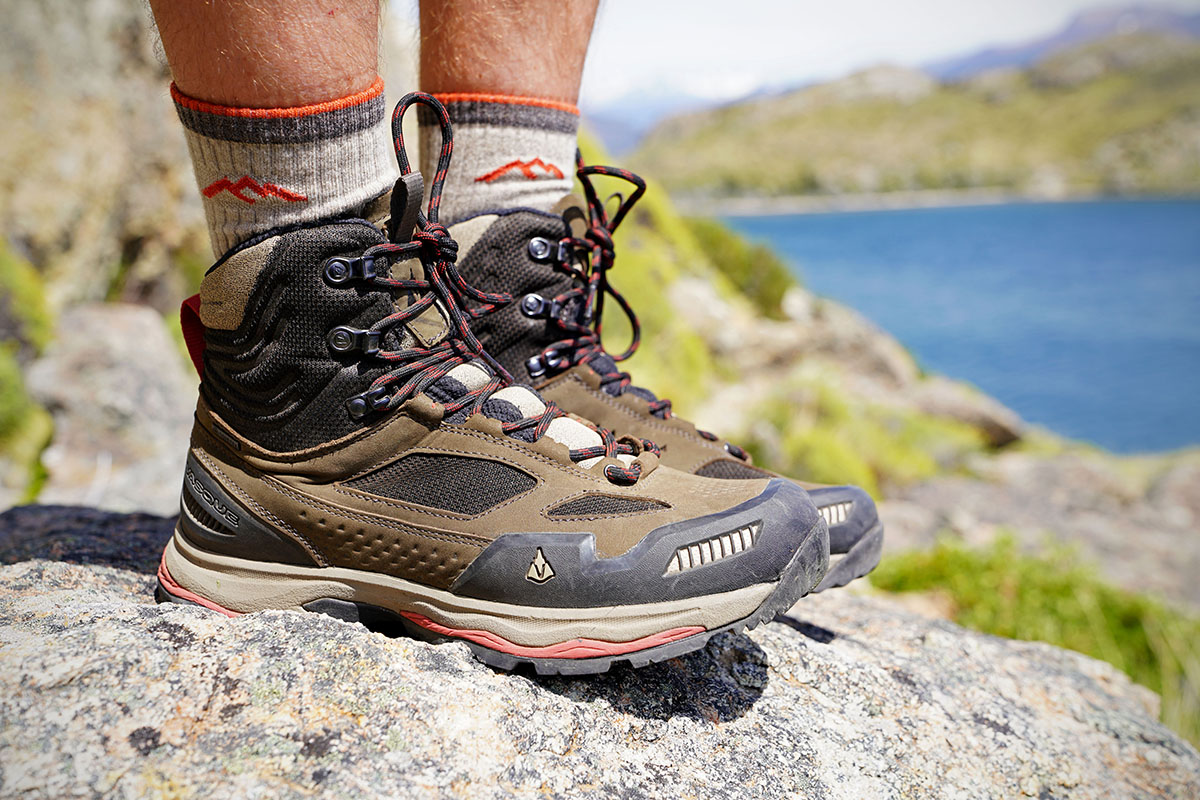 Most hiking boots are waterproof, but does that necessarily mean they should be? It's nice to have waterproofing so your feet don't get wet walking through mud or crossing a stream, but all the waterproofing does on a spring or summer backpacking trip in Canyonlands is make your feet hot and sweaty (we cover breathability in greater detail below). And an argument can be made that your feet will eventually get soaked no matter the waterproof design in truly wet and miserable conditions. As an alternative, some backpackers turn to non-waterproof shoes with gaiters over the top for weather protection. While this won't keep water from entering at the sides, the boots will dry much quicker. And the gaiters keep water, snow, or trail debris from entering over the top of the boot.
Our take on waterproofing is that it's best for most folks, and particularly those that venture out in mountainous regions where water on the trail or a rainstorm always are possibilities. The designs aren't perfect, but a quality waterproof lining will keep you reasonably dry in all but the worst weather. And if you hike in the shoulder seasons, the extra layer adds some insulation from the cold. But hikers in uniquely hot and dry places like Arizona and Utah may be best served with a non-waterproof model, no matter how few options there are on the market. Three that we like are the Merrell Moab 2 Ventilator (a sibling of the Moab Mid WP on this list), Altra Lone Peak 4 Mesh, and Hoka One One Sky Arkali. For a deeper dive on the topic, see our article on waterproof hiking footwear.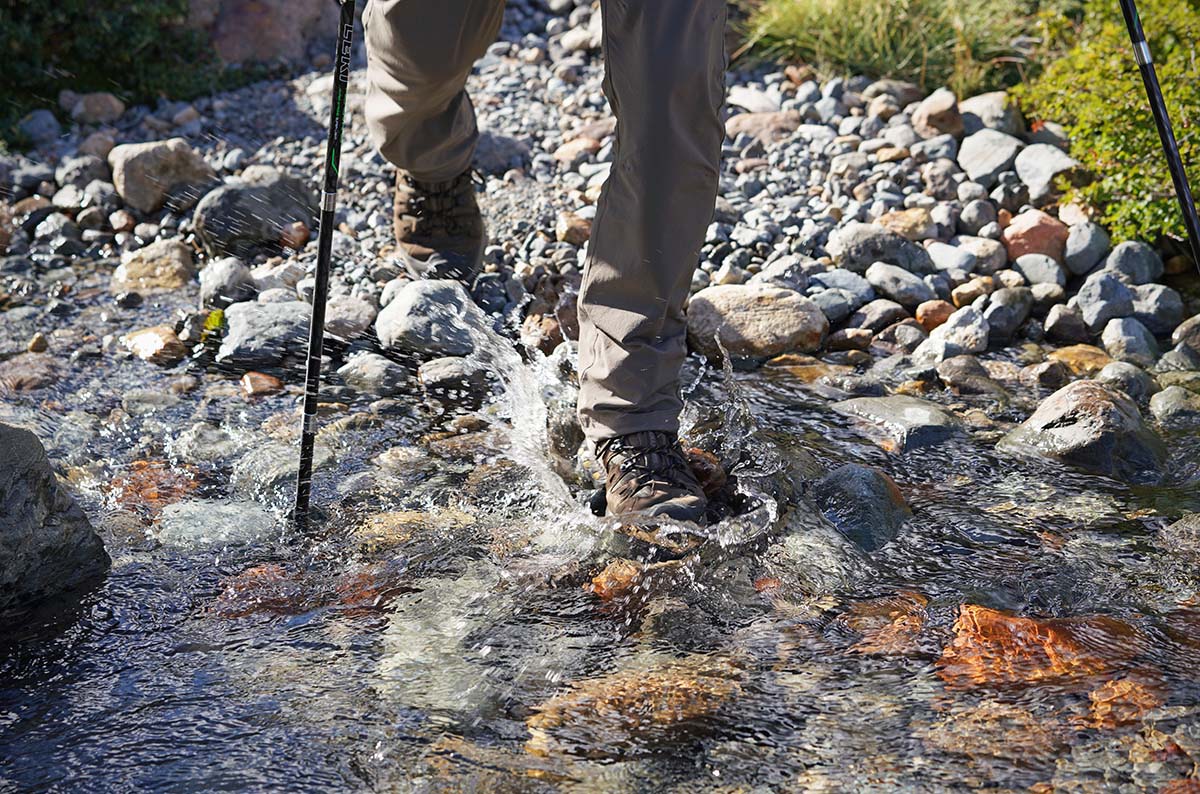 Breathability
No matter what marketers say, making a boot waterproof inherently impacts breathability. By keeping water from entering from the outside, less moisture (your sweat) can quickly and easily escape from the inside, which means all forms of waterproof footwear can run warm in the summer months. There are, however, big differences between boot models in their ability to ventilate.
We've found that heavyweight leather boots with a Gore-Tex lining are often the worst performers, while the Gore-Tex Surround in the mesh-heavy La Sportiva Pyramid is a step above. In between, the Lowa Renegade and Salomon Quest 4D 3 both perform decently with their nylon and leather construction and Gore-Tex liners, and are completely suitable for summer backpacking trips. The cheaper membrane in the Oboz Bridger Mid boot fell short of those pricier options in our testing. Alternatively, if you are willing and able to ditch the waterproof lining altogether, the Merrell Moab Ventilator Mid and Hoka One One Sky Arkali mentioned above are great options for hikers and backpackers.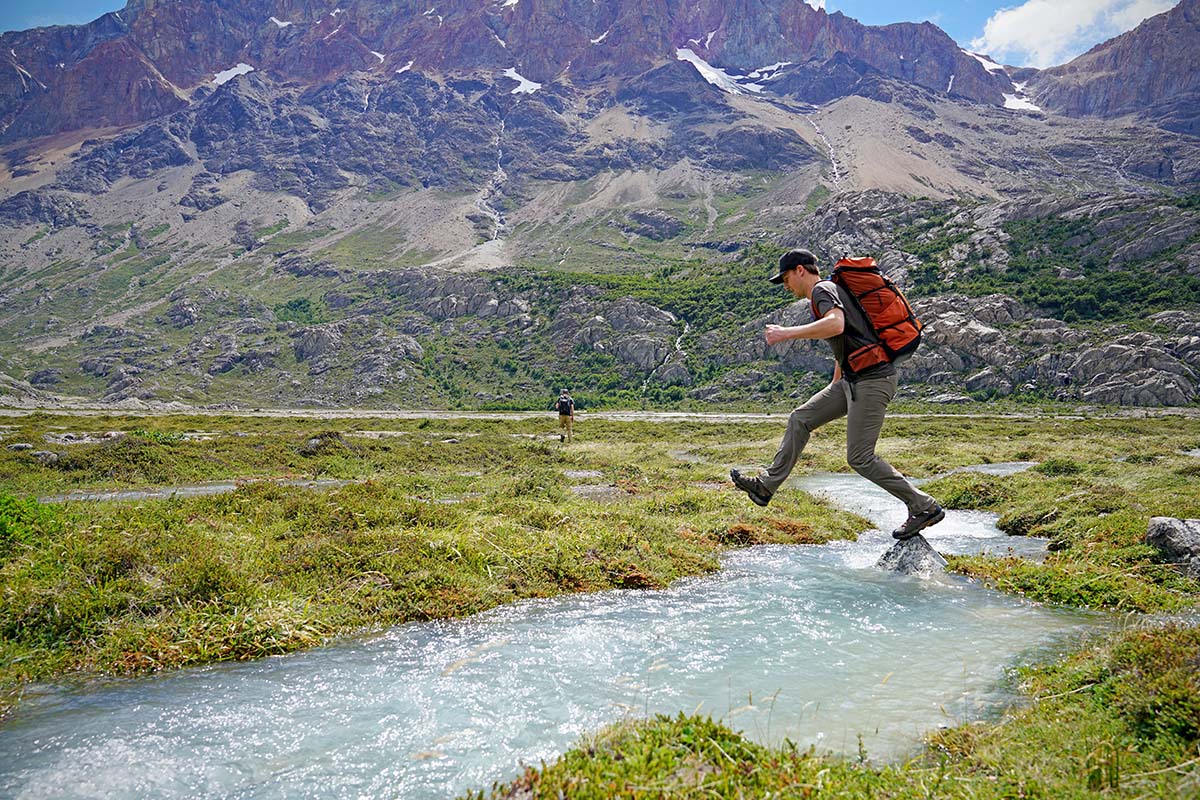 Lacing Systems
Laces are an overlooked feature on hiking boots but play an important role in fit and comfort. If a shoe has a poor lacing system prone to loosening, you'll find yourself having to readjust constantly on the trail or dealing with hot spots and blisters. If the culprit is just the laces themselves, it's an easy fix: there are many quality replacement laces available (and can usually be found at a local outdoors shop). But if the system doesn't hold your foot or fit very well, we recommend looking elsewhere. For this reason, we are hesitant to recommend the single-pull speed lace designs from Salomon and Adidas. Although convenient, it can be more difficult to customize fit, which can lead to discomfort over long miles and when wearing a heavy pack.
As you upgrade to more aggressive designs, the lacing systems also should advance. Notable upgrades for boots include locking hooks near the bend at the ankle, such as what you get on the Quest or Renegade boots. These hooks keep the laces in place extremely well, which increases comfort and on-trail performance.
Hiking Boot "Upper" Materials
The type of material used in a shoe's upper, which is the fabric that connects to the rubber outsole, correlates directly with its durability, water resistance and ability to breathe. Most often, a boot or shoe will be made with a mix of synthetic (typically nylon), mesh, and leather. There are exceptions, particularly at the high-end with one-piece leather constructions. Below we spell out the pros and cons for the most common materials used for hiking footwear.

Synthetic Nylon and Mesh
Woven nylon as well as open mesh nylon panels are common on entry and mid-level boots to aid in breathability. They're not as well known for their durability but do a great job of cutting weight. Moreover, the fabric can absorb moisture faster than a leather boot. Exceptions include the Salomon Quest 4D, which is made of tightly woven nylon panels that have comparable levels of durability to some Nubuck leathers despite a lot of exterior stitching.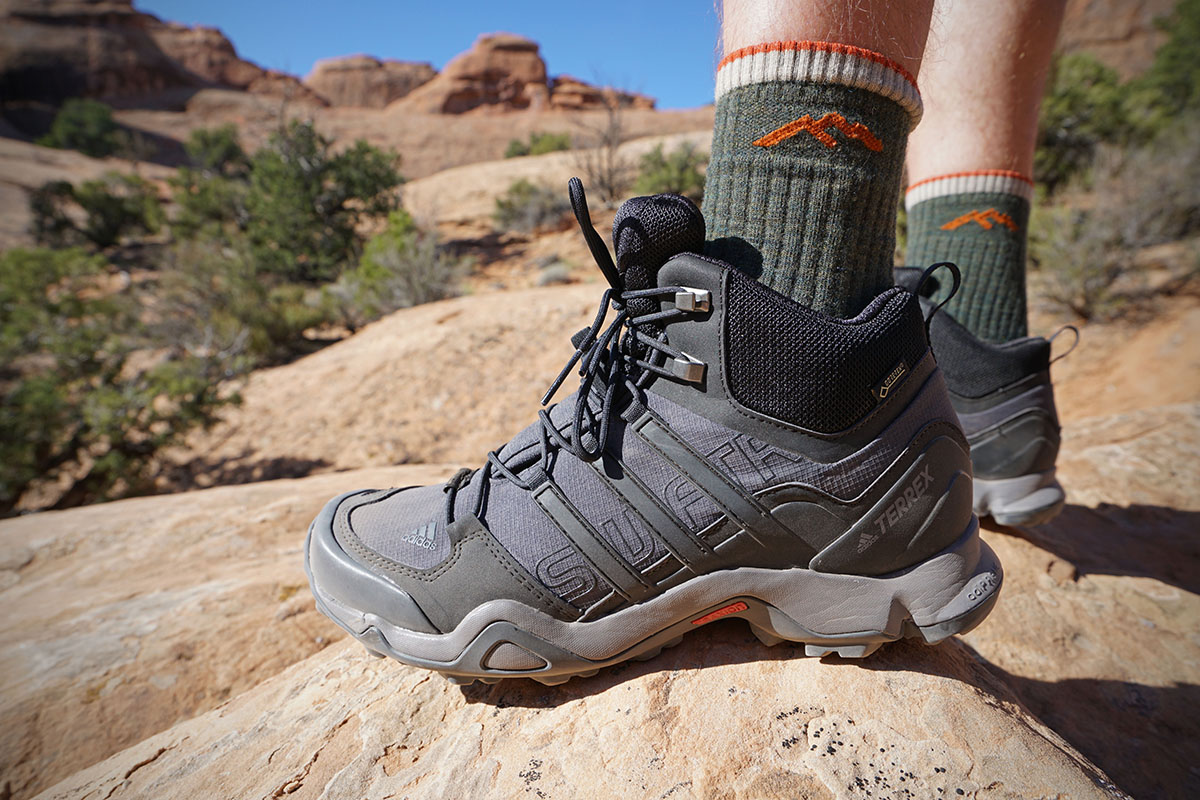 Nubuck and Suede Leather
Made of full grain leather, but given a brushed finish that has a suede-like feel, Nubuck leather is a common site on mid-range boots. The softer touch leather is lighter and more flexible than traditional, glossy full-leather options, but the thinner construction isn't as durable. It is, however, more durable than most nylon mesh inserts, and as a result, it's common to find a mix of Nubuck leather and mesh, with the leather bits giving the boots a little extra toughness. Additionally, Nubuck leather tends to breathe better than full-grain leather and isn't as prone to showing scuffmarks thanks to its brushed finish.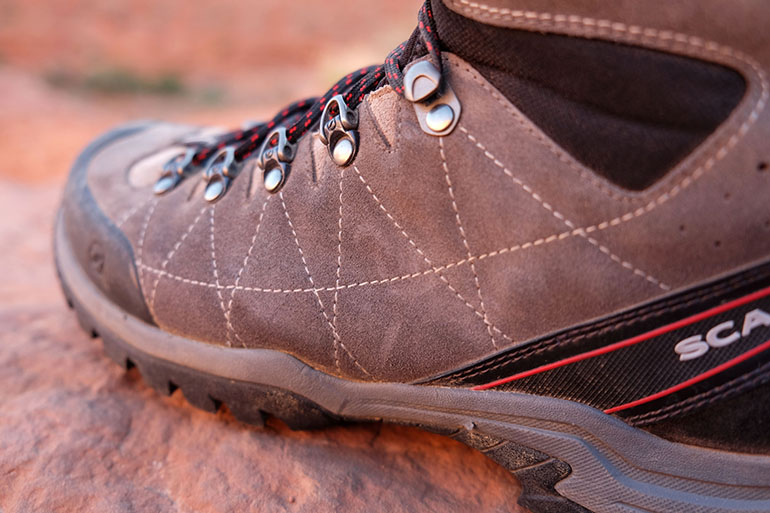 Full-Grain Leather
This type of upper is most often found on tough, heavyweight boots. You'll find one-piece leather uppers on high-end boots like the Asolo TPS 520 or in Danner's boot collection. These designs are not light or as breathable, but are incredibly tough and water resistant. They do require some maintenance to keep the leather in good shape, but they'll reward those cleaning efforts with a construction that is built to outlast everything else on the market. As an added bonus, some boots like the Danner Mountain Light can be re-soled, so you don't need to replace the whole boot once you wear down the lugs.

Midsole Types
While wearing hiking boots, it's common to carry a decent amount of weight, which puts a lot of stress on your feet. Combined with the rubber outsole, the midsole plays the essential role of shock absorber from impacts and provides an additional layer of protection from sharp rocks. Depending on the design, midsoles vary from very thin (fastpacking boot) to stiff and substantial (full leather hiking boot). Most include EVA foam, PU, or a combination of both in their construction.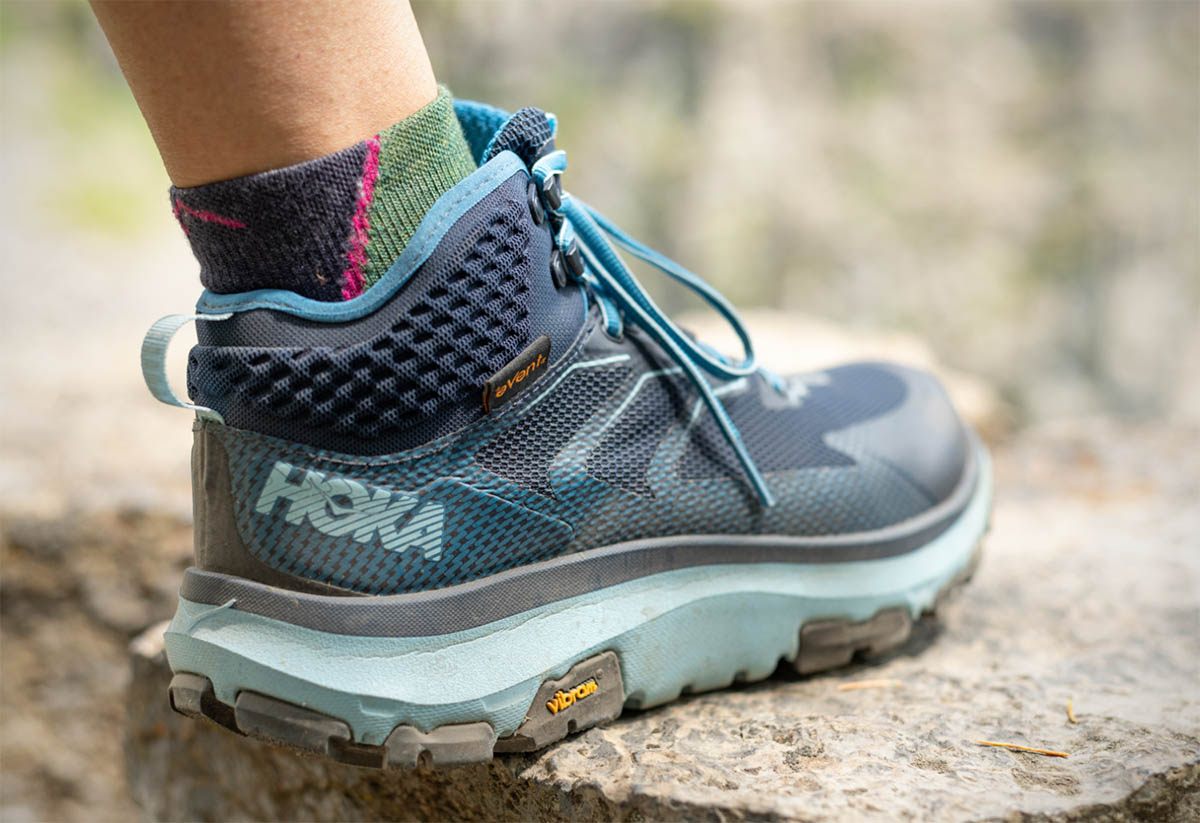 EVA
The majority of light and midweight hiking boots use EVA foam in the midsole. The cushy soft material takes some of the sting out of your heel or midfoot impacts and is also extremely lightweight. Not all EVA should be treated equally, and the proprietary versions can vary from super soft to mildly stiff. For logging serious miles on tougher terrain, we prefer a firm and supportive midsole as opposed to too much cushioning. Those overly-soft midsoles also have a tendency to break down over time, much like a road-running shoe. In general, you pay more for an improved midsole design and a higher quality EVA compound.

PU
For tougher applications or when it's a priority to isolate your feet from rough impacts, manufactures will use a PU or polyurethane midsole. This durable foam is far less cushy than midsoles with only EVA but will last longer and better handle a heavier load. In addition, they'll keep their shape longer and won't be prone to compressing like EVA. Boots like the Asolo TPS 520 Evo use a polyurethane insole, but the material's popularity is expanding to mid-range options—despite the extra cost—with the Scarpa Zodiac Plus being a recent example.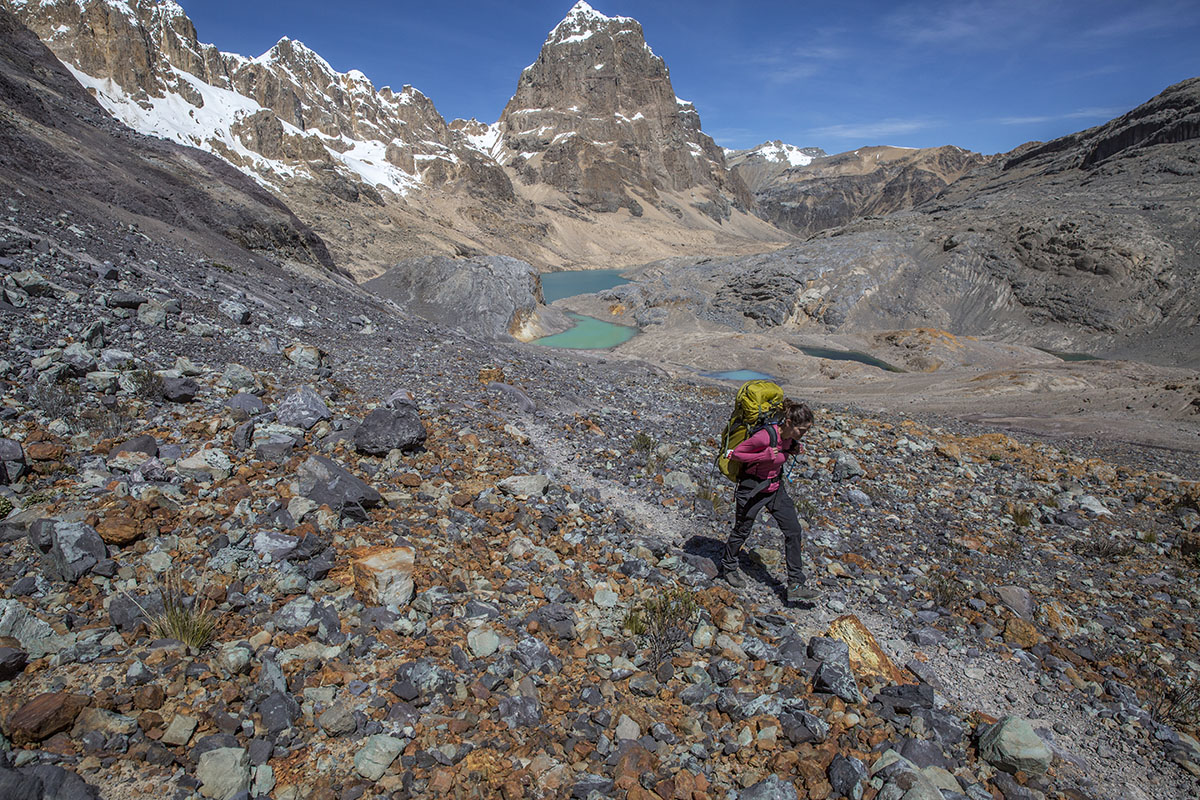 Outsoles and Traction
The motivation behind upgrading from a flimsy cross trainer to a real hiking boot or shoe often is for improved traction. In a way that more casual footwear can never match, hiking footwear is leaps and bounds better when the going gets rocky, slippery and steep. And much in the same way that Gore-Tex dominates the market for mid to high-end waterproofing, Vibram inhabits a similar space for outsoles. Not all Vibram models should be treated as equals, however, as the rubber manufacturer tailors their designs for the specific footwear and brand. Some have much larger lugs underfoot for serious grip in mud, and others prioritize sticky rubber for scrambling over rocks. There are also more entry-level options that just do well on easier trails, like the lugs you'll find on the bottom of the Merrell Moab boots and shoes. The lesson is it's worth taking a look at the lug depth and description of the compound type to find out where a specific outsole will perform best.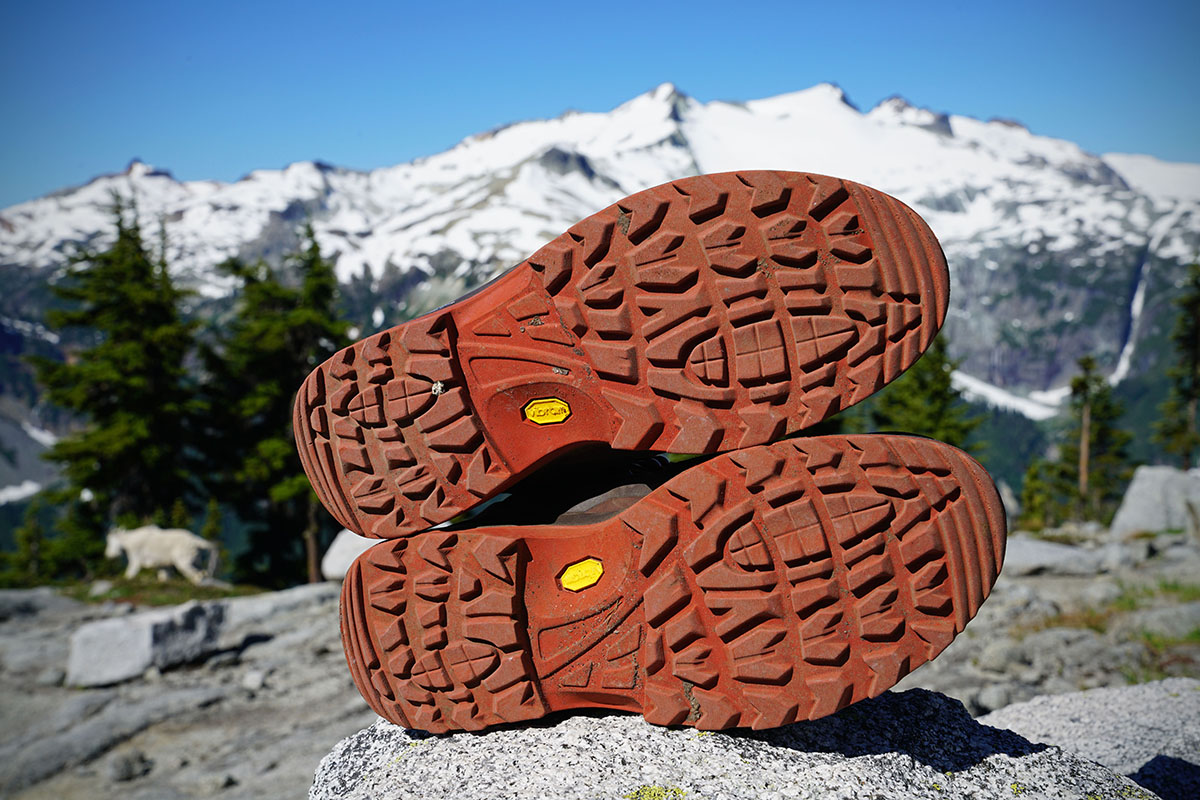 Salomon is one brand that doesn't outsource their traction needs. Instead, they use their in-house Contagrip brand for all of their boots and shoes models. And with years of experience in everything from trail running to hiking, they aren't short on expertise. The level of quality and performance is in-line with the Vibram offerings across the board, from anything from their fast-and-light X Ultra Mid hiking boots to the burly Salomon Quest 4D 3 backpacking boots.
 
Toe Protection
Toe caps or rubber rands cover the front of many hiking boots, and we consider them an essential element of backpacking boot design. These thick pieces of rubber are there to keep your toes in one piece should you accidentally—and in our case, eventually—kick a rock on the trail. Some standouts from our list above include the Scarpa Zodiac and Salewa Mountain Trainer, which have protection that wraps completely around the front of the foot. To cut weight, some manufacturers will occasionally take away or diminish this feature, including the Altra Lone Peak 4 boots. Speaking from experience, we'd prefer that Altra included a more substantial one after catching and bruising a toe on a rock hiking in Washington's Enchantments. If you go lightweight, toe protection is one area where you may sacrifice.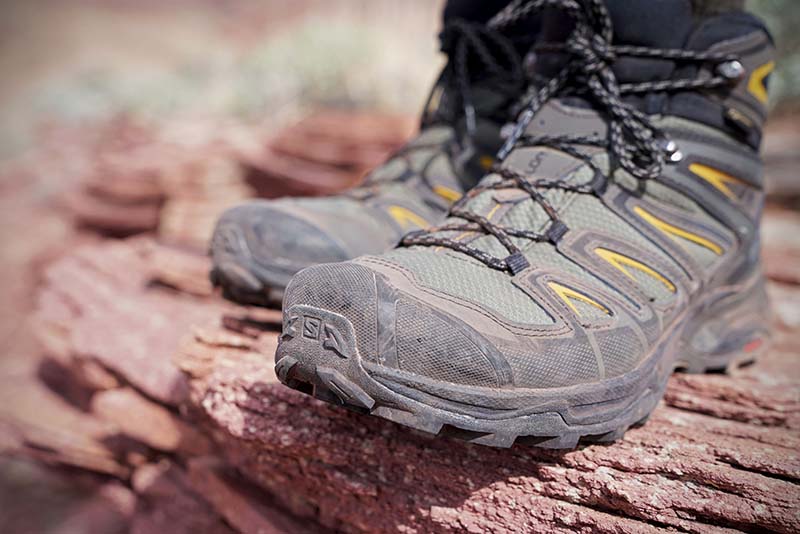 Insoles
Getting a proper fit can be a real pain, and in many cases the blame is a generic, flat insole. Thankfully, removing your stock insoles is super easy, and replacing them with an aftermarket model that's specific to your foot size and shape can remedy most shoe maladies. New insoles can provide more or less volume to fill out the shoe, improve the fit under the arch, and increase or decrease the cushion and impact shock. We recommend checking out Superfeet insoles for their wide selection of options and trusted reputation in running shoes, ski boots, and hiking footwear.
Back to Our Top Hiking Boot Picks  Back to Our Hiking Boot Comparison Table
Learn More About Hiking Gear