Keen's Targhee line has been a powerhouse in the day-hiking world for years. Released at the end of 2017, the Targhee III retains similar levels of comfort and build quality that people love, but hones in fit for slightly more of a performance feel. This still isn't your hardcore boot for steep or rocky trails or long days with heavy loads, but it's a cushy option for easy-to-moderate day hiking and the occasional overnight. Below we break down the Targhee III's comfort, weight, traction, stability, waterproofing and breathability, sizing and fit, and more. To see how the Targhee III stacks up against the competition, see our articles on the best hiking boots and hiking shoes.

Performance
Comfort
One of the biggest draws to the Keen Targhee III WP Mid is comfort. Straight out of the box, this boot feels cushy on your feet and requires little to no break-in period, which is a rare combination in hiking footwear. In addition, the removable footbed has a quality feel and gets high marks among users pretty much across the board. So long as you stick to established trails and don't push the limits, it's one of the most comfortable boots we've tested. It's worth noting that the Targhee III still is a wide boot, and particularly in the toe box. It's not quite as roomy as the old Targhee II, but those with narrow feet likely will find themselves swimming with all of the space, and that certainly can take its toll on comfort over time.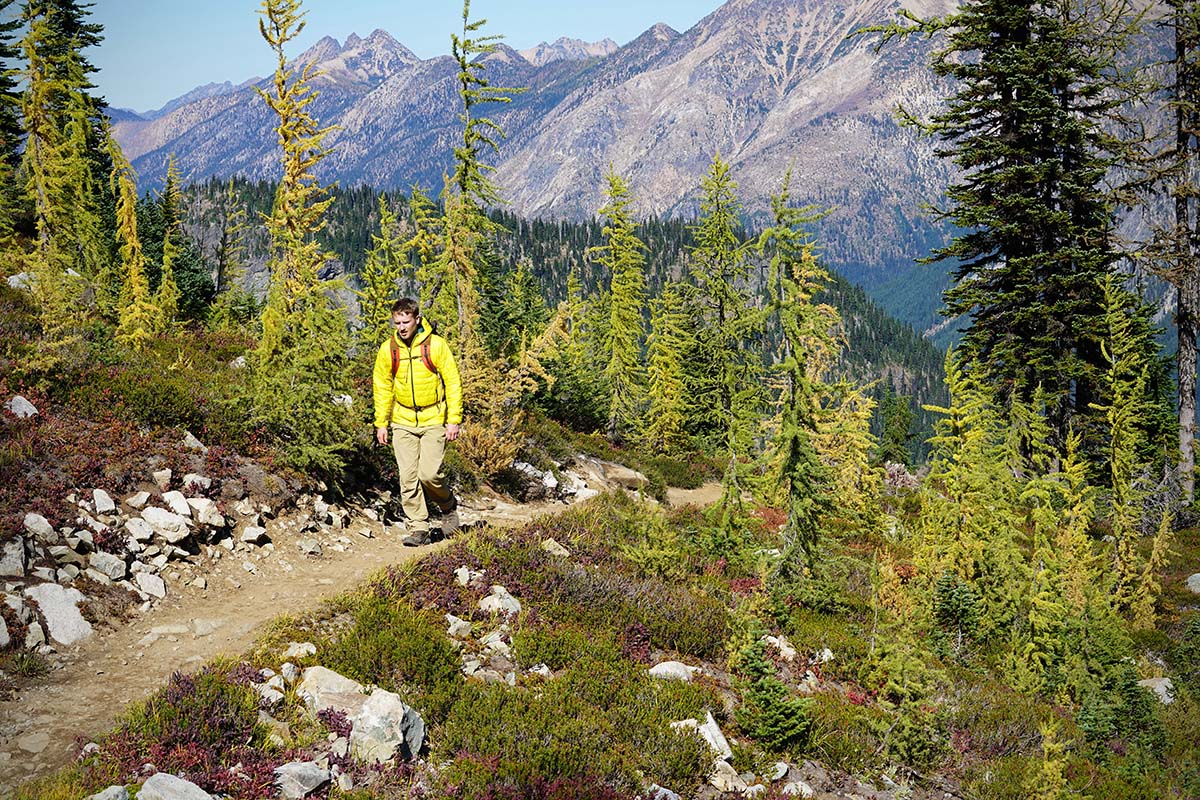 Weight
At 2 pounds 2.8 ounces, the Keen Targhee III falls into our "lightweight" hiking boot category. In use, the Targhee III feels light on the foot, and we experienced no fatigue or feelings of clunkiness that sometimes occurs with heavier boots. For comparison, the Merrell Moab 2 Mid WP is slightly heavier at 2 pounds 4 ounces, although that boot offers more in the way of stability (more on that below). Others in this category, including the Oboz Bridger Mid BDry (2 lbs. 6 oz.) and Vasque Talus AT UltraDry (2 lbs. 3 oz.) also slightly outweigh the Keen. Salomon's X Ultra 3 Mid GTX is lighter at 1 pound 15.7 ounces, but that boot is less protective underfoot. And for a burlier option for challenging trails and longer days, the midweight category features heavy hitters like the Lowa Renegade (2 lbs. 7 oz.) and Salomon Quest 4D 3 GTX (2 lbs. 13.2 oz.), both of which are considerably more expensive than the Keen.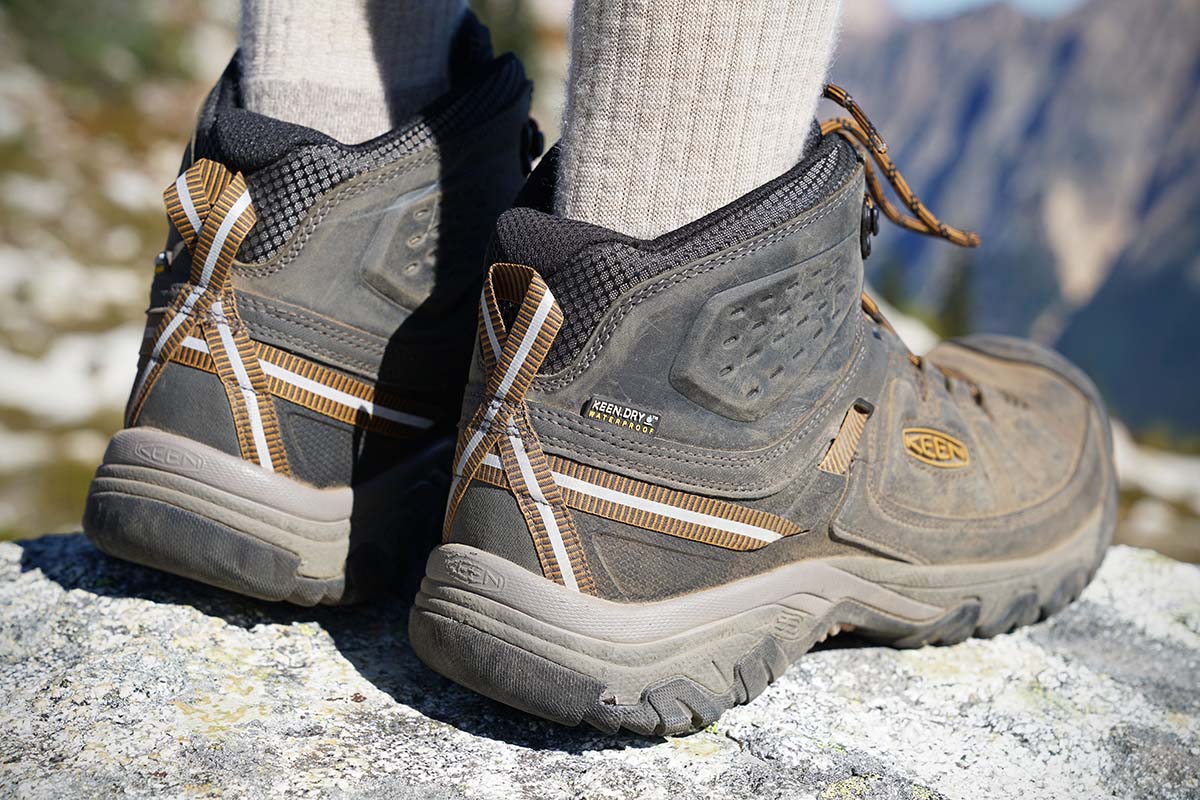 Traction
Similar to the Keen.Dry waterproof membrane described below, the Keen Targhee III WP Mid uses in-house rubber for traction. Compared to commonly used Vibram outsoles, we didn't notice much of a drop-off. The multi-directional lugs are substantial and grippy—a notable improvement over the Targhee II's dated design—the sole didn't get clogged up with mud, and we encountered few issues with slippage due to traction. However, we do have a hard time separating traction and stability altogether. Because the Targhee IIIs don't offer the support or rigidity for rugged hiking over steep or rocky terrain, our slips occurred from the ankles and not the soles. But if you keep the Targhee IIIs on trail, they should offer ample traction over most standard rocks and roots that you'll encounter along the way.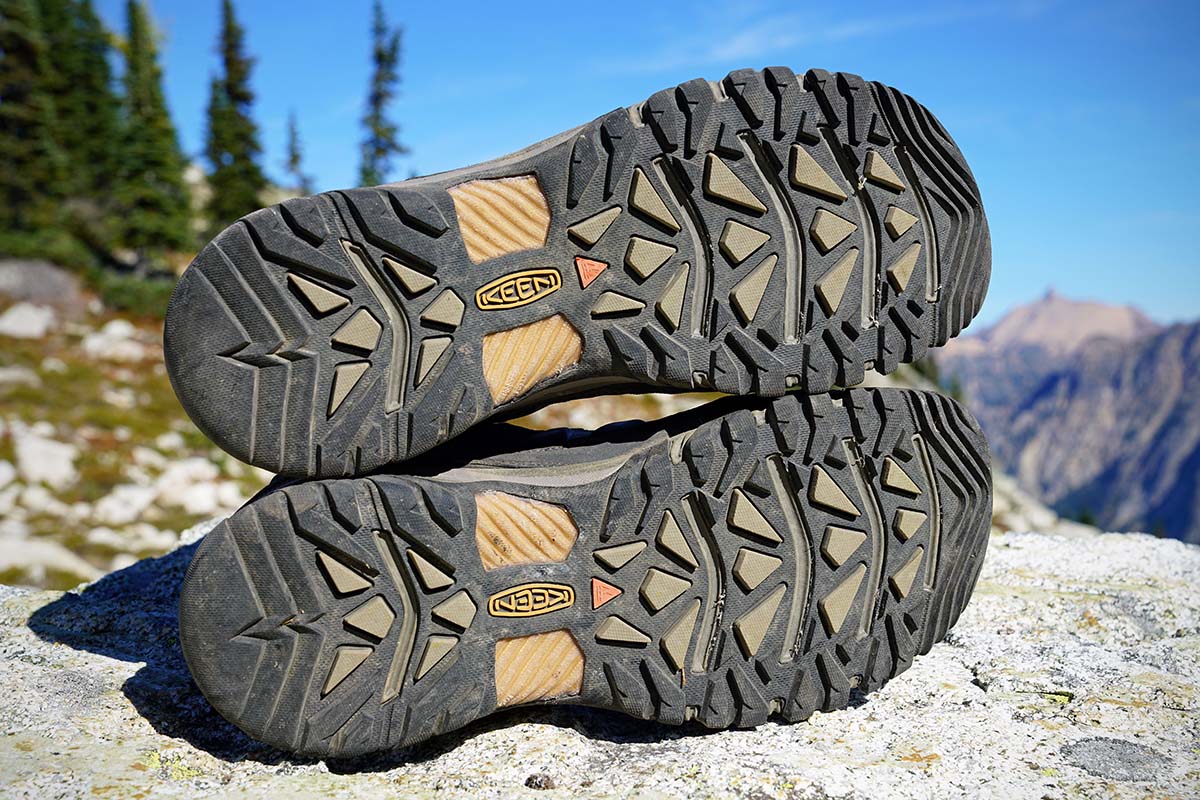 Stability and Support
Stability is the main area where the Targhee III falls short of many other hiking boot models. Simply put, it's built for easy-to-moderate trails but underperforms on steep or rocky terrain. When testing the older Targhee IIs, we took them on a decently challenging backpacking trip to a pair of remote alpine lakes in Washington's Cascade Range, and they were simply overmatched. The boot performed well on the approach on established trails and remained extremely comfortable in those easier conditions, but when the going got tough, the Targhees felt wobbly and unsure. This truth remains for the Targhee III: they are a winner on good terrain but aren't made for off-trail scrambling or carrying loaded backpacking packs.


Waterproofing and Breathability
The Targhee III uses Keen.Dry technology for its waterproofing, which gets the job done in terms of keeping moisture out. The majority of hiking footwear in this price range uses some type of proprietary waterproofing instead of more expensive Gore-Tex, and the end result tends to be less breathability. If you're hiking in warm conditions for extended periods, you'll likely notice your feet heating up more quickly in the Targhee IIIs than with a pricier Gore-Tex boot, which can result in dampness and potentially blisters. But for the uses the Targhee is intended for—moderate day hikes and short backpacking trips—this isn't a deal breaker for us. It's worth noting that like many other hiking boots, the Targhee is offered in a non-waterproof Vent model for dry and warm conditions.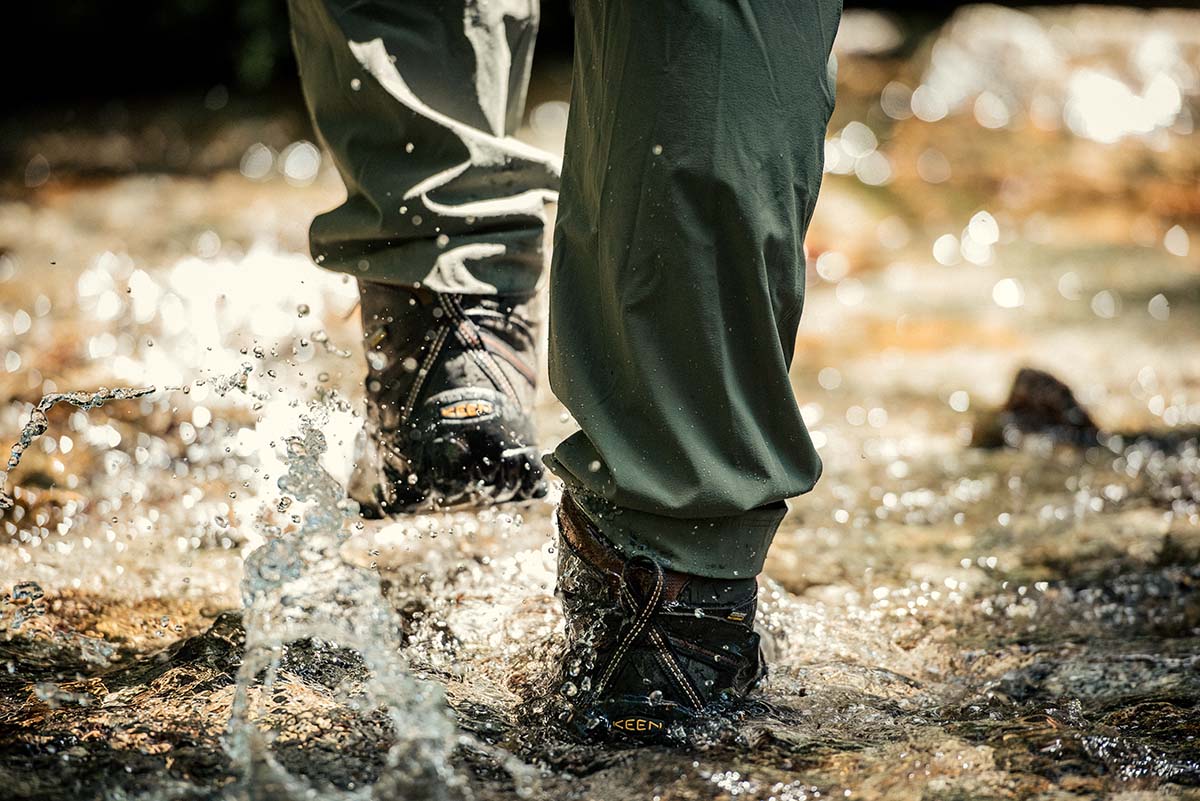 Toe and Ankle Protection
The Keen Targhee III WP Mid features a burly rubber toe cap that we appreciated on multiple occasions while not paying close enough attention to the trail. It's more substantial than the Merrell Moab and most other lightweight boots, extending all the way to the base of the toes. In terms of ankle protection, the Targhee III is a mid-height boot, and Keen added a patch of extra padding right around the ankle area. On our boots, we can see a number of scuff marks around the ankle, which means the padding was well placed and doing its job.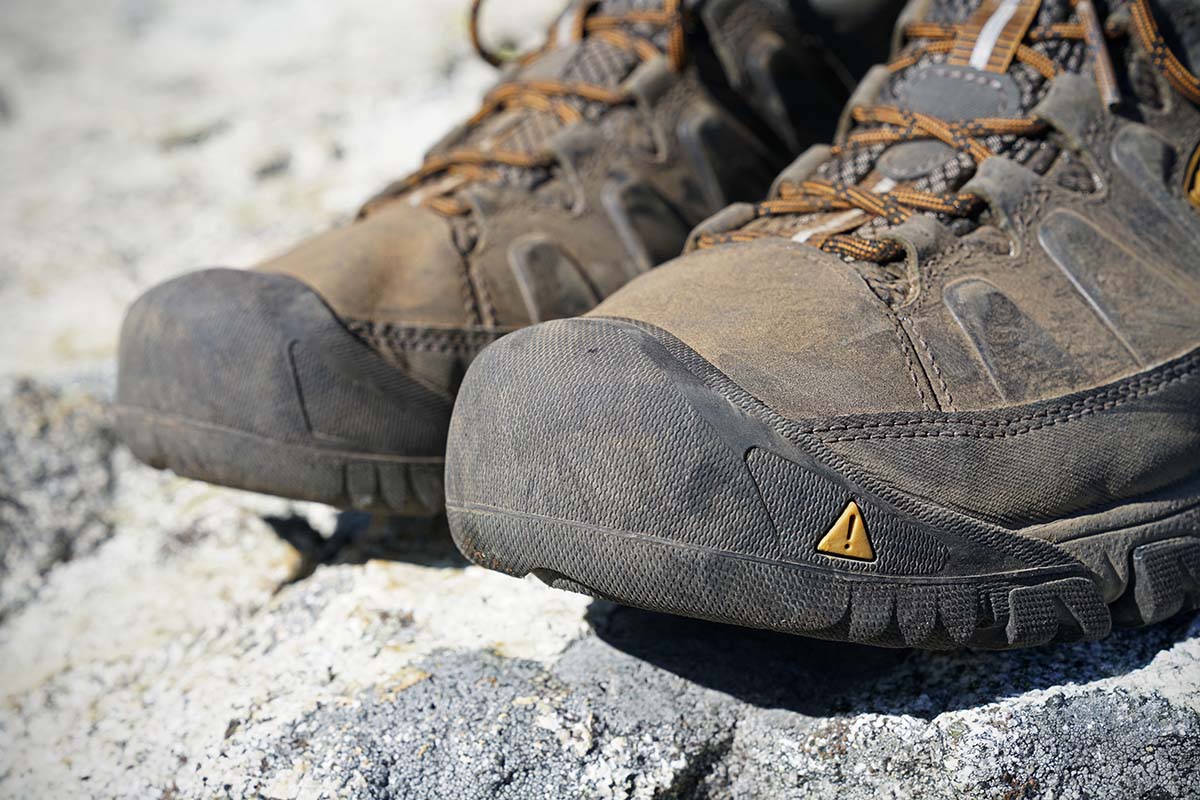 Durability
Everything about the Keen Targhee III feels well-built, especially considering the relatively low price point. The leather uppers are showing some scratches from rocks and branches, but they have held up well overall. The same goes for the midsoles and outsoles: both feel sturdy and we expect them to last for multiple seasons of day hiking. Whereas some other hiking boots like the Merrell Moab are heavier on mesh—and mesh always seems to be one of the first things to go out on our hiking footwear—the waterproof Targhee III is durable leather and rubber (note: the non-waterproof Targhee Vent does have a partial mesh upper).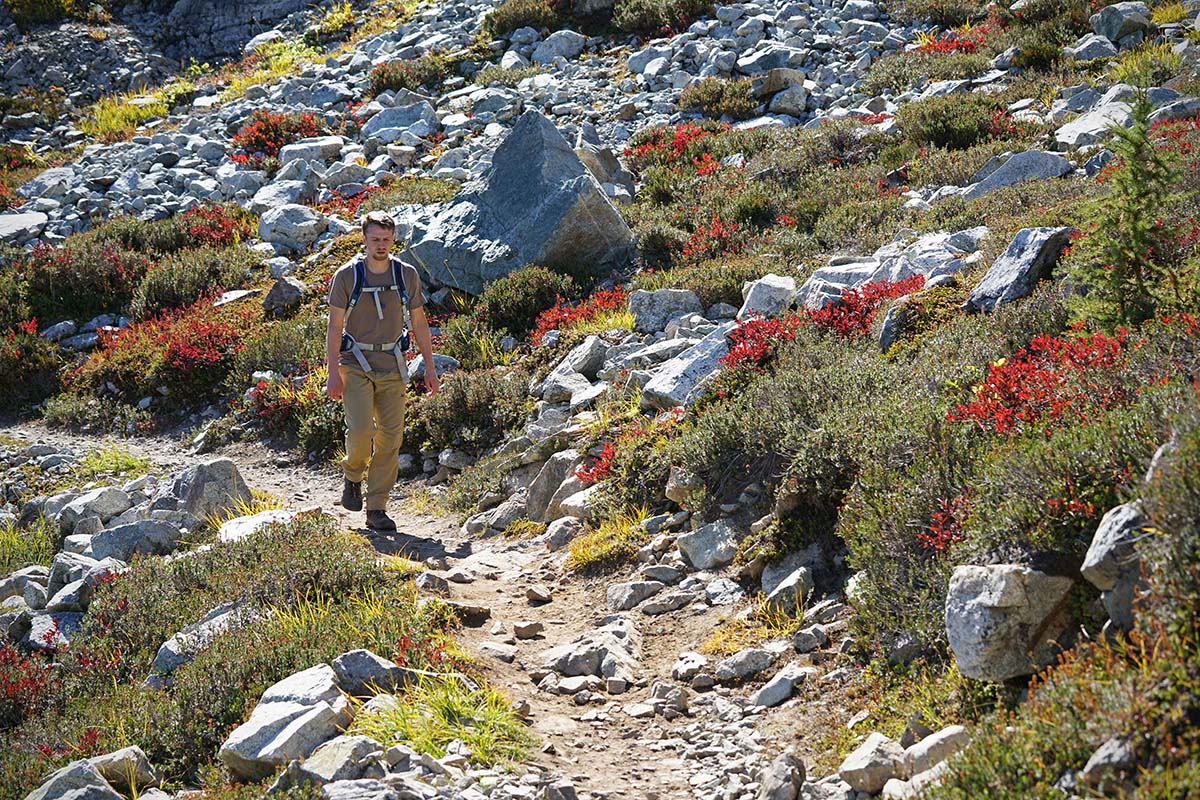 Sizing and Fit
The Targhee line is known to have a wide fit, and particularly in the toe box. When testing the Targhee II previously, we were not huge fans of the fit. Our tester had a standard-sized foot if not slightly on the wide end, and although the heel and middle section of the boot felt normal, he was swimming in the toe box. This most certainly adds to the comfort element of the boot and may not be an issue for easy day hiking, but if you're really pushing your footwear, a ton of roominess is not a desirable feature.
The Targhee III, however, does succeed in trimming down the cut of the boot somewhat. It still fits on the wide end of the spectrum, but our size 12 was snugger overall and the toe box felt more proportional to the rest of the boot. We still don't recommend the Targhee III for those with narrow feet, but it should work well for medium to wide feet and those who don't mind a little extra room. And for those with really wide feet, the Keen Targhee III is offered in a wide version.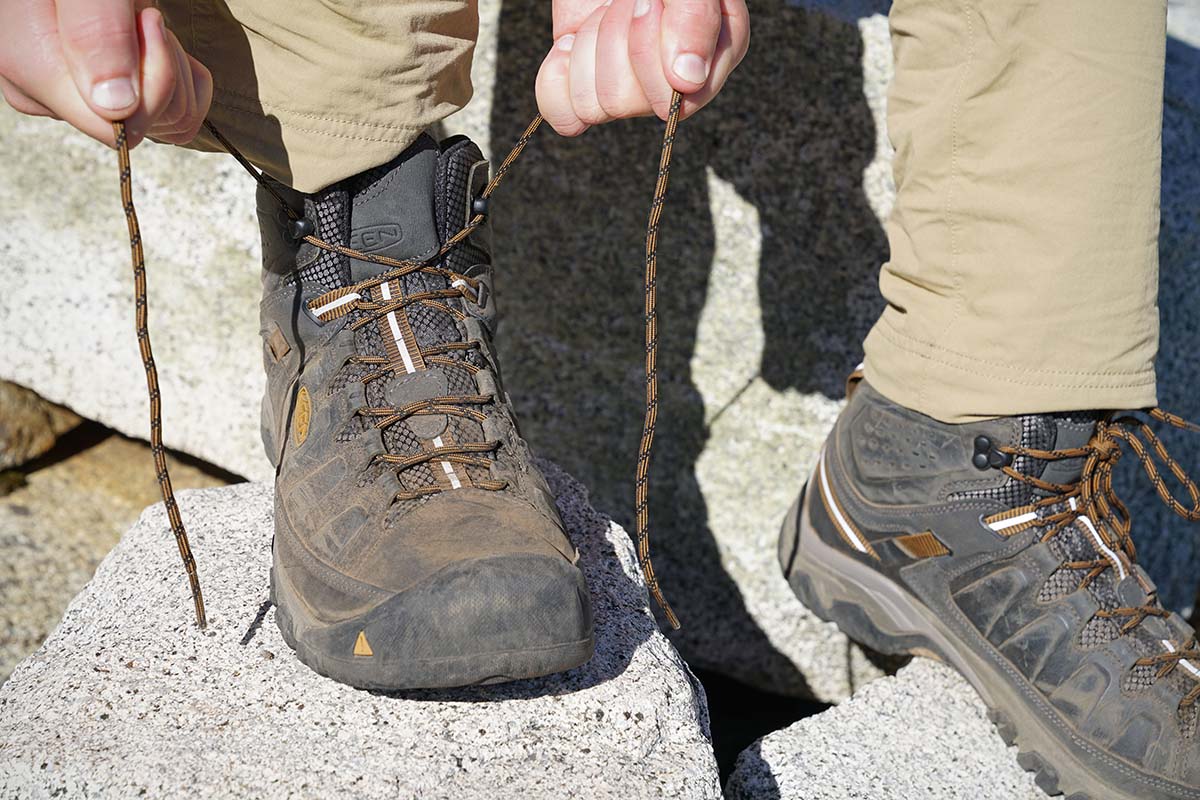 Other Versions of the Keen Targhee 
We tested the Keen Targhee III Waterproof Mid, and Keen also makes the Targhee III in a waterproof low-top version that sacrifices some ankle support. However, that model is lighter at 1 pound 14.8 ounces and cheaper at $140. If you'll be hiking mostly in dry climates or want a more breathable shoe, both the mid-height and low-top boots are offered in mesh-heavy Vent versions that do away with the Keen.Dry waterproofing technology. The Vent Mid shaves off about an ounce compared to the boot tested here and costs $10 less at $140, but ultimately it comes down to how you prioritize waterproofing and breathability. All of these models are available in women's versions, including the women's Keen Targhee III WP Mid, which cost the same but are lighter than their men's counterparts and offered in different colorways. Finally, Keen makes an insulated, winter-ready High Lace model ($170), as well as a few sandal variations.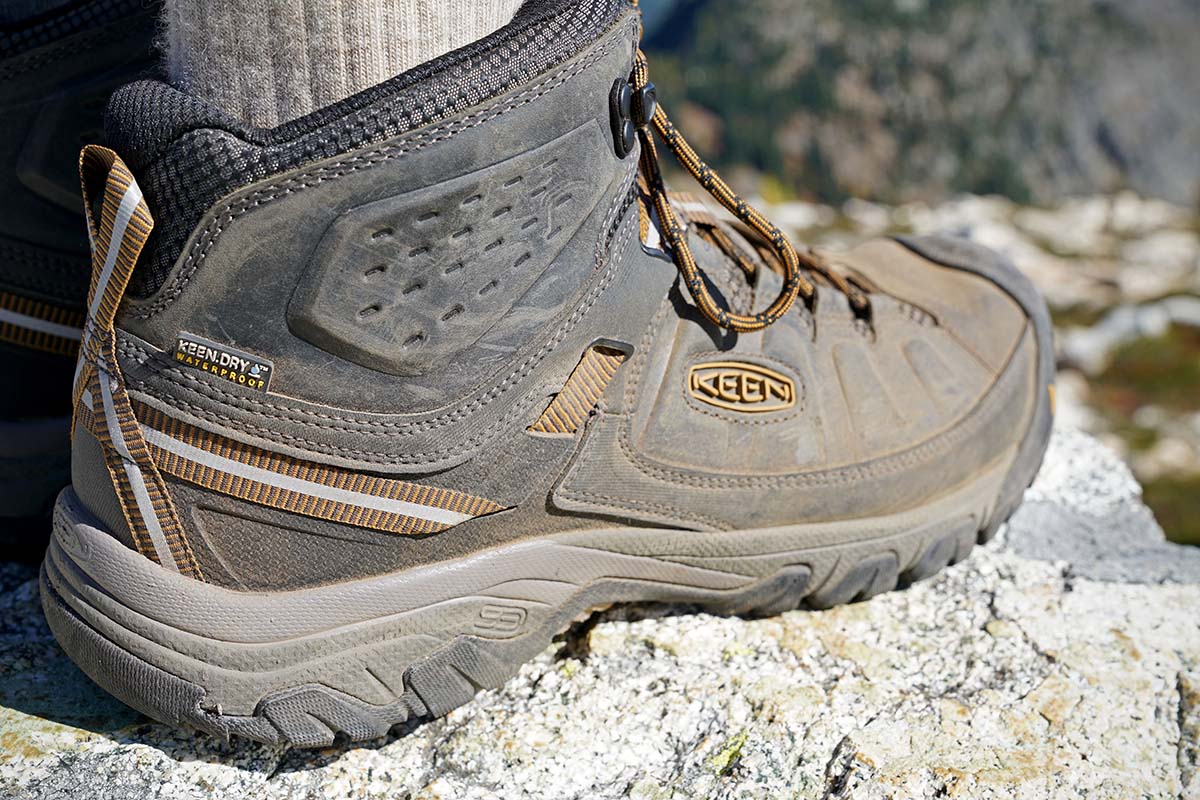 What We Like
Super comfortable right out of the box and no break-in required.
A well-built boot with a quality feel.
At $150, the Targhee III is a nice value for casual hikers.

What We Don't
Stability over rough terrain is very limited, and therefore we recommend keeping these boots on trail.
Still a fairly wide boot, and particularly in the toe box.
Keen.Dry waterproofing is serviceable but falls short of Gore-Tex. Therefore, moisture buildup can be issue when hiking for extended periods in warm conditions (the non-waterproof Vent model may be the better choice in those situations).

Comparison Table

The Competition
At the budget end of the hiking boot spectrum, the Keen Targhee III competes with the Merrell Moab 2 Mid WP in a big way. We favor the Moab in our hiking boot round-up because it offers improved stability over the Targhee while still remaining extremely comfortable out of the box, not to mention it's $15 cheaper at $135. The downside of the Moab is that it's heavy on mesh and tends to break down a little quicker than the mostly-leather Targhee. Both are leading options for easy to moderate day hiking, but we give the edge to the Moab for its lower price.
Keen offers another popular boot in its hiking line: the Durand II WP Mid, which was updated last year. Both the Targhee III and Durand II are mid-height leather boots, share the same Keen.Dry waterproof membrane, and have a similar look and feel. But the Durand is burlier and more oriented for difficult trails, adds 8 ounces to the equation at 2 pounds 12.2 ounces total, and costs $195. All things considered, both are fine options, but the Targhee III remains our favorite for light hiking due to its high levels of comfort. And the true clincher for us is price: the Targhee is a great value at $150 while offering a similar build and feature set as the Durand.

For more serious day hiking and backpacking, there are a plethora of models we prefer over the Durand including the Salomon X Ultra 3 Mid GTX. At 1 pound 15.6 ounces, it's lighter than the Targhee III and includes a more breathable Gore-Tex membrane. And despite the lower weight, the Salomon still retains impressive comfort, toe protection, and grip. However, we did find that this translates to a little less protection underfoot, especially on rough terrain (for that, it's worth checking out the burlier Salomon Quest 4D). You'll also have to spend up for the X Ultra 3 Mid at $165, but we've found that it outperforms the Targhee in almost every way. 
A final alternative is Oboz's Bridger Mid BDry, which looks and feels like a beefed-up version of the Targhee. Throughout testing, we liked how sturdy and supportive the Bridger felt on the trail, and we appreciate that it comes with a high-quality and nicely sculped insole. However, while the Oboz undercuts the Targhee in weight by around 3 ounces per pair, it felt noticeably slow and cumbersome underfoot. We also found that the boot's B-Dry membrane ran warm even in moderate conditions, similar to our experience with the Targhee III's Keen.Dry waterproofing. Both are well-built, comfortable hiking boots, but the Targhee is the better value at $30 less than the Bridger.  
If you're thinking about buying gear that we've reviewed on Switchback Travel, you can help support us in the process. Just click on any of the seller links above, and if you make a purchase, we receive a small percentage of the transaction. The cost of the product is the same to you but this helps us continue to test and write about outdoor gear. Thanks and we appreciate your support!
Depending on the seller, most products ship free in the United States on orders of $50 or more. International shipping availability and rates vary by seller. The pricing information on this page is updated hourly but we are not responsible for inaccuracies.
Learn More About Outdoor Gear