Salomon's X Ultra line of hiking footwear is one of our long-time favorites for all types of uses from day hikes to lightweight backpacking trips. We've tested the latest low-top shoe version through everything from early winter conditions in the Pacific Northwest to summer in Patagonia, and feel Salomon hit the mark. It's light, nimble, grips well on just about any surface, and will hold up through extended rough use. Below we break down the X Ultra 3's comfort, weight, traction, waterproofing, durability, fit, and more. To see how the X Ultra 3 stacks up to the competition, see our articles on the best lightweight hiking shoes and hiking boots.

Performance
Comfort
My first impression when slipping on the Salomon X Ultra 3 Low GTX was that it felt a lot like a supportive trail-running shoe. It's lightweight and moderately flexible, but also has nice padding in the collar and tongue, and the sculpted insole provides enough cushion and support to feel "just right" straight out of the box. The shoe is thinner underfoot than a traditional hiker like the Merrell Moab 2 or Keen Targhee III, but I never found myself wanting more isolation from the ground even over rough terrain and with a loaded-down 38-liter pack. All told, the X Ultra delivers what I want for day hiking and lightweight backpacking: the feeling of a trail runner but with the added comfort and protection that you get from a hiking-specific model.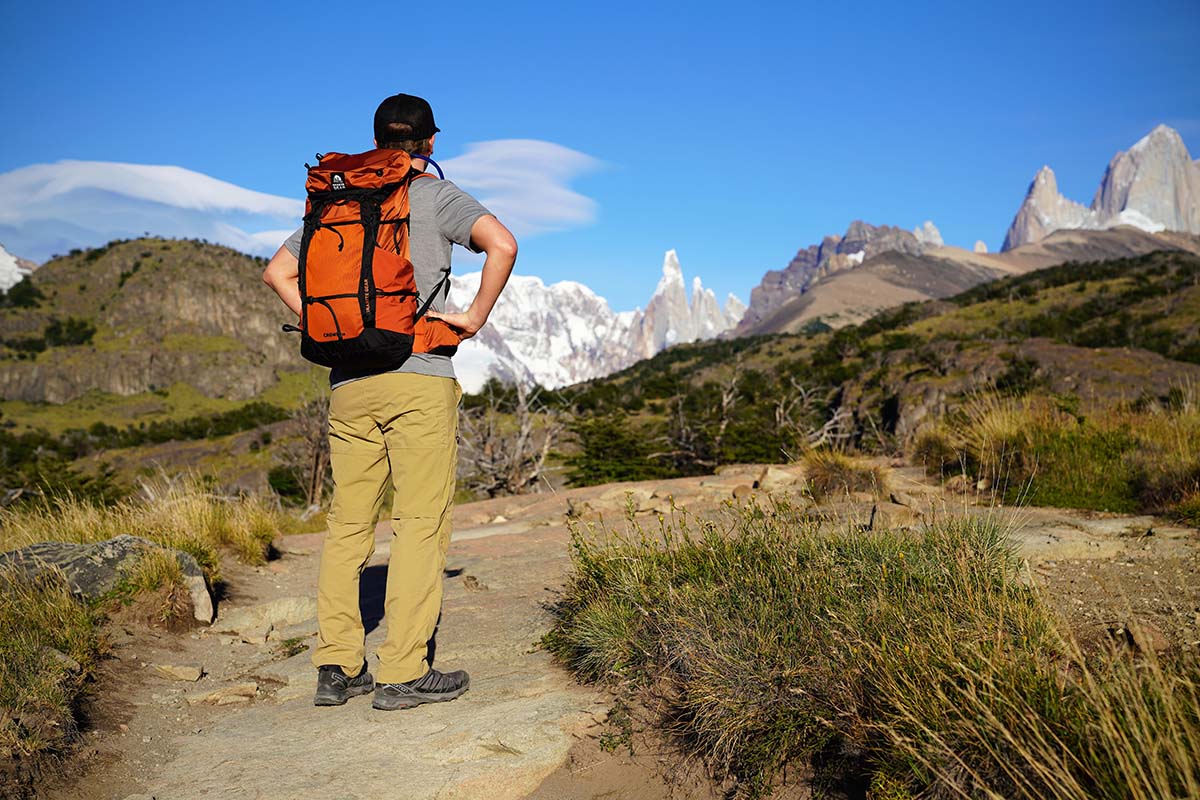 Weight
The X Ultra's running-shoe-inspired design makes it one of the most aggressive hiking shoes on the trail. And the scales confirm that feeling: my men's size 9 Gore-Tex model checks in at 1 pound 10 ounces (it's listed at 1 pound 10.8 ounces). For perspective, that's less than a waterproof trail runner like the La Sportiva Akyra GTX (1 pound 11.4 ounces), and it undercuts most of the hiking shoe market. Popular designs like the Merrell Moab 2 WP (2 pounds 1 ounce), Keen Targhee III Low WP (1 pound 14.8 ounces), and The North Face Ultra 110 GTX (1 pound 15 ounces) all weigh significantly more and feel clunky by comparison. You can save by opting for Salomon's OUTline GTX (1 pound 8.6 ounces), although we found that shoe falls short in terms of comfort and durability on rough trails. All told, we have absolutely no complaints regarding the X Ultra's weight.


Traction
For the most recent iteration, Salomon redesigned the X Ultra 3's outsoles for improved downhill traction. This is seen primarily at the heel, which trades solid rubber for a series of gill-like cutouts to bite into the ground. Admittedly, we didn't feel the old X Ultra 2 was ever really lacking in grip, but we've nevertheless been pleased with the latest Contagrip outsoles. They've performed well in soft mud, hardpack dirt, and a decent amount of snow travel. And importantly, the rubber compound hasn't deteriorated or chipped away even after hiking on granite.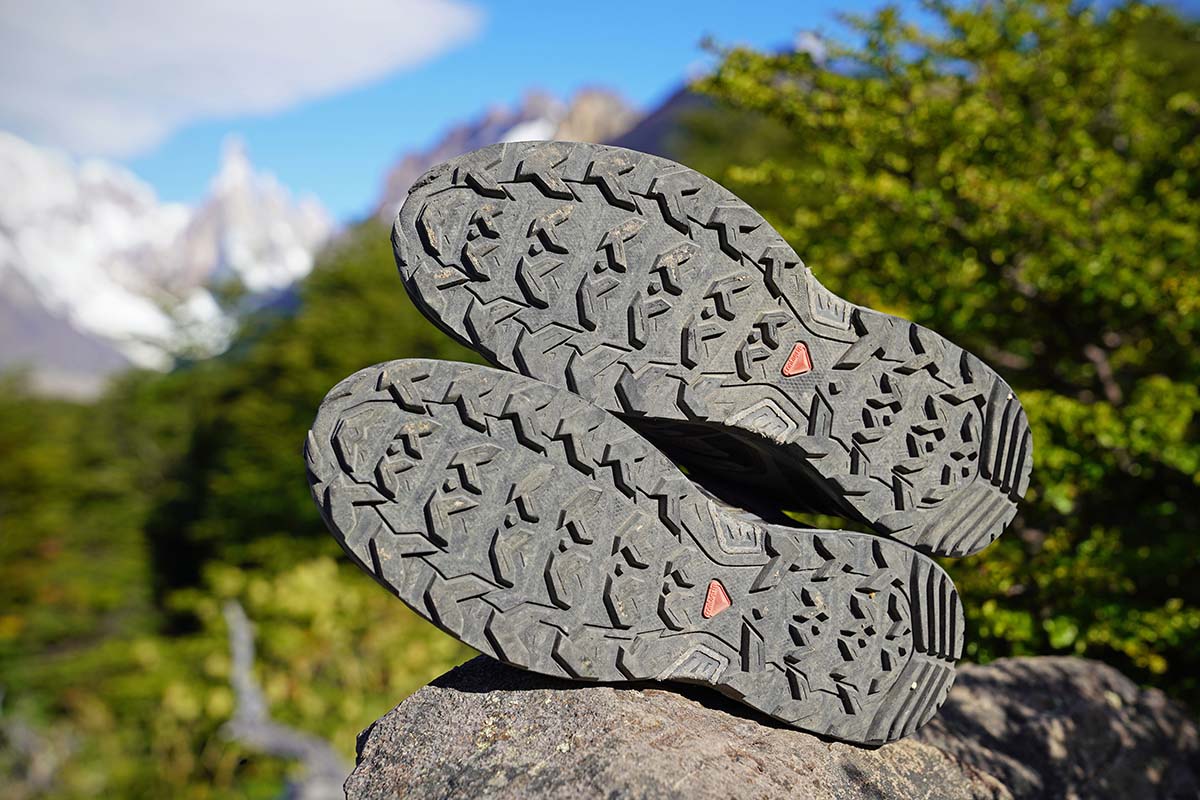 Stability and Support
The X Ultra 3 won't supplant a technical off-trail hiking or mountaineering boot in your gear closet, but it offers enough support for just about any day hiking or lightweight backpacking adventure. The shoe is pretty flexible underfoot, but the low-profile midsole and stable platform (Salomon refers to this as their "Advanced Chassis") offer enough peace of mind for rocky trails. We've had our various X Ultras loaded down with 35 pounds of backpacking gear and have never had issues with rolled ankles. If, however, you prefer a stiffer boot for extended climbs or for carrying a heavy pack, we recommend upgrading to Salomon's Quest 4D 3.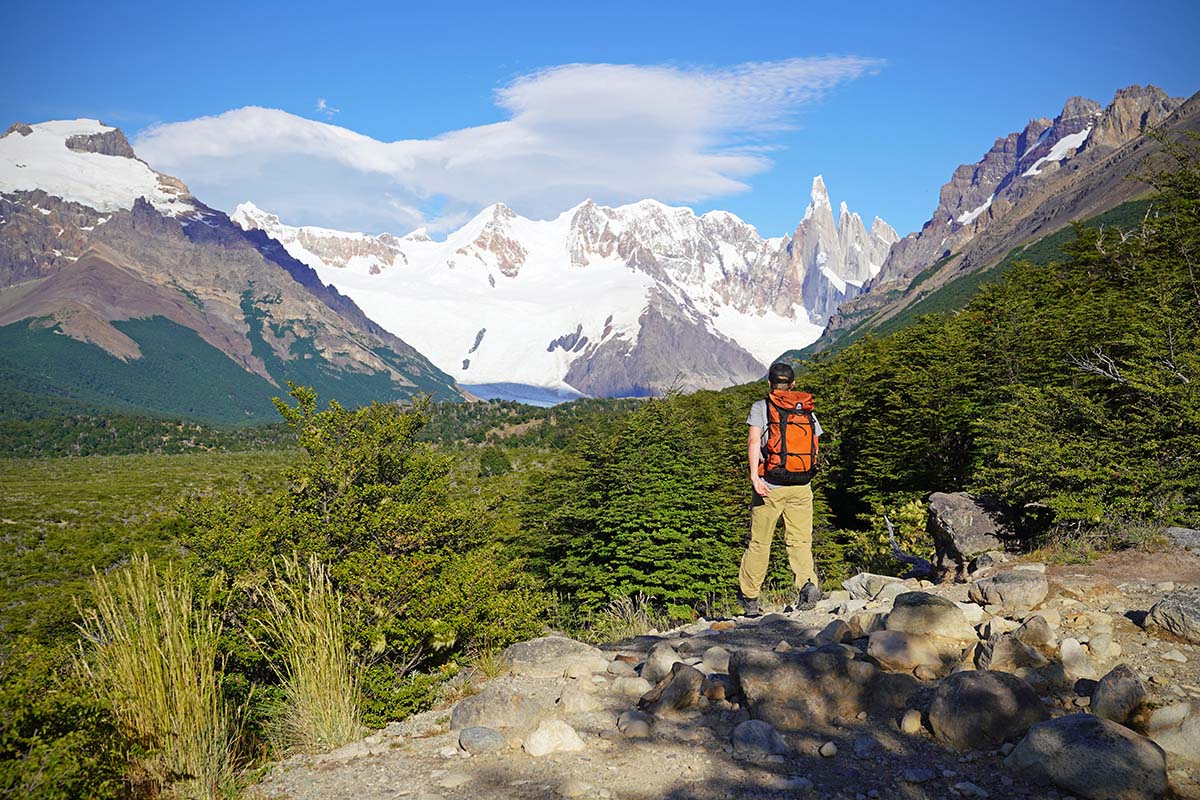 Waterproofing
My X Ultra 3 GTX arrived in early winter, and I've had ample opportunities since to test its waterproofing abilities. From strapping it to snowshoes and MICROspikes to shallow creek crossings, the Gore-Tex lining has held up without a hiccup. One downside of a low-top waterproof shoe in general is that you'll need to be mindful when stepping into puddles or moving water—if it seeps over the sides, the shoe won't dry quickly. We've tested both the non-waterproof and waterproof versions of the X Ultra, and while we benefitted from the waterproofing feature on a number of occasions, we'd lean towards the $30-cheaper non-waterproof X Ultra 3 Aero for most summer adventuring.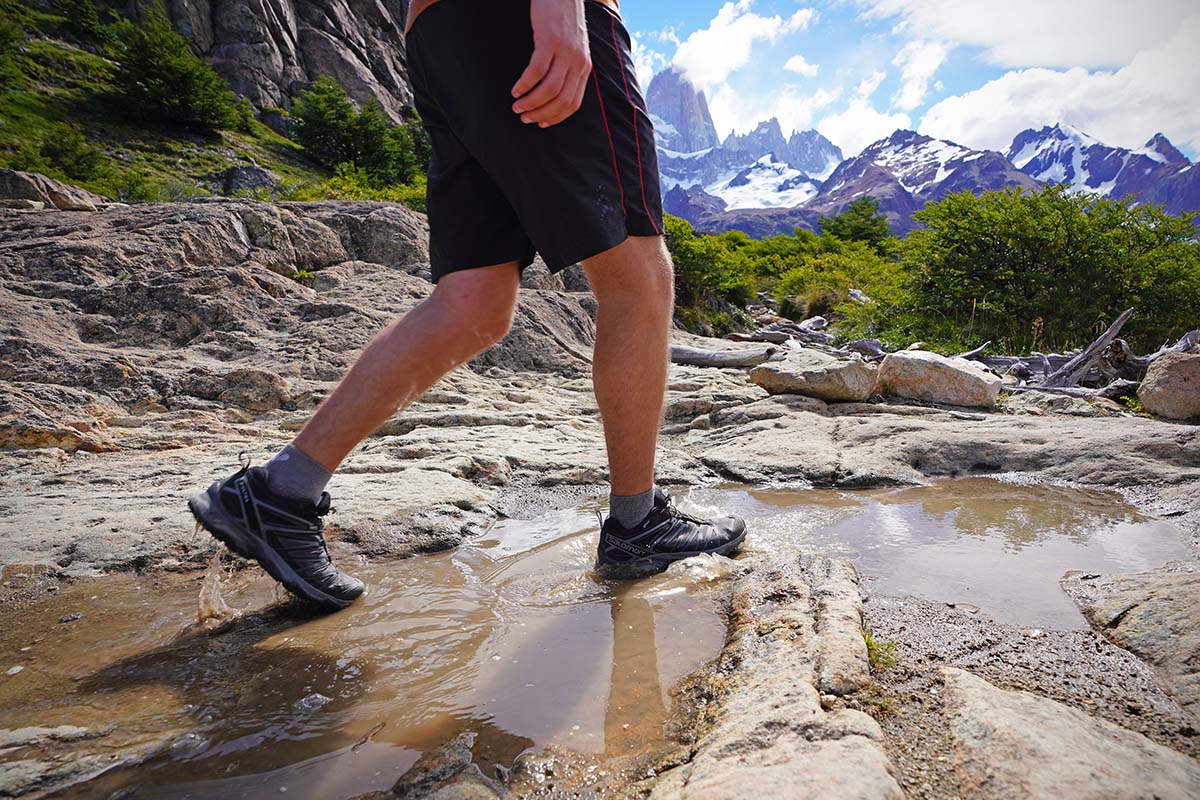 Breathability
One of the main reasons we prefer the non-Gore-Tex Aero version of the X Ultra 3 shoe is breathability. The issues weren't noticeable when wearing them in the cold—in fact, the waterproofing provided a helpful amount of insulation and protection in snow. But a warm stretch of weather while hiking outside of El Chaltén, Patagonia, left my feet a bit uncomfortable and hot by the end of the day. It certainly was tolerable, and the shoes ventilated better than cheaper waterproofing membranes that I've used in the past, but my sweat-prone feet prefer more ventilation as the mercury rises.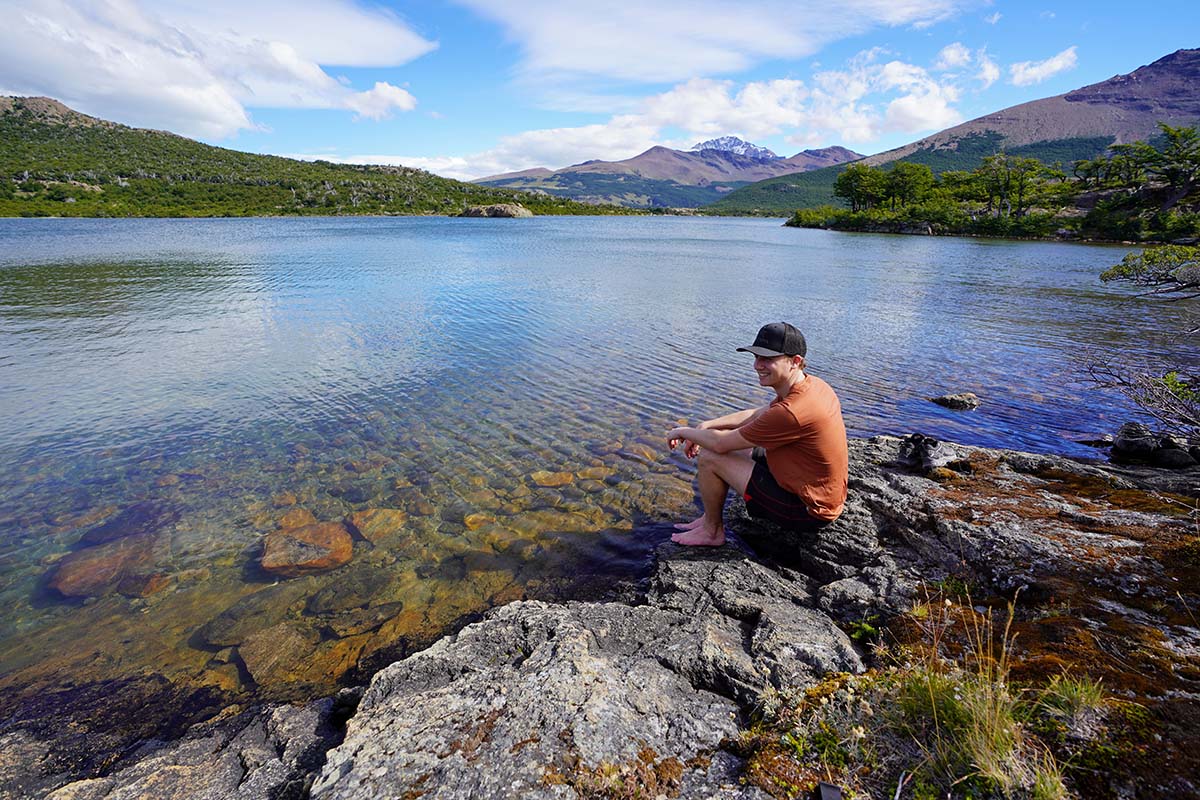 Durability
Along with trail comfort and support, durability is another area where the X Ultra outperforms a standard trail-running shoe. Our previous versions of the shoe have had excellent lifespans, and with eight months of consistent use with the "3," I'm confident in saying the current model is just as good. The reinforced synthetic upper material protects the mesh from tears, the substantial toe cap has a few scrapes but is in excellent shape overall, and the tread is only just starting to show early signs of wearing down.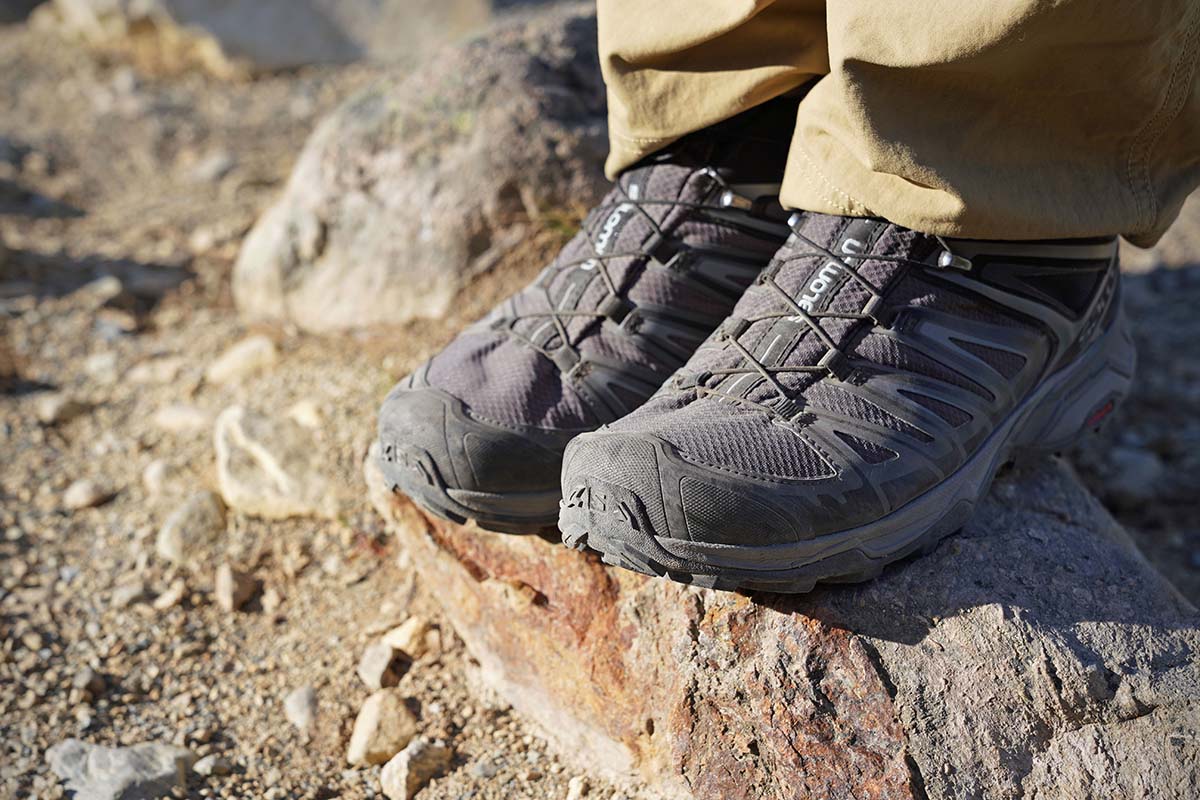 Salomon's Quicklaces
The low-top version of the Salomon X Ultra 3 includes Salomon's signature Quicklace system. If you haven't used it before, it's easy to learn: grab the rubberized end and push the plastic tab towards your foot to tighten, and reverse the process to loosen (it's also simple to loosen with one hand by pulling up on the tab). The laces snug evenly around the foot with a single motion, so it's much faster to use than a traditional setup. Comparing the X Ultra 3's system with our X Ultra 2 shoes, Salomon has added a 5th set of eyelets at the top (our X Ultra 2 has four) and uses reinforced webbing for the three lower eyelets (the prior model only had webbing on the bottom set). The net change is minimal and I'm not seeing any signs of wear on the webbing, but the top eyelet does provide an excellent seal around the top of the foot to keep out dirt and debris.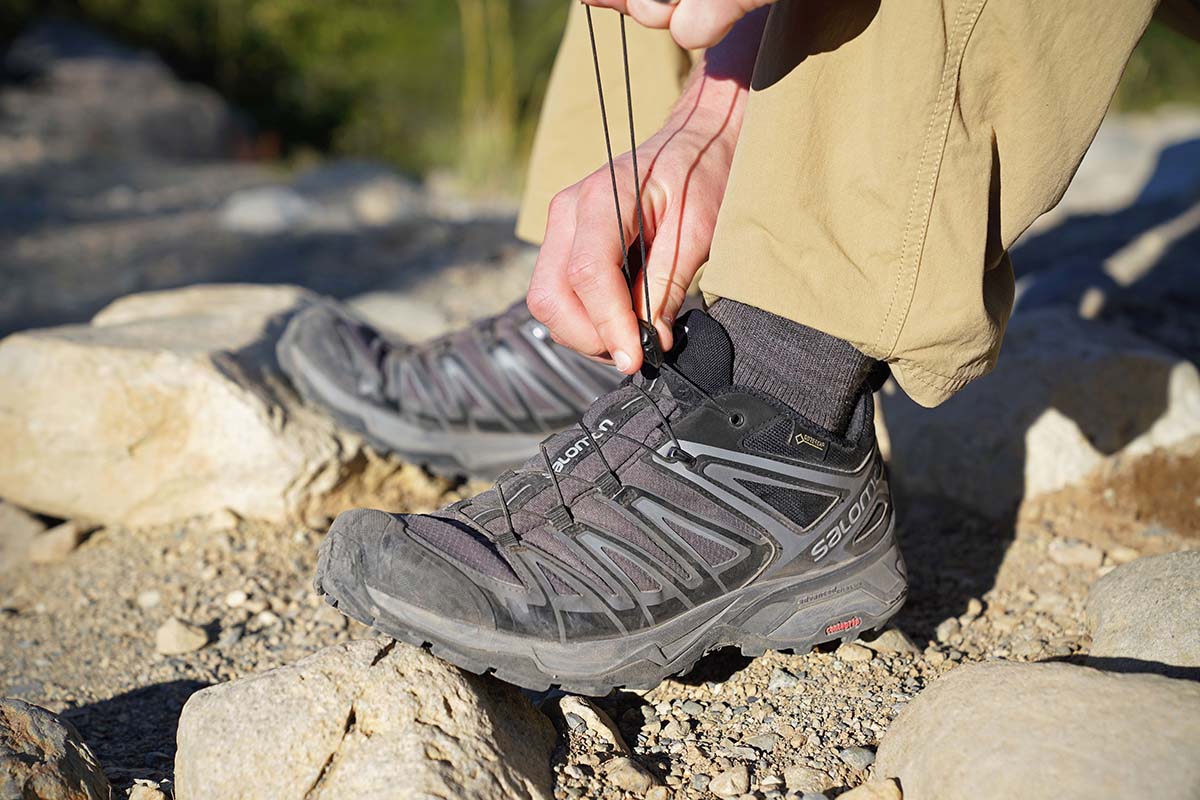 We've worn a lot of shoes with a speed lace system from brands like Salomon and Adidas, and haven't had issues with laces shredding or discomfort with the current designs. Yet it is a polarizing concept: I found myself needing to retighten my X Ultras a few times during full days of hiking—something I attributed to the laces loosening slightly—and those that need to fine-tune the fit may not like the single-pull concept.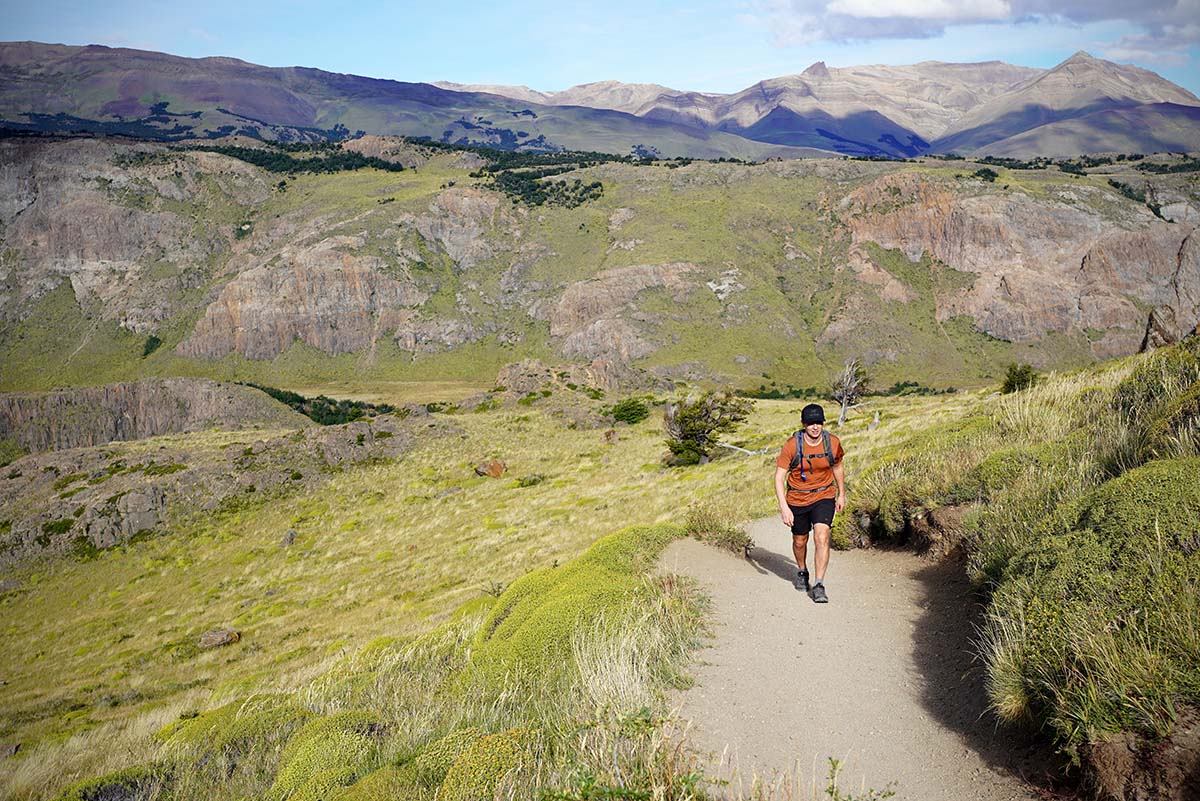 Sizing and Fit
I ordered my normal men's size 9 in the X Ultra 3, and found it provided a snug and very comfortable fit. The sculpted heel locks you nicely in place on extended climbs (I haven't had any issues with hotspots), and the length was great for not jamming toes on long descents. Where the fit may not work for some people is in the toe box, which runs fairly narrow in the standard "D" width. It ended up not being an issue for me even over long trail days and with a heavy pack, but those with moderately wide feet may have trouble. This is a common issue with a lot of Salomon footwear, but the good news is that the low-top and boot versions of the X Ultra 3 are now offered in wide sizes.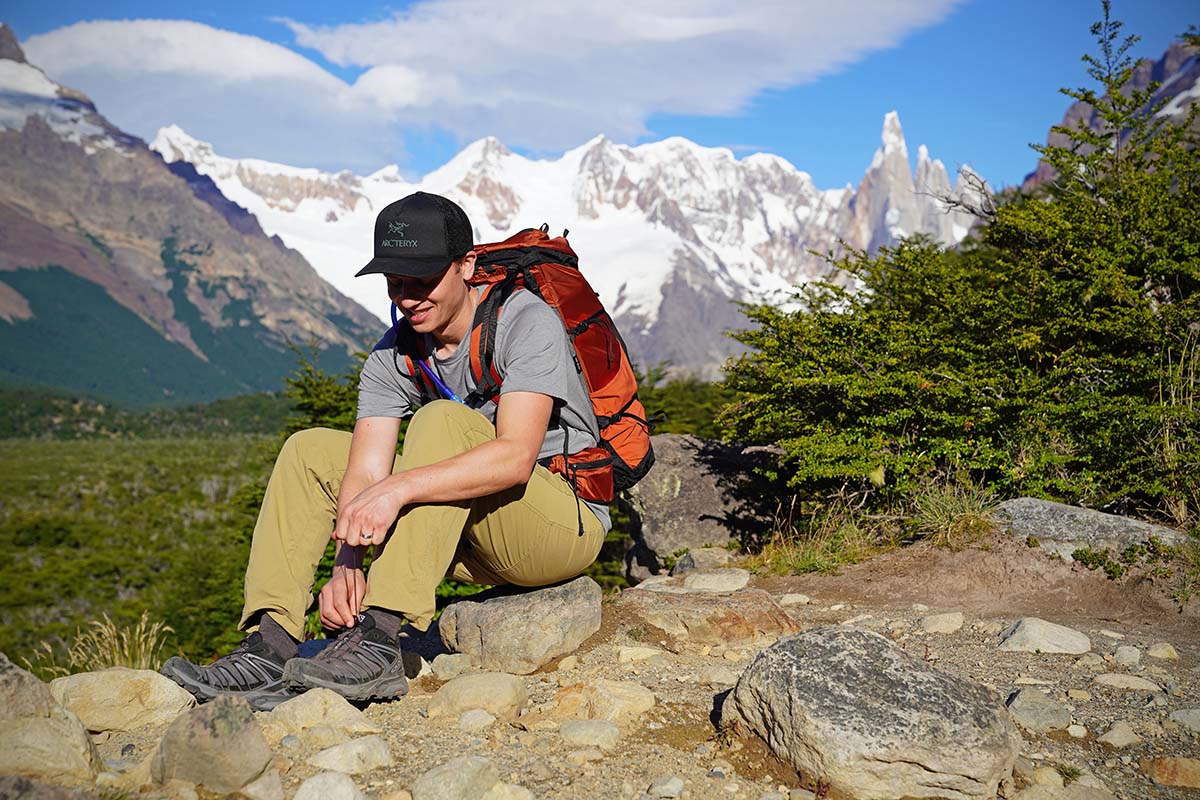 Other Versions of the Salomon X Ultra 3 Low
We've covered the men's version of the X Ultra 3 GTX Low for this review, but the line comes in a number of variations. Within the low-top options, there's a non-waterproof X Ultra 3 Aero, which ditches the Gore-Tex membrane and swaps the upper material to a more open mesh design. The result is greatly improved breathability and a 1-ounce savings per pair (listed at 1 pound 9.8 ounces). Further, both the GTX and Aero models are offered with women's-specific fits and unique colorways.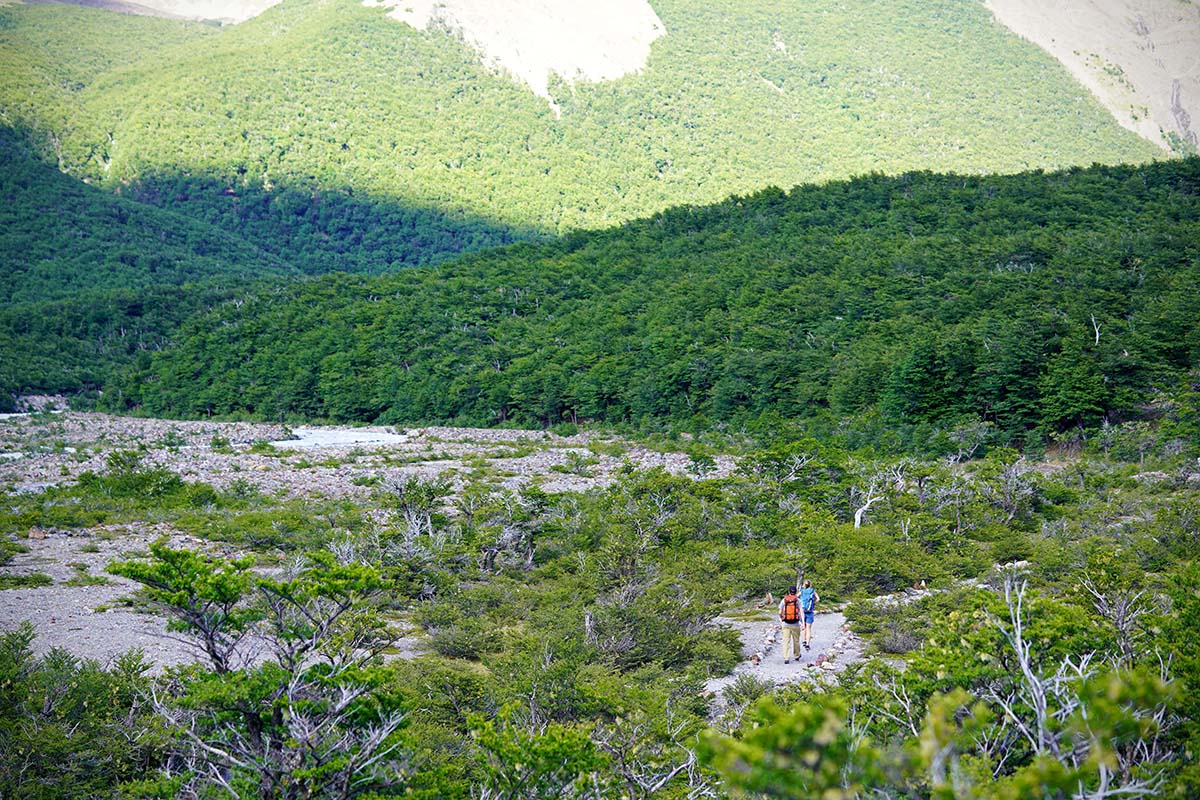 X Ultra 3 Hiking Shoe vs. X Ultra 3 Mid Hiking Boot
As touched on above, Salomon makes an over-the-ankle boot variation of the X Ultra 3 that I've been testing as well. In most ways, it's simply a taller version of the low-top shoe, sharing the traction system, the light-but-tough upper material, and athletic feel. Changes include the extra support and protection that comes with the extended, padded collar, and Salomon has also swapped the Quicklace closure for traditional laces with the boot model. The total change in weight for my men's size 9s came to 7.4 ounces more for the pair. Those carrying a heavy load or hiking in areas where the extra ankle protection is needed will likely prefer the Mid, while the low-top is hard to beat for moving fast on the trail with its superlight feel. In the end, we think both are excellent options.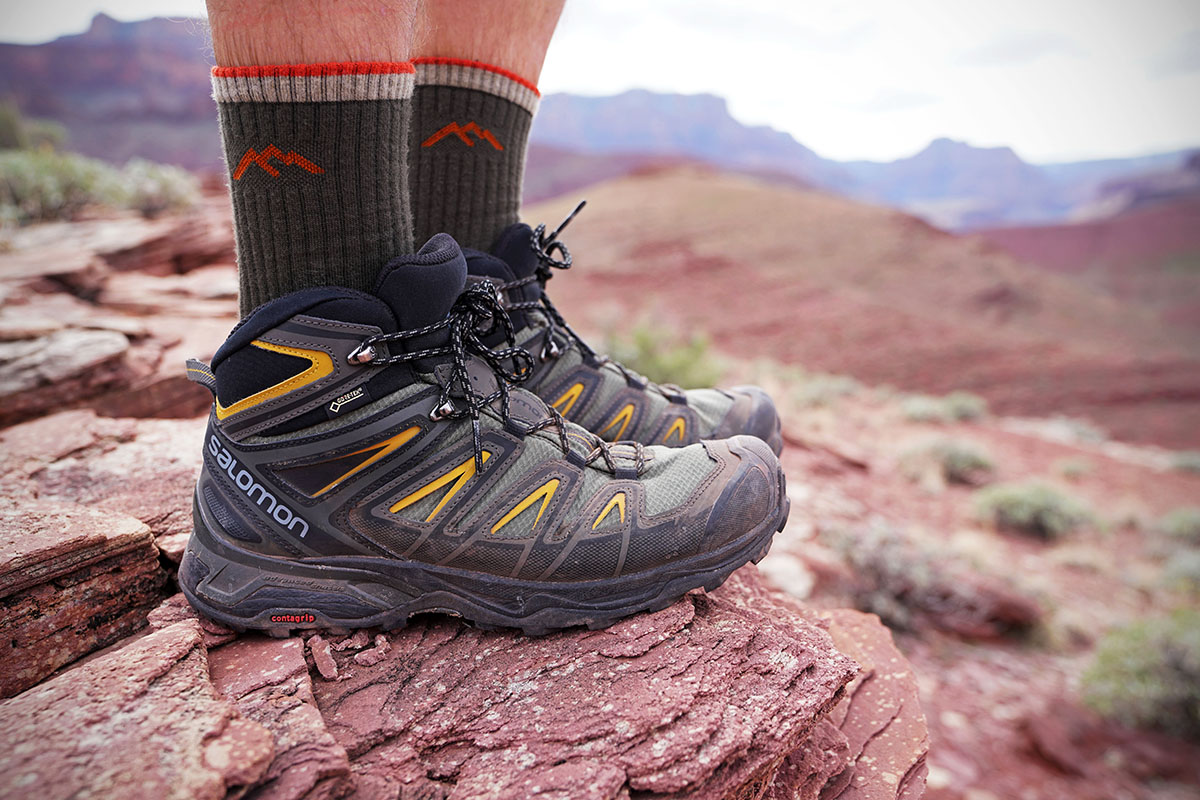 What We Like
Both the shoe and boot X Ultra 3s are at the top of their respective classes in lightweight performance.
Aggressive and nimble, but without compromising trail comfort, traction, and durability.
Planted feel and solid toe, heel, and underfoot protection for rocky and rough hikes.
There are now wide sizes available in the mid-height boot (unfortunately not the low-top shoe).

What We Don't
Gore-Tex version runs pretty warm. Those in dry climates or that don't mind the occasional wet sock should opt for the non-waterproof model.
The Quicklace system isn't loved by everyone, and I found myself occasionally tightening and adjusting it.
If you're hauling a heavy pack or traveling over technical terrain, you'll likely want a more substantial and protective boot.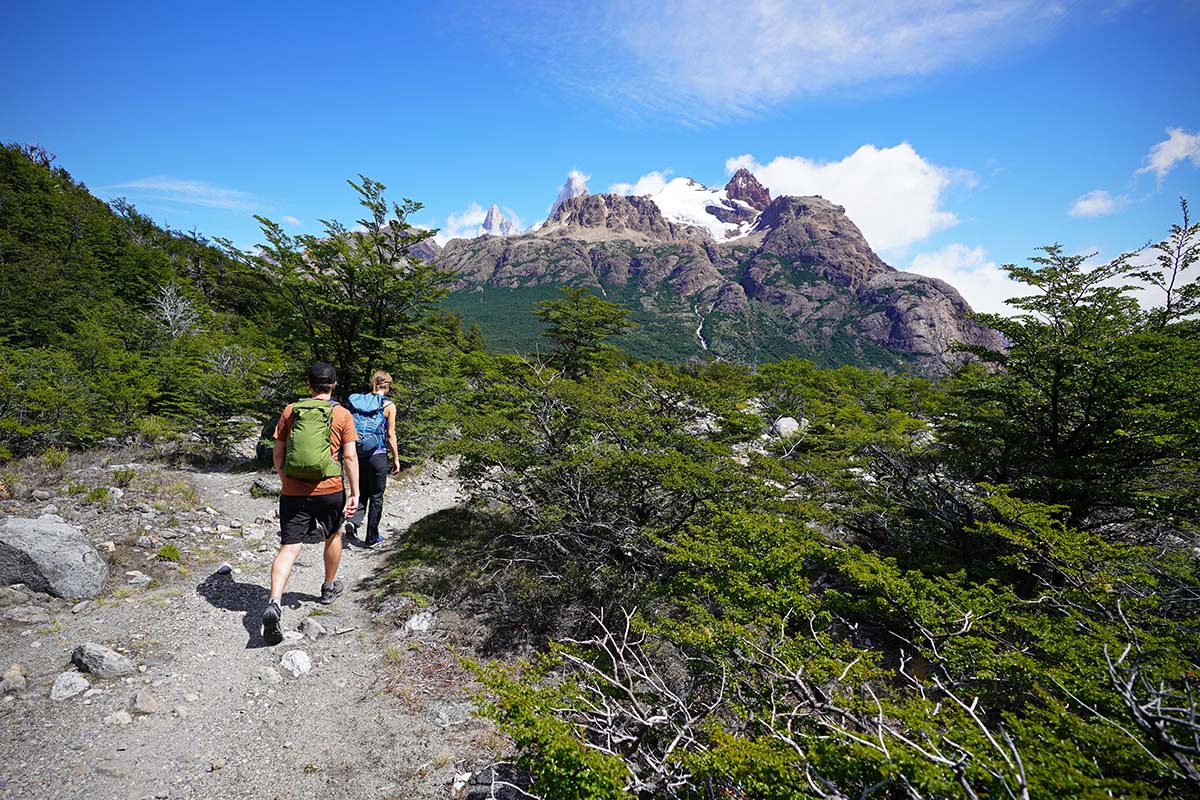 Comparison Table

The Competition
There are a lot of hiking, trail running, and approach shoes that aim to duplicate what Salomon has pulled off with its X Ultra line. But for us, the low-top stands out as the best all-around hiking shoe on the market, and the boot is a perennial favorite as long as you can get a good fit (the newer wide version of the boot will help). Among alternatives, Merrell's Moab 2 and Keen's Targhee III are two designs that we see again and again on the trail. In testing the Moab and Targhee, we were impressed with their high levels of comfort, reasonable weights, and stable platforms. They also have more accommodating toe boxes for those that find the X Ultra 3 to be too narrow (and don't need to step up to a true wide width). We have no hesitation in recommending the Keen and Merrell for average day hikes and backpacking trips, but both feel slow and clunky by comparison. They just can't touch the X Ultra's mix of athleticism, traction, and weight.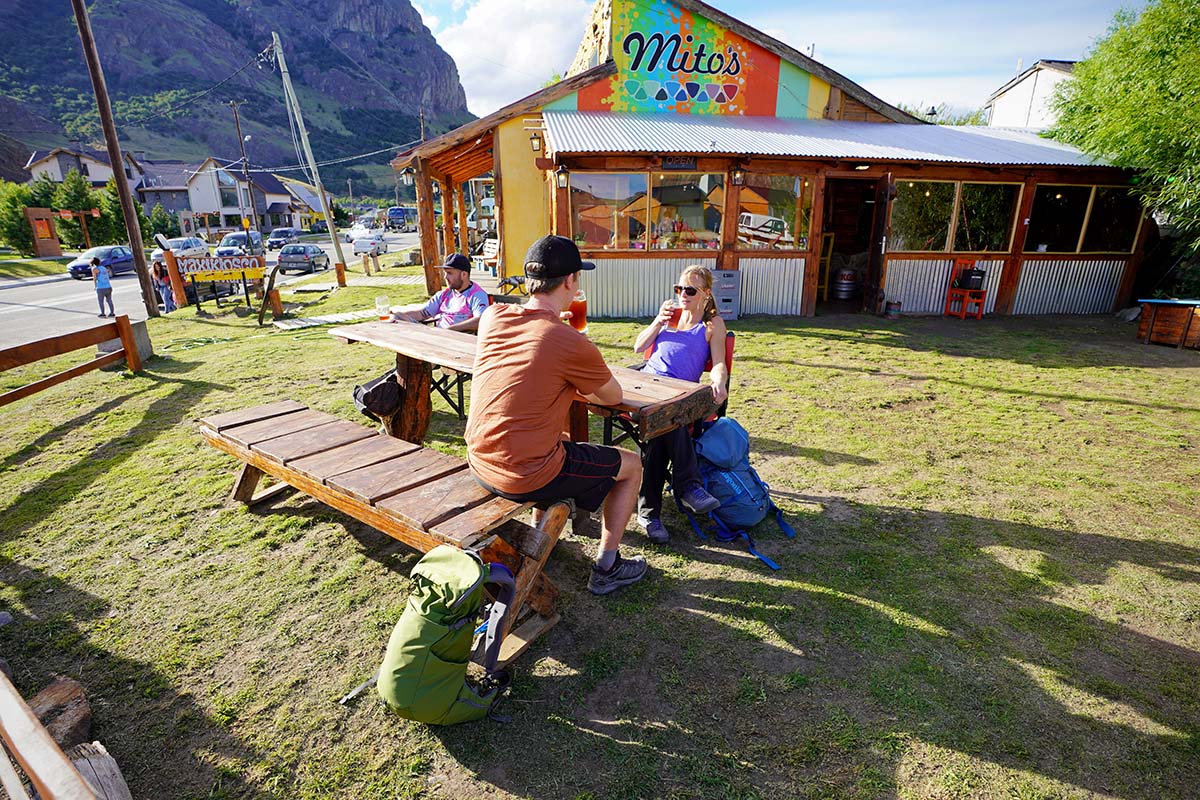 Another one of our favorite hiking shoes is The North Face Ultra 110 GTX. Interestingly, it's advertised as a trail-running shoe, but we've found the 110 performs like a premium hiking shoe in just about every way: the upper materials are tough and durable, it has a burly toe cap for protection, and the semi-stiff platform is comfortable when hauling a full backpacking pack. Further, the 110 has an upgraded tread design that grips well and doesn't wear quickly (this was a problem we had with the old 109). If you prefer stability over weight, the North Face shoe could be your ideal option (for more information, see our in-depth Ultra 110 review). But the Salomon X Ultra 3 undercuts it by about 5 ounces for the pair, feels much nimbler, and doesn't compromise in toughness.
There are a growing number of quality approach shoes hitting the market, and we've been particularly impressed with La Sportiva's TX3. Despite being designed for climbers, the TX3 shares a number of traits with the Salomon X Ultra 3: it's lightweight and comfortable, grips well in both wet and dry conditions, and the full rubber rand offers excellent foot protection. We have had issues with durability on the mesh upper material and La Sportiva doesn't make a waterproof version—upgrading to the leather TX4 does get you additional tear and water resistance—but we love the shoe overall (for more information, see our in-depth TX3 review). It is, however, more specialized than the Salomon. And if you're spending more time on the trail rather than scrambling on rock, the X Ultra 3 gets the nod from us.
Finally, two interesting lightweight models to consider within Salomon's own lineup are the OUTline and Odyssey Triple Crown. How do they compare to the X Ultra? Starting with the OUTline, the GTX version is about 2 ounces lighter all-in, uses a traditional lacing system, and has a more flexible and airy construction. But we found it to be noticeably less comfortable on the trail and showed signs of breaking down very early on into the test. The Odyssey Triple Crown, on the other hand, really impressed us. The new shoe has a cushioned, springy feel and is super light at 1 pound 8.3 ounces. It's more flexible than the X Ultra, only offered in a non-waterproof model, and not as good of a match for rough trails, but we love the fast and fun ride. A decision between the two may come down to fit. Those that prefer a snug shape will like the X Ultra, while hikers looking for a wide toe box should opt for the Triple Crown. 
If you're thinking about buying gear that we've reviewed on Switchback Travel, you can help support us in the process. Just click on any of the seller links above, and if you make a purchase, we receive a small percentage of the transaction. The cost of the product is the same to you but this helps us continue to test and write about outdoor gear. Thanks and we appreciate your support!
Depending on the seller, most products ship free in the United States on orders of $50 or more. International shipping availability and rates vary by seller. The pricing information on this page is updated hourly but we are not responsible for inaccuracies.
Learn More About Outdoor Gear