Building on their excellent hiking footwear collection, Salomon released the X Raise low-top last year. The shoe is intended for fast-and-light day hiking and backpacking trips with a trimmed-down, flexible, and well-cushioned build. We tested out the X Raise Low on a couple backpacking trips in Patagonia and came away with mostly positive impressions. It's not as locked-in over technical terrain as Salomon's popular X Ultra 3, but the shoe's comfort-first design is a great match for putting on serious miles. Below we break down the X Raise's overall performance. To see how it stacks up, see our article on the best hiking shoes.
 
---
Table of Contents
---

Performance
Comfort
It's clear from the moment you slip on the Salomon X Raise that comfort was a top priority. In sharp contrast to our experience with their OUTline shoe, the interior is downright plush: there's thick padding around the collar and heel, and in my non-waterproof version, the entire lining stretching all the way to the toes is cushioned and soft. Further, a generous amount of EVA foam in the midsole provides all-day comfort and sufficient protection from rocks. Loaded down with packs ranging from 25 to 40 pounds, I didn't have any issues with hotspots or blisters and only experienced some light soreness by the end of our longest trip. In fact, other than wanting to remove them due to their slow drying time (more on this in "Breathability" below), I was completely happy keeping the shoes on around camp until I turned in for the night.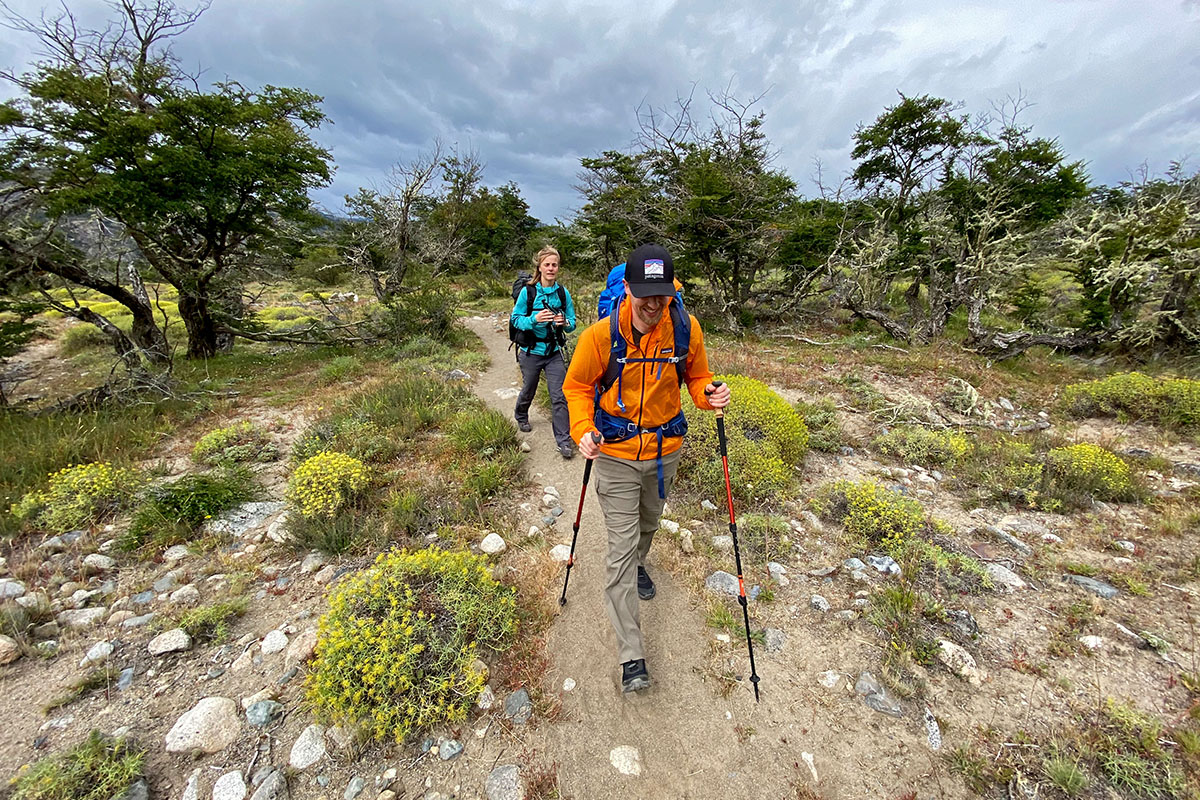 Part of what makes the X Raise so comfortable is its flexible build, which in many ways resembles a trail runner. There's little to no break-in period, it never felt overly stiff or cumbersome, and I found the shoe to be easy to put on serious miles right away (we think it should be on the radar for thru-hikers). However, there are a few performance downsides related to protection and support as a result of the thin upper and soft build, and it's certainly not a top candidate for hauling a heavy pack over exceptionally rough terrain. Another nitpick I had was that the non-gusseted tongue and wide collar made it prone to collecting trail debris like small rocks (depending on trail conditions, wearing gaiters might be a good idea). But overall, the X Raise gets high marks as a supremely comfortable long-distance hiker.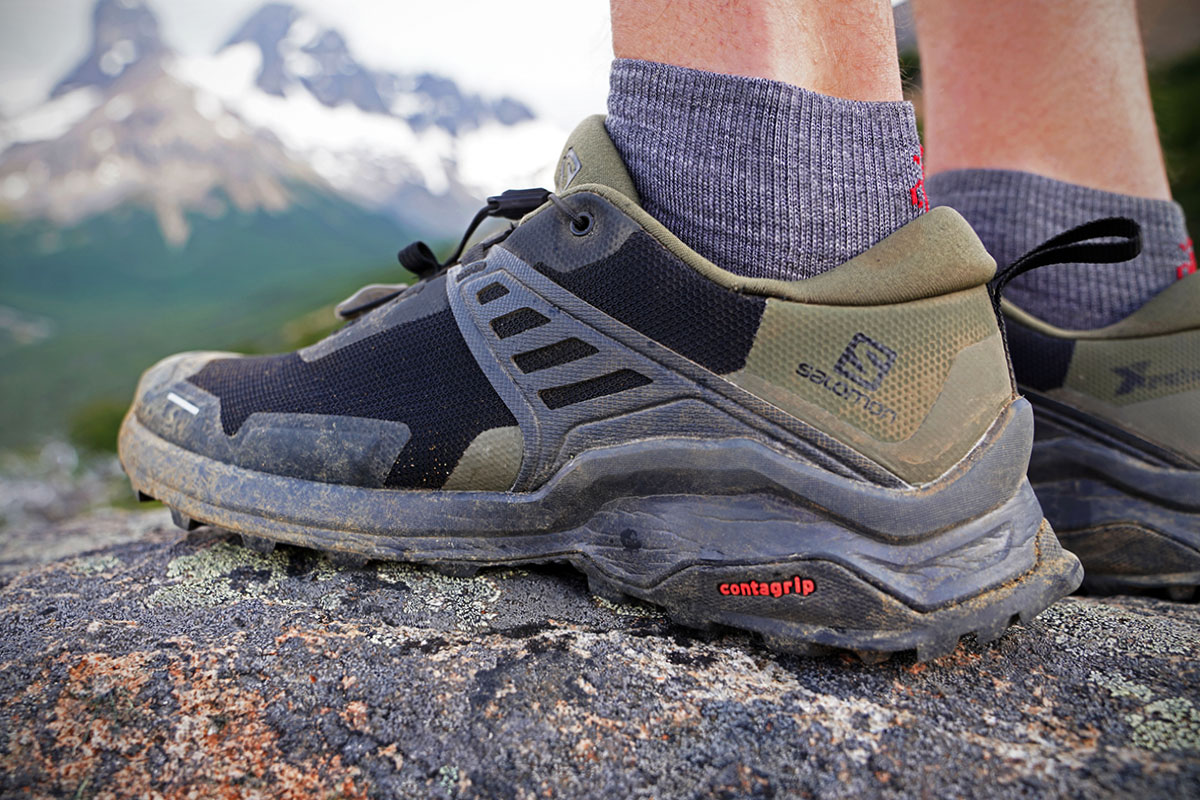 Weight
At 1 pound 6 ounces on the dot for a pair of men's size 9 (0.5 oz. more than the listed weight), the Salomon X Raise is undoubtedly light. Among its non-waterproof competition, the X Raise undercuts alternatives like Danner's Trail 2650 (1 lb. 8 oz.), Merrell's MQM Flex 2 (1 lb. 9 oz.), and Salomon's own X Ultra 3 Aero (1 lb. 9.8 oz.). Moreover, it's nearly the same weight as the extremely popular Altra Lone Peak 5 trail runner (1 lb. 6.2 oz.). All told, taking into consideration the amount of comfort you get—plus my solid impressions thus far in terms of durability—the fact that the X Raise weighs so little is an impressive accomplishment.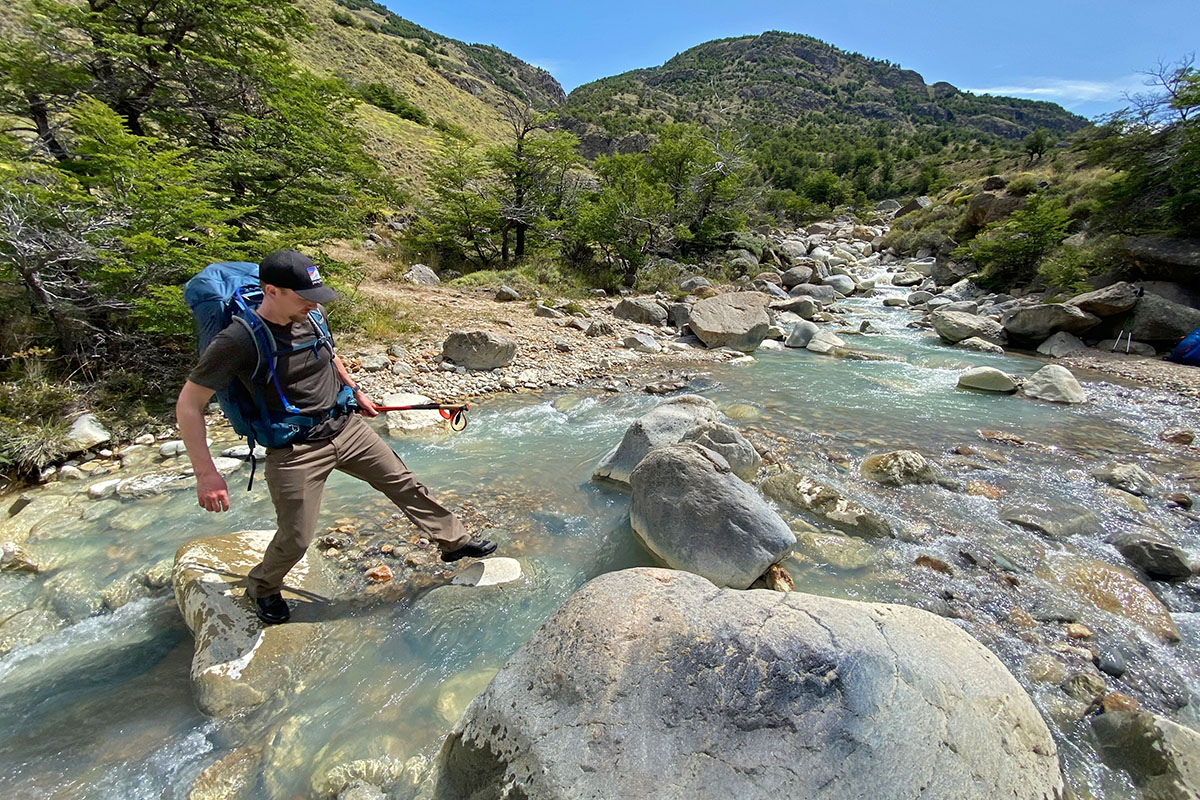 Traction
Salomon certainly checked the boxes for both comfort and weight, but we feel they came up a little short in traction. For the most part, their in-house Contagrip rubber delivered a positive experience: the shoe was pretty easy to trust over the rocky and dusty trails we saw on our first backpacking trip, and it even gripped reasonably well while climbing and then descending a steep talus slope. But on our follow-up adventure in Parque Patagonia's Chacabuco Valley, where we experienced rain and a lot of river crossings, the shoe turned skittish and was prone to slipping on wet rock. This was surprising given my otherwise positive experiences with Contagrip rubber on everything from their X Ultra shoe and Sense Ride trail runner to the Quest 4D 3 boot. But the X Raise's traction, and especially in the wet conditions, was an unexpected letdown.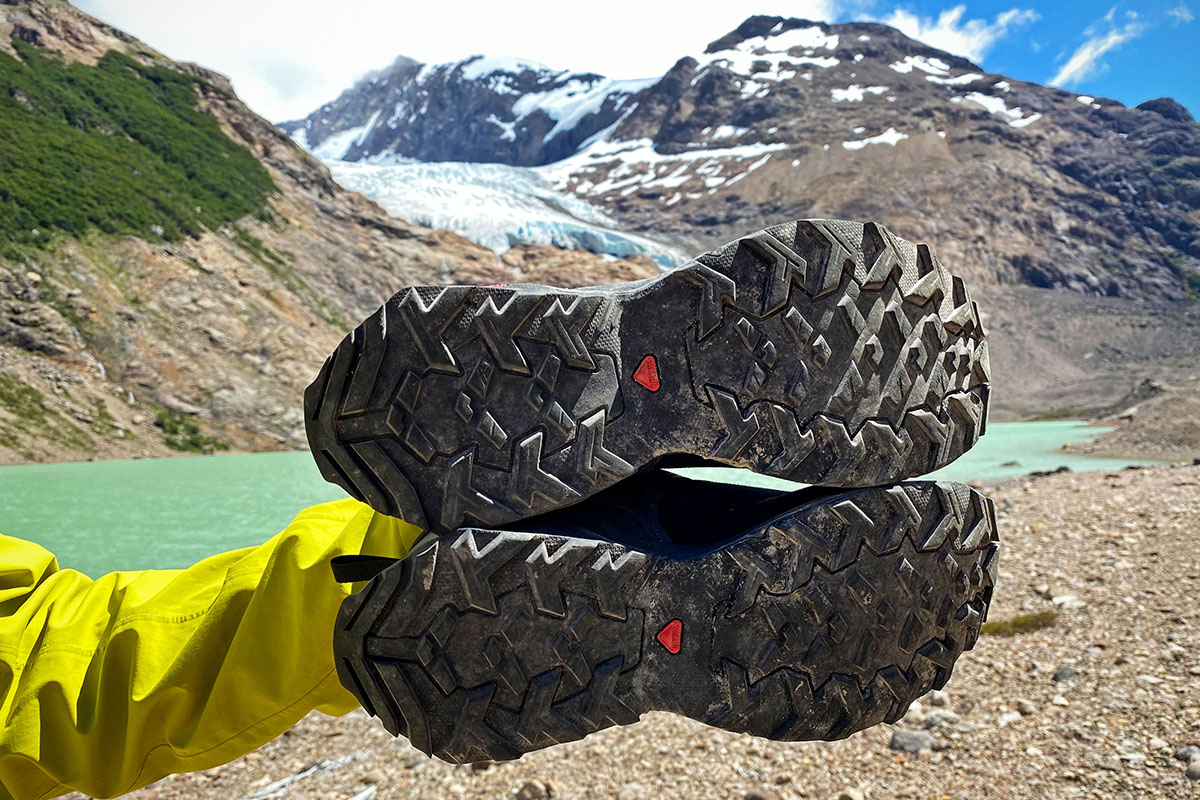 Stability and Support
With a trail running shoe-inspired design and all-around lightweight build, the X Raise is understandably lacking in stability. I found it was harder to trust while boulder-hopping with a pack on than Salomon's stiffer (and grippier) X Ultra 3, and the soft midsole flexed more than I'd like on extended, steep climbs. That said, Salomon did beef up the heel to boost lateral support, which makes it a little less floppy when hiking with a full load than a dedicated trail runner. Personally, I think the compromises in stability are worth it for the reduced weight and overall athletic feel, but the X Raise is noticeably less supportive than traditional hiking shoes. All in all, it excels on well-maintained paths but would not be my first choice on a technical route that features a lot of elevation change.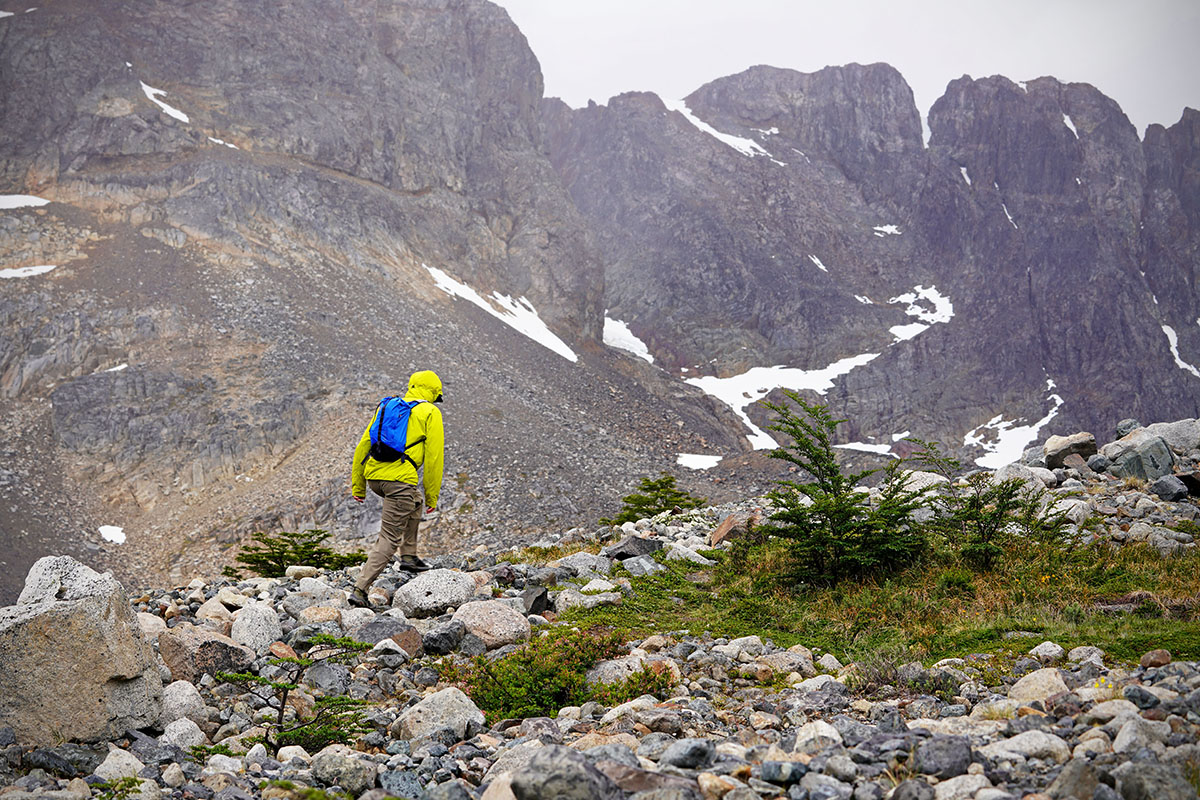 Waterproofing
I tested the non-waterproof X Raise on our trip to Patagonia, but I've also had a chance to try out the Gore-Tex model on follow-up winter hikes in my home state of Washington. As expected, the mesh-heavy non-waterproof model didn't offer much moisture resistance. My socks got quickly soaked if any part of my foot dipped into wet mud or I missed a step while crossing a creek. On the other hand, the waterproof model has held up fine in similar situations, plus the Gore-Tex lining has provided a nice barrier from snow and a light boost in warmth.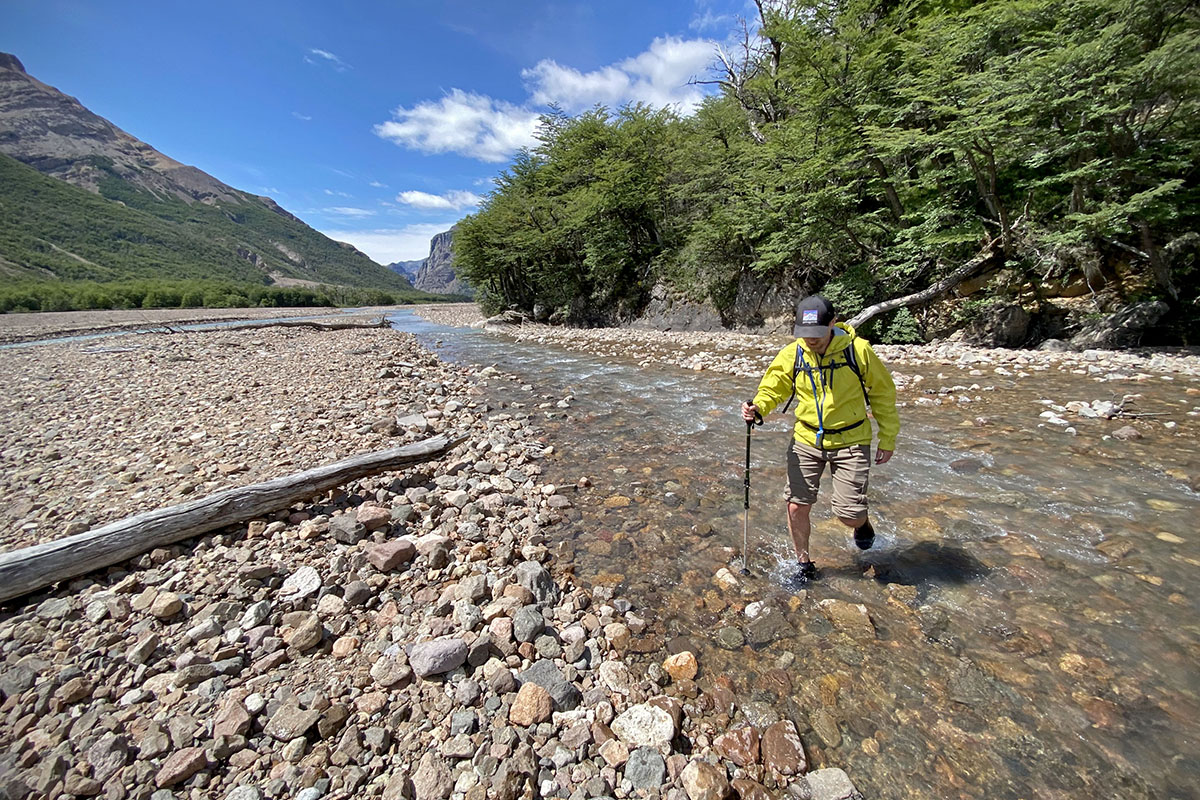 Breathability
I prefer the improved breathability that comes with a non-waterproof shoe for warm conditions or for hikes involving a lot of river crossings—such as the trek through Parque Patagonia—and the X Raise came through with solid all-around ventilation. Even with the cushioned, sock-like lining, I didn't have any issues with overheating as we hiked in direct sun with temperatures topping out in the mid 70s Fahrenheit. That said, the shoe disappointed with its drying time. Most non-waterproof designs excel here, but the extra padding along the lining seemed to slow down the process. Granted, my feet got completely drenched during the crossings as I used them as water shoes, but even after hours of hiking in the sun and wringing out as much moisture as possible from my socks, the upper portion of the shoes hadn't completely dried. Trimming down the uppers would likely compromise a little in comfort, although I do think the tradeoff in this case would be worth it.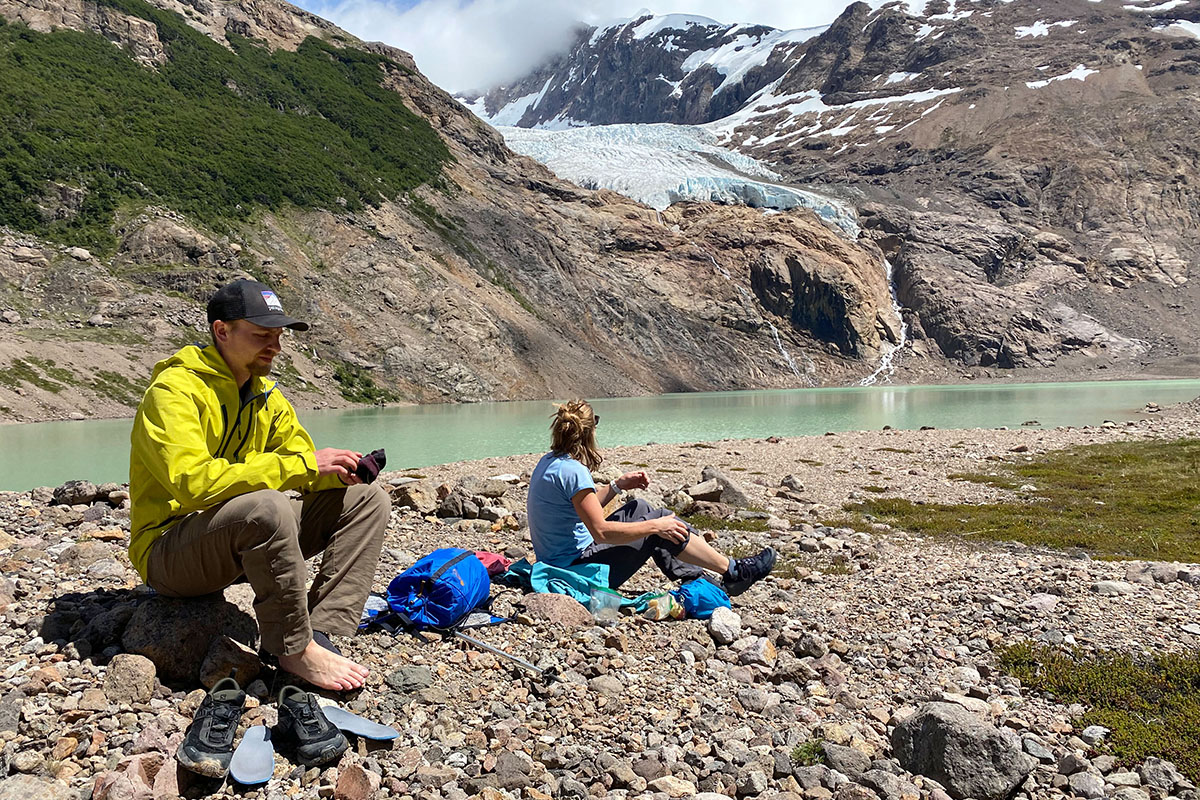 Build Quality and Durability
While I'm still fairly early on in the test of the Salomon X Raise shoes, I've had enough trail time to get a good feeling of how they'll hold up. After getting caked in mud and grit in Patagonia, the tightly woven synthetic uppers have cleaned up nicely and look practically new again. Moreover, the TPU reinforcements along the toes (in place of a traditional rubber toe cap) have done a decent job protecting my feet and only have some light scuffs from a few direct hits to rocks. Along the interior, the shoe's soft lining isn't showing any pilling or wear, and the Quicklace system is still operating smoothly (more on this below). The rubber outsole is starting to wear down, but it's not excessive and none of the lugs have chipped away. I'll update this write-up if anything changes as I continue the test, but all signs are positive that the X Raise should have a fairly long lifespan.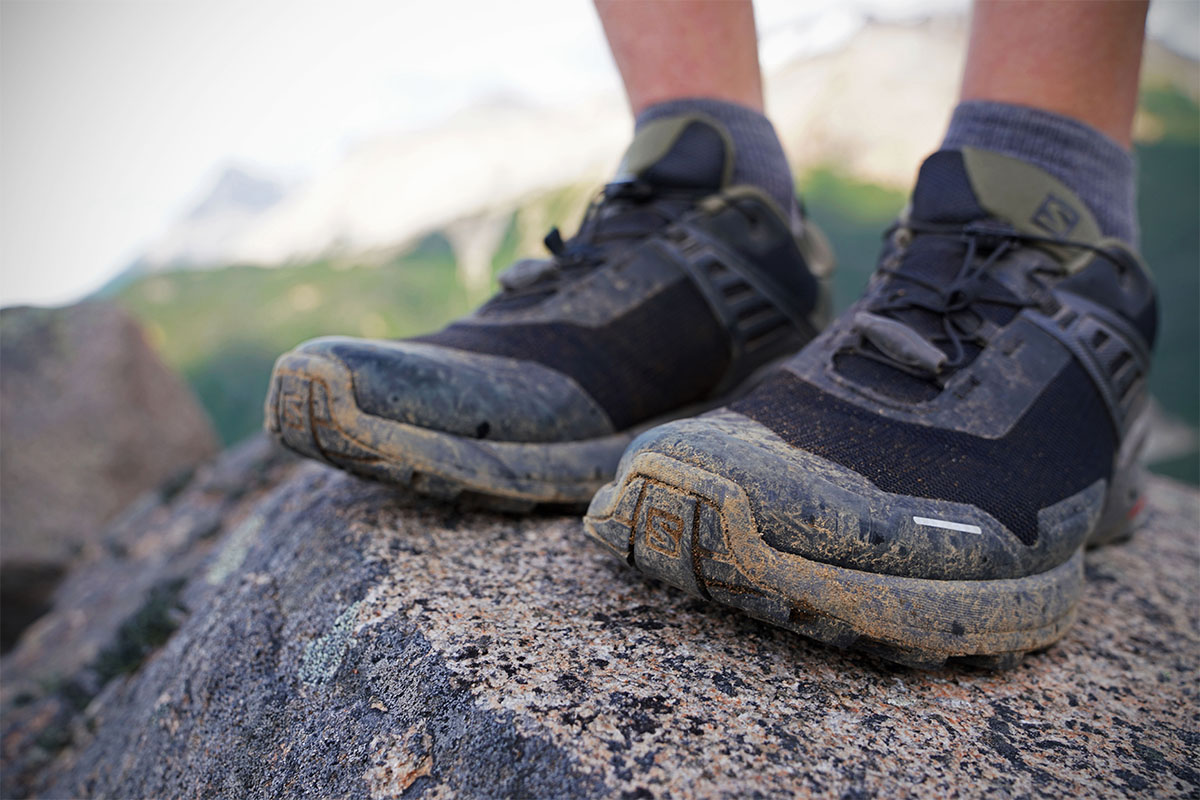 Fit and Sizing
We've found that many Salomon shoes and boots run narrow, but that's not the case with the X Raise. I got my standard men's 9 and found it had an average width in the heel and was fairly roomy in the toe box (noticeably roomier than my X Ultra 3 Low shoes). Unfortunately, for those that need a true 2E width, Salomon doesn't offer the X Raise in wide sizes like they do with their X Ultra. But the good news is that hikers with average-width feet that have had issues with Salomon footwear in the past have a good chance of success with this shoe.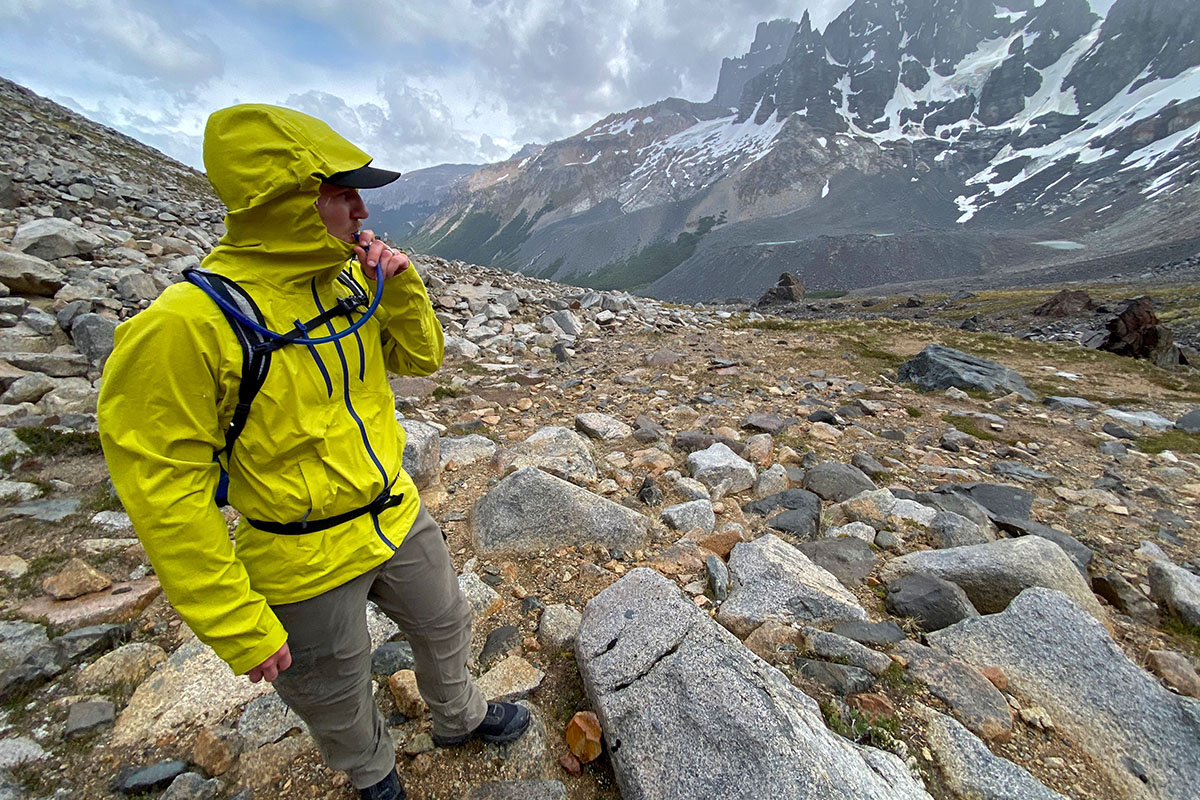 One final point to touch on with the X Raise's fit is their Quicklace system. For those unfamiliar with the design, here's how it works: grab the rubberized end and push the plastic tab towards your foot to tighten, and reverse the process to loosen. The main benefit is convenience, and it's admittedly very fast to put on, adjust, and remove the shoes. The downside is customization, as it's only able to tighten evenly through each eyelet. In addition, I found myself needing to re-cinch the laces a few times throughout the day. In fairness, comfort was still excellent and I've never had a Quicklace fail, but it remains a polarizing feature.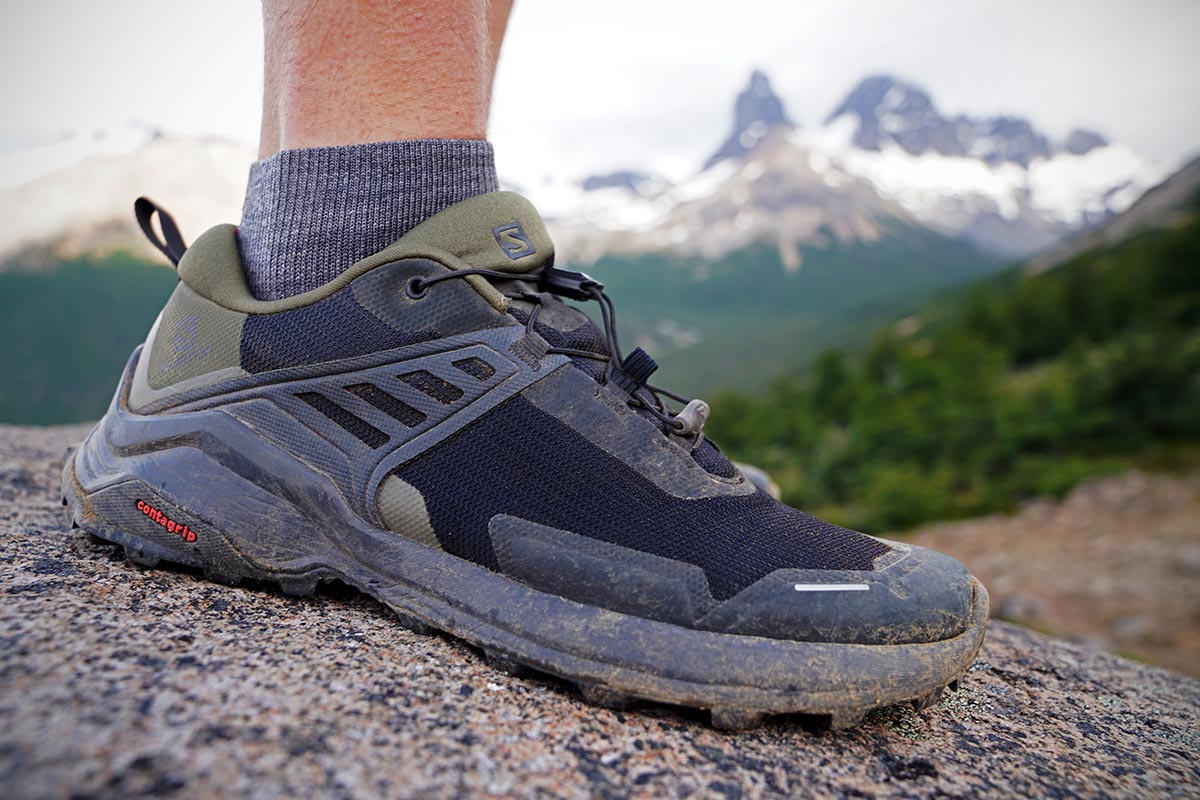 Other Versions of the Salomon X Raise
I've been testing both the non-waterproof and Gore-Tex versions of the low-top shoe, and Salomon also makes a higher-riding, mid-height waterproof boot. Going with the waterproof low-top model gets you the Gore-Tex liner, a small jump in weight (for me, it was only 1.6 oz. more for the pair), and an interior that is a little less cushioned and plush (but the difference in feel between the two is relatively minor). Stepping up to the X Raise Mid GTX comes with a $20 increase in price and modest weight penalty (1 lb. 10.1 oz. per pair), but you get a notable boost in support, as well as added ankle protection and coverage for water crossings, bushwhacking, etc. Finally, all of the aforementioned models are available in women's versions that look nearly identical to their men's counterparts but weigh less and come in slightly different colorways.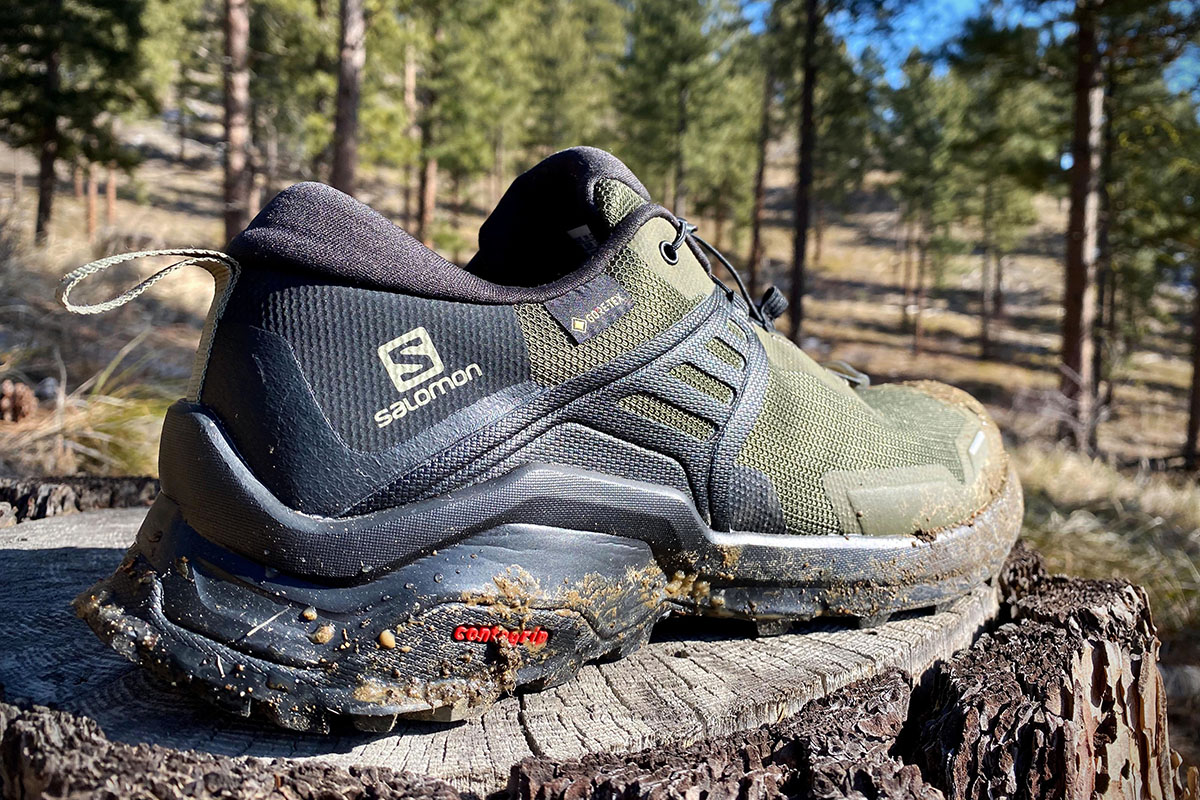 What We Like
The X Raise is an excellent high-mileage hiking shoe, with standout cushioning and all-around comfort.
Lightweight and flexible design gives it a trail runner-like personality (but with improved durability).
Unlike many Salomon shoes that run narrow, we found the X Raise is pretty true to size with a roomy toe box and average-width heel.
At $110 for the non-waterproof model ($130 with Gore-Tex), it's a good value.

What We Don't
The outsole is surprisingly slippery and hard to trust when hiking in wet conditions.
Debris makes its way inside too easily with the non-waterproof version (the GTX model gets a gusseted tongue to help with this issue).
Extra padding along the lining increases drying time.
Quicklace system is somewhat polarizing and doesn't allow as much fit customization as regular laces.


Comparison Table

The Competition
There's a lot to like with the new X Raise, but it's joining a pretty crowded field of lightweight and nimble low-top hikers. Starting from within Salomon's own lineup, our current top-rated hiking shoe is the X Ultra 3. In comparing non-waterproof versions, the X Raise is lighter by over 4 ounces for the pair, more flexible underfoot, and costs $10 less. On the other hand, the X Ultra Aero has better traction, is more protective with a full rubber toe cap, and has a stiffer build that is more confidence-inspiring in off-camber and technical terrain. In deciding between the two, we'd opt for the X Raise if you want a soft and trail runner-like feel, while the X Ultra wins out as a tougher and more well-rounded design.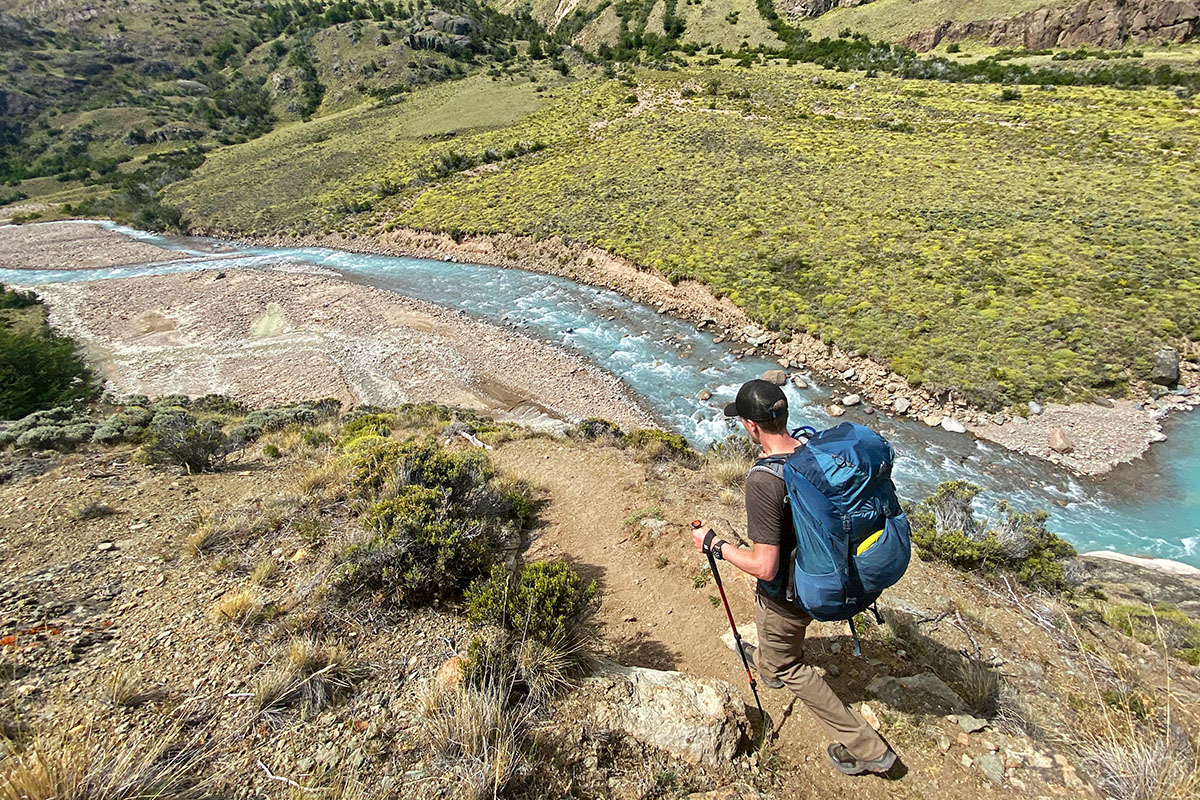 One of the X Raise's closest competitors in terms of price and intended use is Merrell's MQM Flex. Updated to the "2" last year, both the Merrell and Salomon shoes cost $110 for the non-waterproof models (with GTX available), feel light and modern, and fit nicely with accommodating toe boxes. In parsing out the differences between the two shoes, the Merrell has noticeably thinner cushioning underfoot, which has me a little concerned about long-distance comfort. In addition, I've had issues with the MQM's outsole durability, especially over rocky terrain. But its standard lacing system makes it easier to fine-tune the fit compared with Salomon's Quicklace, and the MQM Flex offers a little more lateral support with a stiffer heel counter. As it stands, the Salomon currently has the edge due to its superior comfort and longevity.
Another shoe to have on your radar is Danner's Trail 2650. We tested it on our recent Patagonia trip and came away impressed: it's light, plenty comfortable with quality cushioning underfoot, and easily one of the better-looking hiking shoes on the market with its mixed leather/textile upper. How does it stack up to the X Raise? The Danner is similarly soft and flexible, but its Vibram outsole is a superior performer across a range of terrain and its less technical styling wears better around town. That said, the X Raise fits truer to size (we found the Danner to be quite narrow and had to go with the wide version), is lighter by about 2.5 ounces, and comes in $40 less. In the end, both are quality options, but we think the overly narrow fit of the Danner will limit its appeal.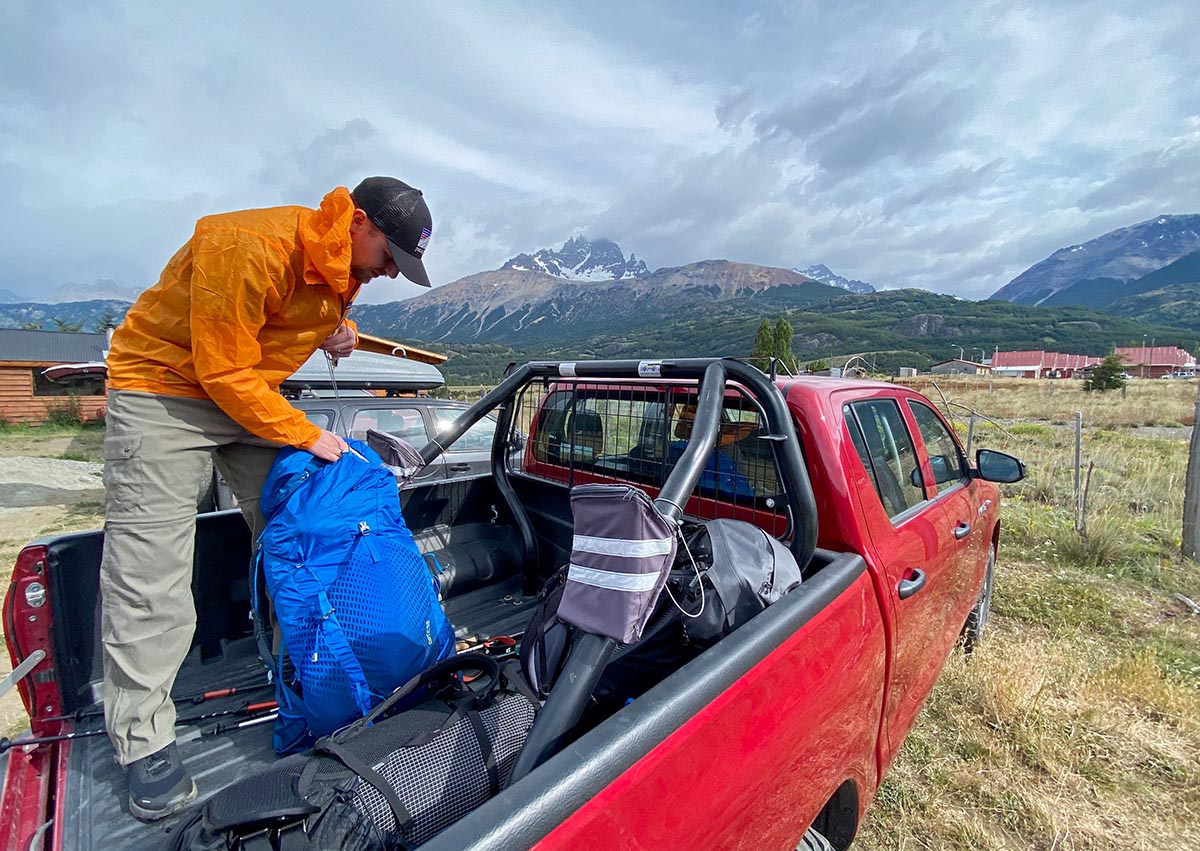 As we touched on above, the X Raise has a decidedly light and nimble feel on the trail, and it's worth comparing it to a true trail runner: Altra's Lone Peak. Recently updated to the "5," the Lone Peak is popular among the thru-hiking community for its lightweight (1 lb. 6.2 oz.) but well-cushioned build that nicely isolates you from the trail. That said, the Lone Peak offers less protection and support along the sides of the foot than the Salomon, and the X Raise is less floppy when hiking with a heavy load. All in all, we love the Altra for ultralight pursuits and fast-and-light trips, but the X Raise weighs and costs slightly less and offers a step up in stability and toughness.
A final shoe to consider comes from Arc'teryx, which jumped into the hiking shoe world with their very capable Aerios FL. Only offered in a Gore-Tex model, the shoe is about the same weight as the X Raise (comparing GTX versions), but the two fall on opposite ends of the performance spectrum. The Arc'teryx has serious technical chops with a relatively stiff build that is stable for a low-top (a mid-height boot is also offered) and excellent traction from the Vibram Megagrip outsole. If you want a well-made and tough shoe for tackling demanding trails, the Arc'teryx Aerios FL is a class leader. But if your priorities are instead all-day comfort for putting on serious miles, we think the Salomon is a true standout.
If you're thinking about buying gear that we've reviewed on Switchback Travel, you can help support us in the process. Just click on any of the seller links above, and if you make a purchase, we receive a small percentage of the transaction. The cost of the product is the same to you but this helps us continue to test and write about outdoor gear. Thanks and we appreciate your support!
Depending on the seller, most products ship free in the United States on orders of $50 or more. International shipping availability and rates vary by seller. The pricing information on this page is updated hourly but we are not responsible for inaccuracies.
Learn More About Hiking Gear