Camping lanterns have come a long way since their inception. Nowadays, the market is flush with modern options that combine impressive brightness alongside fun features like multicolor lighting modes, USB ports for powering your electronics, and even solar panels for recharging your lamp in the field. Designs range from simple and collapsible models to tech-heavy offerings with strong outputs and Bluetooth compatibility. Plus, there are still some gas-powered holdouts available for cold-weather outings. Below are our favorite options on the market in 2022, including a detailed comparison table and buying advice below the picks to help you choose the best lantern for your camping adventures.
 
---
Our Team's Camping Lantern Picks
---

Best Overall Camping Lantern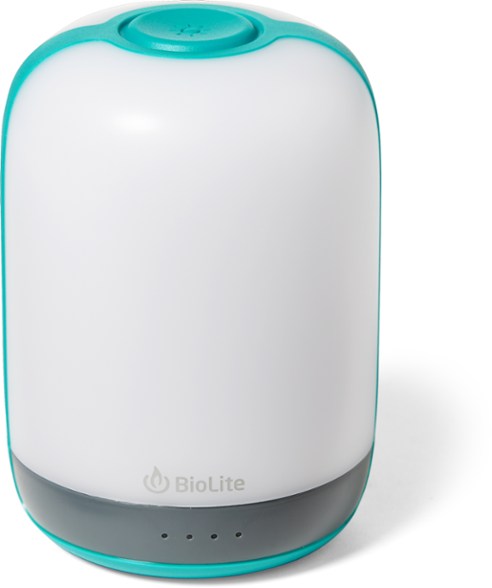 Weight: 13.8 oz.
Max lumens: 500
Batteries: Rechargeable (USB)
What we like: Excellent combination of output, light modes, and tech features. 
What we don't: Expensive and could be a little more user-friendly.
New York-based BioLite is well known for their innovative wood-burning stoves, but their camping lantern collection is arguably just as well executed. Our favorite model in their lineup is the AlpenGlow 500, which combines an impressive 500-lumen max output with a nicely sorted feature set, including a built-in loop to hang the lantern at camp, integrated USB port to charge devices like your phone or tablet, and several color modes—from warm or cool white to a fun "fireworks" function. All told, the AlpenGlow is modern and sleek, thoughtfully built, and bright enough to serve as your only light at camp. In fact, we've recently started using it at night in our van, and it's been sufficiently powerful as our only source of light when cooking and cleaning up.
What are the downsides? The AlpenGlow 500 is on the pricey side at $80 and a little heavy and bulky compared to many of the picks below (it also doesn't collapse down for stuffing in a full trunk or gear bin). BioLite does sell the cheaper and lighter AlpenGlow 250 ($60; 7.4 oz.), but we think most campers will find the added output of the 500 model worth the price and weight penalties. Unfortunately, neither version boasts a solar panel for recharging, but battery life is pretty impressive at 200 hours on low and 5 on high. And a final nitpick is that it can be tough to find the exact setting you're looking for—cycling through the modes requires a combination of button-pushing and shaking the lantern. But the learning curve isn't too steep, and the BioLite offers a hard-to-beat mix of brightness, tech features, and overall quality, earning it our top spot for 2022.
See the BioLite AlpenGlow 500
Best Budget Camping Lantern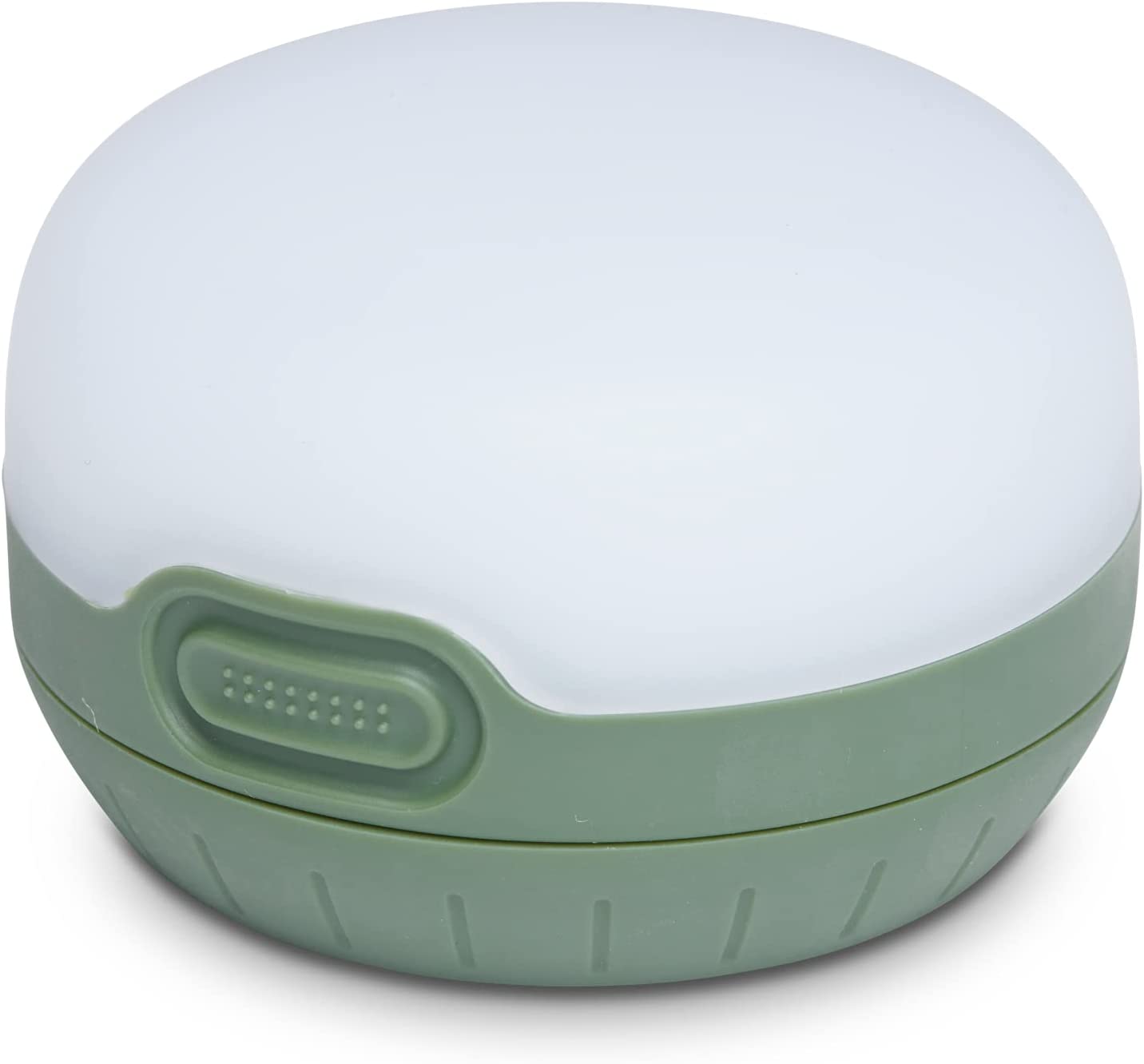 Weight: 2.6 oz.
Max lumens: 200
Batteries: AAA (3); rechargeable battery sold separately
What we like: Light, compact, and very affordable.
What we don't: Rechargeable battery sold separately; limited lighting modes.
The AlpenGlow 500 above is a premium and well-appointed lantern, but it's undeniably pricey at $80. Enter Black Diamond's Moji, which costs just $25 but will get the job done for campers that care more about value and simplicity than lighting modes and charging capabilities. The design is decidedly basic, but Black Diamond did make some notable improvements recently, including bumping up the max brightness (from 100 to 200 lumens) and adding compatibility with their rechargeable battery (sold separately). Importantly, much of the winning formula remains, including the cheap price tag, lightweight build, and compact shape. Added up, the Moji is all many campers need in a lantern. And because of the low heft and bulk, it can also pull double duty as a luxury item on backpacking adventures.
Black Diamond recently overhauled the Moji collection, and the standard model here is the cheapest and most basic in the collection. For $5 more, the Moji + has the same 200-lumen output but comes with attachment magnets and additional lighting functionality including color settings and a fun "campfire" mode. Next up is the $45 Moji R + Lantern, which trades AAA batteries for Black Diamond's USB-rechargeable unit. Rounding out the lineup is the top-end Moji Power Station, which has the highest output of the bunch at 250 lumens, comes with a USB port for charging electronics, and runs on either standard AA alkalines or the built-in lithium-ion battery. We think the standard Moji balances its priorities the best and have been happy with its overall performance, but the entire family is undeniably well built with many good reviews to its name.
See the Black Diamond Moji
Best All-in-One Lantern and Device Charger
Weight: 8.6 oz.
Max lumens: 150
Batteries: Rechargeable (USB and solar)
What we like: Integrated solar panel, USB port, and collapsible design are great for off-grid adventures.
What we don't: Strap isn't secure enough for attaching to a pack; device charging drains the battery quickly.
Camping lanterns certainly have come a long way over the past few decades, with modern designs boasting impressive integrated tech and charging capabilities. LuminAID's PackLite Max 2-in-1 Power Lantern is a shining example of the ongoing innovation within the market: The lantern sports a built-in solar panel that recharges the battery when exposed to sunlight (you can also recharge it more quickly via the USB) and a single port for repowering electronics should you run out of juice while out in the wilderness. We also love the collapsible design, which inflates easily with a few breaths and folds down to around 1 inch when packed—a big plus for freeing up valuable space in a full trunk or garage.
Our biggest gripes with the LuminAID PackLite Max relate to its strap, which closes with two small buttons and isn't the most secure for reliably attaching to the outside of a pack. We also found it too thick to hang from the webbing loops in our REI Grand Hut 6 tent (since replaced by the Skyward)—we ended up snapping it through the zipper pulls on the roof vents instead. This likely won't be a deal-breaker for most, but it's a notable downside if you like to suspend your light inside your tent or above camp. And in terms of brightness, the LuminAID is fairly middling with just 150 lumens of output, although we've found it to be plenty for illuminating a six-person tent or picnic table in full darkness. In the end, if you don't mind the small concessions in strap security and brightness, the LuminAID is an excellent and highly compressible option for off-grid adventures when you have limited space and access to power.
See the LuminAID PackLite Max 2-in-1
Best Ultralight and Compact Lantern
Weight: 2.4 oz.
Max lumens: 150
Batteries: Rechargeable
What we like: Small, feathery light, and helpful flashlight beam.
What we don't: Not a great primary option around camp.
At a scant 2.4 ounces, Goal Zero's Lighthouse Micro Flash takes the ultralight crown for 2022. Right off the bat, we'll note that the Micro Flash is unmistakably basic and lacking in features and brightness compared to many of the more premium (and pricier) picks above and below, but it packs a decent punch for its diminutive size. The 150-lumen output—while not particularly bright—is sufficient for illuminating a tent or seating area (including high and low settings and the ability to turn on only one side), and the integrated battery indicator makes it quick and easy to check how much juice is left. It's a little less powerful in flashlight mode at 120 lumens max, but the functionality is very helpful for reading or venturing outside your tent in the middle of the night. And at just $25, the Goal Zero is an excellent value and a viable backup option to keep in your car for those just-in-case scenarios.
But unfortunately, the Lighthouse Micro Flash doesn't stand out in many other areas. The feathery and compact build make it serviceable for weight-conscious backcountry missions (it's similar in size and shape to a jump rope handle), but most backpackers will already be carrying headlamps and therefore won't find the Goal Zero all that useful. And for just 0.2 ounces more, Black Diamond's Moji above is the more proven design and puts out a wider, brighter, and more dispersed light for the same price. But if you like the pocket-friendly size and shape, the Micro Flash nevertheless is well built for the price and weight—great for solo campers or bringing along for additional lighting at camp. For another ultralight (2.5 oz.) and compact option, UCO's Leschi Lantern costs less at $13 but isn't as bright and runs on AA batteries. MPOWERD's $20 Luci Core Solar Lantern is another popular alternative with a silicone arm for easy attachment and built-in solar panel, but the 40-lumen output is undeniably limiting.
See the Goal Zero Lighthouse Micro Flash
Best String Lights for Camping
Weight: 11.3 oz.
Max lumens: 100
Batteries: Rechargeable (USB and solar)
What we like: A fun alternative to traditional lanterns for great campsite ambiance.
What we don't: Lacking in versatility.
Most campers stick with traditional lanterns for illumination, but if you're looking for a cozy and unique ambiance, string lights are a fun alternative. MPOWERD's Luci Solar is our favorite outdoor-ready design, combining many of the features we love in a quality lantern with an 18-foot nylon braided cord comprised of 10 lights that can be strung between trees, tents, or other structures. Like the LuminAID PackLite Max above, the Luci Solar also sports an integrated solar panel and USB port for mobile device charging, as well as a handy battery life indicator and LED flashlight. Those are some serious upgrades from standard, plug-in string lights.
What do you sacrifice by opting for string lights like the Luci Solar over a more standard lantern? The biggest concession is versatility: While the lanterns above and below can be set up pretty much anywhere in a matter of seconds, the MPOWERD lights will require some time and effort to hang. And if you're camping in an exposed area without trees or other places to readily secure them, this might take some serious creativity and ingenuity. But these issues are par for the course among string lights, and they're an undeniably fun and creative alternative for vanlifers, backyard gatherings, and group camping trips. As far as alternatives go, MPOWERD also offers the lights with six color modes for the same price, and Nite Ize's Radiant Rechargeable Shineline String Lights cost $20 less but lack a USB port and have a shorter (10 ft.) cord.
See the MPOWERD Luci Solar String Lights
Best of the Rest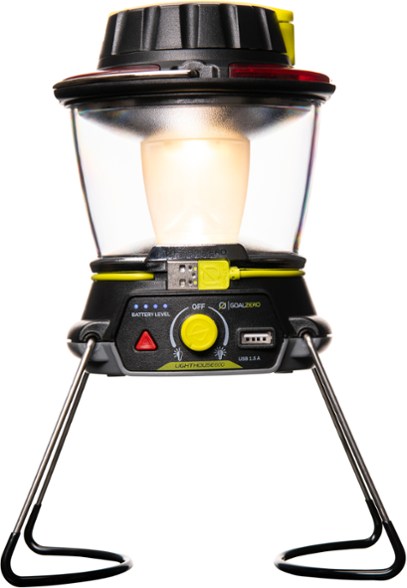 Weight: 1 lb. 1.6 oz.
Max lumens: 600
Batteries: Rechargeable (USB, solar, and hand crank)
What we like: A bright and thoughtfully built option with phone-charging capabilities.
What we don't: A little heavy and pricey; solar panel sold separately.
For a modern take on the traditional camp lantern, Goal Zero's Lighthouse 600 is one of the most popular designs on the market and for good reason. The 600-lumen max output is impressively bright and provides nice, even lighting all around, or you can adjust the dial to save power by utilizing only half of the lantern. Further, the collapsible legs and built-in handle make set up and storage a breeze, and you get an integrated charging port at the front for powering a phone or other electronic device. Finally, in addition to being able to recharge the battery via USB or solar power, the Lighthouse also sports a hand crank for manually juicing it up—an excellent and very helpful addition for adventures that take you far off the grid (1 minute of cranking translates to about 10 mins. of light on low).
As we touched on above, the Lighthouse can be recharged via solar power, but it unfortunately doesn't come with an integrated panel like LuminAID's PackLite Max above. For reference, Goal Zero recommends pairing the lantern with their Nomad 10 panel, which will run you $100 (in addition to the already-steep $70 investment). Additionally, the Lighthouse is on the heavier and bulkier end of the spectrum at just over a pound, making it far less appealing than options like the LuminAID above for hauling into the backcountry. That said, for car camping use—and especially if you already own a Goal Zero solar panel—the Lighthouse is an impressively capable and nicely outfitted pick for remote trips. 
See the Goal Zero Lighthouse 600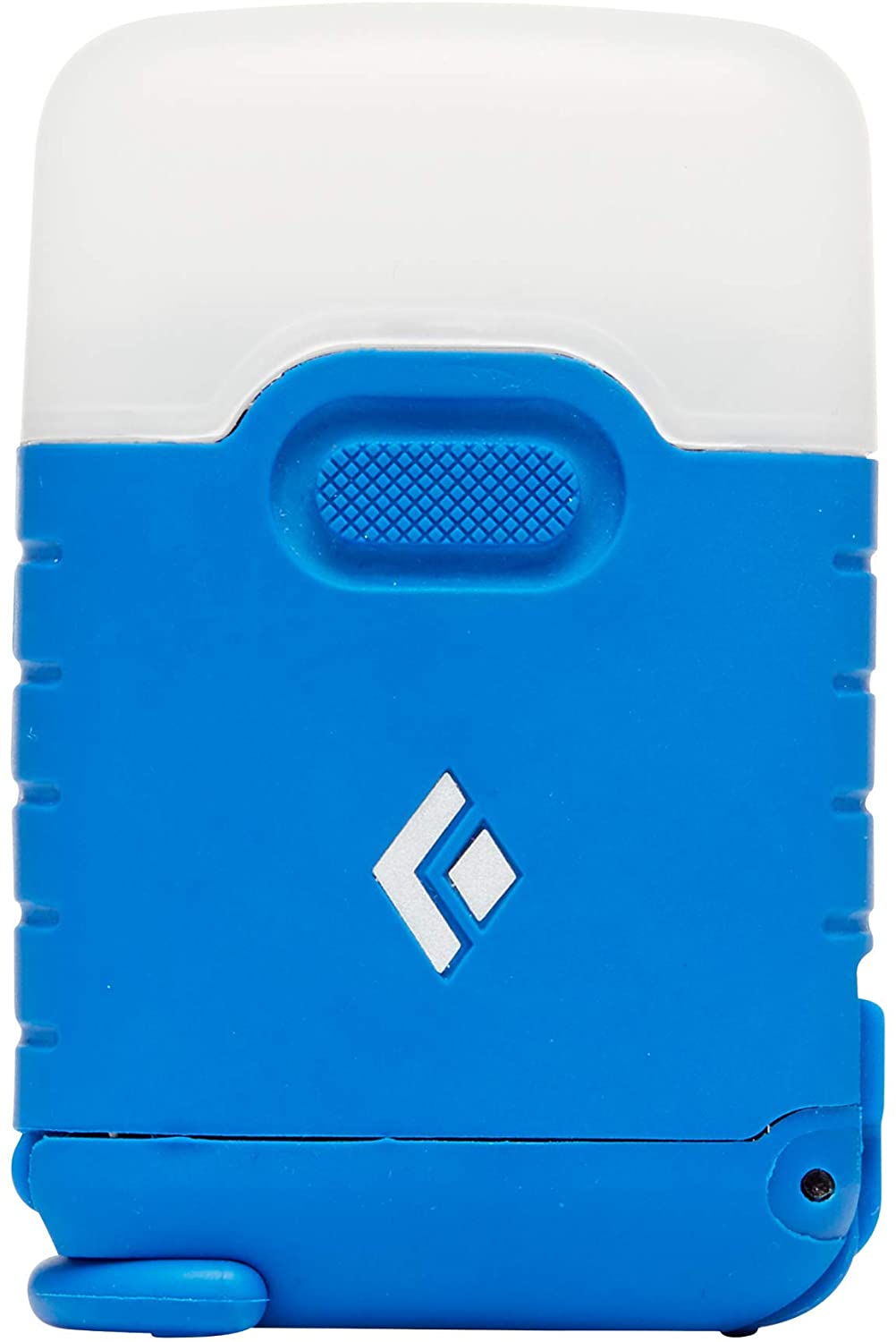 Weight: 3.3 oz.
Max lumens: 150
Batteries: AAA (4)
What we like: Flashlight mode creates a precise, headlamp-like beam. 
What we don't: No rechargeable battery and a little cheap-feeling.
Like their Moji above, Black Diamond's Zip is a lightweight and affordably priced camp lantern for those that don't want or need a bunch of tech features. The simple design runs off of four AAA batteries, packs in a decent 150-lumen output with a frosted globe that provides nice ambient lighting, and has a functional, collapsible loop at the top for hanging from a branch or inside your tent. But the real highlight is the Zip's "flashlight" mode, which creates a precise, 100-lumen beam for illuminating a specific area or object at camp. The ability to switch between lantern and flashlight functionality is a big plus in our experience and gives the Zip a major leg up compared to the Moji above and BD's Volt below.
Why do we have the Zip ranked here? In addition to being on the dimmer end at 150 lumens, the lantern has a pretty barebones feature set: It isn't rechargeable via USB, doesn't come with integrated charging ports or a solar panel, and sports just a single button to access all of the modes. The unit itself is also a little cheap-feeling and basic, especially when stacked up against sleek and modern options like BioLite's AlpenGlow series. But the flashlight feature is a helpful addition, and it doesn't hurt that Black Diamond nailed the weight and cost parts of the equation too.
See the Black Diamond Zip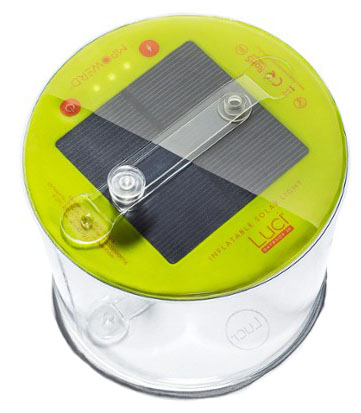 Weight: 4.4 oz.
Max lumens: 75
Batteries: Rechargeable (USB and solar)
What we like: A light and collapsible solar-powered lantern for just $25.
What we don't: Most campers will want something brighter.
MPOWERD has quickly made a name for themselves in the solar lantern market with a healthy selection of string lights and inflatable models for off-grid adventures. From the same collection as their Luci Solar String Lights above, the Luci Outdoor 2.0 Inflatable Solar Lantern is another well-executed design with a nice array of functional features. The rechargeable battery lasts up to 24 hours on a single charge with a three-dot indicator to monitor juice, or you can position the lamp in direct sunlight and utilize the solar panel. We also appreciate the light and collapsible build, which measures around 1 inch thick when deflated and checks in just 4.4 ounces—great for throwing in a duffel or full bin of camping gear. And priced at just $25, the Luci Outdoor 2.0 is the cheapest solar panel-equipped option on our list and an excellent value.
What do you sacrifice by saving with the MPOWERD Luci Outdoor 2.0? Unlike most other designs with solar panels, the Luci doesn't have a port for charging electronics, which is a downside for extended, remote outings (you'll likely need to bring along a separate bank to recharge your phone). And like the LuminAID PackLite Max above, the MPOWERD's strap is underbuilt for attaching to a pack and was too thick for hanging in our REI Grand Hut 6 tent. Finally, the 75-lumen output—while serviceable for general camp use—lacks the brightness of similarly equipped models like the LuminAID (150 lumens) and Goal Zero Lighthouse (600 lumens) above. But the Luci Outdoor 2.0 is the cheapest of the bunch by a sizable margin, which could be the deciding factor for many. If you want something brighter, MPOWERD also sells the Luci Pro (150 lumens) and Luci Base (360 lumens), both of which also come with a USB port but cost and weigh more.
See the MPOWERD Luci Outdoor 2.0 Lantern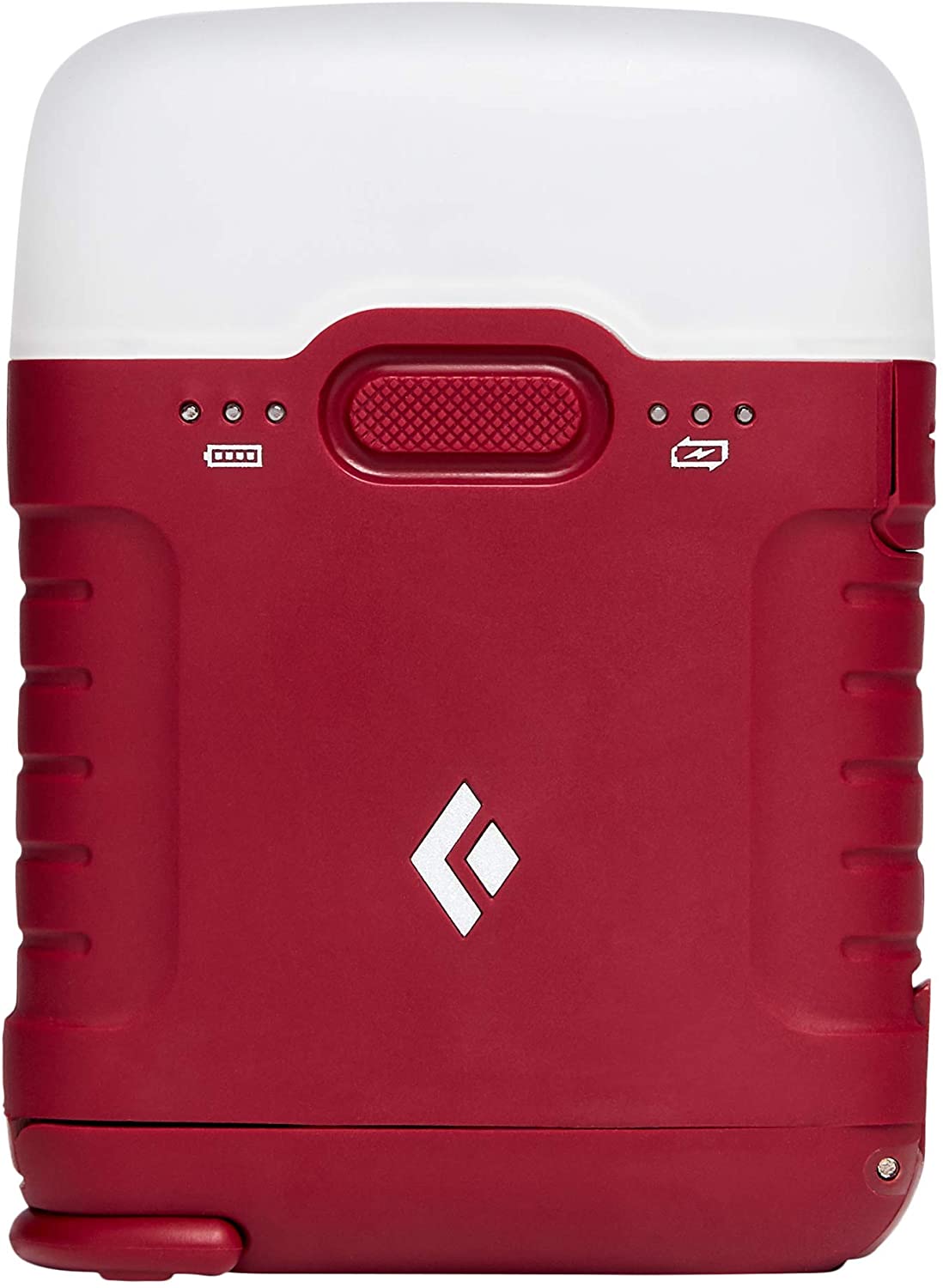 Weight: 7.9 oz.
Max lumens: 250
Batteries: Rechargeable (USB) or AA (3)
What we like: A brighter and rechargeable alternative to the Zip above.
What we don't: It's also heavier, pricier, and lacks the flashlight function.
The third Black Diamond model to make our list is their Volt, which is a step up from their Zip above in terms of brightness and features. Compared to the 150-lumen Zip, the Volt boasts a considerably brighter 250-lumen max output and comes equipped with a port for powering electronics. You also get the option to recharge the lantern via USB, which eliminates the need to pack extra batteries and helps limit waste. And compared to the Zip's 12-hour maximum battery life, the Volt can be used for up to 24 hours at full tilt. It's heavier by around 5 ounces and costs $20 more, but many will find the upgrades in overall performance worth those slight penalties.
Why do we have the Zip ranked above the Volt? The main knock is the lack of flashlight functionality—the Zip's precise beam can help considerably in full darkness when performing camp chores, sorting through gear, or using the bathroom in the middle of the night. In addition, the upright shape means it can't match the wide, dispersed light of a more traditional design like the BioLite AlpenGlow 500 above. That said, while the Volt doesn't excel in any one category, it's a well-made product that's built to last, which earns it a spot midpack on our list.
See the Black Diamond Volt
Weight: 4 lbs. 10.4 oz.
Max lumens: 800
Batteries: None (liquid fuel/gas)
What we like: A time-tested option for traditionalists and cold weather.
What we don't: Heavy, bulky, and gas-powered design isn't as convenient as batteries.
Coleman has been a big-time player in the camp lantern market for decades, and their Powerhouse Dual Fuel Lantern pays tribute to designs of old. Rather than batteries, the Powerhouse runs off of liquid fuel or unleaded gasoline, which is great for cold-weather adventures that can drain standard batteries quickly. For reference, the lantern lasts up to 5 hours on high or 20 hours on low using either fuel. Just as importantly, it features a very bright 800-lumen lamp that puts out even, diffused light (the control knob allows you to effectively dial in the intensity). All in all, it's a highly reliable and time-tested option for winter campers, survivalists, and those spending time at higher altitudes.
What are the downsides of the Coleman's gas-powered build? The most obvious is the lack of convenience: While many of the picks on our list can be recharged in the field via USB or by swapping batteries, you'll need to plan ahead with the Coleman and bring along extra fuel or gas on extended outings. The unit itself is also undeniably heavy and bulky at nearly 5 pounds. And at $110, you're paying a pretty steep premium for an otherwise low-tech and dated-looking design. In the end, there's no denying the reliability and impressive cold-weather performance, but we think most recreational campers will be happier with a sleeker and more modern option like BioLite's AlpenGlow 500 or Goal Zero's Lighthouse 600. Alternatively, Coleman sells their Classic LED Lantern in 400- and 800-lumen models, the latter of which bears a strong resemblance to the Dual Fuel but costs $25 less and includes modern additions like a rechargeable battery and device charging ports.
See the Coleman Powerhouse Dual Fuel Lantern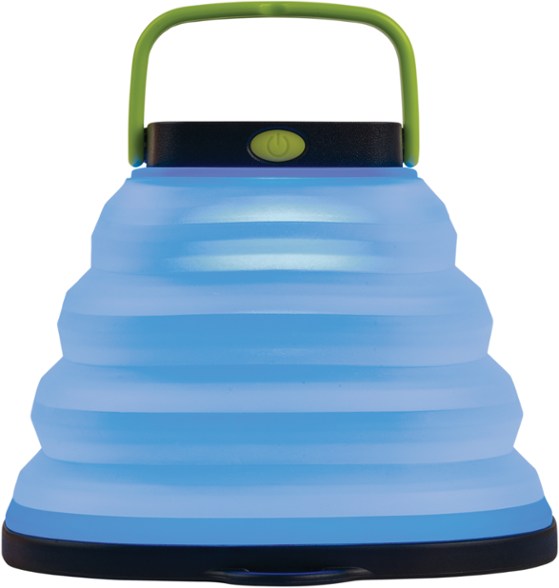 Weight: 3.2 oz.
Max lumens: 60
Batteries: Rechargeable (USB and solar)
What we like: Built-in solar panel, eight color modes, and device-charging capabilities at a budget-friendly price.
What we don't: Middling brightness and takes a long time to charge in the sun.
Like MPOWERD's Luci Outdoor 2.0 above, Goal Zero's Crush Light Chroma slots in as a light and packable design at a great price. For a wallet-friendly $25, the Goal Zero combines a feathery build (around 1 oz. lighter than the Luci) with an integrated solar panel for recharging the lamp in the backcountry. Many will also like the addition of a USB port for charging electronics like a phone or camera, as well as the eight color modes and "multicolor fade" function for creating more of a playful atmosphere at camp (both of which the Luci lacks). All told, it's another well-sorted design from the innovative Utah-based brand.
That said, despite the advantages in light functionality and weight, the Goal Zero falls short of the MPOWERD in a couple key areas. First, the Crush Light has a middling 60-lumen max output, which is the dimmest on our list (the Luci is 75 lumens) and lacks the brightness needed for illuminating an entire campsite in full darkness. Battery life is another drawback: The Goal Zero lasts just 3 hours on high, while the Luci offers double the runtime (and neither is a standout compared to most other picks here). But if you're on a budget and anticipate using the color modes and USB port, the Crush Light Chroma is a super compact lantern at a great value. For $5 less, Goal Zero also makes the standard Crush Light, which lacks the device-charging port and color modes of the Chroma but is otherwise very similar in terms of overall performance.
See the Goal Zero Crush Chroma Lantern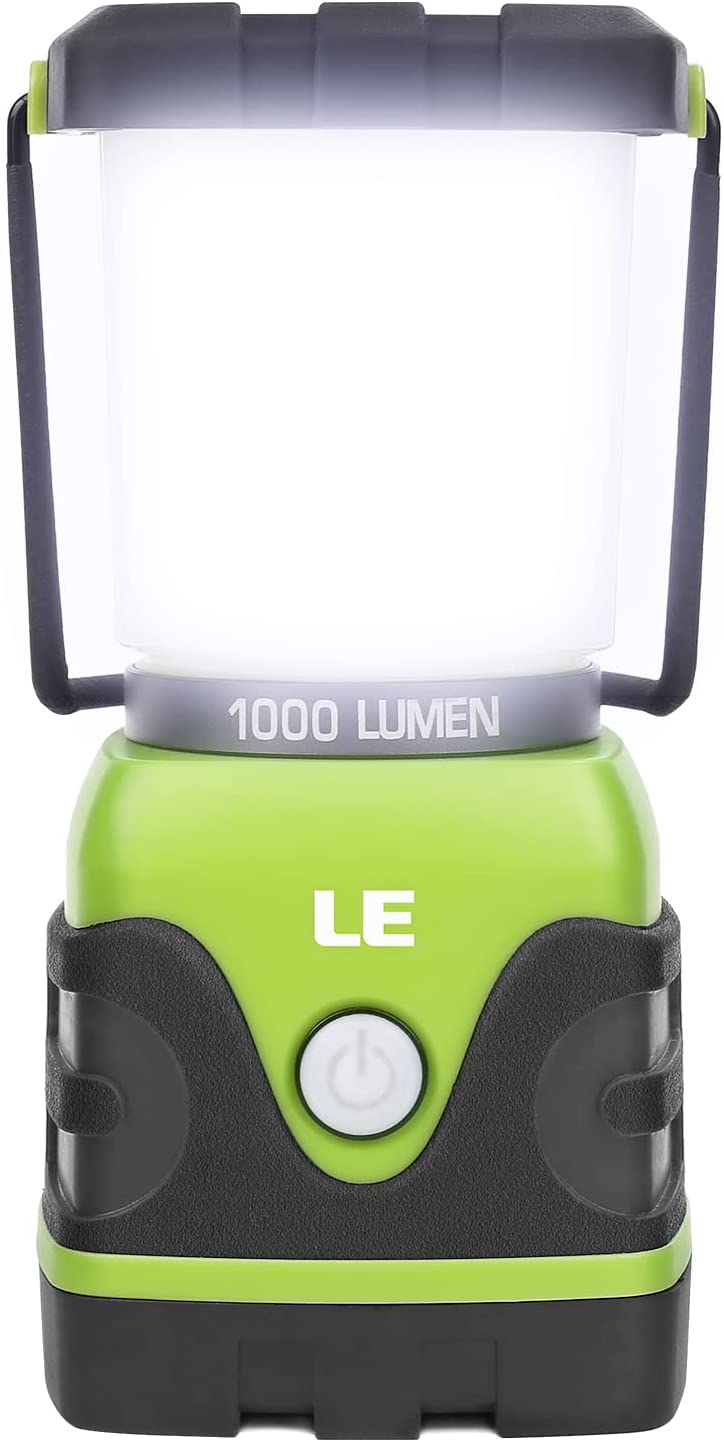 Weight: 14 oz.
Max lumens: 1,000
Batteries: D Alkaline (3)
What we like: Exceptional output at a very affordable price point.
What we don't: Fairly bereft of features and 1,000 lumens is overkill for most activities.
For those that prioritize maximum output over integrated tech features and packability, LE's LED Camping Lantern is one of the brightest camping lanterns on the market with a whopping 1,000 lumens. This puts it in rarified air (along with Coleman's 1,000-lumen OneSoure below) and translates to exceptional performance for illuminating an entire campsite, even in full darkness or inclement conditions. The light functionality is pretty basic—you get four modes, including daylight white, warm white, full brightness, and flashing—and the lantern can't be recharged via USB. But at just $23 on Amazon at the time of publishing, you'd be hard-pressed to find more output for less.
Unfortunately, however, the LE LED Camping Lantern doesn't stand out in many other areas. In addition to the lack of color modes, the unit isn't rechargeable and runs off of D Alkaline batteries, which are bulky and pricey compared to more commonly used AA or AAAs. It's also on the heavier end at 14 ounces and doesn't collapse down, which is a potential downside on gear-intensive trips when space is at a premium. And unlike many of the picks above, the LE doesn't have a port for charging electronics or even a battery life indicator. But for low-maintenance campers that don't mind the simple and basic build, the combination of value pricing and exceptional brightness are hard to beat.
See the LE LED Camping Lantern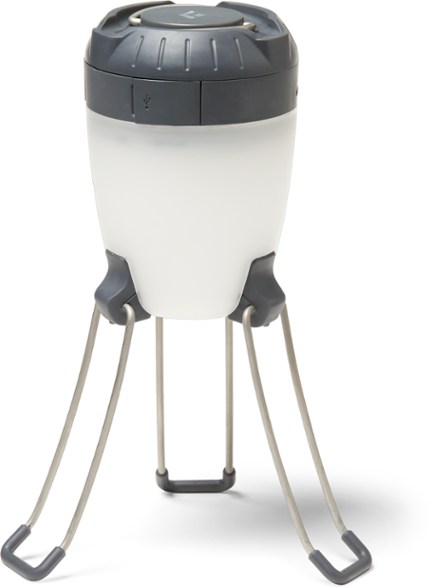 Weight: 12.1 oz.
Max lumens: 225
Batteries: Rechargeable (USB) or AA (3)
What we like: Functional folding/hanging design, good output, and well-integrated tech.
What we don't: You can get more brightness for the same price with Goal Zero's Lighthouse above.
The final Black Diamond lantern to make our list is their Apollo. Like their Moji, Zip, and Volt above, the Apollo features the frosted globe that we love for providing a diffused, even light around camp, along with a user-friendly build including an easy-to-read power meter display and single button for adjusting settings. But the real highlight is the practical folding/hanging design, which includes a double-hook metal loop at the top for securing to a branch or tent webbing loop and folding legs underneath for standing the unit on a picnic table or rock. Combined with a respectable 225-lumen max output, rechargeable battery, and USB port, the Apollo is a well appointed and highly versatile option.
The most glaring downside to the Apollo—and why we have it ranked here—is its $70 price tag. For the same price, Goal Zero's Lighthouse above offers over double the output at 600 lumens and comes with a hand crank for manually recharging the lantern in the field. You also get the option of purchasing a solar panel separately, both of which are a major plus for off-grid adventures when you don't have access to a power source. On the flip side, the Apollo is lighter by around 5 ounces and far less bulky, especially with the legs collapsed. Whether or not those advantages are worth the drop in brightness is up to you, but we think the Lighthouse is the better-executed design at this price point.
See the Black Diamond Apollo

Weight: 9.9 oz.
Max lumens: 750
Batteries: Rechargeable (USB)
What we like: Great variety of light functions and mounting options.
What we don't: A little pricey and complex to operate.
Germany-based Ledlenser is credited with producing one of the first LED-equipped flashlights in the early 2000s, and their ML6 lantern is a prime example of the company's ongoing focus on innovation and tech. What immediately stands out is the extensive array of light functions and mounting options. In addition to its excellent 750-lumen output at full tilt, the lantern also features a battery-saving low-power mode (great for reading in your tent at night), "boost" function for max power in short spurts, interval-based blink and pulse settings, and strobing capability for unexpected wildlife encounters. There's even a distress signal that emits SOS in Morse code. And for securing the lantern, the Ledlenser sports a rubber hook at the top for hanging, a built-in magnet for mounting to a metal surface, and a removable stand for propping on a table or flat ground.
In addition to its versatile design and multitude of light modes, Ledlenser also incorporated a few thoughtful touches, including fluorescent detailing to find the lantern in the dark, a low-battery warning and charge indicator, and a lock to prevent turning it on accidentally. However, all these features do come with downsides in terms of cost and complexity: The ML6 is pricey at $100 and not as user-friendly as simpler options from BioLite and Black Diamond above. In other words, it will likely require a bit of a learning curve to maximize the functionality, which won't be a problem for tech-savvy campers but could pose an issue for those just wanting the basics. To adjust the settings more quickly and easily, Ledlenser does make a "Connect" version for an additional $40, which allows you to control the lantern via your phone (it's Bluetooth-compatible) or the included remote control.
See the Ledlenser ML6
Weight: 1 lb. 7.1 oz.
Max lumens: 350
Batteries: Rechargeable (USB)
What we like: A premium and high-tech option with Bluetooth connectivity, multiple charging ports, and neat "proximity" lighting feature.
What we don't: Pricey, bulky, and overbuilt for most.
Utah-based Lander is a relative newcomer to the world of camping lanterns but has already made a name for themselves at the high end of the market. Their primary focus is on smart-feature integration, which comes across most clearly in their top-of-the line Boulder Rechargeable model. This lantern is the only design on our list that can be controlled via an app on your phone, which makes it quite easy to adjust settings and switch between light modes. Another standout feature is the proximity lighting function, which automatically adjusts intensity based on how close you are to the lantern. You also get four ports for charging multiple devices at once and impressive run time of up to 300 hours (the longest on our list), meaning you can get a full weekend of use—including powering your phone—without worrying about draining the battery.
In terms of construction, the Boulder is relatively streamlined and sleek but falls toward the heavy and bulky end of the spectrum at around 1.5 pounds. It also can't be collapsed down and lacks deployable legs for propping up on a table (the base curves up at the sides and lacks stability on uneven surfaces), although the tether at the top can easily be adjusted to hang from a branch or inside your tent. And for many, the biggest impediment will be cost: $120 is a steep price for a camp lantern, regardless of the unique functionality. For a significant $40 less, the top-ranked BioLite AlpenGlow 500 offers more brightness and all the features that most campers need in a lighter and more compact package. But for tech lovers that like to geek out on their gear, the top-end Lander Boulder has its place.
See the Lander Boulder Lantern + Power Bank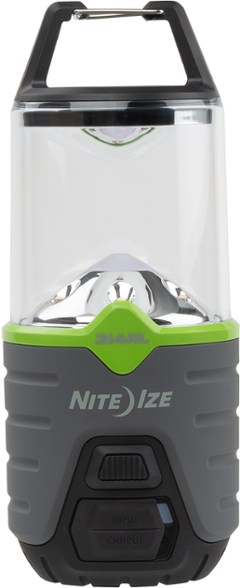 Weight: 10 oz.
Max lumens: 314
Batteries: Rechargeable (USB)
What we like: Handy built-in carabiner and light-diffusing storage bag; great run time.
What we don't: Doesn't really stand out in the market.
Nite Ize is arguably best known for their highly practical S-shaped carabiners, but their lantern collection is nothing to scoff at. Our favorite option in their lineup is the Radiant 314 Rechargeable model, which boasts the built-in carabiner clip that we love for securing to the outside of a pack or duffel or hanging inside your tent. Another unique addition is the dual-purpose storage bag, which creates a soft, diffused glow. And Nite Ize didn't skimp in the power or features departments, including a respectable 314-lumen output, multiple lighting modes (including an amber setting for better night vision), USB port, and rechargeable lithium ion battery that lasts up to 96 hours on high.
The $45 Nite Ize is a decent value considering its output and long battery life, but it starts to look less competitive when stacked up against options like LE's LED model above, which costs around half the price and features a whopping 1,000 lumens of brightness. Alternatively, you can get far more light modes in a sleeker and more streamlined package by spending up for the $80 BioLite AlpenGlow 500, and we prefer that model's frosted globe that provides a more even, diffused glow (the Nite Ize's separate storage bag is easy to lose or misplace). We've also found Nite Ize products in general to be a step down in quality compared to premium options from brands like BioLite and Goal Zero. All told, the Radiant is a decent performer and nicely balances its priorities, but it doesn't stand out in any major way, which pushes it toward the end of our list.
See the Nite Ize Radiant 314 Lantern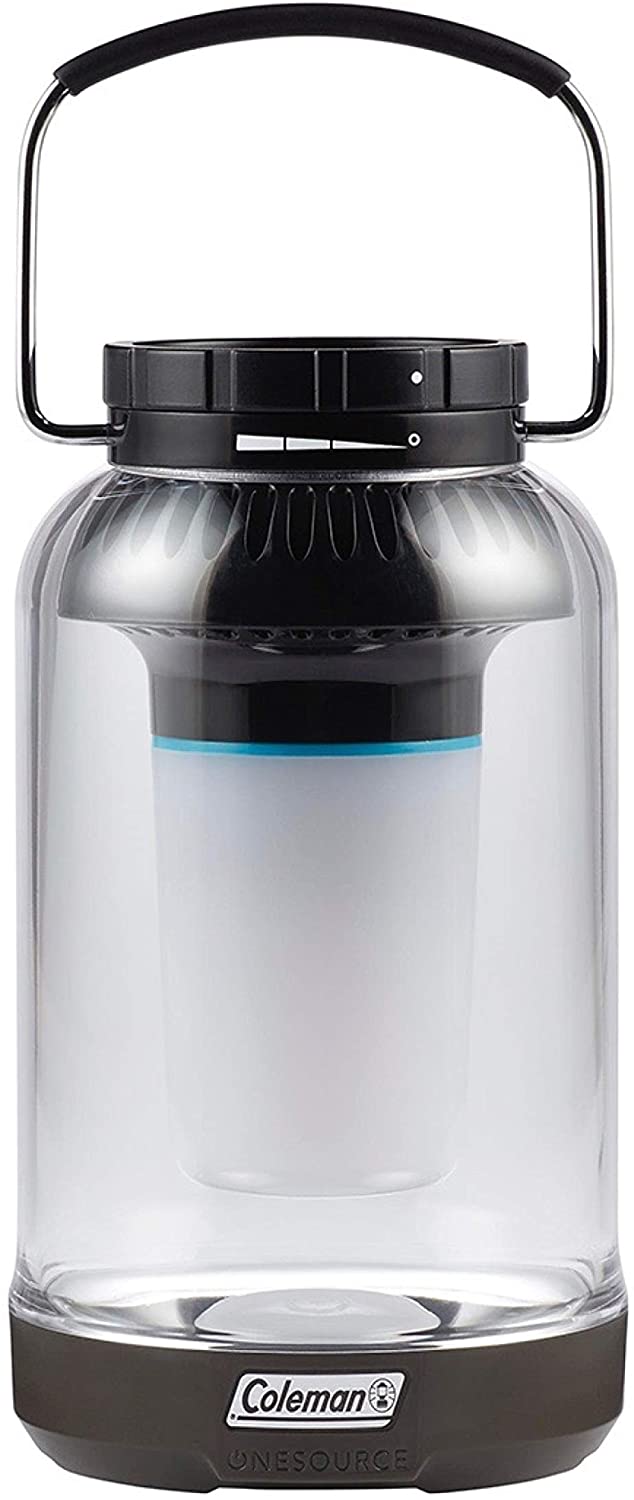 Max lumens: 1,000
Batteries: Rechargeable (USB)
What we like: A modern and tech-heavy option from Coleman.
What we don't: Short run time and not as well sorted as many of the picks above.
Coleman's gas-powered Powerhouse above is a viable option for traditionalists and cold-weather campers, but they've shown they can compete in the modern market too with designs like their OneSource. One of only two 1,000-lumen options on our list (joining the LE LED Camping Lantern above), the OneSource is incredibly powerful for illuminating large and spread-out campsites. Coleman also nicely integrated key tech features, including a USB port for powering electronics and rechargeable lithium ion battery. And a neat addition: The battery can be swapped to power other Coleman OneSource products, including their heated sleeping bag and blanket, LED flashlight and string light-equipped canopy shelter, air bed pump, and more. The Coleman is fairly expensive at $75, but the ability to utilize the battery elsewhere does help justify the cost.
All that said, Coleman still has a ways to go in matching innovators like BioLite, Goal Zero, and others. The OneSource doesn't have an integrated solar panel for off-grid charging, and the unit is on the bulkier side and doesn't compress down for stowing in a trunk or gear bin. Further, the soft-grip handle—while nicely sized for carrying—isn't as tent loop-friendly as the smaller handles on the AlpenGlow 500 or Black Diamond's offerings. Finally, run time is unimpressive at just 2 hours on high (compared to 5 hours with the much cheaper and equally bright LE lantern above), and it lacks the sleek and polished look of many of its hard-sided competitors. But overall, it's a solid effort from the camping giant and especially appealing if you plan to purchase other options in the OneSource series.
See the Coleman OneSource

Weight: 3 oz.
Max lumens: 150
Batteries: Rechargeable (USB)
What we like: Respectable output and run time for the weight and price.
What we don't: Only illuminates a small area and control button can be finicky.
Lander's Boulder above is their top-end and most fully featured model, but it's expensive and overbuilt for all but the most tech-savvy campers. Enter their Cairn Mini, which instead places a premium on affordability and simplicity. Right away, we'll note that the design is unmistakably basic and lacking in features and settings compared to many of the picks above, including no charging ports and minimal light modes. That said, the Cairn Mini pumps out decent brightness considering its $25 price point and pocket-friendly size, making it a nice backup option or supplemental light at camp. 
Stacked up against the Goal Zero Lighthouse Micro Flash above, the Cairn Mini costs the same but lacks the flashlight functionality and doesn't provide any upgrades in brightness (both are 150 lumens). It also falls short in run time (100 hours vs. up to 170 for the Goal Zero), although we do like the nylon cord for more easily stringing from a branch or inside a tent. And a final knock against the Cairn is its control button: Some users have noted that it's finicky and not all that intuitive to adjust brightness (it's sometimes unresponsive when held down to cycle through the settings). In the end, we think most will be better off with the BD Moji above, but both the Cairn Mini and Micro Flash have their place as pocket-friendly backup lights.
See the Lander Cairn Mini Lantern
Camping Lantern Comparison Table
Camping Lantern Buying Advice

Brightness: How Many Lumens Do You Need?
The first question to ask yourself when searching for a camping lantern is how much brightness you anticipate needing. Brightness is measured in lumens, and the lanterns above have max outputs ranging from 60 (the Goal Zero Crush Light Chroma) to a whopping 1,000 (the LE LED Camping Lantern and Coleman OneSource). Most also have dimming capabilities and numerous modes that allow you to choose your level of brightness for any given situation—for example, LE's LED has four intensities, including a dimming option to keep the battery running longer. Finally, keep in mind that light diffusion can play a sizable role here—frosted globes like you get with the BioLite AlpenGlow 500 and Black Diamond's offerings dilute the light a bit, but the tradeoff is more enjoyable, even illumination around camp.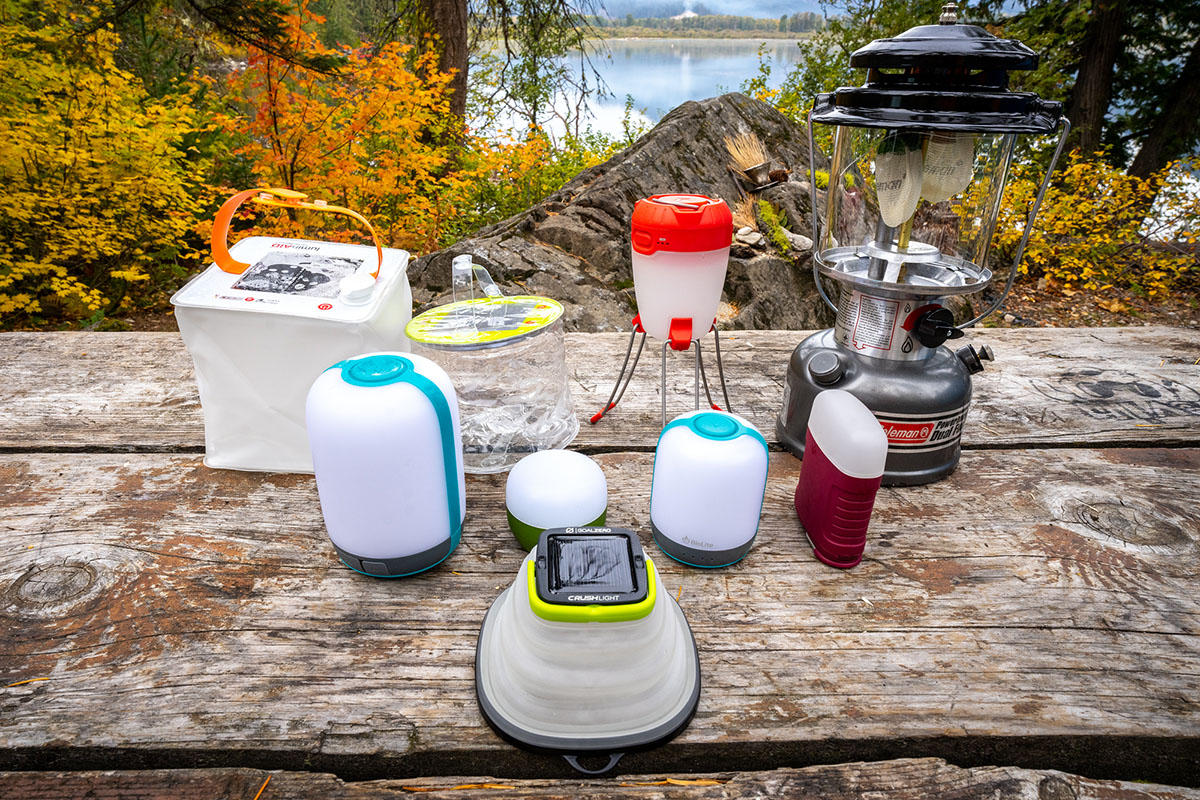 When deciding on the proper number of lumens, it's worth noting that you shouldn't plan on using your lantern's maximum setting for extended stretches as it will drain the battery quickly. In general, we've found that 25-150 lumens are sufficient for general camping use and lighting smaller areas such as a picnic table or family-sized tent. Those in the 200-600 lumen range are great standalone options for lighting up entire campsites, which is a big reason we've ranked BioLite's AlpenGlow 500 at the top of our list. At the high end are 1,000-lumen options like the aforementioned Coleman OneSource and LE LED Camping Lantern, which are exceptionally bright at full tilt but can be overkill and almost blinding on clear nights (they do have appeal for inclement weather when visibility is poor).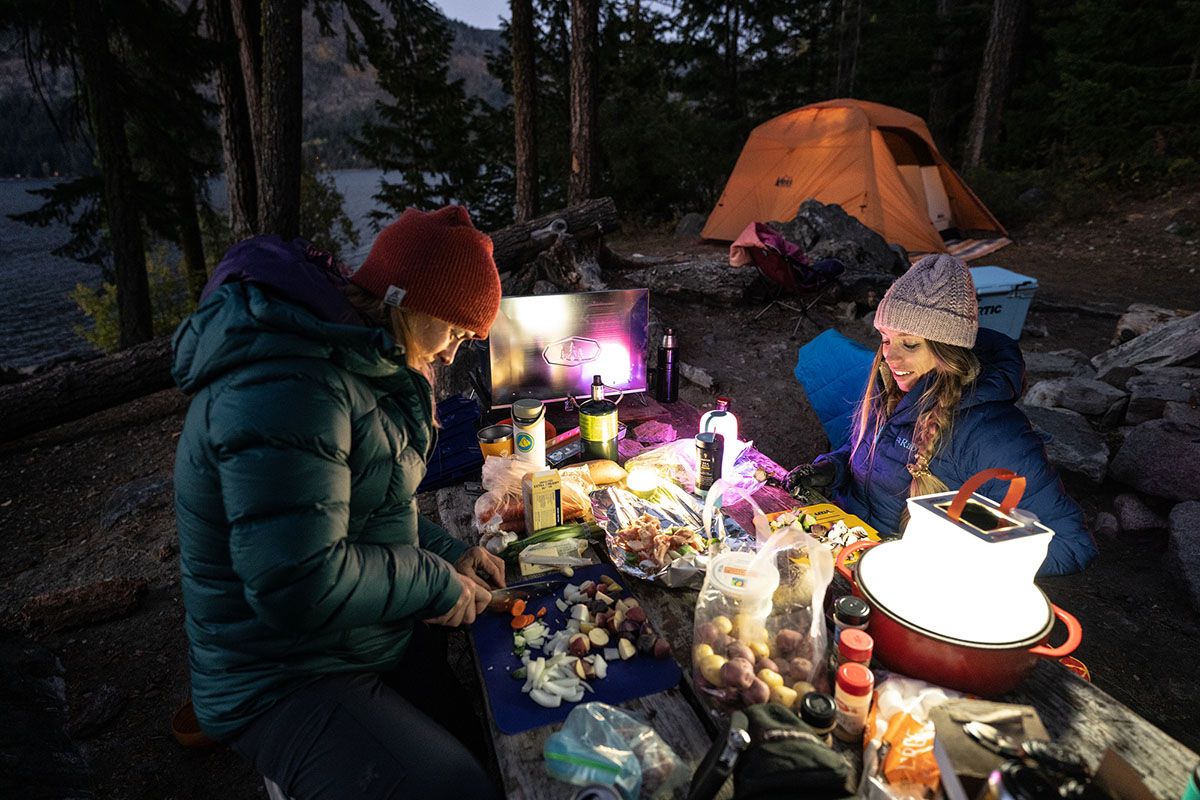 Battery Types: AA, AAA, Rechargeable, and Others
Most lanterns are powered by AA/AAA batteries or a USB-rechargeable battery. The latter have become more ubiquitous in the past few years and are our preferred style for their convenience and streamlined size. The biggest downside is that reviving a dead lantern isn't as easy as swapping out AA or AAAs, meaning you'll need to bring along a power bank or alternate method of charging if you're planning to head off-the-grid for an extended period. And you do pay more of a premium upfront for rechargeable batteries, but it's important to remember that the cost and waste of AA/AAA batteries will add up over time. Finally, some lanterns, like Black Diamond's Volt and Apollo, offer the versatility of both a rechargeable battery and compatibility with AAAs. This is a great middle ground for those wanting the benefits of a rechargeable model but anticipate going a long time without a power source on occasion.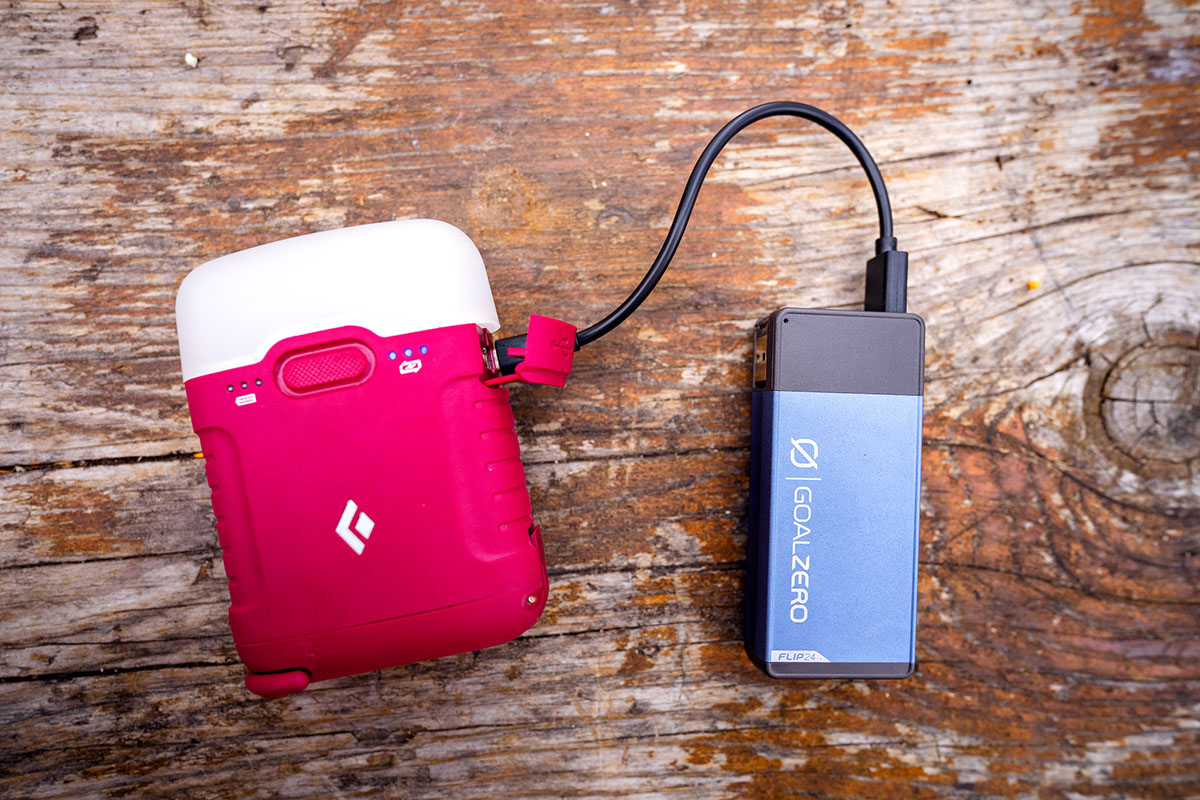 If you spend a lot of time camping in remote locations, it may be worth considering a USB-rechargeable lantern that's also equipped with a built-in solar panel. Designs with this feature include the LuminAID PackLite Max, MPOWERD's Luci offerings, and Goal Zero's Crush Light Chroma. Their Lighthouse 600 is also compatible with a solar panel—and boasts a helpful hand crank for manual recharging—although you'll need to purchase it separately. Solar panels can be a convenient way to get added juice in the backcountry—simply leave your lantern out in the sun and wait—but there are some downsides. Namely, the solar panels on these units are fairly small and therefore take a long time to charge, especially if conditions aren't ideal (even on lightly overcast days, you may run into power issues). In the end, they're a nice supplementary option, but we advise bringing along another power source to expedite the recharging process via USB if possible.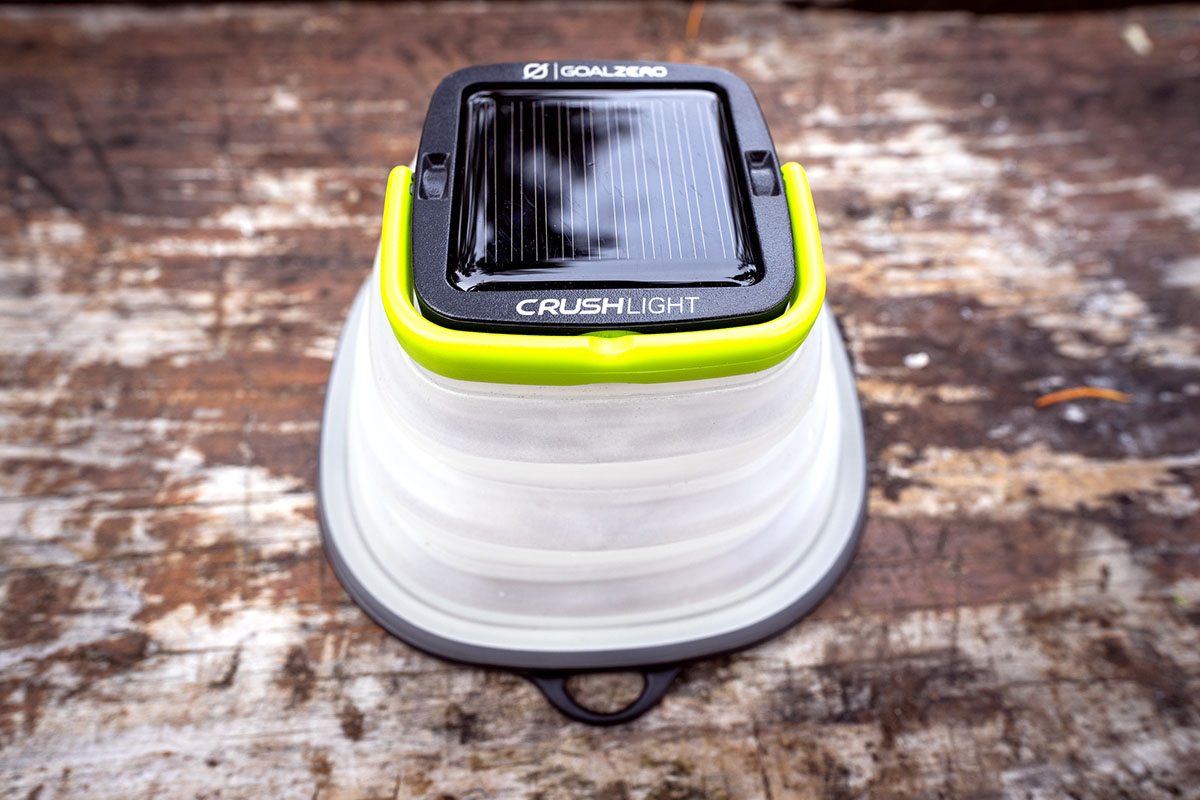 Stated Battery Life (Run Time)
A final consideration when it comes to lantern batteries is the stated battery life or run time, which ranges from 2 hours for the Coleman OneSource to a whopping 300 for the top-end Lander Boulder. We've listed the advertised specs from the manufacturers in our comparison table above, but it's important to note that the listed run time is for the highest-lumen setting and can vary considerably depending on output, weather conditions, and other factors (we treat these specs as a rough guideline for comparing models). For instance, our top-rated BioLite AlpenGlow 500 has an average run time of 5 hours on high and 200 hours on low, but most campers will likely get a lifespan somewhere in the middle by naturally cycling through the settings during a trip. Cold temperatures also tend to drain batteries more quickly, so it's important to factor that in and bring along backups (or a method of charging) should you venture out in the winter or at higher altitudes. To maximize battery life, the best practice is to only utilize the amount of light you actually need and dim your lantern whenever possible.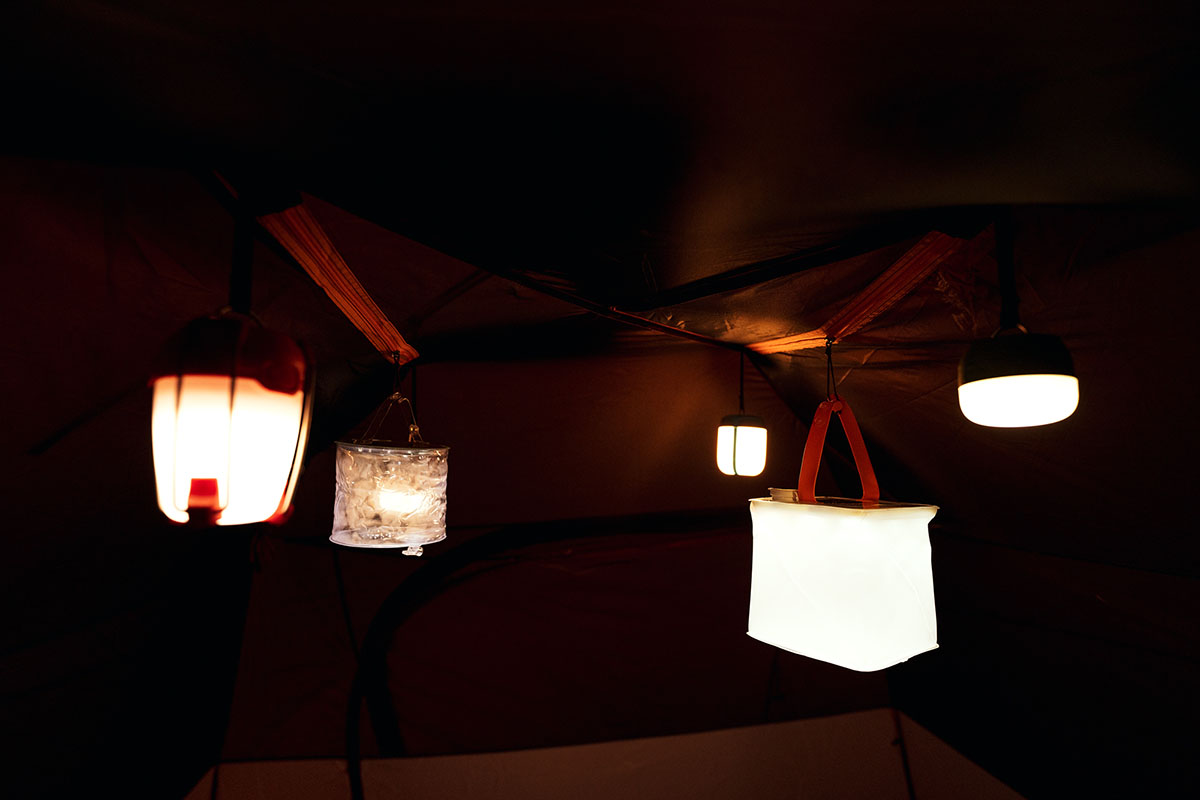 Light Modes and Functions
In addition to dimming capabilities and modes to adjust intensity, many lanterns feature additional settings for customizing the ambience at camp. BioLite's AlpenGlow 500, for instance, has a flickering function and multiple color modes, including a fun rotating color option that cycles through various vibrant patterns. Goal Zero's Crush Light Chroma is another standout with eight color modes, including a multicolor fade setting, while Black Diamond's Zip has a unique flashlight beam for more precise illumination when performing camp chores or using the bathroom at night. And Ledlenser's ML6 includes settings like a "boost" function for max power in short spurts, interval-based blink and pulse options, a strobing capability for unexpected wildlife encounters, and even a built-in distress signal that emits SOS in Morse code. In the end, most campers will utilize the standard settings most often, but an array of other modes can be fun for customizing your campsite and creating a cozy atmosphere.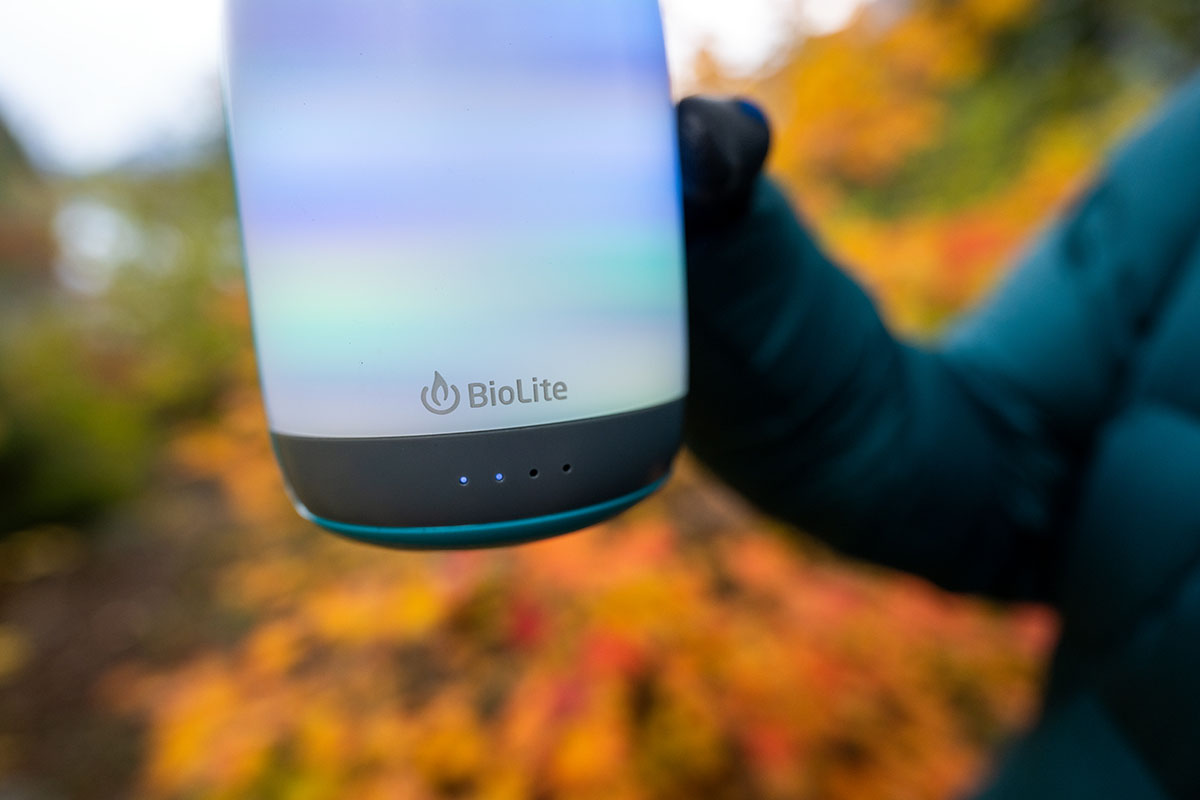 Gas-Powered Lanterns
In addition to batteries, solar power, and rechargeable designs, there are still a handful of gas-powered options on the market. Due to their limited appeal for most recreational campers, we included just one of these models above (the Coleman Powerhouse Dual Fuel), but they do have utility for cold-weather outings and camping at higher altitudes. Traditional alkaline batteries tend to drain quickly in the cold, and while rechargeable lithium batteries are better performers and last longer, they're still far less reliable than liquid fuel or gasoline in truly frigid temperatures. No matter what model you have, it's a good idea to keep your lantern in a relatively warm place when it's not in use—like inside your sleeping bag if you leave camp for the day.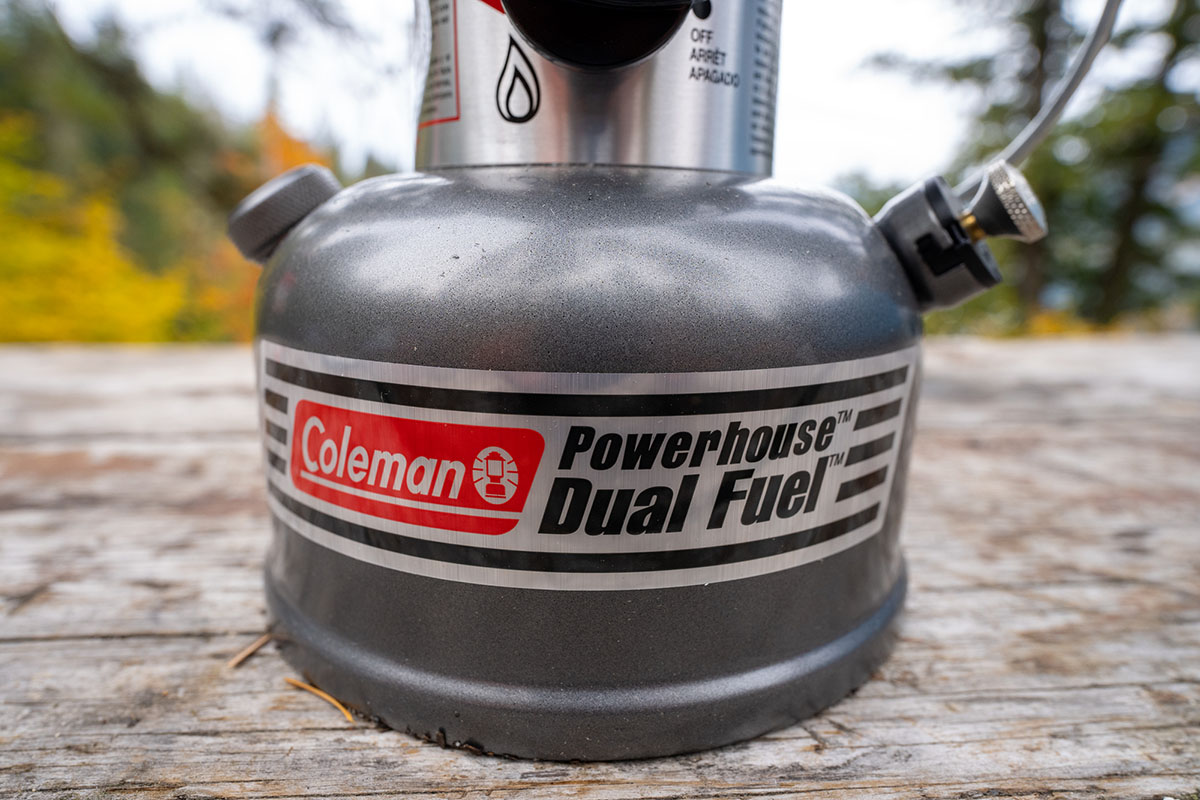 Weight and Collapsibility
Given the differences in designs and overall functionality, the weight spread is fairly large among camping lanterns. For reference, the lightest option on our list is Goal Zero's minimalist Lighthouse Micro Flash Lantern (2.4 oz.), while Coleman's gas-powered Dual Fuel clocks in at a hefty 4 pounds 10.4 ounces. Most designs fall somewhere in the middle, hovering between around 3 ounces and 1 pound, which we've found to be a reasonable weight for camping use when you're likely not shuttling gear far from your vehicle. Even the hefty Coleman is light enough to carry to and from your car with ease.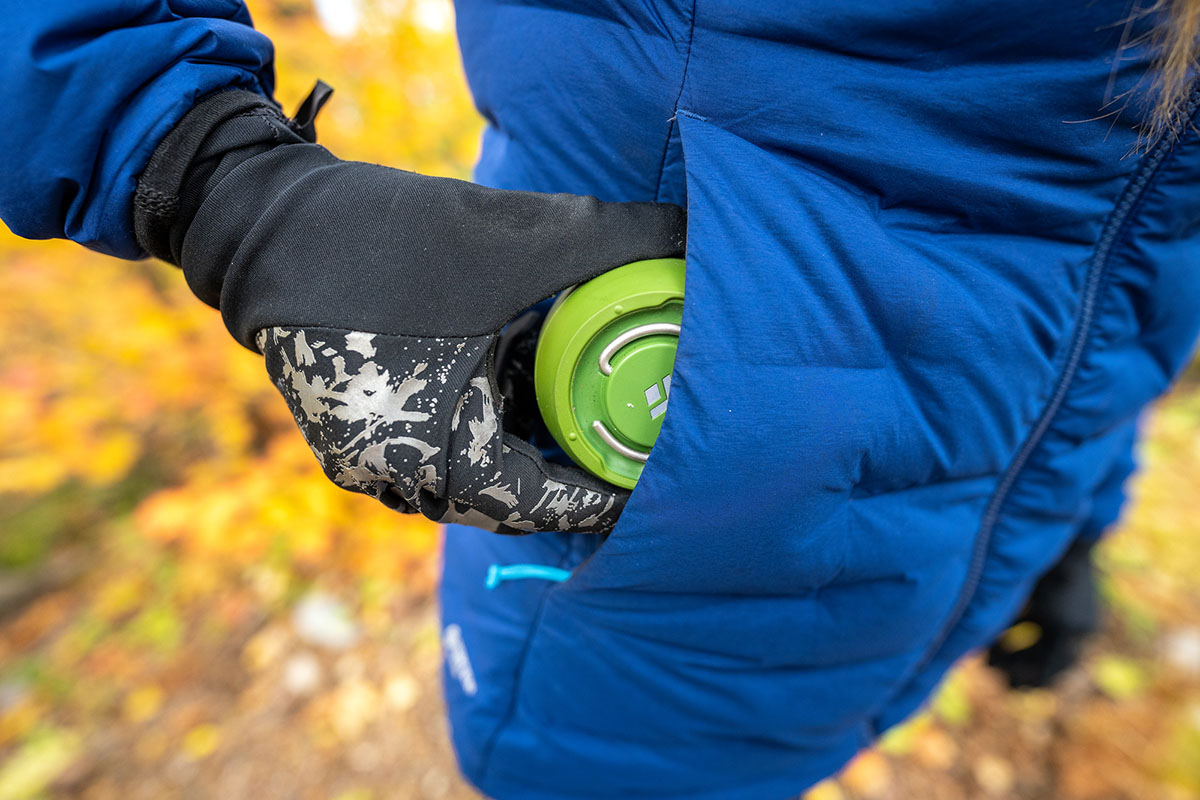 For many campers, and especially those with limited space in their trunk or garage, weight matters less than packability. Collapsible designs like LuminAID's PackLite Max and MPOWERD's Luci Outdoor 2.0 Inflatable Solar Lantern are excellent options for those limited on space: they deflate quickly and easily when not in use and measure around 1 inch thick when compressed. The downside to these collapsible models is that they tend to be less robust and hardwearing than hard-sided options over the long term, but we've used both designs extensively and haven't experienced any issues with punctures or tears to date.

Stability: Hooks, Legs, and Other Mounting Options
Most of the lanterns above are fully freestanding and can easily be propped up on even surfaces like a picnic or camping table. That said, many people like to hang their lantern from tree branches or webbing loops inside their tent, and we appreciate when they come with functional loops at the top for suspending in the air. Some designs are better-executed than others: Black Diamond's offerings are especially well designed with small, metal hooks at the top that make them easy to hang nearly anywhere. LuminAid's PackLite Max and MPOWERD's Luci Outdoor 2.0, on the other hand, have fairly thick and bulky straps that can be tougher to suspend inside a tent (we had to get creative by utilizing the zipper pulls inside our camping tent rather than the thin webbing loops). They're also not secure enough for strapping to the outside of a pack or duffel on the way in.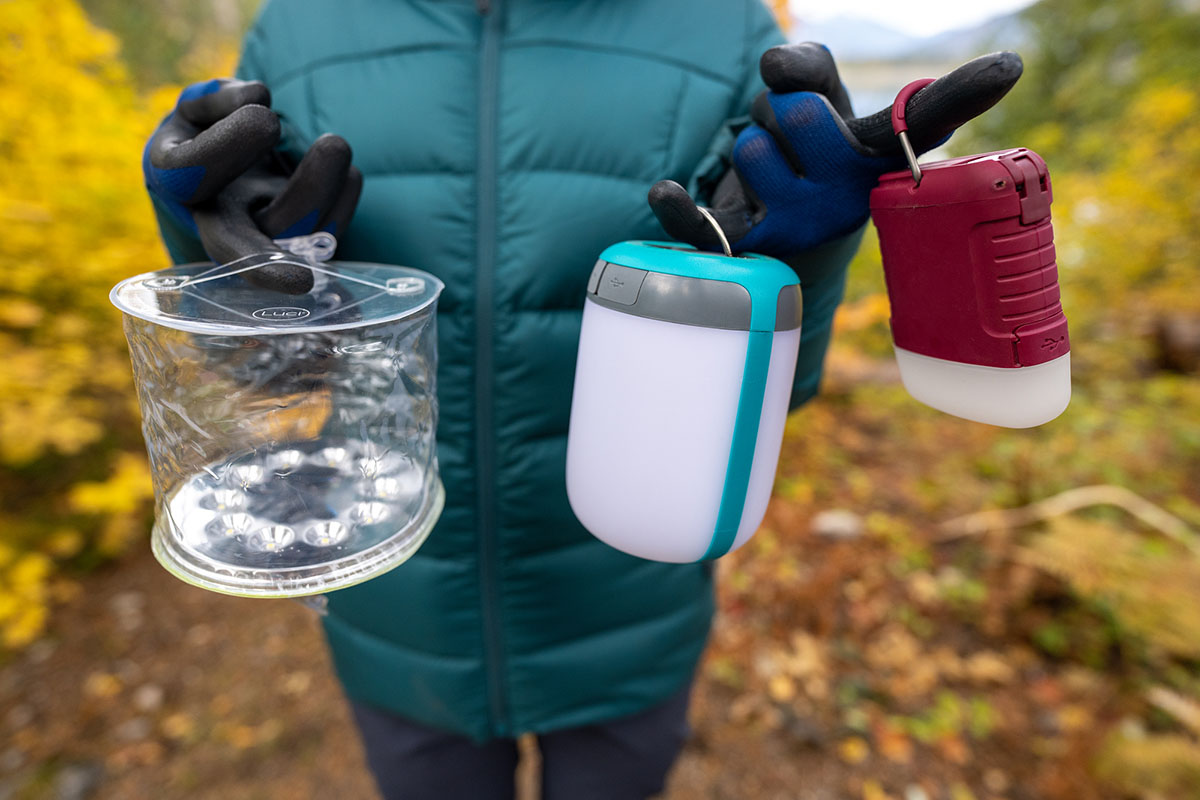 Some lanterns also come equipped with deployable legs for added stability on uneven surfaces, including Black Diamond's Apollo and Goal Zero's Lighthouse 600. Ledlenser's ML6 is another standout in this category with a variety of mounting options: you can use the rubber hook at the top for hanging, the integrated magnet for sticking to a metal surface, or the removable stand for propping up on a table or rock. We call out any stability-related issues in the write-ups above, but in the end, a final decision will come down to a matter of personal preference and how you plan to utilize your lantern at camp.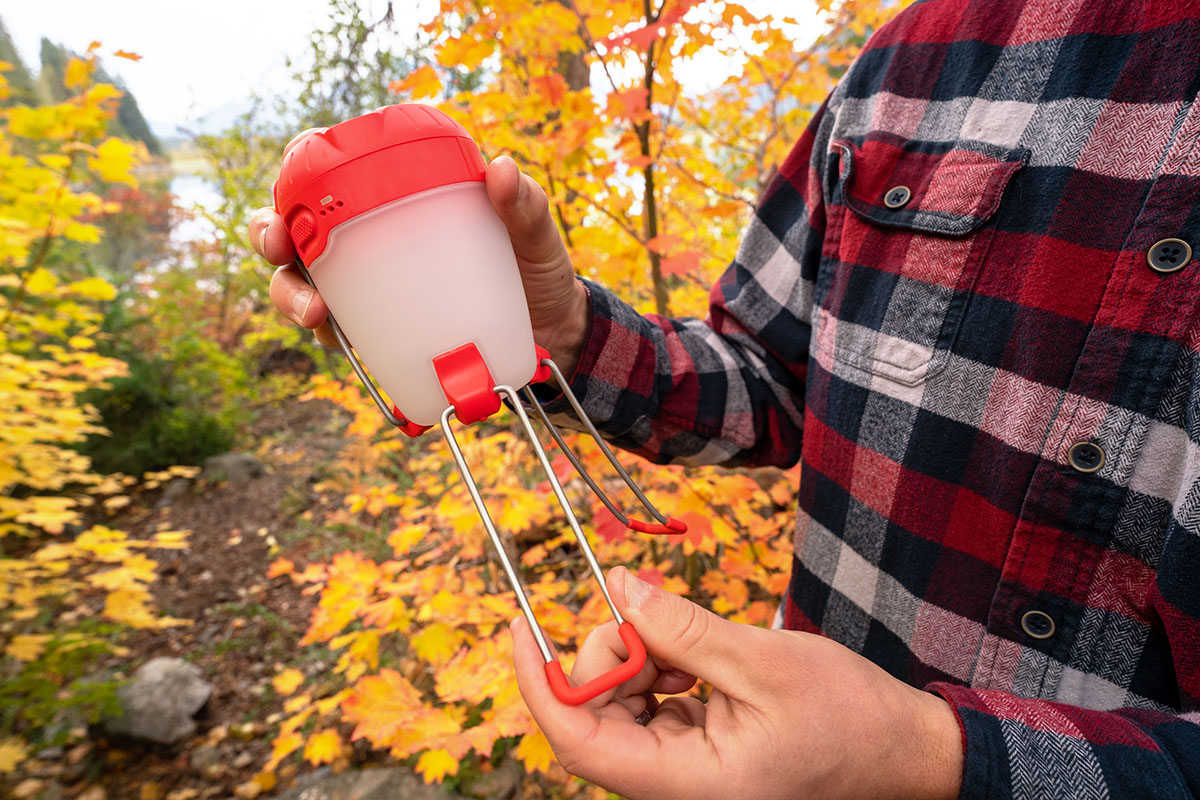 Lantern Features: Solar Panels, USB Charging Ports, and More
Modern camping lanterns are a fun bunch, with many of the designs above boasting unique tech features for added convenience when you're off the grid. Two of the most popular are built-in solar panels (covered above) and USB charging ports. The former is an excellent addition for supplementary power in the backcountry—simply leave your lantern out in direct sunlight for the day to get added juice. USB ports make it easy to recharge your phone or other electronic devices in the field, but they realistically only provide a moderate benefit. Using this function can drain your lantern's battery quickly, and we recommend bringing along a separate power bank if you anticipate being out for an extended stretch.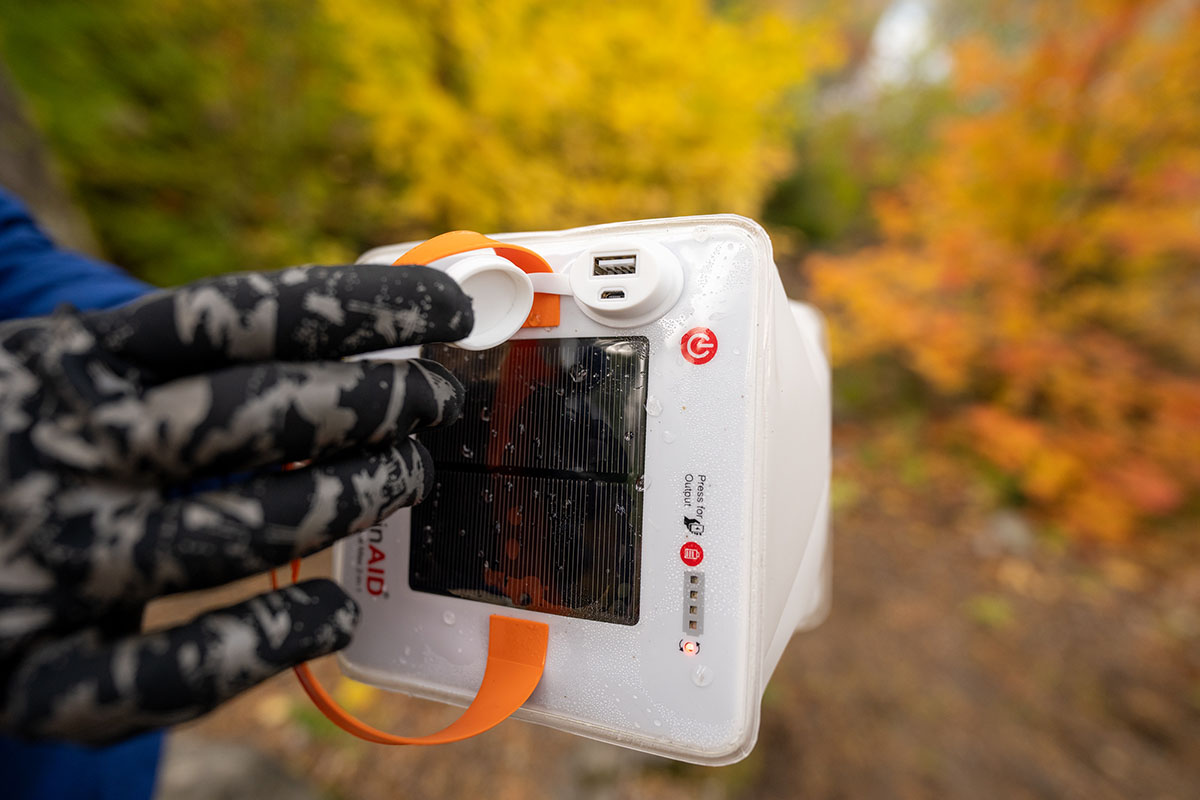 Some designs—like Lander's Boulder and Ledlenser's ML6 Connect—are also Bluetooth-compatible, allowing you to control the settings via an app on your phone. The Lander also has a proximity lighting function that automatically adjusts the light's intensity based on how close you are to the lantern, as well as four USB ports for recharging multiple electronics at once (all of the other USB-equipped picks above have just one). You can expect to pay a pretty penny for the added technology (the Lander Boulder is $120, while the ML6 Connect costs $140), but it may be worth it for tech-savvy users that like to geek out on their gear.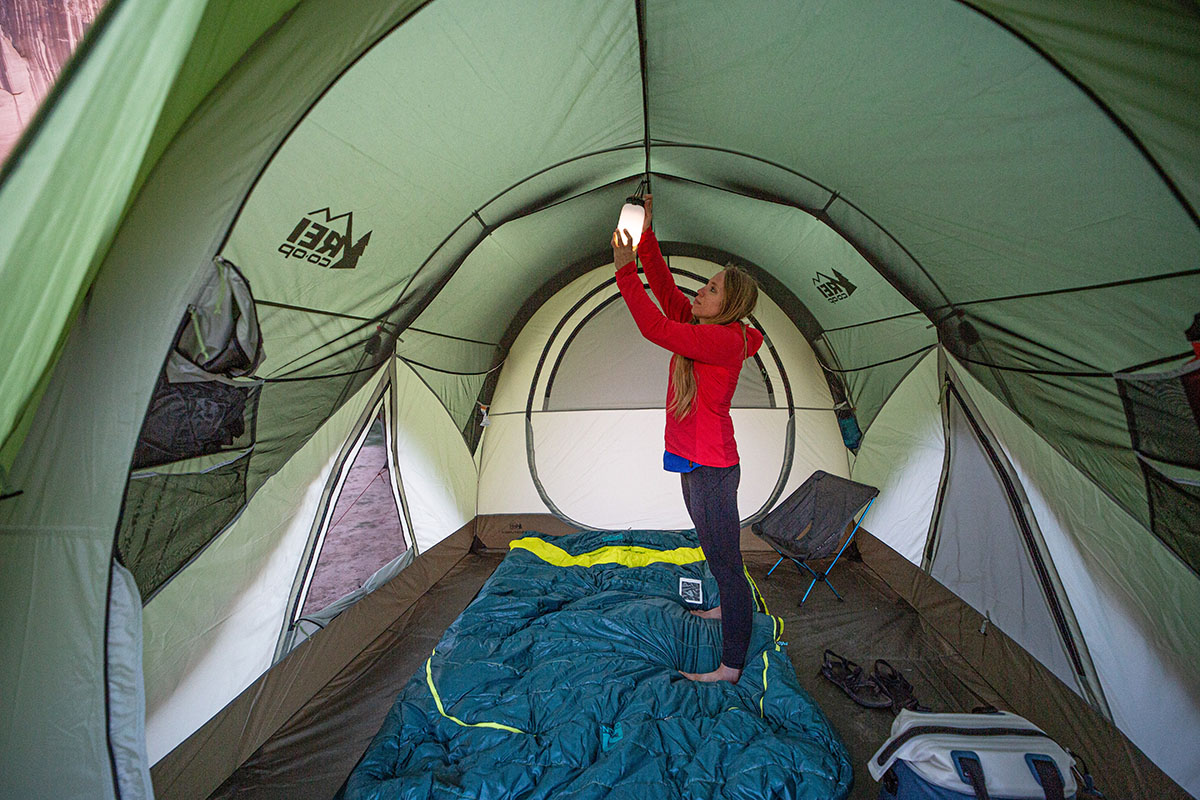 Water Resistance and IP Ratings
For serious outdoor use and extended exposure to the elements, you may want to consider the weather resistance of your camping lantern, which is tested using the IP ratings scale. On the low end, IPX0 equates to no protection at all, while IPX8 at the high end means the item can sustain prolonged immersion. Most of the options on our list fall somewhere in the middle and can withstand sustained precipitation but will succumb to prolonged and heavy exposure. For example, MPOWERD's Lucy comes with an IP67 rating, which means it can handle being dropped in water up to 1 meter deep for half an hour, while the Lander Boulder (IP65) is only rated for protection against spraying water rather than full immersion.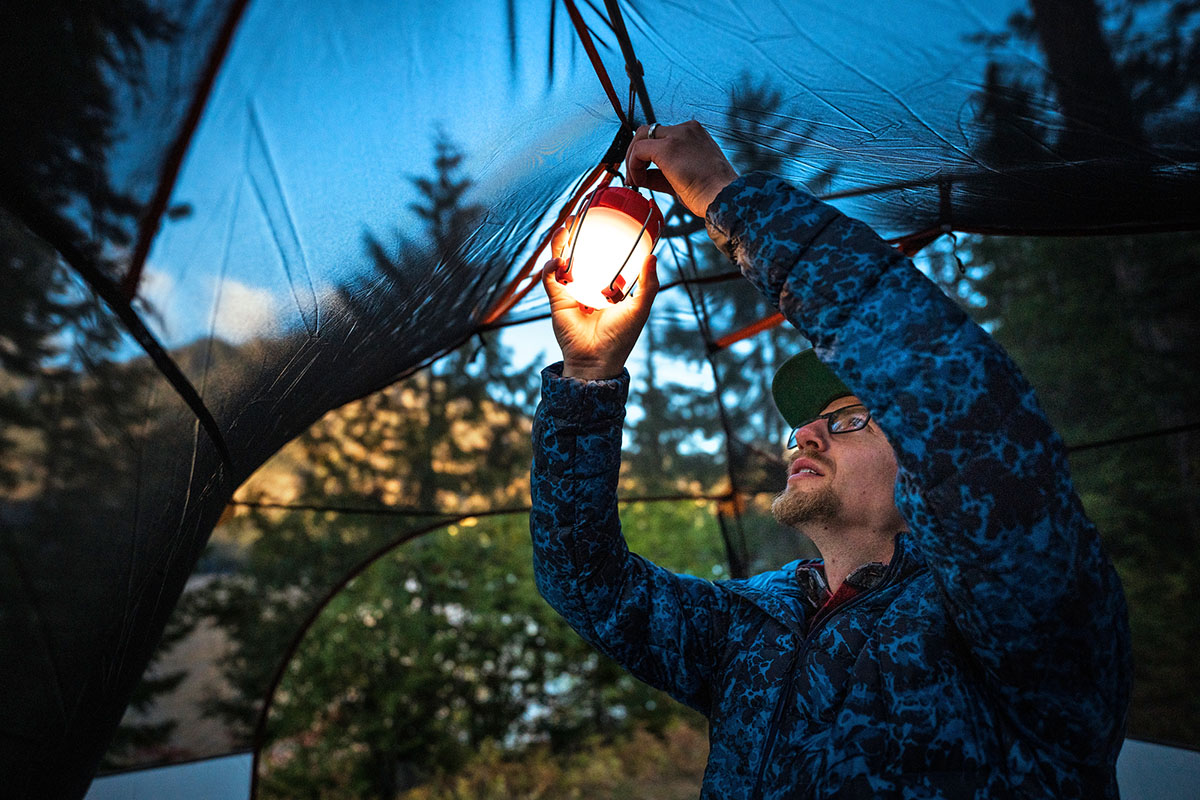 Most manufacturers provide an IP rating in the product specs, and a quick Google search should help clarify how well equipped a given lantern is for sustained exposure. The bottom line is that if you plan on spending time exposed to the elements, check the IP rating of your lantern before buying. If you only anticipate camping in fair weather conditions (which is a large portion of users), it may not be a deciding factor at all, but added protection and assurance are certainly never a bad thing.

String Lights and Other Camp Illumination Options
Lanterns are the most ubiquitous form of camp lighting, but there are several other fun and unique alternatives worth a mention here. Our favorite is MPOWERD's popular Luci Solar String Lights listed above, which create more of a cozy, intimate setting at camp and come with all the requisite features for regular outdoor use, including a built-in solar panel for recharging, USB port for powering electronics, and good weather resistance. REVEL GEAR makes another quality design in their Trail Hound string lights, although they don't have a built-in battery and therefore must be connected to a power source. Other fun alternatives include BioLite's globe-shaped SiteLight Lantern and SiteLight Duo, a daisy-chained lighting system that can be powered by a BioLite lantern or any USB power source. These designs all lack the versatility of standard lanterns, but they can be a fun supplementary option for those that get out a lot and like to customize the setting and atmosphere at camp.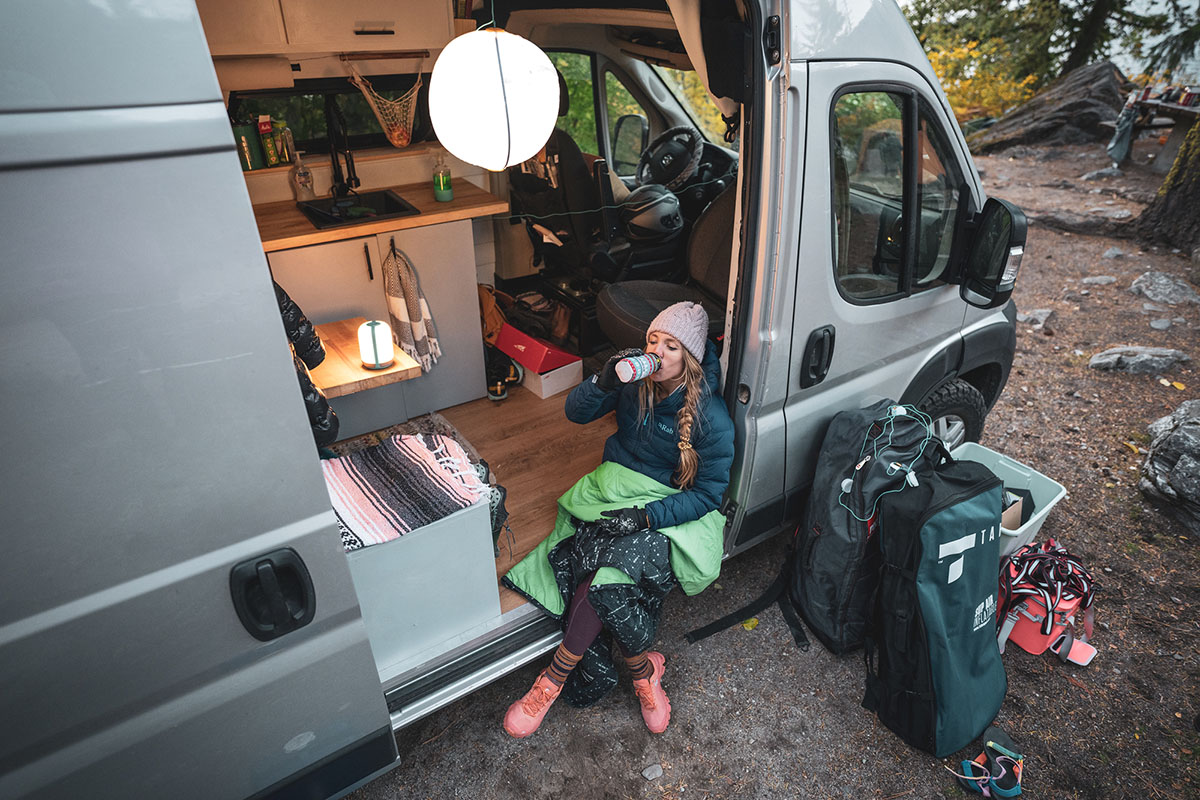 Camping Lanterns for Backpacking
Right off the bat, we'll note that lanterns are largely used for car camping, and backpackers typically rely exclusively on headlamps (covered below) for illumination on the trail and at camp. That said, some of the designs above are perfectly viable for bringing into the backcountry, and especially on longer group outings when you plan to set up a larger basecamp. The primary focus here is on weight and packability, as hauling gear miles into the wilderness can be quite effortful. Some of our top picks include Goal Zero's diminutive Lighthouse Micro Flash Lantern and deflatable designs like LuminAID's PackLite Max, Goal Zero's Crush Light Chroma, and MPOWERD's Luci Outdoor 2.0, which also sport solar panels for off-grid recharging. In the end, lanterns are an extra piece of gear and not worth the added weight for many backpackers, but they can be a fun addition on certain trips.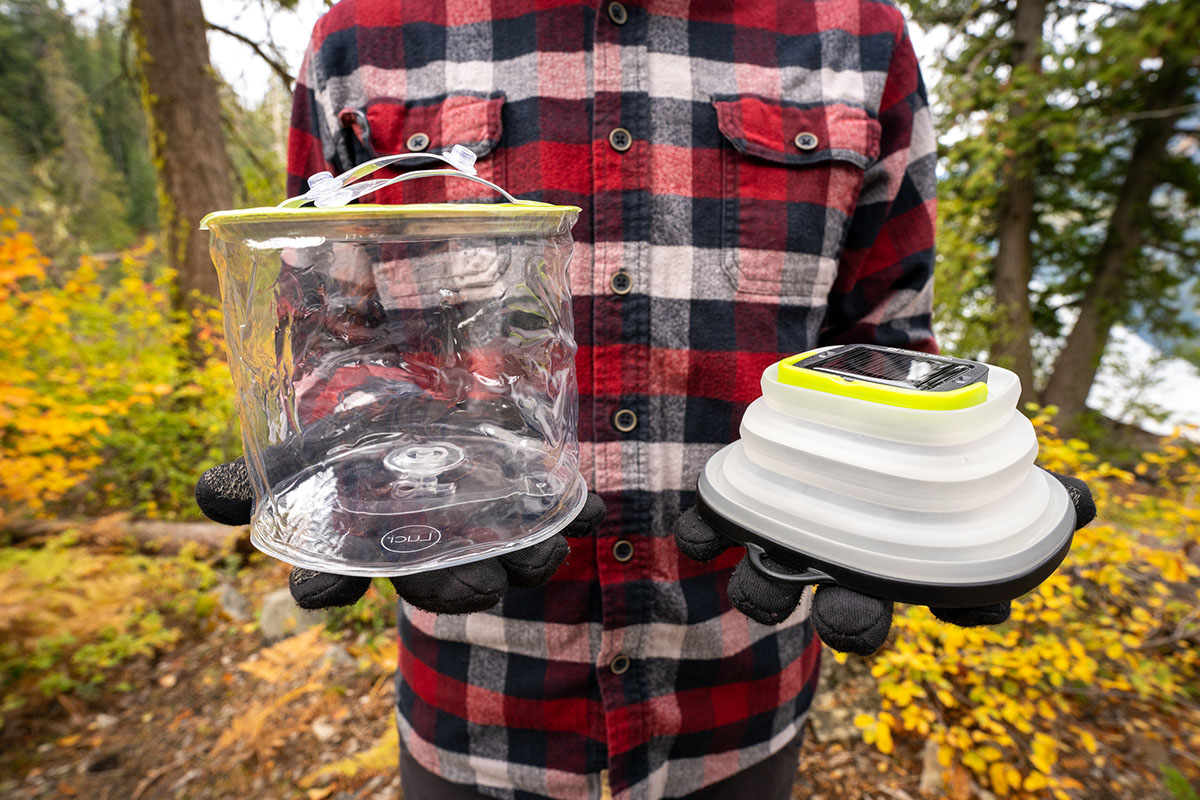 Camping Lanterns vs. Headlamps
As we touched on above, backpackers traveling miles into the backcountry with all their gear typically utilize headlamps for illumination. Compared to lanterns, headlamps are generally brighter and boast more precise beams for navigation in full darkness. They're also considerably lighter and more compact overall. The downside is that they don't offer the wide, dispersed light of lanterns for illuminating an entire campsite, although we've found that placing our headlamp in an empty Nalgene water bottle creates a similar effect. In the end, headlamps and lanterns both have their place, and what you bring along will largely depend on your objective. For a deeper dive into the headlamp market, see our article on the best headlamps.
Back to Our Top Camping Lantern Picks  Back to Our Lantern Comparison Table
Read More From Switchback Travel