Kuat Transfer v2 2-Bike Hitch Rack
Price: $449
Number of bikes: 2 (3 with add-on)
Weight: 37 lbs.
Weight capacity per bike: 60 lbs.
What we like: Great value for an impressively versatile and sturdy platform-style rack.
What we don't: Committed cyclists will likely prefer a more refined, feature-rich, and longer-lasting alternative.
See the Kuat Transfer v2 2-Bike Rack
In the wide-ranging hitch bike rack market, Kuat's Transfer v2 hits a real sweet spot in price and performance. The platform-style rack is user-friendly, can handle an impressive array of wheel sizes and tire widths, and carries two bikes with no frame contact—great for minimizing damage during transport. At nearly half the price of high-end offerings, it sacrifices a little refinement and long-term durability, and as a result isn't our top pick for committed cyclists who keep their rack on their vehicle year-round. But as a quality mid-range option, it's our current favorite. Below we break down our year-long test of the Transfer v2 2-Bike Hitch Rack. To see how it stacks up to the competition, see our article on the best hitch bike racks. 
 
---
Table of Contents
---

Performance and Ease of Use
Hitch bike racks usually fall into one of two buckets: premium designs built to haul premium bikes or cheap racks that make significant compromises in carrying ability and material quality. That's what makes the Kuat Transfer v2 2-Bike Hitch Rack stand out: The well-executed design is perfectly capable of securely hauling high-end bikes at a price that's hundreds less than most of the competition. The Transfer is reasonably light to carry, sets up pretty quickly, and hauls two bikes (up to three with an add-on) reliably with a ratcheting arm over the front tire and a strap through the rear wheel. If you're like most cyclists and leave your rack on for only a few months of the year, the Transfer is everything you need and nothing you don't.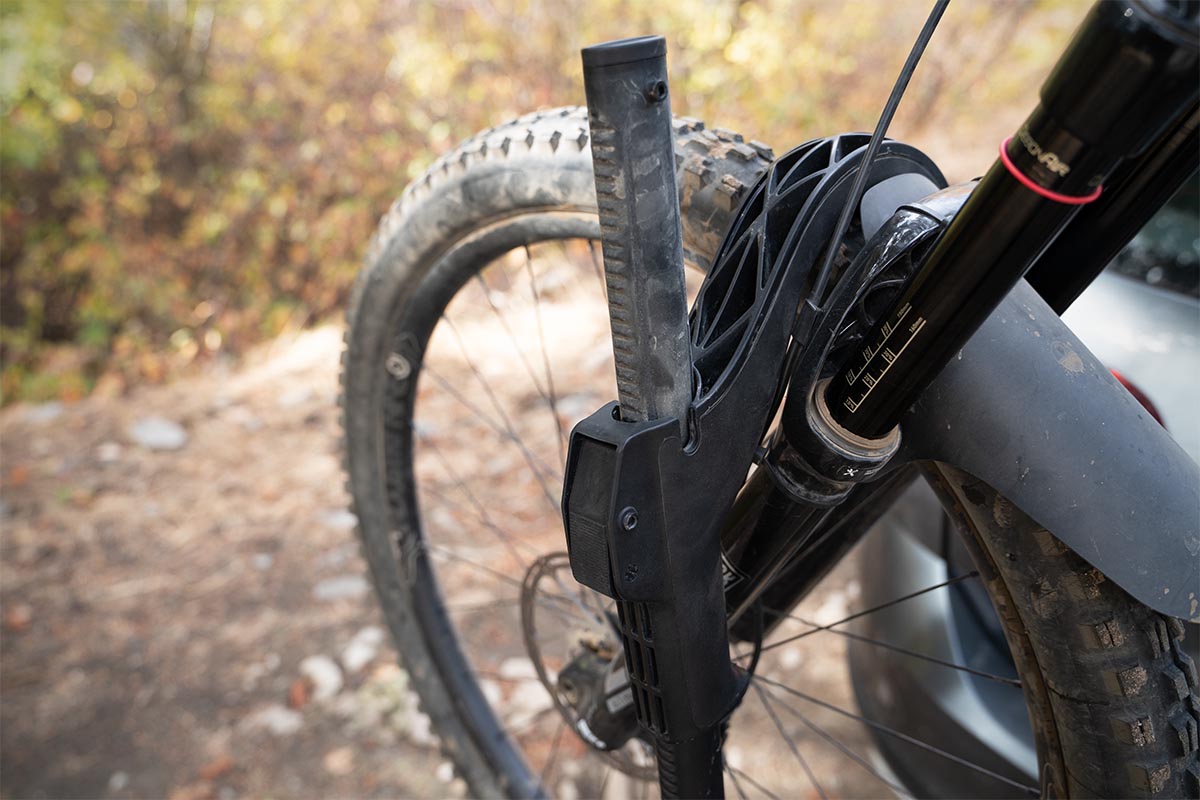 That being said, there's a reason the high end of the hitch bike rack market is so popular—Kuat themselves offer three models that sit above the Transfer: the Sherpa 2.0, NV 2.0, and Piston Pro. In this case, the Transfer is built with practicality in mind and lacks the smooth fit and finish and operation of a $600+ build. The ratcheting arms that secure over the front tires are fully functional but squeak and take some effort to pivot them into place, the foot-operated tilt lever is hard to access with bikes loaded, and there are spots of rust visible after keeping the rack on through the winter (more on this in "Build Quality and Durability" below). In the end, it comes down to priorities, and the Transfer is a great option for budget-minded cyclists who want the easy loading/unloading and secure carry of a platform-style rack without breaking the bank. 

Setup and Installation
Like other Kuat racks we've tested, the Transfer was delivered in a tightly organized and well-protected box. Setup was straightforward, pretty easy to follow, and took roughly 45 minutes from start to finish. There are a fair number of pieces involved—a consequence of the dual arm design that requires you to slide the front and rear tire cradles and ratcheting arm into place separately—but we found the directions pretty easy to absorb, and all of the pieces come together in a logical way. It's true you can get a tool-free install with a pricier rack like Kuat's own NV 2.0 or Piston Pro, but it's a small and relatively painless price to pay. One tip: The rack relies heavily on bolts to secure the pieces together, and we think it's worth adding a dab of Loctite Threadlocker Blue 242 on the threads to ensure they don't loosen over time.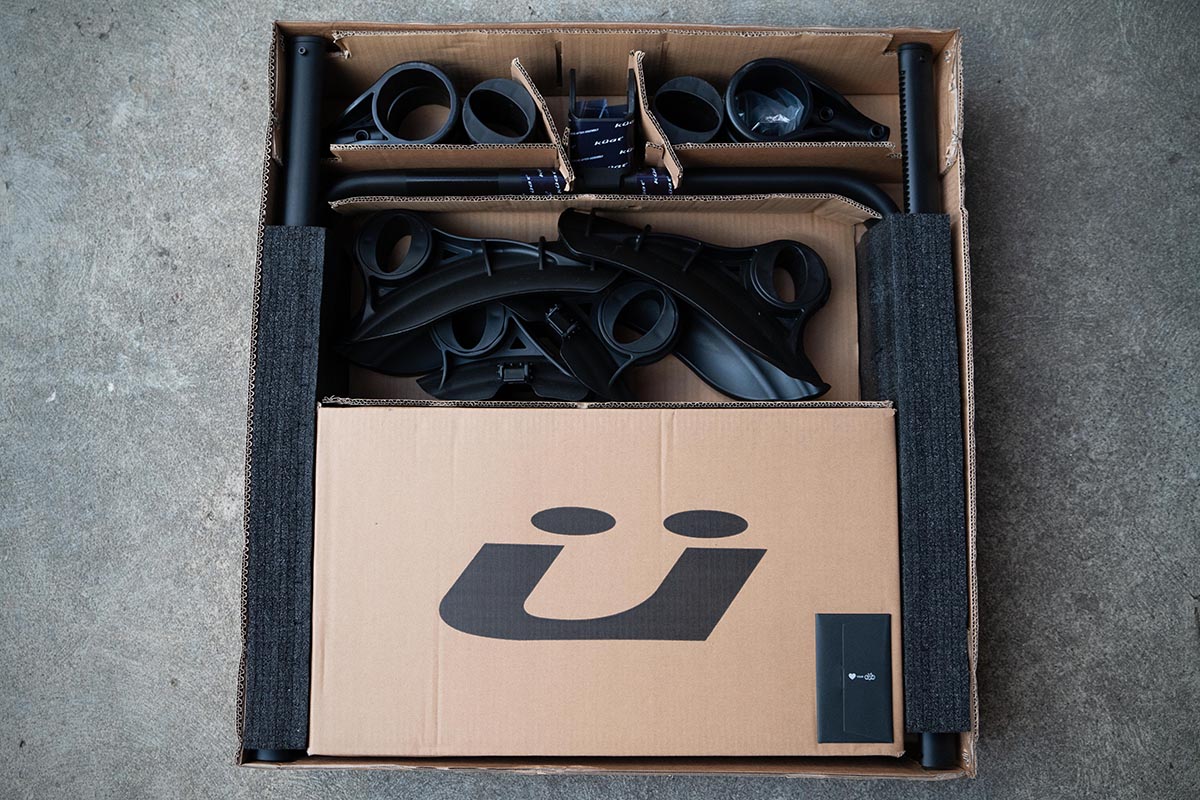 For connecting the rack to the vehicle, the Transfer v2's low weight and simple design make it quite easy to do by yourself (great for those who install and remove their rack relatively frequently). It's as easy as sliding the rack into your vehicle's hitch receiver, installing the included hitch and cotter pins (the latter of which keeps the hitch pin in place), and tightening the hitch cam (Kuat calls this their FlatLock). This final piece requires the included security Allen key and does an excellent job eliminating any wobble from the rack. Of note: The 1.25-inch Transfer does not include the FlatLock cam and has a much lower max weight capacity (40 lbs. per bike compared to 60 lbs. for the 2-in. version).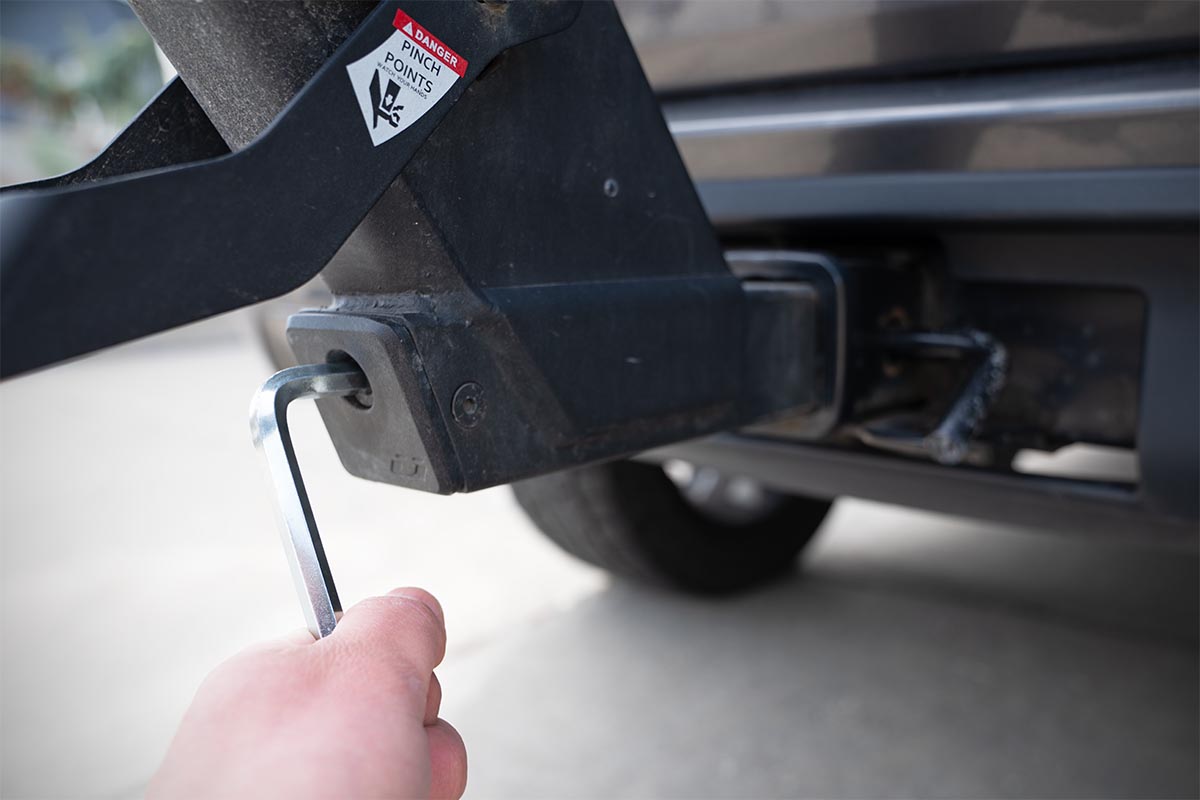 Bike Capacity and Wheel Sizes
Another highlight of the second-generation Transfer is its impressive versatility. First and foremost, there's plenty of space between the two bikes to avoid side-to-side contact—depending on the size of the bikes, I occasionally had to lower the seat posts to avoid hitting handlebars. In practice, I was able to haul everything from 20-inch kids' bikes to long and slack enduro bikes with a quick and simple adjustment (by hand) to the tilt on the front and rear tire cradles. In terms of specs, the Transfer can carry bikes with wheel sizes ranging from 18 to 29 inches (which covers bikes for kids roughly 6 years old and up) and tires up to 5 inches wide (read: it's fat bike-friendly). Additionally, the 50-inch max wheelbase is quite impressive—for reference, Kuat's own Sherpa 2.0 ($629) maxes out at 47 inches—and all but the longest and largest downhill bikes will fit.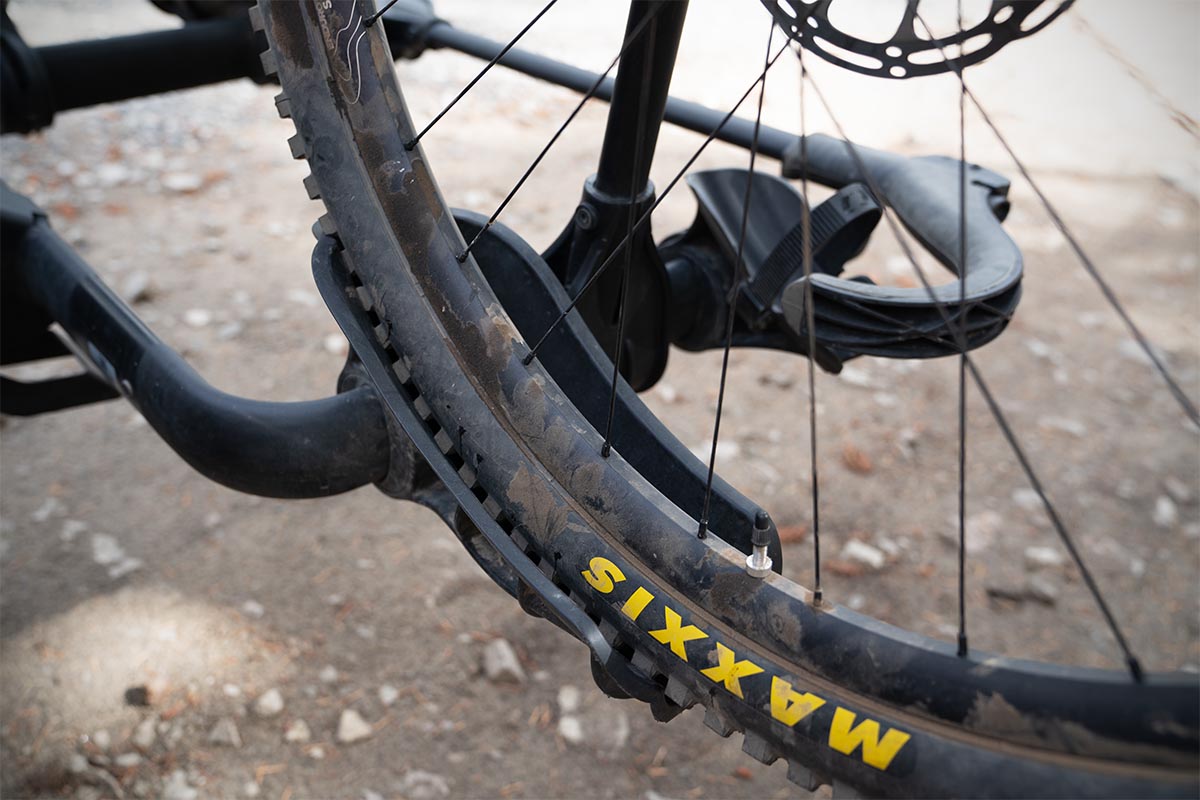 I opted for the two-bike Transfer, which is the most common capacity in the platform rack market. Kuat also makes the Transfer v2 in 1-Bike ($349) and 3-Bike ($549) versions, plus you can purchase a 1-Bike Add-On for $159 to increase carrying abilities. The add-on is compatible with all Transfer racks, meaning the max you can carry with the Transfer system is four bikes (Transfer v2 3-Bike with the add-on). Total cost for that setup might seem pretty steep at $708 until you start comparing it to the rest of the market. For example, stepping up to Kuat's NV Base 2.0 plus the the NV Base Add-On totals $1,347, and the same goes for Thule's popular T2 Pro XTR with the Add-On ($1,350 combined).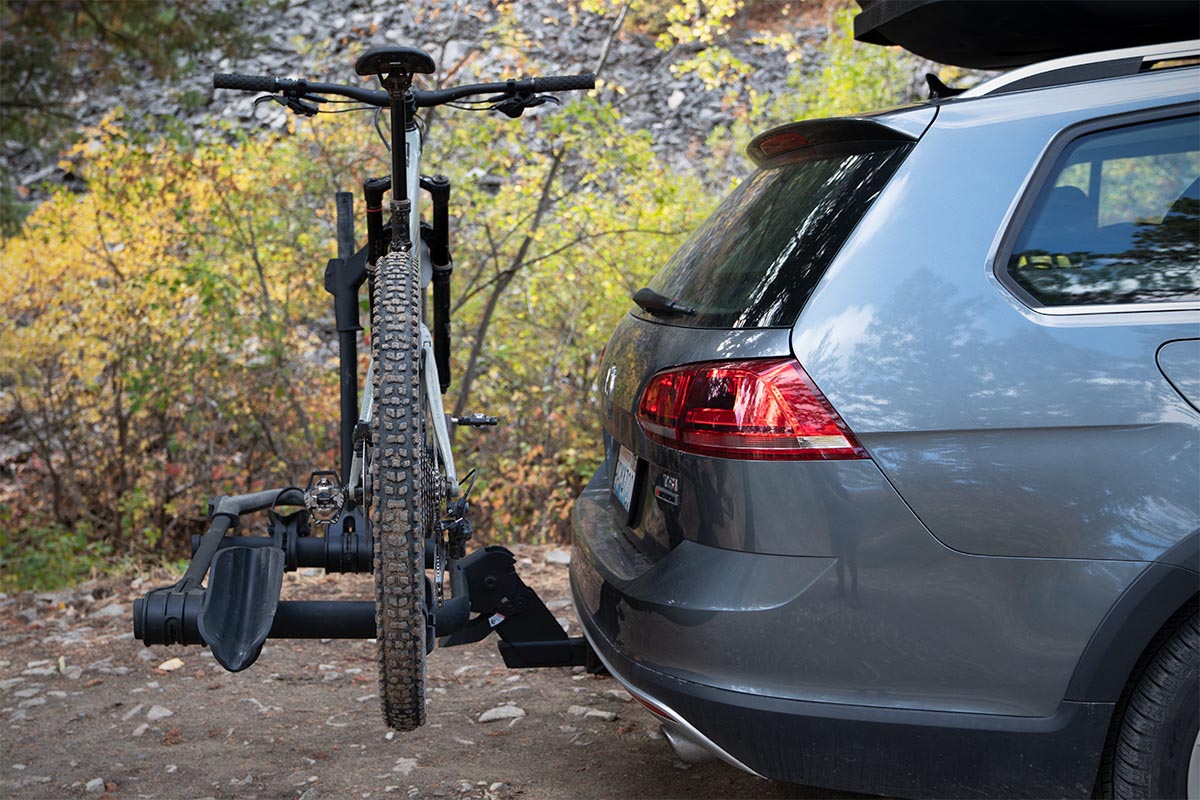 Weight Capacity
With its tough steel frame and secure connection to the hitch, the 2-inch version of the Kuat Transfer v2 has an impressively high 60-pound-per-bike max carrying capacity. This puts it on par or better than most premium racks, including the Thule T2 Pro XTR (60 lbs.), 1UP Heavy Duty Double (50 lbs.), and Kuat's own NV 2.0 (60 lbs.). Importantly, it also beats out most competitors in its price and/or weight range, including the RockyMounts Westslope and Kuat Sherpa 2.0 (both 40 lbs.). That said, if you'll be hauling a bike heavier than 35 pounds, you'll need to secure the front wheel with the included Velcro strap, and that same strap should be used with tires over 3.25 inches wide and wheelbases longer than 46 inches. It's a small annoyance as the strap is an extra, loose piece you'll need to keep track of, but it's a modest price to pay for a tangible boost in versatility.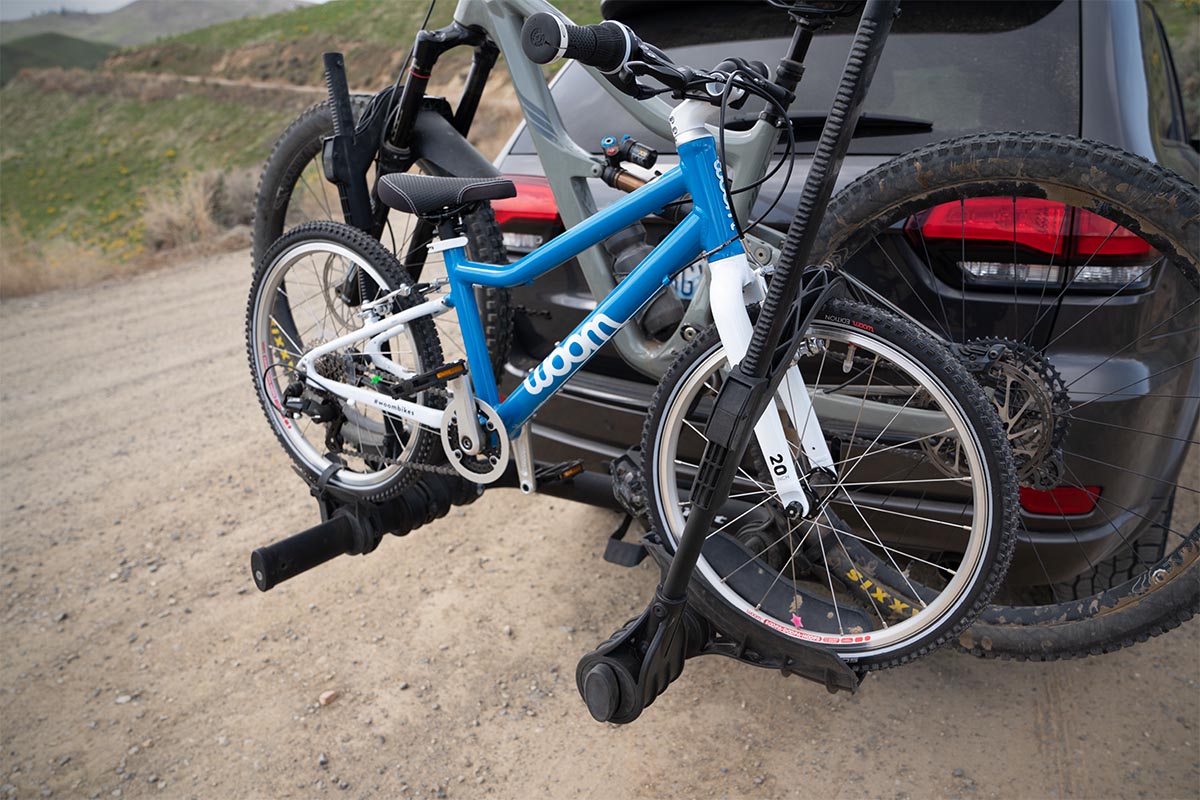 Build Quality and Durability
The common adage "you get what you pay for" applies in nearly all cases in the hitch bike rack market. For the mid-range Kuat Transfer v2, this gets you some quality materials—including the strong steel frame, secure cam lock, heavy-duty tilt lever, and solid front tire hook. But there's also a noticeable drop in refinement compared to pricier alternatives: The setup process is more involved, there's a fair amount of plastic in the design (including on the tire cradles), and the dual arm shape is a bit less user-friendly than the full-width trays that come on Kuat's other platform racks.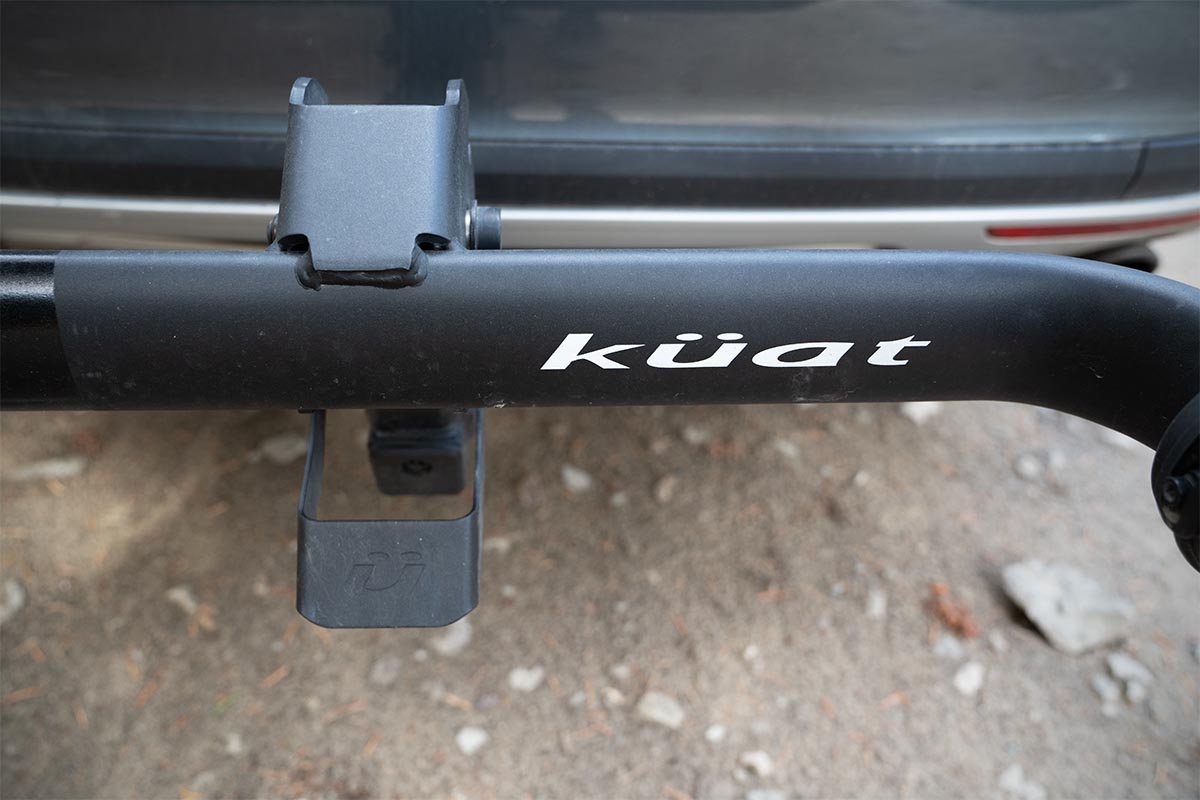 After a full year of use—the rack was on my vehicle for nearly the entire stretch—the Kuat Transfer v2 is looking and performing like a used piece of gear. Pivoting the front tire hook arms into place results in some squeaking, lowering the hooks onto the tires (and releasing the tension) with the plastic tab requires a little extra effort, and there are small sections of rust showing along the edges of the steel frame. It's clear that for the Transfer to be a long-term solution, it will require a little more maintenance than pricier racks I've used in the past. But context is important: Most cyclists won't leave their rack on through a snowy and wet winter, and regular cleaning (plus storing the rack in a garage on occasion) will go a long way toward maximizing the Transfer's lifespan.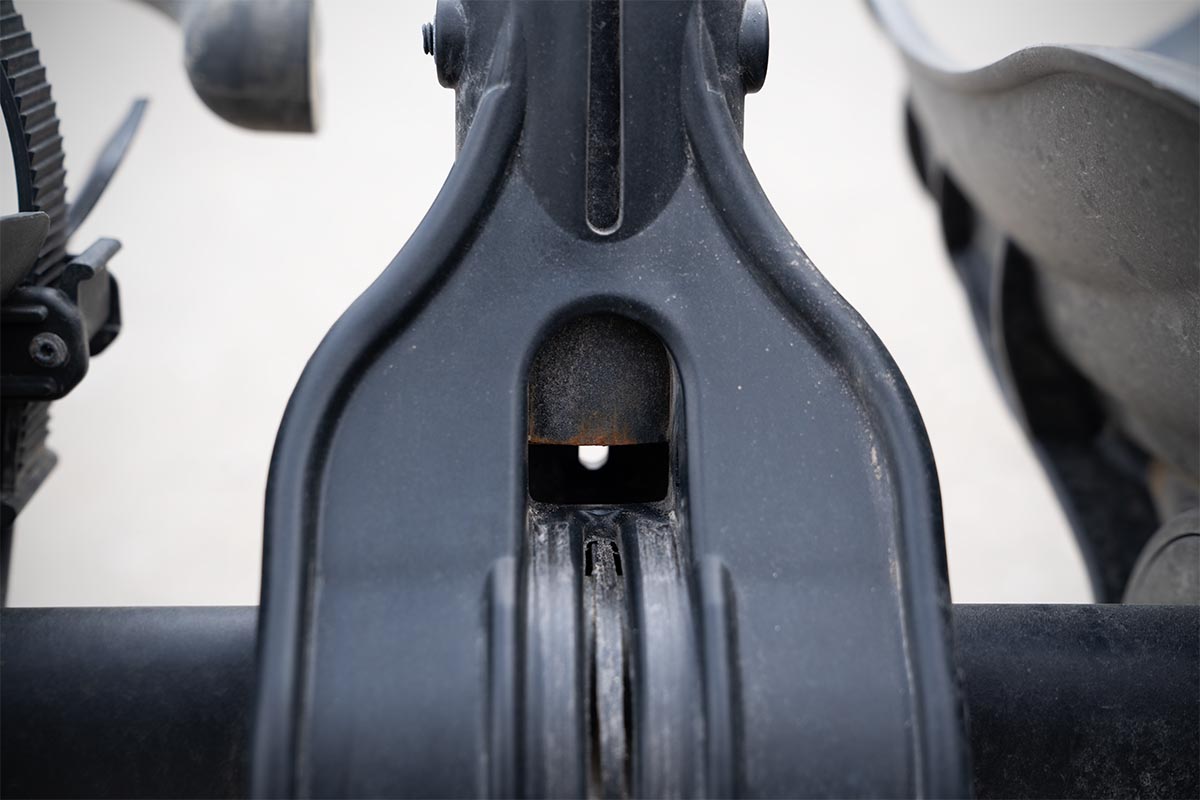 Weight
The 2-bike Kuat Transfer v2 nicely undercuts most platform-style racks in weight at 37 pounds. For reference, the upper end of the market ($650+) includes several options in the 45- to-55-pound range, including Thule's Thule T2 Pro XTR (52 lbs.), 1 UP's Heavy Duty Double (46 lbs.), and Kuat's NV and NV Base 2.0 (56 lbs. and 51 lbs. respectively). A closer competitor is RockyMounts' WestSlope, which comes in slightly lighter at 36 pounds. If weight is a top priority, you can trim even more weight with a design like Kuat's 32-pound Sherpa 2.0. But going lighter typically comes with compromises in max weight capacity (the Sherpa can only take bikes up to 40 lbs.) and versatility with a range of wheel sizes and tire widths. All things considered, the low weight of the Transfer—without compromising bike-carrying ability—is a true strength of the design.

Key Features
Tilt Lever
The Kuat Transfer v2 includes a large lever near the base of the rack that allows you to toggle among three positions: flat for hauling bikes, down and out of the way with bikes loaded to access a vehicle's rear hatch, and up when not in use. The feature worked as advertised on the two vehicles I drove during testing (a Volkswagen Golf Alltrack and Jeep Grand Cherokee, both 2017 models). Importantly, I was able to lower the rack with two 30-plus-pound bikes with ease—you'll just want a hand on the handlebars of the outermost bike to steady it—and raising it is similarly simple.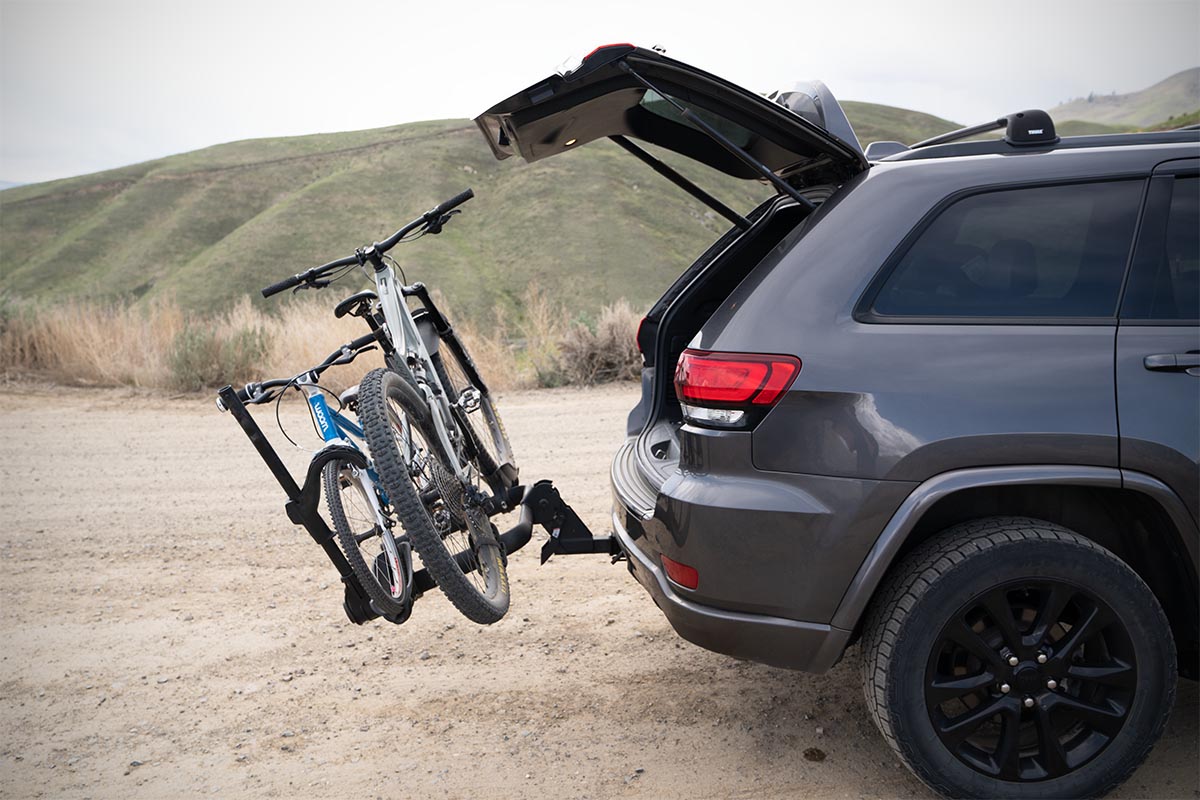 My only complaint with the tilt design is that it's rather hard to access the foot lever. With bikes loaded, you have to snake your leg or arm all the way to the base of the rack to reach it. And even when the rack is empty and lowered, it's still not particularly easy to access—the front tire hook arms block the way enough that it's awkward to slide a foot under. I found it was a bit easier to reach when loaded on the taller Jeep compared to a lower-slung car, but it still was an annoyance. My prior rack was Thule's Helium Platform, and that design included a much more convenient tilt handle at the end. Again, many will consider the substantial price savings worth that tradeoff—the aforementioned Helium Platform costs $850—but it's another downside worth calling out.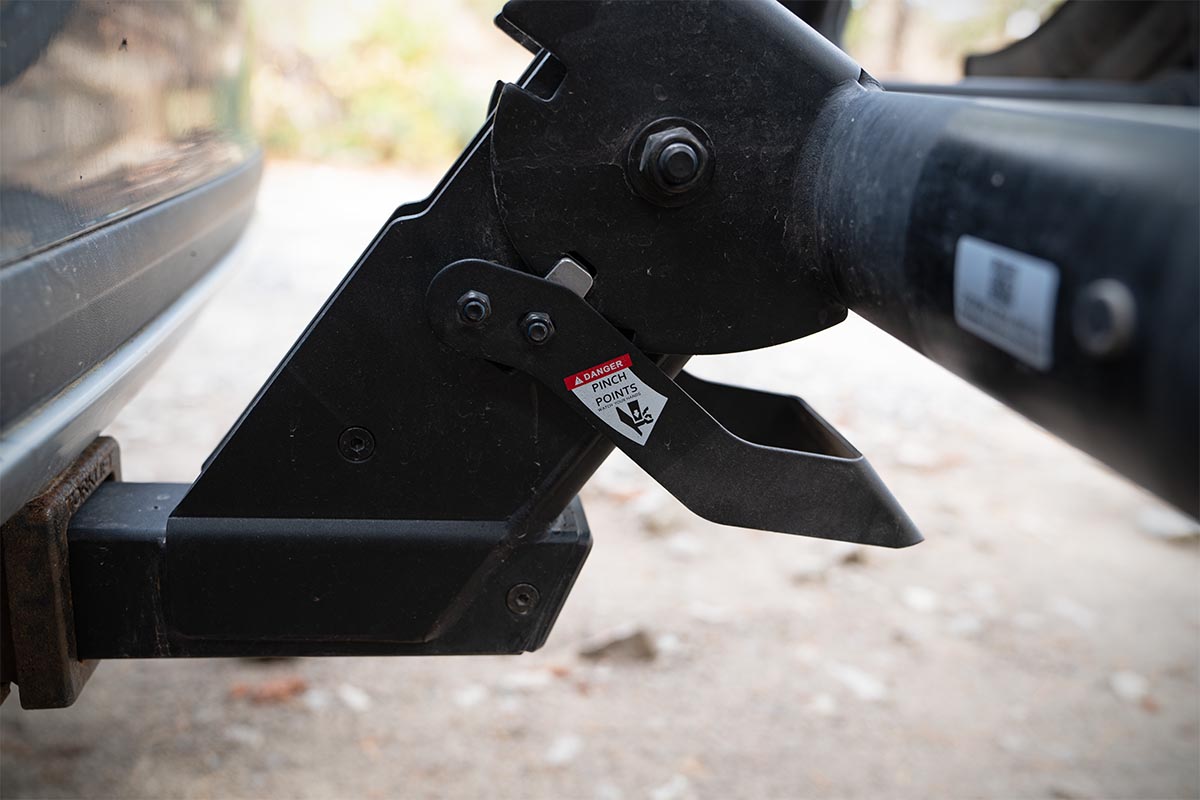 Locks
While not particularly well equipped with locks, Kuat took a practical approach to securing the rack and loaded bikes. Starting with the rack-to-vehicle connection, you don't get the kind of locking knob that comes on most premium designs, but the hitch cam tightens with an 8-millimeter security Allen key, which is unique enough to offer a decent dose of security. And if you're worried about the rack getting taken off your vehicle, a simple way to upgrade is to purchase a locking hitch pin (typical cost is around $10 to $20).
For locking your bike to the rack, Kuat includes a cable lock with a loop on one end and a metal tip on the other for connecting to the rack. The cable is long enough to thread through the frame and/or chain stay of two bikes, and the lock port on the left-side arm and key core secure it in place. The fact that the cable isn't permanently attached to the rack makes it slightly less likely you'll use it—I found myself storing the cable in my garage most of the time. But it's still a noteworthy feature at this price and can be useful for road trips. Finally, as with all cable locks, a pair of bolt cutters will make quick work of it, so you'll want to really upgrade your locking system if you plan to leave pricey bikes on the back of your vehicle for very long.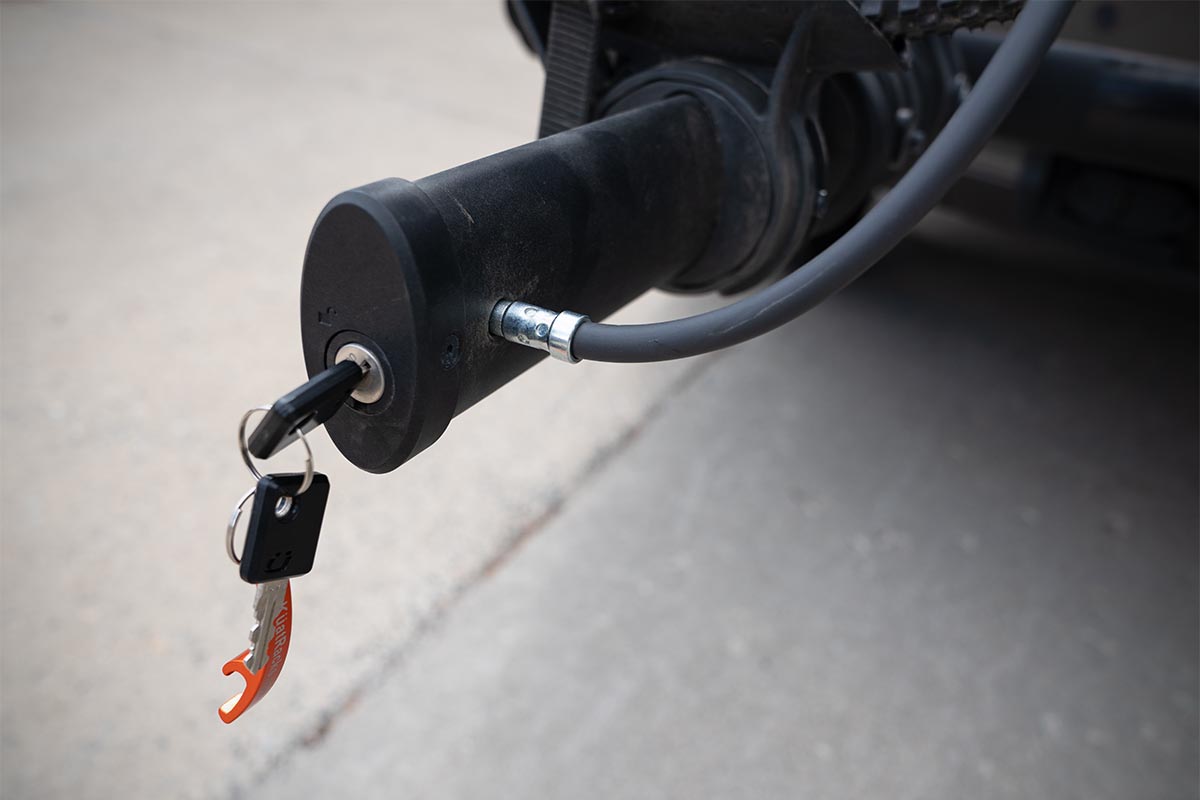 Other Versions of the Kuat Transfer
I tested the 2-Bike version of the Kuat Transfer v2 that's designed to fit a 2-inch hitch receiver. Kuat also makes the 2-Bike model for 1.25-inch vehicle hitches, and that model comes with a downgraded ball cam and lower max bike capacity (40 lbs. per bike). Additionally, there's a 1-Bike Transfer for $349 (in both 1.25- and 2-in. hitches) and a 3-Bike Transfer for $549 (2-in. only). As we mentioned above, if you occasionally need extra capacity, there's also a Transfer v2 1-Bike Add-On for another $159.

What We Like
The reliability and security we love about platform-style racks for hundreds of dollars less than the competition.
Ample space between the two bikes and easy adjustability to avoid side-to-side contact.
Relatively light at 37 pounds without compromising on carrying ability.
Weight capacity of 60 pounds per bike is higher than most competitors and on par with much pricier alternatives. 
Highly versatile for hauling different styles, from kids' models to fat bikes.
Fairly straightforward to assemble and easy to load and unload.

What We Don't
Less refined than pricier designs, including a more involved setup process, several plastic components, squeaky ratcheting arms, and a dual arm shape that's less user-friendly than full-width trays.
Tilt level is hard to access, even with the rack empty and lowered.
My rack looks pretty worn after a full year of use—you'll need to be diligent about maintenance and storage to maximize the Transfer's lifespan.
Bikes heavier than 35 pounds require securing the front wheel with the included Velcro strap (the same goes for tires wider than 3.25 in. and wheelbases longer than 46 in.).
Those concerned about security will likely want to upgrade the basic lock system.


Comparison Table
*Editor's note: "Capacity" refers to weight capacity per bike.

The Competition
We think that Kuat's Transfer v2 hits a really desirable middle ground of price and performance, but it's not without competition in the platform-style hitch bike rack market. RockyMounts' WestSlope shares a lot in common with the Transfer, including a dual arm shape with pivoting tire cradles, hook-style arm to secure over a bike's front tire, and tilt functionality to access a vehicle's rear hatch—all for around $90 less. Additionally, the tiered loading of the WestSlope helps minimize bike interference and aids clearance when off-road. On the flip side, the Transfer gets the clear edge in build quality with a sturdier frame, much higher max weight capacity (60 lbs. per bike vs. 40 lbs. for the WestSlope), and more versatile tire cradle (the WestSlope's maxes out at 3 in.). Given these downsides, we give the Transfer the overall edge.
RockyMounts excels in the mid-range category, and a second competitor to the Transfer is their MonoRail. For around $50 more than the Kuat, you get a tray-style carrying method (a bit more secure than the dual tire cradles on the Transfer) and similar versatility with a high max weight capacity (60 lbs. per bike) and compatibility with a range of wheel sizes and tire widths. Plus, there's a MonoRail Add-On that expands capacity to three bikes for another $200. Build quality and overall refinement between the two is pretty similar—neither are standouts, but they're functional and solid. One area of concern with the RockyMounts is how snug it sits to the bumper: At 4.25 inches from the hitch pin, it's more than 2 inches closer to the vehicle than the Kuat (it's worth measuring before buying to ensure it will work with your vehicle). But if it fits and you're willing to spend up, the MonoRail is a compelling, upgraded alternative.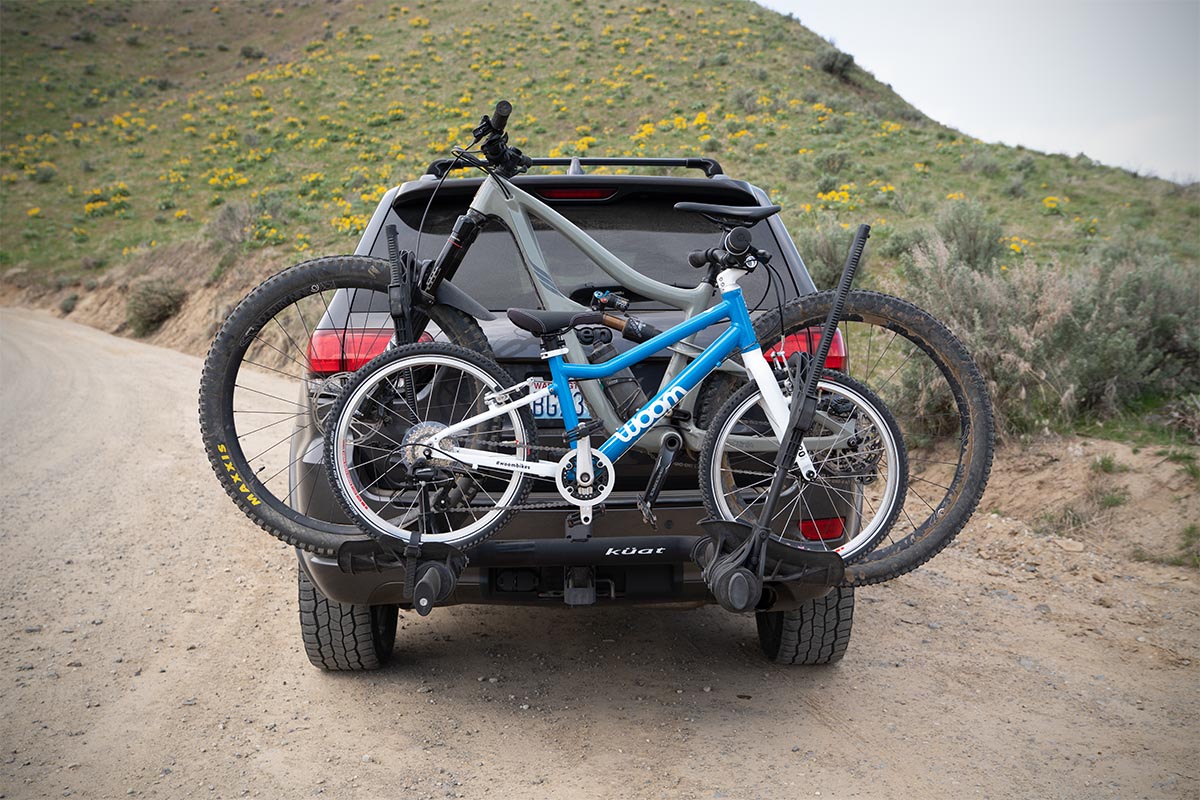 Another rack to consider in a similar price range is Thule's DoubleTrack Pro XT ($500). The Thule's design is compact and lightweight, with a single tray holding two sets of tire cradles. While this can lead to some challenges with fitting two large bikes side-by-side (especially the handlebars), it keeps everything close to the rear of the vehicle. The bikes secure to the rack in two ways: at the front and rear wheels with straps as well as the top tube with a sliding hook. It's a pretty secure system and nice if you have bikes with fenders, but the frame contact can lead to rubbing and paint damage over time, which isn't something you have to worry about with the Kuat. In the end, unless you have special carrying needs (the DoubleTrack can haul bikes with wheels as small as 16 in.), we think the Transfer is the superior design.
Taking one more step up in price leads us to Yakima's longstanding HoldUp at $599. Years ago, this was our first "real" bike rack, and it's still a solid option. The two trays and sturdy tire cradles hold bikes reliably in place and also pivot to help with fitting bikes side-by-side. And like the Transfer, a ratcheting arm hook over the front tire keep everything in place. In general, material quality and refinement are a step up from the Kuat, and you get extras like integrated cable locks and the ability to lock the rack to your vehicle. At 49 pounds, the Yakima is considerably heavier than the Transfer and a bit harder to load/unload and carry as a result. But the higher-end finishes give it a longer lifespan, in our experience. Whether or not it's worth the $150 upcharge will come down to budget and how often you plan to use your rack. 
If you're thinking about buying gear that we've reviewed on Switchback Travel, you can help support us in the process. Just click on any of the seller links above, and if you make a purchase, we receive a small percentage of the transaction. The cost of the product is the same to you but this helps us continue to test and write about outdoor gear. Thanks and we appreciate your support!
Depending on the seller, most products ship free in the United States on orders of $50 or more. International shipping availability and rates vary by seller. The pricing information on this page is updated hourly but we are not responsible for inaccuracies.
Read More From Switchback Travel