Merrell's original Moab reached legendary status, and the current "2" carries on the tradition. To cut right to the chase, after taking the Moab 2 Vent to Utah's Canyon Country and subsequent testing in Washington's Cascade Mountains, the shoe impressed almost across the board. It feels planted but reasonably light, is very comfortable, and is one of the better values on the market at $100. Below we break down the Moab 2's comfort, traction, breathability, waterproofing, fit, and more. To see how the Moab 2 stacks up, see our articles on the best lightweight hiking shoes and best hiking boots.

Performance
Comfort
Sliding your feet into the Merrell Moab 2 is a reminder of what has made these shoes so popular for so long. It's truly comfortable right out of the box with a cushioned collar and tongue, supportive footbed, and enough flexibility to take straight to the trail. One noticeable area of improvement in the latest Moab shoe is the refined insole. You now get decent arch support, and the molded heel cup holds you nicely in place. Moreover, there is extra padding in the heel that offers a surprising amount of trail isolation and underfoot protection. This additional cushioning felt a little tall and funny at first but gives the shoe a customized feel as the miles add up and likely contributes to the impressive comfort over long trail days.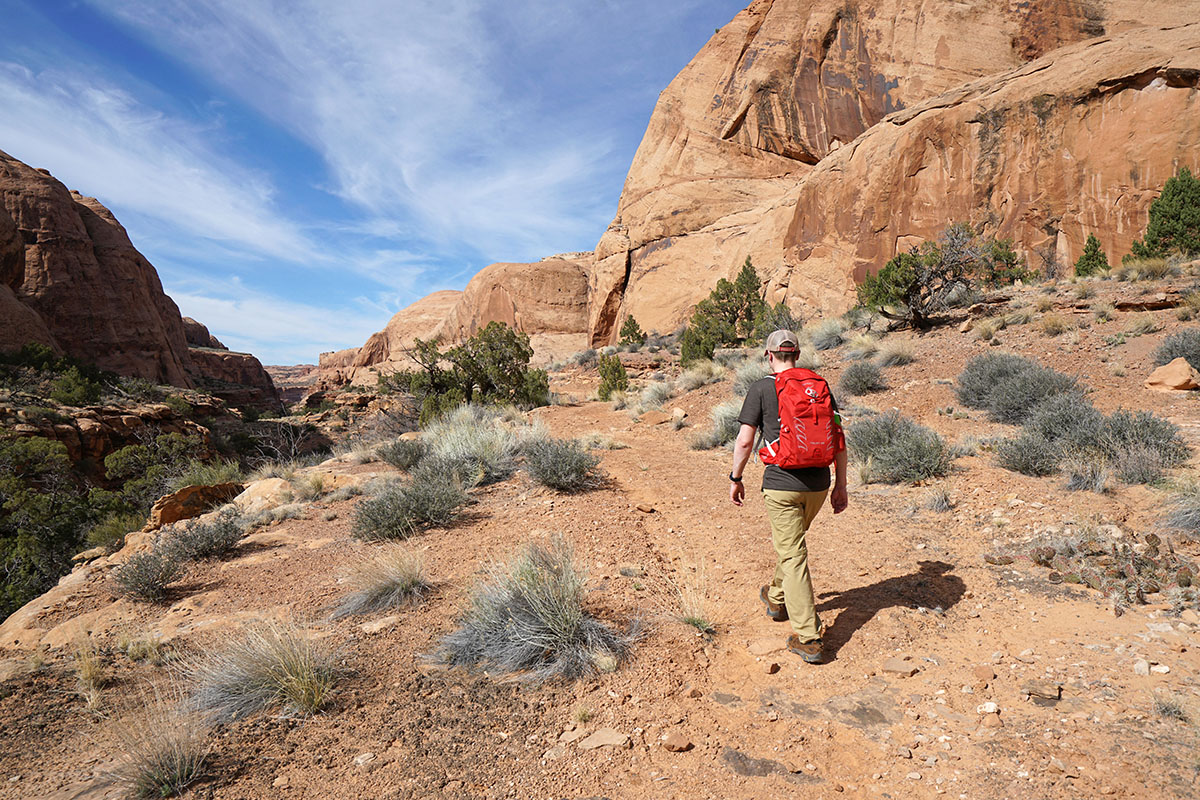 Weight
Merrell's Moab shoes always have been considered a moderately lightweight hiker, and the current model carries the torch. On our scale the non-waterproof Vent weighs in at 2 pounds exactly for a pair of men's size 9 (slightly more than the listed weight of 1 pound 15 ounces). The waterproof low-top model adds 2 ounces for the pair, which is very competitive in the hiking shoe market. For comparison, Oboz's Sawtooth II Low is 1 pounds 15.2 ounces and Keen's waterproof Targhee III shoes are slightly lighter at 1 pound 14.8 ounces, although the difference on the trail is negligible (the non-waterproof Targhee Vent is even lighter at 1 pound 13.6 ounces). You can save weight with a trail running-inspired model like the Salomon X Ultra 3 (1 pound 9.8 ounces), but you do give up a little in cushioning and underfoot protection. For most hikers and backpackers, the Moab 2 provides a great combination of weight and performance.

Stability and Support
The Moab 2's core customers are day hikers, and as a result, the shoe offers modest stability and support. Stacked up against a running shoe, the Moab 2 is less prone to ankle rolls on rocky terrain, but in both the mid-height boot and low-top shoe version, there is a fair amount of flex both underfoot and around the collar. This isn't necessarily a bad thing—a more flexible shoe often is quite a bit more comfortable—but the Moab is not ideal for carrying heavy loads, long and steep climbs, or traversing technical terrain.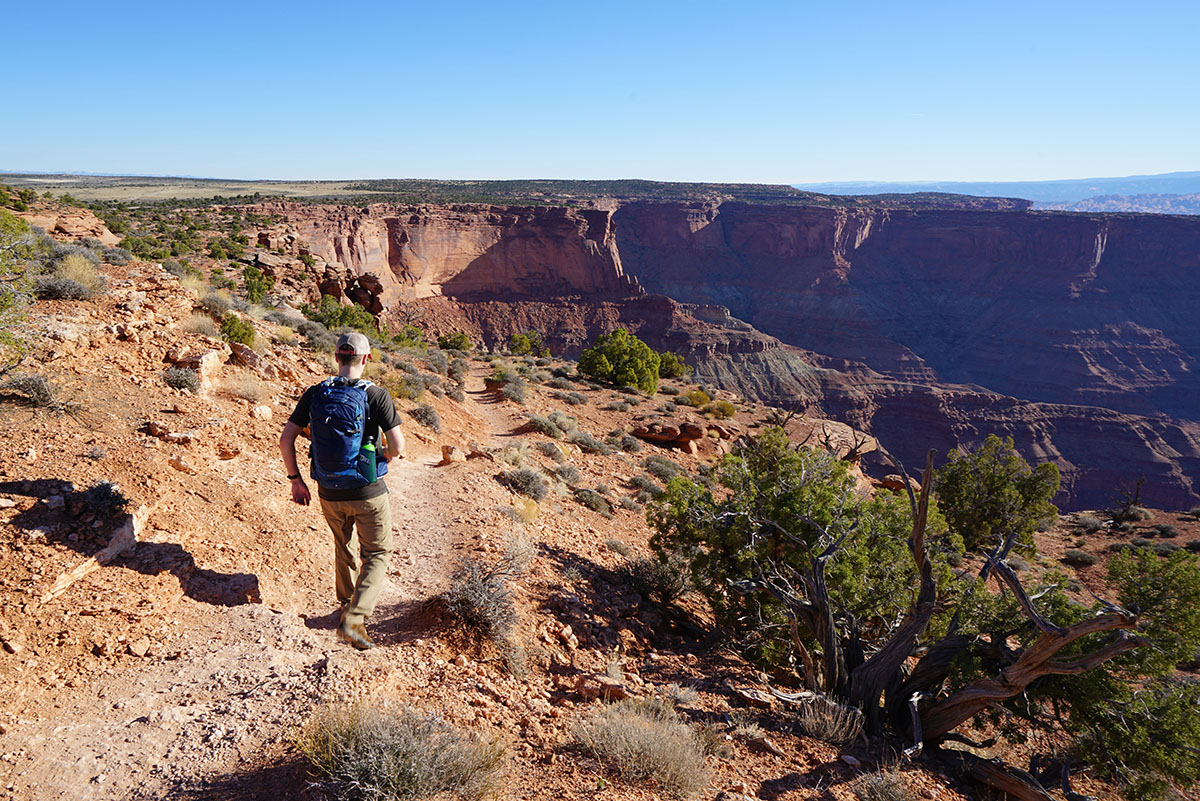 One of the more noticeable changes with the Merrell Moab 2 is the addition of two silicon bands built into the upper material that run lengthwise around the inside and outside of the foot. The intention of these bands is to provide more structure and reduce the risk of rolling an ankle. In use, it's been difficult to quantify the differences in this design change. The shoe definitely felt planted while scrambling over slick rock in Utah and hiking rocky and muddy trails back home in the Pacific Northwest, but the shoe still has the mild flexibility side to side of the original Moab. Whether or not the band is helping is hard to tell, but the shoe felt secure and stable in a range of conditions.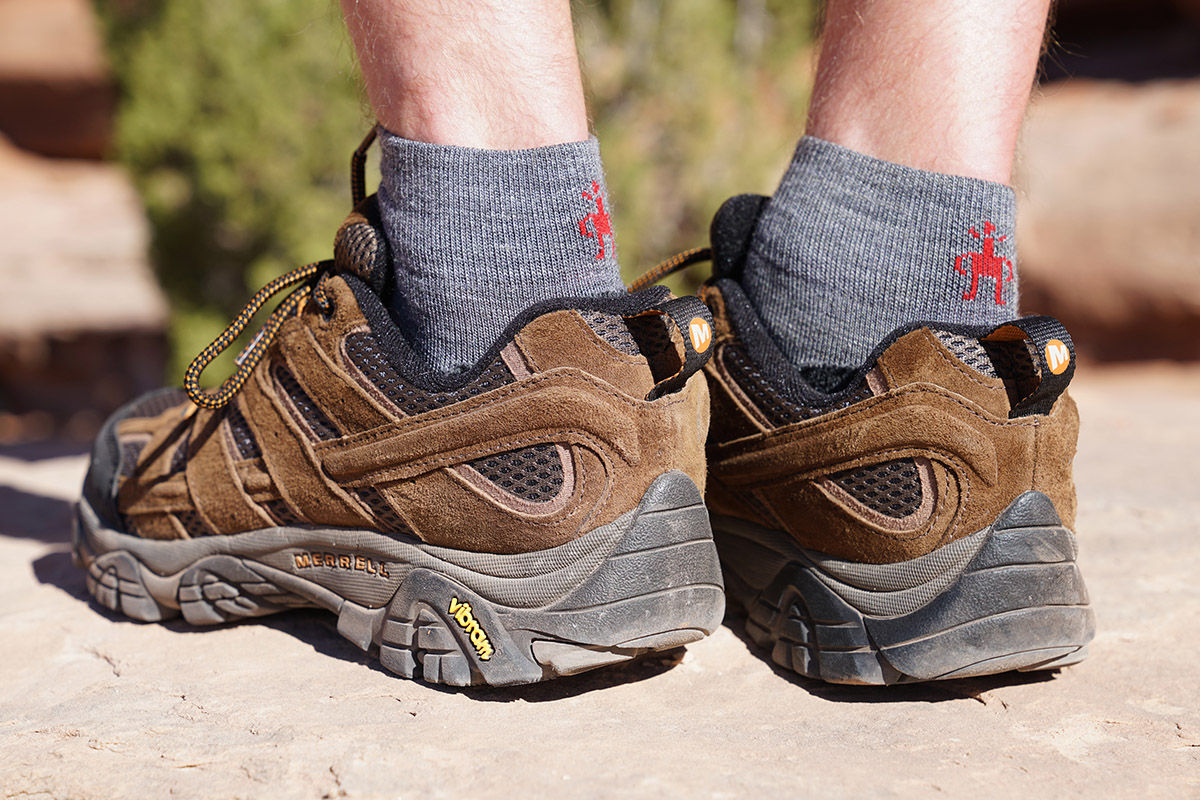 Traction
Merrell opted not to mess with the tread pattern or Vibram rubber compound from the original Moab with the "2." We think this is a fine decision as the trusty outsole has proven to have a long lifespan and offers up decent all-around traction over rock and dirt. The tread design looks pretty busy with a funny mix of circles, open channels, and narrow and thick lugs, but it gets the job done.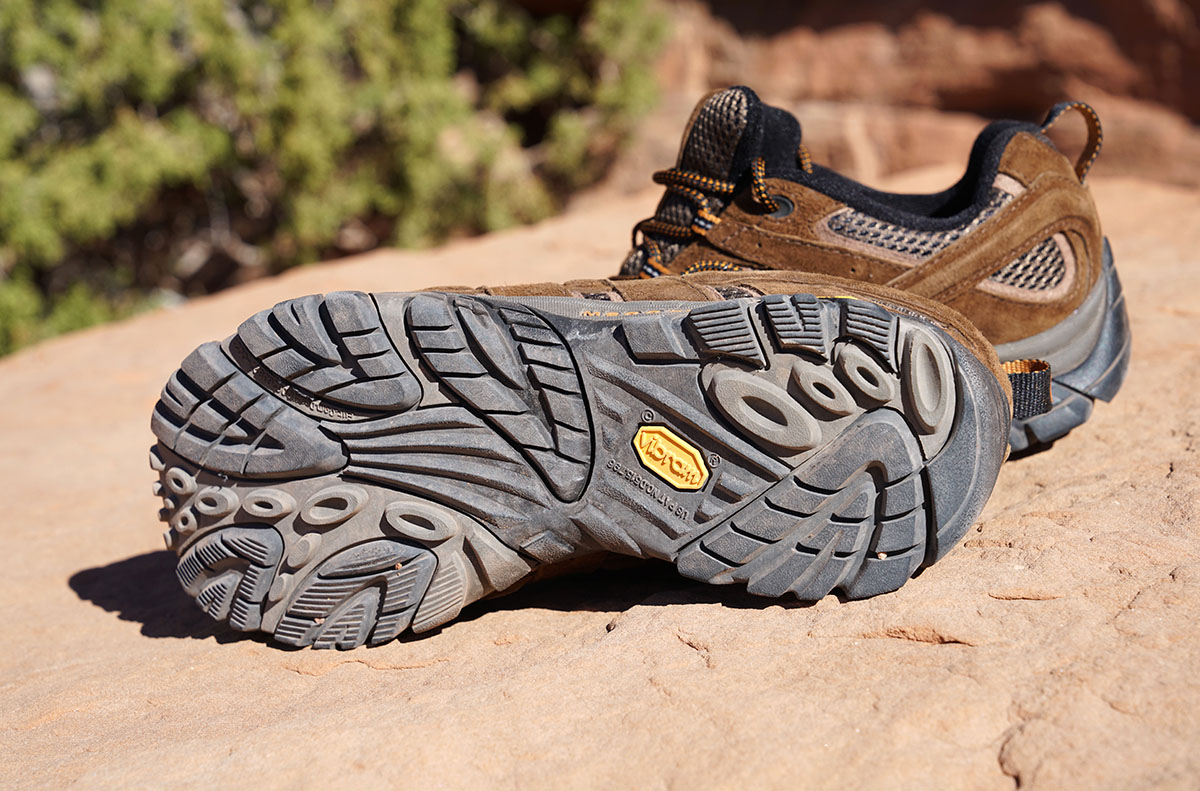 Overall, I give the Moab a passing grade on traction and am confident they'll be a good match for most day hikers and moderate-difficulty peak baggers. We've certainly worn grippier shoes on rock—we found the Merrells a little slippery while scrambling around the canyons outside of Moab—but the tread dug in nicely into soft mud and dirt back in the Pacific Northwest. Those tightly spaced lugs did have a tendency to cake up in the early season muck, however. Further, while the shoe does a fair job on descents, it's a step down from a serious hiker like our Salomon X Ultra 3's angled tread that bites into the ground at the heel.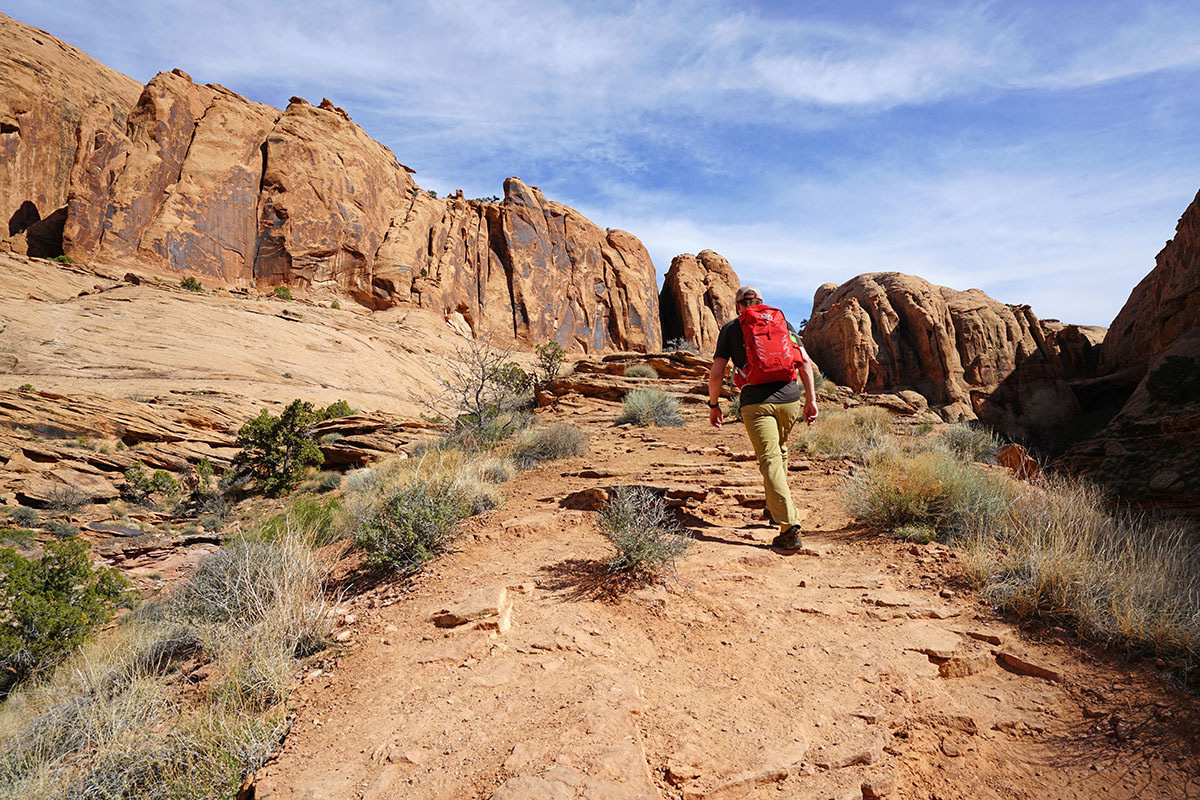 Breathability
I had the non-waterproof Vent model for testing, so it shouldn't come as a surprise that breathability was very good. The Moab 2s have quite a bit of mesh along the sides and top, which along with lightweight socks kept me comfortable while hiking in the mid 80s in Utah. The available waterproof models will have a pretty significant impact on breathability, so if you're hiking in warm temperatures or don't mind getting your feet wet on the occasional stream crossing, the Vent model is a great way to stay cool.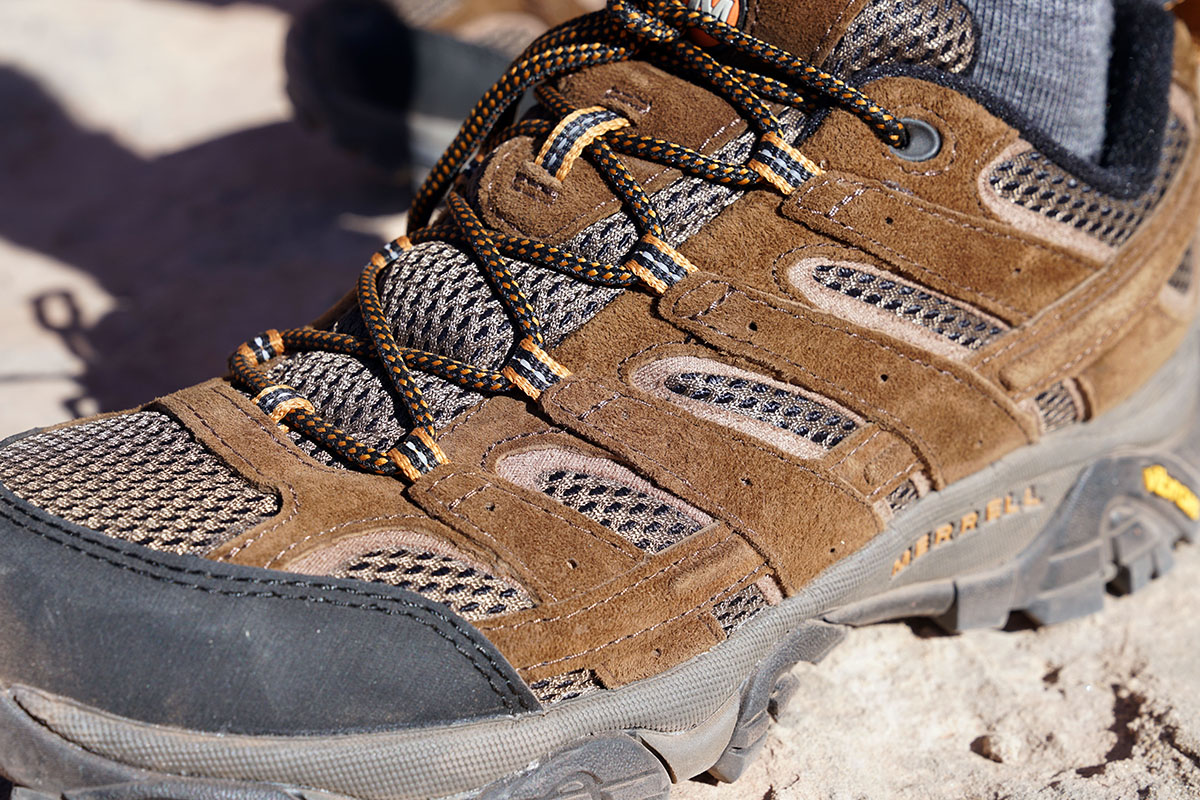 Waterproofing
Wearing the non-waterproof shoe turned our typical creek dunking and wet-weather testing into more of a sock-soaking exercise. The liberal use of mesh in the shoe's upper means moisture that clears the sides of the outsole will start seeping in. The positive is that the mesh dried very quickly and our merino hiking socks did the same in the Utah heat.
As with the prior model, Merrell offers two waterproof options: an in-house M-Select design and Gore-Tex. While we haven't had a chance to test these variants, prior experience tells us the M-Select (called the Merrell Moab 2 WP) is a fine choice for most day hikers that want a waterproof shoe. The Gore-Tex shoe likely will offer slightly better breathability at a slightly lower weight, but both are pretty darn waterproof and the Gore-Tex version is $20 more expensive ($140 for the shoe and $150 for the mid-height boot).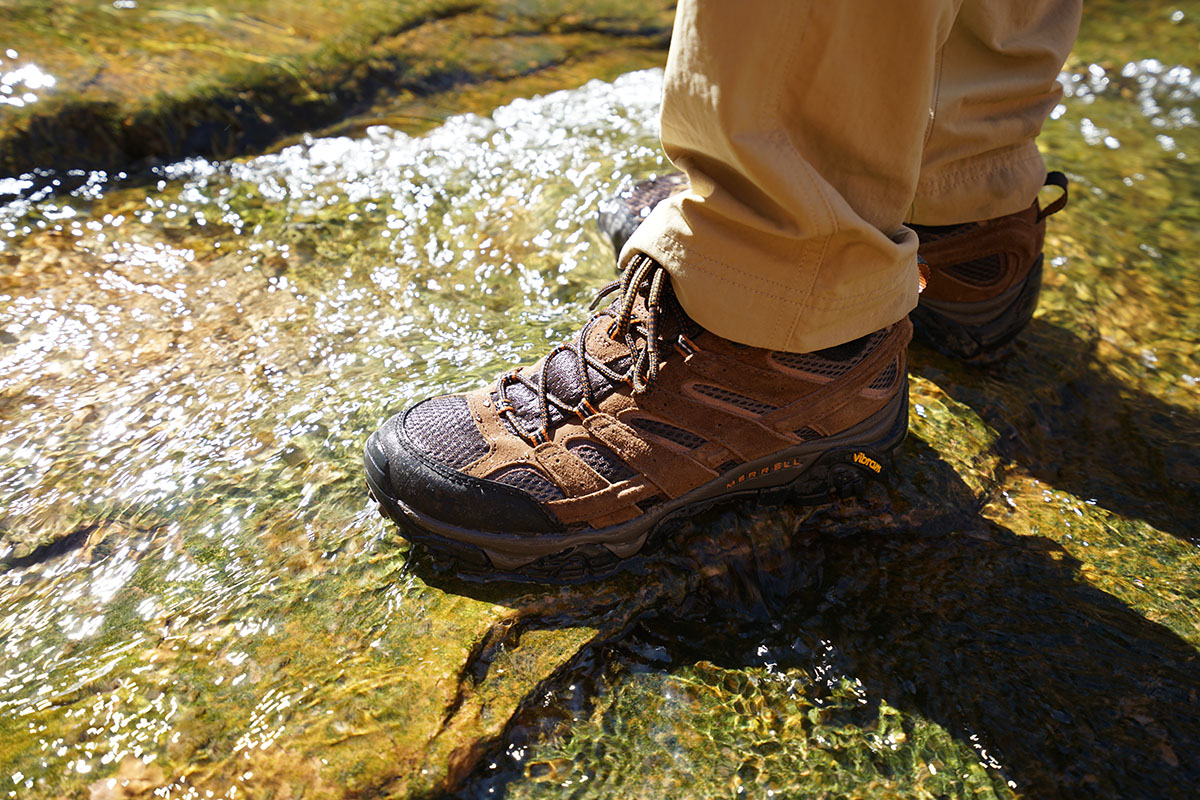 Durability
In terms of durability, with a few months of use the Moab is holding up really well. Our trip to Utah left a few permanent scrapes along the toe cap, but otherwise the shoes look as good as new. A potential area of weakness is the mesh along the upper material, but we haven't had any signs of tearing yet. The previous model was a pretty reliable hiking shoe—particularly for a lightweight design—and the build quality appears just as good with the new Moab 2.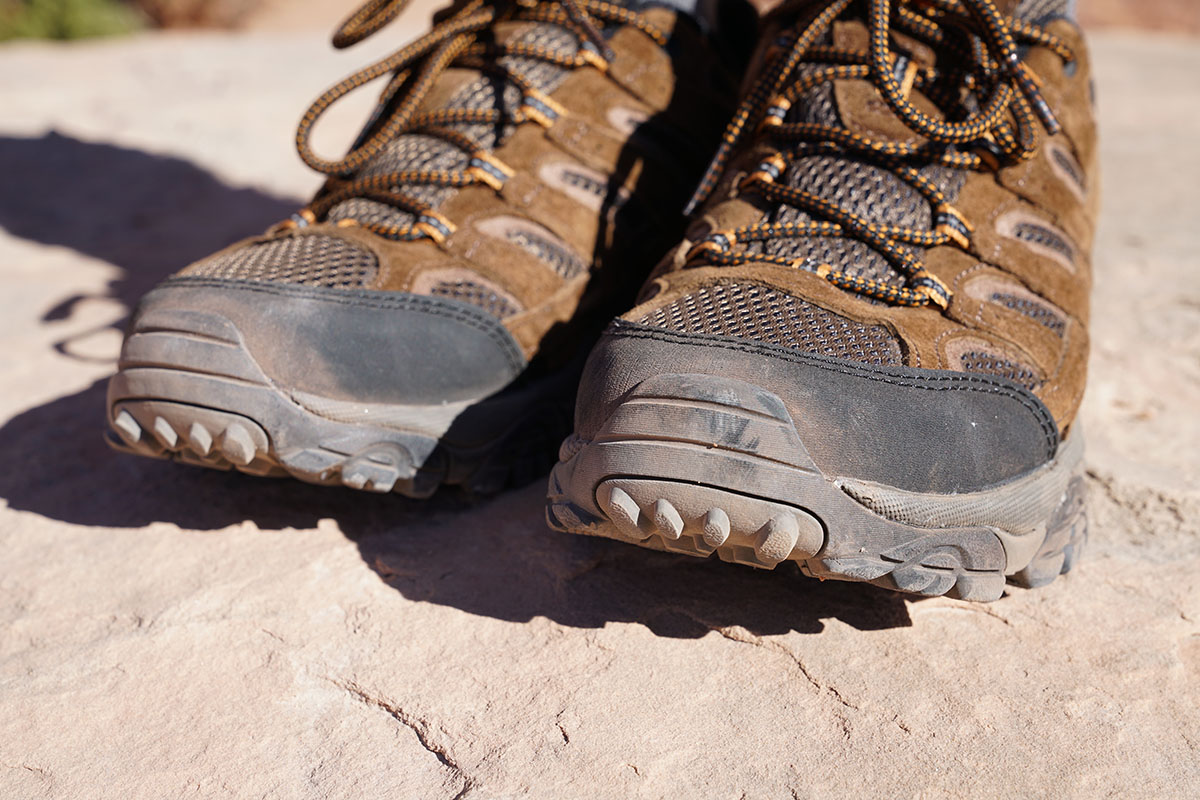 Sizing and Fit
I went with my typical men's size 9 and this turned out to be a great match. As with my previous Moabs, the fit was excellent with the Merrell Moab 2: the length is just right and there is plenty of space in the toe box for long days on the trail without feeling sloppy. And the sculpted insole that has more arch support does an even better job holding the foot in place. I particularly like the snug heel cup that was a nice fit for my somewhat narrow foot (I have the occasional issue with heel slippage with some wider-set models, which can lead to blisters). A big part of the Moab's appeal is its friendly fit, and Merrell stuck with what worked here.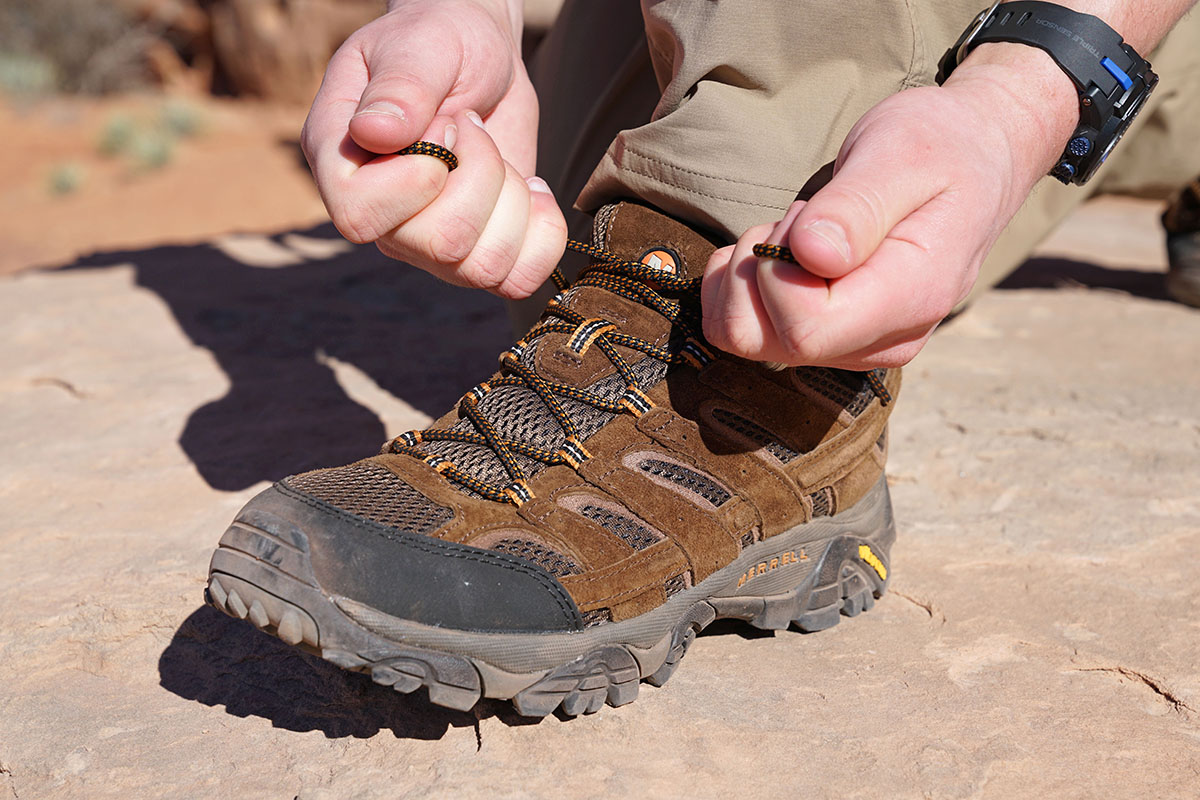 Other Versions of the Merrell Moab 2
For this review, we tested the men's version of the Moab 2 Vent Low. Merrell also makes the low-top shoe in a waterproof model, which adds about 2 ounces per pair and costs $20 extra. Further, the line includes a Moab 2 Mid boot in either waterproof ($130) or non-waterproof Vent ($110) models for hikers that prefer more support and protection. And finally, the entire collection is also made in women's-specific versions that have a different fit and slightly different colorways. What they all share in common, however, is a quality construction and high level of comfort.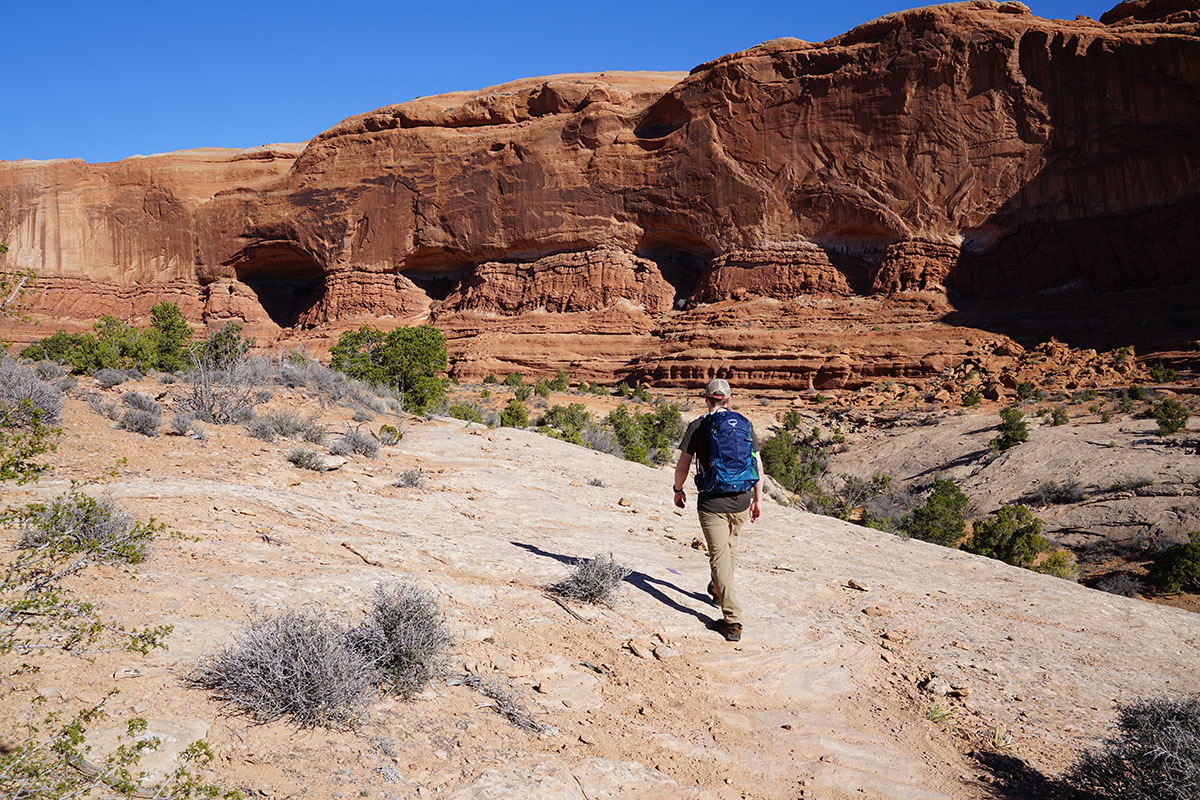 What We Like
Sticks to what made the original Moab so great: reasonably light, excellent comfort, and value price.
The Vent model is a great warm-weather shoe.
Lots of options: low-top shoe or mid-height boot, and two types of waterproofing or non-waterproof models.
Well-made and should have a good lifespan.

What We Don't
Not a particularly fast-and-light shoe. The Moab prioritizes comfort over a nimble feel.
Only average traction in rock and mud.
A little too flexible for heavy loads or technical trails.


Comparison Table
| Shoe | Price | Type | Weight | Waterproof | Upper |
| --- | --- | --- | --- | --- | --- |
| Merrell Moab 2 Vent | $100 | Hiking shoe | 1 lb. 15 oz. | No (WP available) | Leather / mesh |
| Keen Targhee Vent | $125 | Hiking shoe | 1 lb. 13.6 oz. | No (WP available) | Leather |
| Oboz Sawtooth II Low | $110 | Hiking shoe | 1 lb. 15.2 oz. | No (WP available) | Leather / mesh |
| Salomon X Ultra 3 | $120 | Hiking shoe | 1 lb. 9.8 oz. | No (WP available) | Synthetic |
| Merrell MQM Flex | $110 | Hiking/trail running | 1 lb. 7.7 oz. | No (WP available) | Mesh / TPU |
The Competition
The lightweight and budget-friendly end of the hiking shoe and boot market is teeming with options, but the Merrell Moab 2 retains its place as one of our favorites. The Moab's long-time competitor is the Keen Targhee, which is one of only a few shoes that can compete in terms of popularity. The Keen Targhee Vent accomplishes a lot of what we love about the Moab 2: a solid feel with a roomy toe box and good all-around trail performance. Both are great options, but the Moab undercuts the Targhee in price by a significant $25 for the non-waterproof version. No shoe is perfect, but the Moab's value is what pushes it ahead in our round-up of lightweight hiking shoes.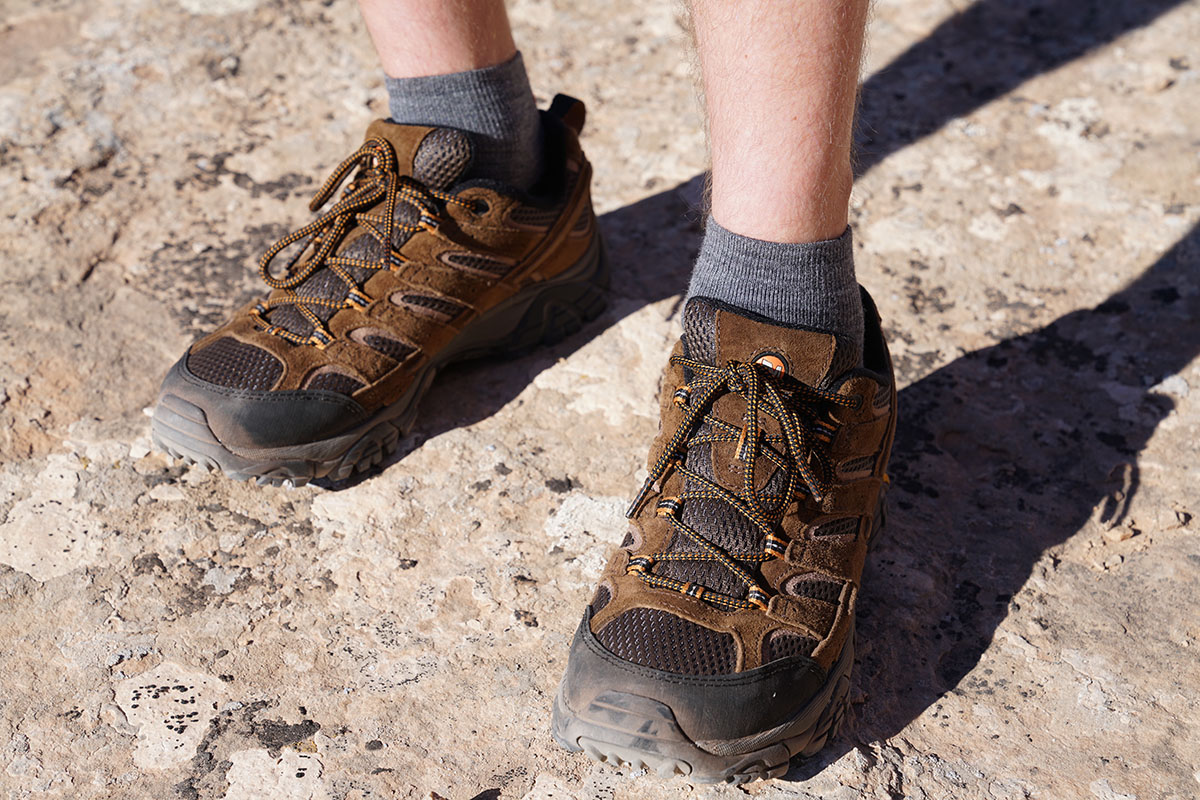 A second shoe that goes head-to-head with the Moab 2 is Oboz's Sawtooth II Low. Updated for 2019, the Sawtooth is in many ways a beefed-up Moab. Its stiff heel counter and thick outsole provide a surprisingly rigid structure and good trail isolation for a low-top design. Further, its snug fit around the heel and spacious toe box make it a favorite among both day hikers and backpackers. One downside of the substantial build is that the Oboz has a clunkier and heavier feel compared with the Moab despite having a similar all-in weight of 1 pound 15.2 ounces. In the end, we give the edge to the softer and more comfortable Moab.
Opting for a performance-oriented lightweight shoe like the Salomon X Ultra 3 gets you a nimbler feel, similar ventilating abilities, and a step up in traction. If we're moving fast over long distances or tackling technical terrain, we prefer the 6-ounce-lighter Salomon. But if you prefer a more traditional shoe that puts a premium on stability and comfort, the Moabs may be the better option. The Merrell's solid base and better isolation from the trail are a great combination for day hikes and weekend backpacking trips.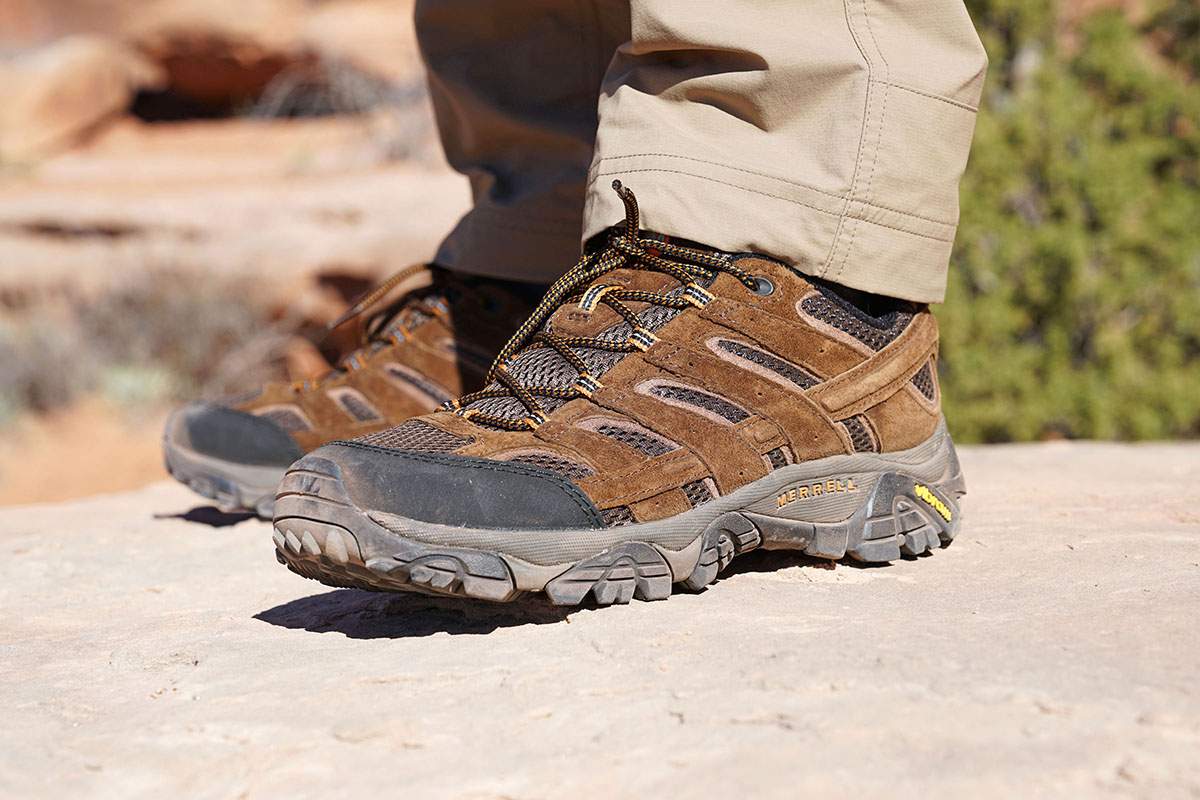 Finally, Merrell's own MQM Flex is an interesting lightweight alternative. This shoe has a trail-runner-like look and build, which trims away a significant 7.3 ounces per pair compared with the Moab. The MQM is also more flexible, which is a nice match for fast-moving days. But we found it falls short in a couple key areas. First, the thin construction underfoot can lead to foot soreness when carrying a heavy load or when traveling over rocky terrain. And its traction fell short of expectations for a performance-oriented model (we recommend the X Ultra 3 over the MQM Flex in most cases). Overall, within Merrell's lineup, we think the Moab 2 stands apart as their most complete and well-designed product.
If you're thinking about buying gear that we've reviewed on Switchback Travel, you can help support us in the process. Just click on any of the seller links above, and if you make a purchase, we receive a small percentage of the transaction. The cost of the product is the same to you but this helps us continue to test and write about outdoor gear. Thanks and we appreciate your support!
Depending on the seller, most products ship free in the United States on orders of $50 or more. International shipping availability and rates vary by seller. The pricing information on this page is updated hourly but we are not responsible for inaccuracies.
Learn More About Hiking Gear