Merrell Siren Edge 3
Price: $105
Weight: 1 lb. 2 oz.
Waterproof: No (available)
What we like: Great stability and durability in a light and affordable package.
What we don't: Subpar comfort with a noticeably harsh and under-padded feel.
See the Merrell Siren Edge 3
Merrell's flagship Moab is their bestselling model and one of the most popular hiking shoes on the market, but it's not particularly light or modern. Enter the women's-specific Siren Edge 3, which undercuts much of the competition at just 1 pound 2 ounces per pair and has a minimalist design that looks the part for wearing around town too. While testing the shoe in Patagonia, I didn't love the stiff and fairly harsh feel, but the tradeoff is excellent support, stability, and durability—all for a budget-friendly $105. Below I break down my experiences with the Siren Edge 3. To see how it stacks up to the competition, see our article on the best women's hiking shoes. 
 
---
Table of Contents
---

Performance
Comfort
In trying on the Merrell Siren Edge 3, the first word that came to mind was "harsh." And unfortunately, my time on the trail only confirmed that initial impression. For reference, I took the Siren Edge 3 right out of the box and along to Patagonia for testing, where I then wore it on a 13-mile day hike to Lago de los Tres. Compared to the Salomon OUTline that I wore the day before, the difference in comfort was immediately apparent: While the Salomon had a cushy and almost sneaker-like feel, the Siren Edge felt stiff, rigid, and far less padded underfoot.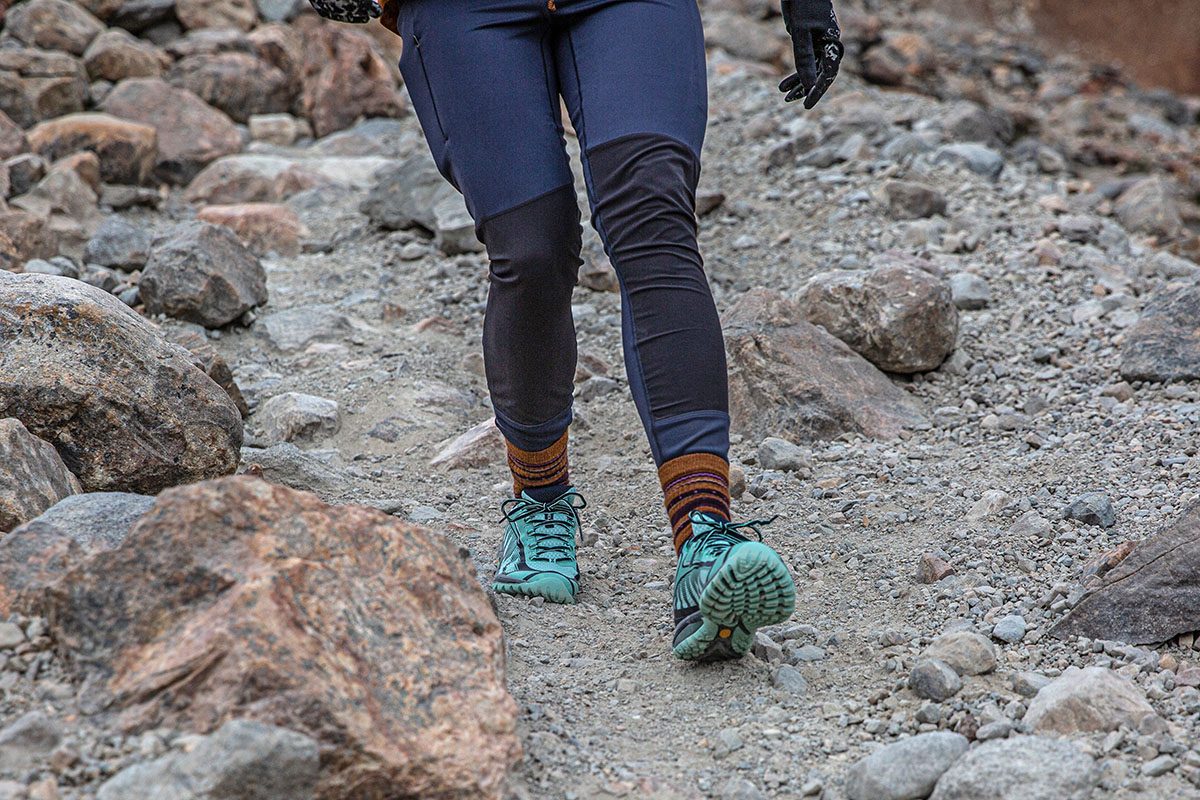 The thin foam midsole and firm insole are the biggest contributors here, and I wish I would have swapped out the insole for a more cushioned design. By the end of the hike, my feet were noticeably achy and sore, and the shoes haven't broken in much more on subsequent outings. All told, if you're looking for a well-cushioned and comfortable all-day hiker, the Siren Edge 3 isn't it. Instead, I recommend checking out Salomon's OUTline or X Ultra 4 (even Merrell's own Moab 2 is much cushier).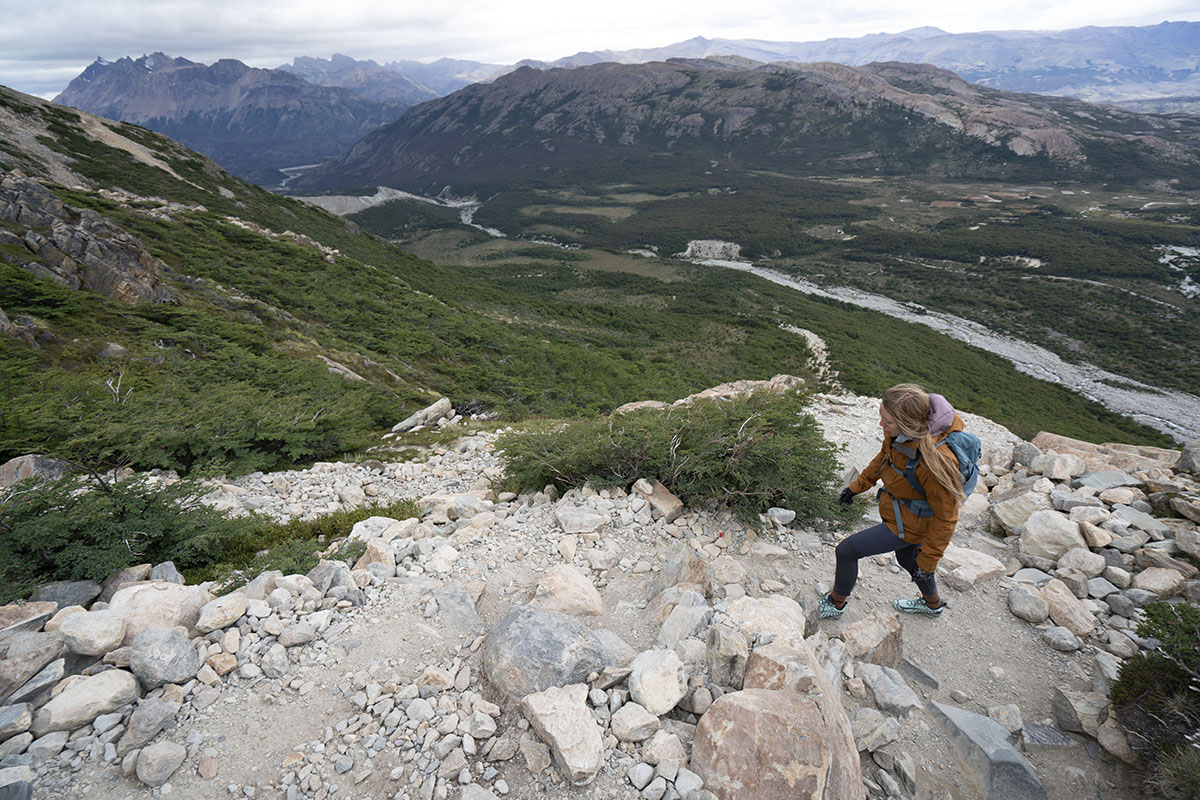 Weight
At 1 pound 2 ounces per pair, the Merrell Siren Edge 3 is one of the lightest true hiking shoes on the market. For reference, I was testing two other lightweight low-top hikers in Patagonia—the Salomon OUTline and Danner Trail 2650 Campo—which check in at 1 pound 2.7 ounces and 1 pound 2 ounces respectively (for the non-waterproof versions). The Siren Edge even stacks up competitively to dedicated trail runners like Hoka One One's Speedgoat 4 (1 lb. 2.4 oz.) and Altra's Lone Peak 6 (1 lb. 1.4 oz.), both of which are much less supportive than the Merrell.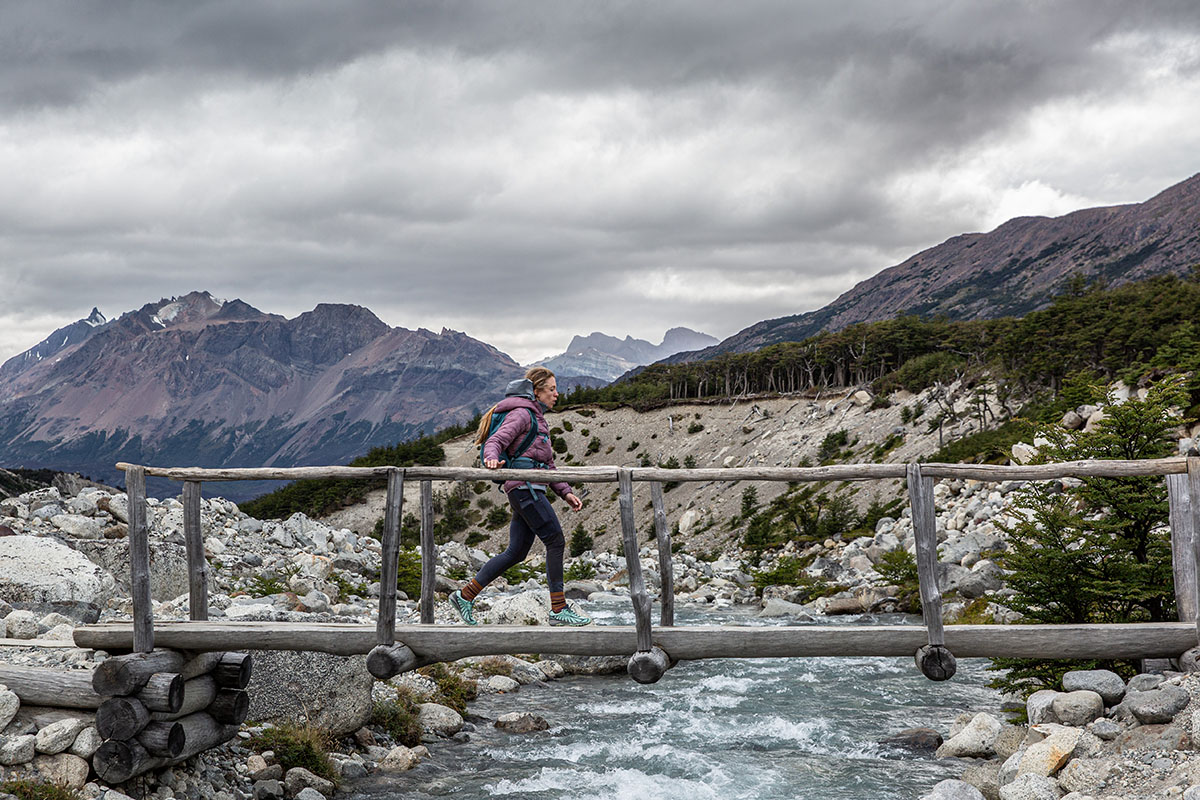 That said, the Siren Edge 3 didn't feel particularly sprightly or agile on the trail. In fact, I would even go so far as to call it relatively clunky, which I attribute to the stiff build and underpadded midsole. On longer day hikes in Patagonia (and even some light trail runs), I opted for the OUTline for its more well-cushioned and responsive feel, although the tradeoff in stability was noticeable. In the end, I'd break it down as follows: For day hikers who stick to mellow trails and value stability and protection over nimbleness, the Siren Edge is a nice choice; for moving quickly over long distances and variable terrain, I'd go with the OUTline or another more athletic design like Salomon's X Ultra 4 (1 lb. 6.4 oz. for the non-waterproof version).

Traction
Traction is an interesting story with the Merrell Siren Edge 3. As far as positives go, the Vibram TC5+ rubber outsole and 3.5-millimeter lugs do an excellent job biting into hardpacked surfaces like dirt and scree. Combined with the stiffer construction, the Siren Edge feels almost reminiscent of an approach shoe. To test my theory, I wore the shoes on a few approaches that involved tricky sections of scrambling in Red Rock outside of Las Vegas, where they did a great job sticking to the smooth, slick sandstone.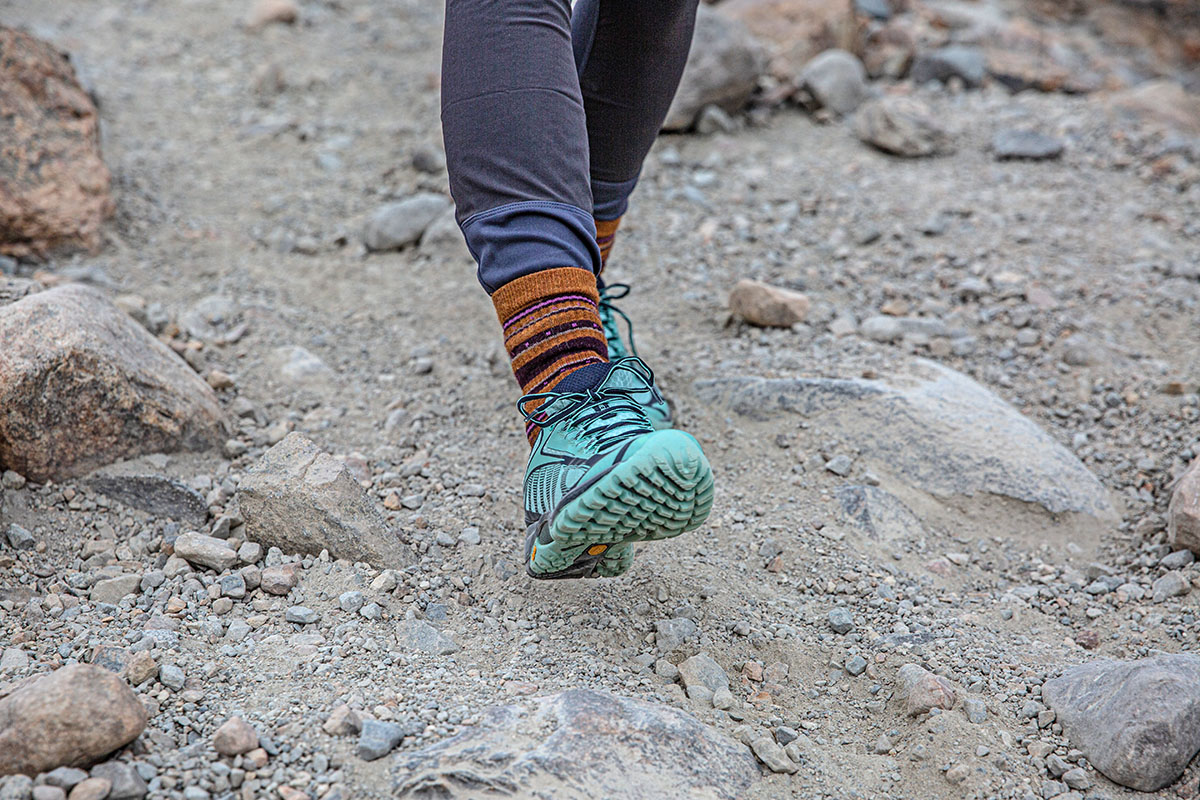 That said, traction began to suffer as soon as the terrain turned soft or wet. The lugs—while not particularly shallow—aren't spaced widely enough to provide an adequate platform when navigating sloppier surfaces like mud. As soon as I stepped into softer ground, the shoes began to slip and slide, causing me to lose balance as the soles caked up. This is when I would have preferred a more aggressive option like Salomon's X Ultra 4 or Cross Hike, which have deeper, multi-directional lugs that bite much better into this type of terrain.

Stability and Support
One advantage to the Siren Edge's middling comfort is that it feels very sturdy and planted on the trail. In terms of construction, the upper is a mix of mesh and TPU, which nicely balances breathability and structure and gives the shoes a very robust, confidence-inspiring feel. Combined with the molded nylon arch shank and stable heel cup, the net result was great support all around my foot, even on tricky and off-camber sections of trail. As I mentioned above, some won't love the added stiffness, especially if you're trying to cover a lot of ground in a day, but it's clear that it does provide some benefits here. My only complaints have to do with the collar and fit. In particular, the collar sits low on the ankle and won't do much to prevent rolls or debris from entering the shoe, and the toe box is wider than I'd prefer and led to a bit of sloppiness on descents (more on this in "Fit and Sizing" below). But overall, I'd rate the Siren Edge's stability as above average in the lightweight hiking shoe category.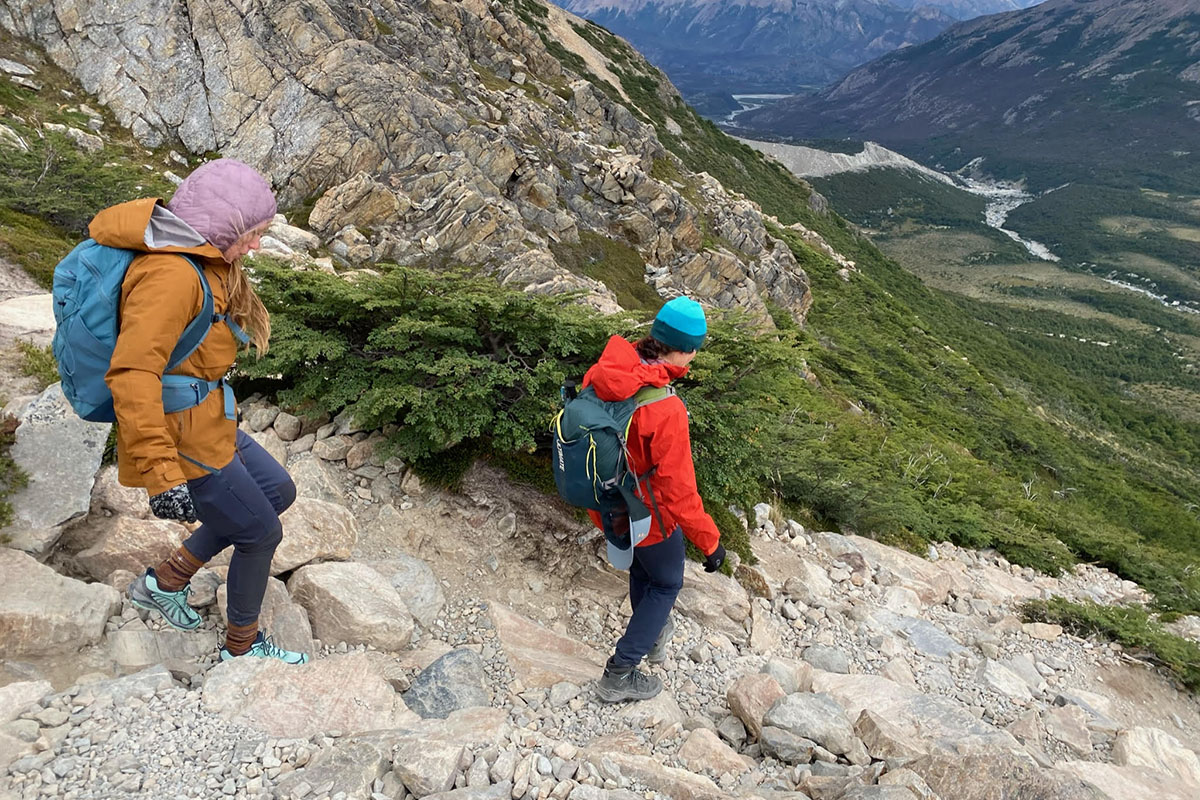 Breathability
With a generous amount of mesh along the upper, the non-waterproof Siren Edge 3 that I tested breathed very well in the warm conditions we experienced in Patagonia. For reference, temperatures reached into the 70s Fahrenheit during our day hike to Lago de los Tres, but my feet remained perfectly dry and comfortable in the shoes. If you plan to encounter frequent water crossings or inclement weather, it may be worth spending up for the waterproof version of the Siren Edge ($120), but the non-waterproof model was great for the dry heat and shallow crossings that we experienced in Patagonia. I didn't submerge my shoes, but another benefit is that they will dry much quicker than the waterproof model should they get soaked.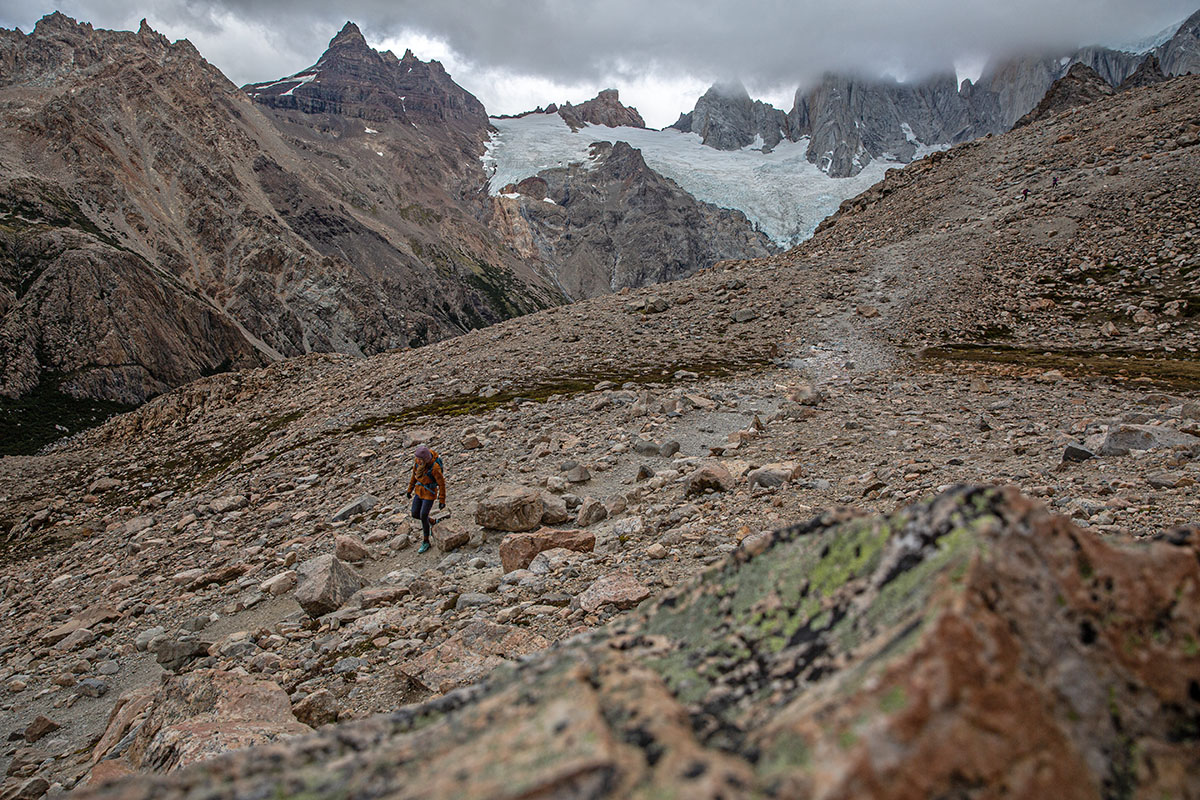 Build Quality and Durability
Durability was one area where the cheap and lightweight Merrell Siren Edge 3 really impressed me. Everything from the mesh and TPU upper to the Vibram outsoles have a robust and hardwearing feel, and the shoes are holding up very well thus far with almost no signs of wear. The upper still looks fresh with no snags in the mesh, the lugs haven't started to deteriorate, and even the toe cap at the front shows no nicks or scrapes despite frequent encounters with rocks and roots. A final highlight is that the minimalist design has great crossover appeal for everyday use—I took the Siren Edge right from the trail to post-hike beers in town and didn't think twice about them looking the part. I'll update this write-up as I get more testing in with the shoes, but all signs are positive that they'll have a long and healthy lifespan.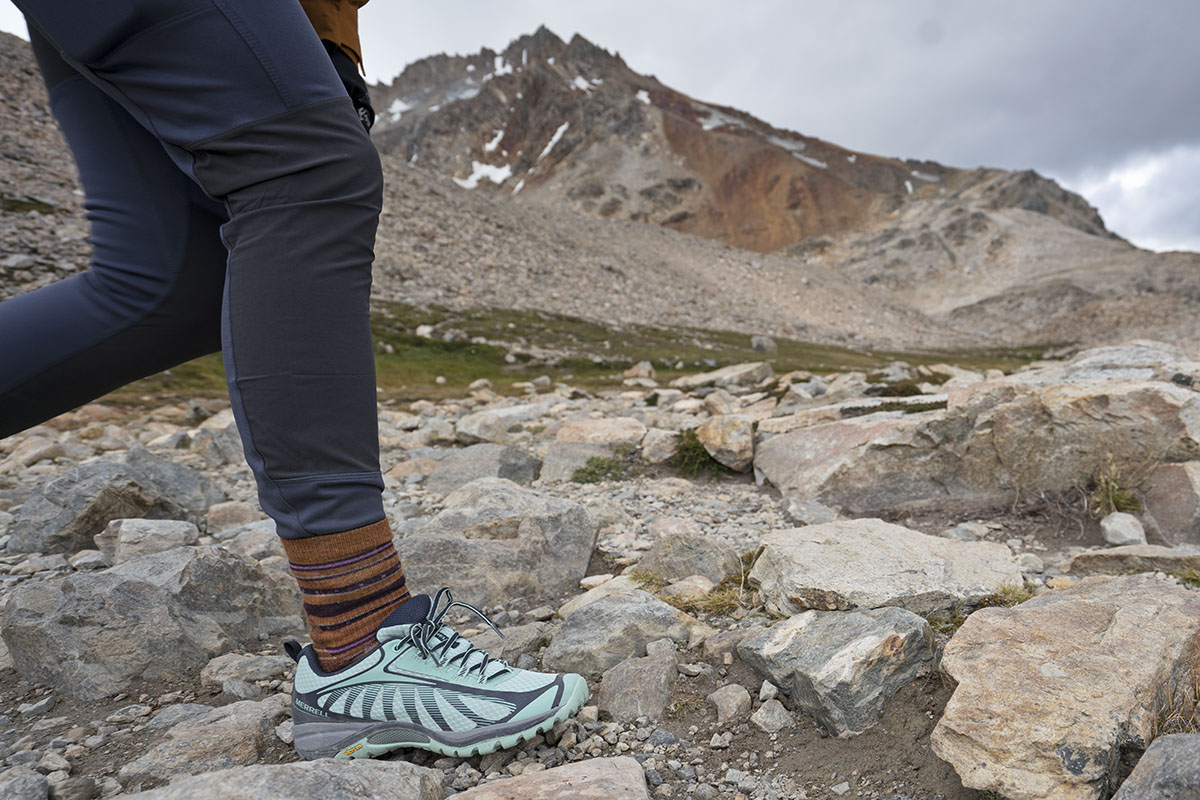 Fit and Sizing
In my standard size 8.5, the Merrell Siren Edge 3 fit pretty well overall, but there was a little more room than I prefer in the toe box. This led to a bit of a sloppy feeling, especially when descending steeper slopes, but thankfully it didn't cause any issues like blisters or painful toes. And on the bright side, there was plenty of room for my toes to splay and swell during long days on the trail. For reference, I consider my foot shape pretty average, but Merrell also makes a dedicated wide version of the shoe for women with particularly high-volume feet.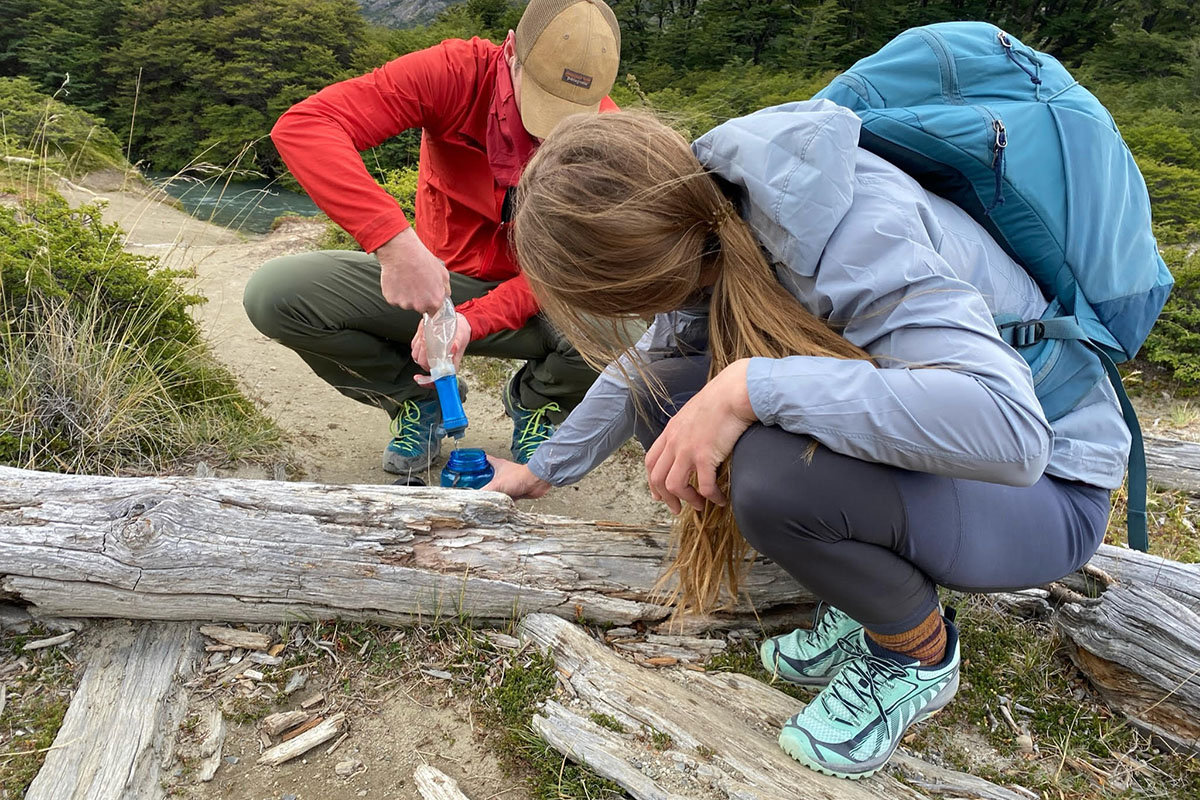 Other Versions of the Merrell Siren Edge 3
I brought the non-waterproof Siren Edge 3 to Patagonia for testing, and Merrell also offers a waterproof version for an additional $15. The addition of their M-Select DRY membrane adds 3 ounces in weight, but all other features remain the same, including the Vibram TC5+ outsole, mesh and TPU upper, and nylon arch shank. As I mentioned previously, Merrell also sells the Siren Edge in dedicated wide widths for those with higher-volume feet, although I found the toe box to be plenty roomy on the standard model.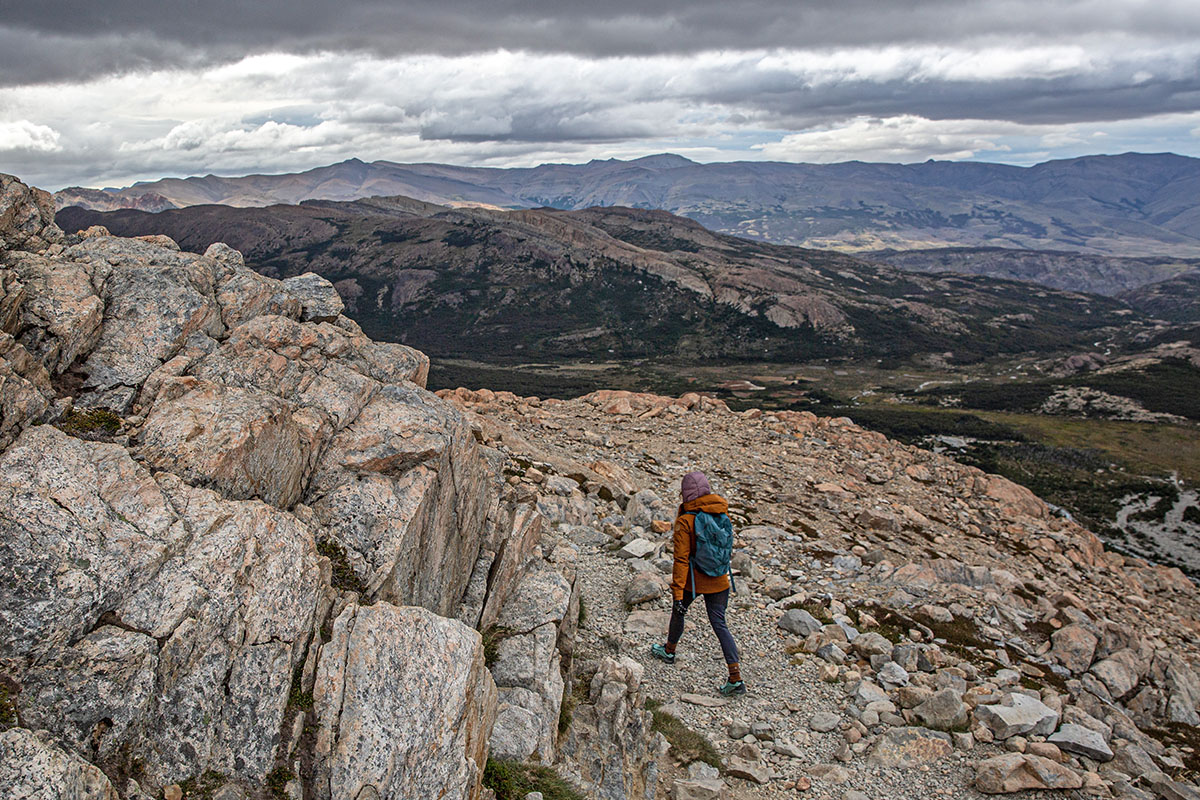 What We Like
Very light at just 1 pound 2 ounces per pair and an undeniably great value at $105.
Robust upper, stable heel cup, and nylon shank give the shoe a noticeably sturdy and planted feel.
Vibram outsoles provide excellent traction on smooth, slick rocks and hardpacked trails.
Quality and confidence-inspiring construction, including a hardwearing mesh/polyurethane upper, durable tread, and thick toe cap.
Minimalist design looks the part for daily use and wears very well around town.

What We Don't
Noticeably firm and harsh underfoot—not the best option for covering long distances on more technical terrain.
Lugs aren't spaced widely enough to provide adequate traction on wet and sloppy surfaces like mud.
Despite its lightweight build, the Siren Edge doesn't feel particularly sprightly or nimble on the trail.

Comparison Table

The Competition
Merrell's Siren Edge 3 offers impressive stability and support for the weight and price, but there's no shortage of quality hiking shoes to consider in 2022. Staying in the budget realm, Merrell's own Moab 2 has been at the top of our rankings for years and remains one of the most popular designs on the market. For $5 more than the Siren Edge, the Moab gets the edge in durability with suede leather along the upper, wins out in grip with a similar Vibram outsole and deeper (5mm) lugs, and is more comfortable and well cushioned with a thicker and softer EVA midsole. That said, it's considerably heavier at 1 pound 11 ounces and lacks the modern look and everyday appeal of the Siren Edge. In the end, both are great value options, but we think the Moab is the more well-rounded and approachable design for most.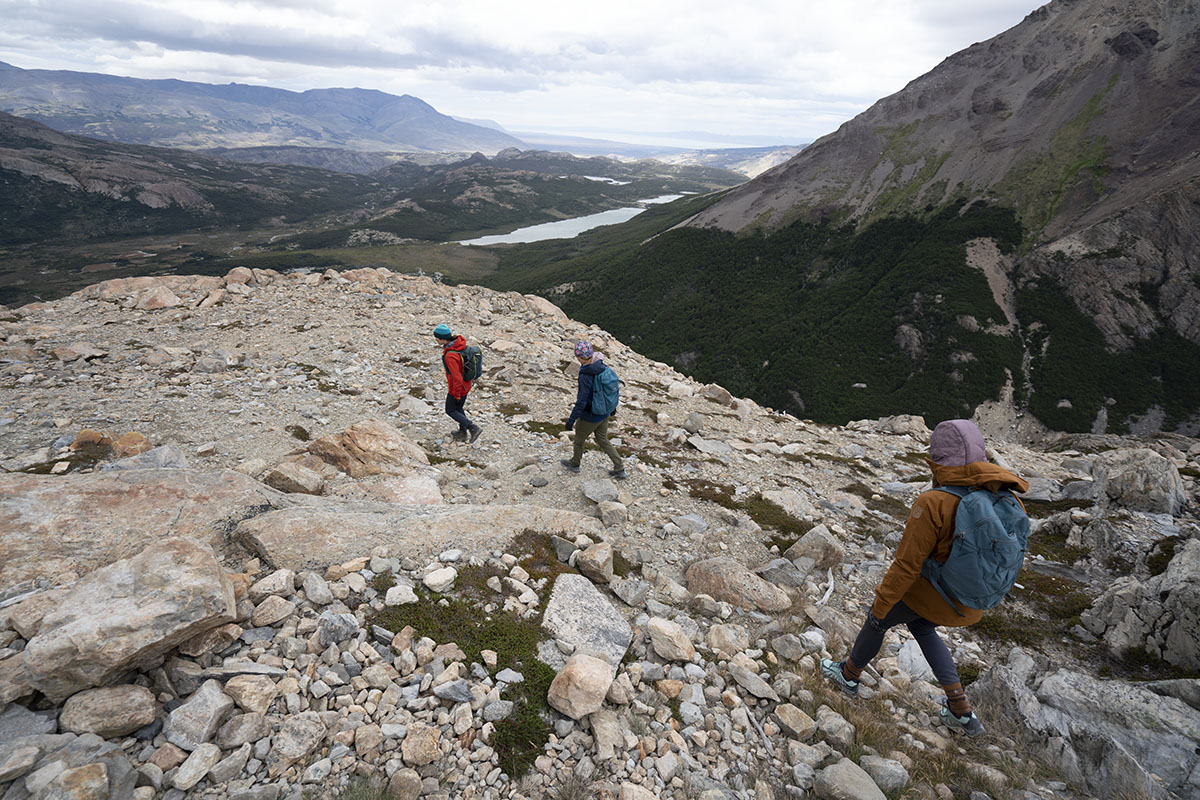 As I mentioned above, I was also testing Salomon's OUTline and Danner's Trail 2650 Campo alongside the Siren Edge in Patagonia. Like the Siren Edge, the OUTline is lightweight (1 lb. 2.7 oz. for the non-waterproof version), well ventilated with a mesh-heavy upper, and affordable at $110. But the similarities mostly end there: While the Siren Edge has a stiff and harsh feel, the OUTline is noticeably soft with an athletic, sneaker-like personality that made it easier to cover ground quickly. The Salomon also gets the clear edge in traction with deeper (5mm) and more generously spaced lugs that bite confidently into everything from dirt to mud and wet rocks. On the flip side, the Merrell wins out in support and stability with its solid build and more secure fit (the OUTline's collar was a little loose, and its laces were prone to coming untied). That said, we still consider the Salomon to be the more capable all-around pick, especially for comfort-focused hikers.
Next up is the Danner Trail 2650 Campo, which checks in at an identical weight to the Siren Edge at 1 pound 2 ounces. Like the Salomon OUTline above, the Danner is much more comfortable out of the box with a well-padded midsole and quality footbed. Combined with the sock-like upper, the Danner offered a noticeably foot-hugging fit and felt more confidence-inspiring when navigating technical terrain. Other highlights include a tacky Vibram outsole with more capable lugs, attractive styling that wears well around town, and a hardwearing leather/nylon upper. You do pay a bit of a premium for the high-quality design at $160, but we think most dedicated hikers will be happier spending up.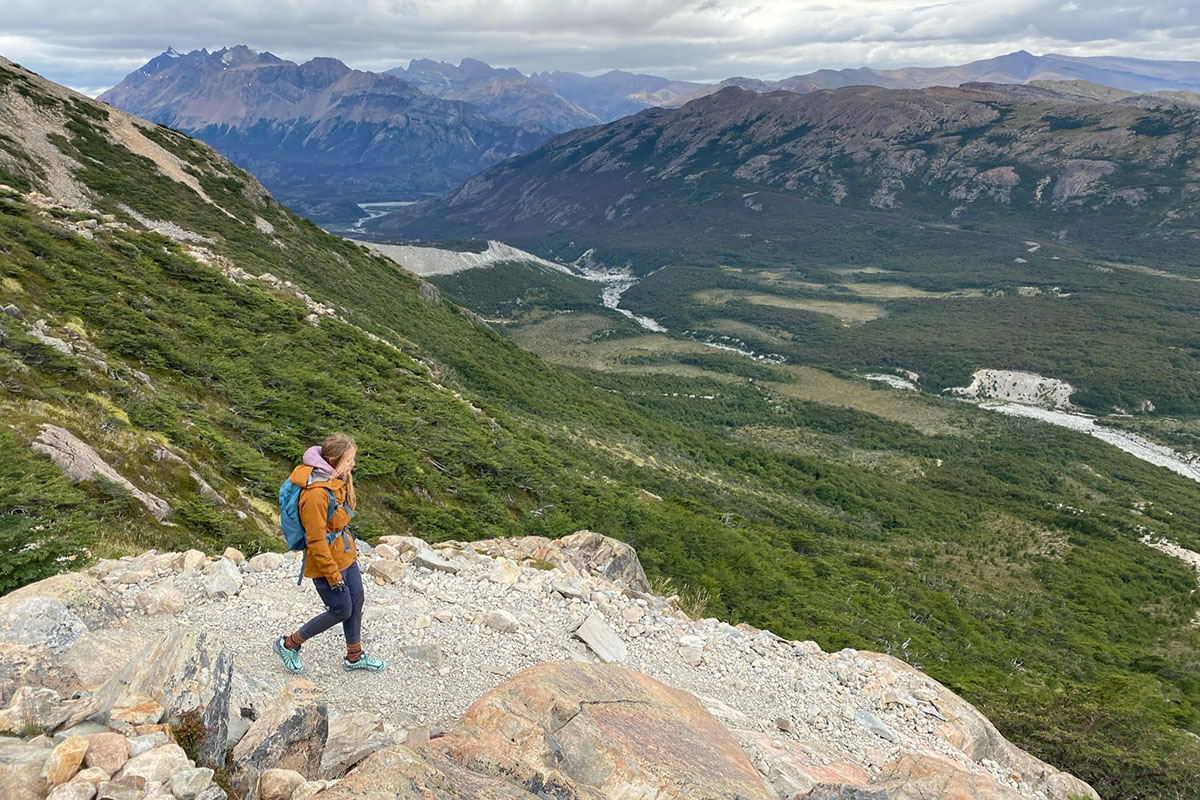 Arc'teryx's Aerios FL is another lightweight but highly capable design to have on your radar. It's a little heavier and pricier than the Siren Edge 3 at 1 pound 4.4 ounces and $135 respectively, but we prefer it over the Merrell for a few reasons. Namely, the Aerios is impressively durable and protective with a tightly woven mesh upper and TPU shank and toe cap, high on traction with a Vibram Megagrip outsole, and very well built with the brand's typical attention to detail. And importantly, while we did find the Aerios to feel a bit stiff at first, it broke in nicely and handled the weight of a full backpacking pack with ease. By contrast, the Merrell feels much more rigid (and stays that way), and the downsides in all-day comfort and grip make me hesitant to wear it over longer distances.
Last but not least is Altra's legendary Lone Peak: a trail running shoe that many hikers love for its minimalist but tough build. The Lone Peak 6 is comfortable with thick cushioning to isolate you from the trail, very light at 1 pound 1.4 ounces per pair, and grippy with multidirectional lugs that bite well into most surfaces. Like many of Altra's offerings, it also boasts the brand's signature zero-drop shape and wide tox box to help maximize comfort and promote a more natural gate, although they do detract from overall precision and stability (the Siren Edge 3 gets the edge here). Further, the Lone Peak's thin mesh upper won't stand up as well to long-term abuse, and it's $35 pricier to boot. But the Altra is a big upgrade over the Siren Edge 3 from a performance standpoint, especially if you prioritize cushion and comfort.
If you're thinking about buying gear that we've reviewed on Switchback Travel, you can help support us in the process. Just click on any of the seller links above, and if you make a purchase, we receive a small percentage of the transaction. The cost of the product is the same to you but this helps us continue to test and write about outdoor gear. Thanks and we appreciate your support!
Depending on the seller, most products ship free in the United States on orders of $50 or more. International shipping availability and rates vary by seller. The pricing information on this page is updated hourly but we are not responsible for inaccuracies.
Read More From Switchback Travel