Salomon's hiking lineup is undoubtedly extensive, running the gamut from robust backpacking-ready boots for mileage-heavy objectives to light and responsive low-top offerings for day hiking. The OUTline Low GTX falls in the latter category, combining an impressively low weight and responsive feel with excellent grip for navigating variable terrain. I brought the women's model to Patagonia for testing and came away impressed by how it handled 100+ miles of hiking and backpacking. It's not the most comfortable or supportive option for covering long distances with a full pack, but the confidence-inspiring traction, sleek and modern styling, and agile feel are undeniable highlights for most light to moderate trail use. Below I break down my experiences with the OUTline. To see how it stacks up to the competition, see our article on the best women's hiking shoes.
 
---
Table of Contents
---

Performance
Comfort
Putting on the Salomon OUTline Low GTX for the first time, I was immediately struck by its comfortable and flexible feel—more reminiscent of a running shoe than a low-top hiker. Out of the box, I wore the shoes for 36 hours of travel from Colorado to Patagonia and subsequently hit the trail for multiple days of hiking and backpacking, including a three-night stint in the Rio Eléctrico valley. The OUTline has a noticeably athletic, soft, sneaker-like feel that promoted excellent responsiveness and agility, and the cushioning—while not particularly thick or padded—was a good match whether I was walking through the airport or moving quickly on well-maintained trails. Even on longer days of up to 10 miles with a full 55-liter pack, I suffered no soreness or achiness. And a final highlight worth calling out is the sleek and modern design: More than most hiking shoes, the OUTline looks the part for wearing casually (one colleague immediately complimented the shoe's classy looks when we met up at the airport).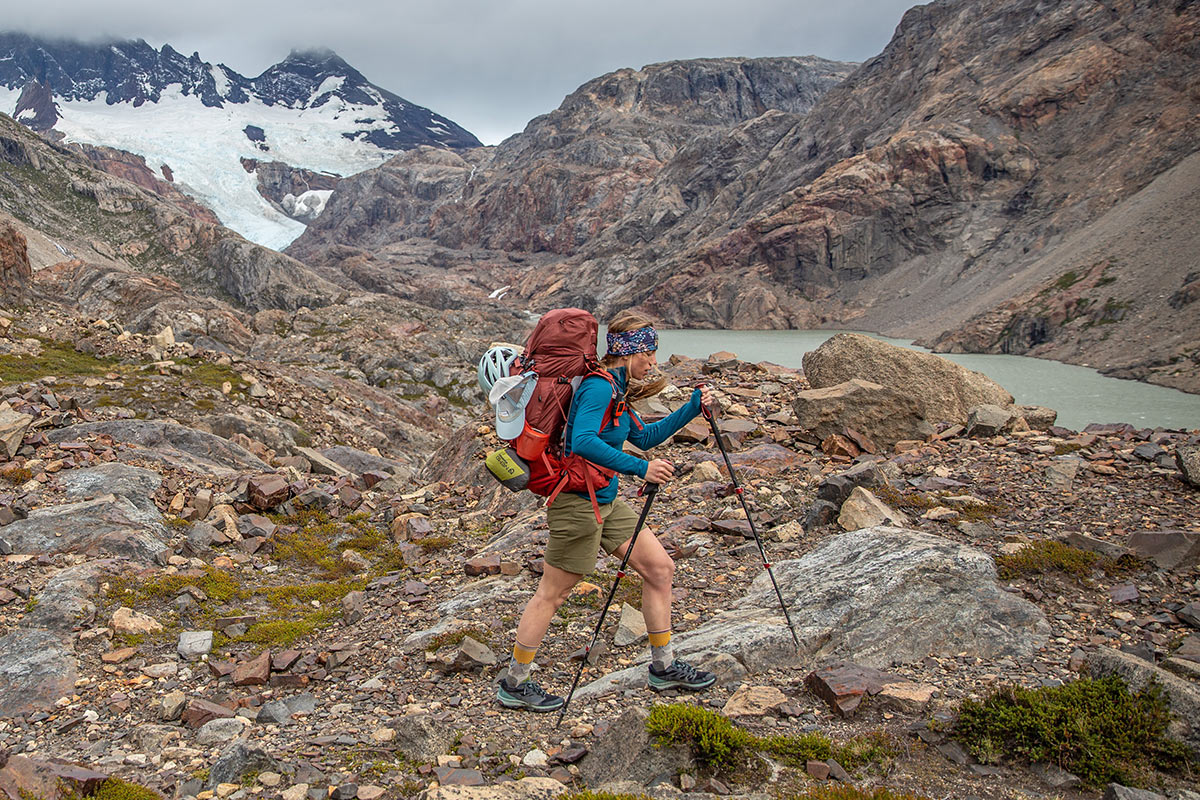 That said, I did notice a drop in comfort on longer objectives under the full weight of a pack. This was especially apparent while navigating the steep pass down to Lago Eléctrico, which involved hiking over sharp rocks and boulder-hopping to our campsite at the end of the lake. By the time we reached camp, my feet were tired and clearly feeling the impacts of the trail. All in all, it's clear that you do trade some cushion, protection, and support for the lightweight and responsive ride, but the OUTline can easily get the job done for short to moderate day hikes and even light backpacking missions. If you anticipate covering more technical ground with a full pack, however, you may want to upgrade to a more cushioned (but less sprightly) model like Salomon's own X Ultra 4.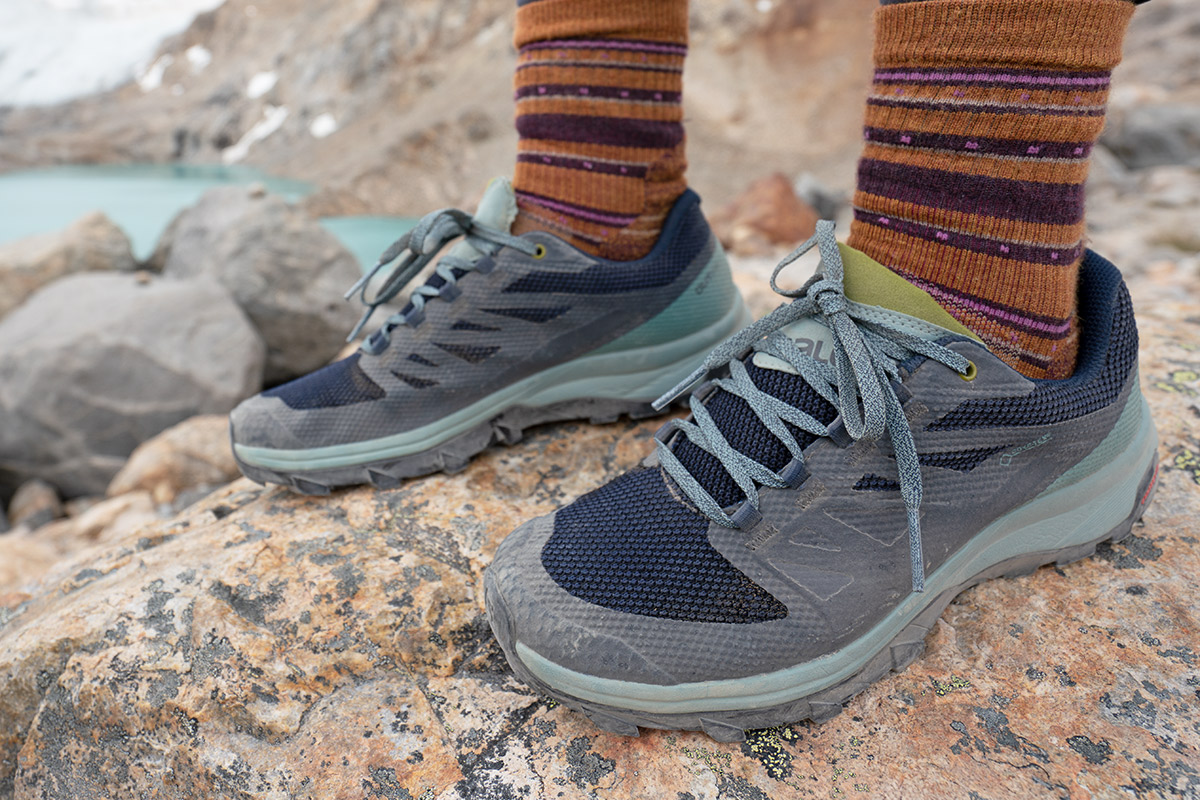 Weight
Given its running shoe-like styling and build, it's not too surprising that the Salomon OUTline Low GTX checks in at a scant 1 pound 4.5 ounces for the women's pair. For reference, it undercuts other popular low-top hikers including Salomon's X Ultra 4 GTX (1 lb. 11.5 oz.), Cross Hike GTX (1 lb. 6.9 oz.), and Danner's Trail 2650 GTX (1 lb. 5 oz.). You can go a little lighter with options like Salomon's Vaya GTX (1 lb. 3.8 oz.) or Hoka One One's trail running-focused Speedgoat 4 (1 lb. 2.4 oz.), but you can expect sacrifices in both support and durability (and the Hoka isn't waterproof). All in all, I consider the OUTline's weight to be perfectly reasonable given its intentions and barely noticed the shoes on the trail, which says a lot about its lightweight and flexible feel. If you prefer added stability or support, however, you may want to step up to a slightly heavier design like those mentioned above.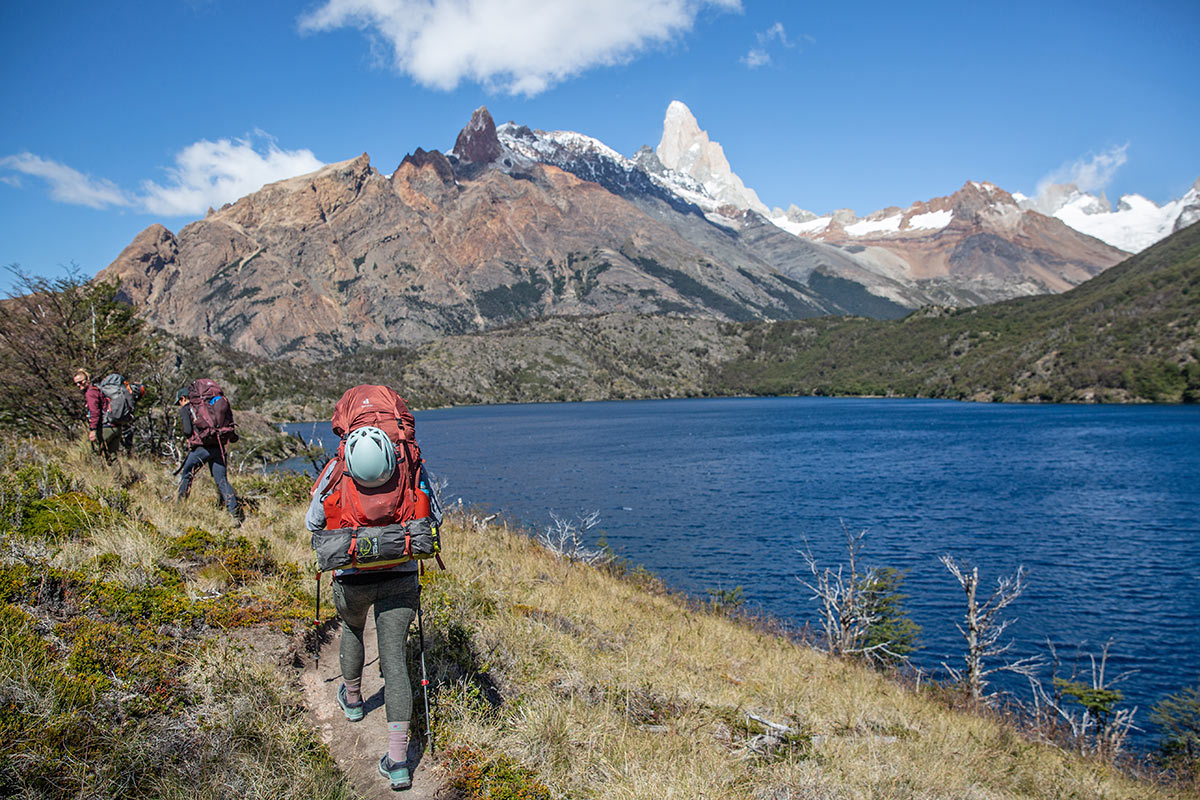 Traction
Similar to our experiences with the men's shoe and boot, the women's OUTline Low GTX was a real standout in the traction department. In terms of construction, the in-house Contagrip outsole boasts relatively deep and generously spaced 5-millimeter lugs that provided excellent grip on everything from smooth trail to boulders and wet rocks in stream crossings. The only time I noticed any slippage was during a steep and arduous descent of Paso Huemul, where an extended rainstorm left thick sections of mud that were treacherous to navigate. That said, my partner was wearing an even more aggressive Salomon trail runner with deeper tread and fared similarly, sliding down the slope on occasion. But otherwise, the OUTline was incredibly confidence-inspiring and easily got the job done on multiple day hikes and more demanding backpacking objectives, even during periods of bushwhacking and off-trail travel.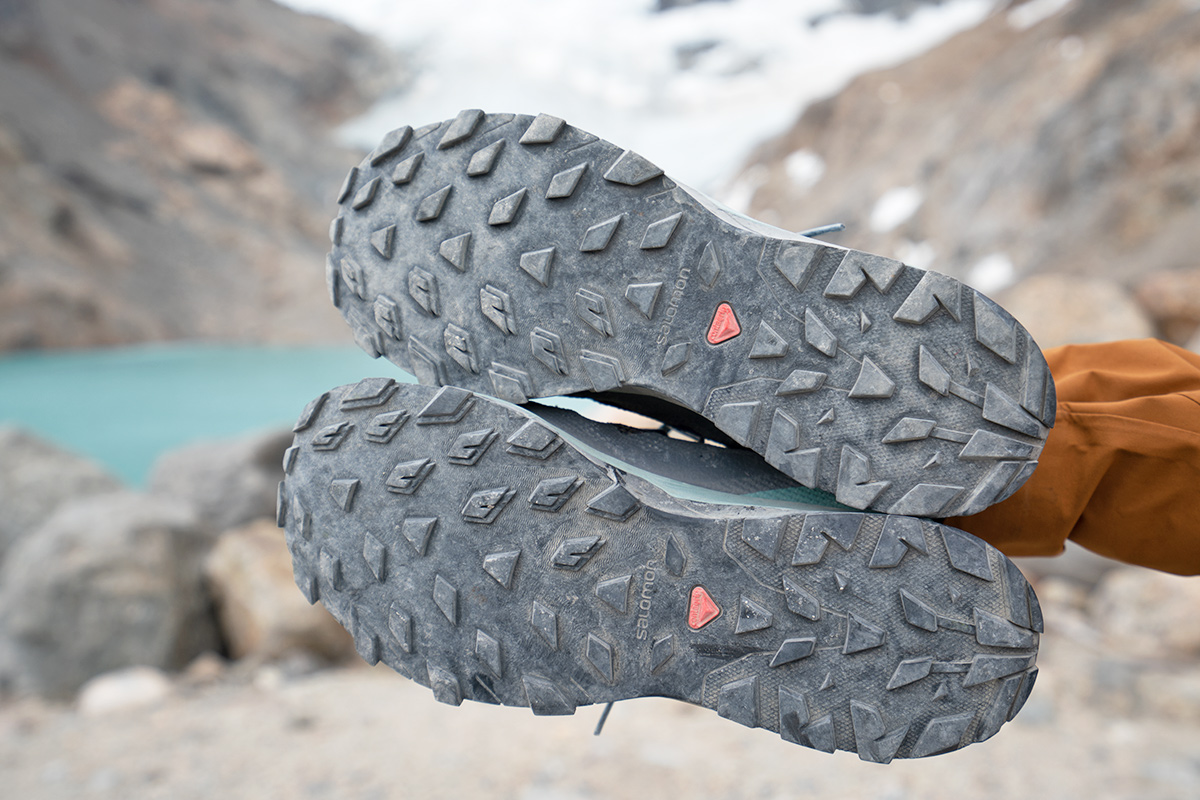 Stability and Support
As I mentioned above, the Salomon OUTline feels a lot like a running shoe, so it came as little surprise that it prioritizes a flexible and responsive ride over all-out support. To be fair, I didn't suffer any ankle rolls on the trail (which I've been prone to in the past), but the shoes did feel a little clumsy on rougher and more technical terrain, especially when I was carrying a full 55-liter backpacking pack. This was especially noticeable around the collar area, where my ankles had a good amount of room to move around. The laces were also prone to loosening and coming untied if they weren't double-knotted, which only added to the sloppy feeling (I cover this more in the "Fit and Sizing" section below).
In the end, however, the OUTline performed better than expected: Despite racking up well over 100 miles in my first two weeks with the shoes—including two multi-day backpacking trips that included a good amount of off-trail travel—I experienced no major stability-related issues. It did take some effort to precisely place my feet as I grew tired toward the end of each day, but I appreciated the ability to wear them back-to-back for backpacking and light trail runs. However, if your main objective is shuttling a heavy pack or covering longer distances, I'd recommend stepping up to a design with a wider and more stable base like Salomon's own X Ultra 4.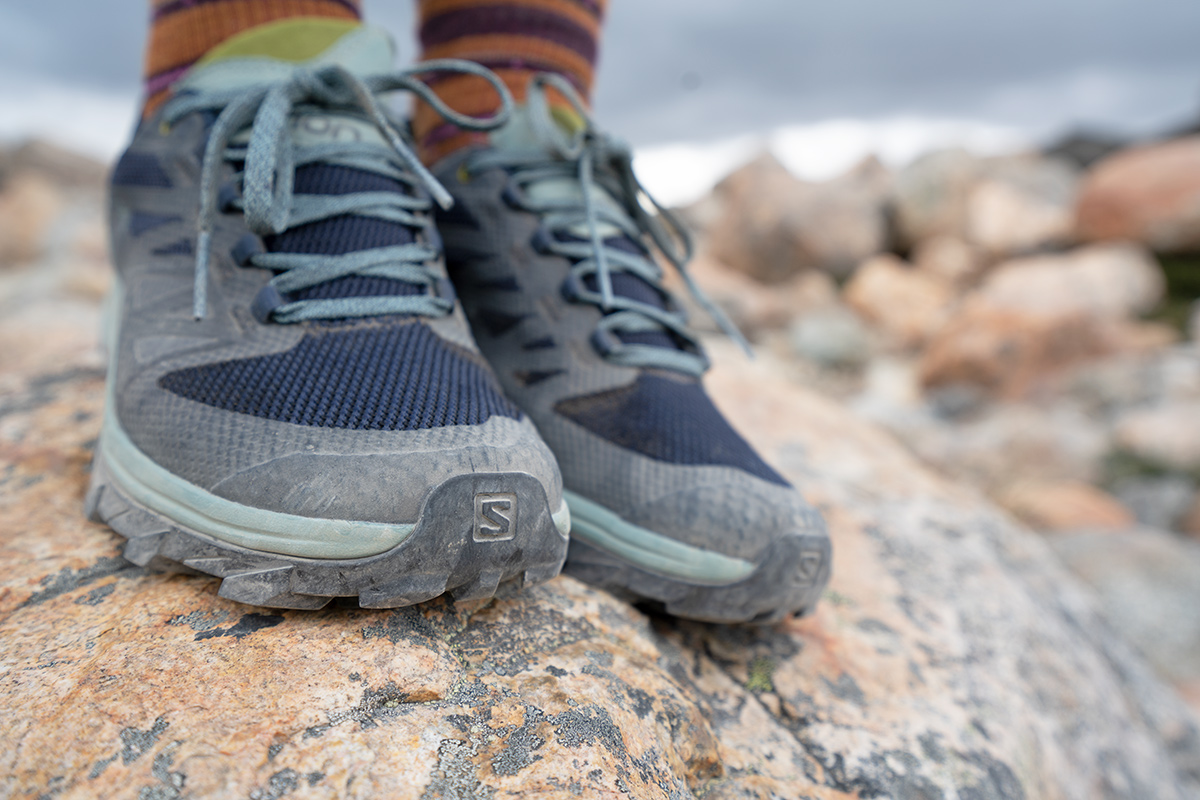 Waterproofing
I tested the waterproof version of the Salomon OUTline Low, which comes equipped with a premium Gore-Tex membrane to seal out moisture. The shoes performed as expected: They kept my feet dry during shallow stream crossings and in light rain, but as soon as I stepped into deeper water, it poured over the collar and saturated my socks. The shoes also became soaked fairly quickly during a two-day stint of rain that I encountered on the Huemul Circuit. And once wet, the shoes took a long time to dry, especially in humid weather. Even when I left them in my tent vestibule to dry overnight, they were still noticeably soggy in the morning. To be fair, this is a known downside to waterproof footwear, and I'd recommend opting for the non-waterproof variation ($110) if you expect to encounter deeper water crossings or extended periods of rain.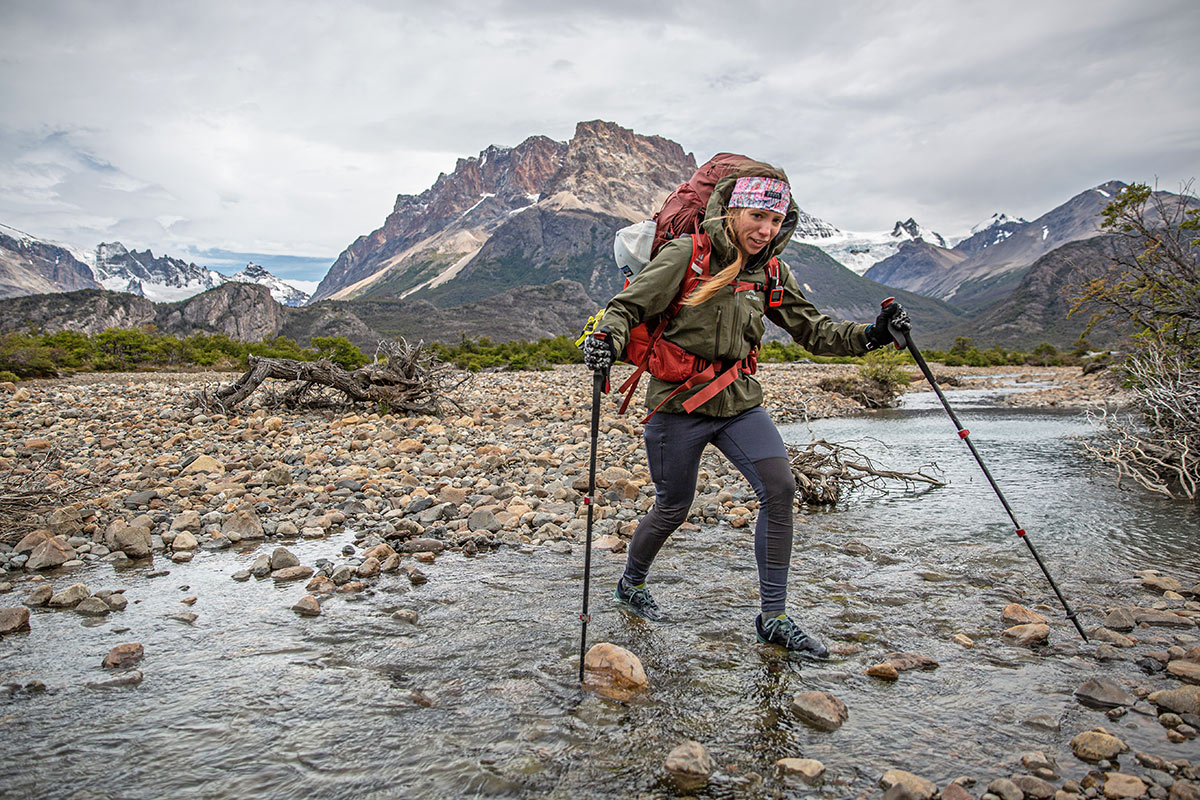 Breathability
Waterproofing and breathability are often at odds, but I found that the Salomon OUTline Low GTX breathed relatively well given its Gore-Tex construction. The synthetic upper has a good amount of mesh along the forefoot and sides, which provided decent ventilation and airflow. For reference, I didn't experience any noticeable swampiness or sweatiness in the shoes during testing, although they did take a long time to dry once they were soaked from water crossings and extended exposure to moisture. If breathability is a top priority or if you want a quicker-drying alternative, I'd advise saving with the non-waterproof version of the shoes.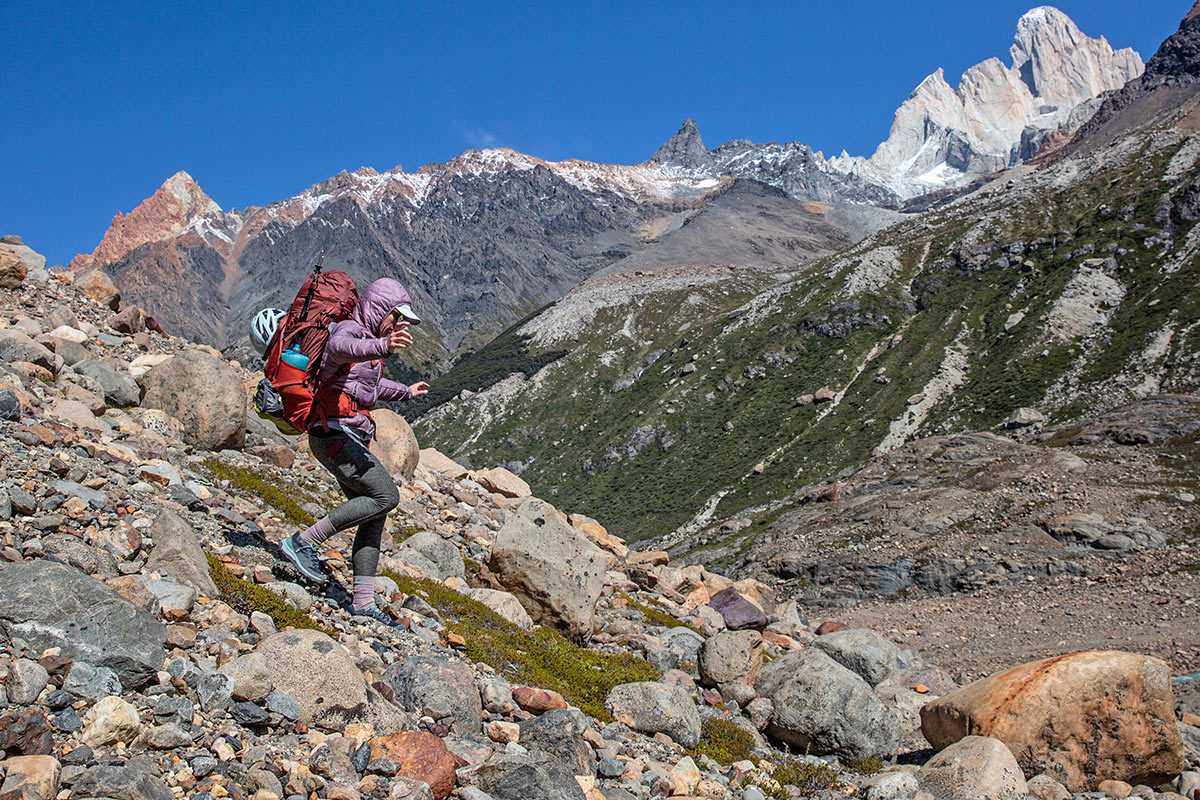 Build Quality and Durability
Salomon is a leader in the backpacking and hiking shoe markets, and the OUTline is yet another well-made design. As I touched on previously, the Contagrip outsole is very grippy and has deftly withstood miles of hiking and backpacking with no wearing down, the Gore-Tex membrane has been effective at sealing out water and moisture, and everything from the laces to the mesh-heavy synthetic upper are holding up well with no notable signs of wear. Our male testers did experience the rubber toe cap peeling away after just a single hike, but my women's pair has proven to be much more hardwearing than expected. That said, it's important not to confuse the running-inspired OUTline with a serious and more rugged backpacking-ready design. If you anticipate doing a lot of off-trail hiking or carrying a heavy pack, it may be worth upgrading to a more robust and thicker model like the X Ultra 4 or Salomon's top-end Quest 4 Gore-Tex Hiking Boots.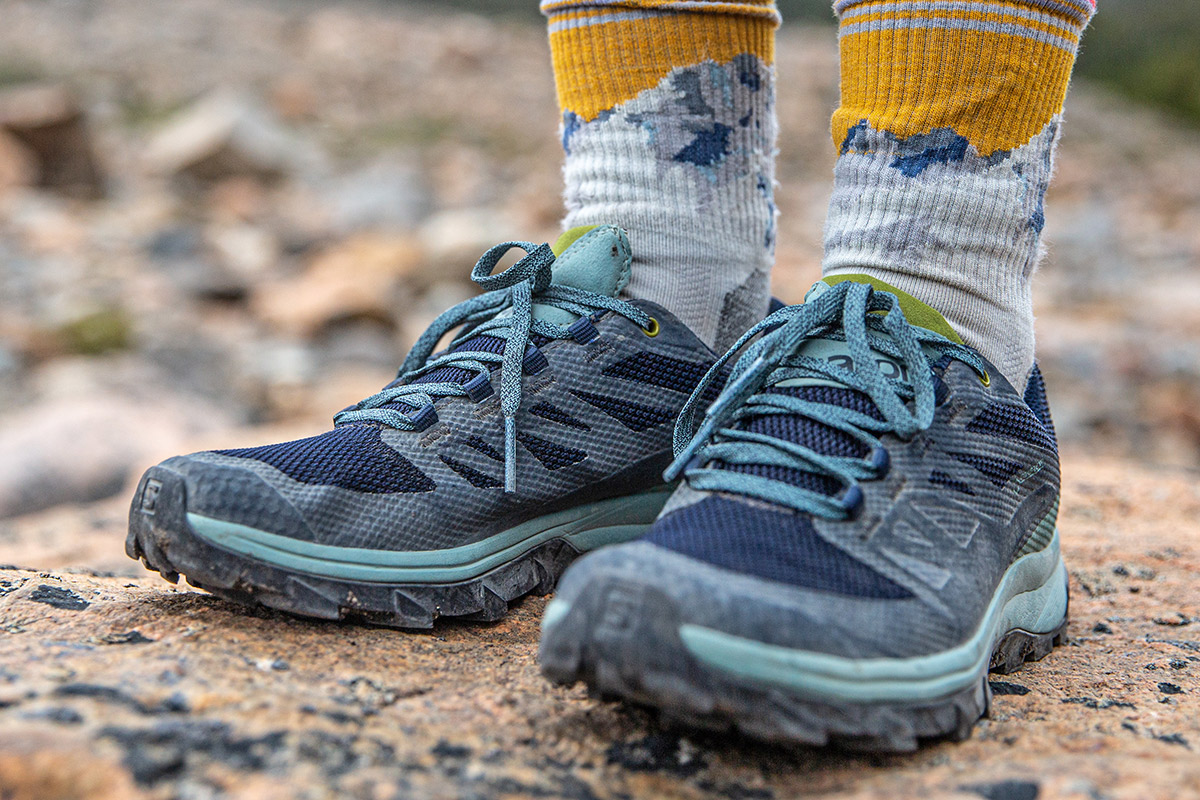 Fit and Sizing
Salomon shoes tend to run on the narrower end, but my standard women's size 8.5 was a near-perfect fit right out of the box. For reference, I have relatively average feet (I wouldn't classify them as particularly narrow or wide), and the shoes hugged my feet nicely with no noticeable areas of tightness or looseness. That said, it's worth noting that a couple of our male testers found the shoes to be slightly snug at the midfoot and toe box, so I'd recommend trying them on before buying. And if you have higher-volume feet, Salomon does offer the low-top OUTline in dedicated wide models for the same price.
My only fit-related gripe is that the laces were prone to coming untied and loosening, even when double-knotted. I imagine this has to do with the shape of the laces, which are flat to reduce pressure points over the instep. In practice, I suffered no issues with hotspots or rubbing and expected that the grippy material would hold firm and keep them in place, but the laces quickly came untied any time I didn't double-knot them. Even when snugged tightly and doubled back, they still loosened after long days on the trail. To be fair, re-adjusting them was easy and quick, but it did take some patience and prevention to keep them snug and secure.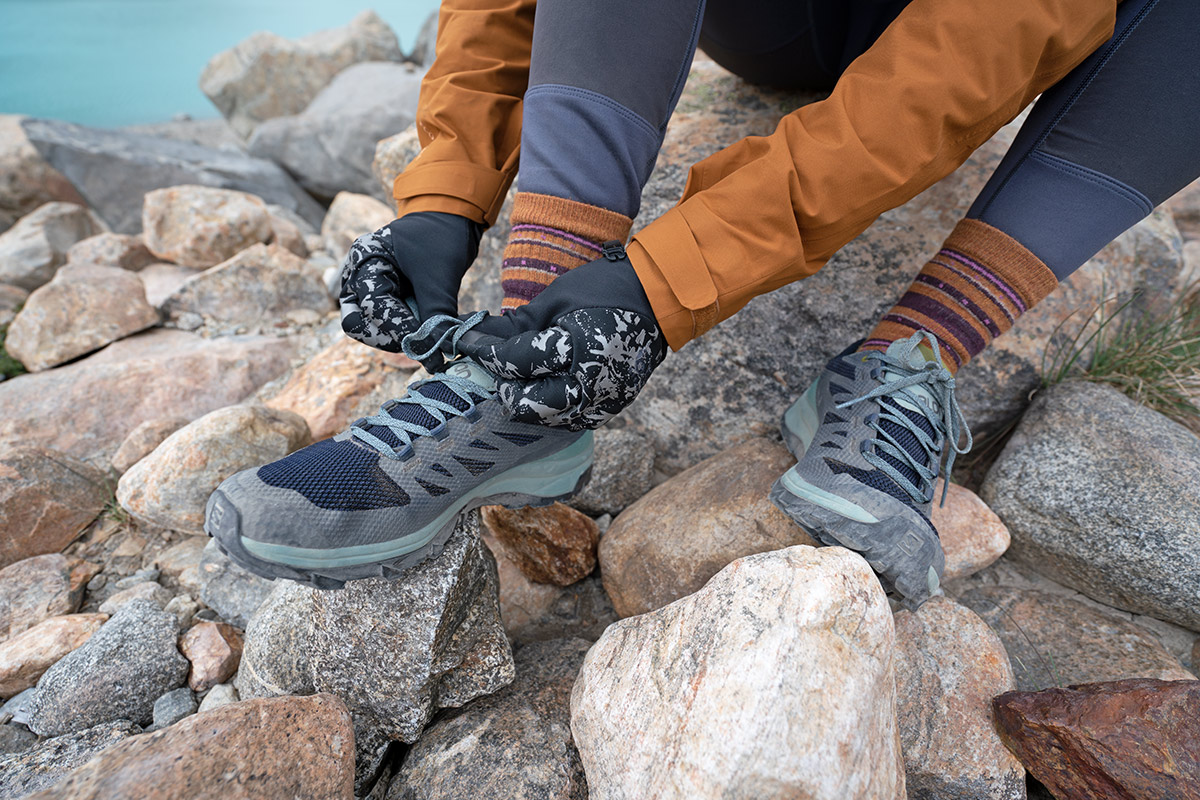 Other Versions of the Salomon OUTline
In addition to the women's Low GTX version tested here, Salomon offers a few other variations in the OUTline collection. On the women's side, these include a non-waterproof low-top alternative that retails for $110, as well as a mid-height Gore-Tex boot for $150. The men's collection is largely similar, including availability in waterproof and non-waterproof low-top options and a mid-height boot with Gore-Tex. The men's OUTline Low GTX weighs a little more than the women's version tested here at 1 pound 8.7 ounces per pair and is offered in different colorways, but the overall construction and feature set are largely identical (you can see our in-depth review of the men's model here). As I covered above, the OUTline Low is also sold in dedicated wide models for those with higher-volume feet.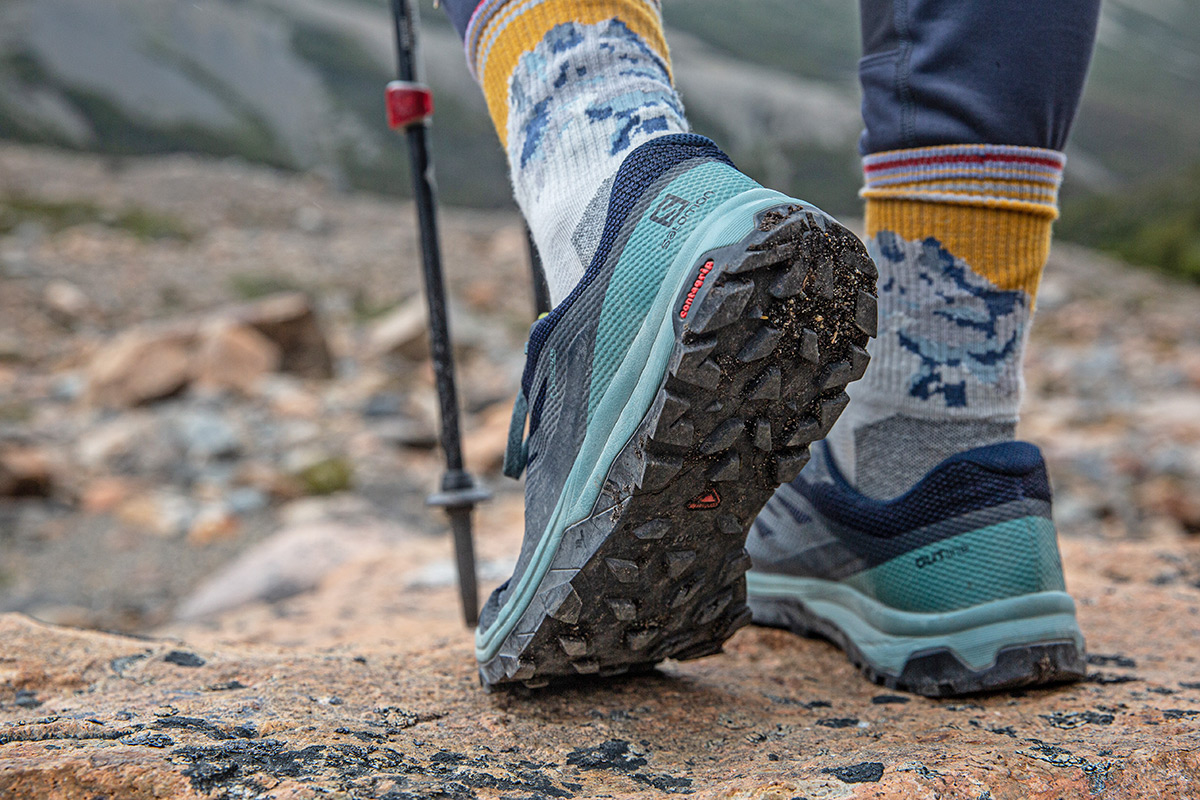 What We Like
Given its running shoe-like build and flexibility, the OUTline has appeal for everything from long day hikes and light backpacking to shorter trail runs.
Incredibly light at just 1 pound 4.5 ounces for the pair with a noticeably responsive and agile feel to match.
Confidence-inspiring grip on everything from well-maintained paths to wet rocks and logs.
Sleek and modern styling gives the shoes added appeal for around-town and casual wear.
Nice variety of sizes and styles, including a non-waterproof variation, mid-height boot, and dedicated wide sizes.

What We Don't
Limited support and stability (especially at the ankles) for covering longer distances under the weight of a full pack.
The laces are prone to coming untied, and you'll need to double-knot them tightly to stay in place.
Comfort started to suffer on technical terrain, where my feet grew noticeably tired and felt the impacts of the trail after long days of hiking.
The thinner and mesh-heavy build is more prone to abrasion and wear than thicker and more hardwearing designs like the X Ultra 4 (although the shoes have held up well for me thus far).


Comparison Table
The Competition
The Salomon OUTline Low GTX checks many of the boxes we look for in a quality low-top hiking shoe: It's responsive, highly grippy, and a nice match for everything from moderate day hikes to easy backpacking missions. That said, you can certainly get more stability in this category, and Salomon's own X Ultra 4 GTX fits that bill nicely. In short, the X Ultra 4 is heavier than the OUTline at 1 pound 11.5 ounces for the women's pair, but for the added weight, you get noticeable upgrades in cushioning, protection, and support. It does cost $20 more for the GTX version and lacks the sleek, urban look of the OUTline, but we consider it to be the more well-rounded, trail-ready design (especially if you plan to add backpacking to the mix).
 
Another popular Salomon design to have on your radar is the Cross Hike GTX, which shares the sprightly and running shoe-like feel of the OUTline. At 1 pound 6.9 ounces, it stacks up fairly competitively in terms of weight and shares many of the same features, including quality Gore-Tex waterproofing, Contagrip rubber, and a flexible construction. In parsing out the differences, the Cross Hike costs $30 more at $160 but boasts Salomon's single-pull Quicklace system, has a slightly more aggressive outsole, and provides a little more cushioning underfoot. Neither design is ideal for shuttling a heavy pack over long distances, but the Cross Hike strikes us as a step up in all-around performance. If you only plan to day hike over easier terrain, however, it may be worth saving with the OUTline.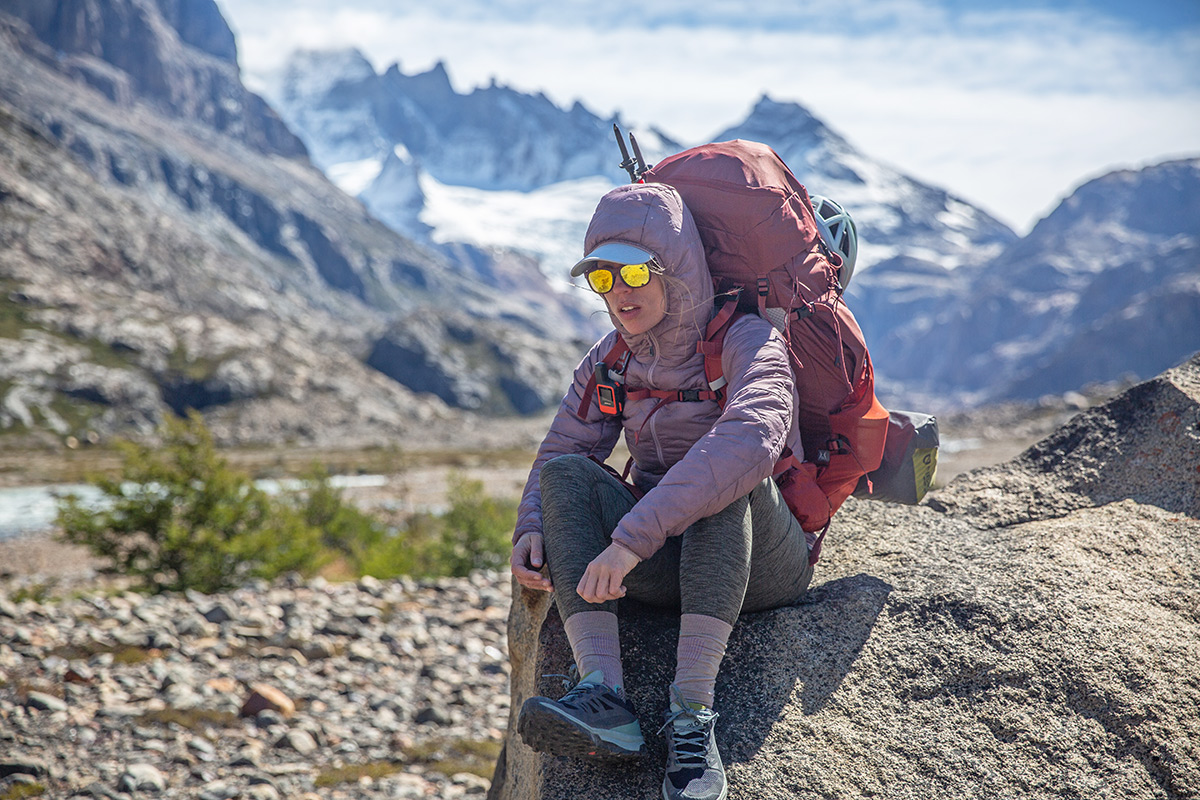 A final in-house option to consider is Salomon's Vaya GTX, which is part of their women's-specific collection and slots in as the lightest hiking-focused alternative here at a scant 1 pound 3.8 ounces. Like the OUTline, the Vaya has a very responsive and agile feel with a SensiFlex synthetic upper that's comfortable out of the box and designed to stretch to accommodate natural foot swelling. However, the wider shape feels a bit sloppier and less aggressive than the OUTline (it has a "standard" fit compared to the OUTline's "slim" designation), and neither shoe is a standout in terms of cushioning or support for high-mileage days with a full pack. For $10 less, we consider the OUTline to be the slightly better value, but a final decision may come down to which shoe fits you better.
 
Outside of Salomon's lineup, Danner's Trail 2650 GTX is another well-made and lightweight low-top hiker. Right off the bat, we'll note that the Danner is considerably pricier than the OUTline at $190, but it's no slouch in terms of performance. In terms of features, the Trail 2650 includes premium touches like a Gore-Tex membrane, tacky Vibram outsole, and substantial rubber toe cap to fend off direct hits from rocks and roots. The partial-leather build is also noticeably more confidence-inspiring from a long-term durability standpoint, and Danner managed to keep weight impressively low at just 1 pound 5 ounces. In the end, unless price is a deterrent, we consider the Danner to be the better-built and more high-performance option for everything from short day hikes to lightweight backpacking objectives.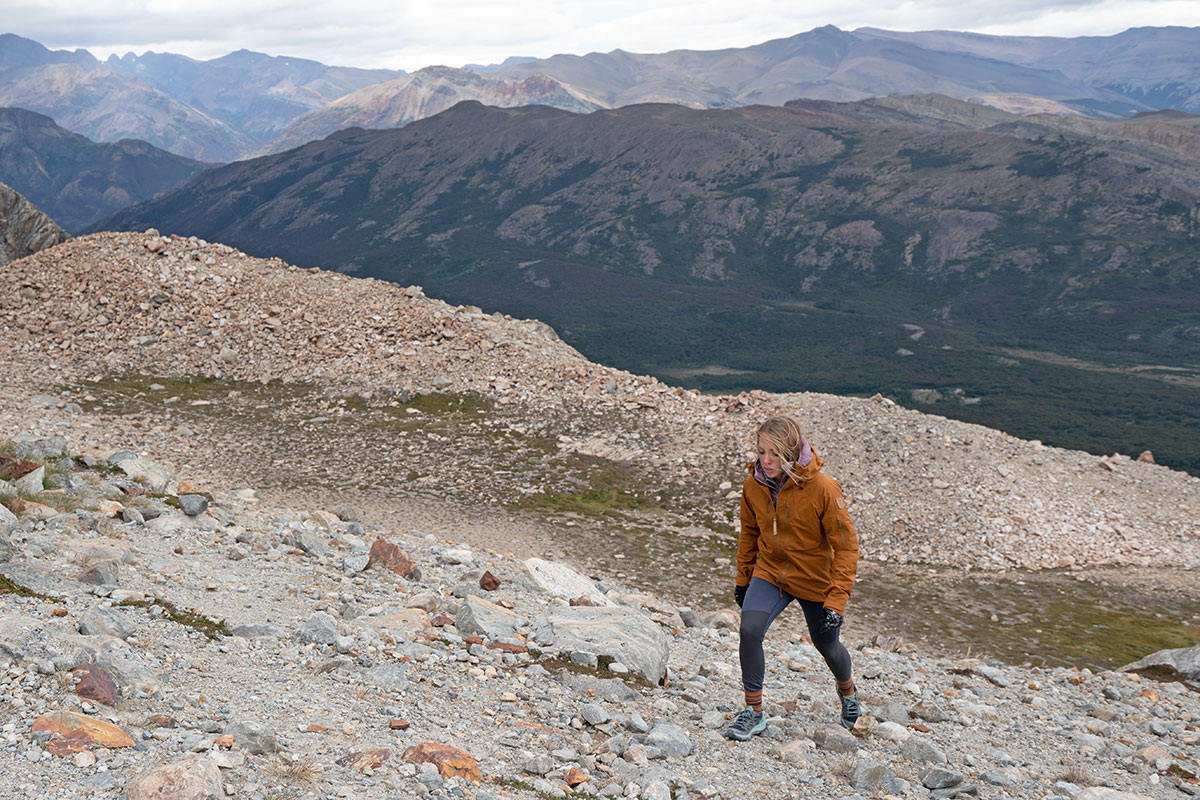 For those aimed at traveling fast and light, our favorite ultralight option this season is Hoka One One's Speedgoat 4. Right away, it's important to point out that the Speedgoat is a true trail runner rather than a hiking shoe, but it's beloved among the thru-hiking community for its impressive durability and excellent cushioning at a very low (1 lb. 2.4 oz.) weight. Like most of Hoka's designs, the Speedgoat boasts an ultra-thick midsole that provides great isolation from the trail, but it's still firm and supportive enough to cover longer distances. However, compared to the OUTline and other low-top hikers, the Speedgoat lacks protection and stability on uneven ground (especially when carrying a heavy pack), and you don't get waterproofing on the standard model (they do offer a Gore-Tex-equipped version for $160). All told, the Speedgoat is a viable pick for the fast-and-light crowd and minimalist backpackers, but the OUTline has wider appeal for most traditional hikers.
If you're thinking about buying gear that we've reviewed on Switchback Travel, you can help support us in the process. Just click on any of the seller links above, and if you make a purchase, we receive a small percentage of the transaction. The cost of the product is the same to you but this helps us continue to test and write about outdoor gear. Thanks and we appreciate your support!
Depending on the seller, most products ship free in the United States on orders of $50 or more. International shipping availability and rates vary by seller. The pricing information on this page is updated hourly but we are not responsible for inaccuracies.
Read More From Switchback Travel