Now in its fourth iteration, Salomon's modern X Ultra line is a popular collection for everything from day hikes to lightweight backpacking trips. Building on the success of the prior generation, the latest shoe features a sleeker modernized upper, updates to the lacing system and chassis, and a slightly stickier sole. We tested the low-top X Ultra 4 GTX while exploring trails around Southern Patagonia, and came away with mixed reviews: It's undeniably nimble and grippy, but fell short for us in terms of comfort and fit. Below we break down the Salomon's overall performance. To see how it stacks up to the competition, see our article on the best women's hiking shoes.
 
---
Table of Contents
---

Performance
Comfort
In terms of comfort, my first impressions of the Salomon X Ultra 4 GTX were very good: Its lightweight and flexible build feels akin to a trail runner, and ample padding on the tongue and collar surround the foot in a nice hug. The toe box is decently wide (and in my opinion, roomier than the X Ultra 3 despite being built on the same last) and the shoe has a moderate level of cushioning underfoot. To be clear, the X Ultra 4 is not uber plush like a Hoka One One trail running shoe or even Salomon's own OUTline, but it's also far from the stiff and clunky hiking shoes of yore.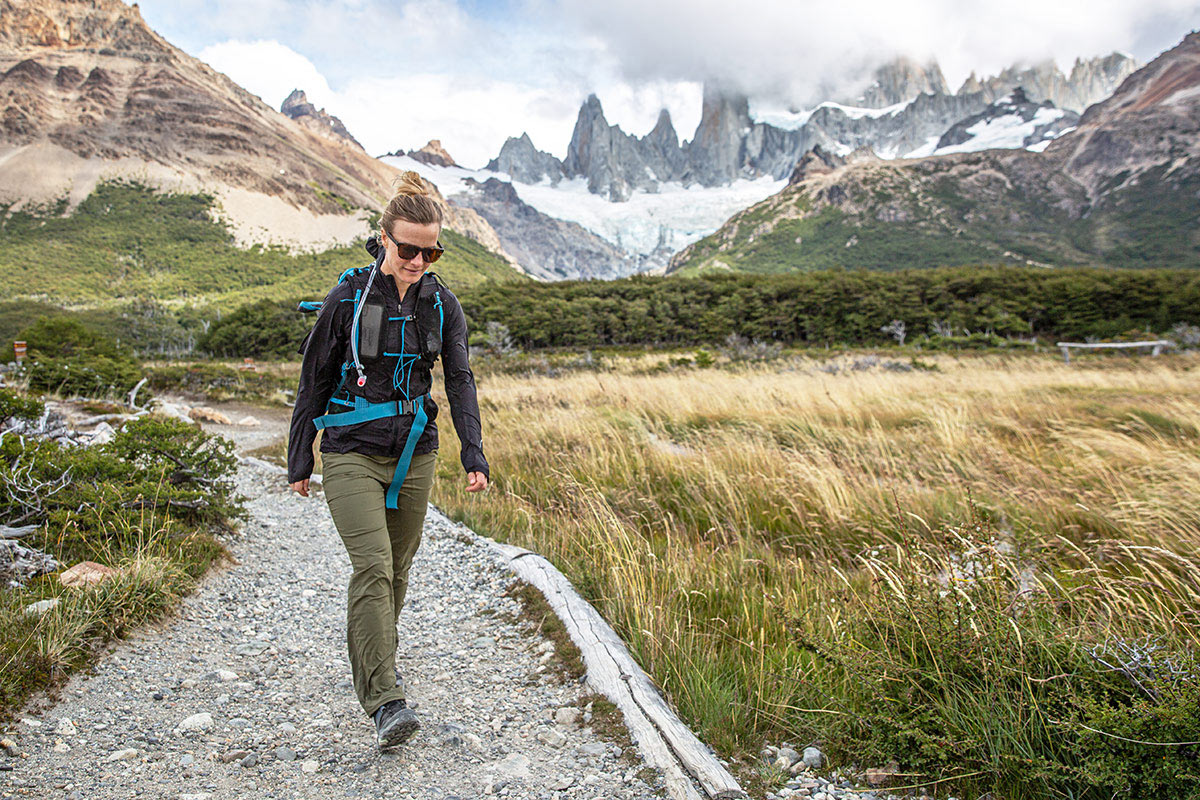 However, after a number of days on the trail my reviews of the X Ultra 4 are much more mixed. The plastic toggle for the Quicklace system digs into the top of my feet—even after many attempts to adjust it—which could be a result of the higher collar on the 4 (significantly higher, in fact, than our X Ultra 3 GTX). Furthermore, the narrow midfoot causes pain in my arches (for more on this, see the "Fit and Sizing" section below), and despite the shoe's flexible nature, the heel is rather stiff and unforgiving—especially at the end of a long day. Of course, comfort is largely a subjective element, but it's important to note that many users report a significant drop between the X Ultra 3 and 4 models.

Weight
Just a few years ago, the X Ultra series was one of the more lightweight options in hiking footwear, but a recent boom in trail-runner-inspired designs now places it toward the heavier end of the spectrum. With a listed weight of 1 pound 9.6 ounces for the women's X Ultra 4 GTX (our size 8.5 checked in at 1 lb. 7.6 oz.), it undercuts a traditional leather shoe like the Merrell Moab 2 Waterproof (1 lb. 12 oz.), but checks in significantly heavier than popular shoes like the Hoka One One Speedgoat 4 GTX (1 lb. 4.4 oz.) and Salomon OUTline GTX (1 lb. 5 oz.). That said, it's good to keep in mind that dropping weight can result in less performance overall—in this case, the X Ultra 4 GTX outpaces the aforementioned Hoka and Salomon in terms of durability, protection, and stability, with generous toe caps, more upper reinforcements, and a sturdy heel.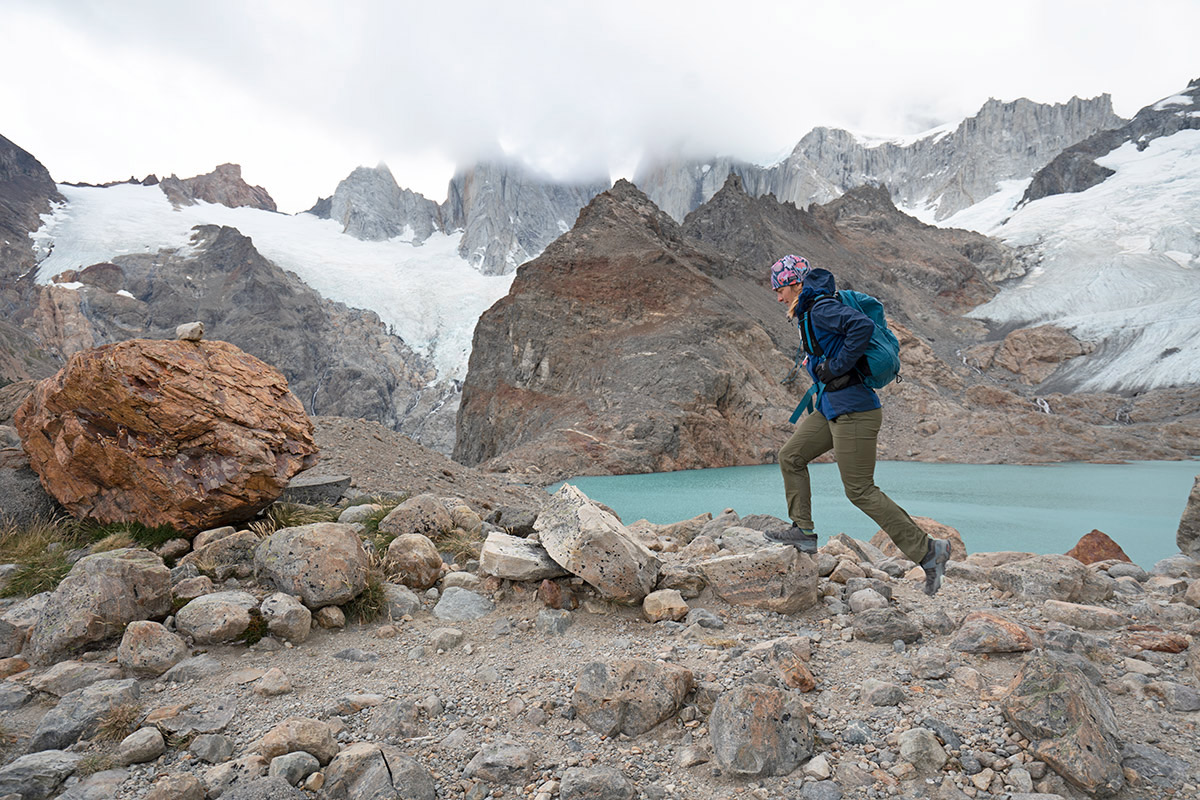 Traction
Throughout my testing, the Salomon X Ultra 4 GTX offered excellent grip on everything from hard-packed dirt to scree and wet mud. I particularly noticed its impressive traction while traversing a boulder field, where it held nicely on smooth rocks and tricky off-camber terrain. Salomon achieves this by way of the Contagrip MA compound, their most versatile rubber blend that aims to provide a nice balance of grip and durability. Notably, it's one step stickier than the Contagrip TD used in the X Ultra 3 collection. All told, it's a decently long-lasting sole that should hold strong for the entire lifespan of the shoe (expect the upper to give way first) and is prepared to tackle anything you might encounter during a day of hiking or backpacking.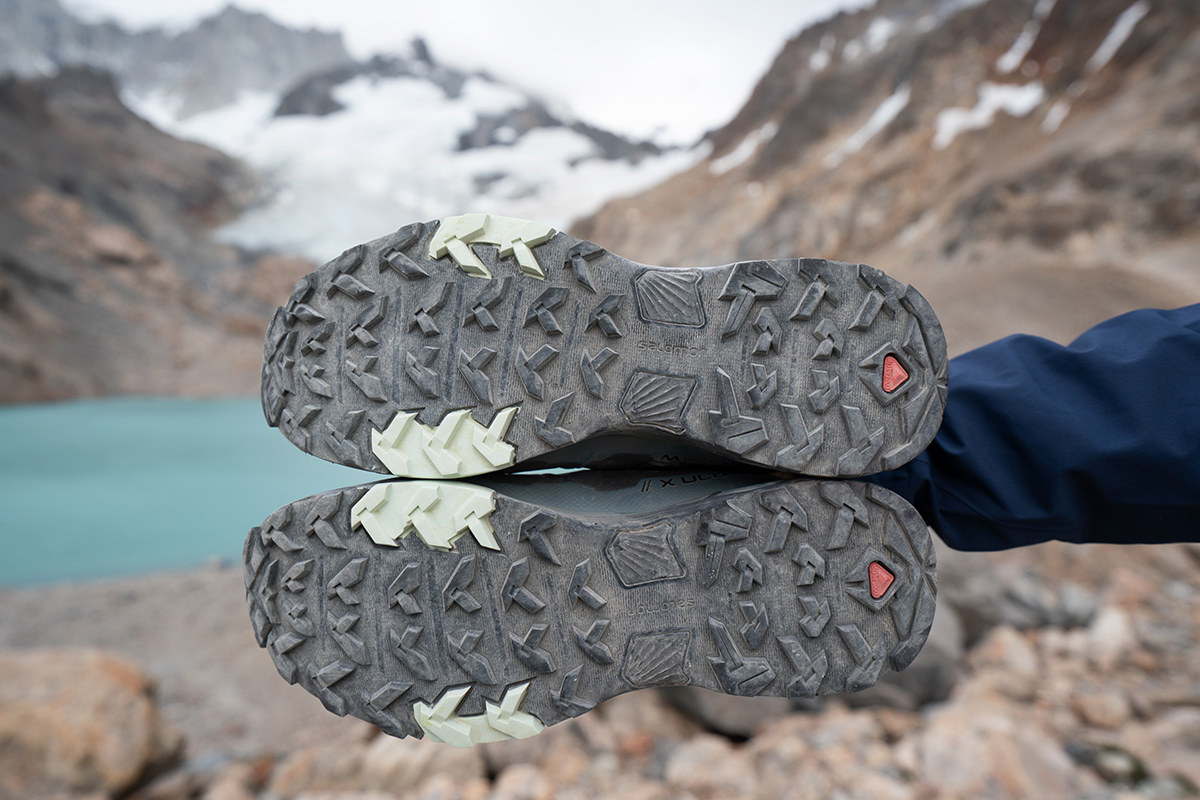 Stability and Support
For a relatively lightweight, low-top hiking shoe, the X Ultra 4 offers a competitive dose of stability and support. The rear of the shoe is noticeably stiff and stable, with a solid lock at the midfoot that holds the foot in place and keeps it from moving around while hiking on off-camber terrain. On the other hand, the front of the shoe is flexible and thin, offering great trail feel and comfort for high-mileage days (Salomon calls this combination their ADV-C chassis). I've worn the X Ultra 4 GTX during 15-plus-mile days with a 20-pound day pack, and never had any issues with rolled ankles or sore feet from a lack of stability. However, the downside of this performance is that the shoe does feel rather narrow at the midfoot and stiff in the heel, resulting in some discomfort over time (see the "Comfort" section above).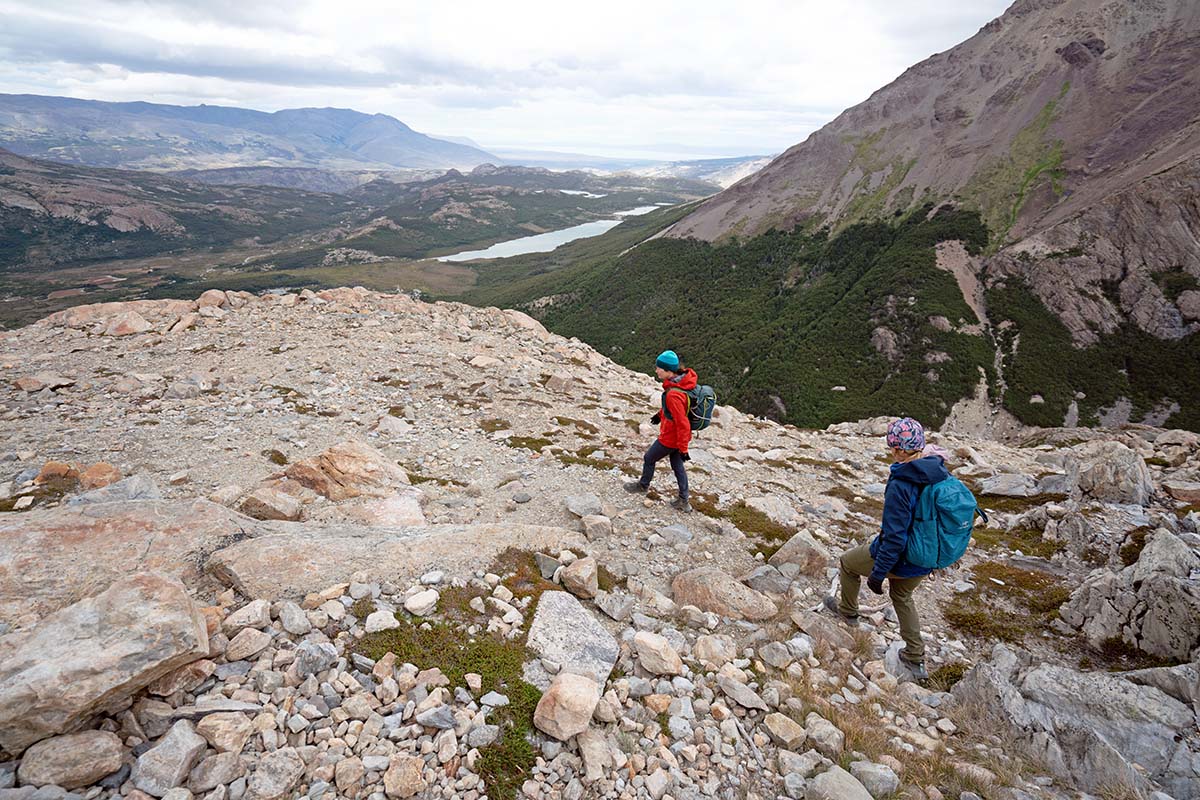 Protection
Despite its streamlined design, I found myself very impressed with the protectiveness of the X Ultra 4. Salomon took the entire foot into account, with a generous bumper at the toe, sturdy and impenetrable wrap around the foot, and solid heel cap. In the end, this is far more protection than you'd get from a trail runner, and it was noticeable on the trail—even when putting my feet into tight places or closely grazing sharp rocks or twigs, it felt well-encased and safe from the elements. Along with increased stability, protection is one of the primary reasons I might opt for a hiking shoe over a trail runner for quick jaunts on the trail.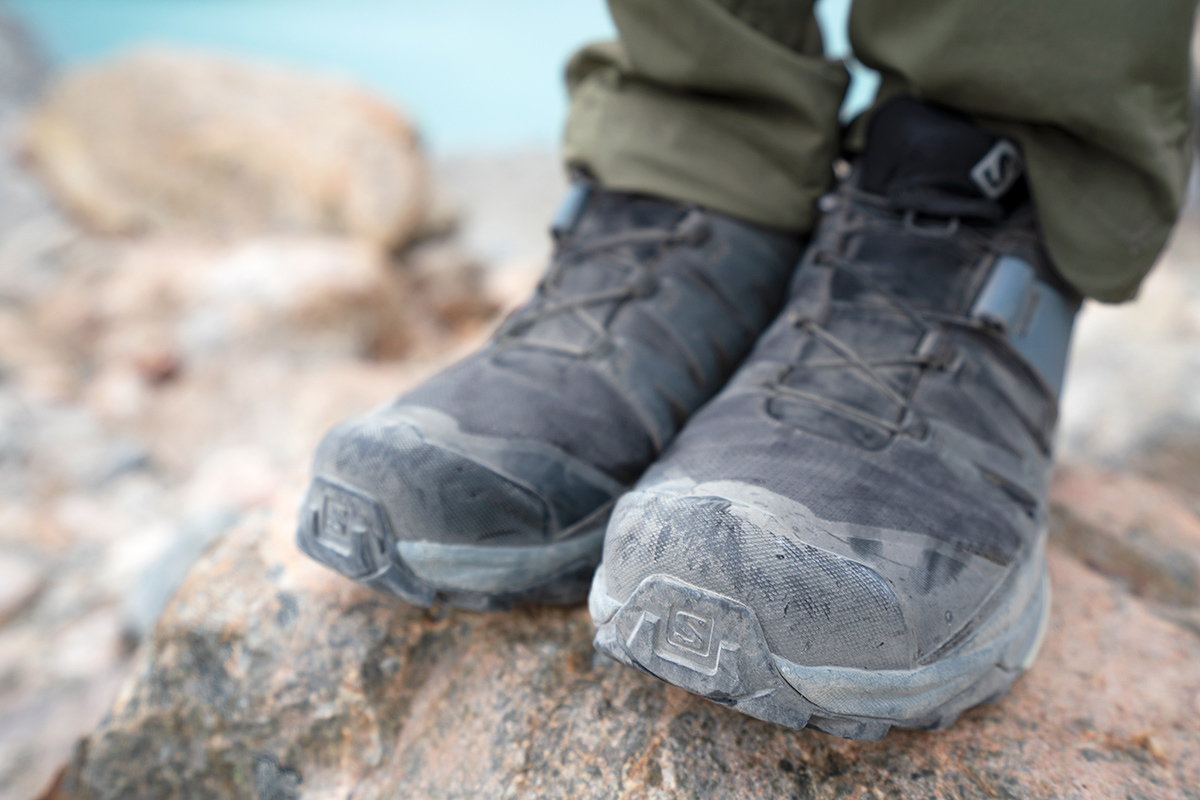 Waterproofing
I tested the Gore-Tex-lined version of the Salomon X Ultra 4, and its waterproofing was excellent for muddy and boggy sections of trail and mellow river crossings. However, it is worth noting that a low-top waterproof shoe is a tricky combination—you'll need to be mindful when stepping into puddles or hiking across streams, since water can easily enter at the collar, and the shoe will not dry nearly as quickly as a non-waterproof design. For this reason, I'd lean toward the non-waterproof X Ultra 4 for most summer adventuring, which will also save you $30. If you plan to use the X Ultra in snow, the GTX model is a solid choice.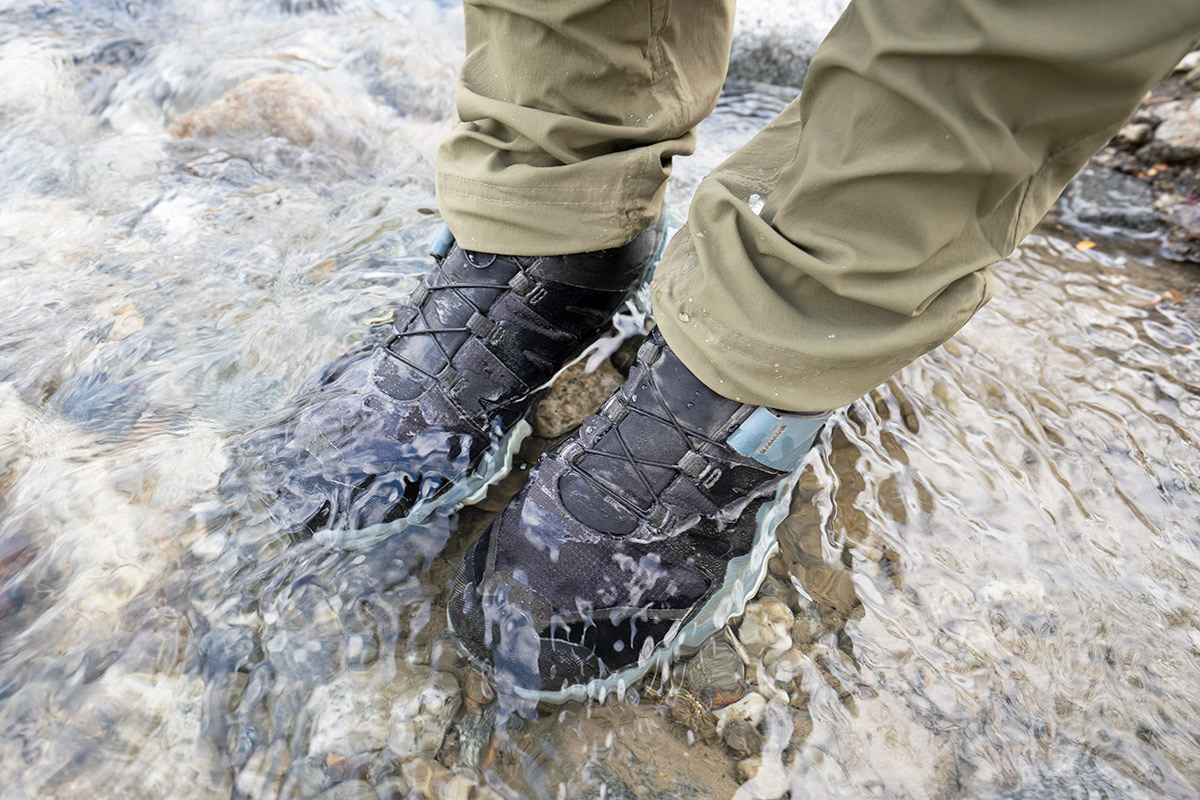 Breathability
One of the primary downfalls of a waterproof shoe is a lack of breathability, but I've been fairly impressed with the X Ultra 4 GTX. My feet don't run warm in general, but the Salomon's fairly thin upper provided decent ventilation on warm days, and significantly more than you'd get with a thick leather design like the Merrell Moab 2. However, if you're prone to sweaty feet or plan to hike in hot and arid environments, the non-waterproof version of the X Ultra 4 is certainly a more breathable choice, and the benefit of mesh-heavy design is that it's quick to both drain and dry.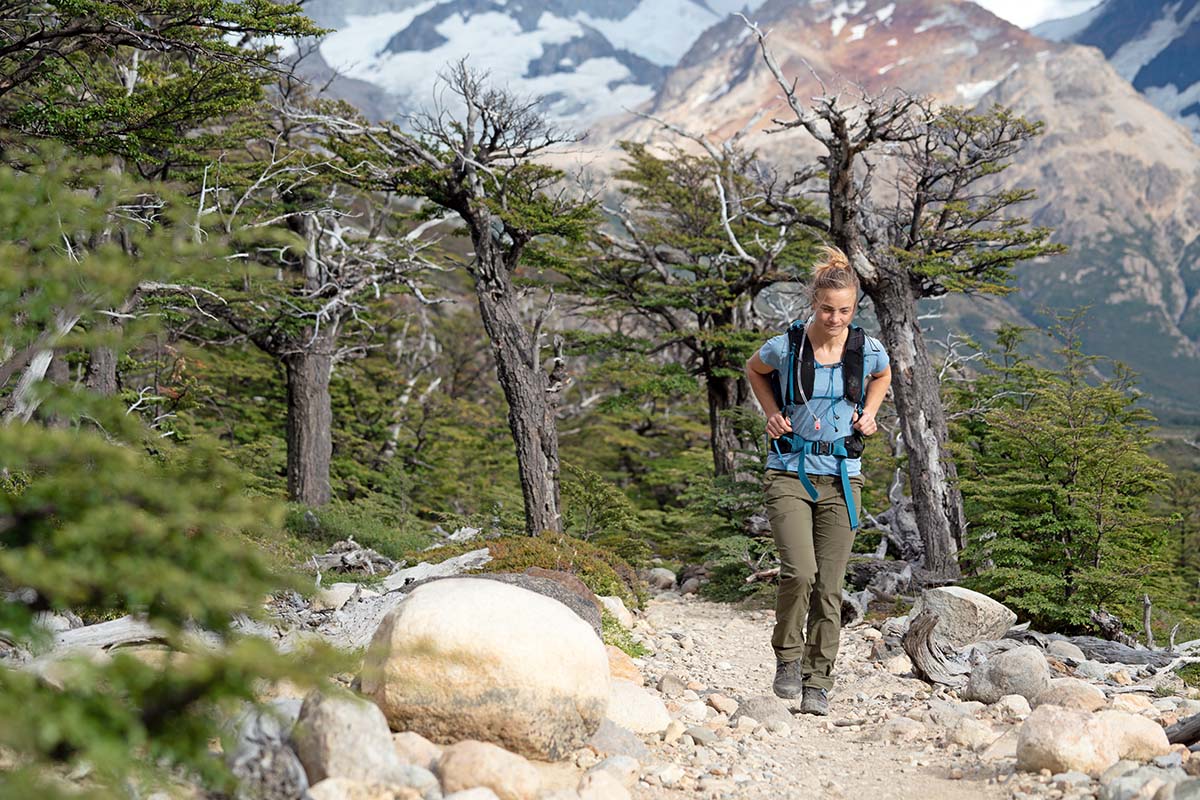 Build Quality and Durability
As we've come to expect from Salomon, the X Ultra 4 GTX is well built, including both high-quality materials and craftsmanship. With a synthetic upper you can't expect the kind of years-long durability that you might get with a leather shoe like the Merrell Moab 2 or Keen Targhee, but the X Ultra 4 outperforms most of the shoes in its class with a generous rand and good dose of synthetic overlays. I've also noticed that the beefy toe cap provides much more durability at the forefoot than a design like the Altra Lone Peak, which has a history of coming apart at the seams (literally) at the toe. And while our team hasn't yet amassed a large trail resume with the Salomon, it's worth noting that our previous versions of the shoe have all had excellent lifespans.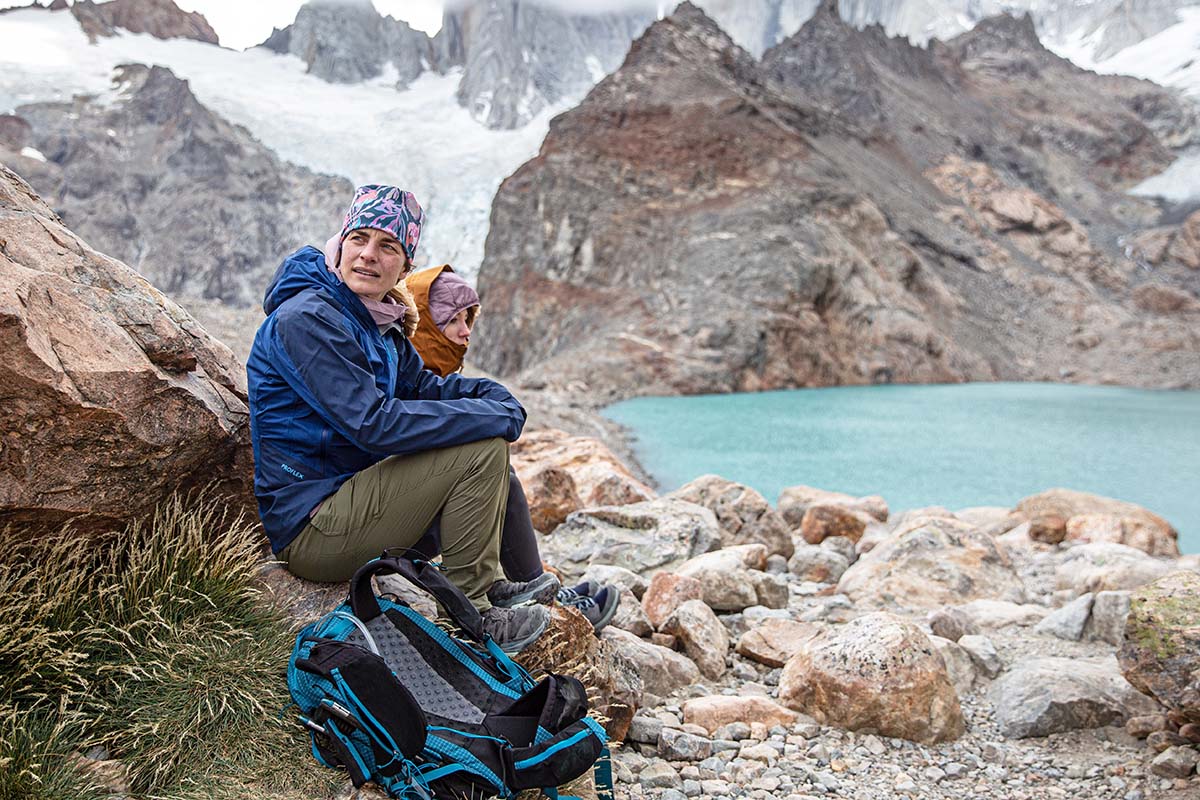 Fit and Sizing
I ordered my normal women's 8.5 in the X Ultra 4 GTX, and it fit true to size. The forefoot is decently roomy—a bit more spacious than the 3 due to changes to the upper—but the shoe narrows significantly at the midfoot. For some, this offers a locked-down feel and minimal heel movement (but perhaps too roomy of a toe box); for others, it will be too tight and might result in arch or general foot pain. In the end, the combination is an interesting one that might not work for many hikers, including those with particularly wide or particularly narrow feet (Salomon does offer the shoe in "wide," although the women's models can be difficult to find). Finally, many users report needing to size down, but I would only advise this if your feet are on the narrow side.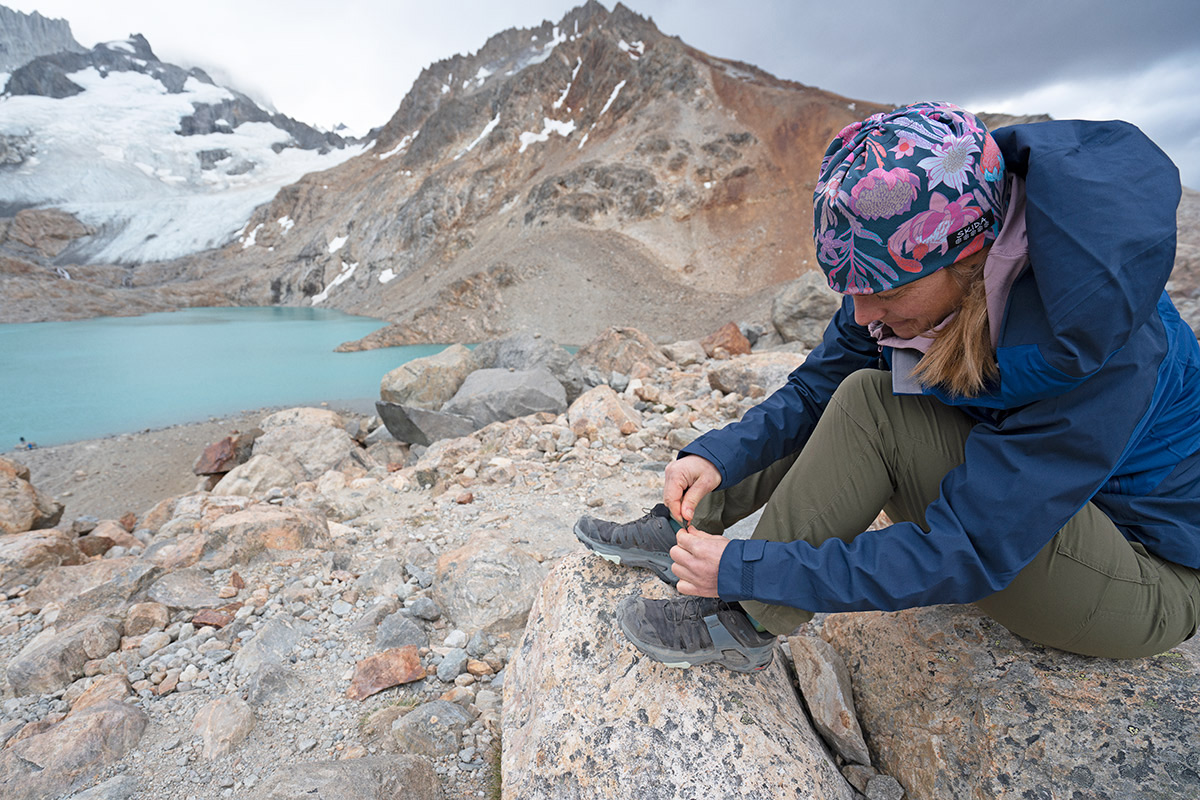 It's worth noting that the low-top version of the Salomon X Ultra 4 includes Salomon's signature Quicklace system. This means that the laces snug evenly around the foot with a single motion, which is much faster to use than a traditional setup (and in my experience, the system holds securely throughout a day on the trail). You also get a nice elastic gusset underneath the laces which keeps out trail debris and dust. However, Quicklaces are more difficult to fine-tune than traditional laces—for example, I found it nearly impossible to loosen the laces at the midfoot and keep them tight at the ankle. But we're getting into the minutia with these nitpicks, and the X Ultra 4 should provide a serviceable fit for all but the most discerning of users.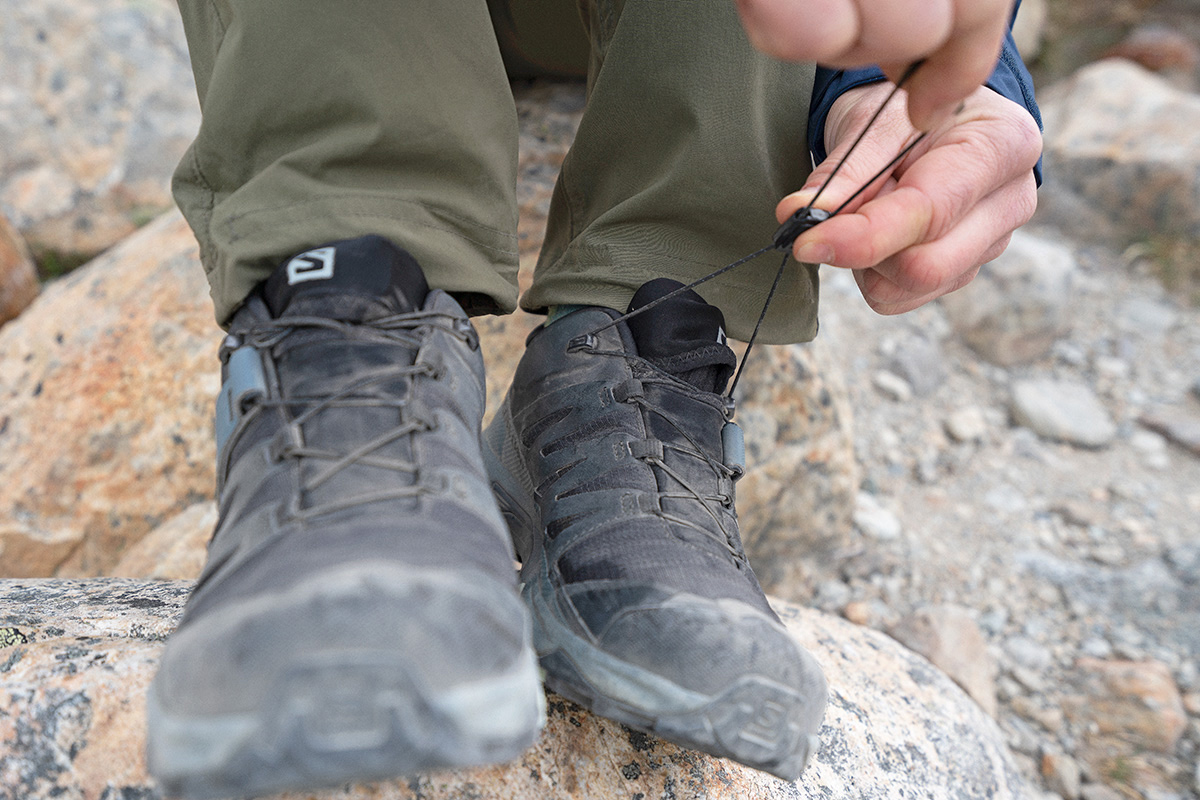 Other Versions of the Salomon X Ultra
I tested the women's model of the X Ultra 4 GTX for this review, but the design comes in a number of variations. Most notably, it's still possible to find the older X Ultra 3 in both waterproof and non-waterproof versions. This wildly popular shoe differs from the 4 in many ways: The 3 has a narrower toe box, forgoes the winged lace design of the 4 (which I found added little in the way of fit), and is a few ounces lighter (1 lb. 7.2 oz.). Perhaps most significantly, it features a shorter collar that mitigates the pressure issues I experienced with the Quicklace toggle on the X Ultra 4. General consensus seems to be that the 3 is a less polarizing design, and the good news is that it's still widely available through most popular online retailers.
The X Ultra 4 also comes in a non-waterproof version ($120), checking in at 1 pound 6.2 ounces with a more mesh-heavy build. What's more, it's also available as a boot (the X Ultra 4 Mid GTX), which features an over-the-ankle collar, is slightly heavier at 1 pound 11.2 ounces, and retails for $165. I also tested this mid-height version and have mixed reviews: I appreciated the taller collar for water protection during creek crossings and boggy sections of trail, but the boot fell short in terms of ankle support and overall fit. Finally, Salomon offers all of the aforementioned versions in men's-specific models, which are priced the same and are a better fit for higher-volume feet.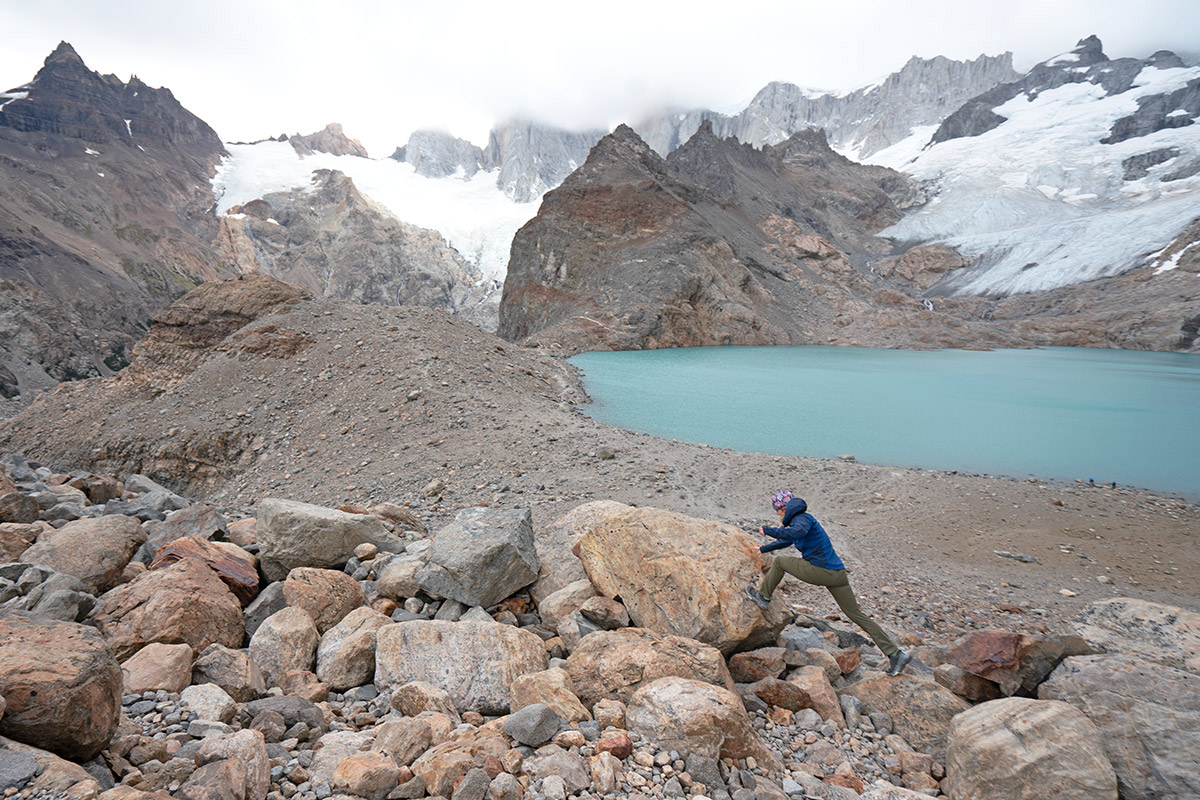 What We Like
Hits a nice middle ground between lightweight hiking shoes and more traditional leather designs, with a good balance of weight, durability, and on-trail performance.
Decent breathability despite the waterproof design.
Thanks to Salomon's ADV-C chassis, the X Ultra 4 remains nimble while still offering stability and protection on par with heavier shoes.
Great traction on all manner of terrain, from hard-packed dirt to scree, mud, and boulder fields.

What We Don't
The roomy toe box and narrow midfoot is a difficult fit combination that won't work for many feet.
I was perpetually bothered by the plastic Quicklace toggle, which (despite adjustment) dug into the top of my foot uncomfortably.
Heavier than most lightweight hiking shoes.


Comparison Table

The Competition
Salomon's X Ultra line is undoubtedly popular, but it's up against some strong hiking shoe competition in 2022. One alternative, Merrell's Moab 2, is a design we see again and again on the trail. The two are very different shoes: Unlike the synthetic X Ultra 4, the Moab 2 features a leather upper that's slightly heavier (1 lb. 12 oz.), but offers greater durability and more around-the-foot protection. And the rest of the Moab follows suit, with a burly outsole and relatively stiff midsole. The fit of the Moab is more accommodating than that of the X Ultra 4 and it's cheaper at just $135, but the shoe undoubtedly feels slow and clunky by comparison. We have no hesitation in recommending the Merrell for casual day hikes and overnights, but it can't touch the X Ultra's mix of athleticism, traction, and weight.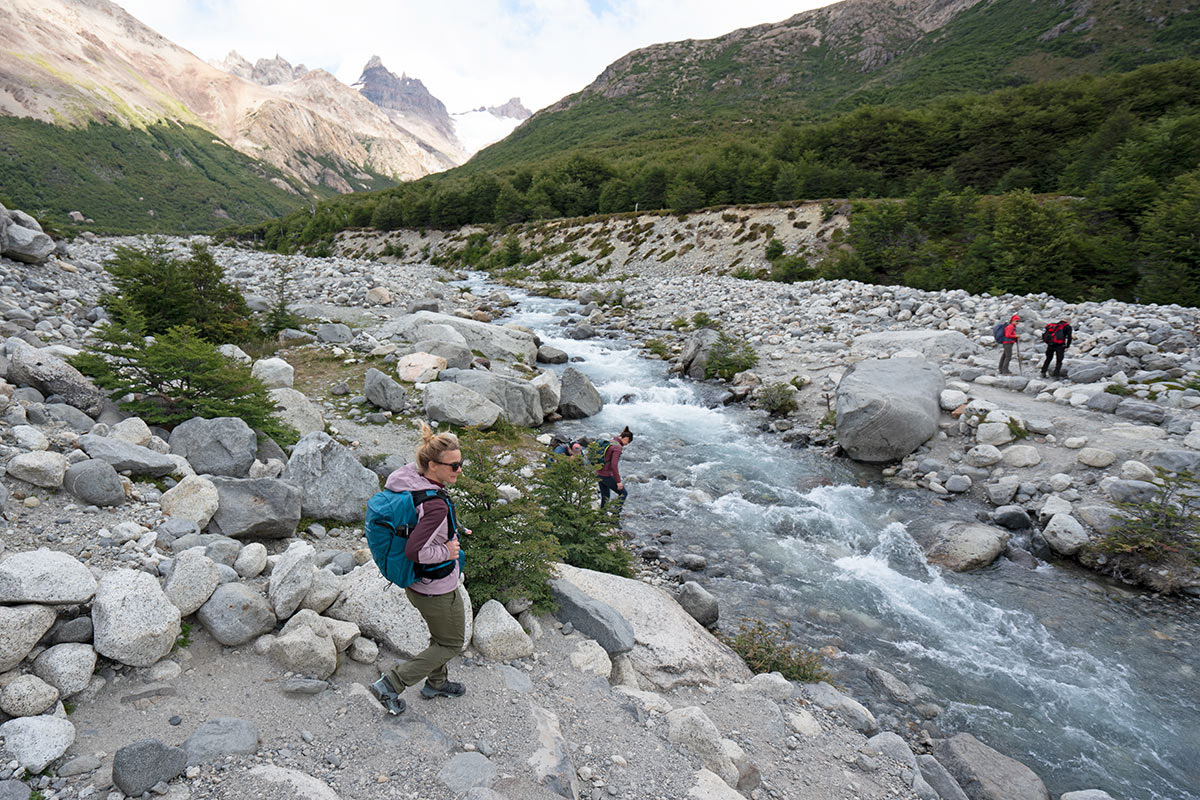 On the other end of the spectrum is the Hoka One One Speedgoat 4 GTX ($160), a max-cushioned trail running shoe that's become popular amongst the fast-and-light crowd. Sure, the X Ultra 4 looks a bit like a trail runner compared to a traditional hiking shoe like the aforementioned Moab, but the Speedgoat takes it to the next level with a flexible sole, lightweight upper, and plush cushioning. The result is a really comfortable shoe for high-mileage days, but the flipside is compromised protection and durability, along with less stability and support on off-camber terrain. In the end, we favor the Hoka for moving quickly with a light load on easy terrain, but you'll want the added performance of the Salomon for heavy loads or difficult travel.
Known for their traditional leather boots, Danner has recently burst onto the lightweight hiking footwear scene in a big way. Their Trail 2650 GTX Campo is a more around-town-friendly alternative to the X Ultra 4, but it's still a pretty impressive performer on the trail. Like the Speedgoat mentioned above, the Danner is softer, flexier, and lighter (1 lb. 3 oz.) than the X Ultra 4, but it still offers excellent protection at the toe and heel and is surprisingly capable for off-trail scrambling and hiking over rough ground. The downsides are price and support: The X Ultra 4 is notably more stable than the Trail 2650 while coming in at $50 less. All in all, the Danner is a very comfortable option for lighter loads and well-maintained trails, but the Salomon is the more versatile all-rounder.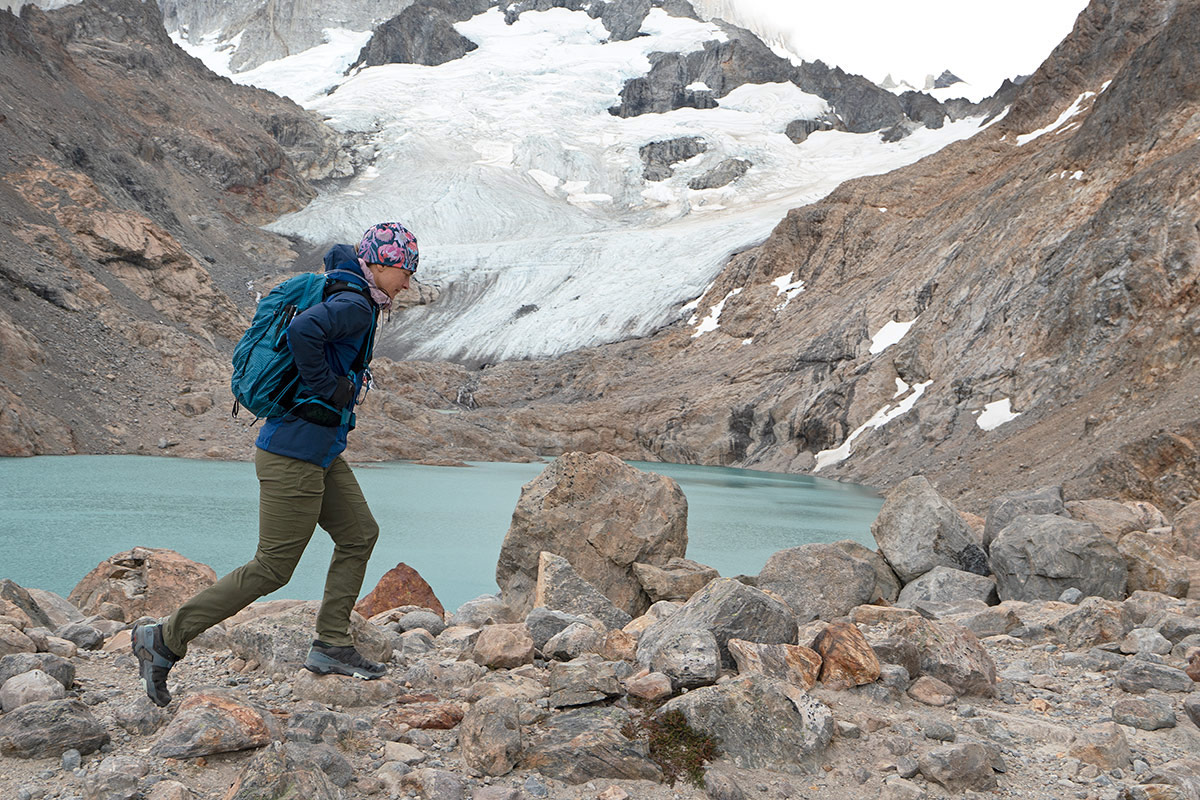 Within Salomon's own lineup, their OUTline GTX is another nimble low-top hiker to consider. Compared to the X Ultra 4, the OUTline is a few ounces lighter at 1 pound 5 ounces, more flexible and cushioned underfoot, and costs $20 less. Despite its trail-runner-esque build, we found it impressively capable during our testing in Patagonia, where we wore it on a 4-day overnight trek. However, compared head-to-head, the X Ultra still wins out in out in most areas, including grip, protection, durability, and stiffness for covering technical and rocky terrain. The OUTline strikes us as a better match for those traveling fast and light over well-trodden trails, but the X Ultra is the more capable option if you plan to mix in off-trail hiking or shuttling a heavier load.
Finally, it's worth considering Salomon's new Cross Hike GTX. A souped-up version of the popular Speedcross trail runner, the Cross Hike is built to move quickly down trails and grip well on soft terrain. Throughout our testing, we found it to be less stable than the X Ultra 4—not great news for new hikers or if you're carrying a lot of weight—and a step down in all-out durability (the upper started to delaminate after some rough use). Finally, with sharp lugs designed for digging into soft ground like wet leaves or mud, traction does suffer on smooth surfaces like boulders and ice. In the end, the Cross Hike is a step up in overall performance from a trail runner like the Speedgoat above and a better match for moving quickly on technical trails, but we'll stick with the $10-cheaper X Ultra 4 for more demanding hiking and backpacking.
If you're thinking about buying gear that we've reviewed on Switchback Travel, you can help support us in the process. Just click on any of the seller links above, and if you make a purchase, we receive a small percentage of the transaction. The cost of the product is the same to you but this helps us continue to test and write about outdoor gear. Thanks and we appreciate your support!
Depending on the seller, most products ship free in the United States on orders of $50 or more. International shipping availability and rates vary by seller. The pricing information on this page is updated hourly but we are not responsible for inaccuracies.
Read More From Switchback Travel