Salomon's X Ultra boot has earned legendary status among hikers for its great on-trail performance in a lightweight build. In 2021, Salomon overhauled the entire X Ultra series, and the X Ultra 4 Mid GTX features a modernized upper, redesigned cuff, and a brand-new midsole that prioritizes stability at a low weight. We wore the boot during a four-day trek in Southern Patagonia and came away with mixed reviews: Comfort and protection were highlights, but the Mid fell short in terms of ankle support and quality finishes. Below we break down the Salomon's overall performance. To see how it stacks up to the competition, see our article on the best women's hiking boots.
 
---
Table of Contents
---

Performance
Comfort
With no break-in period, I donned the Salomon X Ultra 4 Mid GTX for a four-day backpacking trip along the Diablo and Eléctrico rivers in Southern Patagonia. The boot is undeniably comfortable: Despite wet feet, tricky terrain, and a heavy load, I experienced no hot spots or rubbing throughout the duration of the trip. Much of this comfort can be attributed to the shoe's soft, lightweight build, which flexes with the foot, features a well-padded and ergonomic collar, and feels more akin to a trail runner than a heavy leather design. The forefoot is also decently roomy (more spacious than the X Ultra 3, in our experience, which is likely due to changes in the upper material), which is great for accommodating swollen toes. It's also worth noting that while I experienced foot pain with the low-top version of the X Ultra 4 due to the narrow midfoot fit, this wasn't an issue with the Mid.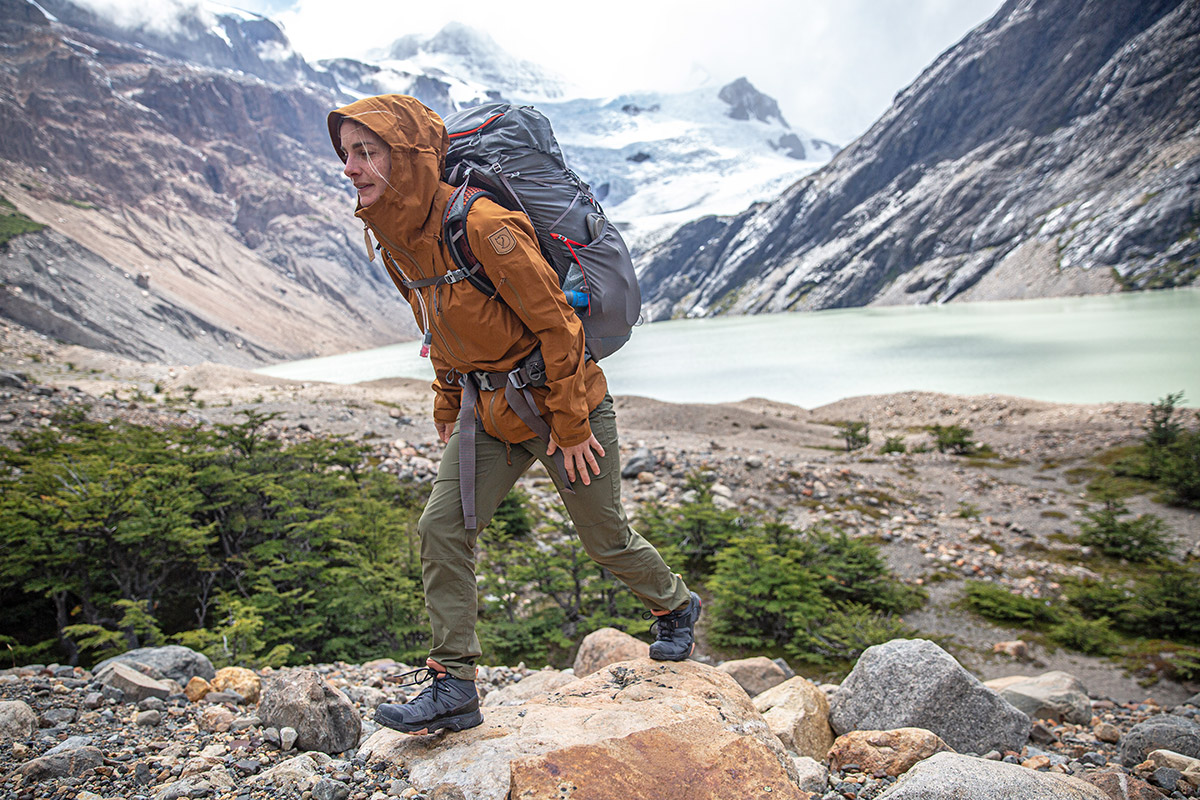 However, there are inherent downsides to opting for such a comfort-first design. I'll detail these tradeoffs more in the sections below, but in short, the Mid's flexible build offers less ankle and underfoot support than one might want from a hiking boot. I was nursing an injured ankle during my testing and found that the Mid did little to stabilize the joint—in fact, I rolled my ankle so many times wearing the boot that I ended up taping it for the hike out. Further, the relatively thin and flexible midsole and outsole provided less isolation from the ground than I normally get with an approach shoe or stiffer boot. But it's true that I was pushing the limits of the design on technical mountain terrain, and it offered excellent comfort on maintained trails.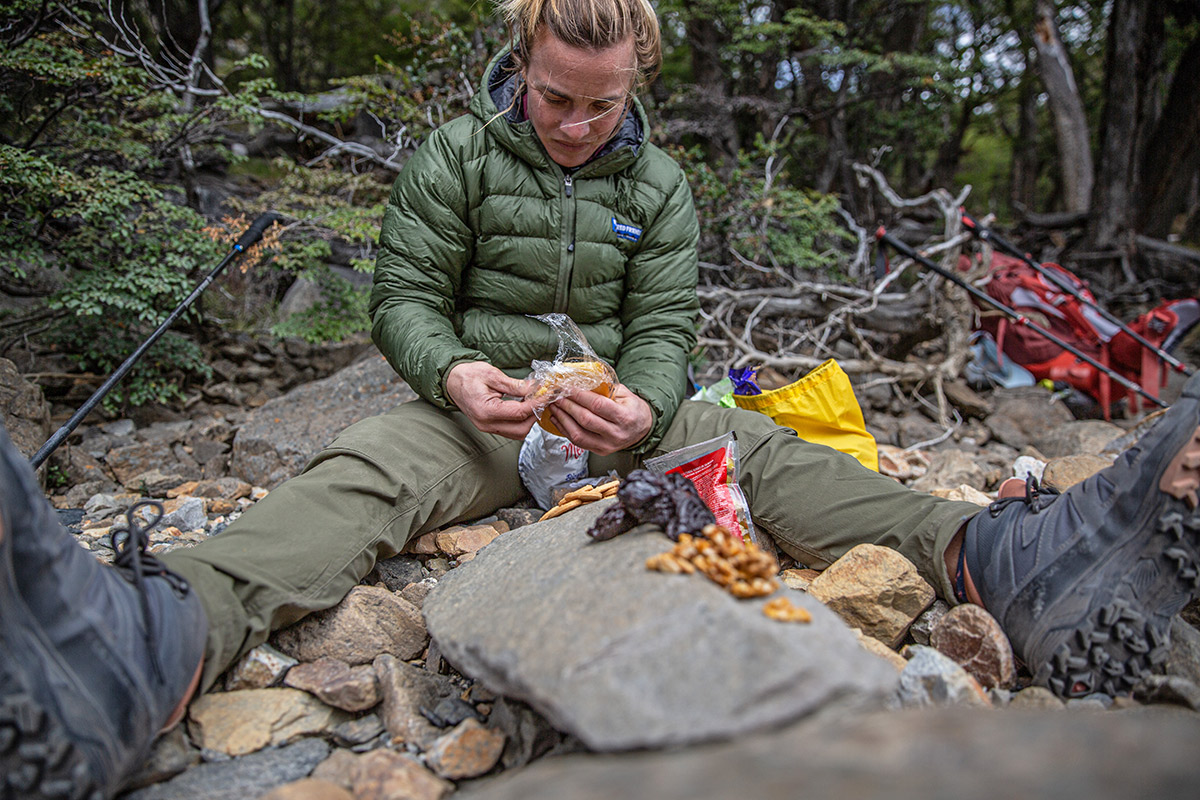 Weight
The Salomon X Ultra 4 Mid GTX checks in at a listed weight of 1 pound 10.1 ounces, which is just a half-ounce heavier than the low-top version. The minuscule difference in weight between the two designs is hard to believe, but it highlights the Mid's airy nature, especially in the collar. Compared to other hiking boots, the X Ultra 4 Mid GTX is a clear frontrunner in terms of weight: Popular models like the Lowa Renegade GTX (2 lbs. 2 oz.) and Salomon Quest 4 GTX (2 lbs. 6.4 oz.) will feel significantly heavier underfoot. The only boots that undercut the X Ultra 4 are even more akin to a trail runner, including the Altra Lone Peak ALL-WTHR Mid and Salomon Cross Hike Mid GTX (both 1 lb. 8 oz.).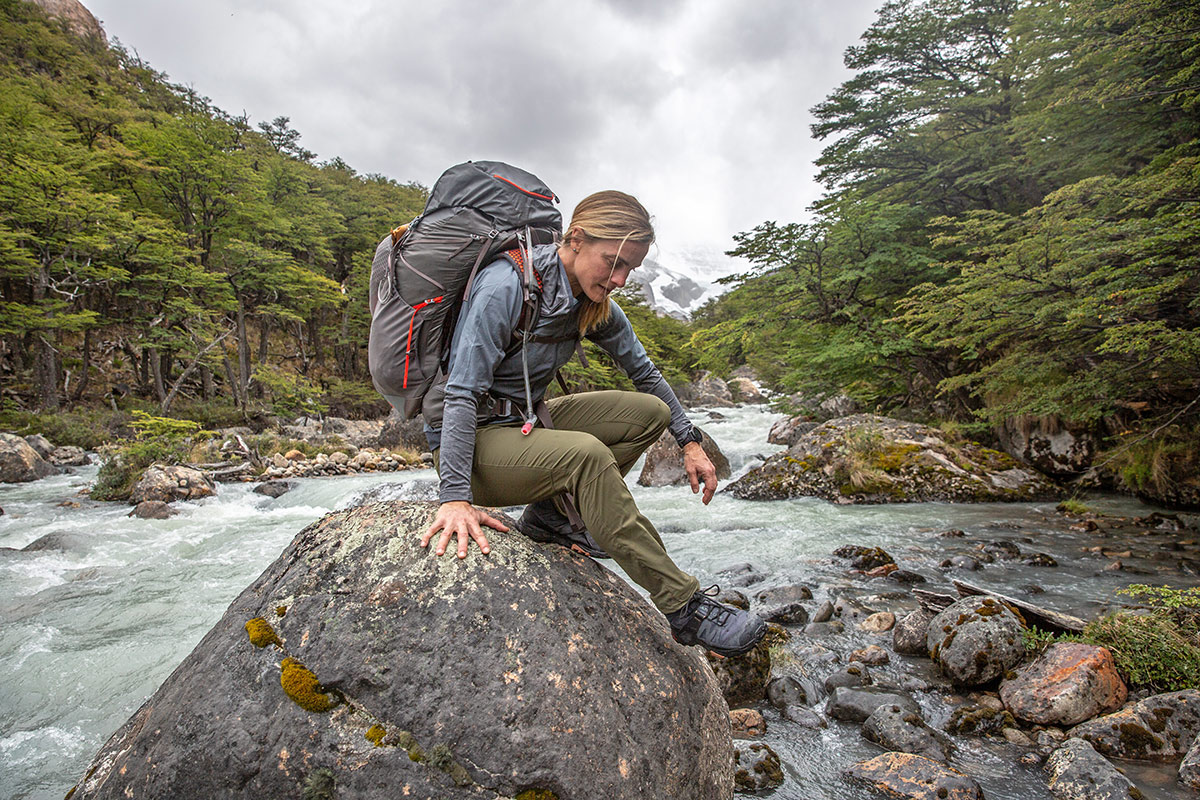 Traction
As a rock climber who normally wears approach shoes, I expect a lot out of my footwear in terms of grip. And I was very impressed by the X Ultra 4 Mid's traction on all sorts of terrain, from muddy trail to wet boulders and loose scree. In most cases, the All Terrain Contagrip outsole seemed to offer a secure hold on par with more technical footwear, with the only caveat being that the boot has a more flexible sole than other designs. This can be a benefit on some surfaces; on others, it means you get less of a stable platform to grip underfoot. But this is a tradeoff most hikers are willing to assume for the sake of trail comfort, and overall, the Salomon X Ultra 4 Mid is confidence-inspiring in terms of traction.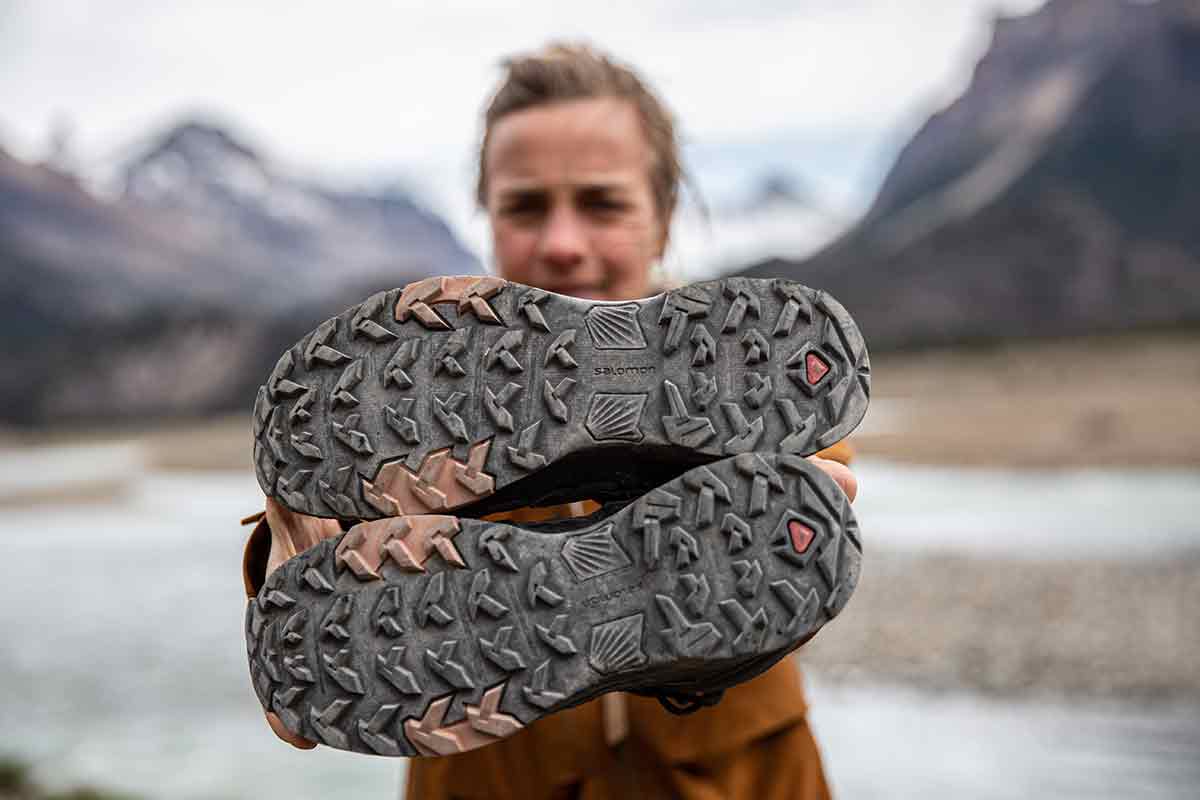 Stability and Support
Put simply, the nimble X Ultra Mid will never be confused with a burly, traditional hiking boot, and that's held true with the latest model. The top of the collar sits just above the ankle—you get one lacing eyelet in the shaft, while most boots feature two—and the rear cutout dips significantly. Further, the collar's thin and flexible padding offers very little support for the ankles (as I mentioned above, I had to tape my ankle for stability), and the overly padded tongue makes it difficult to get a snug lock with the laces.
It's true that the X Ultra 4 Mid is not quite as flimsy or loose-feeling as some of the lighter, trail running-inspired models like Altra's Lone Peak Mid, but it's noticeably less stiff and sturdy than options like the aforementioned Salomon Quest 4 or Lowa Renegade. In my personal opinion, this middle zone of lightweight boots is master of none (unless you want the higher collar for waterproofing)—I prefer a low-top hiking shoe for most applications but opt for a full-on boot when I know I'll be needing more support.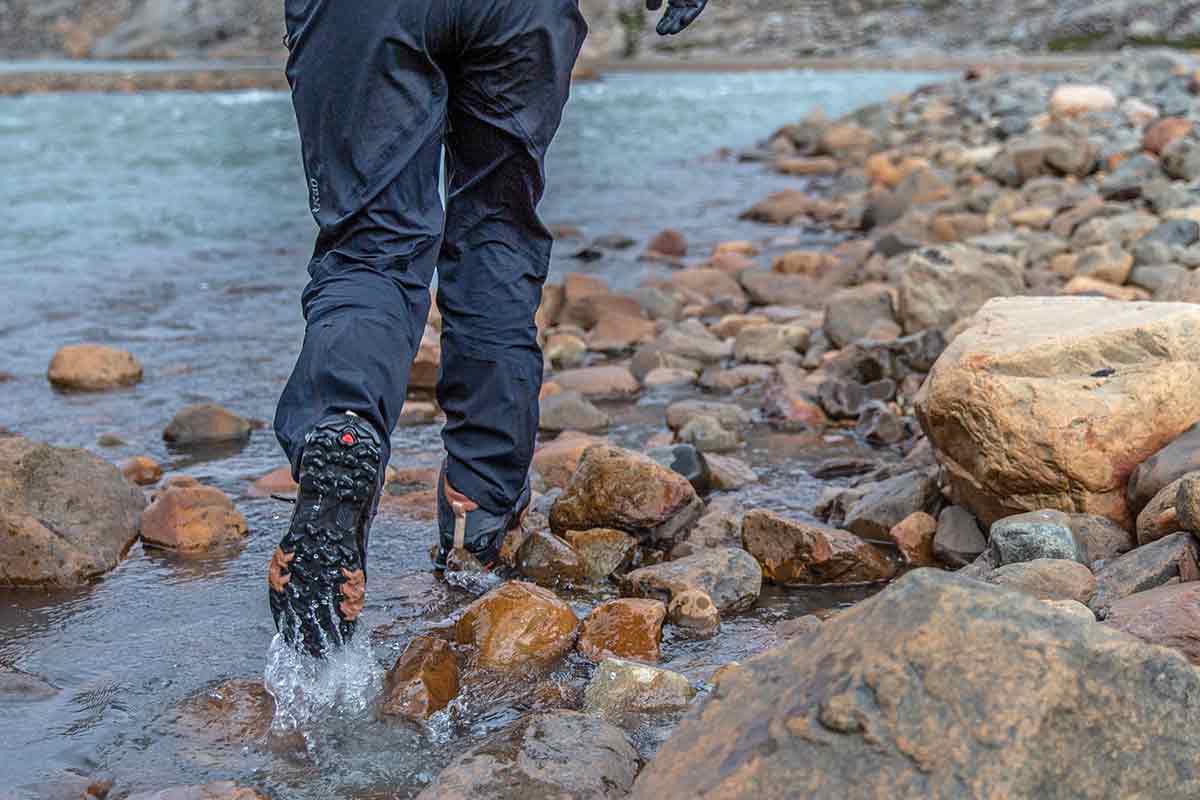 In terms of underfoot stability, Salomon revamped the chassis on the X Ultra 4, with a new design that's firm at the heel and flexible in the forefoot. Like the soft collar that we discussed above, it's a middle-road design that seeks to offer the support of a hiking boot alongside the comfort of a trail runner. We like the concept for day hikes and casual overnights on well-established trails—and the support was serviceable for me despite wearing it on off-camber terrain with an overnight pack—but those who prioritize stability and protection will likely want a stiffer sole throughout. In these cases, it's worth stepping up to a more robust option like the aforementioned Quest or Scarpa's Zodiac Plus GTX.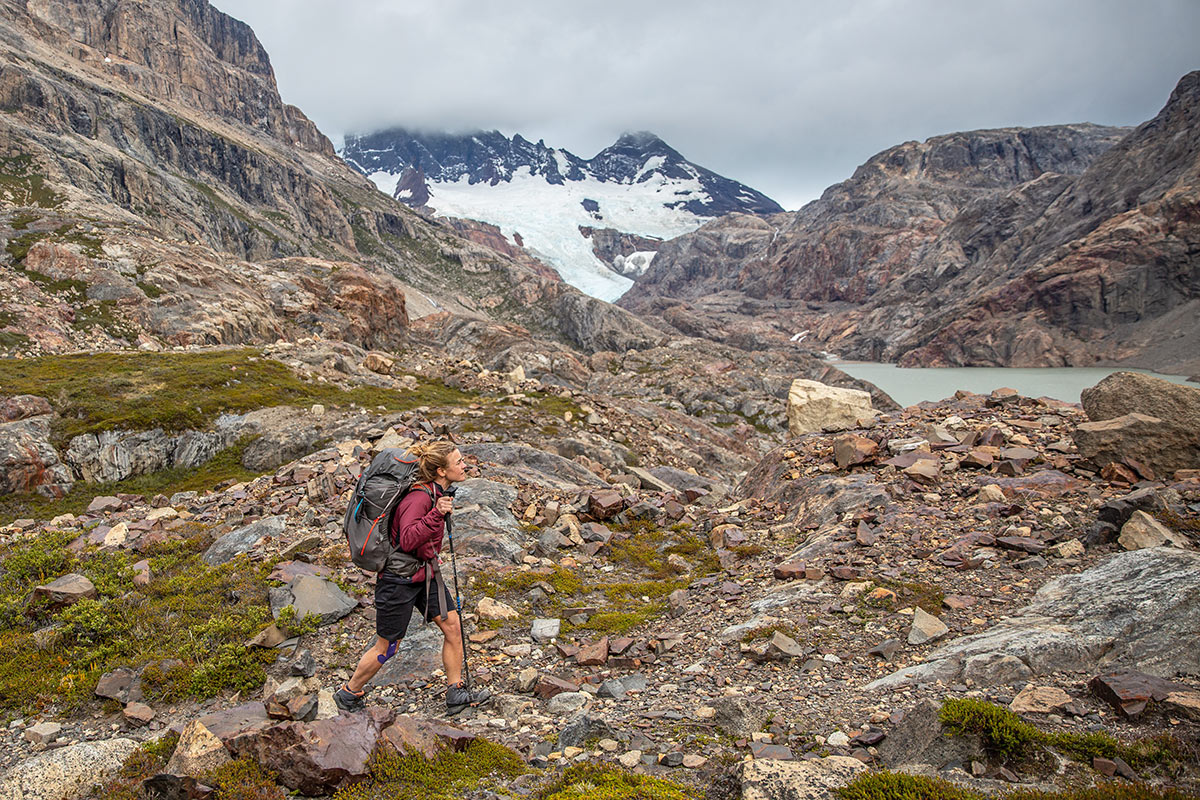 Waterproofing
The X Ultra 4 Mid GTX features a waterproof Gore-Tex membrane, which I was able to test thoroughly while hiking in Southern Patagonia. Throughout river crossings, bogs, and wet sections of trail, the Gore-Tex performed excellently and kept my feet dry. The Mid also features a gusseted tongue that extends to within an inch and a half of the collar, which means your entire foot could be submerged without water entering the boot (this is a few inches more protection than the low-top X Ultra 4). That said, the collar height is still fairly low compared to most hiking boots, and you can get more waterproof protection with designs like the aforementioned Quest, Renegade, or Zodiac Plus.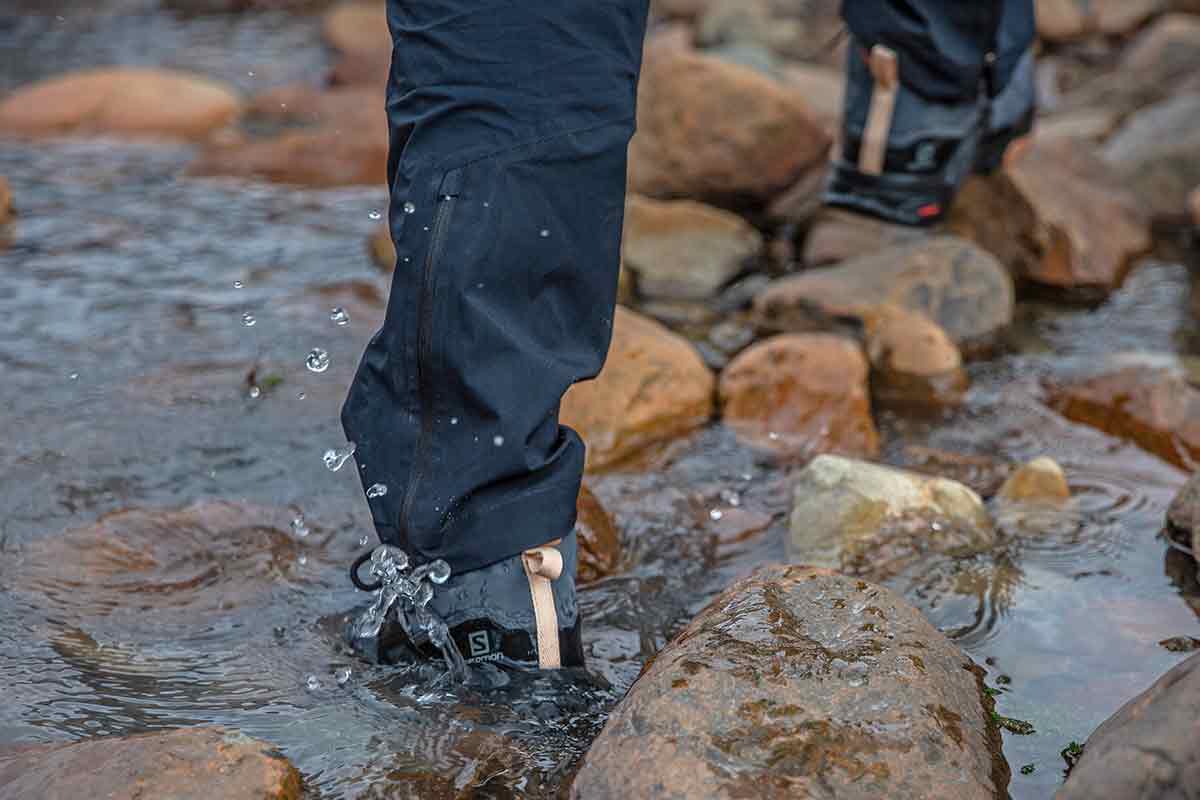 Breathability
Breathability is an inherent tradeoff in selecting a waterproof boot, but the X Ultra 4 hedges all its bets with a relatively thin upper. Compared to a thick leather design, this translates to significantly more airflow and less insulation. And the boot delivered: On our austral summer backpacking trip, we faced temperatures as high as 80 degrees Fahrenheit, and my feet stayed comfortable and mostly sweat-free. Of note, if you prefer a non-waterproof, ultra-breathable boot, the X Ultra 4 Mid Aero ditches the Gore-Tex liner and features a mesh-heavy upper for improved airflow and a faster dry time.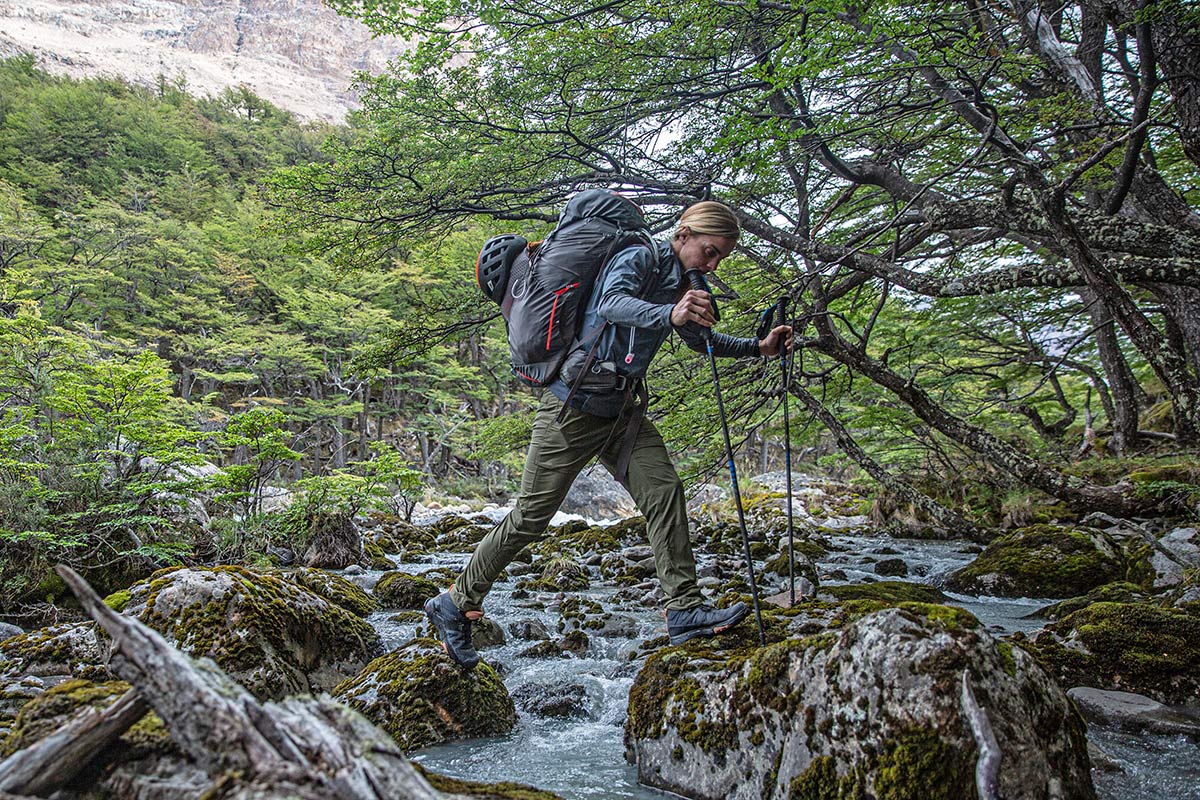 Toe and Ankle Protection
One of the main reasons to opt for a boot-height model is added protection, and the X Ultra 4 performs well despite its low weight. The cushioning covers the heel and runs up and over the ankle, and—although rather thin—there's enough padding to protect when sliding through tight spaces or knocking against rocks and trail debris. At the front of the boot, a large rubber toe cap defends against stubbed toes, which is a nice improvement over minimalist mid-height trail runners like the Altra Lone Peak Mid and Topo Athletic Trailventure. And while I was initially worried that the thin upper could be a source of weakness, I felt confident trudging through talus fields and on rocky trails in the X Ultra 4 Mid, and it's in great shape after days of abuse.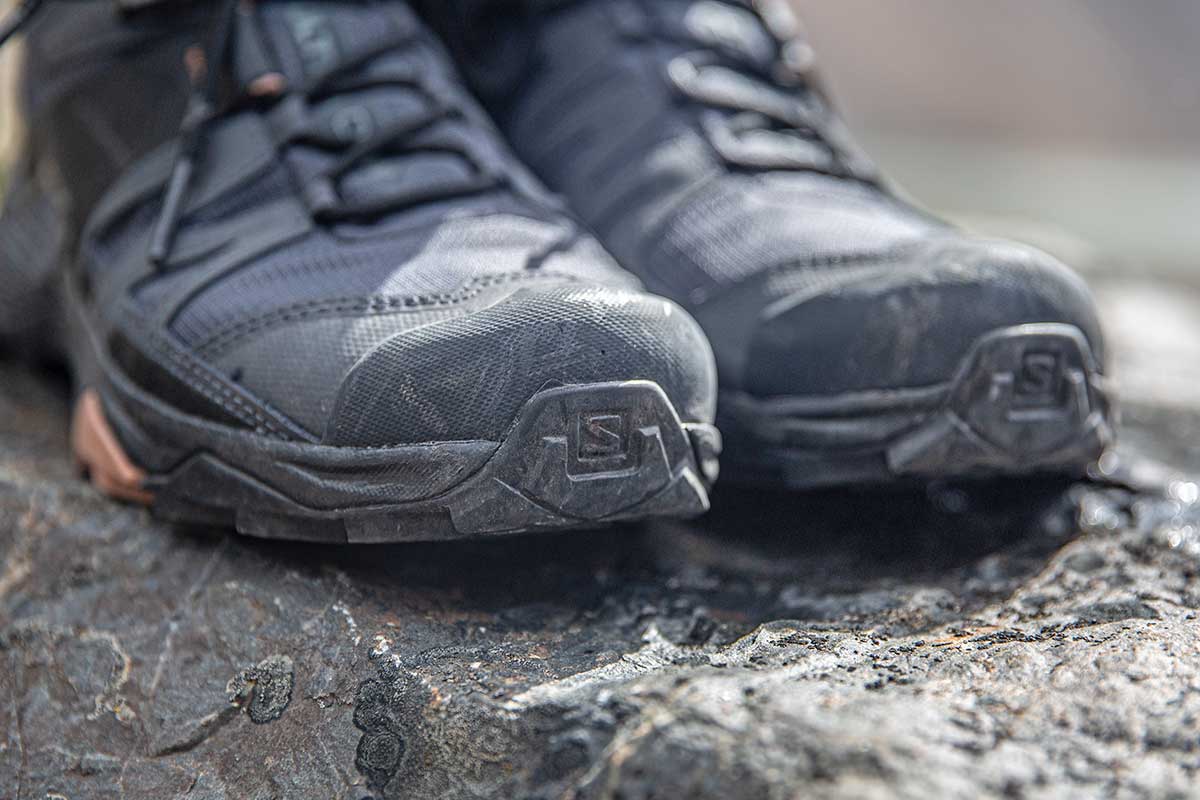 Build Quality and Durability
Salomon's footwear usually sits at the top of its class in terms of build quality, with premium craftsmanship and materials. And while the X Ultra 4 Mid follows suit in most ways, we do have a few hesitations with the design. For one, unlike the sleek Quicklace system of the low-top X Ultra 4, the Mid features bulky laces that struck me as a major oversight—they don't stay tight unless you really cinch them down, and the large knot they create is unsightly. Along with this, the padded tongue doesn't seat very well between the upper panels and creates even more volume at the front of the foot.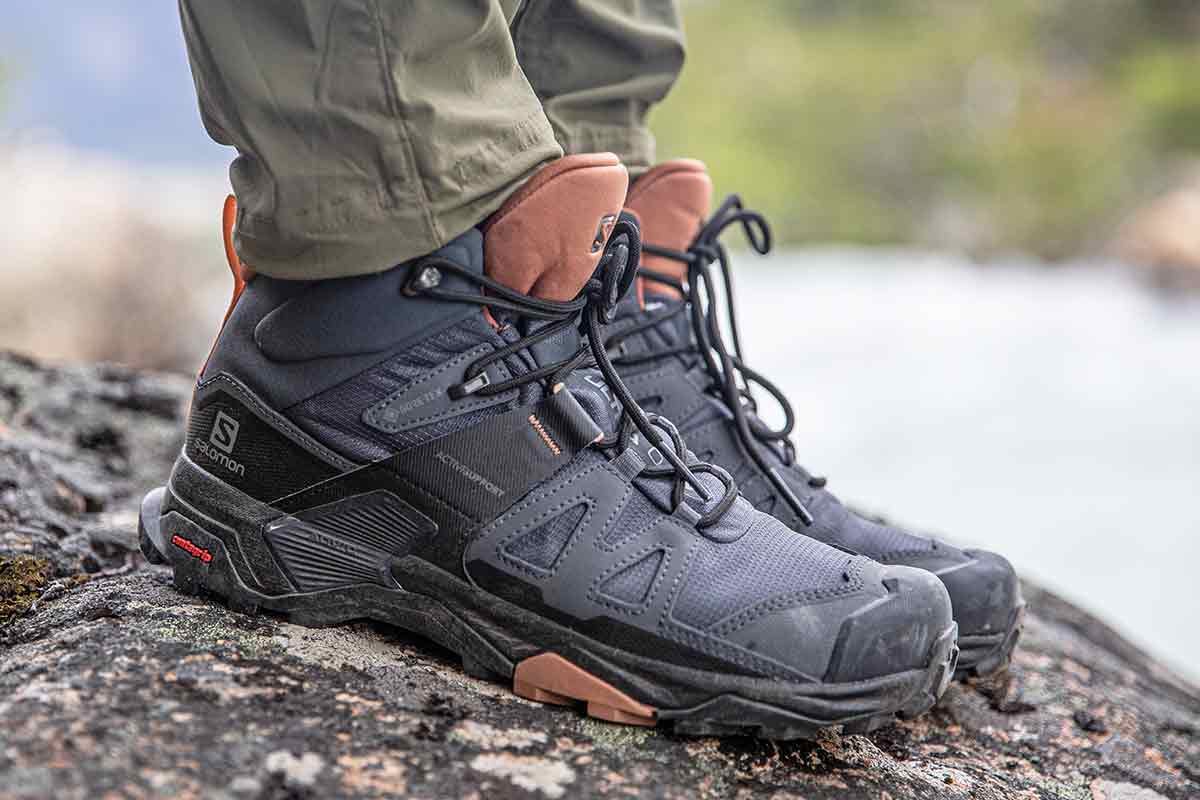 But my biggest hangup with the X Ultra 4 Mid's design was the upper overlays, which are stitched rather than welded (as we see on the low-top version). Not only does this create more bulk and result in a more "budget" appearance, but it actually impacts performance. Several times while hiking, I caught the inside eyelet of one boot on an overlay on the other, causing me to trip and almost faceplant on the trail. I did this so many times that some of the stitching started to give way on one of the overlays. Perhaps this is an issue with my gait rather than a flaw with the boot, but it's something I've never experienced before and certainly worth mentioning. 
That said, the rest of the boot is proving to be nicely durable, even after a good deal of off-trail hiking on mountain terrain. For reference, I've also tested the Altra Lone Peak ALL-WTHR Mid, and the X Ultra 4 Mid handles use and abuse with much greater ease. Of course, a leather boot like the Lowa Renegade will far outlast the lifespan of any synthetic design, but the downsides are that it's heavier, has a longer break-in period, is stiffer and less comfortable on easy trail, and doesn't breathe as well.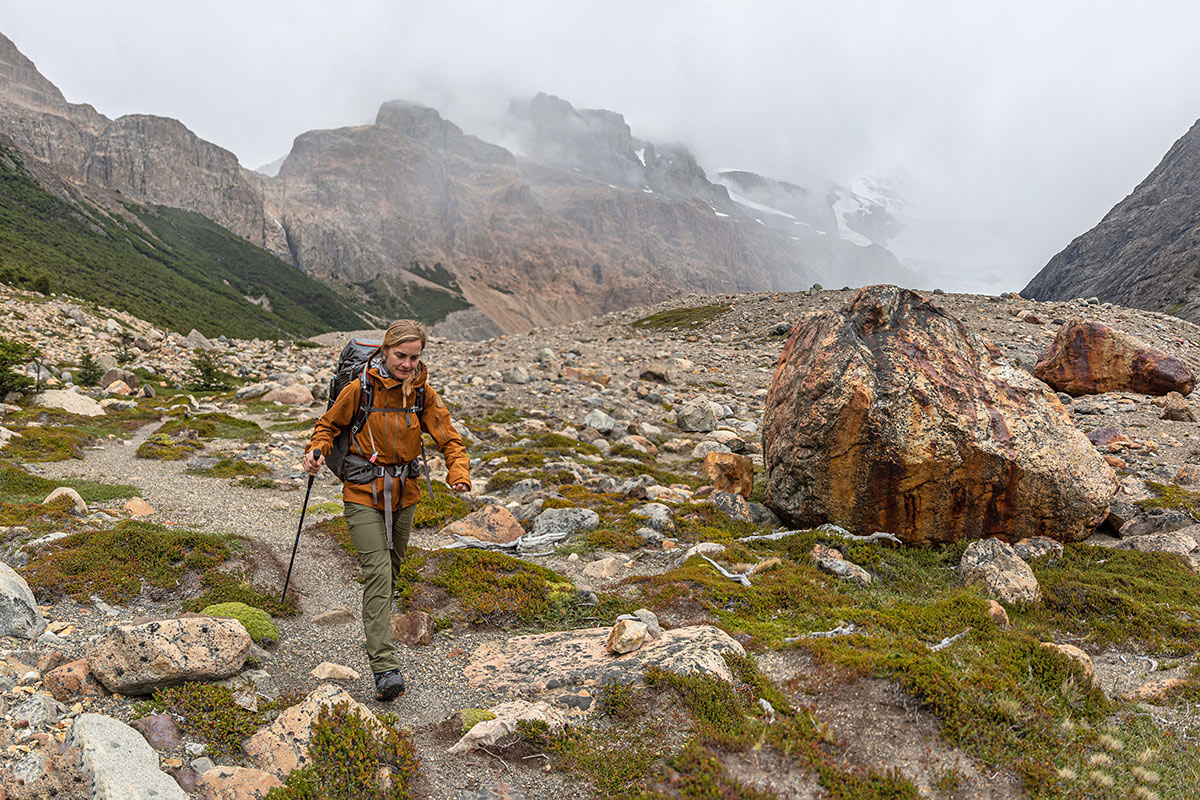 Fit and Sizing
I ordered my normal women's 8.5 in the X Ultra 4 Mid GTX, and it fits true to size. However, the contours were certainly a bit weird for my foot: very roomy in the forefoot and narrow at the midfoot. The fit ended up working for me, and I found the boot to be very comfortable despite a snug lock at the midfoot and swimming toes, but I can see it being a bad formula for many. With a higher-volume foot than mine, the midfoot would be prohibitively narrow; with a lower-volume foot, the toe box might be too roomy (keep in mind that the X Ultra 4 Mid is offered in dedicated wide sizes, although they're somewhat hard to track down at the time of publishing). Salomon also added "wings" to the outside of each boot to allow the lacing system to move with each step, but it's hard to say if the design has any advantages. And a final note: We recommend trying on the boot before you buy, as many users report needing to size down a half to full size.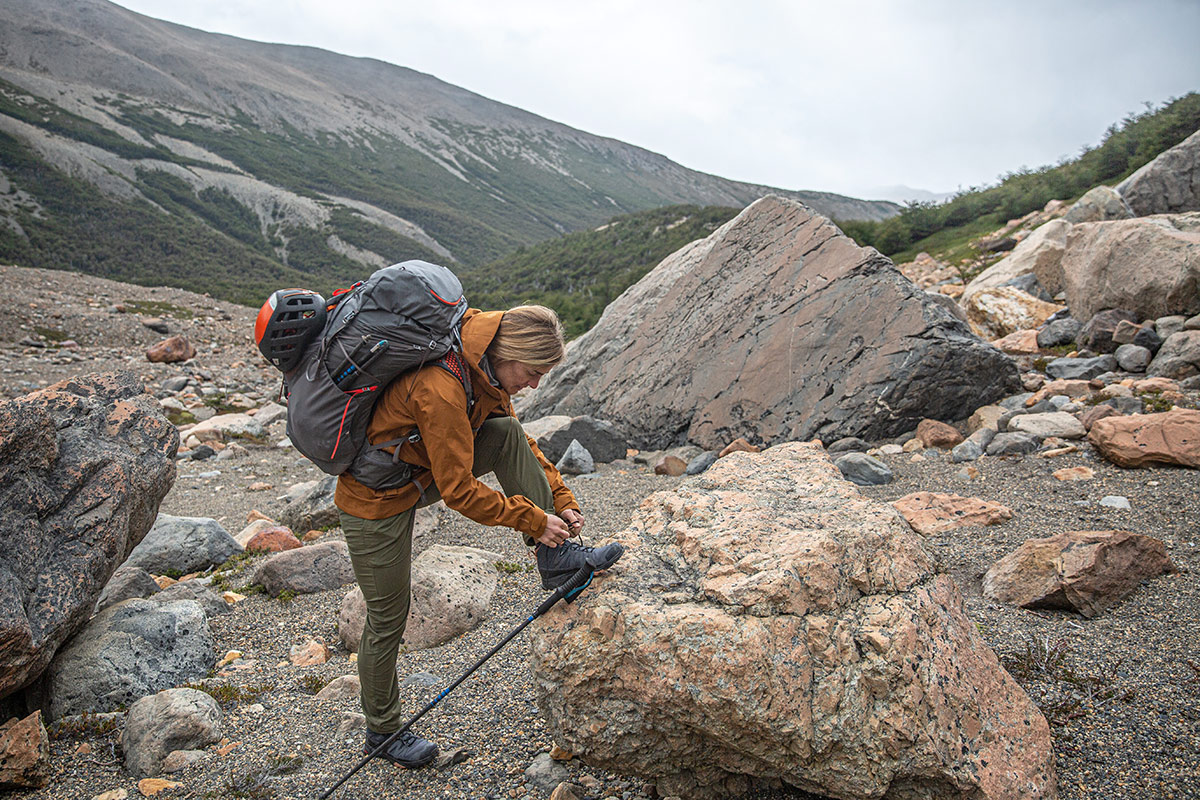 Other Versions of the Salomon X Ultra
We tested the women's X Ultra 4 Mid GTX for this review, but the X Ultra lineup includes a few other options. As we touched on above, we've also reviewed the low-top version of the X Ultra 4, which costs $150 and weighs slightly less at 1 pound 9.2 ounces (for more, see our women's X Ultra 4 review). Despite their similarities, these designs have some key differences, including the low-top's single-pull Quicklace system and welded overlays (rather than the Mid's stitched overlays). Rounding out the collection, the aforementioned shoes and boots are available in men's versions for the same price (the main differences are in fit and colorways).
It's also worth noting that the X Ultra 3 Mid GTX is still available at the time of publishing. It's an older model, but the X Ultra 3 is still very much worth considering; In fact, members of the Switchback Travel team think it's the better boot of the two. Along with different aesthetics, the X Ultra 3 is both a little plusher and more stable, with more underfoot support at the midfoot and toe and a bit more structure (and cushioning) at the ankle. The result is slightly better isolation from the trail, along with a firmer platform and container to keep your feet from working too hard on off-camber terrain. You do pay the price in terms of weight (the boot checks in at 1 lb. 13.4 oz.), but the added stability will be well worth it for many.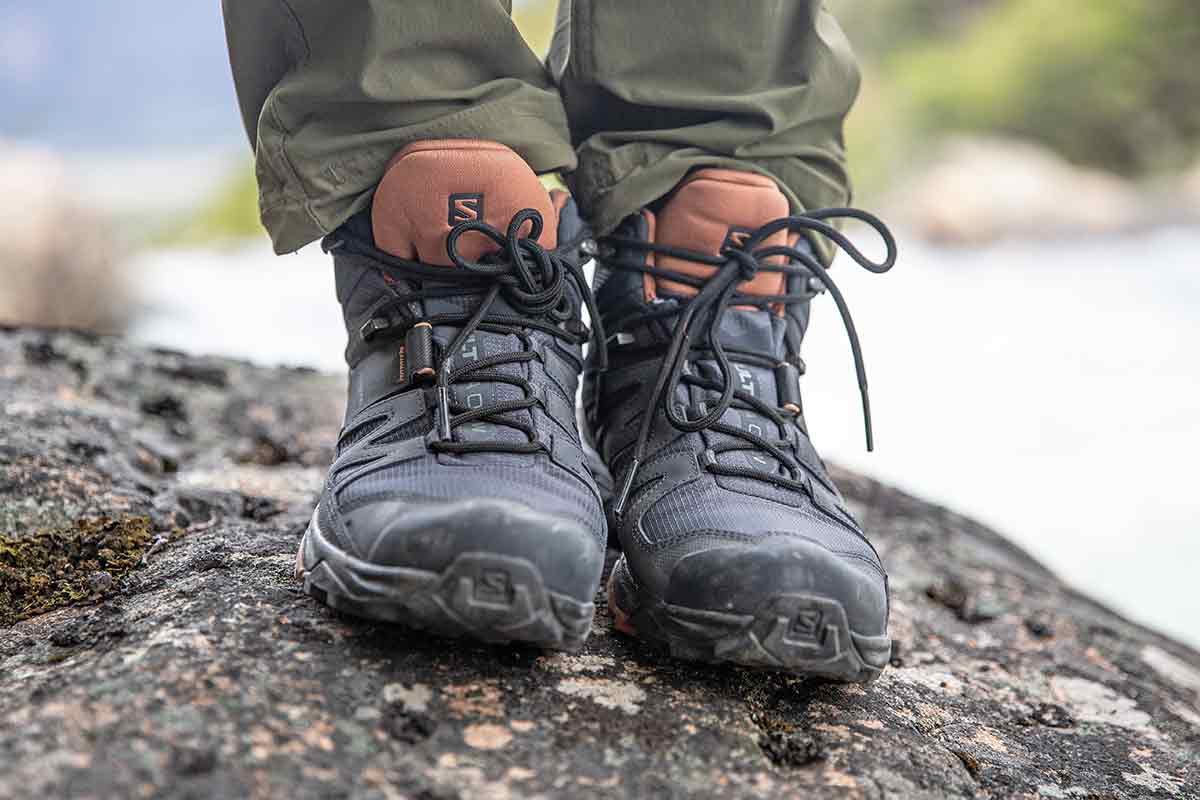 What We Like
A lightweight yet well-rounded boot for hikers and backpackers who stick predominantly to trails.
Premium Gore-Tex waterproofing and a gusseted tongue keep your feet dry even when fully submerged.
The soft padding and flexible sole result in comfort out of the box. 
Generous toe bumper, large rubber rand, and thick overlays offer great protection and durability at a low weight.
 
What We Don't
Despite the mid-height design, the X Ultra 4 Mid doesn't offer much in the way of ankle support.
Bulky laces are unsightly and don't always stay tight.
With a flexible forefoot, the Mid's underfoot stability falls short of most hiking boots.
The roomy toe box won't be the best choice for those with particularly narrow feet.


Comparison Table

The Competition
Salomon's X Ultra line has been at the top of our hiking boot round-up for years, but the latest version is up against some strong competition. If you're looking for a leather design, Merrell's Moab 2 Mid WP remains a popular pick. Stacked up against the Salomon, the Moab 2 offers more generous all-around cushioning, especially underfoot (this translates to better isolation from the ground), and a more supportive build. That said, the Salomon wins out in weight by around 6 ounces per pair, has a more athletic feel that will be more comfortable for high-mileage days, and uses more premium materials. The Moab will save you $20 (the non-waterproof variation is even less at $120), but we think the X Ultra 4 is the more well-rounded option for most modern hikers.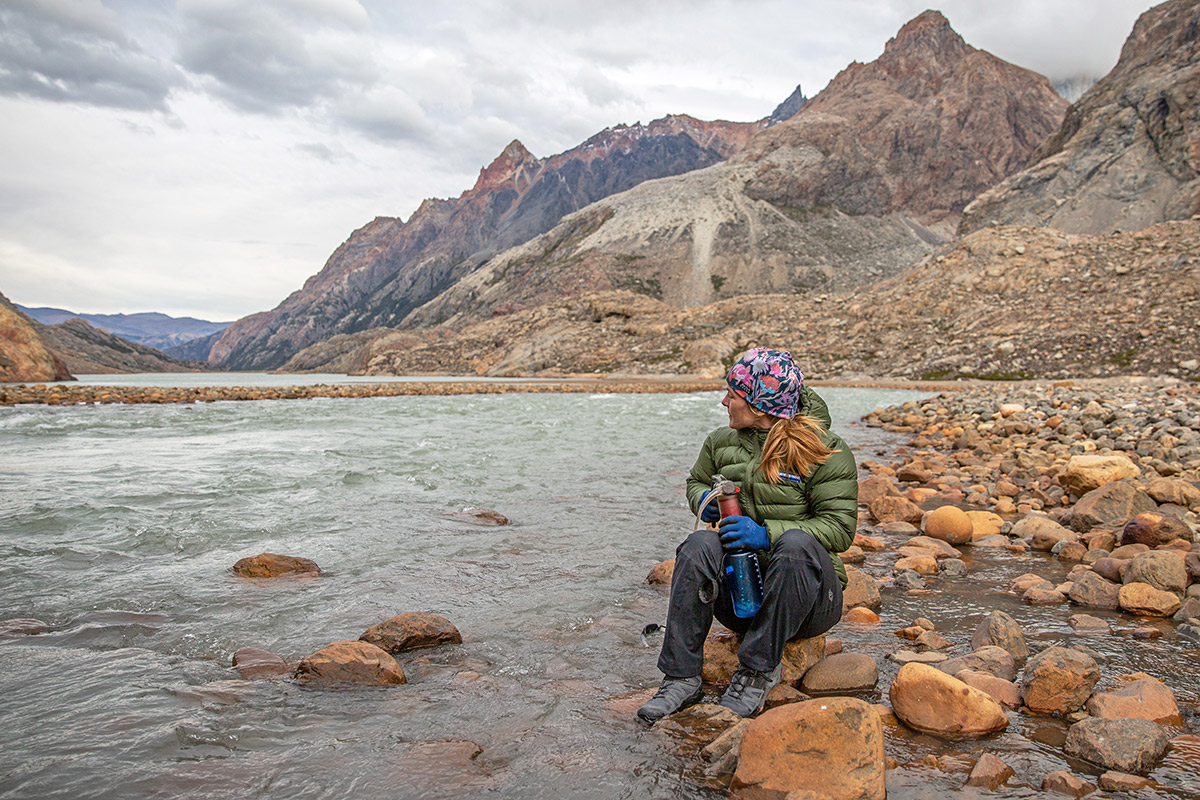 Another lightweight hiker to consider is Danner's Trail 2650 Mid GTX. Like the X Ultra, the Danner offers great traction and protection in a feathery (1 lb. 6 oz.) package. We also love the sleek and modern look, which translates well for around-town use and casual wear. But the praise mostly stops there: The Danner falls short of the X Ultra in support and stability with an even lower and softer collar, isn't as comfortable during long days on the trail, and runs long and narrow, which made nailing the fit pretty tough for us (we also found the wide version to be too roomy). It's also considerably more expensive at $200. In the end, the Trail 2650 is a good-looking and slightly lighter alternative to the Salomon, but it's far less competitive from a performance standpoint.
Hikers looking for a lightweight boot are bound to come across the Altra Lone Peak ALL-WTHR Mid. Building off the popularity of the low-top Lone Peak, the ALL-WTHR Mid is a lightweight and generously cushioned mid-height trail runner, featuring Altra's signature zero-drop design and wide toe box. Like the X Ultra 4 Mid, the Lone Peak's soft collar doesn't add a significant amount of support, but it keeps water and trail debris out and protects your ankles from obstacles on the trail. Having worn both, we'd be more likely to test the limits of the Salomon over difficult terrain or with a heavier load, while the Altra's roomy and soft build comes up short in terms of stability. That said, it's hard to beat the comfort of the Lone Peak for long days on easy trails.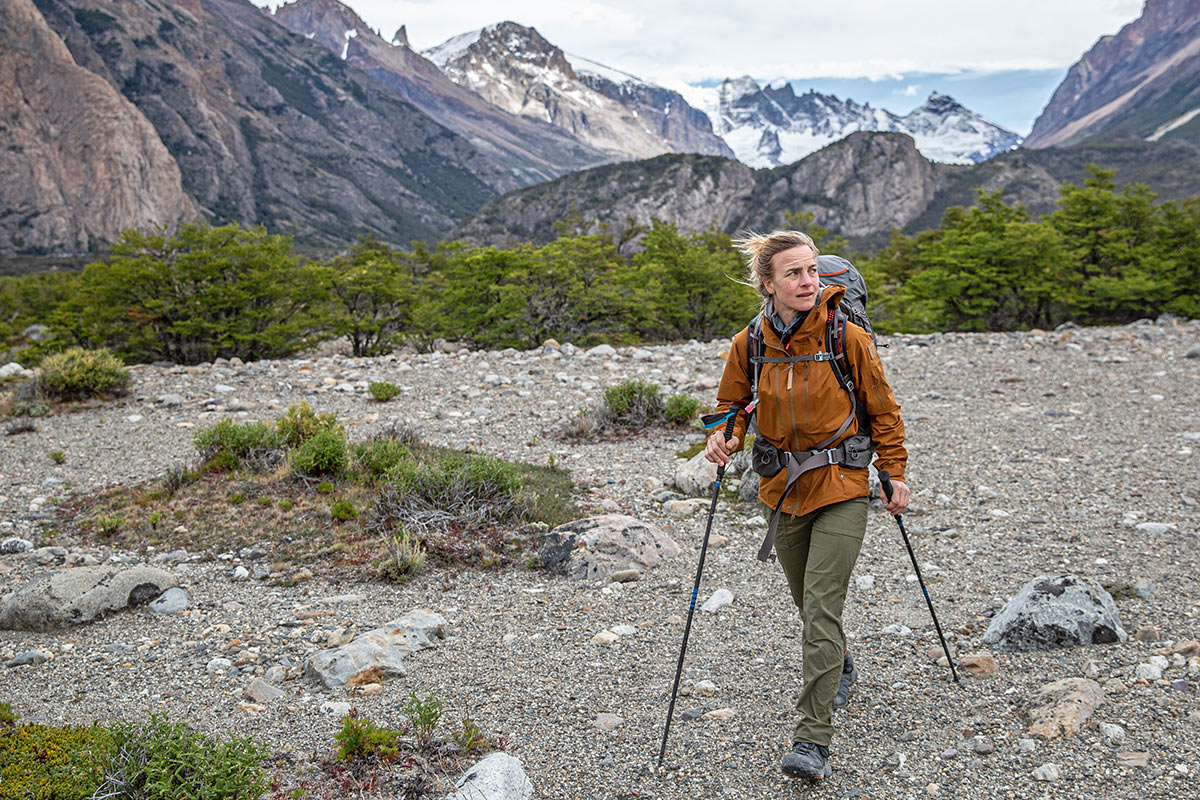 On the other end of the spectrum, it's worth looking at the Lowa Renegade GTX Mid. We mention this boot above as a more robust alternative to the X Ultra 4, thanks to its leather upper, tall collar, and firm support underfoot. The Lowa is considerably heavier than the Salomon at 2 pounds 2 ounces and rather pricey at $245, but the added performance will be worth it for serious hikers who travel in mountain environments. On the other hand, if you have well-conditioned feet or stick mostly to maintained trails, the Salomon's soft and flexible build makes it the more comfortable choice.
Last but not least is another Salomon design to consider: their Quest 4 GTX. The Quest is the burlier option of the two and a better match for shuttling a heavy load over rough and rocky terrain. In particular, it's noticeably stiffer than the X Ultra 4 and has a taller ankle height and more aggressive stance. It also boasts added underfoot padding and protection that minimize foot fatigue over long distances. The biggest tradeoff is an increase in weight, with the Quest clocking in at a fairly hefty 2 pounds 6.4 ounces. This isn't a huge deterrent for demanding hikes and backpacking trips that involve off-trail adventuring with a full pack, but those who want to move fast and light on well-maintained trails will find it overkill. For these folks, the X Ultra 4 is plenty of boot and will save you a significant $65.
If you're thinking about buying gear that we've reviewed on Switchback Travel, you can help support us in the process. Just click on any of the seller links above, and if you make a purchase, we receive a small percentage of the transaction. The cost of the product is the same to you but this helps us continue to test and write about outdoor gear. Thanks and we appreciate your support!
Depending on the seller, most products ship free in the United States on orders of $50 or more. International shipping availability and rates vary by seller. The pricing information on this page is updated hourly but we are not responsible for inaccuracies.
Read More From Switchback Travel