Portland, Oregon-based Danner is best known for their work boots, but they've quickly made a name for themselves in the hiking market with a nice assortment of trail-ready offerings. One standout is the running-inspired Trail 2650 Campo GTX, which I recently brought to Patagonia for testing. Overall, I came away highly impressed by the shoe's on-trail performance: It's very light at just 1 pound 3 ounces for the women's version but doesn't compromise in key areas like protection, durability, comfort, or traction. It's on the pricey end at $200, and the sock-like upper does take some effort to get on and off, but it's an undoubtedly well-rounded option for day hiking and lightweight backpacking trips. Below I outline my experiences with the Trail 2650 Campo GTX. To see how it stacks up to the competition, see our articles on the best women's hiking shoes and best hiking shoes.
 
---
Table of Contents
---

Performance
Comfort
Combining great cushioning and a sock-like construction that hugs the entire foot, the Danner Trail 2650 Campo GTX was supremely comfortable out of the box. And on the trail, the shoes continued to impress. My first outing with the Trail 2650 Campo was a day hike to Laguna Torre, an 11.1-mile out-and-back on mostly smooth trail with a rocky (albeit short) ascent to the lake. The shoes handled all of the terrain with ease, nicely isolating my feet from harsh impacts with sharp rocks. The removable OrthoLite footbed—comprised of three layers of open-cell polyurethane—felt nicely padded and offered ample support underfoot, while the sock-like upper effectively minimized pressure points and promoted a close, foot-hugging fit. It does require some effort to get the shoes on and off, but for me the advantages in overall fit and snugness were worth that tradeoff (more in "Fit and Sizing" below).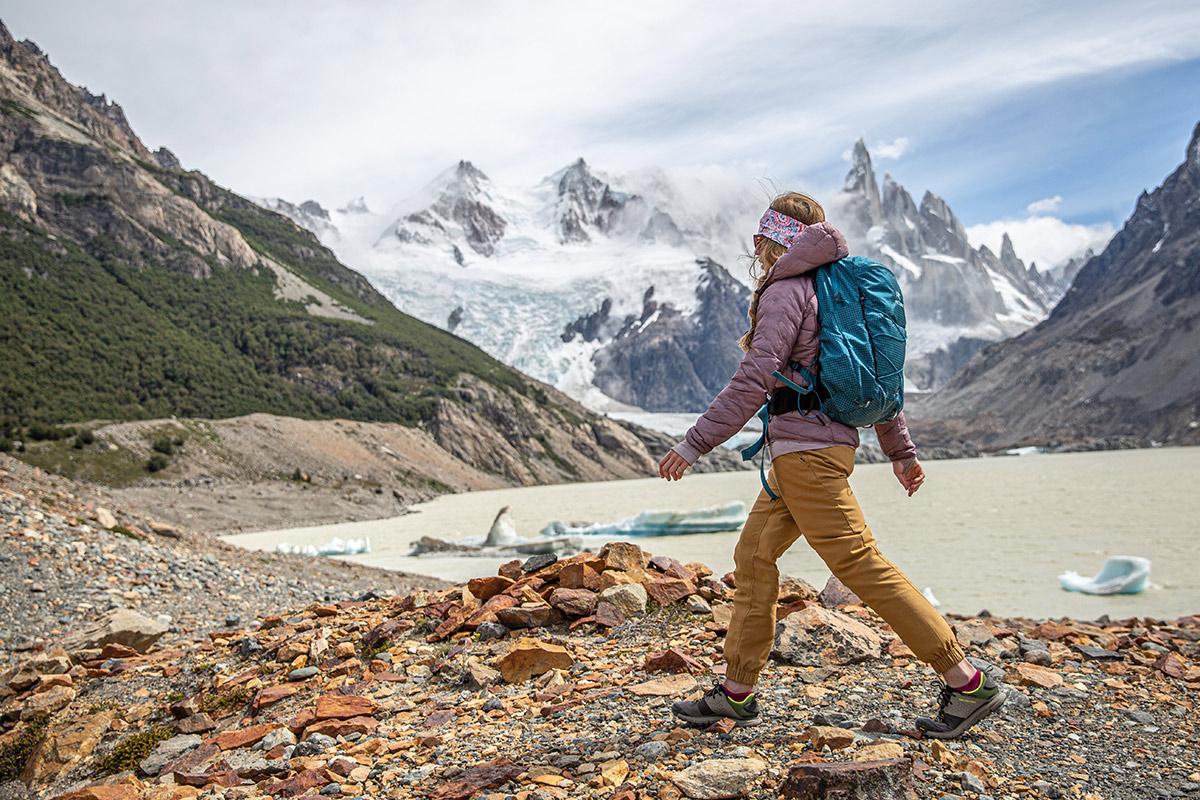 Weight
Clocking in at 1 pound 3 ounces for the women's pair, the Danner Trail 2650 Campo GTX is competitively light given its impressive all-around trail chops. I wouldn't categorize the shoe as particularly sprightly or athletic-feeling, but I never once noticed heft underfoot and was able to move quickly and fairly effortlessly on most terrain. For comparison, it undercuts many other popular low-top hikers, including Salomon's X Ultra 4 GTX (1 lb. 11.5 oz.) and Cross Hike GTX (1 lb. 6.9 oz.). To go lighter, you'll likely have to step down to a true trail runner like Hoka One One's Speedgoat 4 (1 lb. 2.4 oz.) or Altra's Lone Peak 6 (1 lb. 1.4 oz.), although you can expect noticeable sacrifices in overall support, durability, and protection. All told, the Trail 2650 Campo's weight is undeniably impressive for the level of on-trail performance.

Traction
Along with weight, the Danner Trail 2650 Campo GTX also stands out in the traction department. For the outsole, Danner used Vibram's premium Megagrip compound, which we've found to be exceptionally grippy and long-lasting. The lugs aren't particularly deep or aggressive, but they were a good match for hiking on well-maintained trails and held up equally well during some off-trail scrambling and navigating the rocky hill to reach Laguna Torre. All in all, I found the Trail 2650 Campo easy to trust on a wide variety of terrain, even when jogging downhill over slabs and loose gravel, and I've experienced no slippage thus far.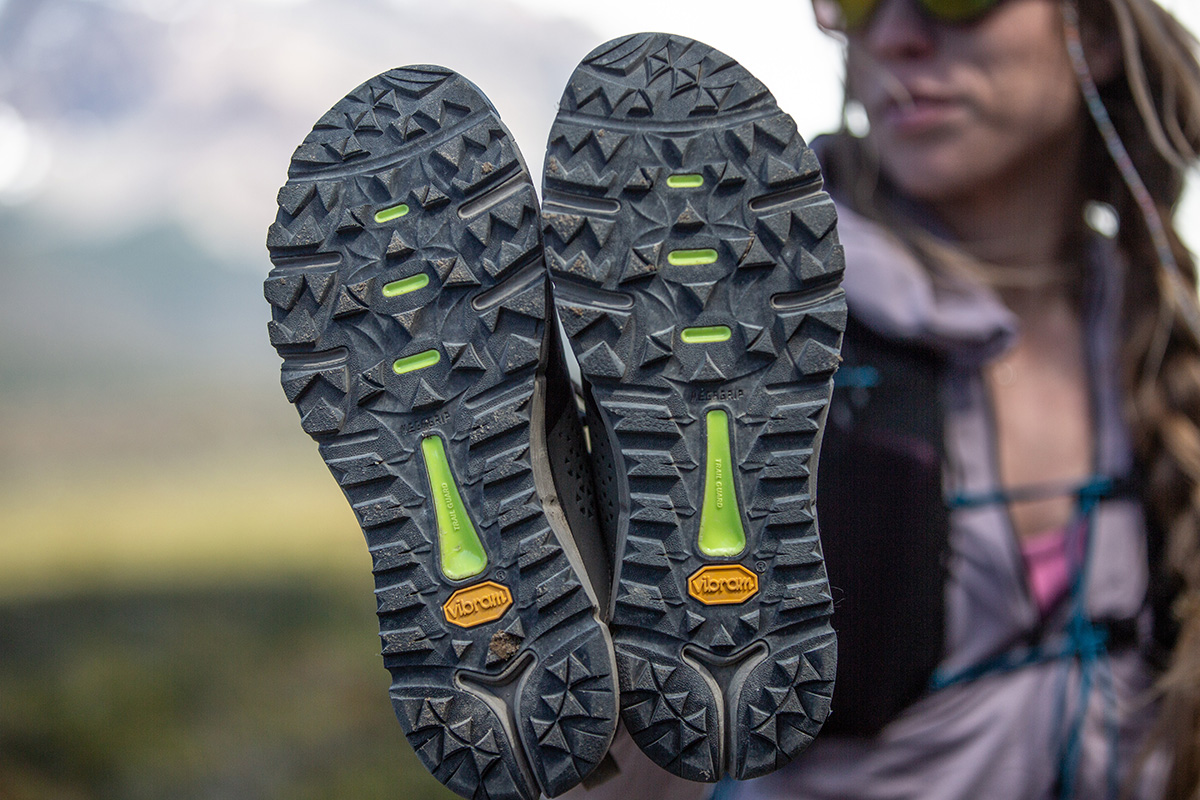 Stability and Support
Lightweight hiking shoes aren't often lauded for their stability and support, but the Danner Trail 2650 Campo GTX easily exceeded my expectations in this regard. As I mentioned above, the shoes are well-cushioned but still promoted a very close connection to the trail. The sock-like upper is likely a big contributor here, effectively securing my foot in place while still allowing me to move quickly over variable terrain without any slippage or unwanted movement. For added stability at the heel, Danner also added an external heel counter (dubbed their "EXO Heel System"), which provided a noticeable boost in support and firmness at the back. Added up, I consider the Trail 2650 one of the most stable and confidence-inspiring options in its weight class.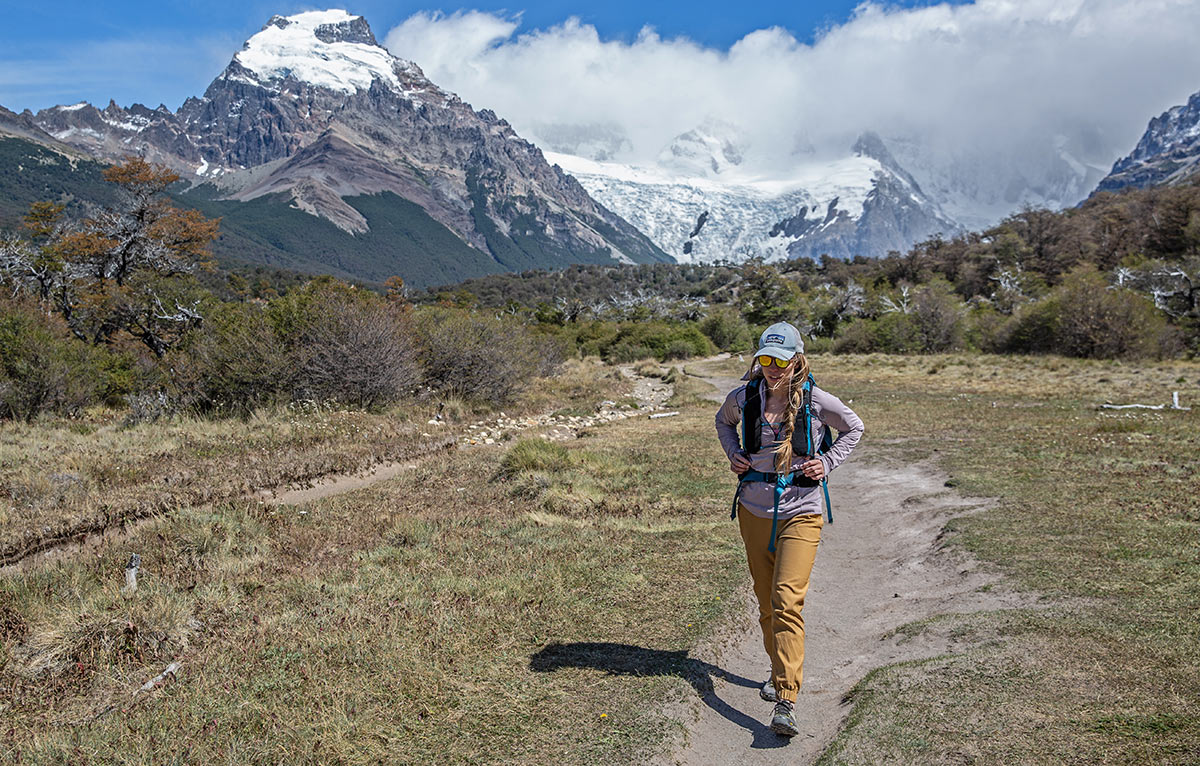 Protection
Protection is another clear highlight of the design. The Vibram rubber used for the outsole extends over the front of the shoe, providing a thick barrier between your toes and trail obstacles like rocks and roots. An additional, thinner patch of rubber also extends a little farther along the sides of the front, and the Trailguard TPU shank underfoot offers great protection and isolation from the trail when navigating rough and uneven terrain. For reference, I stubbed my toes a few times on jutting rocks and logs but never once felt the impact. The low-top design doesn't offer the same coverage or ankle support as a mid-height boot, but I suffered zero ankle rolls and didn't have any issues with dirt or trail debris making their way inside. If you're doing a lot of hiking in dusty environments like the desert, the shoe is also compatible with dust gaiters.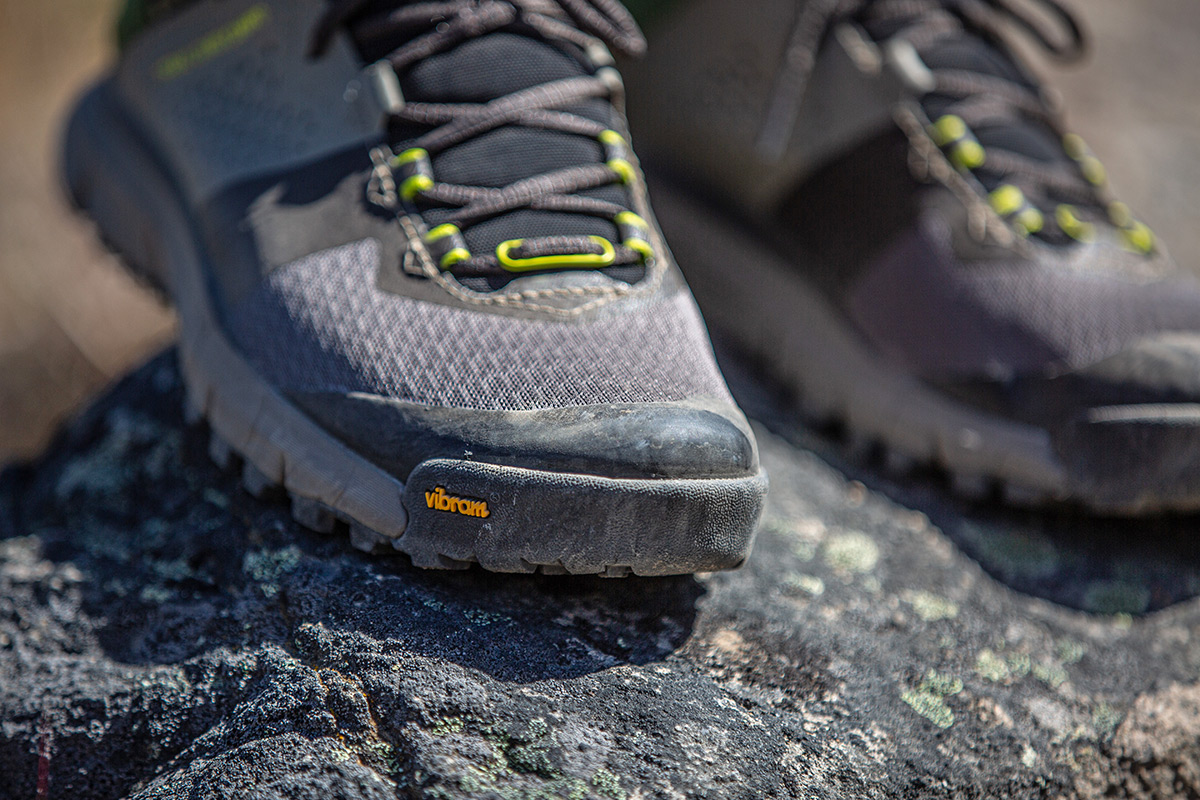 My only gripe (and it's a small one) relates to the noticeably large piece of hard rubber at the heel. This undoubtedly adds weight to the shoe and is a little polarizing in terms of looks, but my main complaint is that if offers essentially no performance benefit (it's rare to pound your heel while hiking). To be sure, I was glad to have the buffer when scrambling, but I think Danner could do away with the heel patch to reduce weight even further without compromising on all-out protection.

Waterproofing and Breathability
For waterproofing, Danner opted for Gore-Tex's Invisible Fit membrane, which is intended to provide the quality wet-weather assurance we've come to expect from the brand in a lighter and more breathable design. In testing, the membrane performed exactly as expected from a waterproofing perspective: It sealed out moisture, keeping my feet perfectly dry during shallow water crossings and in short bouts of light to moderate rainfall.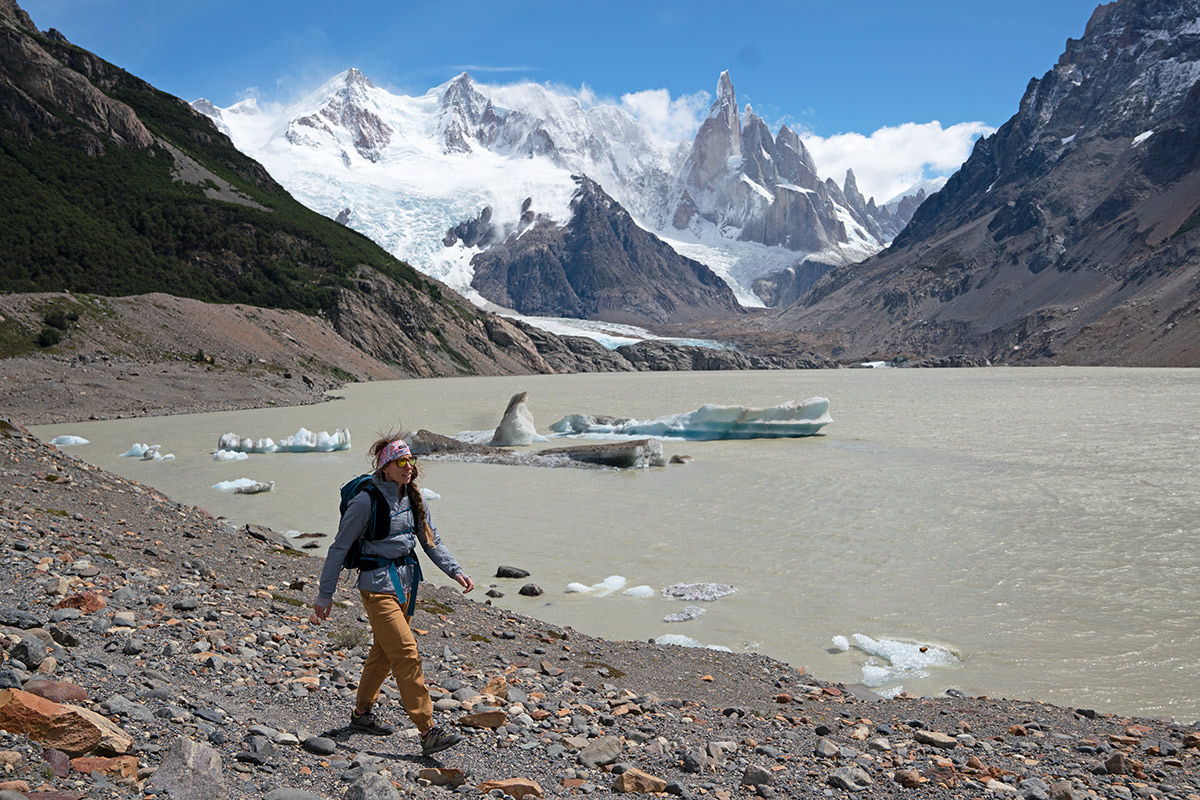 When it comes to breathability, however, I did experience some swampiness in the Trail 2650 Campo GTX. This is likely due to the thicker leather and textile upper, which is impressively hardwearing but doesn't allow the shoe to dump heat as well as mesh-heavy alternatives like the Salomon OUTline GTX that I was testing alongside it. To be fair, we were hiking in warm conditions with temperatures reaching into the 70s Fahrenheit, but I wouldn't categorize the Trail 2650 Campo as a standout in this regard. If you plan to do most of your hiking in warm climates and are less concerned about wet-weather protection, it may be worth saving with the non-GTX version ($160) or a thinner alternative like the aforementioned OUTline (both of which will also dry more quickly).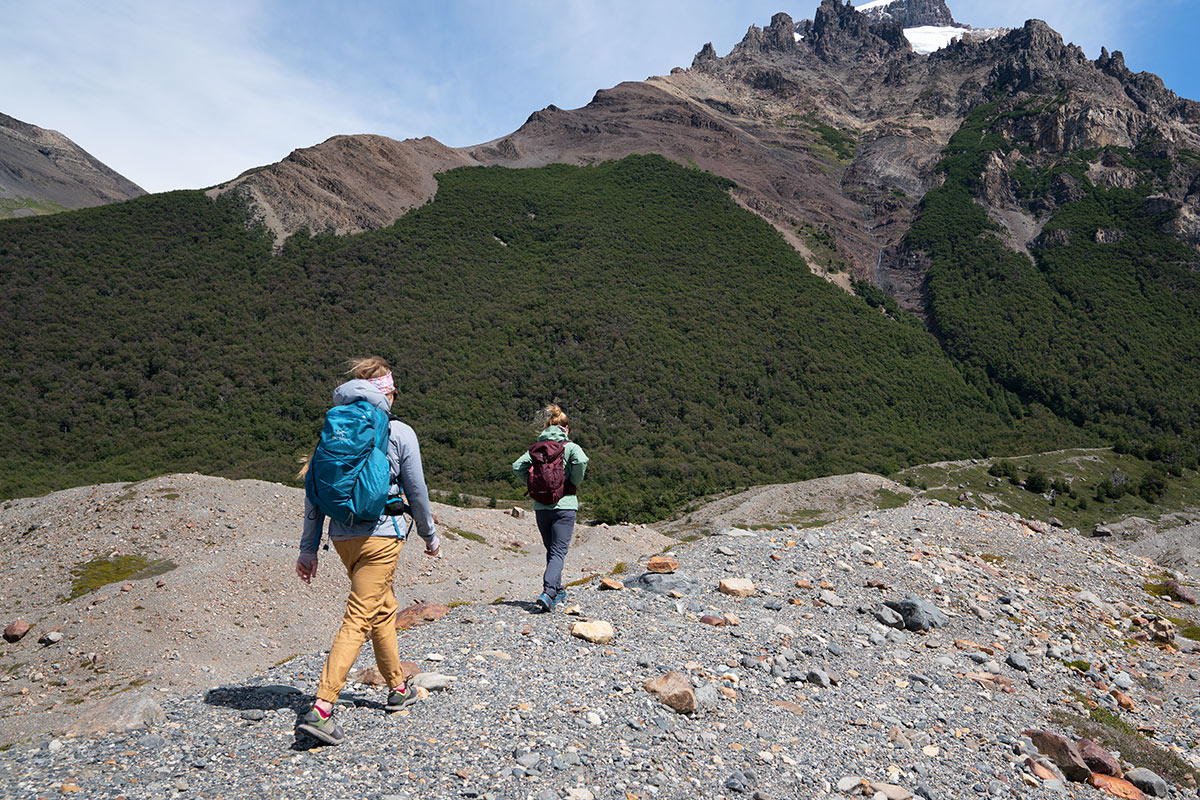 Build Quality and Durability
As with stability and support, lightweight hiking shoes often compromise on durability to keep weight to a minimum, but the Danner Trail 2650 Campo has withstood everything I've put it through thus far. After wearing the shoes for our day hike in Patagonia and subsequent outings in the area, they're virtually no worse for wear: The outsole is holding up very well with no deterioration along the lugs, the rubber toe guard has virtually no scuffs or marks from direct hits with rocks and roots, and the mixed leather and textile upper looks like new. I haven't put enough miles on the shoes yet to confidently remark on their long-term durability, but all signs are positive that they will have a healthy lifespan (and I'll follow up here if any issues arise as I continue testing).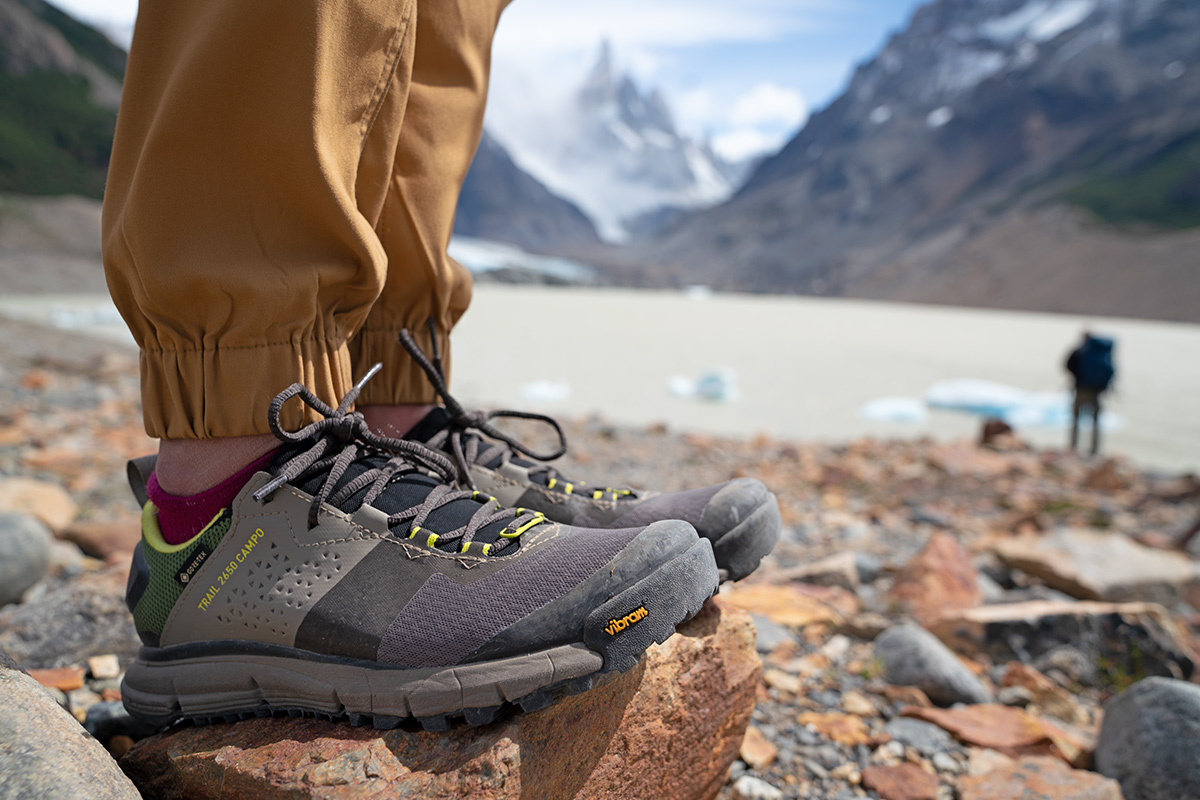 Fit and Sizing
I ordered my standard women's size 8.5 in the Danner Trail 2650 Campo GTX and found it to be a great all-around fit (for reference, I have pretty average feet that I wouldn't classify as overly narrow or wide). I did have some room at the front of the foot when I first put them on, but I forgot about it as soon as I hit the trail and suffered no toe bang during testing. And as I touched on above, the sock-like upper is great for maximizing security and promoting a very close, foot-hugging fit. It also effectively reduced rubbing points, and I had no areas of pressure or looseness in the shoes. The only notable downside is that it does take some effort and force to pull the shoes on, although the heel tab at the back is a nice touch and makes the process a little easier.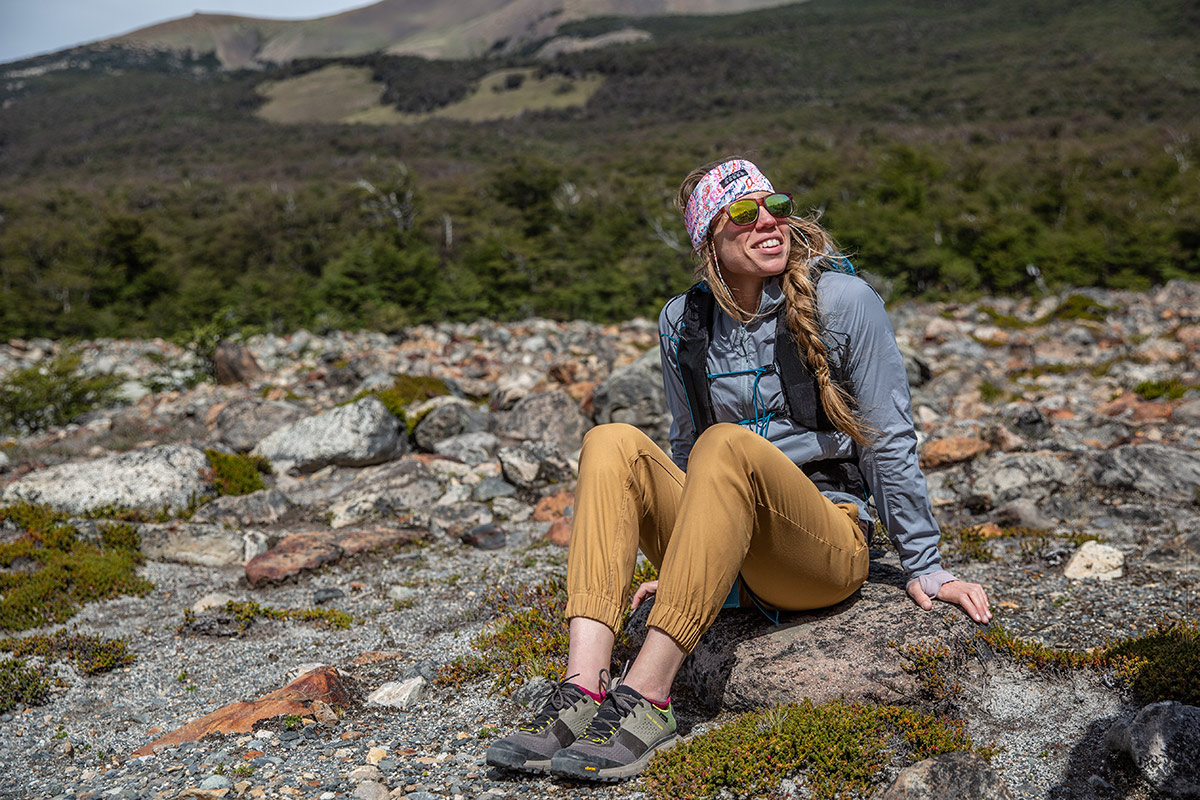 Other Versions of the Danner Trail 2650
I brought the women's Trail 2650 Campo GTX to Patagonia for testing, and the shoe is also sold in a men's version for the same price. Construction and features are nearly identical, although the men's shoe checks in a little heavier at 1 pound 8 ounces per pair and comes in different colorways. As I touched on above, the shoe is also offered in non-waterproof variations that retail for $160 and forego the Gore-Tex membrane, which may be the better bet for those who hike in warm and dry climates or who prefer a quicker drying time (waterproof shoes tend to hold onto moisture once they're wet). Finally, the larger Trail 2650 collection includes several other styles and models, including the standard Trail 2650 GTX ($190), non-waterproof Trail 2650 ($170), dedicated mesh offerings, and mid-height Gore-Tex boots.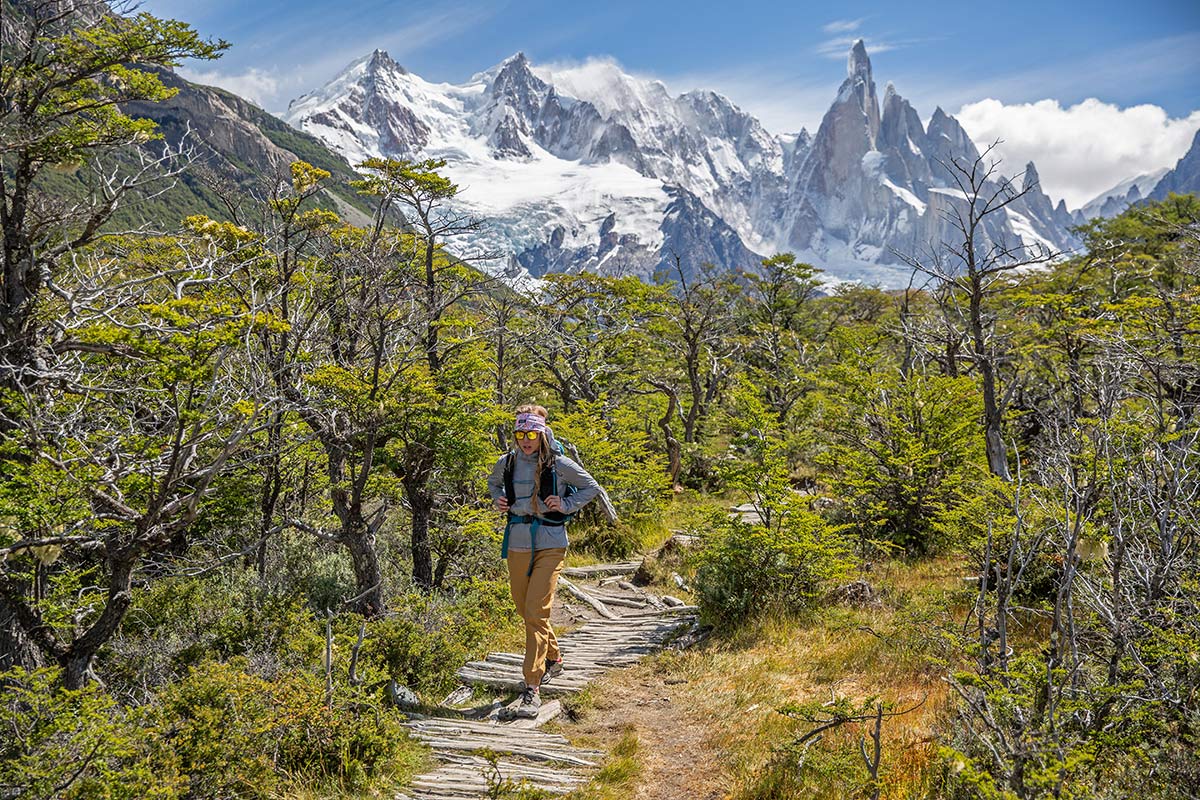 What We Like
Competitively light while retaining great all-around protection, stability, and durability, which is no easy feat.
Well-padded interior and sock-like upper promote a very comfortable, secure feel on the trail.
Vibram outsole is impressively grippy over a wide variety of terrain, from well-maintained paths to steep and rocky trails.
Classy looks and attractive colorways with Danner's typical attention to detail.
 
What We Don't
At $200, the Trail 2650 Campo is around $30-$50 pricier than much of the competition.
Sock-like upper makes the shoes hard to get on and off (although the tab at the heel helps with the process).
Mixed leather/textile upper is highly durable, but it does detract from overall breathability.
Thick rubber patch at the heel is polarizing and provides essentially no performance benefits.


Comparison Table

The Competition
Danner's Trail 2650 Campo GTX stands out in the hiking shoe market for its impressive support, stability, durability, and protection at a remarkably low weight. However, there's no shortage of hiking shoe competition in 2022, and one of the Trail 2650's biggest competitors is Salomon's popular X Ultra 4 GTX. Stacked up against the Danner, the Salomon is heavier at 1 pound 11.5 ounces but offers a hard-to-beat combination for many hikers and lightweight backpackers: It's stable and supportive, offers great grip in just about all conditions, and gives up very little in the way of protection with a sizable toe cap and ample cushioning underfoot. And at $150, the Salomon undercuts the Danner in price by a significant $50 without making any major concessions (other than the jump in weight).
 
Another shoe I was testing in Patagonia is Salomon's OUTline GTX, which is another running-inspired design that's very light at just 1 pound 4.5 ounces. In wearing the shoes back-to-back, the difference in personality was noticeable almost immediately: While the Trail 2650 Campo felt solid and planted on the trail with excellent all-around protection and support, the OUTline felt much softer and more athletic, which was great for moving quickly over easy ground but did result in sore feet after high-mileage days. The OUTline does have more mesh in the build for added breathability on warm days and gets the clear advantage in price at $130, but it doesn't have the same premium, confidence-inspiring feel as the Danner. If you're looking to keep weight low without compromising on durability, protection, or support, it may be worth spending up. For more, see our in-depth OUTline review.
Salomon shoes aside, Arc'teryx offers another capable lightweight design in their Aerios FL GTX hiking shoe. At 1 pound 6 ounces per pair, the Aerios is around 3 ounces heavier than the Trail 2650 Campo but offers very well-rounded performance for its weight. We did find it a little stiff out of the box (almost like an approach shoe), but it broke in nicely and provided solid support and protection for long days on the trail. Compared to the Danner's leather/textile upper, the Aerios' synthetic construction also breathes a little better while retaining good toughness, and the $30-cheaper price tag is the cherry on top. To be sure, the Danner still has its merits (namely in cushioning and protection), but the Aerios' combination of weight, features, and stability are hard to beat.
 
From within Danner's own lineup, their Trailcomber hiking shoe is an even lighter alternative to the Trail 2650 Campo at just 1 pound per pair (for the women's version). It's also $50 cheaper at $150, although there's no waterproof version available. But the rest of the design stacks up pretty competitively, including a similarly well-cushioned footbed, tacky Vibram outsole, protective rubber at the toe, and attractive styling. The Trailcomber is less performance-ready with a Cordura knit upper (compared to the leather/textile construction of the Trail 2650 Campo), but tradeoffs include added breathability and everyday appeal. In the end, if you stick to well-maintained trails in mostly dry areas, the Trailcomber is a perfectly suitable alternative at a lower weight and cost.
If you're thinking about buying gear that we've reviewed on Switchback Travel, you can help support us in the process. Just click on any of the seller links above, and if you make a purchase, we receive a small percentage of the transaction. The cost of the product is the same to you but this helps us continue to test and write about outdoor gear. Thanks and we appreciate your support!
Depending on the seller, most products ship free in the United States on orders of $50 or more. International shipping availability and rates vary by seller. The pricing information on this page is updated hourly but we are not responsible for inaccuracies.
Read More From Switchback Travel